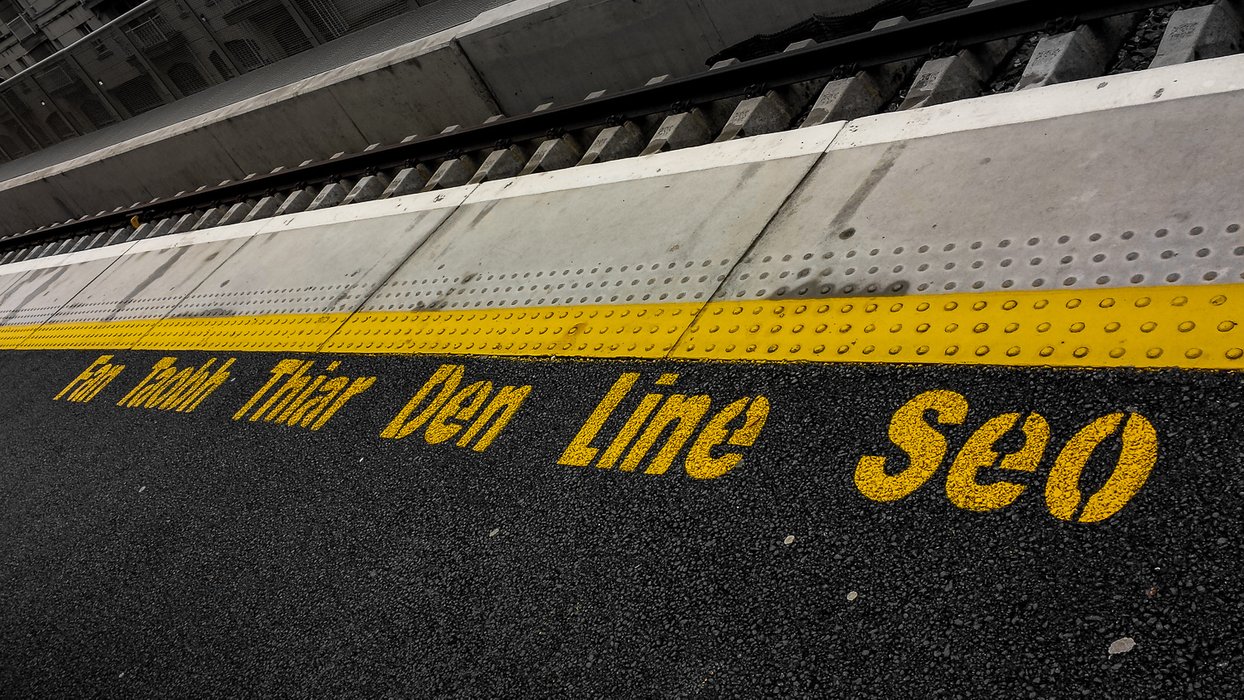 I neglected Ireland on my blog and that is biting me in the ass right now. I was so busy with my recent trips like the cruise and exploring my own country that I let 2 months pass without any Ireland updates. And it's not that I ran out of material. Now that the dust is settling and I have a bit more time to chill, it hit me. I somehow missed my life in Dublin... Is that revenge?
My relationship with Dublin is a weird one. I both love and hate it, but it also feels a lot like home. I have only lived there for 1 year and I complained a lot about it while being there. But cities are much more than just the bricks. And it wouldn't be fair to not include Dublin in my Ireland series.
Going through my photos, I noticed that I hardly have any touristy things to share. I didn't go to the Guinness Brewery. I regret not having the patience to wait in line to check out the Old Library of Trinity College. That is the problem when you live there. You keep thinking: "I can also do that tomorrow".
So I'll give you a bit of a different view of Dublin. One with less history and more personal stories. And I hope you will like it.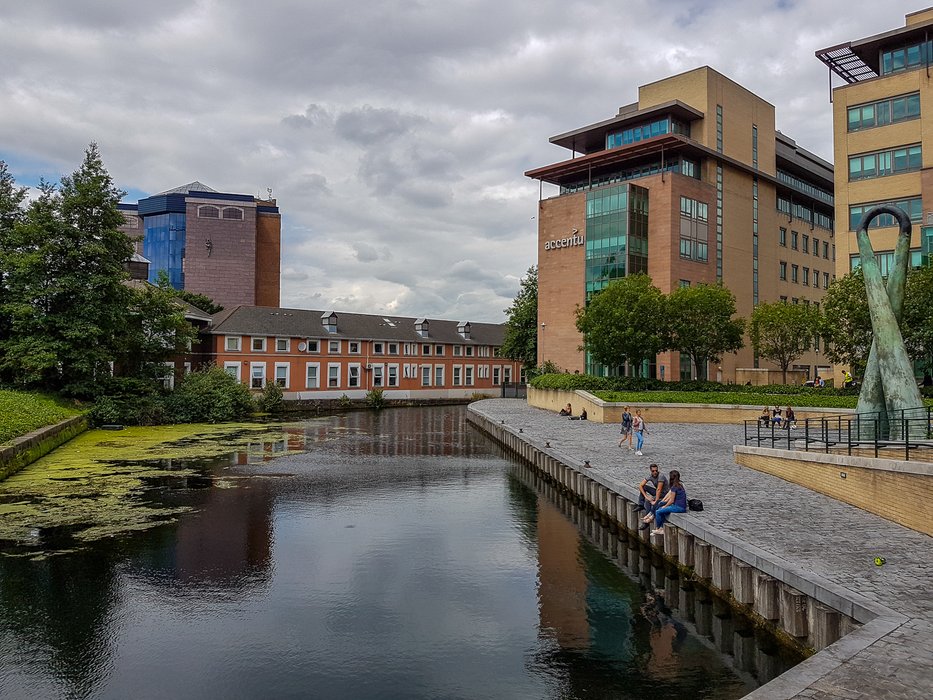 The Irish and their love for spring
I moved to Dublin in spring-time. The weather had been terrible before my arrival and I somehow managed to bring the sun with me. It was a strange experience to see the very "primal" response of the Dubliner to the weather change. One moment you notice that everyone walks so fast in Dublin to avoid being outside when the rain starts. The next moment I saw that every small patch of grass was filled with people during lunchtime, enjoying the sun and having a picnic with coworkers.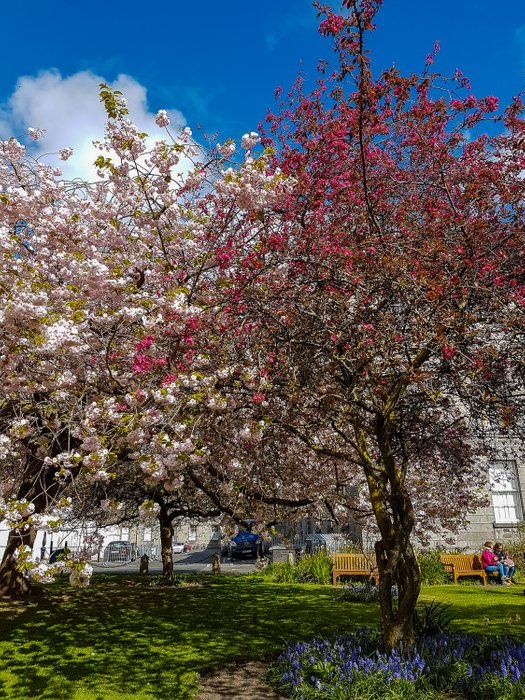 Up to that moment, I considered the weather in Dublin to not be that much different than in Amsterdam. And I didn't understand the extreme reaction of the people to it. It took me deep into the following winter to finally understand. It's not that the spring is so good, it's that the winter is so shitty!
They have been longing for spring after months of grey skies and rain. Winters in Dublin aren't super cold, they are just wet and depressing... every single day!
So the next spring I joined the picnics and celebrated that we could finally sit in the grass without having to clean the mud off your clothes after. I now feel that Irish springs are their best season.
What's up with all that green and lack thereof?

Aviva stadium
Spring is also the season when the green of the landscapes is at it's best. It's the dominant colour in almost all my Ireland photos. It's too bad that the Irish didn't qualify for the world cup, because their fans would totally colour Russia green! Irish are proud of their green, but it's not even their official national colour. They don't care though. On St. Patrick's day you wear green, no matter what!
I never questioned the colour. It made sense since Ireland didn't get his nickname 'Emerald Isle' for nothing. The weird thing is though. I felt that Dublin wasn't a very green city. When walking downtown, you notice a lot of concrete and asphalt. The dominant colour would be grey. The trees and grass made room for wider roads. I hardly discovered any sidewalk trees and this experience has coloured my opinion of Dublin so much. I bet I wouldn't think of it as just a concrete grey city if there were more trees in the streets.

A rare group of sidewalk trees, young and brand new... you hardly notice them!
But mind you. When things get green in Dublin, they get GREEN! The Grand Canal that runs south of the old city centre felt to me a bit like the green lungs of the city. The canal and the banks are beautifully green with gorgeous trees and sometimes reeds, and often a place for some quiet time when you need to get away from the busy streets for a few minutes. I adore the boats that only just fit through the Canal and the locks. I could easily find a quiet spot under a tree there and just watch. The Grand Canal is by far my favourite spot for lunch in spring with the weekly food market next to it.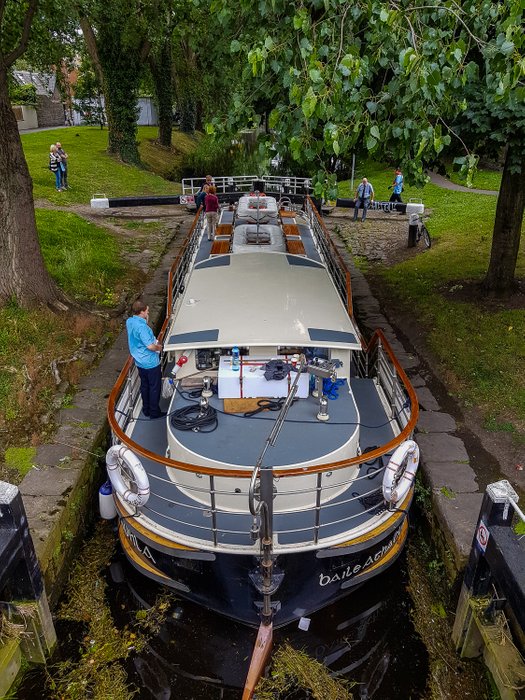 Boat waiting at the locks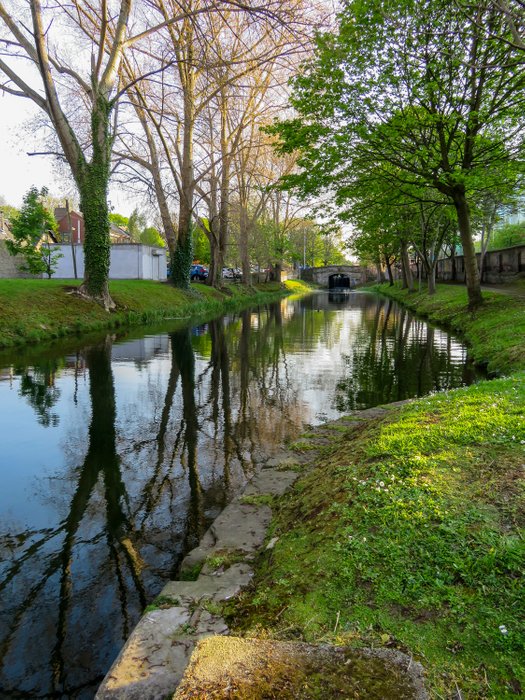 Grand Canal
The old city centre
Walking north from the Grand Canal, you will end up in the old city centre. This is the place where most tourists hang out during the day (At night they would be in Temple Bar, I assume).
Many tours have their gathering point near the statue of Molly Malone. Molly is the main character of a song that is often considered to be the unofficial national anthem of Ireland. There are many stories about Molly and it's not clear if she ever existed or not. But the short story is that she was a (beautiful) fishmonger during the day and prostitute by night who started haunting the city after her death.
Maybe Molly should join the #metoo movement. As her glowing boobs are proof of the many men that took a photo with them holding her boobs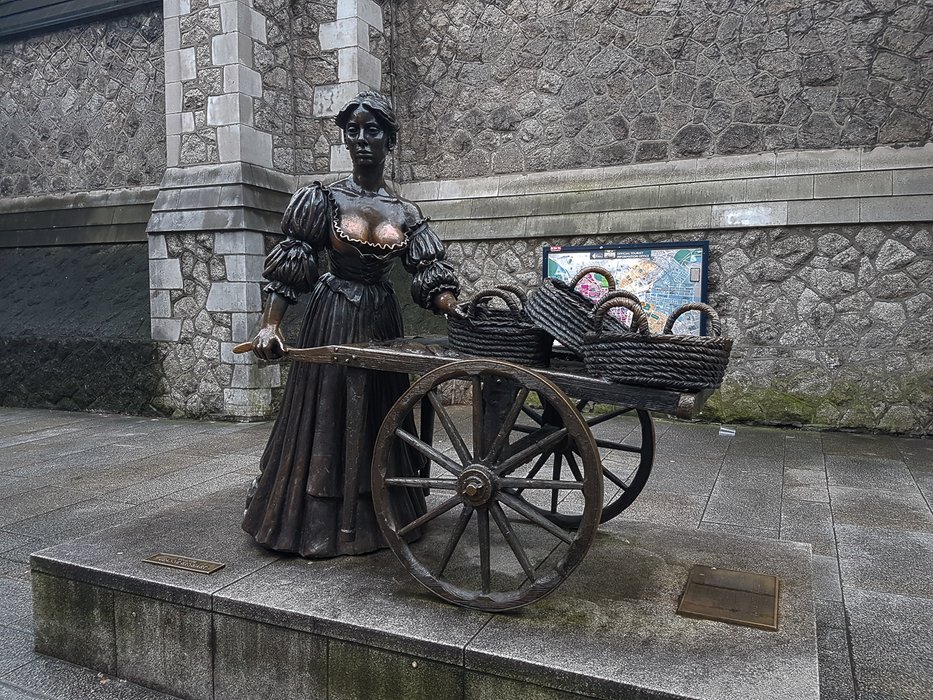 The Tart with the Cart a.k.a. Molly Malone
After meeting Molly, it is time for a walking tour through the city centre. This will often include a visit to Dublin Castle. I have been here a couple of times, but it never felt like a proper castle to me. Maybe because the current state is a mix of structures from different eras. Next up would be St. Patrick's Cathedral which name I often confuse with the Christ Church Cathedral. Both are medieval cathedrals and they are located in the same area.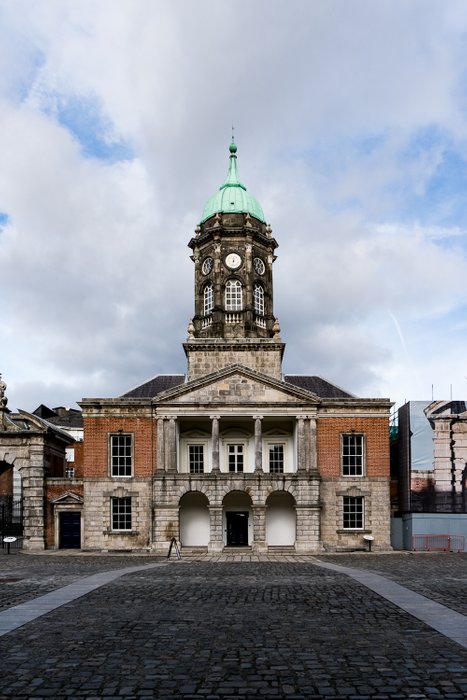 Part of Dublin Castle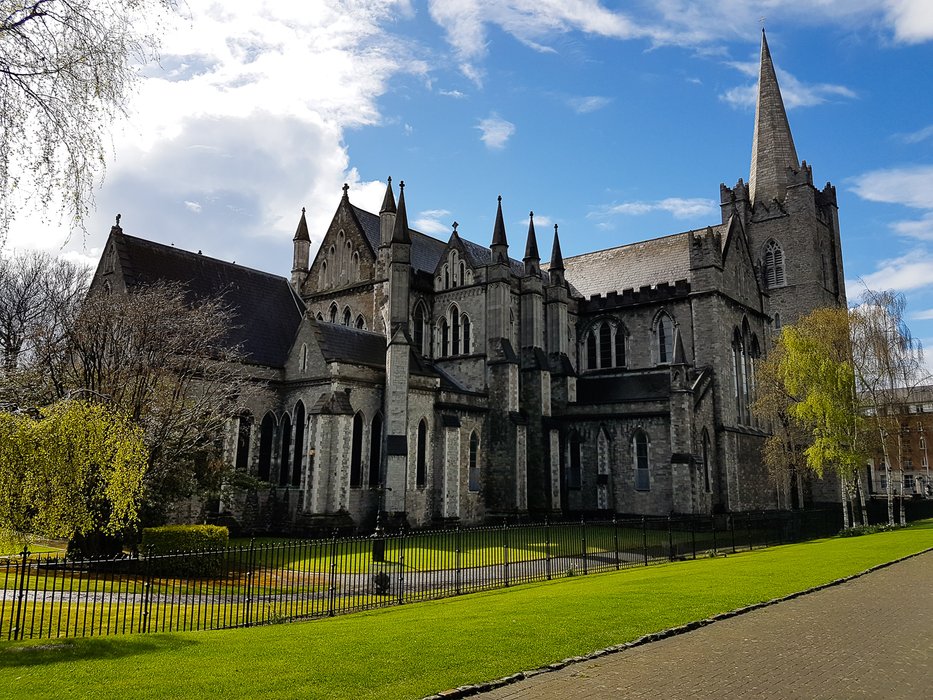 St Patrick's Cathedral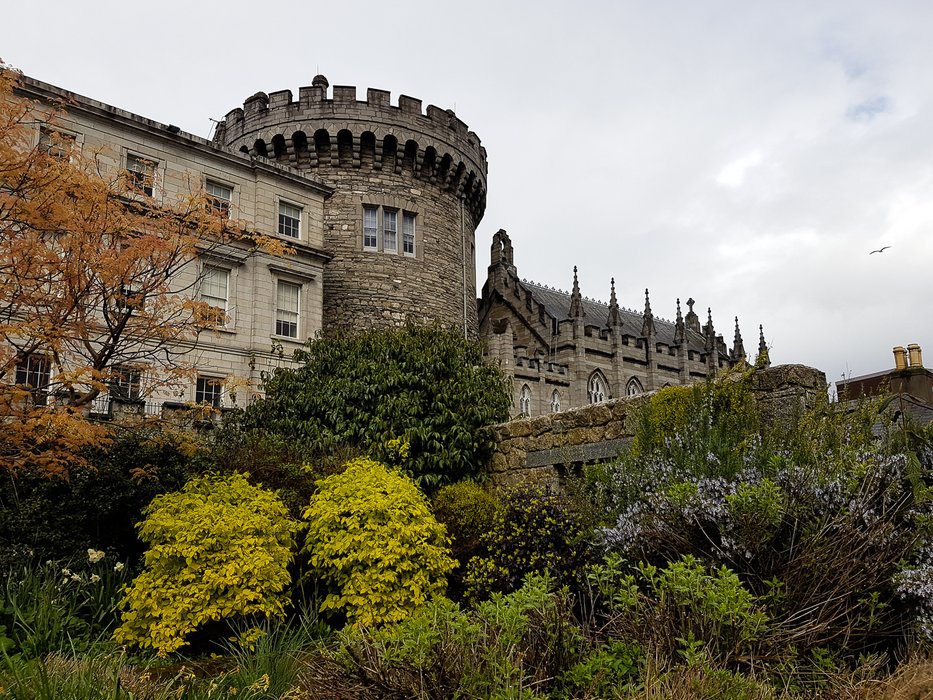 Dublin Castle behind the scenes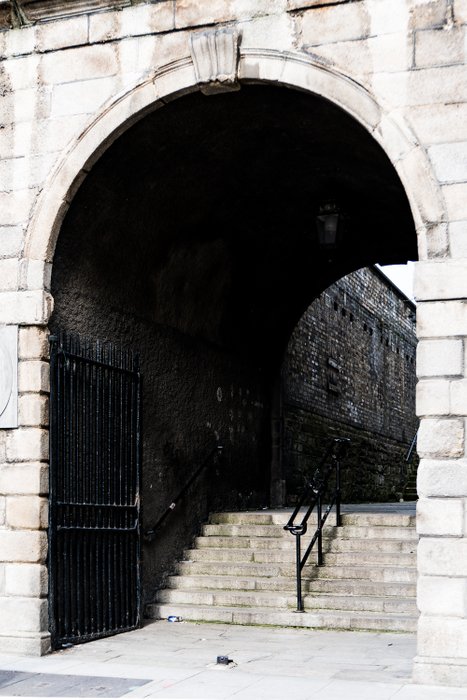 Gate near Dublin Castle
And then, near Christ Church, you look at the sky and you know it's time to find a hiding spot. Thankfully, Temple Bar is nearby for a drink while the rain cleans the streets. Temple Bar would be a no-go area for locals. If I told at the office that I went to Temple Bar with a friend they would roll their eyes.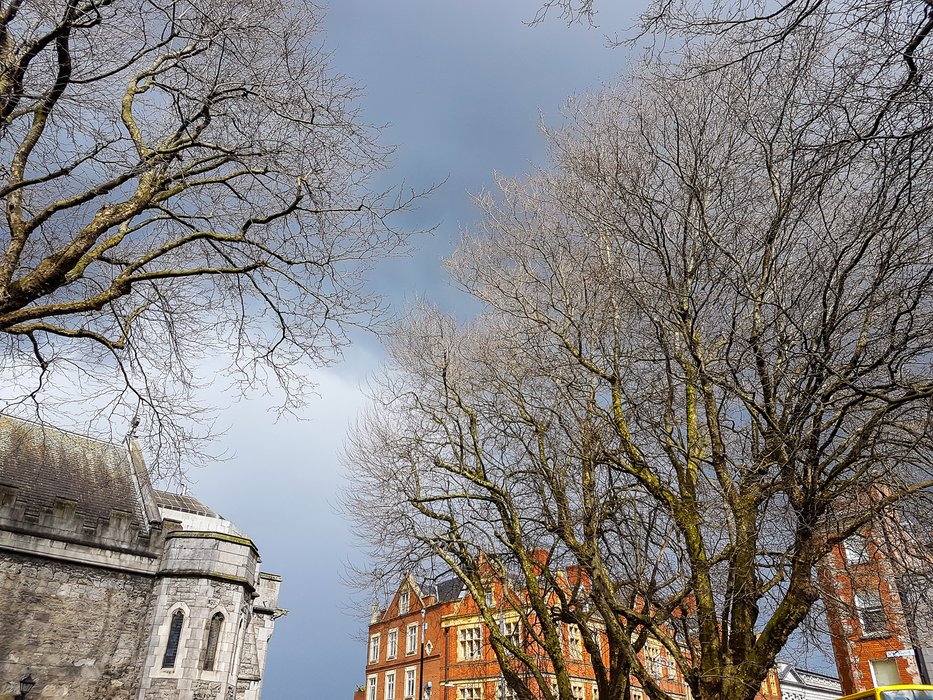 These skies were a signal for everyone to up their walking speed
Drinking time!
I have more than once wondered why pubs are such an important part of life in Ireland. I wouldn't understand because I hardly drink alcohol, something that was often frowned upon when in a restaurant or bar. I didn't understand the drinking culture. But what I did know was that I was regularly bored in Dublin and didn't know what to do with myself. I'd ask my Irish coworkers and the answer was always to just go to the pub. And months later, during winter, it dawned on me. There was hardly any street activity in the city. Putting a terrace in front of your pub was asking for rained away customers. Life In Ireland basically takes place indoors. The pub is your social hangout where you see your friends...and drink some. It was either the football club, church or the pub. I'd know my pick.
Funny anecdote... In Dublin, you often see bars advertise for "Function Rooms", located on the upper floors of a pub. And I had no clue what they were (English is not my first language, you know). I once asked the waiter what that was and he had a bit of a grin when he said it was for "private parties". Somehow I thought he made it sound dirty and my dirty mind turned it into a sex room. I was even more confused than before and asked if there were beds and all... You should have seen the look on his face 🤣.
Leaving Temple Bar as quickly as possible, we can cross the river Liffey by walking the Ha'Penny Bridge. This pedestrian bridge was build in 1816 to replace the ferries that would help people cross the Liffey. It would cost half a penny to cross, hence the name.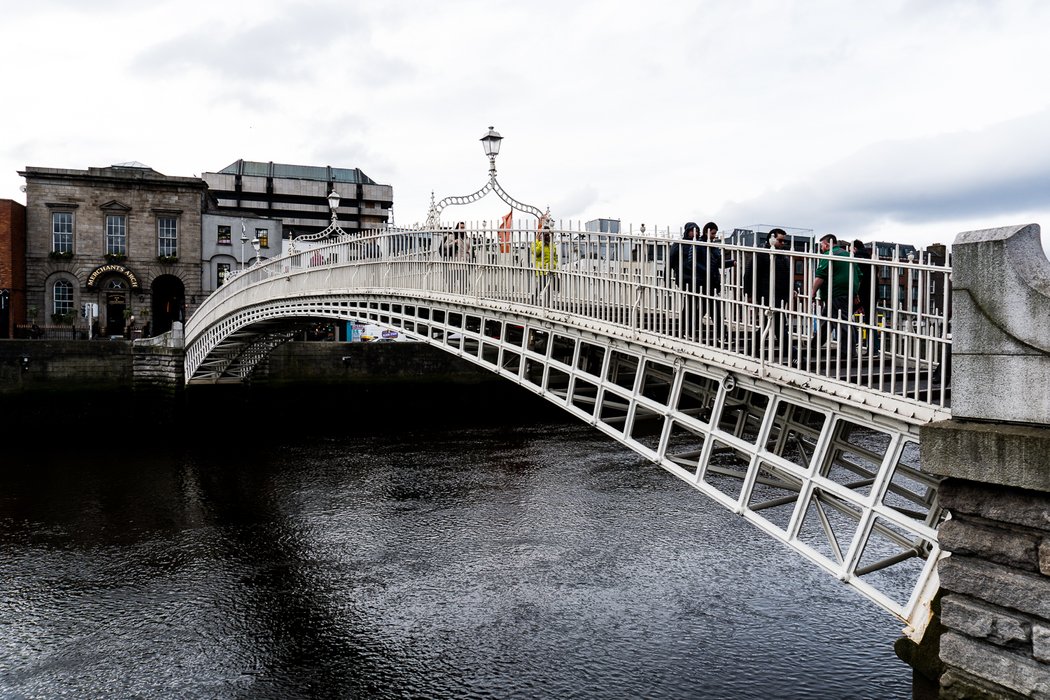 Ha'Penny Bridge
The dangers of the north side
Now we get to the north side. The side that everyone told me is very different from the southern part of Dublin. Where the south is the classy and upscale part, north would be filled with criminals and scum. (It felt a bit like the way people in Amsterdam would talk about the north part of Amsterdam.)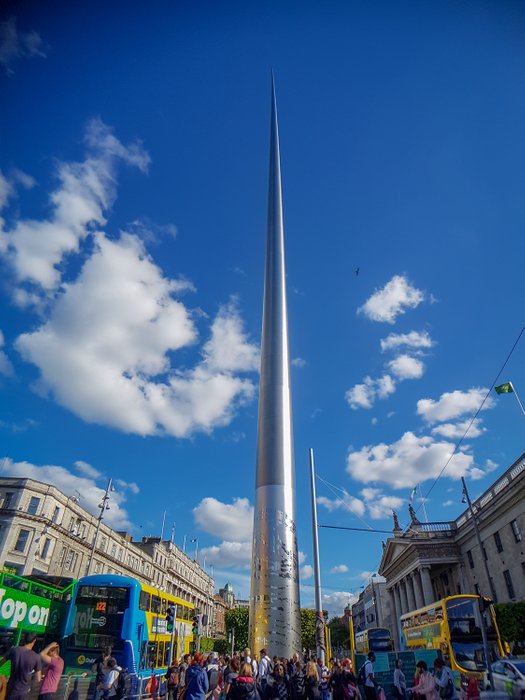 The Spire at O'Connell Street
When I walked through O'Connell Street and Henry Street I would never experience this. This was my go-to point for some shopping. It was clean and safe and the streets were well lit. I never felt uncomfortable here.
But that is just the exception... Just turn a few extra corners and you end up in a dodgy area. Often did I have people warn me not to check my phone while I was walking there. I was lucky enough to never have experienced anything bad there. But I could totally see why you wouldn't want to live there. A few of my coworkers had an apartment there and even with the many security gates, weird things would still happen.
How safe do you feel, though?
While Dublin is considered almost as safe as Amsterdam, it didn't feel that way. Maybe it had to do with the massive amount of gates and locks I had to go through before being inside my apartment. Or maybe that most of the houses and offices have a very noticeable alarm system installed. After one of my coworkers told about a break-in, and one by one other coworkers started sharing similar experiences I had a few tough nights sleeping. It turned out to be no big deal... we had a security guy at the apartment building and the gates would be closed after dark. Nothing ever happened...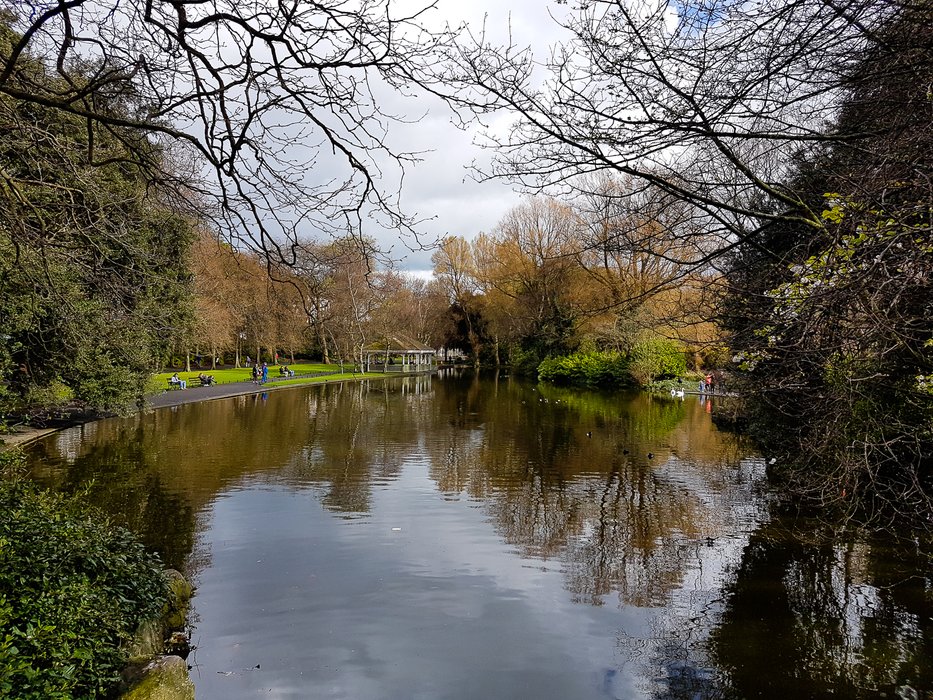 But why all the security? There is a large income gap in Dublin, it seems. A big reason could be that streets are empty and dark in Dublin. With everyone wanting to be in the pub or at home, who protects the streets?
Art and architecture?
The local Dubliners also notice that some streets could use a bit of a makeover. Dark alleys will get some fresh paint here and there and are sometimes turned into outdoor art galleries. You will be able to find a lot of street art in Dublin.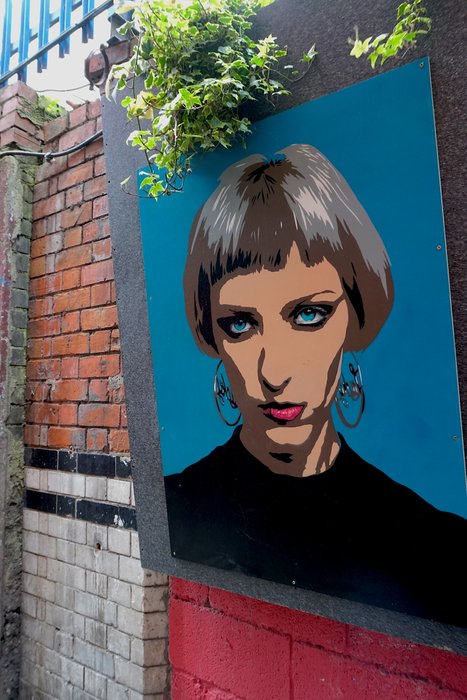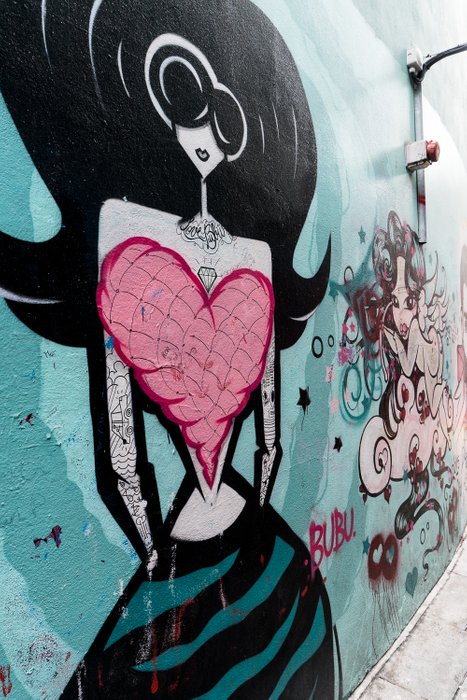 The question is when it is still art or not. Will this abandoned ship pass for art or are people just too lazy to clean it up?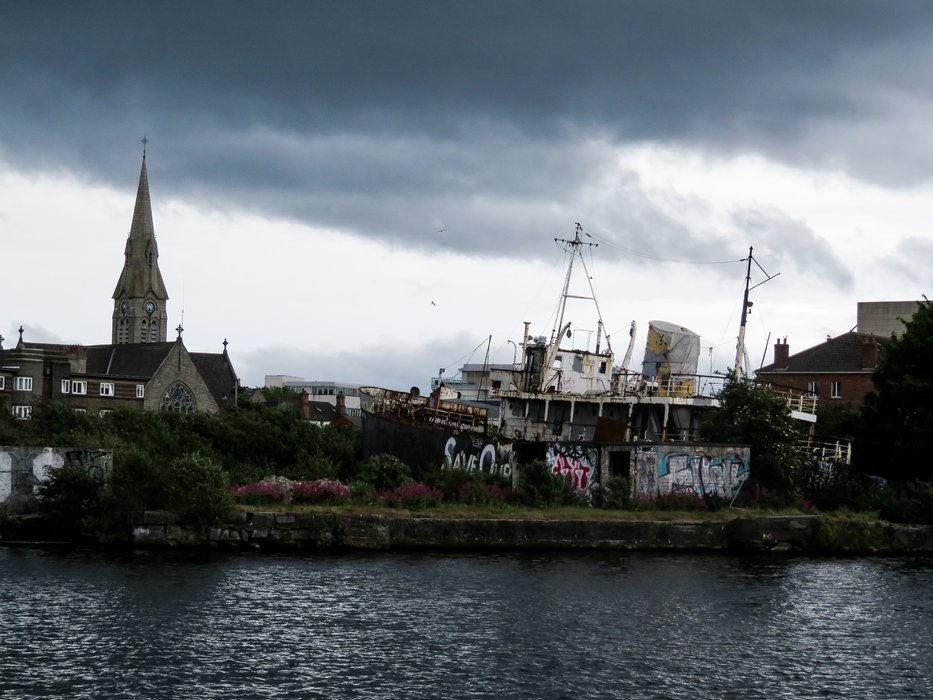 I have learned that the true beauty of buildings is often hidden in Dublin. What looks like a total dump on the outside can be amazing on the inside. The first encounter with that was when I saw photos of the AirBnB office interior. On the outside it just looked like a basic warehouse.
Another one of my favourite buildings is the Convention Centre. I am a sucker for symmetry, glass and light I guess. All I did during the conference was walk around and snap pictures. Especially during the talks when the hallways would be almost empty.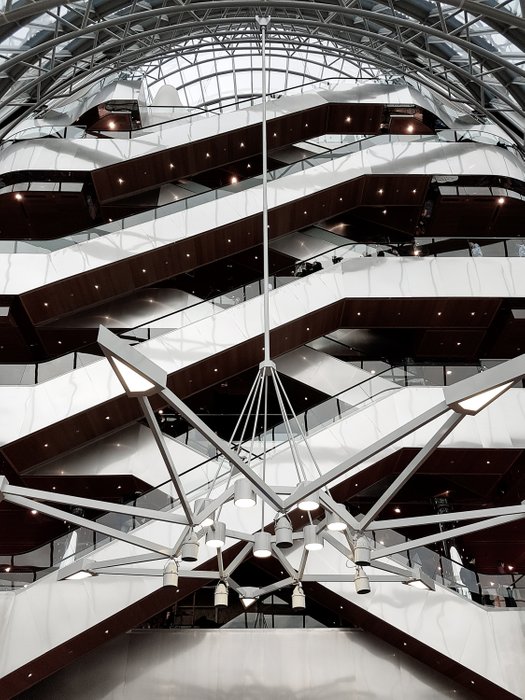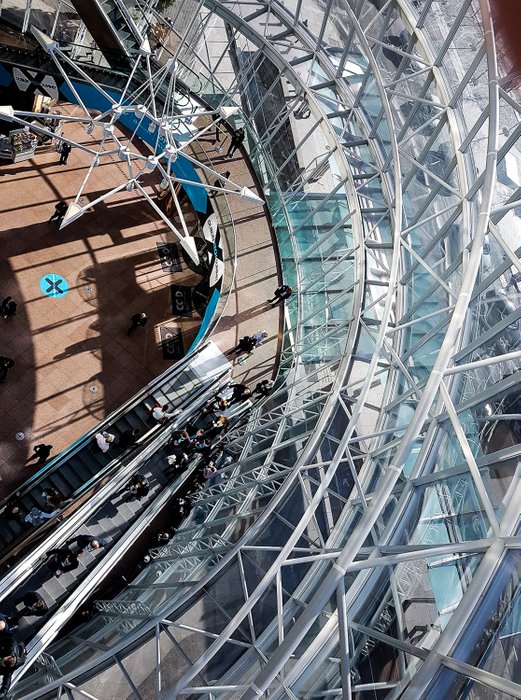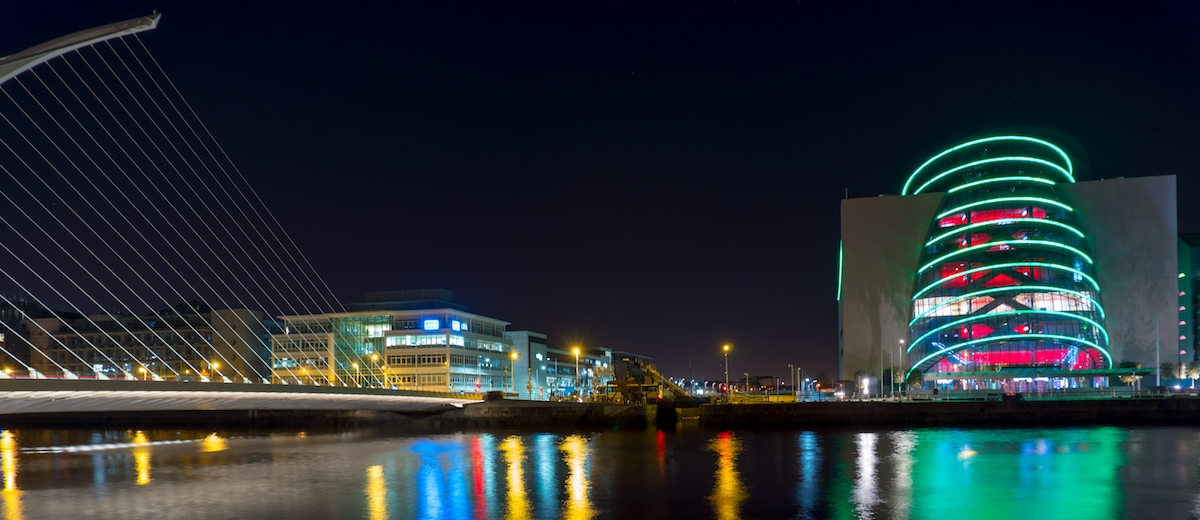 The Convention Centre next to the Liffey
I got to know Dublin in the year that I lived there. I learned the good and the bad things about this city. I was frustrated with the stupid decisions that the government sometimes makes. For instance, it is the only capital city in Europe where the airport doesn't have a train station. Dublin is a city held hostage by the power of the taxi drivers. Wait what happens when the bus drivers are on strike and you have to get to the airport!!
So with all this, why do I miss it? It must be the socialising pub-culture effect. I miss the people! I miss my friends. We were all part of a new organisation and I grew pretty close with my co-workers and some of them became friends. We worked hard but had fun. Many of us moved to Dublin just for the job. We would complain about the shitty things of Dublin. And then had a laugh about it too. There was always a worse story! It was often already pretty dark when I would walk home. Thankfully, my route was not past any dodgy places. It actually looked pretty good even...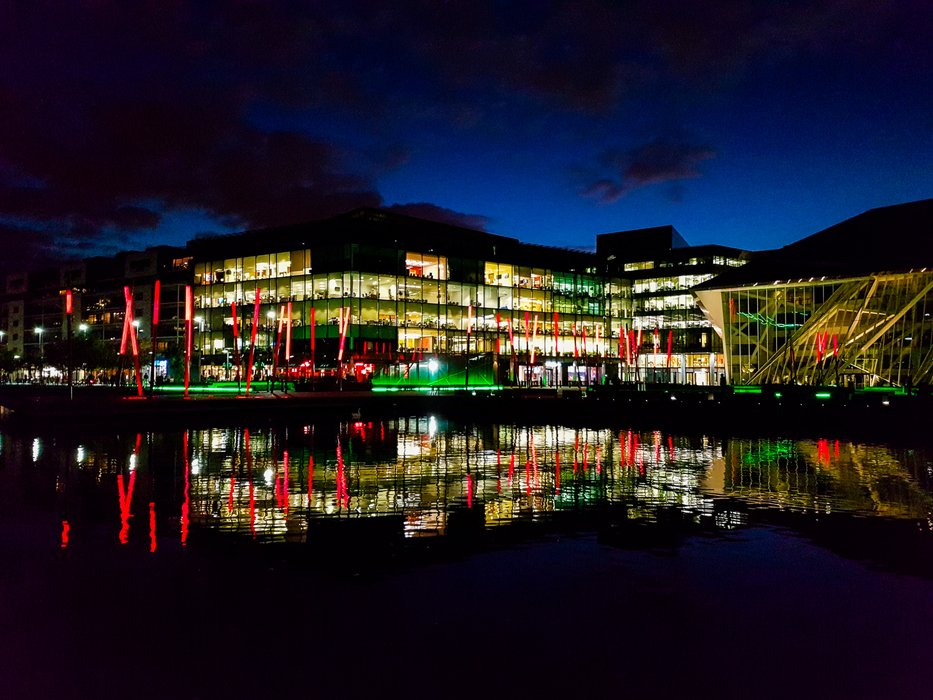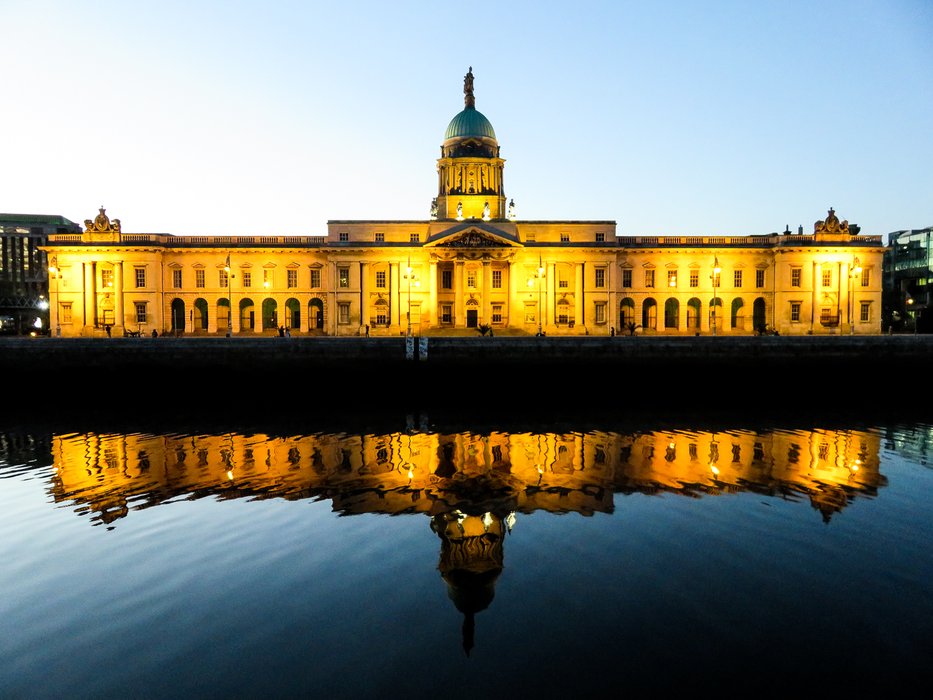 Also in this series: