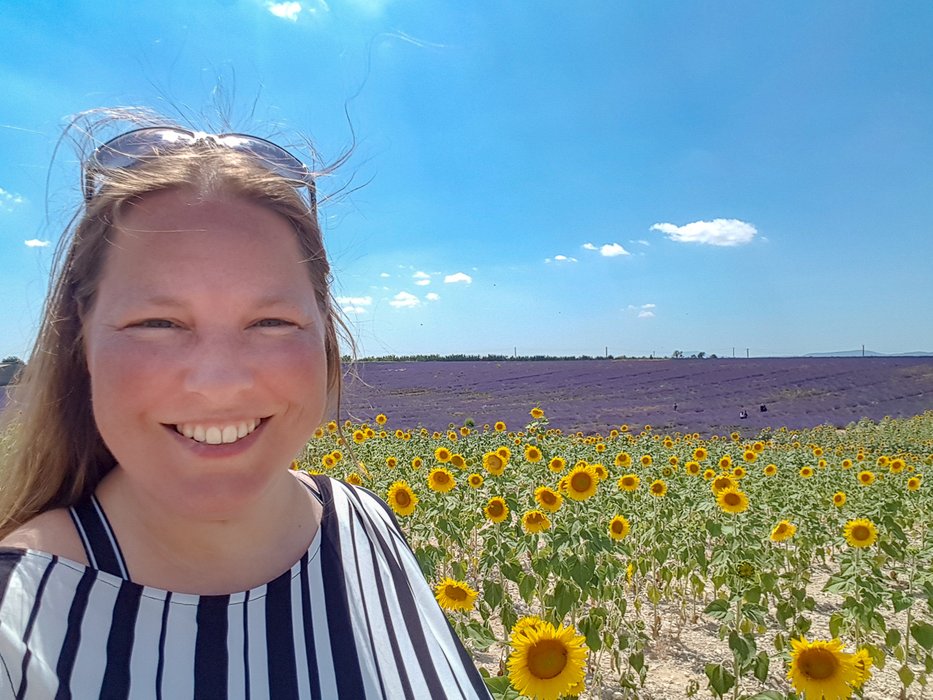 It was the day after I nearly tipped over my car... It was a restless night. It was warm in the apartment and I had to check out super early (WHYYY!?!). I was hoping I didn't damage the car and I would make it to the next destination without problems. But I was also sad that I haven't had the chance to photograph the milky way from a lavender field. The night skies were a bit too hazy the last couple of nights.
Maybe I would be lucky enough to do it somewhere near my next location, a 200-kilometre drive south-east from Montbrun-les-Bains. The drive that day would lead me through the final bit of lavender-land of my trip. I was headed to the Gorge du Verdon area. Rocks, cliffs and mountains and an amazing lake! No lavender, but I was excited for a change of scenery. And that Gorge du Verdon drive...!!!!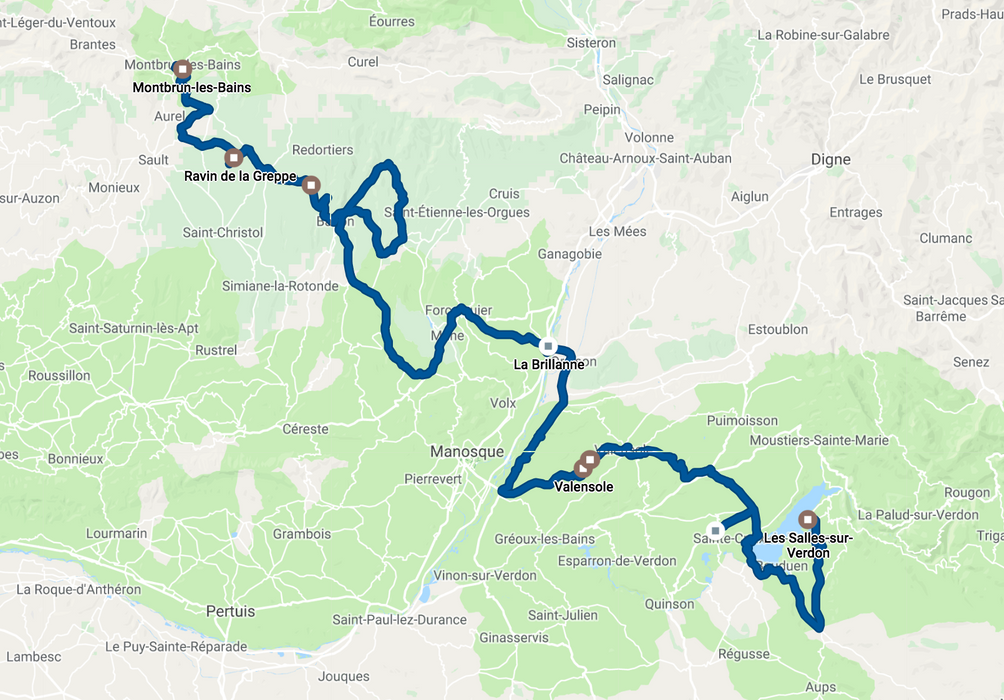 It wasn't going to be a very interesting drive. I only had one major spot marked on the trip that day and that was a field close to Valensole. I found a photo online of sunflowers next to a lavender field and all I could think about was that I needed to have me one of those too! Little did I know I wasn't going to be the only one thinking that!
I put John Mayer into my cd player, put on my sunglasses, filled my cooler bag with ice and drinks and hit the road. It was a very hot day and further south wasn't going to be any colder. I wasn't really in a rush but I sort of wanted to arrive early so I had plenty of time left to spend near the lake. But in the end, my drives always take longer than expected. Just because I see cool things on my way...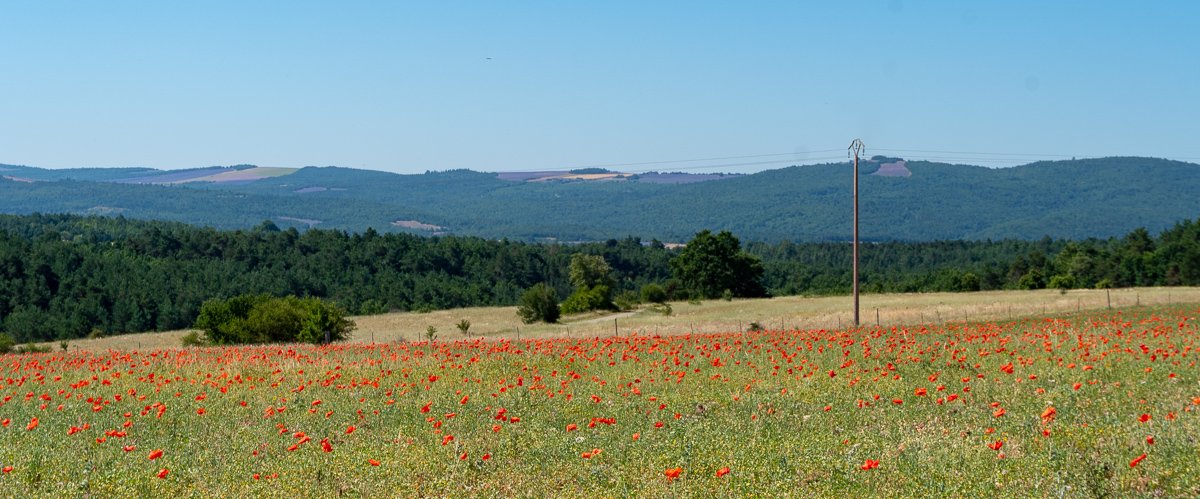 Do you see the lavender in the distance?
Poppy power!
Have I ever told you that I have a soft spot for poppies? After seeing all this purple in my feed, you might not have seen this one coming. But to paint a bit of the picture for you. Poppies in dutch are "klaprozen" which would literally be translated like "slap-roses". Since my surname is "Roos" (Dutch for "rose") there is a natural link with anything rose related. And those poppies are just a lot more delicate than normal roses... So there you have it. Funny anecdote: I have once sent a PM to a complete stranger called "Klap" as a surname if he wanted to marry me so I could change my surname to Klap-Roos. He turned out a little too young so I decided to look further. This was also around the same time one of my friends (called "Axel") kept asking me to marry him so he could start using my name (for obvious reasons if you are Dutch or you know how to correctly pronounce "Roos").
I just had to stop my car when I saw the poppies. There were so many!! (Please let me know what places to visit that have a lot of poppies too...! )
Back to the purple...
But yeah, it was a one-off... unfortunately. Lavender was dominant and the closer I got to Valensole, the larger the fields seemed to become. I was still driving around in the middle of nowhere, hardly seeing any cars or people taking photographs of the lavender. Google made me drive into a dead-alley next to a massive lavender field. I felt that I could drop dead there without getting found anytime soon. It was a perfect spot to take off your clothes and make some NSFW selfies in the lavender fields.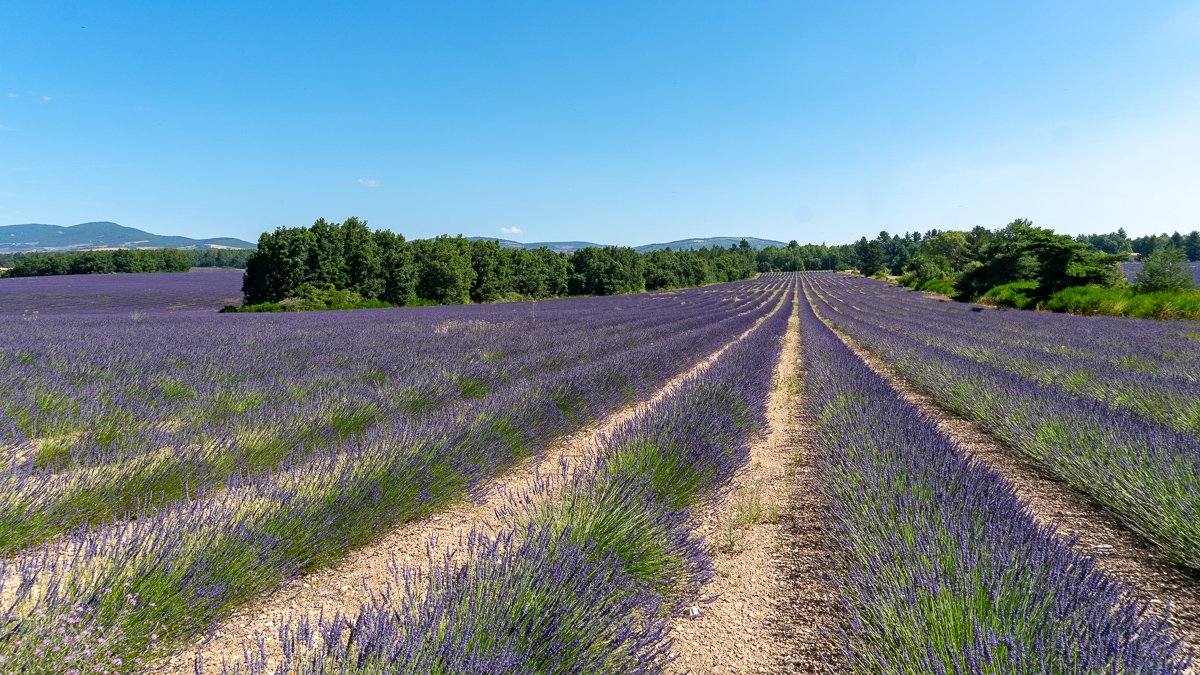 The bees and butterflies also seemed to like the peace and quiet. The buzzing was louder than ever. Everywhere you looked they went from flower to flower. And the butterflies just joined their party! Just so you know, the black dots in the sky in the bottom photo are bees. No need to clean your monitor...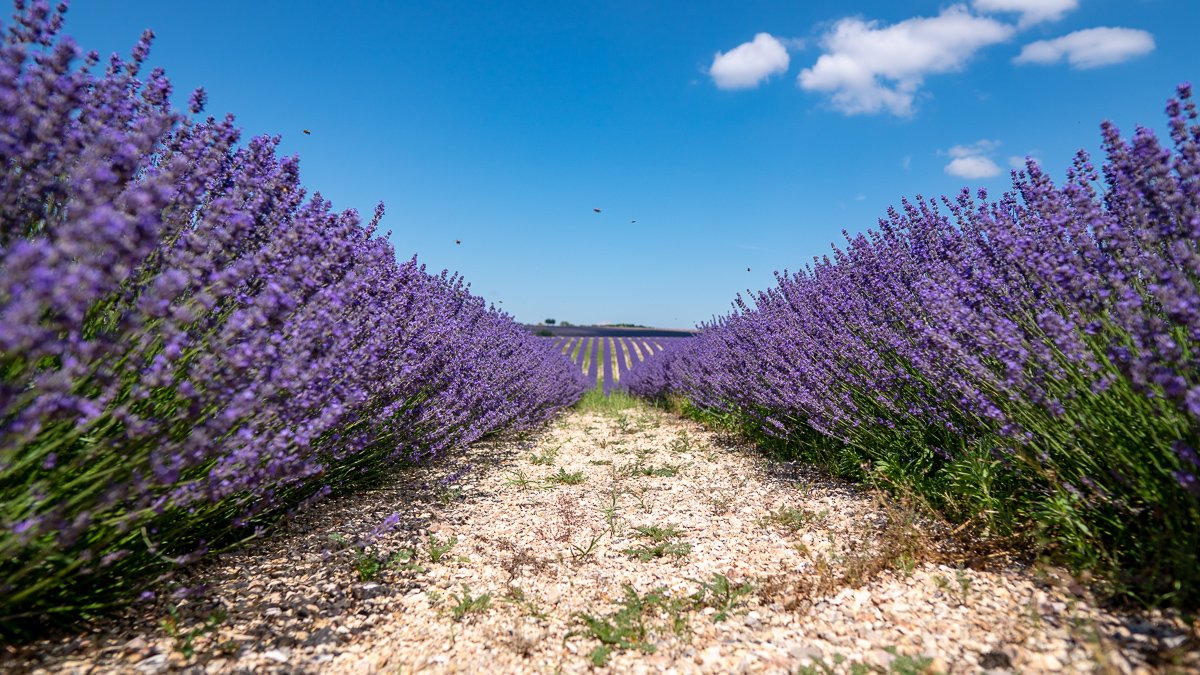 It wasn't a super exciting drive. The landscape was pretty much the same everywhere with here and there a field with flowers. Sometimes a bit of farmland when I got closer to Valensole. But in general not a lot of stop-worthy views (after x variations of lavender fields, you feel you have them all), which made it easier for me to stick to my plan to arrive at my destination early.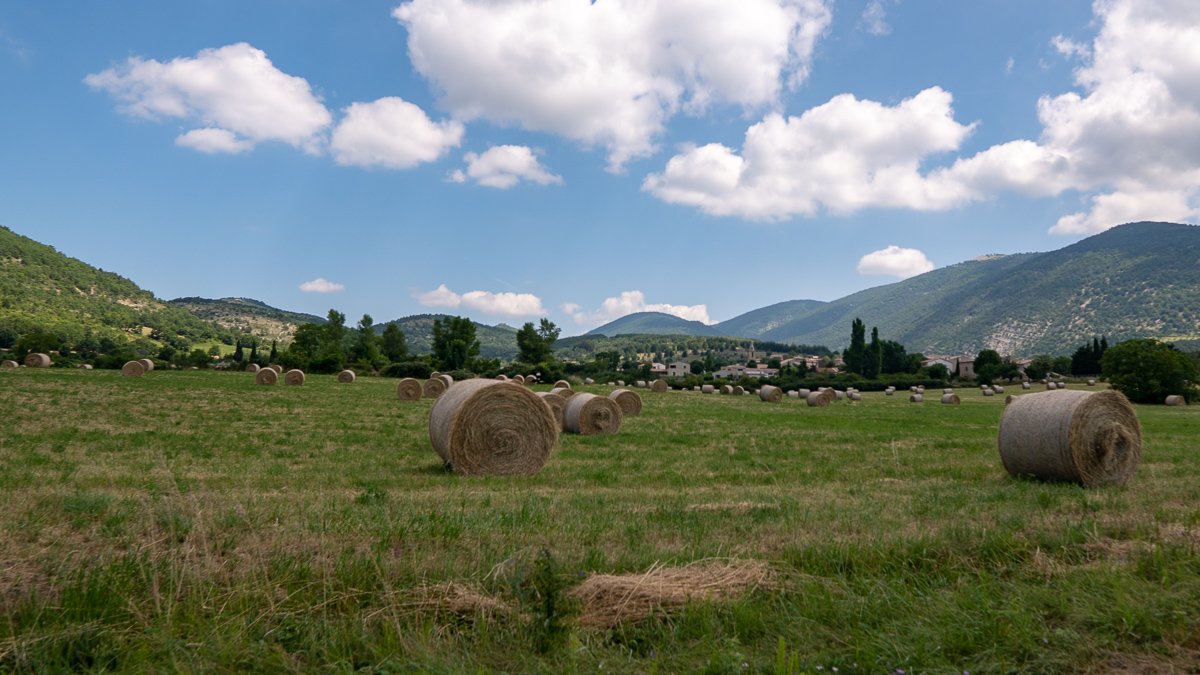 No lavender anywhere!!
Only one goal left: Sunflowers!!
I was getting closer to my major goal. I drove past a small field of sunflowers on the hills but I couldn't really get close to it. I crossed my fingers this was just the start of more. But the following kilometres I didn't see any yellow. I somehow turned my car onto "Lavender-highway" without realising and suddenly everything changed!
Where did all these cars come from? It was very busy and there were so many people standing in the lavender fields! Then I saw it! Yellow in the distance, next to a patch of purple. That must be the spot!!
A huge billboad next to the road pointed out the parking lot. With a shop of lavender goodies next to it. And a bar/cafe. It was crawling with people and it was just a cheap ass tourist hotspot. But I had to deal with it, it was the first place I found with sunflowers growing next to lavender. And that they clearly did that on purpose to attract tourists wasn't that important.
The field looked terrible! The space between the rows of lavender was larger than normal, so people could easily walk around the field. People picked flowers (which you are not supposed to) and just sat next to them (almost on top of them). They just walked through the bushes to get to a better spot. As you can see in the photo, the lavender looked awful!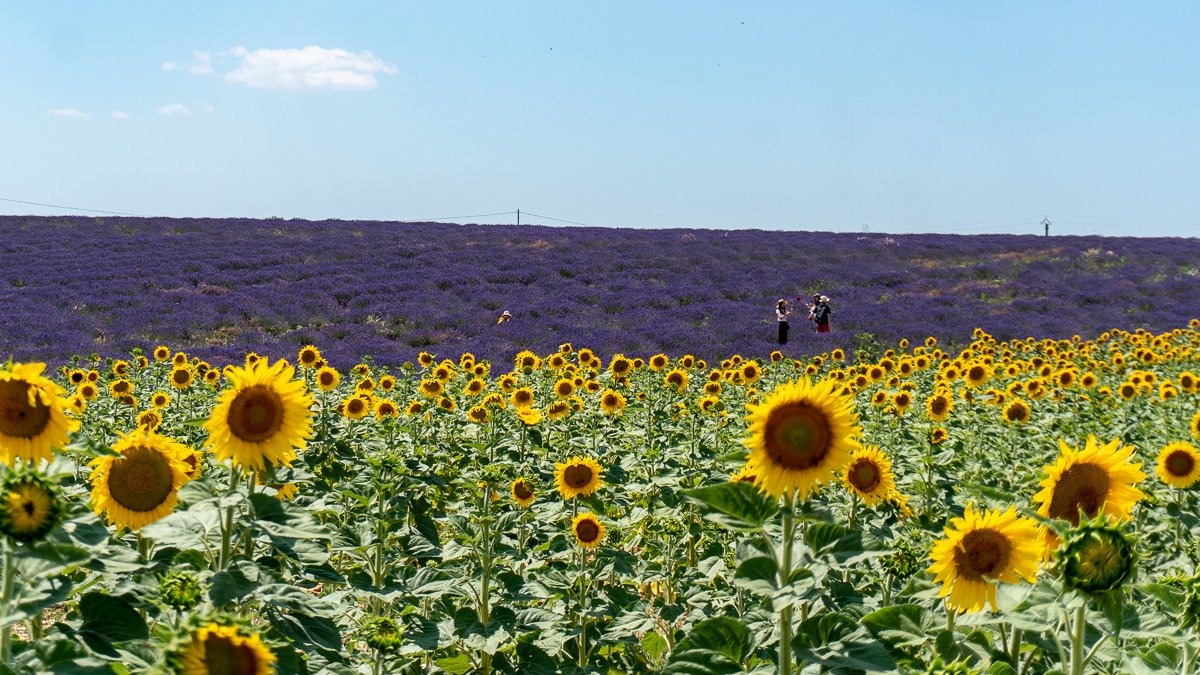 Thankfully most people didn't feel like walking through the sunflower field so that was a bit more decent looking. But I didn't get the picture that I dreamed of, the perfect 50/50 lavender-sunflower shot.
So I decided to just focus on the sunflowers a little. I grabbed my lensball for some creative shots and nearly burned my fingers holding it in the bright sunlight. But it was fun to see a different colour for a change.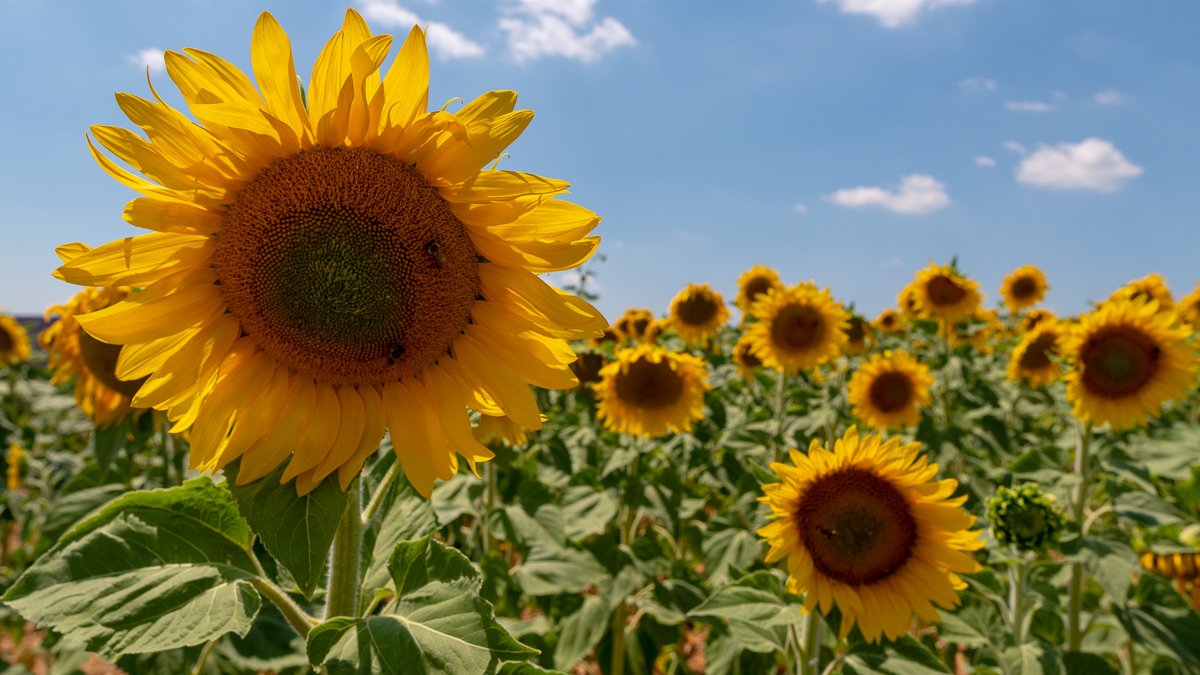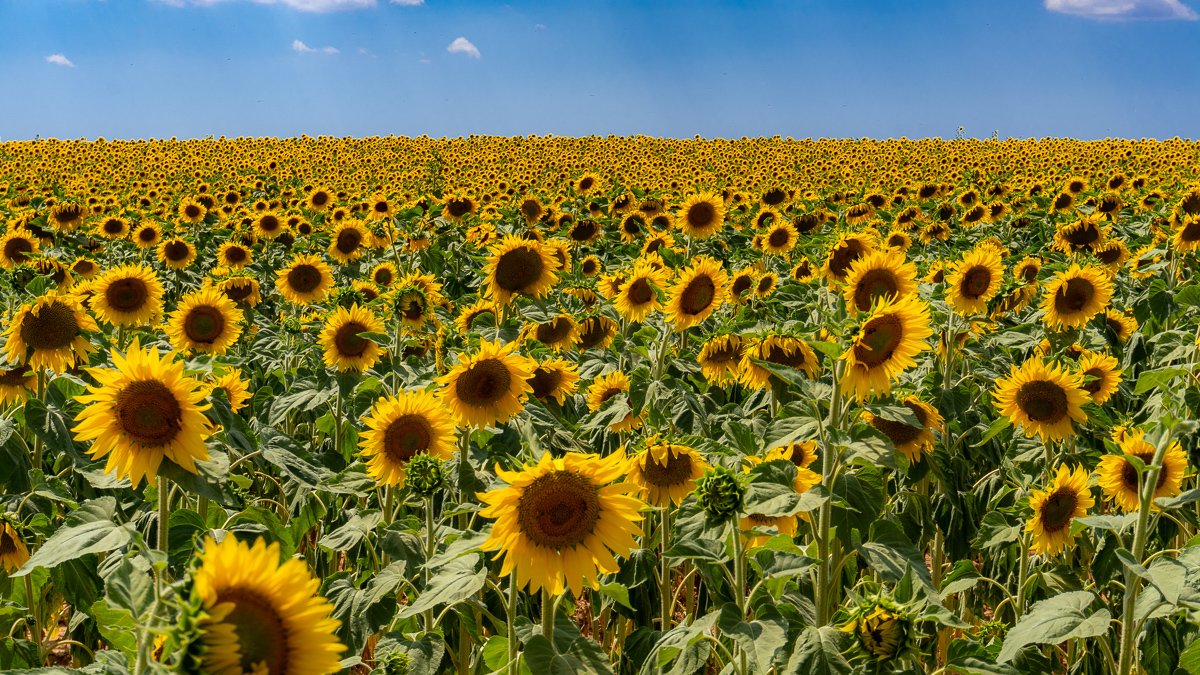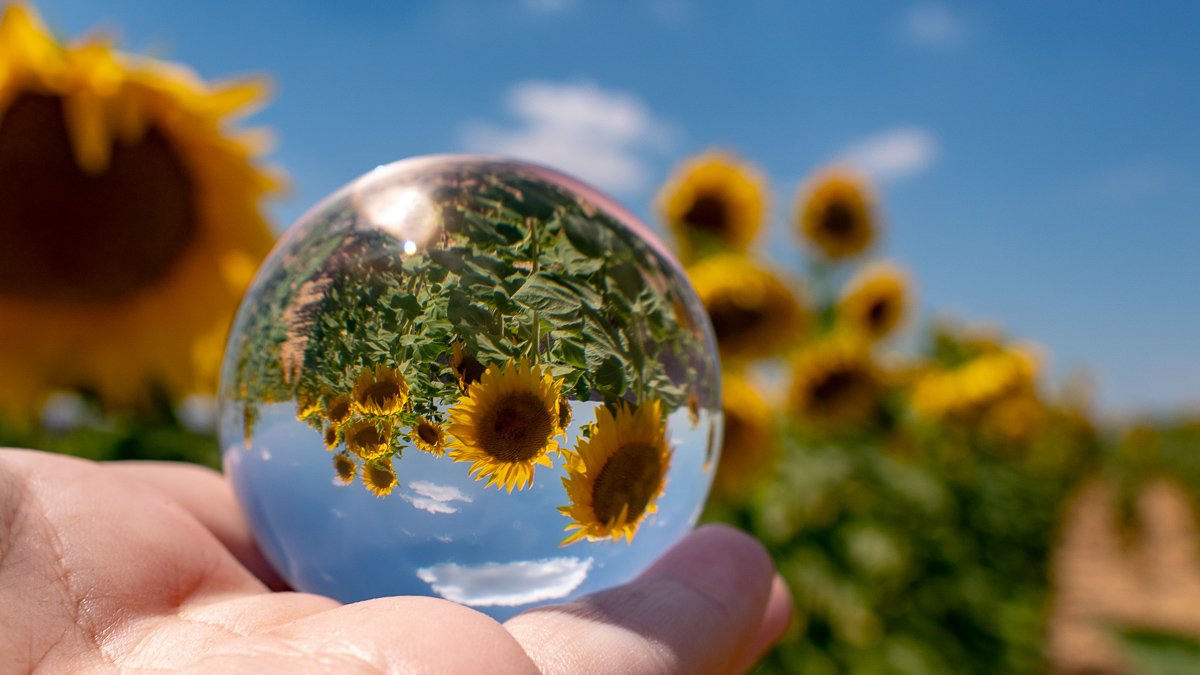 After an extensive photo shoot, it was time to get back into my car. It was so warm in the field and the overload of people was getting on my nerves. After almost a week only seeing a handful of people, I needed my car as my personal bubble. Thinking that was it, I drove off. Only to park the car again a few 100 meters further because of the most amazing clean lavender field I had seen thus far. I kicked myself for stopping again, but I had to. A few last photos! Really!! There were hardly any people here (these fools were taking lavender selfies in the worst field possible just a few minutes away!). These were the last pictures of lavender that I took during that trip... It was time.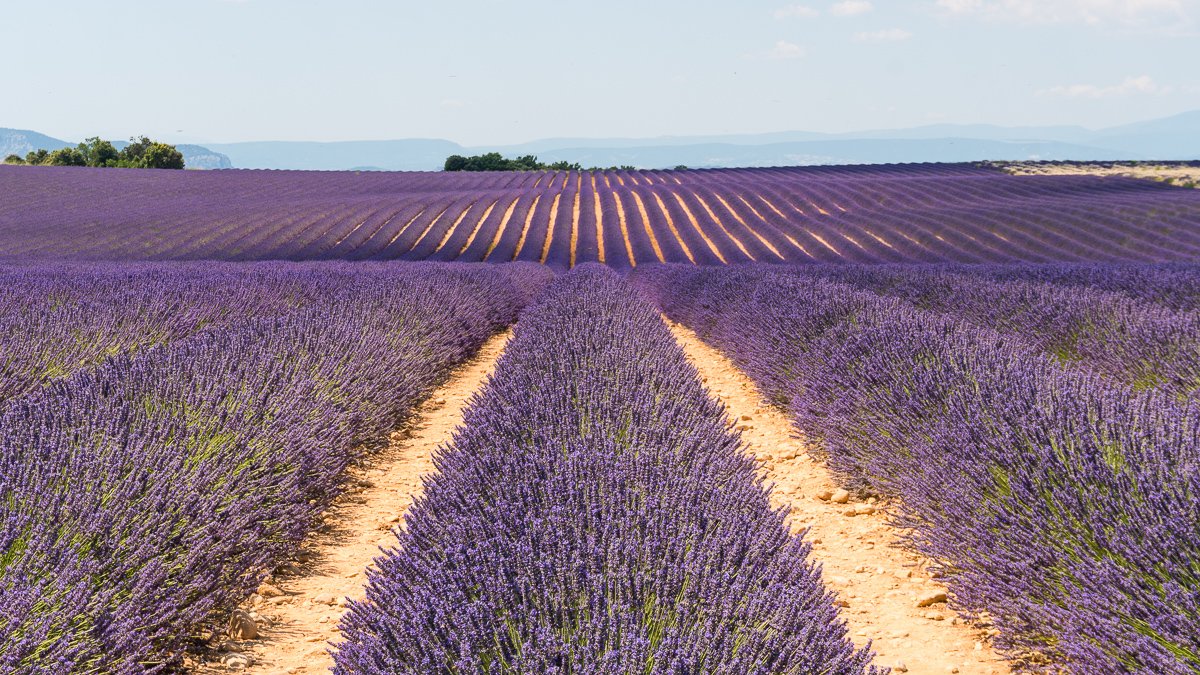 Water!! Water!!
It was time to get my ass to the lake. I got sick of John Mayer playing the same songs over and over again so I switched to an audiobook (which is even worse!). I got in a bit of a trance by the monotonous voice and the unsurprising landscape. It kinda really hit me hard when I got a first glimpse of the lake! The blue of the water was so immensely blue! It was like I travelled to a completely different planet all of a sudden. It really is hard to describe but after days and days of dry land, it was certainly a refreshing view.
All I needed to do was drive around the lake, check into my hotel and sit down with my feet in the water. The first 2 things I managed... I fell asleep before I was able to get to the water. But I had another day before I was going to leave. No problem, right?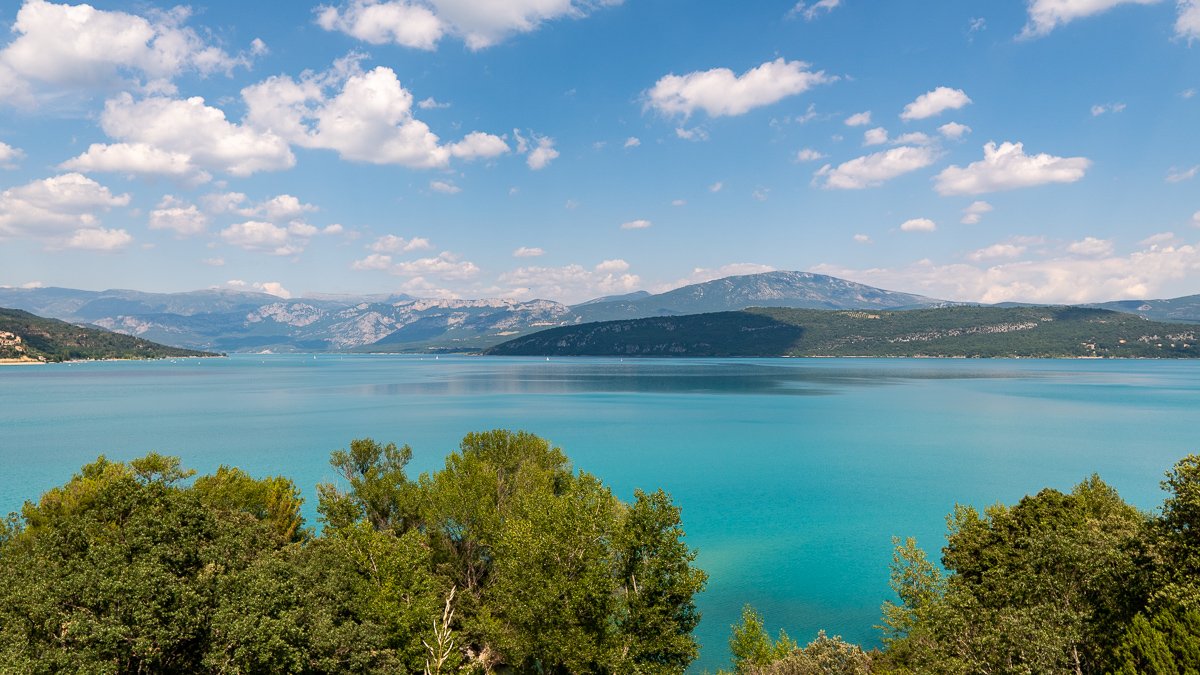 Also in this series: