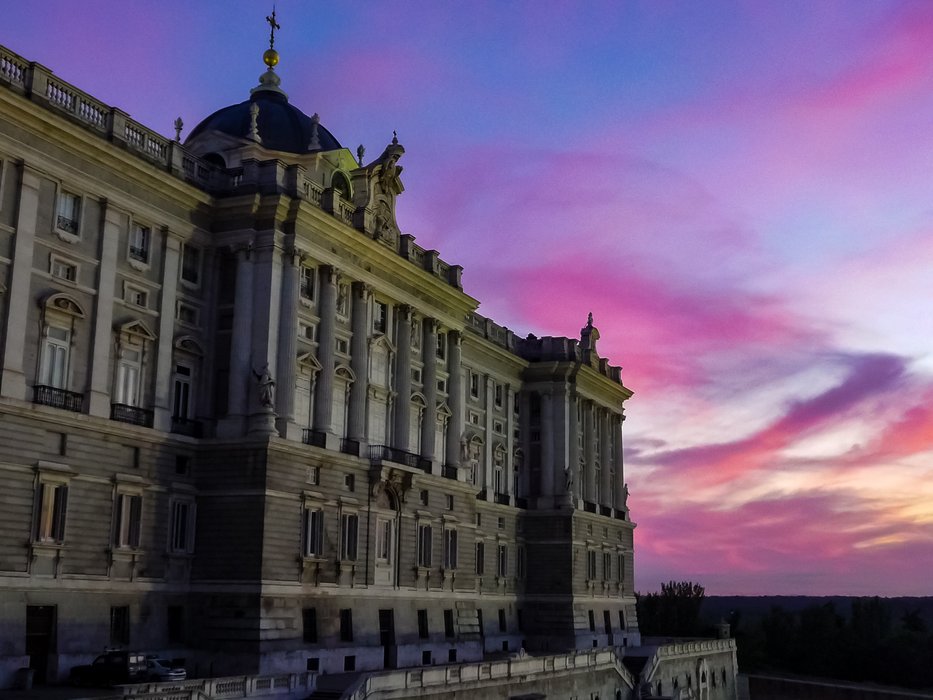 Maybe hard to believe, but there was a time in my life where I had no interest in visiting Spain at all. I remember seeing the prices for city trips to Barcelona and thinking: "This is so cheap, there is either something really wrong with that city or it is just a party town for students". And I dismissed Spain all together and booked a ticket elsewhere.
At some point, after reading many enthusiastic stories and having the feeling of having nowhere else to go, I got over that. I went to Barcelona and was pleasantly surprised. I even fell in love with that city (more on that in another blog). And Spain wasn't all that bad, it seemed. Funny how my brain then works. The next trip had to go to Spain as well!
I booked a ticket to Madrid...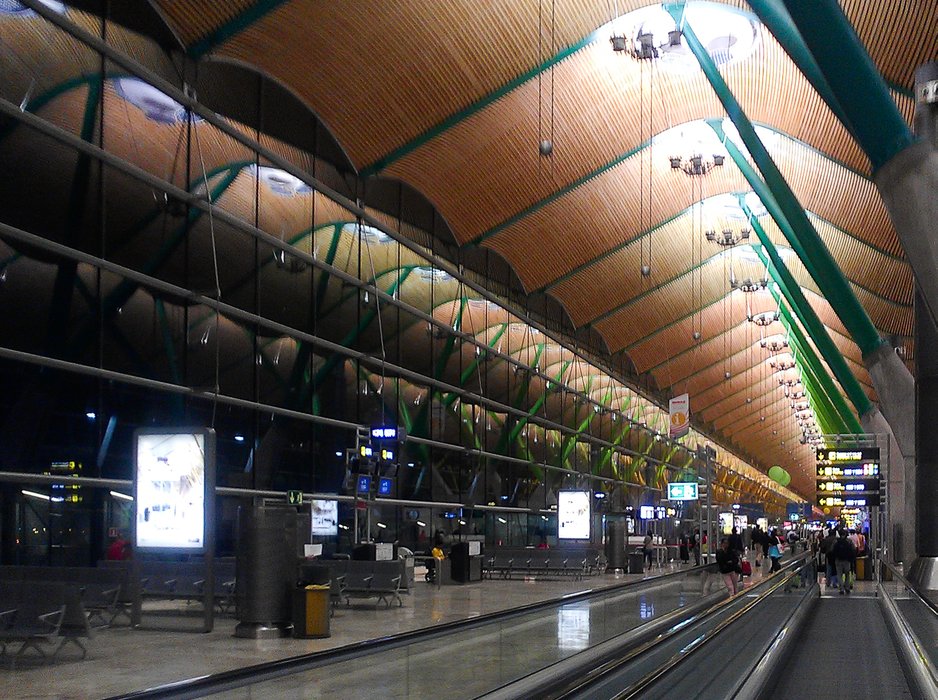 It was a good start, the ceiling at the airport is amazing
Then I did something stupid. I announced my trip to Madrid on Facebook. And just my luck, one of my Facebook friends was planning on going there too and wanted to meet up. He was a nice enough guy and I didn't have anything else planned, so why not? I would meet him later...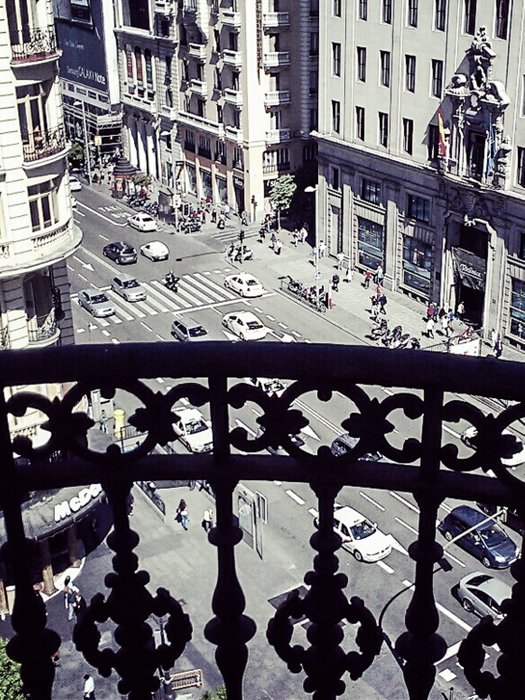 The hotel gave me an amazing room with a view of the Calle Gran Via, just north of the city centre. It was far above the people on the terraces on the small plaza in front of the hotel. I just adored my room and the pretty little balcony!
I didn't know that I would even love it more a couple of days later. That particular evening, I was chilling in my room and heard a lot of noise outside. I had no idea where that came from and why it was happening, but I went to my balcony like any serious disaster tourist would do. From there I could see a huge crowd walk towards the hotel in one of the side streets of the Calle Gran Via.
Before I knew it, there were police cars everywhere and the riot police were lining up. Sirens were loud and came from every corner and at some point, even a police helicopter showed up. I didn't know that these people protesting were teachers and students and it was probably one of the most peaceful protests possible. From where I stood, it looked like the shit was about to hit the fan. But appearantly the Spanish like to protest a lot. And the lining up of the police cars just is standard procedure. It was interesting to see the cleaning of the street and plaza from my position, but it felt a bit weird at the same time.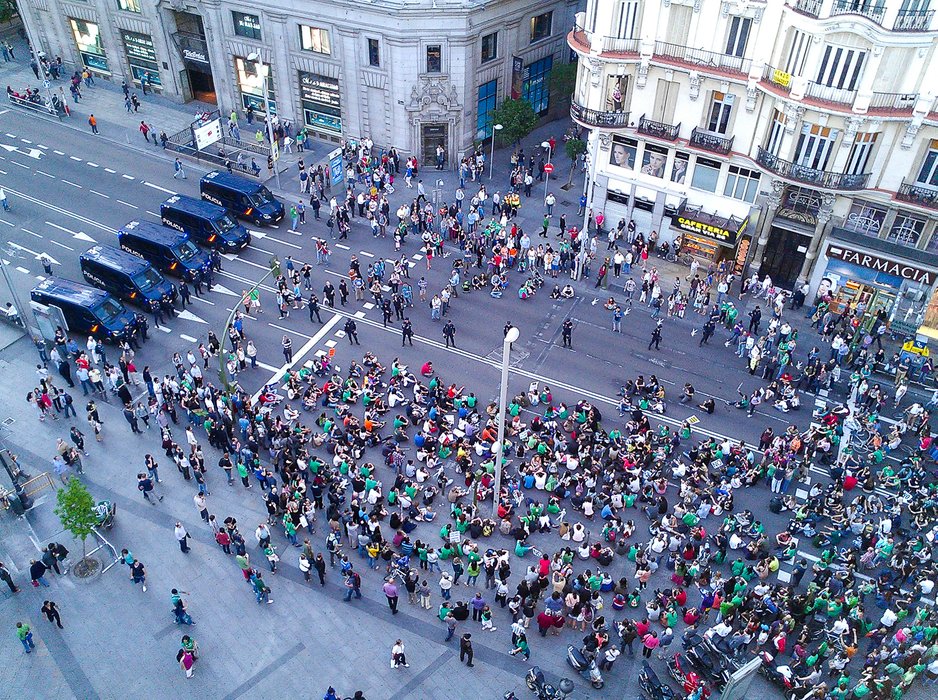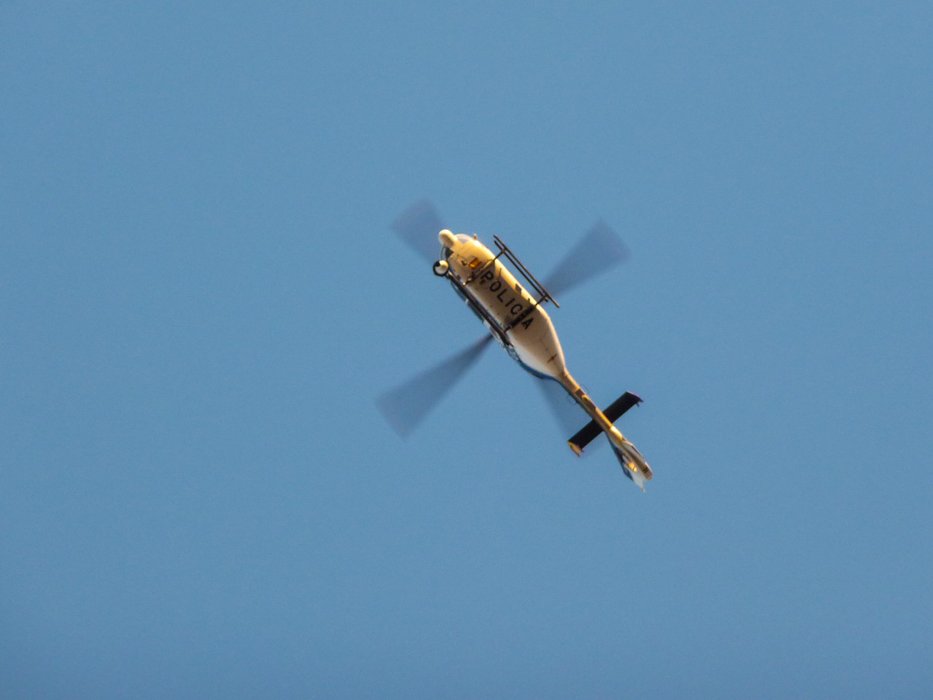 ---
Royally impressed
It was warm in Madrid. And since I am not very good with heath, this situation made me slooooow. I took my time and went to the first spot I wanted to see: The Royal Palace of Madrid.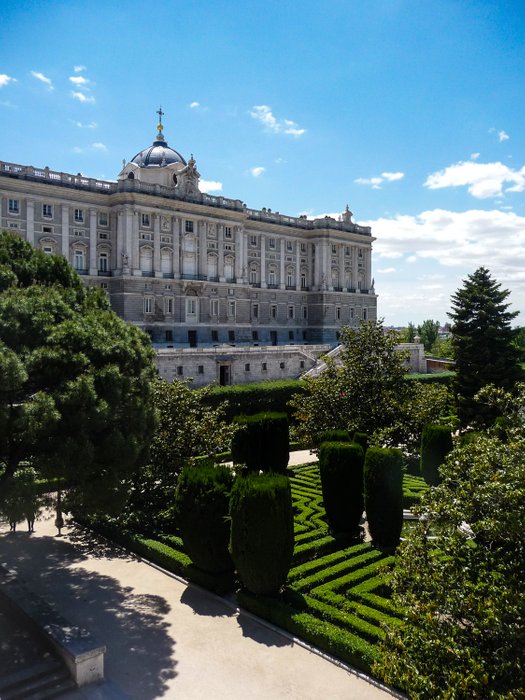 This palace is just massive. It didn't surprise me to learn that it is the largest royal palace in Europe. There are almost 3500 rooms in there, can you imagine? Could be a good spot for a Steemit-conference with sleepovers 😉.
It's not a super old palace. Construction finished in 1755. There used to be a much older palace in this same spot, but that burned down in 1734. The current palace is huge and a bit too perfect to my taste, which probably sounds a bit weird. I was missing a bit of charm to a palace that I normally see in Europe a lot. Maybe it was too clean? Maybe it was too large? Maybe it was too modern? I don't know.
The thing that I did know though was that the combination with the royal gardens (Jardines de Sabatini) was so beautiful, I had to have a few photos of that, despite the heat.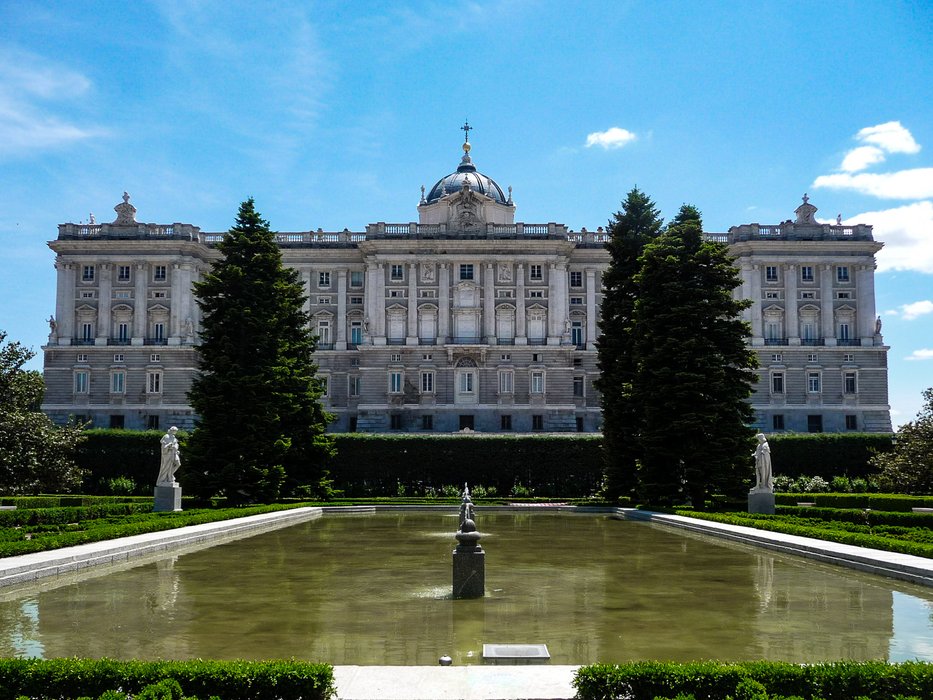 No royals live in this palace nowadays, which I can totally understand. Would you want to live in a tourist attraction in the middle of a huge city if you already suffer a lack of privacy? Also... it is a bit too large anyway. Imagine the kids playing hide and seek there! And some other things... It just reminds me so much of this commercial 😀.
Leaving the amazing gardens, on the opposite side of the palace, you will find an impressive square: Plaza de la Armeria. You have to have a ticket to the palace to get access to this plaza. But I was able to shoot a picture through the fence to give you an idea.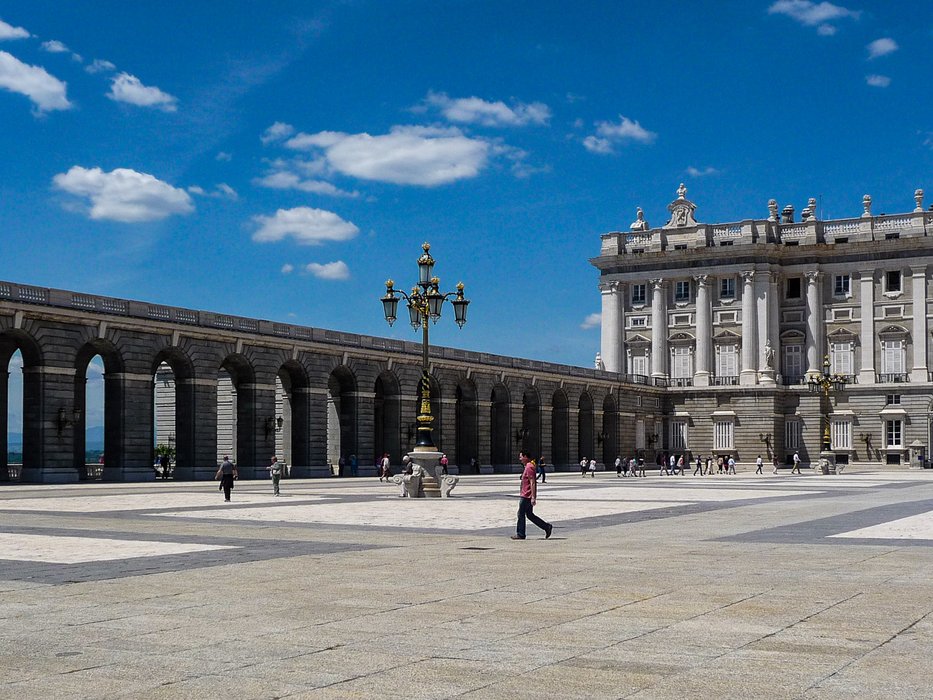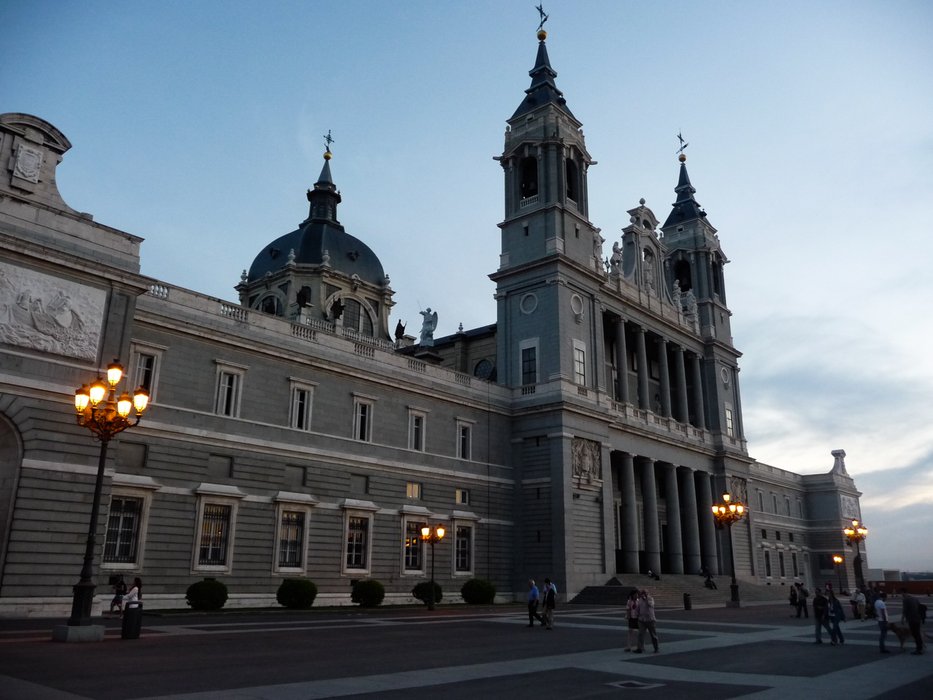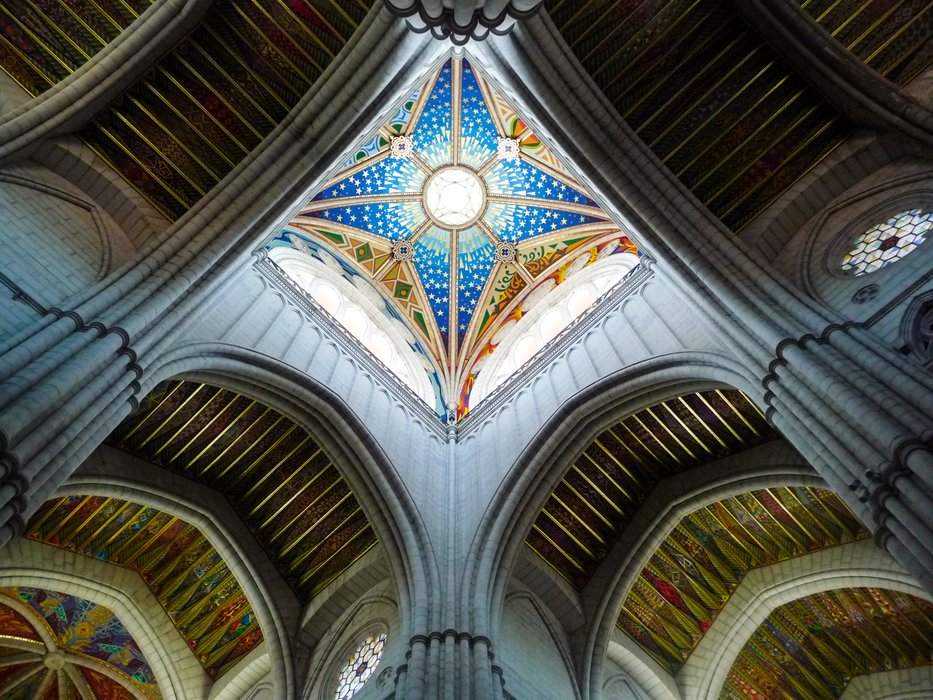 If you stand on the plaza you be in front of one of the -in my opinion- most beautiful cathedrals in the world: the Almudena Cathedral. It took them a while to build it (plans were there in the 16th century, in 1993 it was completed), but I have the feeling that just that fact makes this Cathedral so special now. It is an amazing combination of a modern neo-gothic interior with baroque exterior.
I just fell in love with the ceiling when I walked around there. It is not like your standard cathedral with the Christian paintings everywhere. The modern stained glass windows were just the cherry on top. Unfortunately, I wasn't able to capture that with my lousy camera. So I hope you will just take my word on that.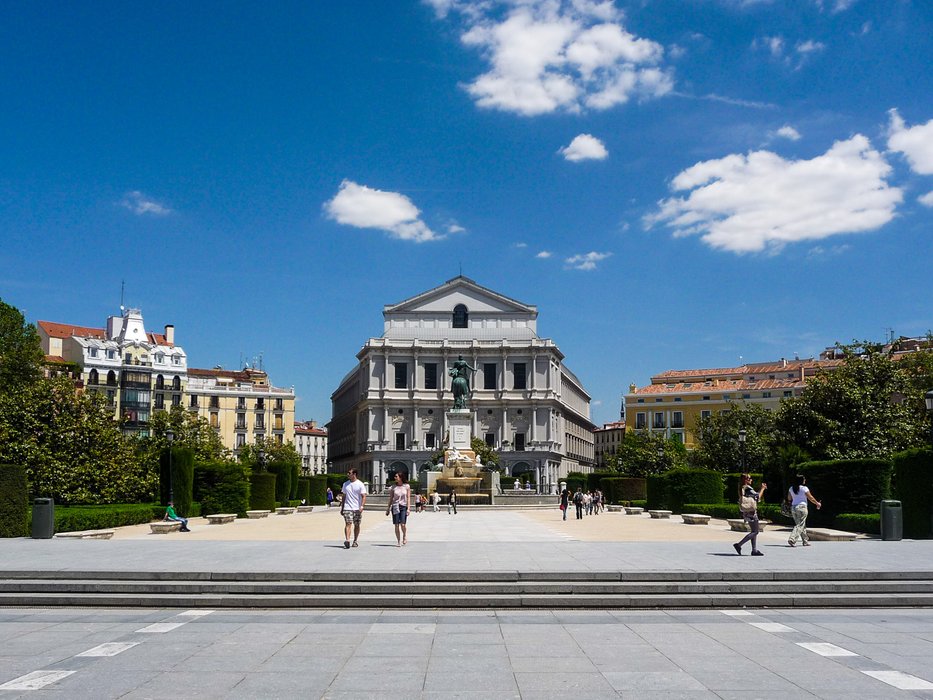 It was time to leave this area and start exploring Retiro park. On my way to the subway, I passed the Royal Theatre. So many of these majestic buildings gathered here in one area. It makes it easy for the tourist, but I noticed a weird effect that it had on me. It didn't feel very cosy to me. Rather posh and arrogant without any personality. One by one the buildings were impressive, don't get me wrong. But it is mostly a display of wealth and not so much related to life in Madrid.
---
Retiro is your perfect spot to chill
Subconsciously I was desperate for some normal cosiness. And it turned out to be a great move to head to Retiro Park. I like it so much that it became my daily activity from that moment. Every time I needed to chill a little I would head to Retiro.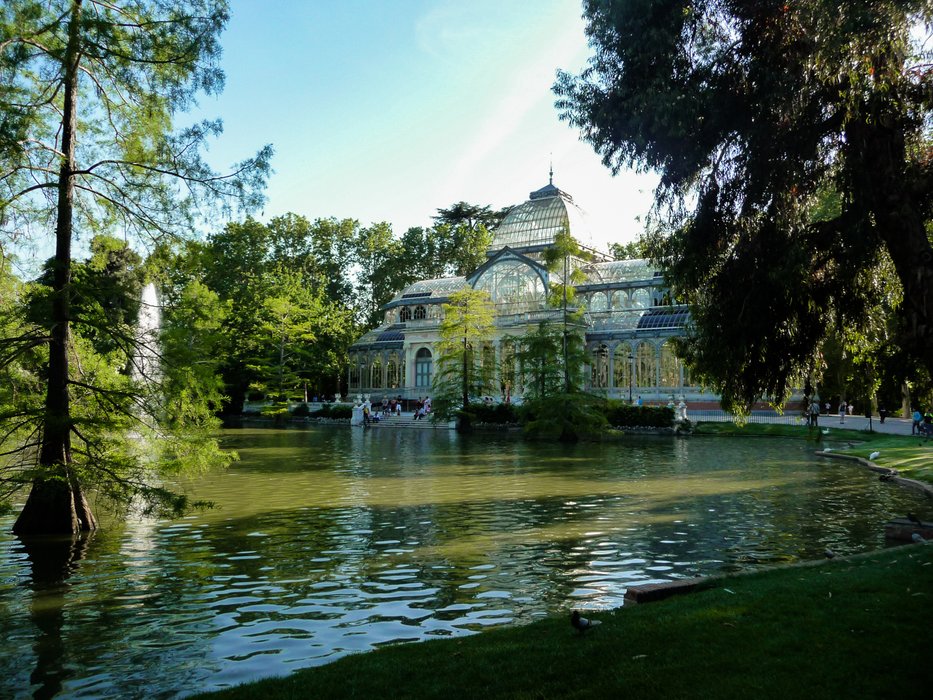 My jaw dropped when I saw the Crystal Palace. It is located next to a pond with a fountain and the fragility of the glass somehow seemed to fit so well in this park. Being able to see through the "palace" makes it blend in really well. At the same time, you do notice that there is a special building there. All I could do was hope they don't have a lot of hail storms in Madrid, though. You will often find art exhibitions inside the Crystal Palace. I went there for the restroom though.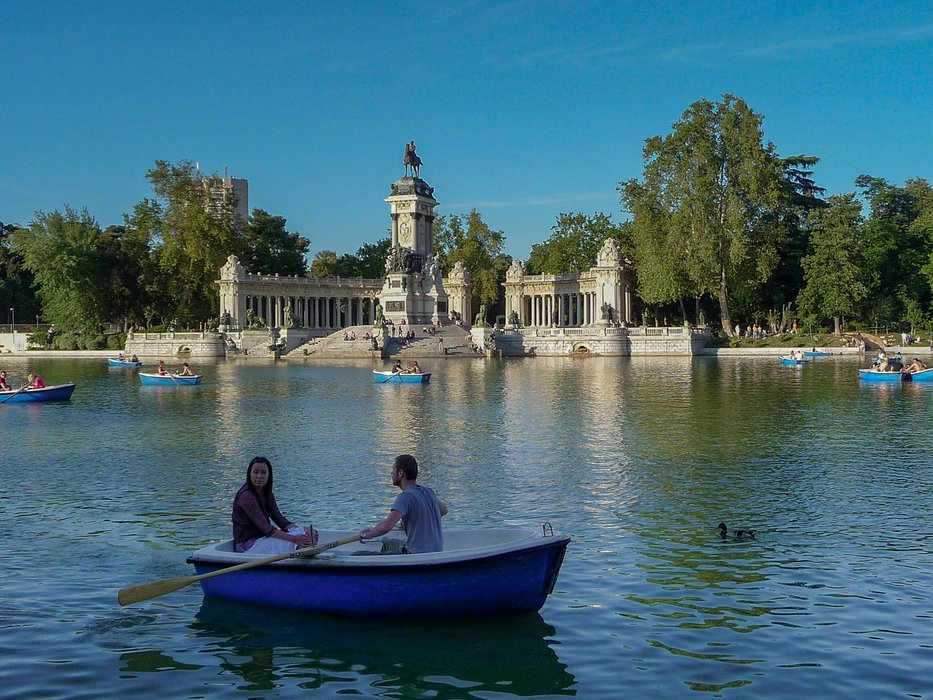 The second highlight of El Retiro would be the Retiro pond. Next to it is the very much over the top monument to King Alfonso XII. The fun thing about the pond is that it is so large, that people can rent a rowing boat to enjoy the water. It looks like a lot of fun, but I would assume it is mostly used by young lovers trying to be romantic...
Remember that friend?
Talking about romantic... It was time to meet him for a drink.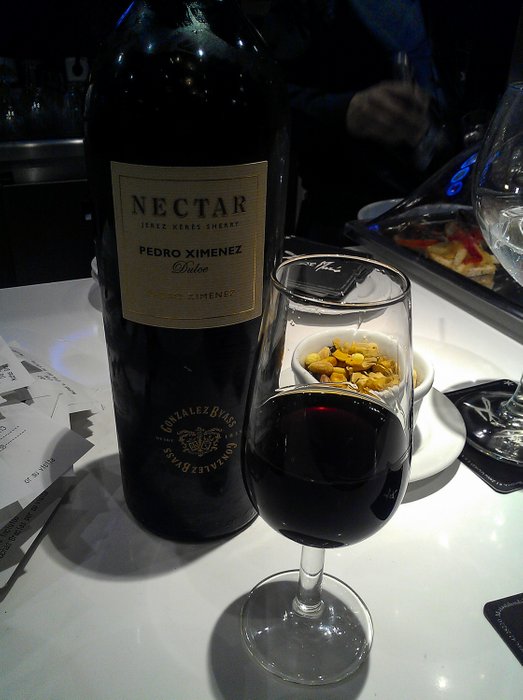 We found a bar in the city centre and he somehow got the idea to do some alcohol testing. I didn't drink that often, so I was doubting if that would be a good move for me. But I could always quit halfway through, I thought.
Our start was pretty modest. Both a wine that wasn't too bad. But before I knew it the waiter came with a special drink that was local... and something else... we also had to try a gin-tonic (WHY!!). That was the last time I ever drank that. How gross is that!! I got a beer to get rid of the taste. At some point, I had the feeling that we tried enough and should be going home. However, the waiter convinced us to try a final drink: a sherry... A drink only old ladies drink (thank you?).
To my surprise, this immediately became one of my favorite alcoholic drinks of all time. I don't think that I will ever say no to a glass of this sherry again. I already liked desert wines a lot, but this desert sherry is even better. Pedro Ximenez is so sweet, I find the name Nectar super fitting. Anyway... It was the perfect drink to end the evening and head to our hotels.
My friend was a gentleman and dropped me off at my hotel, walking away grumpy that I was still sober enough to turn him down after he paid for everything. Nice try though ☺️.
Can it become even hotter?
The next day, after his worst hangover was gone (like I had one...😇), we took the gondola lift to Casa de Campo. It seemed like a very nice idea at the time. The views would be amazing and the park would be so nice to walk around a little!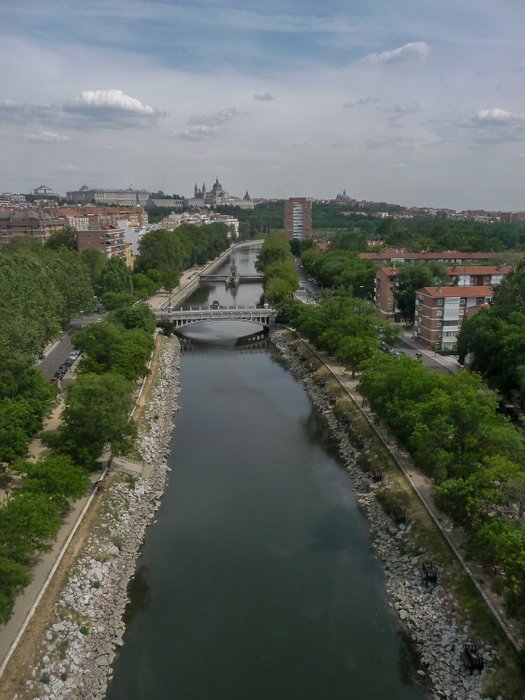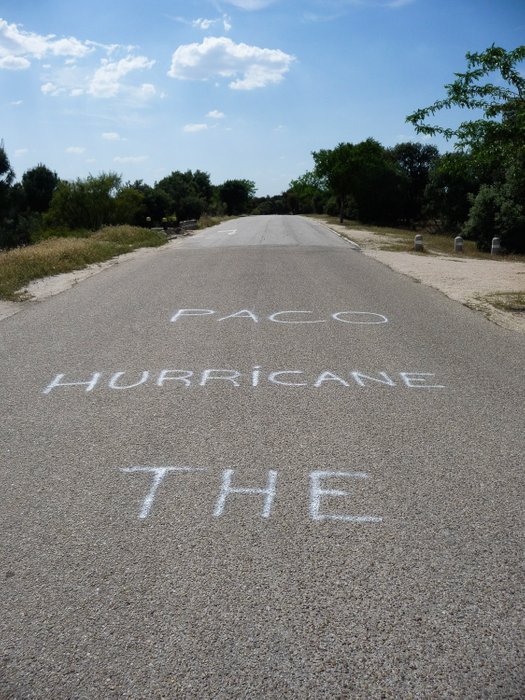 Only half of that we were right about. The views were truly amazing and I didn't regret it at all. We had a great time viewing Madrid from this angle. We arrived in the park, left the cable car building, opened the door and were totally hit by the heat. It was so hot in that park, it was crazy! It was slightly burren and the trees didn't give us much shade. It was like we were in a different part of Spain, all of a sudden. The drought there wasn't appealing. There also wasn't anything going on... and we took the first cable car back to the city. Slightly disappointed and overheated.
We walked around Madrid a little more. I took a few photos of the iconic Metropolis Building. While I was pointing my camera at the Cybele Palace I felt that I was done with this city. Everything that I found in Barcelona, I was missing in this city. It wasn't just the area around the Royal Palace, it was happening in the whole city. It was super photogenic and all, these majestic and pompous buildings. But they were just showcases of wealth and I truly missed something that made this city unique.
My experience of the city was pretty unique though. Having a date in another country I never really do since I make an effort to travel alone. The Retiro park will forever be on my list of "favourite hiding spots from a city". I would be lying if I said that the Madrid doesn't have good looks. We just didn't connect on the inside...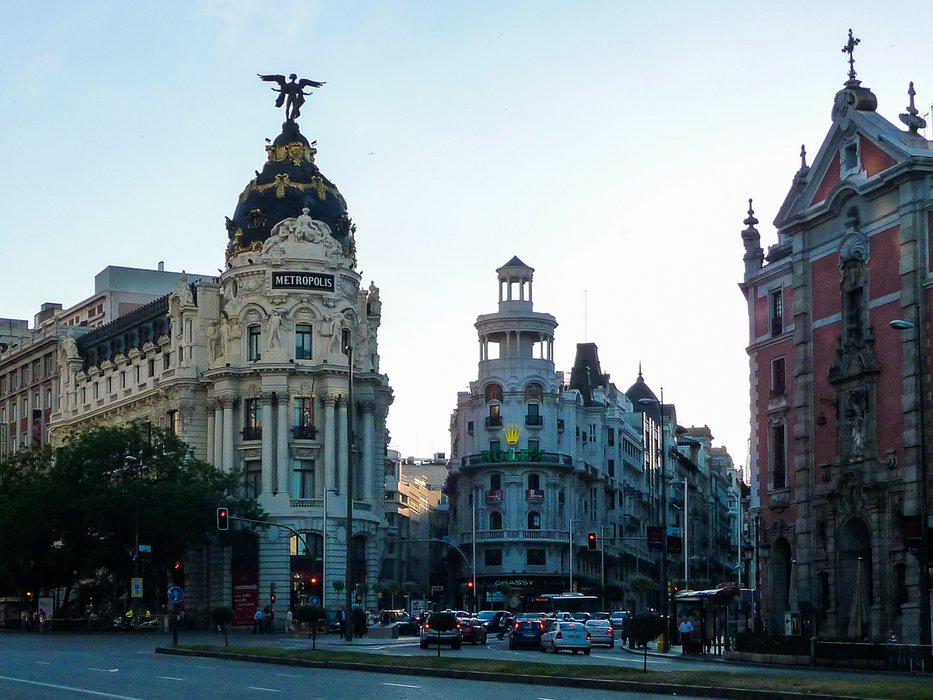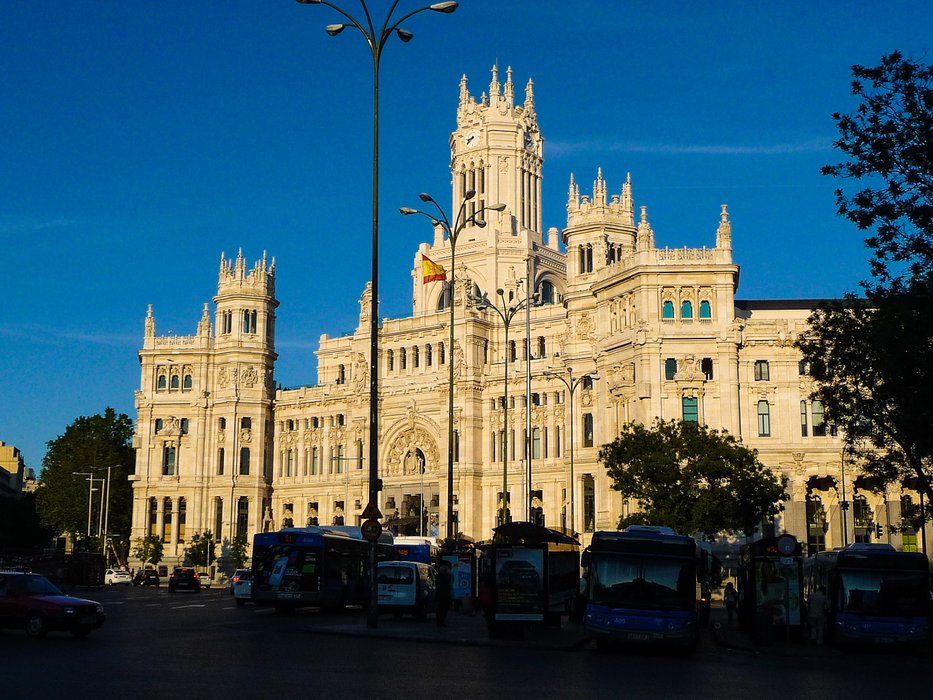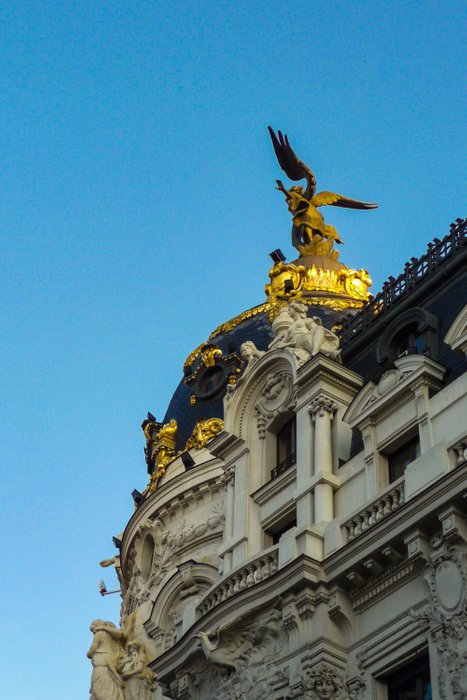 Also in this series: