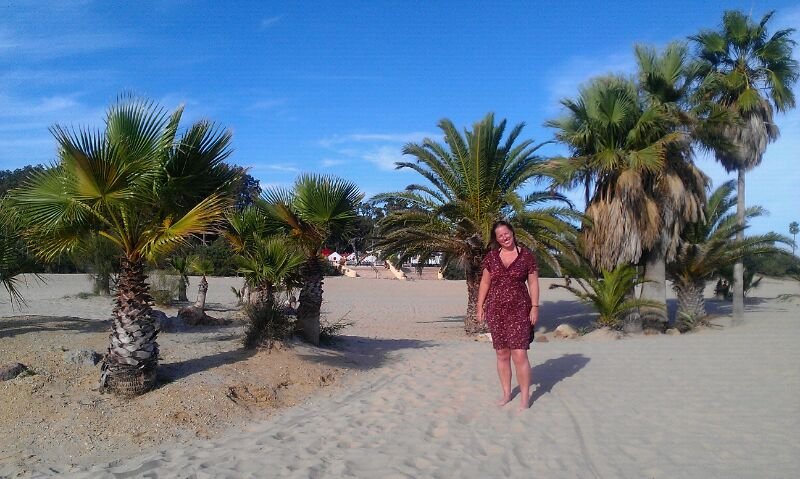 It's been a long time since I had this much of a tan, and it wasn't even summer!
At the end of September, I went to El Puerto de Santa Maria. It was a Groupon deal for three weeks of Spanish lessons. I brought my bikini, just in case the weather was going to be nice a few days. I ended up on the beach almost every day, "studying Spanish"... Or just taking a nap 😎. After these 3 weeks, I collected enough Vitamine D for the coming 5 years. And enough Spanish vocabulary with that tan to pretend I was a local (NOT, but I tried).
El Puerto was completely random. This Groupon deal was just too good to be true, I didn't have much money and this was a perfect way to get a long and affordable break. All I had to do was study a little Spanish in the mornings, have lunch and then, after a 10-minute walk to the beach: Fiesta!!!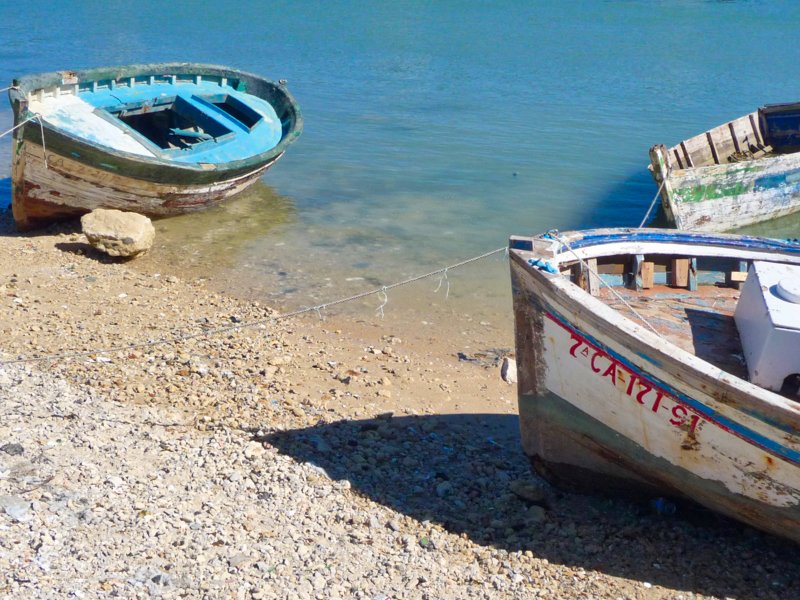 For your geo-orientation, El Puerto is located on the Southern coast of Spain, south of Seville. I flew into Seville and took the train to this town. To be picked up by someone from the language school. To walk into a building filled with Dutch cheap-asses that bought the same deal... (Kidding, I love you, guys!!)
From the start it was clear that this wasn't going to be a walk in the park. The school was also a co-living space with a large kitchen in the middle. We did our own groceries and during that first experience, we already noticed the biggest challenge in El Puerto. People in this town didn't speak English. Or maybe....they pretended that they didn't...
Because EVERYBODY knew that we were part of that language school. And I BET, the school paid the whole town to only speak Spanish with us. And so our first week was super fun, shopping with our hand and feet (and Google Translate). We ended up eating tapas that nobody really liked, we got lost because we couldn't understand the directions that we got and we decided to just eat tomates and melón because the rest of the names we kept forgetting.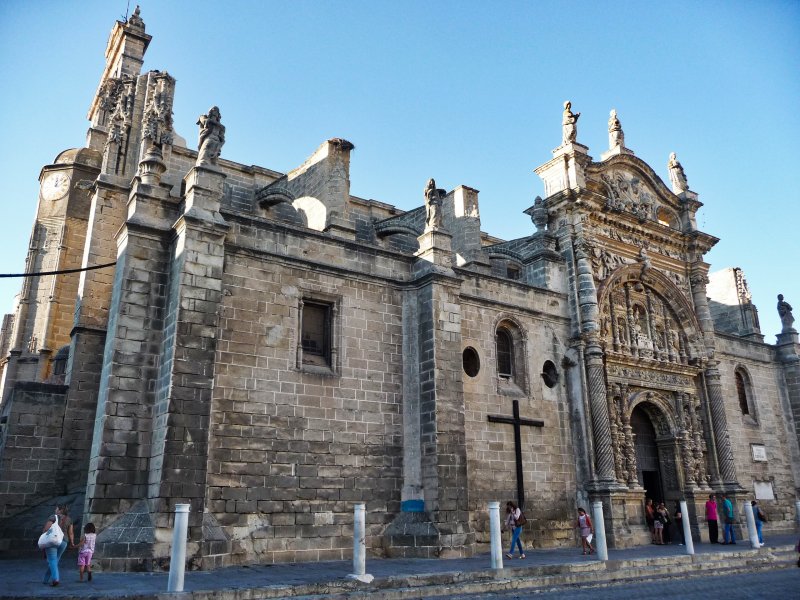 In between the lessons, shopping and the beach, we had plenty of time to do some sightseeing. And we were rather surprised this town actually had some nice places to visit. For instance, the Priory Church, that dates back to 1486. I found it more impressive on the inside than the outside, but you will need to see that for yourself.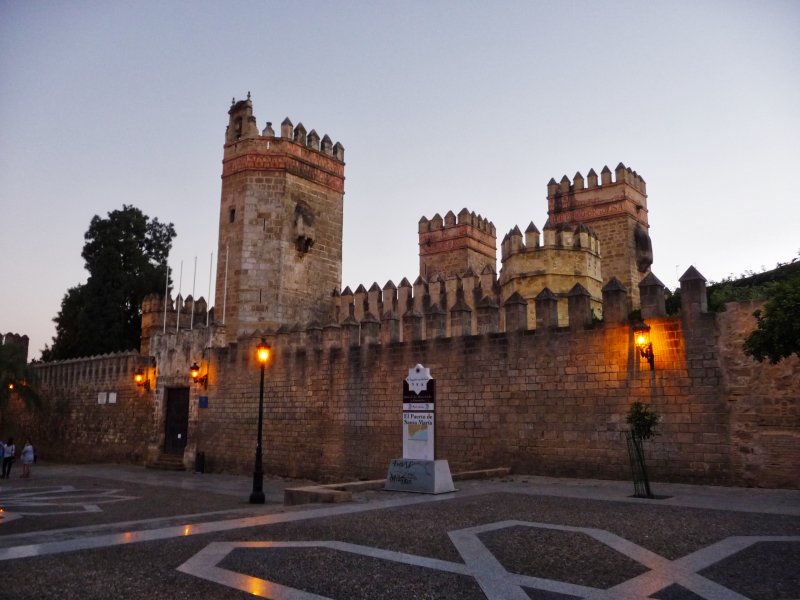 One other important site is the San Marcos Castle. A castle, former church build on top of the remains of a mosque (to make it easy). The plaza in front of the castle was the stage of a few nice concerts and we were lucky enough to enjoy one at some point.
---
I wasn't prepared for the cultural part of my Spanish training. They either didn't tell me, or I just didn't read the paperwork well enough. But them turning you into an alcoholic was also part of the education. Every week, the new kids (and the ones that wanted to join) could join on a wine tasting adventure in Bodegas Las 7 Esquinas. We tasted all sorts of only local sherry. And to me, it became clear that I wasn't much of a sherry lover (won't be a surprise to people that know me well enough to know that I hardly drink alcohol). I once had an amazing sherry in Madrid that made me think I loved it. But these didn't taste like that at all!
I gave up... didn't even want to taste the last one. But the wine-guy insisted. He was correct to do that, it wasn't that bad...it even tasted familiar? And so I learned, the only sherry that I love was from this area: Nectar Pedro Ximénez. Sweeter than the average sherry and with a name that helps you remember that. Since that day I try to always have a bottle of Nectar Pedro Ximénez at home.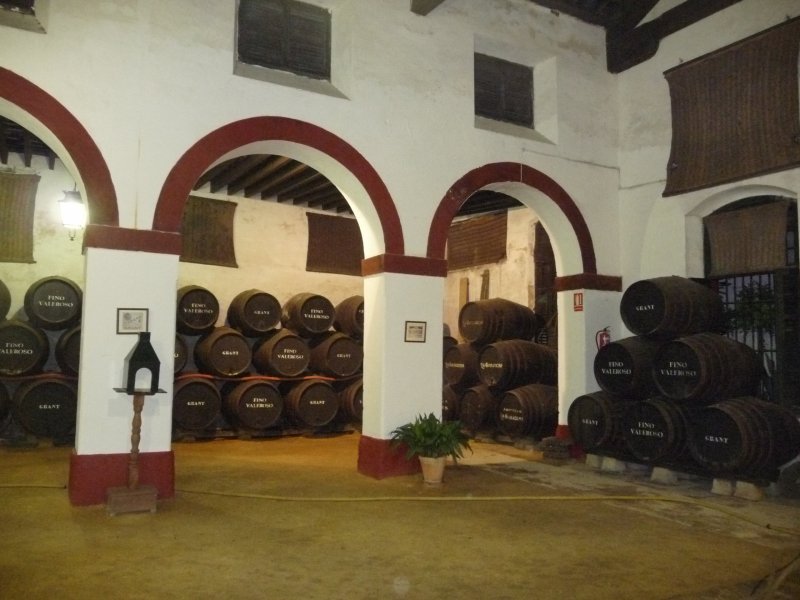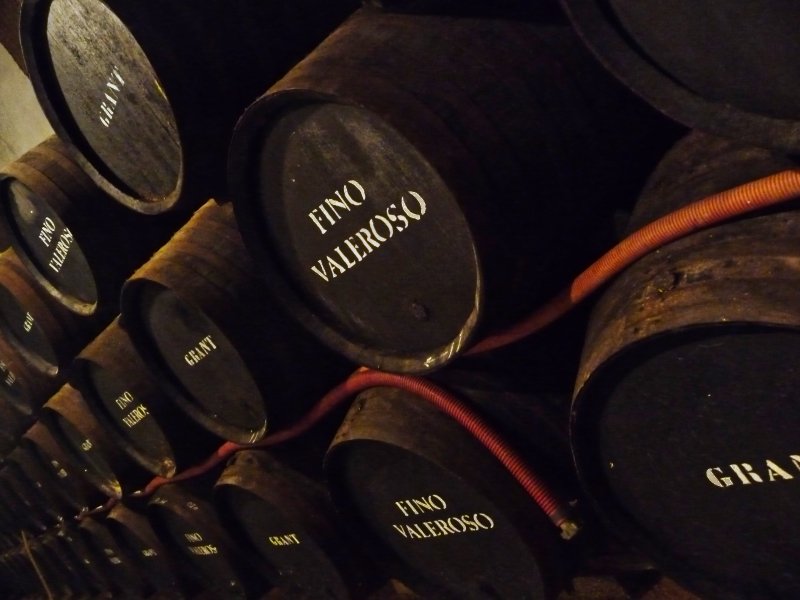 ---
There was also another excursion part of the deal: a visit to the bull ring. This is one of the largest bull rings in Spain and I was happy to see that there wasn't a fight going on, except for a weird photoshoot with a model on a motorbike...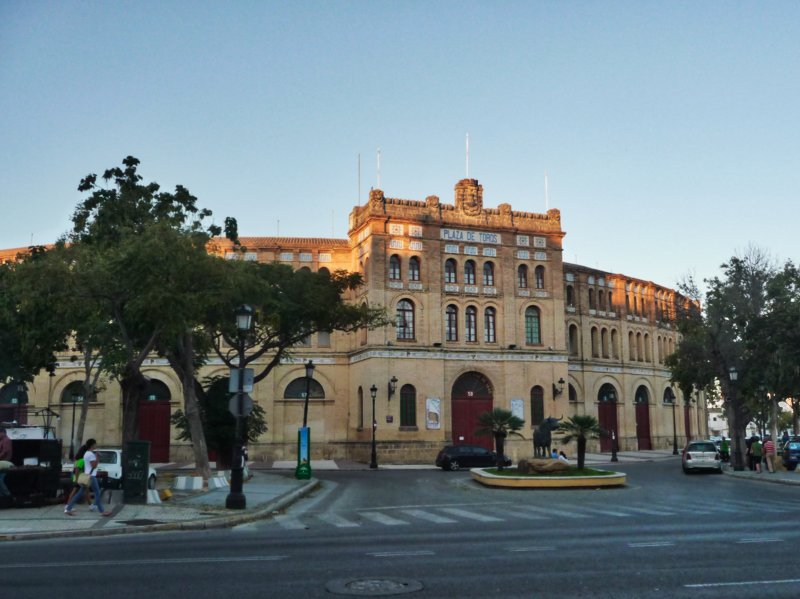 Although I hate that people do this to animals, it was impressive to walk in this huge stadium. The entrance with the dead bull-heads was macabre enough to set the tone for our group. But this building was just amazing!!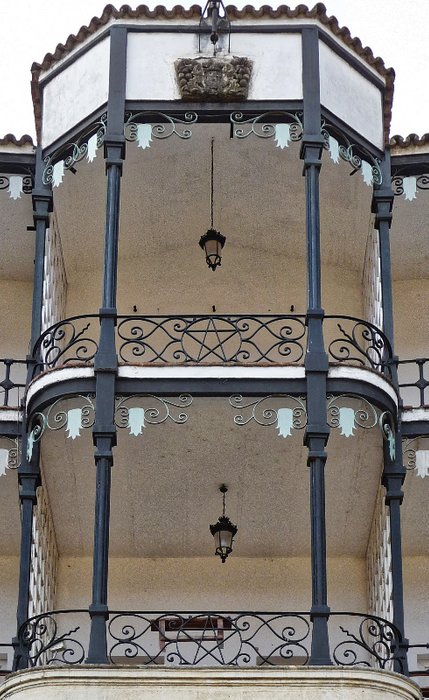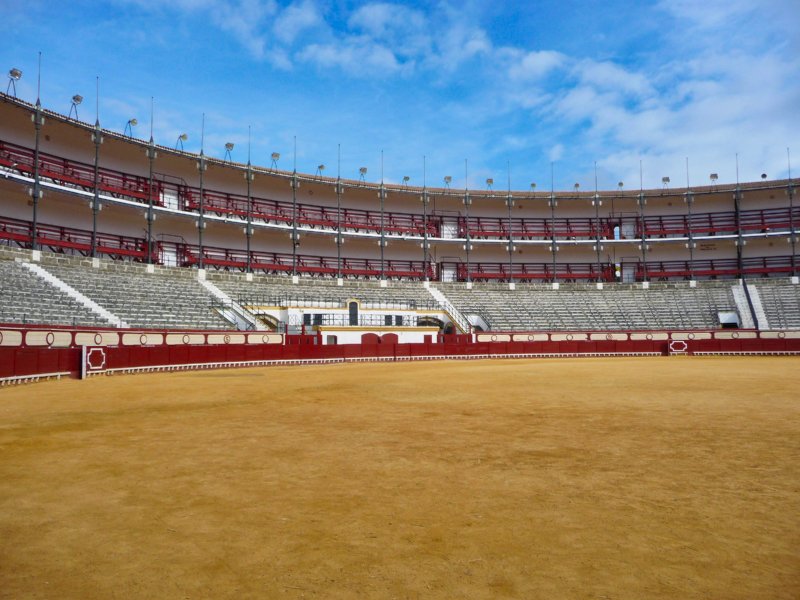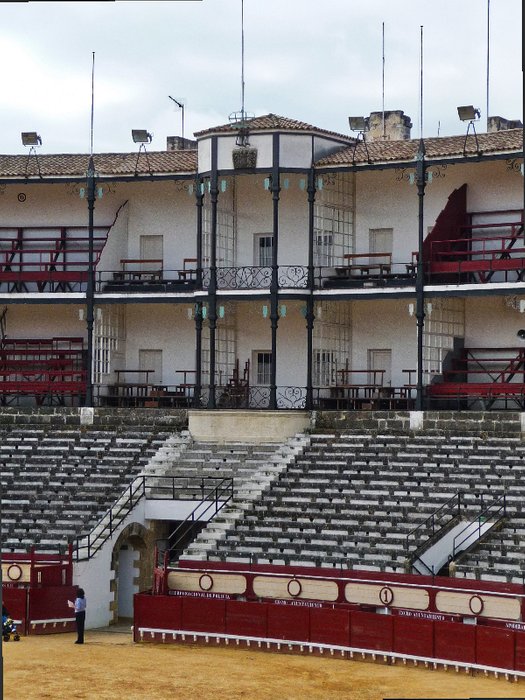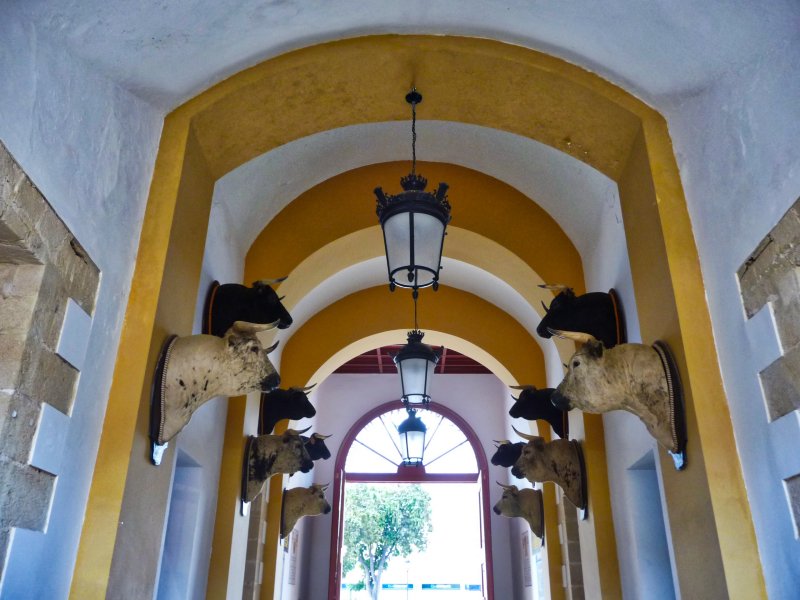 ---
From that moment, we decided to (from then on) only participate in the drinking and food eating trips organised by the school. And we went on a few self-organised trips. El Puerto is a perfect spot for that, with a boat connection to Cadiz and a train away from Seville and Jerez. A few of the group even went to Morocco for a day trip, by taking a ferry from Tarifa (digital nomad hotspot of Spain).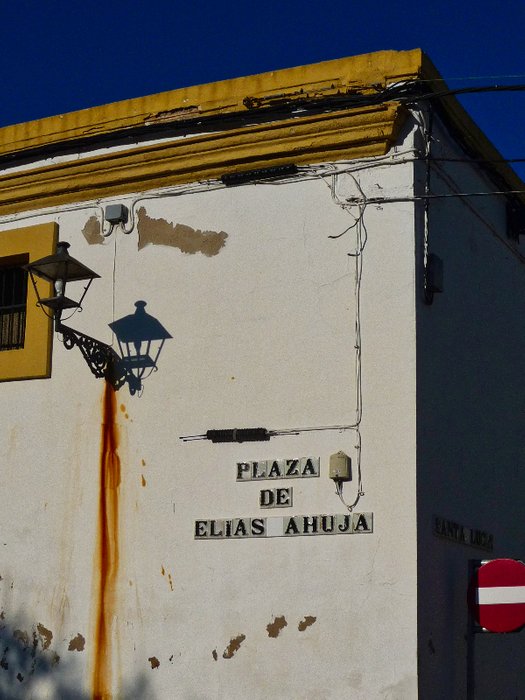 And so the three weeks in El Puerto passed while studying Spanish and not studying on the beach (although there is always that -1- person that wants to practice words when you want to read a book).
I learned that there is a difference between perro and pero and that I wanted to marry a chico muy rico rico. We slowly became better in Spanish and were able to have a conversation in the fruteria and order something different for once.
El Puerto just had it all. We enjoyed the old and atmospheric old town centre of El Puerto in the evenings. We went to the beach of Fuentebravía for cocktails and sunsets (and wet t-shirt photo shoot...). We ate too many (fishy) tapas and became great friends! I would do it again in a heartbeat. And I probably will have to because I forgot all the Spanish that I learned in El Puerto de Santa Maria. Adiós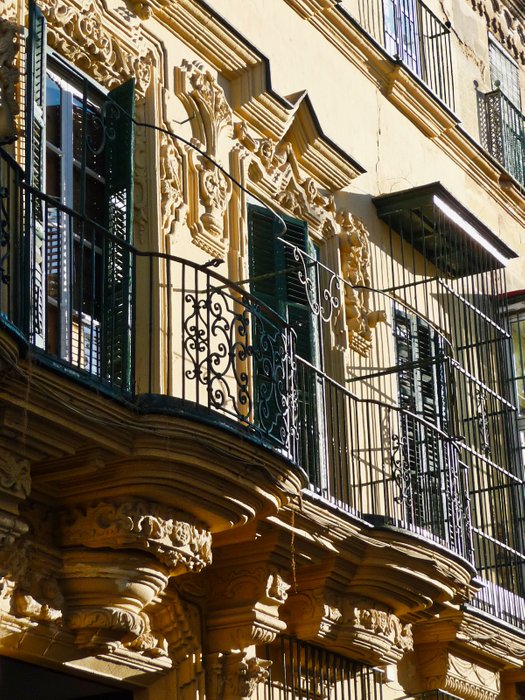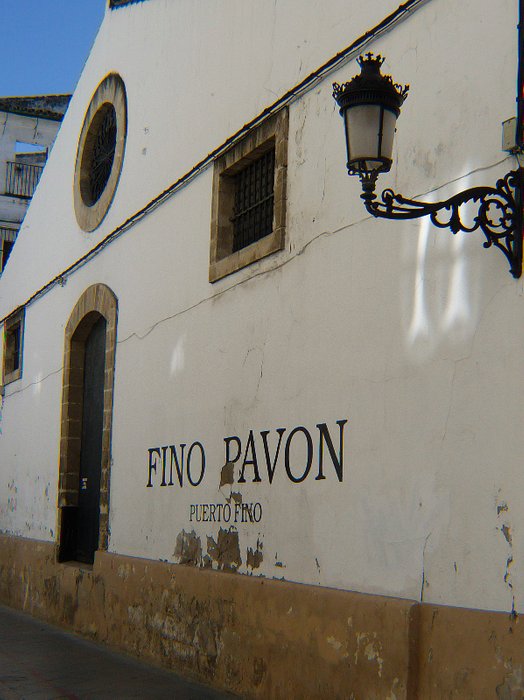 Also in this series:
My Ireland series:
My California series: