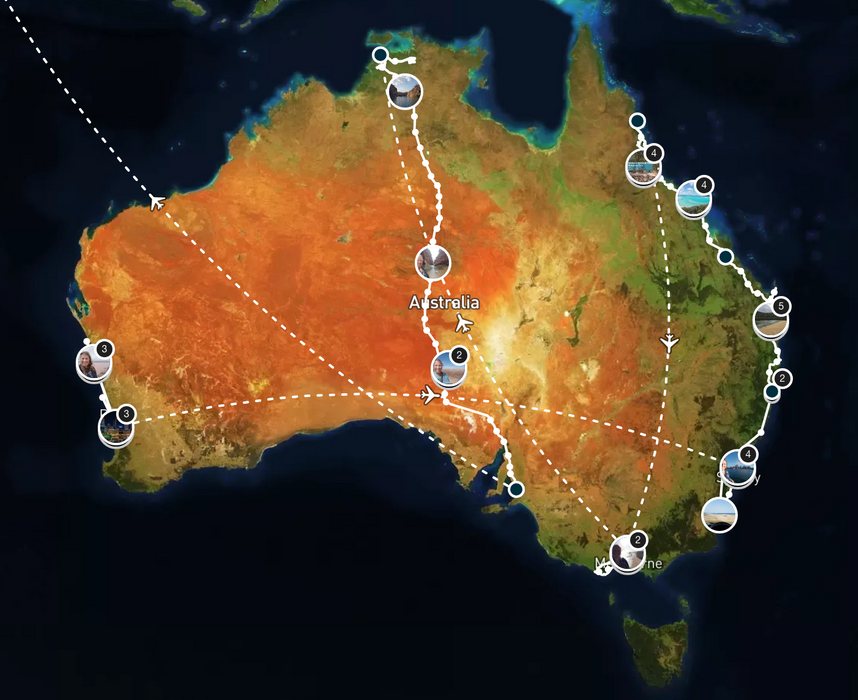 Screenshot from my Polarsteps app
I think that I qualify as "a spontaneous traveller". This means that when I get a travel urge and I have the time and the money to do it, I book it straight away. Travelling solo gives me that freedom. No need to plan with my friends, I just do what I like! And after many years, that became a bit of a habit.
But now, I feel that I went even further. Australia was never on my list to visit. This wasn't part of any plan at all! But right after I quit my job, I booked a flight to Australia for later that same week. All I knew was that I was taking 2 trains and had to drive a motorhome from Sydney to Cairns. The rest, I assumed, I would figure out along the way.
The plan kinda failed... You may have noticed that there haven't been the normal @r00sj3 travel updates lately. I just didn't have the time! I had to organise the rest of my trip along the way and to be honest, I had no clue what I wanted to see or do!
Often I thought about a friend of mine that spend a full year planning their trip around Australia. "If only I had done that, I would know what to visit!". My advance planning didn't go any further than buying a lonely planet to read on the train to figure out my trip... Can you guess how that worked out?
And so it happened that I spend 53 days in Australia where I often didn't know what my next few days would look like. I asked people on Facebook to help with a list of must-visits while I was already with one foot in my motorhome. The result? I threw away my initial "plan" and had to rethink everything. I drove to stay the night at @bearone, not knowing if I'd head north or south the next day. This was the ultimate "mindfulness". No time to worry about tomorrow, if you haven't figured out today yet!
Nevertheless... it all worked out! While travelling, I was able to slowly come up with a plan and this made the second half of my trip a lot more laid back.
The coming weeks I'll be sharing parts of my chaotic trip with you. And as a bit of a teaser, I made an overview of some of the means of transportation that I used during my trip.