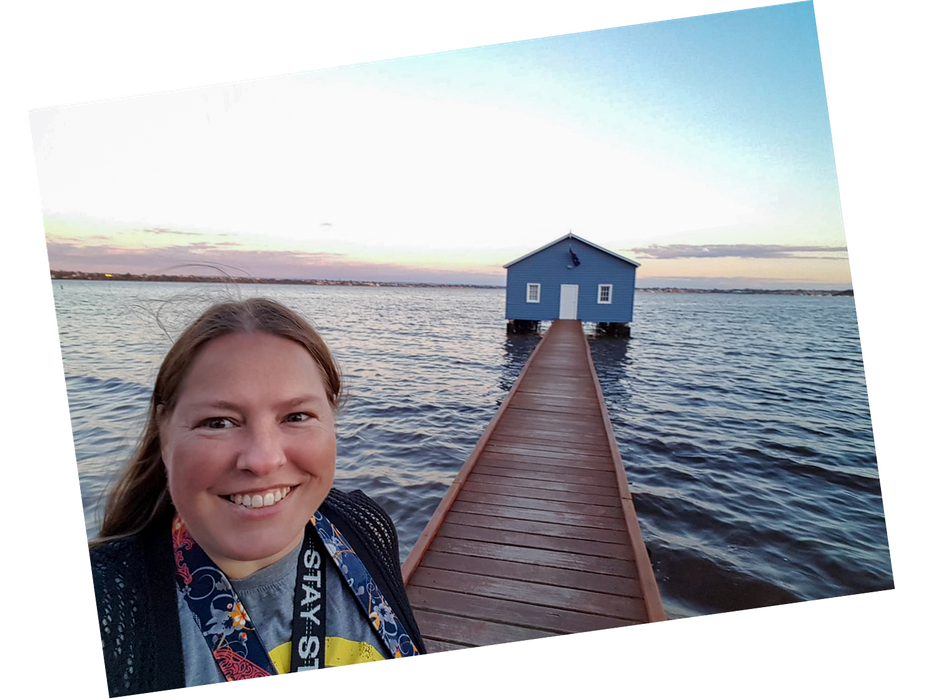 So Perth. Lovely lovely Perth...I booked plenty of days here. But in the end, I didn't see much of it. I'd love to blame the weather, my jetlag or just a few random people. That is a bit unfair. It was basically a result of me not taking the time to do some proper research and being too lazy to leave the hotel room for quick strolls.
Since I didn't know what to do in Perth, I filled my time with other trips. I flew to the north to see the amazing Kalbarri National Park. I decided to check out the Pinnacles and do some sand boarding. And those things were loads of fun... And then it was the day before I would leave Perth again.
At that point, I had only 1 nice photo of Perth. I took that the day after arrival. I managed to make myself leave the hotel to explore Perth a little way after dark. I walked for 10 minutes to the Elizabeth Quay, took my camera out and made a photo of the skyline at night. I loved the green lit up bridge and the huge white "Spanda" sculpture. I read about the amazing Bell Tower but that was terribly underwhelming with all the construction going on around it. I experimented with my camera a little and then I walked into a guy with a drone flying around the Quay... "My drone is in my room... I should get it", I thought after learning some tricks from this guy. I went to my room and crashed on the bed instead. No more Perth for me that night.
Perth that night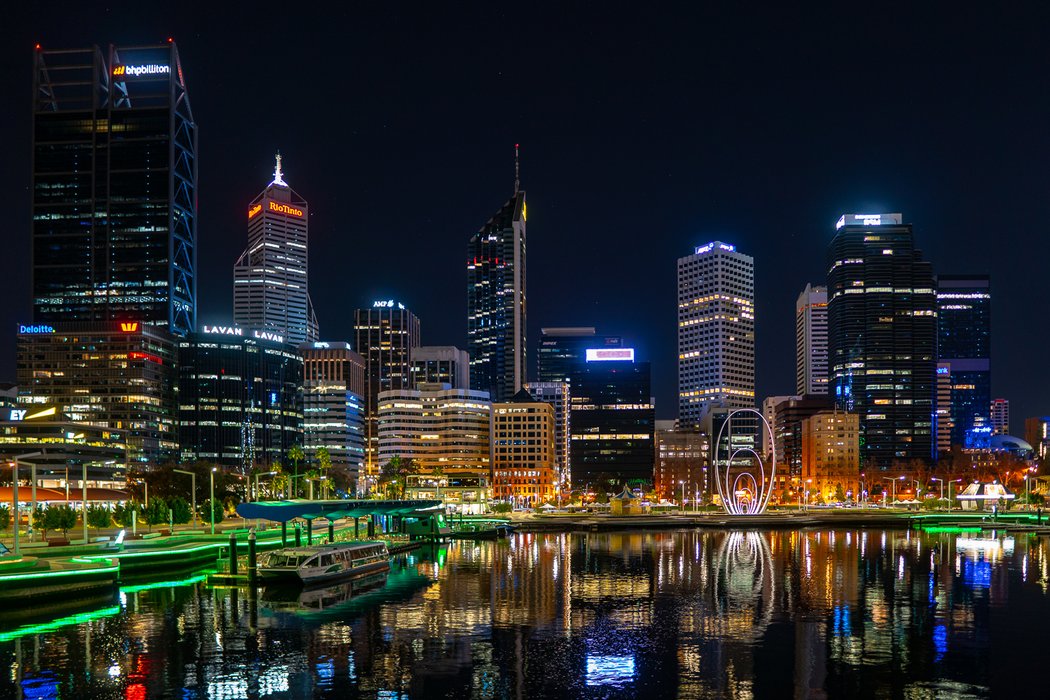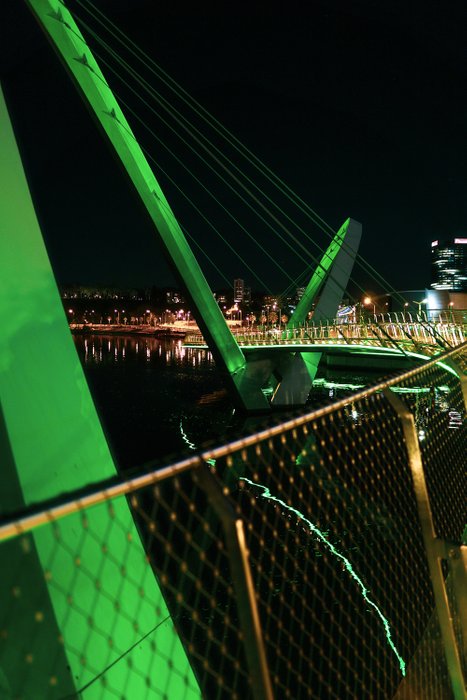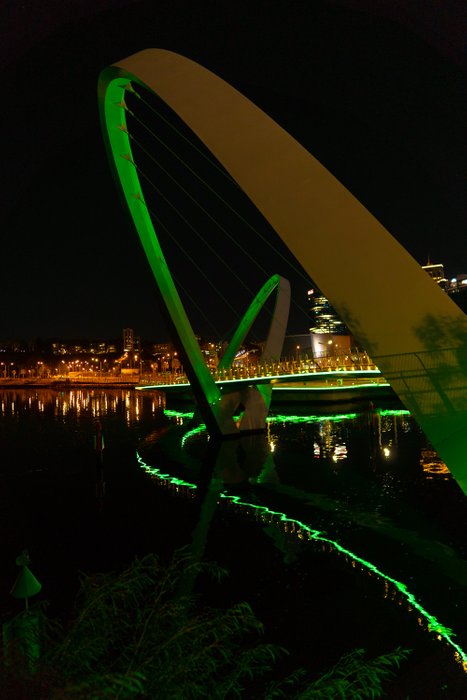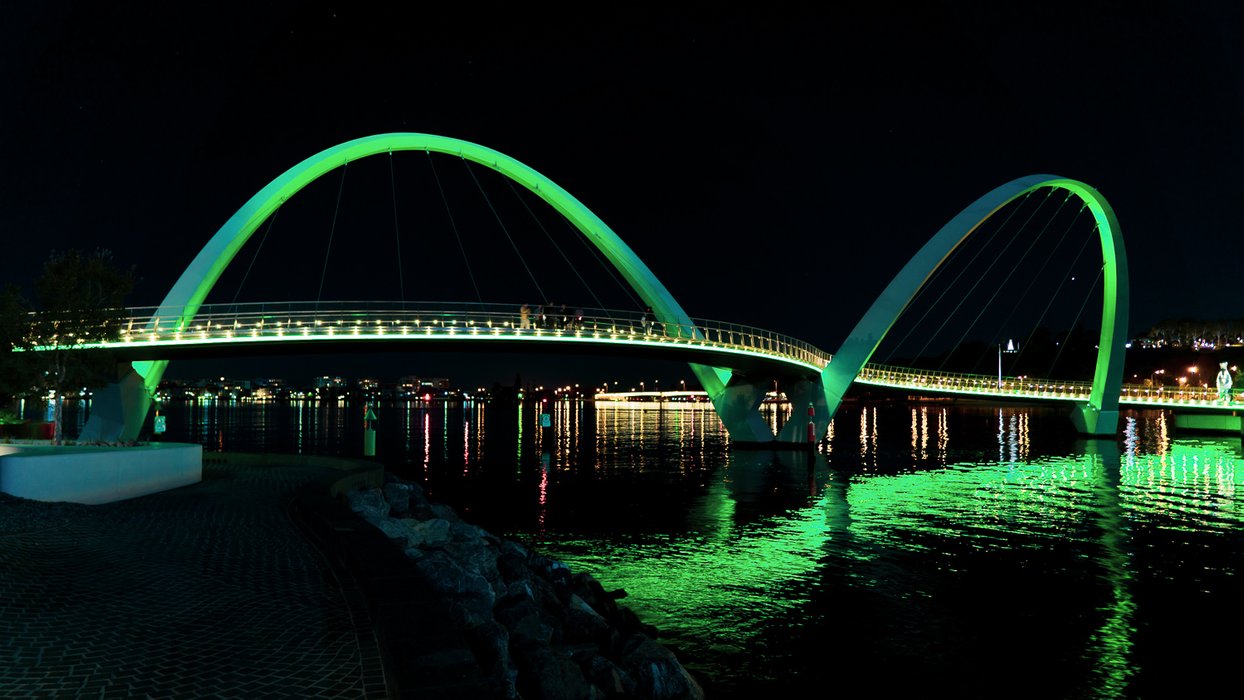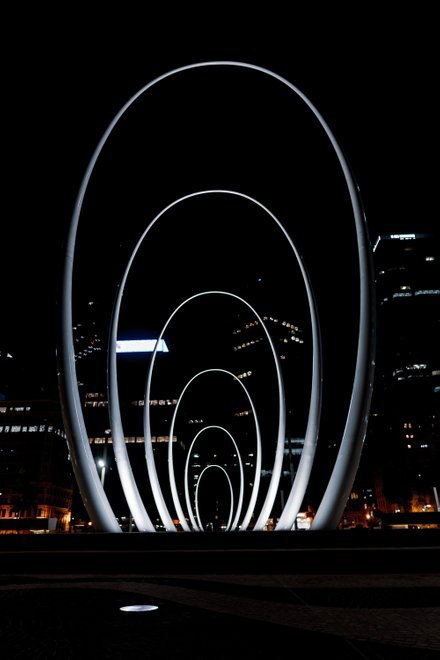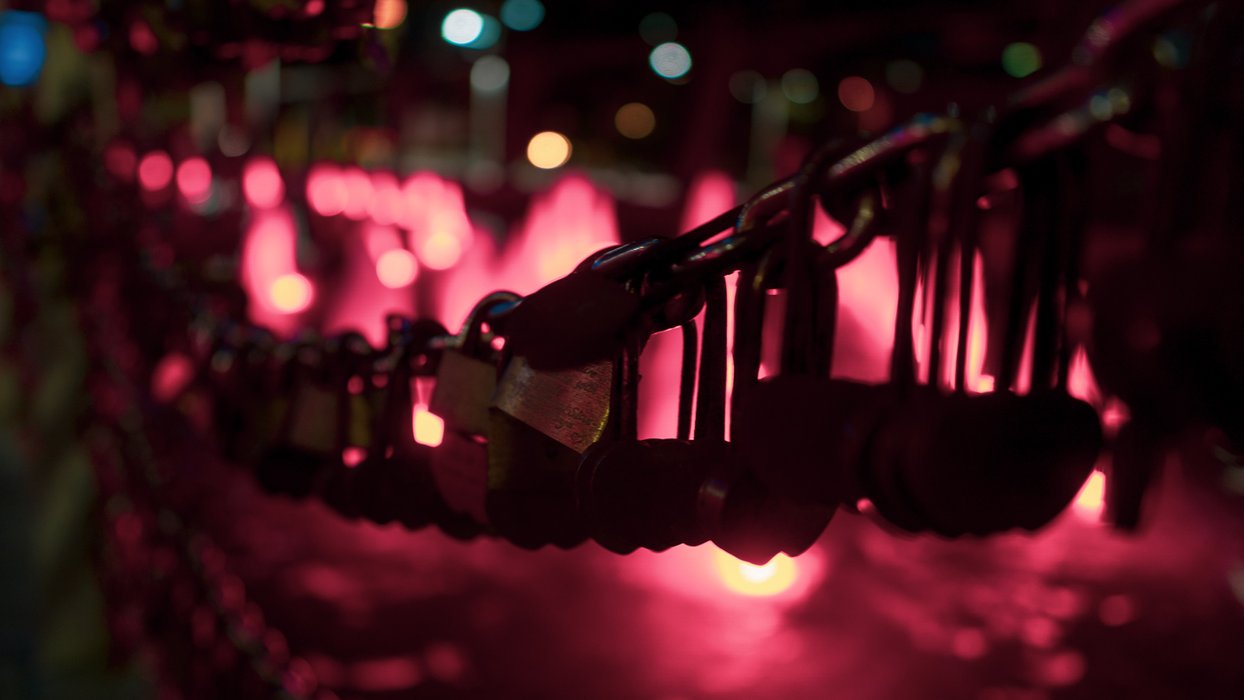 During my time away from Perth, hiding in my resort because of the storm, I learned there were a couple of amazing places close to Perth that I should pay a visit to. On top of my list was Rottnest Island.
Rottnest Island is famous for its photogenic quokkas. They basically look like a mixture of a tiny kangaroo and a rat. They also have tiny pouches for their joeys (babies). They are so used to the tourists at Rottnest Island that they are very willing to pose for photos. But don't feed them, despite how tempting it may be! You may end up paying a heavy fine if you do so!
Rottnest is from the Dutch word for rat nest. You could easily get there by boat from Perth. But I decided not to do that. Instead, I went shopping and did my laundry.

There were still so many things I had to do before I was ready to get on that train the next day! I needed a new suitcase since mine got damaged on the plane to Perth. And I also was desperate for some good water/reef shoes. With all these creepy animals living in Australia, no way was I going to go into the water without some proper shoes... (More on that later).
I didn't find what I needed. A better way to relax would have been to visit Swan River. This peaceful and lovely river makes you forget you are in a city. Here, you can stroll til you drop. Then have a picnic while you watch the birds on the river. And if the weather is nice, you may see people paddle boarding.
I didn't check out the river though. The wine cruise is extremely popular, but I don't drink wine... And walking there? I decided that Kings Park would be fine too.

On my walk to Kings Park, I saw this sculpture of a kangaroo that made me smile. The brilliant idea of just placing a tiny fountain in the water where he was drinking made the whole statue come alive somehow.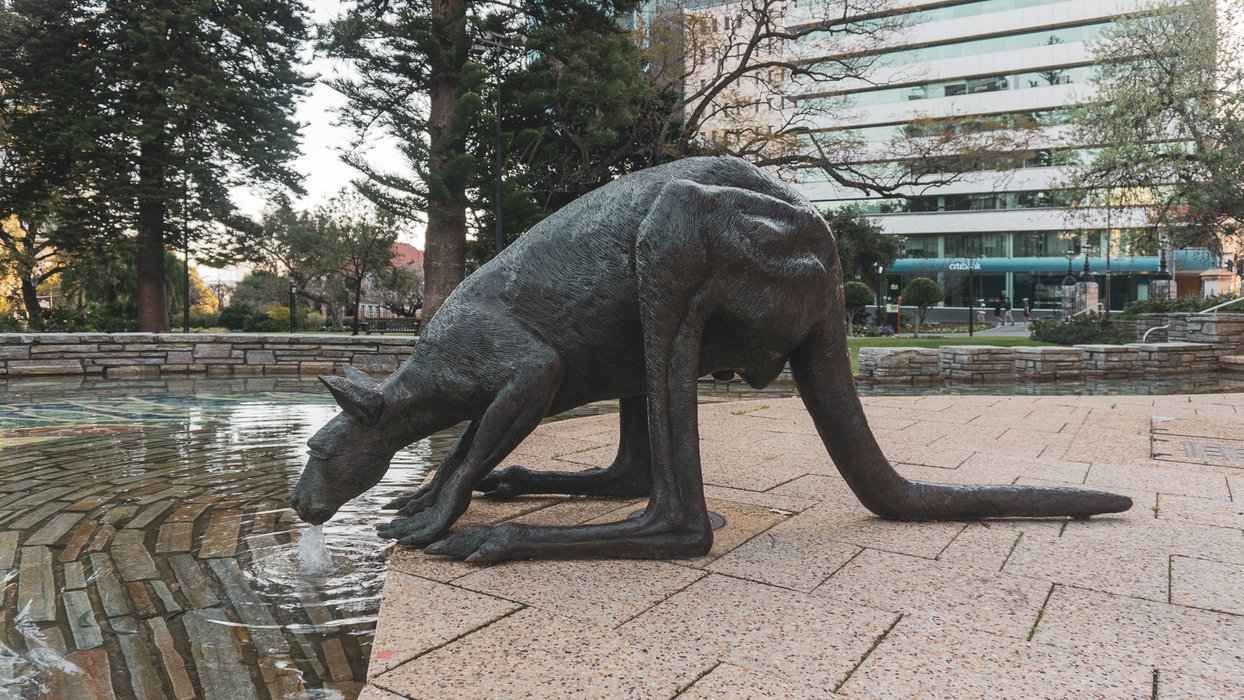 I had one major stop on my list before getting to Kings Park. The Blue Boat house! I expected to take a few photos and leave. But this place was crazy popular! There were tourists queuing up to take selfies in front of the house. And here is my number one photography frustration: It is really hard to get a photo of something special without people in it.
Why do you need half an hour for a selfie!?!?
I got fed up, the sunset wasn't doing anything special and I moved to a bench next to the pier to get a photo from a different angle. That was even more frustrating...haha. I started playing around with long exposures to turn selfie-taking people into ghosts. And before I knew it, it was too dark to visit Kings Park.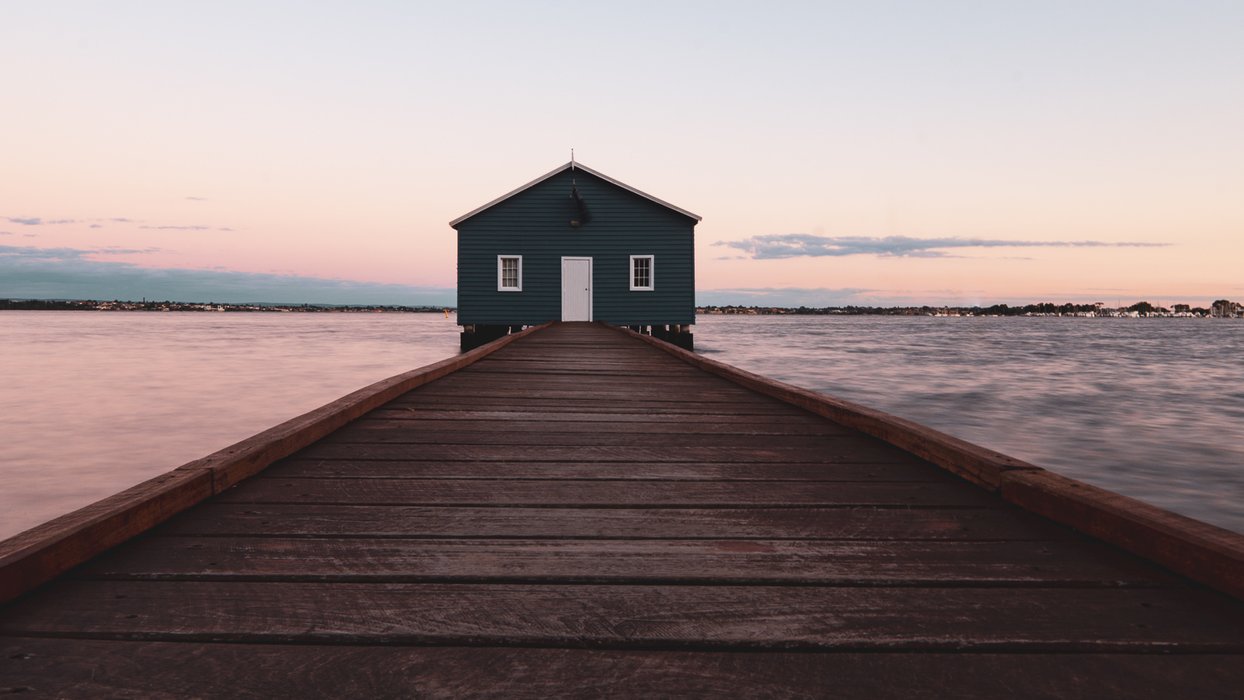 I got an Uber back to the hotel but decided to walk back to Elizabeth Quay again. There was this one building in Perth that got my attention earlier: The Council House. The architecture wasn't that impressive. It was the use of lights! It was basically a light show on a building. In 2010 they installed 22000 LED lights on this ugly building to turn it into something special. And it kinda was! All sorts of patterns showed up on the building. I loved the rainbow colours most and kept missing them looking for a nice foreground for a photo. Eventually, I found a kangaroo that was willing to sit still for a very long time while I took some photos. He was probably friends with the drinking one earlier.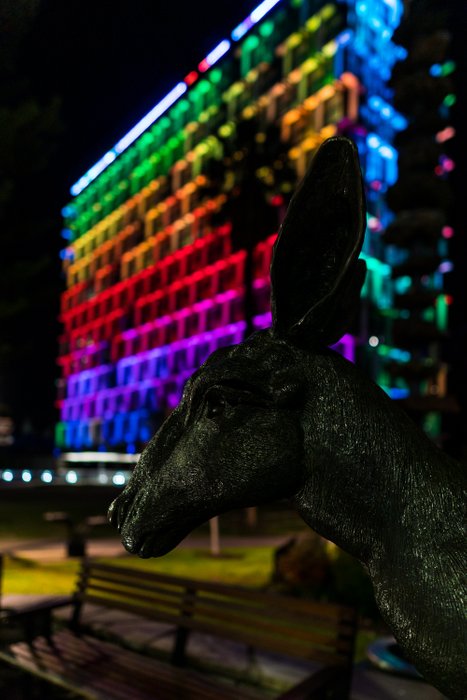 So basically... I messed up my visit to Perth. I have the feeling I didn't see any of it. People that know Perth well call it a hidden gem and I kinda get that, though never got to explore it properly. But honestly, I think it's better to call the whole West Coast of Australia a hidden gem. It isn't as well known as it deserves to be. It is just gorgeous and people just should pay it a visit instead of doing the standard East Coast thing! Now that there is a direct flight from London to Perth, I expect things to change. Europe will discover Perth and the West Coast, I am sure about that!
Time to go to the other coast! My train was waiting!!

Also in this series: