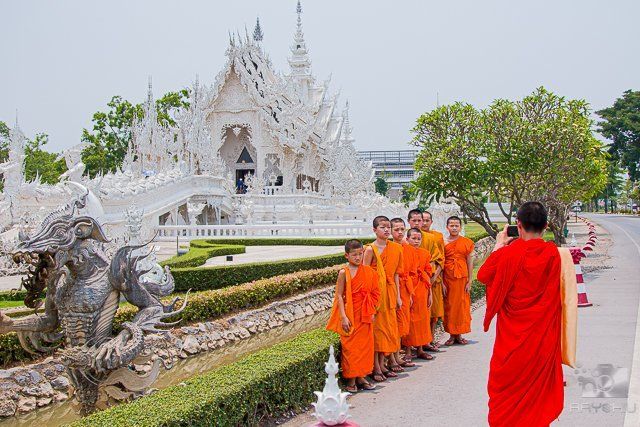 If you are ever in Chiang Rai or even Chiang Mai, Wat Rong Khun aka the White Temple (in Chiang Rai) is a must visit if you're into art and or wats/Buddhism in general. If you're interested in getting to Chiang Rai from Chiang Mai, I've made a post about my experience with that HERE. After being inspired by Chiang Mai's silver temple (post is here), I did a quick online search and found the White Temple and two other spots that looked interesting so I quickly made arrangements to go as I only had a few days left in Chiang Mai.
Not having any time to spare (I planned to visit 3 places in Chiang Rai), I used the Grab app and booked a ride to the white temple (at a cost of $200 TBH) immediately after stepping off the bus because I didn't have time to mess around with the tuk tuk drivers or songthaew drivers. They are all at the back of the terminal, I didn't see any at the front, it'll probably be cheaper (highly dependent on your negotiating skills) to go via tuk tuk and songthaew. By the time I got to the front of the building, maybe 30 meters away, I got a message on the Grab app from the driver asking where I was and I replied with "in front of the building" to which I got a reply "me too". So I looked around and didn't see any car idling or coming down the street. Then someone came up to me and said, "Taxi?" to which I said "No, thanks" but he showed me the Grap app so I went with him. He was parked on the other side of the street. This was a first for me. Anyways, away we go! (Can you tell I'm excited?!)
If you're expecting your usual wat, you are in for a huge surprise, as I was. Just to prep you a bit, here's an excerpt from Wikipedia "It is a contemporary, unconventional, privately-owned art exhibit in the style of a Buddhist temple. It is owned by Chalermchai Kositpipat, who designed, constructed, and opened it to visitors in 1997." I didn't find monks praying/chanting inside the "white temple" nor "monk chat" sessions (at the time of this post) but I did find monks taking selfies outside and around the premises. The décor is definitely not the norm for wats, here's some examples of what you can find:
When I saw those statues/figures, I was like "what the @$#! Is this?! Is this even a legit wat?" but I did find it kind of cool in the way that those Hell themed parks are (like the one in Singapore that I posted about
HERE
). Definitely not what I was expecting to see but I liked it.
I guess a bit of historic reference is needed. Wat Rong Khun was a wat at one point in time but for whatever reason had no funds for repairs so Mr. Chalemchai Kositpipat,an artist, had taken it upon himself to completely fund and rebuild the temple to what you see today and he's not done yet. The original plans for the entire compound is to have 9 buildings that include the "white temple" (which is the ubosot), a meditation and learning center, housing for monks, an art gallery, a hall of relics and others to be completed by 2070. I'd guess there will be a prayer hall and such for monks and the followers of Buddhism to practice their faith, it is a wat after all, right?
I wasn't prepared for just how stunning it was and it just kept getting better and better the closer I got to it. Nor did I know exactly how big the compound was. All the statues and buildings were well maintained and intricately detailed as was the rather large pond and water ways around the temple. Even the "under construction" buildings and areas that were off limits to the public looked neat and tidy unlike any construction site I've ever seen.
So the white structure that is being referred to as the White Temple is actually the ubosot but inside the ubosot you won't find the usual things you would find in an ordination hall. Instead you'll find murals of more modern day things like depictions of the World Trade Center attacks, Michael Jackson, Superman, fiery murals with demon faces and others. It was quite shocking to me as I didn't expect to see that and frankly my mind is having problems coming to terms with it (I guess I was expecting all the usual religious statues and relics but done up in the same style as the exterior). Don't get me wrong though, the artwork is stunning and that's an understatement. I can also understand the message that the artist is relaying but my mind is just so conflicted(?) …I don't know, I don't have the words. I would have loved to have taken photos to reflect upon and further contemplate what I saw and to show you but sadly no photos allowed inside and there are ushers reminding you as you walk in. You won't find any of the usual donation boxes or incense pots or the offerings of food and drinks at the altars inside, to be honest, I can't even remember seeing an altar in there.
When you're done with the ubosot and pond area, there are other areas to check out such as the washroom. Wait, what?! Yup, you should check it out. This building is at least 2 levels, done up in gold with intricate statues all around. Just looking at it you wouldn't be able to tell it's the toilets. Lucky, I didn't need to use the facilities because standing in front of the building, I couldn't tell where the "Mens room" was because both paths leading into the building had signs in Thai with the English word "women" on it. However, there are images of both male and female on both sides of the building! Being really short on time, I didn't go any closer but judging from the people buzzing about maybe I should have.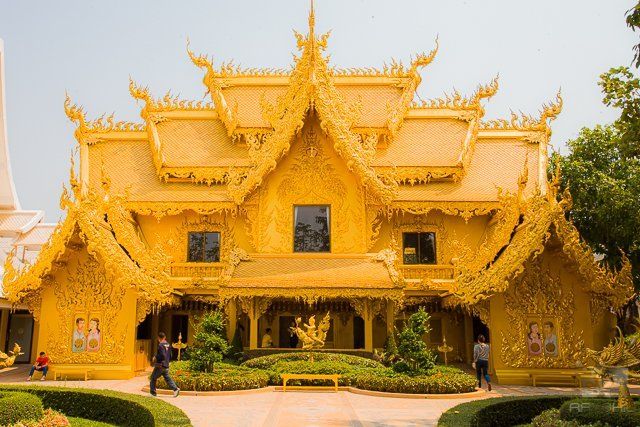 Beside the toilet building is the gift shop with the usual gift shop items as well smaller prints and art cards of the artist's work. On the other side there is a mural/display depicting a scene with the Monkey King/God, Sun Wukong, complete with bells you can ring. A bit further down the path is an area where you can offer incense and fruits and prayers in front of a Buddha statue in a jungle themed alcove.
There is a rather large, open air pavilion type structure which has a large floor area for praying as well as chairs. I"m guessing this where the monks would chant/pray. Within this pavilion are the more traditional Buddhist statues and artwork. Right outside is a booth selling thin metallic leaves you can write your name and message on then hang them on the tree like structures, which when full, the leaves get moved to create the roof of the covered walkway, pretty clever right?
Behind all of this is an area with another temple, I think, all done up in gold. I didn't have enough time to check it out. It was around this time that I realized that I wouldn't be able to see the other two if I spent any more time at the White Temple so I rushed past this area, reluctantly.
| | |
| --- | --- |
| | |
As I was rushing by things, I saw the Mr. Chalermchai Kositpipat's art gallery/museum and I had to go in. I'm really, really impressed with his style of art. The gallery doesn't look big from the outside but it's pretty big and has a decent sized gift shop area. Yup, I bought some art cards I just couldn't resist. Lucky, I had time and space constraints or I would have bought more and bigger pieces too. Now, at this point, I had to make a choice. It was clear now that I couldn't see all three of the places I had planned and if I didn't leave now I wouldn't have enough time to enjoy the second spot so completely finish this awesome place or hit the next spot? There is an entrance fee of $50 TBH for foreigners but free for Thai people and even with the bus fare I found Wat Rong Khun, the white temple, well worth the trip and so I left with the promise of . . . I'll Be Back.
Oh almost forgot, there are eateries, snacks and gift shops in a plaza like area right beside the wat so you can plan to have a meal or two there. I hadn't eaten anything yet so I just grabbed a couple of Gatorades and croissant like things from a shop and off I went to the next stop. Again the Grab driver was already there, in the parking lot of the plaza, lucky me.
NOTE: Even on an overcast day such as it was the day I was there, the buildings are really, really bright and glittery. I lowered the brightness of the images (a fair bit) in this post to better define the details, so bring a pair of sunglasses just in case it gets too bright.
Consider following me for updates and to find not only my other travel bloopers, blunders and shenanigans but also photography related news/reviews and the occasional contest entry.
All the photos (unless otherwise noted in the post) were taken by me and are available for sale. If you're interested in buying an image or three, 😃 please don't hesitate to contact me for more details. Thanks in advance!
Comments & Critiques are always welcome, as are upvotes and resteems.
Thanks for viewing and best wishes!
PS. If you want to check out my other 'works', you can find them here:

---
Posted from my blog with SteemPress : http://newbiephoto.net/chiang-rais-wat-rong-khun-aka-the-white-temple-definitely-a-must-visit/
---