J. watches bushcraft videos. Like, all the time. I get it - there's something so inherently relaxing about watching someone hang out in the woods and set up camp and make a fire. But there's something even more relaxing about doing it yourself, and now the warmer weather is coming, we're cooking out on our land far more than inside the house.
There's another reason for this, too - our electricity bill. It's huge. We try to keep costs down but it's not easy, and we haven't chosen to put solar panels up yet as it's just so darn expensive. We've been waiting for the TESLA battery and cheaper solar panels so that it's worth it, and we'll be putting them in next year we hope (especially if the price of steem skyrockets). We'll also put in a solar hot water service at the same time. We're hoping to pay upfront but if not, our community bank is one of the more ethical ones out there and they do green loans, so we're pretty keen to get this hooked up.
Yet having 5 acres means there's lots we can do without people knowing or caring - we might not be off grid, but we try to be off grid as much as we can - for example, our cooktop runs off bottled gas. And when the weather gets warmer, we move outside pretty much, so we shower outside with a solar outdoor set up, we cook outside and we even have an outdoor fire bath. We compost all our waste and recycle what we can't compost. It's nice to take pressure off the earth in as many ways we can, and in summer, that's heaps easier to do, with the added bonus of our bills going down.
For the last few weeks, we've been cooking our meals outside on a fire. And this week, J's order arrived - a camping wood gasification stove. They are used a lot in bushcraft and for campers, hikers and travellers as they are light and easy to carry, and you don't have to carry fuel around. @mrprofessor, you might be interested in this one, and you can even make one yourself if you like!
I might get bored of constant bushcraft videos, but when we're doing it ourselves, that's an entirely different matter! Look at this baby. Isn't she just gorgeous? We could have made one ourselves out of tins, but this one is stainless steel, and it'll last forever.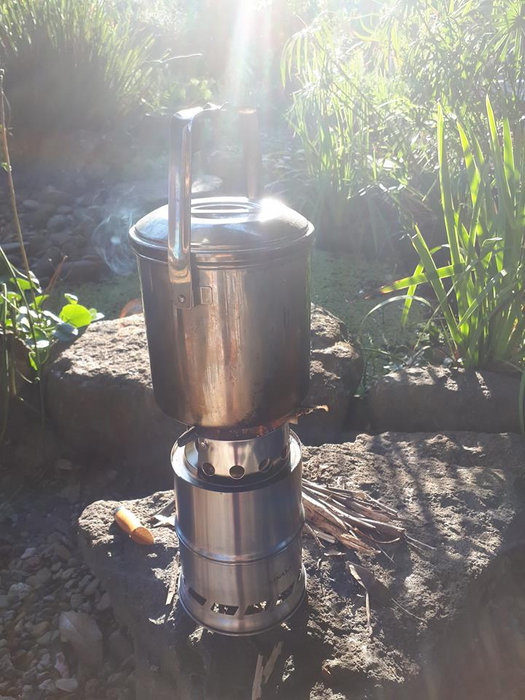 What's so good about it, I hear you ask - isn't it just a fire? Nooo.... since man first starting messin' with fire, he's been pretty inefficient, wasting fuel and stuffing up the forests by chopping trees down, and sending soot, carbon dioxide and greenhouse gases into the atmosphere. Eek. Our daily fire isn't that great for the earth, huh? Kinda makes you think a bit, doesn't it?
Yet this kind of fire - wood gasification. As the fire burns, it makes coals, and as this burning mass moves downward, it gets starved for air. There is enough oxygen coming up from below to keep the oxygen alight, but no real flame. As the char descends, flammable gases are released (this is called pyrolasis) which rise upward, and combine with preheated air to create a really super clean secondary burn which contains the methane, soot and carbon monoxide from the first combustion. Cool, huh? Science.
When this gasification happens, there's hardly any smoke or smell, and it leaves behind clean charcoal that can be used as biochar for your compost heap or for another fire. Winner!
All we need is small twigs for it to burn. For example, our dinner last night used three handfuls of twigs, whereas the dinner on the firepit would use at least four logs. And it was quick, too, far quicker than waiting for embers from logs. We sauteed peppers, asparagus, garlic scapes and spring onions in olive oil and a splash of white wine.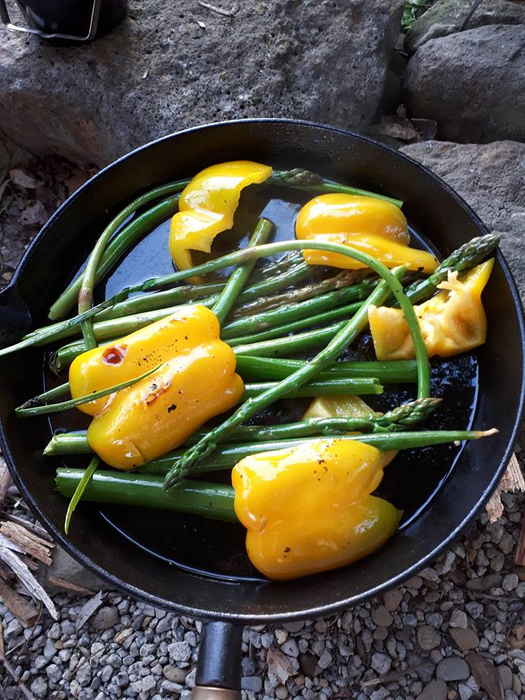 We ate them on top of a salad, where I picked lettuce, beetroot tops, fennel, marigolds, spring onions and snowpeas straight the garden, with a side of a huge lashing of hummous. Cooking this dinner together was really lovely as the sun went down, and far more conducive to relaxing after a hard day of work that doing it inside. The birds were singing and the light slung low in the sky, and all seemed right with the world.
Amazing what a simple bit of technology can do.
---
---