Whilst we might be ahead in time (I'm writing to you from the future right now), I'm ashamed to say that Australia has been ranked alongside the bottom five nations in the world in a global assessment of where we're heading with emissions, according to the CCPI index which measures the performance of 57 countries and the EU. Not only this, but our climate change policy ranks as the worst in the world, and with the recent approval of the Adani coal mine, there's little wonder that many Australians are appalled at government inaction. The recent bushfires in Sydney has brought this debate to the forefront, with the usual infighting amongst politicians that seem to prefer attacking each other than taking real action to address the crisis.
Most of the people in charge don't believe climate change exists, or couldn't care less in favour of economic strength driven by big corporations - corporations which released almost 420 million tonnes of greenhouse gas emissions in 2017-18, according to Australia's greenhouse emissions watchdog, the Clean Energy Regulator. They are also paralysed by their electorate - the fastest way to lose popularity is to regulate industry by proposing a carbon tax. And so, the circus continues. We argue about whether the science is right or not, we argue about greenwashing, we argue about whether a young teenager girl forcing the world to listen should be on the cover of Time Magazine. And meanwhile, huge corporations continue to create environmental damage. Whether or not you believe in global warming is a moot point - please don't argue about it in the comments, but simply accept that any environmental pollution isn't what any of us want for local or global environments.

Sapa, Northern Thailand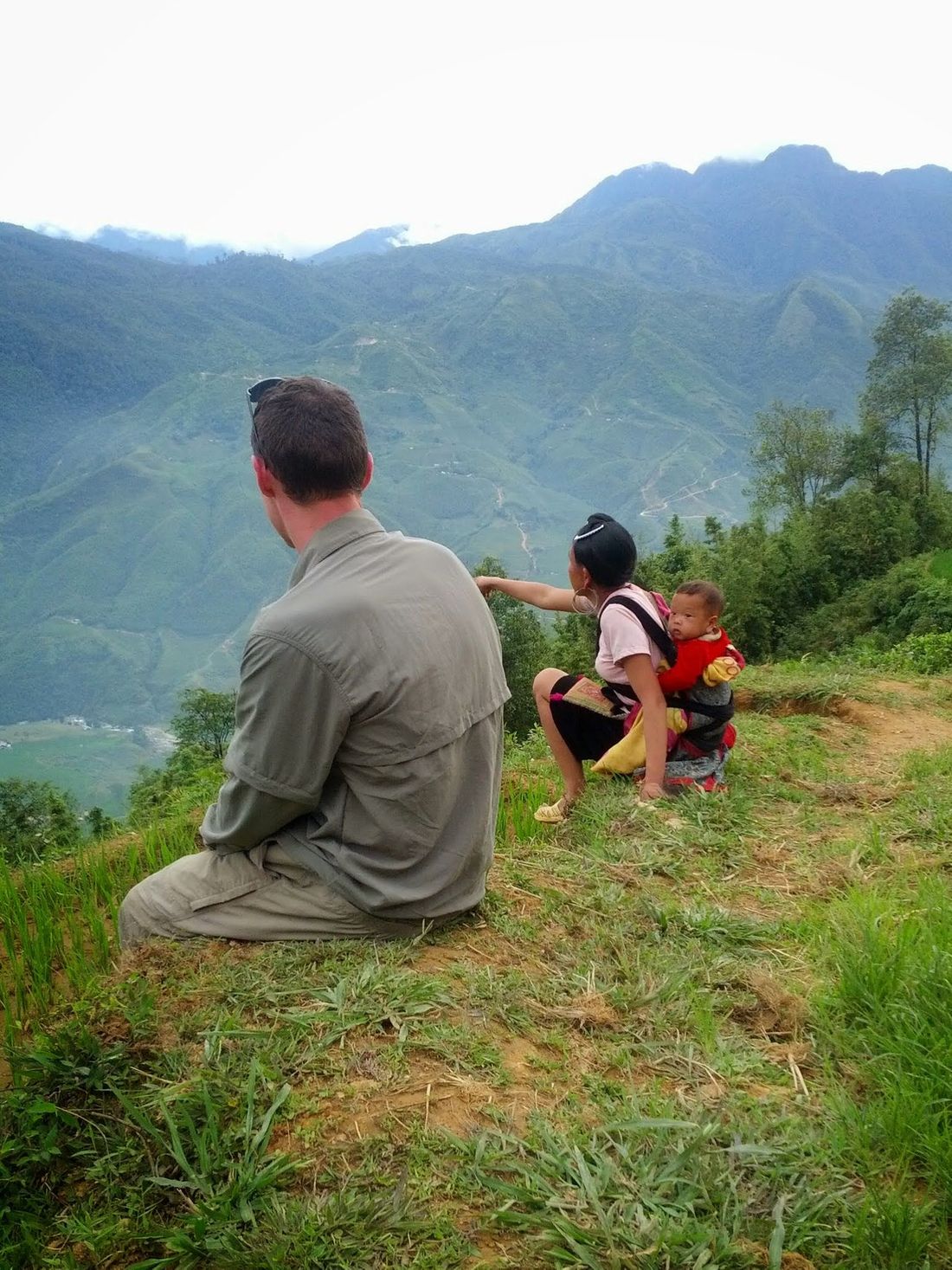 Admiring the view with the Hmong people from the mountains nr Sapa, Vietam
It's hard not to be an environmental hypocrite in the modern world. Almost anything you do is going to cost in some way. Admiring Christmas lights in your neighbourhood? Browsing the internet? Ordering a Christmas present online? Watching Netflix? Telcos like Telstra and Vodafone last year released 1.2 million and 179,000 tonnes of greenhouse gases respectively. Amazon consumed 243,570 gigajoules (GJ) of energy and emitted around 56,000 tonnes of emissions1**. We might love the earth, but it's sure as hell hard to adjust our habits as individuals so we're not personally accountable. We certainly do need to look at what we do ourselves. It is not uncommon here for people to identify with a clean living, low impact lifestyle yet fly to Bali three times a year for yoga retreats, and I don't think anyone is unaware, exactly, that they might be partly to blame because if they really, really wanted to be carbon neutraul or even free as an individual, they'd boycott flying altogether.

Tuscany
However, it's not as easy as that. Nor should the individual really have to make such drastic alterations to the way they live their lives. Within reason, sure - there are many things that take little effort to do. Do your research and boycott the big offenders. Watch your household footprint as much as you can. But big companies also need to take responsibility for emissions - and many are, whether or not they are foreseeing the inevitability of a market driven by the desire for a cleaner footprint or for their own sense of culpability. Quantas, for example, are committed to powering their aircraft with bio-fuel from 2020, having already had successful flights part powered by fuel derived from plant oils. They have committed to eliminate carbon emissions entirely by 2050.2. They currently match every dollar spent by passengers to offset their carbon. But what do we do in the meantime? Of all global carbon emissions, commercial flying accounts for approximately two per cent of the total. And how do we manage the enormous amounts of crops needed to create the oils for fuel? This solution does not come without its own complications.

Scotland, many moons ago
Whilst many might rage against the environmental advocates who don't stay grounded and thus appear to fail to walk the hard walk, this must be weighed up against the greater good. Those who are fighting politicians, campaigning and rallying, and sacrificing their time to go to global conferences to stay abreast of the real environmental issues that inform their passions and allow them to more clearly see what is is they are fighting for must surely be justified. Whilst Prince Charles flying for an award might be one thing and David Attenborough another, it is often those who have seen the world the most that fight for it the hardest. If you have swum in seas of plastic in Bali or seen the effects of drought in South Africa or the beauty of the Maldives threatened by rising sea levels first hand, it is far more likely you would be doing what you can to save it. Putting a sign on your health food shop to say plastic bags are not accepted or packaging your product in cardboard isn't going to be the hugest change you can make for the world. Perhaps people who push for policy, write articles, engage and support environmental issues in third world countries, and other important actions that necessitate flying shouldn't be pilloried for doing so.

Halong Bay, Vietnam
Of course as I write this I'm always looking at us. As we become hypocrites ourselves, planning flights to Europe & Asia, we discuss often the morality of what we are doing and how it conflicts with our values as believers in a cleaner, greener world. However, we are in a unique position. Whilst Europeans can easily board a train or cycle, we are isolated by distance. Unless we remain bound by sea, and never see our English family again, we have little choice. We're a migrant nation and an isolated one. Should we just live with that? Should we shut up and stay grounded, doomed to circle this sunburnt island and long forever for the majesty of the world we cannot reach? Shall we never find our true selves by navigating the landscapes to which, as humans of this big blue globe, we are inextricably linked? Travel has made me who I am - I cannot deny that to the youth who come up behind me.
The Australian dilemma is also necessary to broaden the understanding of the world. The only way people come together is when the distance between us is breached. The less traveled one is, the less we understand the other. There is nothing like exposure to another country to help people appreciate others. I'm a teacher - I cannot tell you how often parents have told me that travelling to other countries have made their children better people - more culturally sensitive and less entitled. Less self absorbed. Yes, it's a western privilege to be able to fly at all, but it's also one that can help raise more aware human beings with the potential to do good in a world that needs it. Parochial, Australian centered thinking will not save the world. We're the best, screw the rest ain't gonna help.

Finding myself in Bagan, Burma
Nor will buying bamboo toothbrushes or sorting your recycling more effectively, or buying hemp clothing. I would like to think that these individual actions would make a difference, and collectively, they can make a difference, or so goes the blurb and by-lines. But there needs to be far, far bigger solutions than this. And so it is big corporate that must be the ones taking responsibility. Richard Branson's suggestion for a carbon dividend over a carbon tax is worth governmental mandate. In March, he proposed:
Every company in the world should accept a Clean Energy Dividend to be imposed on the fossil fuel they use and the carbon emissions they cause. The dividend could be the equivalent percentage that a carbon tax would have been, and based on cutting pollution at the rate the climate science shows is necessary.
Whilst this might be initially unattractive to governments (who do not profit get the tax), ultimately it can drive an alternative economic model that finds its way into their coffers through encouraging investment into technologies such as renewables. Businesses who invest in these technologies fast track what is needed to combat climate change and recieve profit from their success. As Branson argues, there may be initial fuel price increase, but the more invested into cleaner technologies, the more people will adopt them, the more competition increases, and the more the price is driven down - something that governments can take credit for by enforcing the dividend scheme.
So whilst it mught be easy to hate people who actively and loudly fight for the earth yet fly, maybe instead we refocus on the responsibility not only big corporations must take, but the power they have to do so.
Are you an environmental hypocrite?
How do you reconcile travelling via planes & the desire for a cleaner earth?
This was written in response to Ecotrain's QOTW, which you can find here which asks if eco-warriors should be criticised for flying. Anyone is welcome to answer. This is also my first publication from the www.travelfeed.io site - you should check it out! Content specific front ends are worth supporting as they have the potential to onboard others and thus raise the value of Steem.