It's a wierd thing, looking back at your life and trying to figure out a moment to talk about when you've been happy. Yet this is what @ecotrain's question of the week is asking me to do. I've been procrastinating all week about this one! I've been fairly happy most of my life, and very conscious that I've been blessed. But life kinda goes up and down, doesn't it? So even when I reflect on my happiest times, they're also tainted with times of uncertainty, conflict and worries too. Life is never really that easy - well, it never felt that way to me.
Yet I've had a great deal of awesome fun on the way and some life defining moments. So if it's going to be a life defining happy moment, I'm going to choose a time I've been wanting to talk about for a while, and that's when I travelled as a single mum with a 4 year old, wandering hearts with barely a penny to our name. I remember the tough times about this too, but they've faded more now.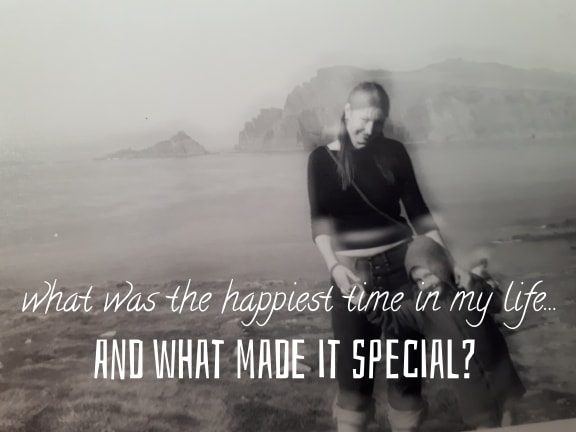 It's taken me so long to write this, mainly because I actually have real photos and I've lost the negatives, and they're in albums in a metal box in the back of the bus in the garden. I couldn't get the latch open and every time J. was home I kinda forgot about it. I couldn't really write this post without photos either. I loved looking through this album - they're all pretty bad quality as they're taken with a shitty automatic digital camera. No camera phones back then, thank god.
I had J. in my mid 20's, a child of a love affair as I was travelling around Australia. I then got back with my ex, which wasn't a great idea, and by the time my beautiful boy was 2, that was over too. Clearly having a baby had interfered with my plans to go to Europe, but never one to let convention tie me down, I started saving to go overseas. I had a very strong pull to the UK and Europe because that's where both sets of grandparents were from, but that's another story. The worst thing was all the negatives that were directed at me - I lived in a small town, and everyone had something to say about it. That I was irresponsible, and that I should have stayed with the boy's biological father, if not my ex, who loved me (I didn't love him back), and that I should provide stable roots for J. My German Nana laughed at that. 'Never let men be responsible for your happiness' she said wisely, and bought me a backpack, a camera, and half a plane ticket. She'd migrated post world war 2 from Germany with an alcoholic husband and three young boys, one of them my Dad, and they'd divorced early on. He'd died when I was quite young and she never met any else. I don't think she could be bothered - she was fiercely strong and independent and I like to think I inherited that from her.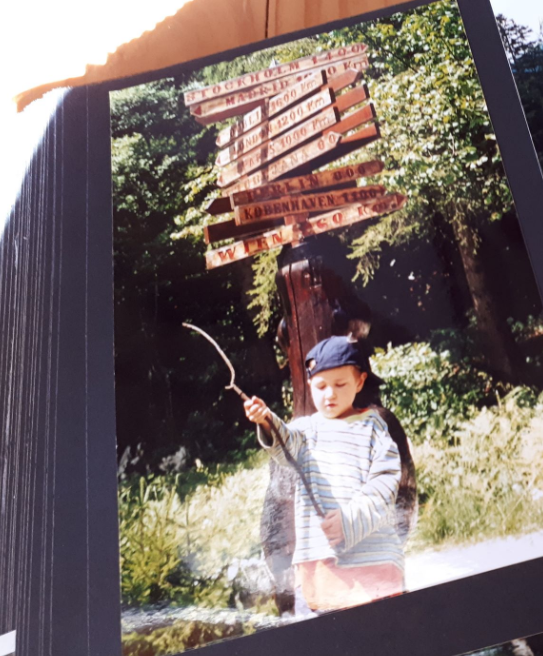 We had two sets of clothes, that's it. I swear he's got this velour jumper on in nearly every photo. Hiking somewhere in the Julian Alps.
I remember being at the airport with J., terrified and excited at the same time. I'd never even been overseas before (that's the Australian tyranny of distance for you) and I was running through this mental check in my head - passport, backpack, wallet - KID! What the hell was I doing travelling on my own with a 4 year old? He had a little bananas in pajamas backpack full of lego, and pajamas with airplanes and clouds on them. He slept on the floor of the plane on my jacket. I remember him stomping his little feet in excitement on the way into the terminal - and J. is famous for his lack of demonstrative excitement. When that kid is excited you know about it.
For the first time in my life I felt truly free. There's something about physical distance from your hometown that makes you feel like yourself at last, unbound by all those social conventions and everyone knowing your business and having given you a particular identity you didn't even ask for and weren't even sure if it was yours or not. I had out grown it and was well and truly to go find out who I was, and wasn't going to let having a kid stop me. We landed in Germany and stayed for a week at my Dad's Aunt's place south of Munich, and I could feel my ancestry in the very soil. It felt like home.
<div class="pull-right>
J. showing his Mum some love, out at a restaurant somewhere listening to a friend play guitar.
After that we travelled in a small town in the Czech Republic called Czesky Krumlov, where we stayed for 7 weeks. We just couldn't leave. Back then it wasn't very touristy, and not many people had heard of it. We stayed in this crazy hostel against the side of a cliff, run by a Portugese woman called Maria, who also had some little kids who J. played with. There was a rooftop garden where we'd have fires and chats and drink Czech beer or absinthe, depending on the night. The rooms were a convoluted mess and it truly lived up to it's name 'The Labrinth'. Maria let me clean rooms and check people in and gave me a room to myself with a curtain for a door.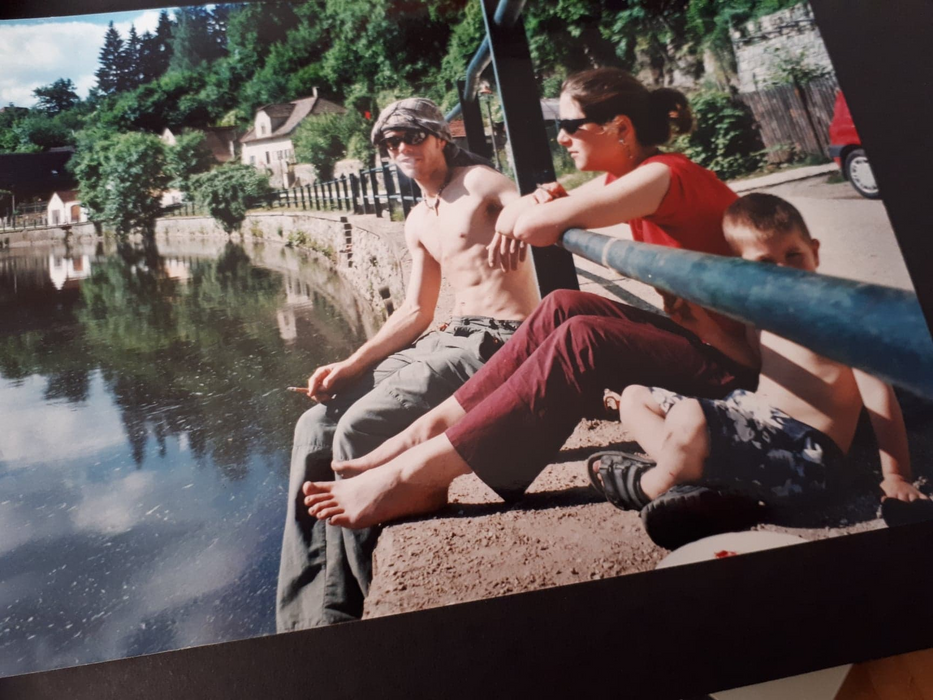 J. hanging by the banks of the Vltava with friends. We'd often tire tube down that river. A year or so later the whole place was flooded.
We hung out with some amazing people who, like me, had found themselves in this magical spot and couldn't leave. It was summer and every night we'd drink as the sun went down on the stone wall in front of a hotel called Babylon, where the light would refract through the amber liquid and spill out onto the stones. Maria would look after J. with her kids, which was never a problem, and the place was a stone's throw from Babylon so I felt easy and comfortable leaving J. there whilst I lived a little. I'm not sure I could do that now. The world is a different place.
Every morning we'd wake up and I'd give J. brekky and we'd jump on rubber tires and go down the rapids in front of the hostel, chat and eat pancakes. Sometimes we'd walk up the river and float back down on the tires, chatting away, J. either on a tire with me or he'd be running around town with the other kids and I'd be enjoying a spliff with Lisa, a girl who'd become my close friend, and a guy who was to become my lover later in the journey where I caught up with him where he was house-sitting in Berlin. I remember buying 'Mali' by Ali Farkar Toure and listening to it on my headphones and sitting on the riverwall with a spliff and my journal and watching J. play and thinking: 'Here I am, myself', as if I had found who I was all along.
People liked us, and loved my boy. He reminded them of absent brothers or the kids they once were, and played endless games with him, lego and drawing and running up and down the cobbled streets. He was one of us and I was one of them and I was blissfully happy. Back home, people wondered why I hadn't ventured elsewhere. It was because I was really, really happy where I was. There was lots of crazy shit going on as well, but I liked things crazy. I liked being on the edge of life and seeing how I responded to it. No one judged me. No one had stories of who I'd been or who I was. I was just who I was. What a blissful experience that was for me.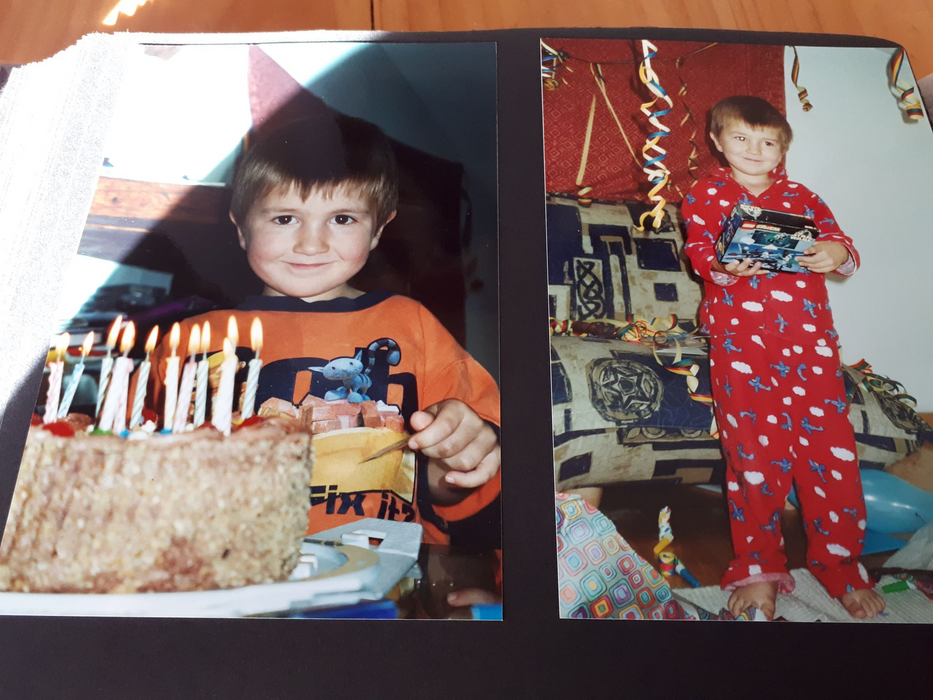 J. turned 5 in Krakow. He did love Bob the Builder and those aeroplane pajamas just make my heart explode, remembering his snuggly-ness.
Like all good things, our time in Cesky Krumlov came to an end. All the plans of where I thought I'd travel went out the window as we travelled on whim and fancy and who'd put us up. I was trying to stretch my dollars (I had hardly any) and stayed with people I'd met on the way who had promised to put us up. Prague first, then we travelled to Krakow and spent a few months there as J.'s biological father was teaching English there and we stayed with him in a little apartment. After that we headed to Vienna and Llubjana, where I realised my last name was Slovenian and so was my Grandpa, who I had always thought was German. We headed down to Croatia and Dubrovnik, pre Game of Thrones days, and then, hearing that friends from Krumlov had landed a house sit in Berlin, took a slow boat up the coast and then the train up there and stayed there for a while.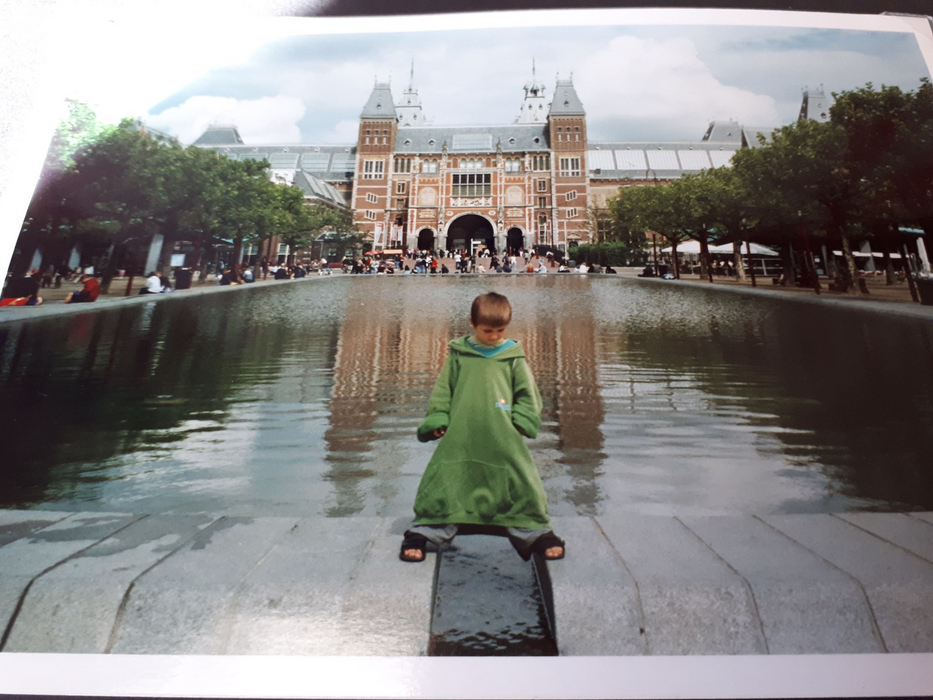 J. in Amsterdam with a friends borrowed Freshjive jumper he'd left behind. It doubled as a raincoat. We had no money and no clothes so this was a godsend. The guy hunted me down in Edinburgh later to get it back. Favourite hoodies are favourite hoodies, after all.
We then finally heading to Amsterdam where we stayed with a Welsh guy called Mike for 3 weeks whilst waiting for my paperwork to come over so I could get a working visa for the UK, as Mum was English and I could get a - I dont know what it's called but it meant I could live and work there indefinately. I was never, ever coming home. I was in love with the Northern Hemisphere and Australian was very, very far from my thoughts.


From there I rejoined J's father in London, where we stayed with his Dad for a while and I gallivanted around the place mostly on my own as he had J. Then J. and I headed over to Ireland, and as we were on the ferry, the twin towers were coming down in real time, and landing in Dublin, everyone was crying on the streets. Suddenly, I was scared. It was a wierd time. We travelled through Ireland, the two of us, but were less well recieved than we were in Europe. In Europe, kids are loved, and nothing is too hard - we'd stay in dorm rooms and he'd share a bed, and people would always help us out. In the UK, children should be seen and not heard. That was hard. But still, we had a good time.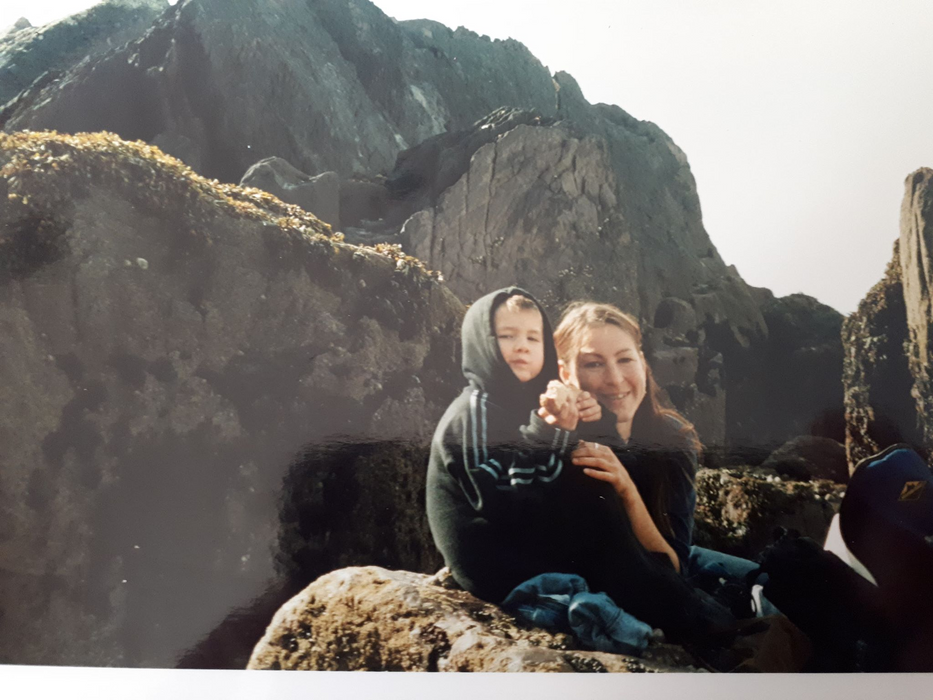 Self timer shots at the beach at Dingle. I was so sick and just managed to walk down but it made me feel better and on the way back we picked blackberries and had pancakes and it's one of the sweetest memories of my life.
I loved those times with my boy, picking blackberries and hanging out the beach on the Dingle Peninsula. We hadn't seen the beach for a good long time, and it felt good. From there, back to London, and then over to Spain and Portugal, where I have happy memories of climbing fig trees and being covered in ants whilst the Atlantic crashed and boomed around us. We were so poor I carried a plastic bag with our food in it - tins of tuna, quesco fresco, crackers, stone fruits. I never felt lacking though, not in the way I do sometimes now with all the money and the security in the world that I need.
Europe got scarier in those months. There were more rigid checks at airports and all kinds of crazy rumours and media reports going on. If you can remember 9/11 you'll remember those times. Everyone does. I remember being on a train headed somewhere in Spain (I don't remember where, but I remember this moment) when a guy with a beard, clearly Muslim, gave J. quail eggs and begged me not to judge Islam for what was going on. Oh, that's right, we were headed to the Alhambra! J. got violently ill with some stomach bug and some guy lent us money for a taxi and dropped us off in town and I remember it was Sunday and I couldn't find the hospital and there was no one around to help. All of a sudden the enormity of travelling with a kid hit me, and a few weeks later we travelled home, back to Australia.
J. with his knight/star wars attire. Have you got any idea how many of those I made for him after he lost yet another one? You get an empty two litre bottle, slice the top and bottom off, roll it up in tube and slide it into a toilet roll. Voila.
What makes me so happy, thinking about those times, is that I had time to fully appreciate my boy. A four year old is a wonder - they philosophise about God and say the craziest things and go off on imaginative tangents. They can walk far enough when it suits them and occupy themselves with games of their own. I remember he constantly carried a light sabre made of a rolled up fanta or sprite bottle (because they were coloured) and placed inside a toilet roll. People would either say 'HEY! a light sabre' or 'what's that', depending on whether they were Star Wars savvy or not. He loved castles and knights and charmed everyone he met, like charmed the pants of them so much that they'd want to travel with us. We were very rarely alone and there was always someone to help out. Being a single mum seemed easy in those days and I just loved every minute of our travels together. How lucky I was that I had that opportunity.
Indeed, it was one of the happiest times in my life, but then, I've had many! We'd go on to have many more adventures after that, and I'd meet my husband too (in England, coming back the year later) and there's so many more happy times I can look back on. But there's only so much I can write about it one post and some things are best kept in my heart.
Looking through these albums has made me nostaglic. Oh, for a time machine to go back and cuddle that little boy in the aeroplane pajamas. It was him that made it special.
---
---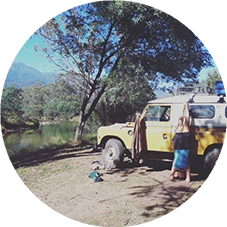 If you're a supporter of all things natural healing, you might like to read our introductory post here. We'd also love to welcome you on Discord here!!