The first night at the Yangshuo Mountain Retreat was wonderfully quiet.
In the morning, we go down in the beautiful garden directly next to the Yulong River.
We order a delicious breakfast: toast with scrambled eggs, pancakes and muesli.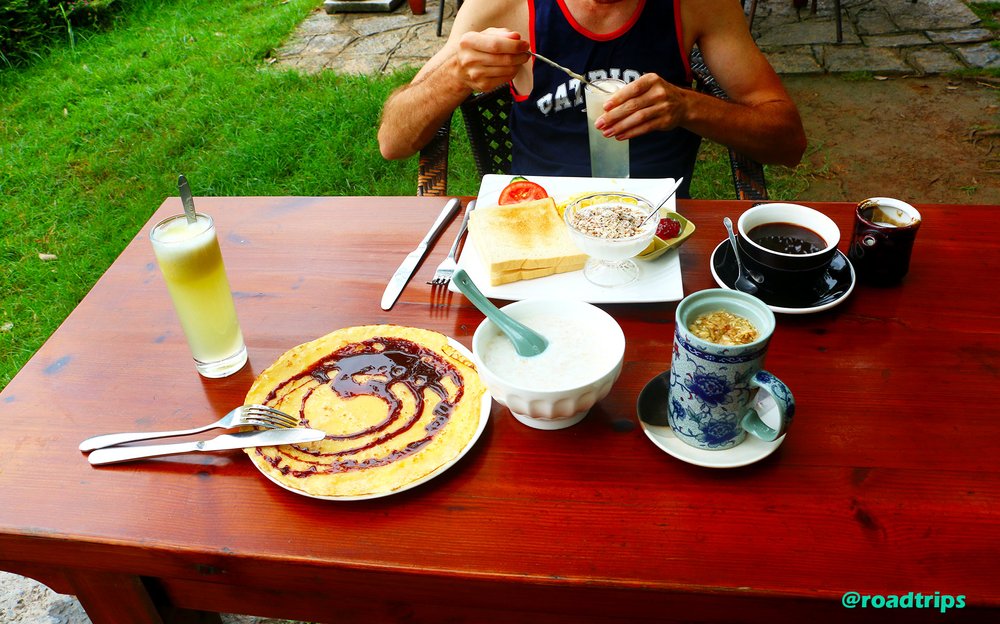 A wonderful start in the day
Until noon, we relax in the hotel, doze in the shade and read – we just take a break from everyday life and our wonderful but somewhat exhausting traveling-trough-China-adventure.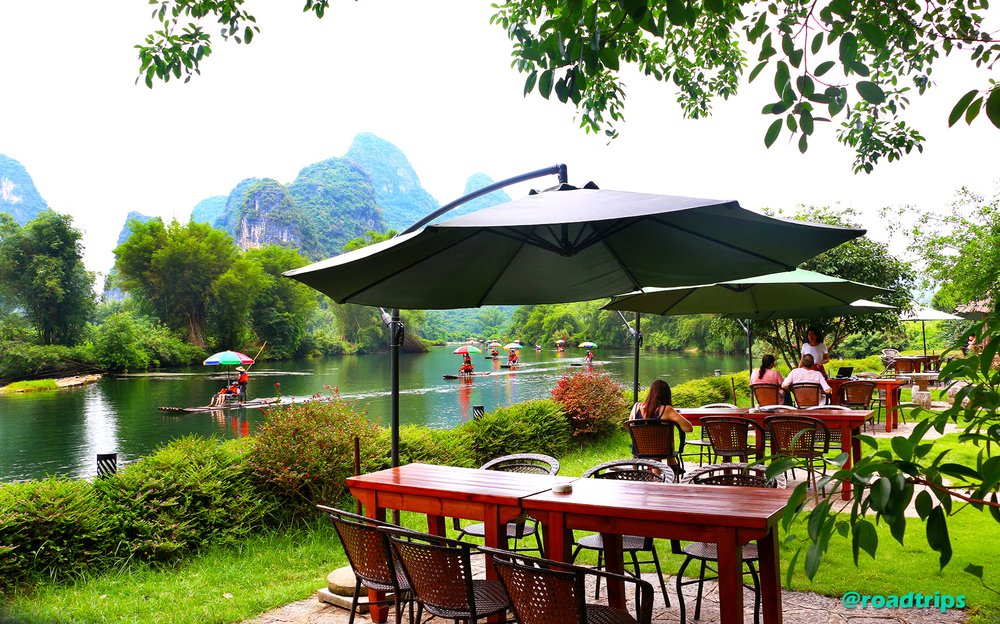 You really can take a break and relax here
Then, after midday, we cycle to the Yulong Bridge. The hotel provides bicycles for free, which is really great!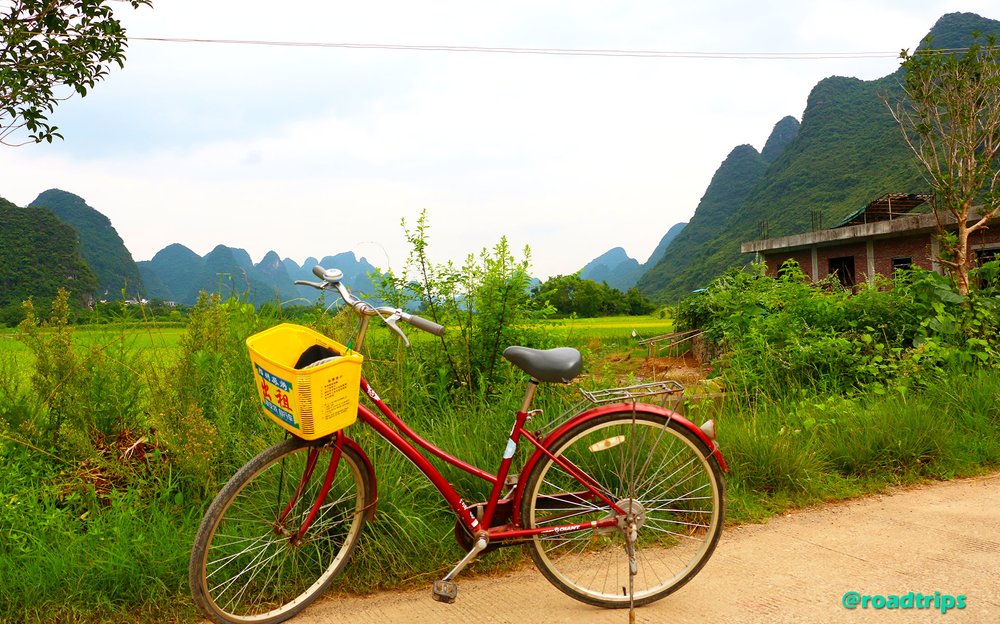 Rented bicycles from our hotel
We ride on a small path along the Yulong River.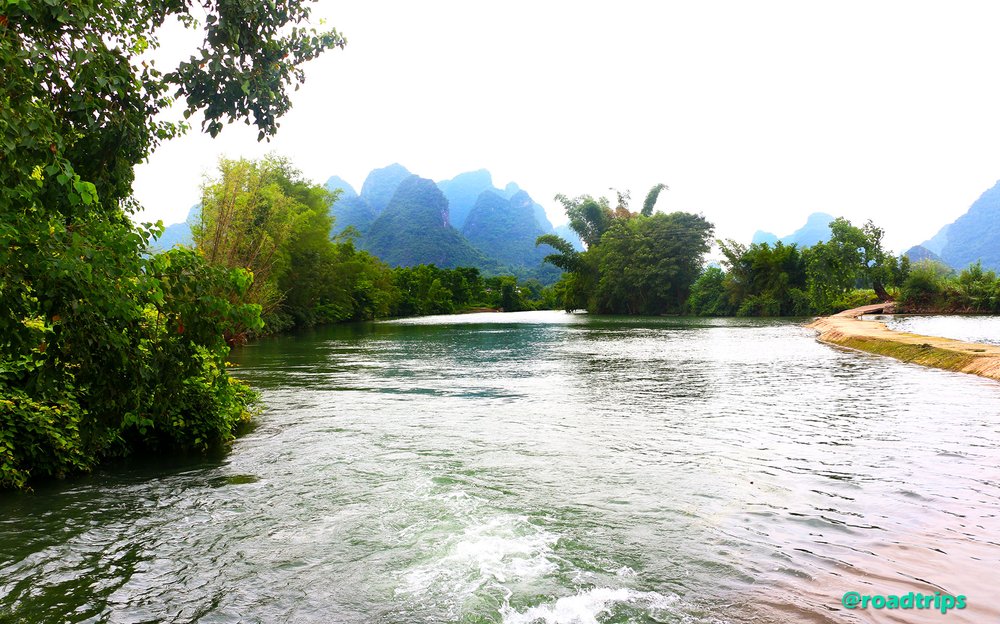 On the way on the bank of the Yulong
There is not much going on here. From time to time, we meet a few locals in the fields or fishermen.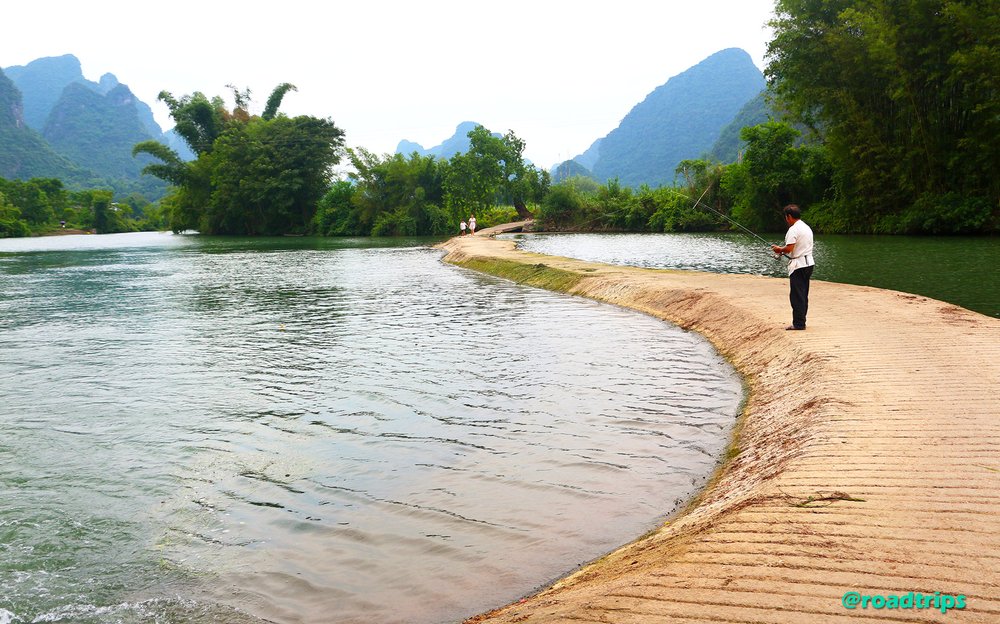 A fisherman at the Yulong-River
We drive past countless rice fields.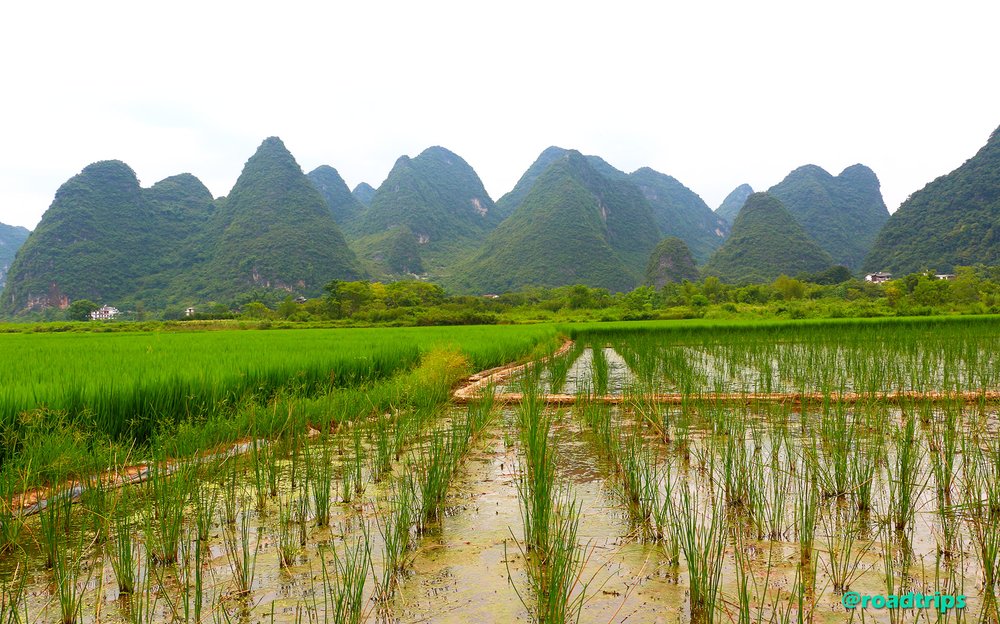 It is very humid and we are sweating as if we were running a marathon. But the beautiful landscape makes us forget any effort. We drive completely enchanted through this magical Karst landscape.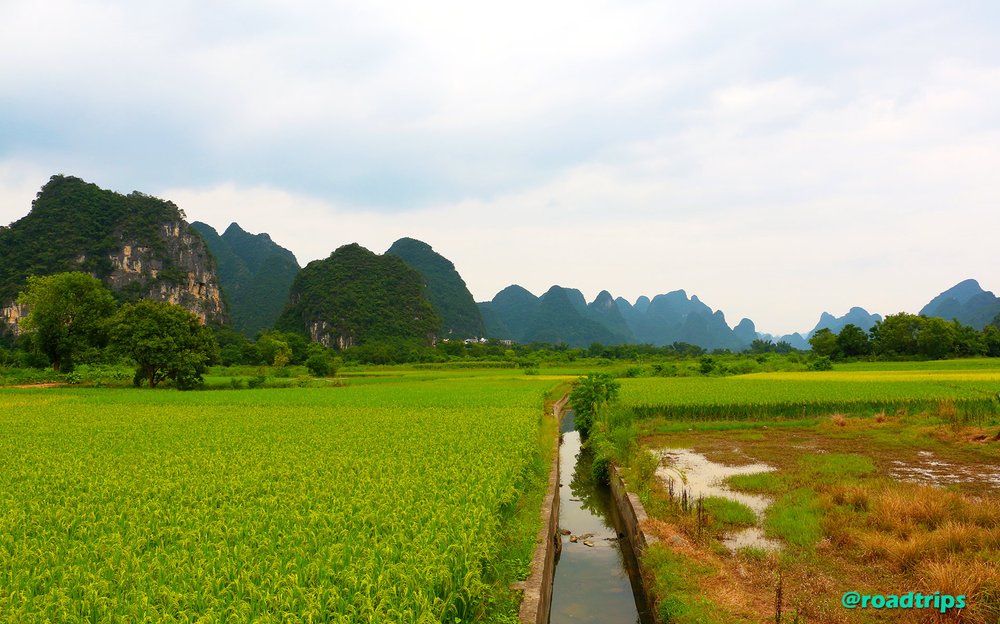 From time to time, bamboo rafts pass next to us.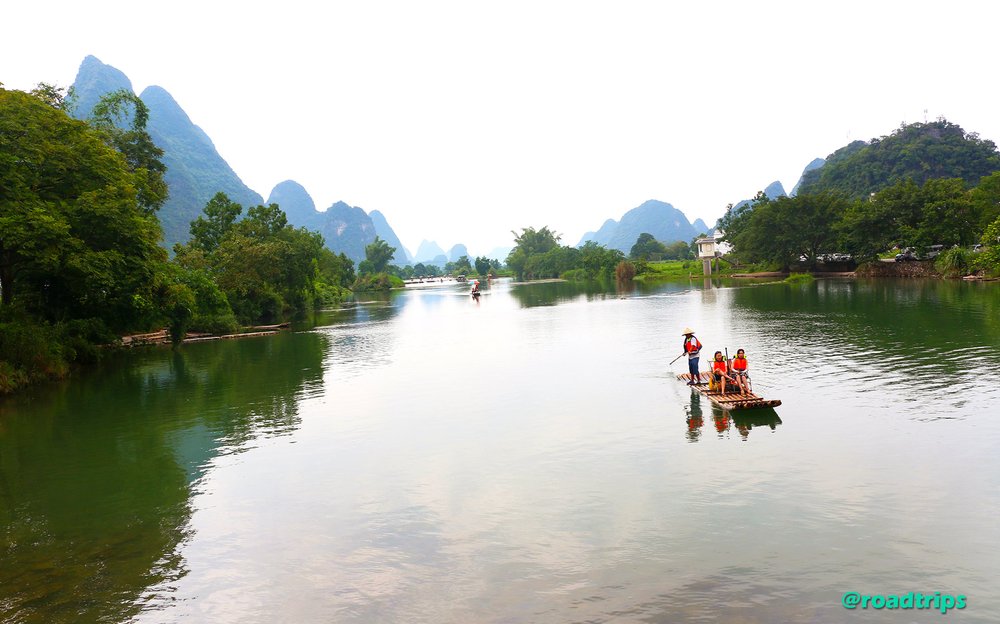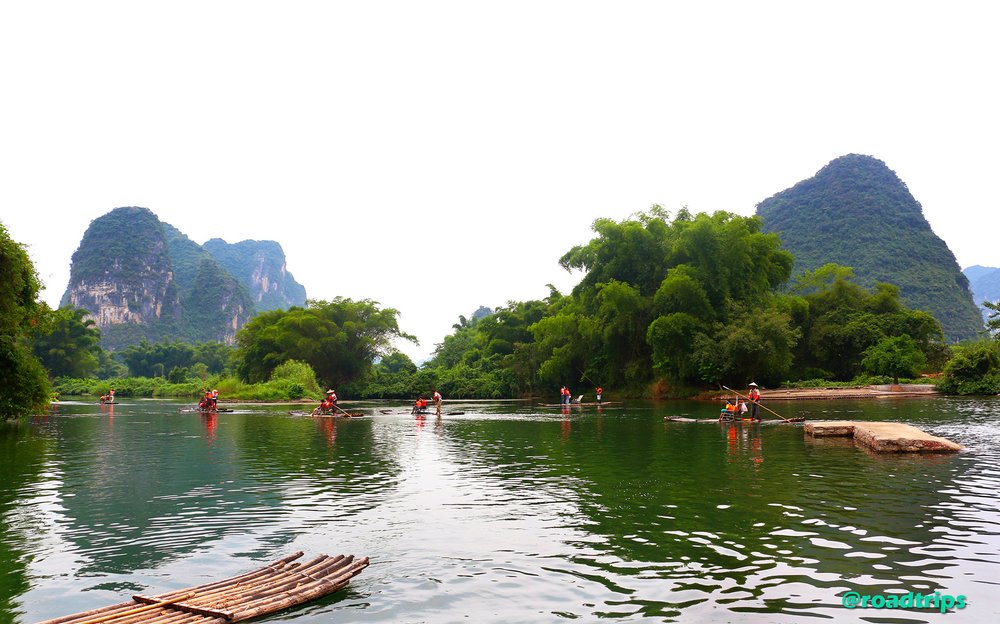 The raft drivers often wave to us, grinning at us and calling: "Bamoboo, bamobooo, do you wanna do bamboo?"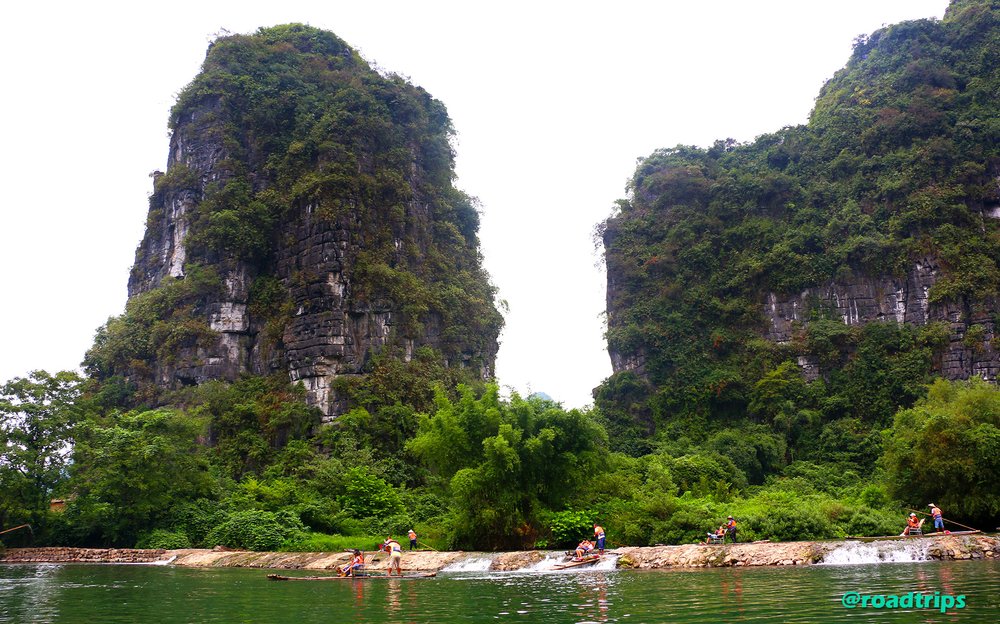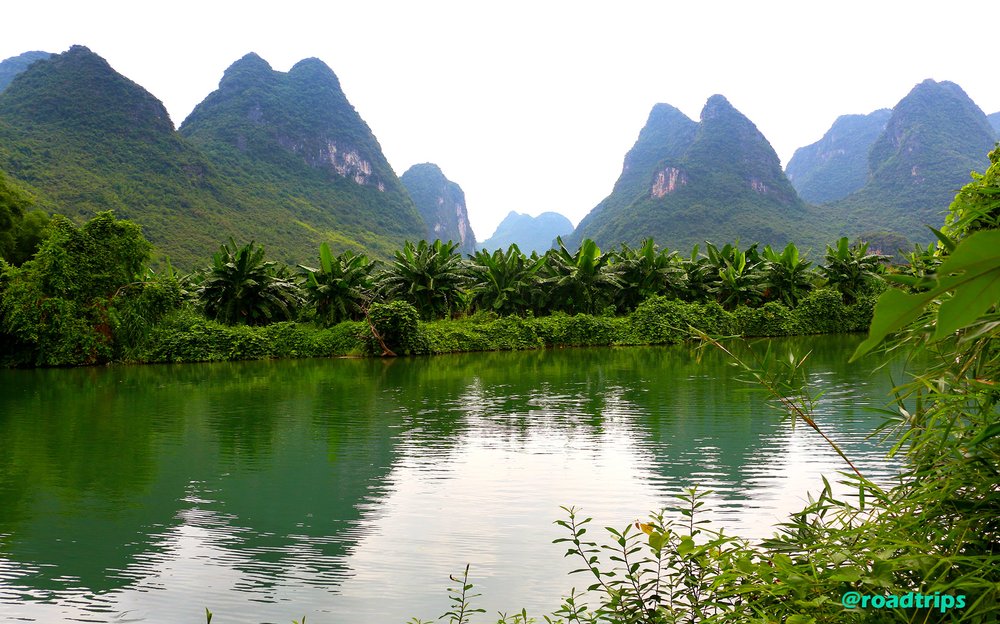 How about a bamboo raft ride for getting back to the hotel?
We wave back friendly and ask ourselves: "Well, why not? Let's actually do the way back to the hotel on the bamboo raft!"
When we arrive at the Yulong Bridge, we see that these raft trips are not only heavily advertised, but also heavily used.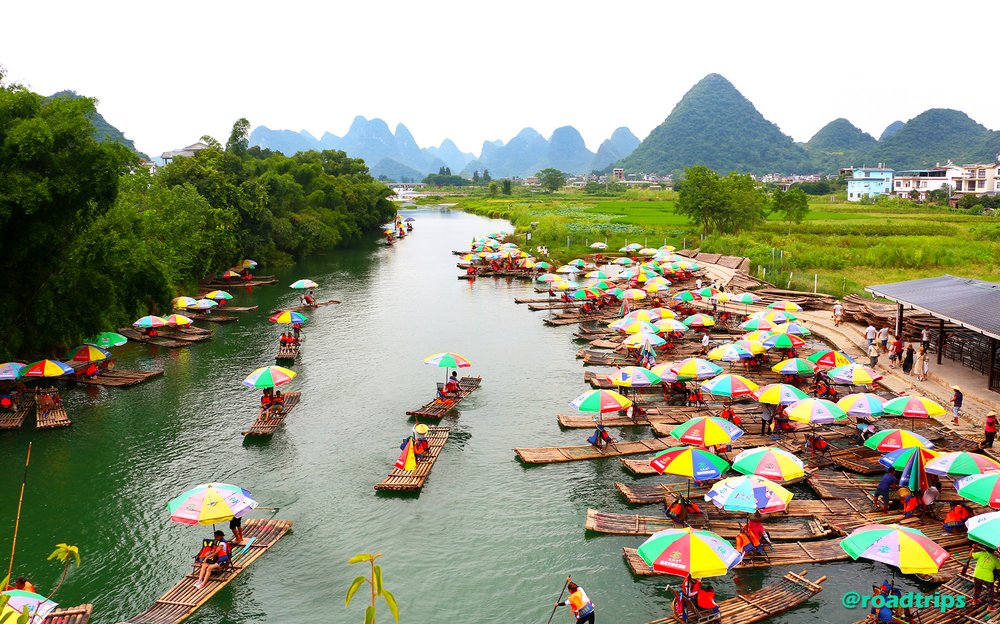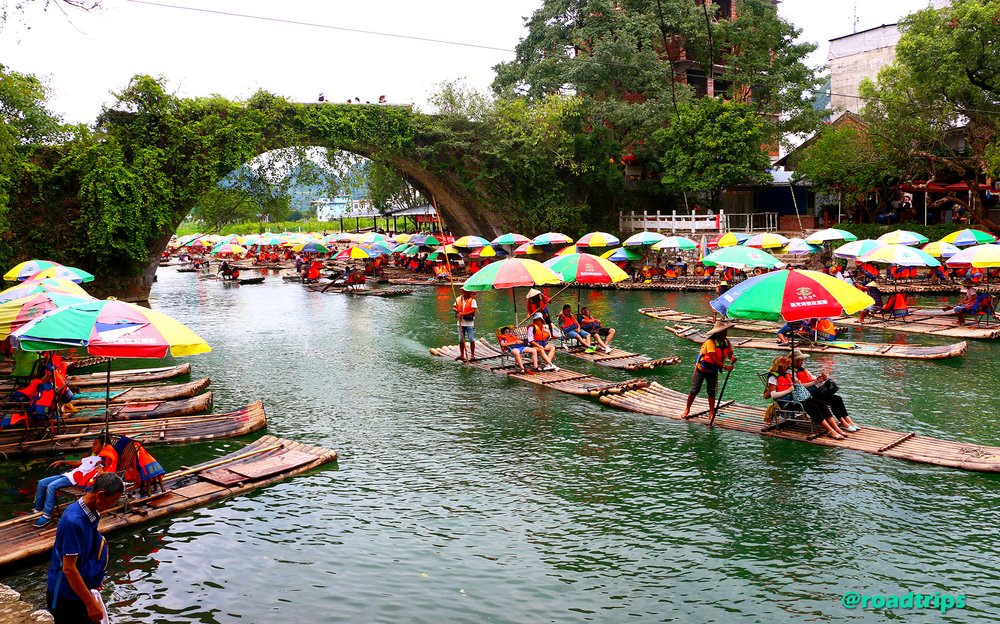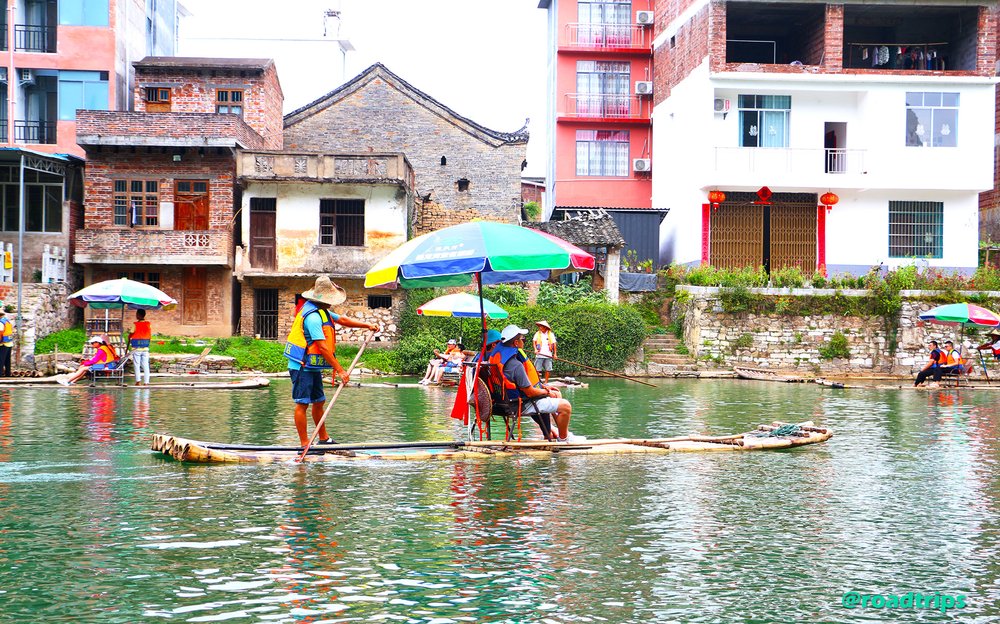 Hustle and bustle at the Yulong Bridge
We finally decide against a bamboo raft ride and prefer to pedal back to the hotel in peace.
That was the right decision: We have nature for ourselves and enjoy cycling back through that wonderful landscape.
Back in the hotel, there is a terribly delicious dinner in the evening: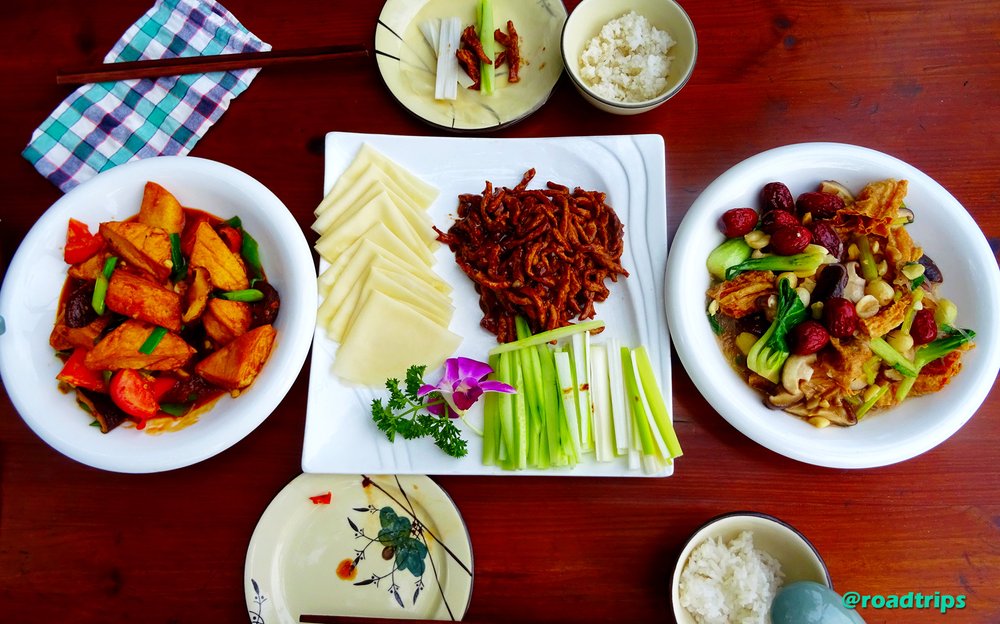 We let the evening come to an end relaxing on the riverbank and sipping a freshly squeezed pineapple juice.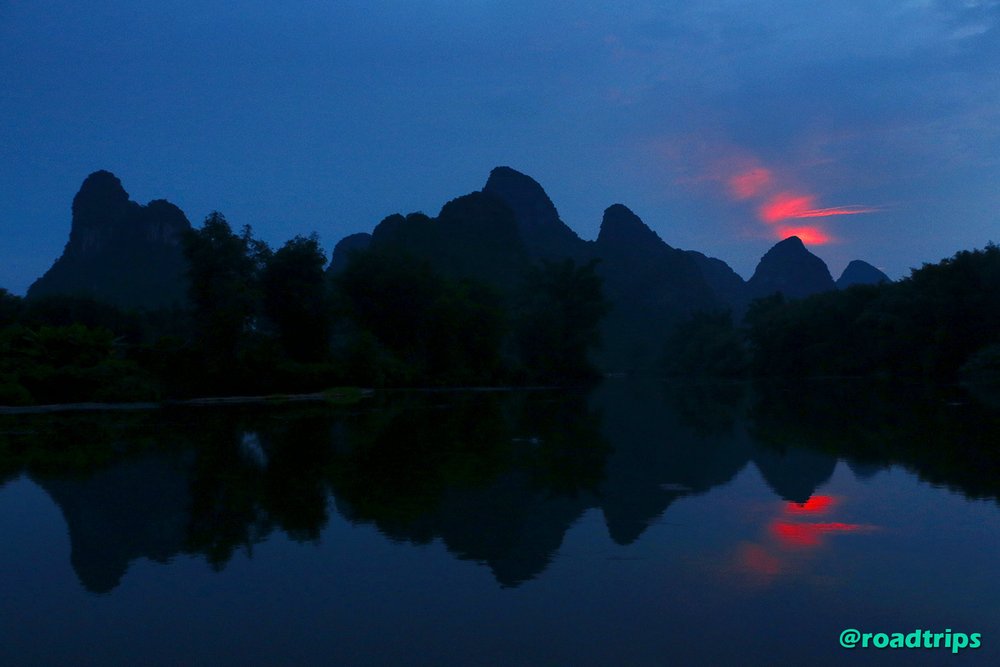 Meanwhile, peace has returned to the Yulong River.
What a breath-taking first day in the karst mountains of Yangshuo!

German (same post)
Radtour durch die Reisfelder Yangshuos
Die erste Nacht im Yangshuo Mountain Retreat war wunderbar ruhig.
Morgens richten wir uns gemütlich und sitzen uns dann in den wunderschönen Garten direkt am Yulong-Fluss.
Wir bestellen ein leckeres Frühstück: Toast mit Rührei, Pancakes und Müsli.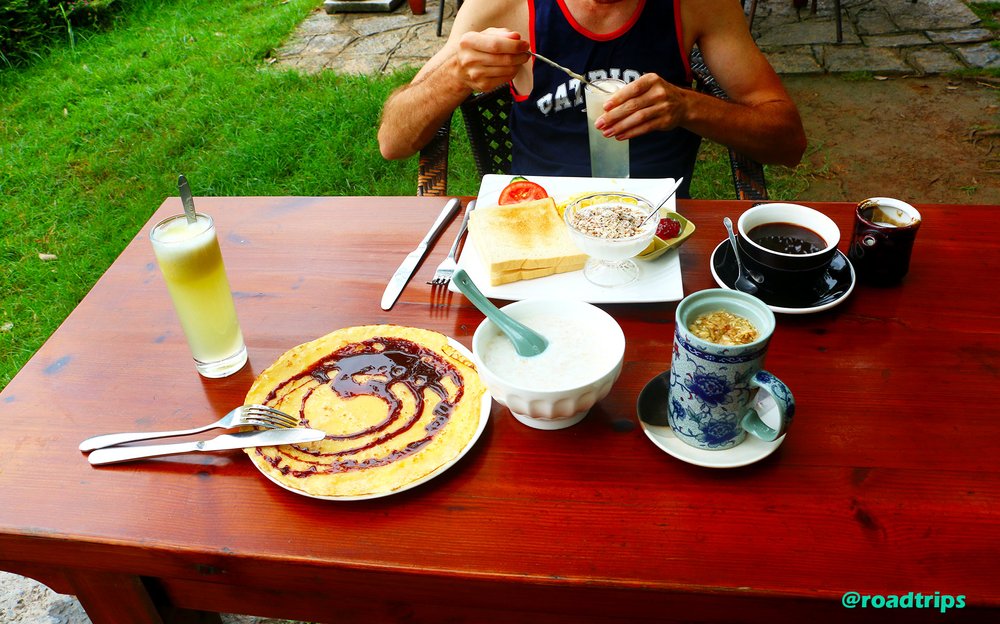 Ein leckerer Start in der Tag
Bis mittags entspannen wir noch im Hotel, dösen im Schatten und lesen. Kurz um: Wir lassen die Seele baumeln!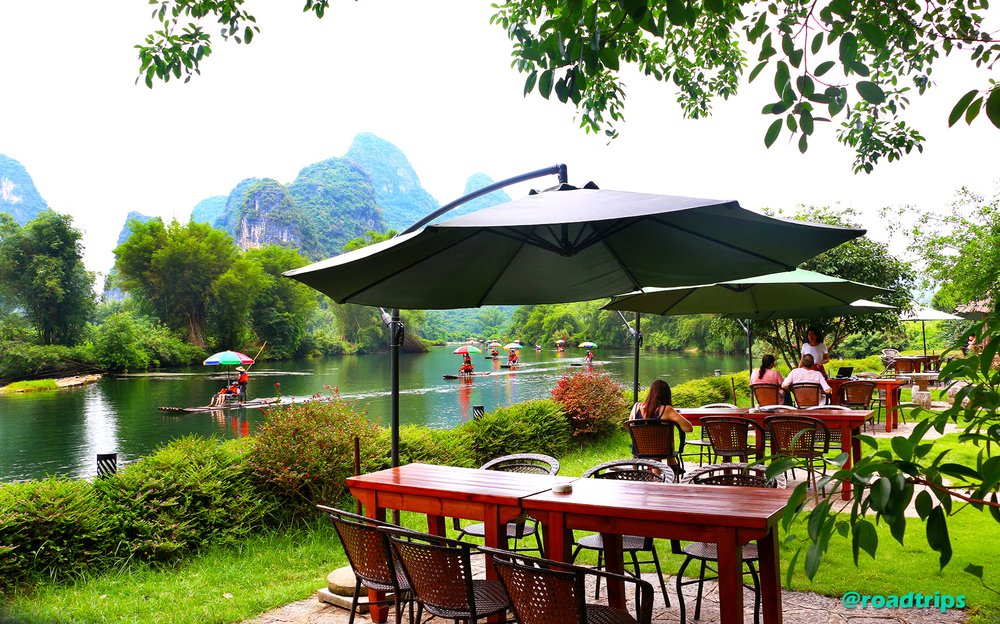 Hier kann man wunderbar die Seele baumeln lassen
Dann radeln wir los zur Yulong-Brücke. Das Hotel stellt seinen Gästen kostenlos Fahrräder zur Verfügung, was wirklich super ist!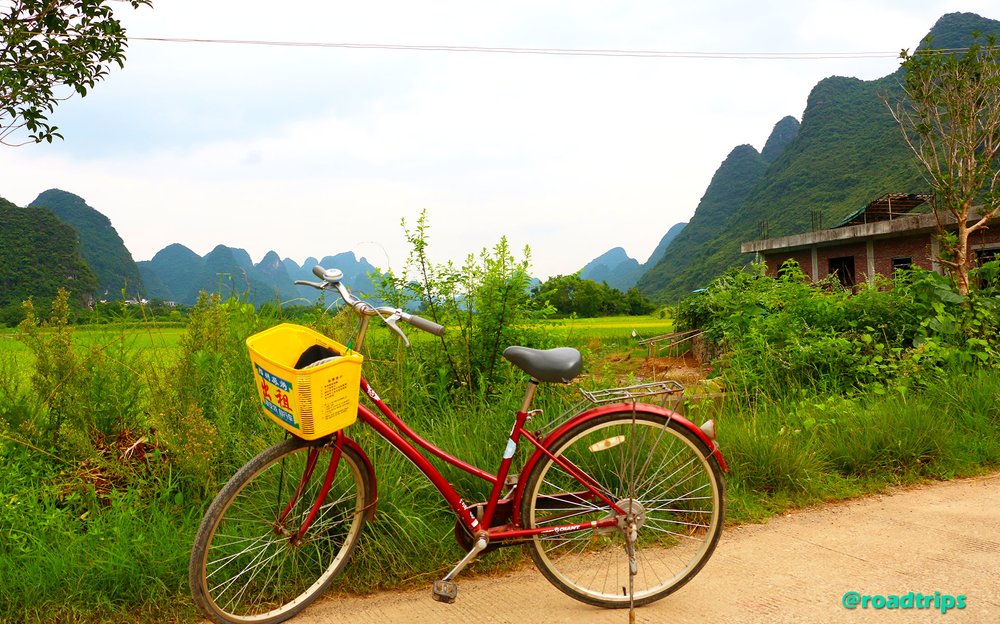 Leihrad vom Hotel
Wir fahren auf einem Fahrradweg entlang des Yulong-Flusses.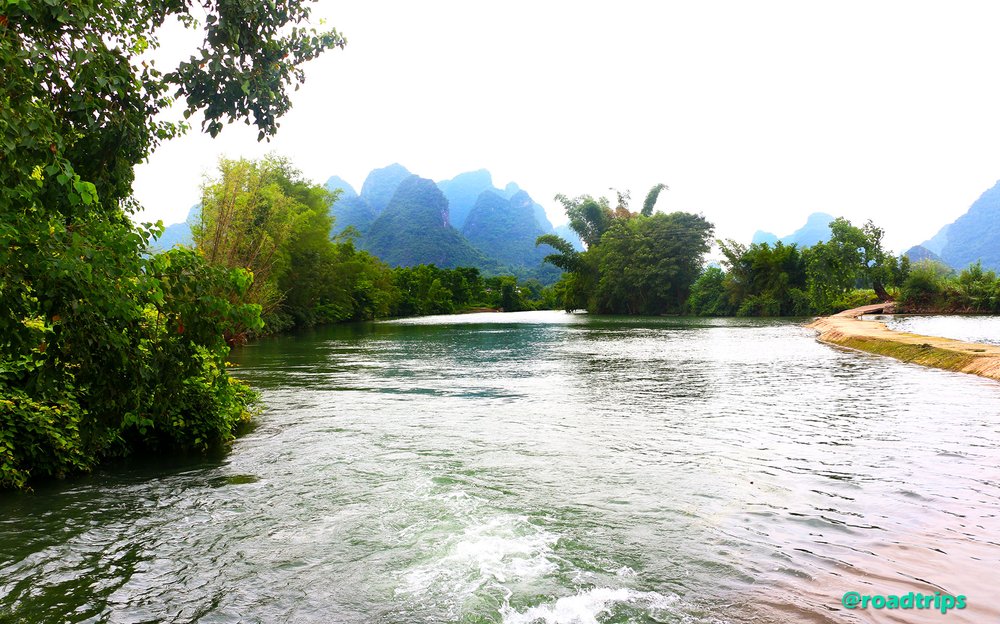 Unterwegs am Ufer des Yulongs
Es ist nicht viel los unterwegs. Ab und zu treffen wir ein paar Einheimische in den Feldern oder Fischer am Ufer.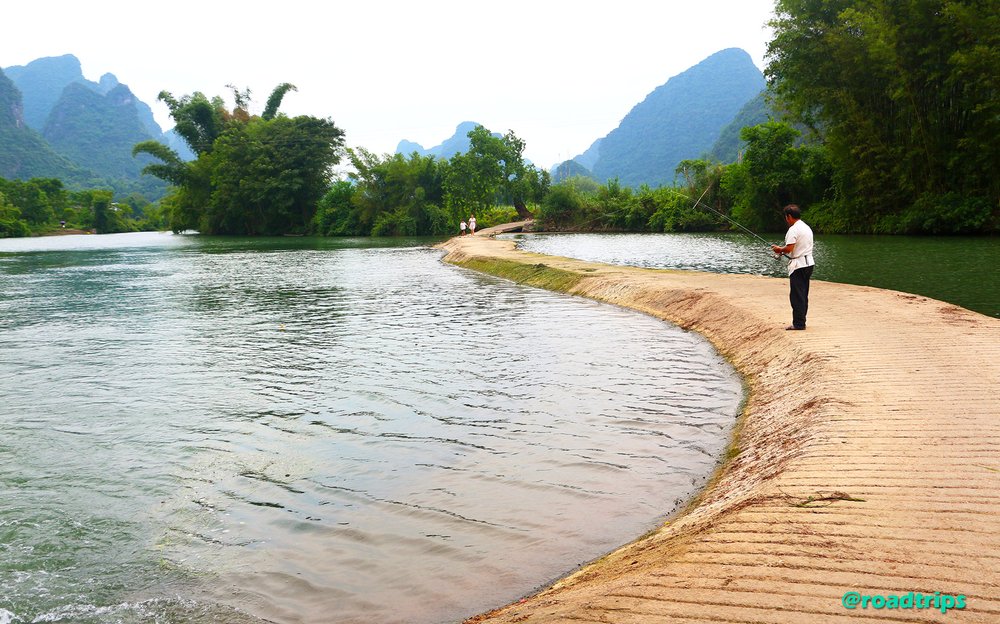 Ein Fischer am Yulong
Wir fahren an unzähligen Reisfeldern vorbei.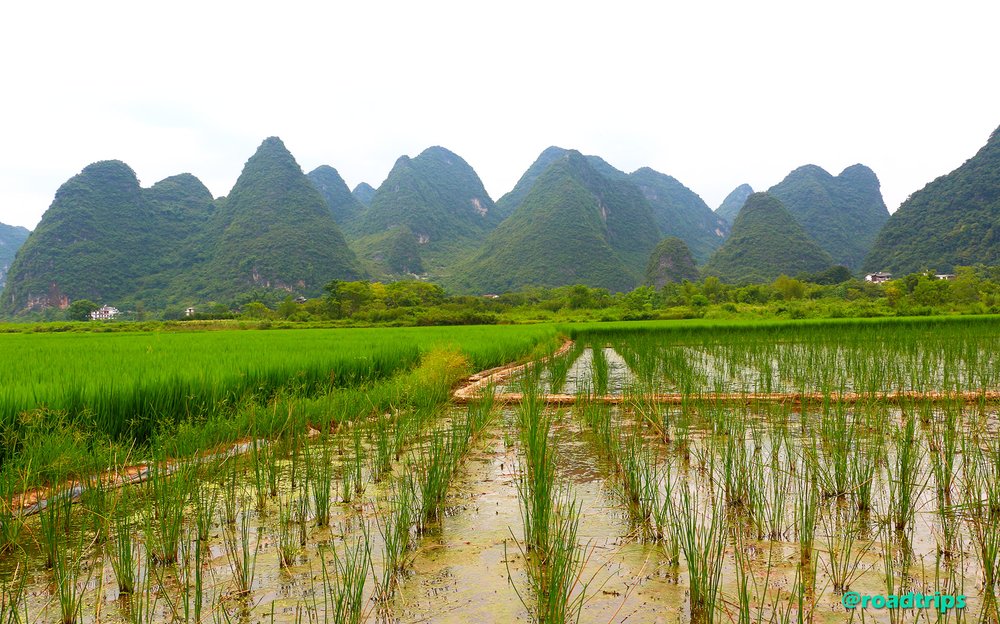 Die Luft ist sehr schwül und wir schwitzen, als würden wir gerade einen Marathon bestreiten. Die wunderschöne Landschaft lässt uns jedoch jegliche Anstrengung vergessen. Wie verzaubert fahren wir durch diese magische Karstlandschaft.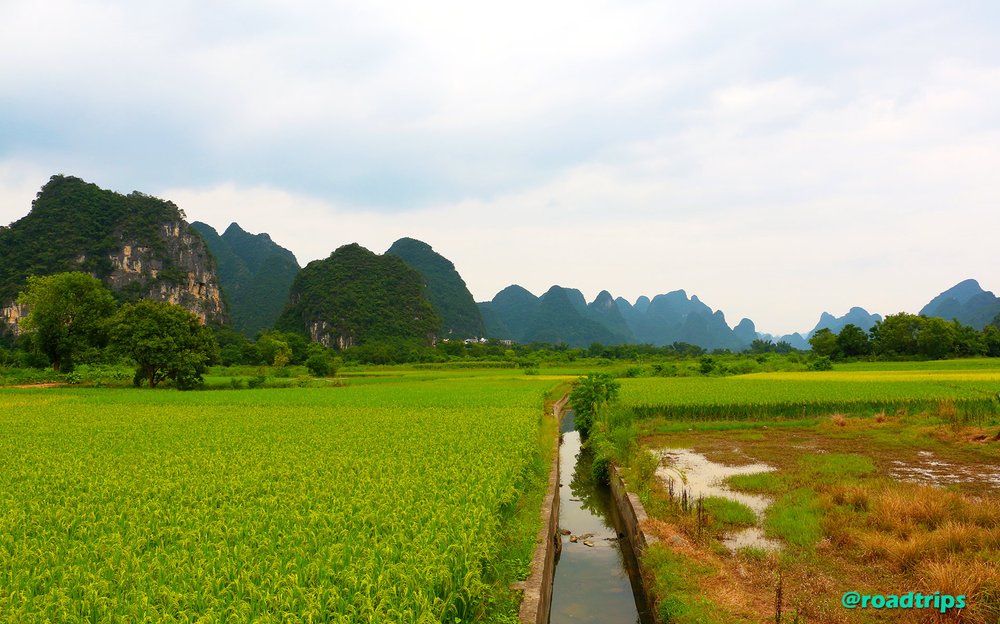 Immer wieder schippern Bambusflösse an uns vorbei.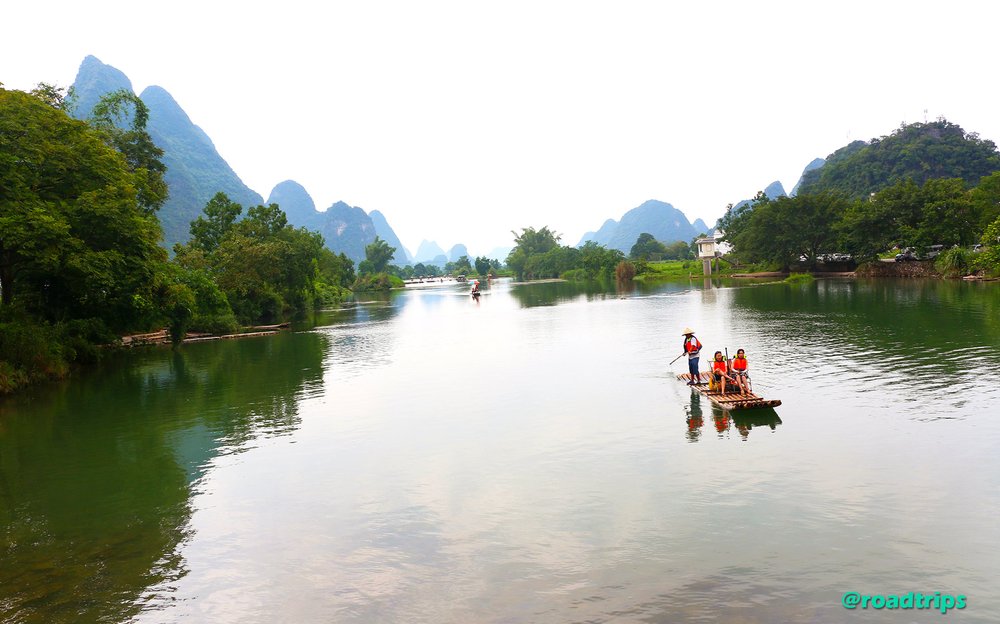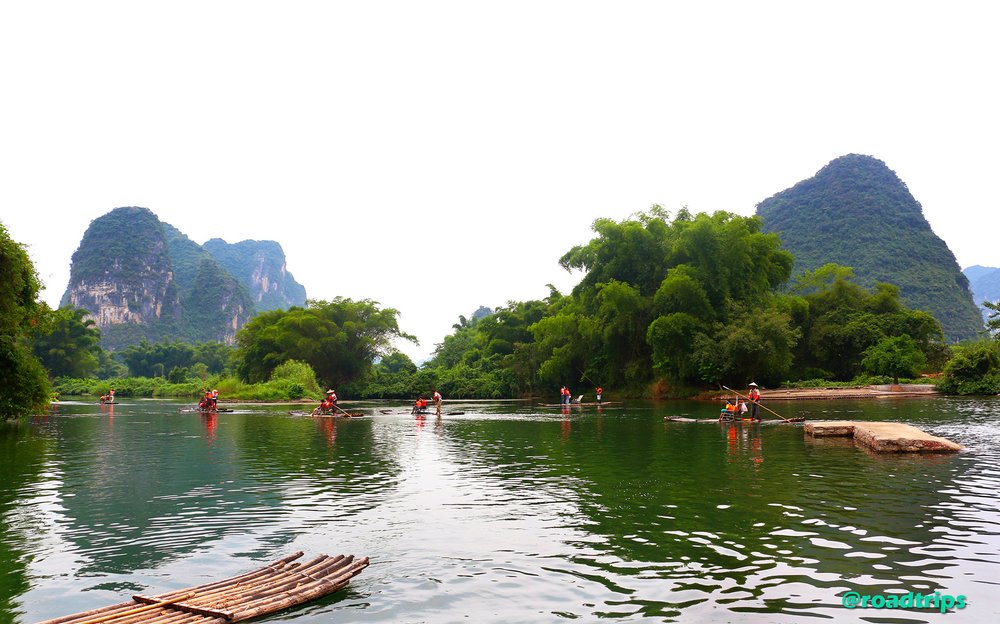 Die Floßfahrer winken uns oft zu, grinsen uns an und rufen: "Bamoboo, bamobooo, do you wanna do bamboo?"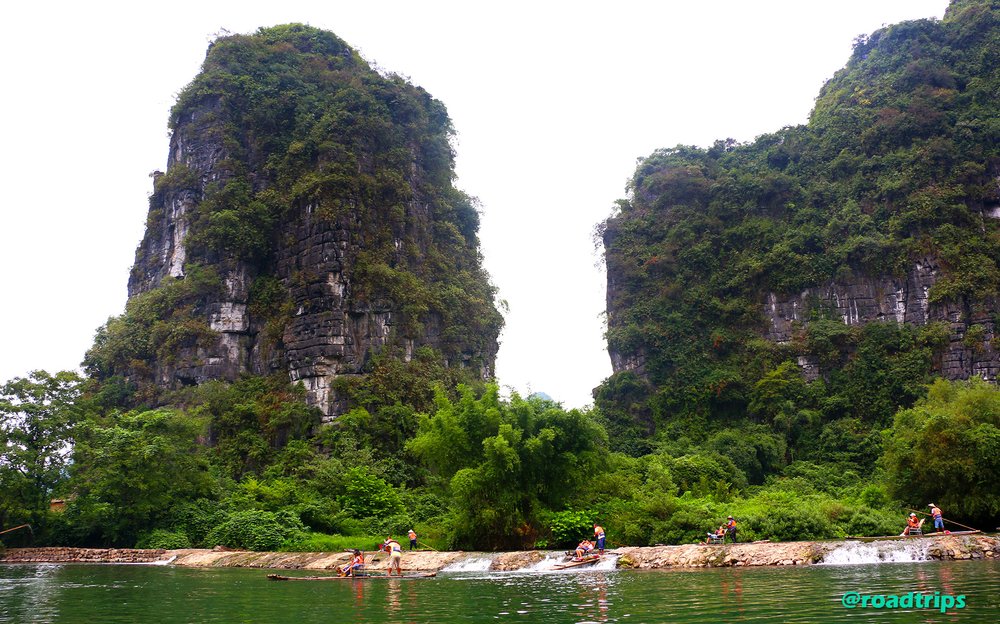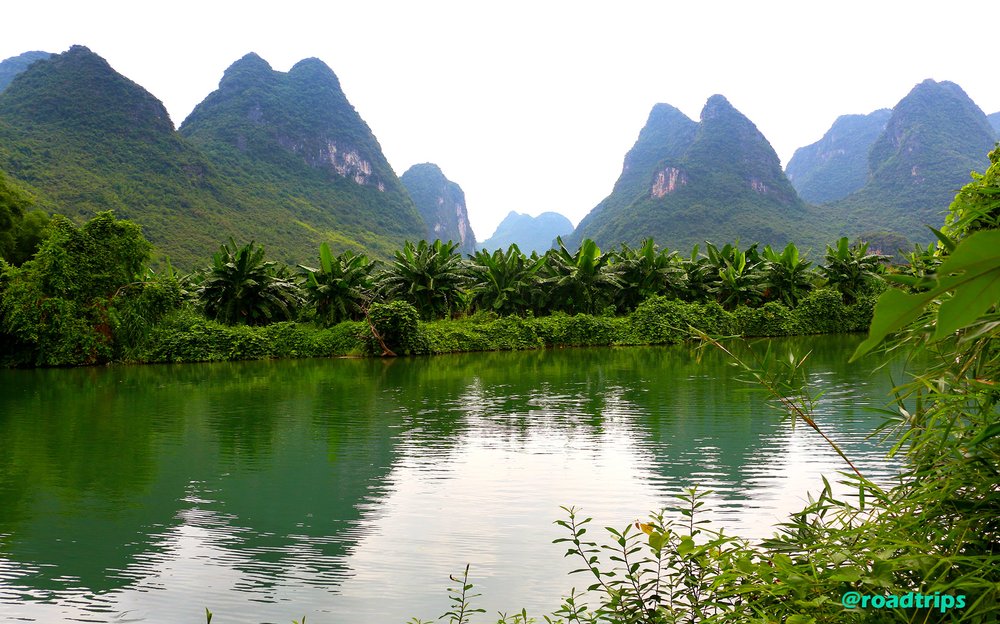 Wie wäre es mit einer Bambus-Floßfahrt zurück ans Hotel?
Wir winken immer freundlich zurück und fragen uns: "Ja, warum eigentlich nicht? Lass uns doch tatsächlich die Rückreise auf dem Bambusfloß antreten!"
Als wir an der Yulong-Brücke ankommen, sehen wir, dass diese Floßfahrten nicht nur stark beworben, sondern auch stark in Anspruch genommen werden.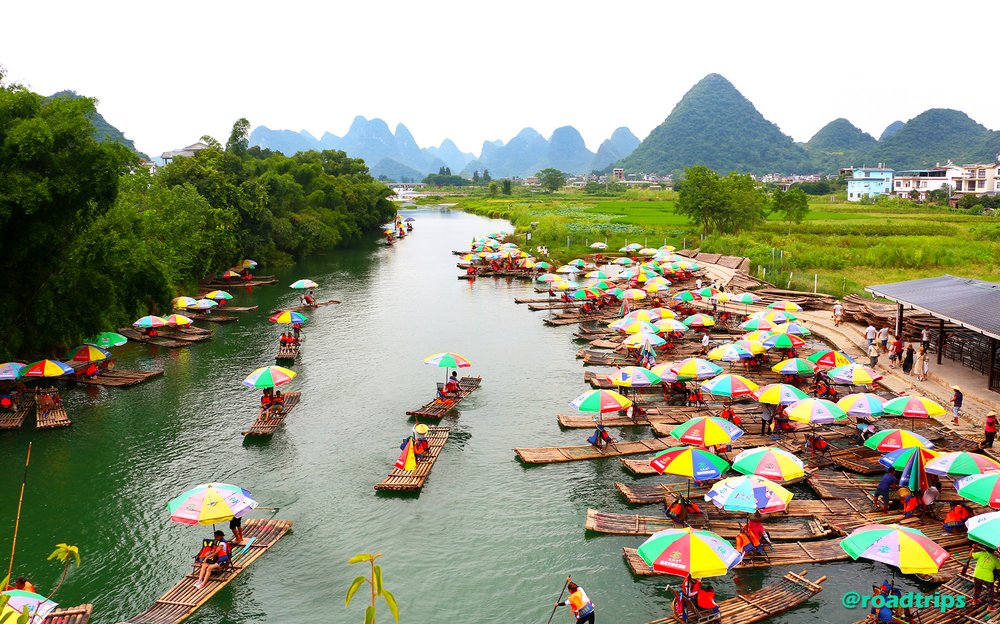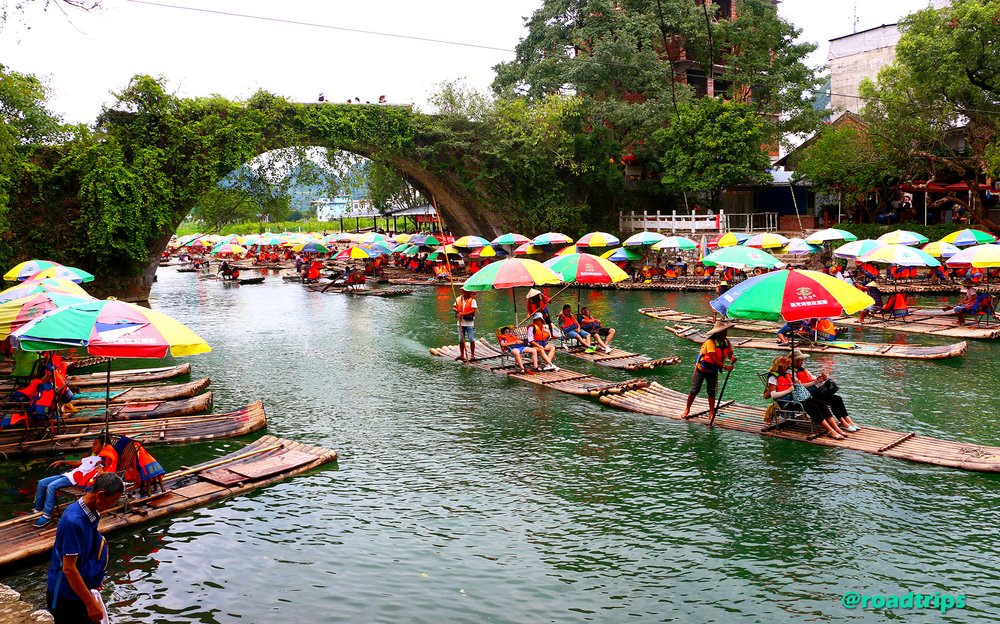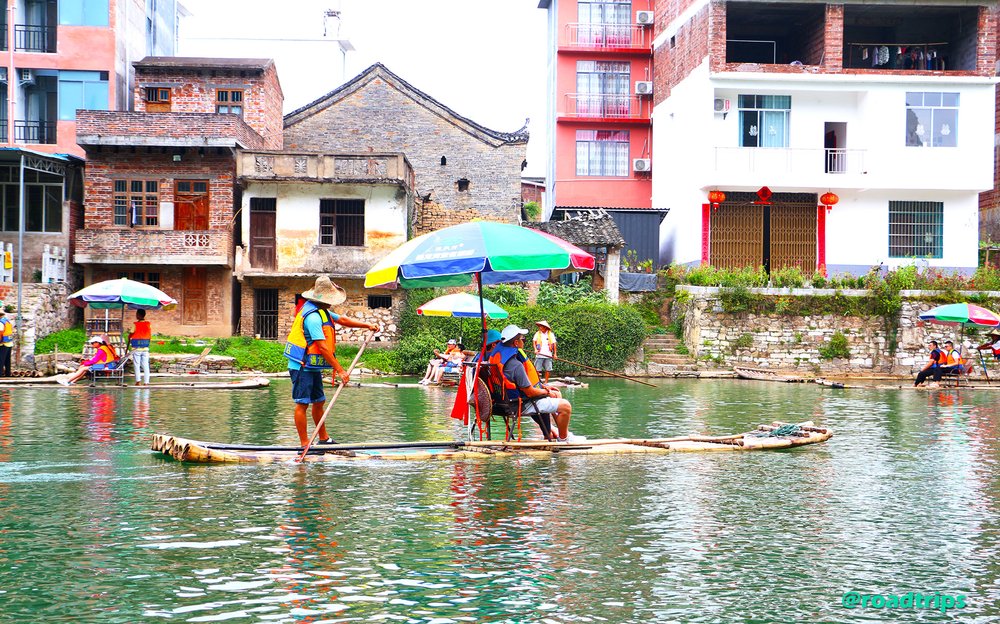 Reges Treiben an der Yulong-Brücke
Wir entscheiden uns letztendlich doch gegen eine Bambusfloßfahrt und bevorzugen es, in Ruhe mit dem Fahrrad wieder zurück zum Hotel zu strampeln.
Das war die richtige Entscheidung. Denn so haben wir die Natur für uns alleine und genießen das Radeln in vollen Zügen.
Zurück im Hotel gibt es abends ein furchtbar leckeres Abendessen: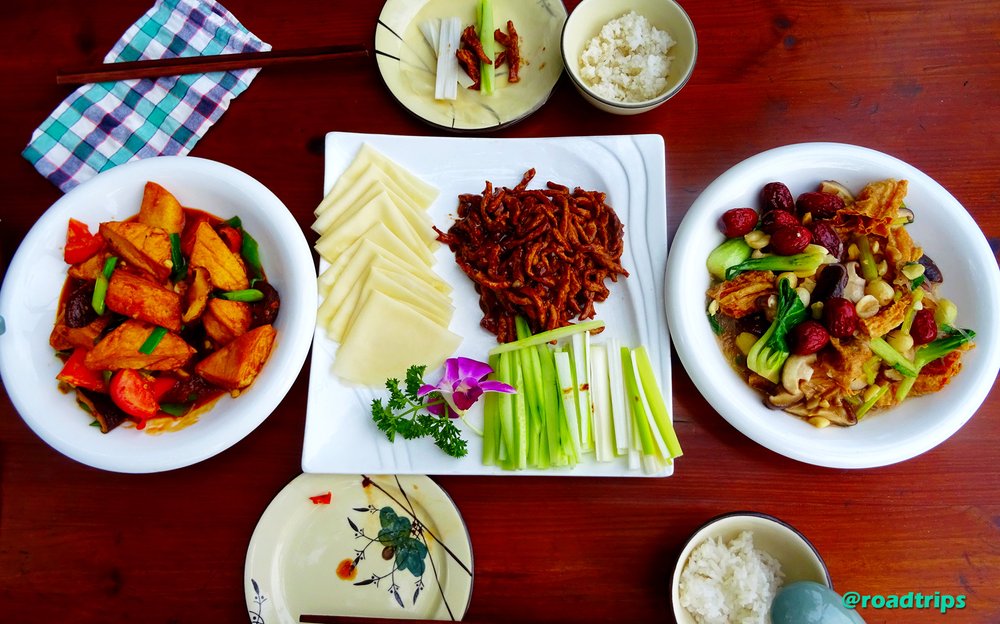 Wir lassen den Abend ruhig und gemütlich ausklingen und schlürfen einen frisch gepressten Ananassaft am Flussufer.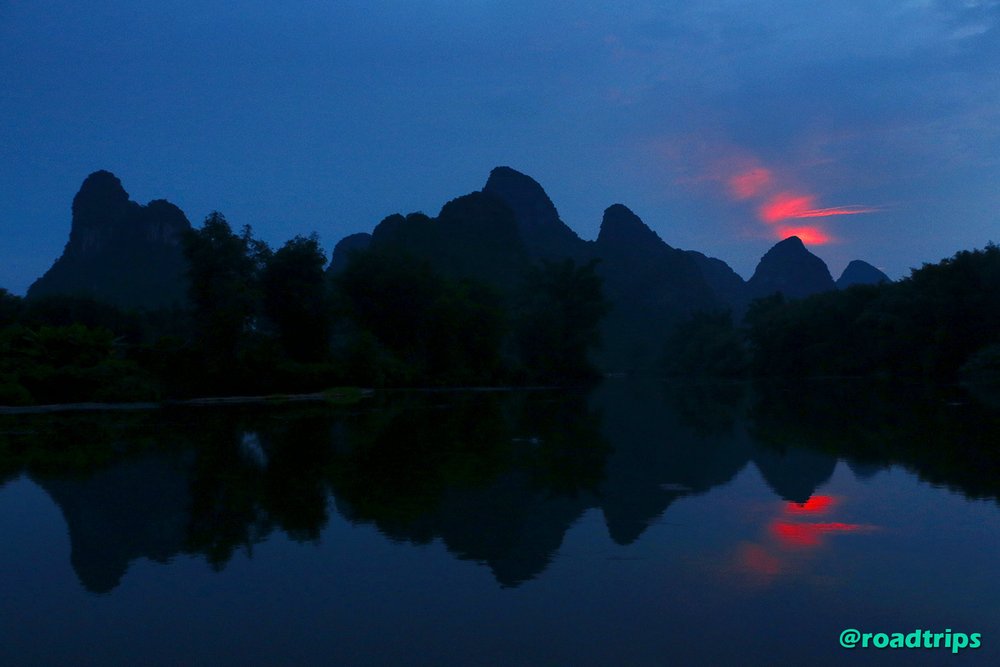 Mittlerweile ist Ruhe eingekehrt auf dem Yulong-Fluss.
Was für ein atemberaubender erster Tag im Karstgebirge von Yangshuo!