Today we get up a bit earlier and leave after breakfast at about 8.30 am (actually, we wanted to go at 08:00 o'clock at the latest, but you know how that is. We are on holiday, right? ;-))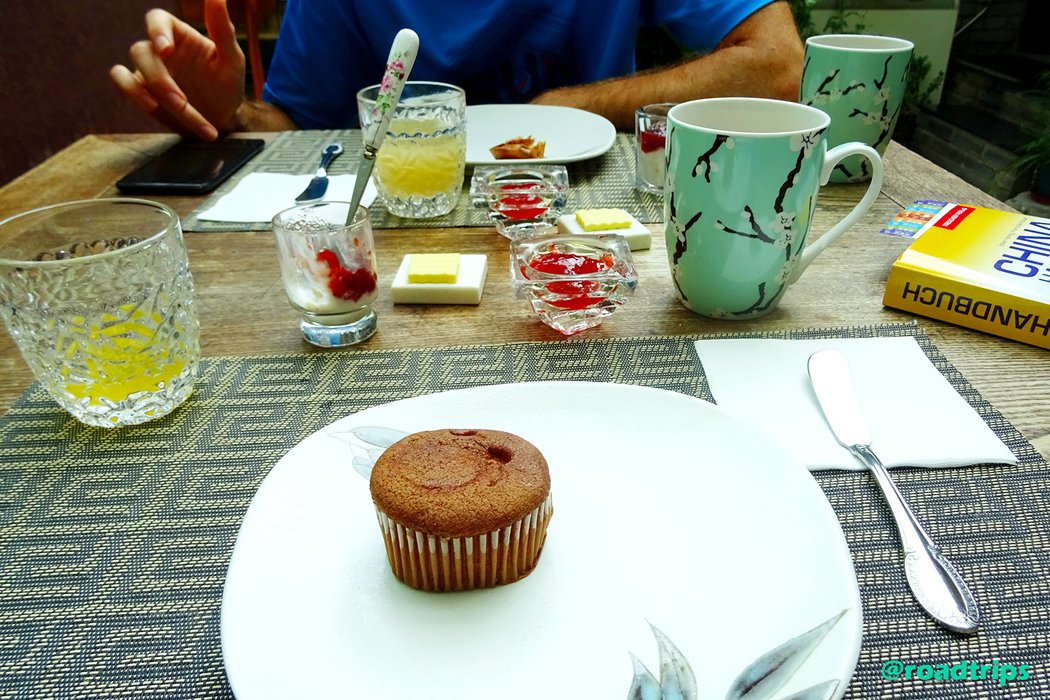 Our western-style breakfast at the hotel
In a small shop, we quickly buy water and snacks and then make our way to the Forbidden City.
The just mentioned "going off earlier" would actually have been the better choice for today: In the subway line 1 in the direction of Tian'anmendong is suddenly extremely busy. Is this already too much for you??
Well, when we get off at Tian'anmendong Station, things get a lot worse.
There is an unbelievable hustle and bustle, everything is full of Chinese tourists (including sunhat or umbrella of course), who fight their way through to Tian'anmen Square or (as we do) to the Forbidden City.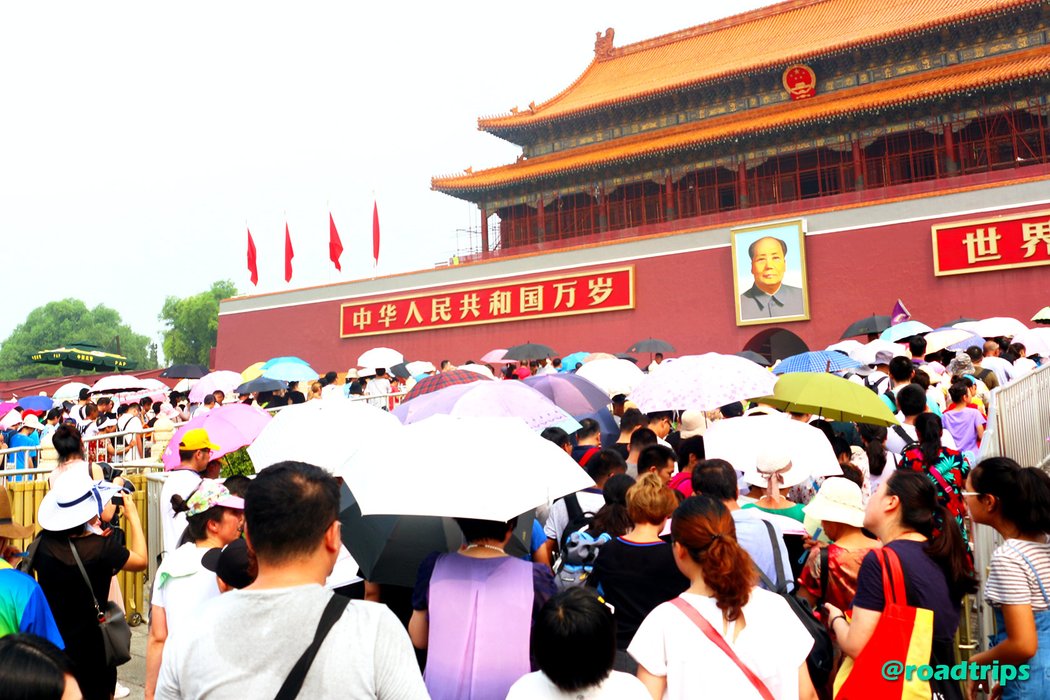 We had already thought that there would be a lot going on today - but this spectacle surpasses any of our previously painted scenarios.
Just to get to the large entrance gate, we have to queue with wildly screaming Chinese. A few times, dodgy guides try to fob a tour including "secret entrance" to the Forbidden City - we refuse, of course.
As soon as we pass the first gate, it gets even wilder: tourists run left and right past us to get to the tickets as fast as possible.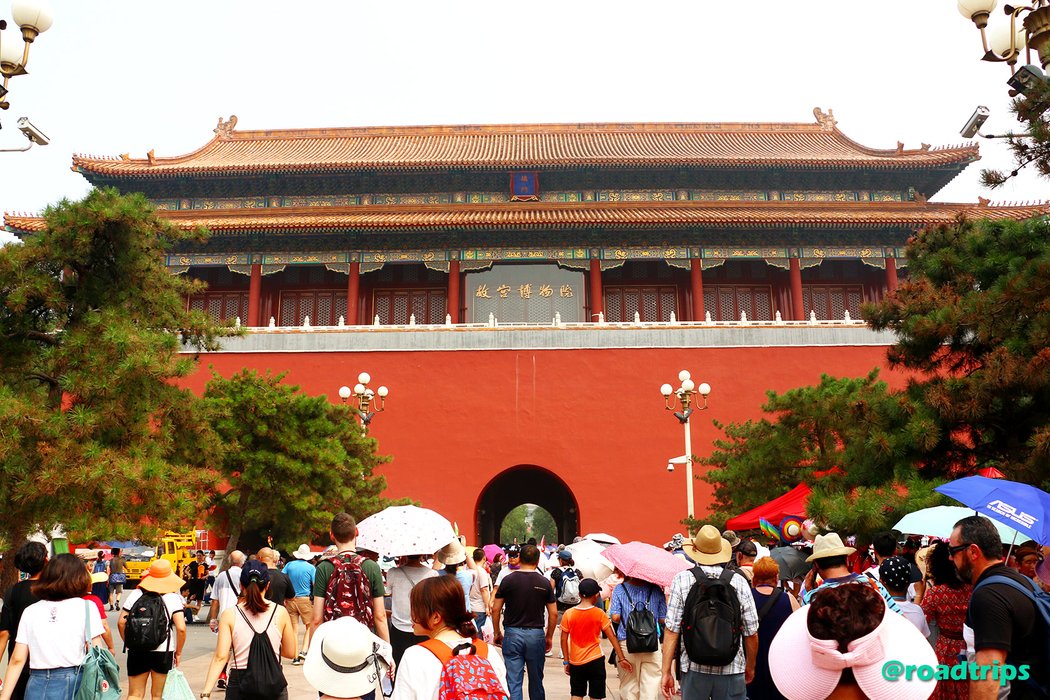 What a spectacle! We look for ticket counters, find the right stall after several attempts and buy our tickets.
Then we line up, but once again have to pass a security and body scan (Oh yes, I had forgotten to write that we had to show our passports before the first gate and scan ourselves – but we are already used to it!)
Finally, we pass the right entrance gate and find ourselves - together with an endless number of other tourists - in the Forbidden City!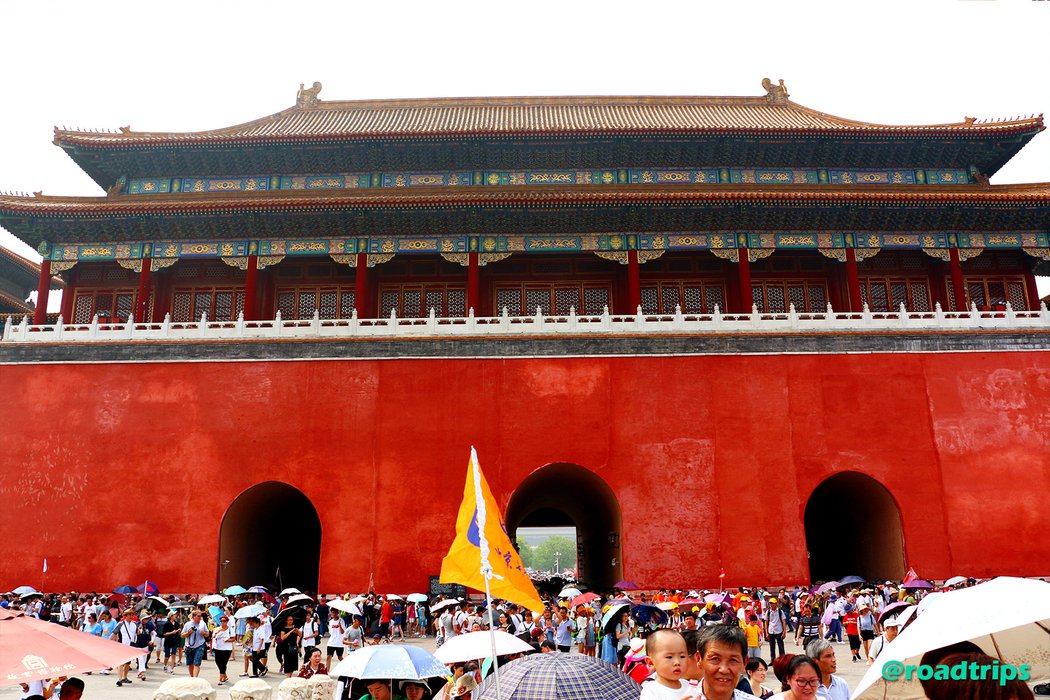 "If the emperor would know that!" passes our mind as we flee a few stairs upwards to a wall where less seems to be going on. The entrance gate is so impressive, we really feel like an ant colony.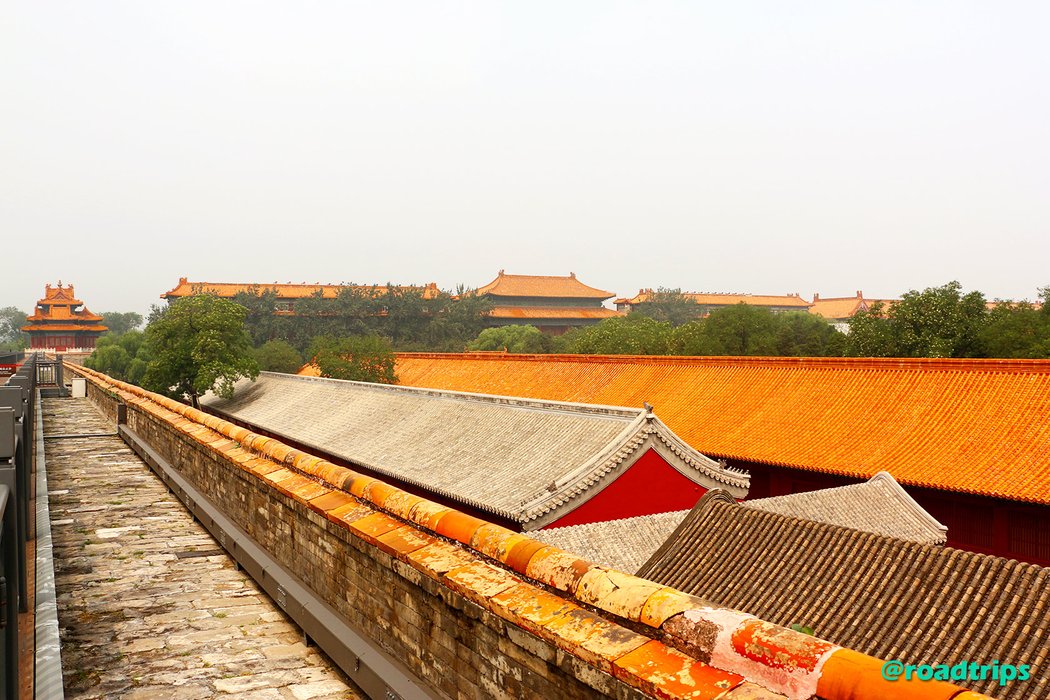 A moment of peace
In fact, until 1911, the apartments were reserved for the Chinese emperor. The Forbidden City was built from 1406-1420, temporarily one million slaves have worked on it.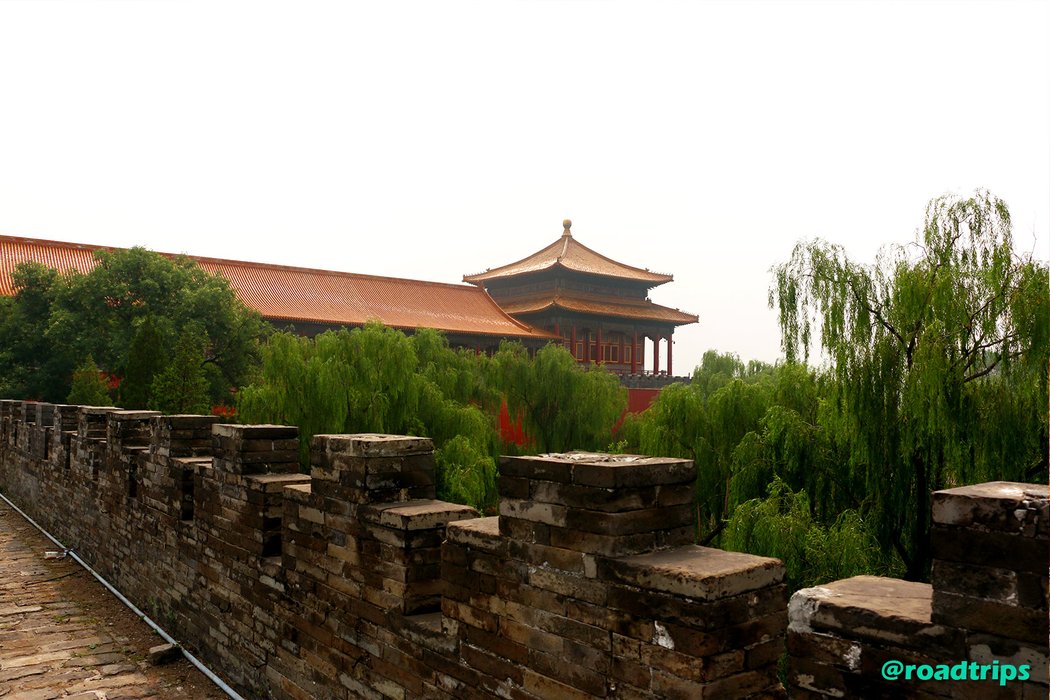 The Forbidden City is located on the north-south axis of the city right in the middle. In imperial times, no building was allowed to be higher than a palace of the Forbidden City. And again we think, "If he would know ..."
A look down the wall brings us back to the hustle and bustle: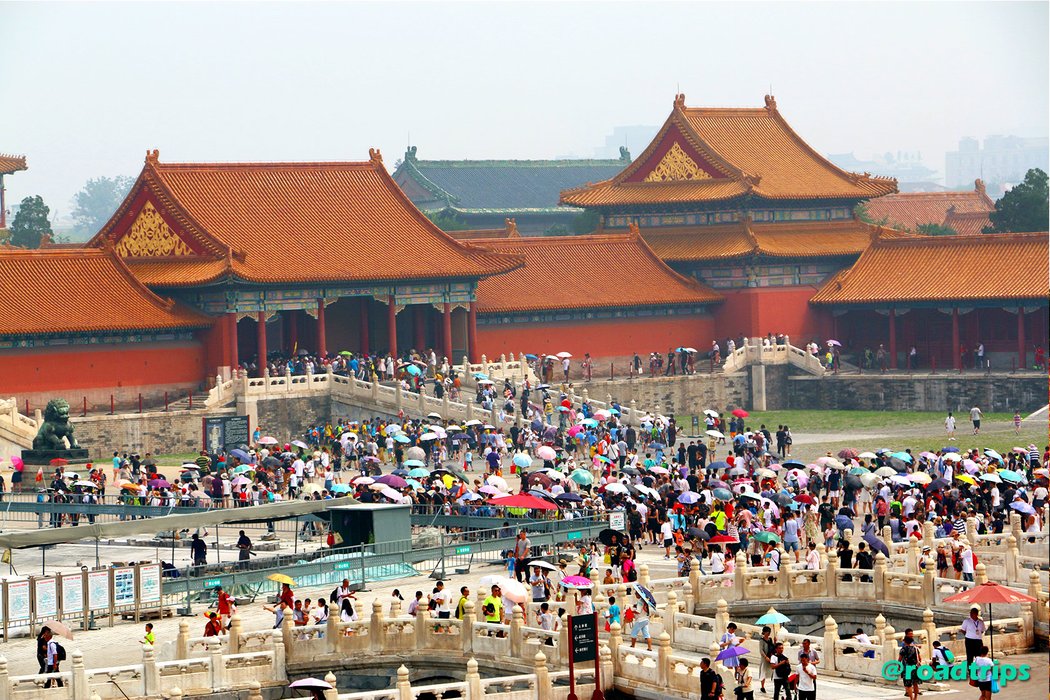 Hell, what a crowd!
In this picture, unfortunately, you also see the bad weather conditions we had: Extreme heat and a lot of smog robbed us the good view.
We walk back down the wall and cross the huge square.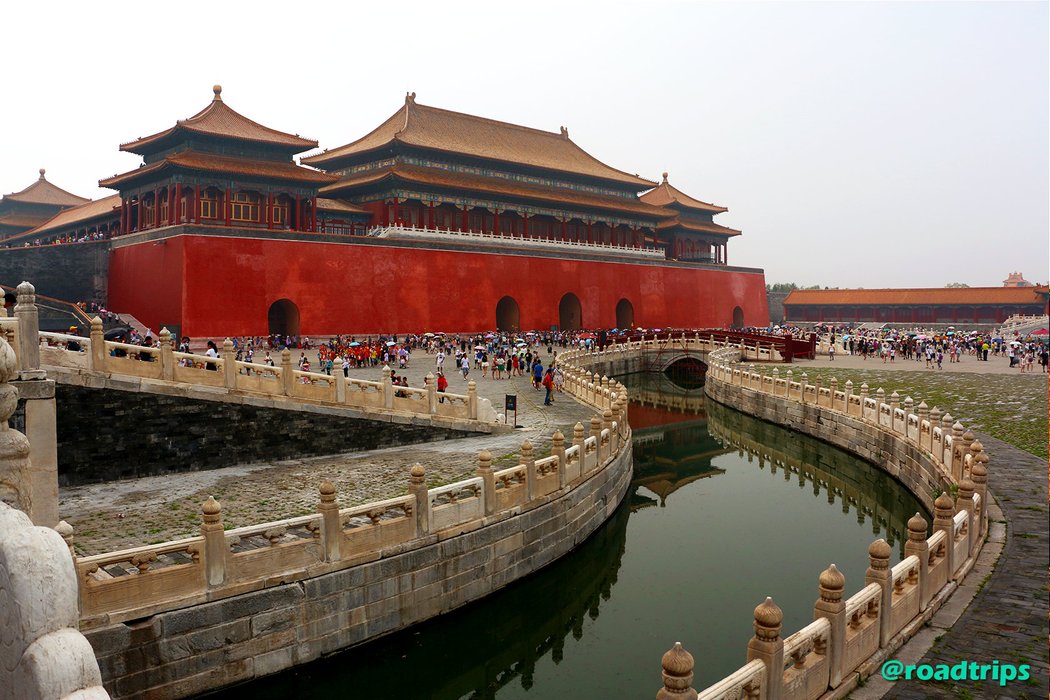 We can hardly do any romantic, deserted panoramic pictures of this impressive structure with the large crowds today, right?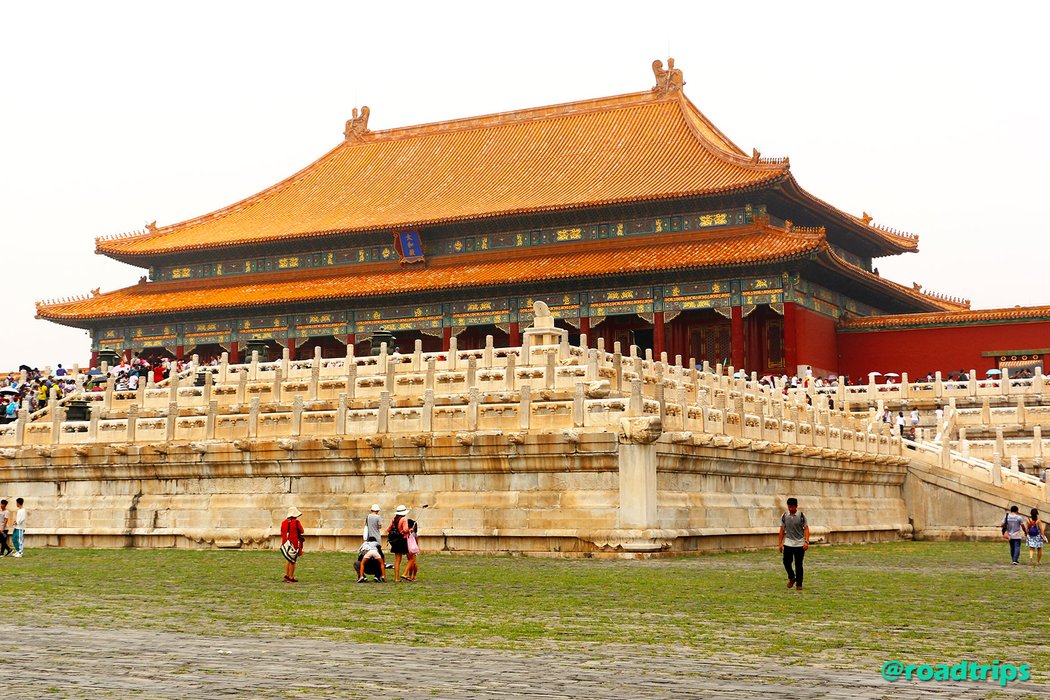 Well, you just have to look for a suitable angle, then it looks quite okay ;-)
Look forward to more pictures of the Forbidden City! And we promise, next time there will be more pictures of the building and less of the crowds.
German (same post)
Auf den Spuren des Kaisers – die Verbotene Stadt (1/2)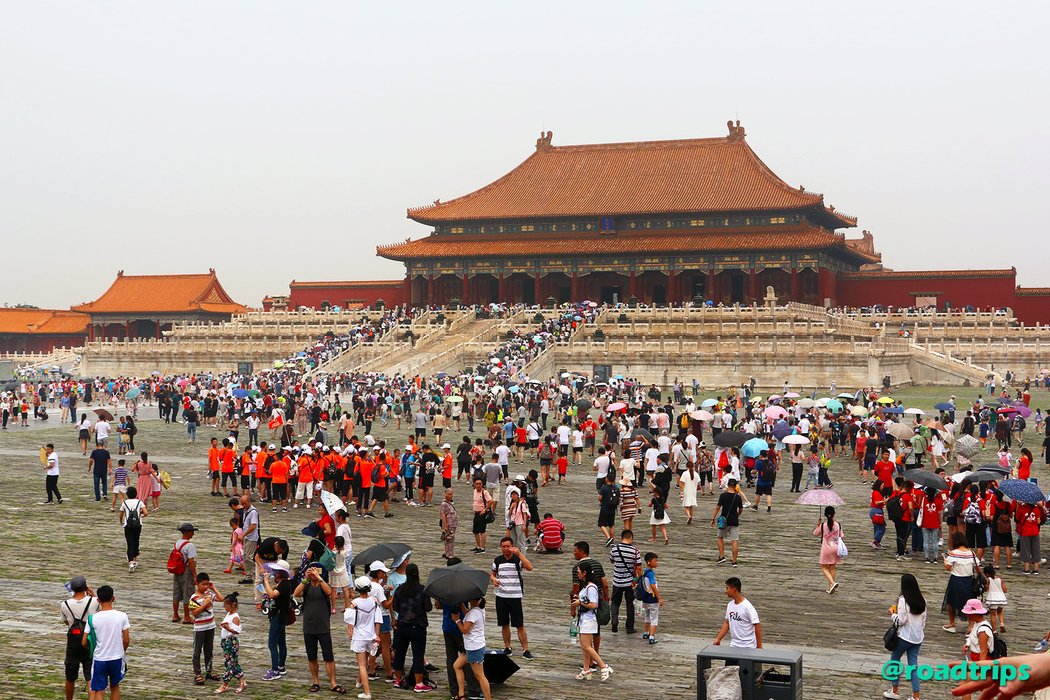 Heute stehen wir etwas früher auf und ziehen nach dem Frühstück um ca. 08.30 Uhr los (eigentlich wollten wir spätestens um 08:00 Uhr los, aber ihr wisst ja, wie das ist. Wir sind schließlich im Urlaub ;-) )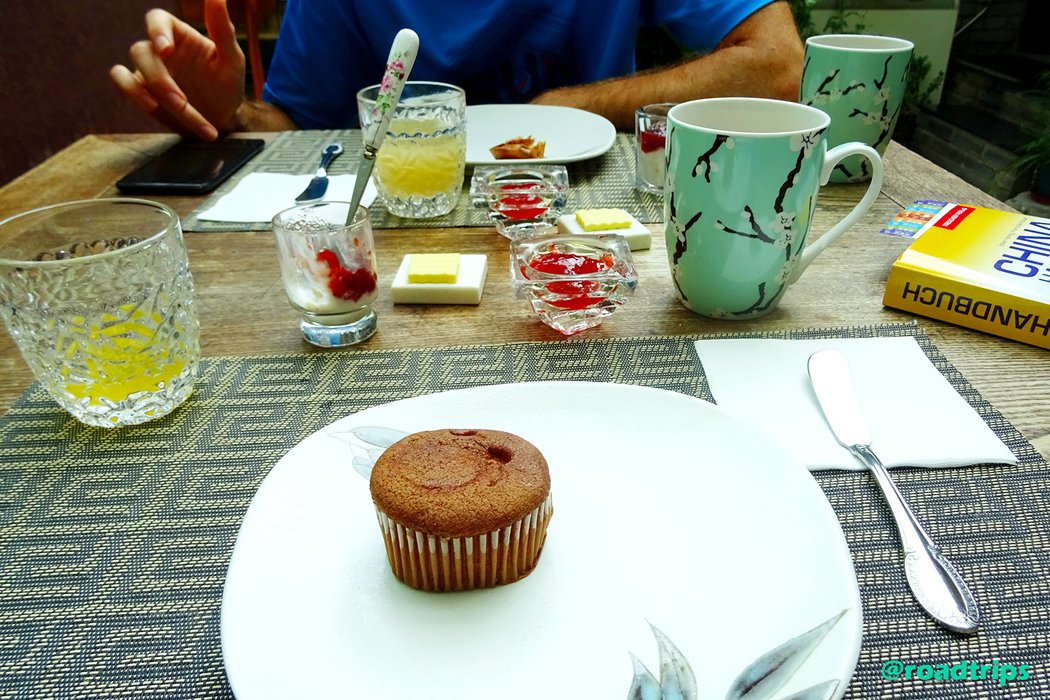 Unser Frühstück im westlichen Stil
In einem kleinen Laden kaufen wir noch schnell Wasser und Snacks und machen uns dann auf den Weg zur Verbotenen Stadt.
Das eben erwähnte "früher losgehen" wäre für heute wohl tatsächlich sinnvoll gewesen: In der U-Bahn Linie 1 in Richtung Tian'anmendong ist plötzlich extrem viel los. Schon jetzt überfordert?
Tja, als wir an der Haltestelle Tian'anmendong aussteigen, wird es noch um ein vielfaches schlimmer.
Es herrscht ein unglaubliches Gedränge, alles ist voller chinesischer Touristen (inklusive Sonnenhut- oder Schirm natürlich), die sich zum Tian'anmen-Square oder eben zur Verbotenen Stadt durchboxen.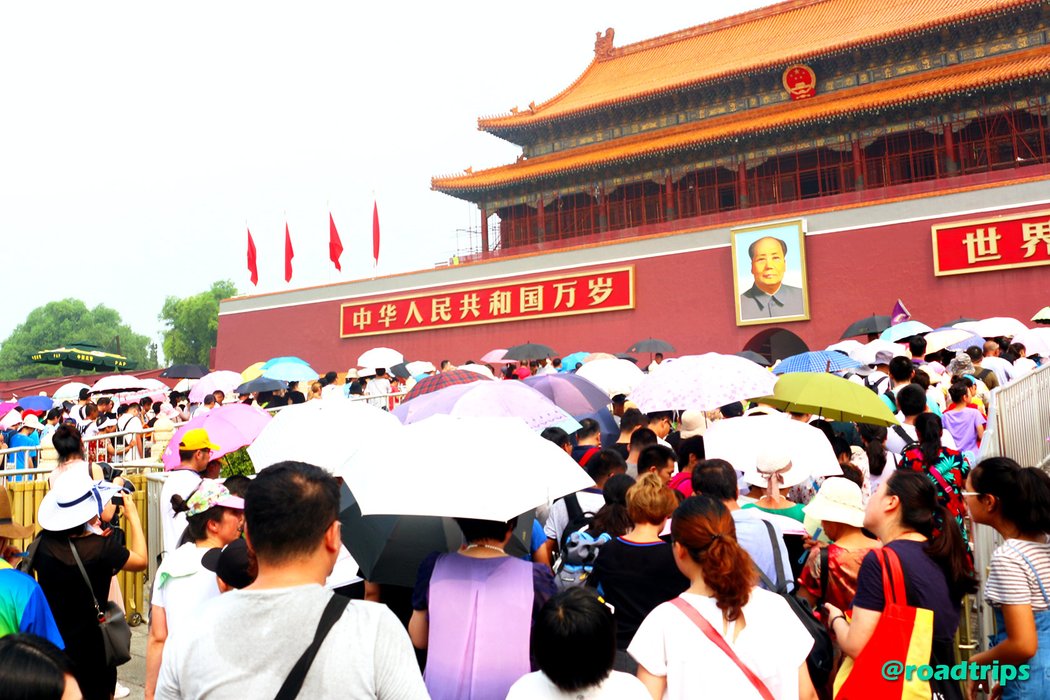 Wir hatten uns schon gedacht, dass heute viel los sein wird – aber dieses Schauspiel übertrifft jegliche zuvor ausgemalten Szenarien.
Alleine, um an das große Eingangstor zu kommen, müssen wir mit wild herumschreienden Chinesen anstehen. Immer wieder versuchen uns zwielichtige Guides eine Tour inklusive "geheimem Eingang" zur Verbotenen Stadt anzudrehen – wir lehnen dankend ab.
Kaum passieren wir das erste Eingangstor, wird es noch wilder: Links und rechts rennen Touristen an uns vorbei, um ja so schnell wie möglich zu den Tickets zu gelangen.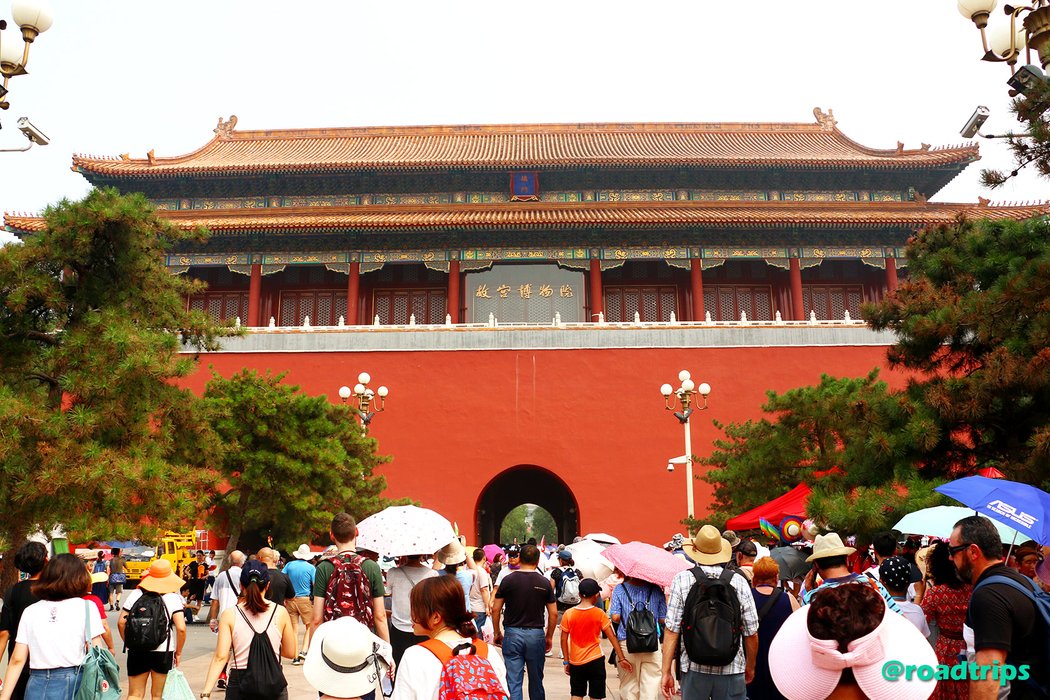 Was für ein Schauspiel! Wir machen uns auf die Suche nach Ticketschaltern, finden nach mehreren Versuchen den richtigen Stand und kaufen unsre Eintrittskarten.
Dann stehen wir (erstaunlich kurz) an, müssen allerdings noch einmal einen Sicherheits- und Körperscan passieren (Ach ja, ich hatte vergessen zu schreiben, dass wir vor dem ersten Tor schon unsre Reisepässe zeigen und uns scannen mussten – mittlerweile sind wir das schon gewohnt!)
Endlich passieren wir das richtige Eingangstor und befinden uns – zusammen mit unendlich vielen anderen Touristen – in der Verbotenen Stadt!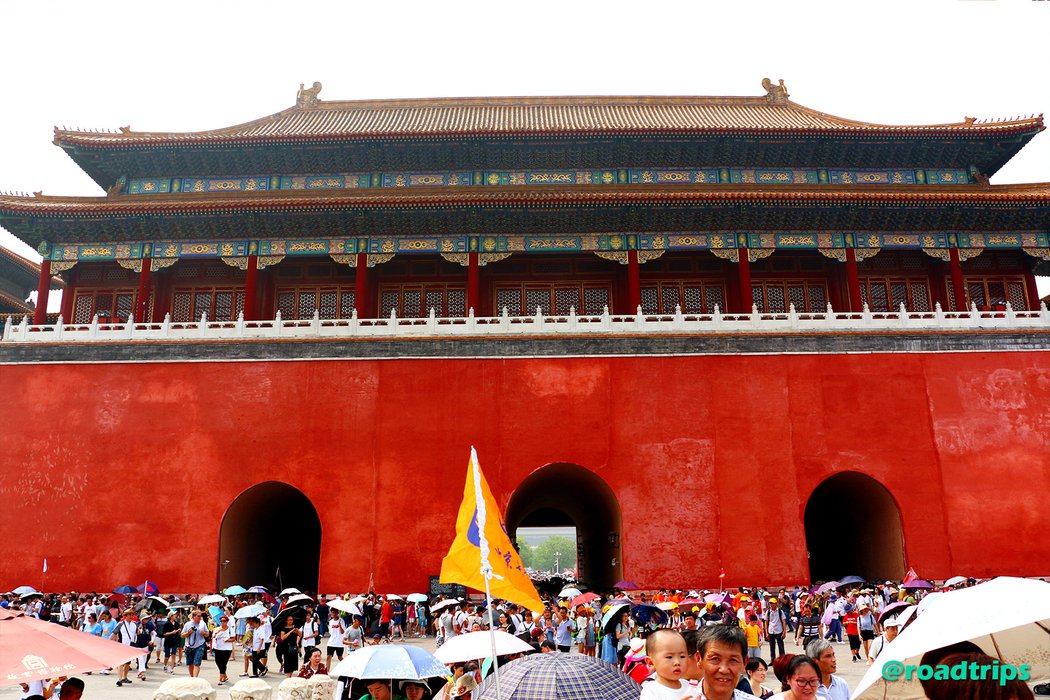 "Wenn das der Kaiser wüsste!" denken wir uns und flüchten erst einmal auf eine Empore, auf der weniger los zu sein scheint. Allein das Eingangstor ist derart imposant, wir kommen uns vor wie ein Ameisenvolk.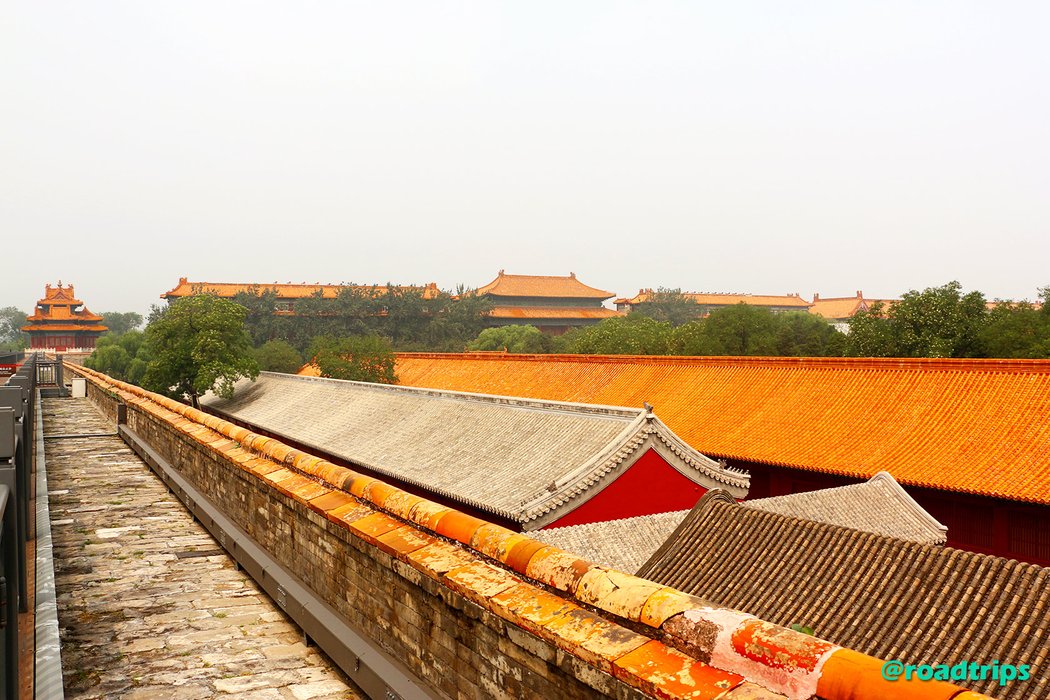 Ein Augenblick der Ruhe
Tatsächlich waren die Gemächer bis zur Revolution in 1911 dem chinesischen Kaiser vorbehalten. Gebaut wurde die Verbotene Stadt von 1406-1420, zeitweise sollen eine Million Sklaven daran gearbeitet haben.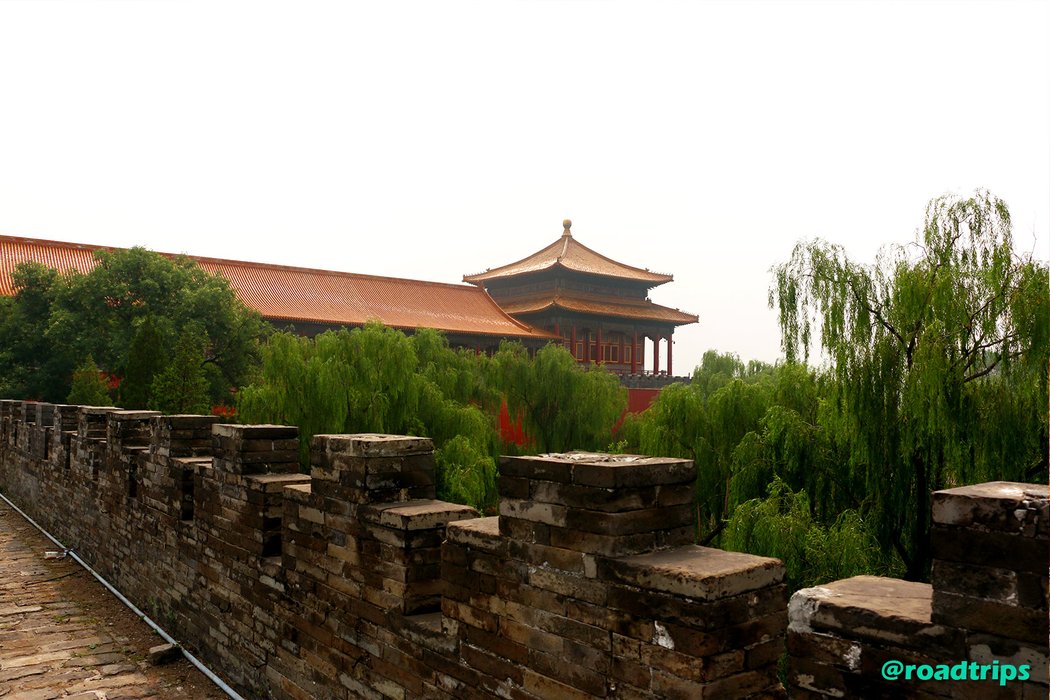 Die Verbotene Stadt befindet sich auf der Nord-Süd-Achse der Stadt genau in der Mitte. Zu Kaiserzeiten durfte kein Gebäude höher sein als ein Palast der Verbotenen Stadt. Und noch einmal denken wir: "Wenn der wüsste…"
Ein Blick nach unten reist uns aus unseren Überlegungen und bringt uns zurück in den Trubel: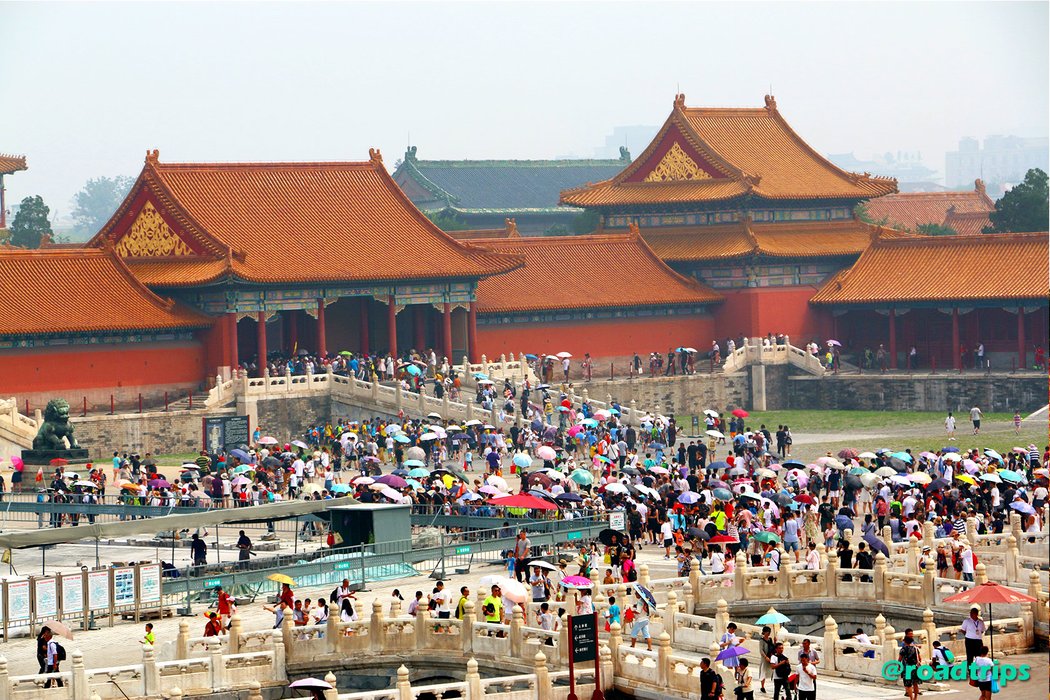 Was für Menschenmassen!
Auf diesem Bild sieht man leider auch die schlechten Wetterbedingungen, die wir hatten: Extreme Hitze und sehr viel Smog rauben uns klare Aussichten.
Wir laufen wieder runter von der Mauer und überqueren den riesigen Platz.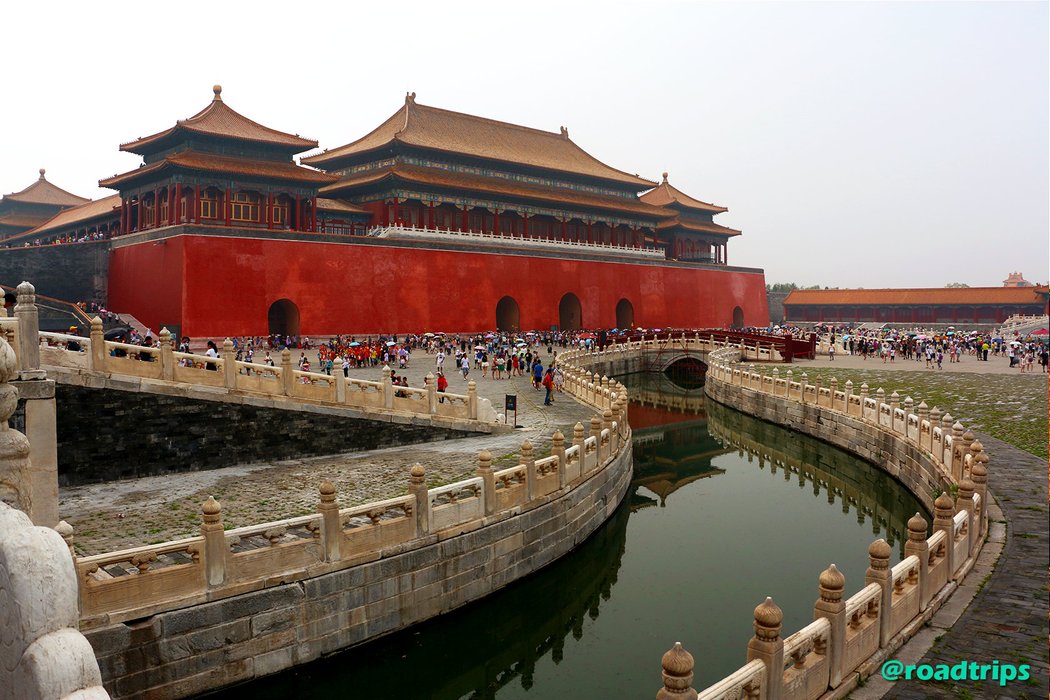 Nun ja, romantische Panoramabilder von diesem beeindruckenden Bauwerk werden wir mit dem großen Andrang heute wohl kaum machen können.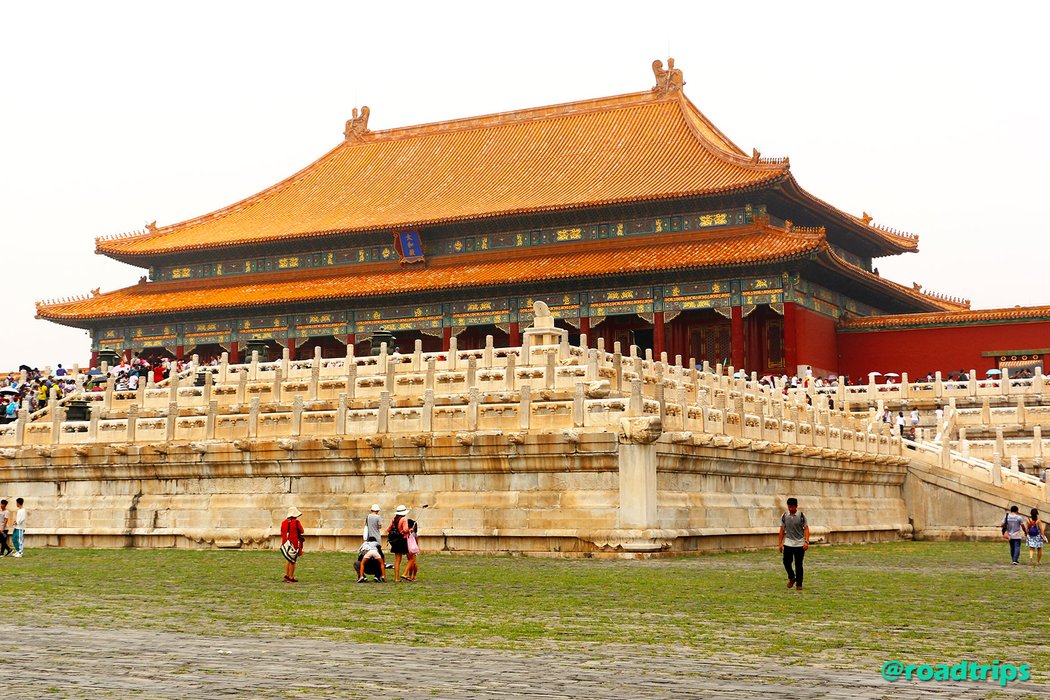 Wobei…man muss sich einfach einen passenden Winkel suchen, dann sieht es halb so schlimm aus ;-)
Seid gespannt auf weitere Bilder der Verbotenen Stadt! Und versprochen, das nächste Mal gibt es mehr Bilder vom Bauwerk und weniger von den Menschenmassen.