Wanna see the Fotbidden City from above?
You can do this at the Jingshan-Park which is located directly in front of the north gate of the Palace!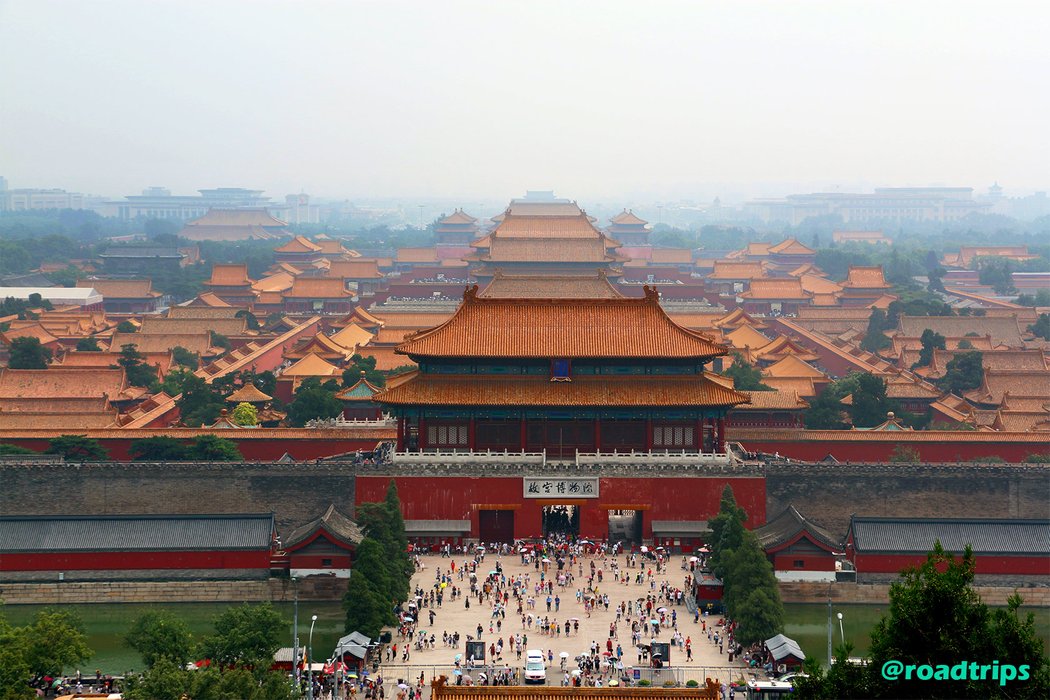 Of course, we don't want to miss that, especially as we look forward to a bit of nature in the middle of Beijing. So, let's go! We pay a small entrance fee of 5 yuan.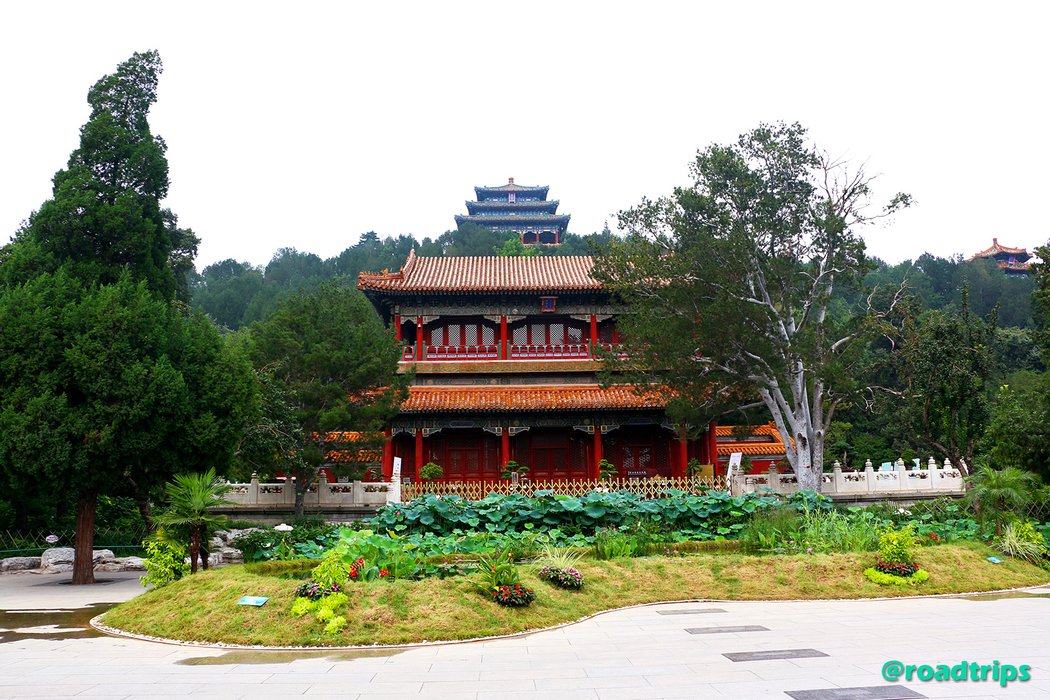 At the entrance of the Jingshan-Park
The Jingshan Park, also called Coal Hill, actually is an artificial mountain. It was built in 1421 from the rubble of the Mongolian palace and the excavation of the palace trench. If you look at the amazing size of the hill, it's hard to imagine that so much earth was once dug up!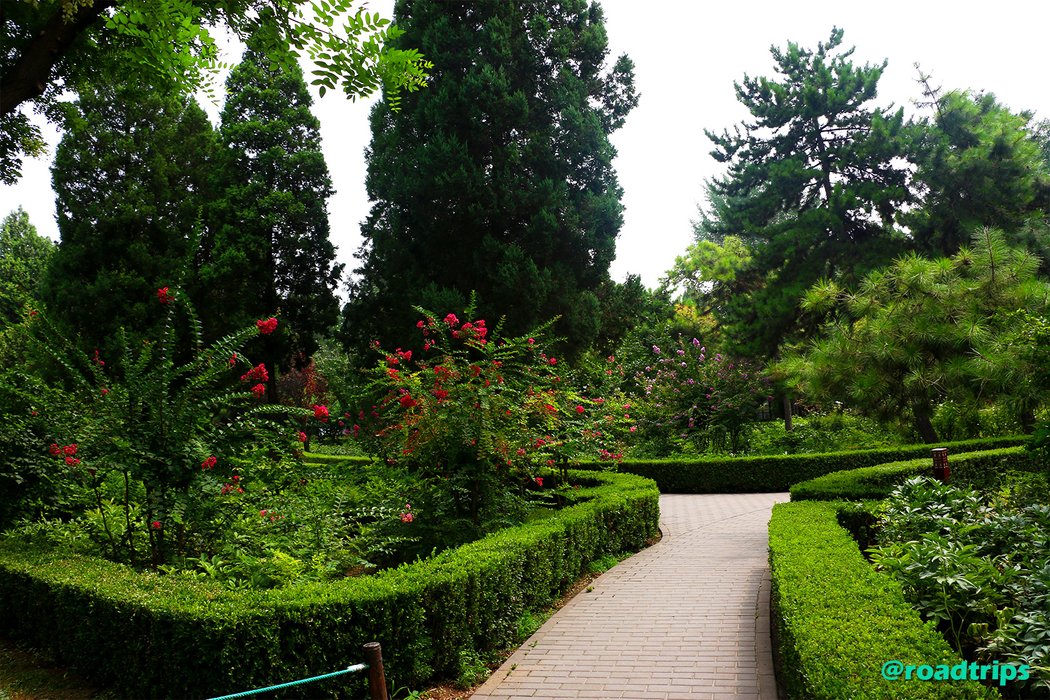 Today the park is beautifully landscaped and well maintained.
When climbing the stairs up, we start to sweat again - have we already mentioned that the air is extremely stuffy today?
Well, we don't let ourselves disturb by the smog and the heat, but instead we enjoy the great view to the north, where we can see the Drum Tower.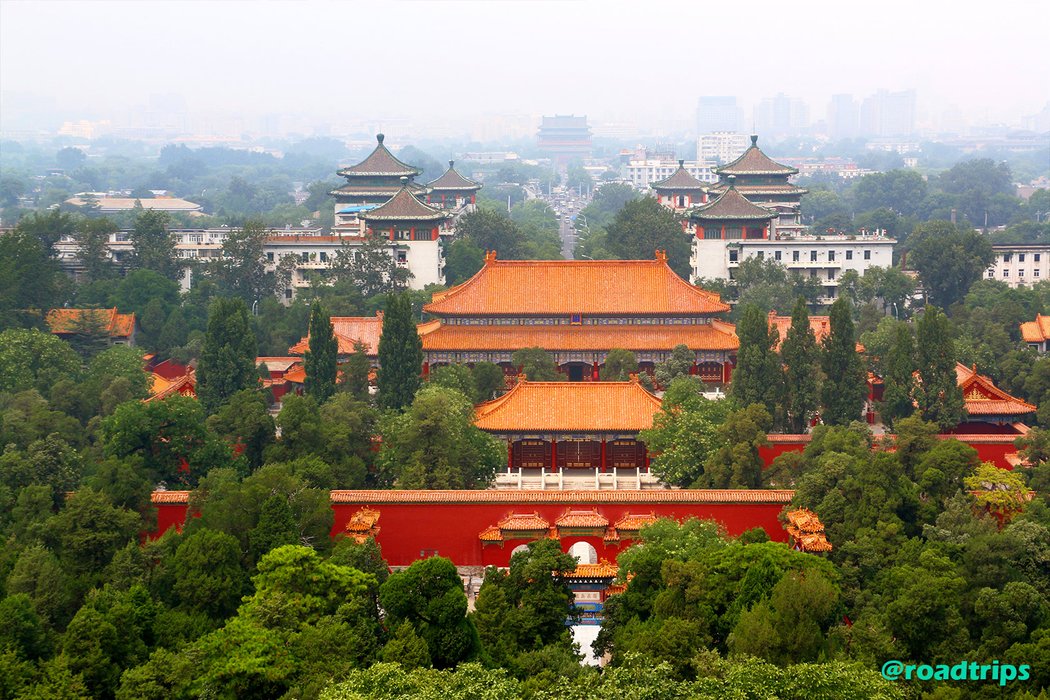 Looking north: the Drum Tower
We walk a bit further and get to see the first of the five pavilions. There are just a few people.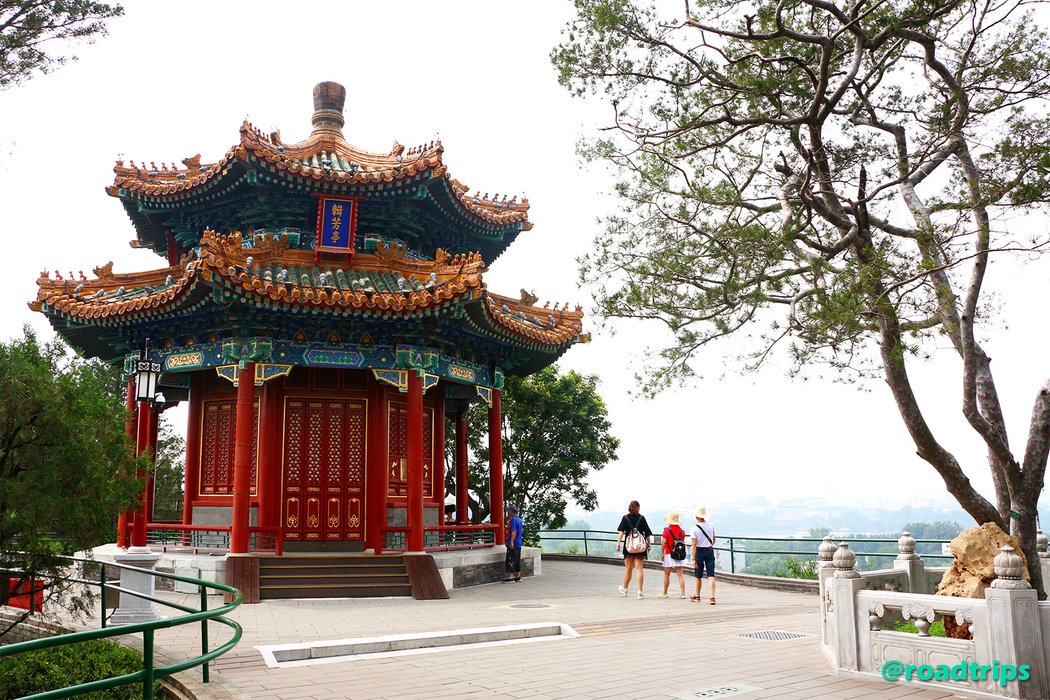 After a short snack in which we enjoy the peaceful view, we continue our walk. Until now, we didn't meet any western tourists – but suddenly we hear a "Bonjour!". And a friendly smiling man overtakes us – Aha, the French, who strictly refuse to use the more common "Hello" among western tourists. We smile about this patriotism and head to the main pavilion.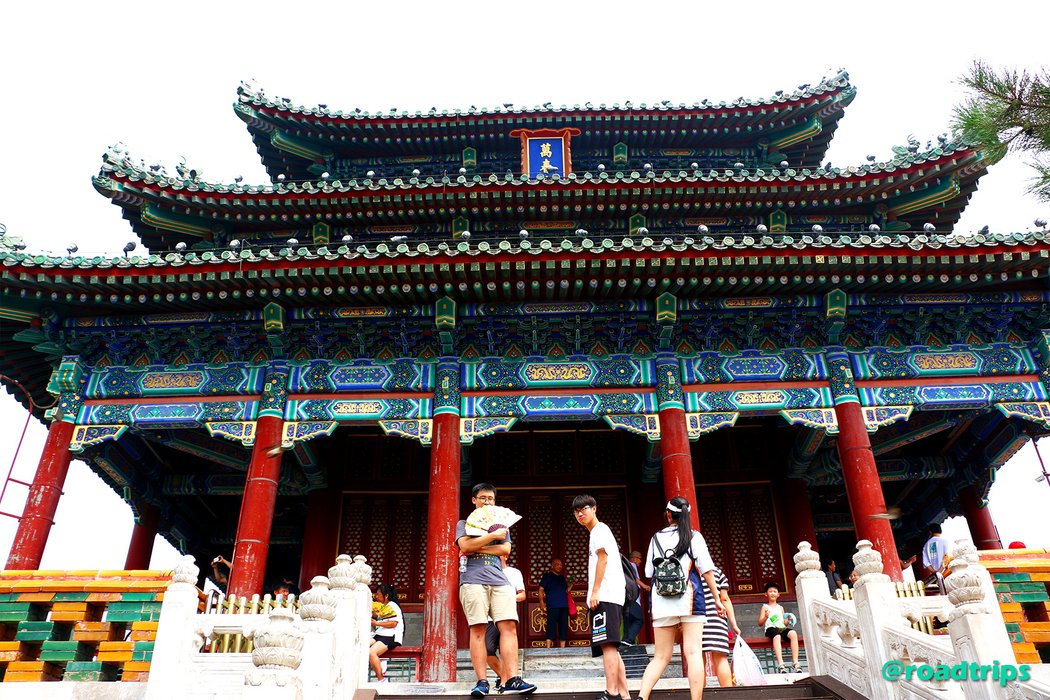 This is located on the highest point of the park and has the name Pavilion of the Ten Thousand Springs - What a beautiful name!
And what an impressive view!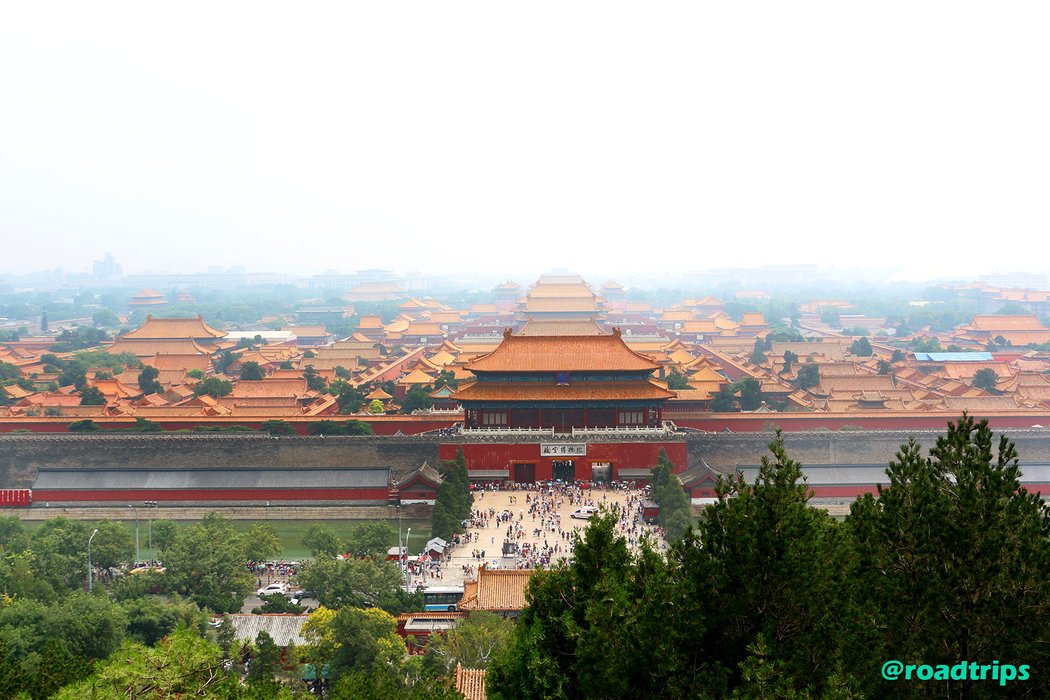 View from the Coal Hill to the Forbidden City
The Imperial Palace from above.
On the way home we pass the Beinai Park. After a brief consideration, we decide against a visit that would have cost another entrance fee and – looking at the crowds near the entrance – also some nerves.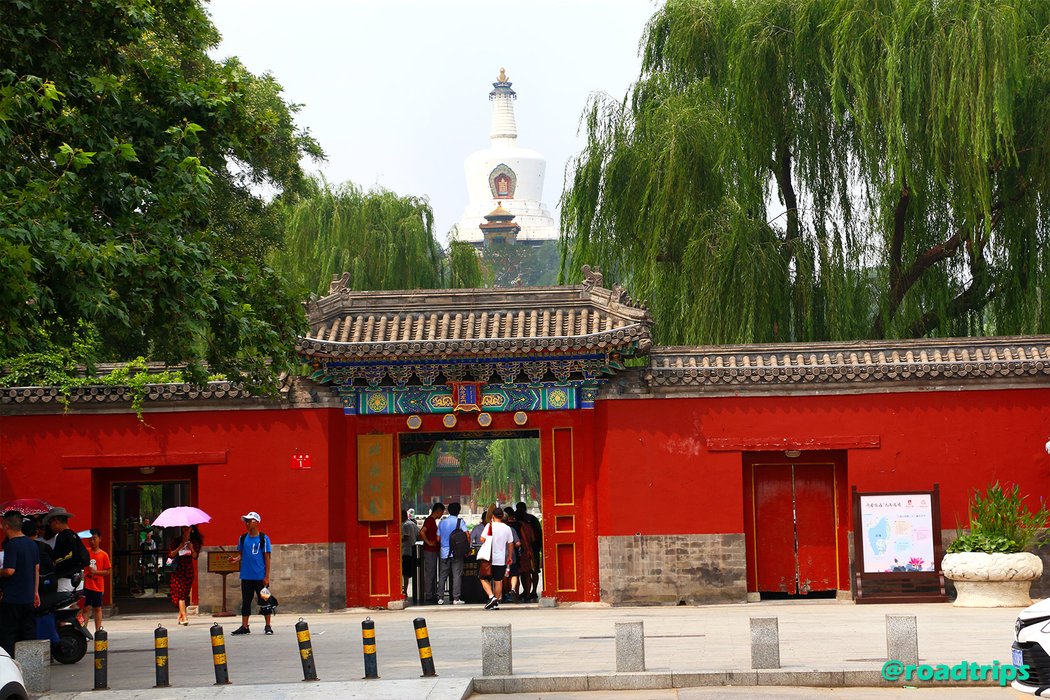 Instead, we opt for a walk back to the hotel (instead of taking the subway), passing through beautiful buildings.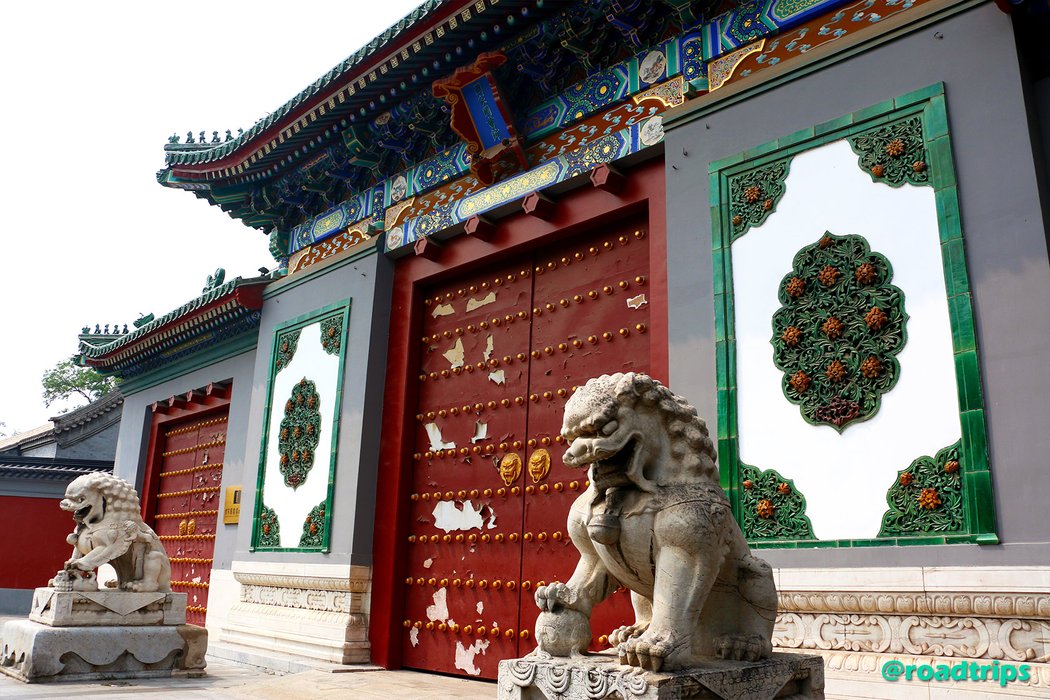 And for dinner, a culinary highlight is waiting for us: Beijing Duck.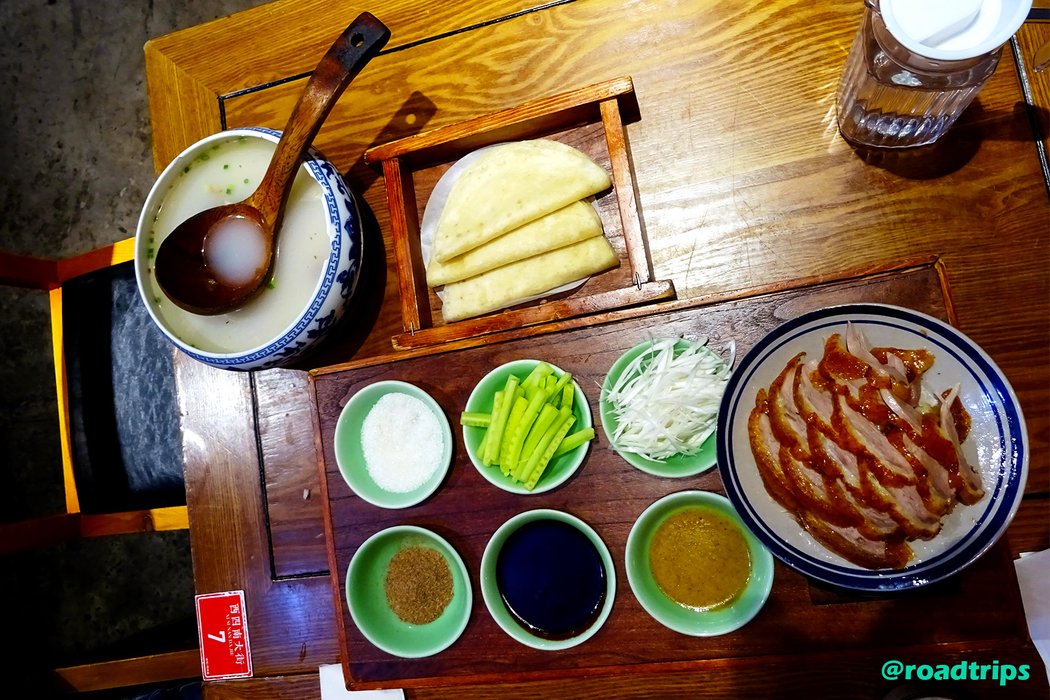 Following the recommendation of our host, we go to a small restaurant not far from our hostel.
Even if the order does not work perfectly (I got a Coke instead of the green tea I actually ordered), the food is delicious and freshly prepared!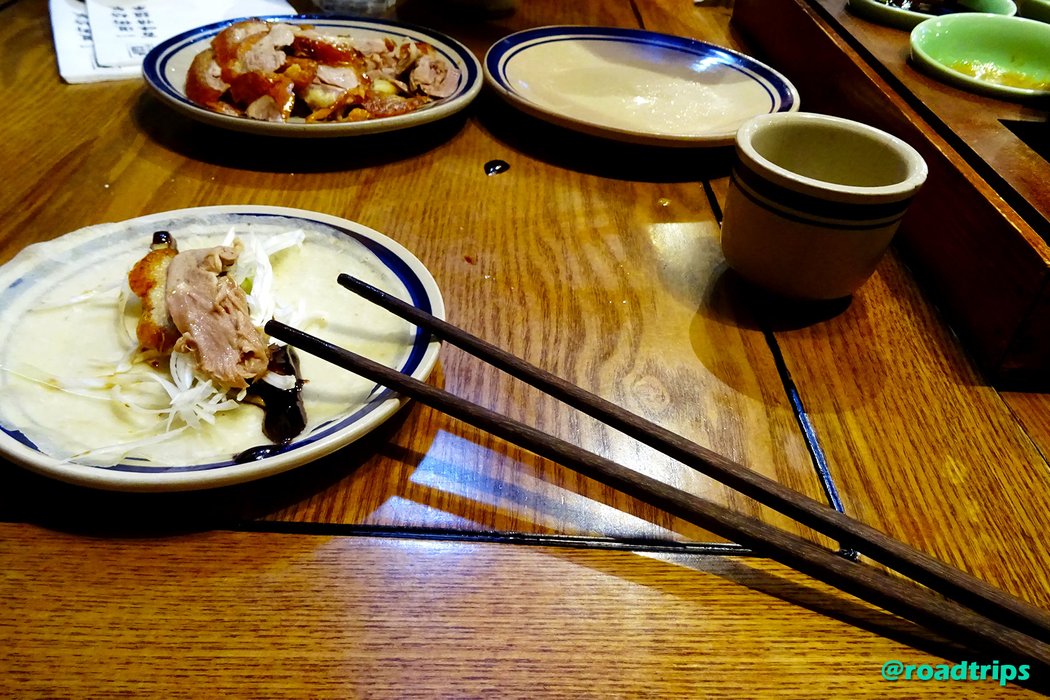 German (same post)
Erklimmen des Kohlehügels und Peking Ente
Einmal die Verbotene Stadt von oben sehen?
Das geht im Jingshan-Park, direkt gegenüber des Nordtors des Kaiserpalastes!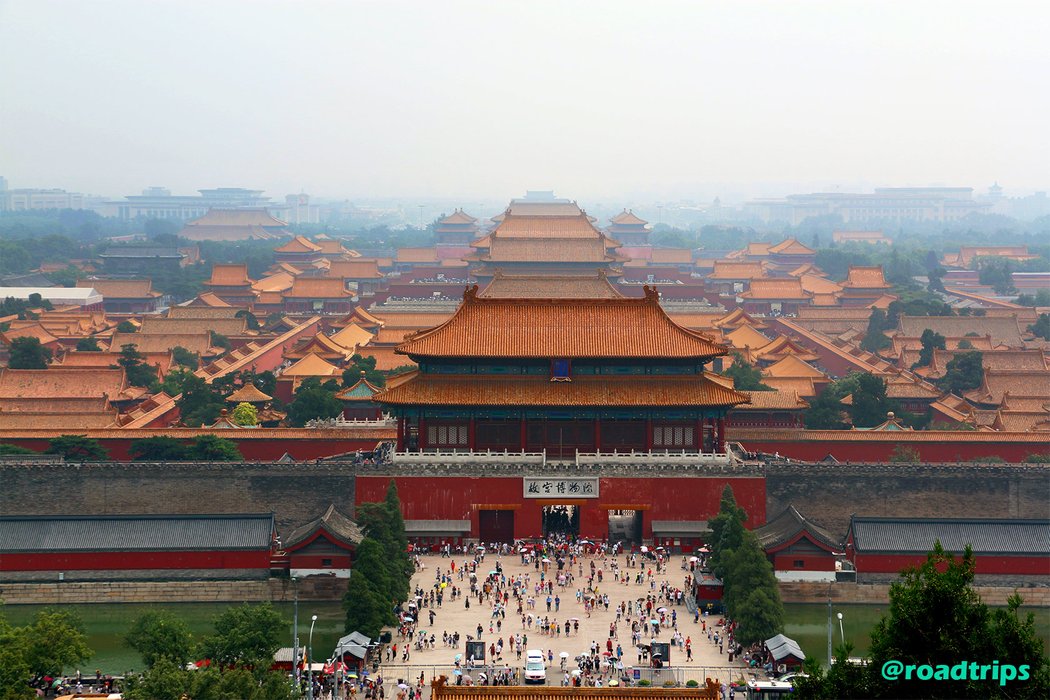 Das möchten wir uns natürlich nicht entgehen lassen, zumal wir uns auf ein bisschen Natur in mitten Pekings freuen. Also: los geht's!
Am Eingang zahlen wir einen kleinen Eintrittspreis von 5 Yuan.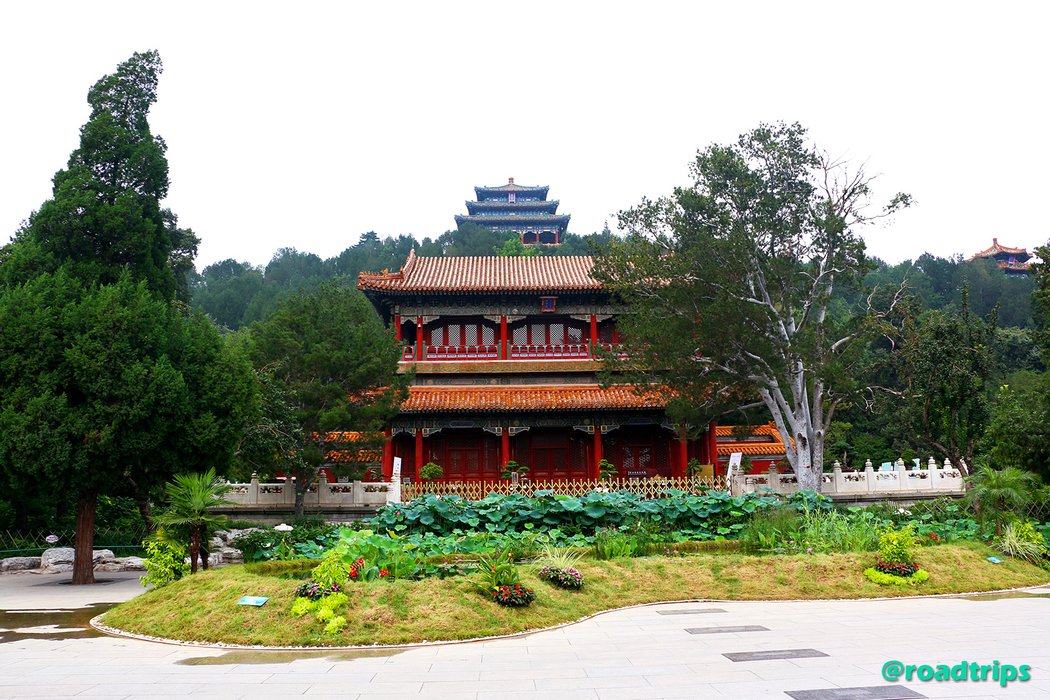 Am Eingang des Jingshan-Parks
Der Jingshan-Park, auch Kohlehügel genannt, ist im Grunde ein künstlich angelegter Berg. Er entstand 1421 aus den Trümmern des Mongolen-Palastes und dem Aushub des Palastgrabens. Wenn man die doch erstaunliche Größe des Hügels betrachtet, kann man sich kaum vorstellen, dass so viel Erde einst ausgehoben wurde!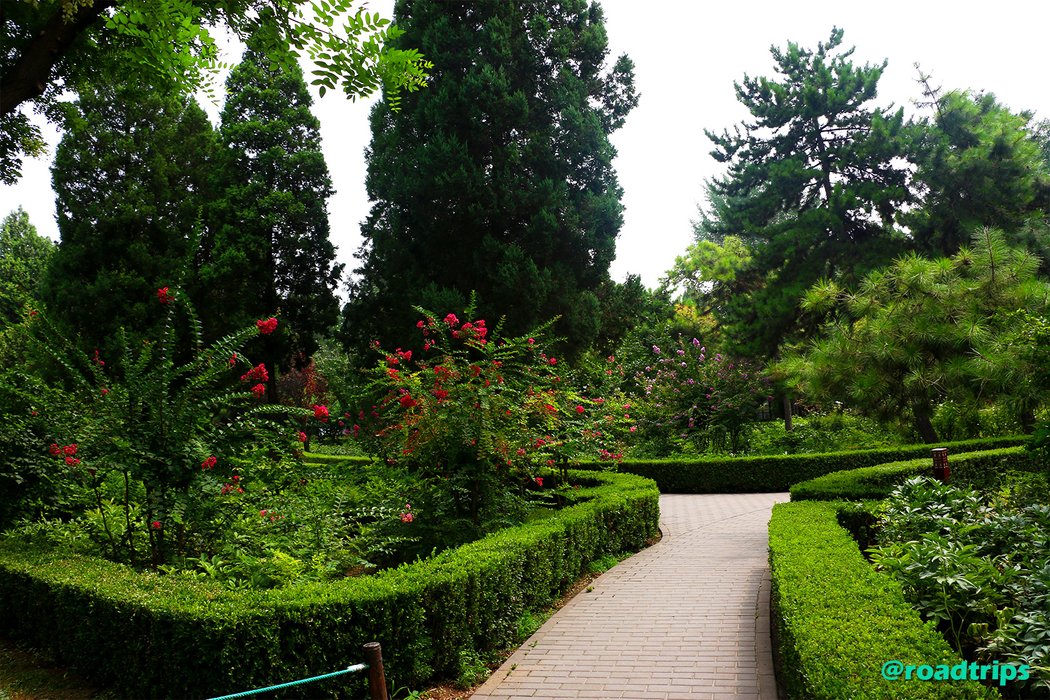 Heute ist der Park wunderschön angelegt und sehr gepflegt.
Beim Treppensteigen kommen wir natürlich wieder ins Schwitzen – hatten wir schon erwähnt, dass die Luft heute extrem stickig ist?
Nun, wir lassen uns von dem Smog und der Hitze nicht weiter irritieren, sondern genießen stattdessen die tolle Aussicht gen Norden, wo wir den Trommelturm erblicken.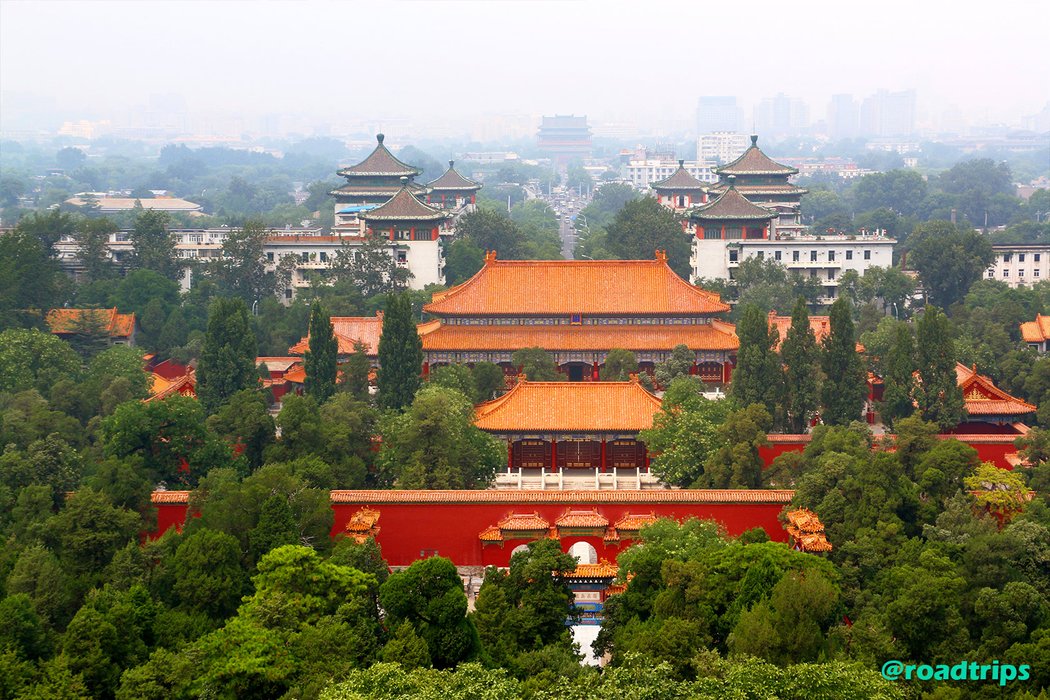 Blick nach Norden: der Trommelturm
Wir laufen ein Stück weiter und treffen auf den ersten der insgesamt fünf Pavillons. Es ist erstaunlich wenig los.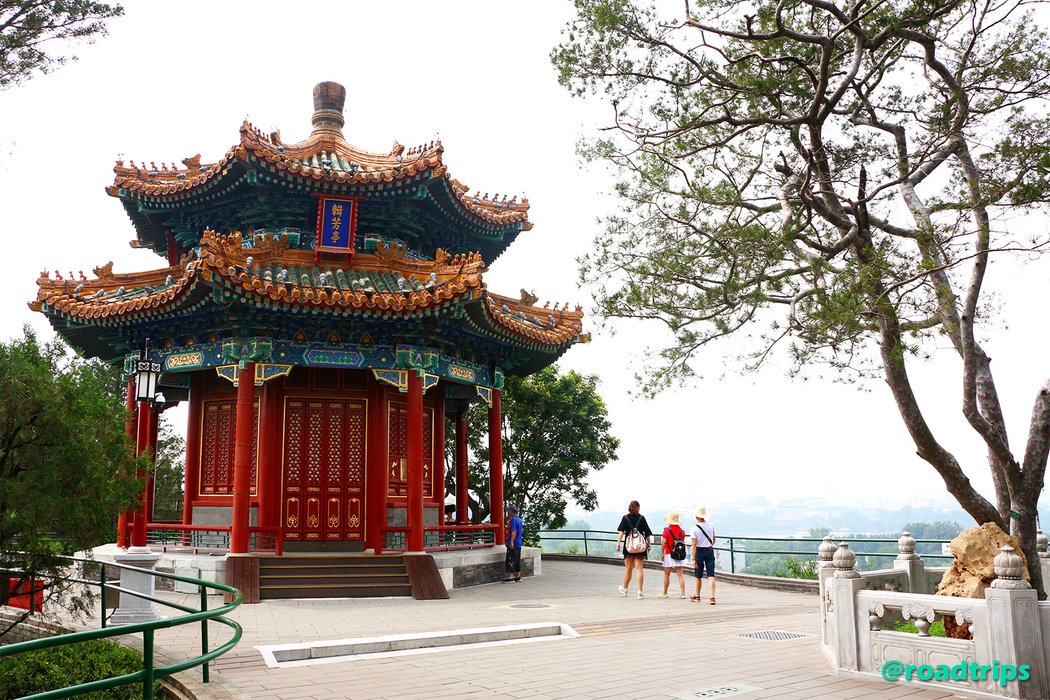 Nach einer kurzen Vesperpause, in der wir den friedlichen Ausblick genießen, geht es weiter. Westlichen Touristen sind wir auf dem Kohlehügel noch keinen begegnet – plötzlich hören wir aber ein "Bonjour!" und ein freundlich lächelnder Mann überholt uns– Aha, die Franzosen, die sich wohl strikt weigern, das unter Touristen eher gängige englische "Hello" zu benutzen. Wir schmunzeln über diesen Patriotismus und machen uns auf zum eigentlichen Aussichts-Pavillon.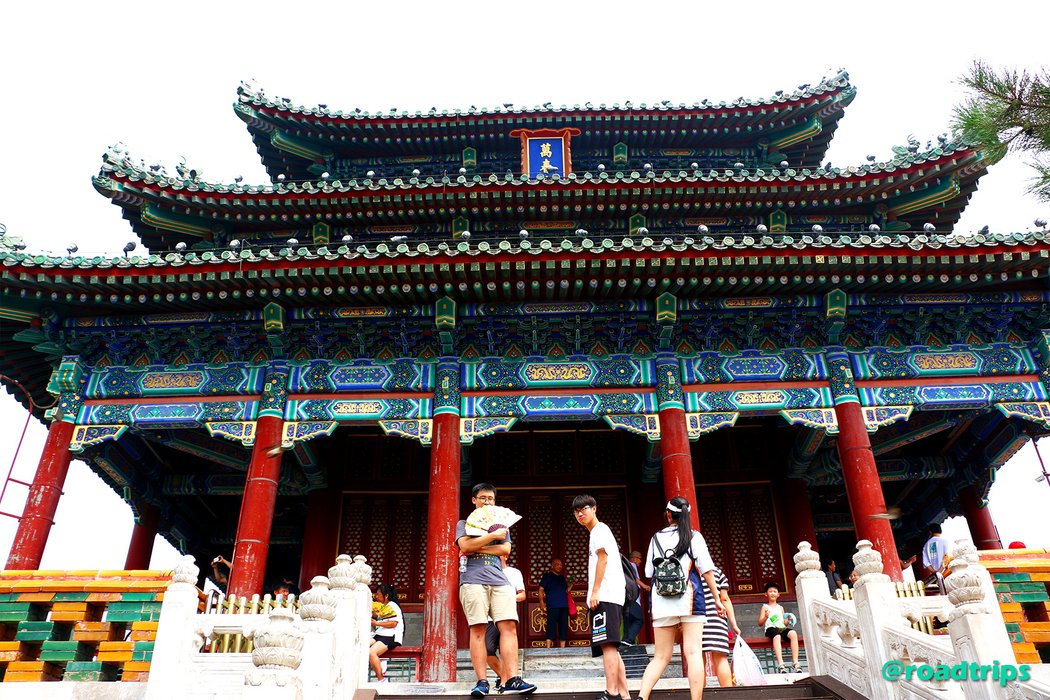 Dieser befindet sich auf dem höchsten Punkt des Parks und trägt den Namen Pavillon des Zehntausendfachen Frühlings – was für ein schöner Name!
Und was für eine beeindruckende Aussicht!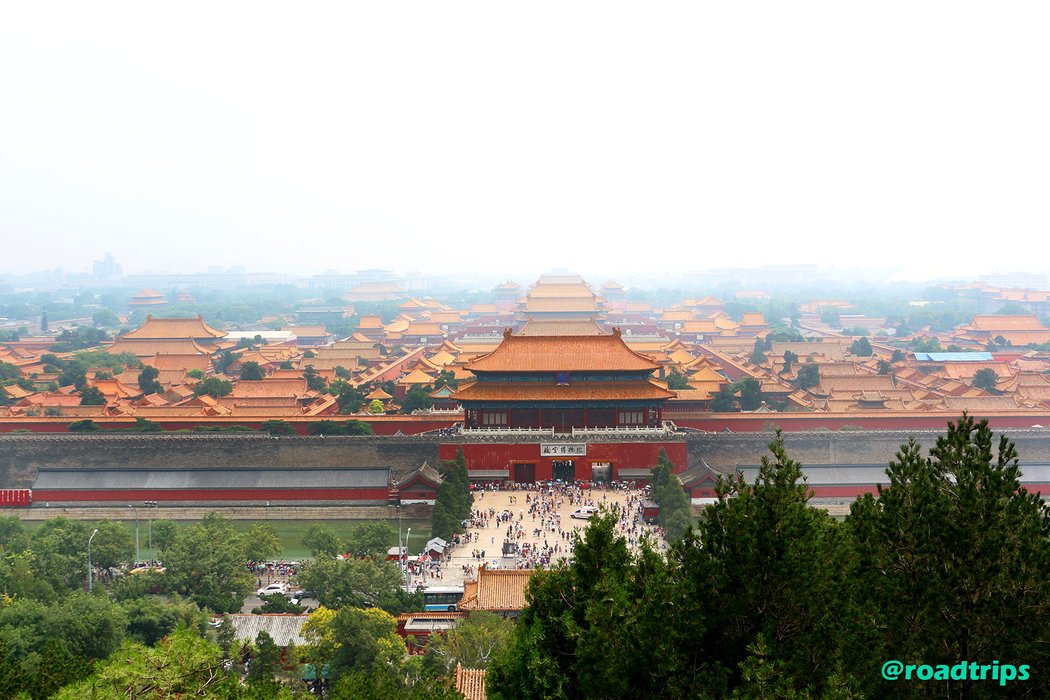 Blick vom Jingshan-Berg aus auf die verbotene Stadt
Unter uns erstreckt sich der Kaiserpalast.
Auf dem Nachhauseweg kommen wir am Beinai-Park vorbei. Nach kurzem Überlegen entscheiden wir uns aber gegen einen Besuch, der noch einmal Eintritt und in Anbetracht des am Eingang herrschenden Gedränges auch einige Nerven gekostet hätte.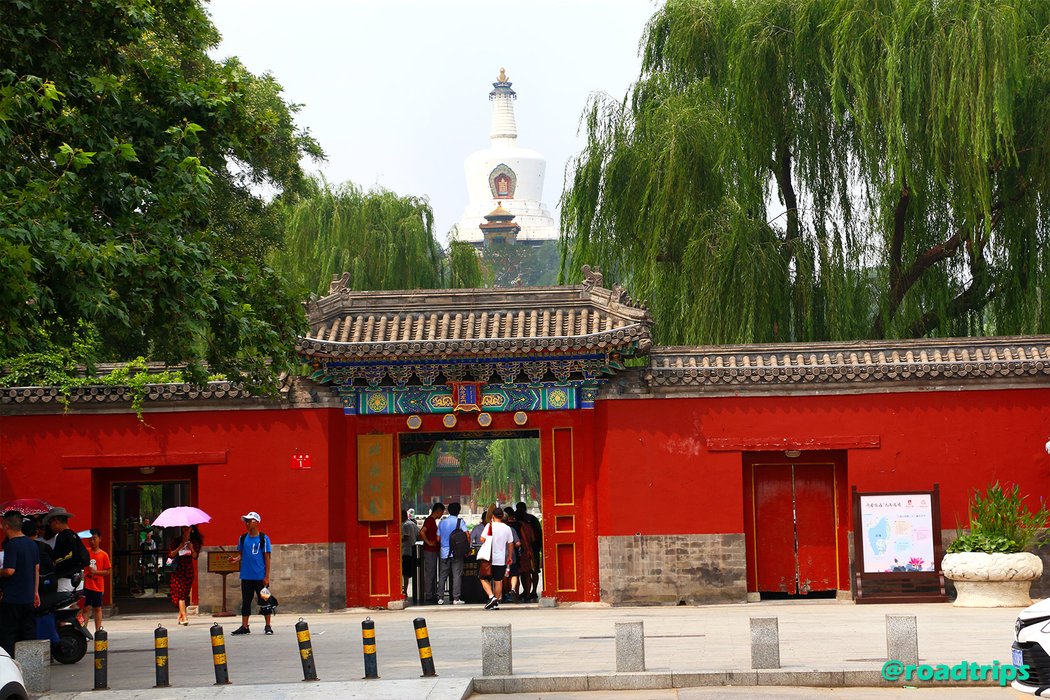 Stattdessen entscheiden wir uns für einen Spaziergang zurück zum Hotel (anstatt die U-Bahn zu nehmen) und kommen dabei an schönen Gebäuden vorbei.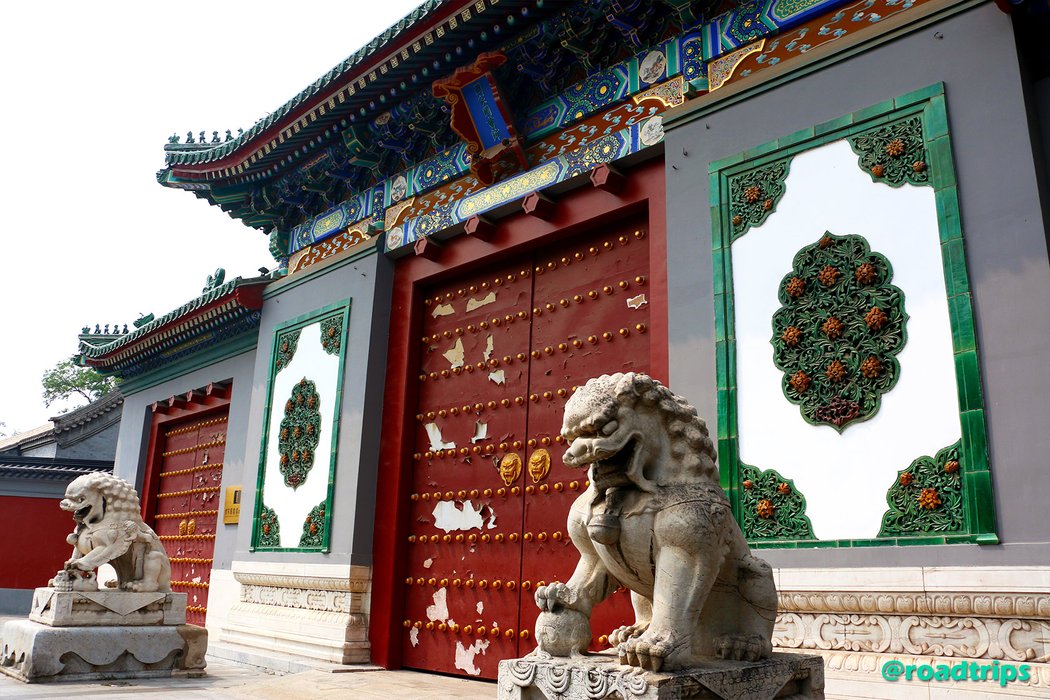 Abends gibt es für uns noch ein kulinarisches Highlight: Beijing Duck.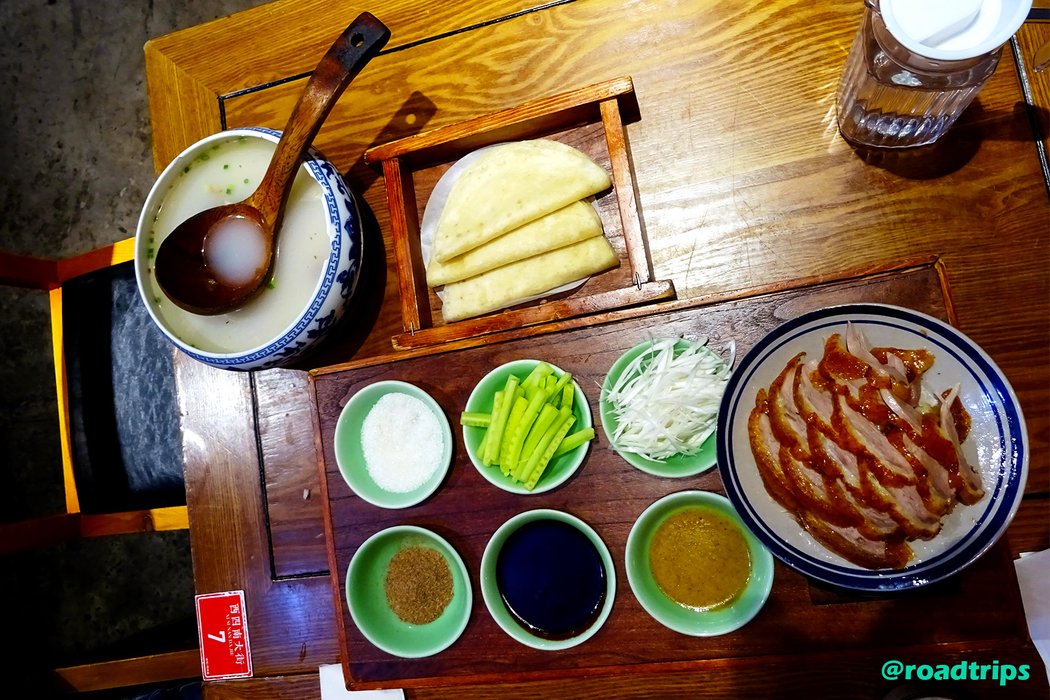 Auf Empfehlung unseres Hosts hin gehen wir in ein kleines Lokal unweit unseres Hotels.
Auch wenn die Bestellung nicht perfekt klappt (ich bekomme Cola anstelle eines eigentlich bestellten Grünen Tees), ist das Essen super lecker und frisch zubereitet!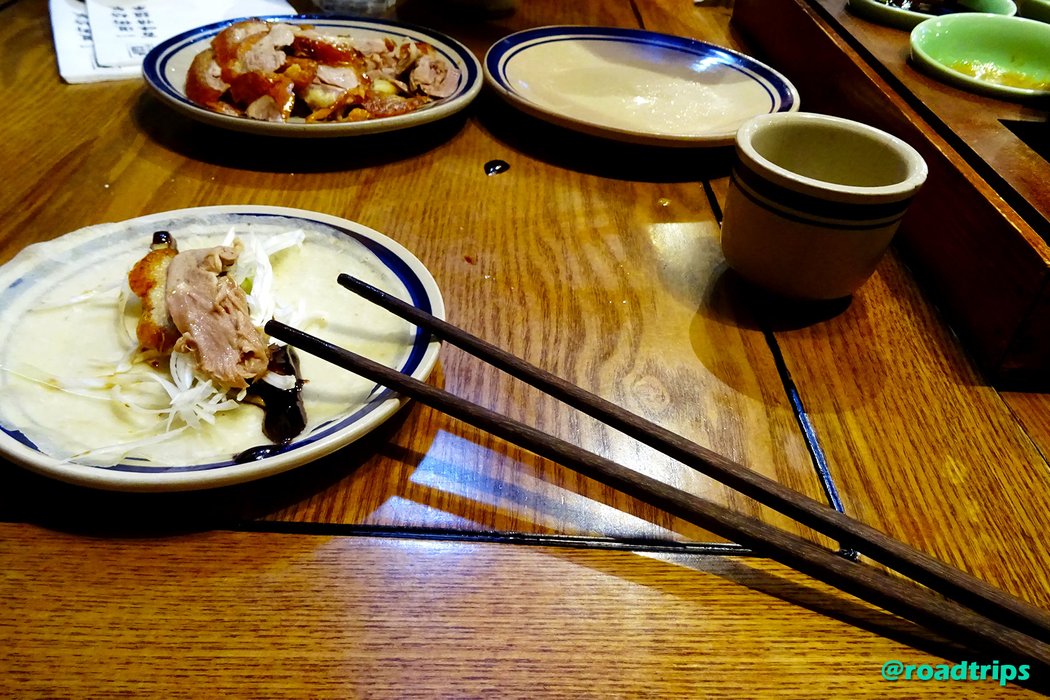 hier wird gerade unsere Beijing Duck zubereitet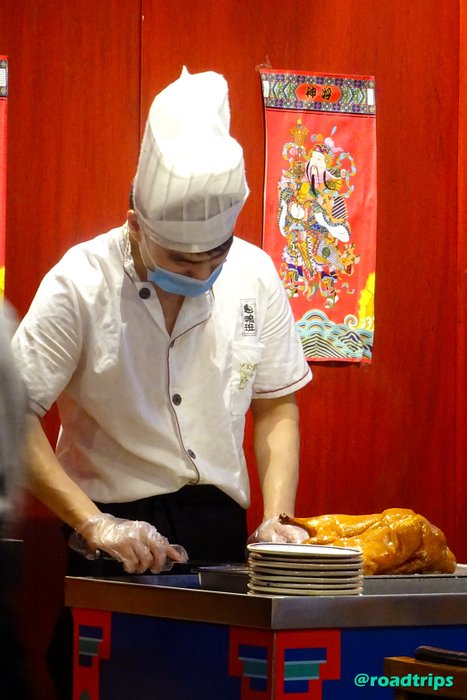 und hier wird sie gegessen ;-)
Cheers!