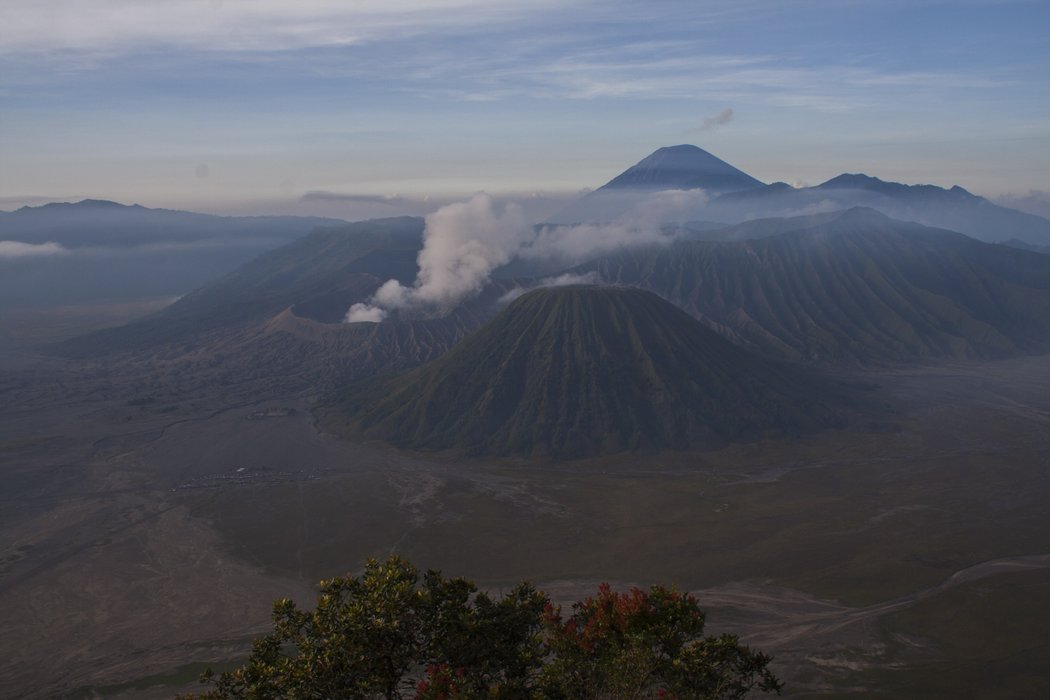 Mt. Bromo
Our next destination was on Java: the world famous volcano Bromo. But getting there was not so easy. Originally we had planned to take the bus, but two days before departure all buses were fully booked (in the off season!). Fortunately, we then stumbled upon the page https://www.peramatour.com/tour/detail/69/bromo-transport and also booked the "Bromo Tour" right away. This is a private transport from Kuta directly to Cemoro Lawang, the starting point for hikes to Bromo. The cars and drivers changed several times and even a short ferry ride was included. Everything went smoothly and the tour was even cheaper than a bus ticket (300k / 20USD per person).
We arrived at Cemoro Lawang around 10pm and went to sleep, because at 3am we had to get up again. Incidentally, you should absolutely climb the Bromo alone without a tour! The tours cost over 50USD and these only bring you to one of the lower viewpoints (Sunrise Point). There you are penned with hundreds of other tourists in a confined space and leave right after sunrise. So you should just walk from Cemoro Lawang to the viewpoint Kingkong Hill. All you have to do is follow the road to the end, which is not a problem as one jeep after another will pass you. Then continue past Sunrise Point and then on a dirt road to the very top. Get the App Maps.Me, there the paths are very accurately marked!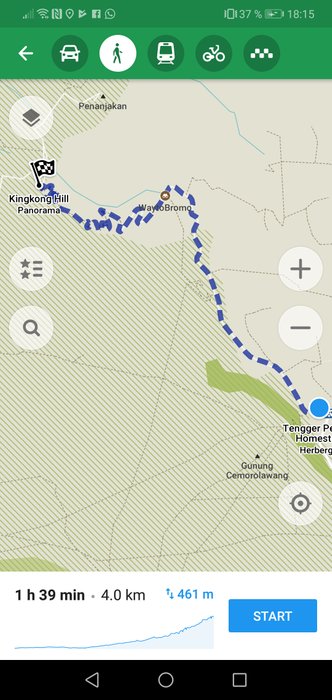 The way to Kingkong Hill
At the top there were only a few people left and the sunrise has just begun: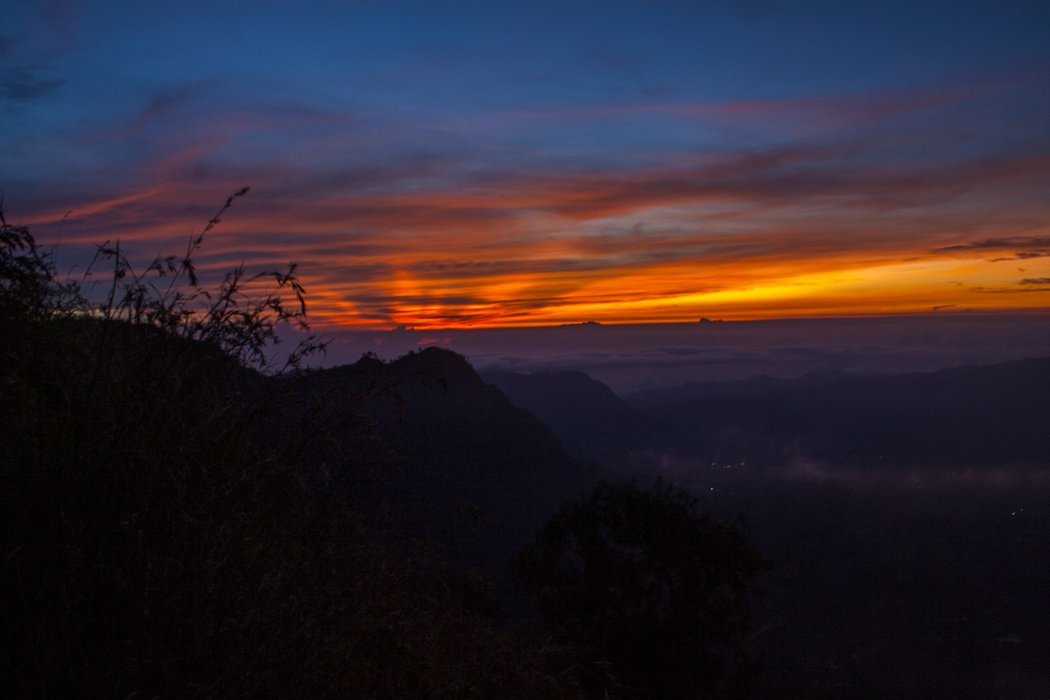 Sunrise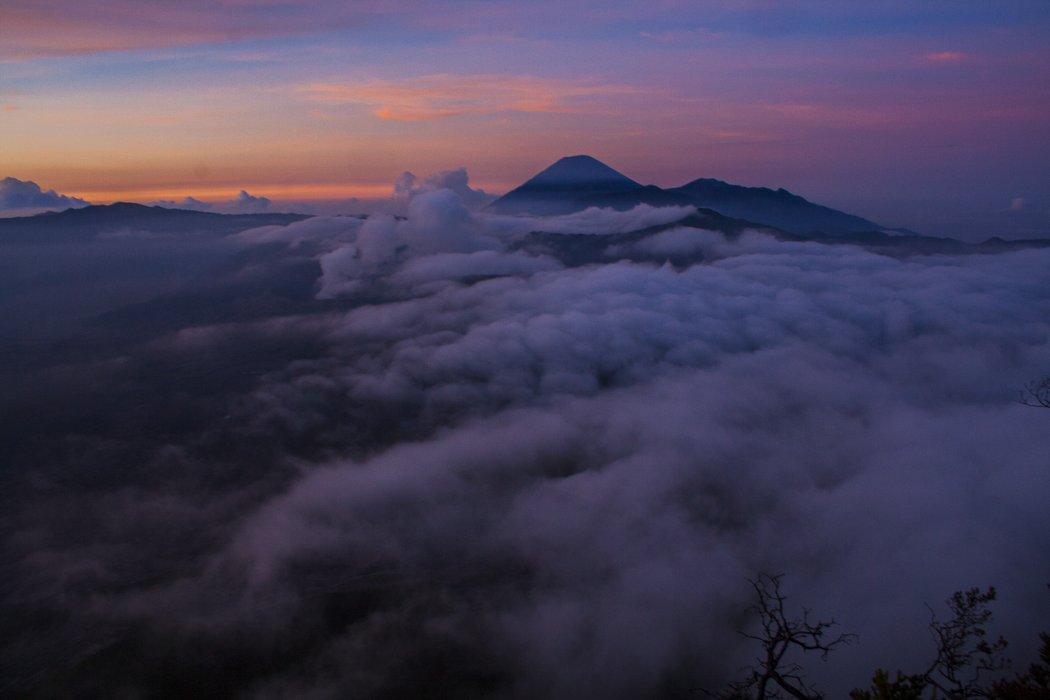 The clouds begin to fade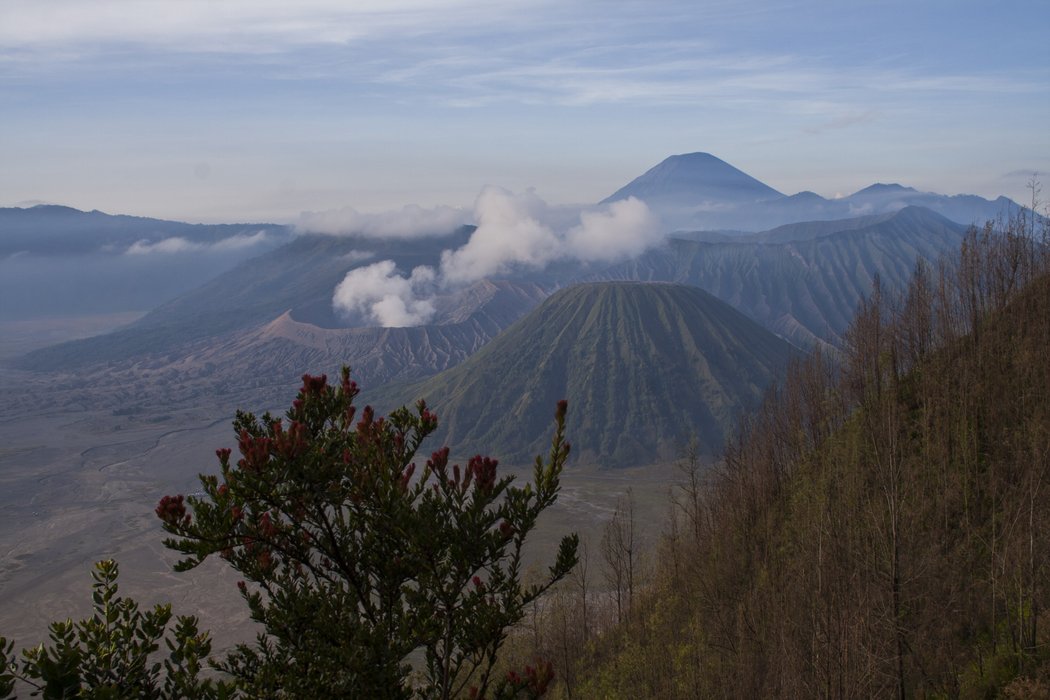 The steeming volcano to the left is Bromo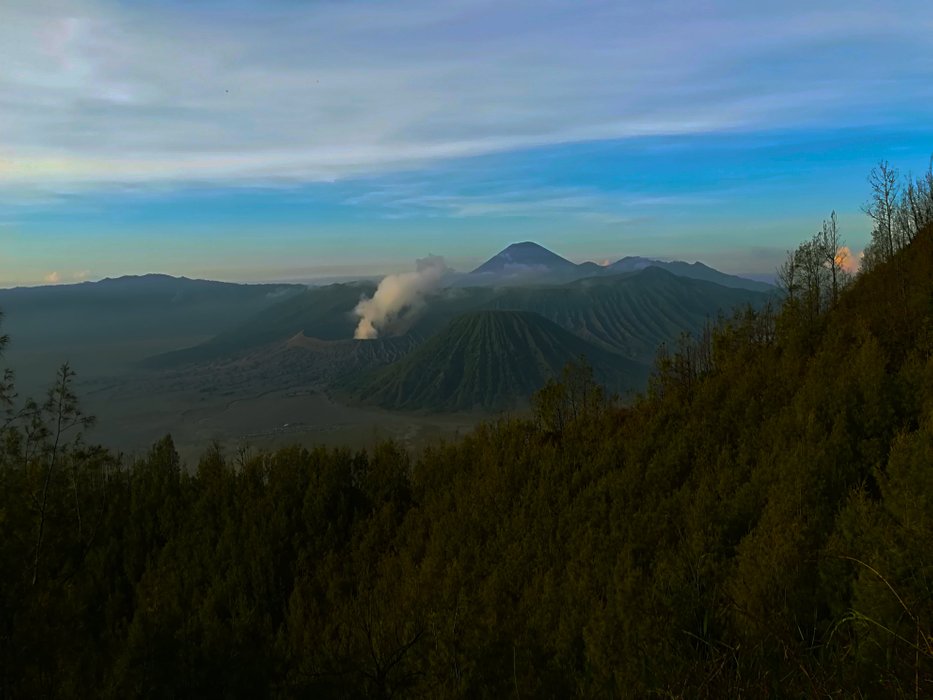 On the way down
We left last, long after the jeeps drove to the crater.
Next we also headed for crater. It goes back to Cemoro Lawang and behind the restaurant Cemara Indah through a short wooded area down to the Sea of Sand.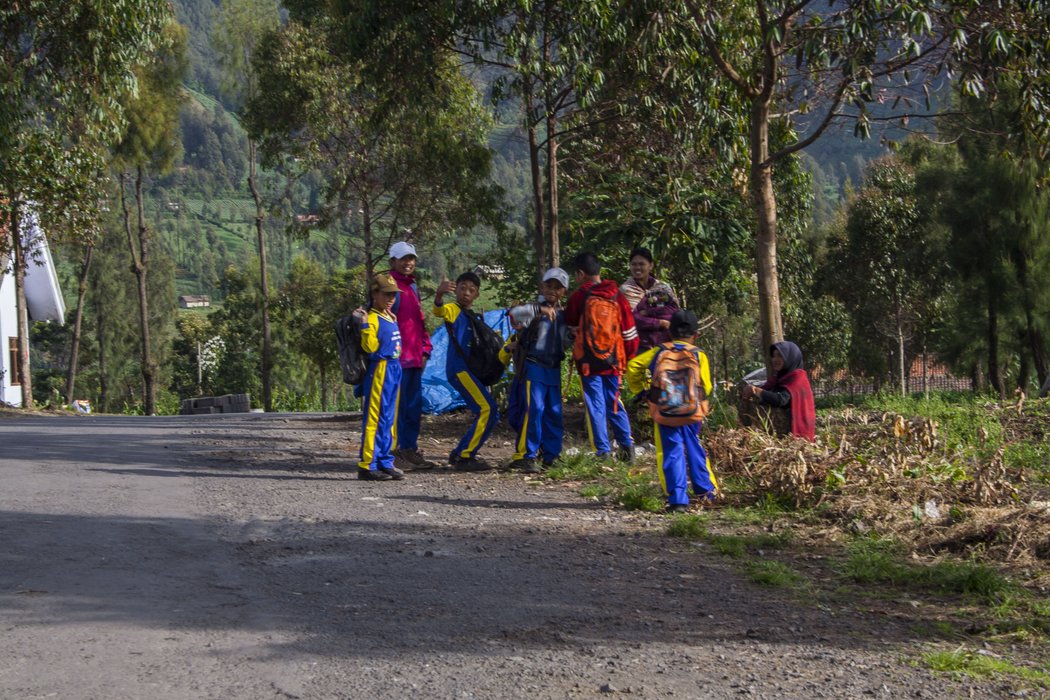 Happy kids of Cemoro Lawang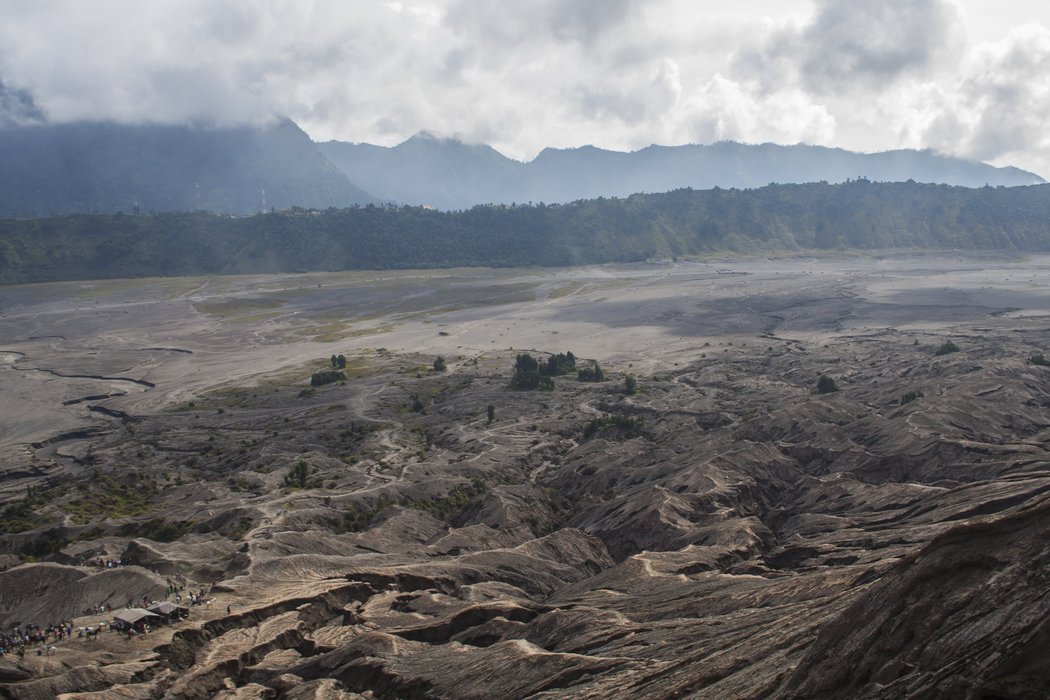 Sea of sand
When you arrive at the bottom you can not miss the volcano. After about half an hour we were at Bromo.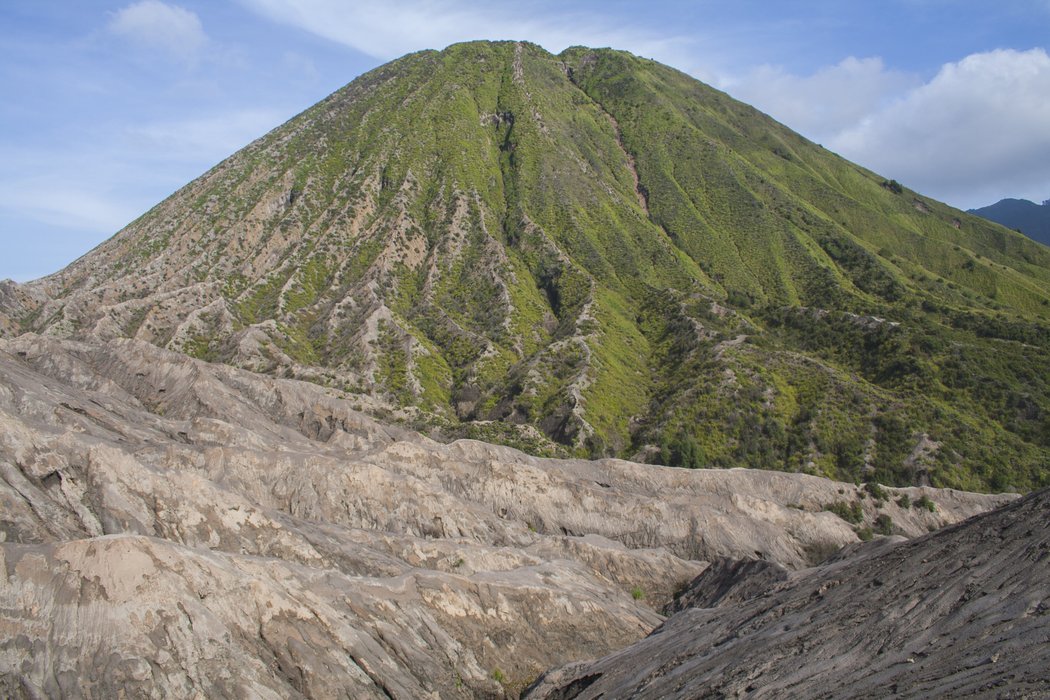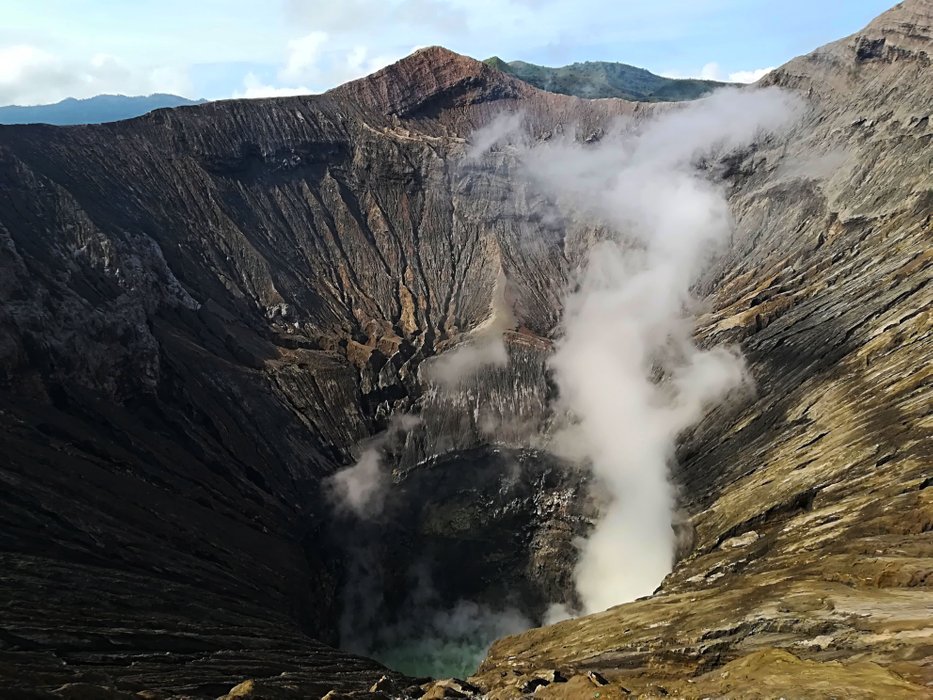 The crater from the top
At the time of day it is not so crowded at the crater, since most of the tours are already gone. From there you can walk back to the hostel (about an hour) or ask one of the many drivers if they will drive you back. We decided to walk and returned to Cemoro Lawang at 9:15.
This is how you avoid the crowds at Bromo and save a lot of money. In our next post we show you how to avoid the crowds at Borobudur!
German (same post)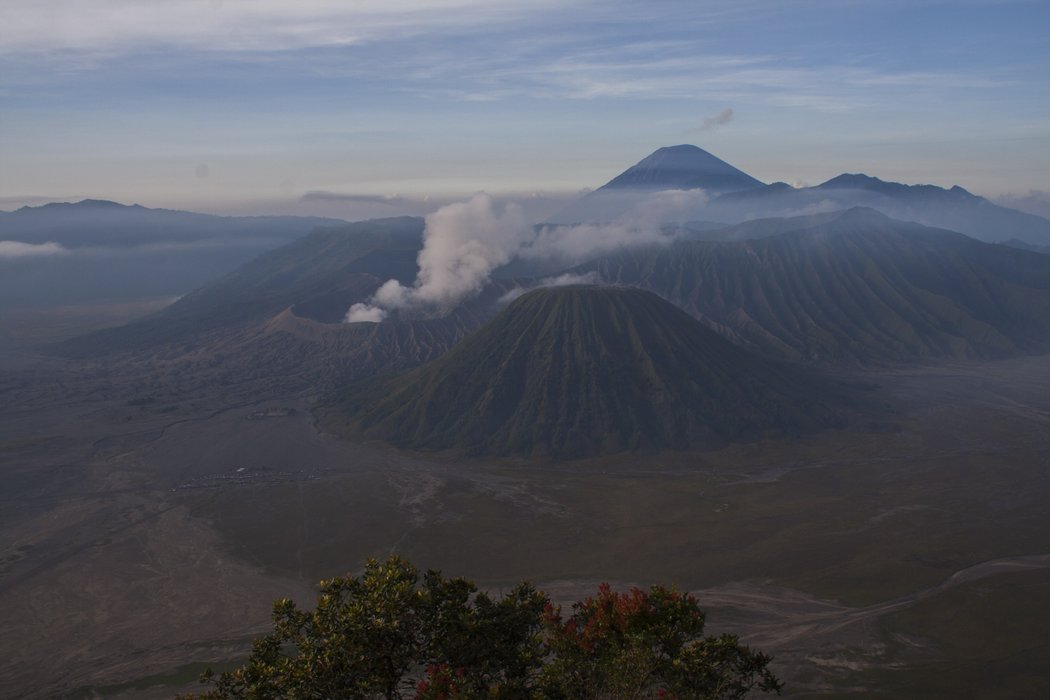 Mt. Bromo
Unser nächstes Ziel war auf Java: Der weltbekannte Vulkan Bromo. Dahin zu gelangen war jedoch gar nicht so einfach. Ursprünglich hatten wir geplant den Bus zu nehmen, allerdings waren zwei Tage vor Abfahrt schon alle Busse ausgebucht (in der Nebensaison wohlgemerkt!). Zum Glück sind wir dann auf die Seite https://www.peramatour.com/tour/detail/69/bromo-transport gestolpert und haben auch gleich die "Bromo Tour" gebucht. Dies ist ein privater Transport von Kuta direkt nach Cemoro Lawang, dem Ausgangspunkt für Wanderungen auf den Bromo. Dabei werden Auto und Fahrer mehrmals gewechselt und sogar eine kurze Fahrt mit einer Fähre ist inklusive. Alles hat reibungslos geklappt und die Tour war sogar günstiger als ein Busticket (300k/20USD pro Person).
Wir sind gegen 22 Uhr in Cemoro Lawang angekommen und haben uns kurz schlafen gelegt, denn um 3Uhr mussten wir wieder aufstehen. Den Bromo solltet ihr übrigens unbedingt alleine ohne Tour besteigen! Die Touren kosten über 50USD und diese bringen euch nur auf einen der unteren Viewpoints (Sunrise Point). Dort seid ihr mit hunderten anderen Touris auf engstem Raum eingepfercht und fahrt direkt nach Sonnenaufgang los. Daher solltet ihr einfach zu Fuß von Cemoro Lawang an den Viewpoint Kingkong Hill laufen. Dazu müsst ihr einfach nur der apshaltierten Straße bis ans Ende folgen, was absolut kein Problem ist, da euch ein Jeep nach dem anderen den Weg weisen wird. Dann weiter am Sunrise Point vorbei und dann auf einem Schotterweg bis ganz nach oben. Besorgt euch die App Maps.Me, dort sind die Wege sehr genau eingezeichnet!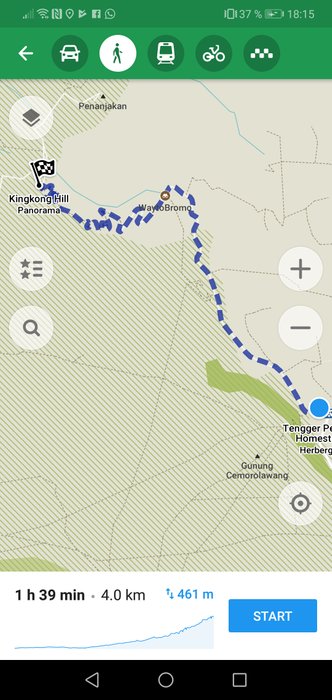 Der Weg zum Kingkong Hill
Oben angekommen waren nur noch ein paar Leute und der Sonnenaufgang hat gerade begonnen: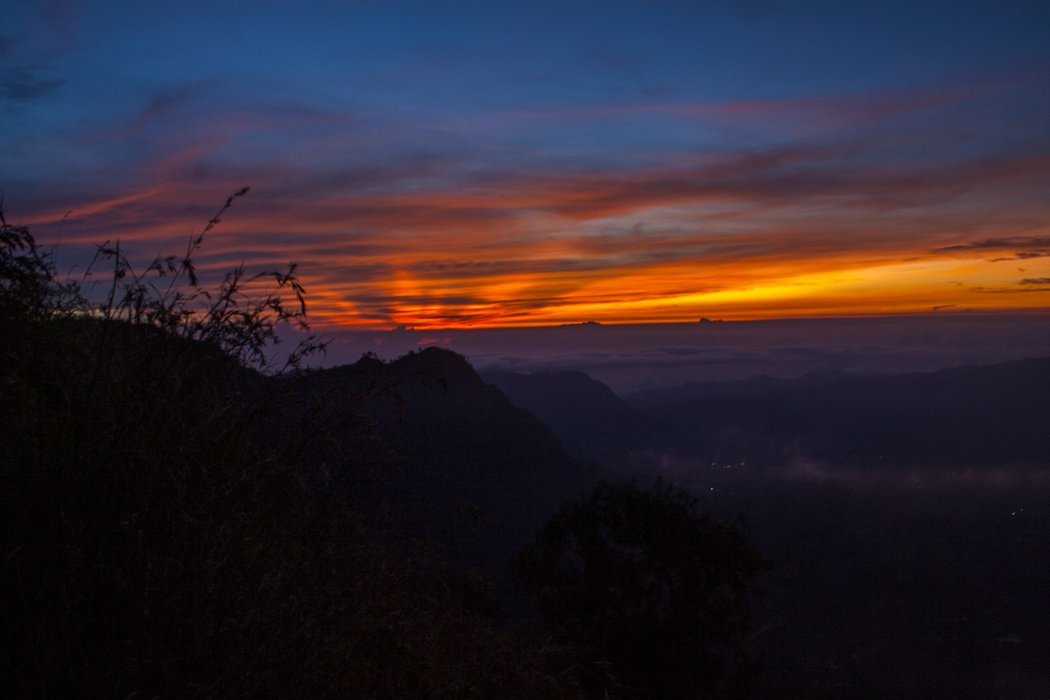 Sonnenaufgang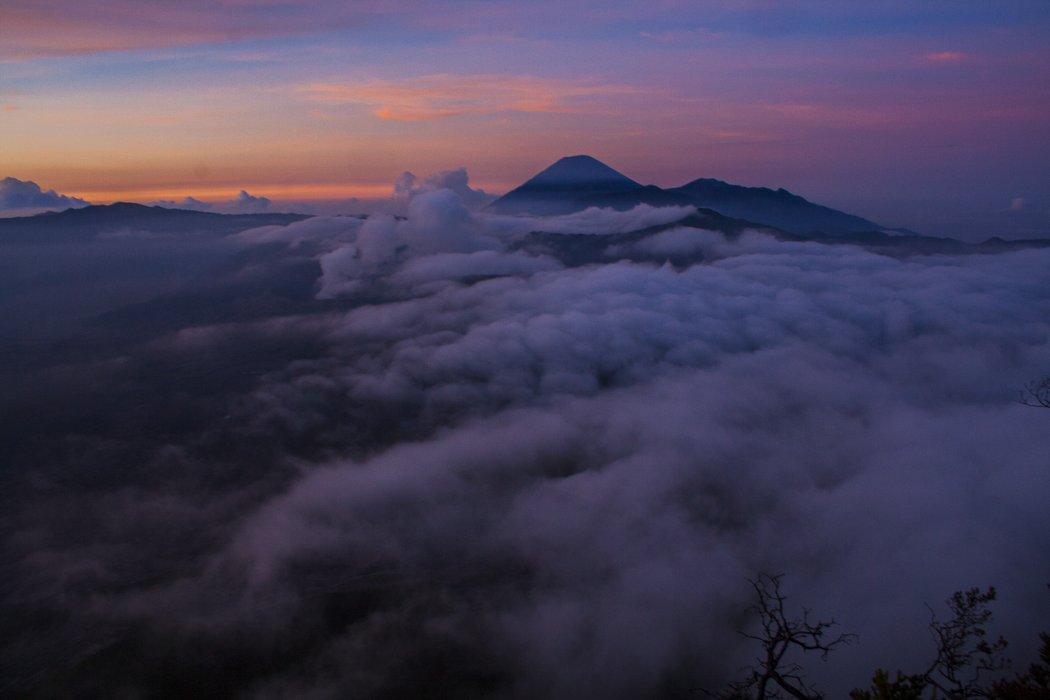 Langsam lösen sich die Wolken auf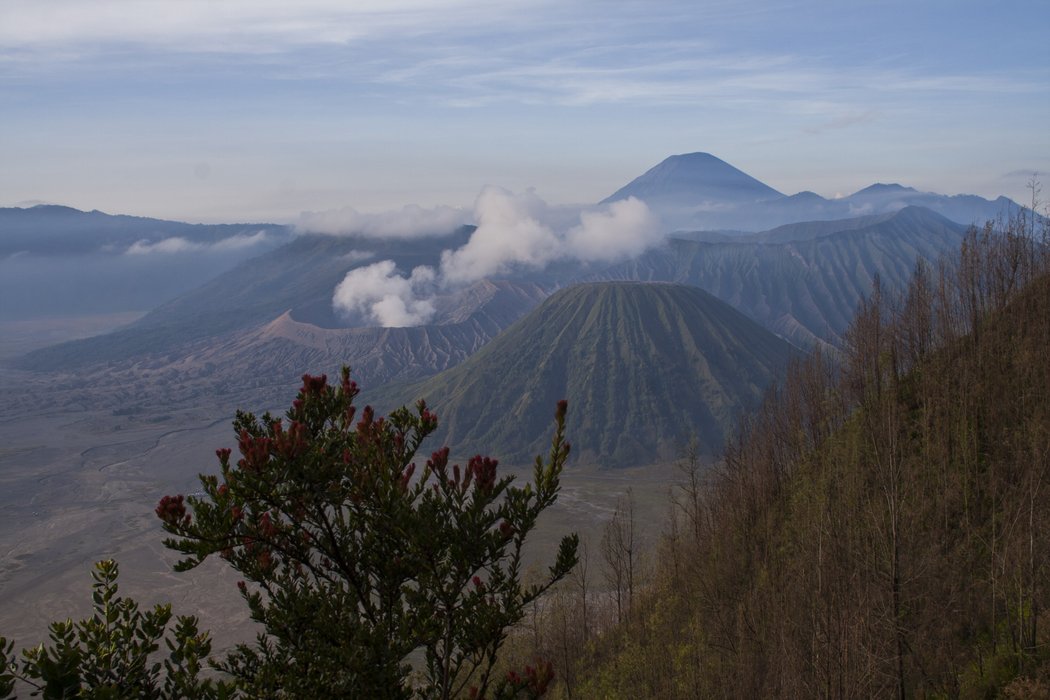 Der rauchende Vulkan links ist der Bromo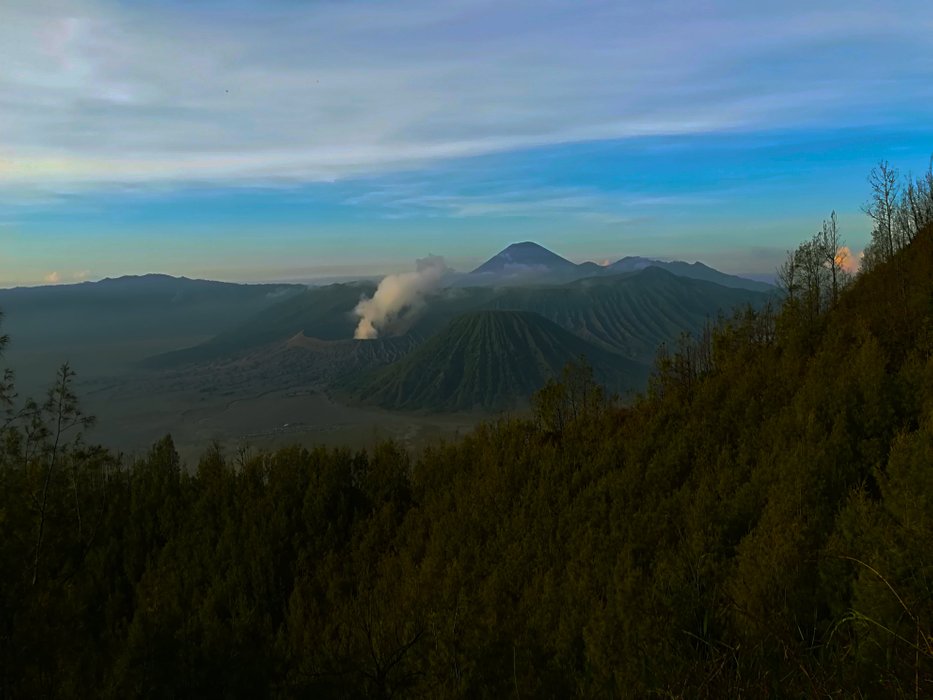 Auf dem Weg nach unten
Wir sind als letztes gegangen, lange nachdem die Jeeps schon Richtung Krater gefahren sind.
Als nächstes haben wir uns auch Richtung Krater aufgemacht. Dazu geht es zurück nach Cemoro Lawang und hinter dem Restaurant Cemara Indah durch ein kurzes Waldstück nach unten auf die Sea of Sand.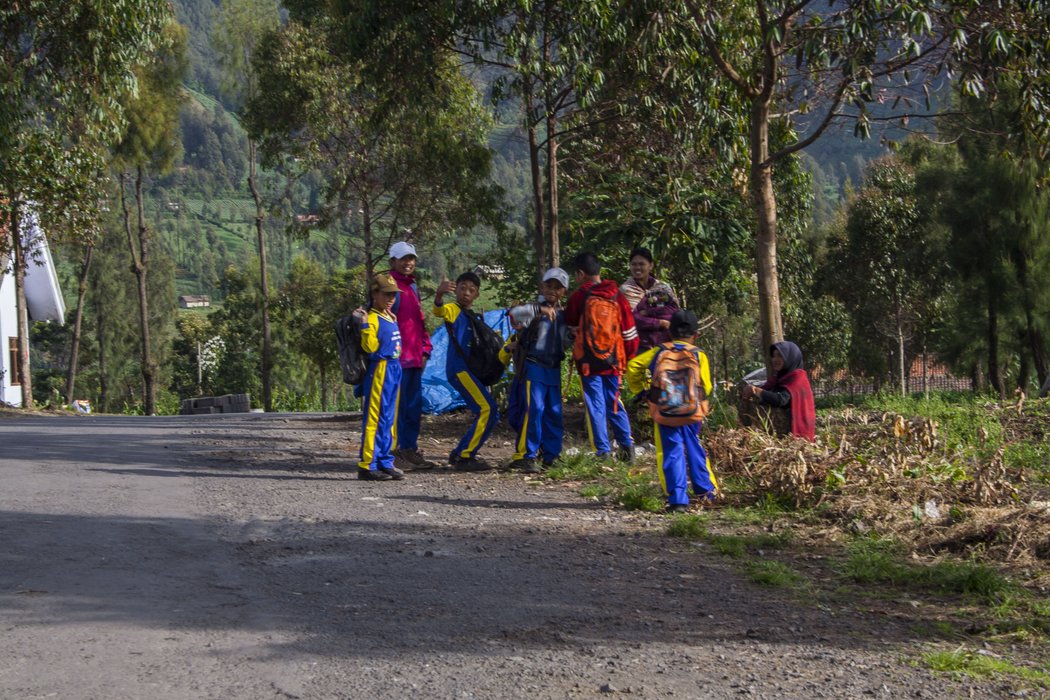 Fröhliche Kinder in Cemoro Lawang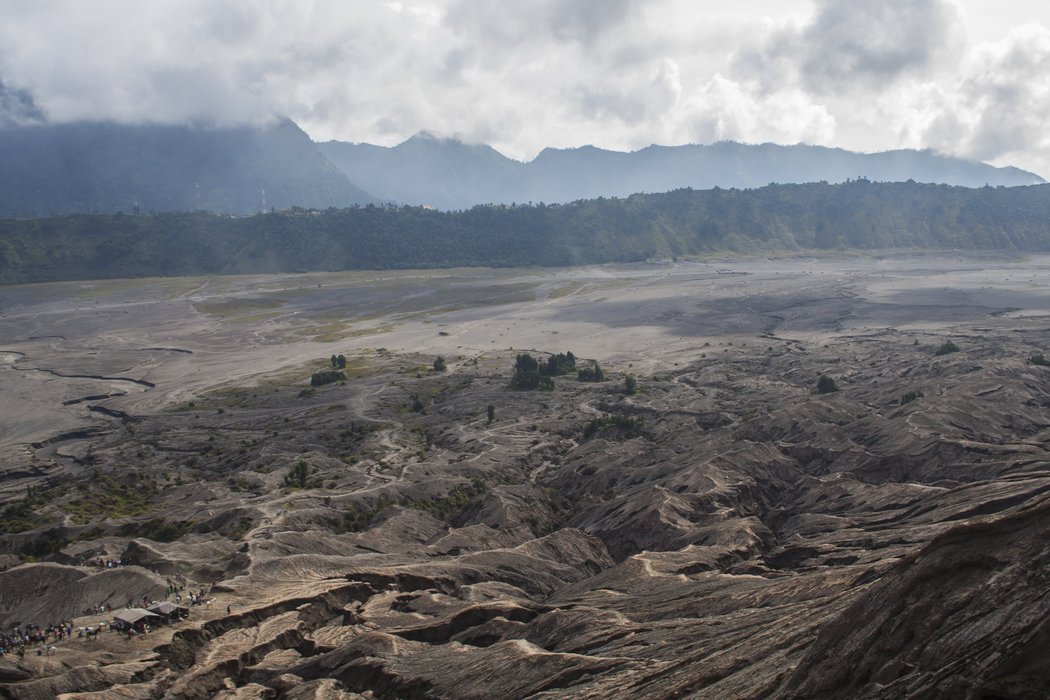 Sea of sand
Unten angekommen könnt ihr den Vulkan eigentlich nicht verfehlen. Nach ungefähr einer halben Stunde waren wir dann am Bromo.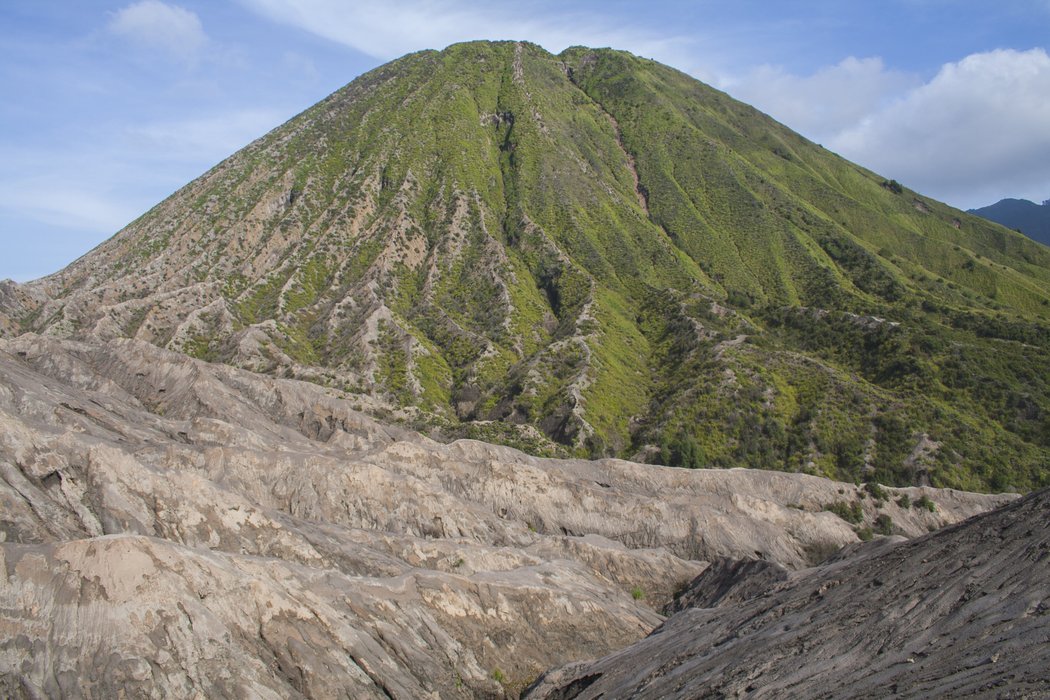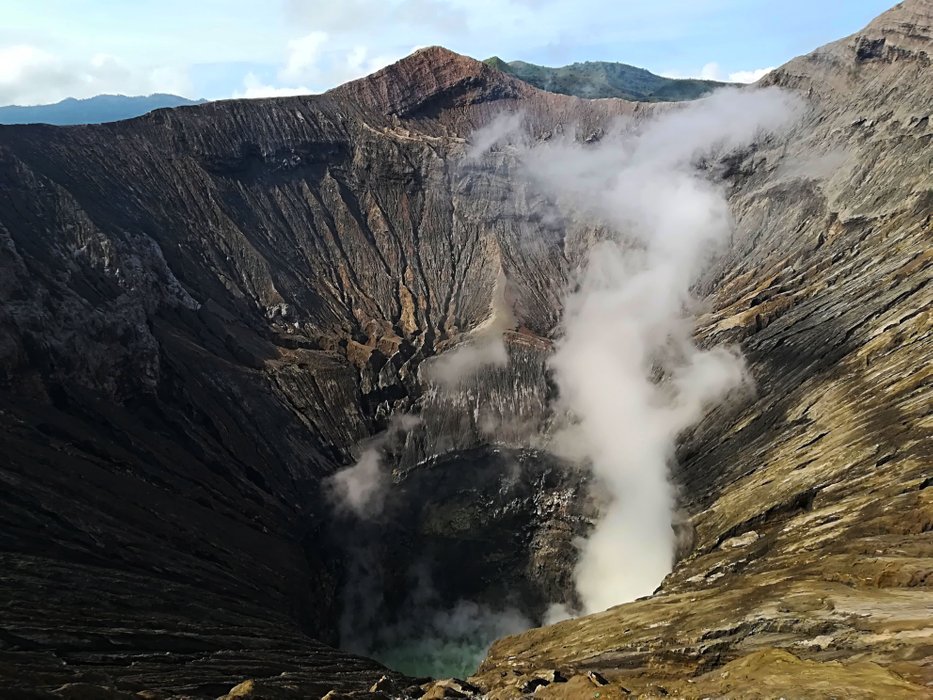 Der Krater des Bromo
Um die Uhrzeit ist es am Krater auch nicht mehr so voll, da die meisten Touren schon wieder weg sind. Von dort aus könnt ihr wieder zurück ans Hostel laufen (etwa eine Stunde) oder einen der vielen Fahrer fragen ob sie euch zurückfahren. Wir haben uns fürs Laufen entschieden und waren um 9.15 Uhr wieder in Cemoro Lawang.
Auf diese Weise könnt ihr den Massen entkommen und zudem noch eine Menge Geld sparen.
In unserem nächsten Post zeigen wir euch, wir ihr den Massen in Borobudur entkommen könnt.