After a rather extensive shopping tour at Chá Gorreana we continue our ride to the northeast of the island to our accommodation.
The cottage, which we have booked for 5 days, is located in Nordeste. This place is not ideal for excursions, but it is a quiet village - and above all, this property was really cheap and very cosy!
After this culinary quite impressive day (1st: pineapple from Europe!; 2nd: green and black tea from Europe!) we finish off with regionally grown sweet potato.
And because we really appreciate good food on holiday, here is the next picture, this time from breakfast the next day.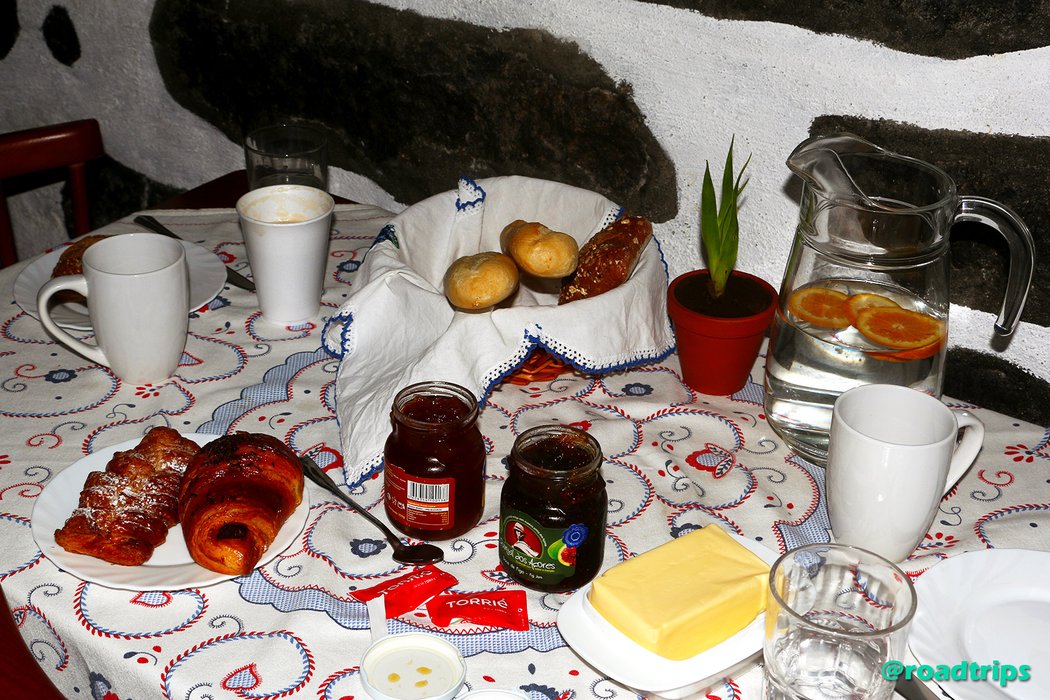 And again, something delicious!
We especially enjoyed the pineapple yam - definitely worth a try! ;-) But now enough talked about food – today, we once again have a nice hike on the program! We start after breakfast with sandwiches in our backpacks and drive over the EN1-1A to Faial da Terra. On the way there, we stop at a small parking area to eventually get a nice view of the coast. We walk a few meters (without much expectations) and are suddenly in a beautiful park!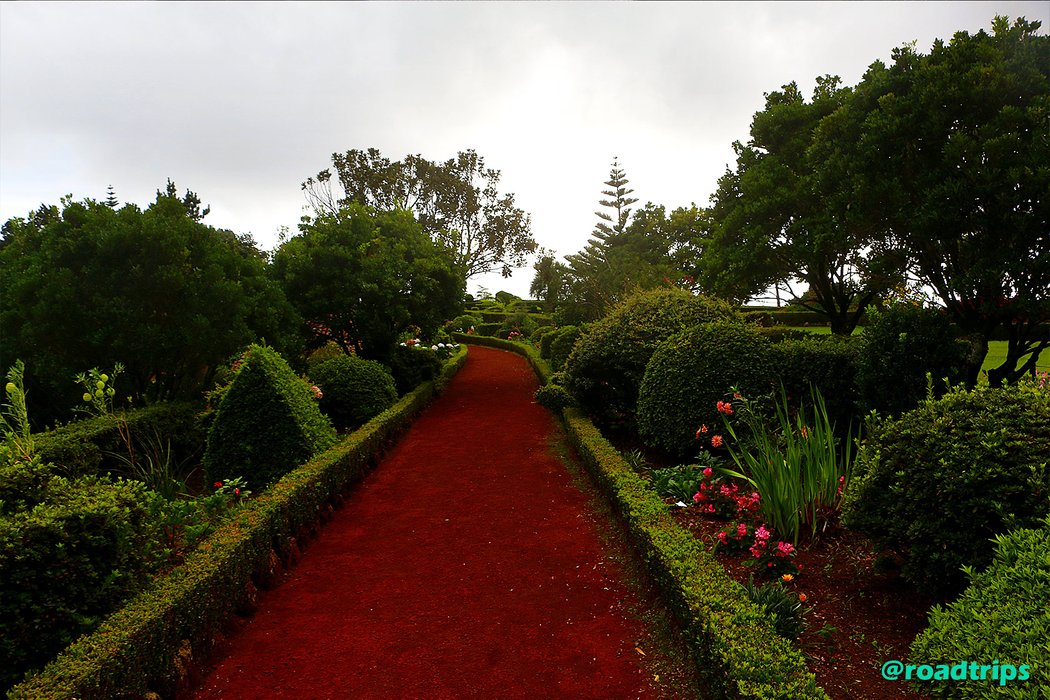 Beautifully maintained park on the roadside in the middle of nowhere
We walk on the nice paths quite astonished – we'd never thought to find such a nice place at the most northeastern end of the small island. And then, without warning - POW! We are almost overrun by a small kitten who greets us with a lot of meow. Its white fur and its ocean blue eyes attract us (okay, especially me, the girl), and we play with the little wool ball and stroke it. Our little friend accompanies us all the way over and explores the park with us.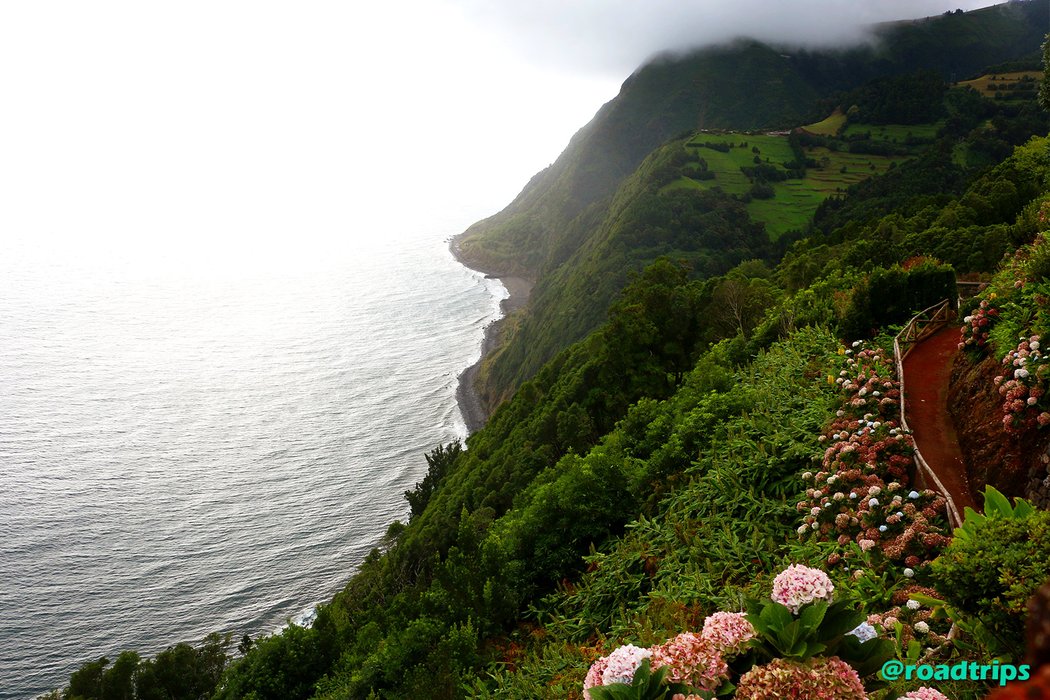 Wonderful view of the Atlantic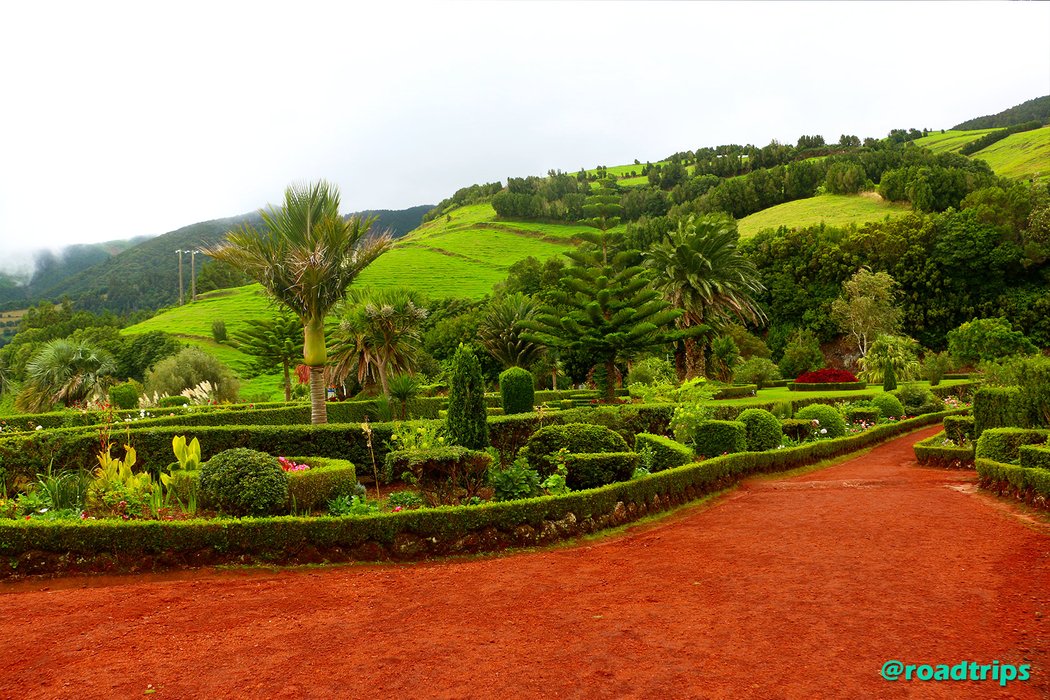 Well-kept paths and great gardens
As always, there is no one to see, and certainly no tourists. Well, after all, we are at the northeastern end of the island – there are certainly not much travelers coming around here.
Quite satisfied, we climb back into our little hopper #4 and continue to drive towards our actual goal, Faial da Terra. Unfortunately, we have to leave the little kitten behind, even though it seems like it would have liked to get into the car with us.
If you want to read from our hike to the beautiful waterfall, you have to wait until the next post ;-) That spontaneous visit of the park stole the show from that planned hike!
The essential:
Nordeste - a bit out of the way, but very quiet and cheap
Our accomodation: Casa da Madrinha
If you have the time: small stop at the viewpoint Ponta da Madrugada
PS: if you go there, don't forget to greet the kitten from us ;-)
German (same post)
Nordeste – abgelegene Gegend mit Potential
Nach einer recht ausgiebigen Shopping-Tour im Chá Gorreana fahren wir weiter in Richtung Nordosten der Insel zu unserer Unterkunft.
Das Häuschen, das wir für 5 Tage gebucht haben, liegt in Nordeste. Ideal für Ausflüge ist dieser Ort nicht, dafür ist es ein ruhiges Dörfchen – vor allem aber war diese Unterkunft echt preiswert!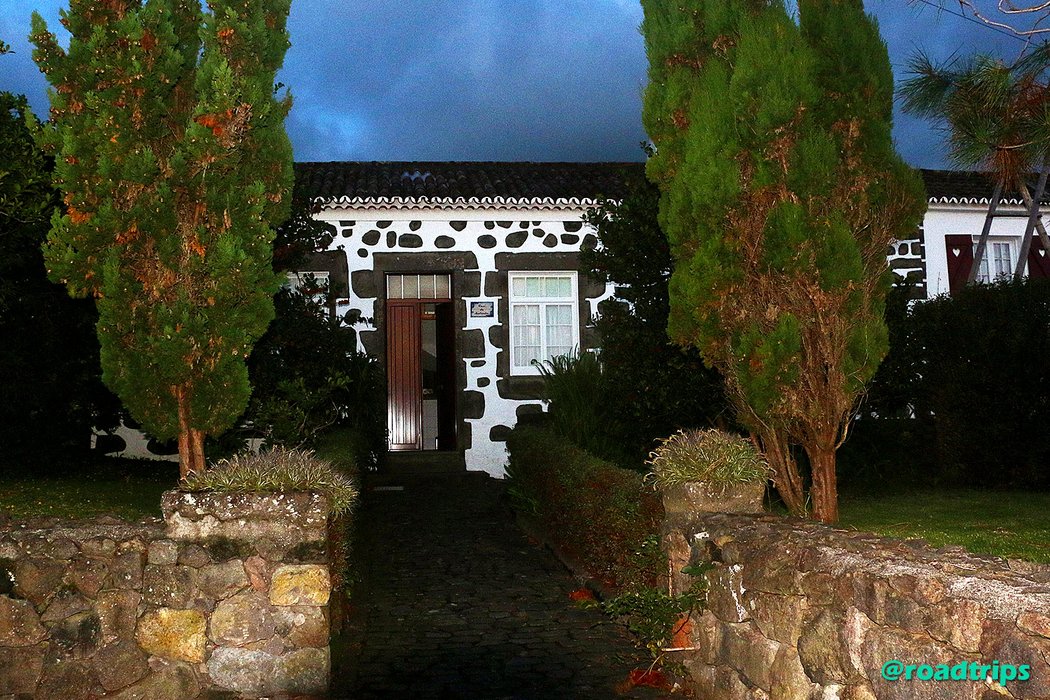 Ein ganzes Häuschen für uns alleine
Nach diesem kulinarisch sehr beeindruckenden Tag (1.: Ananas aus Europa! ; 2.: Grün- und Schwarztee aus Europa!) lassen wir es gemütlich mit regional angebauter Süßkartoffel ausklingen.
Und weil wir gutes Essen im Urlaub sehr schätzen, hier gleich das nächste Bild, dieses Mal vom Frühstück am nächsten Tag.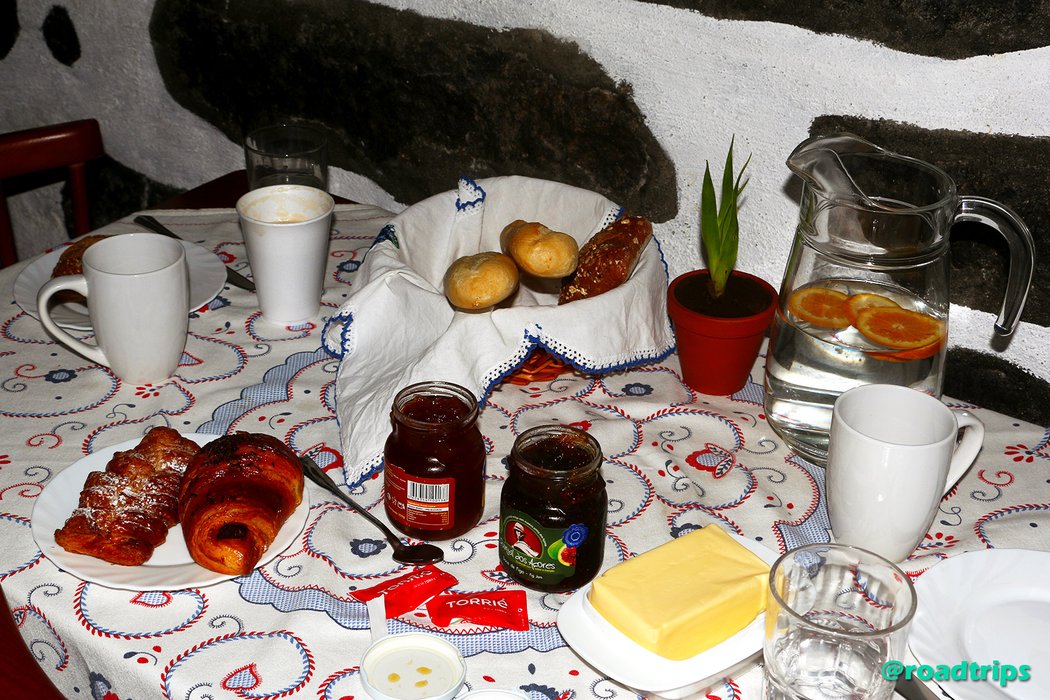 Und schon wieder steht was Leckeres auf dem Tisch!
Gerade die Ananasmarmelade hat uns super gut geschmeckt – unbedingt probieren! ;-) Jetzt aber genug über das Essen geredet – heute steht schließlich eine tolle Wanderung auf dem Programm! Wir starten nach dem Frühstück mit Vesper im Gepäck und fahren über die EN1-1A nach Faial da Terra. Auf dem Weg dorthin halten wir an einem vorerst unscheinbar wirkenden Parkplatz an.
Wir laufen ein paar Meter und befinden uns plötzlich in einer wunderschönen Parkanlage wieder!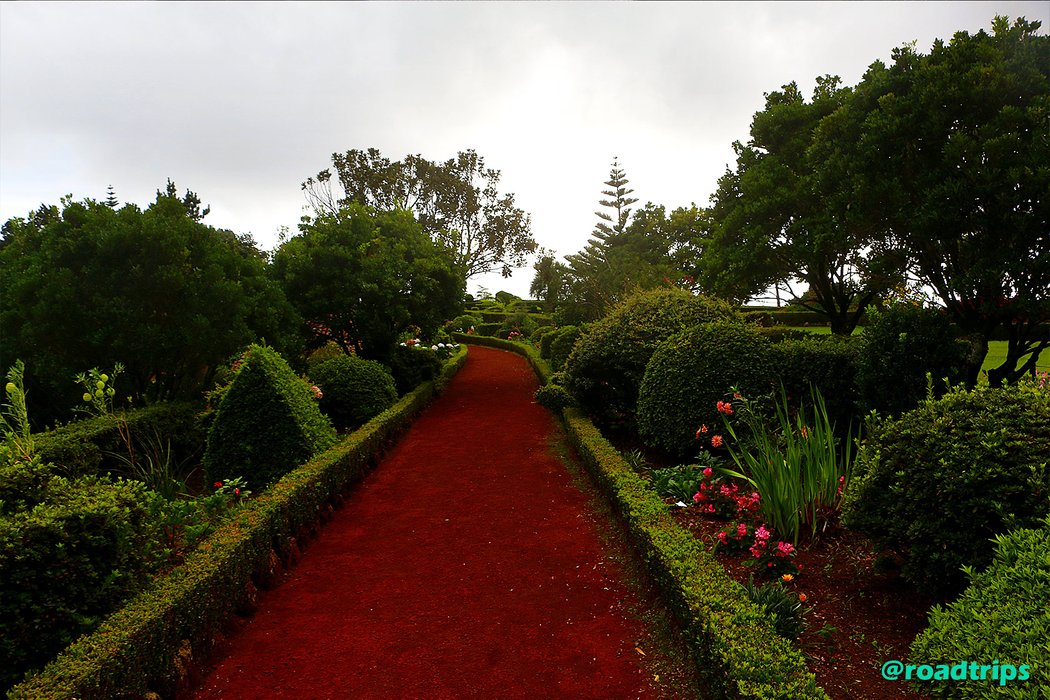 Wunderschön gepflegte Anlage am Straßenrand
Verwundert spazieren wir über die kleinen Wege. Und dann, ohne Vorwarnung – ZACK! Werden wir von einer kleinen Katze nahezu überrannt und mit viel miau begrüßt. Ihr weißes Fell und ihre Ozeanblauen Augen ziehen uns (okay, eigentlich vor allem mich, die Frau) an, und wir spielen mit dem kleinen Wollknäul und streicheln es.
Unsere kleine Freundin begleitet uns dann den ganzen Weg über und erkundet mit uns den Park.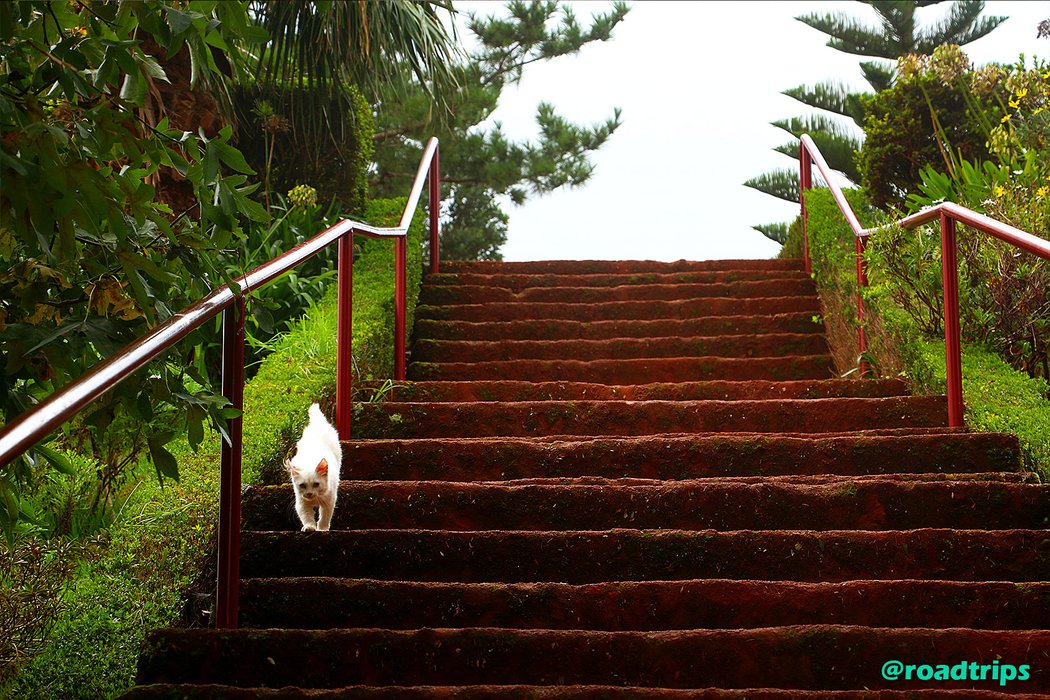 Ein Begleiter beim Parkrundgang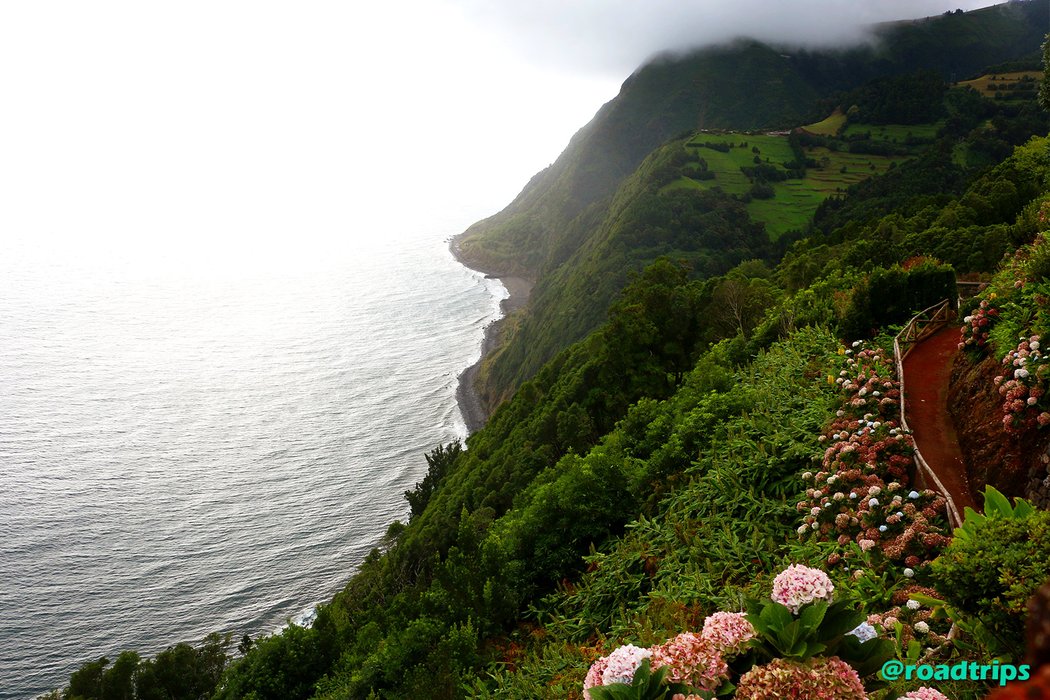 Herrlicher Ausblick auf den Atlantik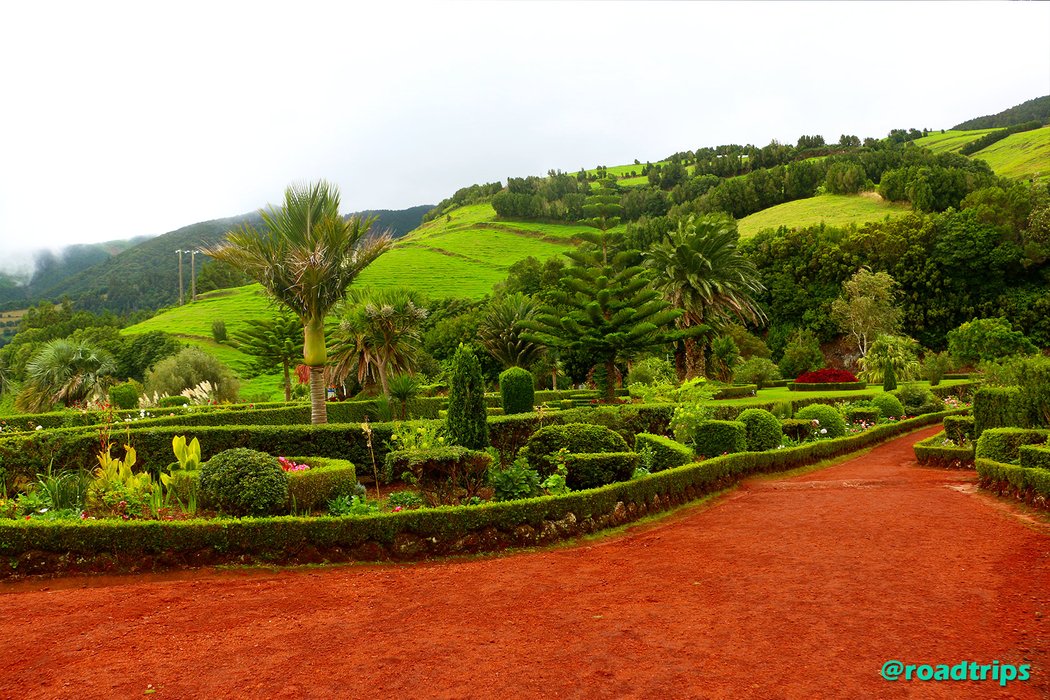 Gepflegte Wege und tolle Gärten
Wie immer ist weit und breit kein Mensch zu sehen, schon gar keine Touristen. Wieso auch, schließlich sind wir am nordöstlichsten Ende der Insel, dorthin verschlägt es bestimmt kaum Reisende.
Glücklich steigen wir wieder in unseren kleinen Hopser #4 und düsen weiter in Richtung unseren eigentlichen Ziels, Faial da Terra. Das kleine Kätzchen müssen wir leider auch hinter uns lassen, obwohl es, so hatte es den Anschein, am liebsten mit ins Auto gehopst wäre.
Wenn ihr von unserer Wanderung an den schönen Wasserfall lesen wollt, müsst ihr euch bis zum nächsten Post gedulden ;-) der spontane Besuch im Park hat der Wanderung vorerst die Show gestohlen!
Das Wichtigste in Kürze:
Nordeste – etwas abgelegen, dafür sehr ruhig und preiswert
Unsere Unterkunft: Casa da Madrinha
Falls ihr in der Nähe seid: Abstecher zum Aussichtspunkt Ponta da Madrugada
French (same post)
Nordeste - région perdue avec du potentiel
Après avpir fait pas mal de shopping à Chá Gorreana, nous continuons notre route vers le nord-est de l'île pour arriver à notre hébergement.
Le chalet que nous avons réservé pour 5 jours est situé à Nordeste. Cet endroit n'est pas idéal pour des excursions, mais c'est un village tranquille - et surtout, cette propriété était vraiment bon marché et très confortable!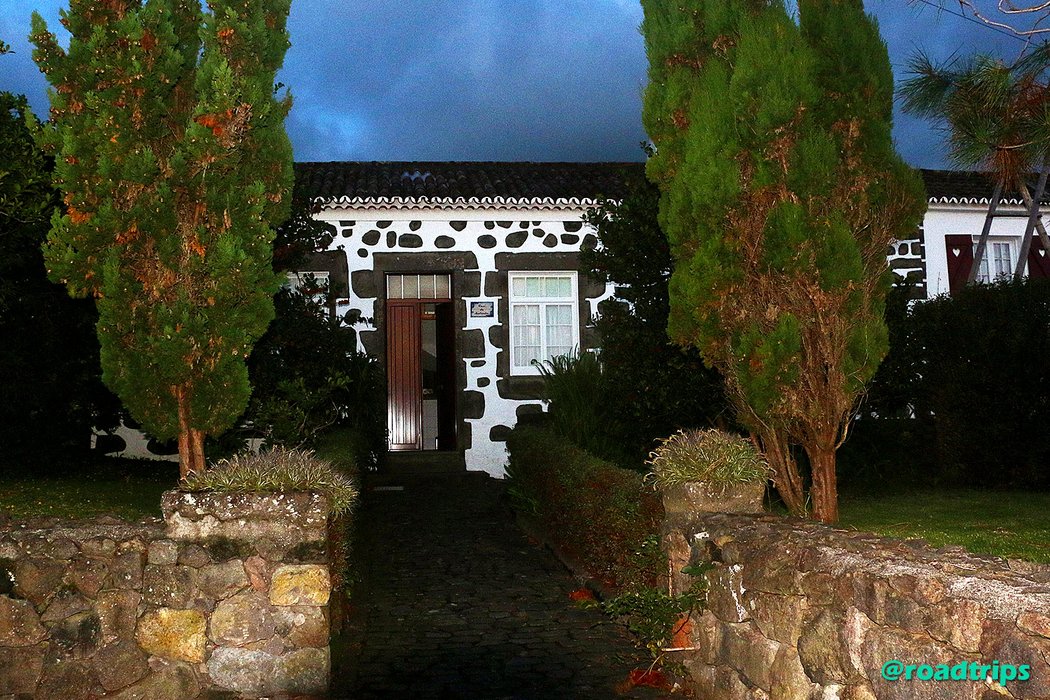 Une maison entièrement pour nous
Après cette journée culinaire assez impressionnante (1er: Ananas d'Europe! ; 2ème: thé vert et noir d'Europe!) nous terminons notre soirée avec des patates douces cultivées aux Açores.
Et comme nous apprécions vraiment la bonne mangeaille en vacances, voici encore une photo, cette fois-ci du petit-déjeuner du lendemain.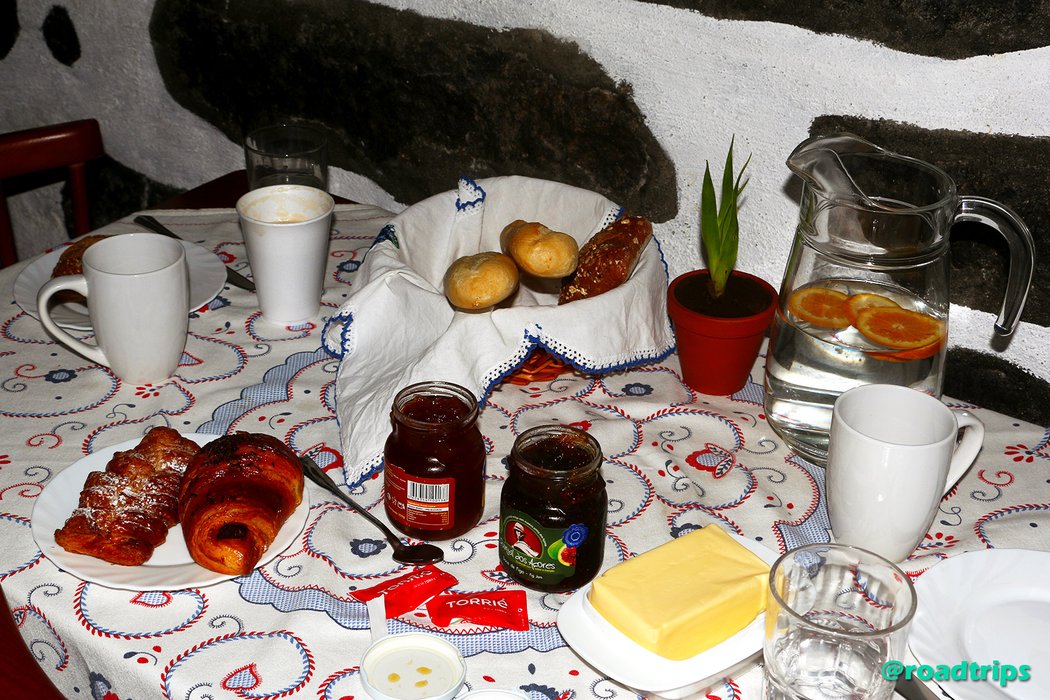 Et encore une fois, quelque chose de délicieux!
Nous avons particulièrement apprécié la confiture d'ananas - il vaut vraiment la goûter! ;-) Mais maintenant, on a assez parlé de nourriture - aujourd'hui, nous avons à nouveau une belle randonnée sur le programme! Après le petit-déjeuner, nous montons dans la voiture et passons par la EN1-1A pour arriver à Faial da Terra. En route, nous nous arrêtons sur un petit parking pour avoir une belle vue sur la côte. Nous marchons quelques mètres (sans trop attendre) et nous retrouvons soudainement dans un parc magnifique!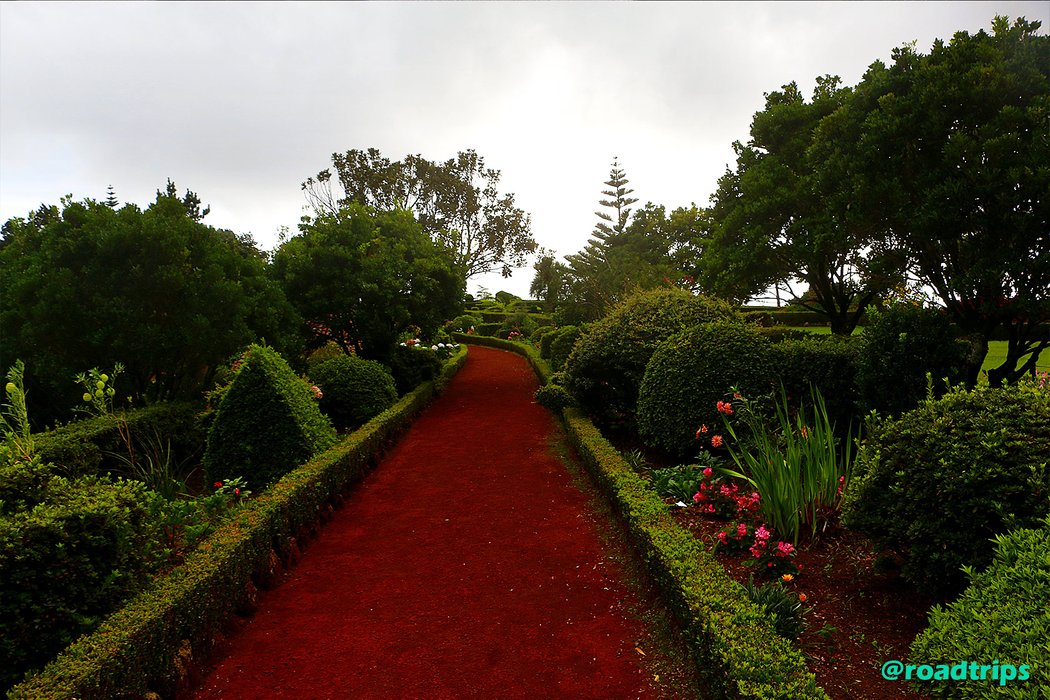 Parc magnifiquement entretenu au bord de la route
Nous marchons sur de jolis chemins es sommes assez étonnés – nous n'aurions jamais pensé trouver un endroit aussi agréable à l'extrémité nord-est de la petite île. Et puis, sans prévenir – POUF! Un petit chaton nous saute dessus, sortant d'un buisson, et nous accueille avec beaucoup de miaou. Sa fourrure blanche et ses yeux bleu-océan nous attirent (d'accord, surtout moi, la fille), et nous jouons avec la petite boule de laine et la caressons. Notre petite amie nous accompagne et explore le parc avec nous.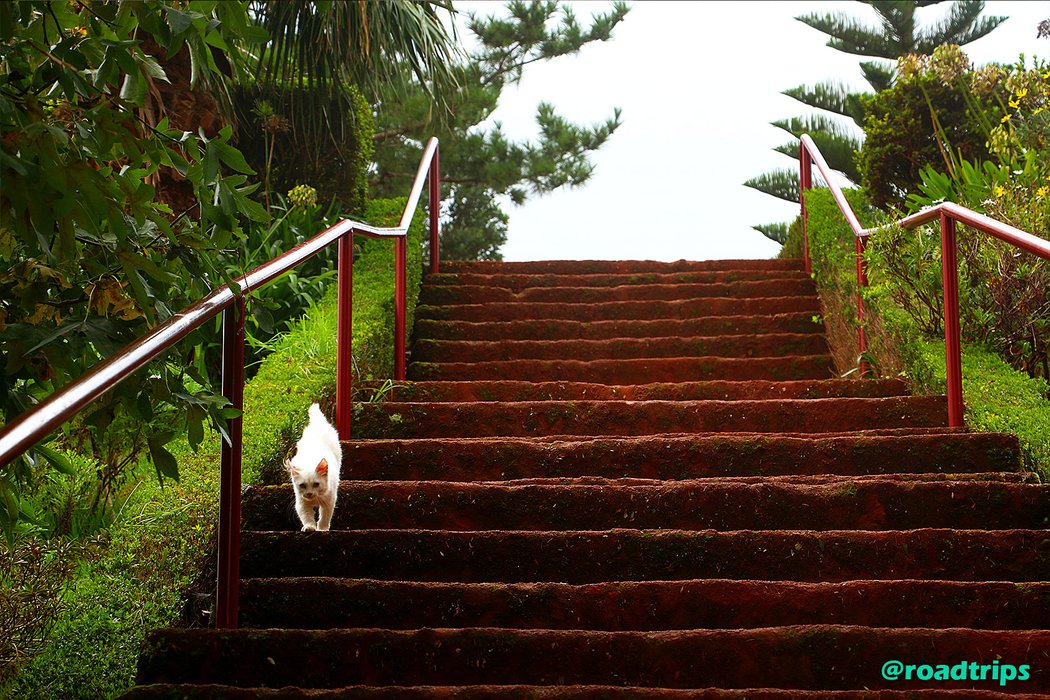 Un compagnon lors de la visite du parc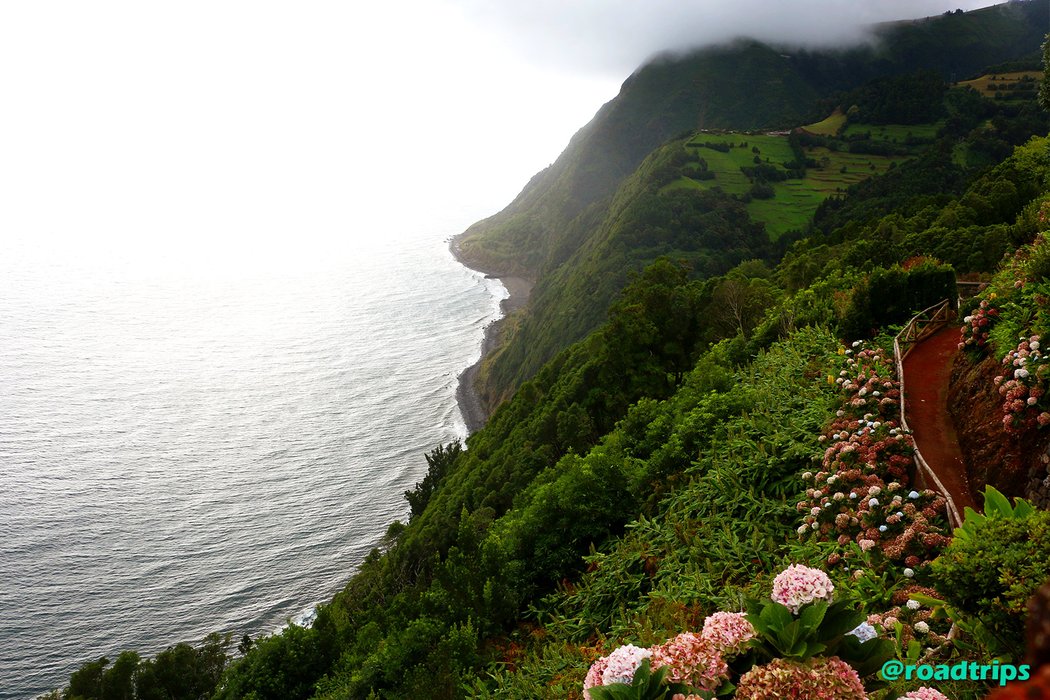 Vue magnifique sur l'Atlantique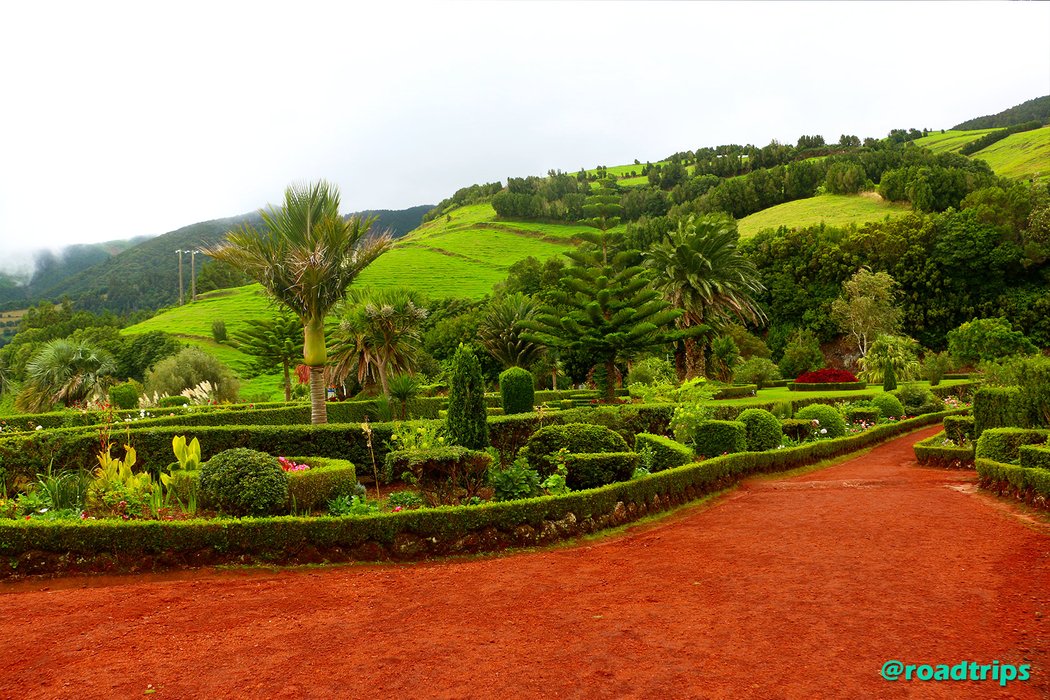 Sentiers bien entretenus et beaux jardins
Comme toujours, il n'y a personne et surtout pas de touristes. Bon, après tout, nous sommes à l'extrémité nord-est de l'île. Il n'y a certainement pas beaucoup de voyageurs qui viennent ici.
Très satisfaits, nous remontons dans notre petite voiture n° 4 et continuons en direction de notre destination, Faial da Terra. Malheureusement, nous devons laisser le petit chaton derrière nous, même s'il semble qu'il aurait aimé monter dans la voiture avec nous.
Si vous voulez savoir plus de notre randonnée à la belle cascade, vous devez attendre le prochain post ;-) Cette visite spontanée du parc a volé la vedette à cette randonnée prévue!
L'essentiel:
Nordeste - un peu à l'écart, mais très calme et pas cher
Notre accommodation: Casa da Madrinha
Si vous avez le temps: petit arrêt au point de vue Ponta da Madrugada
PS: si vous y allez, n'oubliez pas de saluer le chaton de notre part ;-)