Our flight to the next island only leaves in the forenoon, so that we can drive to this magnificent viewpoint in the morning before giving back our rental car at the airport.
It is difficult for us to say goodbye to this great island. And yet, we are also looking forward to our next stop: Pico!
Again, we fly with a small propeller plane over the Atlantic. Since there is no direct flight from Flores to Pico, we land on the proximate island Faial and continue by ferry. More specifically, we land in Horta, a beautiful port city.
From the airport, we have a 20 minutes' drive to the port of Horta. Fail of the day: we didn't inform ourselves properly and get off at the Marina da Horta - the old port instead of the new!
Result: 2 kilometers walk along the harbor promenade, suitcases in tow. Actually, it was not that bad because thus, we could inspect the pretty cafes on the roadside ;-)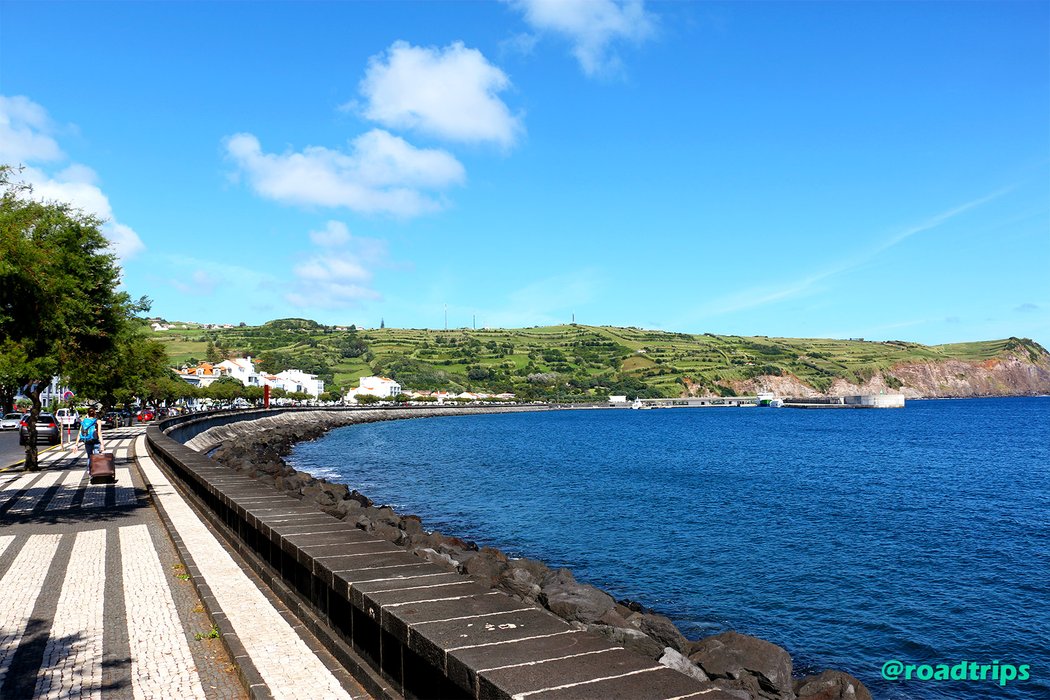 Pulling suitcases on the promenade
And we also had a great view to the island of Pico!
Of course, we want to adapt to the locals immediately and thus decide to have a small Galão -break in the sun ;-) (at Café Iceberg, highly recommended)
The ferry to Madalena takes about 50 minutes and is great: Chilling in the sun and having a nice view of the island and the small town in front of you.
The view to the peak of the Ponta do Pico is clear and the mountain that actually is the highest of Portugal stands majestically out of the Atlantic Ocean.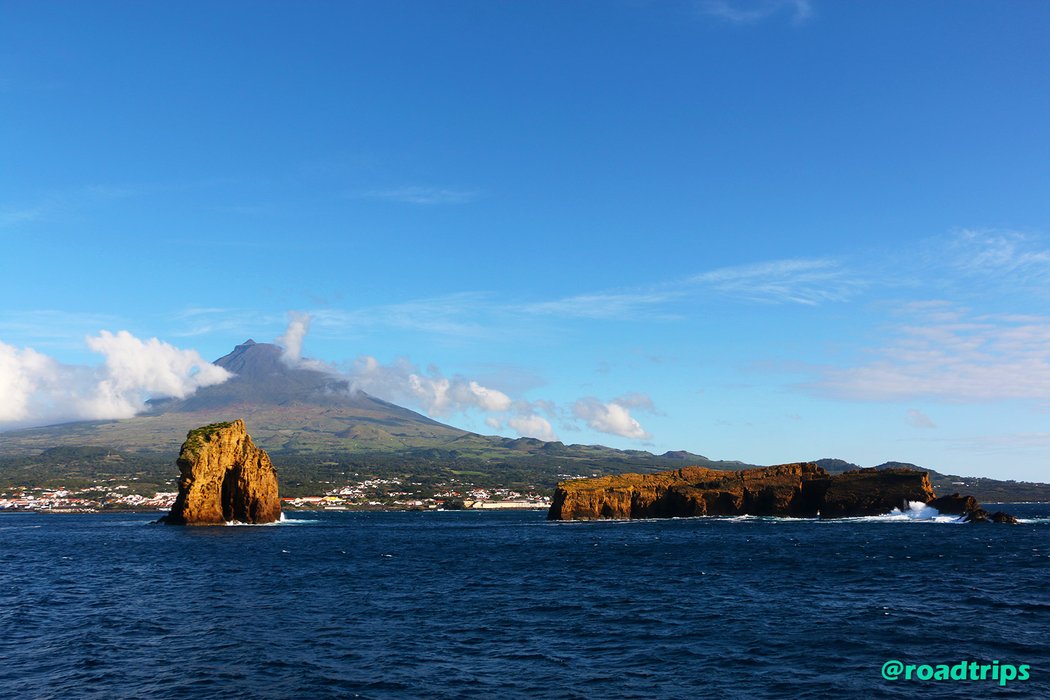 The mighty mountain of the island
Unfortunately, we are unlucky again - we don't see any dolphins who usually like to swim behind the ferry!
At the port of Madalena, we pick up our hopper #2 and drive to the nearby accommodation. In the evening, we make mini pizzas and tuna salad - simple, but delicious ;-)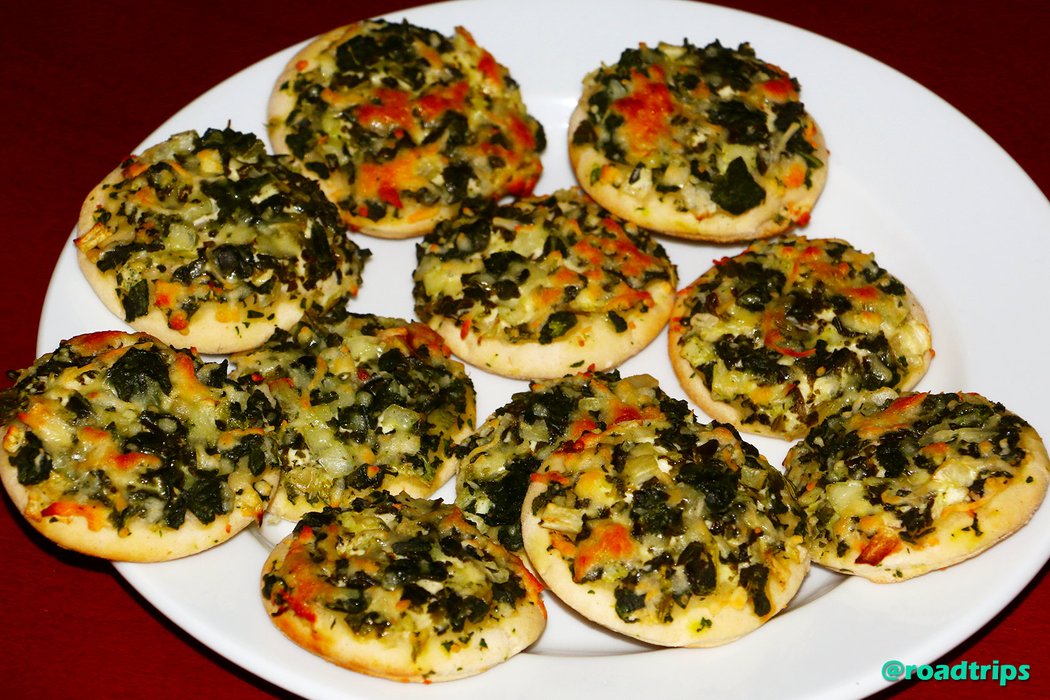 Small evening snack in the new accommodation
The essentials:
There are no direct flights from Santa Cruz to Madalena
Recommandation: Santa Cruz - Horta - Madalena
Bus to the port: 20 minutes (Attention, do not get off at the old port)
German (same post)
Bye, bye Flores – Pico, wir kommen!
Unser Flug zur nächsten Insel geht erst vormittags, sodass wir morgens noch einen kleinen Abstecher zu diesem wundervollen Aussichtspunkt machen, bevor wir unseren Mietwagen am Flughafen abgeben.
Es fällt uns schwer, Abschied von dieser tollen Insel zu nehmen. Und dennoch freuen wir uns auch riesig auf unseren nächsten Stopp: Pico!
Wieder fliegen wir mit einem kleinen Propellerflieger über den Atlantik. Da es keinen Direktflug von Flores nach Pico gibt, landen wir auf deren Nachbarinsel Insel Faial und reisen mit der Fähre weiter. Genauer genommen landen wir in Horta, einer wunderschönen Hafenstadt.
So tuckern wir vom Flughafen aus erst einmal circa 20 Minuten mit einem Bus zum Hafen von Horta. Blöd nur, dass wir uns nicht genauer informiert haben, und schon an der Marina da Horta aussteigen – dem alten Hafen! Ergebnis: 2 Kilometer an der Hafenpromenade entlanglaufen, Koffer im Schlepptau. So schlimm war es aber gar nicht, so konnten wir die hübschen Cafés am Straßenrand begutachten ;-)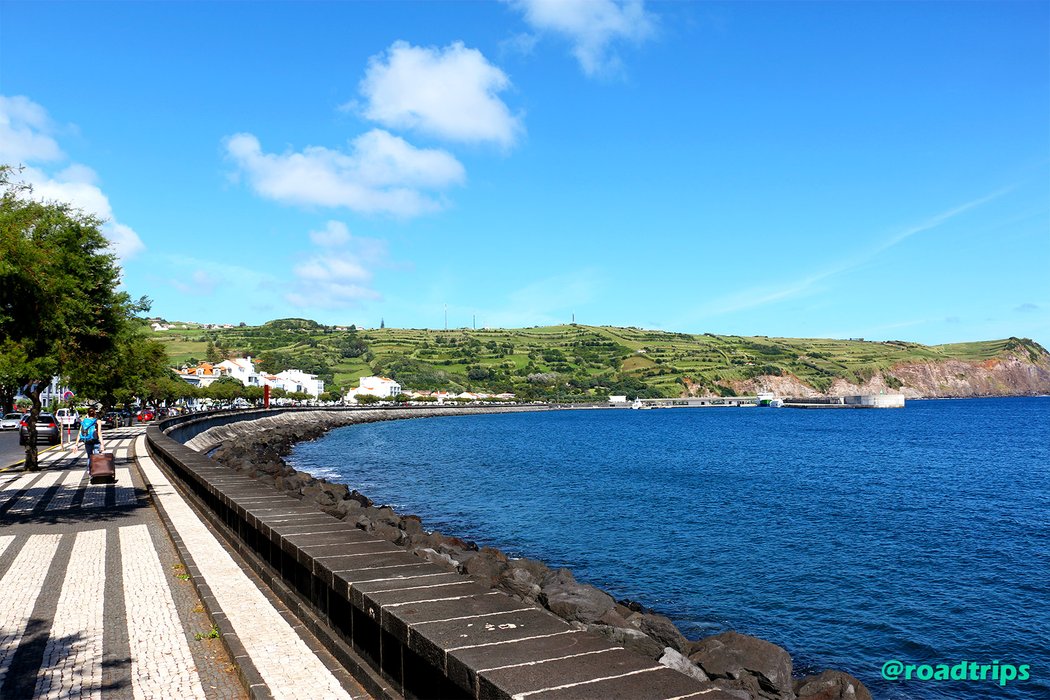 Koffer ziehen an der Promenade
Und hatten zudem eine tolle Aussicht auf die Insel Pico!
Natürlich wollen wir uns sofort den Einheimischen anpassen und entscheiden uns somit schnell für eine kleine Galão-Pause am Hafen. (Café Iceberg, sehr zu empfehlen)
Die Fahrt mit der Fähre dauert circa 50 Minuten und ist spitze. Wir nähern uns Stück für Stück der kleinen Hafenstadt Madalena.
Die Spitze des Ponta do Pico, der höchste Berg Portugals, ist bestens zu sehen und ragt majestätisch aus dem Atlantik.
Leider haben wir wieder Pech – wir sehen keine Delfine, die normalerweise gerne der Fähre hinterherschwimmen!
Am Hafen von Madalena abgekommen, holen wir unsern Hopser#2 ab und fahren zur nahe gelegenen Unterkunft. Abends gibt es Minipizzen aus dem Ofen und Thunfischsalat – einfach, aber lecker ;-)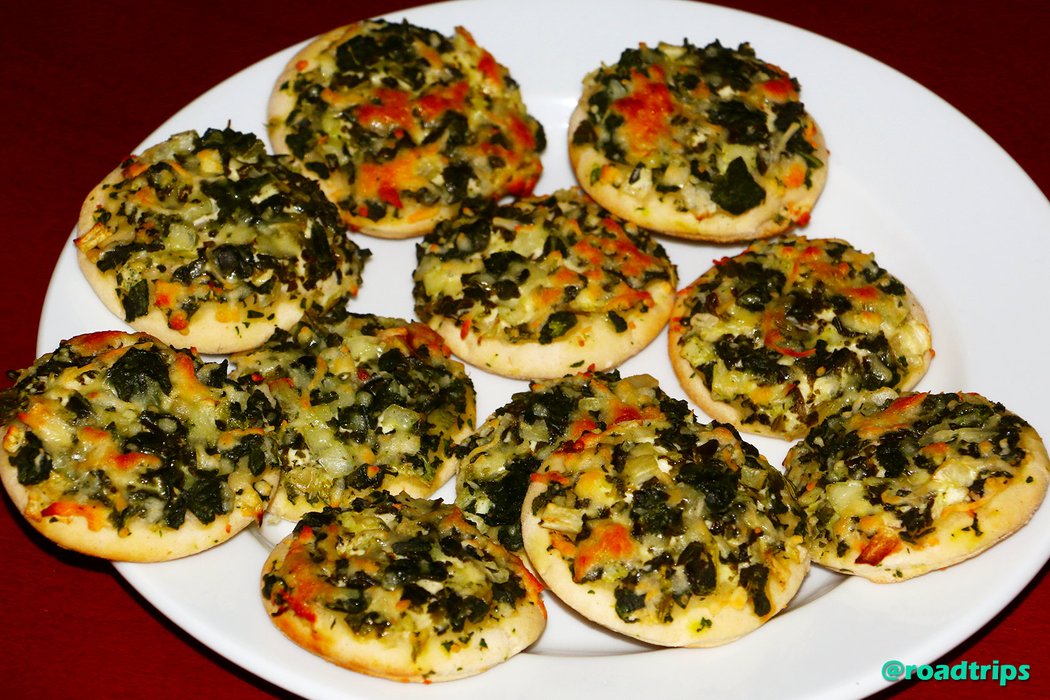 Kleiner Abendsnack in der neuen Unterkunft
Das Wichtigste in Kürze:
Es gibt keine Direktflüge Santa Cruz – Madalena
Empfehlung: Santa Cruz – Horta – Madalena
Bus zum Hafen: 20 Minuten (Achtung, nicht am alten Hafen aussteigen)
French (same post)
Au revoir, Flores - Pico, nous voilà!
Le jour de départ pour la prochaine île, nous avons encore le temps de passer à ce point de vue magnifique !
Il est difficile de dire au revoir à cette île grandiose. Et pourtant, nous attendons avec impatience notre prochain arrêt: Pico!
Encore une fois, nous volons avec un petit avion à hélice au-dessus de l'Atlantique. Comme il n'y a pas de vol direct de Flores à Pico, nous atterrirons sur l'île voisine de Faial et continuerons en ferry. Plus précisément, nous atterrissons à Horta, une belle ville portuaire.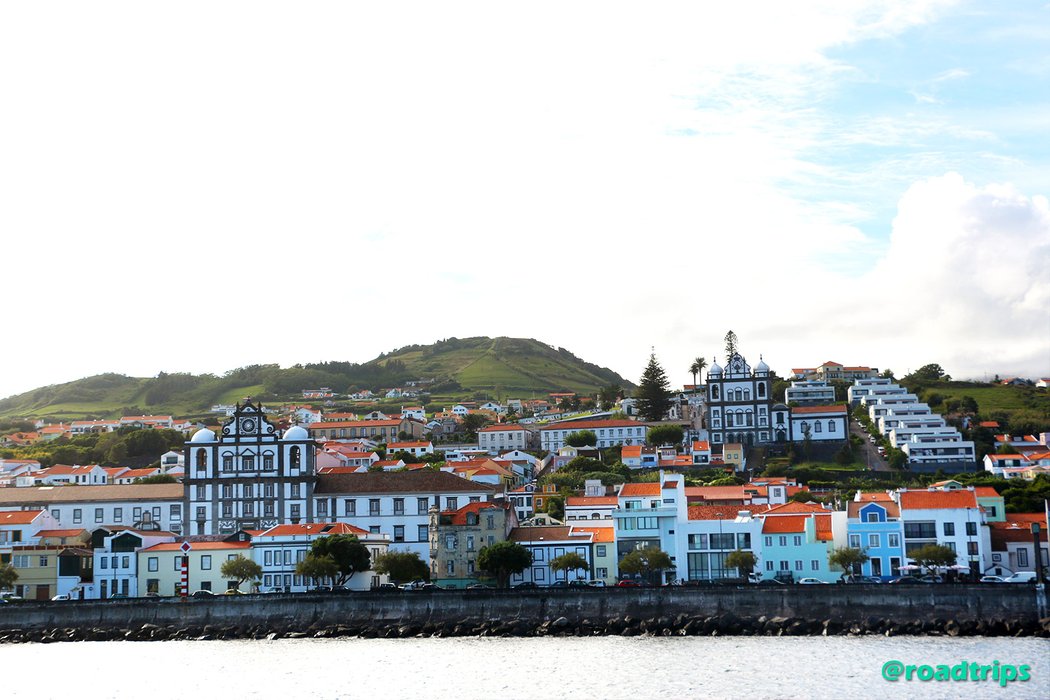 Horta, une petite ville portuaire
De l'aéroport, nous prenons un bus (environ 20 minutes) pour arriver au port de Horta. Par contre, nous ne sommes pas assez bien informé et sommes sortis au *Marina da Horta * - le vieux port! Résultat: 2 kilomètres de marche le long du port et tirant les valises. Ce n'était pas si mal, au fait, parce que du coup, on a pu inspecter les jolis cafés au bord de la route ;-)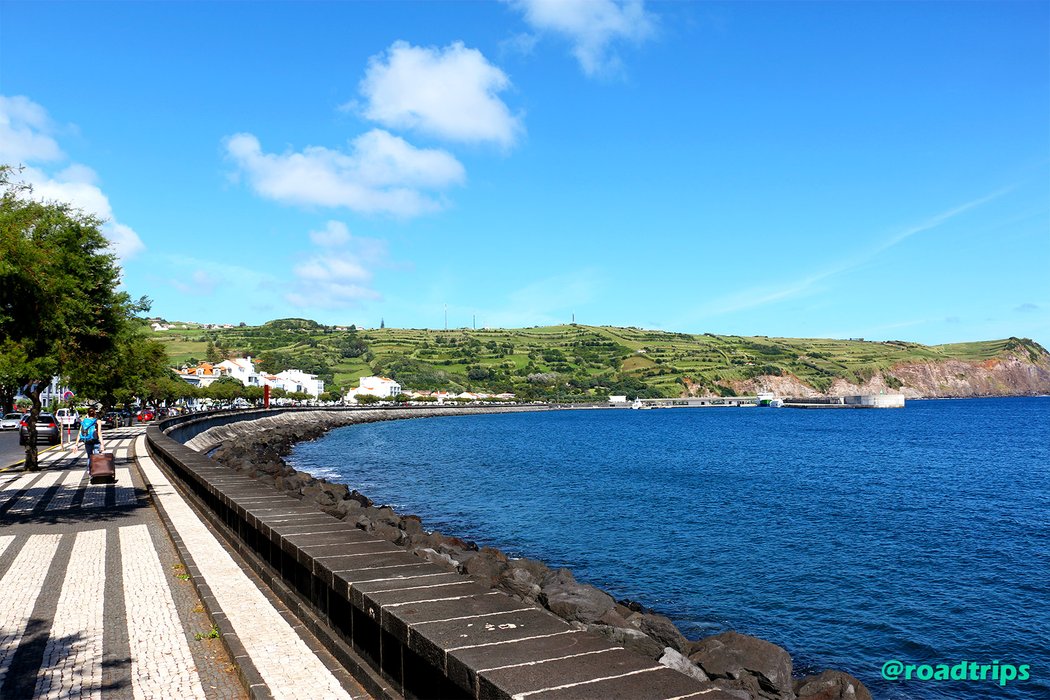 Tirant les valises sur la promenade
En plus, nous avions une vue magnifique sur l'île de Pico!
Bien sûr, nous voulons nous adapter immédiatement aux habitants de l'île, donc, on fait une petite pause Galão au soleil ;-) (Café Iceberg, fortement recommandé)
Le trajet en ferry dure environ 50 minutes et est génial. On a une très belle vue sur Pico et la petite ville de Madalena.
Le sommet de la Ponta do Pico est dégagé et la montagne (c'est la plus haute du Portugal !) se dresse majestueusement hors de l'océan Atlantique.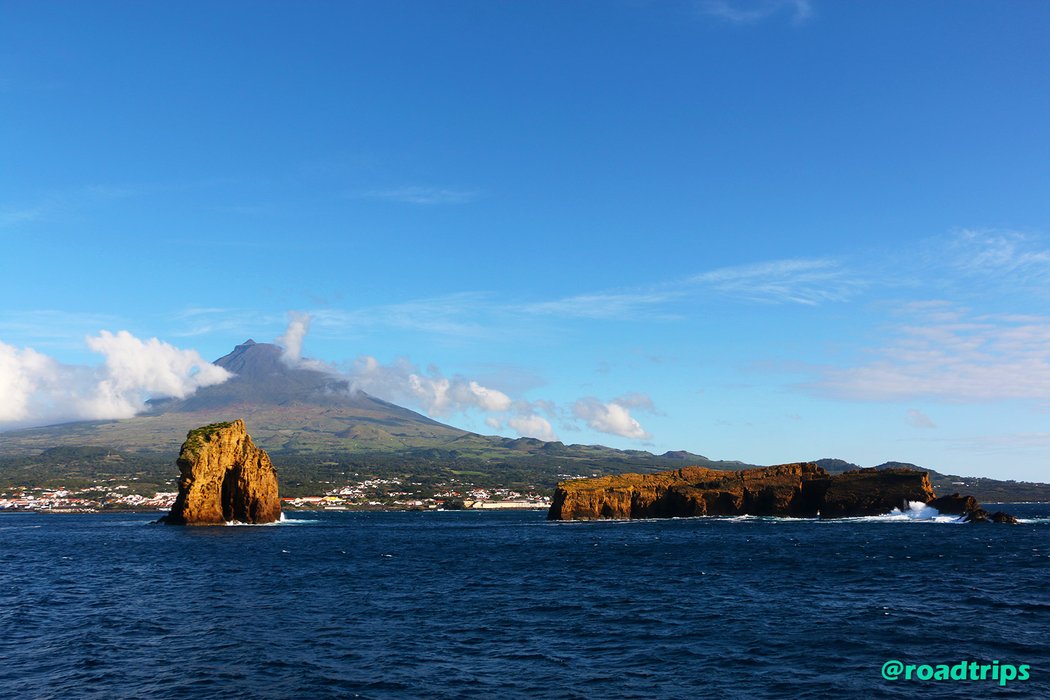 La puissante montagne de l'île
Malheureusement, nous sommes encore malchanceux - nous ne voyons pas de dauphins, qui, normalement, aiment nager derrière les ferries!
Au port de Madalena, nous récupérons notre petite voiture de location n° 2 et conduisons à l'hôtel qui se situe à 5 minutes du port. Le soir, on mange des mini-pizzas et de la salade de thon - simples mais délicieux ;-)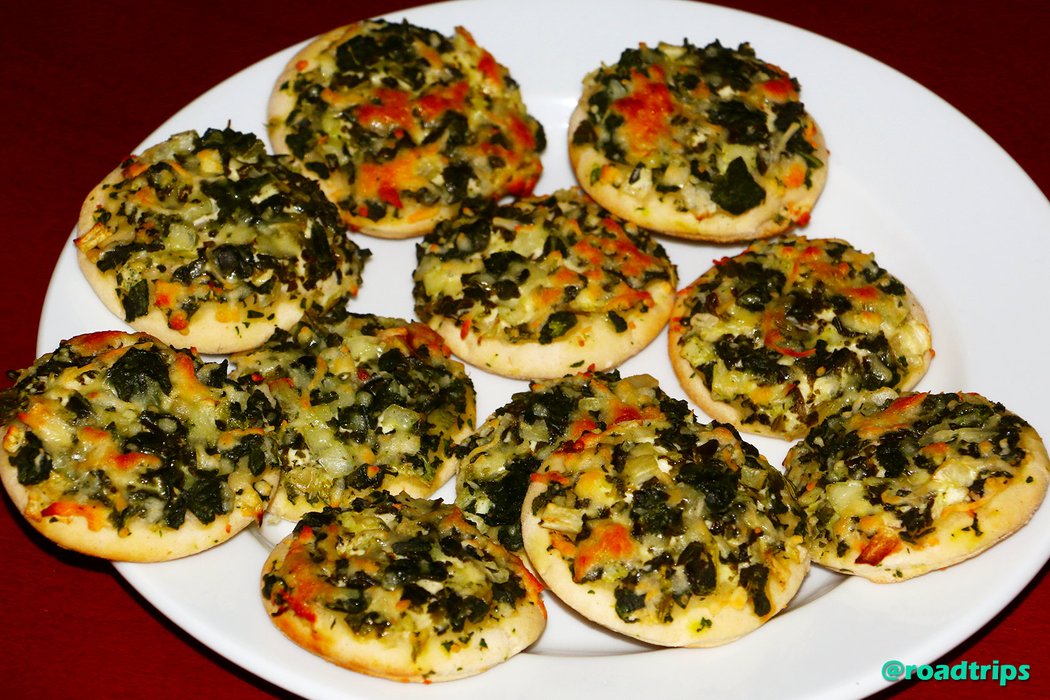 Petit snack en soirée dans le nouvel hébergement
L'essentiel :
Il n'y a pas de vols directs Santa Cruz – Madalena
Nous vous recommandons: Santa Cruz – Horta – Madalena
Bus pour arriver au port: 20 minutes environ (attention, ne pas descendre à l'ancien port!)