I had initially been planning a 3-night 4-day bike camping trip after looking up the locations of free campgrounds in Western New York. Many state forests allow camping. Some have designated campsites while others just let you camp throughout the park, with some restrictions. Free camping is going to mostly be primitive wilderness camping with no running water or bathrooms. So you need to bring plenty of water, especially when arriving by bicycle.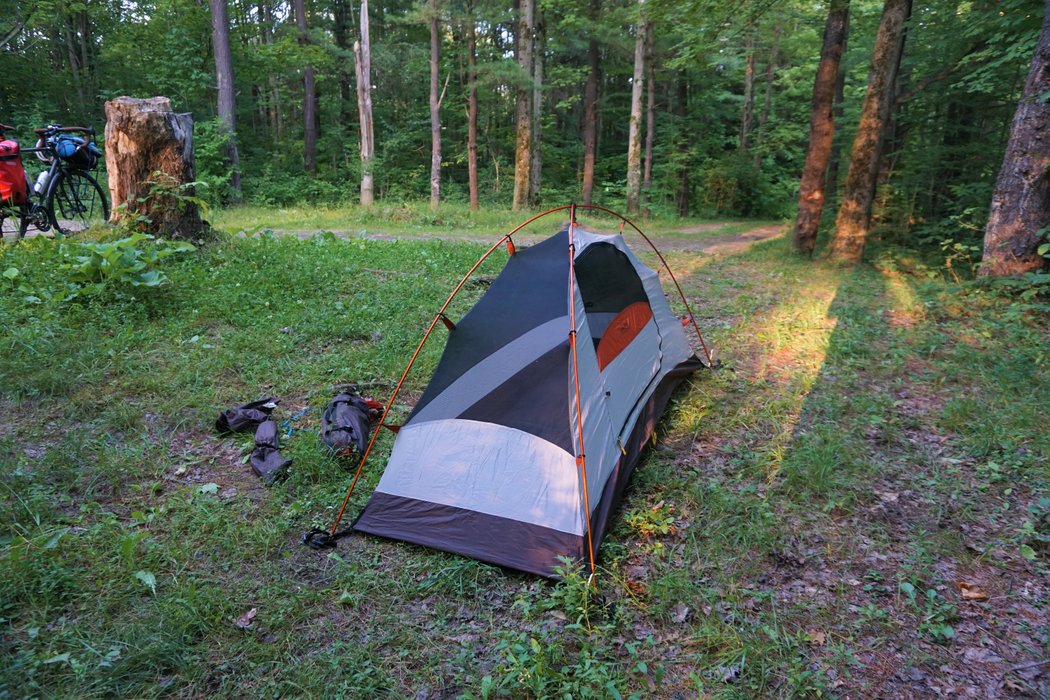 I decided to cut one of the campsites out as it quite a distance to travel in the hills. The route I initially planned was about 70-75 km a day, but we ended up making some changes in destinations. I'm glad we did as this ended up being a lot of fun, and still a challenge.
I ran into my friend Daniel at a 4th of July party last week. When I told him about the ride he said he would join me. I put out a post on Facebook as well but it ended up being the two of us. That's perfect anyway. I am much less experienced and often couldn't keep up. It would have been worse if there was a large group.
The destination for the first night was East Otto State Forest. Now, as you can see by the elevation below, it is almost entirely flat where I live, which is the start of the ride. Once the elevation started to change, it was up and up and up. Then it eventually started getting into hills I came ill prepared for, being used to biking around flat Buffalo. But I persevered, switching into low gears, and getting off to push if I had to. Now, I know this looks like nothing compared to what I see on other blogs, but I'm new to hills.
We stopped for a late lunch at Fiesta Bamba after getting about 3/4 of the way there. We left early enough in the day so we had plenty of time for breaks. This place had great cheap Mexican food and even allowed us to order lunch specials despite being too late for lunch deals. This gave us time to watch the football match, seeing France beat Belgium to go to the World Cup final. Alright I don't care about this or any sports that much but Daniel loves football so I'm happy to take a break from riding. It was a good game actually.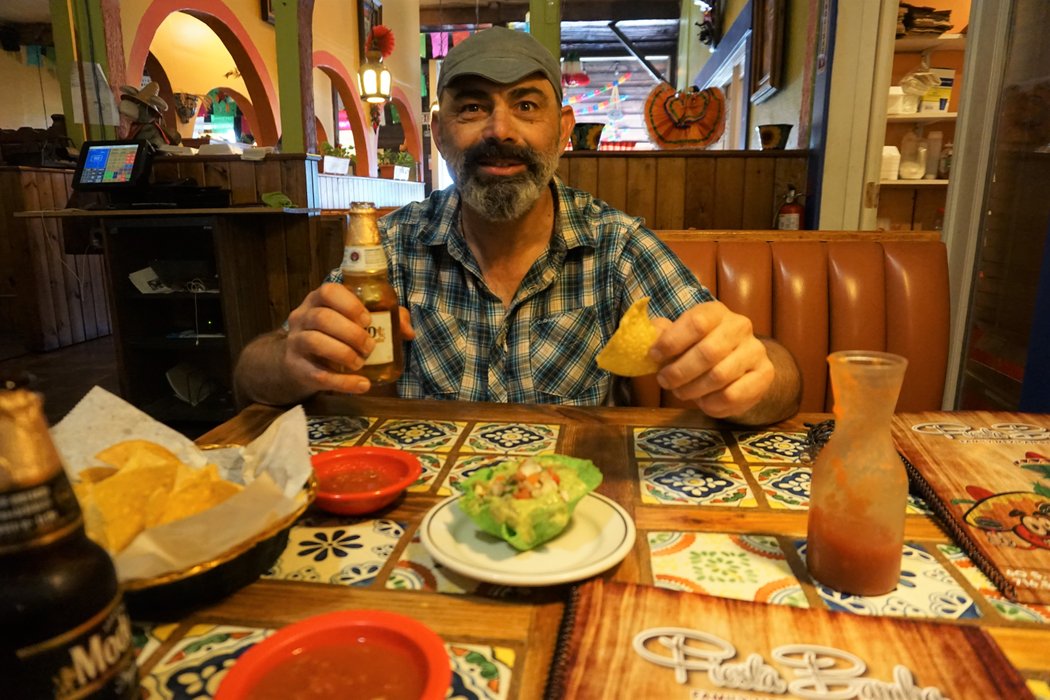 Feeling replenished we decided to go for a swim at the Scoby Dam. Now it wasn't really out of the way, maybe a half mile. But that was a half mile down a steep hill, which meant we would have to get back up the hill after swimming. The water was deep in front of the falls, but it was easy to get up on the rocks and slide back to the waterfall for a back massage. Of course we also both got hit by fish coming over the falls! If you are going to East Otto and want to swim, it's worth stopping here as the ponds in East Otto aren't anything you want to take a dip in. I'm warning you about how hard it is to get back up that hill though.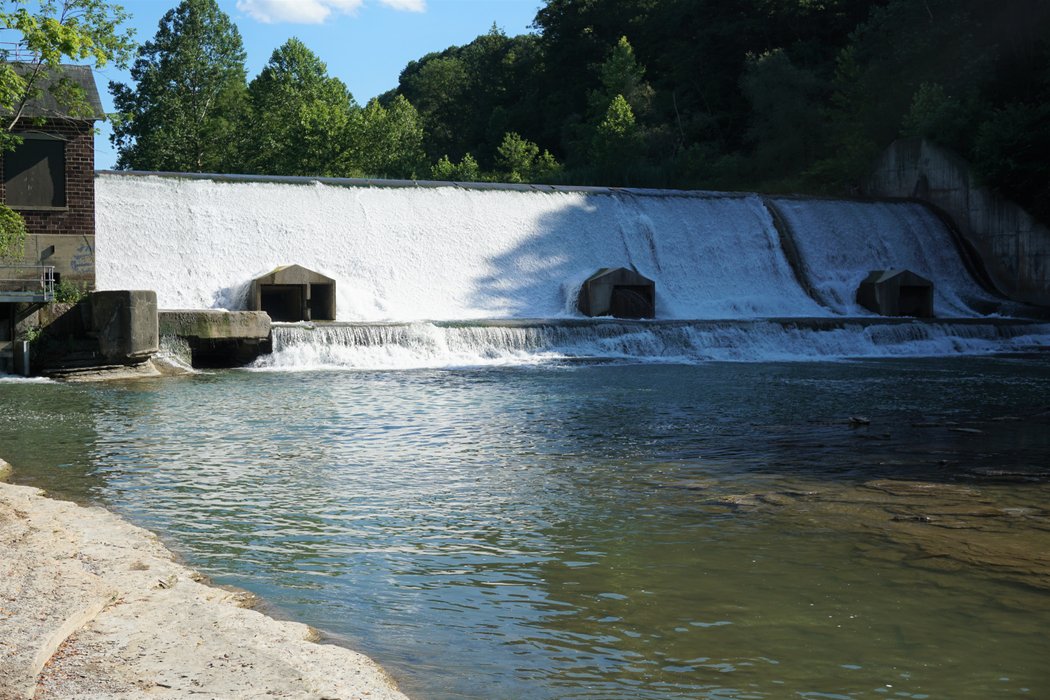 We came across this interestingly named antique shop that was not open. Even if I can't buy anything, I still like to look at shops like this.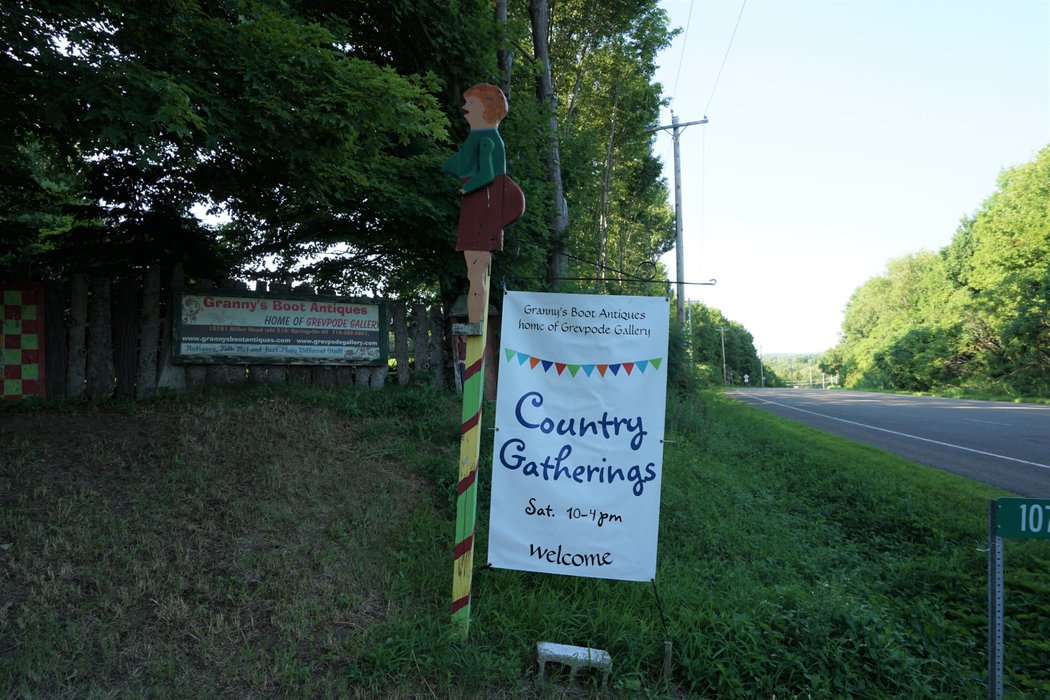 After some more hills, we realized there weren't going to be any stores around. We saw a small farm stand and bought some blueberries. The guy was kind enough to let us fill our water bottles with his hose. We finally arrived at East Otto Forest. Google Maps worked and brought us right to the campgrounds. There are about 6-7 sites so I'm glad we rode on a weekday. I didn't want to go on the weekend because I was worried that all the spots would be taken by locals partying in the woods. Only one other site was taken when we arrived and one more person was set up when we left in the morning. They were in cars, not on bikes.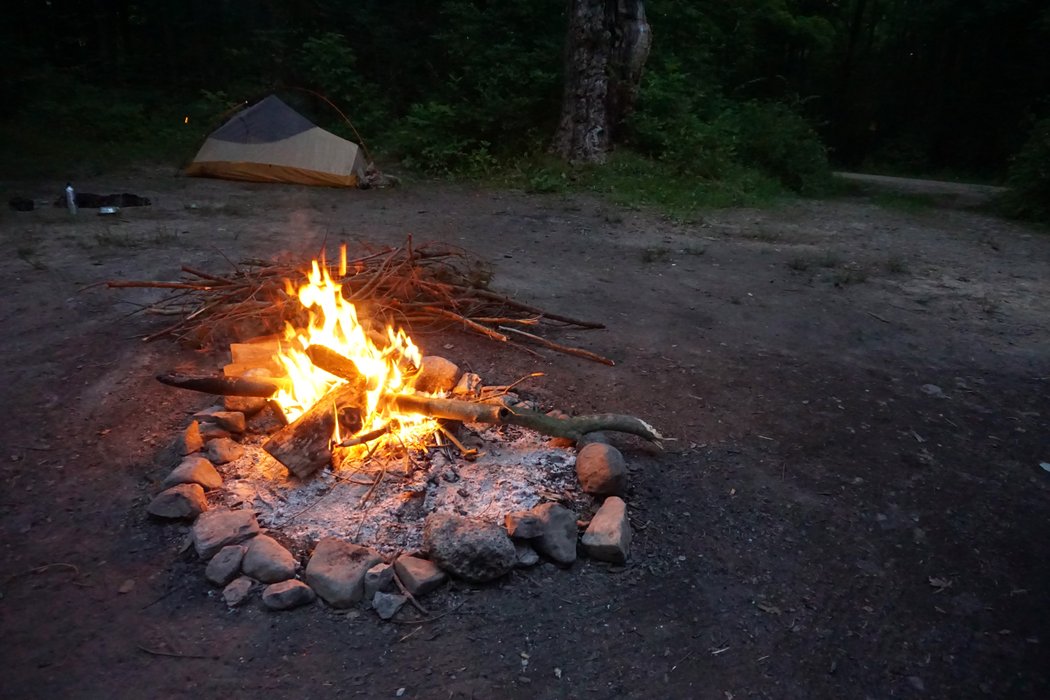 I think I finally understand something about the importance of weight when bicycle touring. I packed way too much, especially for a 3-day outing. To be fair, I was using this as a practice run for a larger tour and so packed stuff to see if I could handle it all on a longer trip. I obviously didn't need my solar panel for just 2 nights, but I still would bring it if going for a week or more. The only thing I didn't bring, that I was planning to have on a longer tour, is my Surface Pro. I bought this instead of a larger laptop because I thought it would be small enough and light enough for bike camping. I want to do these blog posts from the road. I'm not sure if a keyboard and a phone would work.
I think I will ditch the u-lock. This is a hard one as I'm so conditioned to never relying on a cable lock. Bikes get stolen everyday where I live and the majority aren't locked up adequately. However, when I'm all loaded up I have to use a cable anyway just to reach whatever I'm locking up to. Perhaps I could just carry a cable lock and a kevlar Ottolock Cinch Lock for when I lock up without my bags. I'm thinking the cinch lock would be useful if I'm staying at a house and want to go out somewhere.
I also stupidly brought two stoves. I love my wood stove but bought a gas stove recently, which might be easier to use. I just thought the wood stove could be a backup if I ran out of fuel, but I will leave it behind next time. I also have way too much cooking wear. I don't need two mess kits. I can take the cup from one and ditch the rest of it.
I brought Chacos sandals so I can get out of my shoes and also have something to pedal in if it rains. I bought these just for such a situation but these are way too heavy. I'll need a lighter alternative.
My riding partner had great advice. If I can't fit everything in my bags, I have too much stuff. I had my tent and sleeping bag on the outside with an additional waterproof cover if it rained. I can ditch stuff to fit these in my bags instead.