Day Ten: Ladies and Gentlemen, we interrupt our regularly scheduled program to bring you a commercial break. Today, we are going to share with you the wonderful home / source of the amazing product from goats which has been so beneficial to me since recovering my health in 2009.
Redwood Hill Farms describes themselves as "Crafting Artisan Goat Milk Dairy Since 1968"
Wow! Fifty years in this business!! Think they probably know what they are doing? No doubt about that!

Photo: Wonderful Goats of Redwood Hill Farms
I first wrote about them on the Steem blockchain in my Survival Tale: My Battle with Intestinal Infection post dedicated to @helpie acquaintance @daan and his full recovery from his own battle with an intestinal infection. In that post, I described how important drinking goat kefir was to the full recovery of my health.
I knew if I ever had the opportunity, I wanted to visit Redwood Hill Farms and tell them how much I appreciate what they do. Today was that day!
So ... What did I find?

Redwood Hill Farms
As mentioned above, Redwood Hill Farms was started in 1968. It originated as the founding Bice family's dream of going "back to the land." If you like that vision, you will enjoy reading more about it on their website.
I know we have an active homesteading community on the Steem blockchain and I imagine Steemians like @rawutah will find some ideas they may want to try.
Note: While I haven't had the opportunity to get to know him well yet, I have been impressed with what I have read of @rawutah's posts about his family's similar efforts in southwestern Utah. I would encourage you to check into them and see if he is someone you would like to follow!
As excited as I was to be able to visit this place, I was saddened to subsequently learn on their website they do not have their farm tours in the winter. 😞
I had come a long way, so undeterred I went out there anyway! 😉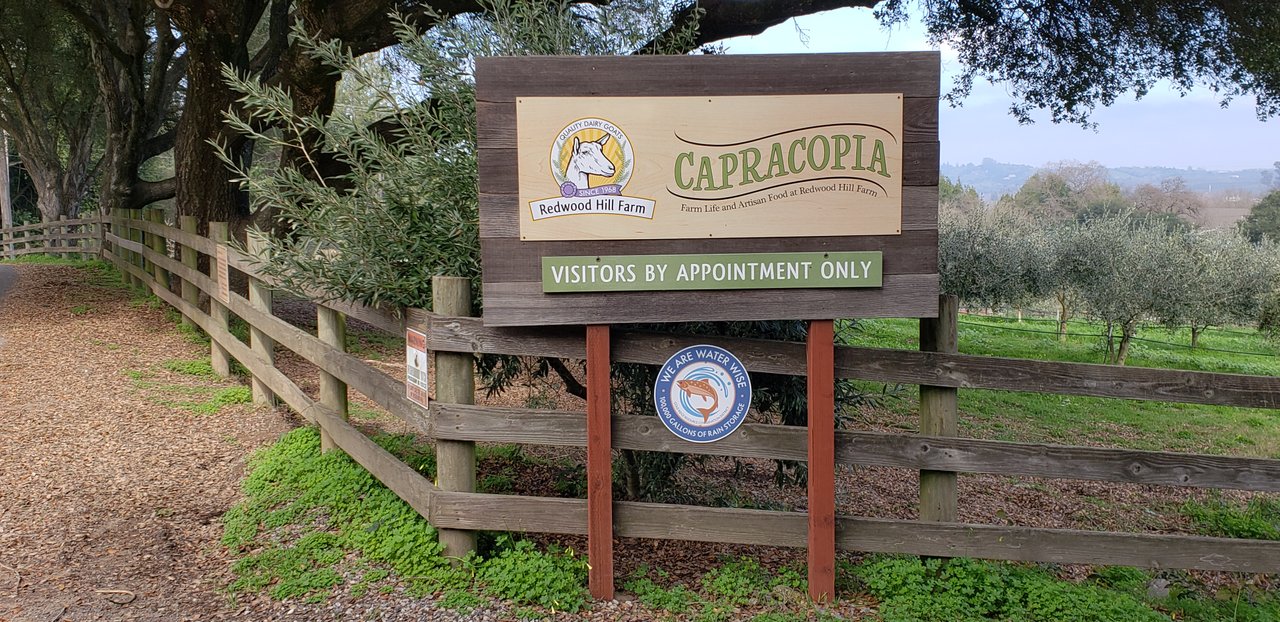 Photo: Entrance to Redwood Hill Farms
Several miles out in Sonoma County, NW of Sebastopol, you end up on Thomas Road - a narrow road that is almost a lane, by the time you get to the farm.
Once there, notice these signs reference to one of Redwood Hill Farms sustainability initiatives - catching and reusing rain water, to avoid having to pump any more than necessary in the dry season, to meet their needs. That small circular sign at the bottom references storing 10,000 gallons of rain water!
Another sustainability initiative of the firm is powering their operation with 100% renewable energy - which includes two acres of solar panels on their roofs!
Since this post is about their goats, I would like to particularly draw your attention to their focus on humane treatment and care for their beloved goat herd. You can't help but be impressed.
Driving on up into the yard (taking my chances they would be friendly to me, even without an appointment, if they were friendly to their goats ... 😉), I explained the purpose for my visit, as well as the importance of it to me.
I was warmly accepted by one of the workers there to look around, so I could get the following shots: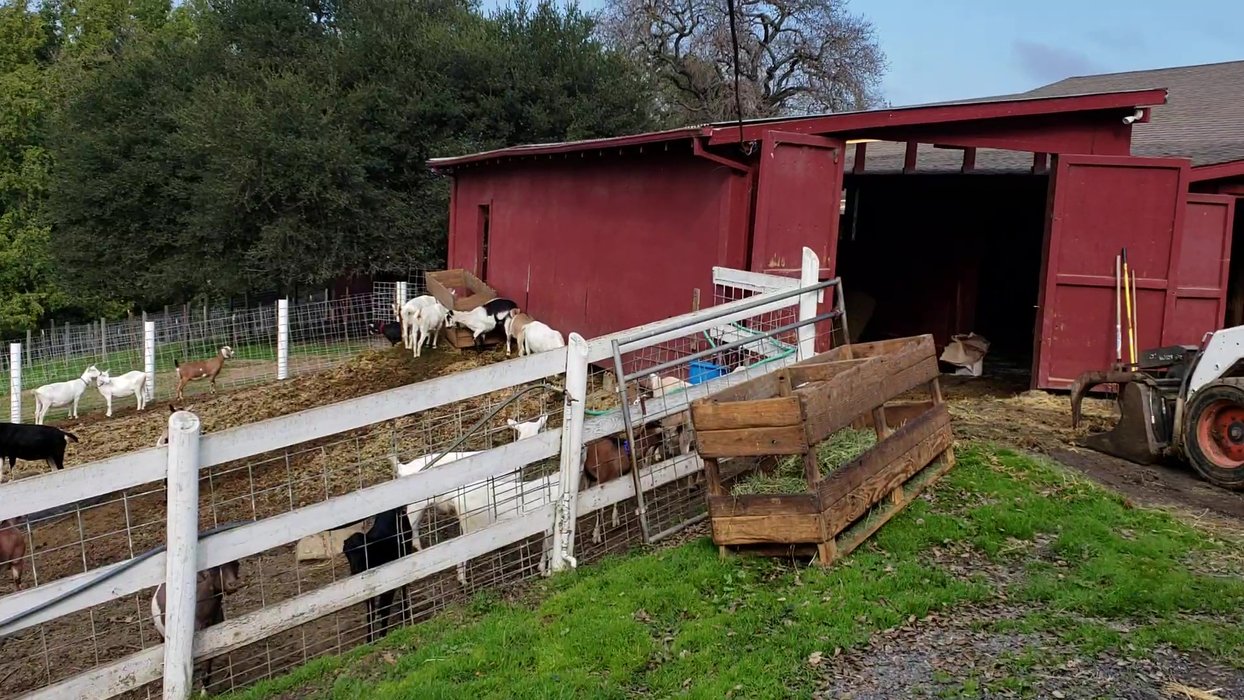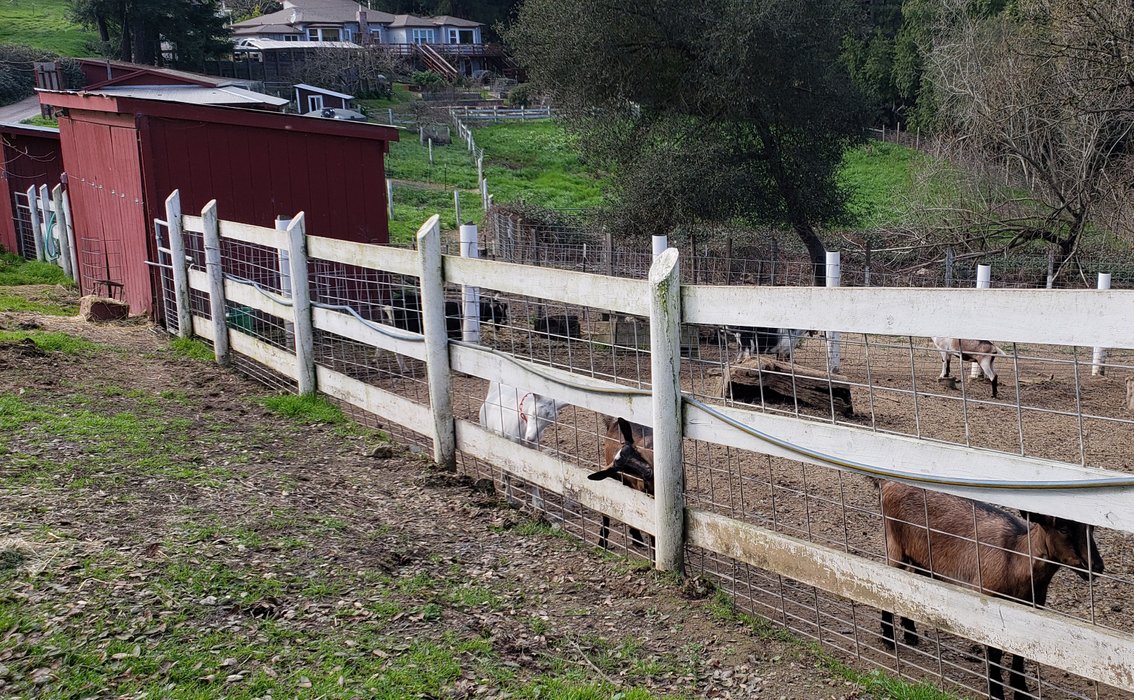 Photos: Goat Pen Setting
There are a number of goat farms associated with Redwood Hill Farms in this area. I was able to visit this one, just down the lane from their sign, shown above.
They have many different types of goats - primarily Alpine, LaMancha, Nubian, and Saanen goats, breeds known for being well suited to milk production.
So, what do they look like?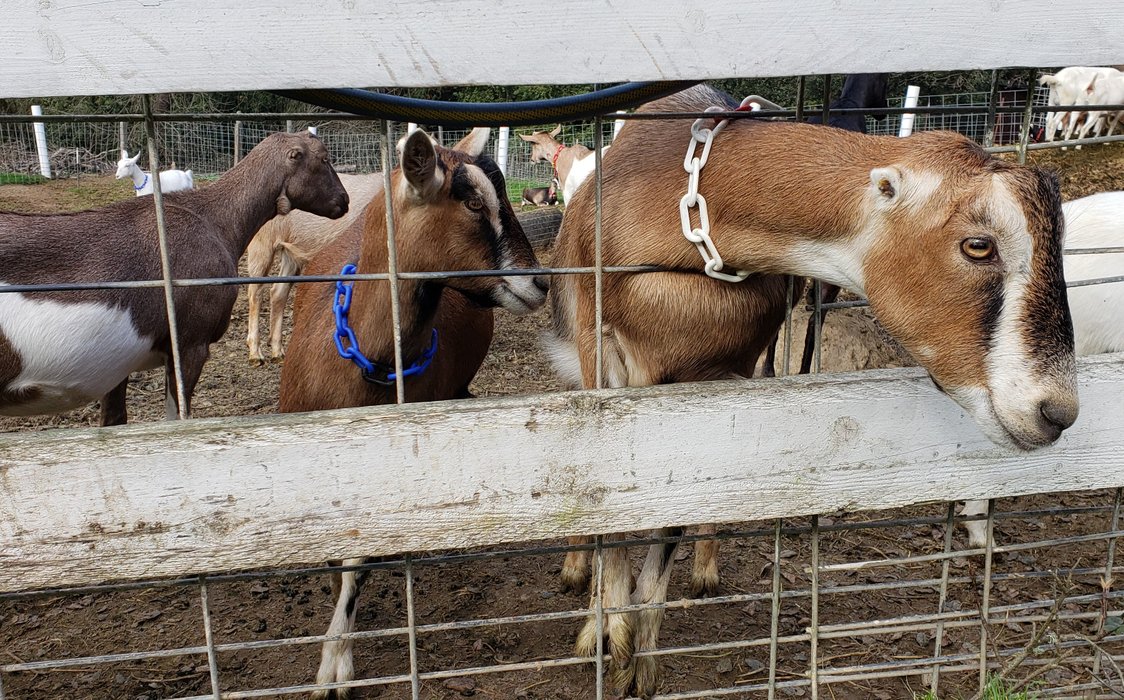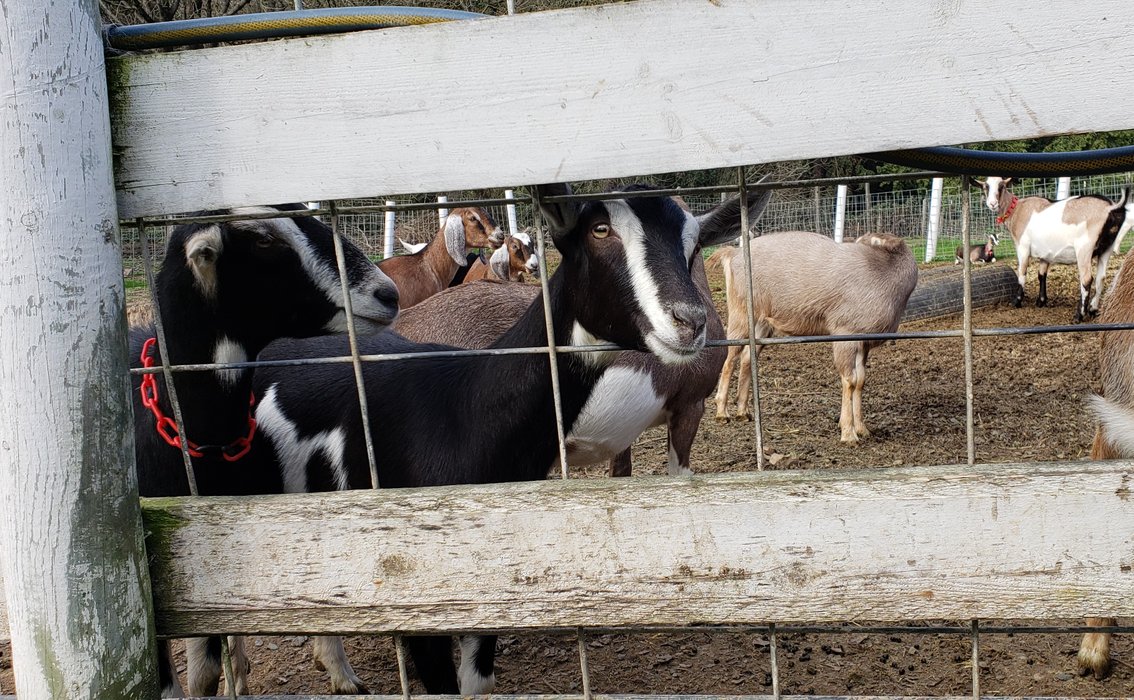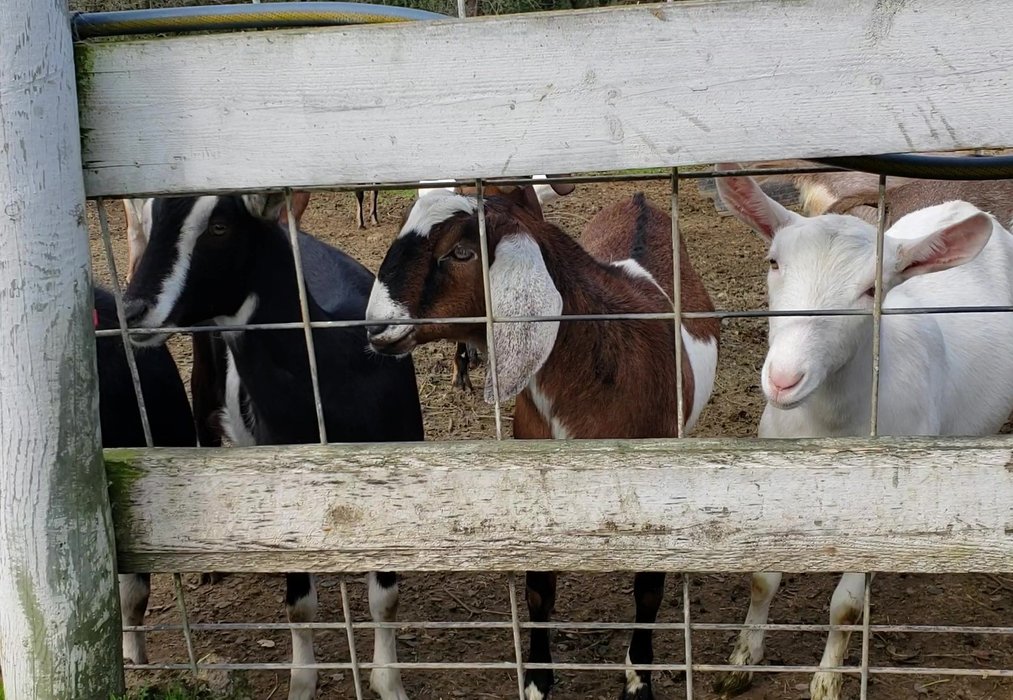 Photos: Friendly and Curious Goats
The different coloring of the goats is associated with their breed.
I really enjoyed being around them, as they showed no fear or hesitation to "engage." They were definitely curious and seemed like they would be very playful, if they were let out.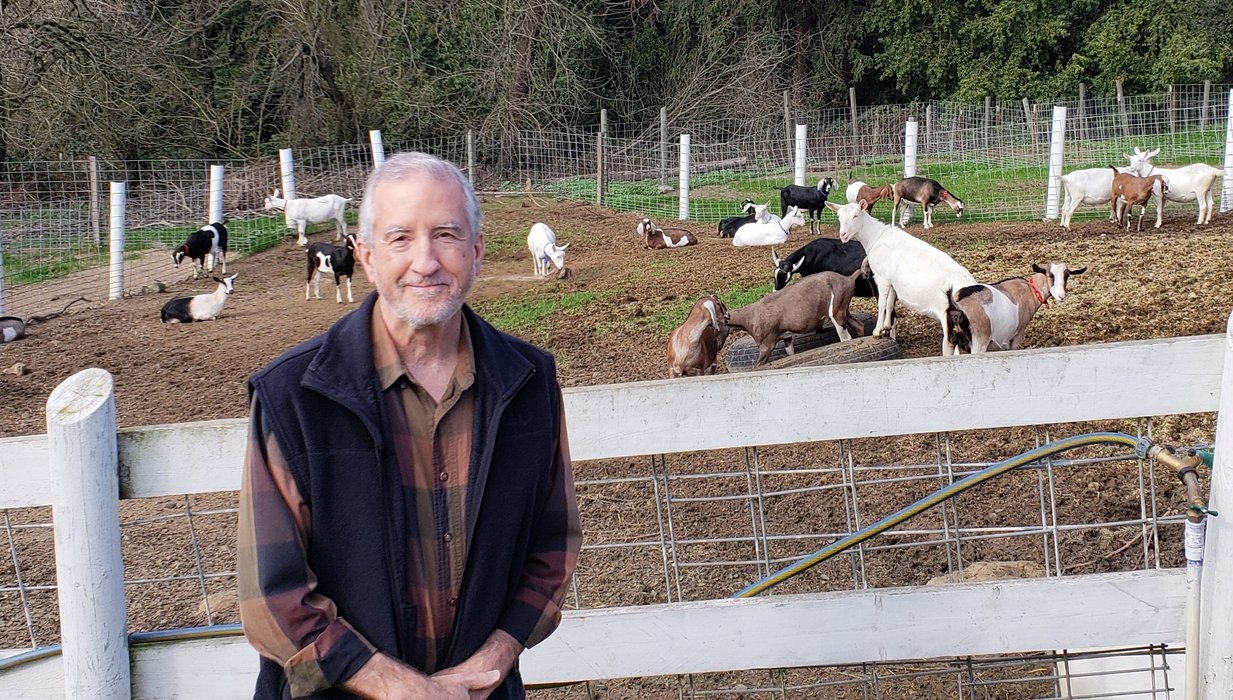 Photo: Old Goat Outside the Fence! 😉
While very unfortunate I could not time my visit for when they are actively giving tours, I was thankful to have been warmly received and given the opportunity to see and experience what I did.
I hope you've enjoyed learning more about this impressive farm.

Sonoma County of California


While I have driven through this county before, it has been on the freeway. As we all know, that generally accounts for very little in the way of knowing much of anything ...
Driving both to and from Redwood Hill Farms, I experienced the impressive agricultural diversity of this area. But I honestly had no idea of the scope. Due to its mild climate and abundant natural resources, this website claims in 2014 Sonoma County's agricultural industries earned $364,855,647!
If true, that is absolutely incredible to me.
With that little bit of background info, let's take a quick look at what I saw, in addition to the visit to Redwood Hill Farms.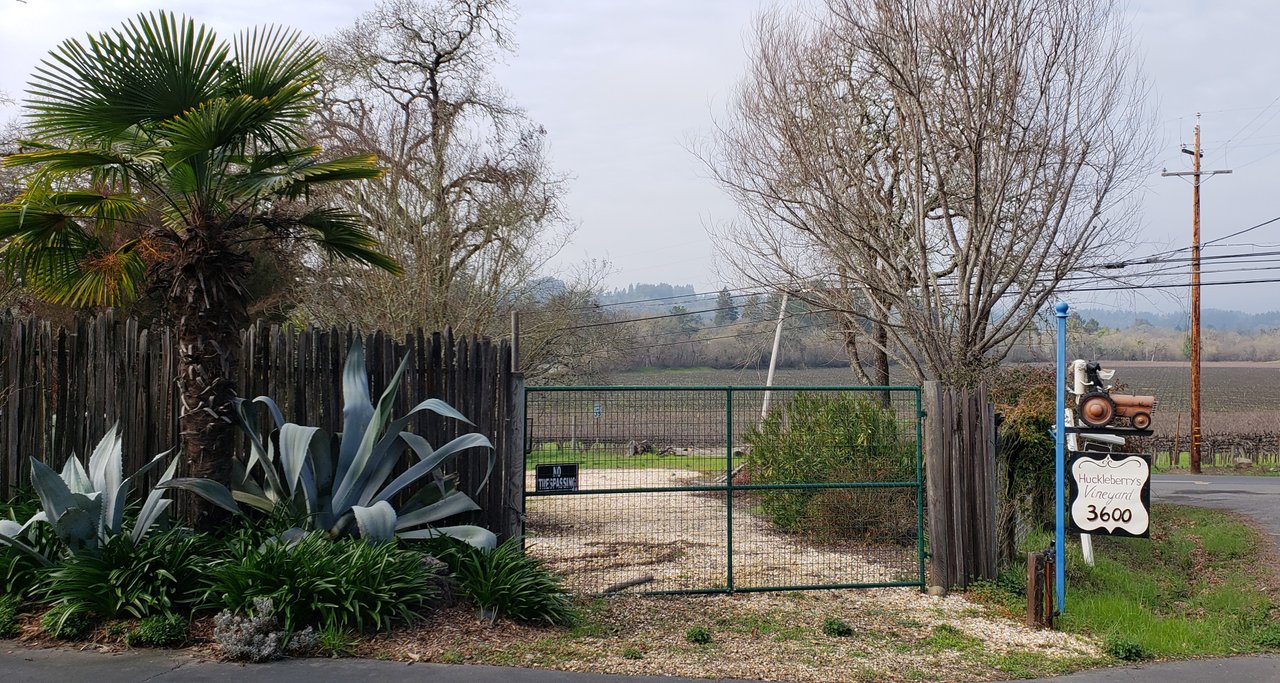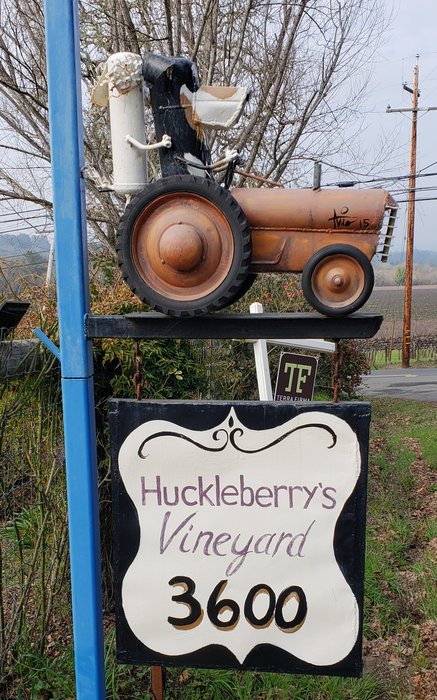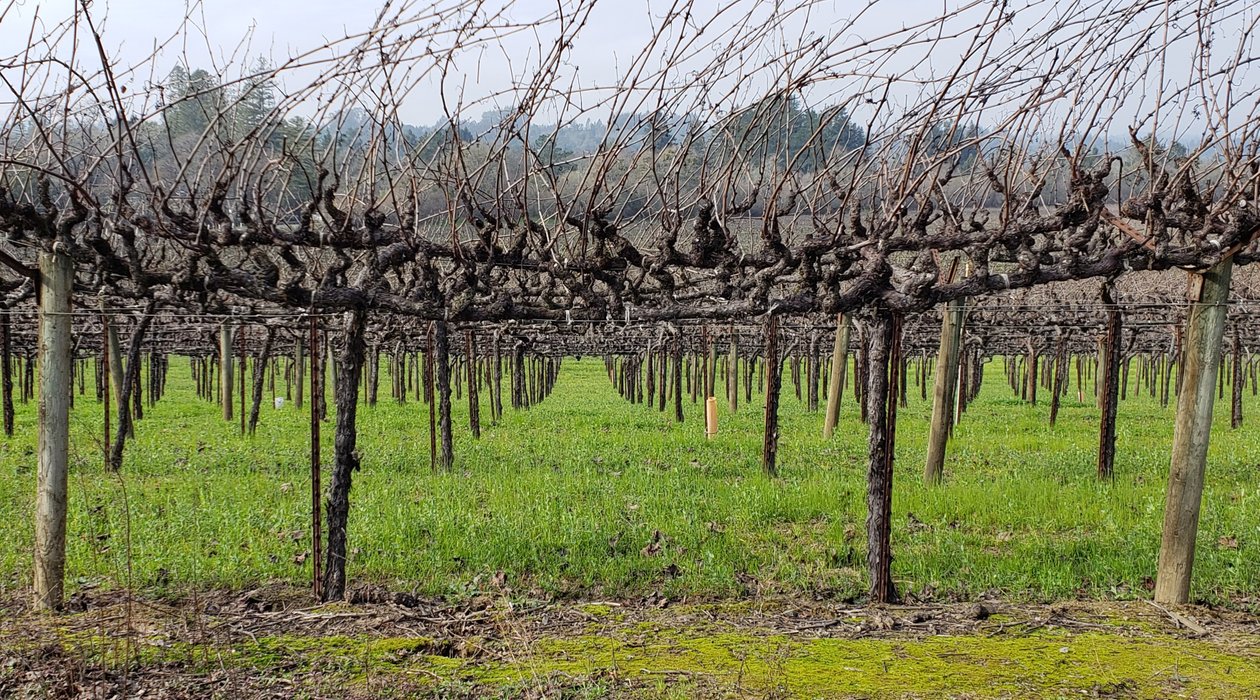 Photos: Huckleberry's Vineyard - Intersection of Green Valley & Sullivan Road
Did I just mention diversity? Look at the first photo above. Sure, a vineyard, but that is a palm tree! And next to it? Something which looks like a giant agave plant, similar to what I saw last week in the Sonora Desert of Arizona?! Wow ...
I've always been intrigued and impressed by what it takes to properly care for a grape vine. They can be very old and the way in which a "master" pruner trains them each year can be seen in this picture.

Photo: Pond in Idyllic Setting in the Country
In driving through the county, there were so many beautiful farms. I loved the setting of this one, with its pond and surrounding countryside.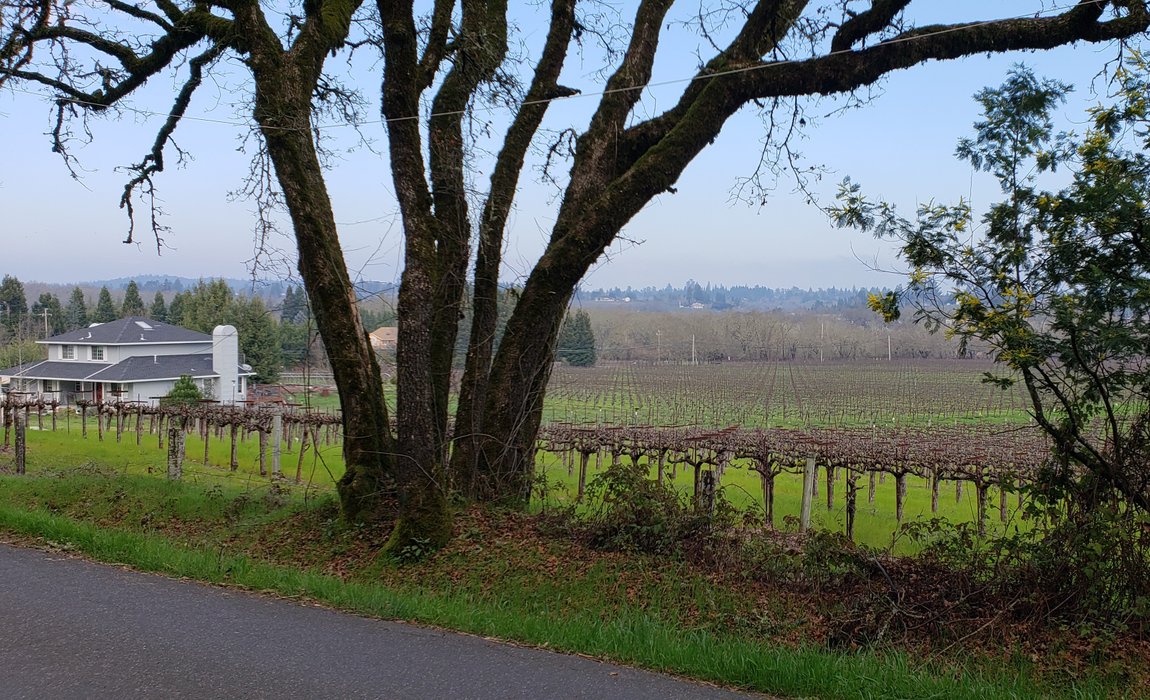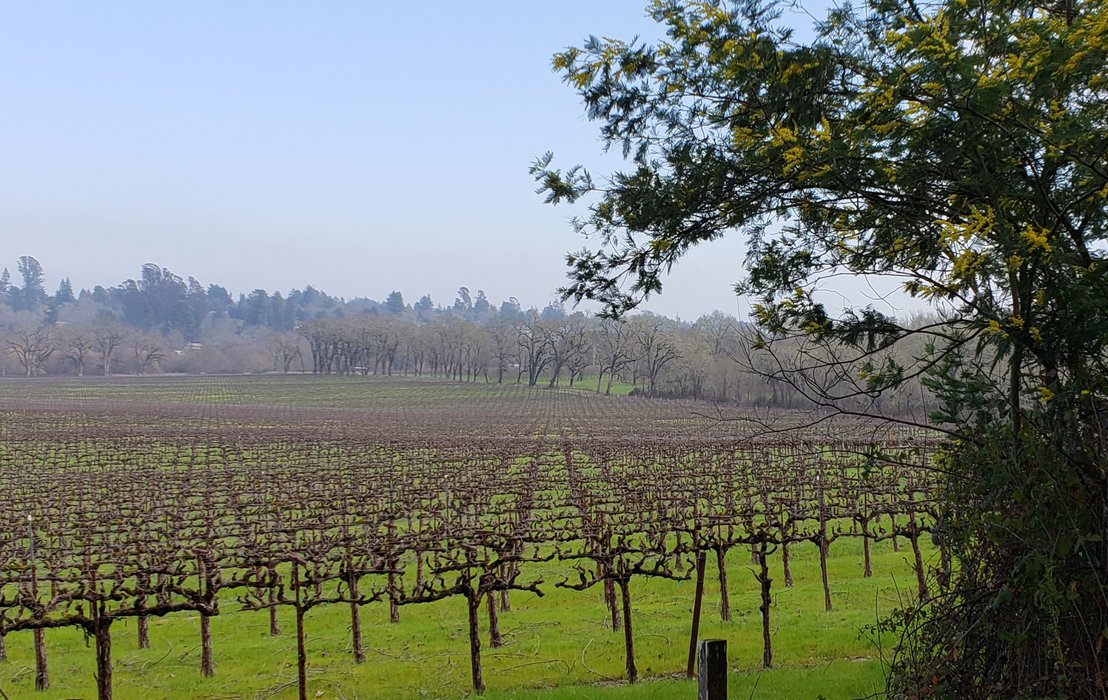 Photo: Another Beautiful Vineyard
In these photos, notice how green the grass is. In the "dead of winter!" I had expected, by the time I got this far north, that it would be colder. Nope!
The other memorable event was stepping on to the soil at the side of the road to take these particular pictures. Brought back a memory of years ago, when our family was very close to making a purchase of a little property out in the Palouse region of eastern Washington. That is some of the richest soil in the world and I remember my steps sinking into the soil as I walked on it.
I had never experienced again anything quite like that. Until today. Here in Sonoma County, California!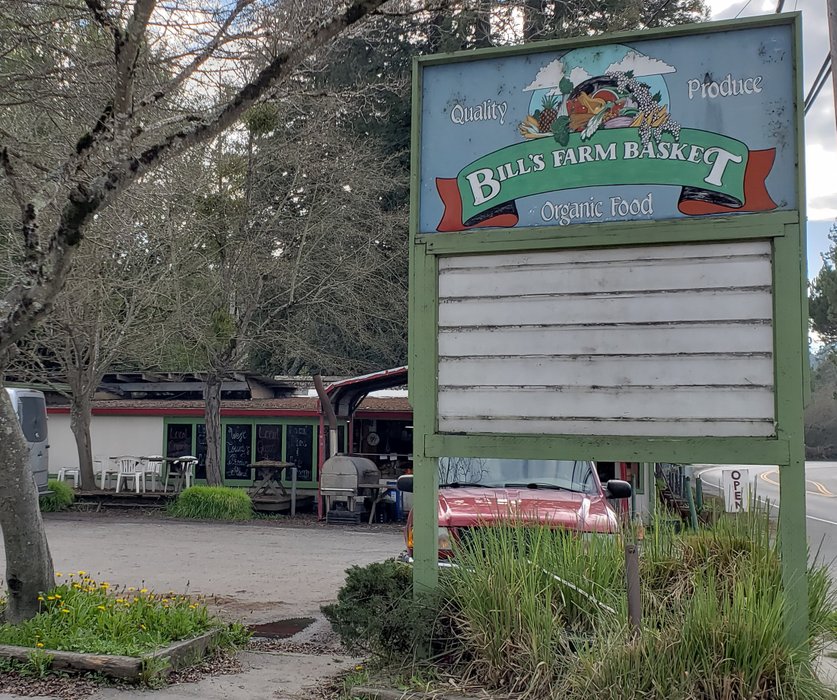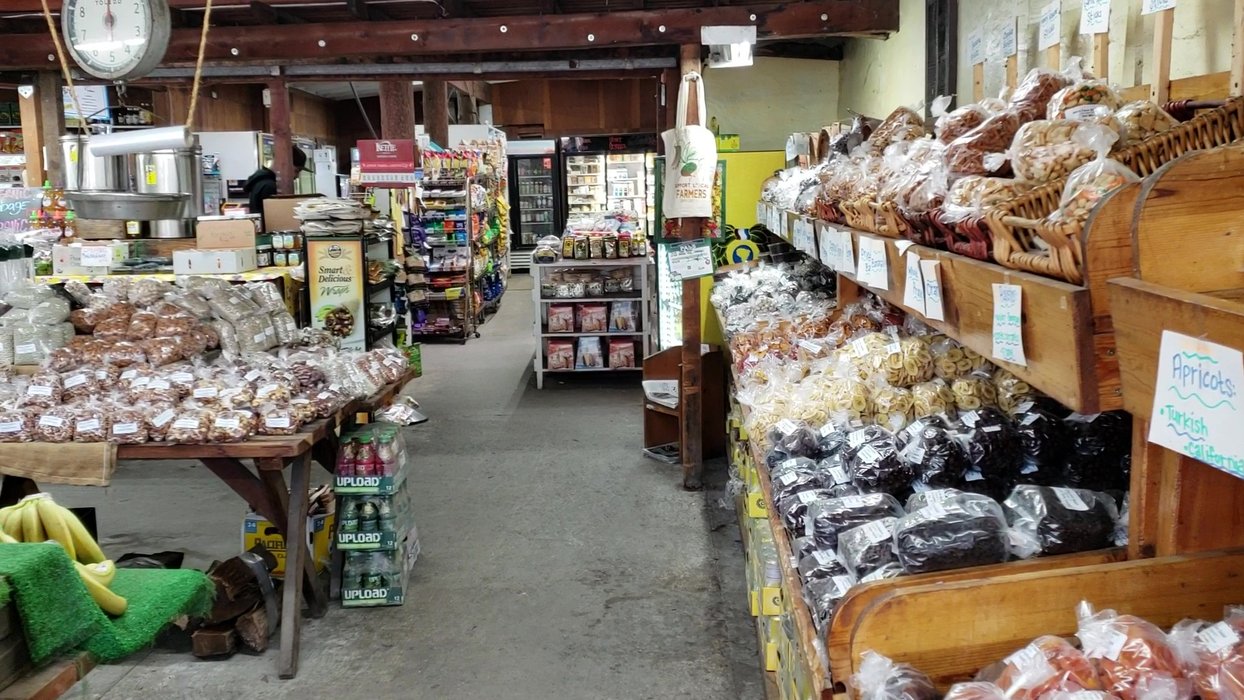 Photo: Bill's Farm Basket in Sonoma County
Much as I had done on Day One in Ribeye, Colorado, I drove past this place at first, but again in response to a "gut check," turned around and went back.
Glad I did!
The proprietor told me this was the second oldest business in Sonoma County, first established in this building in 1892! While my picture doesn't do it justice, there was an amazing collection of goodies in this little roadside business. A real testament to both the commitment of the people to buy local, but also again to the rich diversity of what is grown in this area.
Note: Since he was a friendly sort, I took the opportunity to ask the proprietor how often it snowed in this area. He said he has lived there for over 30 years and it had only snowed twice!
I left the store with a bag of great stuff to share with my siblings, once I get to Oregon next week!
The one thing I could not leave with was some of the grass-fed beef he spoke so highly of, so I had to stop where he said I would find them. Just down the road!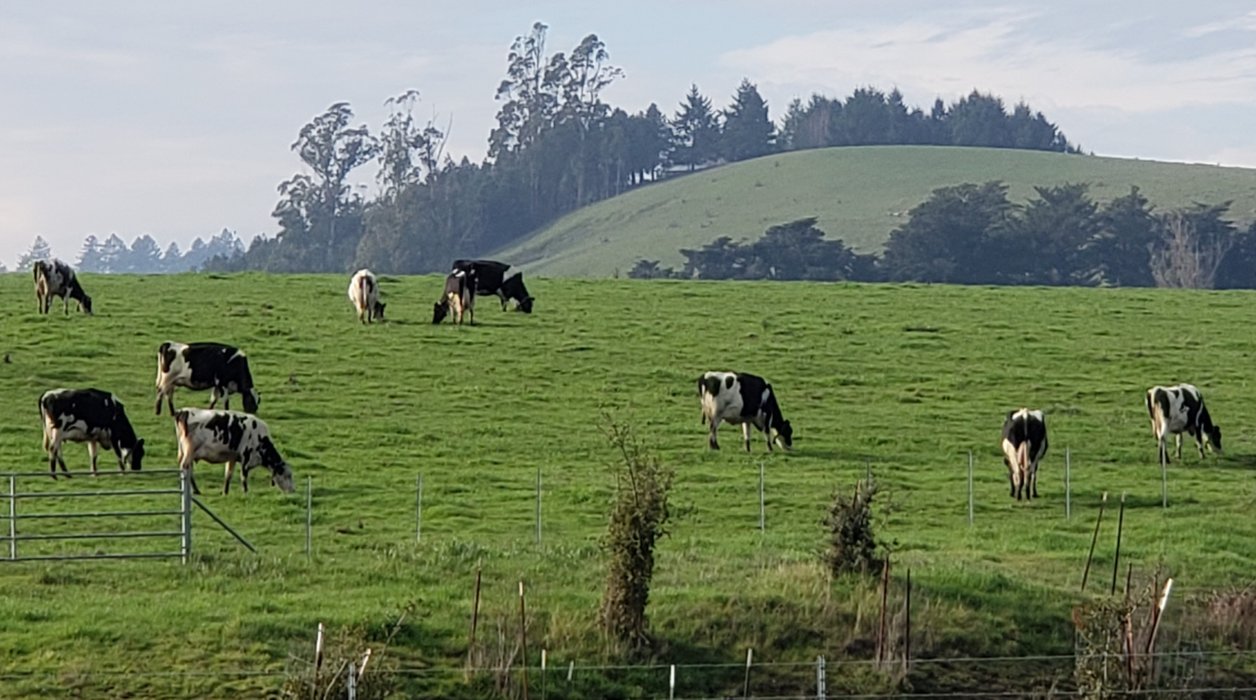 Photo: Grass-fed Cattle on Sonoma County Hillside
While you can't tell from this picture, I walked into these pastures and the grass was 6 to 8 inches high! Incredible how lush and green it looked in (one more time with enthusiasm ... 😉) the "dead of winter!"
Contrast this remarkable setting with that of these cow's poor "cousins" I photographed on the Mongollon Rim of Arizona in my Day 3 post.
Living the good life in Sonoma County, California!!

Postscript to Day Ten


What does it take to craft a good post for the Steem blockchain? Well, I'm sure we all have our individual answers, but thought you might enjoy what it took @roleerob to get these out tonight.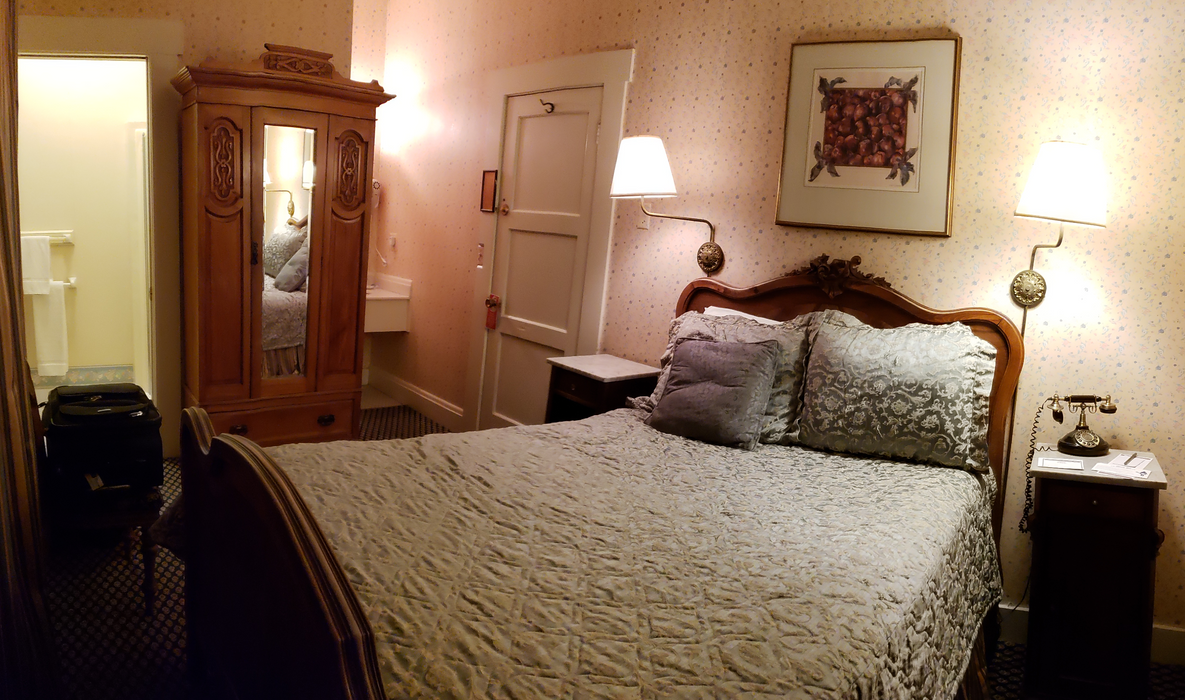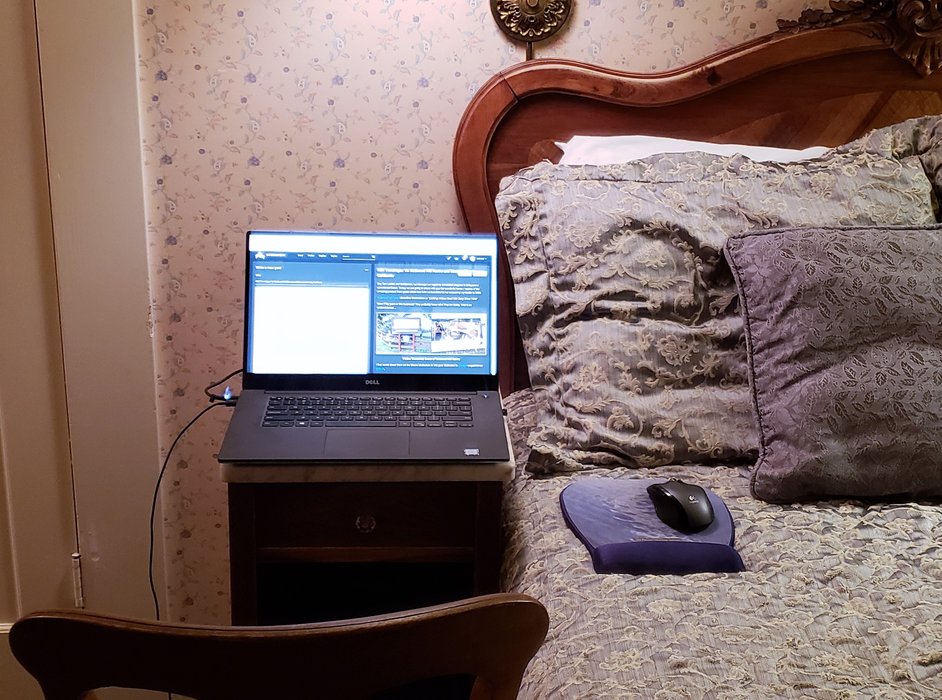 Photo: @roleerob's Room and "Workstation" on 30 January 2019
Spending the night at the Mendocino Hotel & Garden Suites, I am staying in an establishment created in 1878! That's right, they just celebrated 140 years in business. While I am sure the place has been updated some since then, as my dear readers can see, the rooms likely have changed very little. Certainly the dimensions have not, as this is the smallest motel room I can remember. People must have been smaller in that era ...
Apparently, they didn't have computer workstation's back in that era either! Who knew? 😉 So ... Had to make do with a very small end table. And mouse on the bed ... What you see on the screen is my Redwood Hill Farms post being lovingly crafted with @steempeak.
Since you are reading this, it apparently worked!
Closing


Another great day in "@roleerob's excellent adventure!" Thanks for going along with me, dear reader. I'd love to hear any feedback you may be inspired to provide.
Until "next time," all the best to you for a better tomorrow, as we all work together to build our Steem Community! 👍 😊
Respectfully,
Steemian @roleerob
Posted using SteemPeak and "immutably enshrined in the blockchain" on Wednesday, 30 January 2019!
---
"R2R" Note: My "shorthand" way of referring to what I first wrote about in my Reflections: My "Road to Recovery" Trip post. "Road to Recovery" <=> "R2R" ... 😉

Image sources, unless otherwise noted: My trusty smartphone!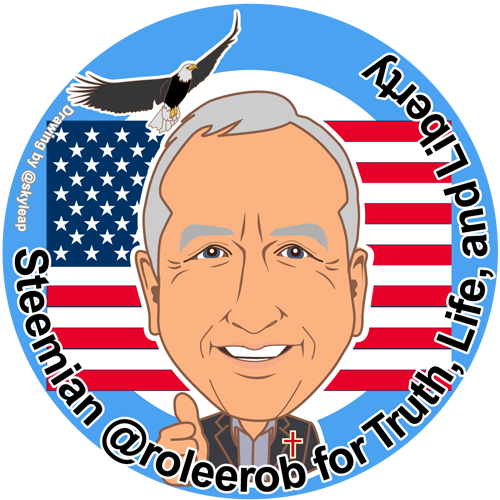 If you liked this post, you might enjoy others in my "Road to Recovery" Travelogue series:
This account is protected by @dustsweeper