Day Ten: Resuming our regularly scheduled programming, dear reader, we have a "double-header" today. Once having left Redwood Hill Farms and meandering around through the countryside in Sonoma County, it was back to the sea!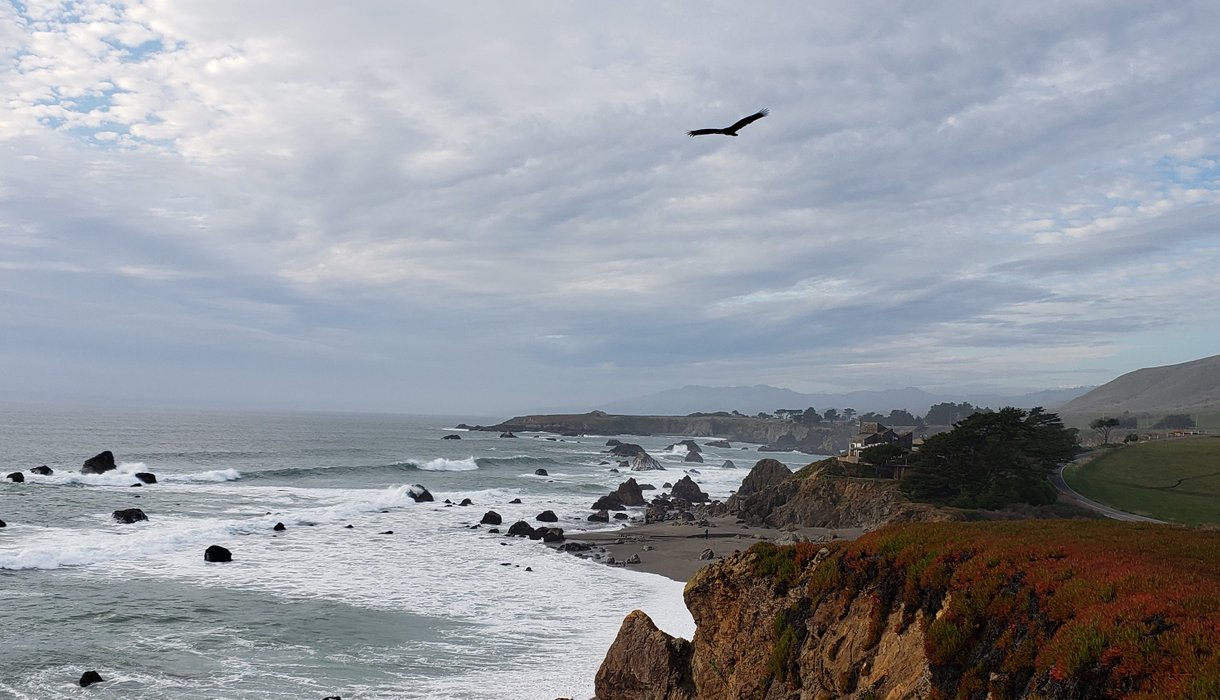 Photo: Sonoma Coast of California
Specifically, the Sonoma Coast of California. It has been classified as a State Park.
Let's take a closer look!

Sonoma Coast State Park


A common feature of some of my favorite places is you have to want to go there, as you would never see it otherwise, as it is not on the way to anywhere else.
The Sonoma Coast of California is one such place. You'll want to make plenty of time available, if you ever go there, as it is slow going around lots of 15 and 20 mph hairpin curves.
But ... Well worth it!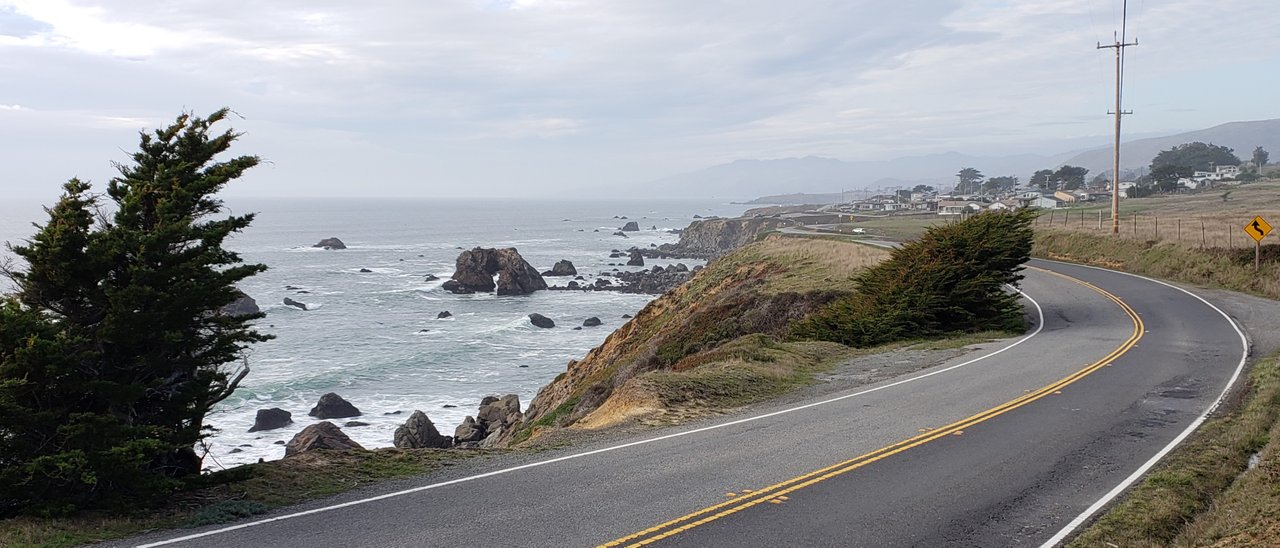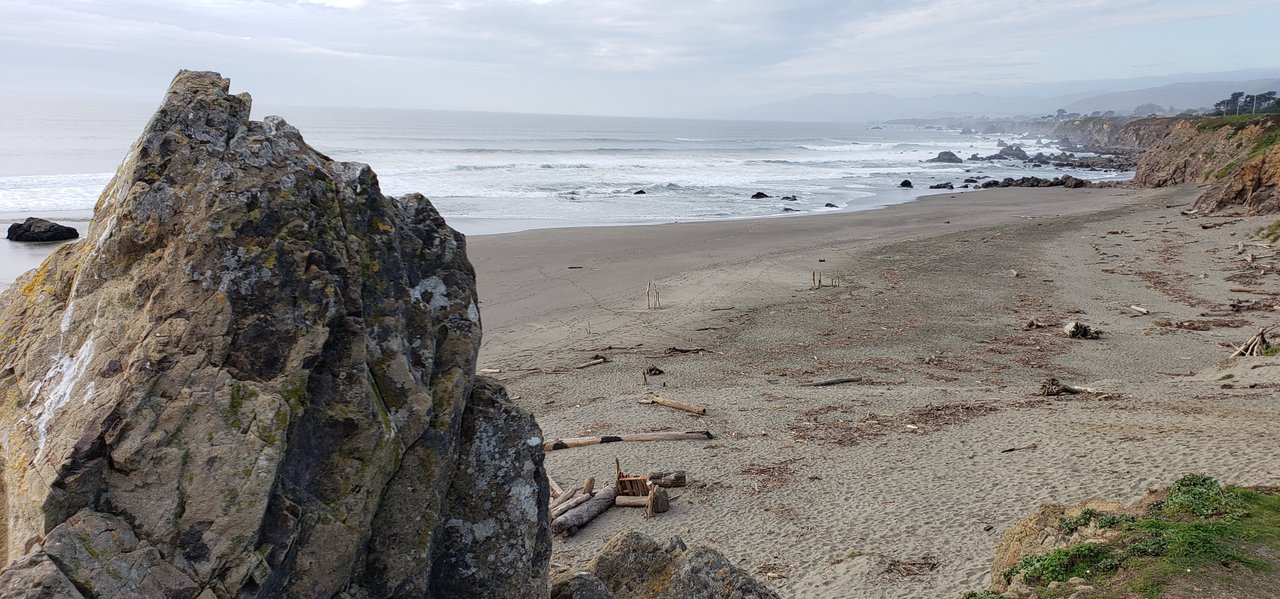 Photo: Rocks and Beaches of the Sonoma Coast
Some coastal regions are all beach. Some are all rocks. The Sonoma Coast has a very nice mix of both!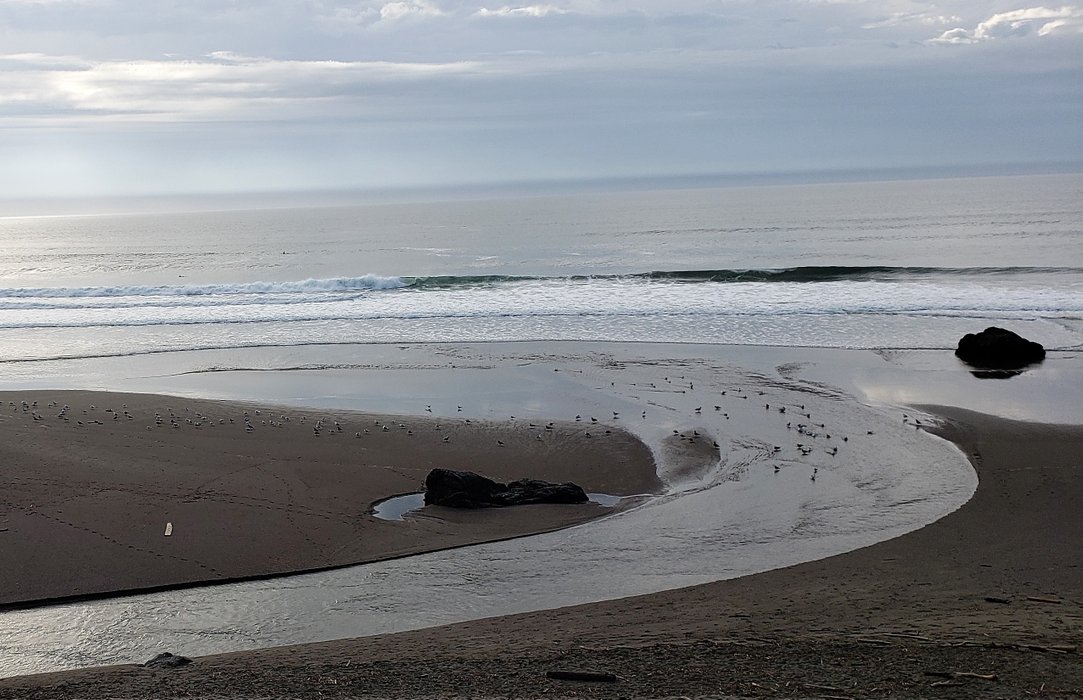 Photo: Salmon Creek into the Pacific Ocean!
It is always enjoyable to me to sit and watch all that is going on where fresh water comes to the sea. The endless, living giving wonder of our world's water cycle is a great source for contemplative thought.
Note these birds "hard at work" doing something in the water, just before it enters the ocean. A "last chance opportunity" they do not want to miss? I don't know the answer, but fascinating to watch!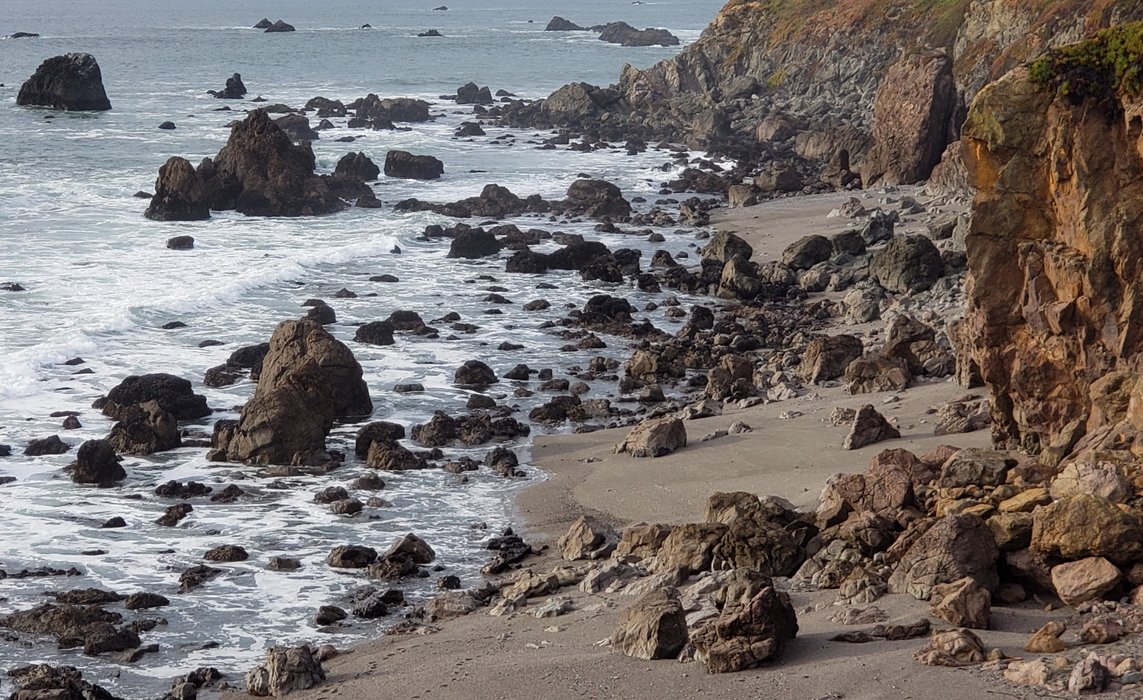 Photo: Contrasting Colors - Rocks and the Ocean
While I am neither a professional photographer nor an artist, probably the closest I ever come to being "artistic" is when I am taking pictures. I do make an attempt to compose my picture and I do have an eye for detail. The latter is just not normally applied to picture-taking! 😉
The picture above stood out to me, as I really liked the coloring of the rocks in contrast with the color of the ocean. Added color bonus - the various green shades of the vegetation!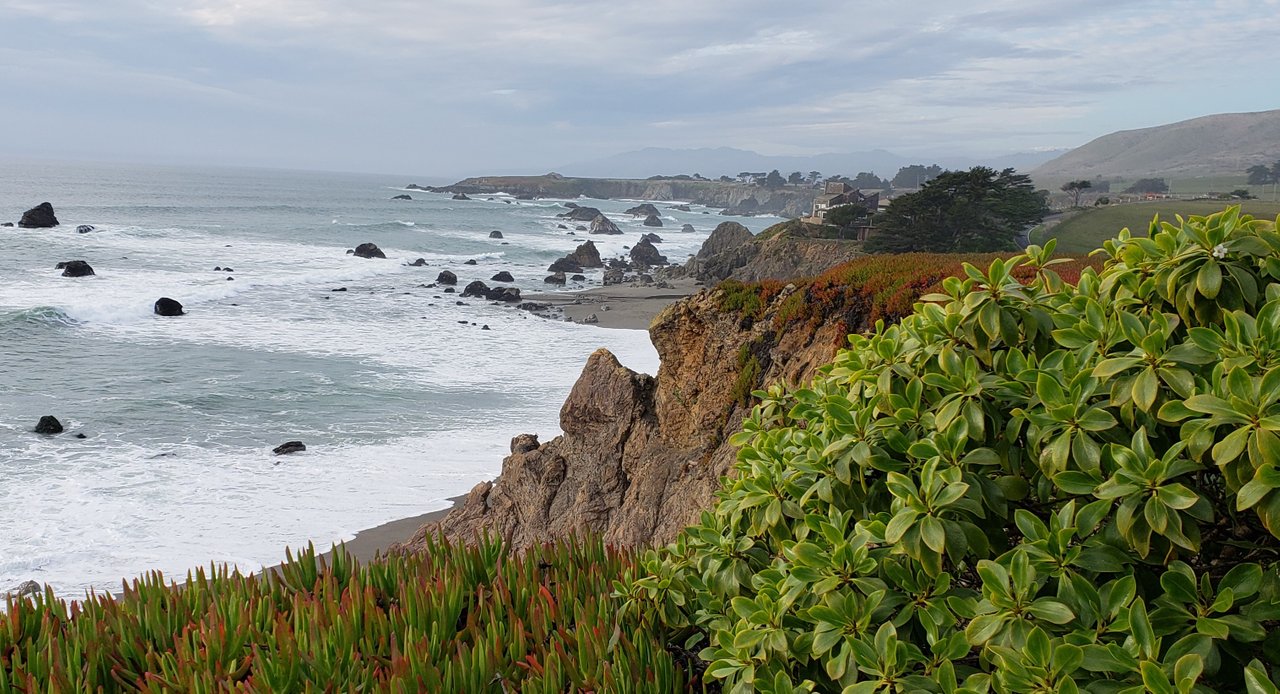 Photo: "Beach Front" Property on the Sonoma Coast
Reminding me of the pictures I had taken the previous day of beach front properties on the Monterey Peninsula, here is another spectacular setting for someone's home. Watch that "first step" down the cliff to get to your beach! 😉 So, maybe not exactly beach front, but I'm sure they love it anyway!
This great picture is a variant of the one I chose for my opening photo. I gave a "slight nod" to the one where I managed to also capture a bird flying overhead.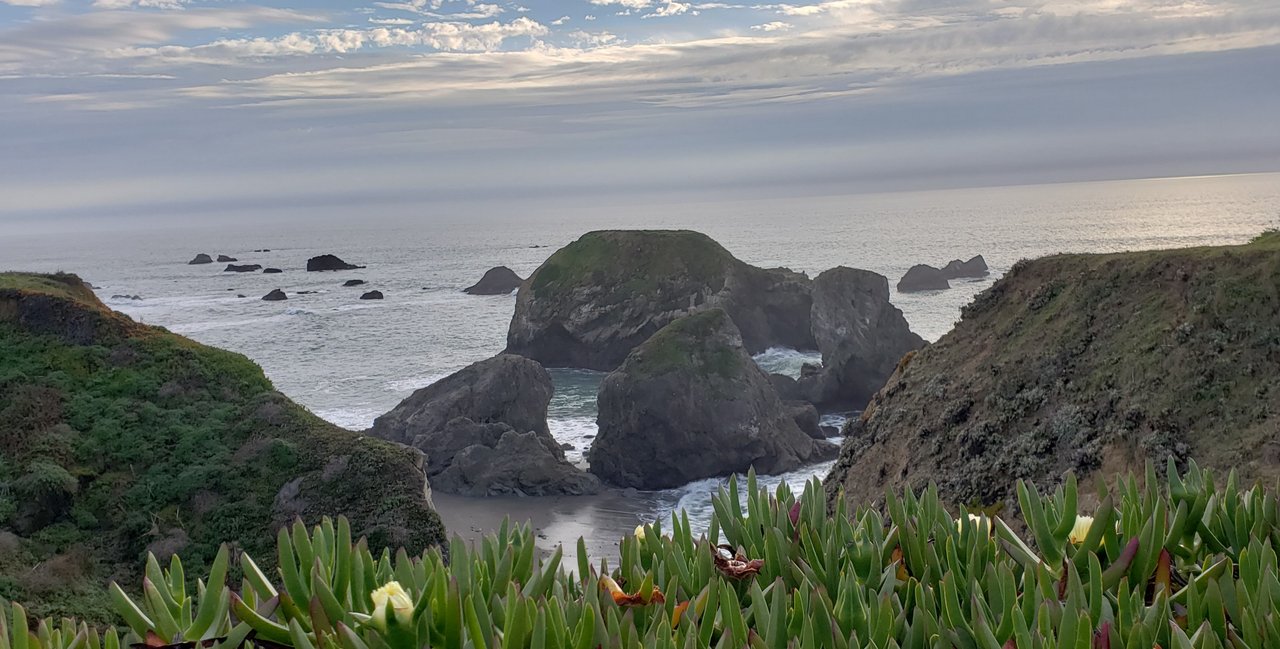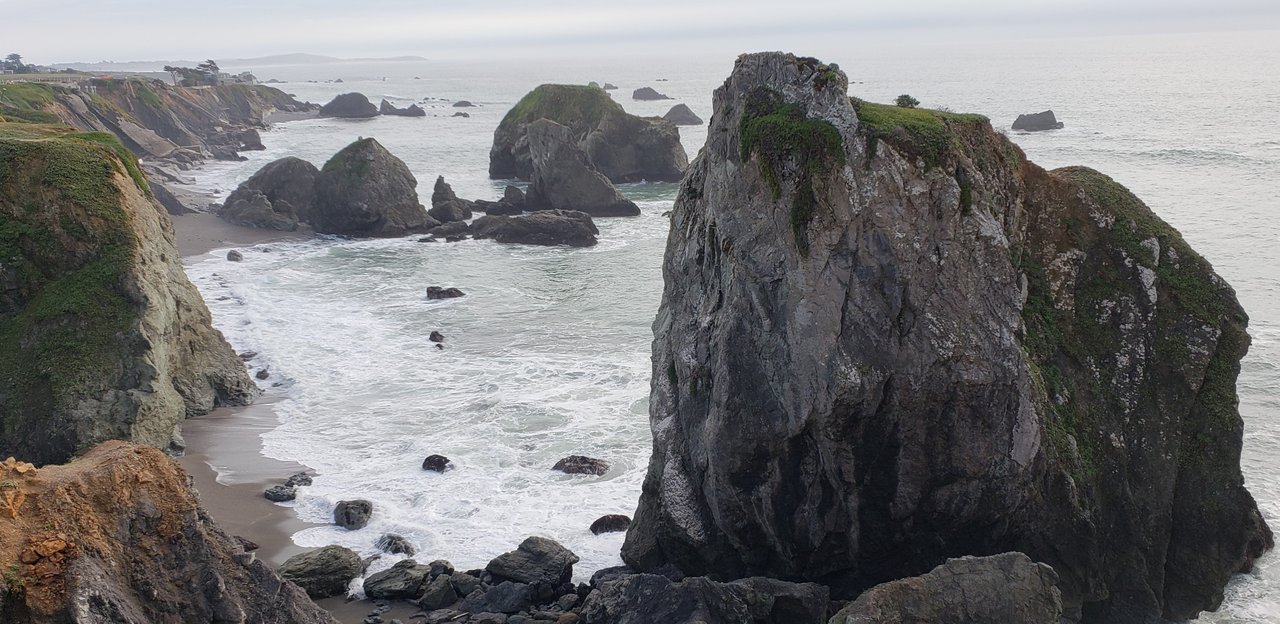 Photo: Lighting Changes over the Sonoma Coast
I really liked this spot, as I imagined climbing out on this rock and sitting just facing the sea from a great vantage point. So, as I took some time to really enjoy this setting, the lighting changed significantly. A combination of the cloud bank rolling in from the sea and getting later and later in the afternoon ...
The latter was a particular problem, as having never been here, I didn't know what lay ahead as far as lodging. My original plan had called for reaching Mendocino, but that was still quite a way ahead of me.
Too bad! Driving past areas I would like to have seen in the light, I drove through a number of places with signs indicating populations of 112 here and 246 there. Just not quite enough people to support providing any lodging. 😧
SO ... I drove the last hour and a half in the dark, over remarkably "twisty" roads ... 😞 Better luck next time, now that I know!
---
In closing, I trust you have enjoyed "seeing" this beautiful country through my eyes. If you would like and have opportunity to experience it for yourself, I want to reinforce what I said at the beginning.
This is a magnificent section of the Pacific Coast which a lot of people miss, as they just stay on US Hwy 101. Why?
The route along this coast on Hwy 1 is slow-going. Tortuously slow at times, with "true hairpin" curves down to as low as 15 mph. Often times the speed limit for curves, at least to this "heavy footed" driver, are overdone. Trust me, not here!
So ... Allow plenty of time and you'll be amply rewarded with some awesome coastal scenery.

"Bracket" Towns - Bodega Bay and Jenner
On either side of the Sonoma Coast, we find some very interesting little towns - Bodega Bay and Jenner.
There is a lot of interesting local "flavor" around both of these towns, e.g. Bodega Head for the prospect of whale-watching, but I did not have time to stop and check into it. I can say, though, I believe they both have a lot to offer.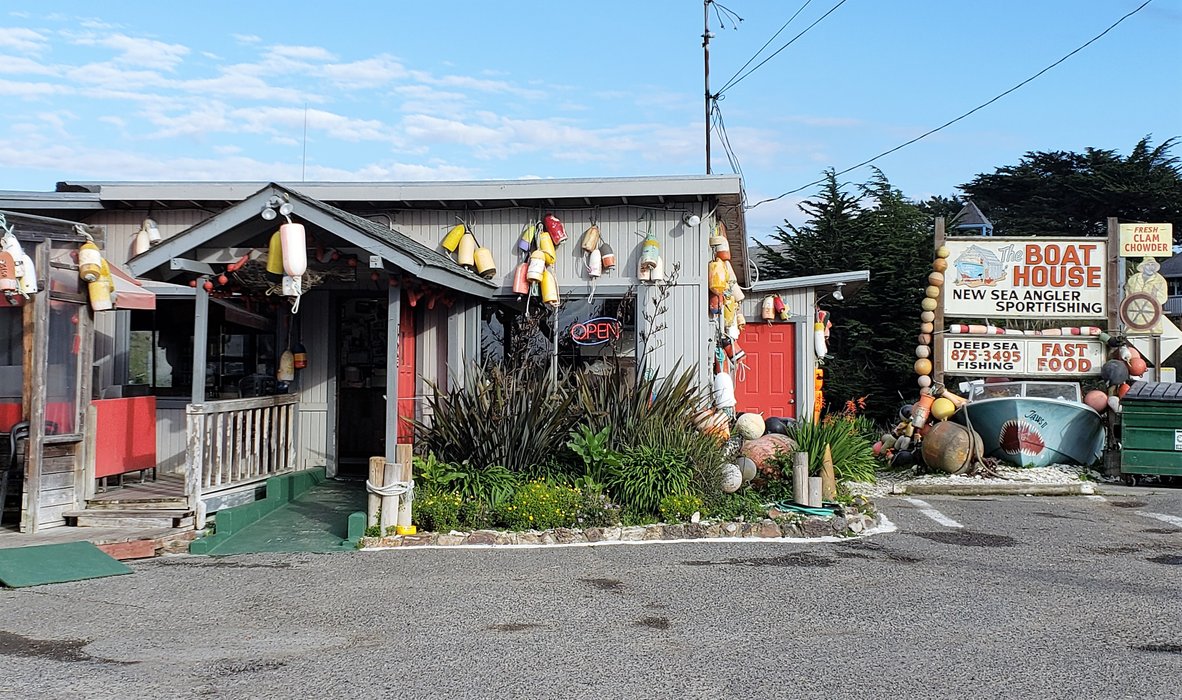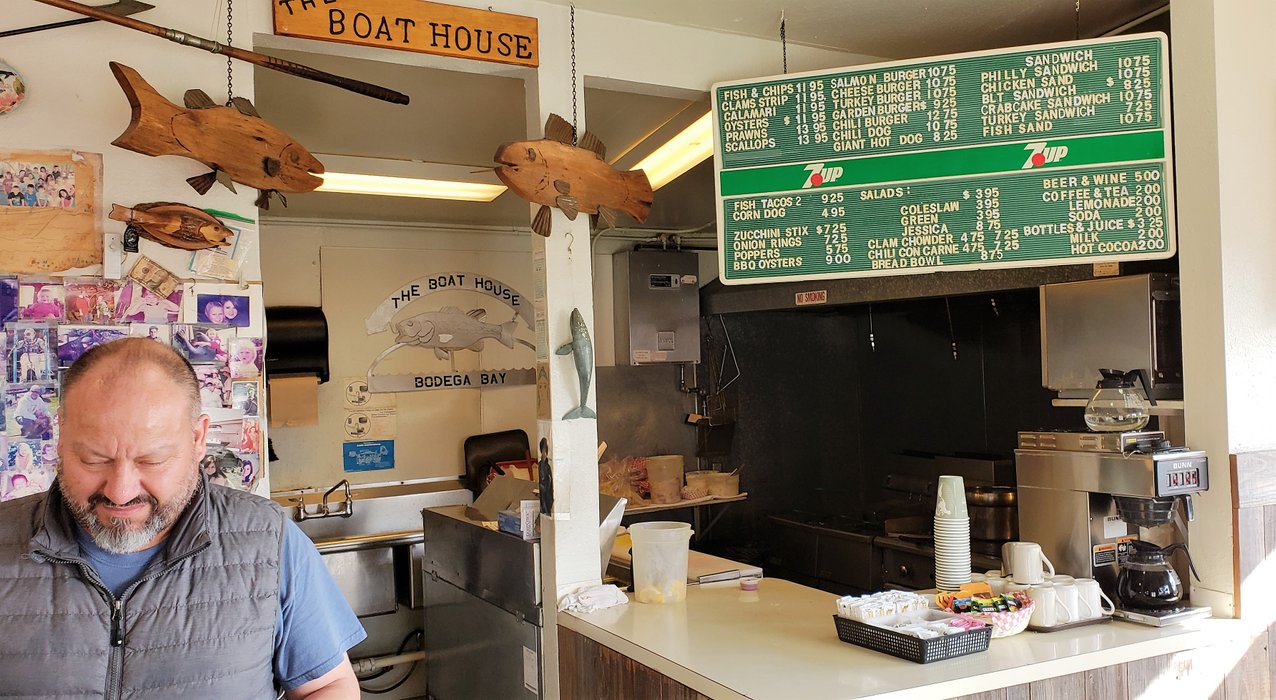 Photo: Boat House at Bodega Bay
Whenever you can get some "local knowledge," I have learned to "jump on it!" The previous evening in Petaluma, I had ended up in a small restaurant for some seafood and was providentially seated next to a gentleman, Bill, who had part ownership of it.
We struck up a conversation and he told me about where he gets his fish, when asked. Why did I ask? The sea bass his team prepared was one of the best seafood meals I have ever eaten! Well, the owner of this little shop above is his source.
This owner has both a "wholesale" and "retail" side to his business. Bill told me to "give a pass" to the fancier places just down the street from this one and eat here. Said the fish and chips were wonderful. Well, I not only did that, but also got the fresh clam chowder advertised on his sign.
Wow! Glad I stopped, as it was excellent!
Note: Trivia fans listen up! Bill took great pains to get out his phone and show me on Google Earth exactly where to go. But he also wanted to be sure and tell me some of the highlight scenes in Alfred Hitchcock's famous thriller, "The Birds," was filmed there in Bodega!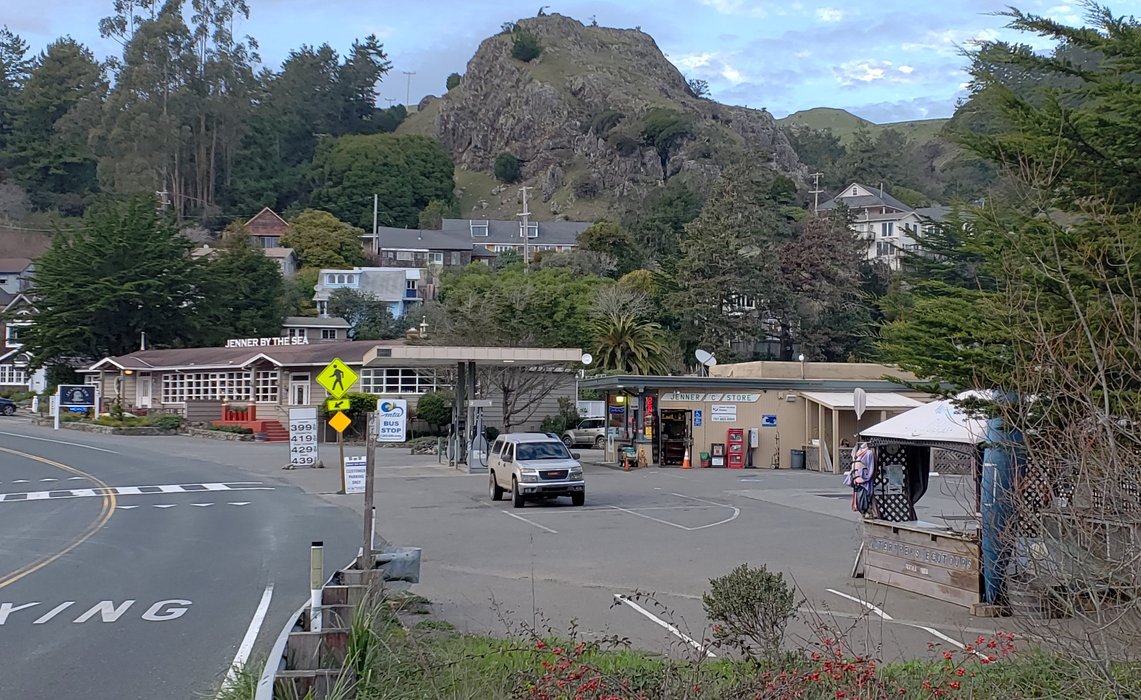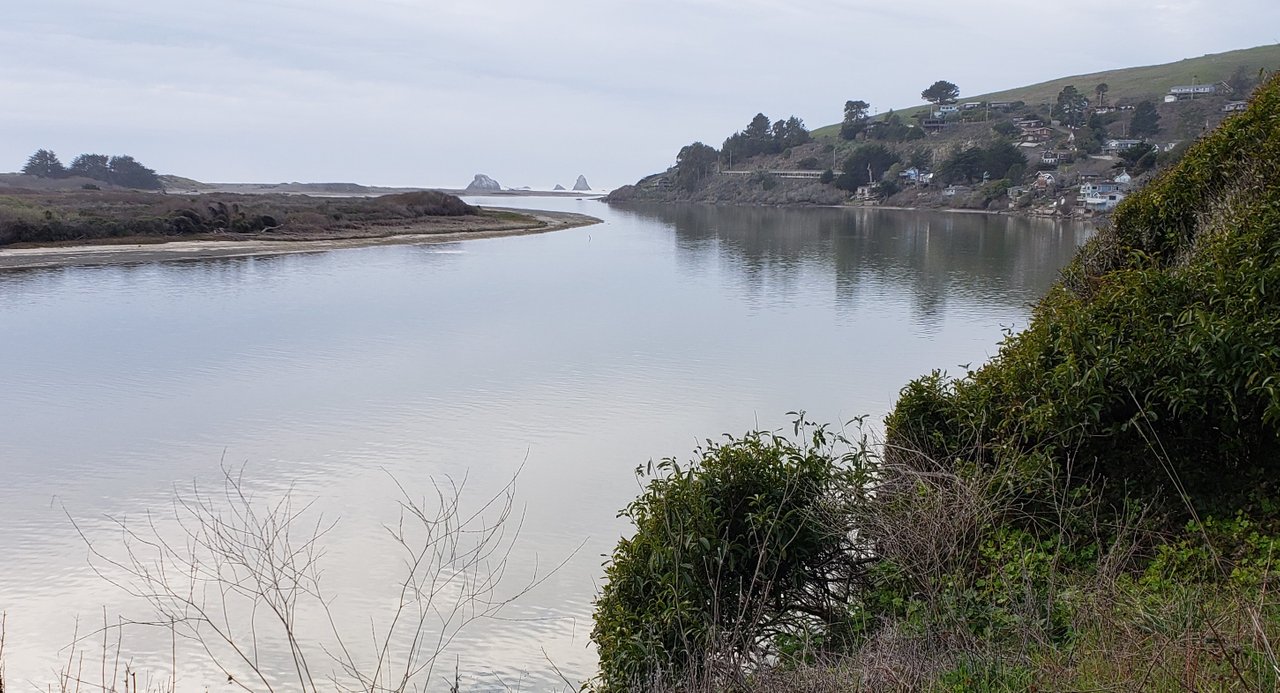 Photos: Jenner where the Russian River comes to the Sea
This quaint little town sits all by itself at an impressive location. Where the Russian River comes to the Pacific Ocean. The main part of it is just off to the right of the lower picture above.
Having just left Carmel-by-the-Sea the previous day on the Monterey Peninsula, the name of this place was intriguing, but the sun was fading and I had a way (now that I have driven it, definitely an understatement ...) to go in reaching Mendocino.

Postscript to Day Ten


What does it take to craft a good post for the Steem blockchain? Well, I'm sure we all have our individual answers, but thought you might enjoy what it took @roleerob to get these out tonight.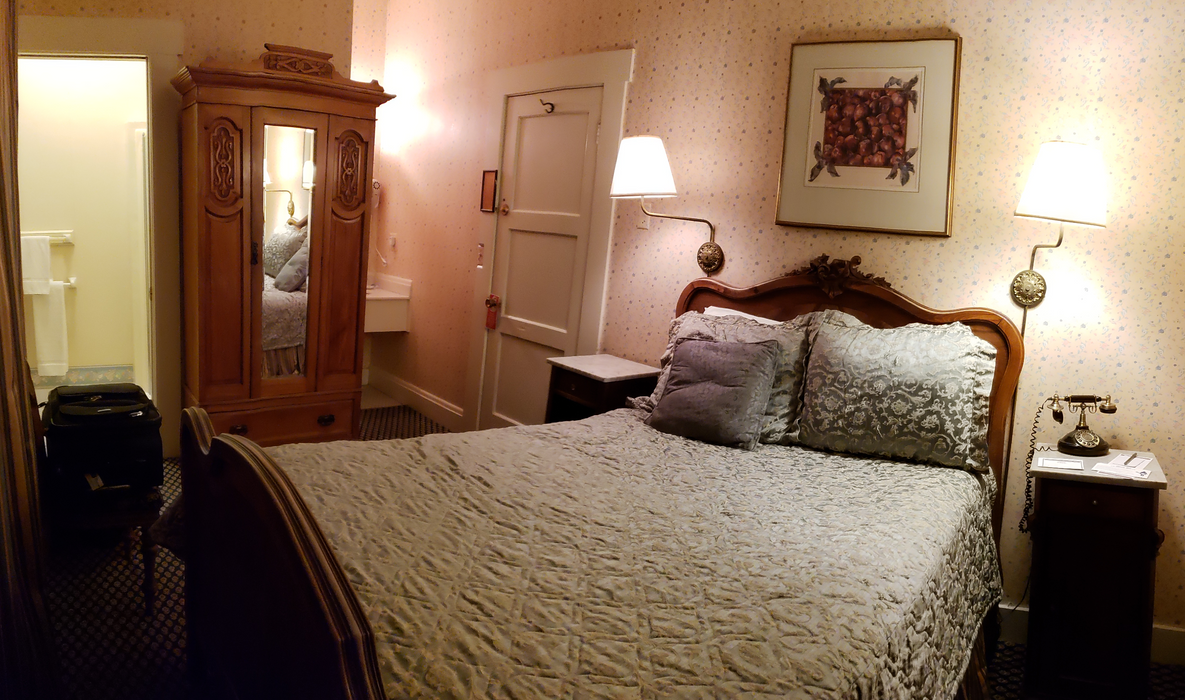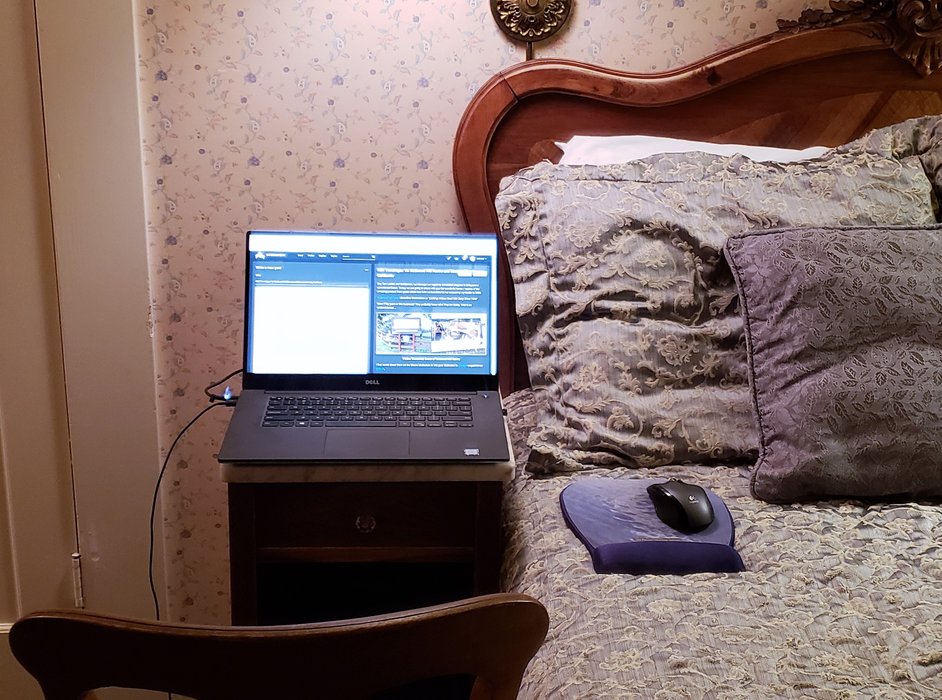 Photo: @roleerob's Room and "Workstation" on 30 January 2019
Spending the night at the [Mendocino Hotel & Garden Suites] (https://www.mendocinohotel.com/), I am staying in an establishment created in 1878! That's right, they just celebrated 140 years in business. While I am sure the place has been updated some since then, as my dear readers can see, the rooms likely have changed very little. Certainly the dimensions have not, as this is the smallest room I have been in since I can remember. People must have been smaller in that era ...
Apparently, they didn't have computer workstation's back in that era either! Who knew? 😉 So ... Had to make do with a very small end table. And mouse on the bed ... What you see on the screen is my Redwood Hill Farms post being lovingly crafted with @steempeak.
Since you are reading this, it apparently worked!
---
And the next morning ...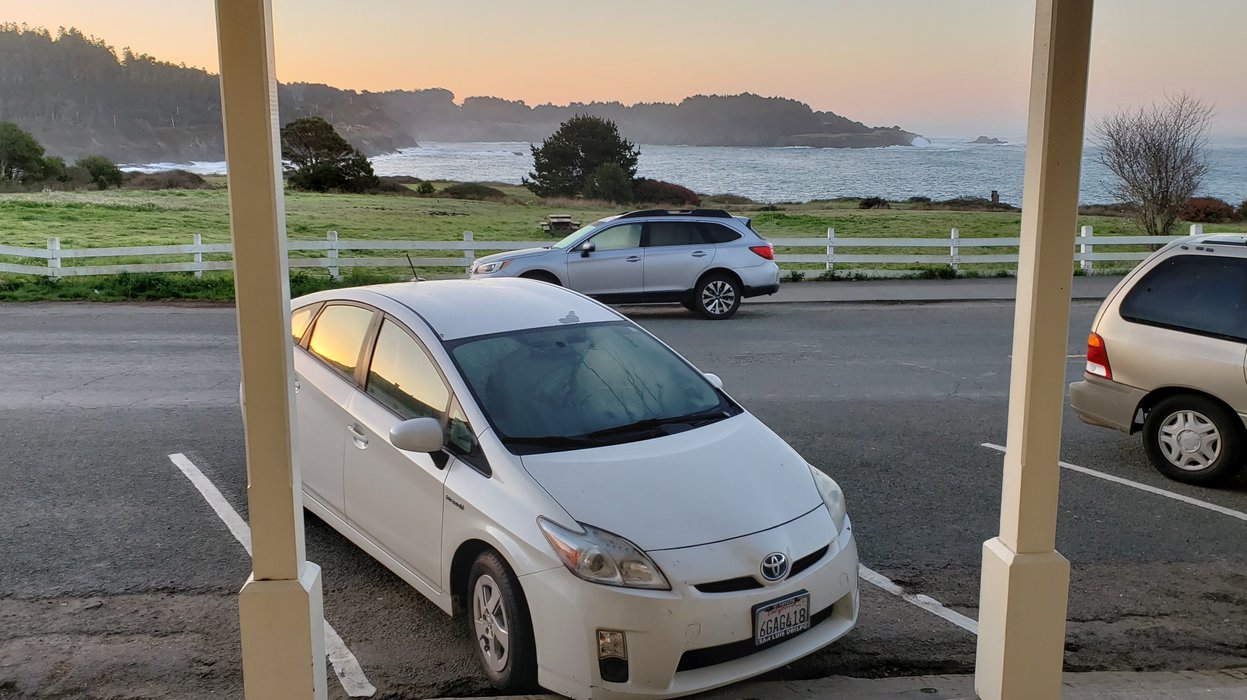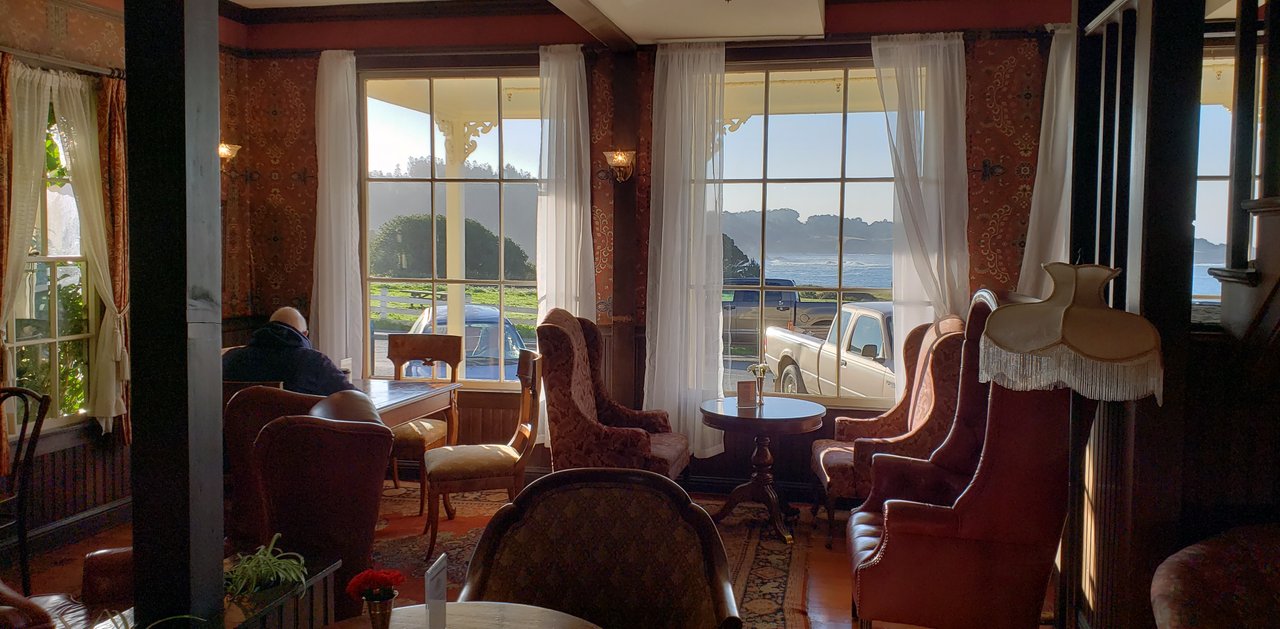 Photos: Views from Mendocino Hotel
Oh yes! After all of the "twisty turns" in the dark to get here, what a great place to have providentially chosen last night. Thank you Lord!

Closing


Another great day in "@roleerob's excellent adventure!" Thanks for going along with me, dear reader. I'd love to hear any feedback you may be inspired to provide.
Until "next time," all the best to you for a better tomorrow, as we all work together to build our Steem Community! 👍 😊
Respectfully,
Steemian @roleerob
Posted using SteemPeak and "immutably enshrined in the blockchain" on Wednesday, 30 January 2019!
---
"R2R" Note: My "shorthand" way of referring to what I first wrote about in my Reflections: My "Road to Recovery" Trip post. "Road to Recovery" <=> "R2R" ... 😉

Image sources, unless otherwise noted: My trusty smartphone!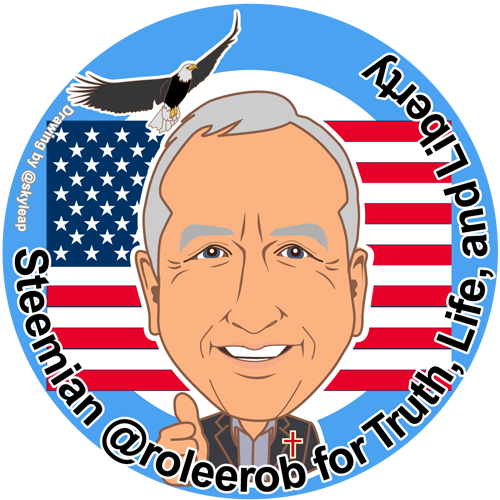 If you liked this post, you might enjoy others in my "Road to Recovery" Travelogue series:
This account is protected by @dustsweeper