Day Eleven: While preparing to leave for this trip, in answering all the questions about what I was going to do, I had two consistent answers:


Revisit and recreate some special memories, and


Create some new ones.


Well, today's post is about the creation of a new memory. Specifically, my first experience with Mendocino, California.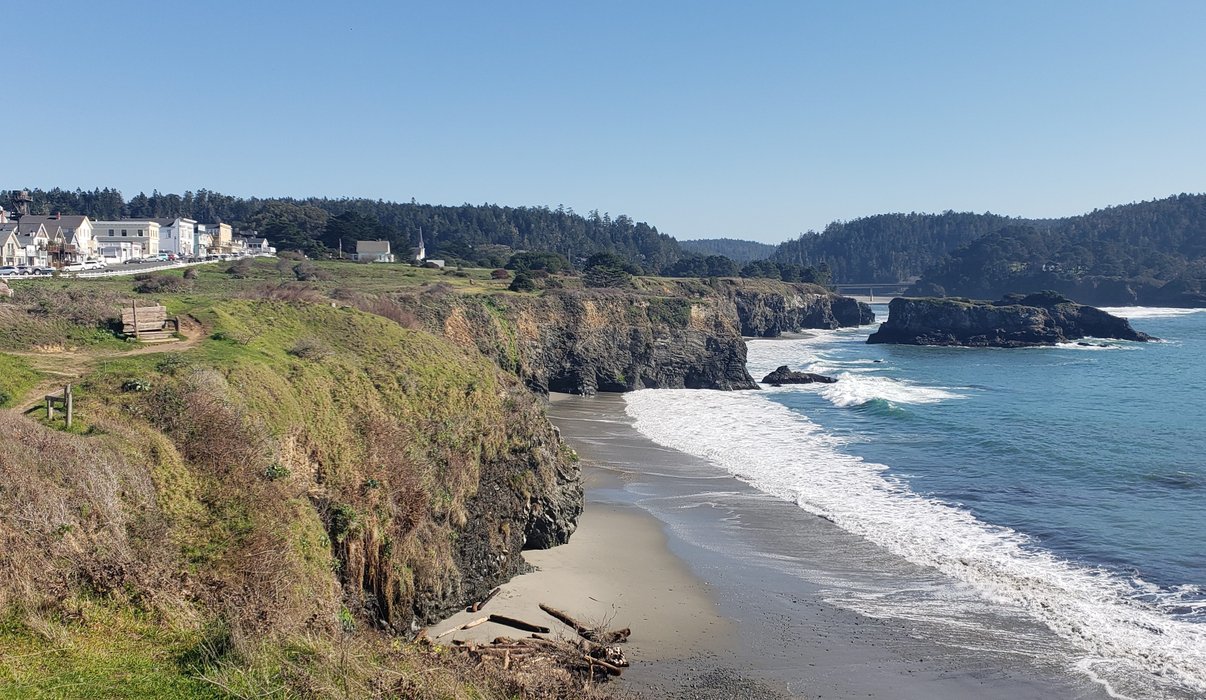 Photo: View from Main Street of Mendocino
Arriving in town well after dark last night, I did not appreciate what a gem this little town represents. Up before dawn, though, and walking out the front door, it was crystal clear.
Yes! Please "walk with me," while we take a closer look at this great little community on the Pacific Coast of California.

Mendocino, California


According to the sign, Mendocino was established in 1852.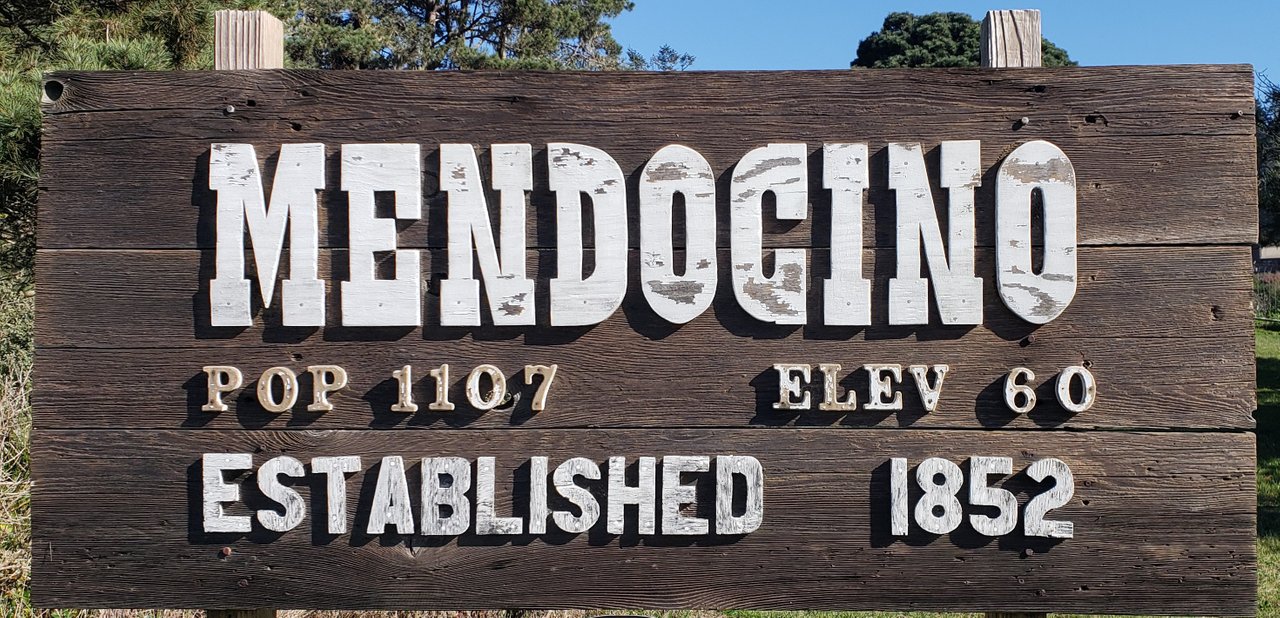 Photo: Sign Entering Mendocino
Now I know by European standards, in going over this with my Steemian friend, @delishtreats, this is not very old. For the western part of America, however, anything before the Civil War is old. Very old.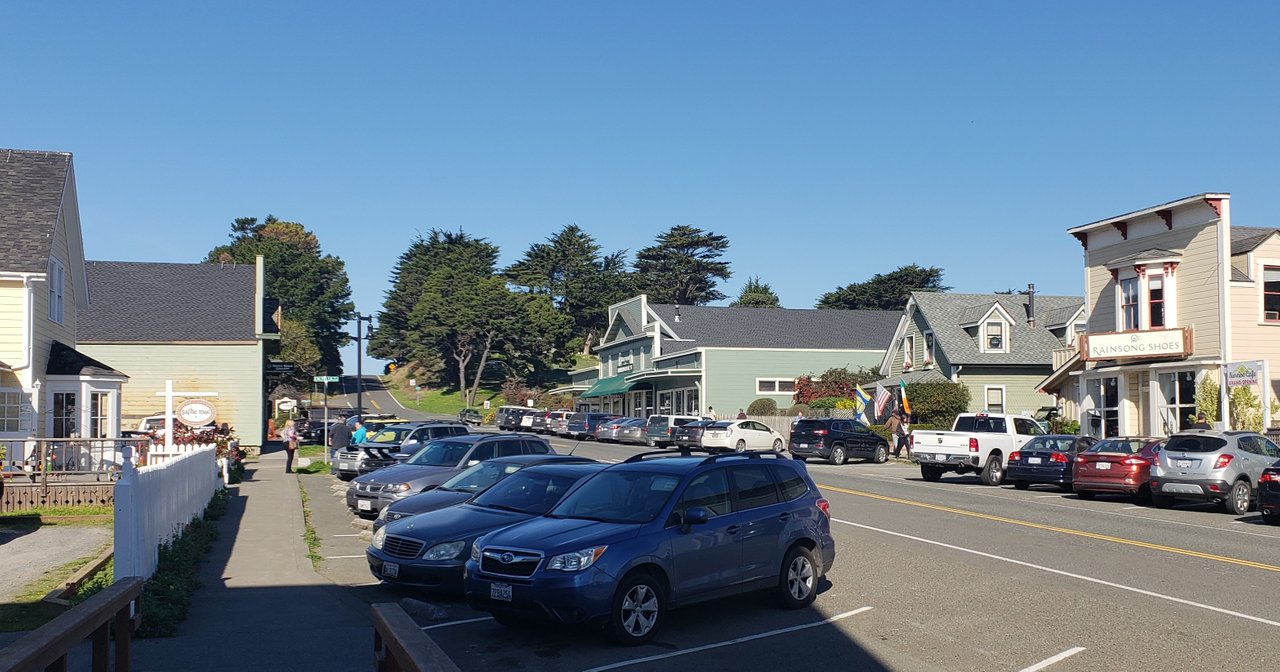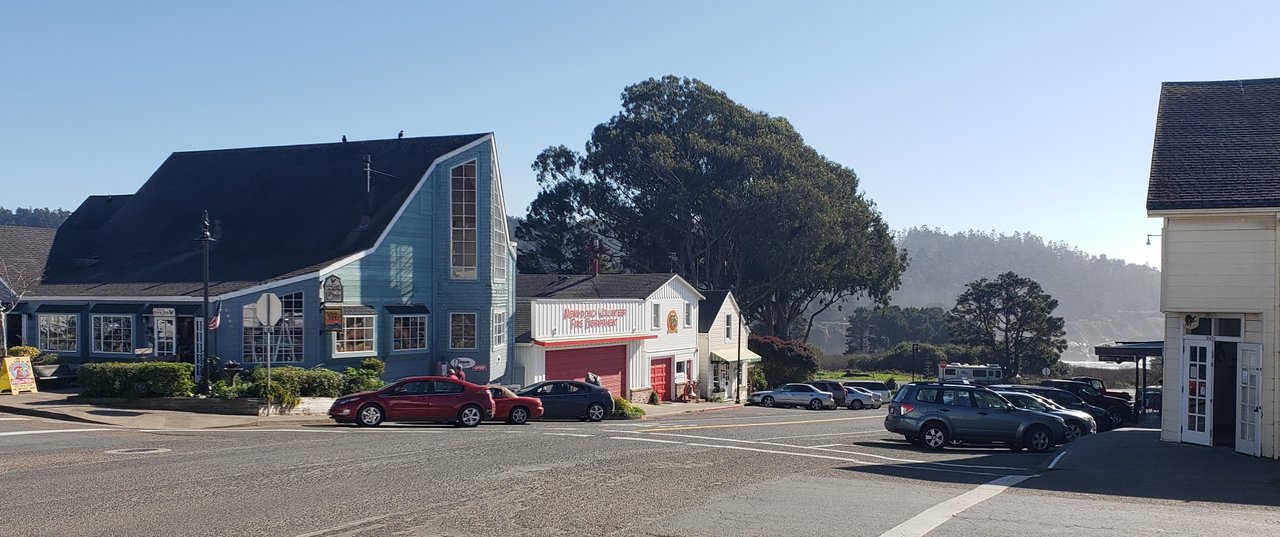 Photo: "Downtown" Mendocino
As we can see here at one of the main intersections in town, there is a great stat about Mendocino. The number of stoplights? Zero! 👌 (There is one out on Hwy 1, but that is not in town.)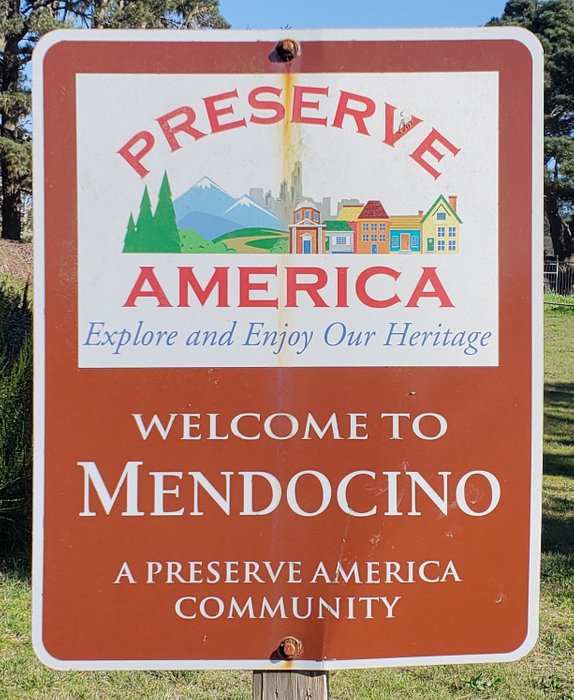 Photo: Preservation Sign Entering Mendocino
This little town has experienced a revival, after going through a period of significant decline. The link above will provide you more information, if this town's history is of interest.
Mendocino Headlands State Park
Getting then, to the "main event" and seeing what there is to see, please check out the map below of the layout of the area I cover in this post.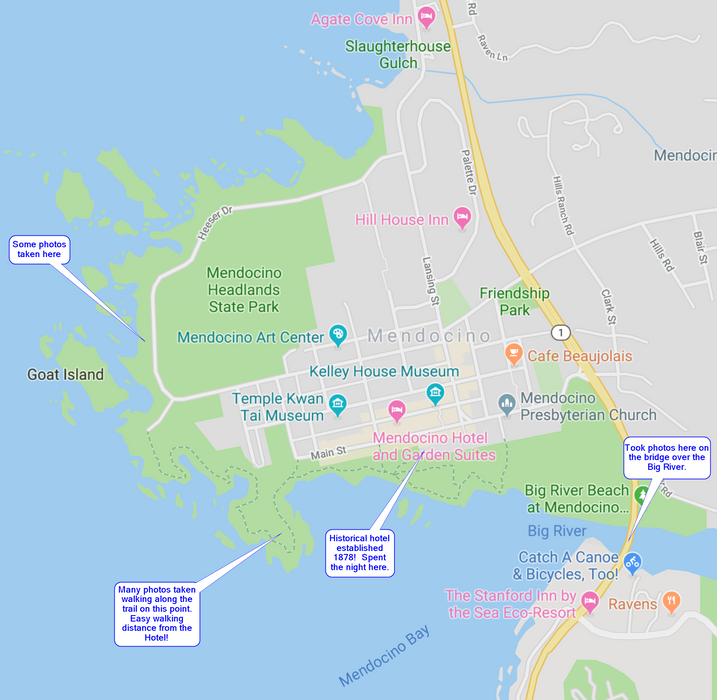 Photo: Map of Area Covered in this Post
Most of the pictures I took were in the Mendocino Headlands State Park, which begins just down the road from the Hotel, i.e. easy walking distance.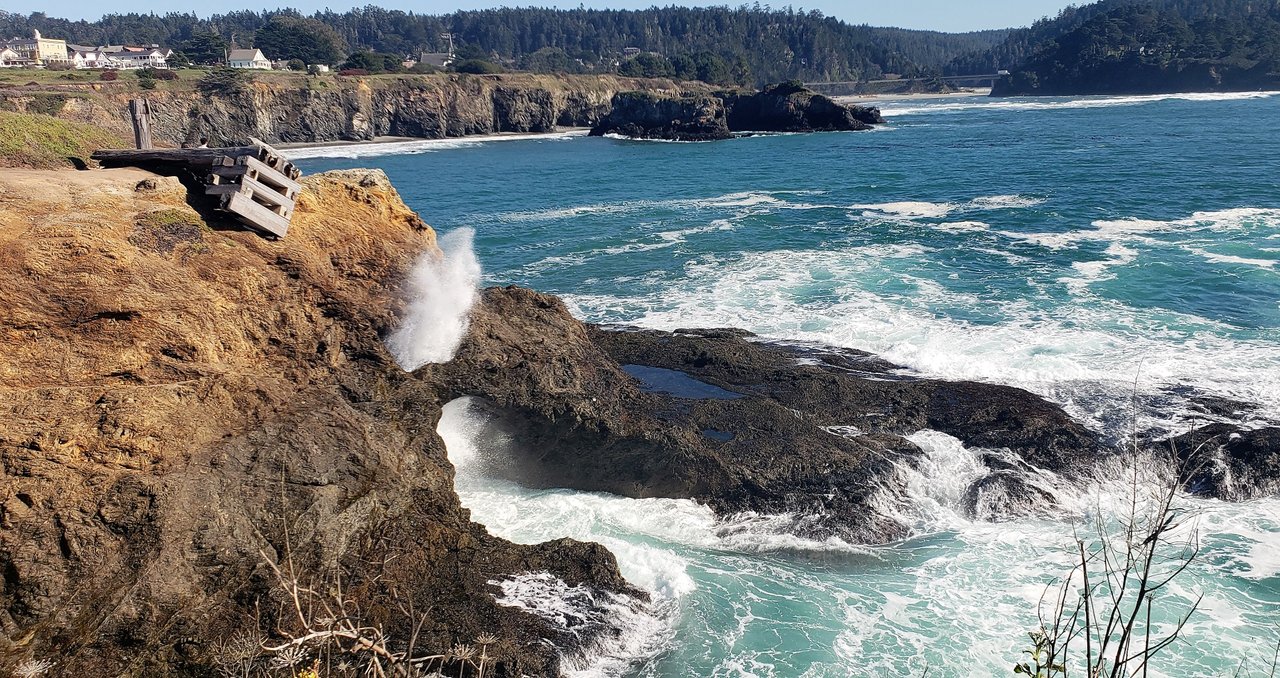 Photo: Hole in Rock from Relentless Surf
The relentless pounding from the surf has created holes like the one we see in the lower left of this picture. You'll note, in the upper left of the picture, this view is a short walk from the Hotel.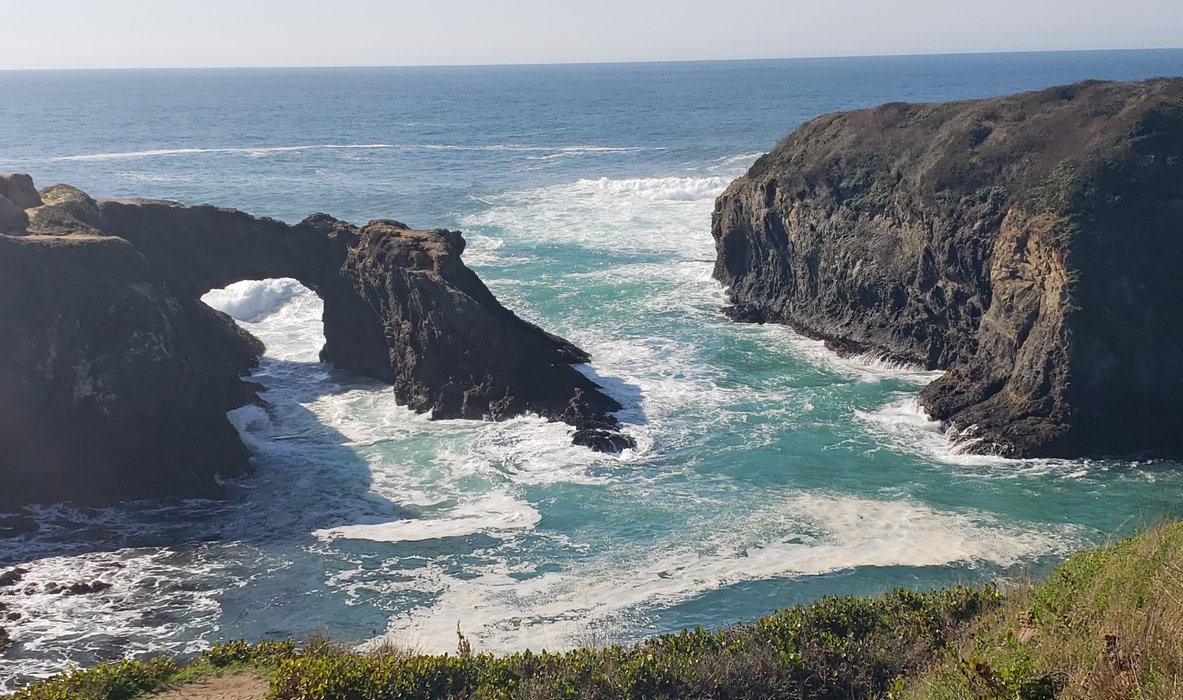 Photo: Another "Hole in the Rock"
Here is another hole in the rock worn by the surf. In my short time in the area, I actually saw several of these, although some are considerably smaller and harder to capture on film.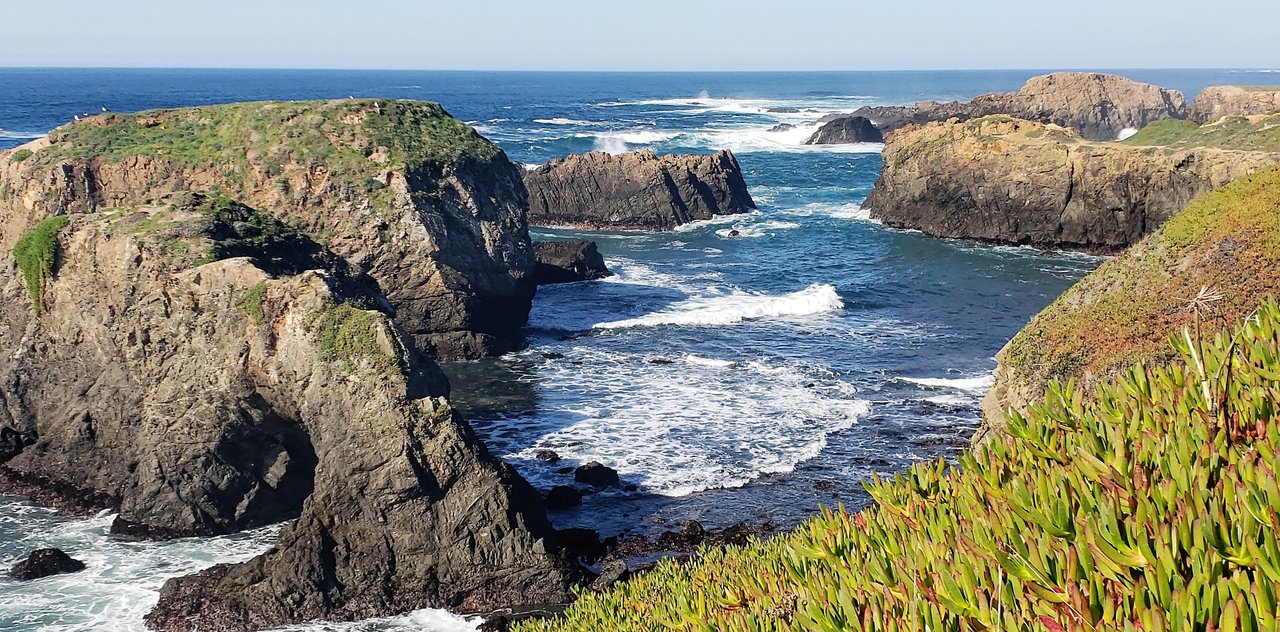 Photo: "Goat" Rock?
Some of the information about the area talked about goats being out on these rocks. I only saw these birds. I would imagine there is an interesting story behind any goats getting out on these rocks. I hope to have time to look into more of the town's history, if I ever have the opportunity to come back.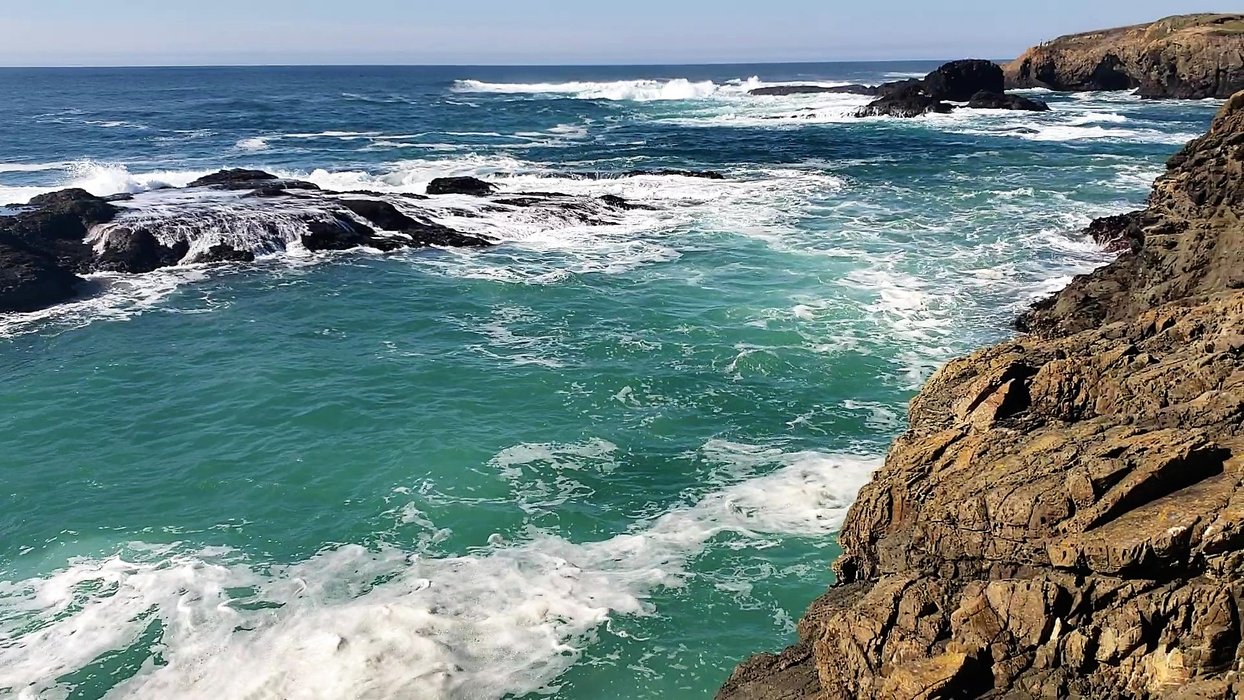 Photo: Looking out to the open Pacific!
At the tip of the point, I sat for a long while just looking out to sea. The sea is not "in my DNA," as some would say, as I was 19 years old before I saw it for the first time. And even then, it was down in Los Angeles and frankly didn't impress me all that much.
But, no question, especially in a setting like this one, there is something mesmerizing about watching and listening to the sea.
---
I took many more pictures, but rather than bury my poor readers with them, I selected those which stood out the most to me. In one session in particular, I kept trying to get an up close picture of this beautiful sea bird and the ocean behind it.
But ... While my trusty little smartphone does pretty well, it really is not up to a task like that one.
Big River Beach
As covered in yesterday's post, there is something special about where fresh water comes to the sea. The Big River Beach really stands out!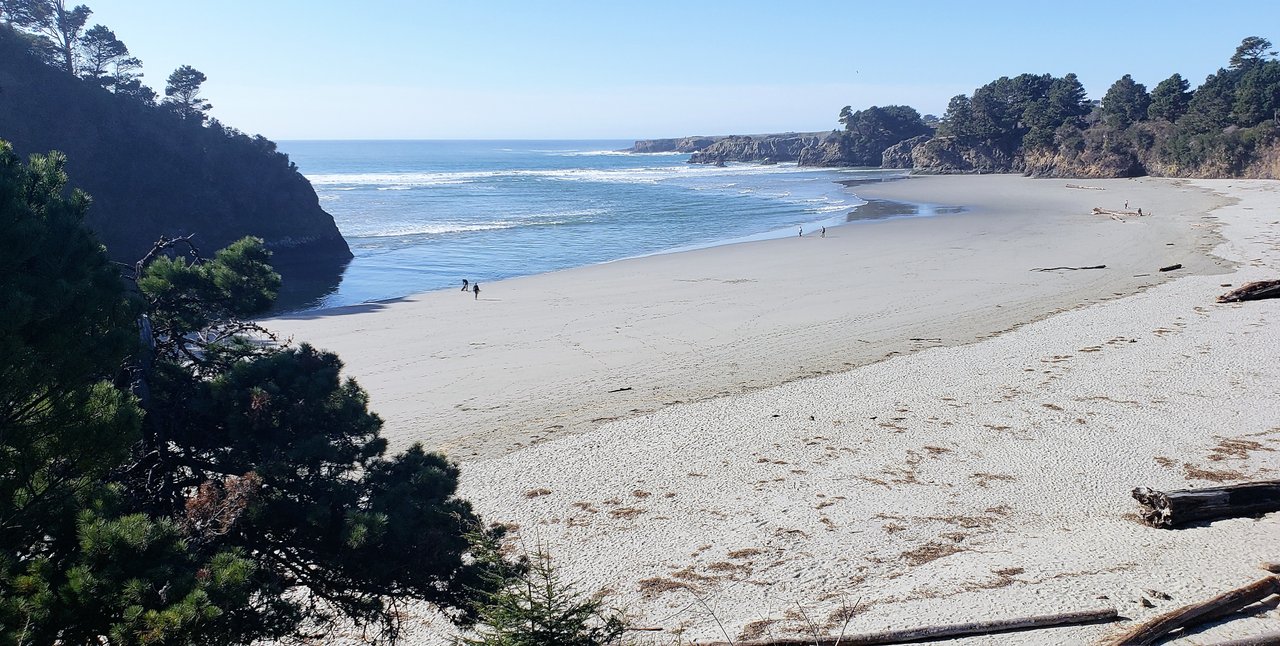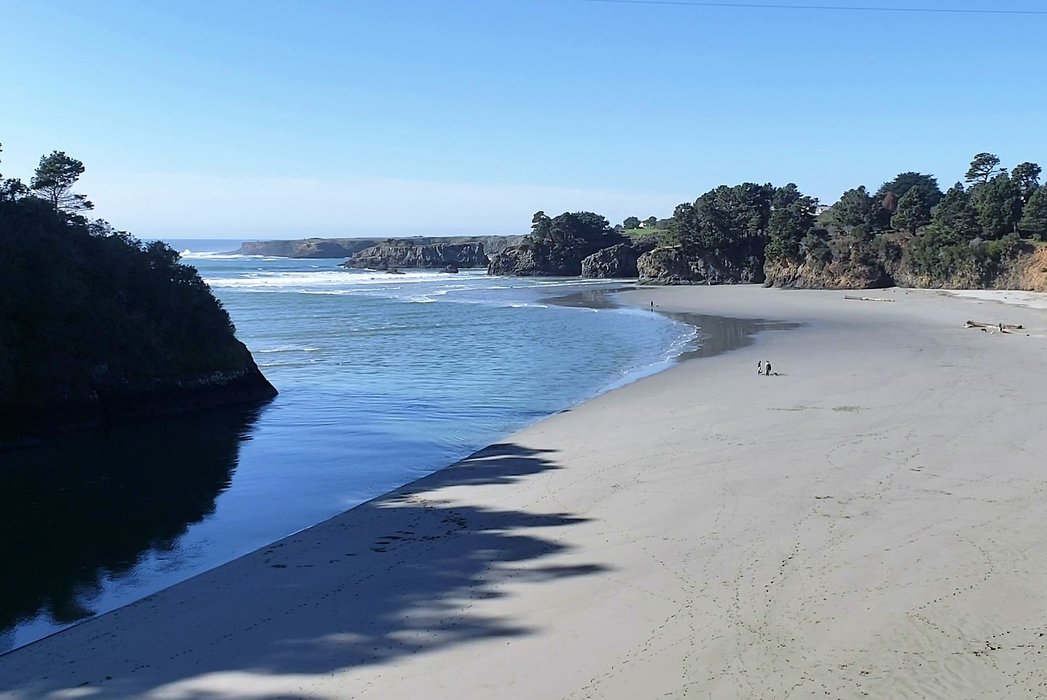 Photo: Big River flows into Mendocino Bay
As we can see, the setting includes a very nice stretch of beach. This is a favorite place for people to walk.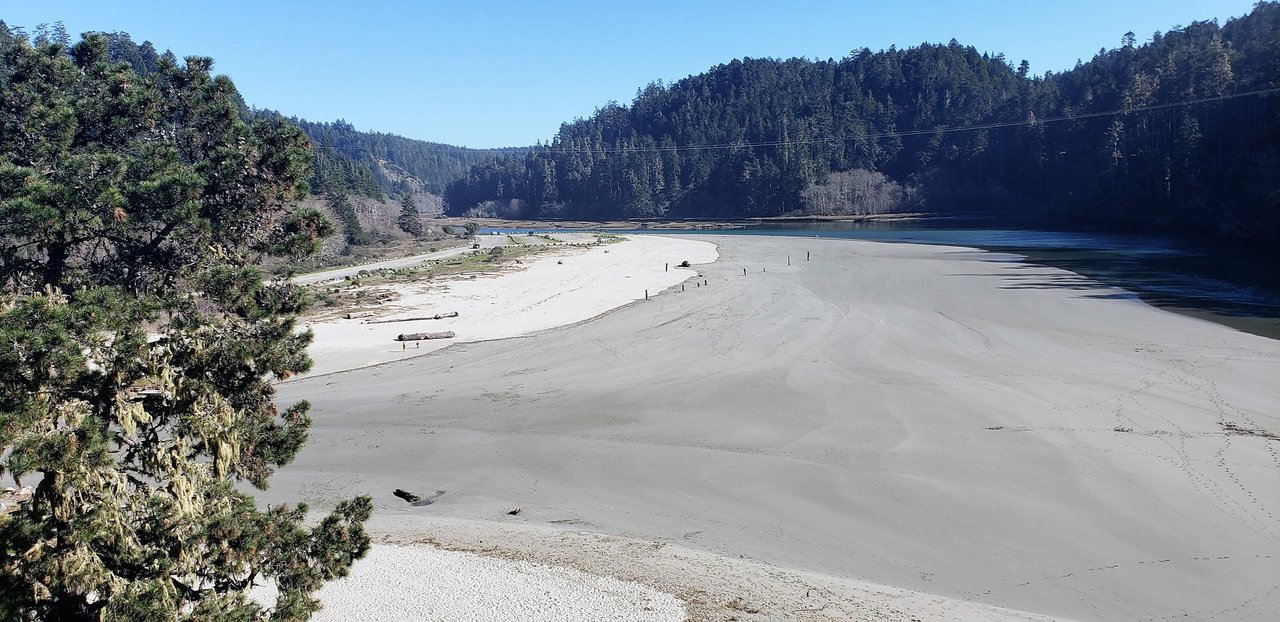 Photo: Big River Upstream
Access is very simple. I regret not having more time available than I did, as I would've loved to "hang out" down there. As you'll see shortly, I talk about coming back here and spending a week, rather than a day. I could comfortably spend the better part of a day walking along the beach beside this river.
Mendocino Hotel
In an area like this, you can probably find accommodations for any budget. For any taste. For me, I am a pretty basic sort of guy. While I have been to some pretty plush places over the years, for the most part, the "finer things in life" are wasted on me. Simple reason. The "value for money" question is always on my mind and I seldom find value in places like that equal to the exorbitant price tag.
That said, when I walked into the Mendocino Hotel & Garden Suites, their "best price" was based on a shared bathroom. 😧 Price was $40 per night. And the price with your own bathroom? $69 per night. So, I "splurged" and went with the "extravagant extra" of having my own bathroom. 😊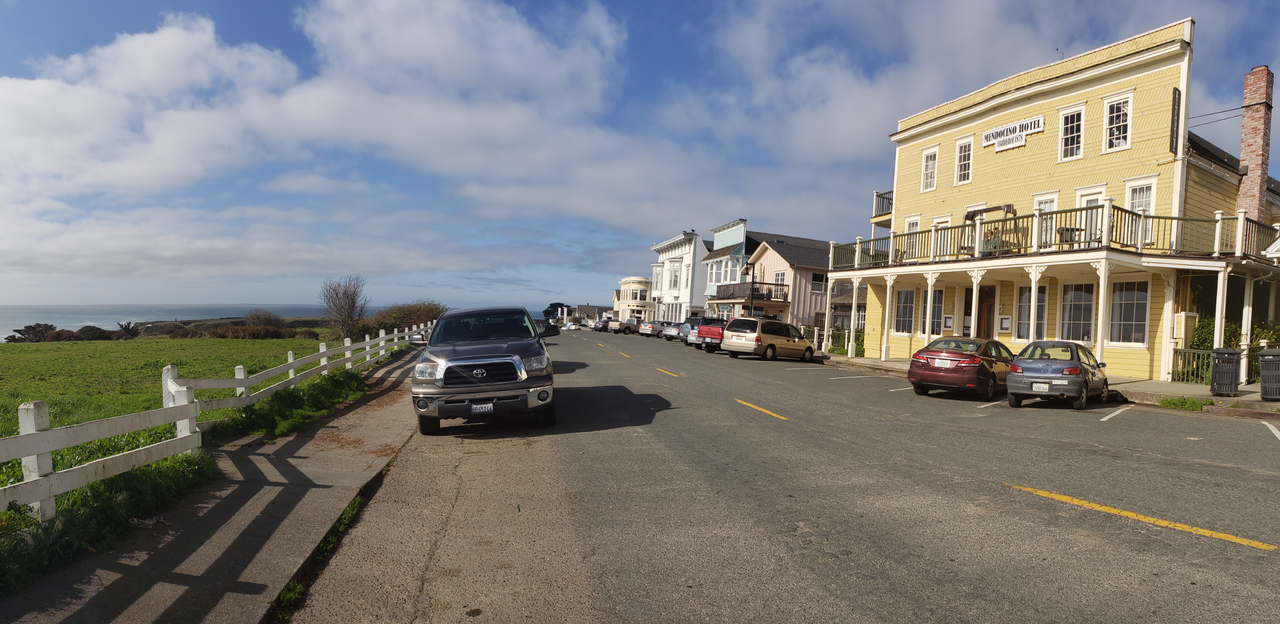 Photo: Mendocino Hotel on Main Street
While I can't say I cared a lot for it in school (although always getting A grades ...), I have always liked history. While one might reasonably say this place doesn't look all that great from the outside, I really liked the inside.
Everything about it says, "I was built in 1878!" And rather than hide it, they flaunt it. Works for me!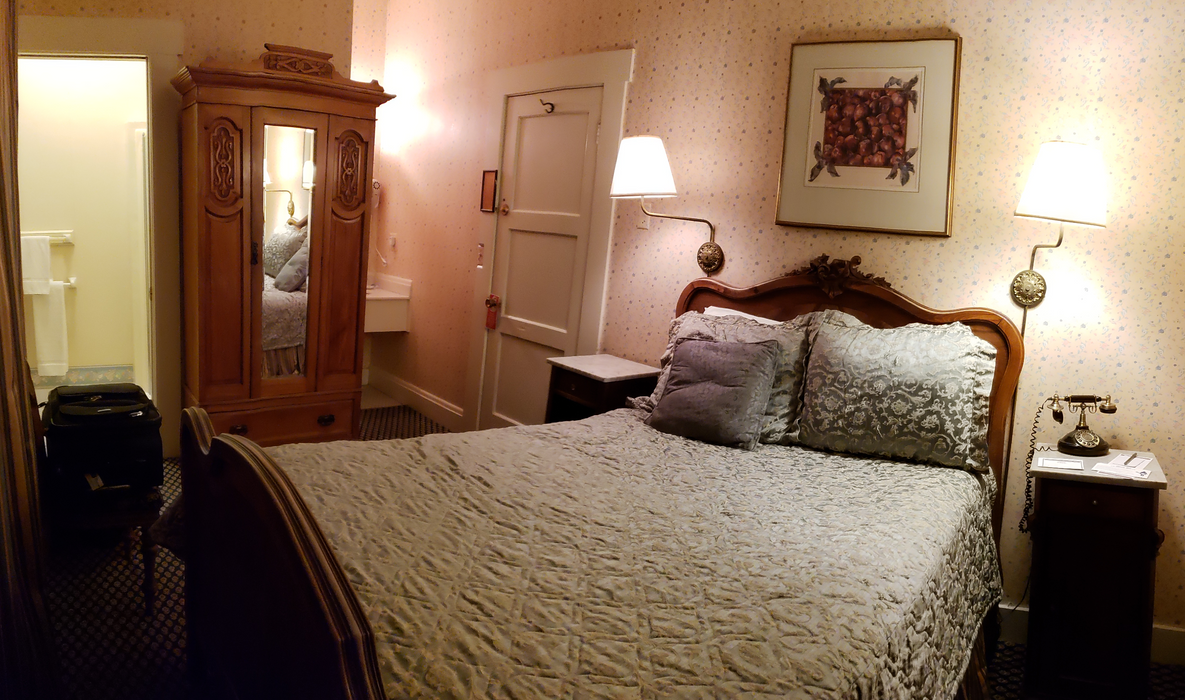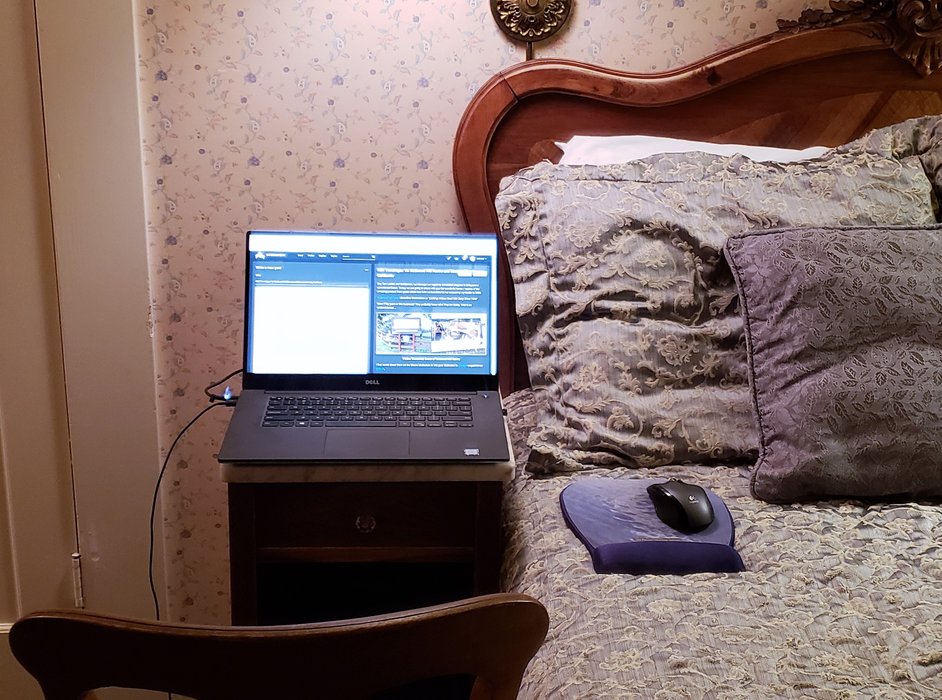 Photo: @roleerob's Room and Deluxe "Workstation" on 30 January 2019
Quite small, but fully functional room. Yes, that phone works!
As stated above, arriving in the dark in a town to which I had never been, I had no idea of the setting. Until the next morning ...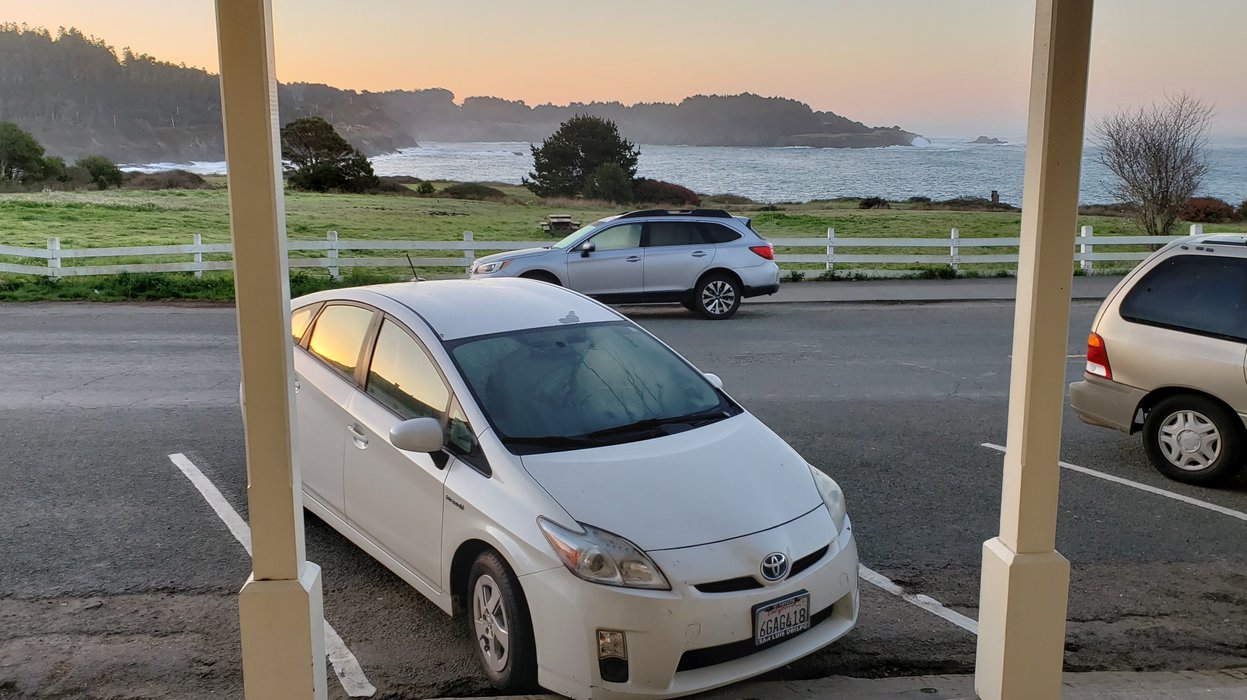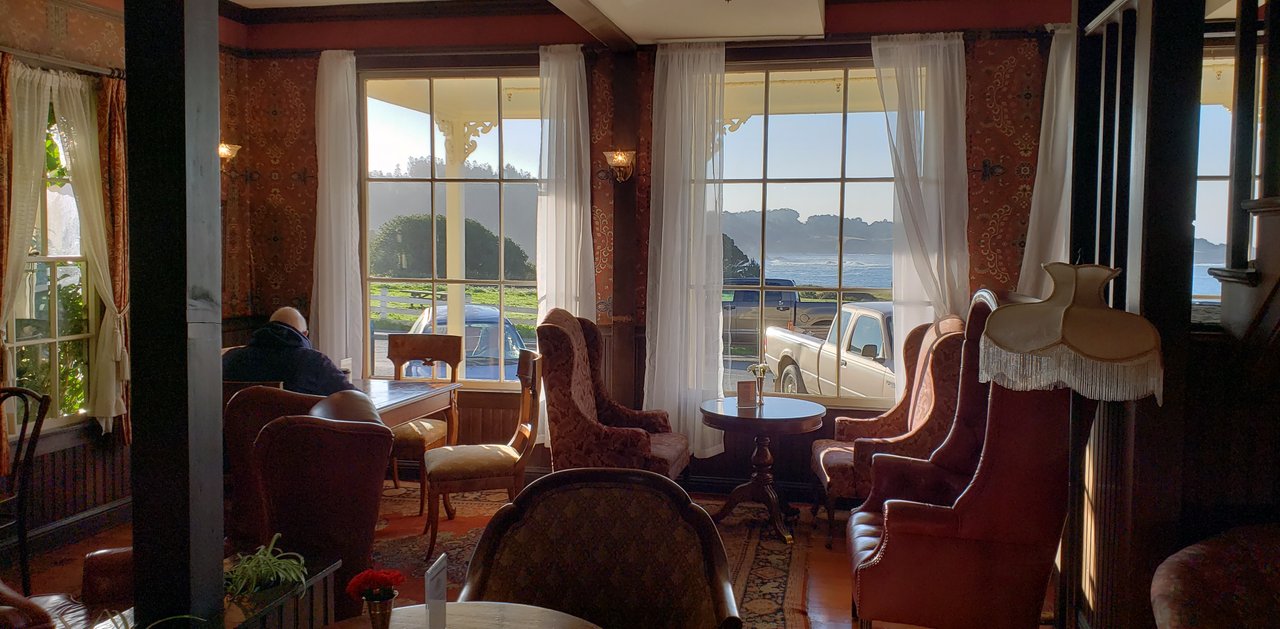 Photos: Morning Views from Mendocino Hotel
Oh yes! After all of the "twisty turns" in the dark to get there, what a great place to have providentially chosen to spend last night. Thank you Lord!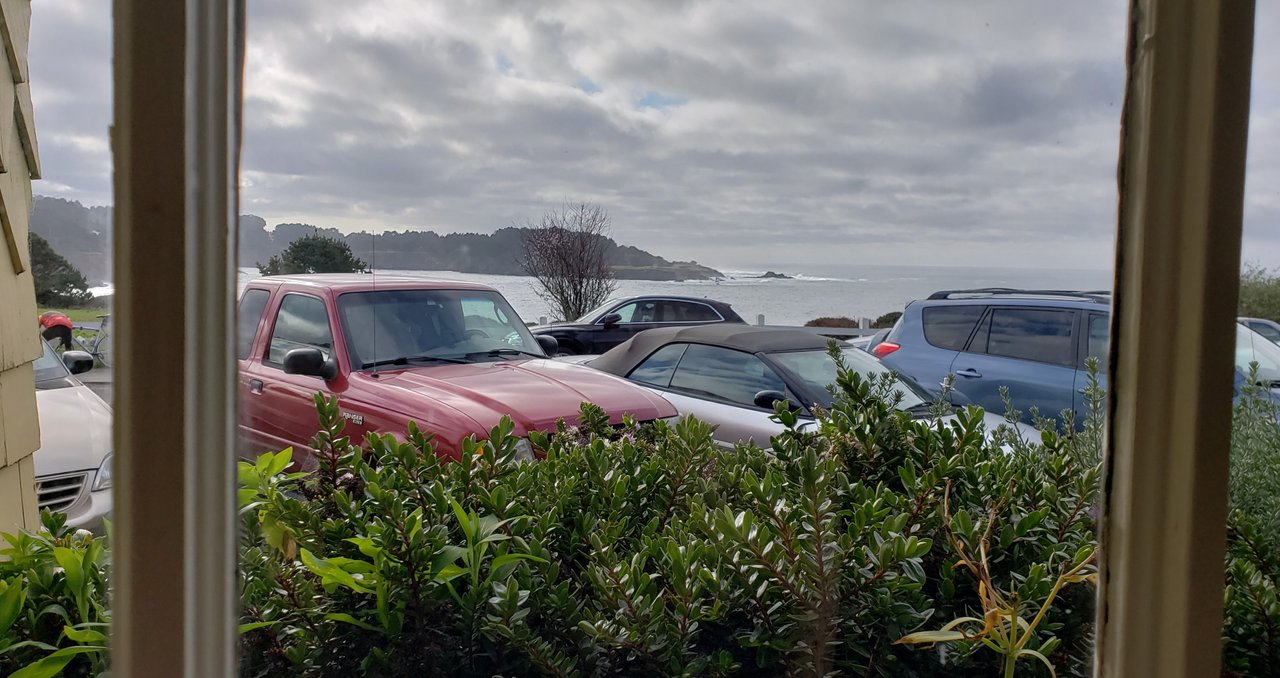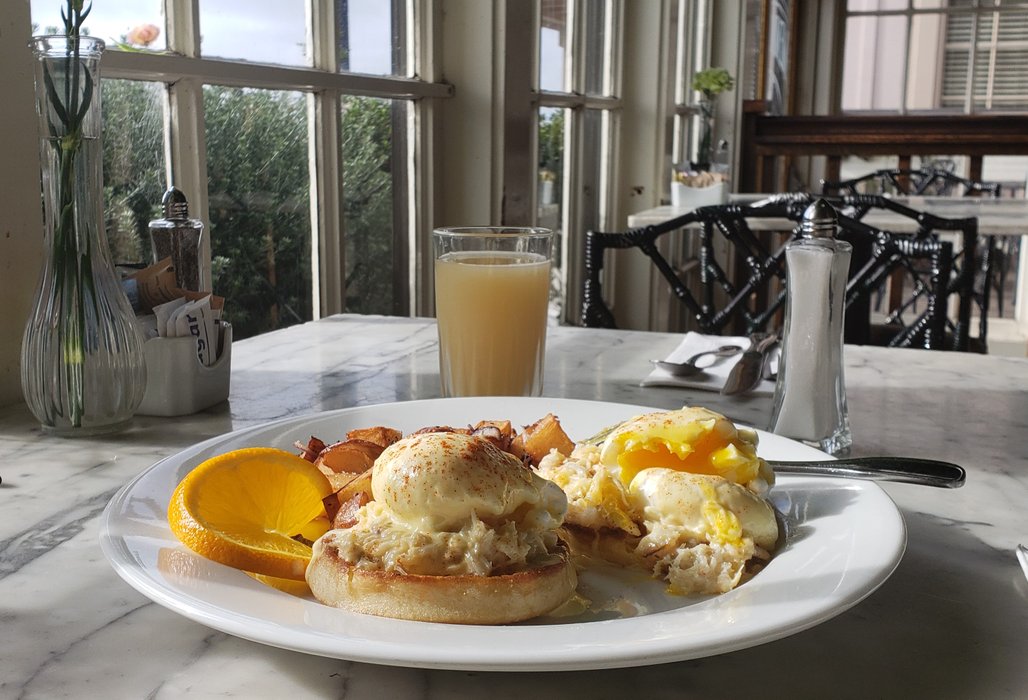 Photo: Day Eleven Breakfast!
So, to get the day off to a good start, I ate a great breakfast of eggs benedict with dungeness crab, while watching the ocean out of my window. Note my trusty little Ford Ranger just outside patiently waiting to get going again!
Closing Note on Mendocino Hotel: In spite of my lighthearted "poke" about the deluxe workstation area in my room, please note that the front desk said I was free to work downstairs, on one of the tables. As one can see above, the tables were very nice. In fac, all of the downstairs area was very well done. And there were people doing exactly that, i.e. utilizing the various electronic devices comfortably seated around their tables.

Postscript for Day Eleven


Waving goodbye to Mendocino, here are the last pictures I took north of town.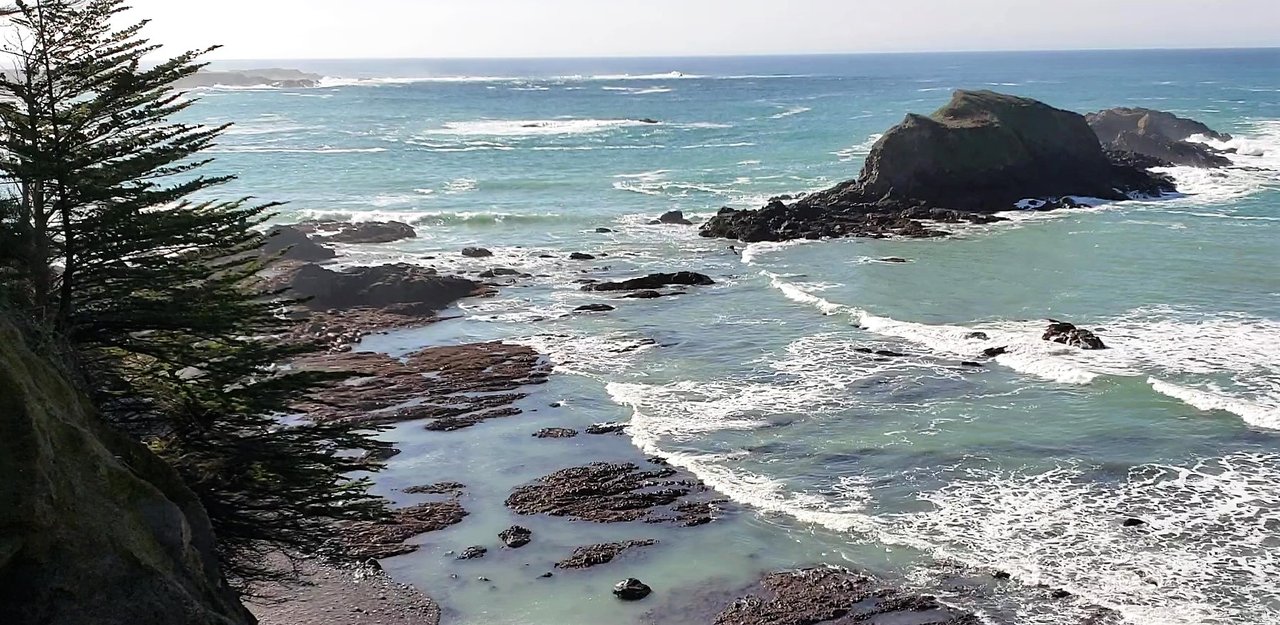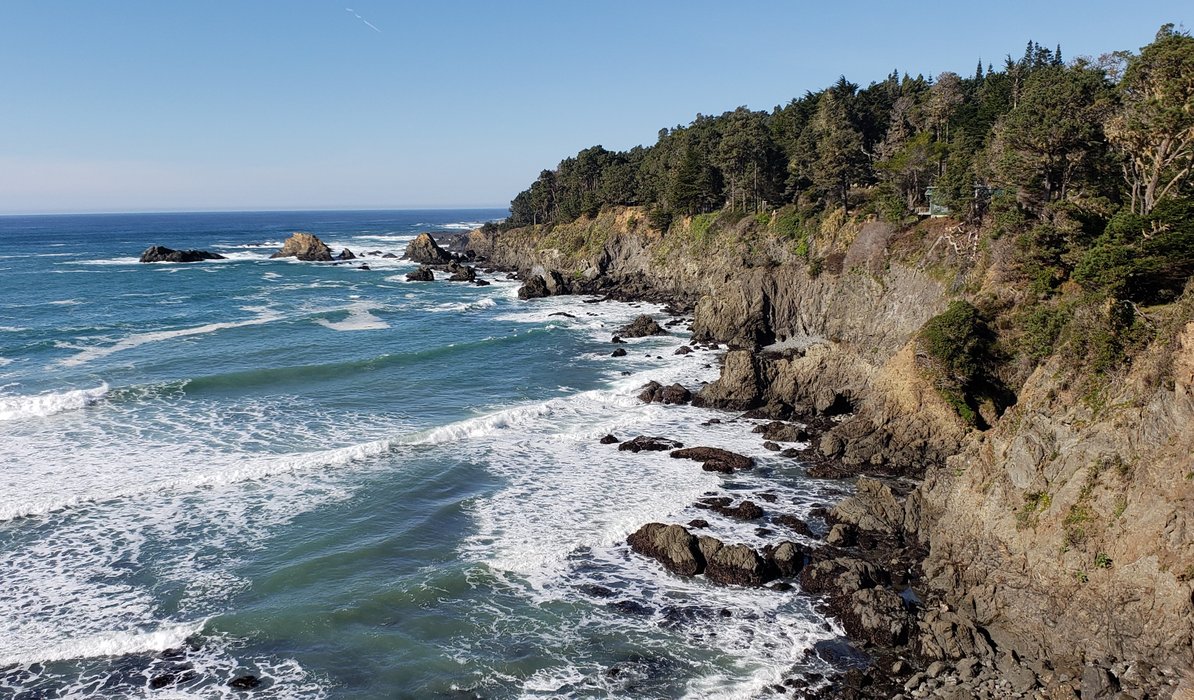 Photos: Last Views Leaving Mendocino
Just a quick note for those who may read this post and chose to try to recreate it a bit. Here you see where Hwy 1 leaves the coast (just too rugged to stay on the coast) and heads up into the coastal mountains: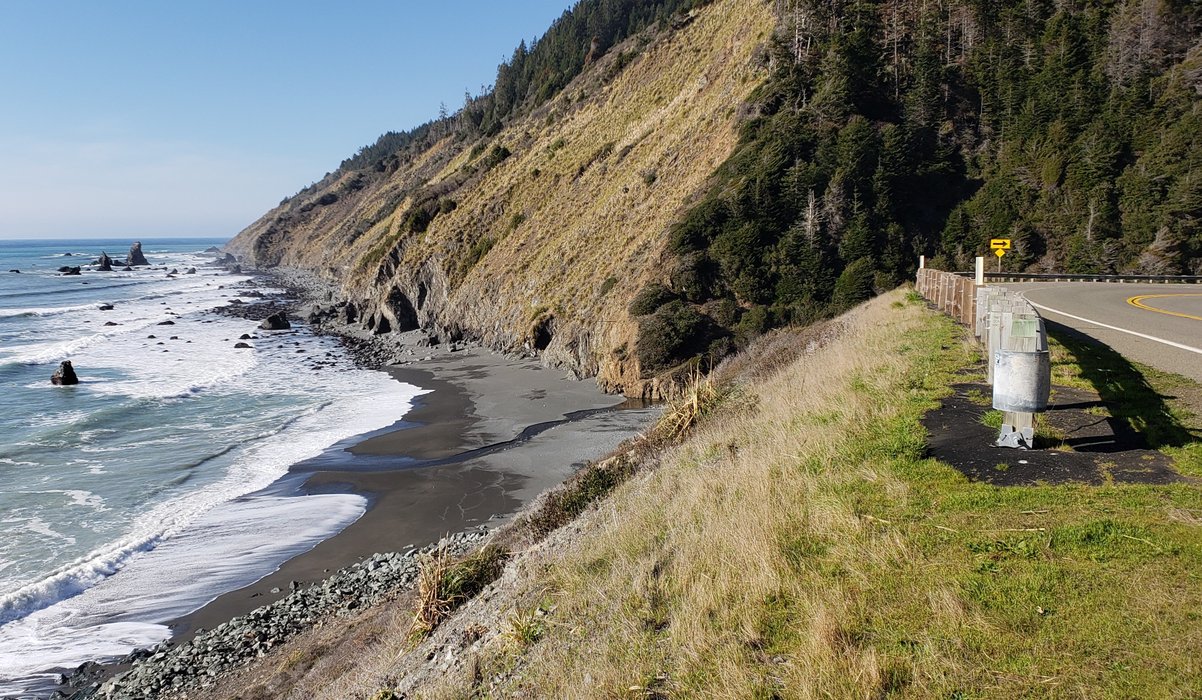 Photo: Highway 1 Leaves the Mendocino Coast
If it appears that arrow is showing a 90° corner in the road, that is about right. Having negotiated innumerable 20 mph curves and far too many 15 mph curves, up to this point on Hwy 1, I thought it might get a little better heading up into the mountains.
Nope! "Business as usual," and we even had a new "record," with one hairpin turn being posted with a 10 mph caution! Good grief! Was this a slow road or what?
If I come this way again and I truly hope to, I will try to set aside a week to get through this stretch that I have just driven through over the last two days. I won't be passing up as many atrractions that I probably would want to experience and it will be more relaxing. Plus, my beloved lifemate will be with me and she will insist on the above! 😊
---
Beyond that, today was a long day, bracketed on both ends by me writing posts on the Steem blockchain. I am enjoying the writing, up to a point. It is closing in on being burdensome, however, so thankfully, this leg of my journey is about over.
By tomorrow night, I will be across the state line and into Oregon. By Saturday night, after my first visit to Crater Lake, I will be in Bend, resting up in preparation for my siblings arrival the following day.
I'll entertain myself watching the Stupor Bowl. I mean the Super Bowl ... 😉 @roleerob doesn't care who wins the game, as long as it is a very competitive game right to the end. Those are my favorite sporting events to watch.
So ... Another post tomorrow about the majestic Redwood forests of northern California - the tallest trees on earth. Then Saturday, a post about Crater Lake in the winter. After that, you will likely find me "going dark" for a few days, while I enjoy the company of and focus on my siblings.

Closing


In closing, I had some fun this afternoon, once leaving the Mendocino area, thinking back over "what could have been." I know there were places, in the fading light of yesterday, where I knew I was passing a place I wish I had been able to see in the full light of day. No question, I passed more in the full darkness, before reaching Mendocino.
So ... There's an old saying, "If at first you don't succeed, try, try again!" Yep, I'll just have to come back some day and recreate this part of the trip and get the timing better worked out. It would definitely be a trip I'd make again in a heartbeat. And in January! 😉
Well, another wonderful day in "@roleerob's excellent adventure" comes to a close! Thanks for going along with me, dear reader. I'd love to hear any feedback you may be inspired to provide.
Until "next time," all the best to you for a better tomorrow, as we all work together to build our Steem Community! 👍 😊
Respectfully,
Steemian @roleerob
Posted using SteemPeak and "immutably enshrined in the blockchain" on Thursday, 31 January 2019!
---
"R2R" Note: My "shorthand" way of referring to what I first wrote about in my Reflections: My "Road to Recovery" Trip post. "Road to Recovery" <=> "R2R" ... 😉

Image sources, unless otherwise noted: My trusty smartphone!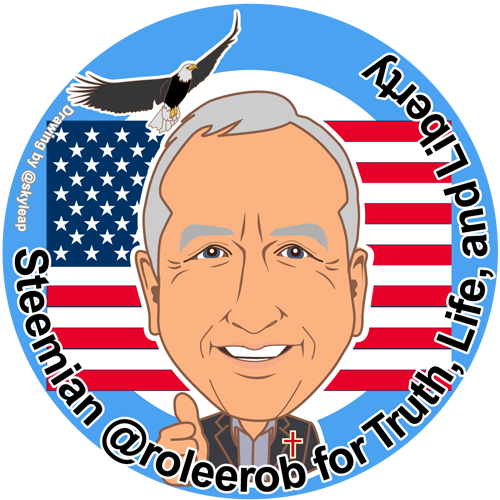 If you liked this post, you might enjoy others in my "Road to Recovery" Travelogue series:
This account is protected by @dustsweeper