Day Thirteen: For the last two weeks of my R2R adventure, I have repeatedly had to actively work against my "hard-wired" tendency to rush through to some imagined deadline. Deadline driven most of my professional life, it is a symptom I suppose of what I will need to work on adjusting going into the "next chapter" of my life.
Specifically, in this instance, I was "rushing" down the highway, with the "deadline" in front of me of visiting Crater Lake, before it got too much later. Not sure frankly why I felt that way, but part of it was certainly having taken an unproductive side-road detour earlier in the morning, I felt I had to make that "lost time" up ...
Along the highway, I noted a sign to what sounded like an interesting place. Then, drove past it ... My "gut check" was to turn around and go back.
Sure glad I did!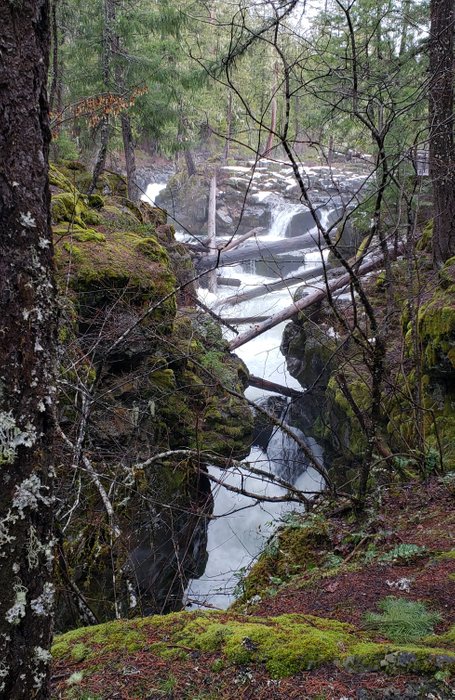 Photo: Rogue River Falls
The sign I drove past referred to "Rogue River Gorge Viewpoint." Please "walk with me," as we take a closer look at this great little park in a very nice setting.
Note: This will be the second post about the 13th day of my adventure. The first was about the primary objective for the day - visiting Crater Lake National Park. To meet the requirements of linking these posts to SteemItWorldMap, you can only write about one location in each post. Makes sense.

Rogue River Gorge Viewpoint


Rogue River Gorge Viewpoint is a small, but beautiful attraction just off of the Rogue-Umpqua Scenic Byway, on your way to Crater Lake National Park.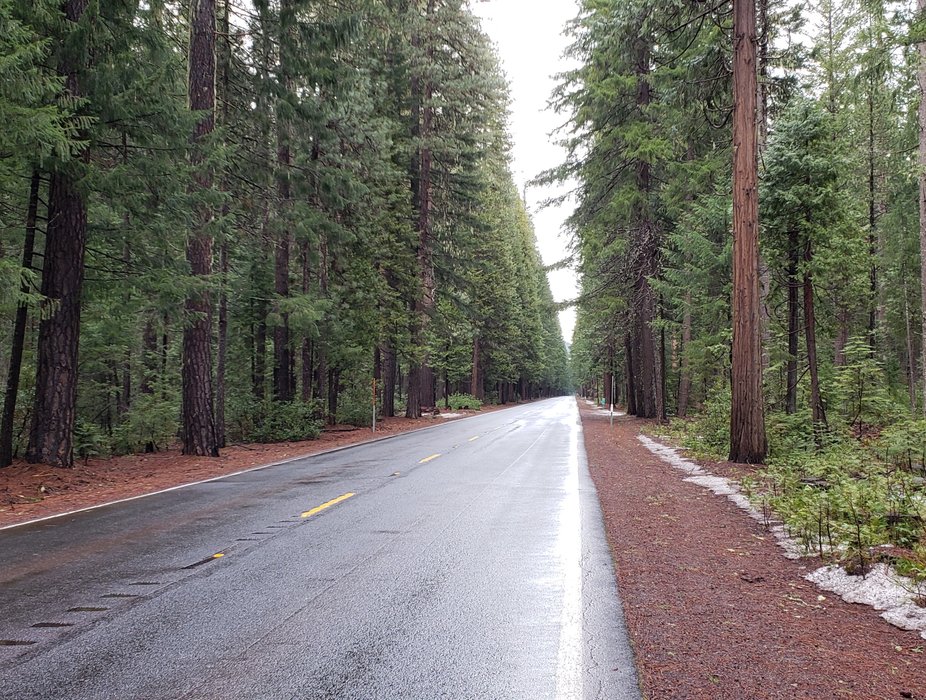 Photo: Traveling on Rogue-Umpqua Scenic Byway
As we can see, it is a beautiful stretch of highway. Like driving down a green hallway, with the branches almost touching across the road at times overhead.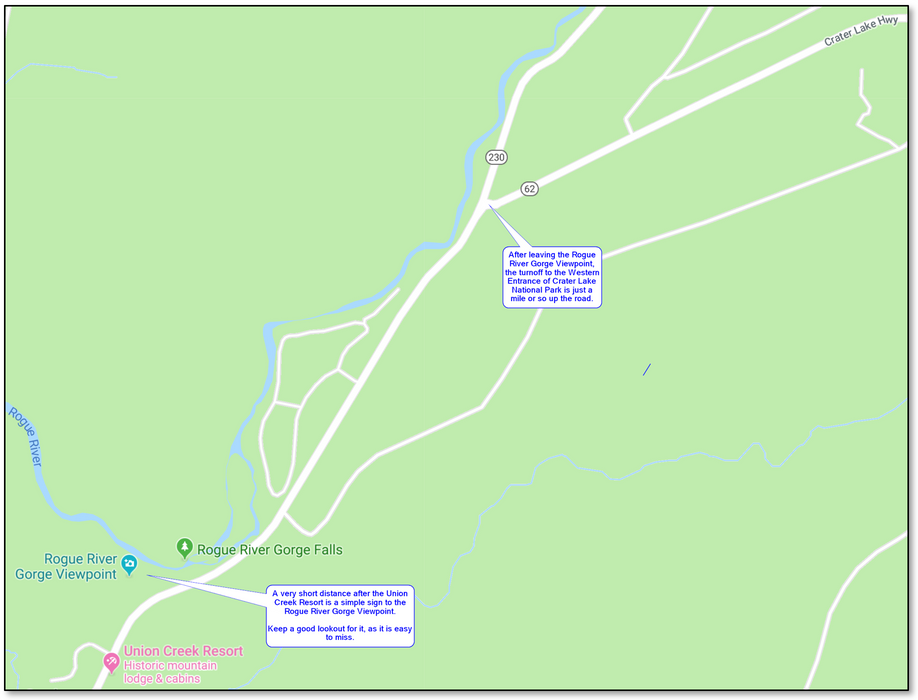 Photo: Map of Area
Note the turnoff into this little park is a short distance away from the turnoff to the West Entrance to Crater Lake National Park.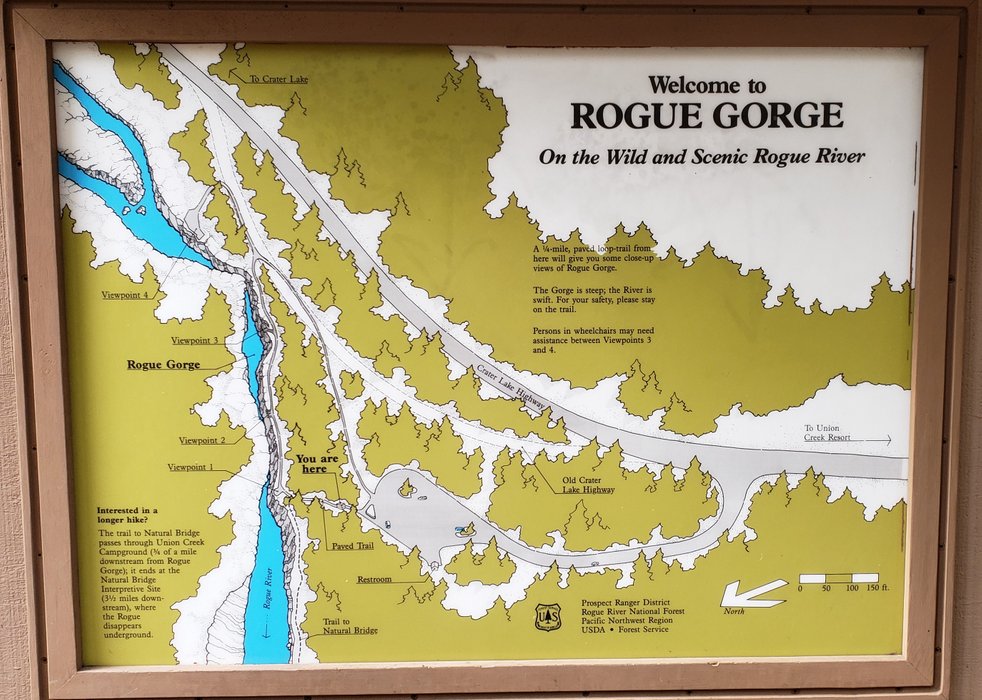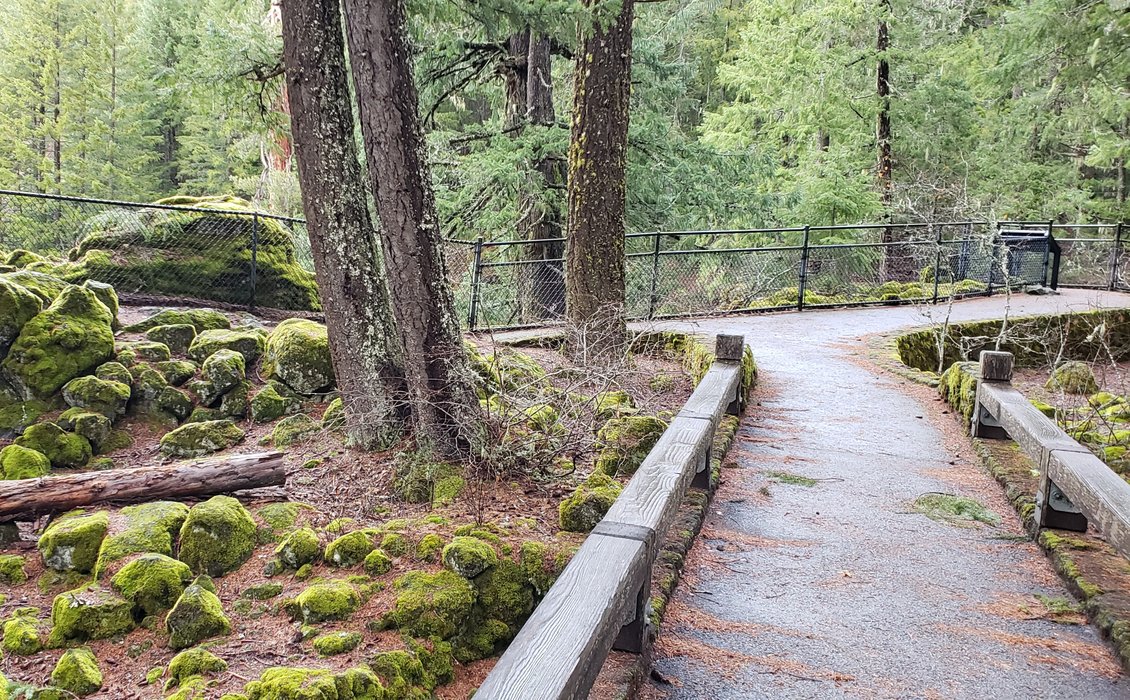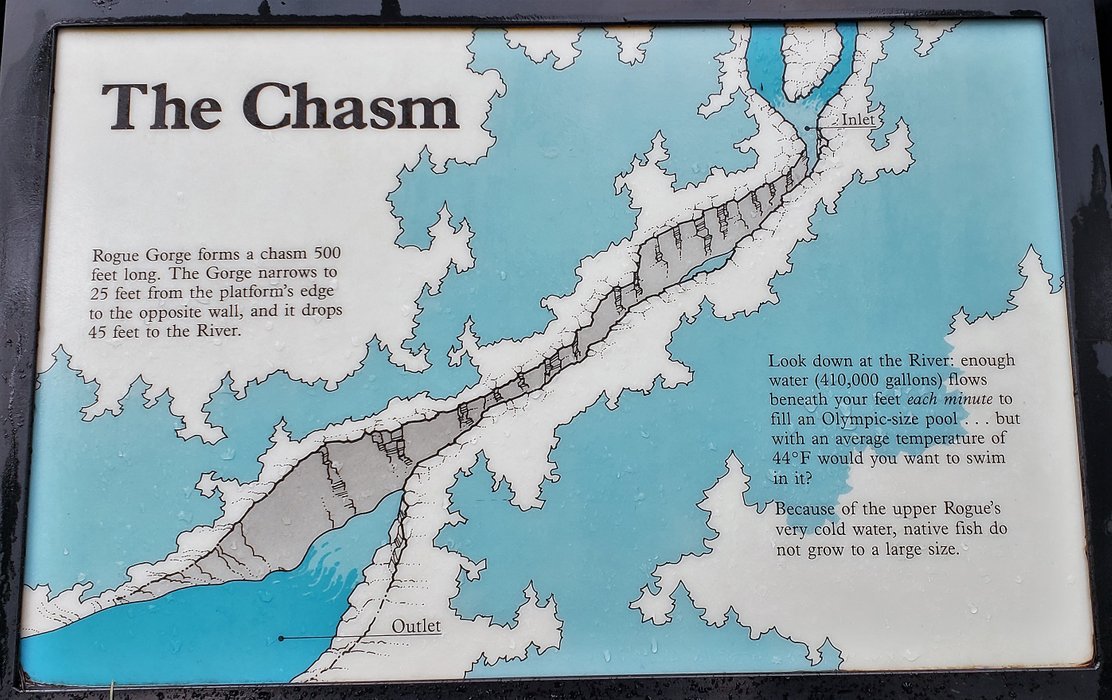 Photo: Info on and Entrance to Rogue River Gorge
The little park area is nicely maintained. It was very peaceful, as I was the only one there. All I heard was the roaring sound of the river rushing through the gorge.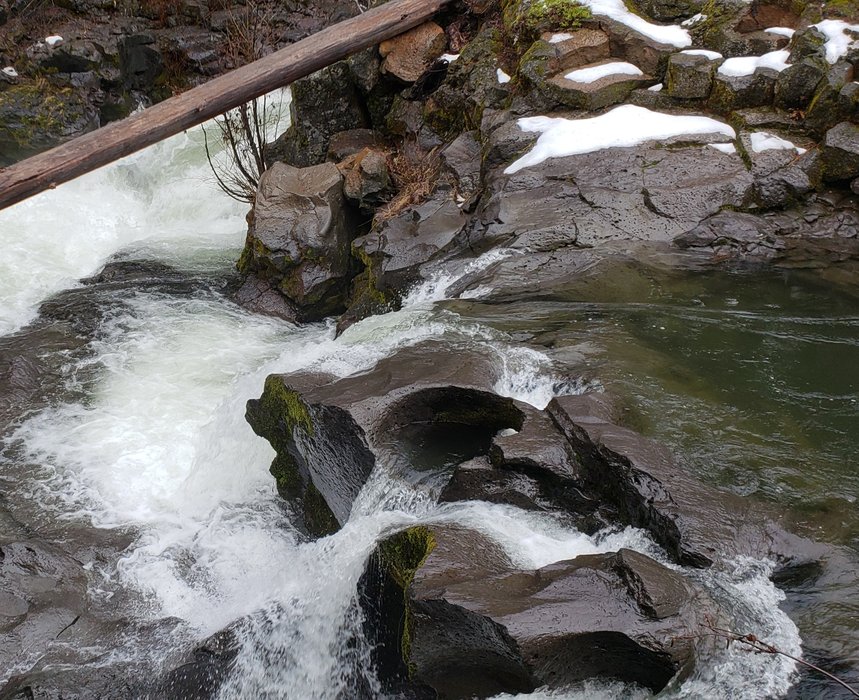 Photo: Rogue River at Head of Falls
Notice the shaping of the lava rock by the flow of the river. In the lower center of the picture, we will see a little arch, then a little bowl. Info on the site spoke of lava tubes, so I suspect these structures are a combination of both the flow of the river and the natural formation of these lava tubes.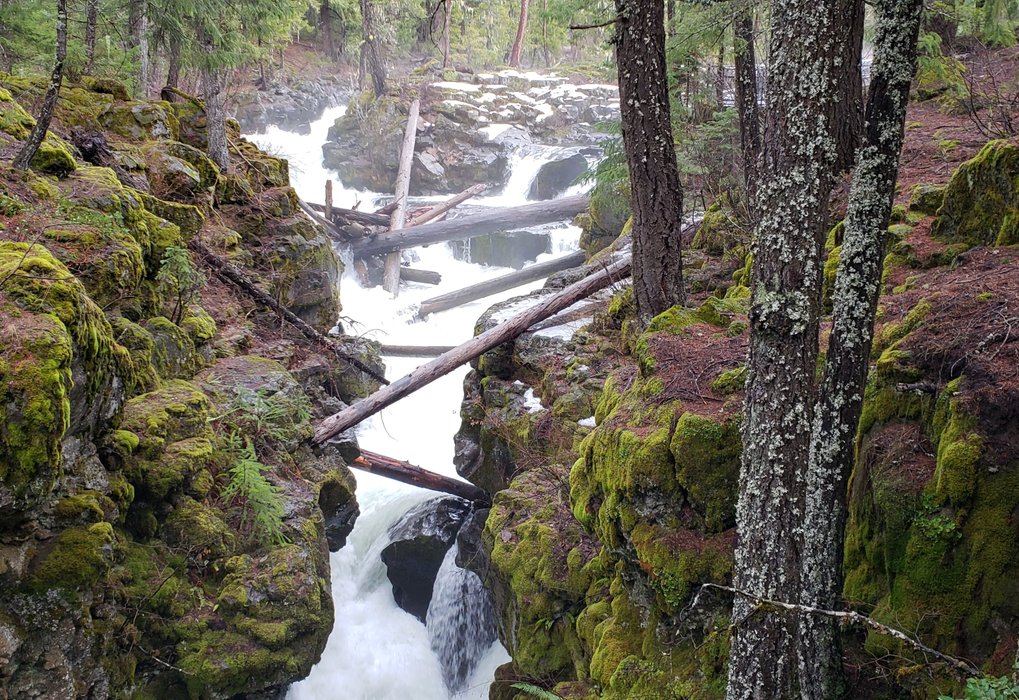 Photo: Rogue River Falls into Gorge
Once the river goes over the falls, it roars down through the narrow gorge for about 500 feet.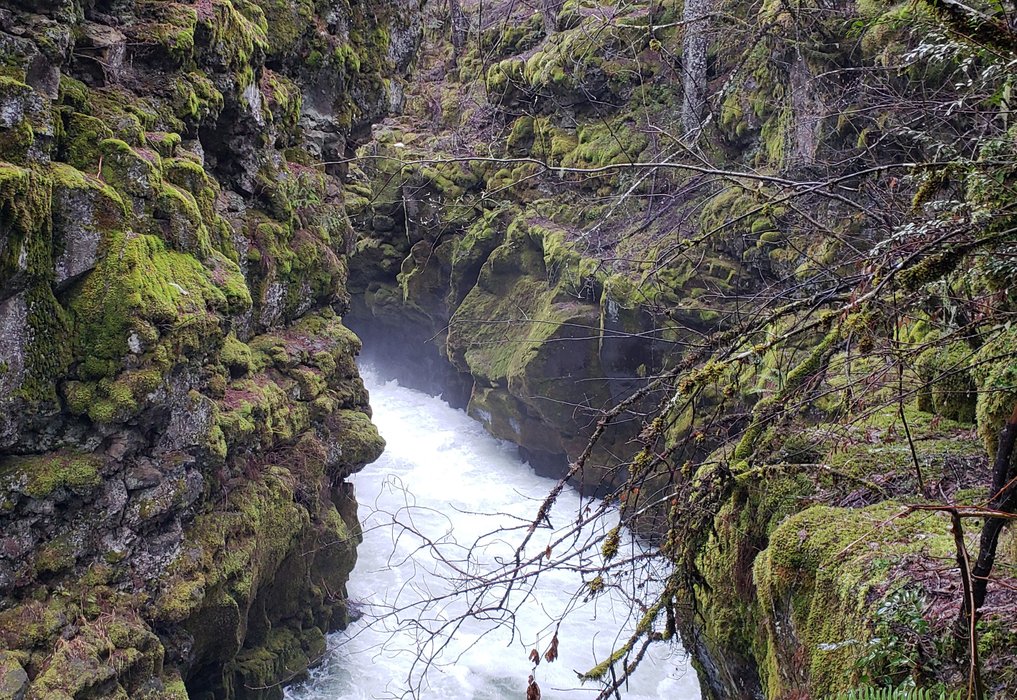 Photo: Down in Gorge at Base of Falls
The sound of the water roaring through this gorge was impressive. And I was here in the wintertime, with flows comparatively low. Follow the link above to read more info on this gorge and to see pictures of it at full flow in the springtime!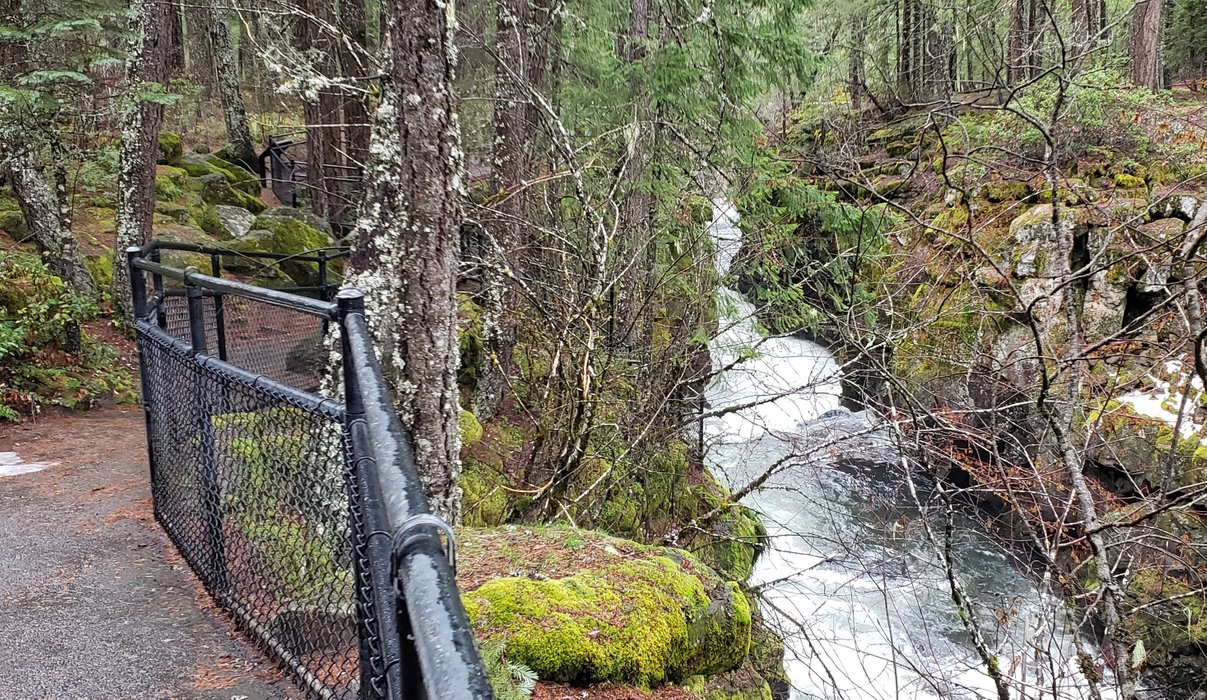 Photo: Part of Gorge and Trail
Speaking of springtime, I can imagine a completely different "feel" in this great little park, during a different time of the year. As it was, there was a lot of snow and treacherous ice on these walks, while I was there. Not a problem for me, but I just pictured the spring time with bushes flowering and the flow of the river higher being a particularly nice experience.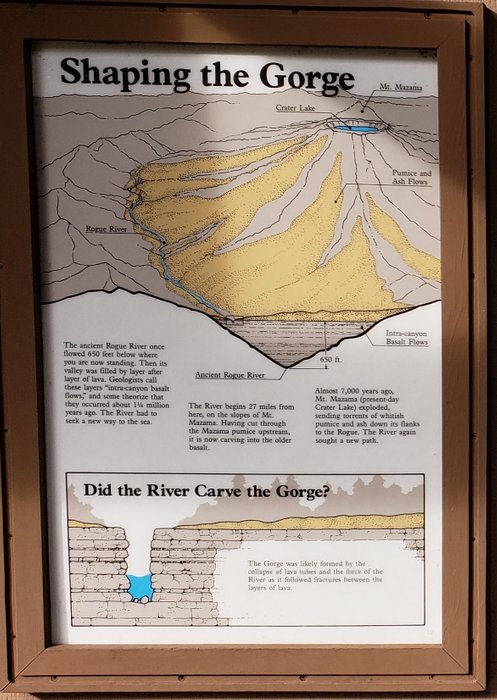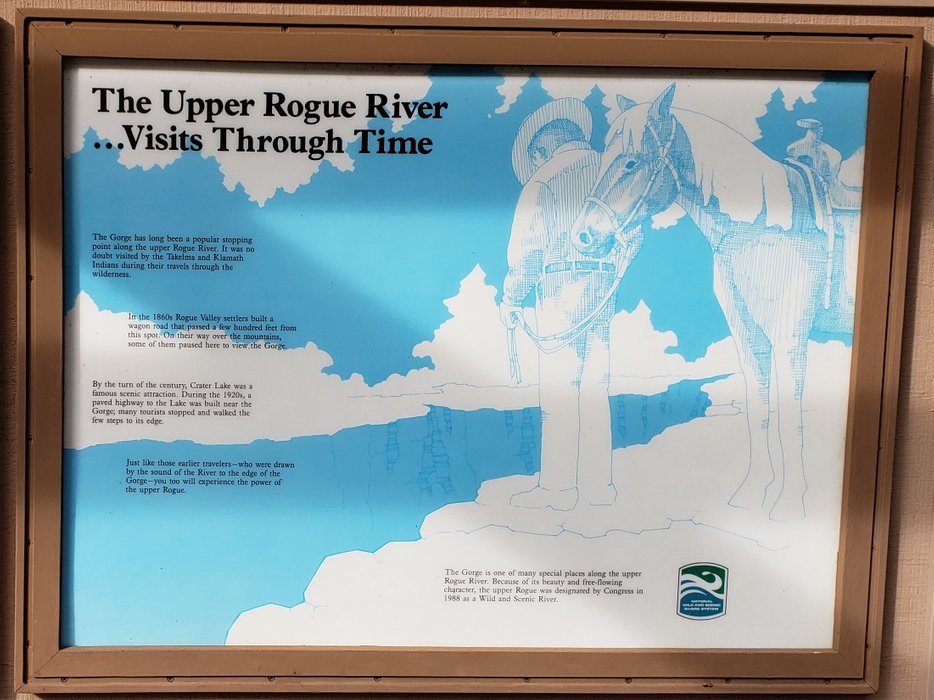 Photo: History of Rogue River Gorge
In this brief history, notice the link between this area and the giant caldera holding nearby Crater Lake.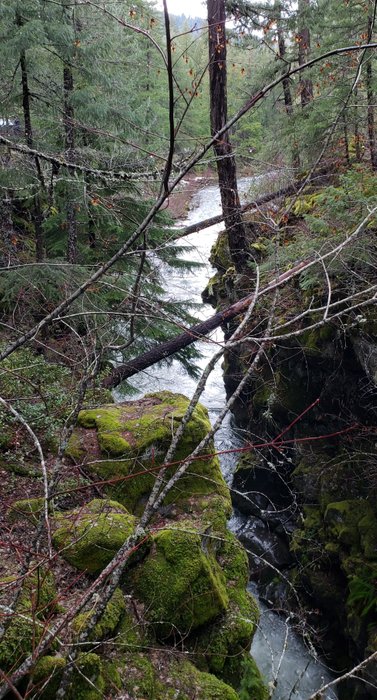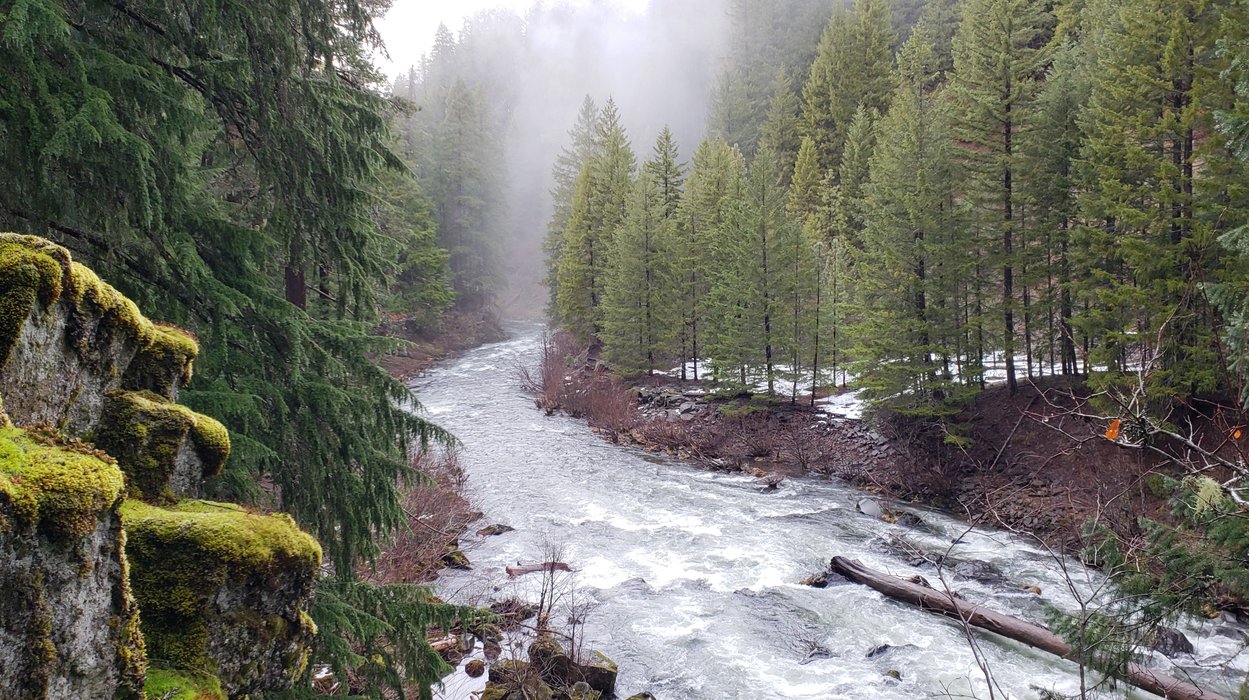 Photo: Outlet to Rogue River Gorge
Only about 500 feet in length, here is the end of the gorge, before it opens back out into the main river channel.
---
So, with all of my imagined concern about time, this stop took me no more than about 30 to 40 minutes. At a better time of the year, I would have easily been tempted to stay longer and just sit and enjoy the soothing and timeless sounds of flowing water.

Closing


There's an old saying, "Stop and smell the roses!" This visit to the Rogue River Gorge Viewpoint was a refresh reminder to me of the wisdom of that old saying. Even when we have well-intentioned thoughts that we will come back sometime, but we're too busy right now, we never know what the future holds. It is not in our control.
Maybe you'll want to give that some thought, as you go flying past opportunities in your life. For which you choose, for one reason or another, not to stop.
Thanks for going along with me, dear reader. I'd love to hear any feedback you may be inspired to provide.
Until "next time," all the best to you for a better tomorrow, as we all work together to build our Steem Community! 👍 😊
Respectfully,
Steemian @roleerob
Posted using SteemPeak and "immutably enshrined in the blockchain" on Saturday, 2 February 2019!
---
"R2R" Note: My "shorthand" way of referring to what I first wrote about in my Reflections: My "Road to Recovery" Trip post. "Road to Recovery" <=> "R2R" ... 😉

Image sources, unless otherwise noted: My trusty smartphone!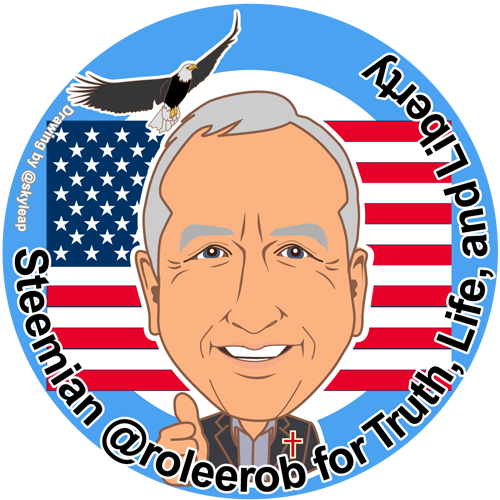 If you liked this post, you might enjoy others in my "Road to Recovery" Travelogue series:
This account is protected by @dustsweeper