Day Twenty: Resuming my travels, after a few great days with my siblings at Sunriver Resort in Oregon, I was off to a little town I had long heard of, but only "whizzed by" on the freeway, in the past. The town?
Pendleton, Oregon. The focus? Their famous woolen mills and the products made from wool.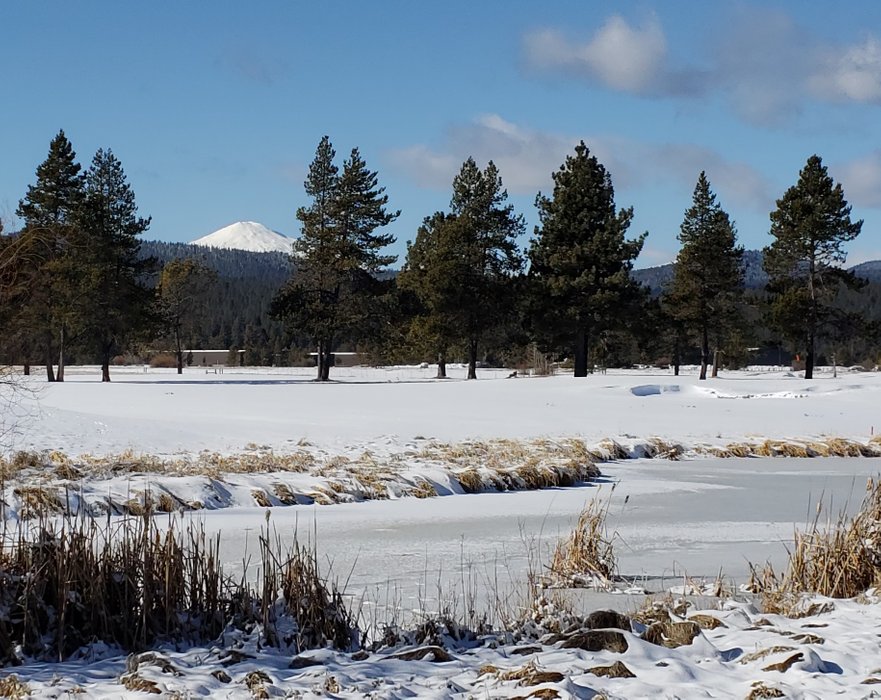 Photo: Mount Bachelor near Bend, Oregon. 9,065 Feet (2,764 Meters). As Viewed from Sunriver Resort.
To get there, I was in for a long day, as I have definitely returned to being in the middle of winter. Wonderful days with no need to even wear a coat, in the deserts of Arizona and the Pacific Coast of California, are over.
Still, even in the snow and fog, I did see some very nice country, using my imagination of what it would have looked like, had it been better weather.
Let's take a closer look!

Oregon Scenic Byway


Up to this point, my travels in Oregon had taken me up from California into the Cascades and along the eastern edge of them. The Cascades are largely a series of volcanic peaks, from Canada on down into California.
Today, I was intentionally heading east, out into a much more remote part of Oregon, not as commonly seen.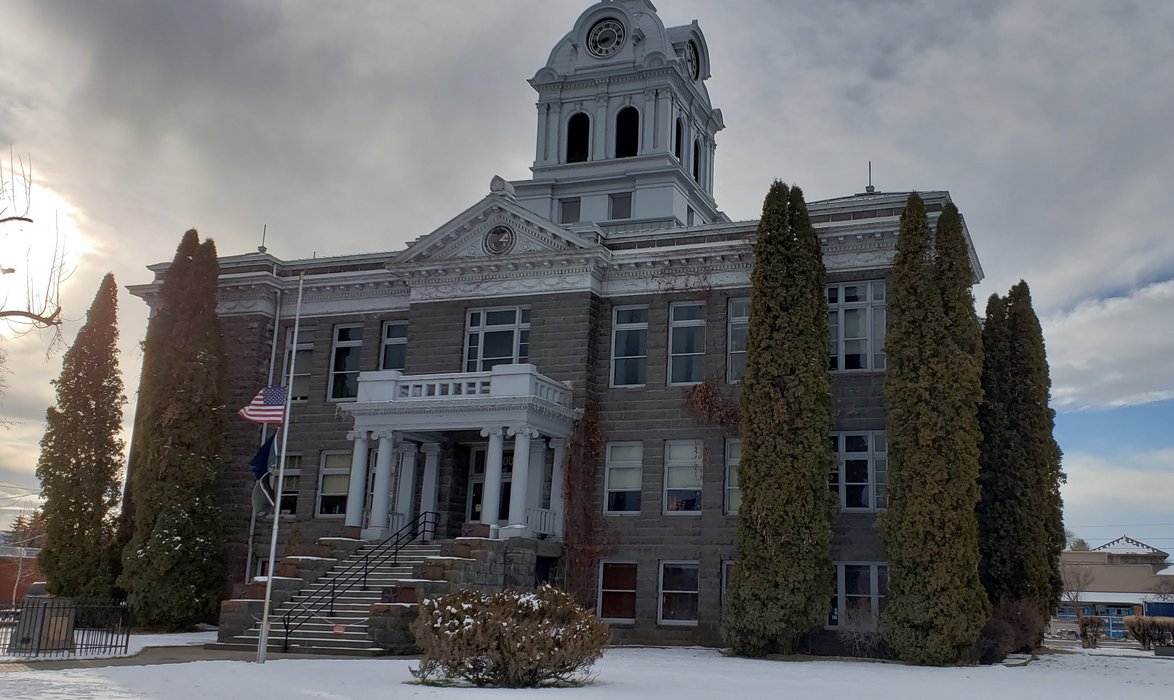 Photo: Prineville, Oregon. Crook County Courthouse in Prineville.
My first stop was the little town of Prineville, the county seat of Crook County. Interesting name! I did not take the time to examine its history, but I would imagine there is a colorful story behind it.
I have always enjoyed seeing buildings like this one - the Crook County Courthouse, built in 1907 from basaltic rock in the surrounding countryside. They "speak" to me of master craftsmanship and all of the attendant effort to produce these wonderful "finished products."
Now, places this old courthouse don't impress my well-traveled Steemian friends from Europe, like @delishtreats, who might not give this place a second glance, but I love these old court houses. In a bygone era, there was immense pride on the part of the local citizenry taken in putting these buildings up. Having visited many county courthouses all over the United States, I have rarely seen one that doesn't stand out dramatically from all that is surrounding it.
It is not uncommon, particularly in small town America, that they will be found at the center of a town square around which all other aspects of town life revolve.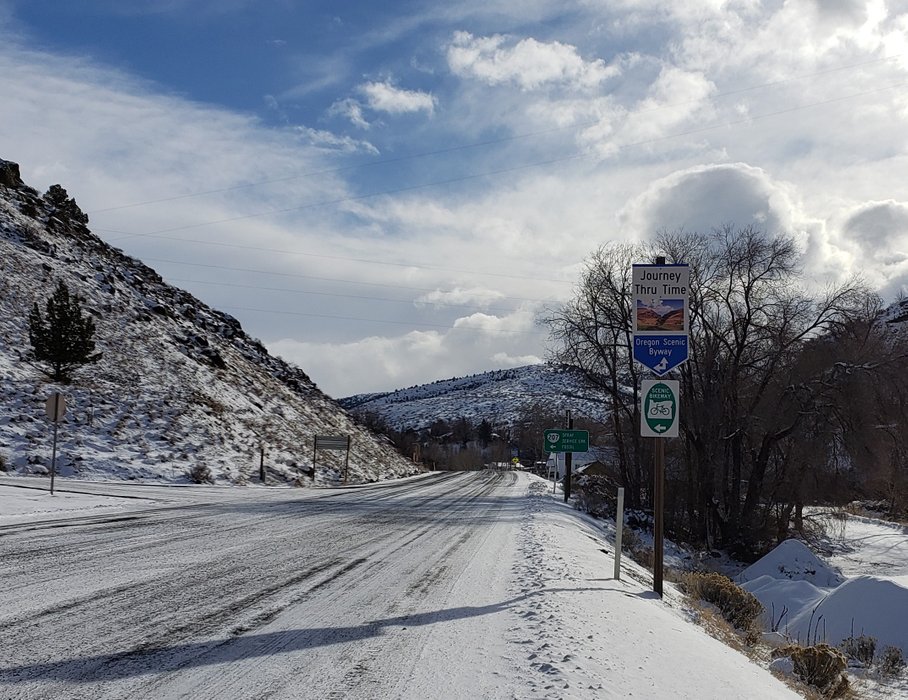 Photo: "Journey Thru Time" on Oregon Scenic Byways
Once leaving Prineville, east on US Hwy 26, you are on the Oregon Scenic Byway. There are a number of related portions of these highways designated as "Scenic" and I was not disappointed, other than by the winter weather obscuring better views of it.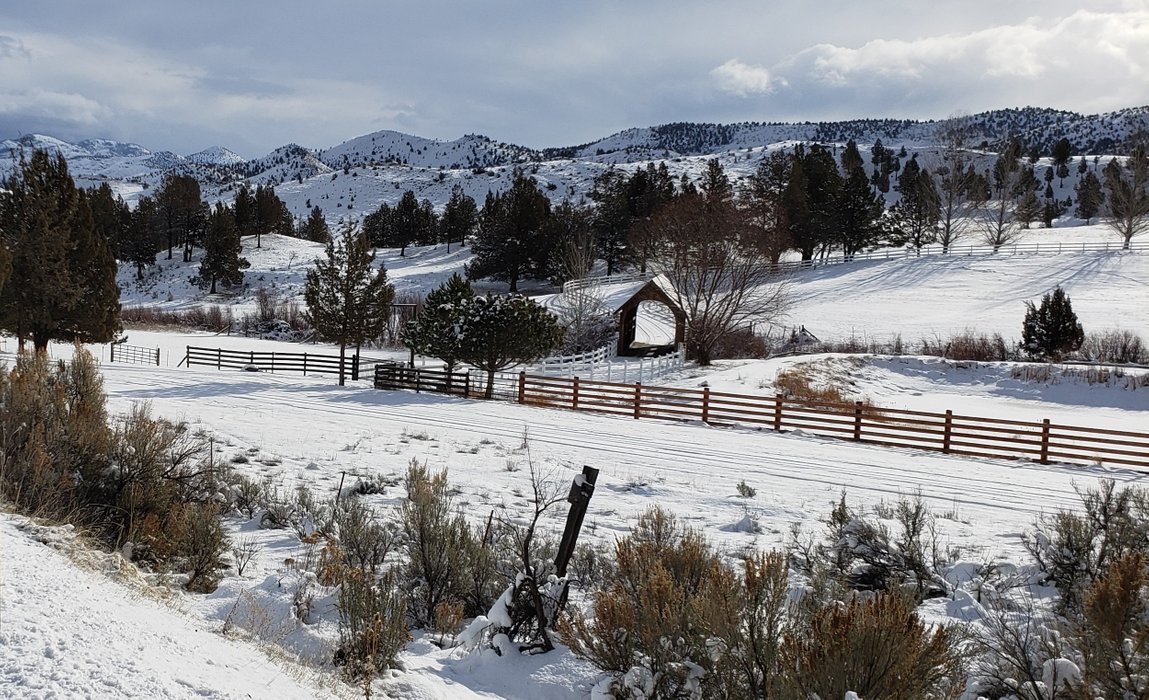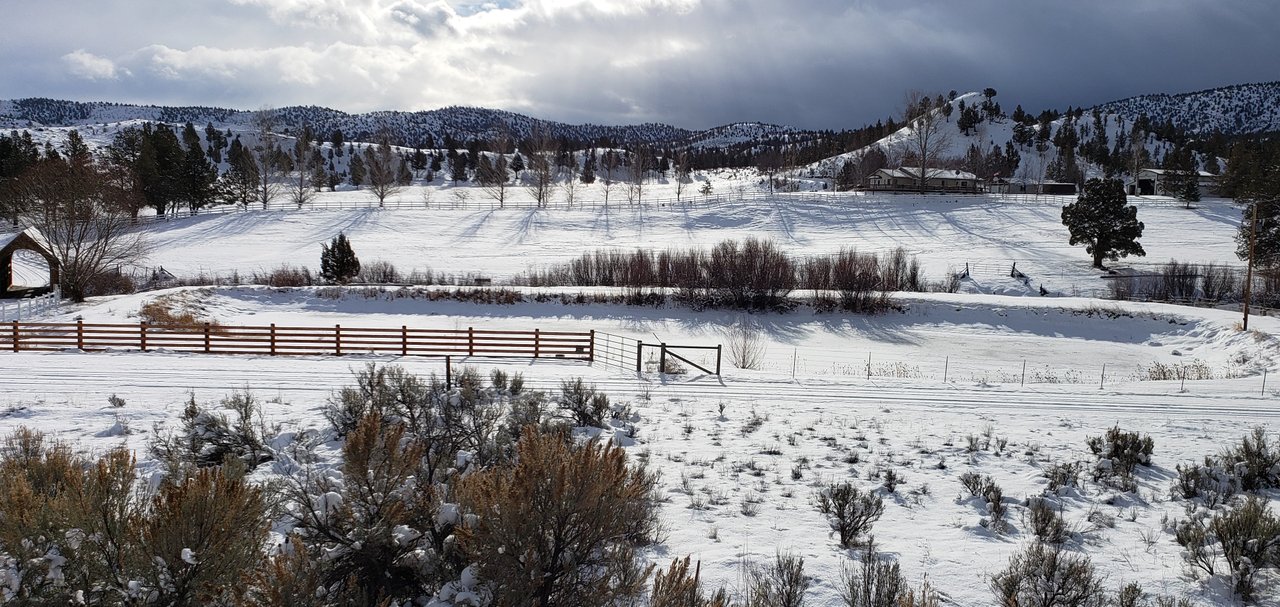 Photo: Beautiful Setting for a Ranch
Along this highway, I encountered a lot of bad weather and could not always capture images worth reproducing here. It was a lot of both forests and more open mountainsides, like what we see above.
I really admired the effort put in by this family to create this nice little arched covered bridge over the creek, in gaining access to their home. Well done! 👍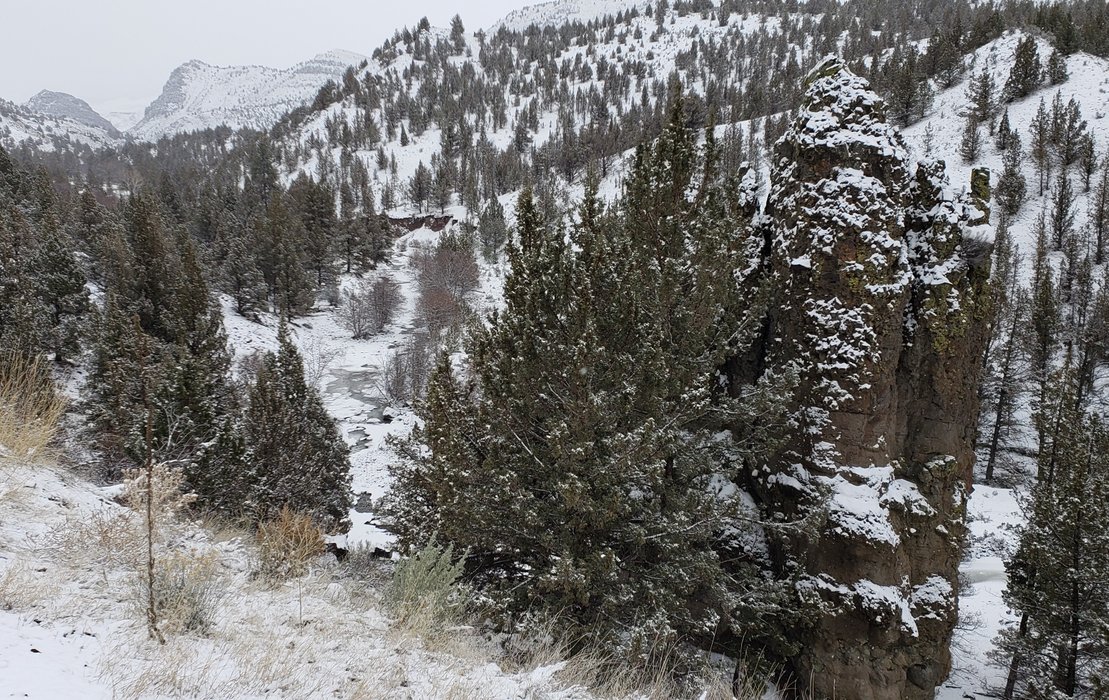 Photo: Basaltic Column on Tributary of John Day River
The idea that I had left the volcanic portion of the state behind was quickly erased, as this whole region appears to be of volcanic origin. It reminded of the famous Palouse region of eastern Washington, which has some of the richest soil on earth. Based on its extraordinary depth and volcanic rock content.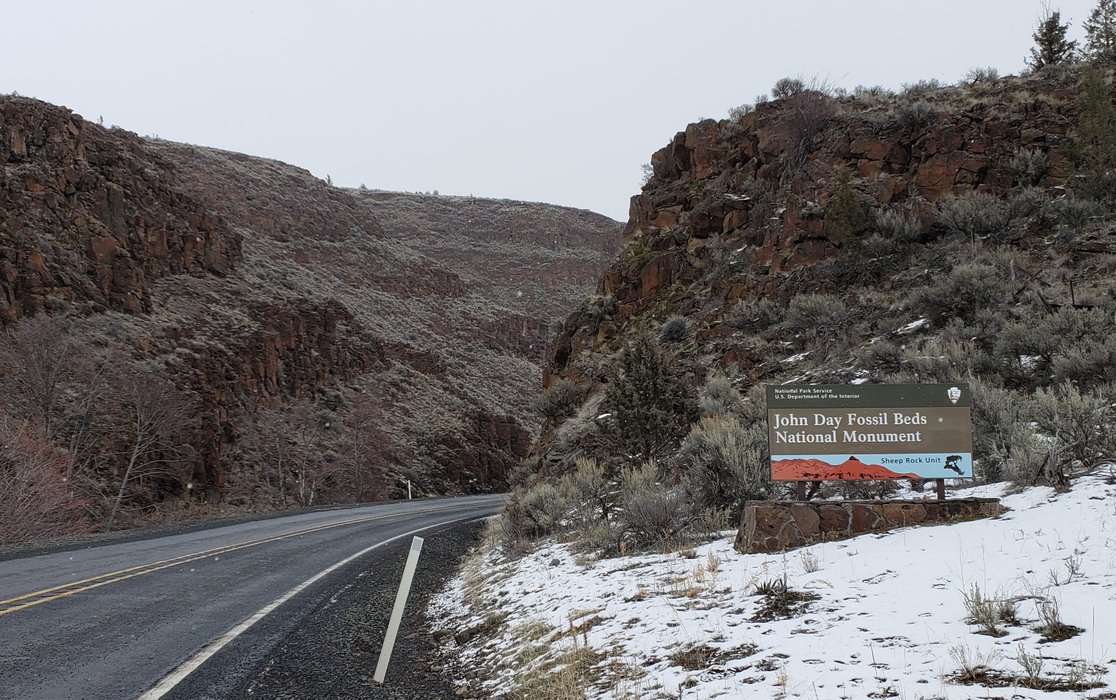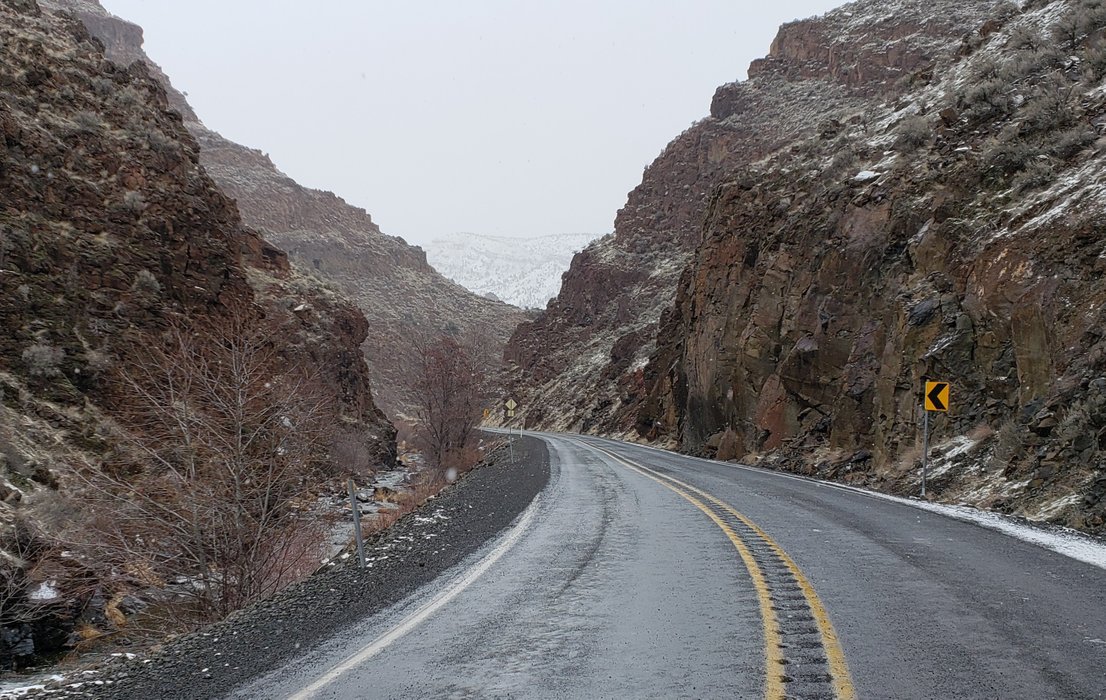 Photo: John Day Fossil Beds National Monument
In the middle of this volcanic rock and such, I was surprised to come across this National Monument to fossils!? My limited history with fossils is they are found in sedimentary rock, so what was going on here? Unfortunately, the Visitor Center was closed, as I was traveling on a Saturday and it was ... One more time with enthusiasm ... In the "dead of winter" ... 😉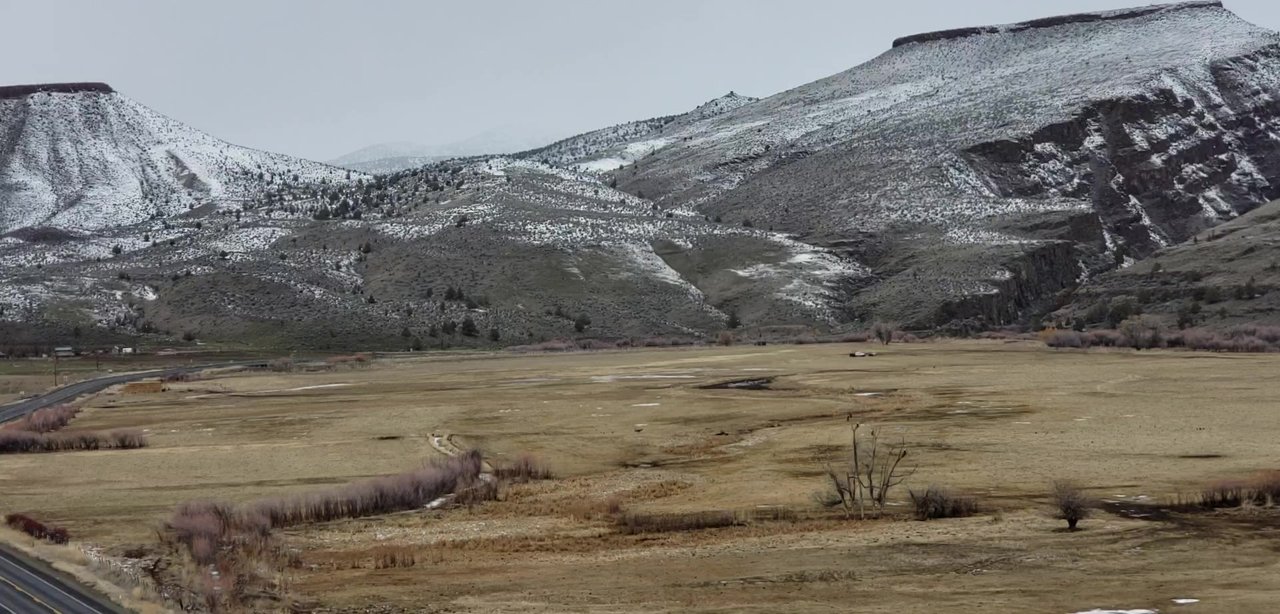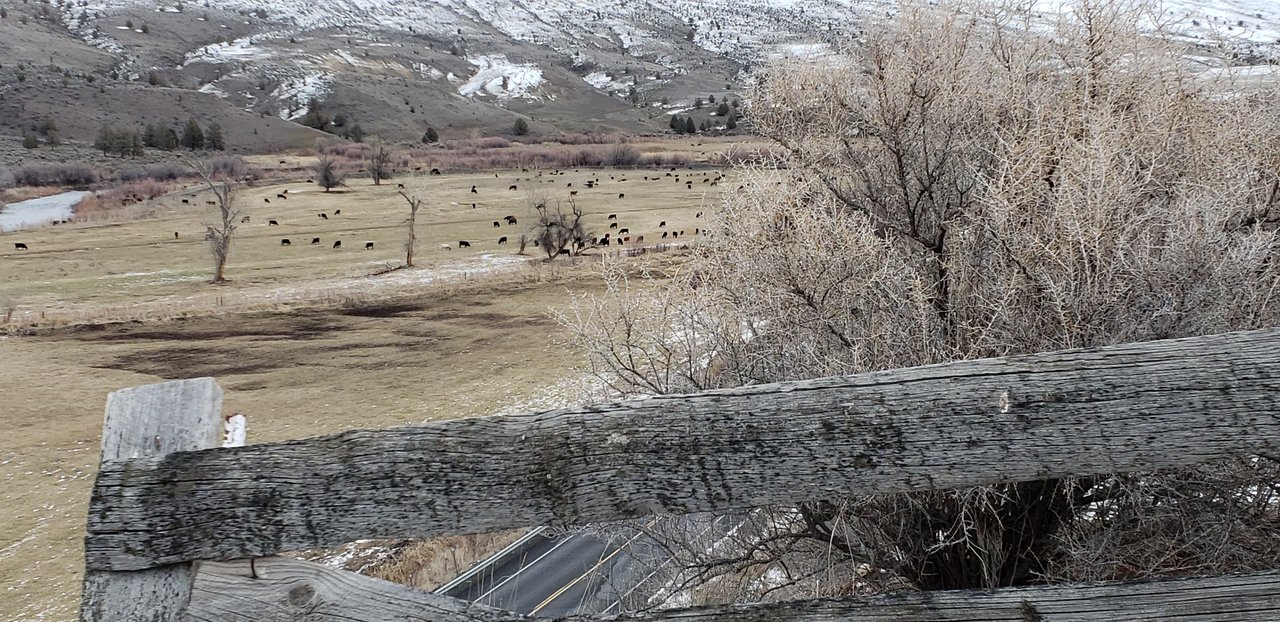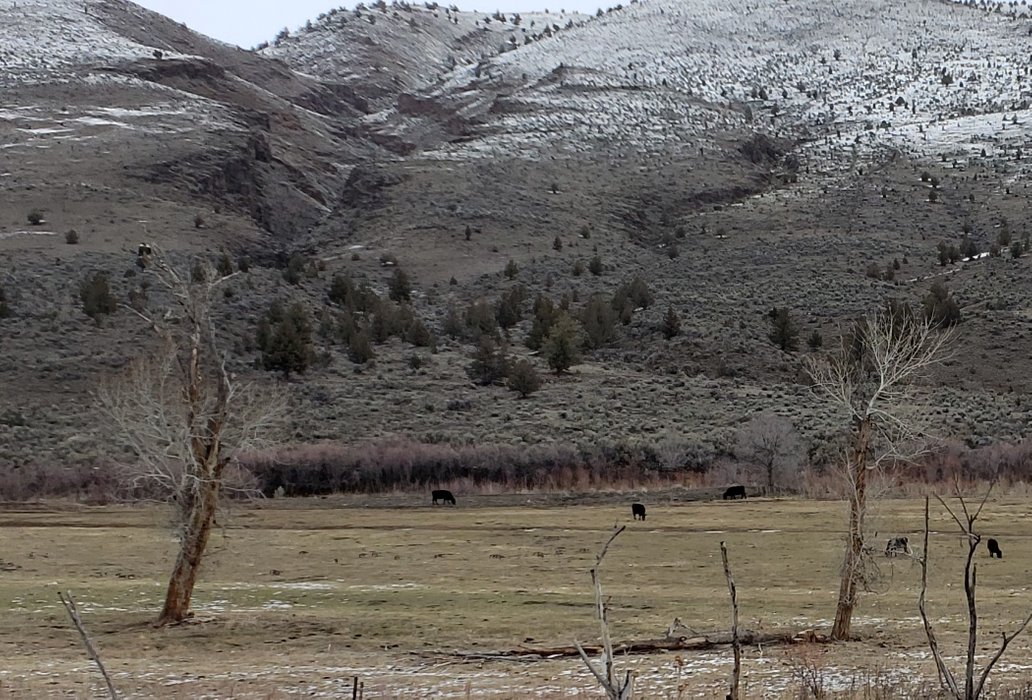 Photo: Valley East of John Day Fossil National Monument
Exiting this National Monument involves leaving a gorge along the John Day river, as shown in the first photo above (there on the upper right ...). Immediately, you come out into this interesting little valley, which has probably had a ranch in it way back into the 1800s.
Note the pair of bald eagles perched in the tree, to the left. While still somewhat unusual to see them in the wild, they are making a comeback, due to a lot of preservation efforts!
The weather subsequently deteriorated to the point picture taking was pretty much useless for a while - blowing snow and fog ... I regret not being able to capture, for example, pictures of the little town of Mount Vernon - at the intersection of US Highways 26 (East / West) and 395 (North / South).
It was very interesting, while clearly quite remote. Again, one of those places you have to want to see, as it really isn't on the way to anywhere else ... And the name? How often in America, does the same name get applied to more than one town / city? All the time ... 😉
Seriously, I have thought somewhat mischievously, that our forefathers were just too tired after their travels and efforts to build a new home / life, to come up with something more creative than use a name already established somewhere else. While I don't know, I suspect it had more to do with these people's longings for their homes of the past and memories which they were unlikely to ever be able to revisit ...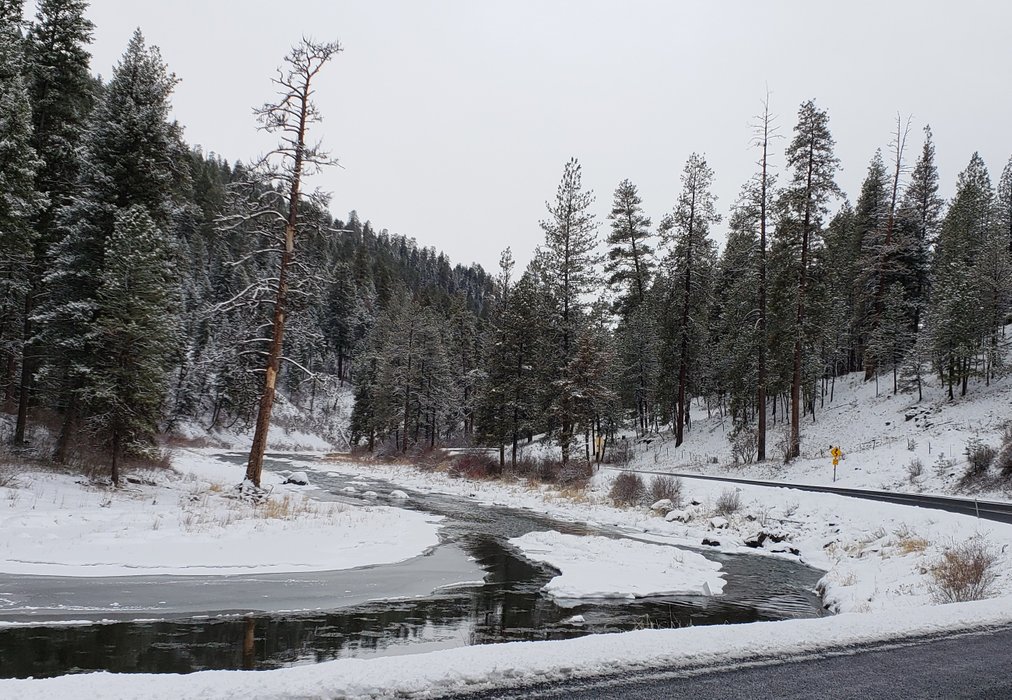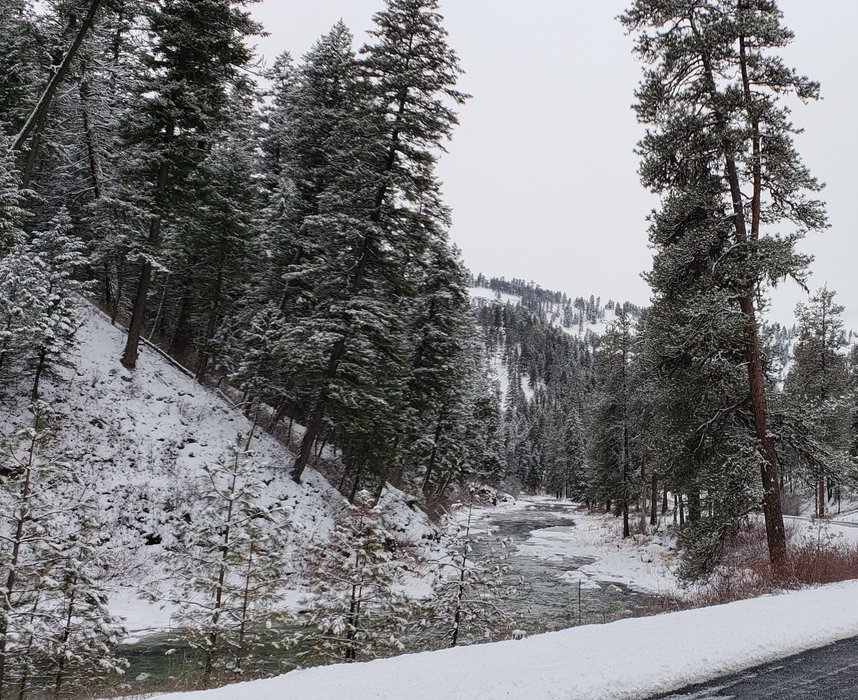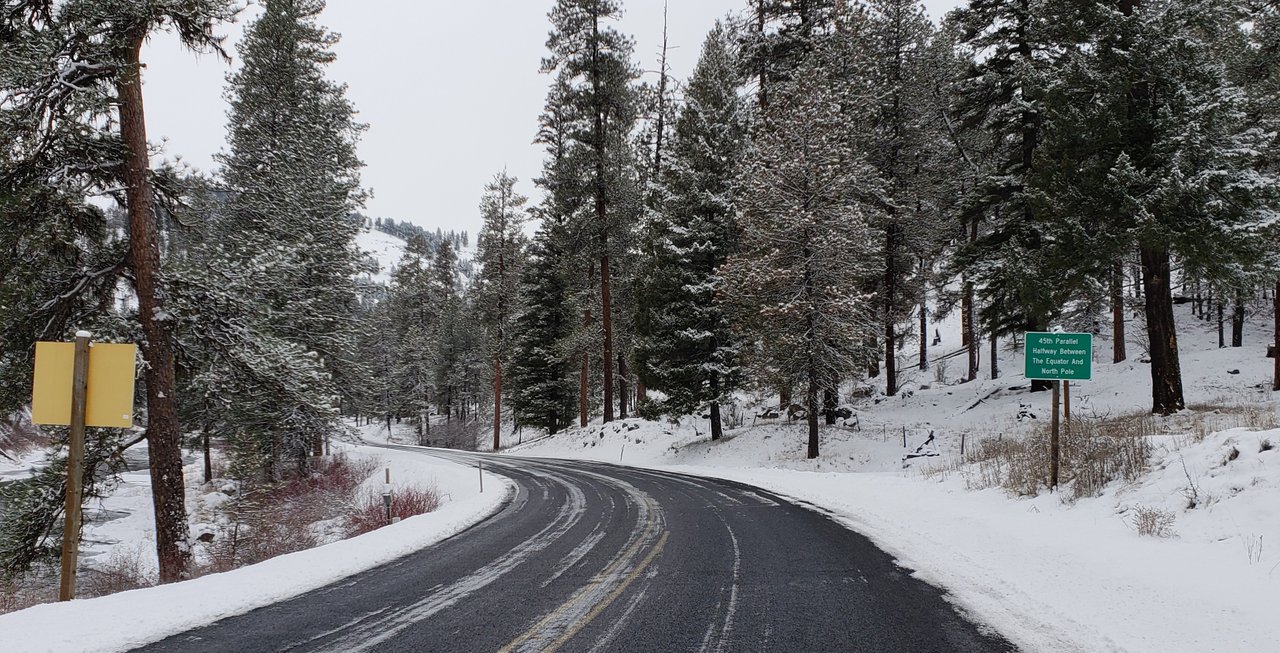 Photo: Scenic Byway on US Hwy 395 North
While still not great, captured these shots along US Hwy 395, once turning north to Pendleton. Note that I coincidentally crossed the 45 Parallel - exactly halfway between the equator and the North Pole!
All along through these mountains, I just wished the weather had allowed me to see it more clearly. I can only hope perhaps the opportunity will present itself someday to see it again.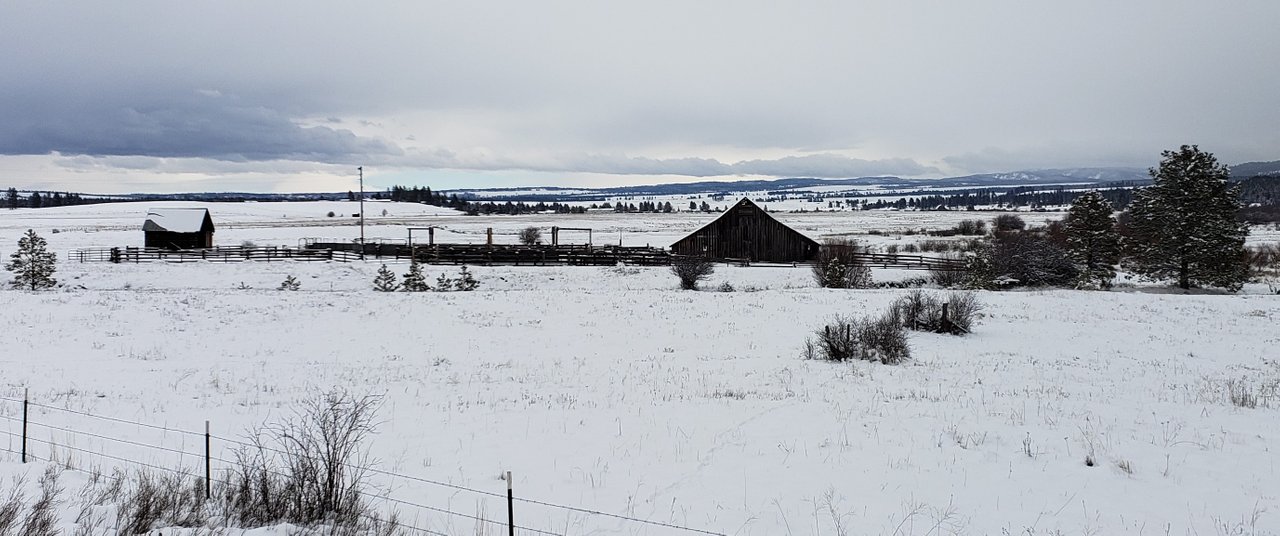 Photo: "High" Country Ranch outside Ukiah, Oregon
With a little break in the weather, captured one last picture of this pretty little "high" country ranch just outside of Ukiah, Oregon. I say "high" in the relative sense, as the "passes" I drove through were only about 4,000 feet high, which is below the elevation of where I live ...
This country is all draining down into the Columbia River gorge less than 100 miles away from any of these photos. The Columbia River is very big, with ocean-bound vessels capable of making it as far as Clarkston, Washington, in the far southeastern corner of the state. Over 400 miles inland!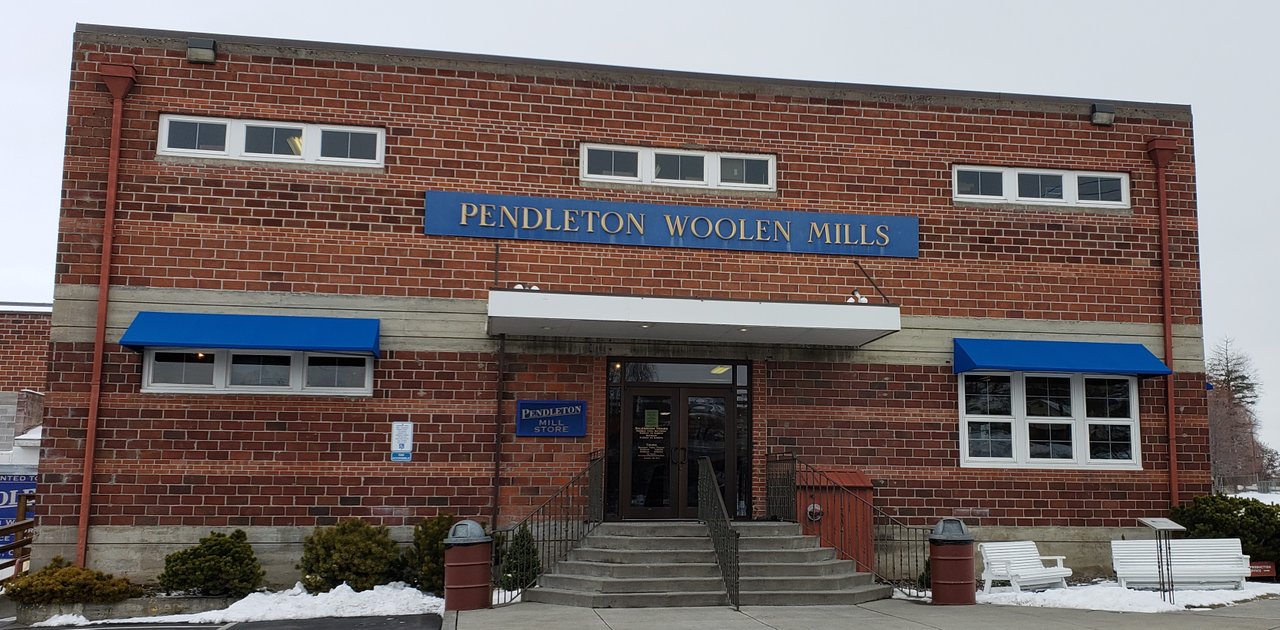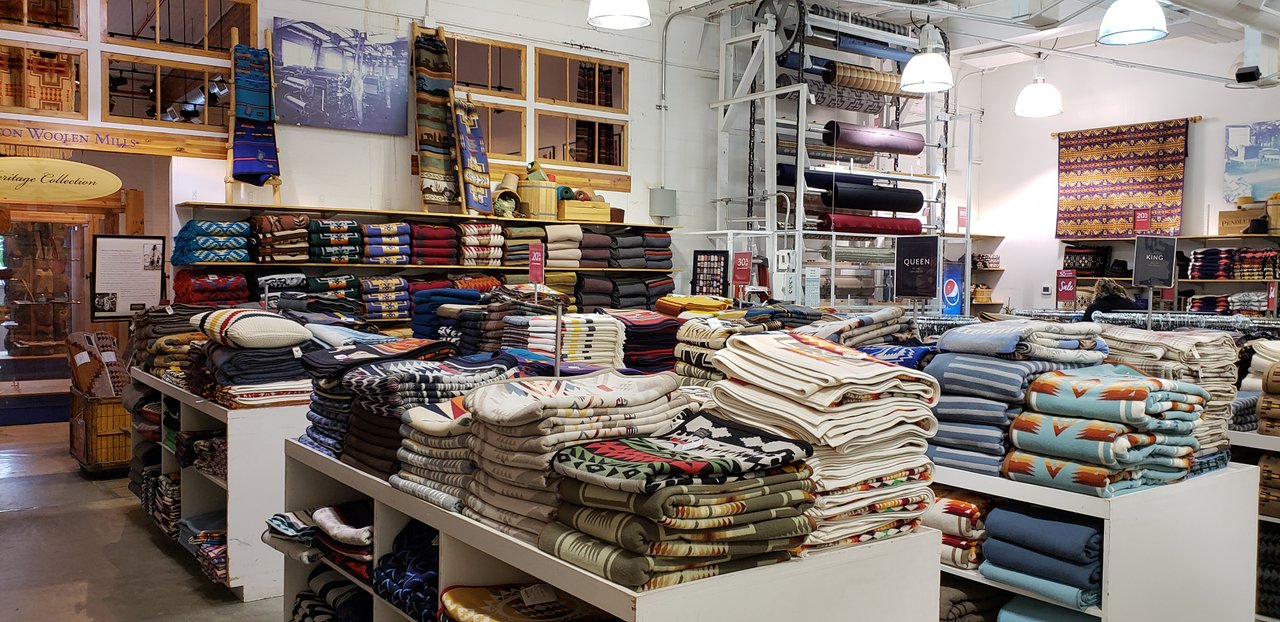 Photo: Original Store Front. Pendleton Woolen Mills established in 1908.
With objective for the day met, I spent a lot of time in this store. First and foremost, trying my best to pick something out for my beloved that she would cherish for a long time. Second, just to examine and be impressed with the craftsmanship of these items of clothing, made out of wool, as has been done probably since the beginning of time. Nothing synthetic and man-made about these materials ...
---
Another day ends with another transition behind me. I hope you have enjoyed this brief look at this part of America. In the winter ... 👌

Postscript on Day Twenty


I am thankful for an excellent time at Sunriver Resort with my siblings. On exactly one of the days there, the sun came out for a bit and allowed us to get some idea of what it would be like to be there in better weather.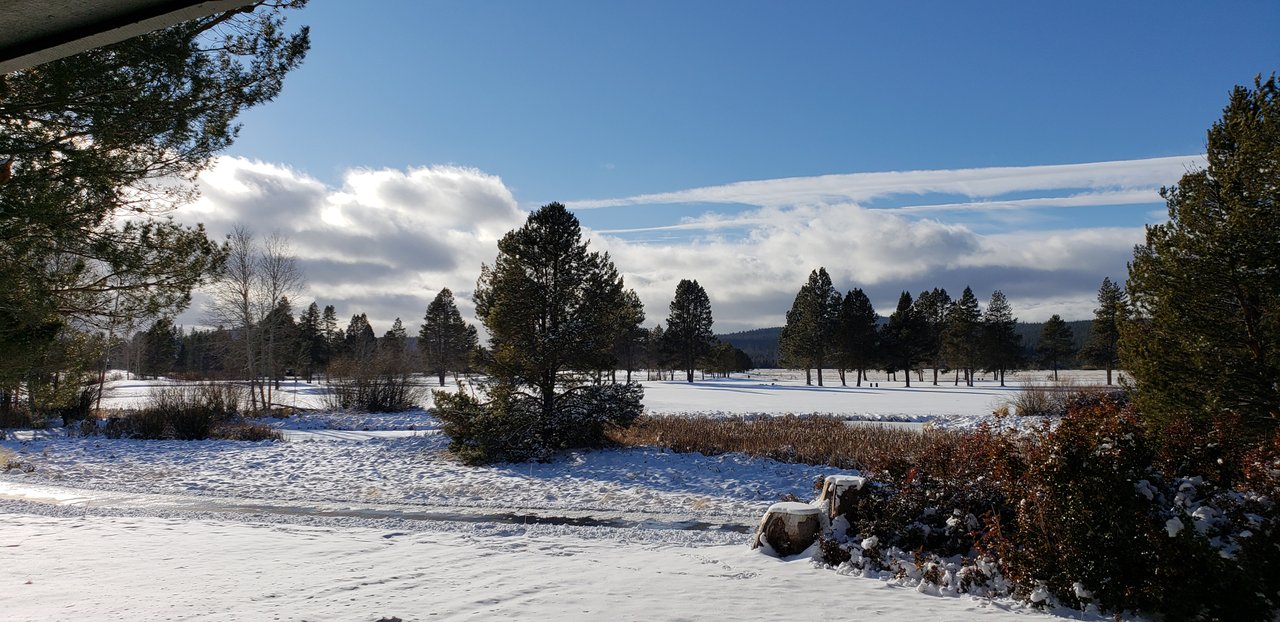 Photo: View from Sunriver Resort
This view was from our condo and is looking out on a golf course. There are trails all over, some of which are biking trails which take you down along the Deschutes River, a well-known destination for many who vacation in this area. In the summertime ... 😉
---
If ever there was any doubt in my mind, about the wisdom (poor fuel economy ...) of electing to take my trusty little 4 X 4 Ford Ranger on this trip, it was completely removed today. It has been snowing, it is currently snowing, and the forecast is for it to keep snowing ... All over this part of the Pacific Northwest.
The bridge northwest of here at Umatilla, across the Columbia River, is closed. High winds and snow. Various other reports which I won't detail here, but all based on the same issue - a major winter storm with no indications of letting up for days. And all the resulting distress among those who are in the midst of traveling and are in various states of trouble and needing help.
Today's travels call for me to make my way to the home of one of my siblings, where I will be spending the next few days. Along the way, I had hoped to get a close look at some of the wonderful countryside along the base of the Blue Mountains. Specifically, the north slope of these mountains on the border between northeast Oregon and southeast Washington.
Not happening. Visibility is at times, almost zero, with fog and blowing snow. I will just be thankful, once clicking "Publish" on this post and setting out, to get there safely.
With my trusty little truck, I will primarily be concerned about the other drivers out there on the road, as yesterday provided ample evidence my truck will do just fine.

Closing


Another great day in "@roleerob's excellent adventure!" Thanks for going along with me, dear reader. I'd love to hear any feedback you may be inspired to provide.
Until "next time," all the best to you for a better tomorrow, as we all work together to build our Steem Community! 👍 😊
Respectfully,
Steemian @roleerob
Posted using SteemPeak and "immutably enshrined in the blockchain" on Saturday, 9 February 2019!
---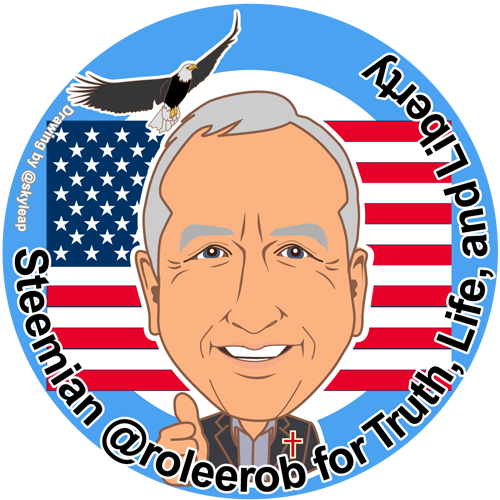 If you liked this post, you might enjoy others in my "Road to Recovery" Travelogue series:
This account is protected by @dustsweeper