Day Twenty Six: Inherited most likely from my father and deep in my DNA is a great deal of respect for those who live "close to the earth" and make their living by farming. Odd perhaps, given that I have myself only briefly worked on a hay farm. But true nonetheless ...
That made this day particularly special, as I intended to take "the road less traveled" down through the eastern edge of the Palouse Region of Washington. Near the border with the State of Idaho. Specifically, I was going to be driving down a portion of what is known as the Palouse Scenic Highway.

Photo: Entering Tekoa on the Palouse Scenic Byway
For some perspective on where my travels have taken me over the last couple of days, here is a map of the area: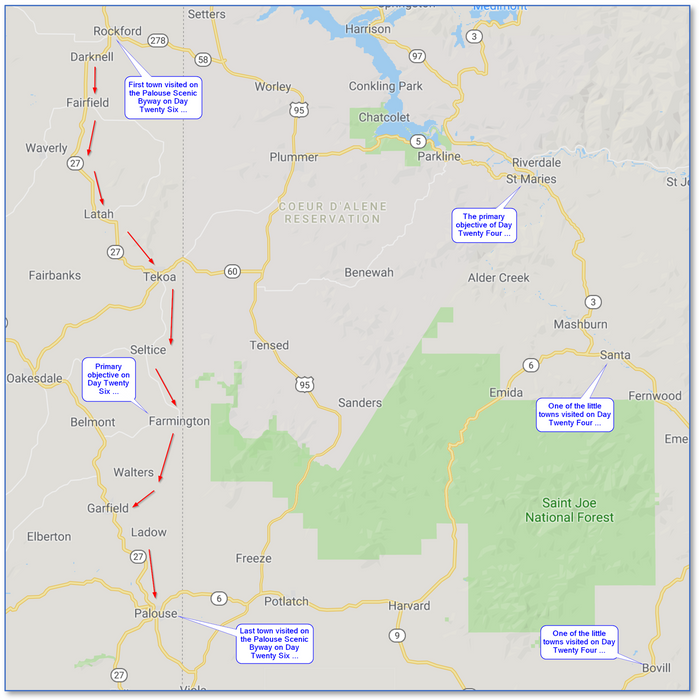 Photo: Map of Area Traveled on Days Twenty Four and Six
For a wintry look at this magnificent agricultural region in America, please "walk with me" through this part of our country, as we travel down the Palouse Scenic Byway.
Farmington, Washington


My objective for the day was this little community - the most remote of the little communities I visited on the Palouse Scenic Byway. One of those little towns way out on a county road. At least it was paved! 👍
Very helpful with the steady snow falling ...

Photo: Coming into Farmington, Washington
The road to Farmington starts, from the north, as you are heading out of Tekoa. You are heading out of town on the ... wait for it .... Tekoa - Farmington Road!
As we can see, a lot of creative thought went into the naming of this road ... 😉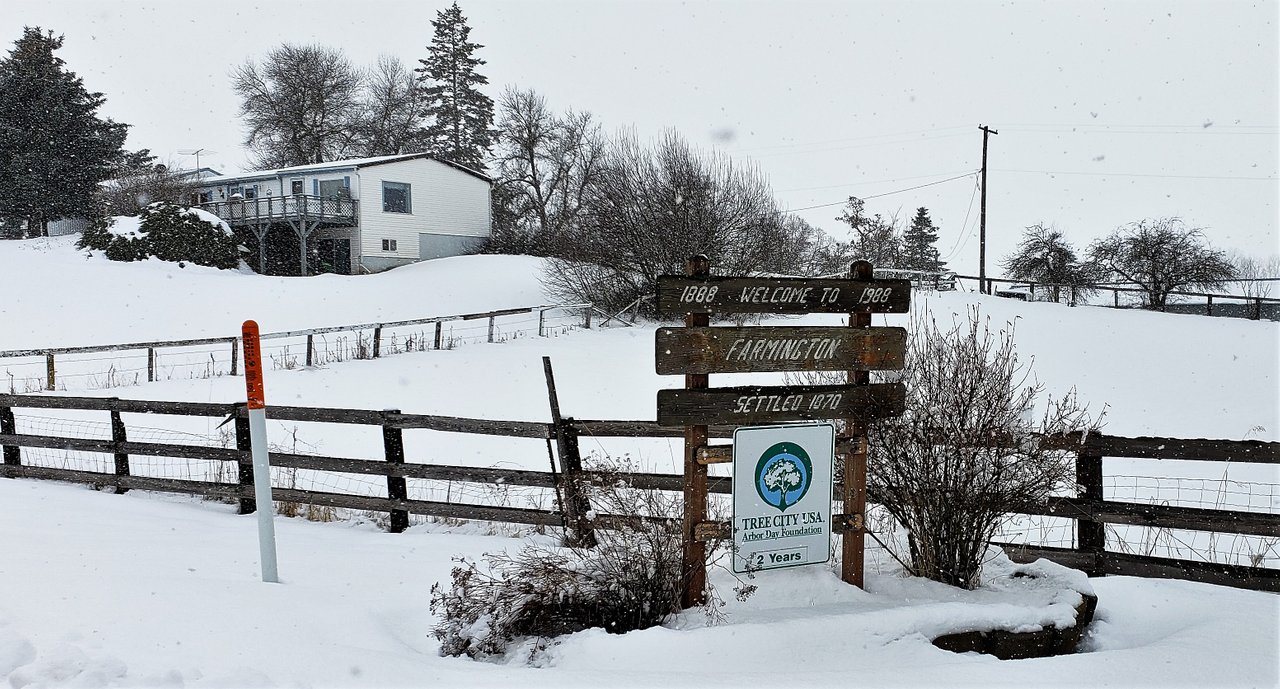 Photo: Town of Farmington, Washington
As you drive through this country, you wonder about the history. It may be surprising to you, but many of these little communities - like we see here with Farmington - were founded back in the late 1800s. So ... People have been "out here" working the land for a long time (okay @delishtreats, a "long time" by the standards of western America ... 😉)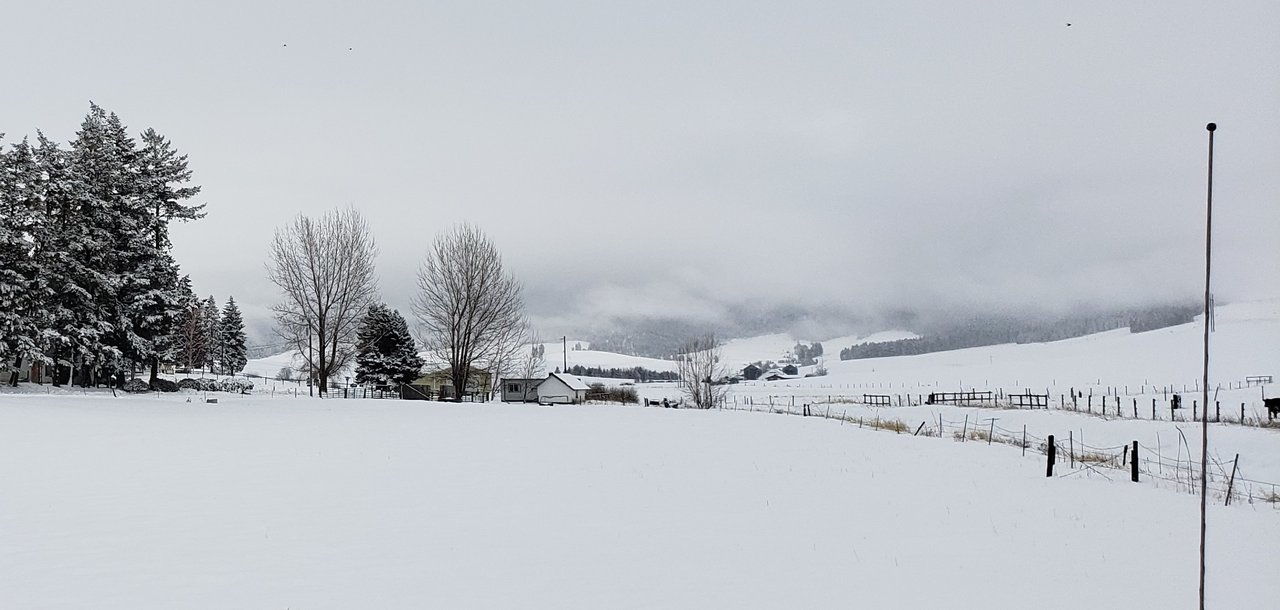 Photo: Looking East into Idaho from Farmington
In this photo, we are looking east into a nice part of the panhandle of Idaho, where we find the McCroskey
State Park just a short few miles away.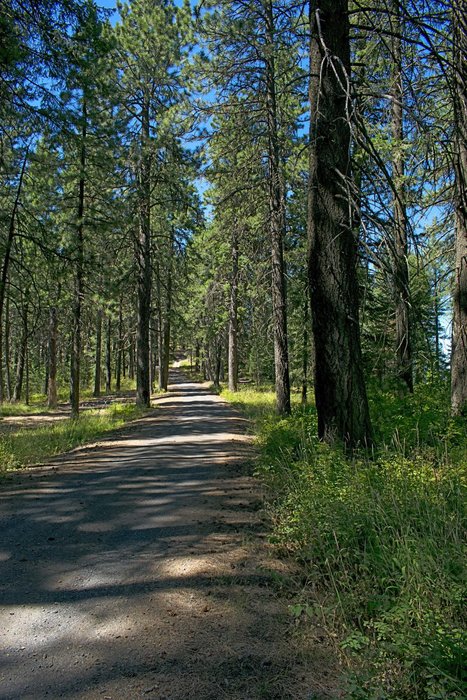 From the website link provided above, here is a brief description:
"The rugged terrain and breathtaking views in Mary McCroskey State Park are best suited for those with a sturdy vehicle and an adventurous spirit."
Definitely my kind of place! But ... The snow prevented any further exploration. Maybe another time!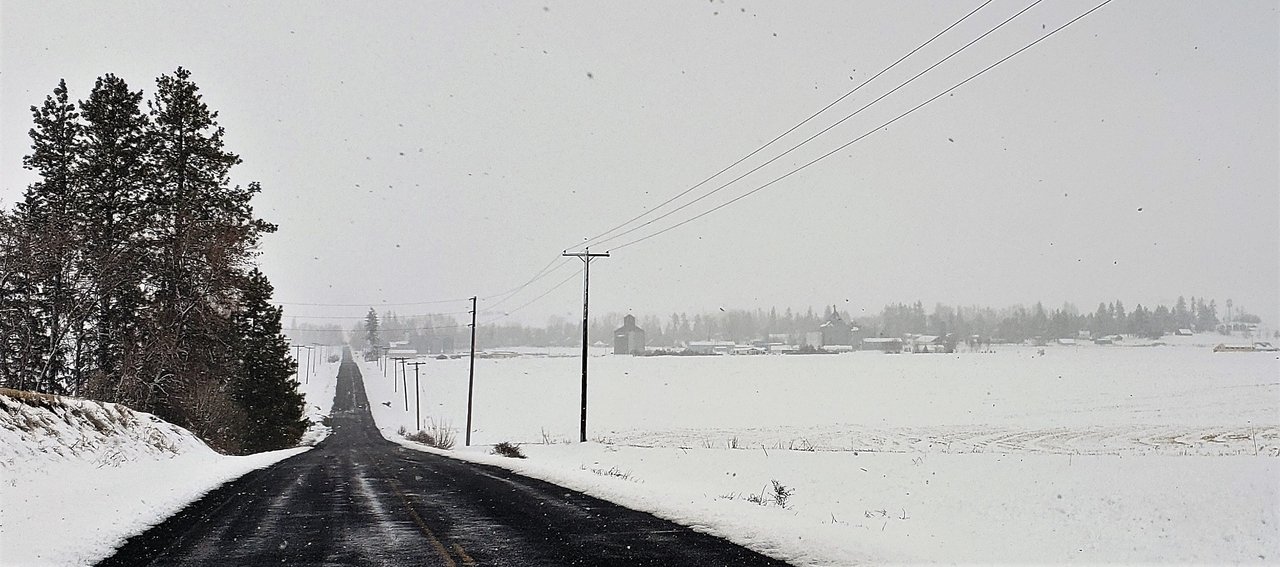 Photo: Heading out of Farmington Southwest to Garfield
As these photos show, we are clearly visiting Farmington on a wintry day, with big snowflakes literally falling as this picture was being taken ...
---
This little town was the focus of my trip, due to its remoteness. But, I drove through and spent some time in a number of little towns along the Palouse Scenic Byway.
Let's go visit some more of them!
Palouse Scenic Byway


The Palouse Scenic Byway is a designation given to some of the roads through the Palouse Region of eastern Washington. In turn, many communities along these roads have designated themselves as "Palouse Scenic Byway Communities."
Let's take a closer look!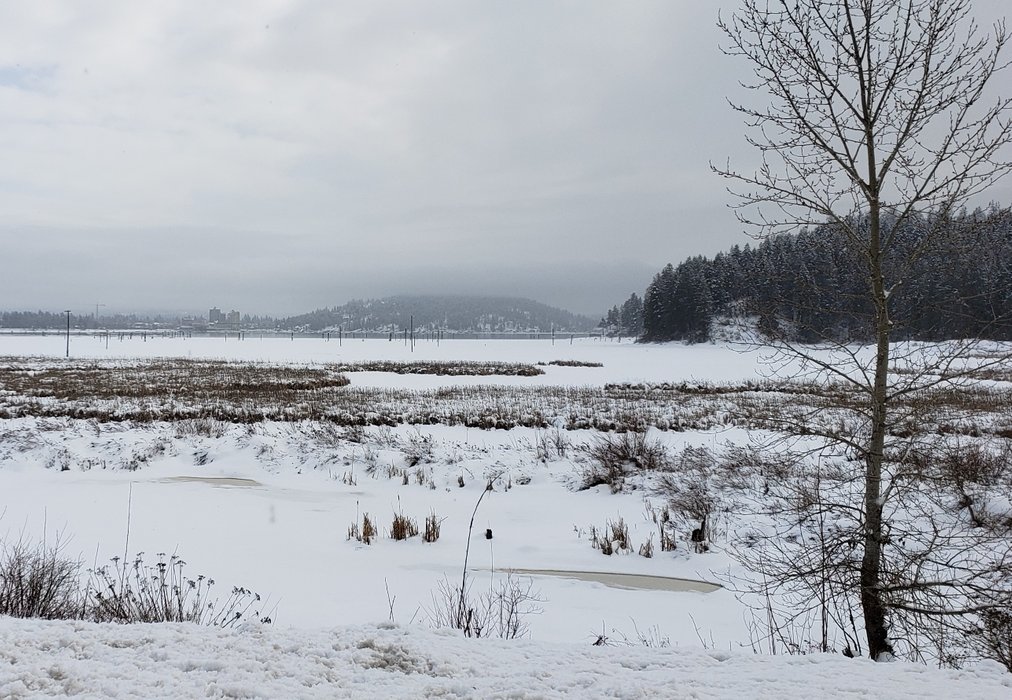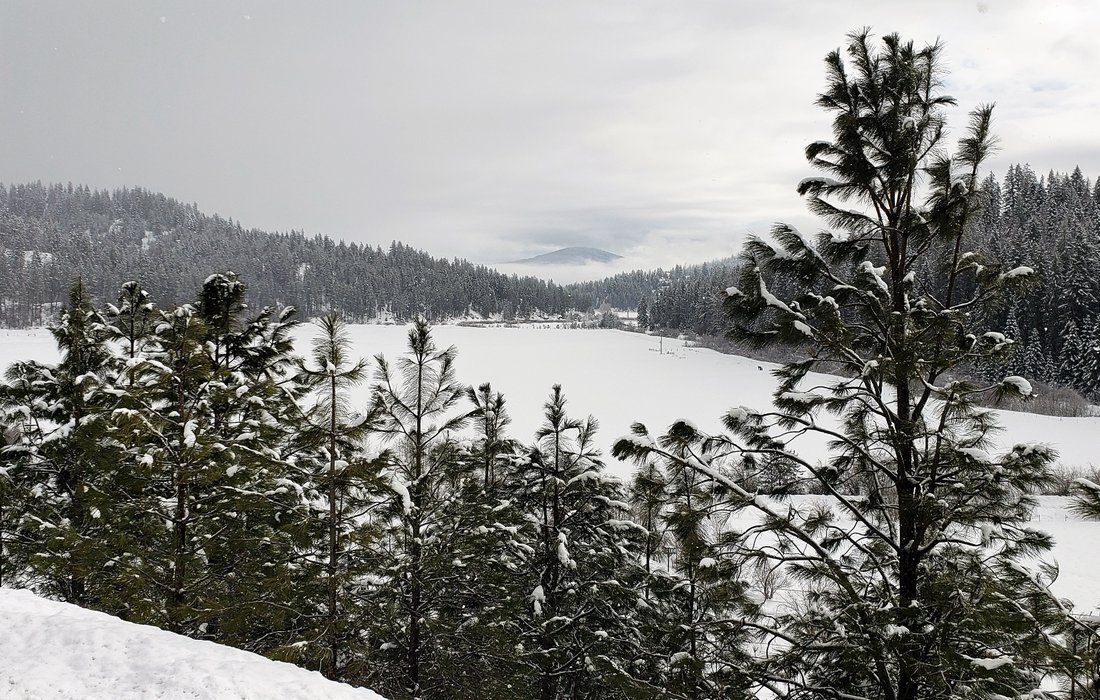 Photos: Leaving Lake Couer 'd Alene
The day's trip began heading South on U.S. Highway 95 and away from Lake Couer 'd Alene, which I had driven up and around on Day Twenty Four. In a nasty snowstorm ... You will note, in the first picture, the famous Couer 'd Alene Resort across the water.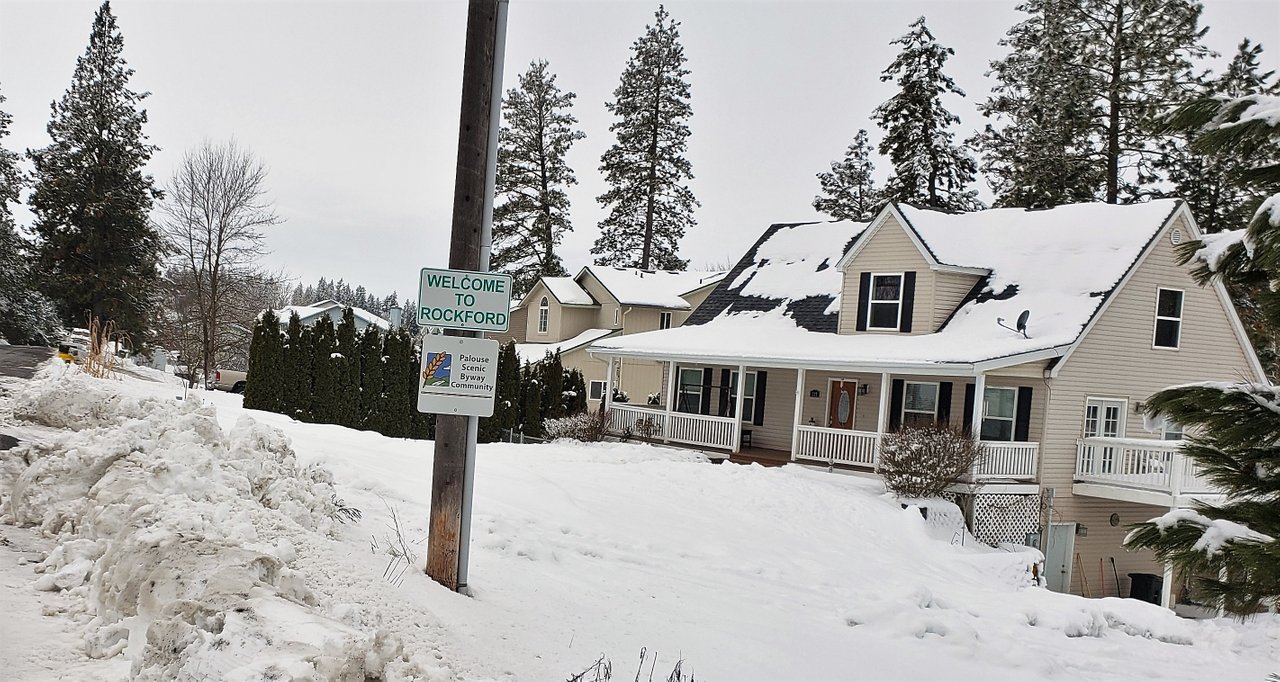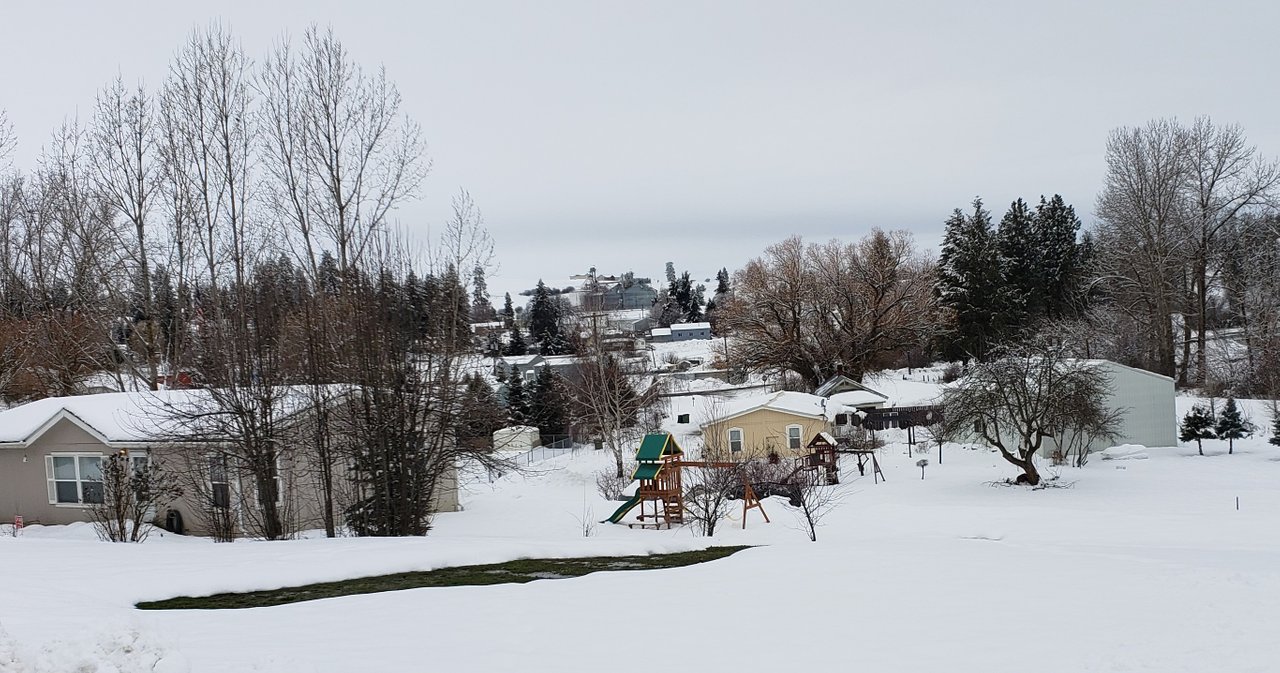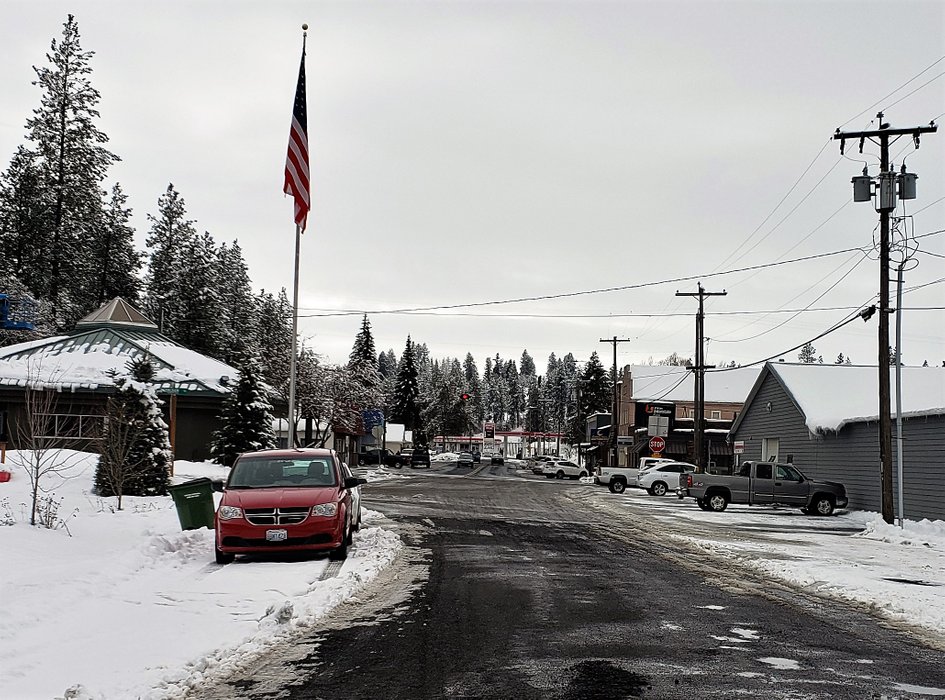 Photos: Town of Rockford, Washington
The little town of Rockford, Washington was the first community designated a Palouse Scenic Byway Community. Notice in the 2nd picture where the snow is melted and there is a little spring running out of the hillside!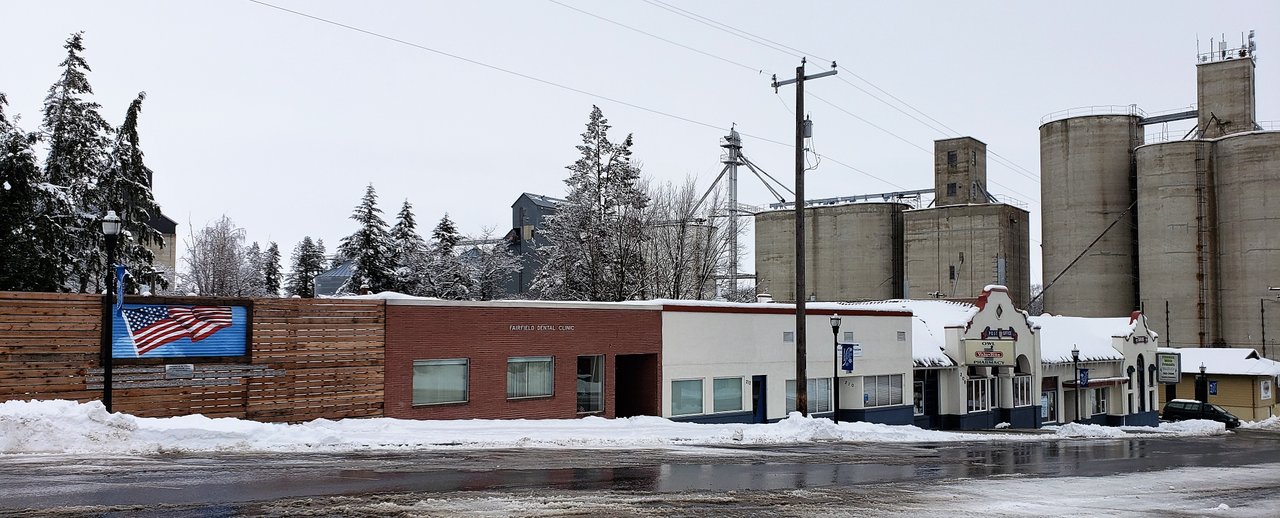 Photos: Town of Fairfield, Washington
The little town of Fairfield has a special place in the heart of our family. In the second photo, you see the home and property that almost became ours. A long story surrounds it, having gained the approval of the elderly couple (in their 80s ...) who could no longer live there. But they had built it and would only sell to someone who met with their approval.
This beautiful home and property sits just east of Fairfield, so you are looking down on this little town out on the Palouse and out to the western horizon. I can only imagine the views from there, through all of the seasons of the year. And the soil! One has to experience the rich, volcanic soil of the Palouse to appreciate it. Just imagine sinking into it, as you walked across the lawn. A memory we have never forgotten ...
A long "Y in the Road" of life story about why we ultimately did not buy it. But ... Looking back and visiting it led to a lot of quiet reflection about "what might have been." What is certain is my life and that of my family would have been very different ...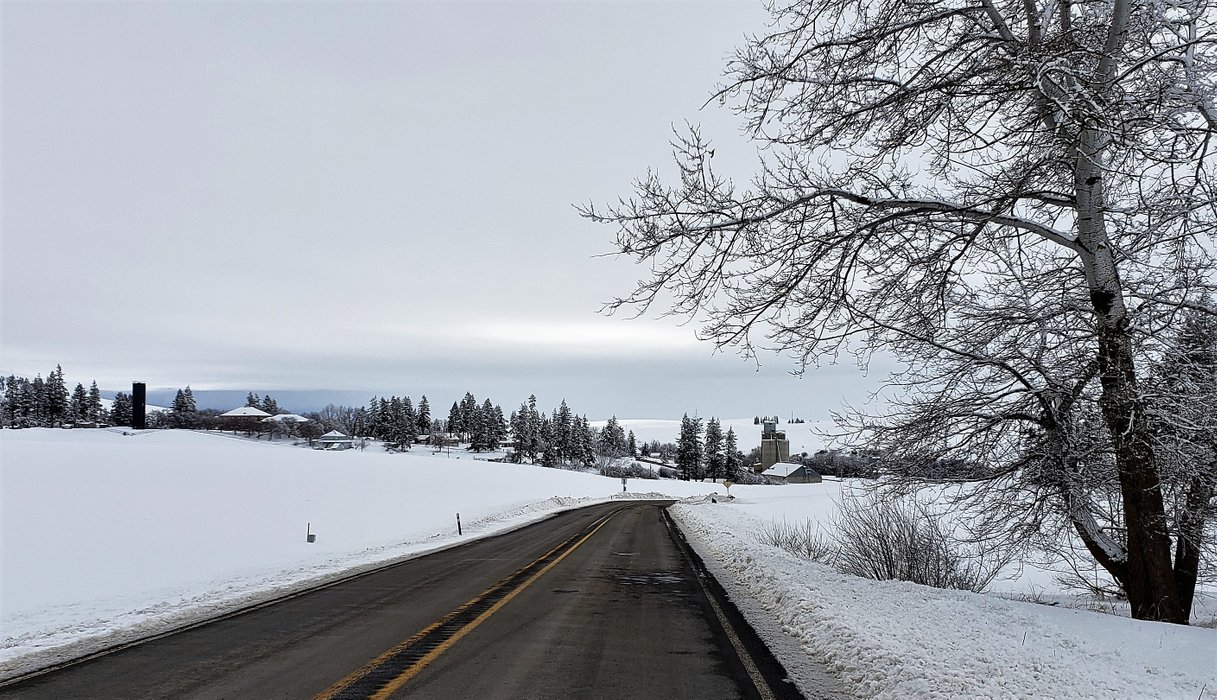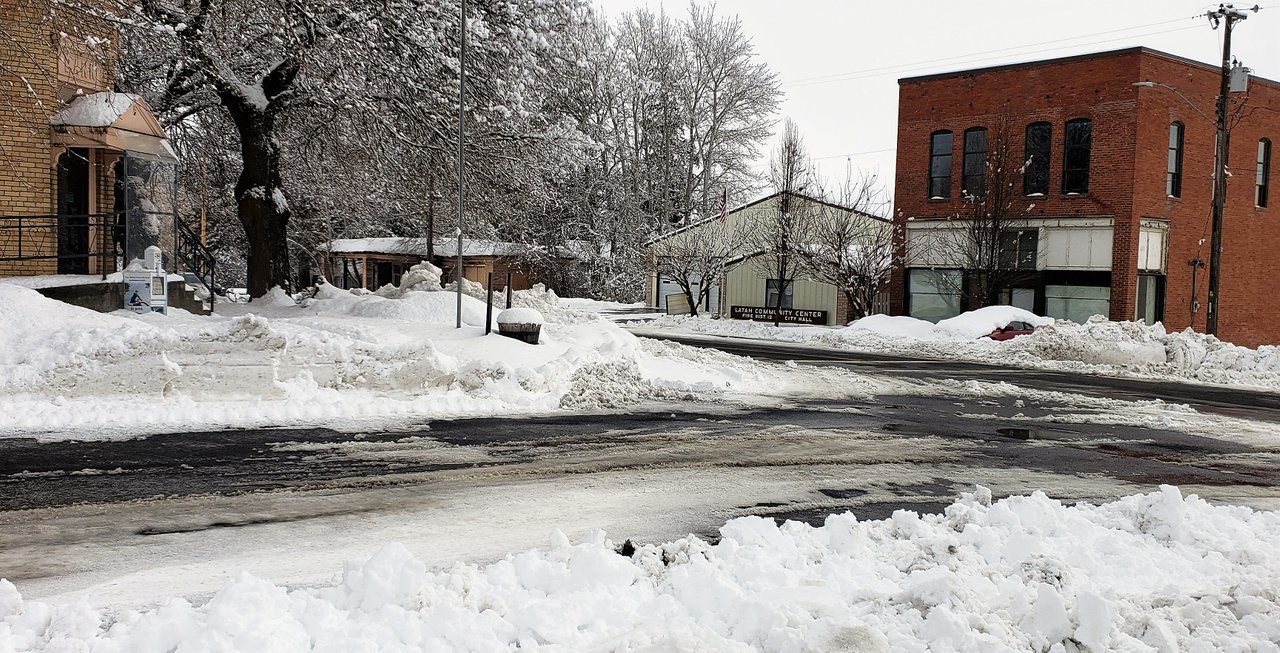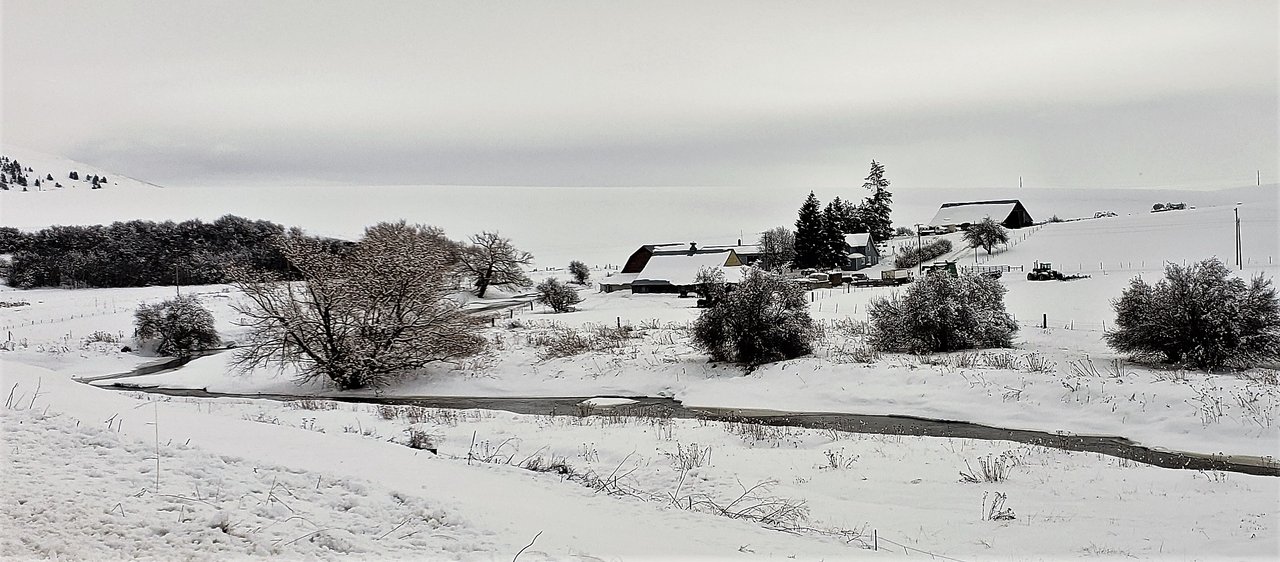 Photos: Town of Latah, Washington
Next up, continuing South of Washington State Highway 27, was the little town of Latah. It was established in 1892.
Note we see a little bank in the third picture. Much like the small family farm is disappearing, these small local banks are all but extinct.
The last picture is of a pretty little farm just South of Latah on the Palouse Scenic Byway. Note the little streams frequently appearing in these pictures. There is no evidence of any irrigation in this region. Research confirms it is all dry land farming in this region of the country.
So nice to see all-important water appeared to be quite plentiful!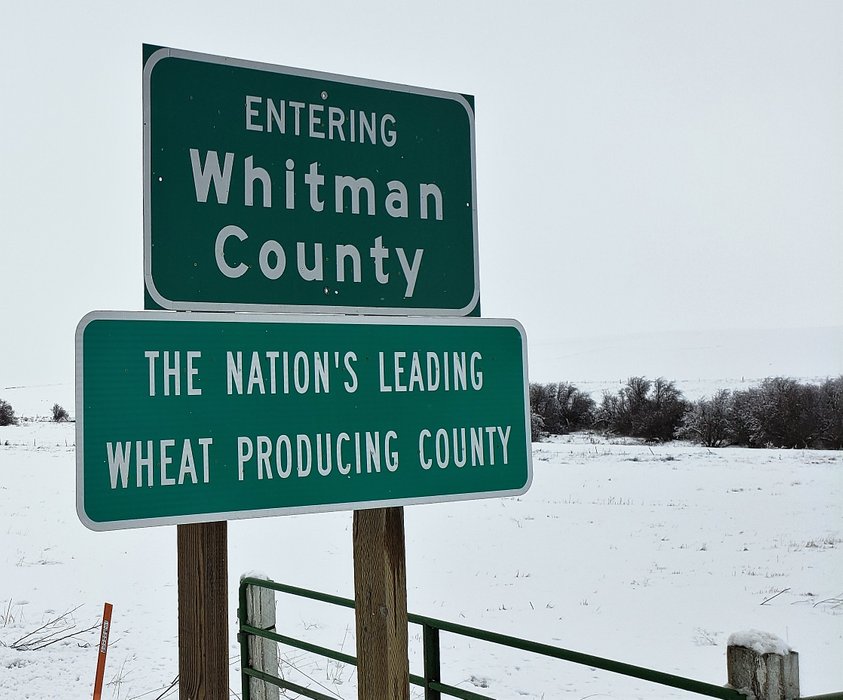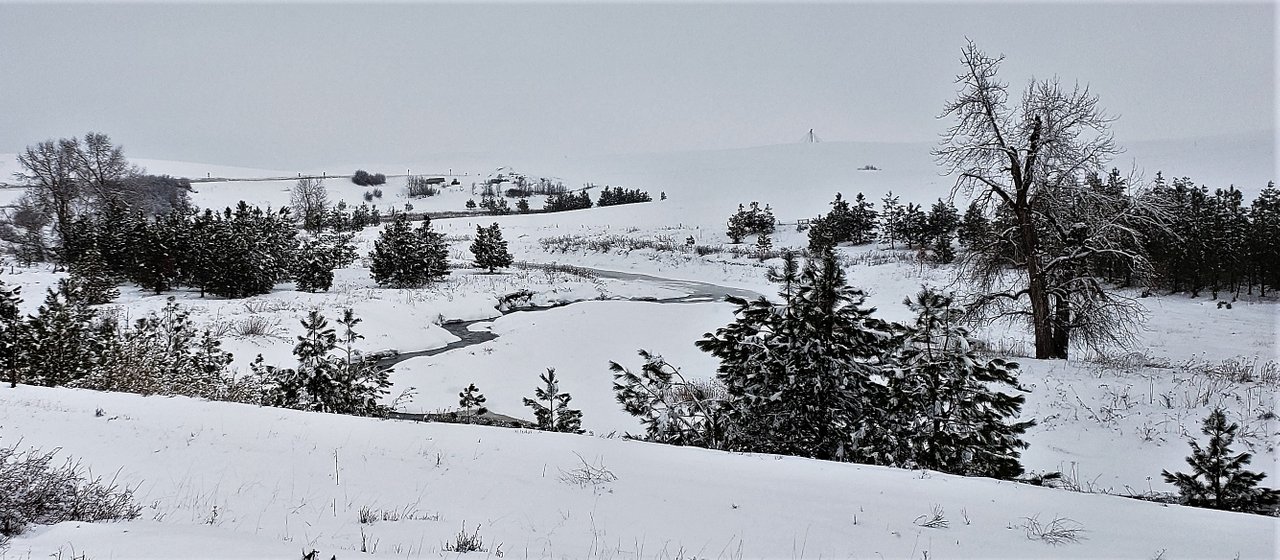 Photos: Crossing into Whitman County, Washington
Leaving Latah, you cross into Whitman County, the largest wheat-producing county in the United States. All along the Palouse Scenic Byway, you see homes of those living out on the Palouse producing this wheat. Also, the streams flowing through these hills.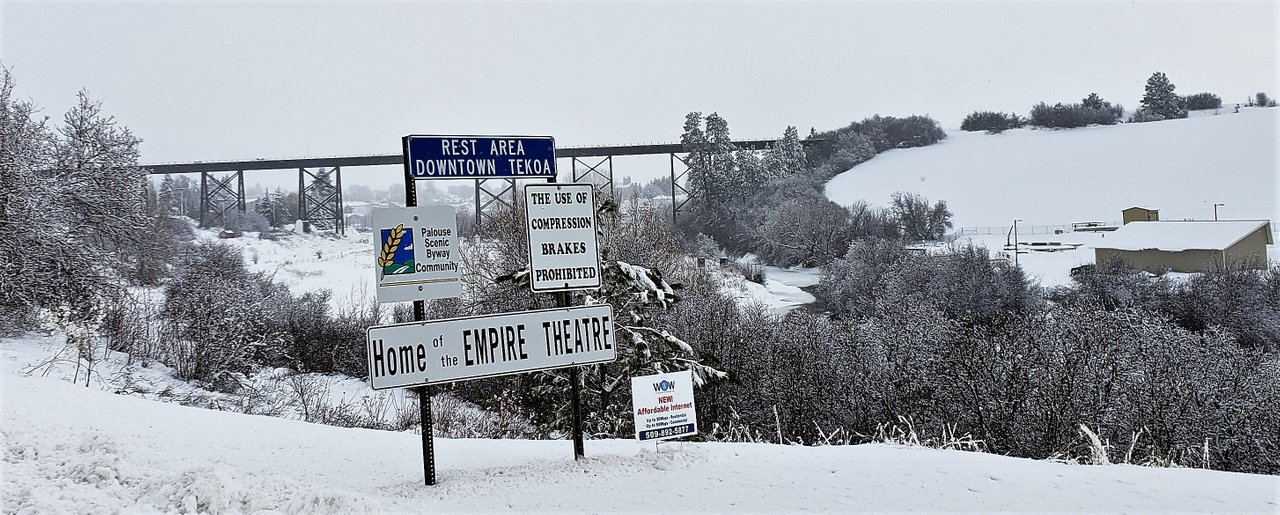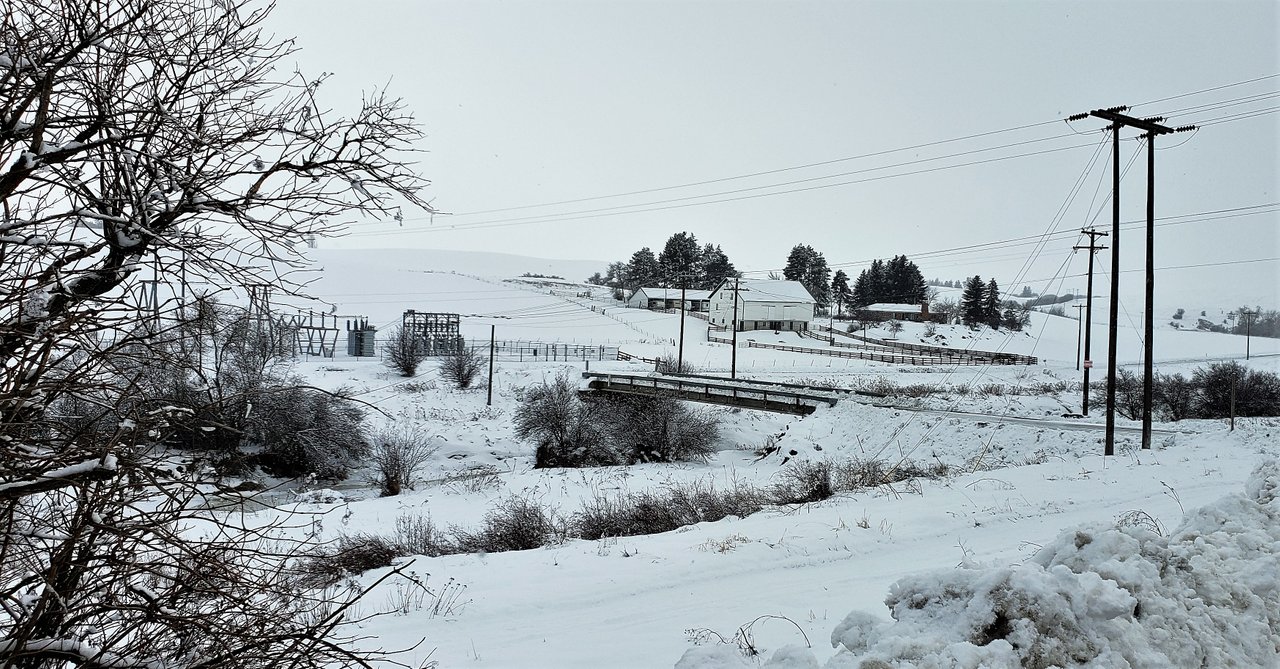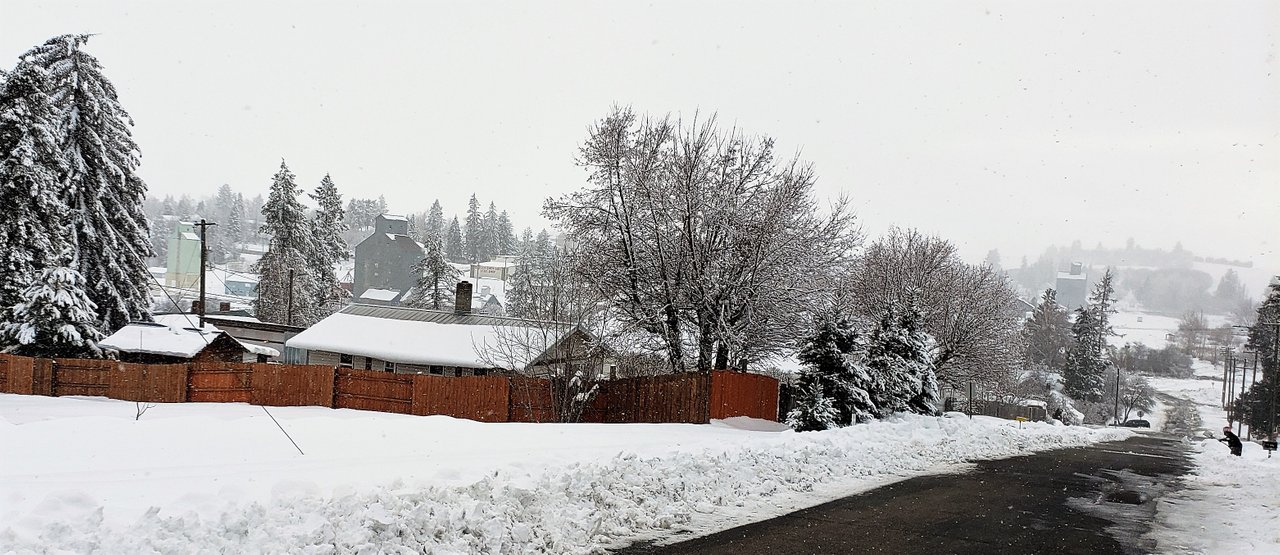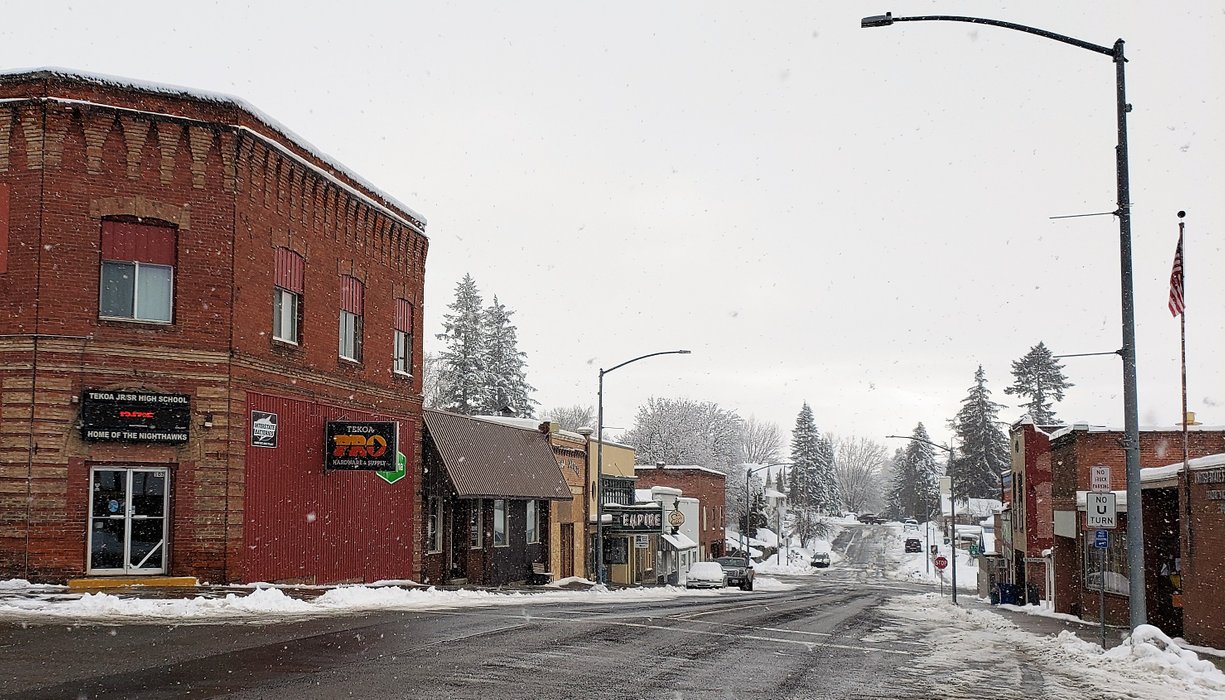 Photos: Town of Tekoa, Washington
Tekoa was a very pretty little town, although as with most of the last several days, I was there with snow actively falling, as you can see.
Speaking of the "road less traveled," driving through this area you find that Tekoa is at the end of the John Wayne Trail across much of Washington. Here is this website's description of this trail:
"The trail highlights Washington's diverse and scenic landscape, traveling through evergreen forests and dark tunnels, over high trestles and spectacular rivers, and across open farmland and high desert."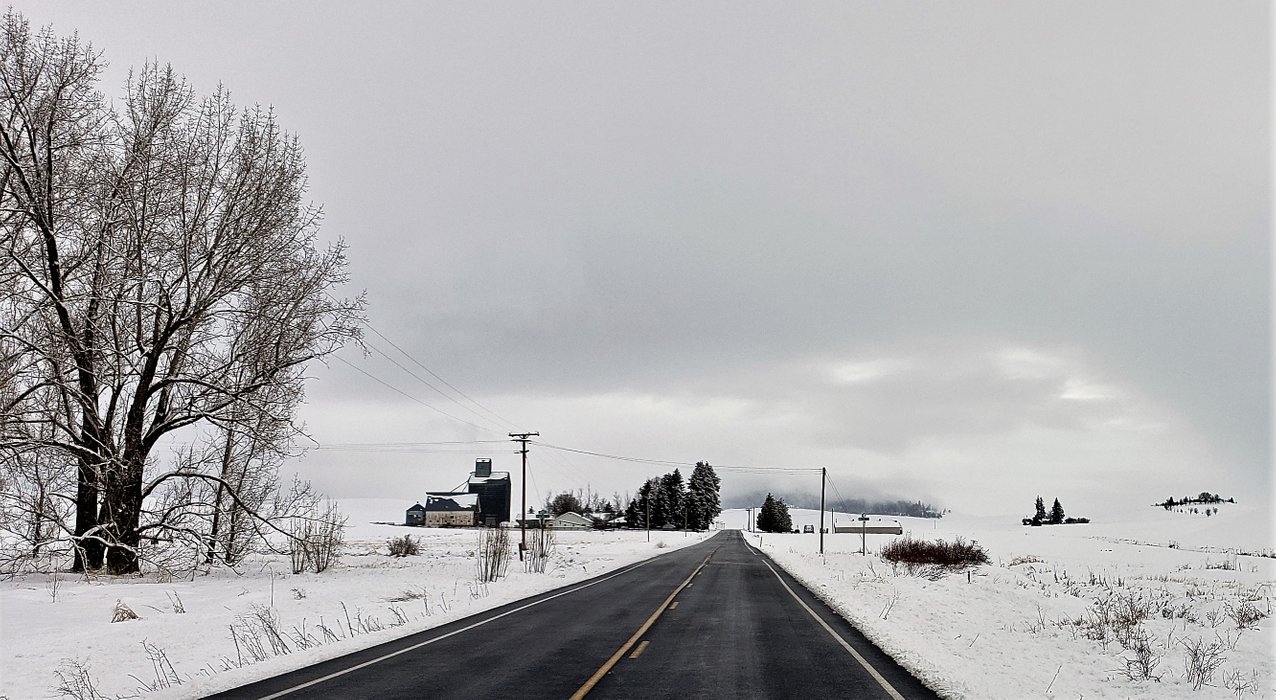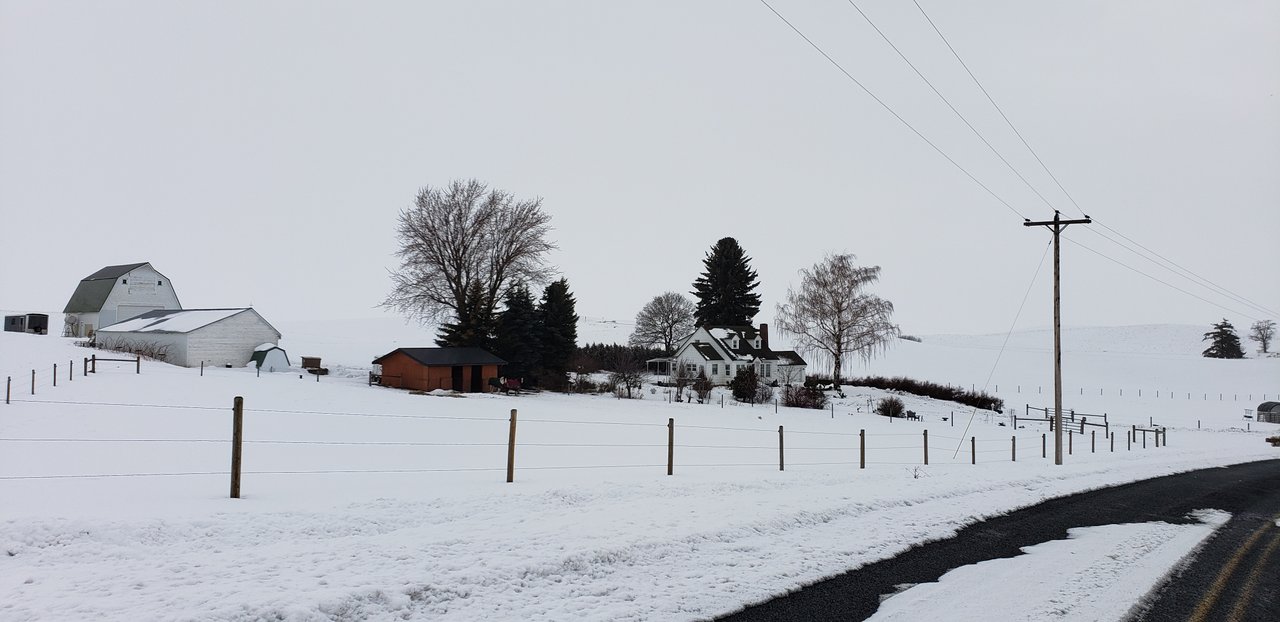 Photos: South on County Road to and from Farmington, Washington
Once leaving Tekoa, if interested in getting to Farmington as I was, you end up on a county country road. The views became even more interesting, at this point, given how remote this country is. Note in these pictures that "intersections" consisted of the county road intersecting with lanes off to the farmhouses of individual farmers and their families.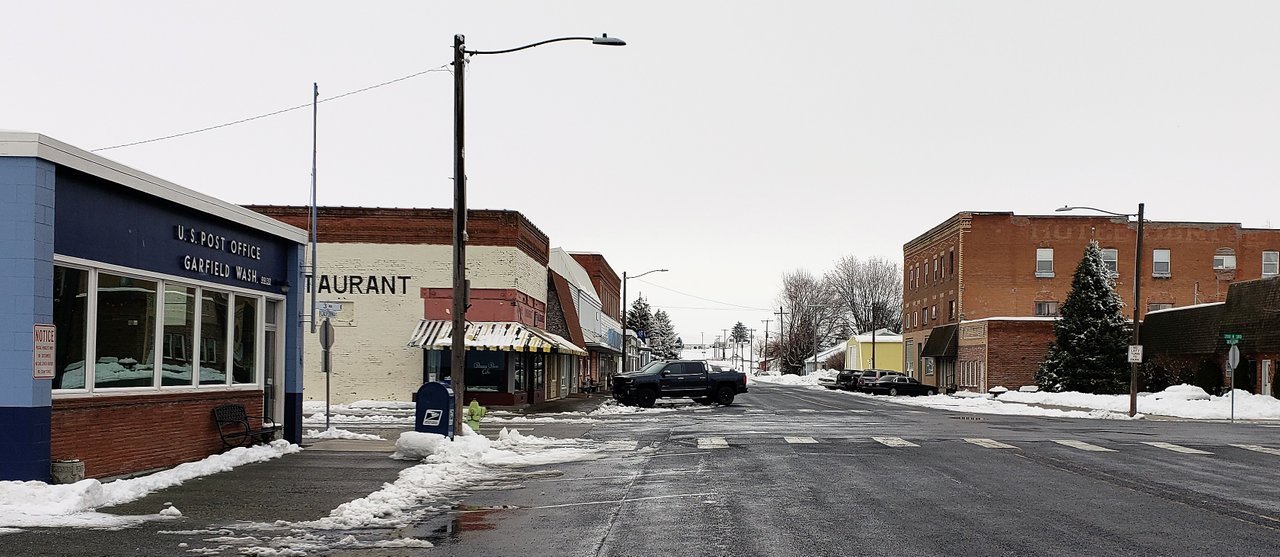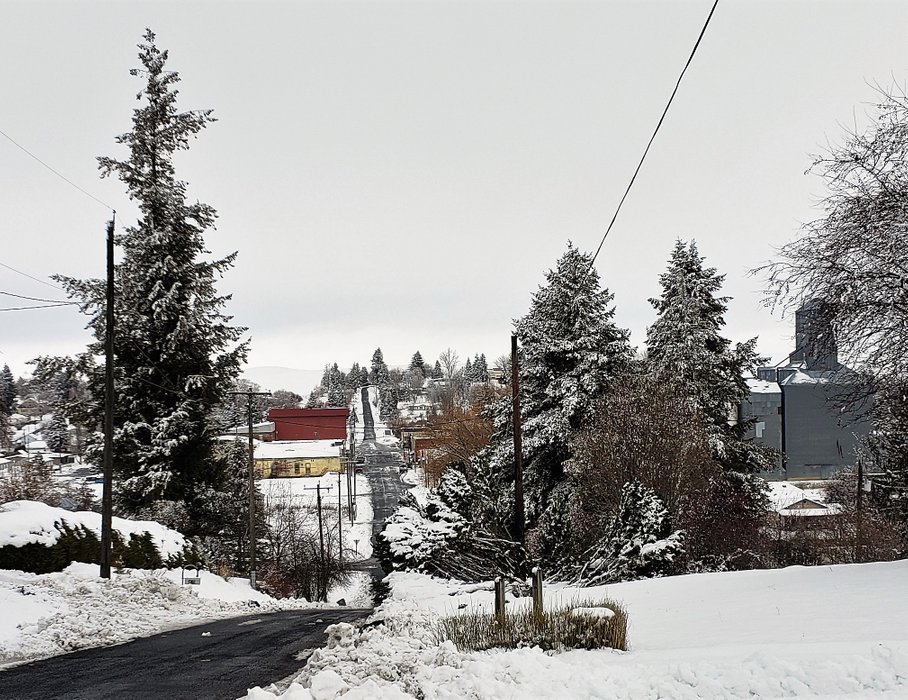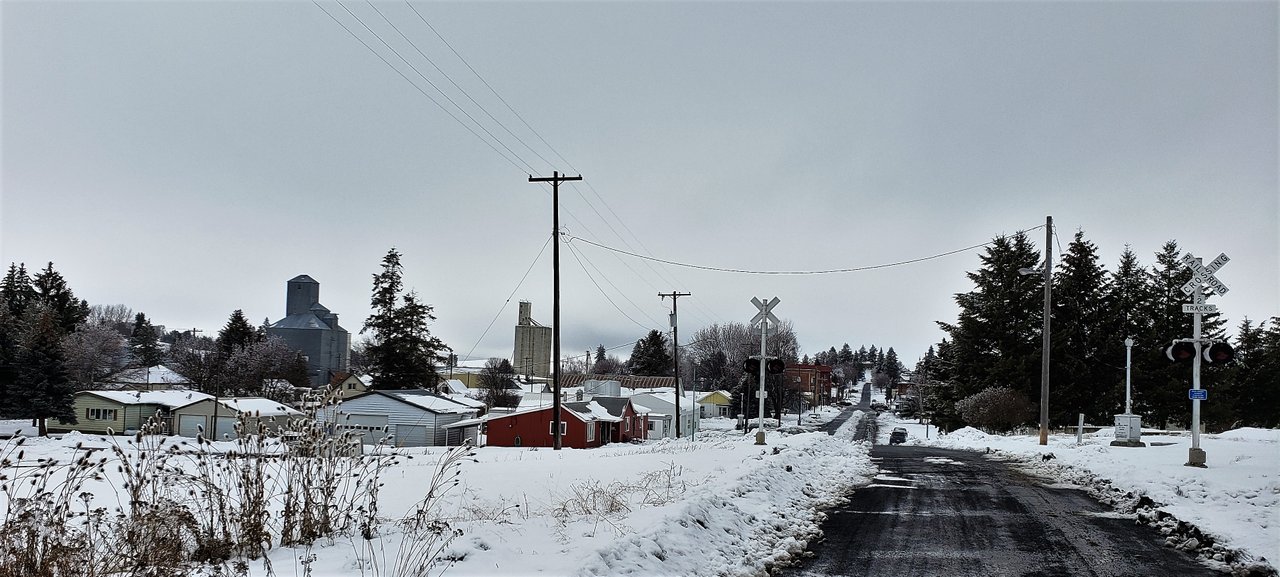 Photos: Town of Garfield, Washington
Garfield sat out in open country, away from the beautiful hills found closer along the border with the State of Idaho. It was situated along a railroad. Needed I am sure, to provide transportation for the incredible $370,801,000 value of agricultural products produced in Whitman County (in 2012!).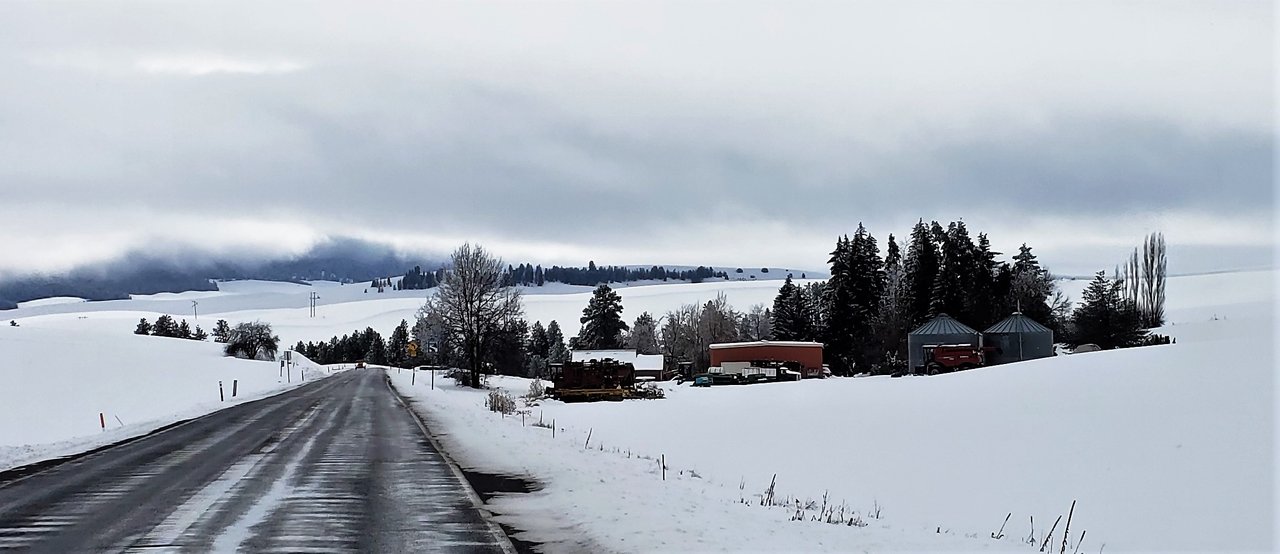 Photo: Beautiful Farm North of Palouse, Washington
As mentioned above, there are many farms just out along the highway, as you drive down the Palouse Scenic Byway. This one really stood out to me and had me wishing, for just a minute the sun would come out and illuminate the whole area, including the forested hills in the background.
Didn't happen ... 😞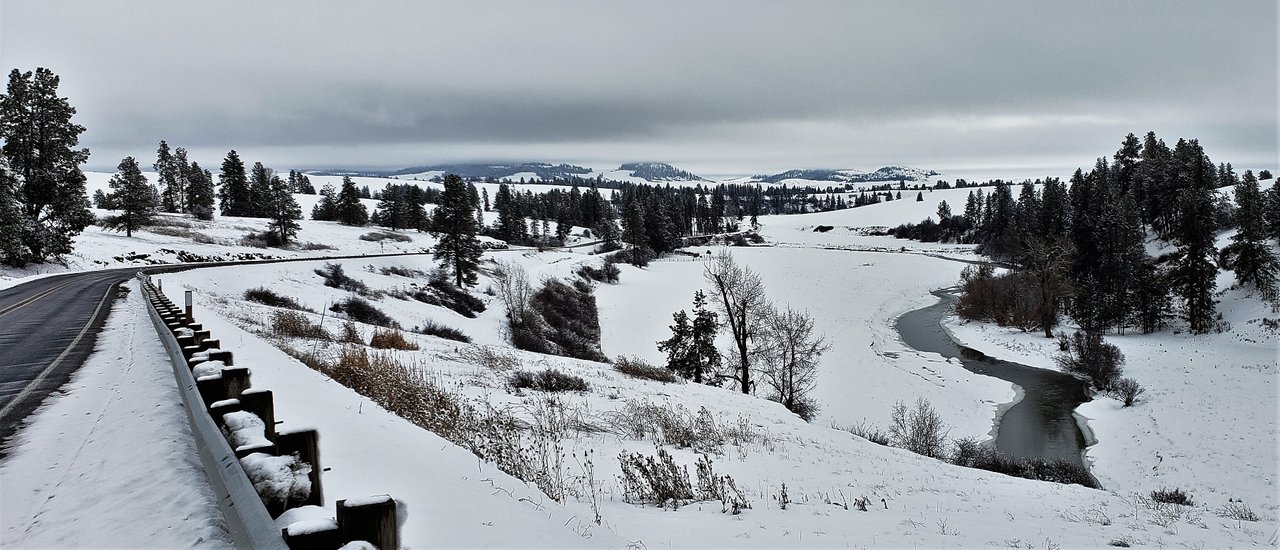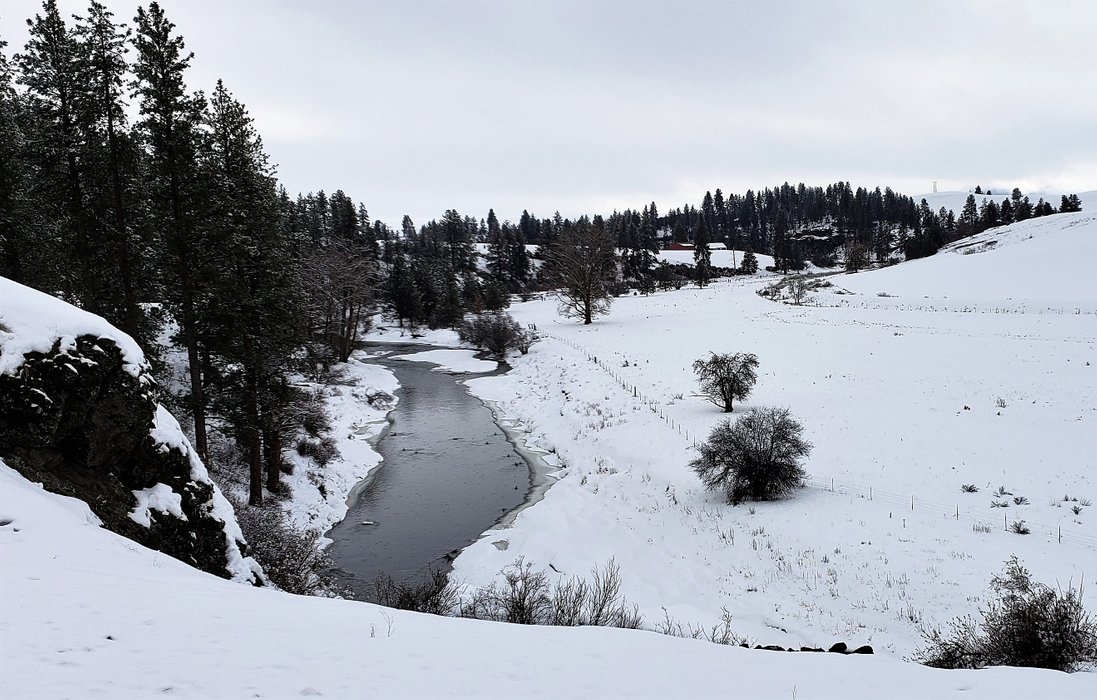 Photos: Beautiful Palouse River flowing South into Palouse, Washington
Along the highway, this beautiful river appeared, as I was making the final approach into Palouse, Washington. This river, the Palouse River, winds through the Palouse and ultimately drops 200 feet (61 m) over the Palouse Falls in Palouse Falls State Park southwest of here.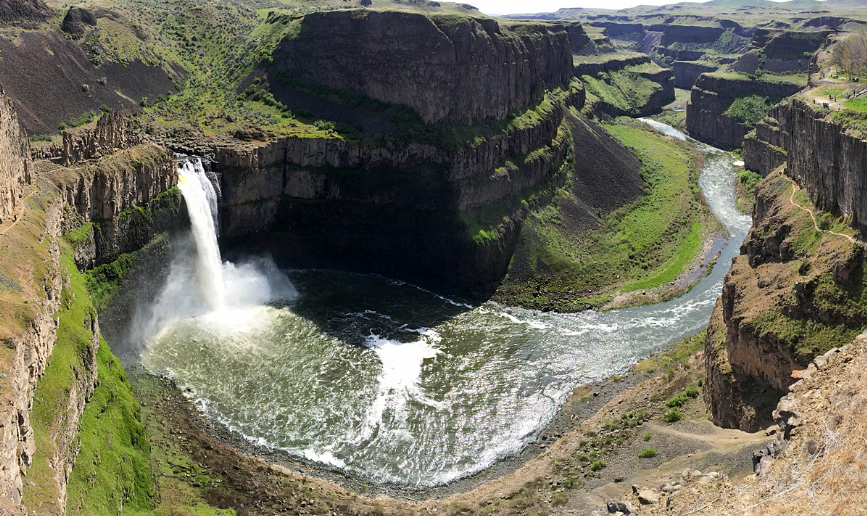 Another attraction way out in the middle of nowhere, but one can see this waterfall would be well worth the visit. Once dropping over these falls, the Palouse River continues flowing south through the columnar basalt (volcanic) rock canyon seen above, into the Snake River.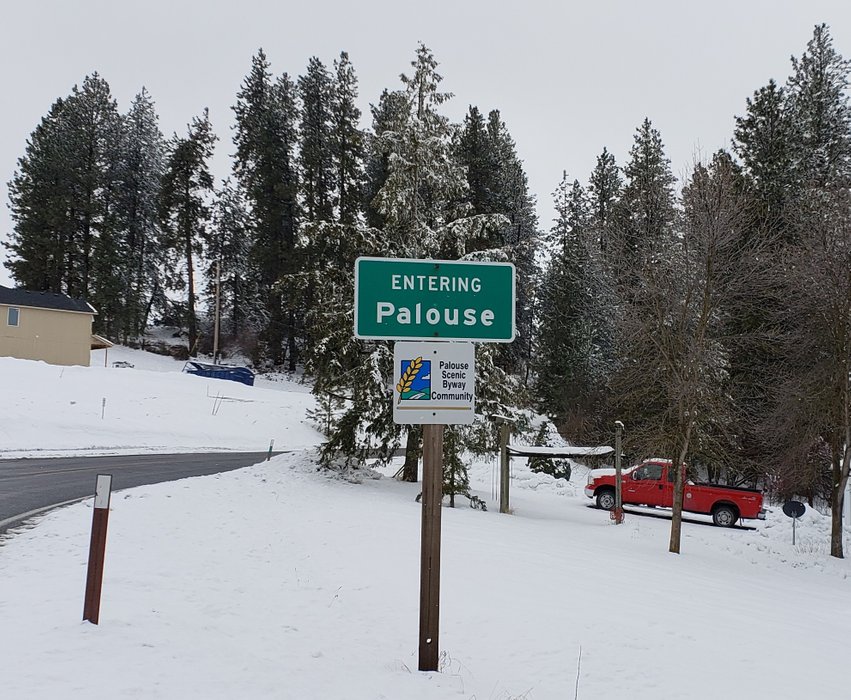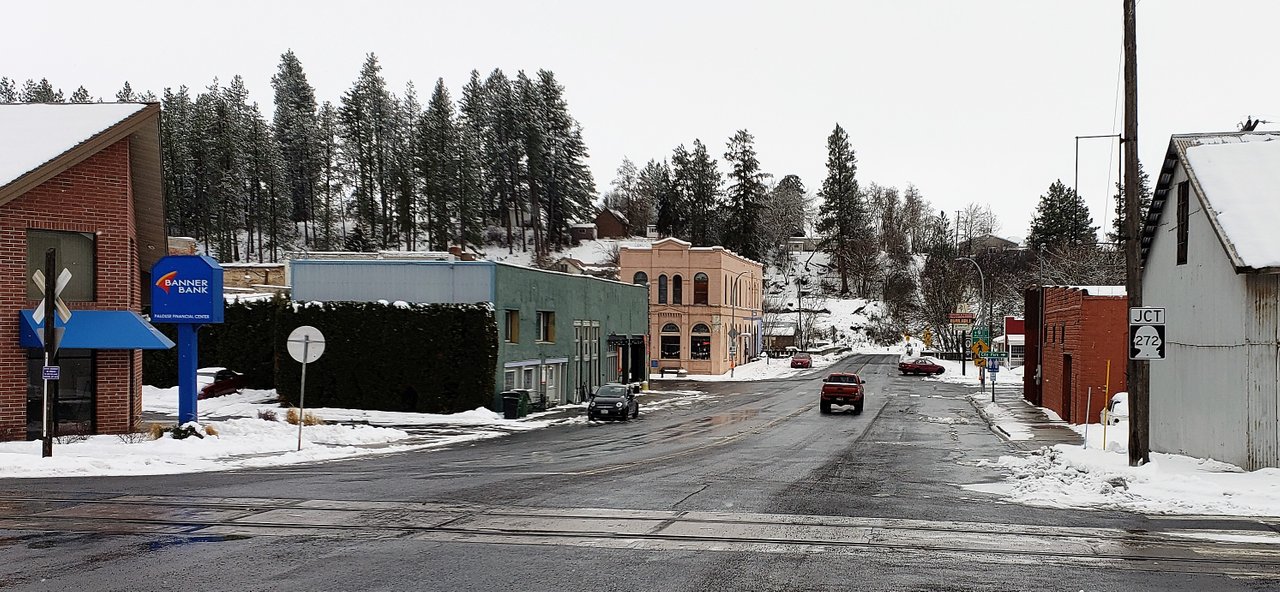 Photos: Town of Palouse, Washington
Given how much I was influenced by the beautiful river flowing through this little town, I probably liked the thought of living in Palouse more than any of the other towns I visited on this fine wintry day. There was just something about it.
It is a comparatively short distance to nearby Moscow, Idaho or Pullman, Washington either of which would most likely have all one might need in the way of shopping for basic necessities.
---
I hope you have enjoyed this trip down through a portion of the Palouse Scenic Byway, dear reader. If interested to learn more about it, I would encourage you to follow the link provided at the beginning of this segment of my post. There you will find a lot more information about the Palouse ...
As well as some great pictures of it ... Taken in the summertime! 😉
Postscript for Day Twenty Six


Many mixed emotions today, as I am nearing the end of my "excellent adventure." Everything from revisiting a big "Y" in the Road decision of years ago, to seeing little communities that might someday be my home. Who knows what the future holds?
In the morning, I will set out on the final leg of my adventure, starting with driving up over Lolo Pass, on the border between Idaho and Montana. This road has the designation of the "Northwest Passage Scenic Byway."
A key portion of the trip is driving along the Lochsa River on the "Lochsa River Scenic Byway" along U.S. Highway 12.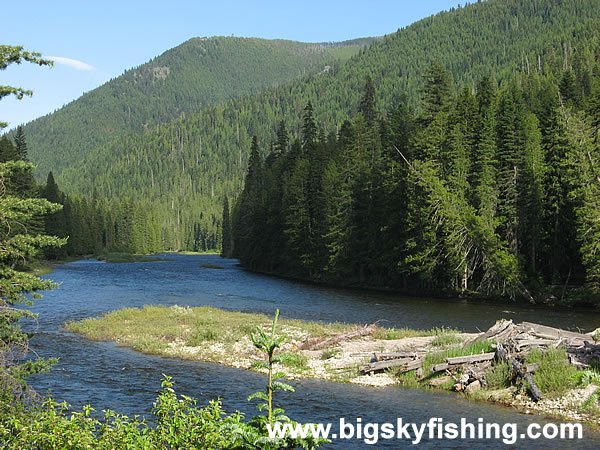 Lots to contemplate, over all the ground I have covered in the last 4 weeks, on the final leg of my adventure ...
Closing


Well, like a broken record of late, another fairly dreary wintry day in "@roleerob's excellent adventure," but I am not complaining (wouldn't do any good anyway ... 😉), as I can "see" past the snow and imagine what it must be like to be in these areas in better weather.
Thanks for going along with me, dear reader. I'd love to hear any feedback you may be inspired to provide.
Until "next time," all the best to you for a better tomorrow, as we all work together to build our Steem Community! 👍 😊
Respectfully,
Steemian @roleerob
Posted using SteemPeak and "immutably enshrined in the blockchain" on Sunday, 17 February 2019!
---
"R2R" Note: My "shorthand" way of referring to what I first wrote about in my Reflections: My "Road to Recovery" Trip post. "Road to Recovery" <=> "R2R" ... 😉

Image sources, unless otherwise noted: My trusty smartphone!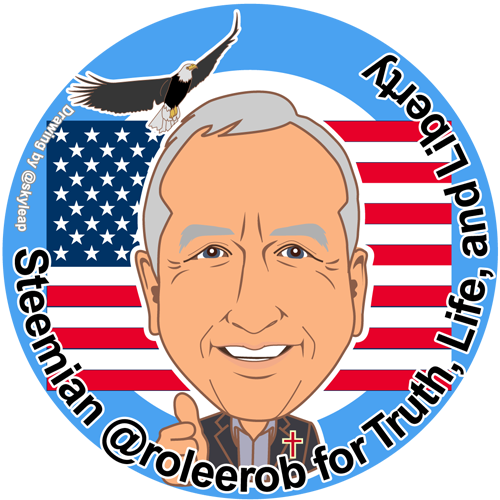 If you liked this post, you might enjoy others in my "Road to Recovery" Travelogue series:
This account is protected by @dustsweeper