Day Two: Opened with a large amount of snow on my truck, which had turned to ice, so a lot of scraping before I could even get underway. And I soon learned the major snow snowstorm I had driven through yesterday had covered all of northeastern Arizona.
My destination for today!
Oh well. Part of the "adventure" of choosing to take this trip in the dead of winter!
Image Source
The highlight of the day was visiting Canyon de Chelly National Monument, which is jointly managed by the U.S. Park Service and the Navajo Nation.
What a treasure. Let's check it out!

Canyon de Chelly National Monument


This amazing canyon has been inhabited for almost 5,000 years. The Navajos are only the latest inhabitants. They call it Tsegi.
A high mountain plateau has a canyon carved out of it that is very unusual in how it is shaped. Certainly not like a "normal" mountain canyon. As you drive up to nearby Chinle and look over to where this famous national monument is supposed to be, I was thinking, "What's the big deal?"
I'm glad I went to find out!
Arriving to see it in the dead of winter is not ideal. Arriving with the U.S. Federal government partially shutdown even less so. The first "casualty" of my visit was the inability to check out the Visitor's Center.
It was closed! 😞
With the time I had available, I elected to drive along the South Rim, as this side of the canyon has the most overlooks. I was treated with some wonderful views, while enduring bitter cold.
I have been in cold weather all my life and I know with the wind chill, it was definitely below 0 °F! Brrrr ...
Here are some images from the overlooks I visited:
Tunnel Canyon
The first stop was this interesting little side canyon, as shown below.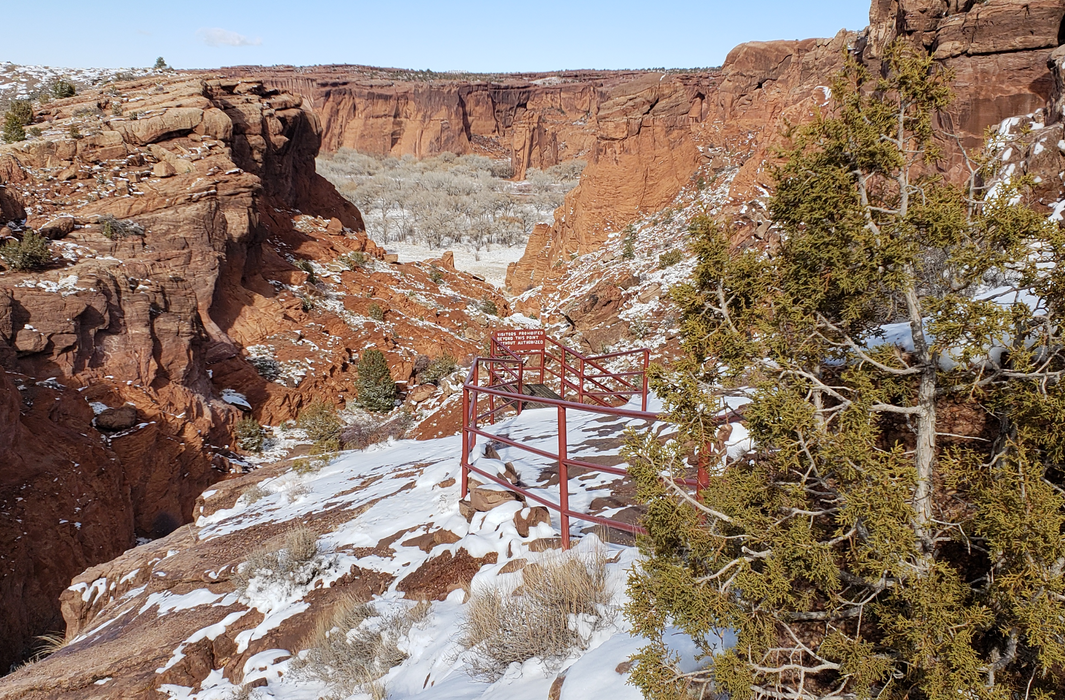 Photo: Tunnel Canyon Overlook
Going further requires a guide, according to the sign and no one was available on this cold winter day!
Tseyi
A short drive up from Tunnel Canyon was this nice easy pullout with an awesome view.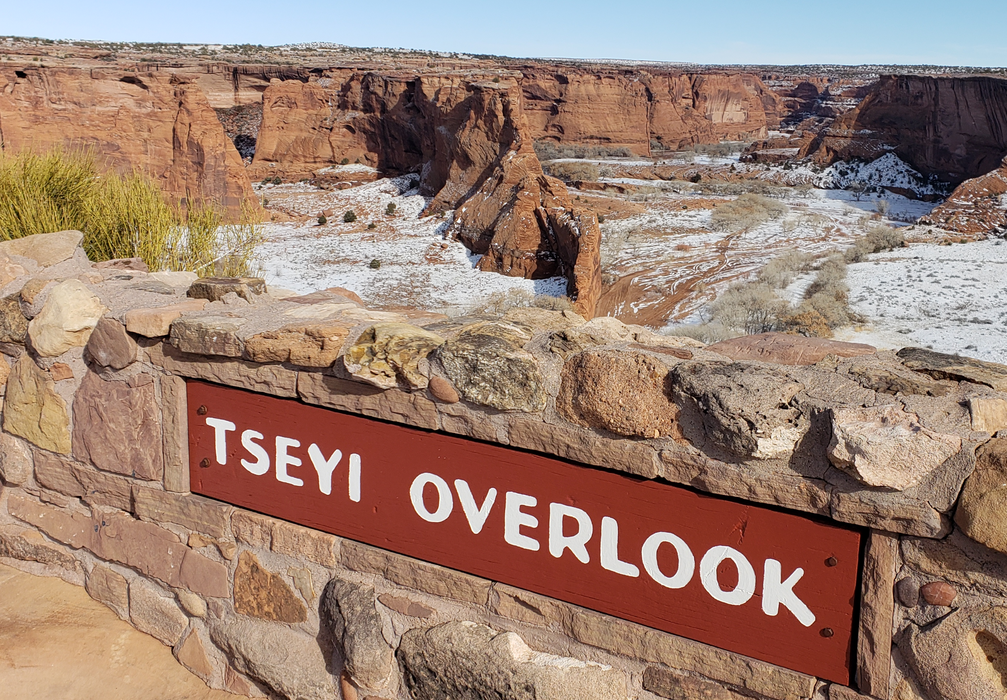 Photo: Tseyi Overlook
Upon looking over the side, you notice there appears to be active farming going on down there!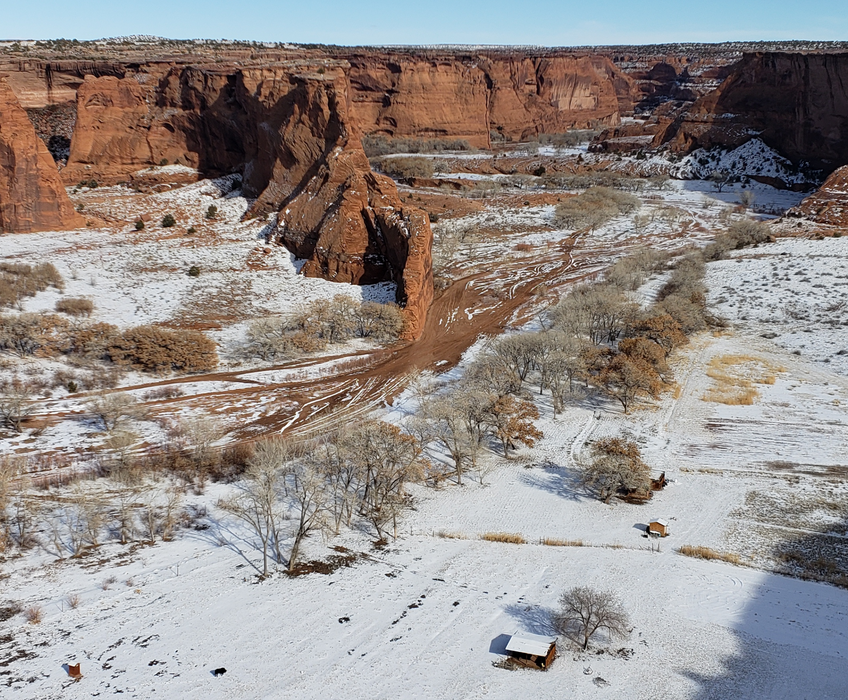 Photo: Still being actively farmed!
As cited above, people have been living in this canyon almost 5,000 years. Right up until today, as the visitor notices many signs referencing private property.
Junction
This overlook is presumably named for a junction in the canyon, although that was hard to make it while I was there.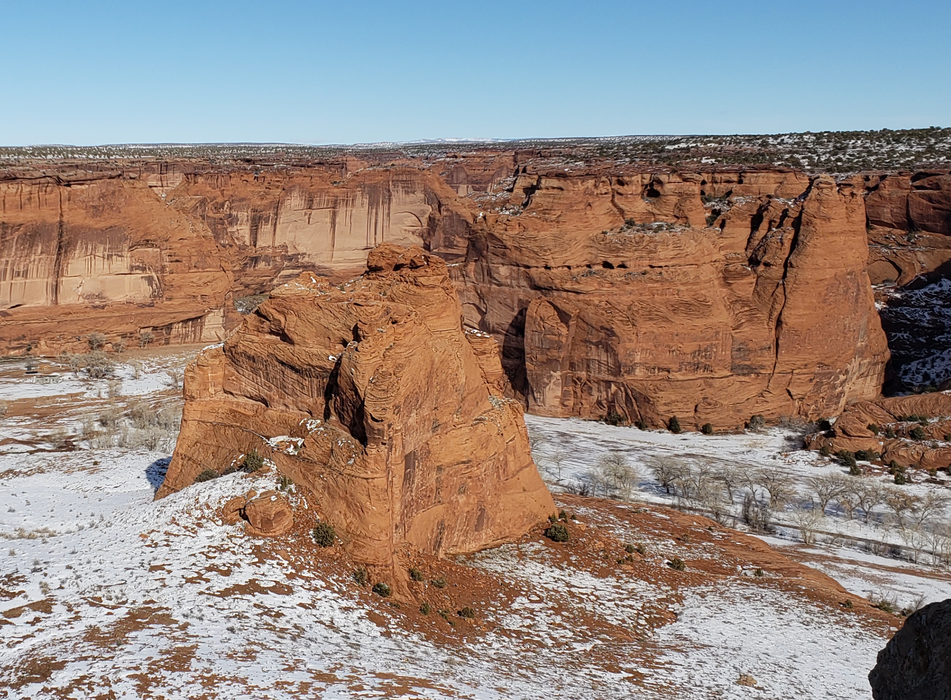 Photo: Canyon Junction?
Behind the big rock in the foreground, the canyon does appear to fork, but it is not easy to see it.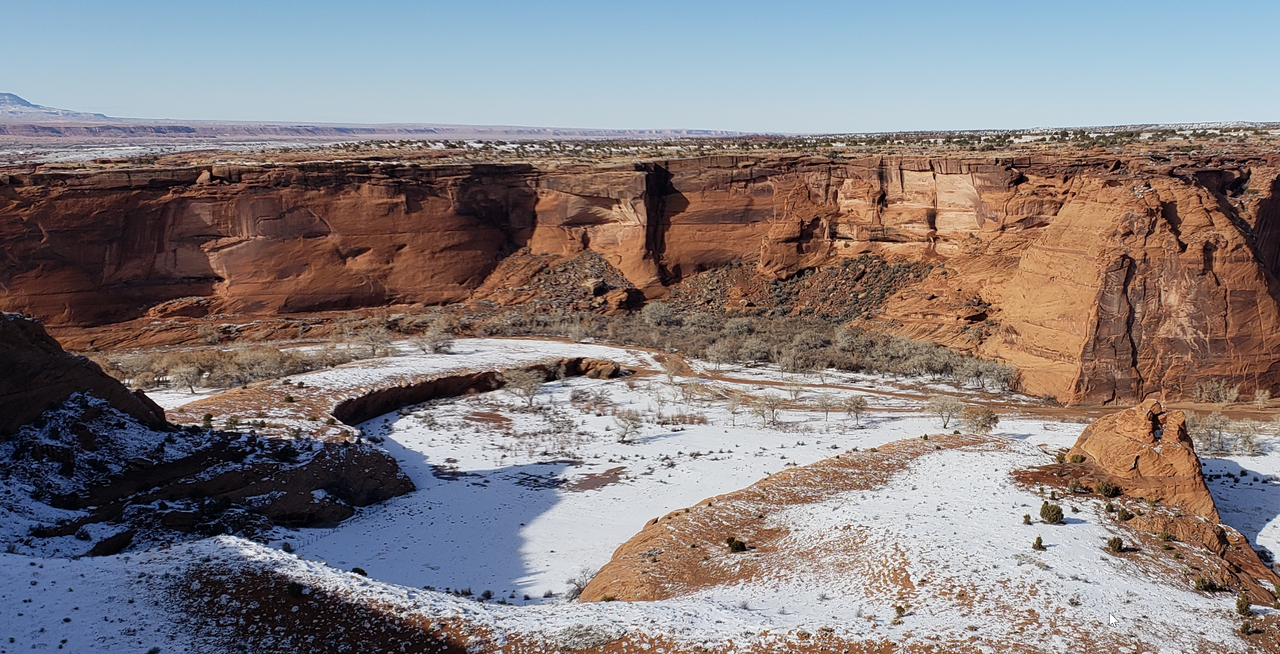 Photo: Looking down canyon out to the West
Notice how far one can see out to the West. There is a great big plateau way out on the horizon.
White House
This overlook requires a bit of a drive in toward the canyon, from the main road. It is a trip you definitely one to make!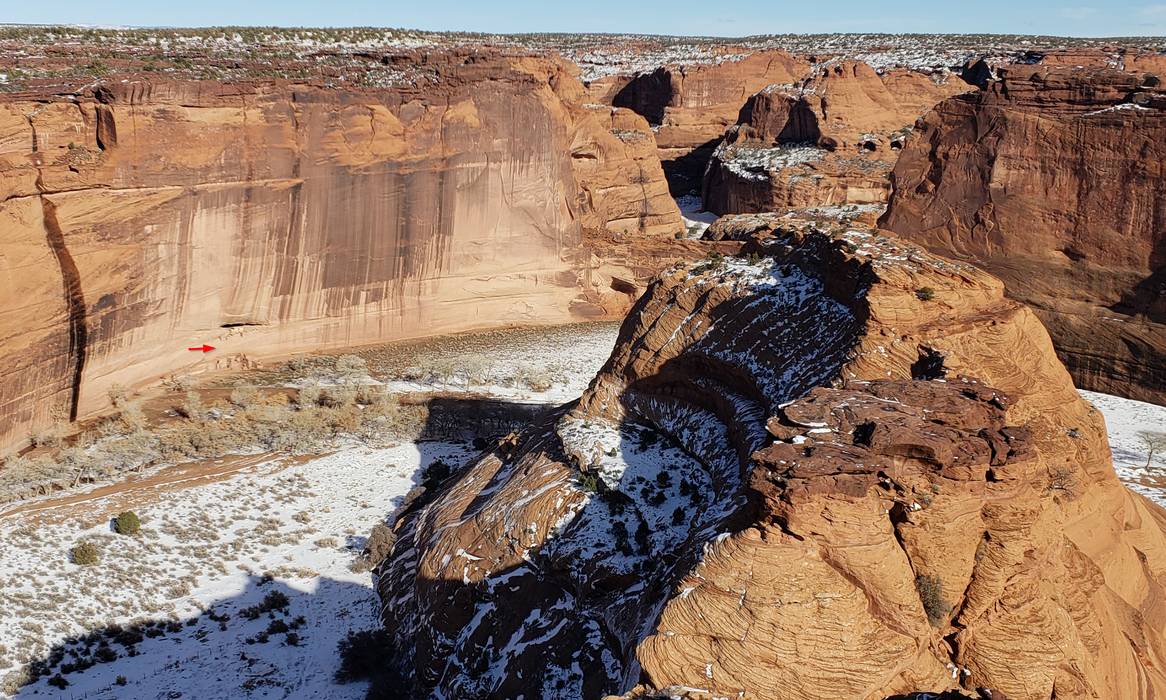 Photo: Remains of much older civilizations
I have taken the liberty to place a red arrow in the lower center-left of this picture, as you are unlikely to make out there is an old ruins there which reminds one of the much bigger cliff dwellings not too far from here - the famous Mesa Verde cliff dwellings in southwestern Colorado.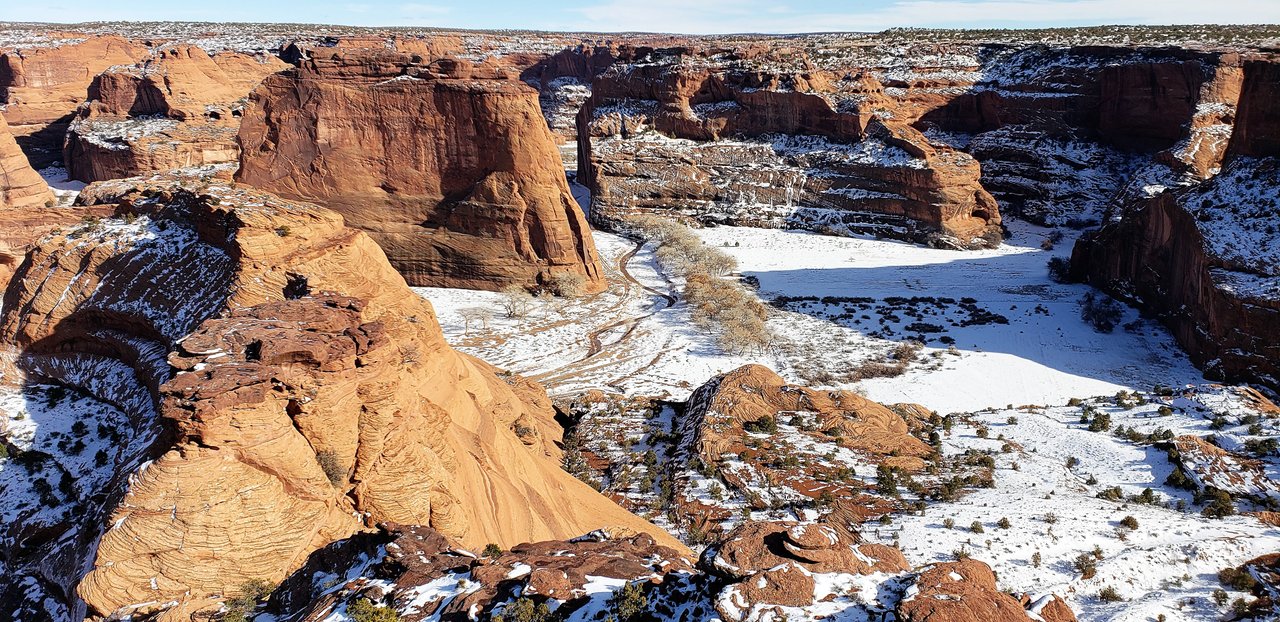 Photo: Bottom land accessible by trail!
If this looks like a place you'd like to check out, you are in luck! Off to the right of this picture is a well-maintained trail to the bottom of the canyon. Getting down there is relatively easy. It's getting back up to your vehicle that will test your cardiovascular conditioning!
Sliding House
The highest up and farthest in to the canyon I got was this overlook. I had my truck in 4-wheel drive to safely get this far, given the snow on the road.
I had it all to myself! Didn't appear people had much of an interest taking up the challenge of a day like this one. At least the sun was shining brightly!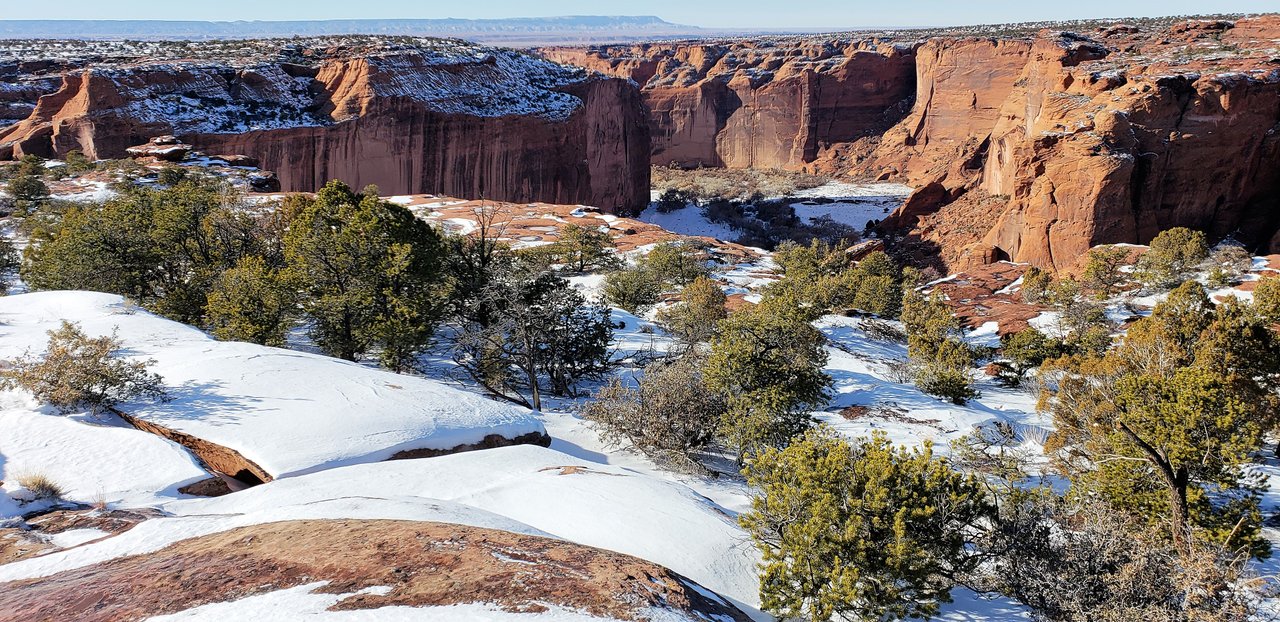 Photo: Looking down canyon and out to the West
Higher up in the canyon now, notice how far you can see out to the West. Amazing country!
---
I hope you have enjoyed this winter wonderland look at this great National Monument, dear reader. If you ever have the opportunity, I'd encourage you to come see for yourself.
Be warned. You will want to have to come here, as this location is not on the way to anywhere. It is in its own world!

Navajo Nation


Established by treaty on 1 June 1868, Navajo Nation is the largest land area retained by a Native American tribe in America, covering most of northeastern Arizona, with a bit in southeastern Utah and northwestern New Mexico.
I had been through a part of this country once over 30 years ago. Today, I was going down through the heart of it, to see areas new to me.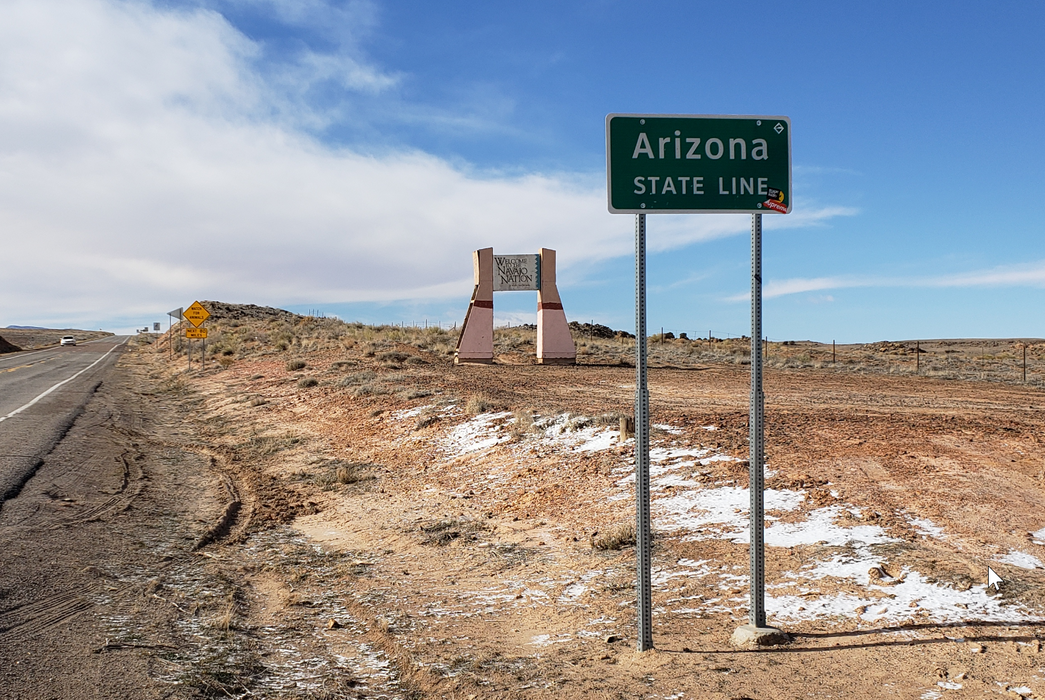 Photo: Entering Navajo Nation on U.S. Hwy 160
While a bit hard to make out, the sign in the rear says, "Welcome to Navajo Nation."
You will note, dear reader, the reference to the word "Nation." Many of the Indian tribes in America function almost as nations within a nation on their tribal grounds.
What follows are a few glimpses of what is really a world of its own in northeastern Arizona - the Navajo Nation!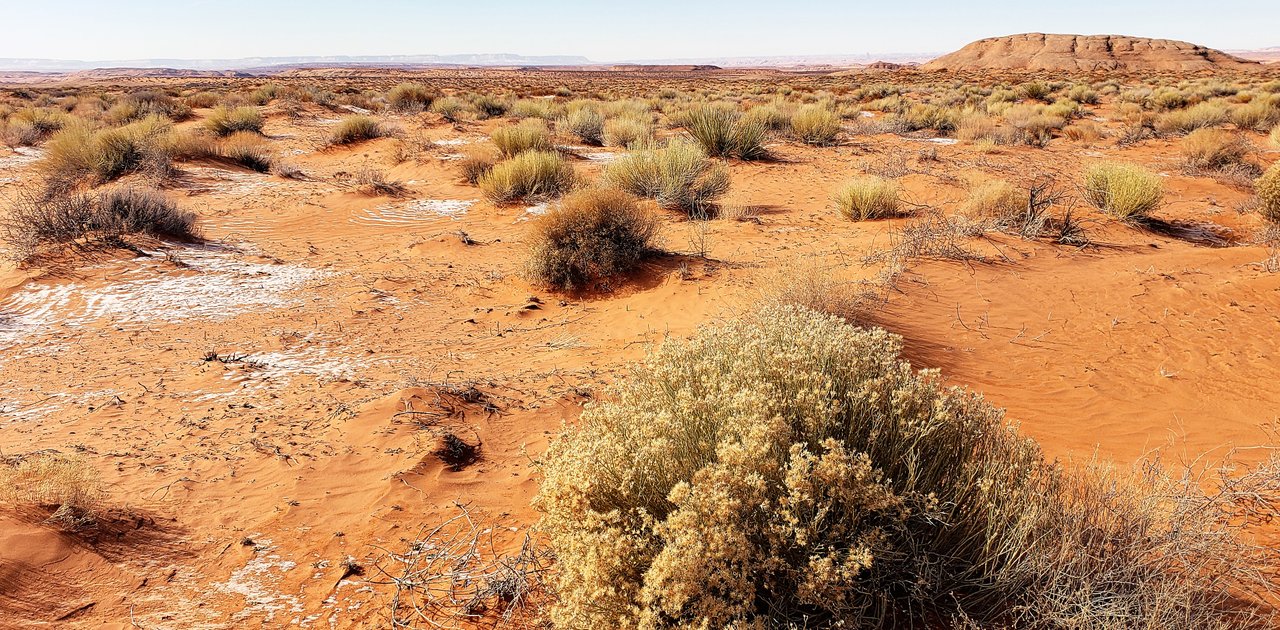 Photo: Wide Open Country
One very distinctive feature of this region are the number of homes you will find out in the middle of nowhere. In country like what you see above. While you can't see them, as I didn't want to get too close, there are homes out in this scene. Miles apart from each other ...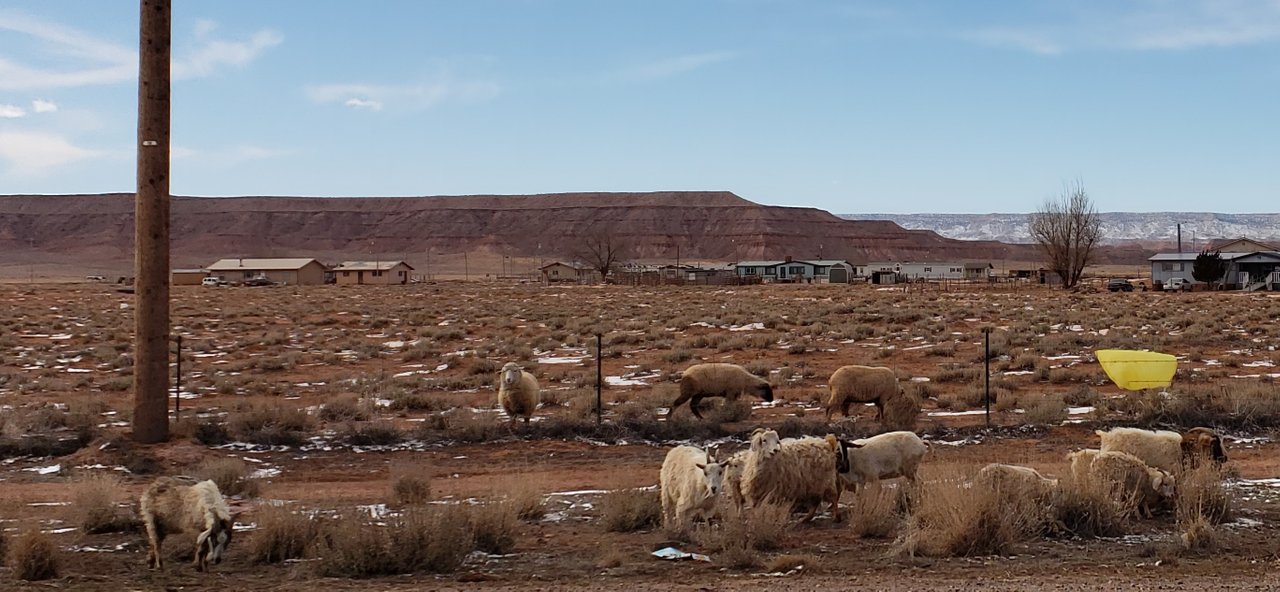 Photo: Interesting Sheep Grazing
There were a number of opportunities to see herds of animals, some like the sheep above, apparently pretty domesticated.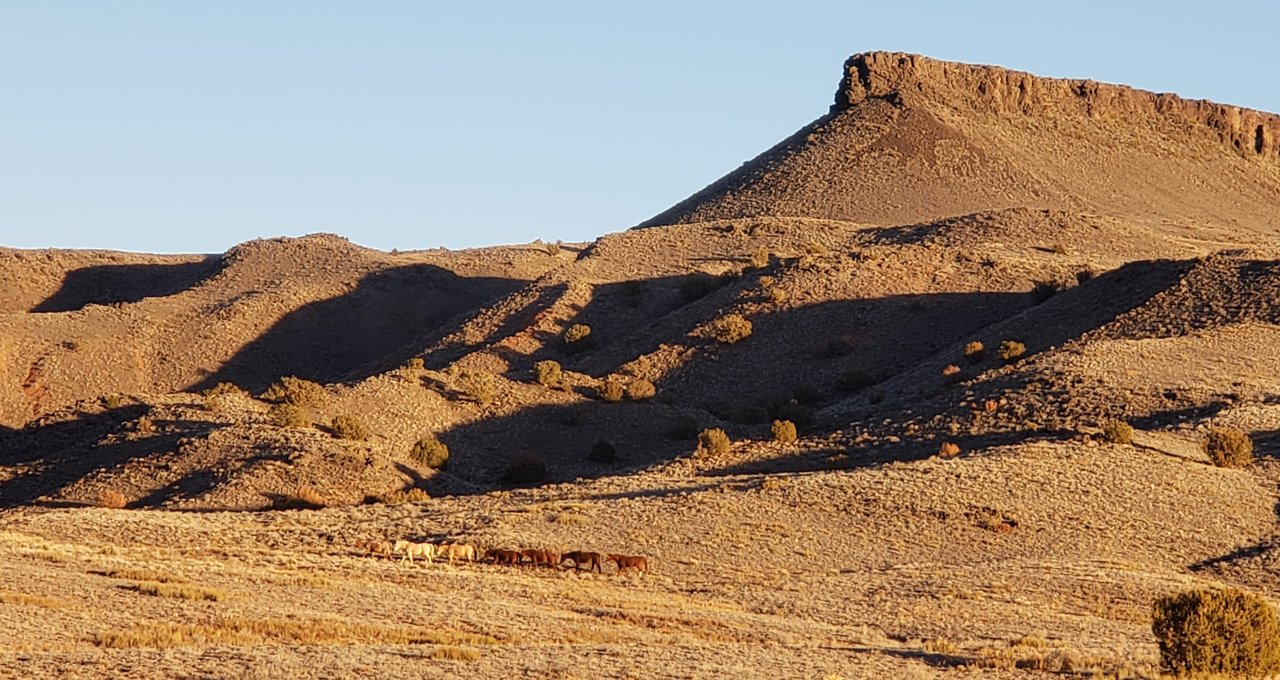 Photo: Wild Horses
Others like the horses above, apparently wild as they were a long way from anything remotely resembling a farm and / or house. They were also far more wary than a domesticated horse, as I stopped to take pictures of them.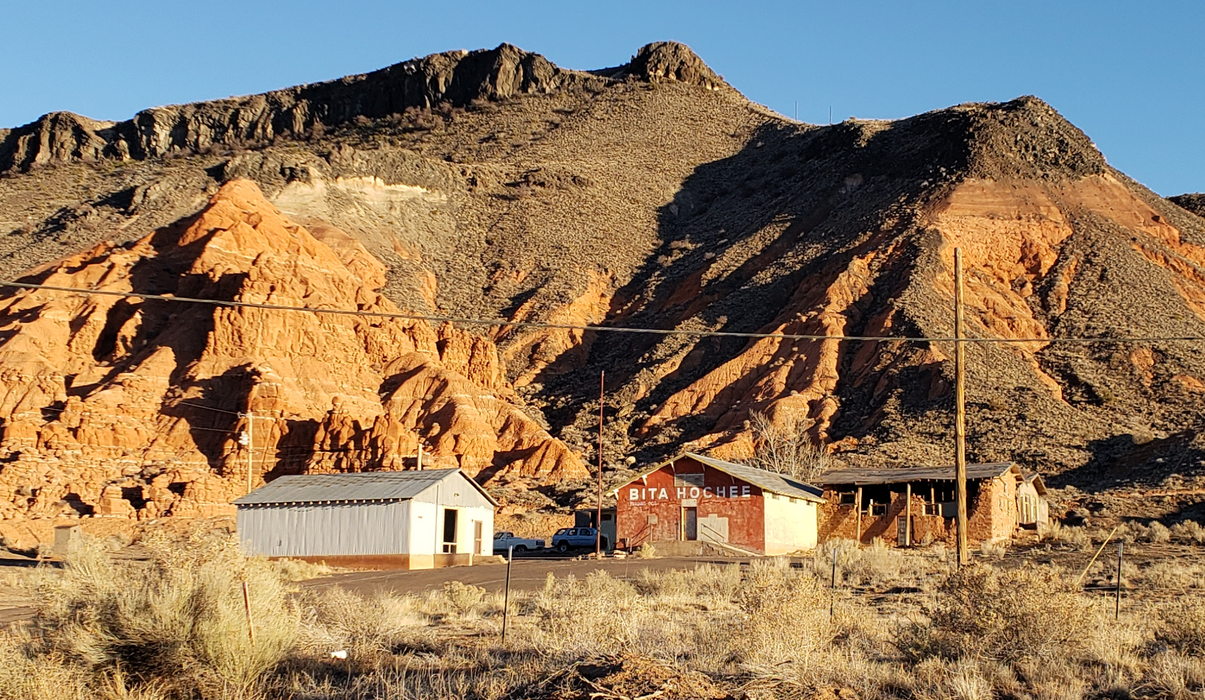 Photo: Interesting Place along Arizona Hwy 77
The Navajo are famous for their artwork, especially the jewelry made out of turquoise. But they are very creative and do many other types of artwork.
At the White House overlook of the South rim of Canyon de Chelly detailed above, I met a Navajo artist, who lived nearby. He said he had been there all day in that incredible cold and had not sold anything.
I bought this artwork - his interpretation of the White House part of the canyon, along with some Navajo imagery.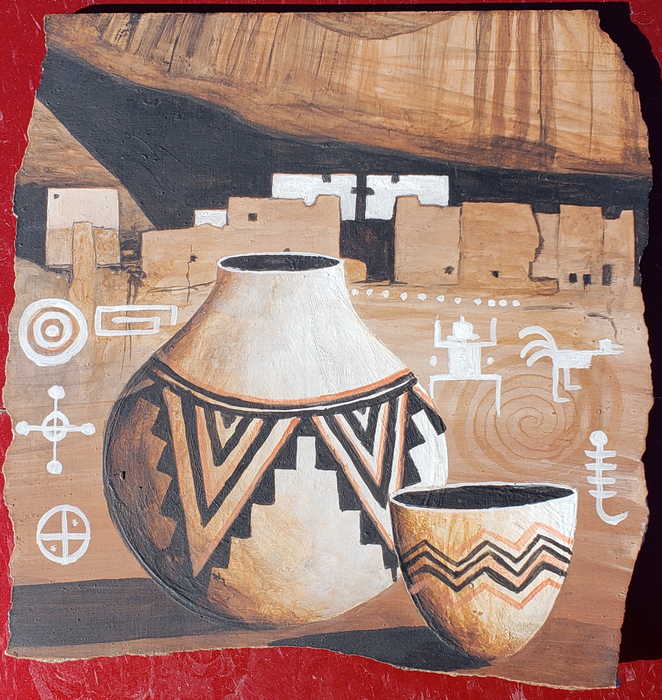 Photo: Artwork of Navajo Artist
I am very pleased to take this home and to have helped this young man. Very earnest and very honest. And very talented!
---
I'd like to close with a tribute to these native people. Their language is extraordinarily unique in the world. So much so, they played a vital role in the American victory over the Japanese in World War II.
How so?
The "codetalkers" were a group of Navajos tasked with relaying commands of the military in their native tongue. The Japanese had broken other codes, but they never broke this one!
There is a lot of history associated with the codetalkers and the military units tasked with sacrificing themselves, if necessary, to ensure these men stayed alive. They were very important people!
If interested, I would encourage you to research it more.

Closing


Another great day in "@roleerob's excellent adventure!" Thanks for going along with me, dear reader. I'd love to hear any feedback you may be inspired to provide.
Until "next time," all the best to you for a better tomorrow, as we all work together to build our Steem Community! 👍 😊
Respectfully,
Steemian @roleerob
Posted using SteemPeak and "immutably enshrined in the blockchain" on Tuesday, 22 January 2019!
---
"R2R" Note: My "shorthand" way of referring to what I first wrote about in my Reflections: My "Road to Recovery" Trip post. "Road to Recovery" <=> "R2R" ... 😉

Image sources, unless otherwise noted: My trusty smartphone!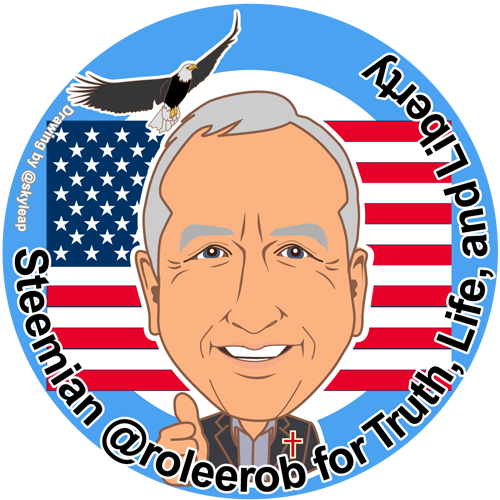 If you liked this post, you might enjoy others in my "Road to Recovery" Travelogue series:
This account is protected by @dustsweeper