Day Four: In our family, one of our traditions was doing something special for our children on their 13th birthday.
Our oldest son was born in Tucson. Since we had left for the great Pacific Northwest soon after he was born, I flew him down to see his home town in December. This post is about my recreating this very special memory to me.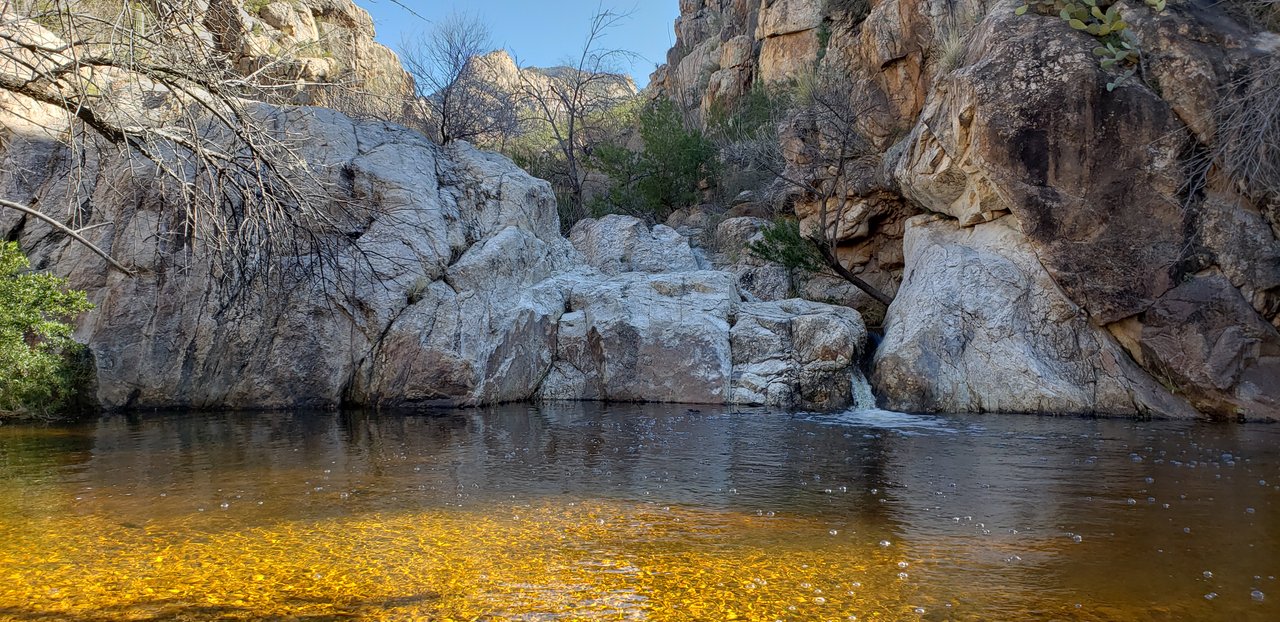 Photo: Pool in Romero Canyon, Catalina State Park
One of our very fond memories was hiking up into Romero Canyon in Catalina State Park, just north of Tucson. A fun part of that day was a little video clip of him sitting under the shade of a boulder cooling off. He was red-faced from getting a little overheated. I asked him if he was glad we were there in December, instead of in the summer! He's never forgotten that ...
Well, over 25 years, let's see how recreating this hike goes in January, in the "dead of winter!" 😉

Catalina State Park


Catalina State Park sits just north of Tucson, at the western end of the Santa Catalina Mountains. The highest part of these mountains is Mount Lemon, which has the distinction of having the southern most ski resort in the United States.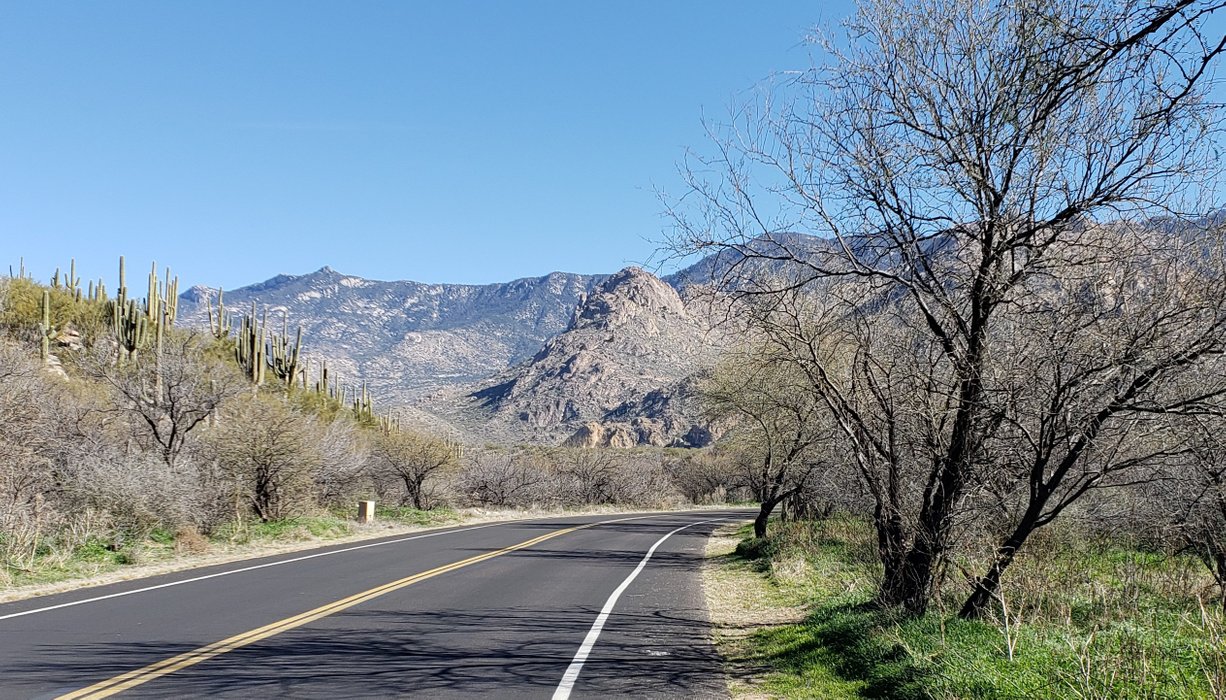 Photo: Enroute to Romero Canyon Trailhead
There are a lot of attractions at this state park. My particular focus was the hike up into Romero Canyon. My son and I had climbed well up into the canyon, which stays way up on the side of the mountain, when I said that was enough and we dropped down through the hostile vegetation to get to the creek below.
There is no trail down and no trail along the creek. It is too rugged for that. My kind of place!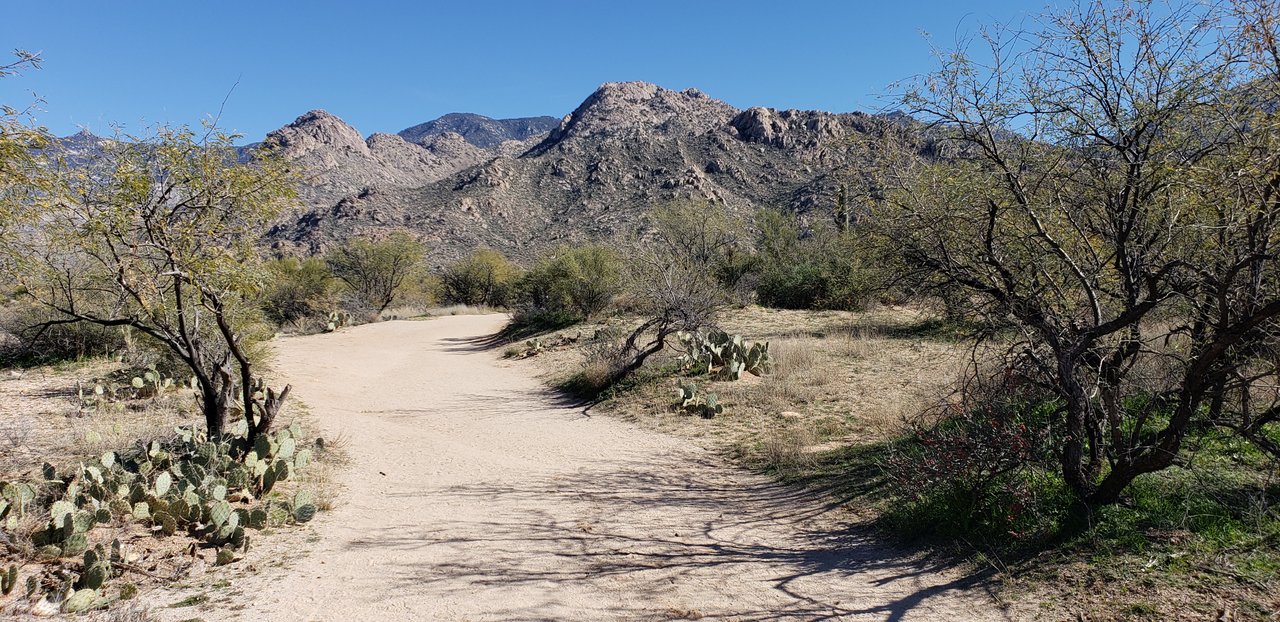 Photo: "Freeway" of a Trail
Setting out, there were a number of people and look at that trail. It was the hiking equivalent of a freeway! 😧 Not exactly the peace and quiet and "getting away from it all" I had in mind.
But ... That changed soon enough.
Along the way, there was an opportunity to appreciate the diversity of plant life. Even in a desert!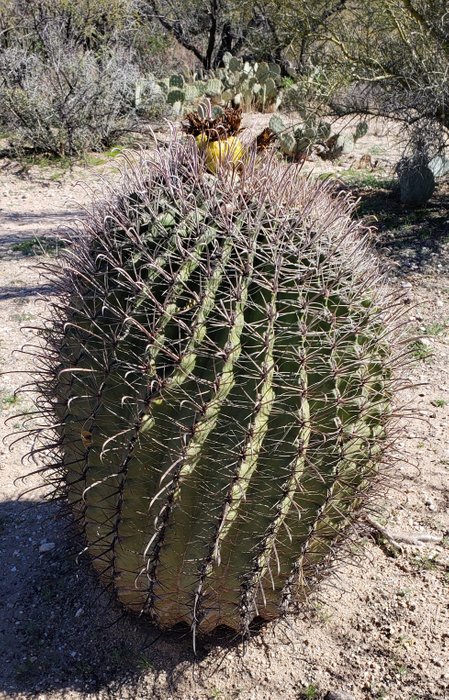 Photo: Aptly Named "Fish Hook" Cactus
As you will see in the photos above and which follow, I do my best to name them, although I make no pretense to being an expert and I may have it wrong. That is where I even have an idea, as in some cases, I simply don't know.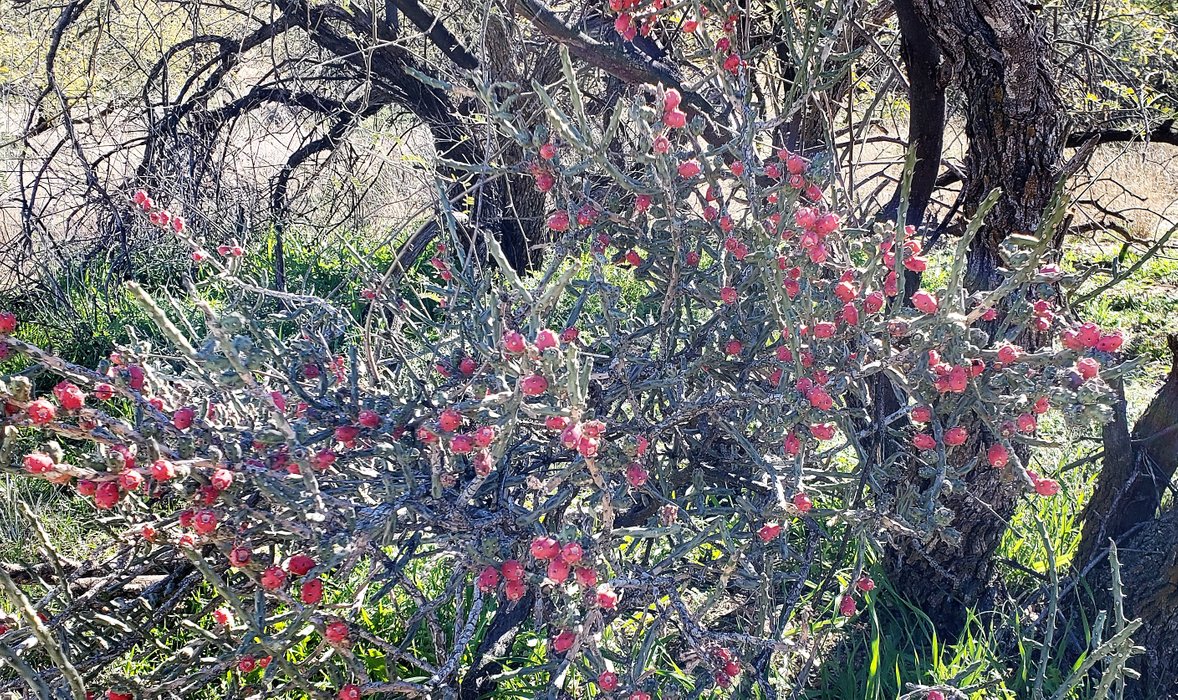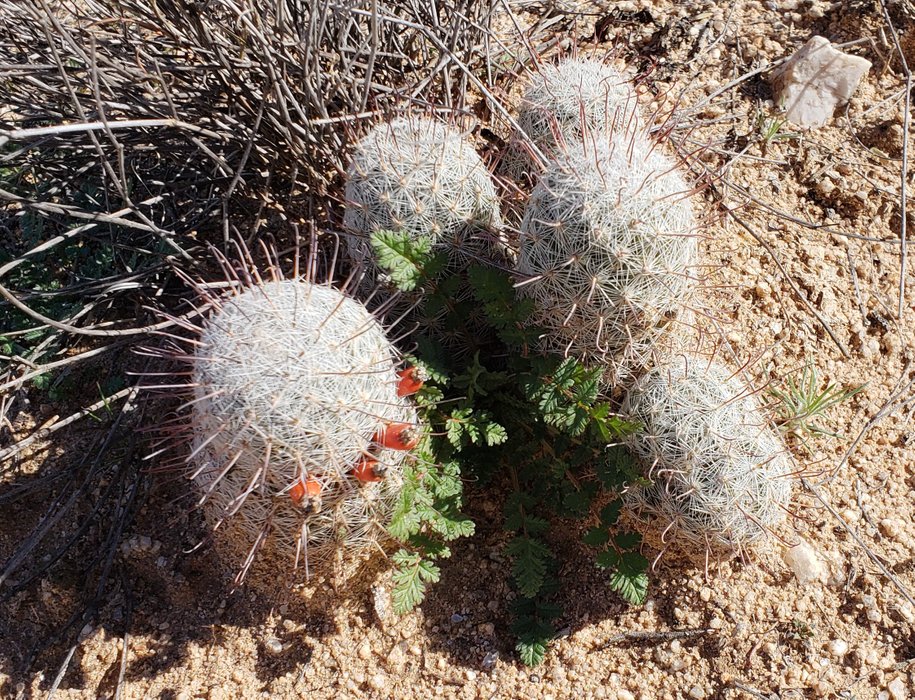 Photo: Unknown Cacti with Fruit!
It was very interesting to find some cacti with fruit. In January! The native peoples of this area were very knowledgeable about all of the food which could be made from the various cacti, including their fruit. Still today, there are places where one can purchase these items, if of interest.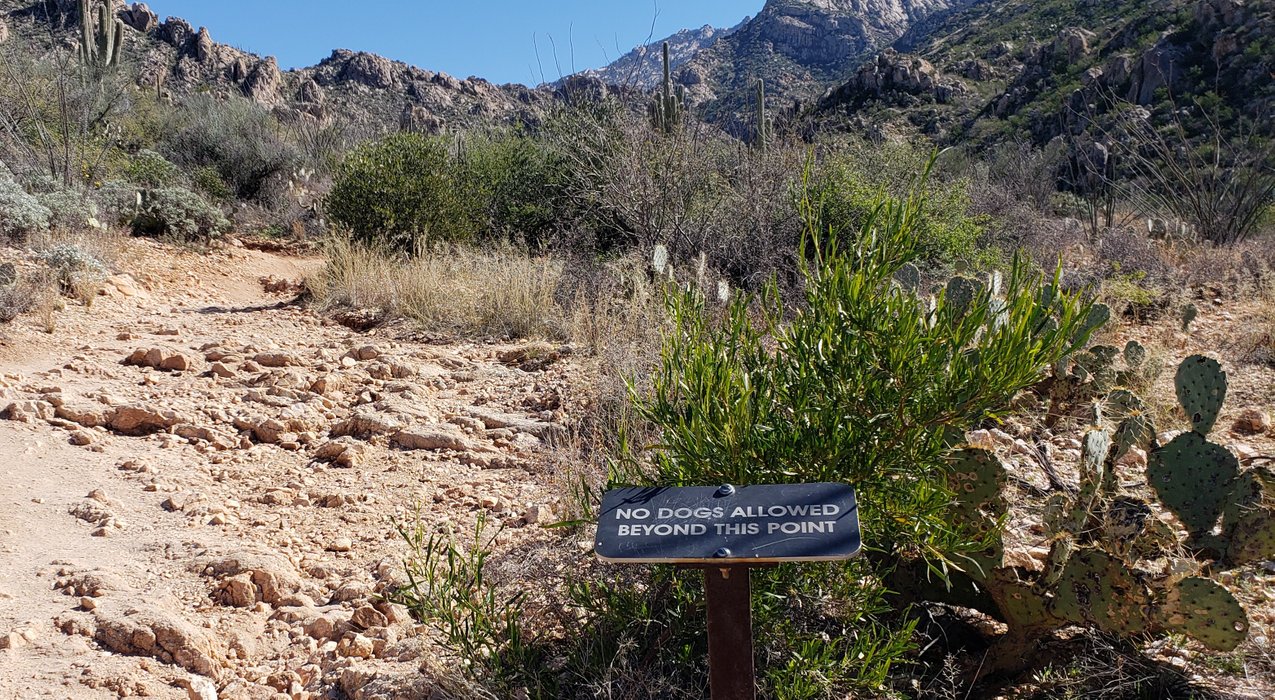 Photo: Trail Changes
Soon enough, the trail became decidedly less "friendly" and there were a correspondingly fewer number of people still going this way.
Note the warning sign. This area is a protected preserve for Desert Bighorn Sheep and no dogs were allowed beyond this point, as we were entering their prime habitat!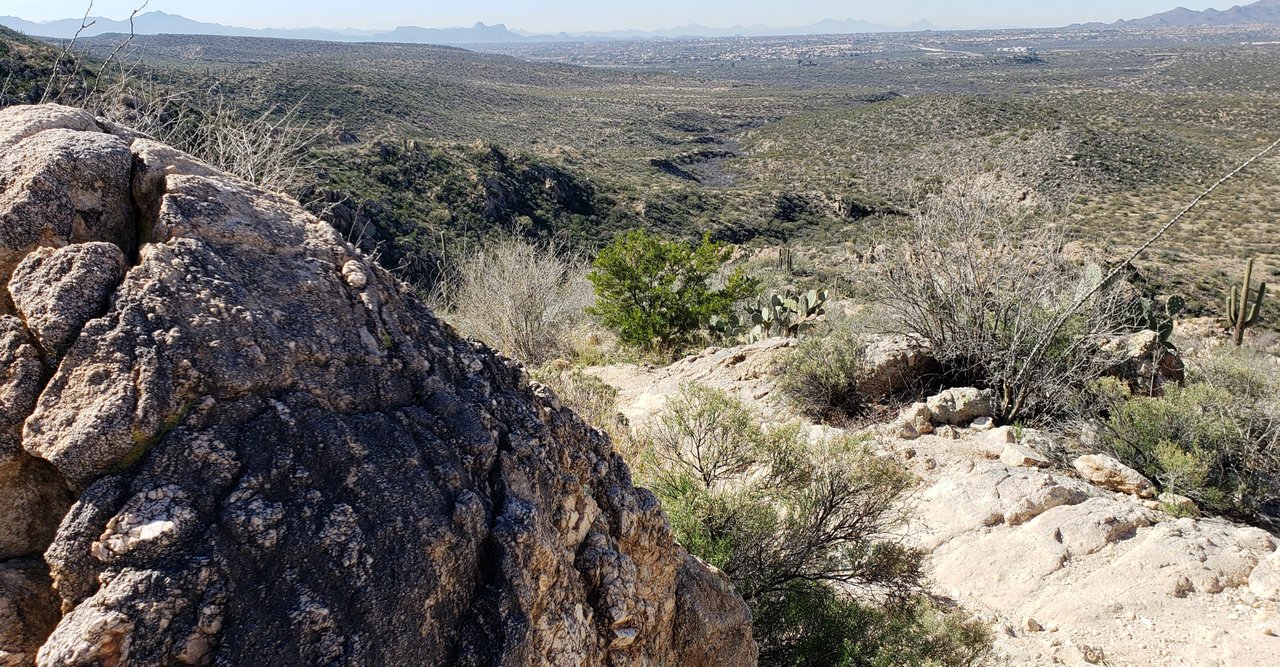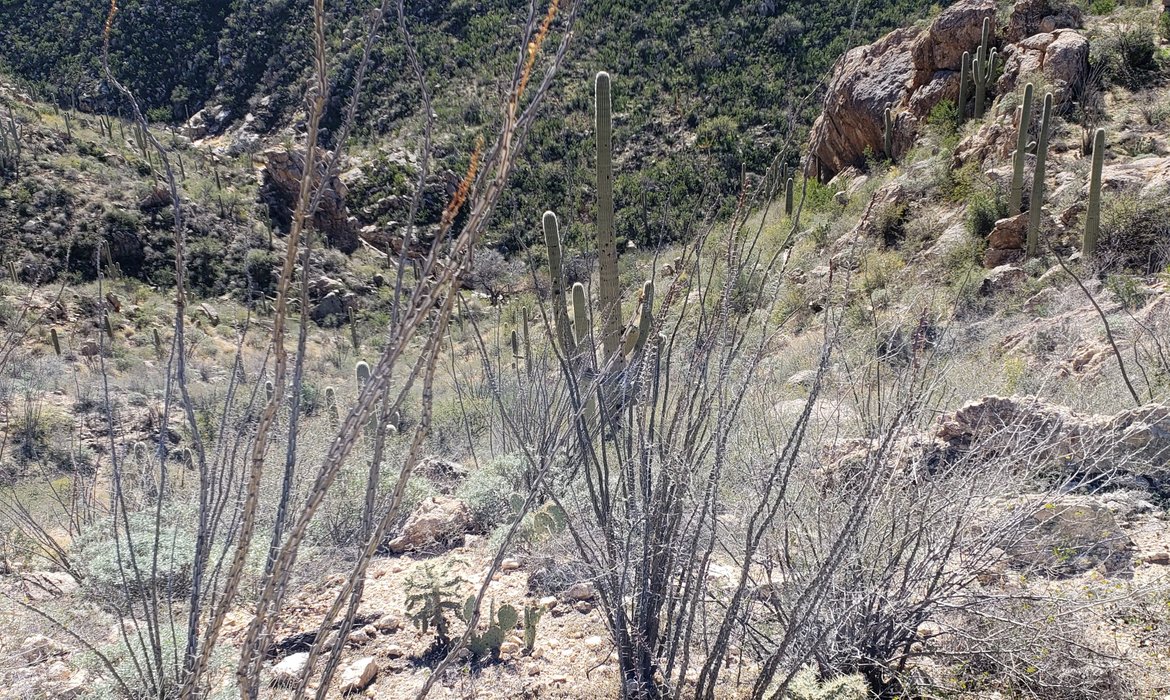 Photo: "Jumping Off" Point
From memory, reaching the place where my son and I had left the trail, my first thought was I remembered it being less "hostile" than what I was facing now.
Oh well. I had managed it fine then. What could possibly go wrong this time? 😉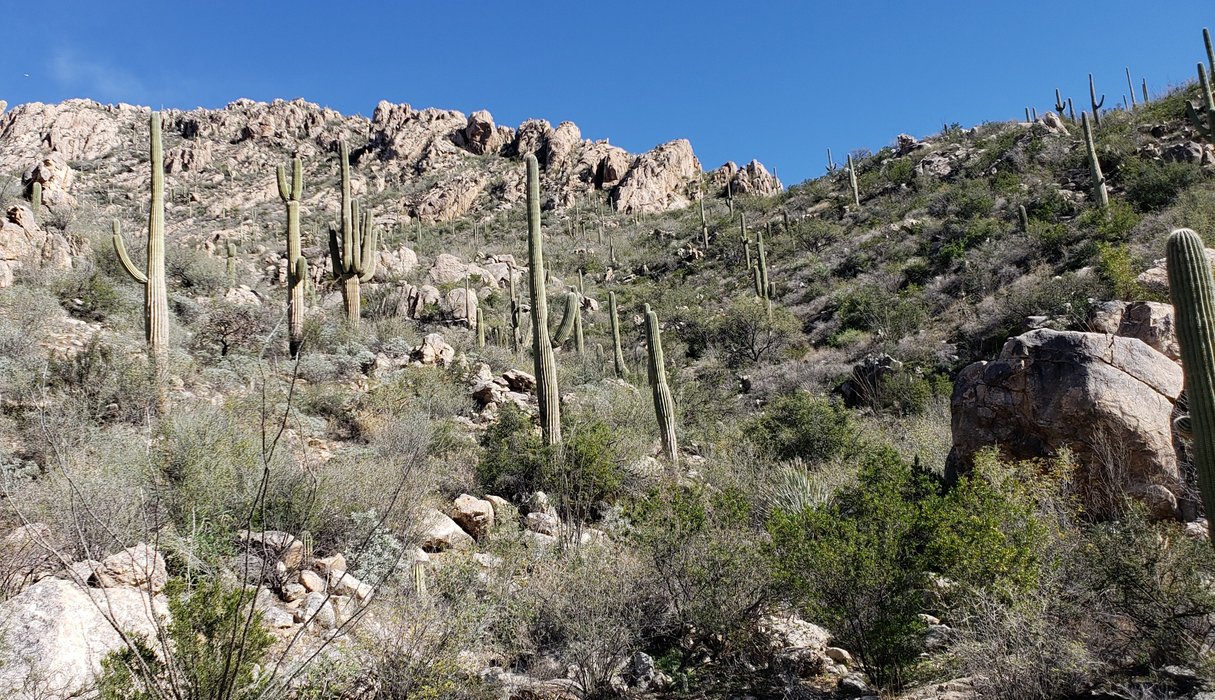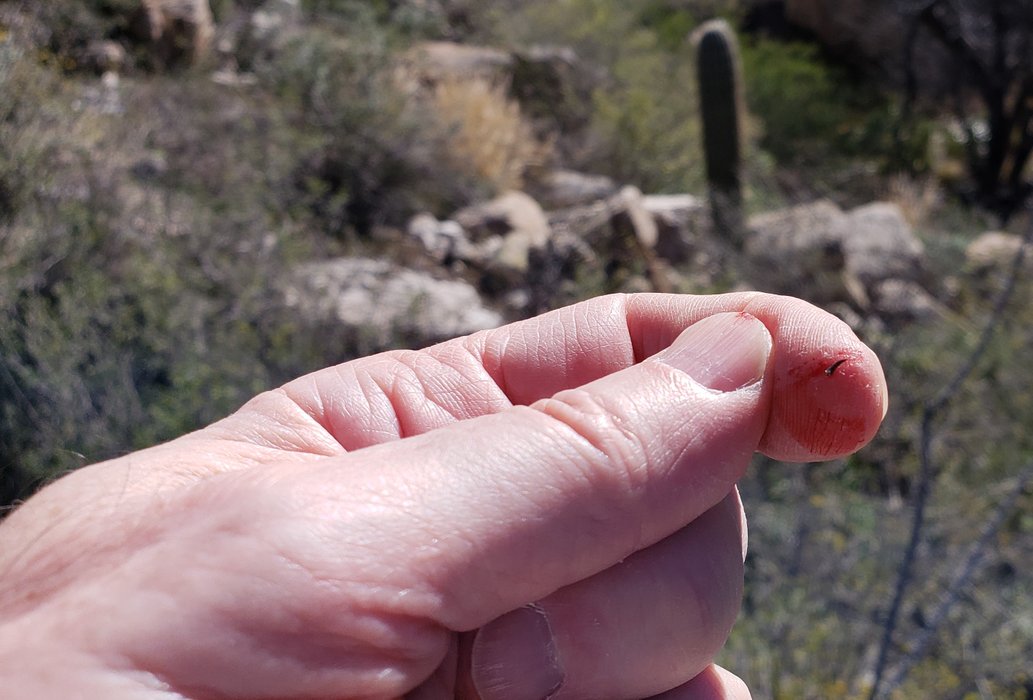 Photo: Looking Back Up Hillside Descended and Thorn Removed
Well ... For one thing, I was very quickly reminded "you ain't in Kansas anymore Toto," as this hiking is nothing like in the mountains back home.
For starters, you do not want to fall down, as there are a lot of thorned plants in various stages of decay laying around on the ground. Falling on them would definitely not be an enhancement to your day ...
Second, you do not simply brush past the "bushes," as these plants are, again, not like back home. Many of them don't give way readily. And they are "armed and dangerous," as the photo above attests. Thankfully the thorn wasn't barbed, as is case with some of them.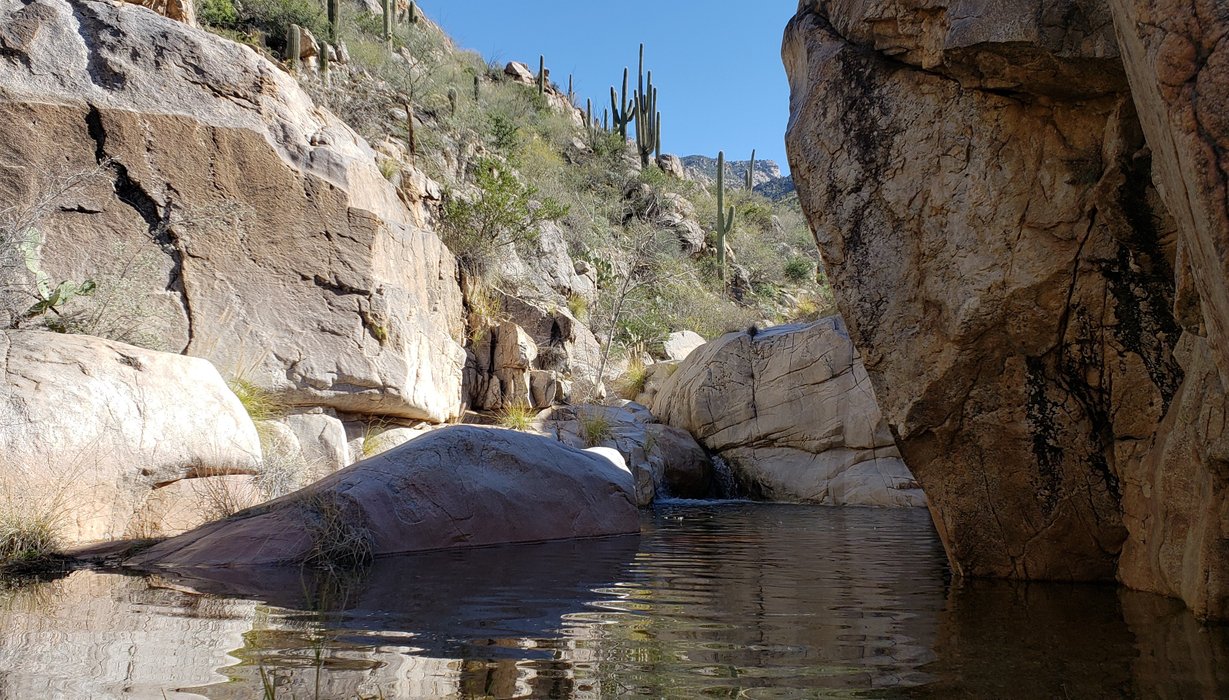 Photo: My reward. The creek!
Once I reached the creek, it all came rushing back. The reason I was going to all of this trouble. To experience the magical effect of water in the midst of a desert land. It's transformational!
With no signs of anyone being down in this part of the canyon, I did not see anyone again for the rest of the afternoon, until I climbed back out.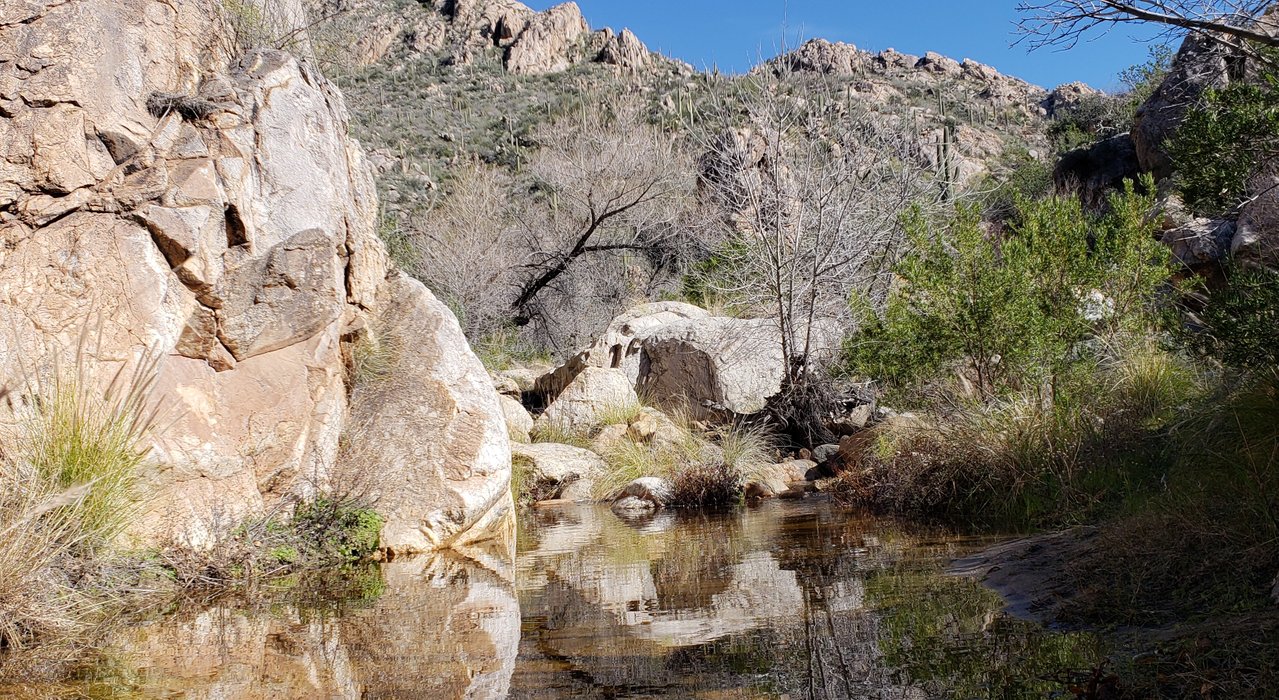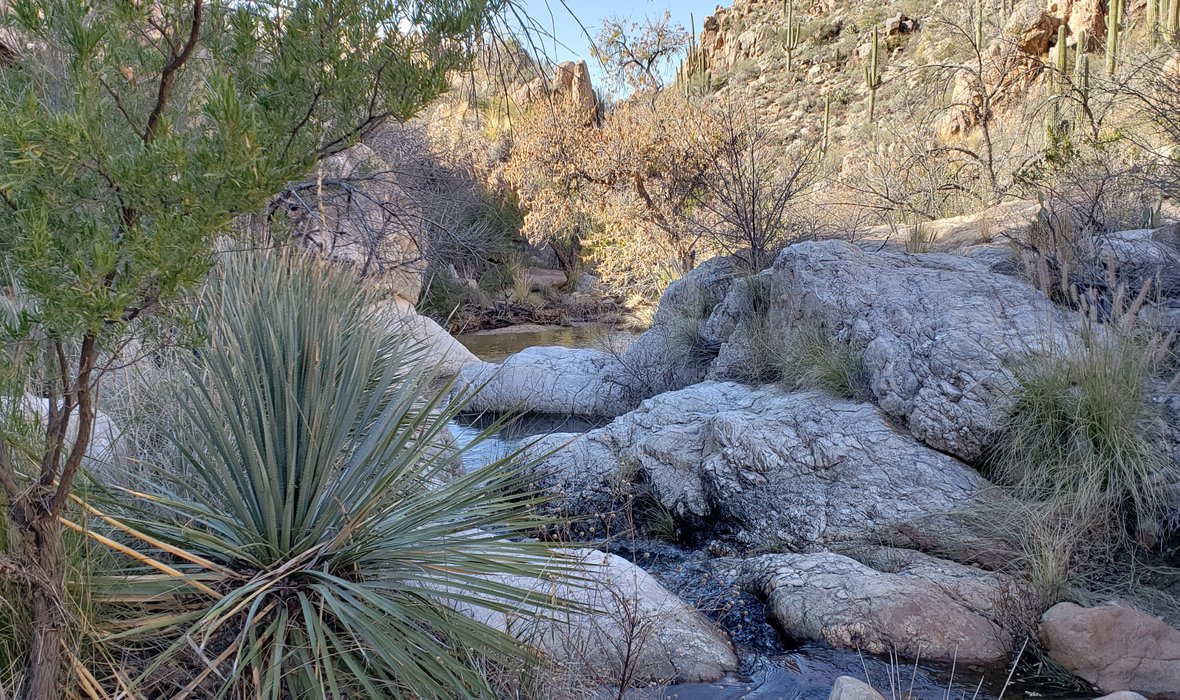 Photo: Another Pool and Diverse Plant Life along flowing Creek
There is an amazingly rich diversity of life along these little desert streams. In the case of the creek shown here in Romero Canyon, I believe it runs year around and is feed from the snow higher up on Mount Lemon.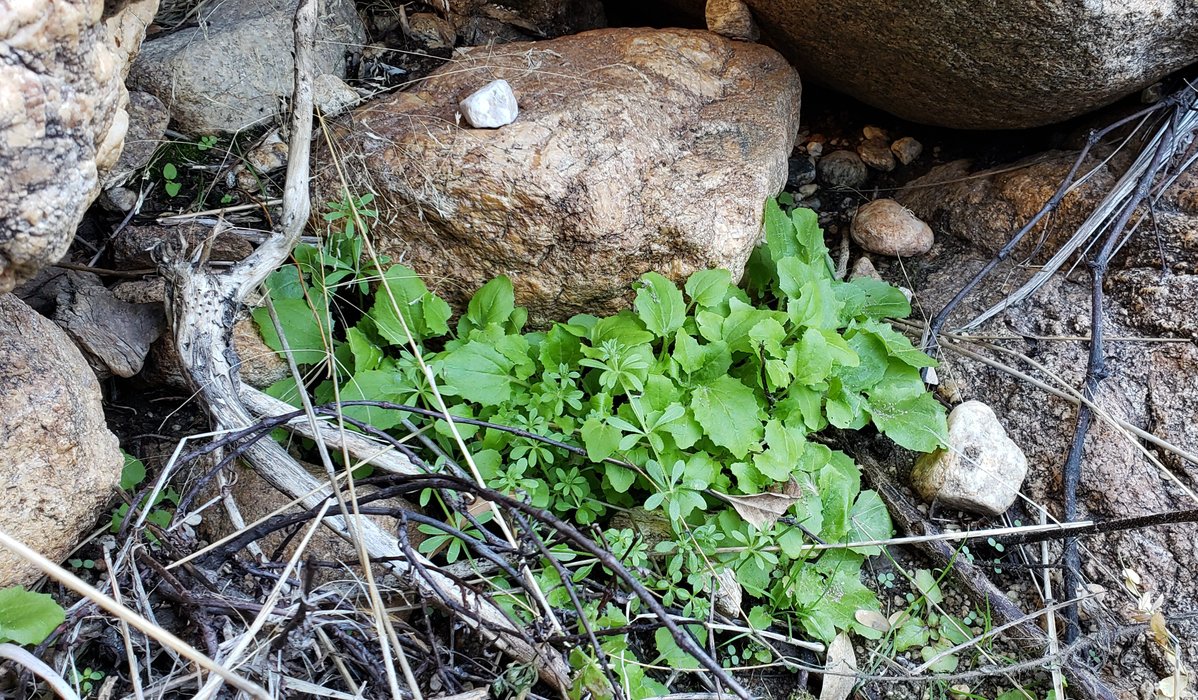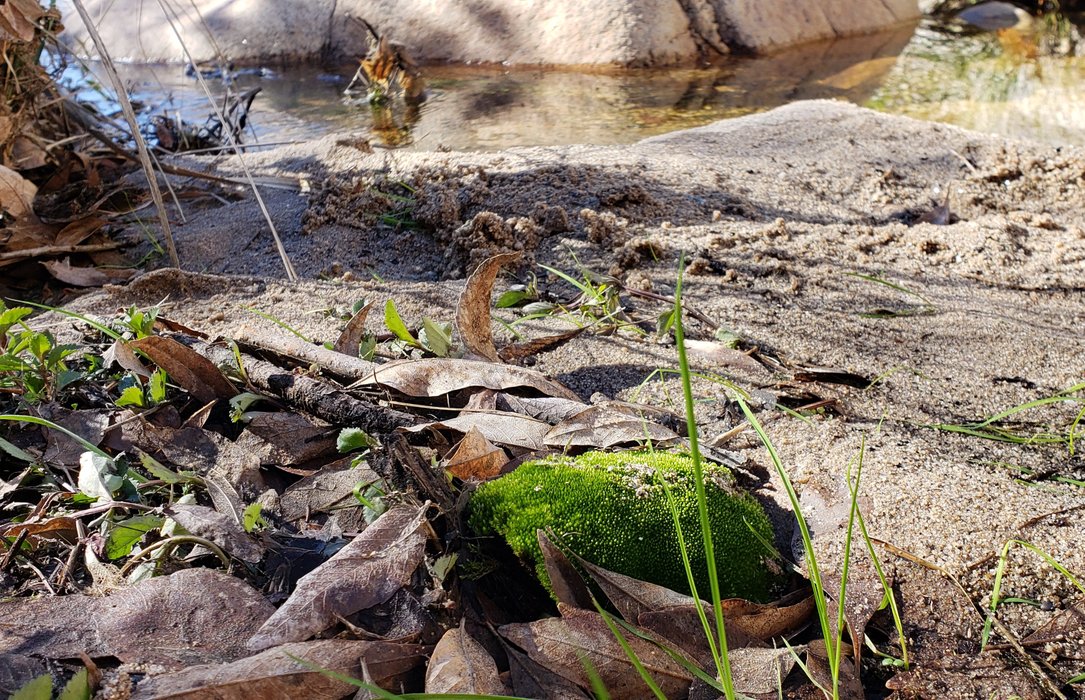 Photo: Desert Plants?!
Imagine seeing these plants in the Sonora Desert! Well, obviously you are only going to find them along a steady stream of water, as they simply would not survive otherwise.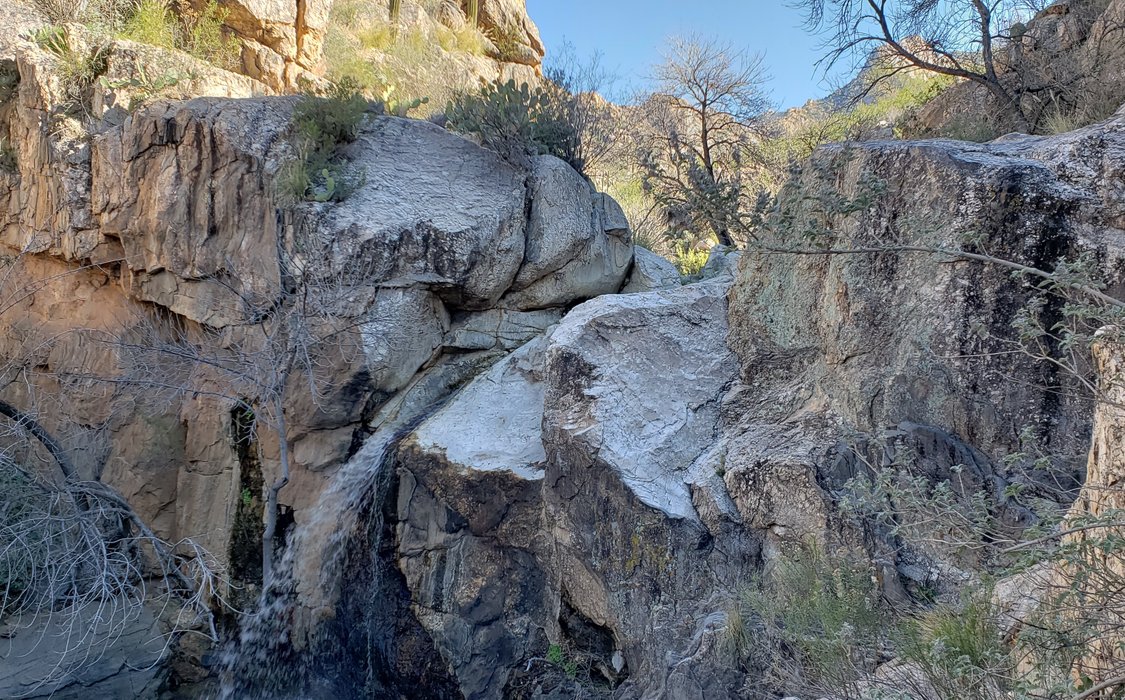 Photo: A Waterfall!
As pretty as this waterfall is, it presented me with a significant problem. I had to rock climb down somewhere, somehow. I had no memory of how I had negotiated this climb years before with my son.
The "Reader's Digest" version of a longer story is I had to climb quite a ways back up the hill, to find a rock face I could climb down without unacceptable risk, since I was by myself.
Since I am now writing about it, I must've made it! 😉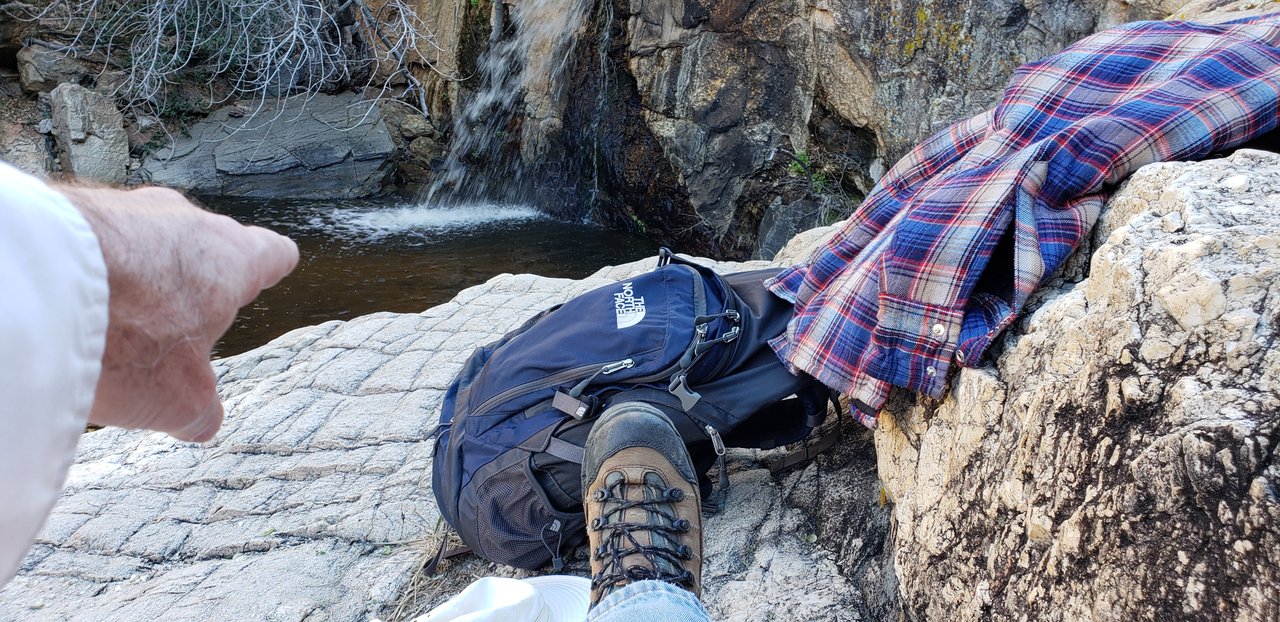 Photo: Hiking Gear
Once successfully meeting the challenge of getting past this waterfall, I was definitely ready to take a break and eat the snacks I had brought. Like my buffalo jerky purchased at Ribeye, Colorado! (my Day One post ...) It really hit the spot! 👍
While sitting there, I decided to capture how I was equipped for this expedition:
Broad-brimmed hat to keep the sun off.
Long-sleeved, white shirt. To keep the sun off ... 😊
Trusty hiking boots, for ankle support and traction.
Trusty day pack, with two quarts of water, plus first aid kit, snacks, etc.
Jacket. To stay warm? Well, while a possibility, no ... It was for an extra layer of protection, as needed, against the "hostile" plants I would be hiking through ...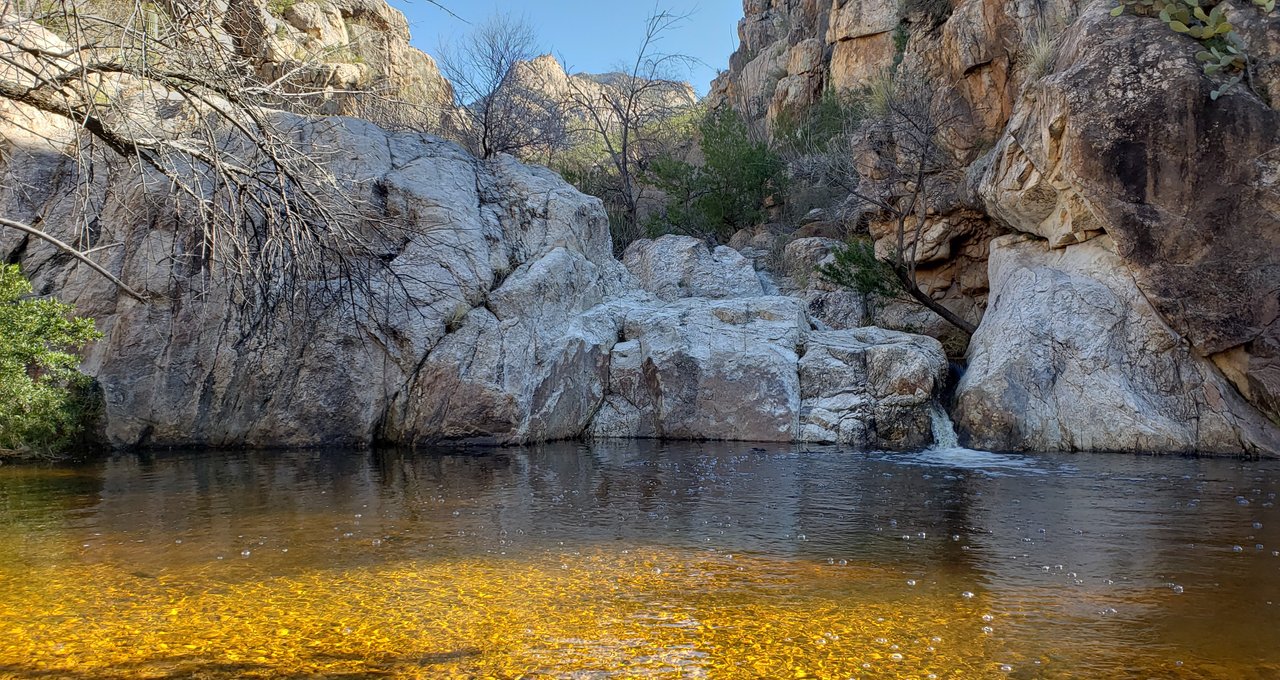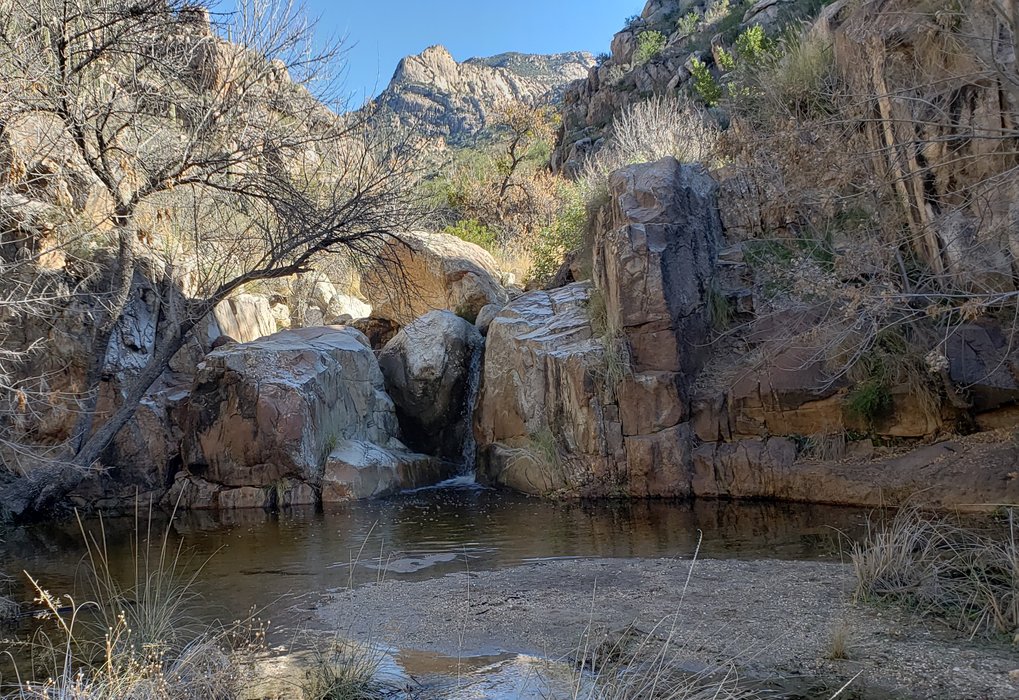 Photo: More Pools and Small Falls
These pools and falls were very pretty and I spent some quiet time at each, just enjoying the great day!
All good things must come to an end, so eventually I found a place to climb back out. Looking back up into the canyon I had just climbed down through, this is what I saw: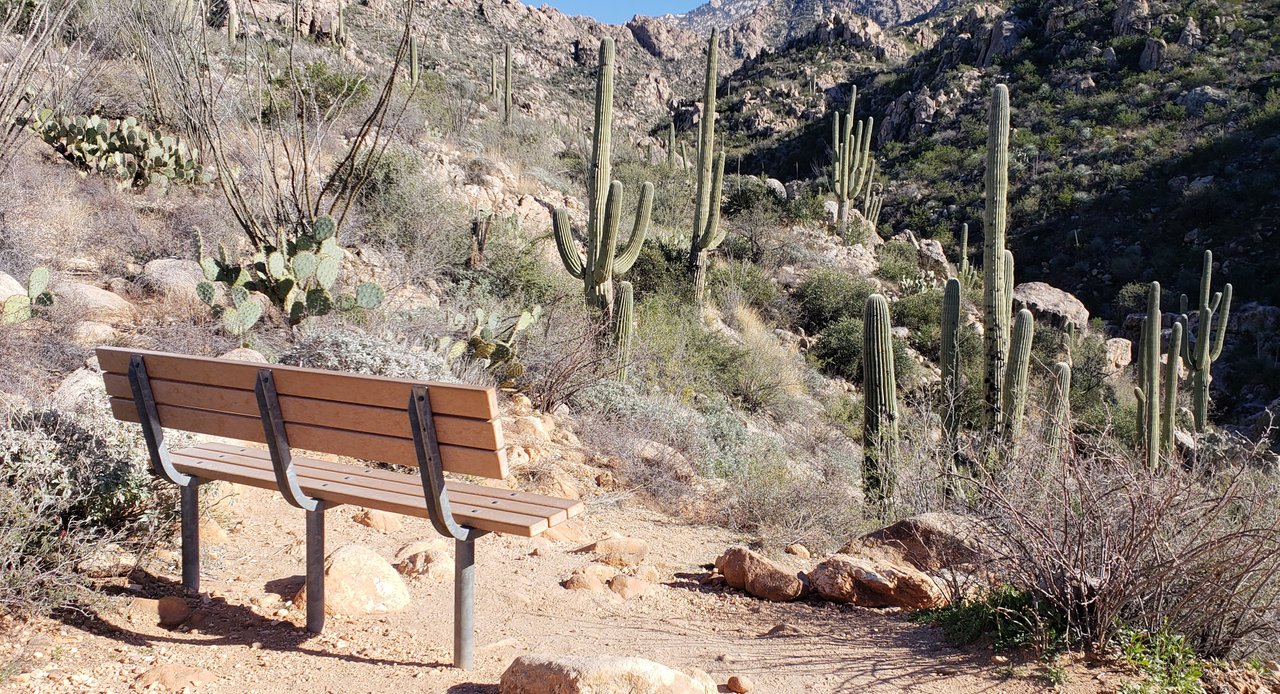 Photo: Looking Back Up the Canyon
For most of my countrymen, this is about as close as they are going to get to experiencing what I have presented in this post. Sadly, they are just not going to put in the effort. And, therefore, will never see what you have been presented here.

Postscript for Day Four


In the "jumping off" photo above, while somewhat hard to make out, it shows how many homes have been built in the desert looking out to the West from Catalina State Park.
25 years ago that area was largely open desert.
At the time we lived in Tucson, it had the incredible distinction of being the largest city in America supplied solely by underground water. Think about that. How much water could there be "under there?" I have long since forgotten how far down this water was being pumped, but it was hundreds of feet down.
This day brought all of that back to memory and how grateful we were when our "ship came in" and we were able to move away to the great Pacific Northwest. The "Reader's Digest" version of this move was ending up living on top of the Rathdrum Prairie Aquifer - one of the largest, purest sources of water in the country.
Where we lived, there was no meter on a 2-inch water main into our property, with an amazing pressure of about 80 psi. For this wonderful asset, we paid a total of $60 per year.
Compared with living in the Sonora Desert, we quickly decided we much preferred living about 100 mi. from Canada, than we did 100 mi. from Mexico. It has nothing to do with these countries. It has everything to do with the ready availability of what is essential to us all.
Water!

Closing


Another wonderful day in "@roleerob's excellent adventure!" The best yet, as I was not traveling hundreds of miles, but simply was able to enjoy the day up on the mountain.
Thanks for going along with me, dear reader. I hope you've enjoyed seeing this beautiful park in "the dead of winter!" 😉 I'd love to hear any feedback you may be inspired to provide.
Until "next time," all the best to you for a better tomorrow, as we all work together to build our Steem Community! 👍 😊
Respectfully,
Steemian @roleerob
Posted using SteemPeak and "immutably enshrined in the blockchain" on Thursday, 24 January 2019!
---
"R2R" Note: My "shorthand" way of referring to what I first wrote about in my Reflections: My "Road to Recovery" Trip post. "Road to Recovery" <=> "R2R" ... 😉

Image sources, unless otherwise noted: My trusty smartphone!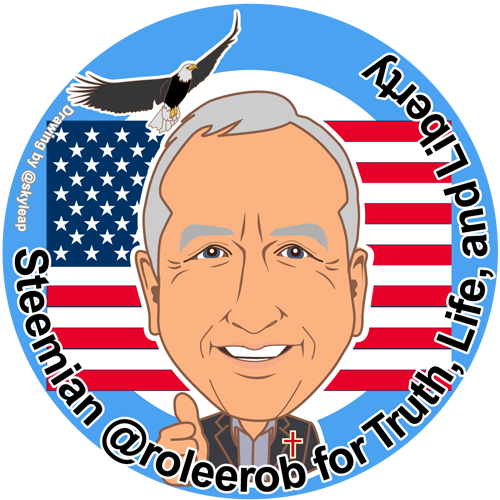 If you liked this post, you might enjoy others in my "Road to Recovery" Travelogue series:
This account is protected by @dustsweeper