Day Five: Hey @roleerob, you already had a "Day Five" post! Isn't this Day Six? Well, if you read my first post of the day, you will see I had two objectives.
This post is about the second one, as the @steemitworldmap community has a policy where you can only have one link to their map per post.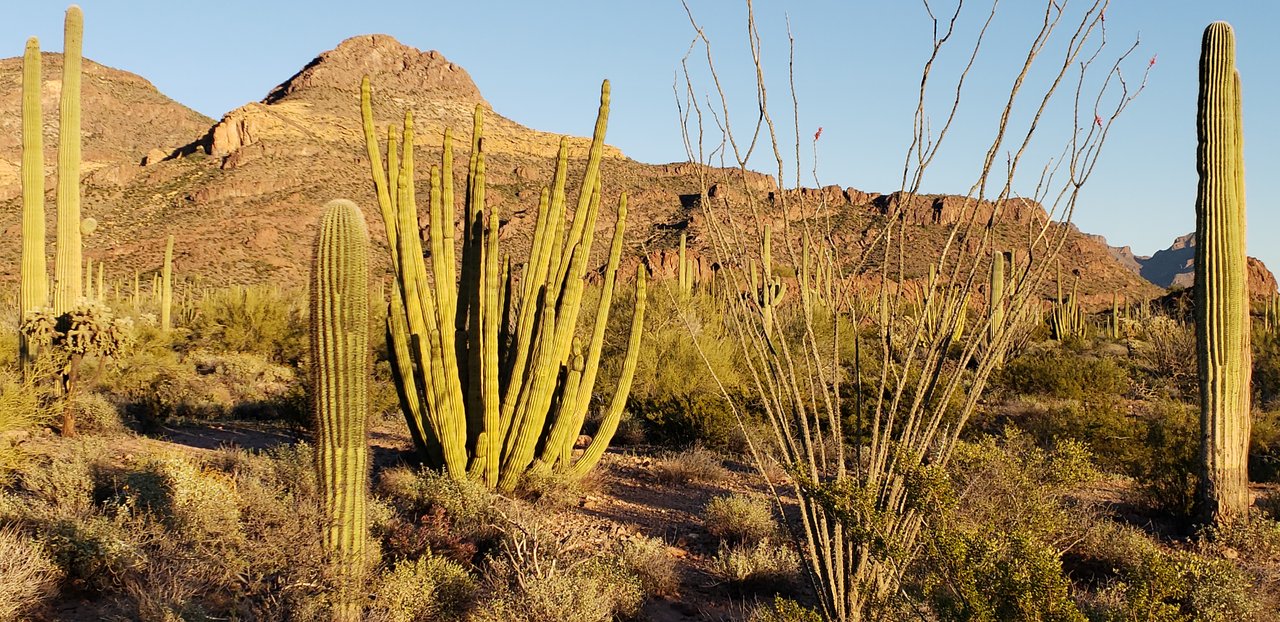 Photo: Organ Pipe Cactus
Leaving Baboquivari Peak, I headed on out and deeper into the southwestern corner of Arizona, near the border with Mexico. I wanted to revisit Organ Pipe National Monument!

Organ Pipe National Monument
Organ Pipe National Monument (https://www.nps.gov/orpi/index.htm) is in the very remote southwestern part of the state of Arizona. It is not on the way to anywhere, so you have to go out of your way to see it.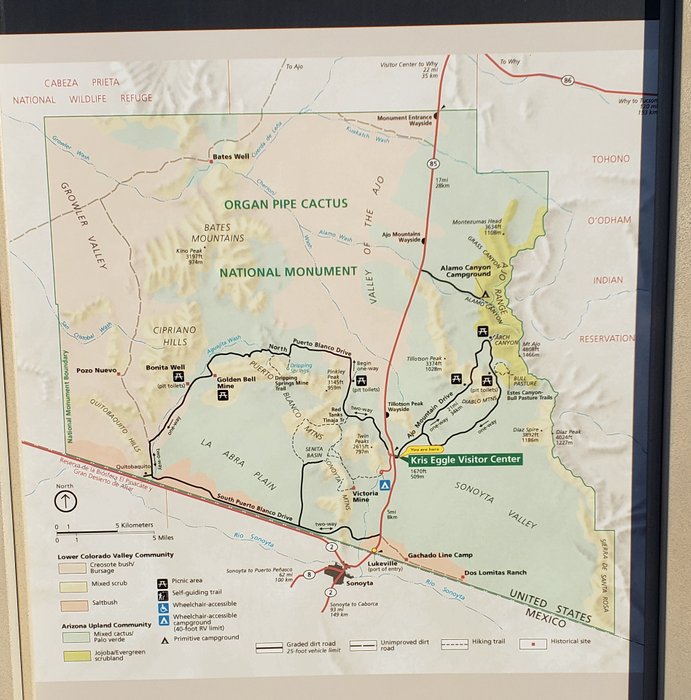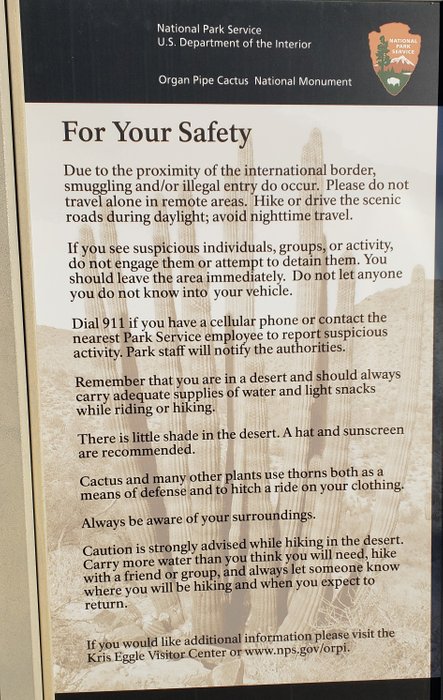 Photo: Monument Map and Notice
As you can see on the map, much of the Monument is just wide-open desert, with not a lot of roads. I elected to take the Ajo Mountain Drive, as that is where I knew we had gone many years before.
The notice was consistent with all of the evidence all over everywhere about increased attempts to stop illegal immigration across our country's southern border. To get to this location, I had to drive through the second security checkpoint of my trip. It was across Hwy 85 S. of Ajo. The only way one could evade that crossing would be to make your way through the desert somehow.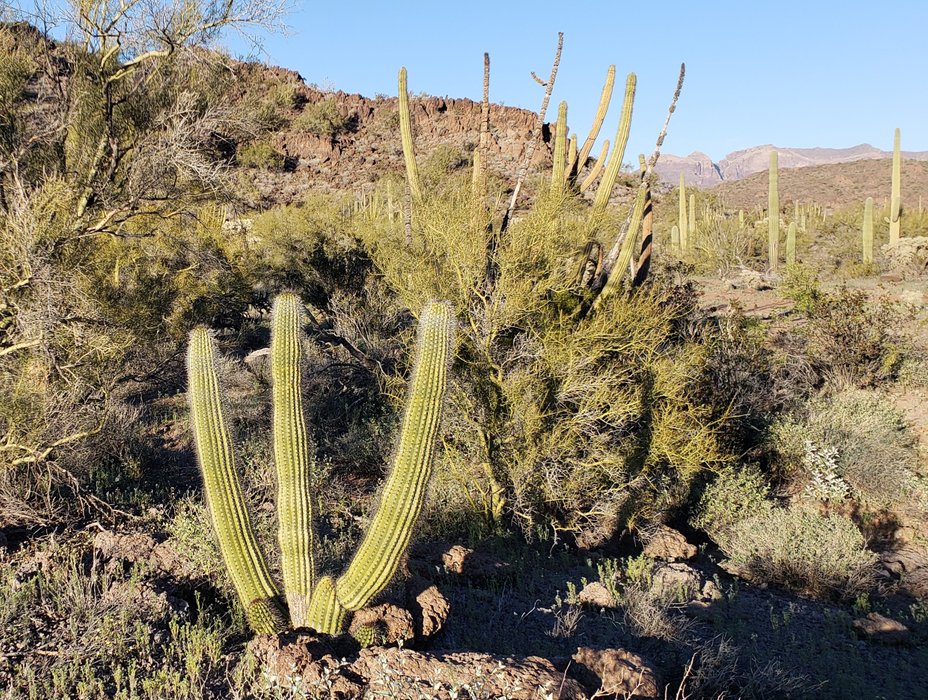 Photo: "Baby" Organ Pipe Cactus
So ... Moving on into the visit, I was pleased to find many nice examples of this interesting cactus. Sadly, the Visitor Center was closed, due to the partial Federal shutdown, so I was not able to learn why these cactus are only found in this area. That had been one of my objectives.
Above, you see a small one getting a good start in life. Note the beginnings of future "branches" sprouting from the base.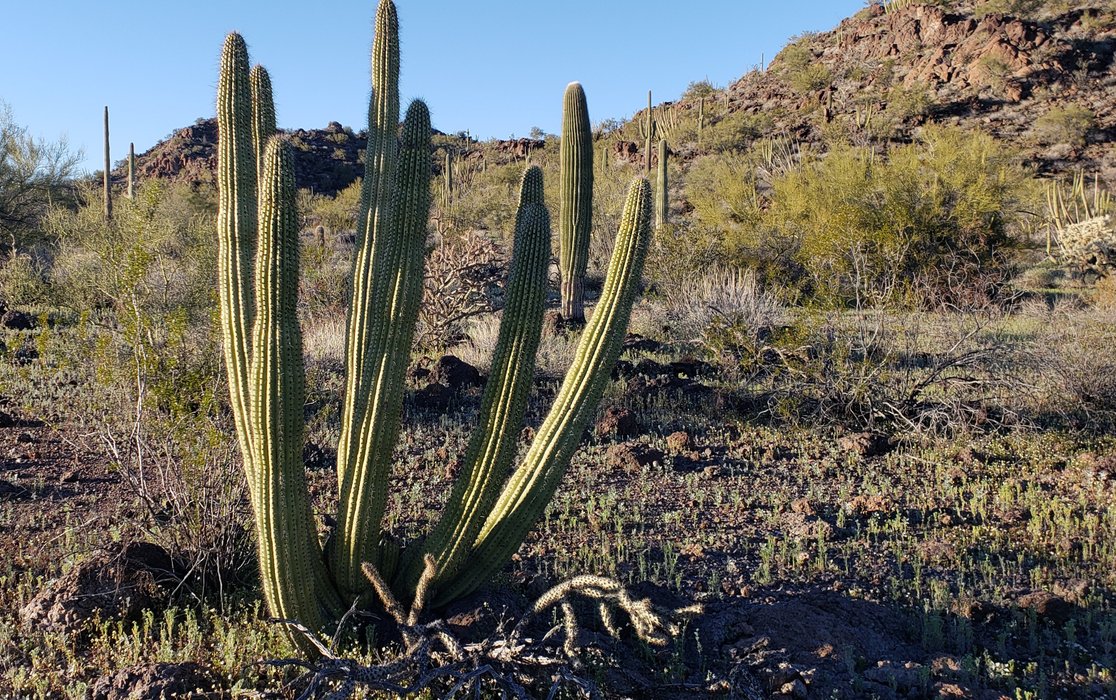 Photo: Healthy Specimen!
They grow to be quite tall, but not as tall as the saguaro. They are likely the second tallest cactus growing in the Sonora Desert, as I have never seen any other type as big as these two.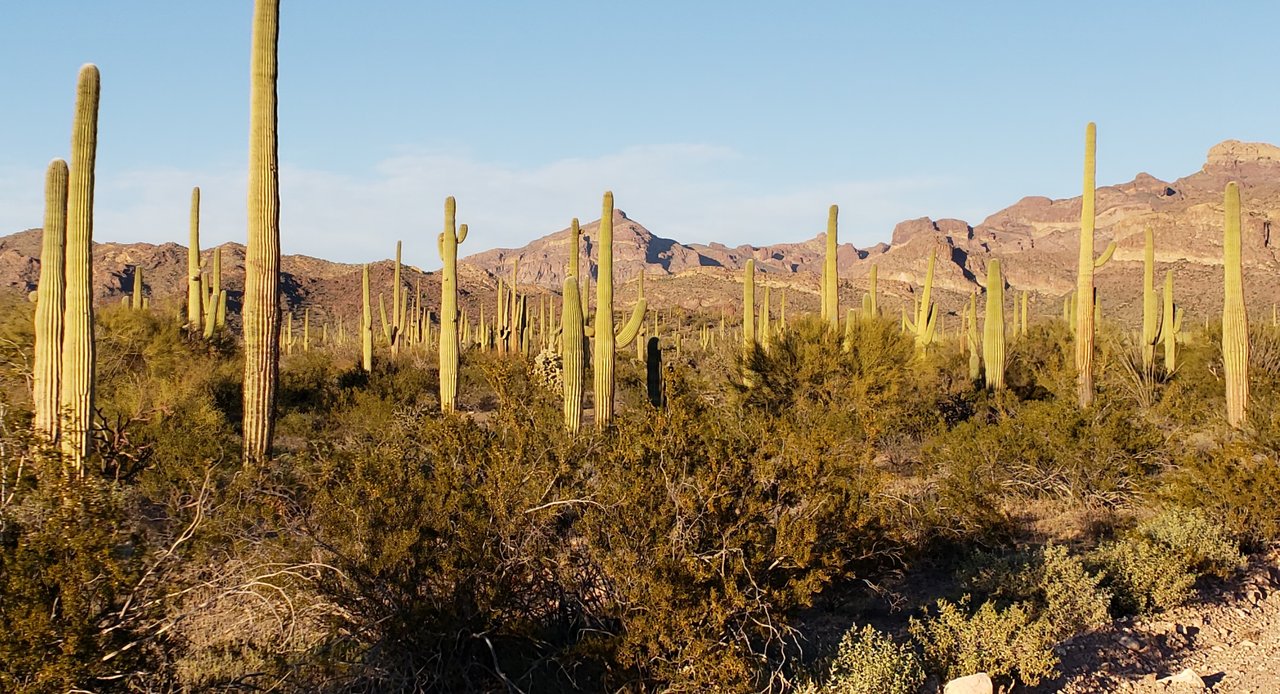 Photo: "Forest" in the Desert
There are saguaro cactus all over the Sonora Desert region of Arizona. They stand tall and proud over all of the other vegetation. Here they looked almost like a forest. Almost ... 😉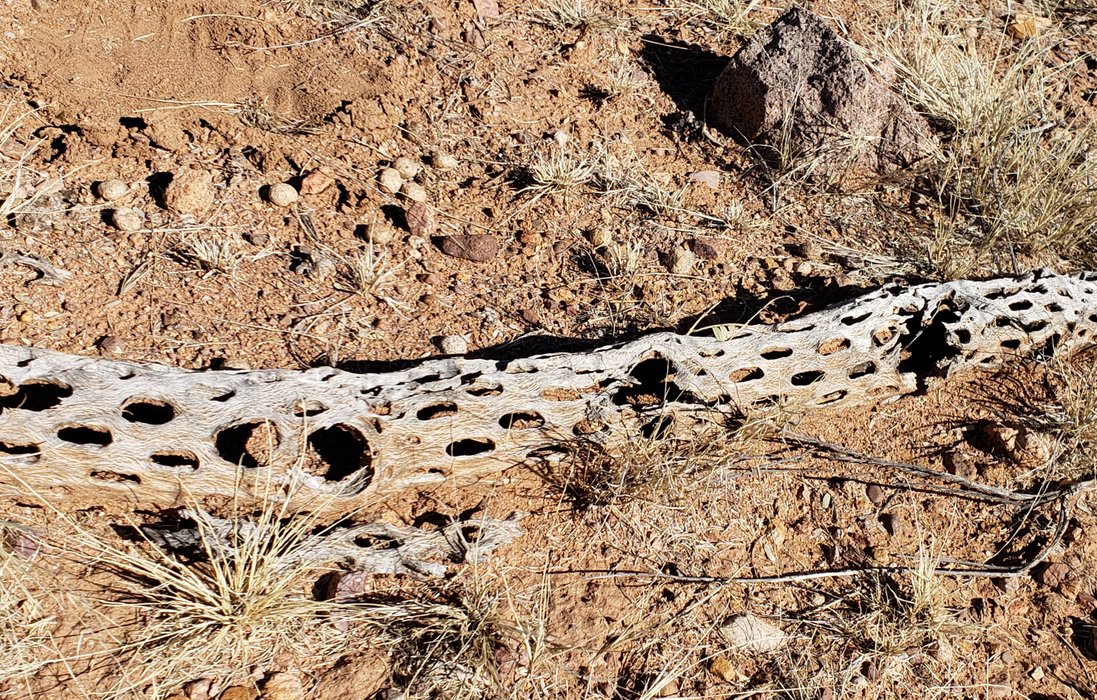 Photo: "Log" in the Desert
Many of us will have had the opportunity to go hiking in a forest somewhere. And what do we find in the forest? Dead trees, which have fallen over and are laying on the forest floor, in various stages of decay.
Here you see a "log" on the desert floor! 😉
Note dear reader the difference though, as I imagine you have never seen any log like this in the forest. Given the interesting look of these, I have seen artists make some very creative items out of them.
I did not pick it up to try and sell it though. It is still in its "final resting place" and I would imagine, on the floor of the desert, it takes a long time to decay.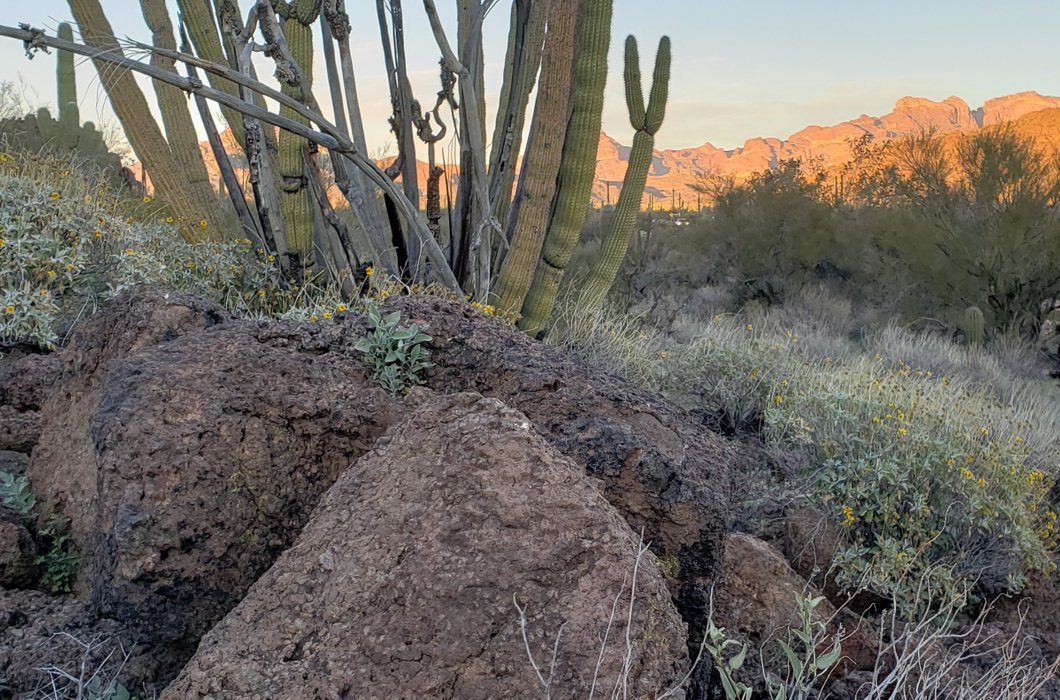 Photo: Unique Rocks in the Monument
In getting out to walk around (carefully ... 😉), I was immediately taken by the rocks all around under my feet. At first, it appeared that I was on some man-made trail of something like cinder rock.
But no. This was all natural as they were everywhere. I took this picture to show them a little bit, along with some flowers! The rocks must be sedimentary in origin, as there are smaller "cinder rock" bits cemented together with some sort of naturally occurring "mortar."
I don't recall ever seen any rocks quite like them.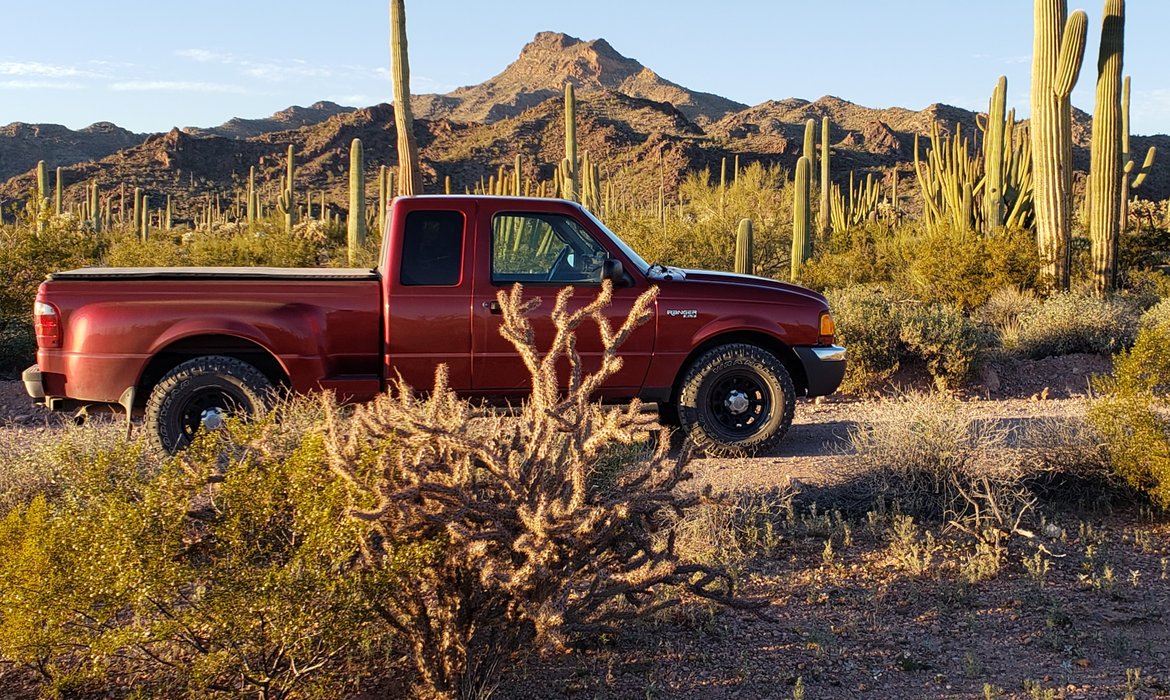 My trusty little Ford Ranger was all cleaned up from our time in the snowstorms for this trip. And loving every minute of being in the great outdoors!
Photo: Sun Setting on Organ Pipe Family
As the afternoon wore on, I took this picture of a "family" together, with the sun getting low on the horizon.
Unlike saguaro, these particular cactus seemed to grow only in certain localized areas. A particular favorite seemed to be hillsides, rather than down on the desert floor, although there were exceptions.
I would have enjoyed learning more about them had the Visitor Center been open.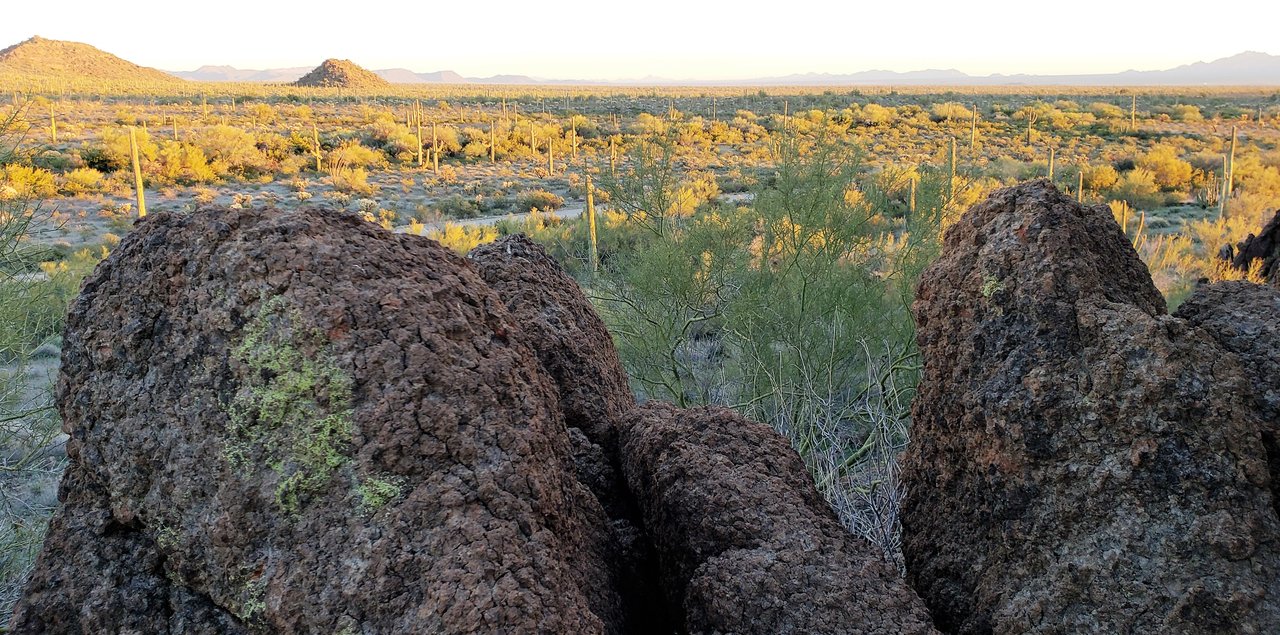 Photo: Looking South into Mexico
With the sun close to setting, I climbed up a little way on a hillside and took this one last picture looking south into Mexico. The border was about 5 miles away.

Postscript to Day Five


Many conflicting thoughts crossed my mind, as I wrapped up this day. For one, I had really enjoyed reliving some of my special memories. On the other hand, I was anxious to get on to the ocean. And most especially, to spend time with my siblings. That requires I stay "on the move."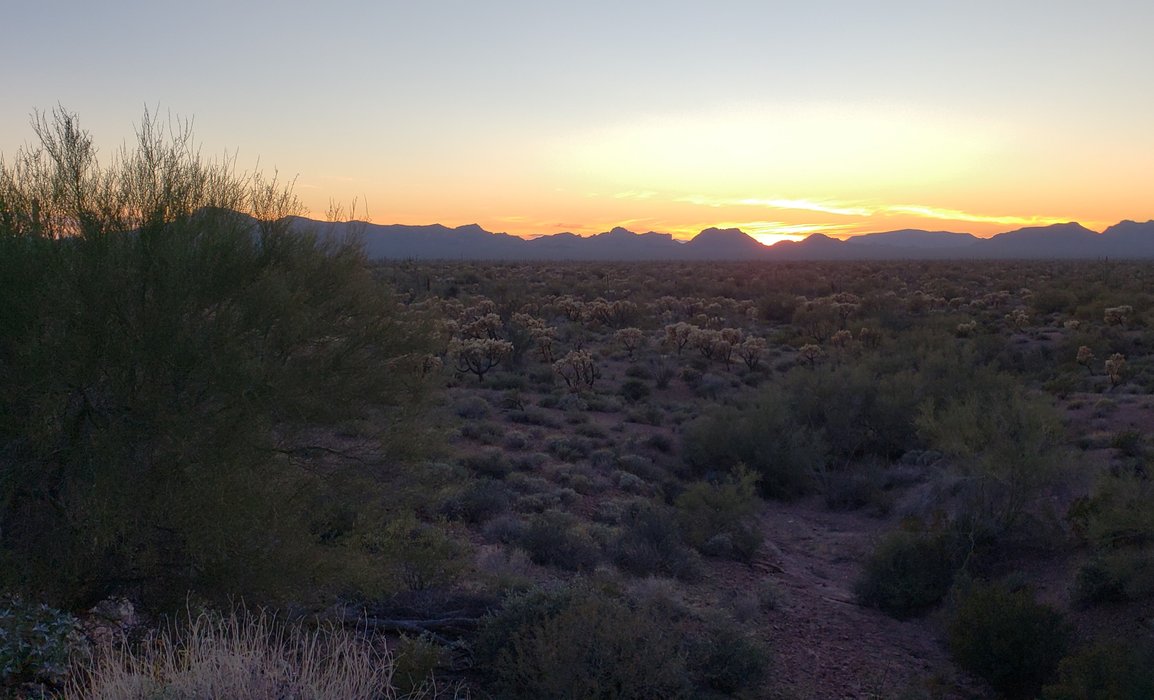 Photo: Sunset over the Desert
So, the "first leg" of my journey is over. I crossed into Arizona way up in the northeastern corner, at Four Corners (intersection of Utah, Colorado, Arizona, and New Mexico), and am now exiting down in the southwestern corner.
On to the ocean!

Closing


Another great day in "@roleerob's excellent adventure!" Thanks for going along with me, dear reader. I'd love to hear any feedback you may be inspired to provide.
Until "next time," all the best to you for a better tomorrow, as we all work together to build our Steem Community! 👍 😊
Respectfully,
Steemian @roleerob
Posted using SteemPeak and "immutably enshrined in the blockchain" on Saturday, 26 January 2019!
---
"R2R" Note: My "shorthand" way of referring to what I first wrote about in my Reflections: My "Road to Recovery" Trip post. "Road to Recovery" <=> "R2R" ... 😉

Image sources, unless otherwise noted: My trusty smartphone!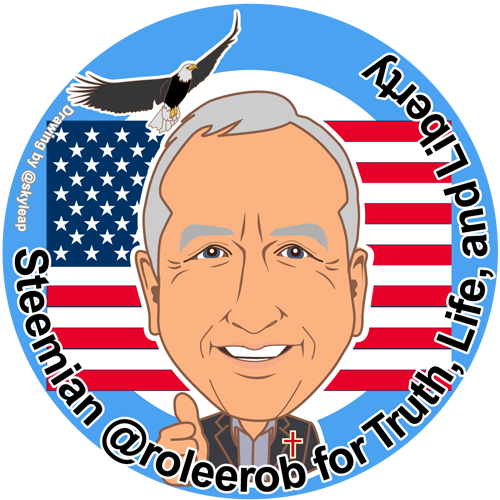 If you liked this post, you might enjoy others in my "Road to Recovery" Travelogue series:
This account is protected by @dustsweeper