Day Seven: What a great day this has been. And what a difference one day makes!
Waking up in Ventura, California this morning, I was resolutely determined to "reset" for the next few days. While very enjoyable, the pace I had set for the first few days definitely needed to be "dialed back" ...
Glad I did!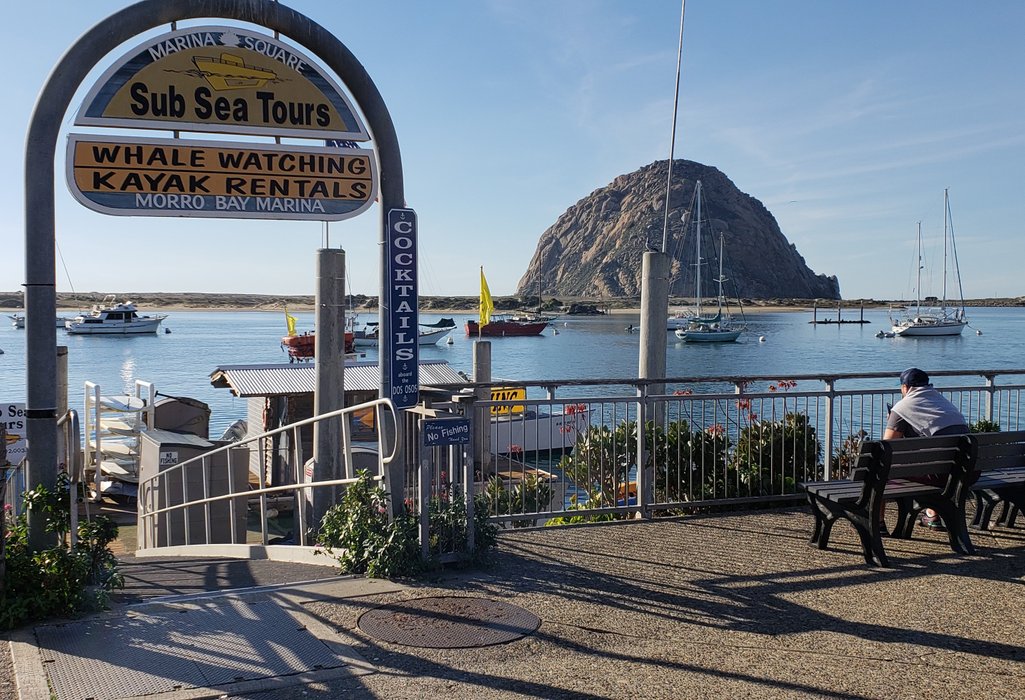 Photo: Famous Morro Rock of Morro Bay, California
My "master plan" was to simply get beyond the last of the big population centers and away from the +4-lane freeways, and onto Highway 1. This required me to drive a grand total of 159 miles. A big improvement from the last few days!
Specifically, I was going to drive to Morro Bay and spend the night there.
This great little town was "just what the doctor" ordered, so let's take a closer look.

Morro Bay, California


Morro Bay is a little seaside village on Highway 1 along the Pacific Coast of California. As soon as I got off of the highway and drove into town, I could feel the difference in being in a little out-of-the-way part of California.
Just a great place to relax in a little side pool and away from the main currents of life. Rather than drive around anymore, I just wanted to walk and enjoy the great weather and scenery.
Before exploring on foot, I was ready to chow down on some good seafood. In my "old life," I had learned to eat whatever was the "best" food found any given locale. So, I had just spent a few days in Arizona eating great Mexican food - the best I've ever found. Now, I was definitely ready from some fresh seafood along the Pacific Coast.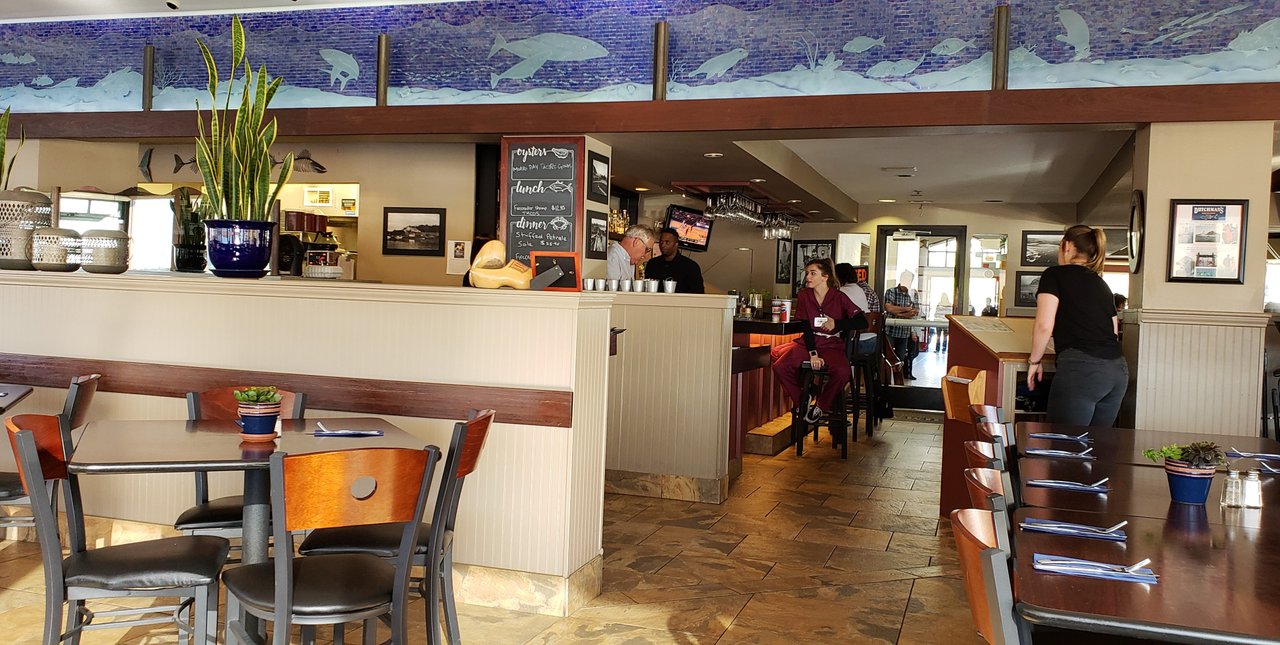 Photo: Dutchman's Seafood House in Marina Square
As I had arrived in town mid-afternoon, I got a great seat right by a window looking out over the bay. While eating a nice meal, I watched a sea otter come to the surface several times working over their food on their stomachs, while floating on their backs.
Once finished, I was ready to do some traveling on foot. I walked all the way down to one end of the Embarcadero Street, then turned around and went the other way.
The first leg of the walk was visiting all of the quaint little shops in Marina Square. The second leg was discovery of this nice little park.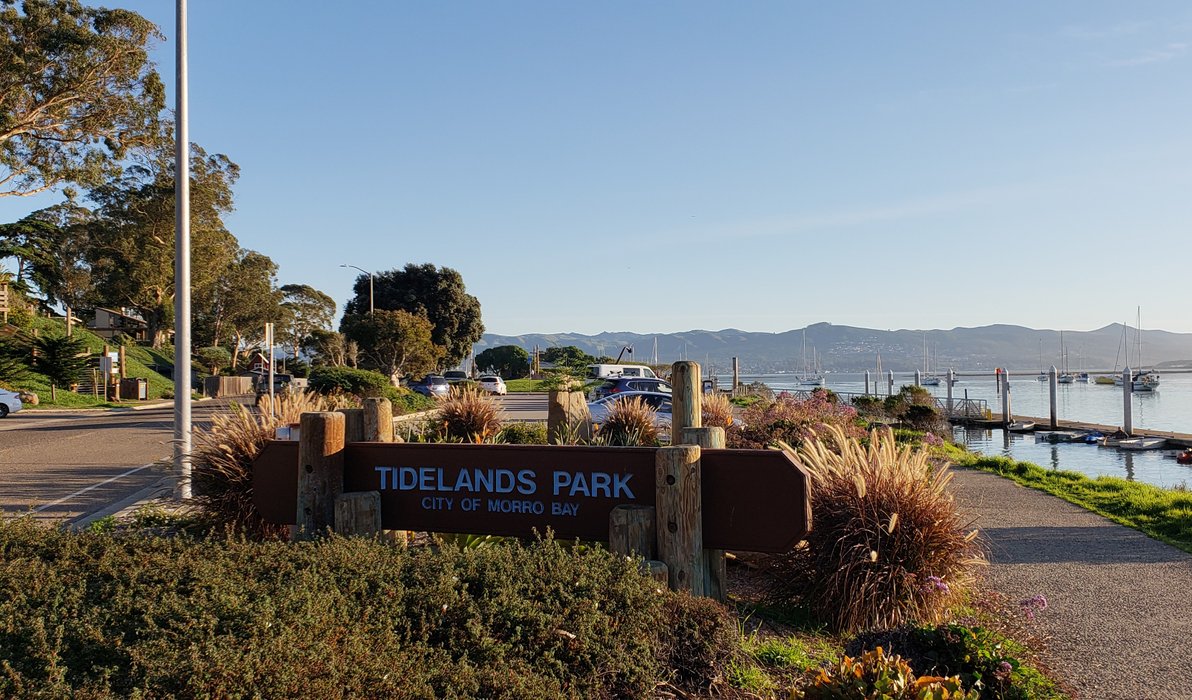 Photo: Tidelands Park Looking into South Morro Bay
It was nice and clean. The layout was appealing and many people were casually strolling along enjoying it and stopping occasionally to sit on the many benches to look out to sea.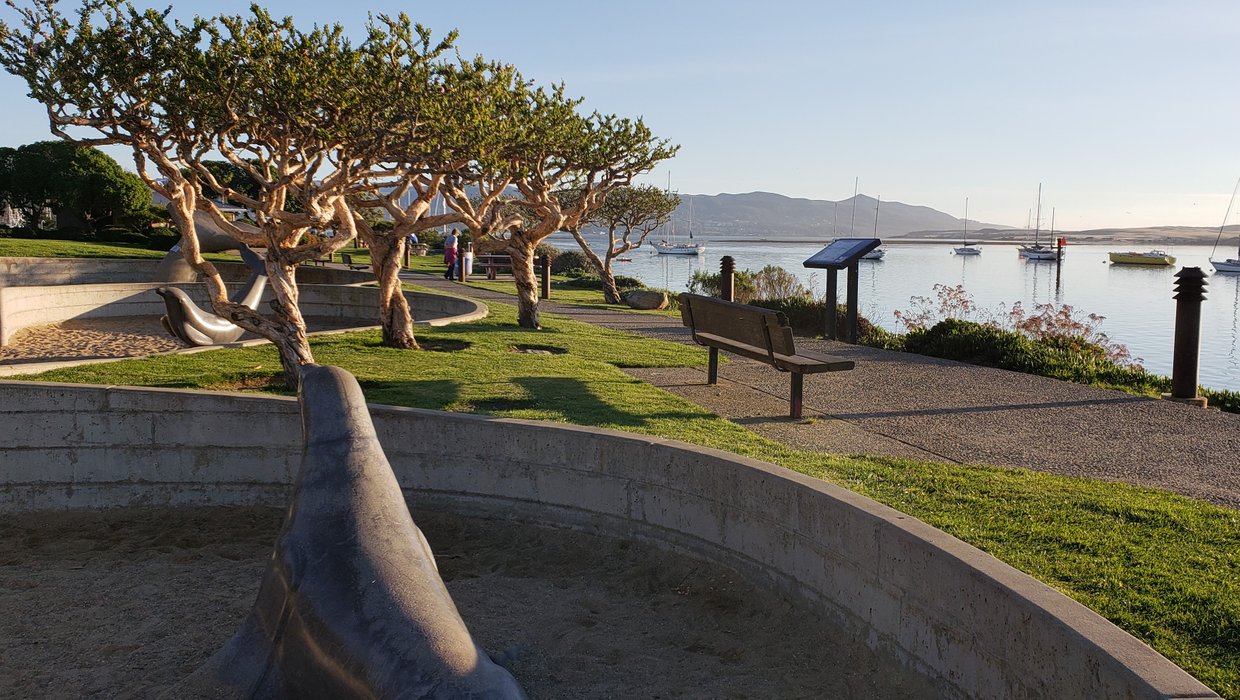 Photo: View from Tidelands Park
There are many activities to chose from in this little town. The one which stood out to me was watching people kayaking out on the bay. While paddling along at a leisurely pace, they were entertained by the significant population of sea otters around them and there are also a great number of sea birds.
I really liked looking at some of the plants, as flowers always catch my eye. The bushes below stood out, as there was more to them than just the flowers. In January (remember, I left the snow and cold at home) ... 😉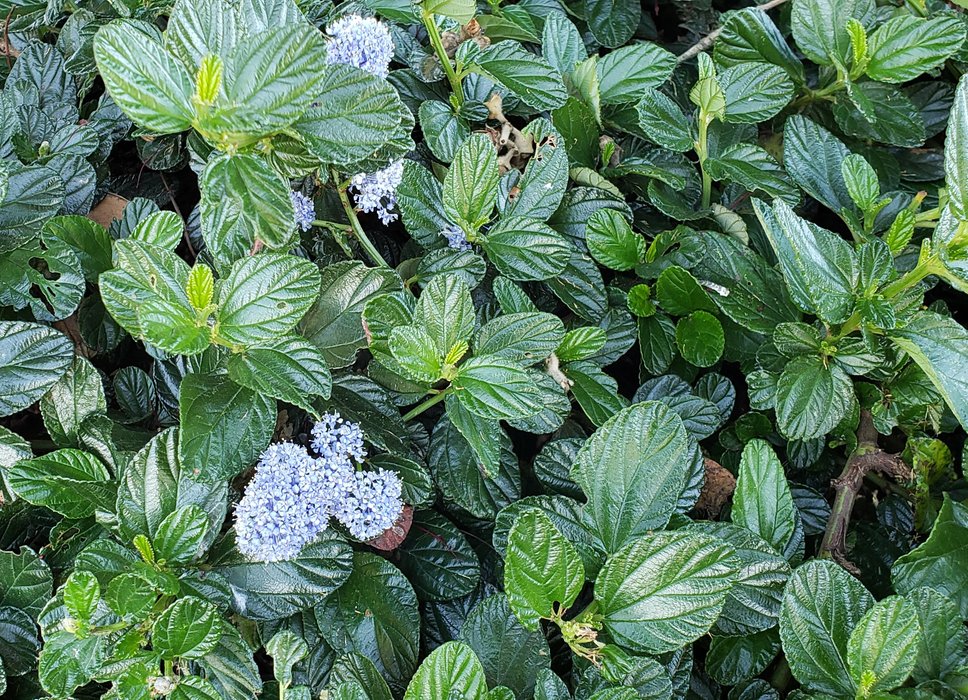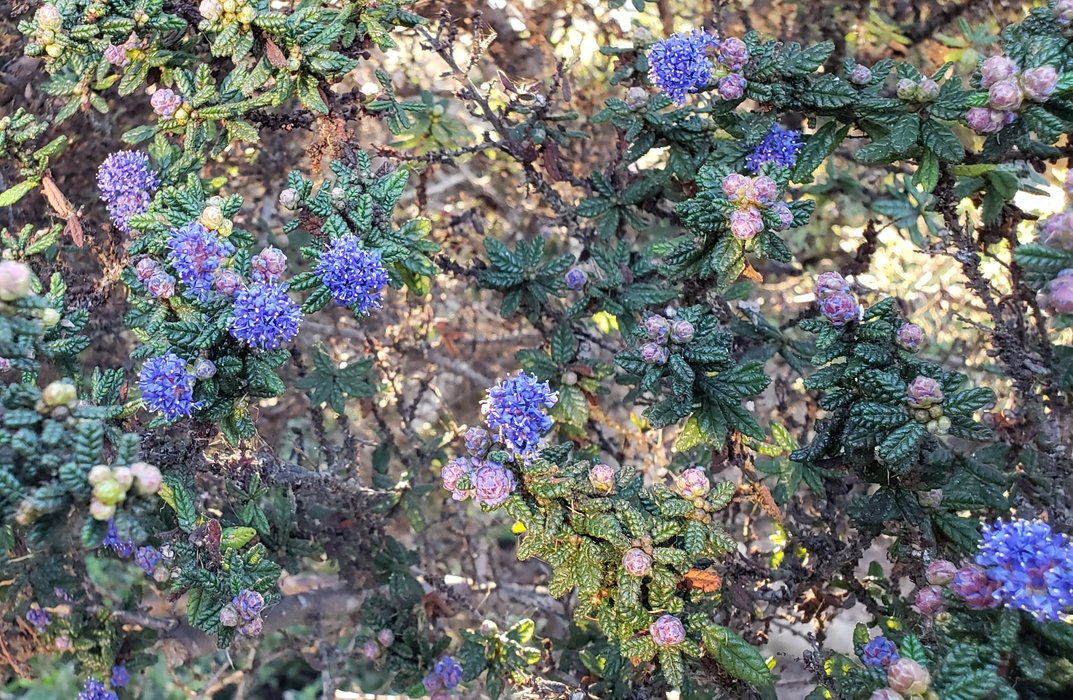 Photo: Flowering Bushes in Tidelands Park
The leaves were not supple, like I expected, but stiff and "waxy," much like leaves on many of the plants in the Sonora Desert visited last week. This was surprising to me, as I associate that type of leaf with the need to lose very little moisture to evaporation, given the precious little water they receive. But these plants are here by the ocean!?
A common characteristic of many of the other plants I found were their succulent leaves. Look at this one: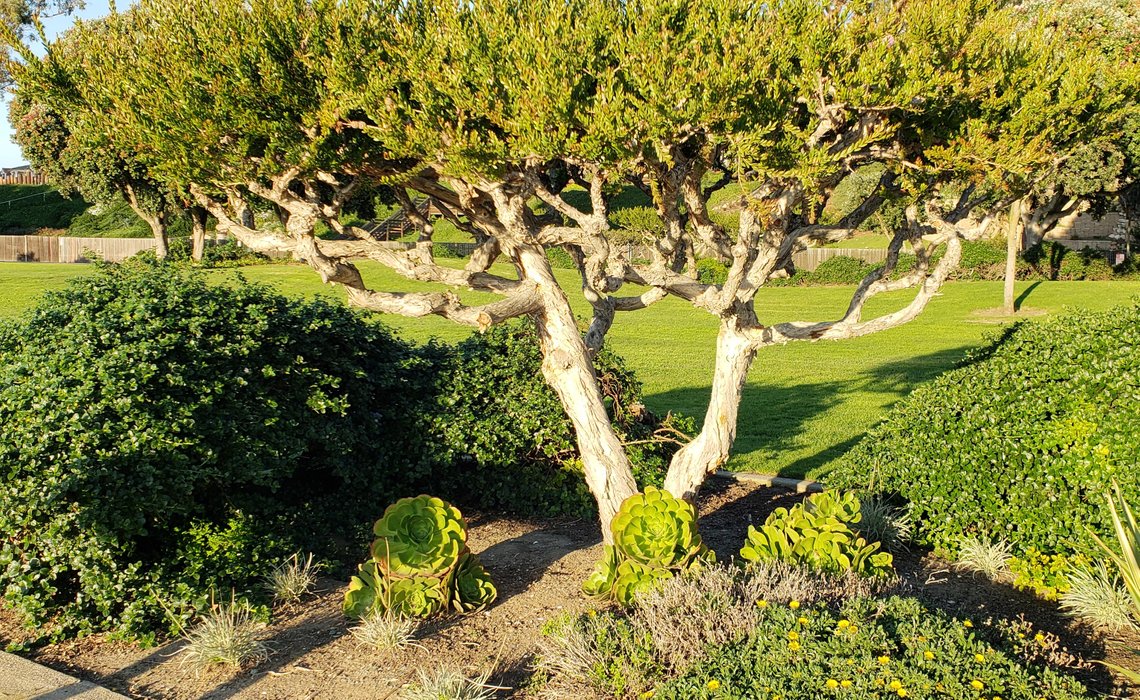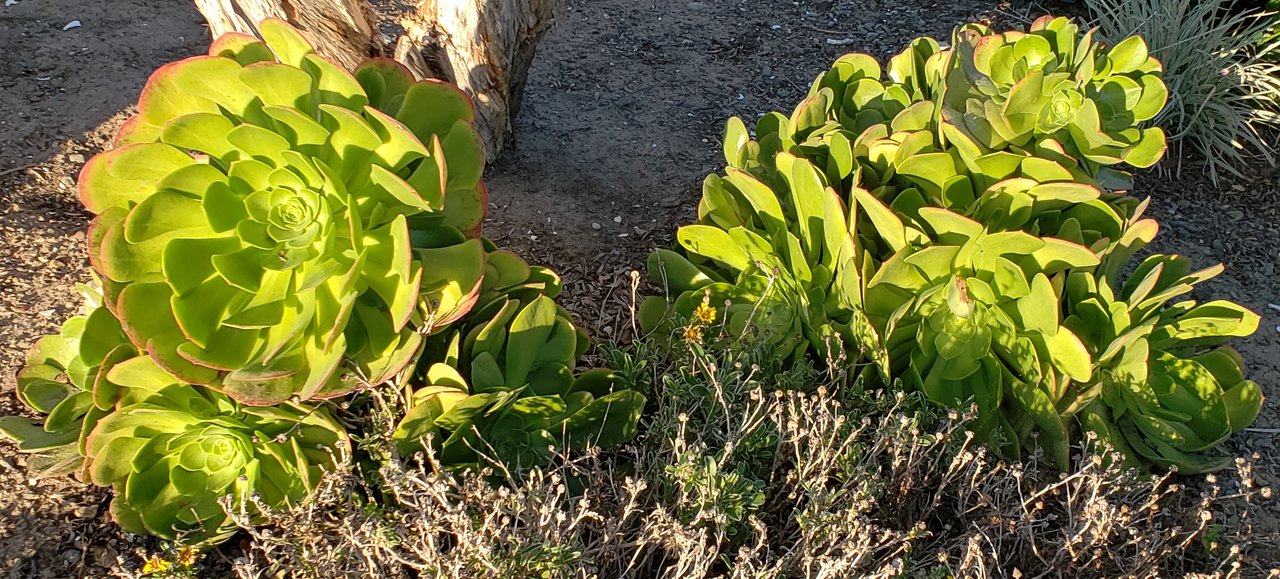 Photo: Giant Succulents in Tidelands Park
At home, we have a plant we call "hen and chicks" in our flower beds. They look a lot like these plants in the photo above, except for one thing. These plants shown here are 10 to 20 times the size of what we have back home!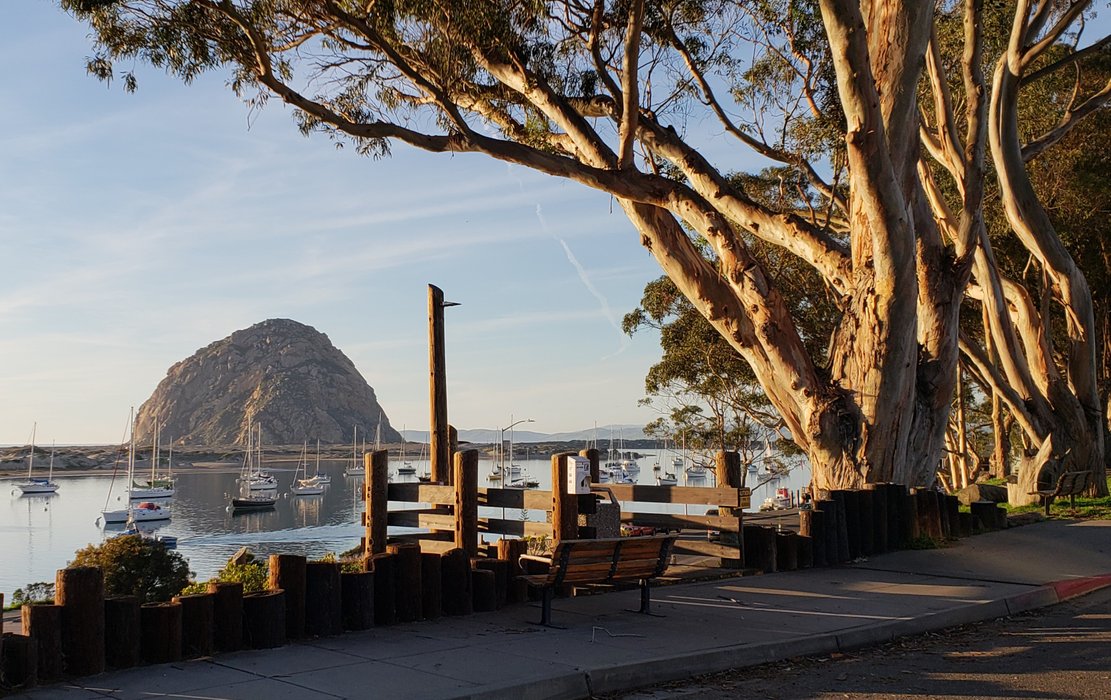 Photo: Morro Bay from hill above Tidelands Park
Once through with wandering around this nice little park, I found a route to get up on the hill above the park. Glad I did!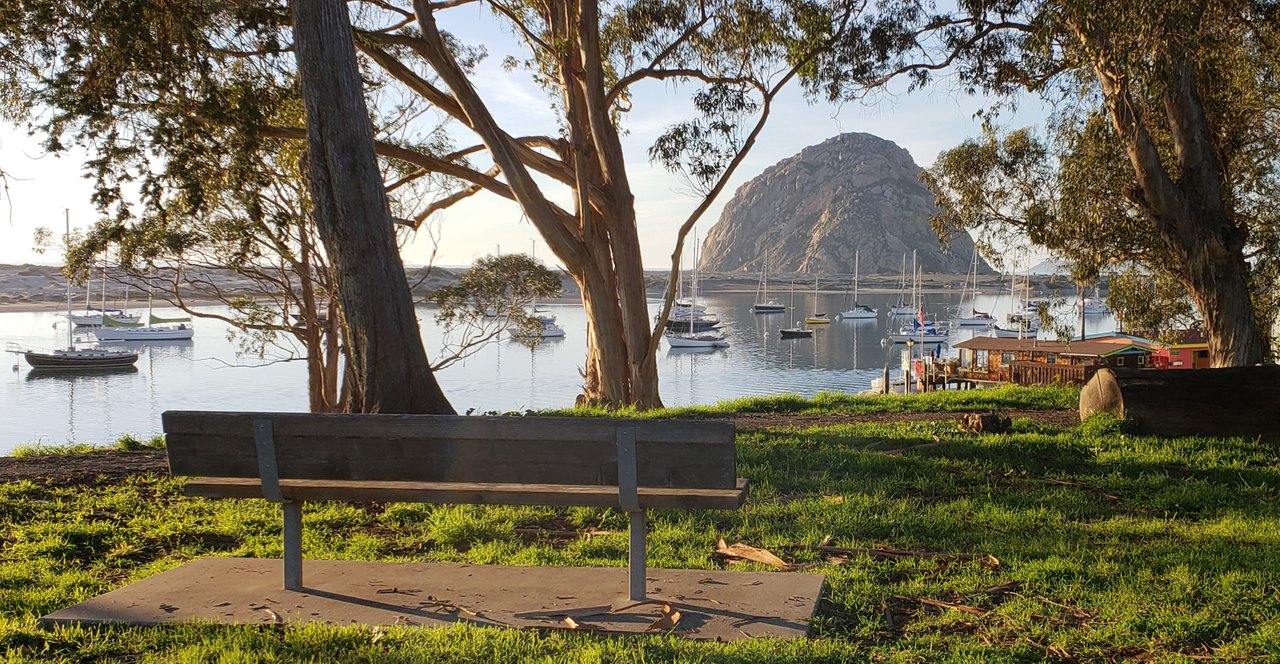 Photo: Bench overlooking Morro Bay
Finding this bench, in this setting, was the perfect end to a very peaceful and relaxing day. I sat here for some time reflecting over many things, while watching the sun set out over the ocean.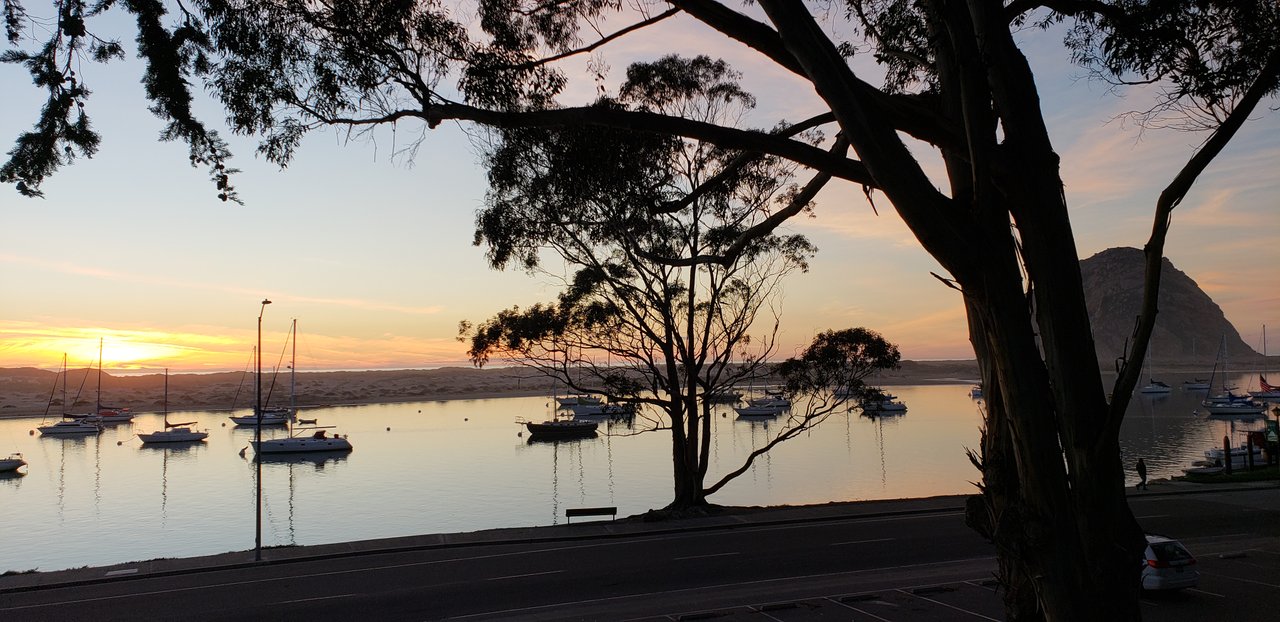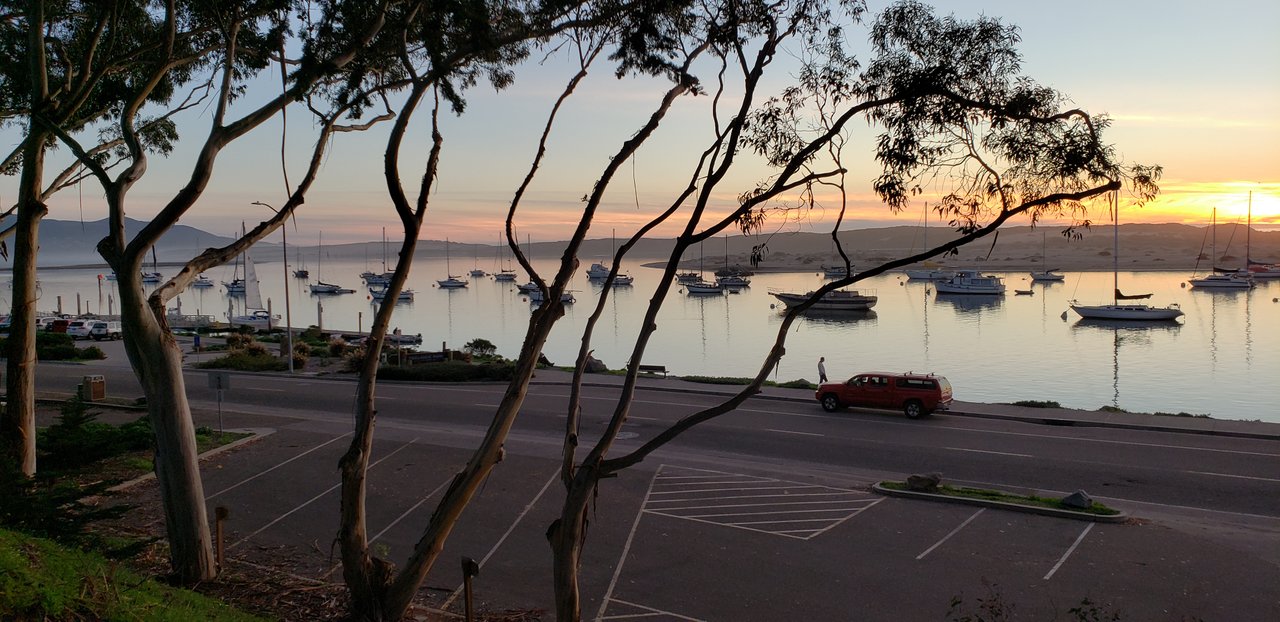 Photo: Sunset over Morro Bay
Note: I imagine we've all experienced the frustration with our photos not doing justice to capturing what we saw. In the first picture above, you can only barely make out what was the most incredible color of blue out on the open water, with the sun setting. I've never seen anything like it.
I hope you have enjoyed this visit to a place I believe is far too easy to just whiz past on the highway (like I did the only other time I have ever been on this highway). There are many other attractions here and things to do. I hopefully have whetted your appetite, should your travels ever bring you this way.

Prologue: Leaving Ventura, Passing through Santa Barbara


I drove into Ventura last night, well after sundown, so this morning walking outside, I was greeted with very nice weather and some palm trees. The thought quickly crossed my mind that I am starting my tour of the California coast looking at trees like this. By the end of the week, I will be looking at the tallest trees in the world in Redwood National Park of northern California.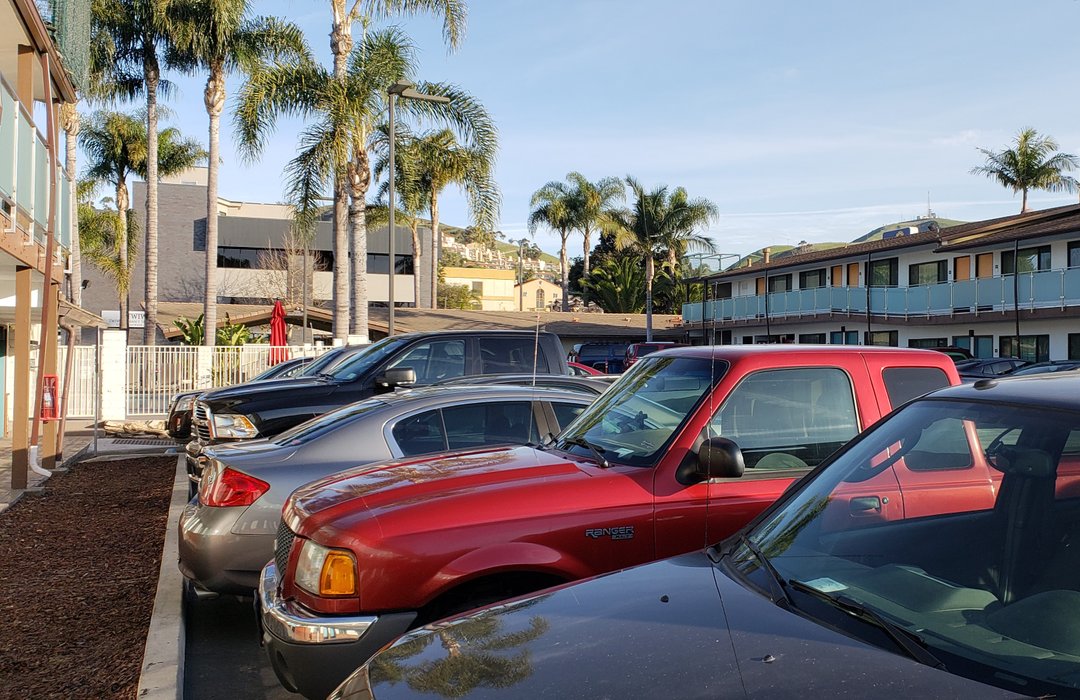 California is a big state and there is a lot of diversity in things to see and do. This was just one example, as I thought about how many hundreds of miles long the Pacific coastline is and the changes in trees and weather I will encounter along the way, over the next few days.
I had some shopping needs to tend to, so once setting out, I didn't get far, as the best place to take care of business was in nearby Santa Barbara, which I had to drive through anyway.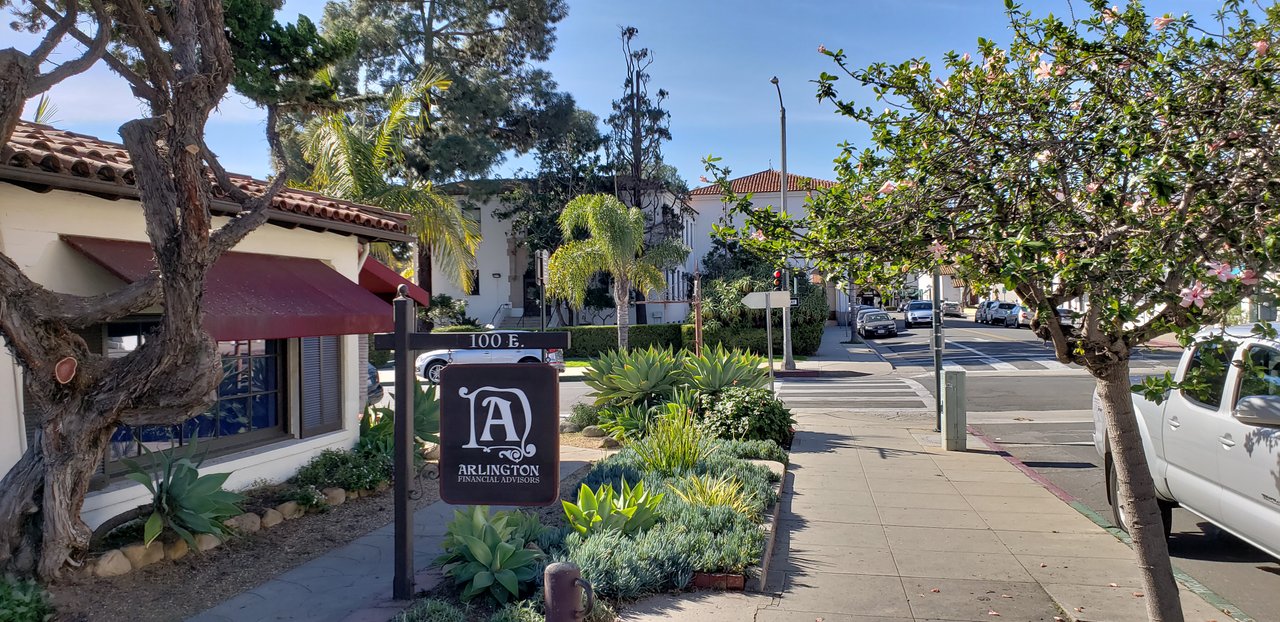 Photo: Santa Barbara Landscaping
For my Steemian friend @newageinv, I took this picture. The beautiful plants in this scene stood out to me, for an office setting. I don't know how his offices are set up, but this setting looked nice and peaceful to me.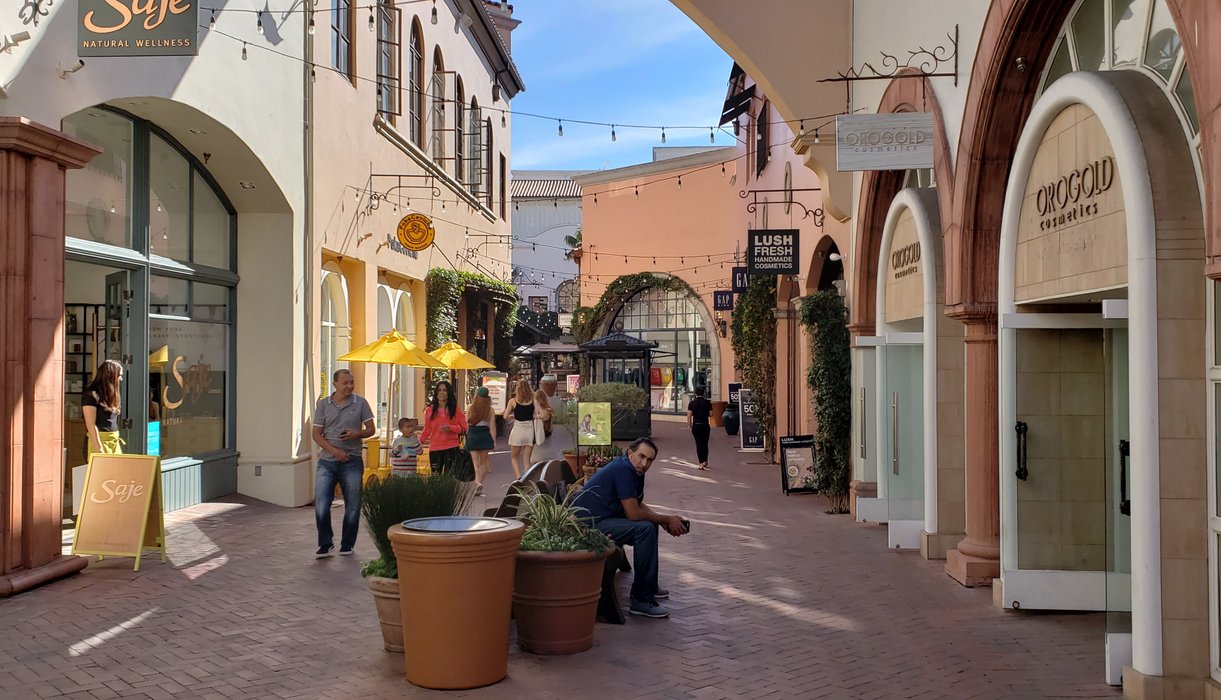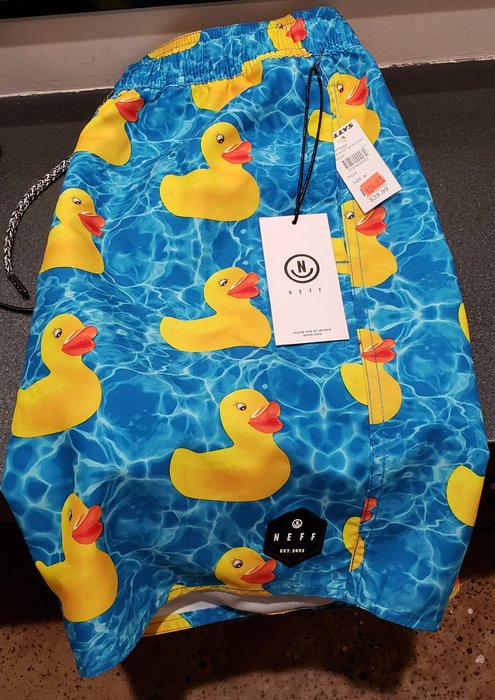 Photo: Shopping for new Swimming Trunks
I thought I'd throw in a little light humor, as these trunks weren't exactly what I had in mind. No, I was not gearing up for a dip in the ocean in January. I was needing to get some for my time with my siblings in Oregon. Not exactly in season, but I figured if there was any place I might be able to find something, it would be on the coast of southern California.
Really liked the blue water effects, but the rubber duckies? Well, at least you can see I have a sense of humor. My siblings will get a big laugh, but nobody at that resort will know us, so it will be okay. 😉 Then, when I get home, I'll put them in my drawer and who knows if they'll ever see the light of day again ... 😊
On a considerably heavier note, while shopping, I came across a couple carrying items out of a "going out of business" Sears store. They were not just taking some retail items on special close-out sale. No, they were literally carrying out shelving, etc. A quick look inside told me this store was being stripped to the bare four walls.
Very sad how this household name has come to this. As a child, looking through the thick Sears and Roebuck catalog was always a sort of a "what if" or "what about" source of all kinds of dreams of what could be.
In my career, I had suffered considerably through the "death throes" of an international chemical company, with whom I'd been employed over 14 years. Years earlier, attending an international business meeting at their English headquarters, I witnessed the International Manager of my business unit literally pound the table about this company's "God given right to +20% net profit ..." This was his response to the growing inability of this +60 year old firm to handle its global competition challenges.
The arrogance of that statement was stunning to me. God given right? Wow!! Had I been wiser, I would have been updating my resume on the flight back home to the Pacific Northwest and gotten away from that company as soon as I could manage. Well ... I was not that wise and suffered accordingly. That firm was "swallowed up" by another global giant and it got very ugly after that ...
Every product or service has a natural life cycle. Clearly knowing where you are in that cycle is critical to your future employment, although not easy to do. Flash forward to watching the "death throes" of Sears, I was thinking about their former employees and what they had suffered through. How do we know what is truly going on? And, if we can ever get that straight, how are we to respond?
Wishful thinking can set in. Paralysis can set in. Denial can set in. All of the above ...
The one essential element to both stories, for me, is to be certain there is nothing you can do to change the inevitable outcome. It is too big of a challenge or too late, or likely a combination of both, given the above. It isn't just the "rank and file" which struggle. Management and leadership do as well.

Postscript for Day Seven


A week ago, I was in my home, making final preparations to leave on my long-awaited "road to recovery" trip early the next day. Amazing how much ground I've covered in the last six days!
In my introduction, I identified myself as a disciple of Jesus Christ. So, here on a Sunday, these are the scripture references which came to my mind:
"By the seventh day God had finished the work he had been doing; so on the seventh day he rested from all his work."
and
"This is the day that the Lord hath made; Let us rejoice and be glad in it."
The Judeo-Christian world places great significance on the number seven. There are many references to it in God's Word and that is not coincidental. Most scholars agree that the basis for the importance of this number begins with the Bible's account of creation being perfectly completed in seven days.
And what did God do on the seventh day? He rested and ordained that it would always be a day of rest, from that point forward.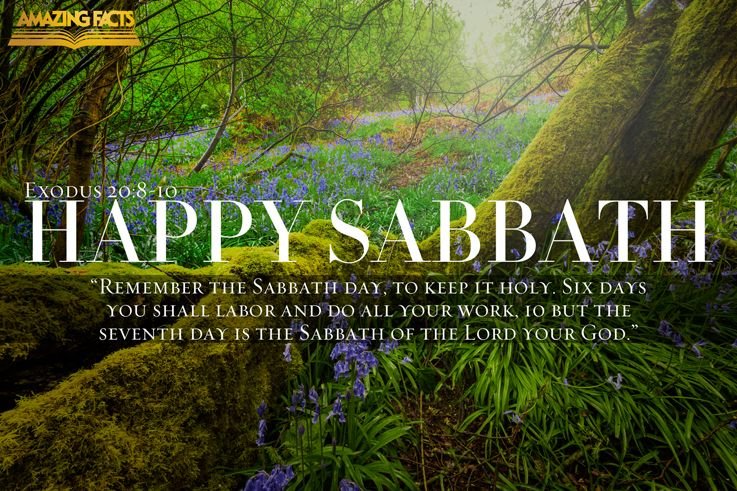 Source
Why would I make these references in this post? Good question. The primary purpose of this trip is to provide a time of quite reflection about where I have come from, what I have learned, and what the "next chapter" of my life might be.
So ... I will tie these references in to my comments in the section above about Sears and perhaps you will see the connection. I would then welcome any and all comments you might be inspired to make.
A fundamental fact of my working life has been the striving and stress of attempting to be successful in the business world, so I could support my family. Keeping the associated time and effort in balance with my personal life has always been a problem.
Why?
Today, while sitting on the bench discussed above, in reflecting back over so many instances in my life of these types of stresses, one common theme emerges. I was resolutely determined to "push through" whatever obstacle to progress was in front of me. As though somehow it all depended on me.
Admittedly quite "late in the game," but I realize more and more that I need to let go of this approach. On many levels - physically, mentally, spiritually - it is not healthy.
There is a natural order to life and it was ordained from the beginning of time. Rest is a part of this natural order and essential to us all. We cannot continually have the pressure of "pedal to the metal" bearing down on us, without seriously negative consequences. It must be okay to back off and unwind.
Yes, we absolutely must be responsible and trustworthy to do our part in helping an enterprise succeed. But if we find ourselves being stressed and pressured beyond all reason, as though somehow this was the "secret" to future success, I would strongly suggest you look in the mirror and ask yourself whether or not it is time to go. I know I will never allow myself to be in a situation like that again.
Hope this makes some sense to you. I will certainly be reflecting on this more over the coming days. Once I am with my siblings, I can see it being an important topic for us, as we are all similar being raised in the same family environment.

Closing


So, I have a mix of travel adventure, reflection, and philosophy in today's post. All in all, a very enjoyable and relaxing day in "@roleerob's excellent adventure!" Thanks for going along with me, dear reader. I'd love to hear any feedback you may be inspired to provide.
Until "next time," all the best to you for a better tomorrow, as we all work together to build our Steem Community! 👍 😊
Respectfully,
Steemian @roleerob
Posted using SteemPeak and "immutably enshrined in the blockchain" on Sunday, 27 January 2019!
---
"R2R" Note: My "shorthand" way of referring to what I first wrote about in my Reflections: My "Road to Recovery" Trip post. "Road to Recovery" <=> "R2R" ... 😉

Image sources, unless otherwise noted: My trusty smartphone!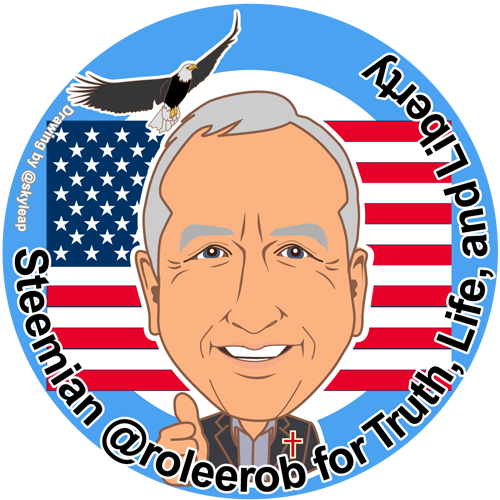 If you liked this post, you might enjoy others in my "Road to Recovery" Travelogue series:
This account is protected by @dustsweeper