Day Nine: As a "road less traveled" sort of guy, I enjoy seeing out-of-the-way places. You are likely to be talking about something with which few are familiar. You can, if you really stretch it and are in very remote locations, even imagine you are the first to see it.
Well today, dear reader, we are not in that category, but instead I will be posting about one of the most famous locations where land meets sea, on the face of the earth - the Monterey Peninsula of California.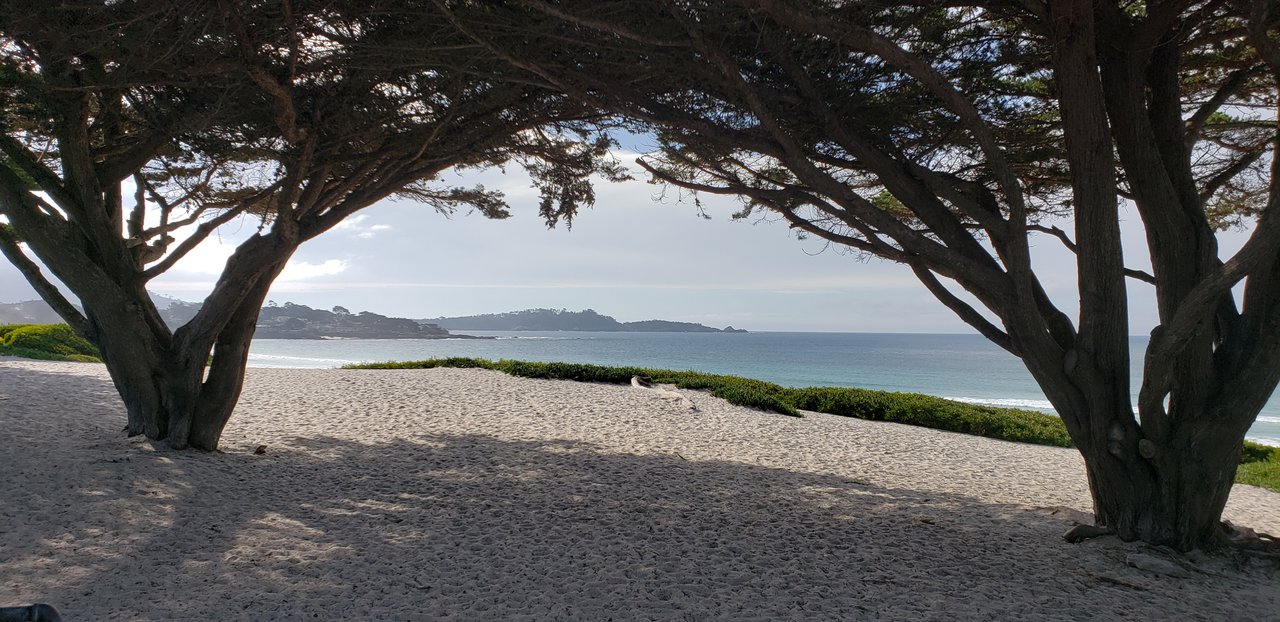 Photo: Looking South at Carmel Bay
I am not a professional photographer. I don't even have a camera. Just my trusty smartphone - a Samsung Galaxy S9+. For giving my dear readers an opportunity to "see" this wonderful location through my eyes, that should work! 😉
In so doing, perhaps I can whet your appetite for coming here to see and experience it for yourself. Let's take a closer look!

Monterey Peninsula
There is so much to see and do in this famous location that one could easily spend a week here and still feel like they haven't managed to cover it all. I was here a day ... 😊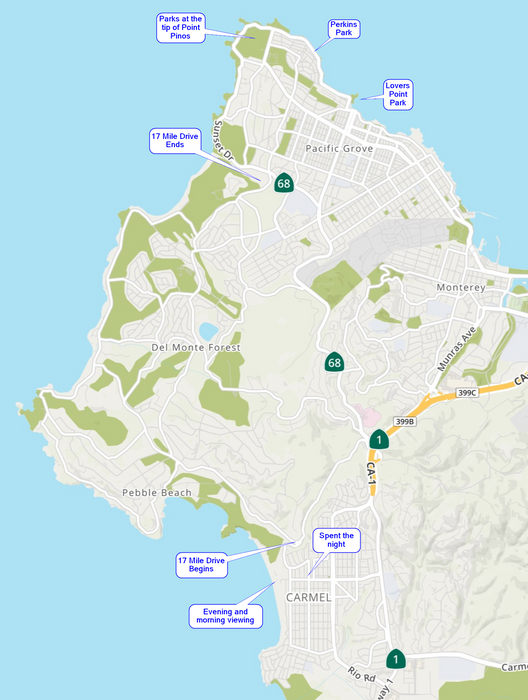 Photo: Map of One Day's Activities
I arrived late afternoon and spent the evening in Carmel-by-the-Sea, watching to sun go down over Carmel Bay. I also started my morning there.
Once leaving, I found myself blocked by a "pay to view" section of the peninsula accessed by the 17 Mile Drive illustrated above. I had no intent of paying any money to see anything, certainly not the price they were asking ... 👎
Not that there isn't a lot to see on this drive, like the famous Pebble Beach Golf Course. But, there is plenty of wonderful viewing and experiencing available free-of-charge! 👍
As illustrated above, I stayed in Carmel-by-the-Sea, a really pleasant and peaceful little village just south of the Monterey Peninsula.
As I had done the night before in Morro Bay, once arriving and parked for the night, I set out on foot for the rest of the evening.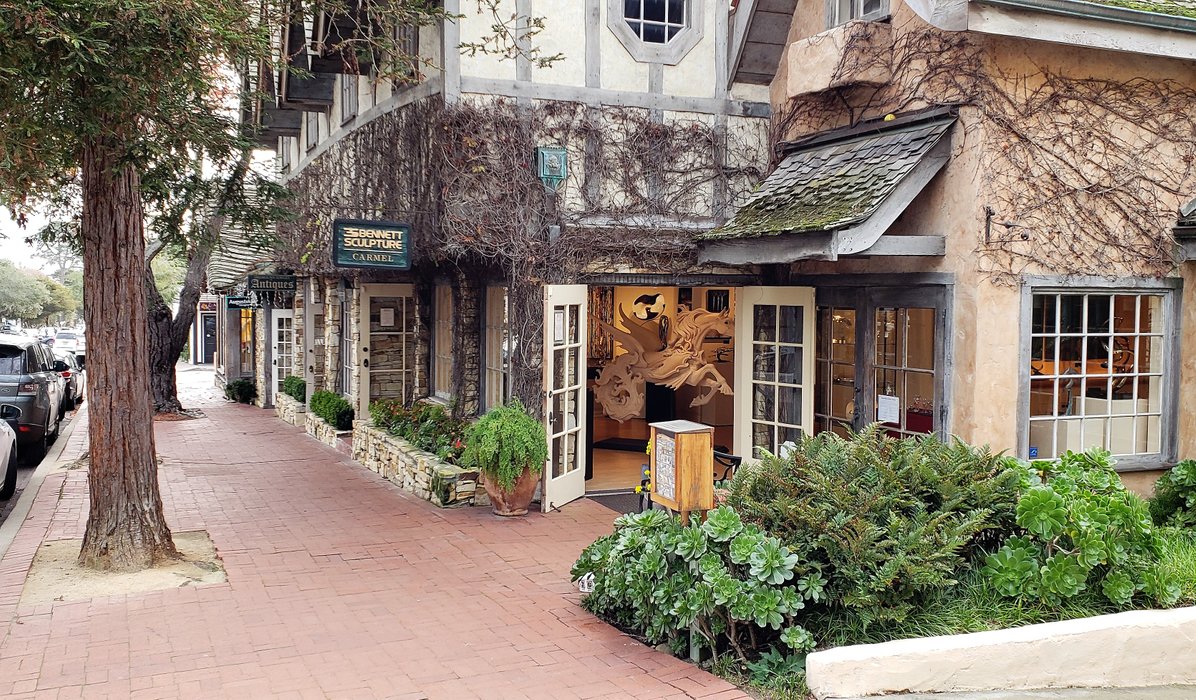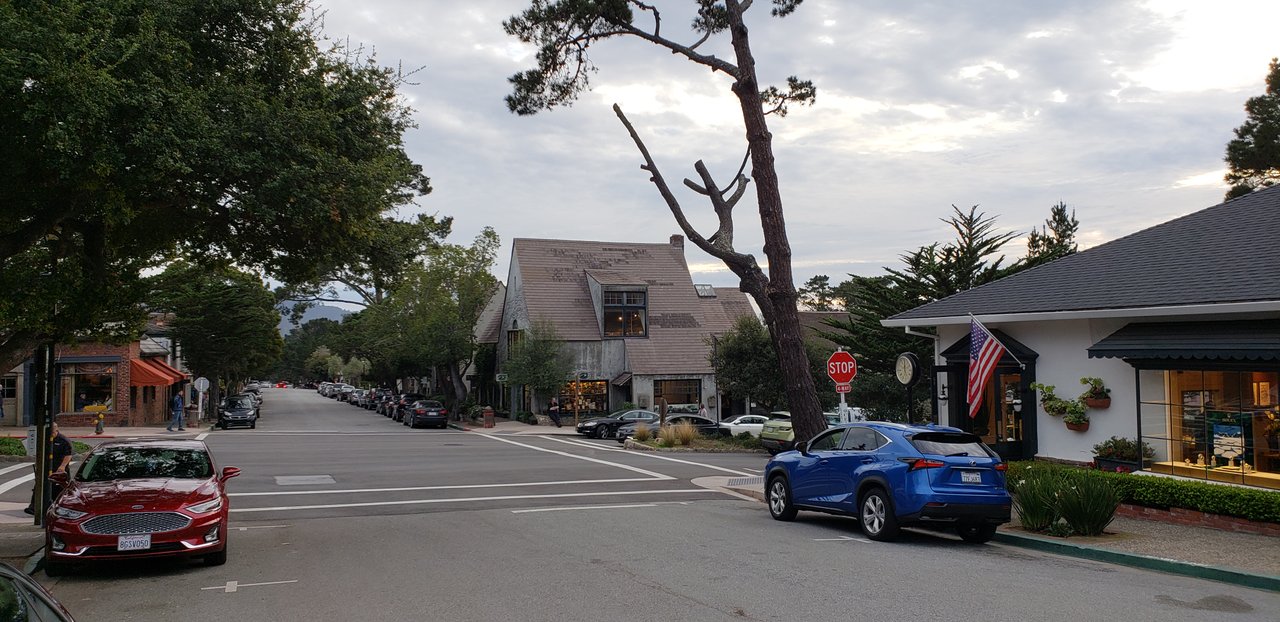 Photo: Streets of Carmel-by-the-Sea
After awhile, needed to stop and "refuel" with a wonderful seafood meal. The service was very good, the food "hit the spot," and it was a pleasant "pick me up" at the end of another "brutal" day "out on the road" ... 😉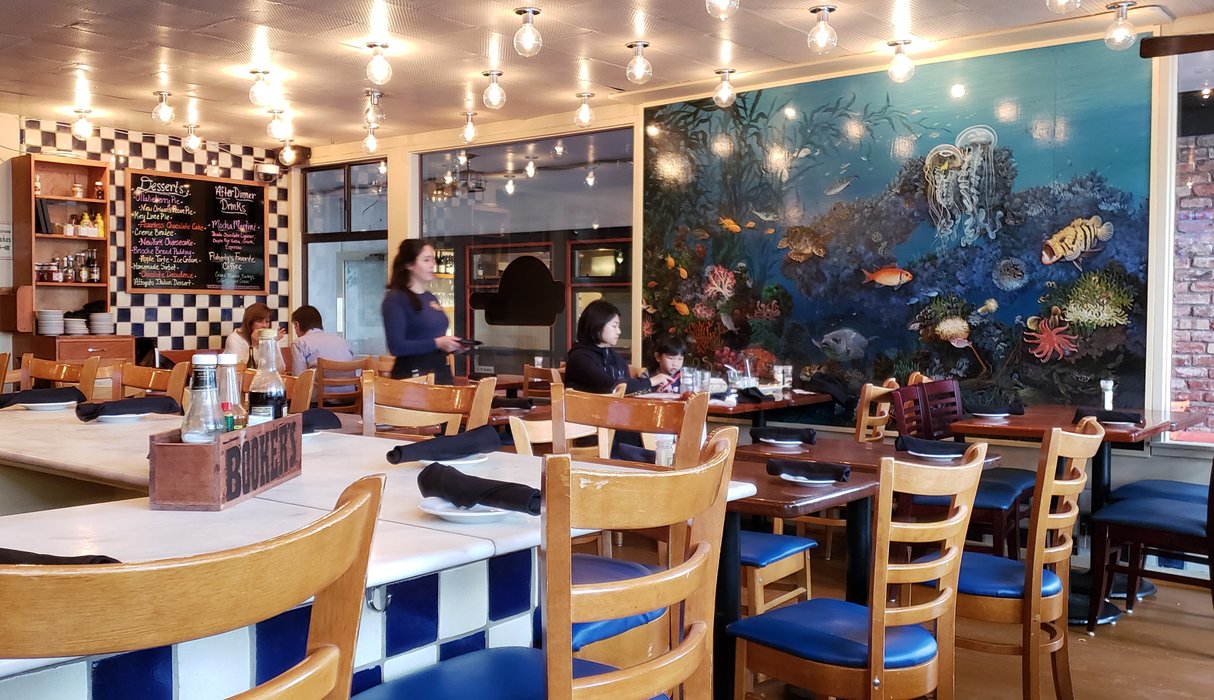 Photo: Flaherty's Restaraunt in Carmel-by-the-Sea
On the way to the sea, passed by this exquisite little hideaway. Just picture what it would be like to spend a week or two just "hanging out" in this part of the world, at a little place like this.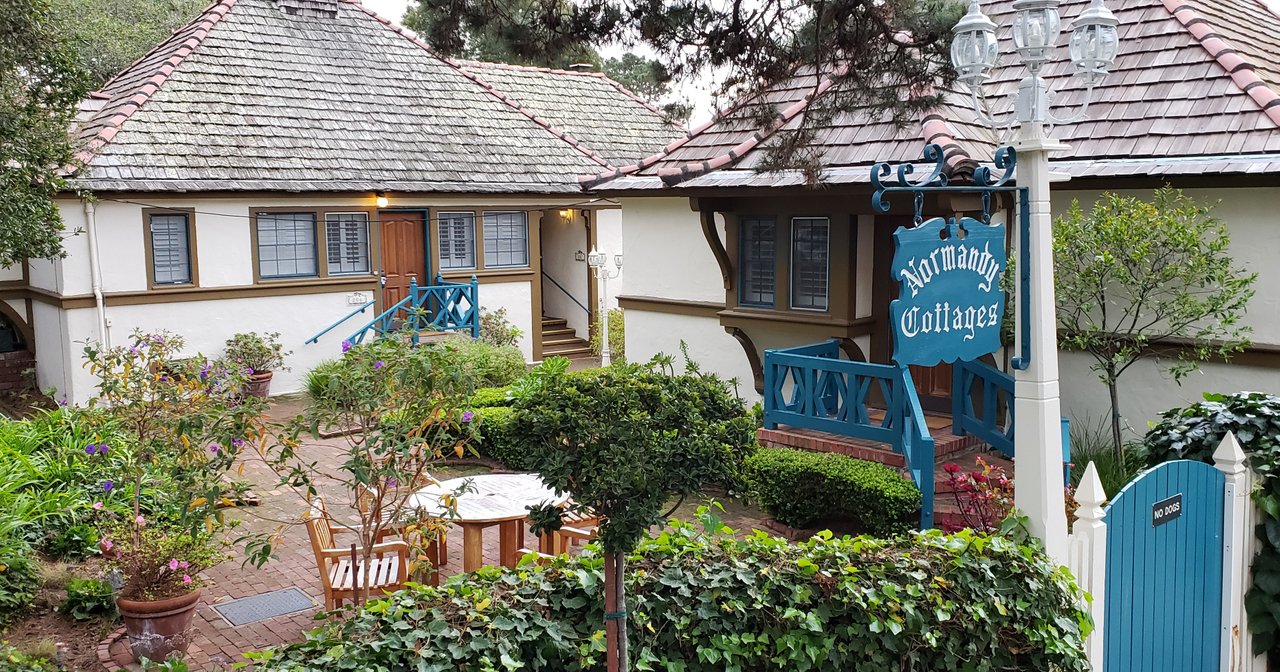 Photo: Normandy Cottages in Carmel-by-the-Sea
Don't have any idea how much these cost, but loved the idea of bringing my beloved lifemate here and staying just up Ocean Ave. from Carmel Bay.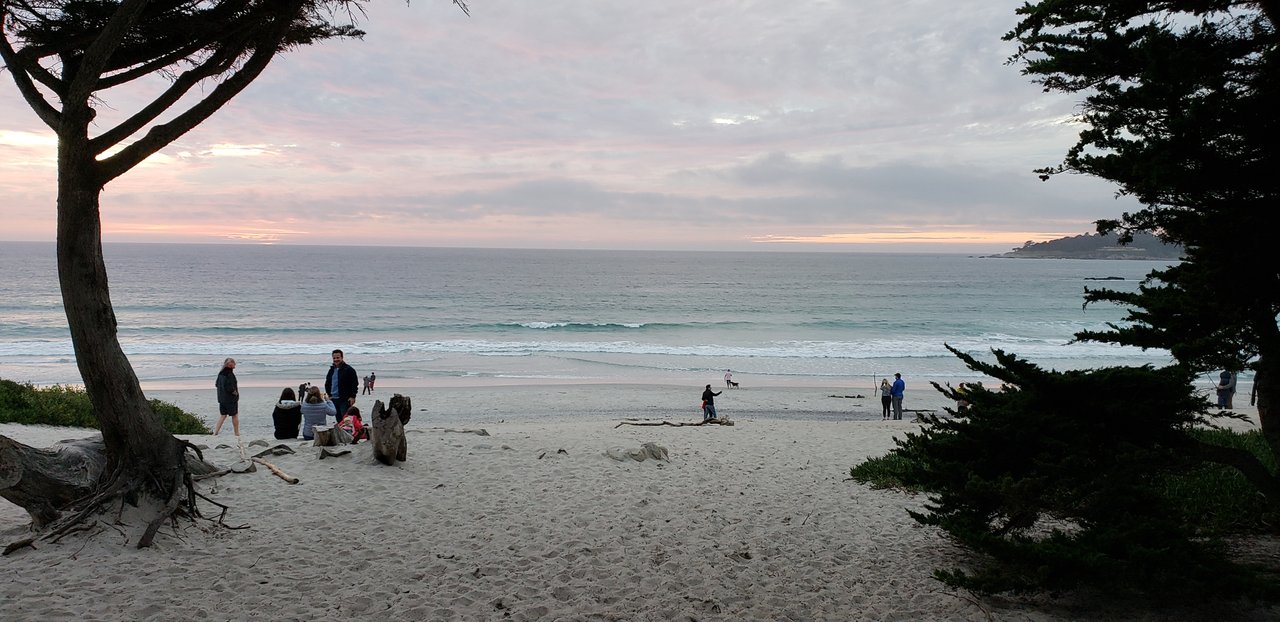 Photo: Sun Setting over Carmel Bay
Note the overcast skies. Too soon, I decided I wasn't going to be treated to the hoped for great sunset shot over the ocean. Heading back up the hill to my room and talking to my sweetheart, I glanced back and sadly was seeing the last of what had been a glorious sunset! 😧
Too late for me. I will try not to mistake that mistake again the rest of the trip.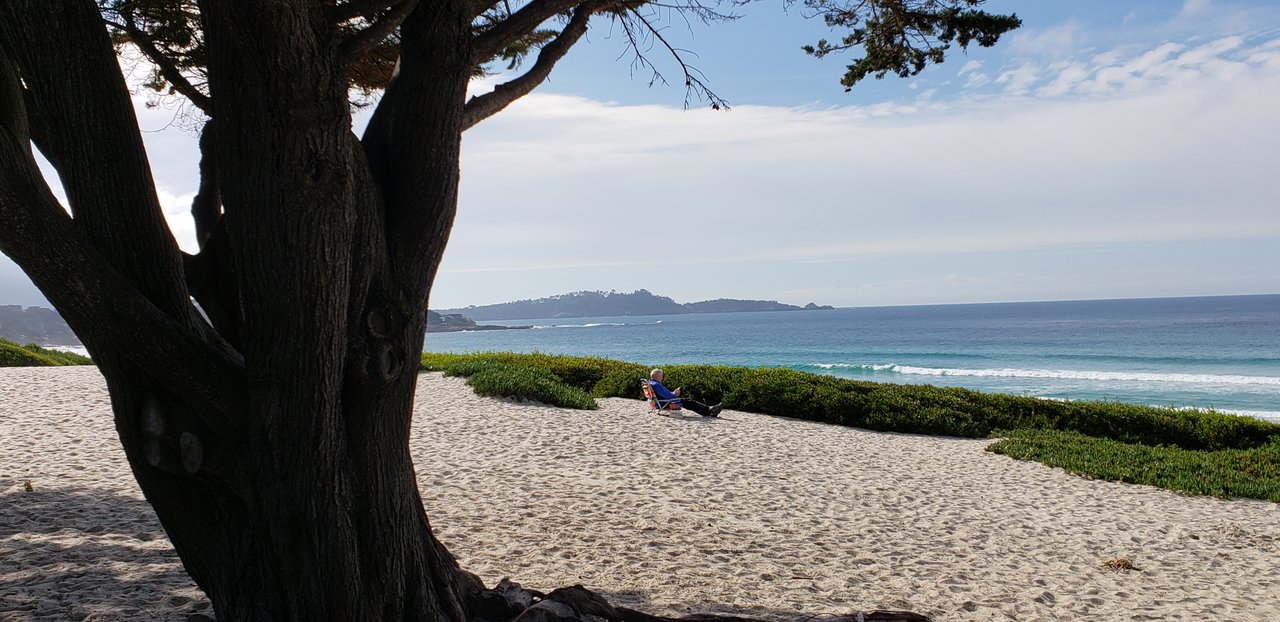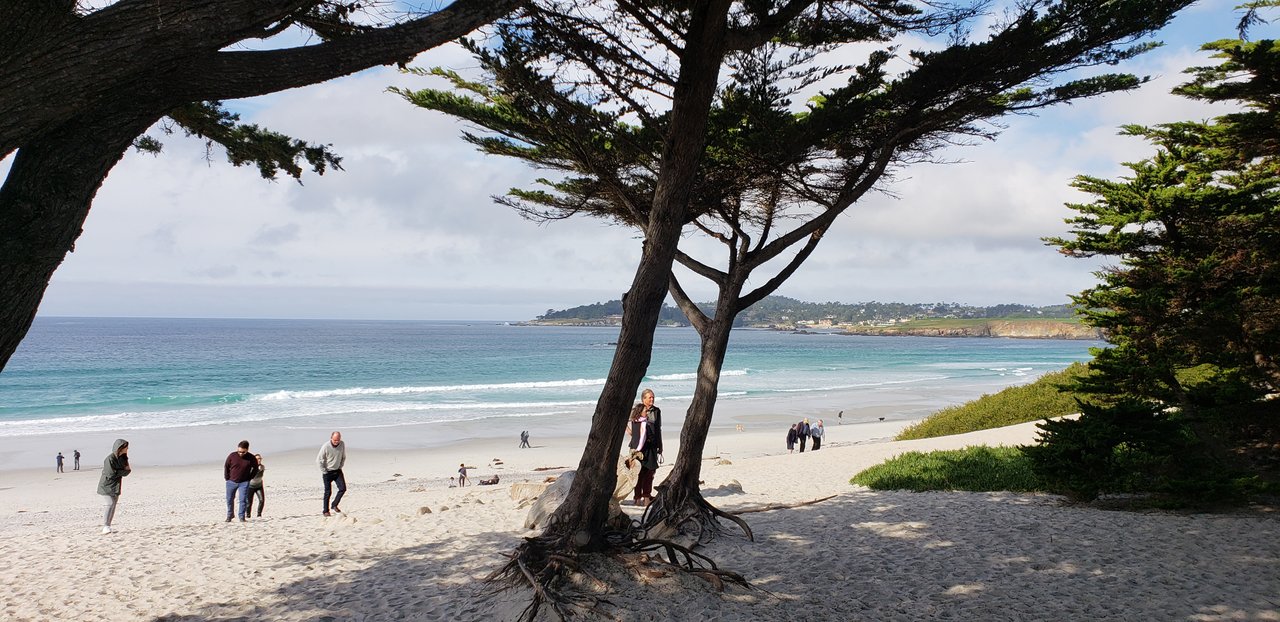 Photos: Relaxing. Looking North across Carmel Bay to Monterey Peninsula
The next day, started it out with a last look at Carmel Bay, where I took the opening photo and the ones above. After sitting there peacefully for awhile taking it all in, off to the "main event!"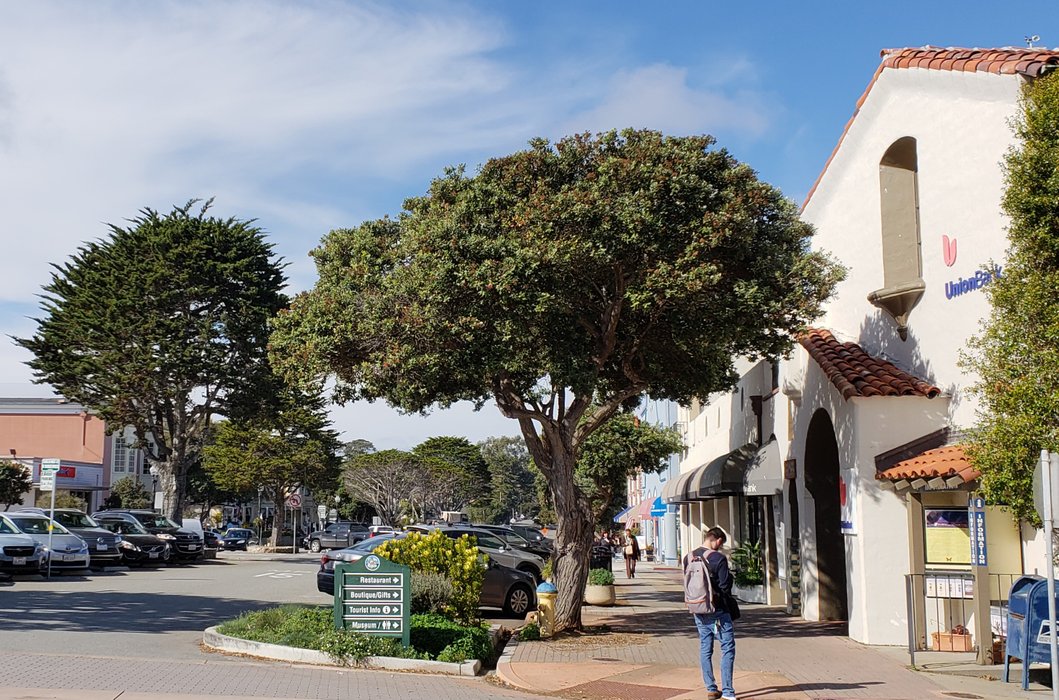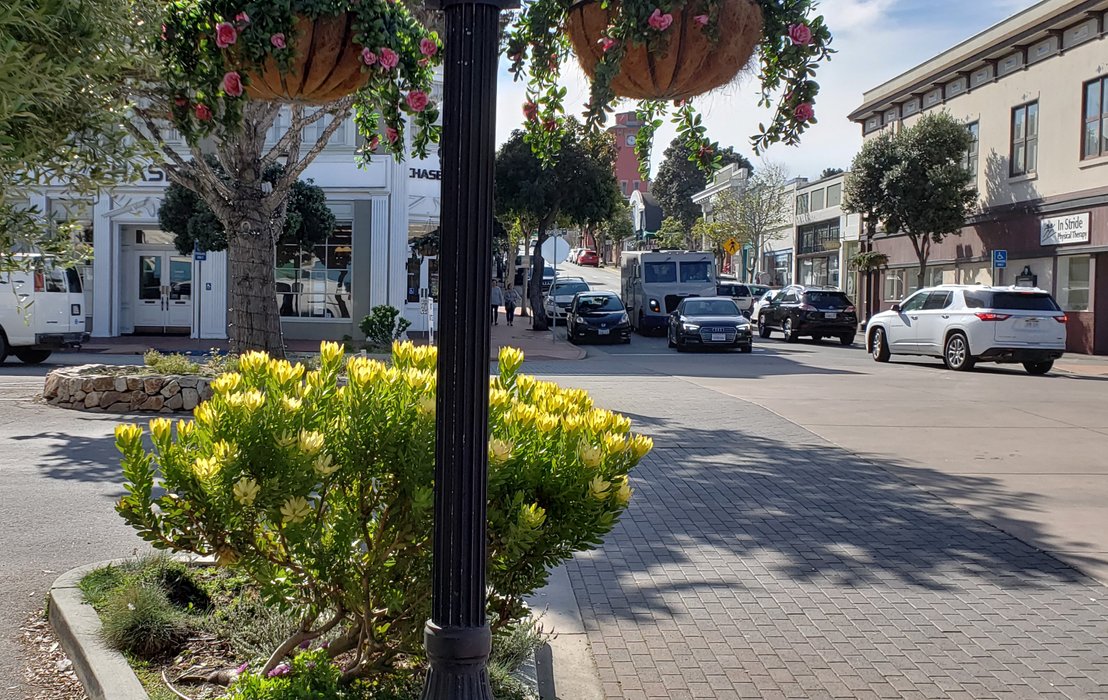 Photo: Streets of Pacific Grove
Passing through Pacific Grove, I got out and walked around a bit. Similar "feel" to Carmel-by-the-Sea, but if I had to make a tough choice, I would pick walking through the streets of Carmel-by-the-Sea.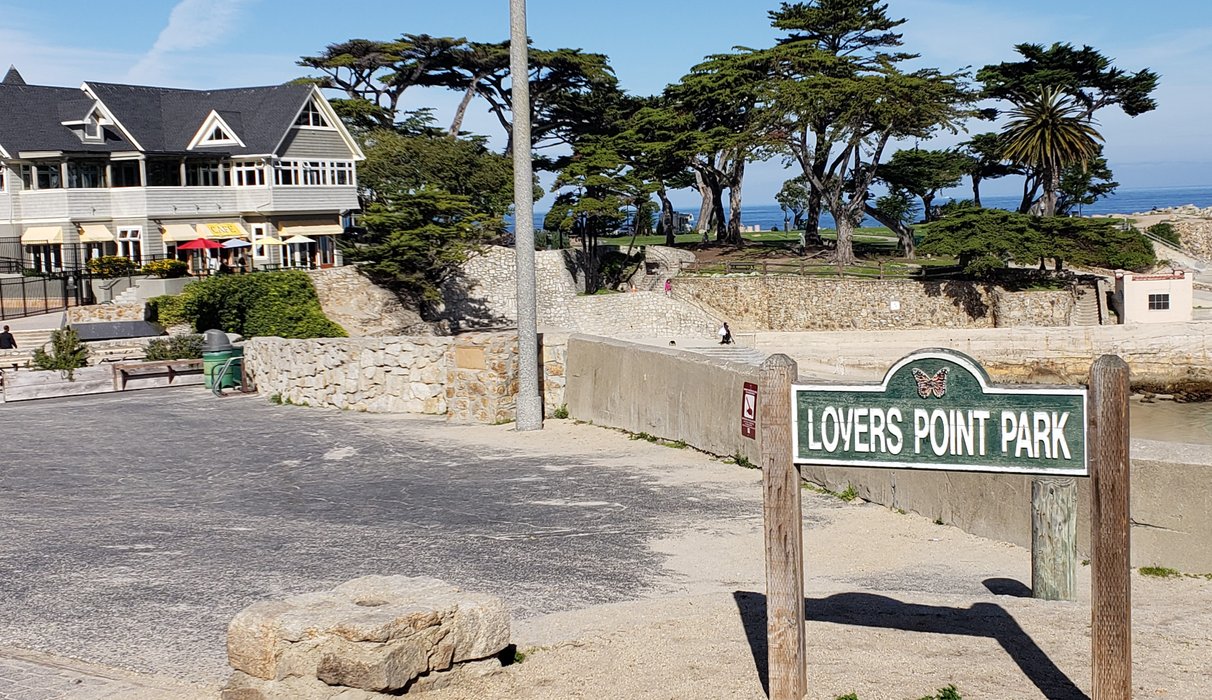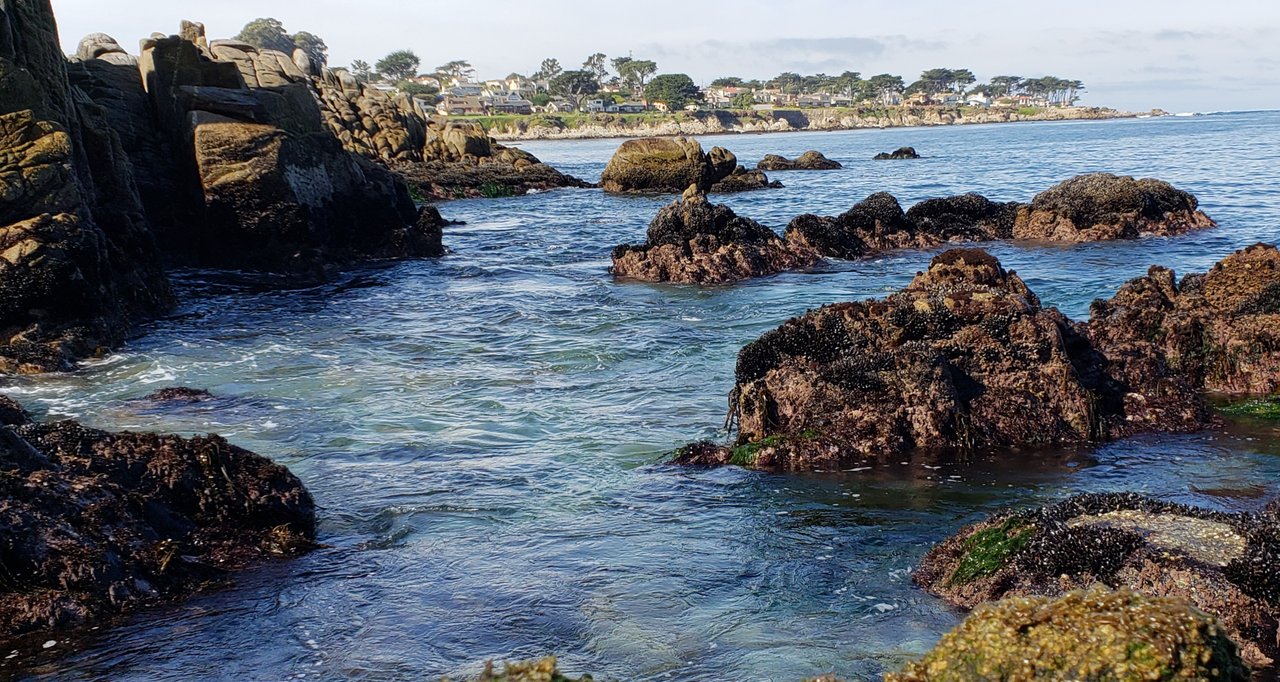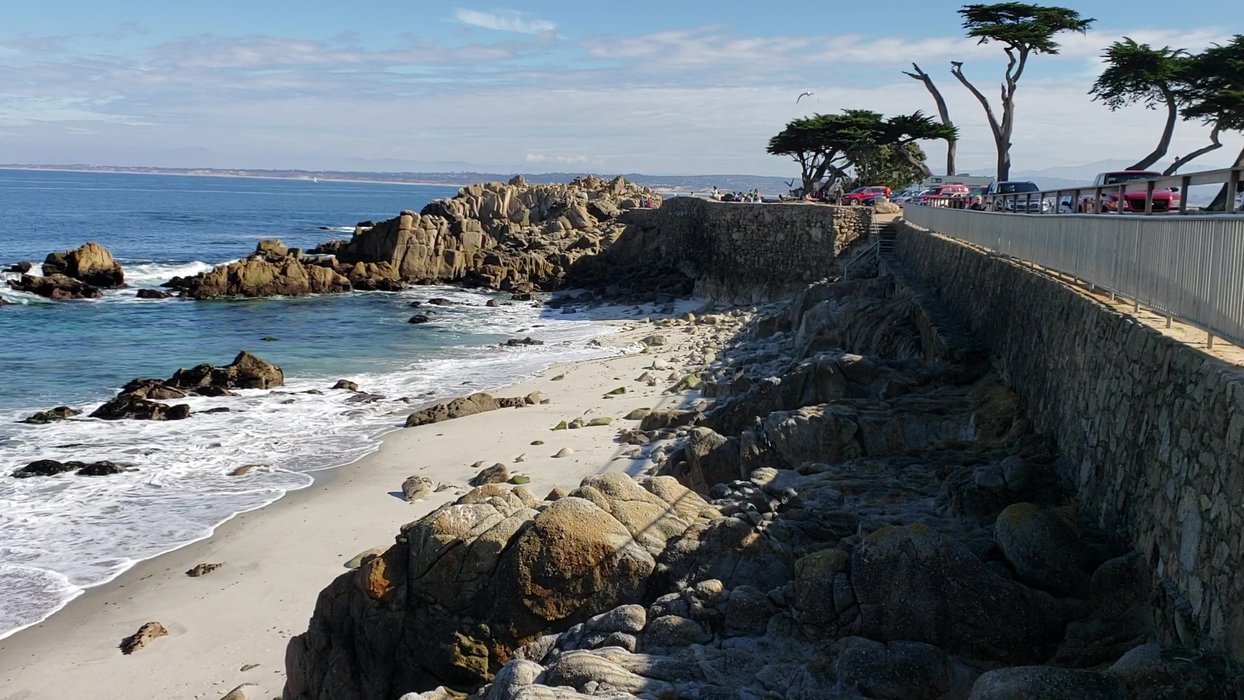 Photo: Lovers Point Park
Down to the sea, my first stop was this wonderful little park shown above. I spent a considerable amount of time here, helping some other tourists with a family photo shoot and then climbing down near the sea for some quiet time. Loved it!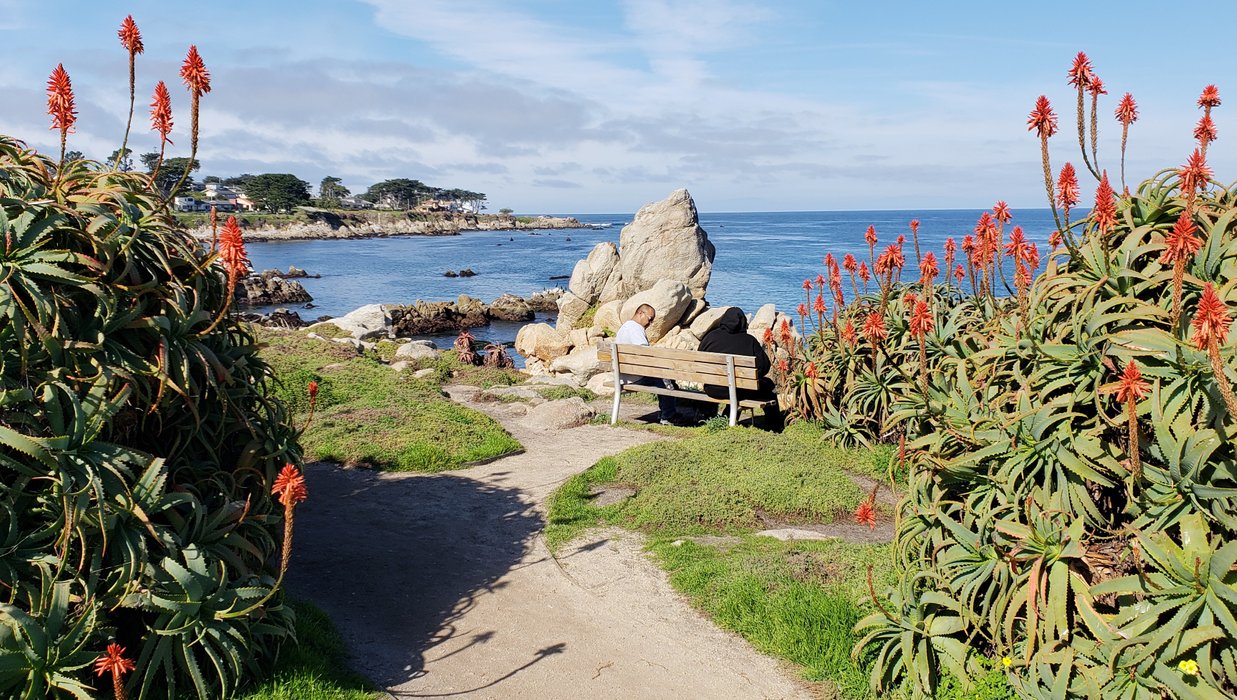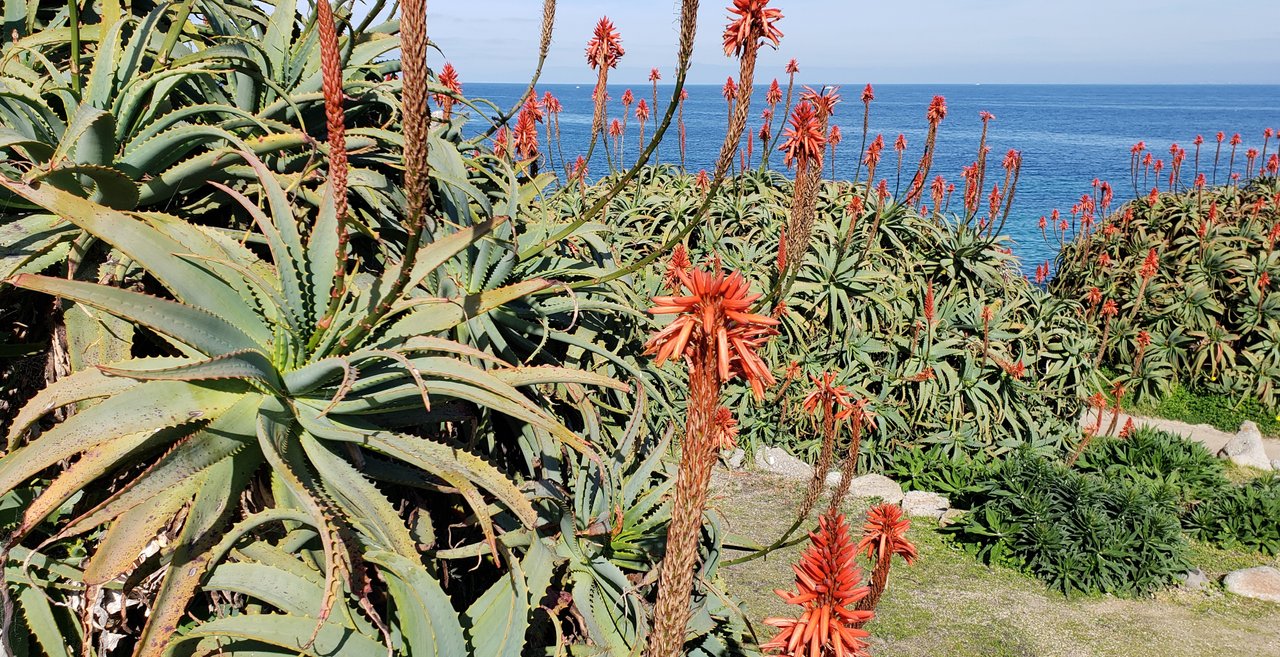 Photo: Perkins Park
Notice these "succulents by the sea." Very pretty, but a bit of a serrated edge, similar to what I saw a few days ago on some the cactus in the Sonora Desert of Arizona!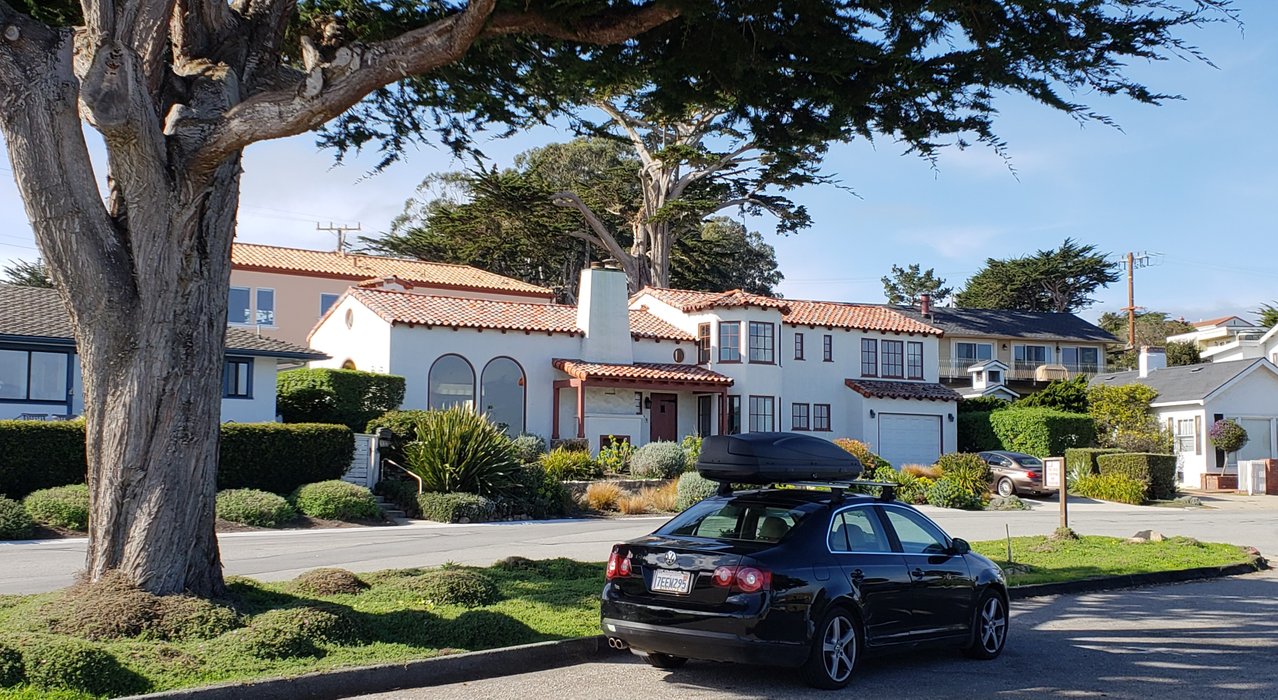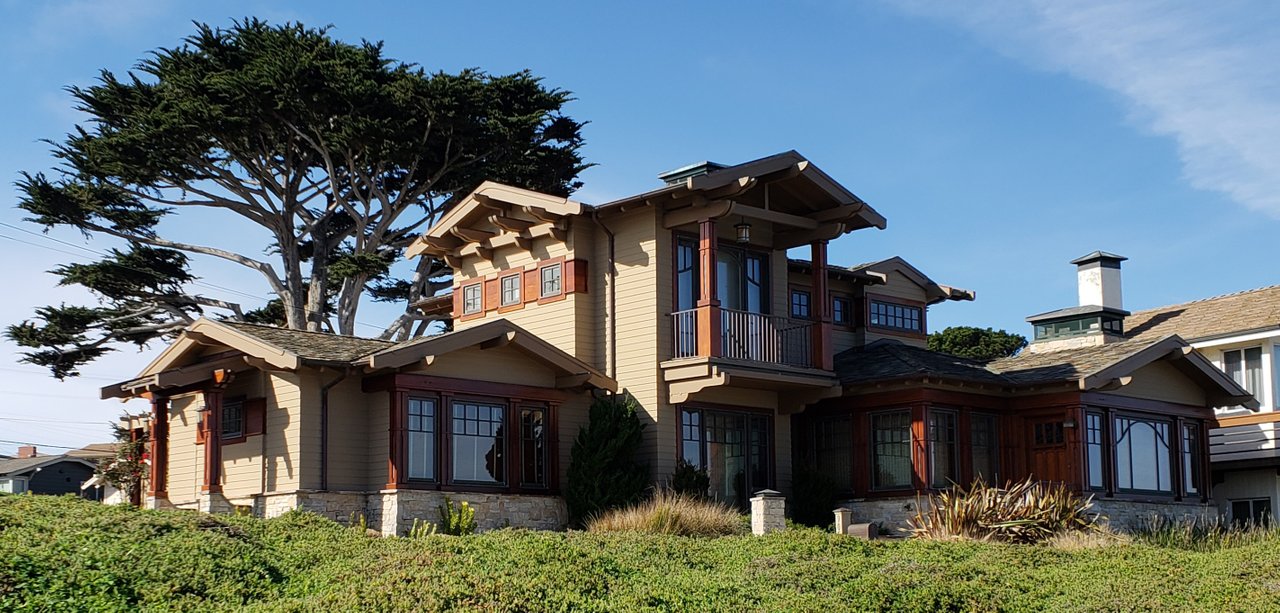 Photo: Beach Front Properties
There's an old saying, "It could be better, but it could be worse ..." The next time you are thinking life isn't going so well for you, just be thankful you don't have it as hard as the poor people who are "hanging on by their fingernails" surviving in tough places like this. Yep, it could definitely be worse! 😉
Seriously, I would hate to think what these people pay for taxes on their properties here, let alone what it would cost to pay to have these homes free and clear of debt. All I know is I don't need to worry about it ... 😉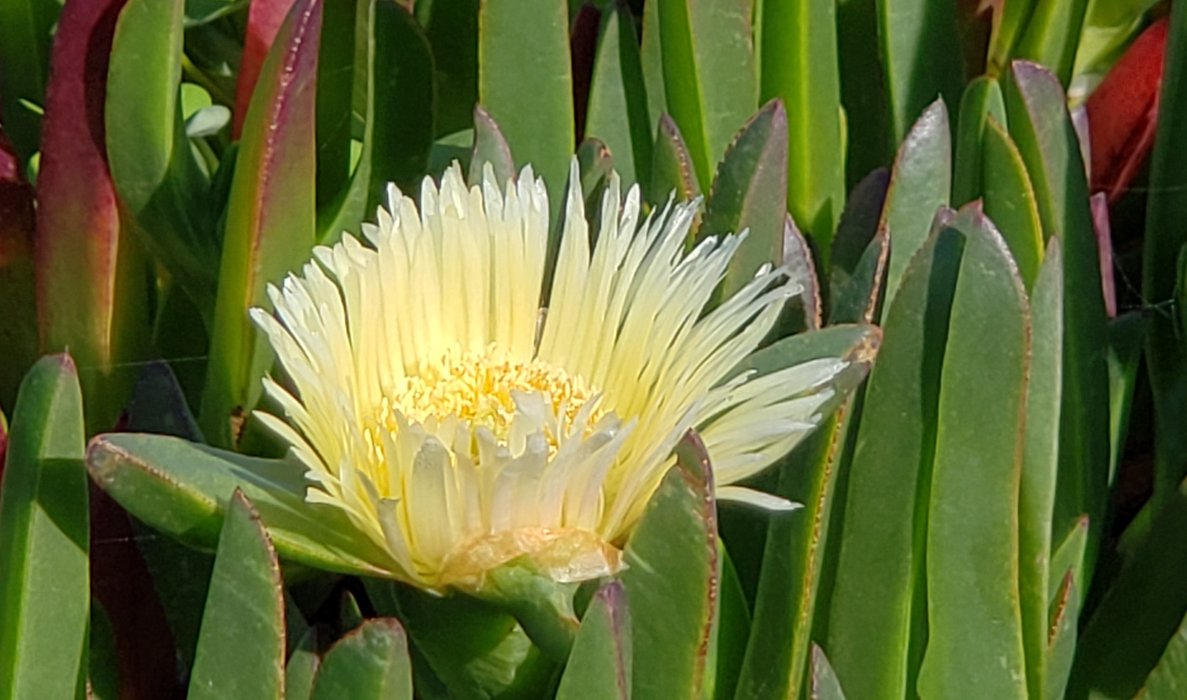 Photo: Succulents Blooming on the Beach
Even in the "dead of winter," we can see life still renewing itself on the beach. Listening to some of the locals talk about how "cold" it was gave me a real laugh. My guess is this plant was smiling too!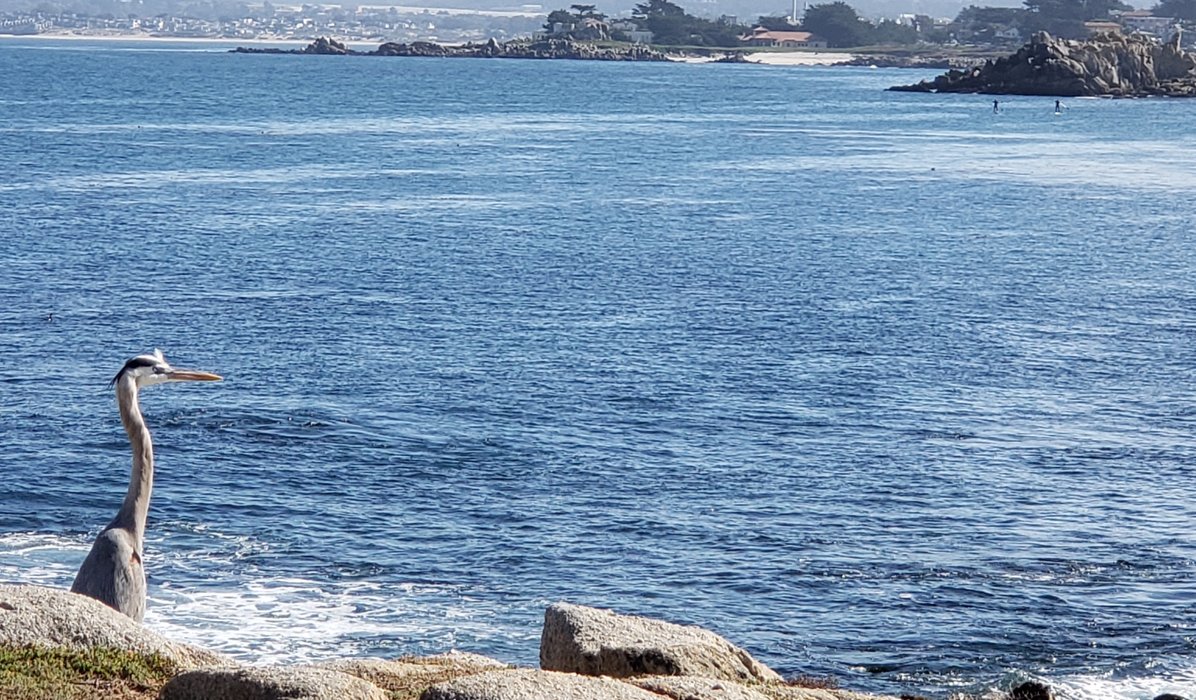 Photo: Hey! What's up?
"It's a tough job, but somebody's gotta do it." I wasn't the only one grinding through it! 😊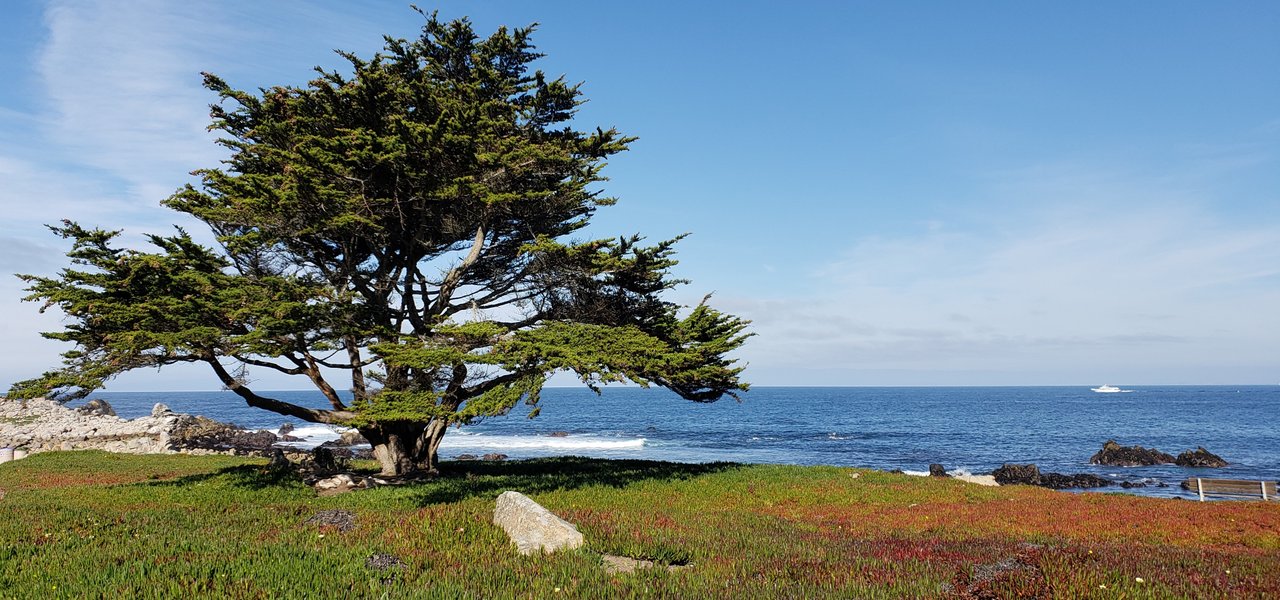 Photo: "End of the Line" for @roleerob at Point Pinos
Okay, so maybe my "ride" doesn't quite stack up against that one out at sea, but I am perfectly content and at peace with my lot in life.
---
I hope you have enjoyed this "walk with me" visit of the marvelous Monterey Peninsula of California. There is a great deal to see and experience here, so maybe you'll want to add this location to your "bucket list!"

Moving On Past San Francisco


Leaving the Monterey Peninsula and with no easy way around the Bay Area, as I had done with Southern California, I decided the best course of action was to go right down through the middle of it and "escape" across the iconic Golden Gate Bridge!
First, I passed by this amazing display of modern agricultural techniques just outside of Watsonville.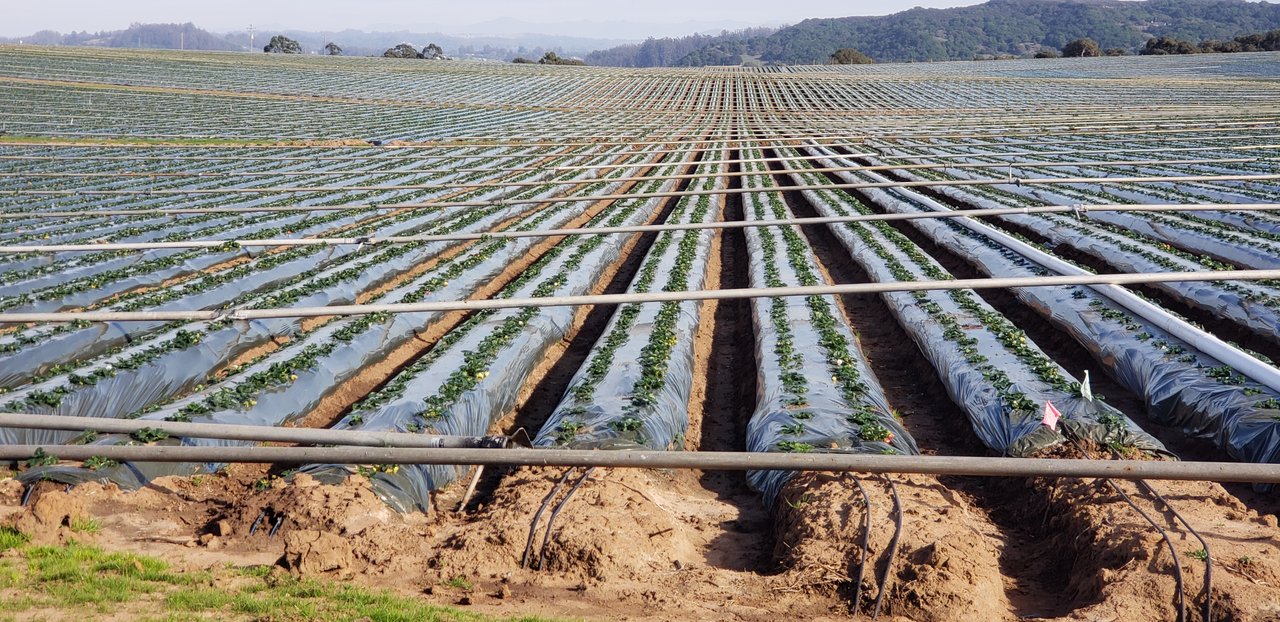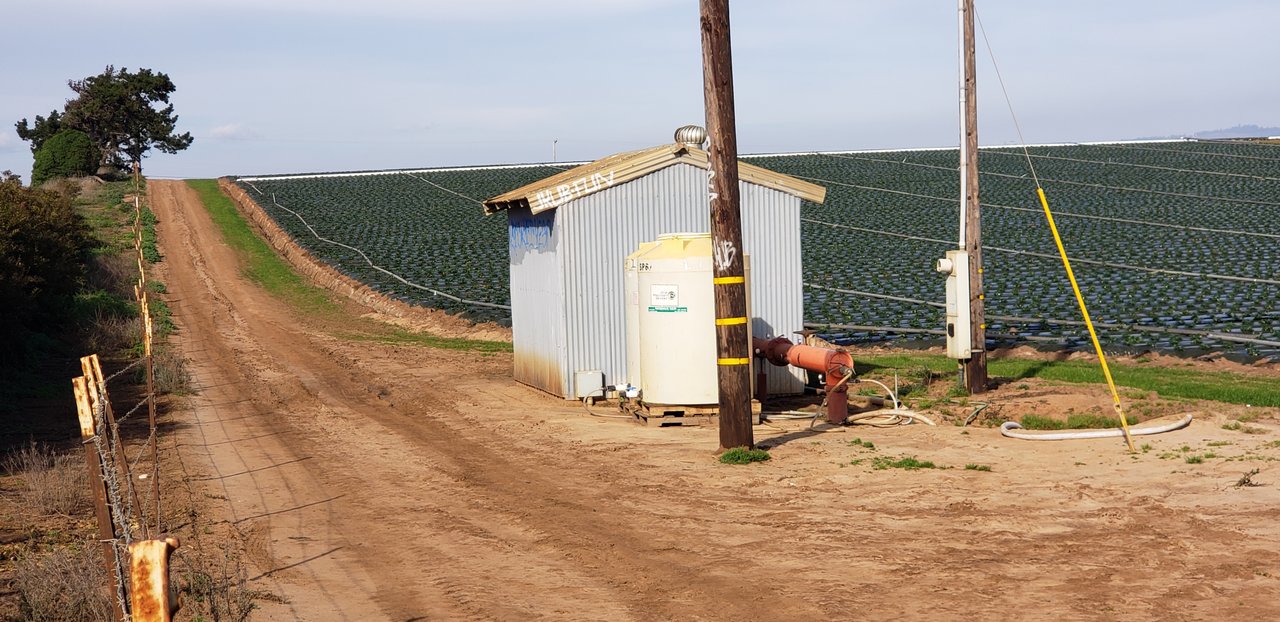 Photo: Amazing Field near Watsonville, California
While not certain, I believe California is the most productive agricultural state in America. These pictures help explain some of that. The black plastic to keep weeding down made some sense. The elaborate watering system (note small tubes in the ground ...)? The chemical tanks - their content and how applied? Mysteries to me. If this is "your world," for any of my dear readers, I'd love to get your input on these questions in the Comments below.
Moving on to the challenge of the day - could I get through this massive population center without getting caught up a nasty traffic jam?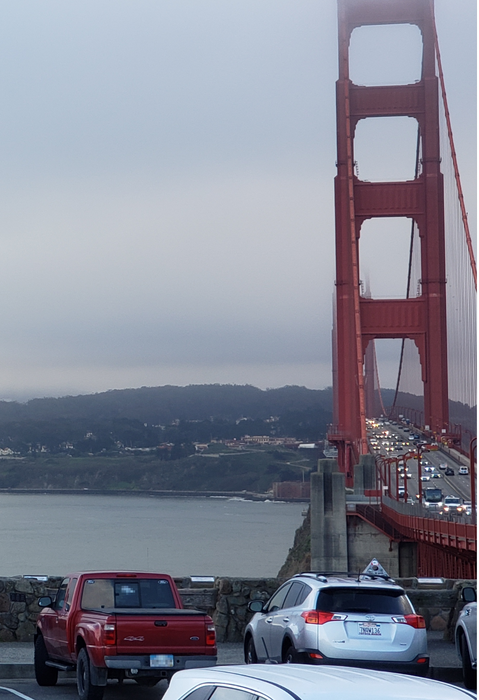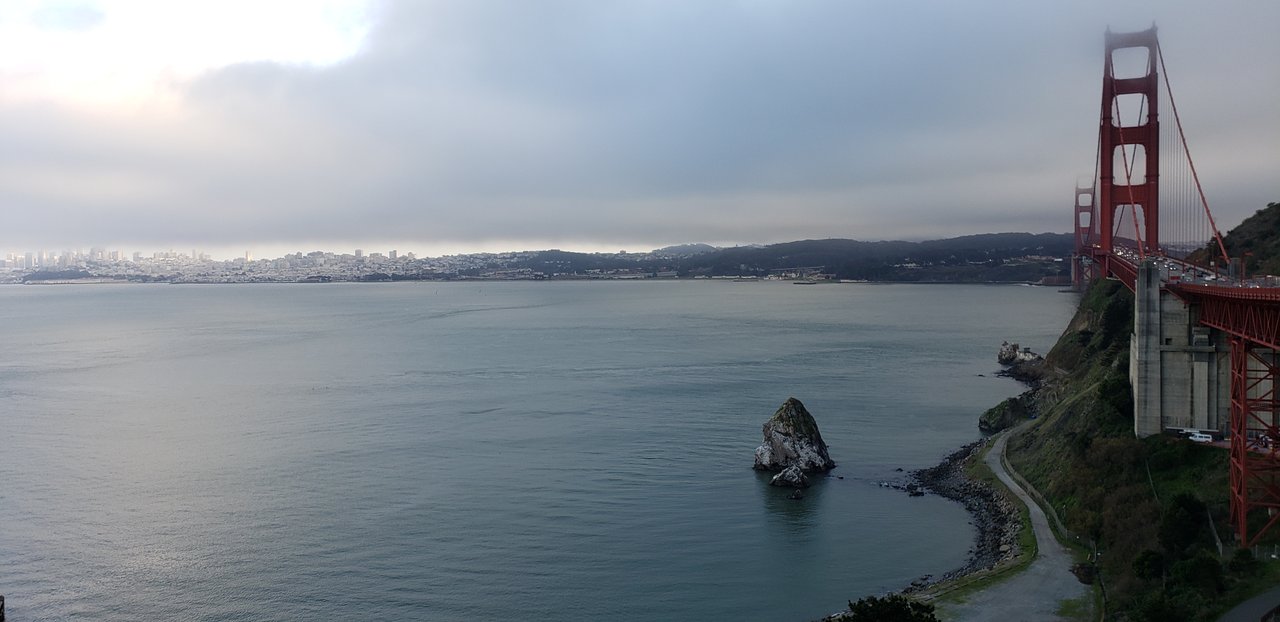 Photo: Crossing Golden Gate Bridge in San Francisco
The good news? Even though about 30 minutes later than intended, I did get across the Golden Gate Bridge about 4:15 p.m. The bad news? Thinking I was now "safe," I ran into two +15-minute traffic delays - bumper to bumper, stop and go - trying to get through Marin County, north of San Francisco. 😧
No, there were not any accidents. This is just "normal" traffic! 👎
Thankfully now in "the rear view mirror," 👋 as country roads and small-town America from here on out for @roleerob, until all the way back home!

Closing


My recommendation, if you are ever able to visit this spectacular setting, is to arrive in the "dead of winter," as I have done on this trip. Far fewer people, costs are more reasonable, and truly the weather was magnificent. At least for someone coming from a location where it truly is winter.
Coincidentally, the headlines this morning, as I finish this up (late ... 😞) say "Coldest Temps in a Generation Wreak Havoc Across the Country" ... 😧 Wow! In a generation?
Hmmm. Well, happy to report we're doing fine here on the Pacific Coast of California! 😉 The climate moderating power of the ocean is hard to overstate.
So, another superb day in "@roleerob's excellent adventure!" Thanks for going along with me, dear reader. I'd love to hear any feedback you may be inspired to provide.
Until "next time," all the best to you for a better tomorrow, as we all work together to build our Steem Community! 👍 😊
Respectfully,
Steemian @roleerob
Posted using SteemPeak and "immutably enshrined in the blockchain" on Tuesday, 29 January 2019!
---
"R2R" Note: My "shorthand" way of referring to what I first wrote about in my Reflections: My "Road to Recovery" Trip post. "Road to Recovery" <=> "R2R" ... 😉

Image sources, unless otherwise noted: My trusty smartphone!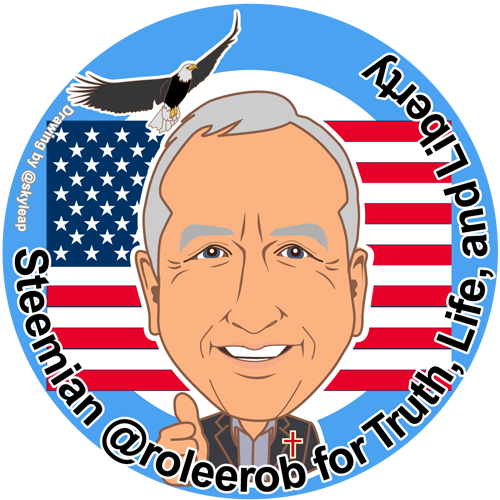 If you liked this post, you might enjoy others in my "Road to Recovery" Travelogue series:
This account is protected by @dustsweeper