Hello Steemians! Welcome back!
Today we're trying again to stay on a somewhat decent schedule for this series, although, we are somewhat nearing the end, which is kind of sad, but there's still the best yet to come! We're now getting into the the really crazy parts! Such as todays 12 hour adventure through the city of Luzern (Lucerne)!
If you missed last weeks installment, be sure to check it out on my blog, or directly here: https://steemit.com/photography/@seangold/my-european-adventure-part-7-overnight-train-to-switzerland-the-journey-to-luzern
It's now morning. The sun had just come up after a long night of adventure and travel. I head up to the front of the station, I look around, and spot what I was looking for; an ATM. I go upstairs and use my international debit card and take out 20 CHF to have some cash on hand, even though I try to use my card wherever and whenever I can. I then head back down stairs, grab a pretzel (one of the many I'll be having in Switzerland) and then I head outside the station.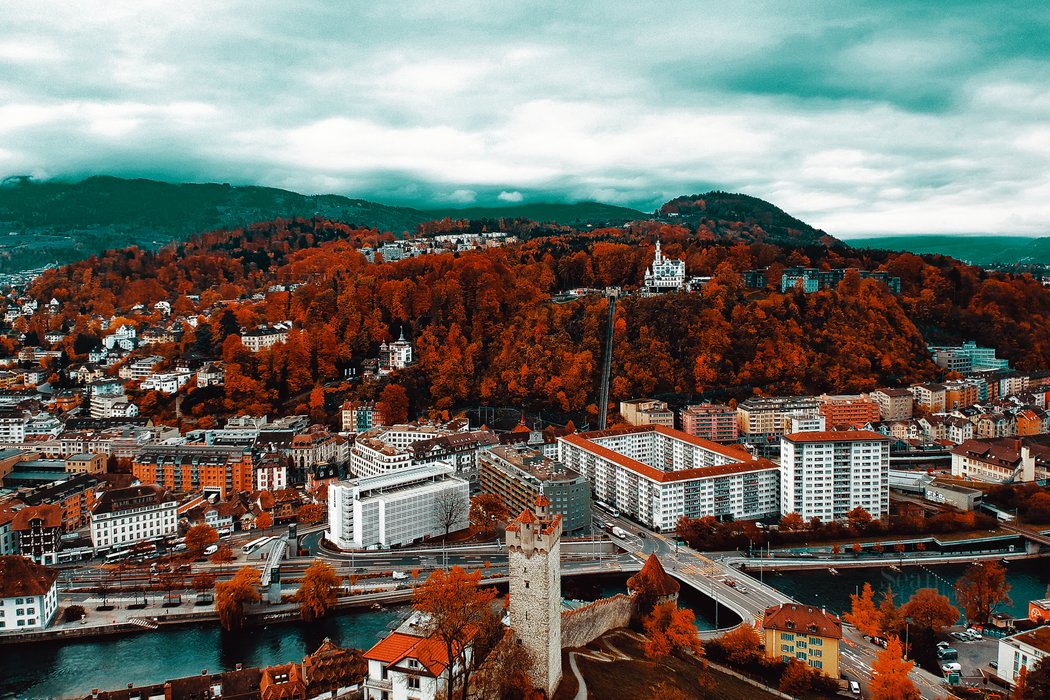 It's a bit overcast. Hmm. Somewhat disappointing, but at least it's not raining. I walk across the street to the big main bridge of the city and then I see it, the huge lake, the mountains, the city, all of it! How amazing, I thought to myself, I'M IN SWITZERLAND!!
I crossed the bridge towards the side of the main town and to my left I could see one of the famous old covered bridges of the city! Since they were right there I figured that would be a good place to start my exploration.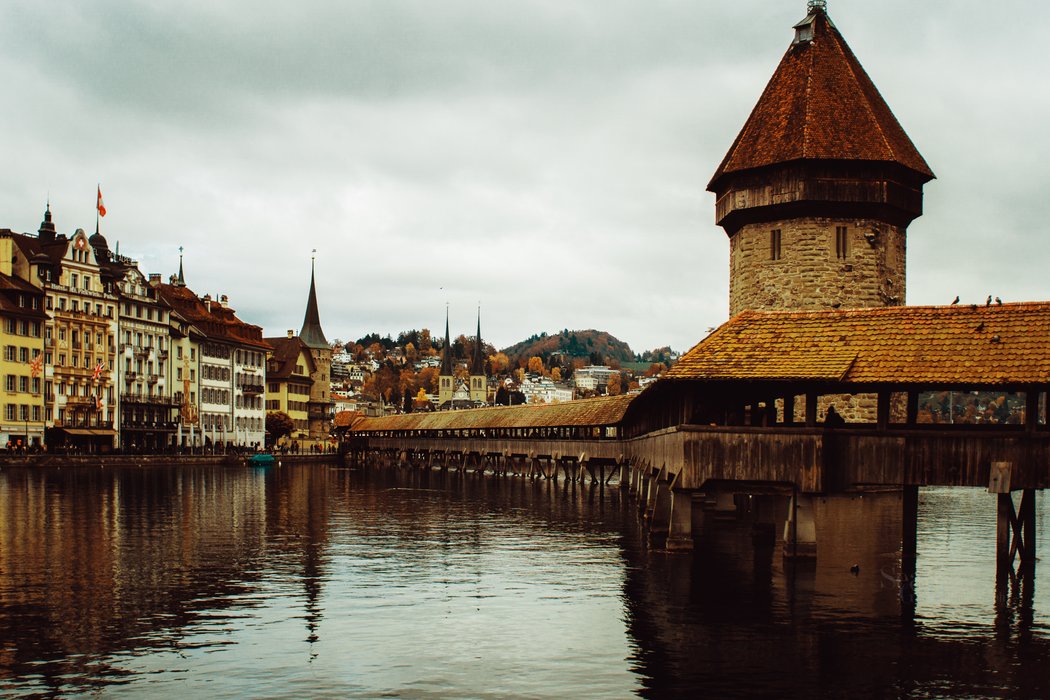 I cross over and walk up the first few stairs to get on the bridge. I wanted to get some shots looking straight down the corridor, but there was a good amount of people walking on it, so I looked off to the side and saw one of the iconic churches along the river.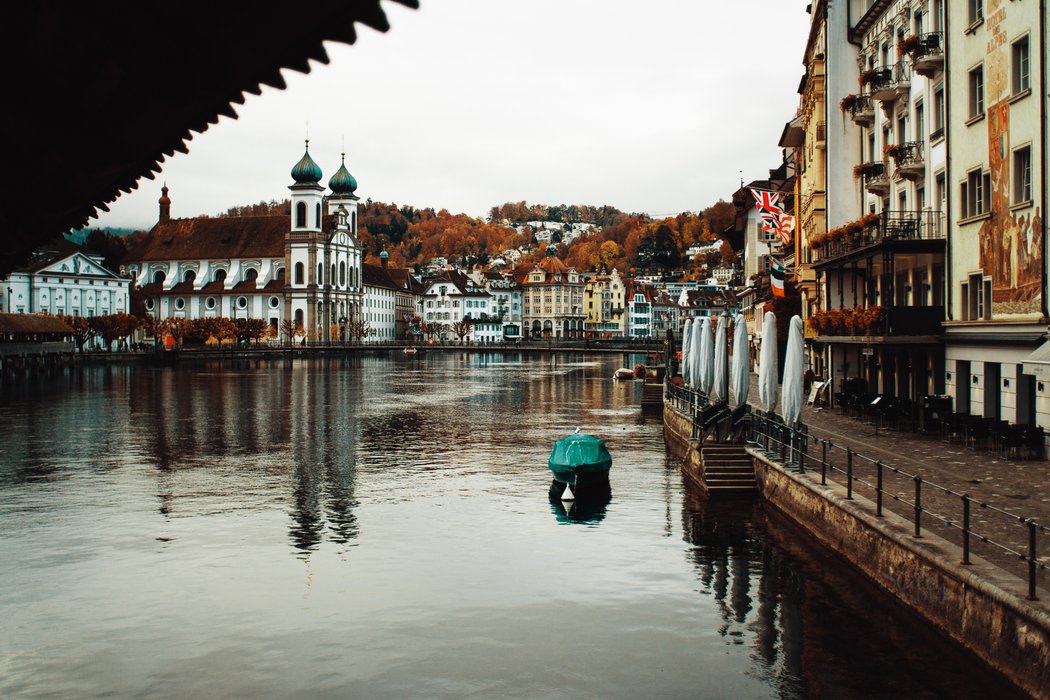 After looking around a bit, my chance appeared as the bridge was momentarily empty and I got my first shot looking down the corridor!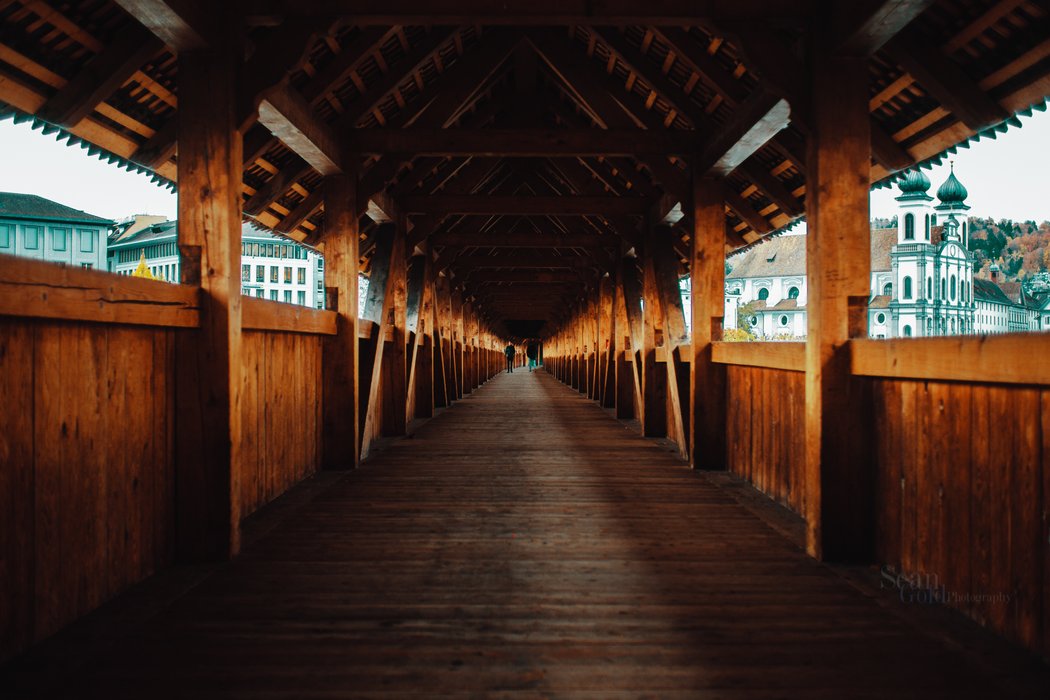 These bridges were first built in 1333 I believe, which makes them almost THREE TIMES as old as America! Though it was destroyed by a fire in 1993, and rebuilt in 1994. It's things like this that really remind you of how young a nation America is, and how far back the history goes in cities such as Luzern.
Well, I got a few good shots here, and I am on a time limit, so let's see more of this city. I head back to the main modern bridge to walk down by the lakeside part of town, and here's what I see.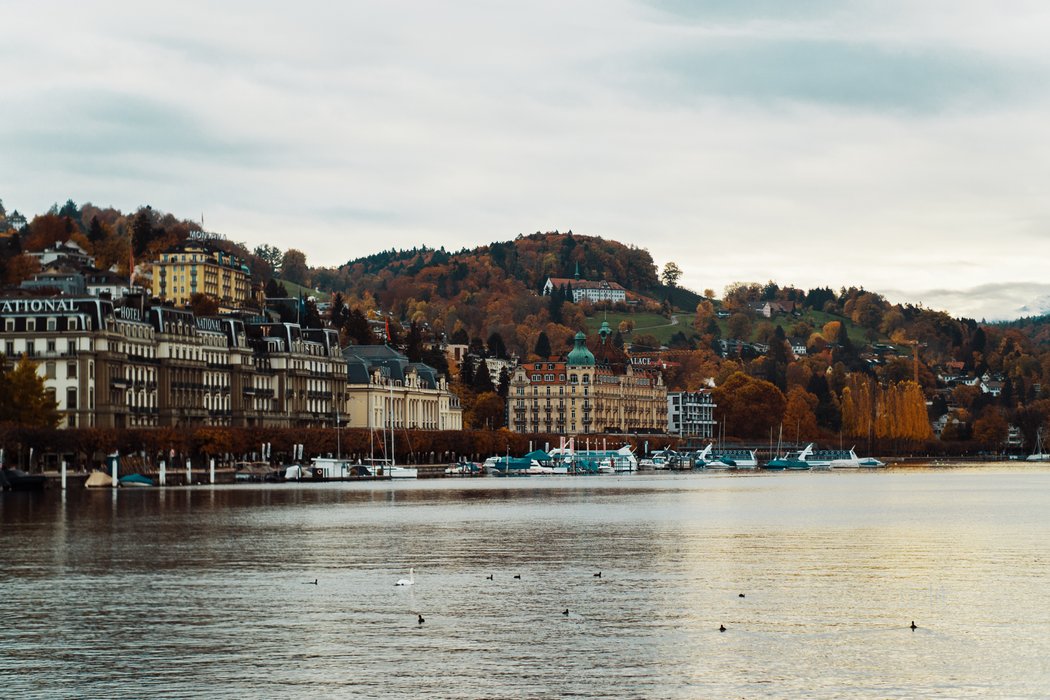 Just, beautiful. The old architecture and style to the buildings is incredible. I walk down by the water a bit and see some swans in the lake, with Mt. Rigi still visible in the background, before the clouds came in and obscured it from view not long after.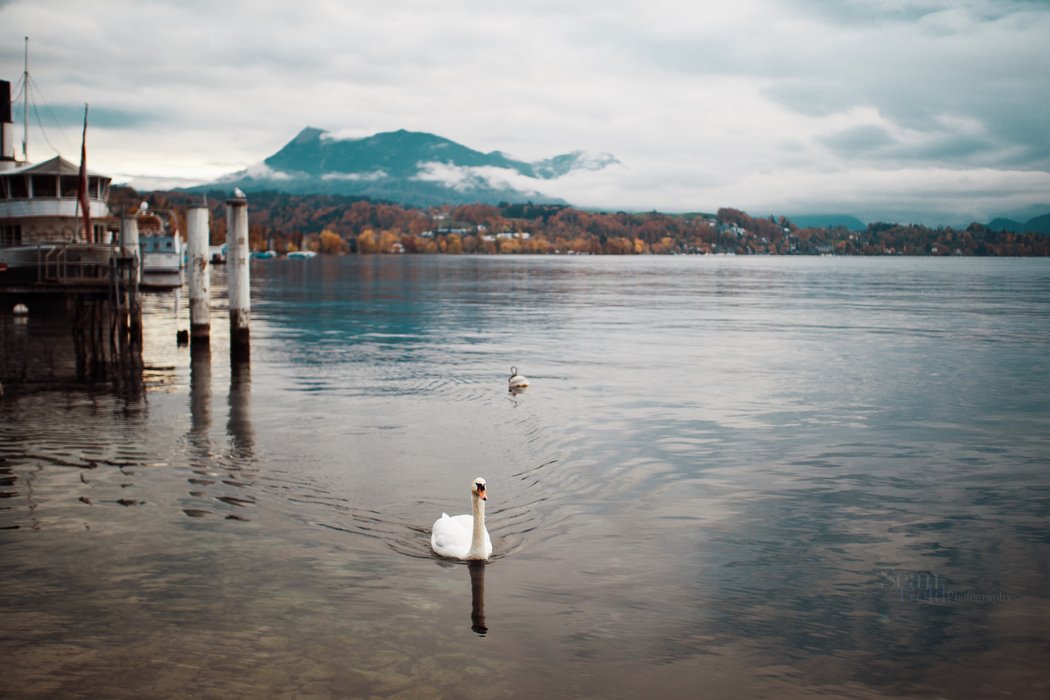 I continue to follow the water to see what else lay ahead and encountered this beautiful path sided by trees.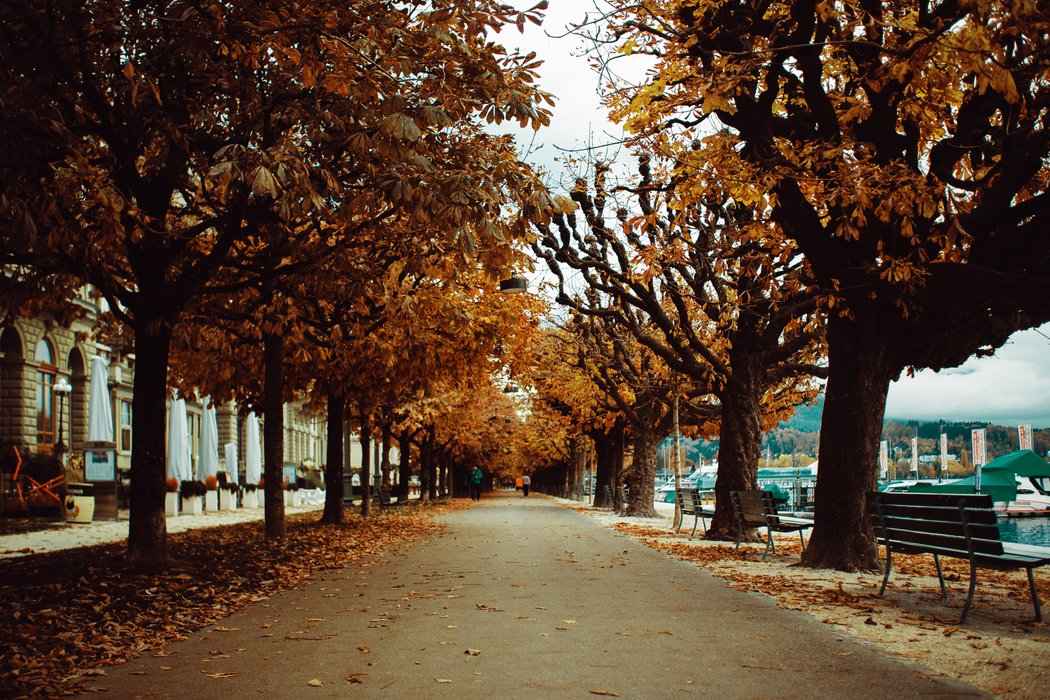 After that I saw there wasn't too much ahead and decided to head back towards what I figured to be the downtown area and noticed a small bakery shop and I was a bit hungry. I noticed they had pretzels there too, for about 2$. So let's start talking about how crazy expensive Switzerland is. 1 CHF is equal to 1 USD, so they're pretty much interchangeable. 1 small European sized pizza? $18. French fries? $7. Vending machine snack? $3. So yeah, a twisted piece of bread was the best deal in my opinion of value, so I would be getting these all over Switzerland. Also, I don't think I mentioned yet, but I had brought meal bars with me as well as some snacks, so I wouldn't have to be buying food all the time, also, I'm not a foodie, so my goal was to spend as little money and time as possible on food to keep both budgets as low as possible. But yeah, we'll talk more about this as we go.
After that I doubled back even further towards this really large church and decided I'd check it out.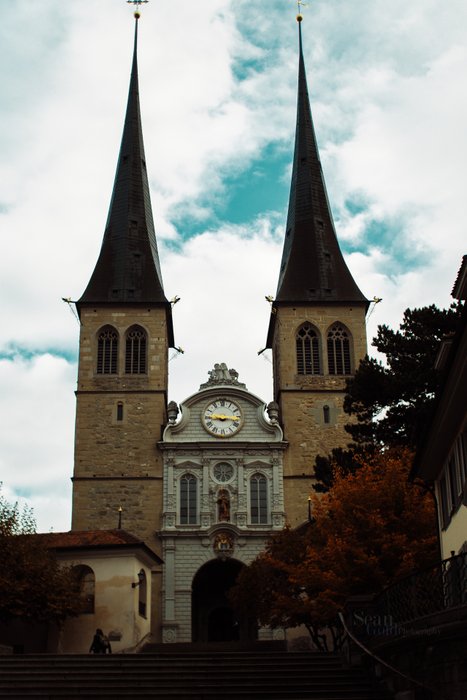 Once I climbed up the stairs to where the church was, this was the view looking back from there.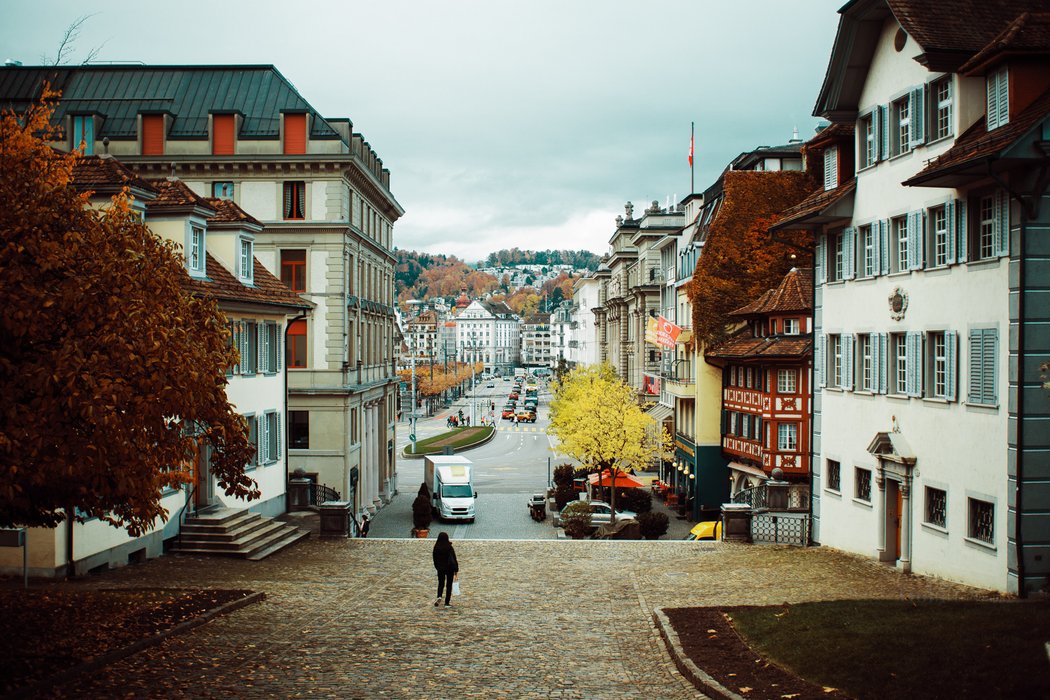 From here, I really had no agenda where to go, so I decided to look at Points of Interest on Google Maps, and saw a few interesting things more into town, so I decided to cut away from the water and head towards this ancient wall that has existed in Luzern since the 13th century!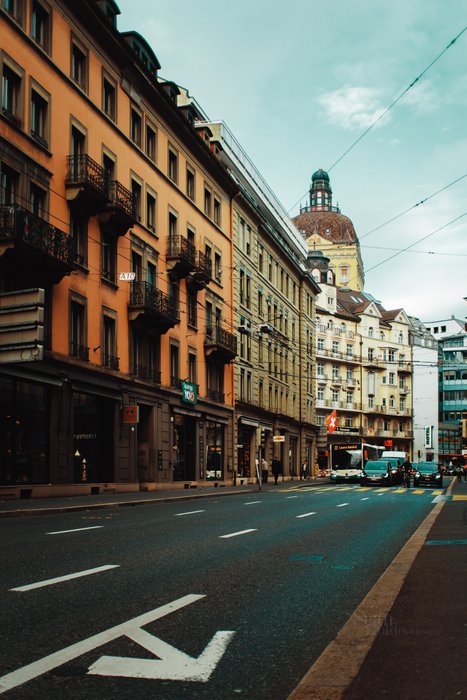 The downtown area was really beautiful, and it felt very much like what I expected a Swiss city center to feel like. But I figured there would be more time for the downtown later, so I headed up hill towards where this wall was located.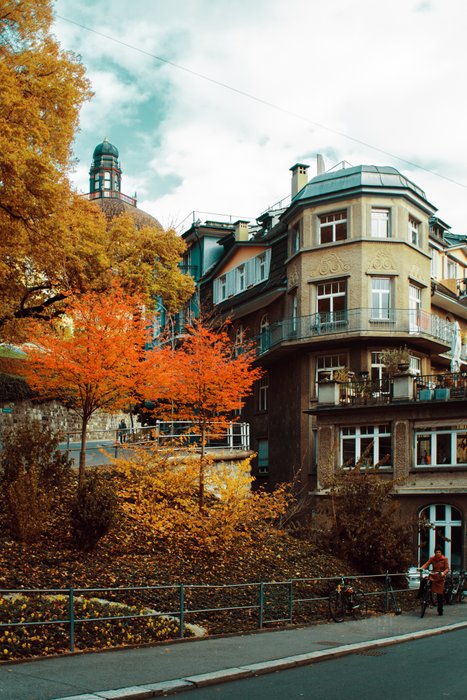 It was a bit of climb up some rather steep streets, especially with my pack on my back, but the beautiful architecture continued all the way up.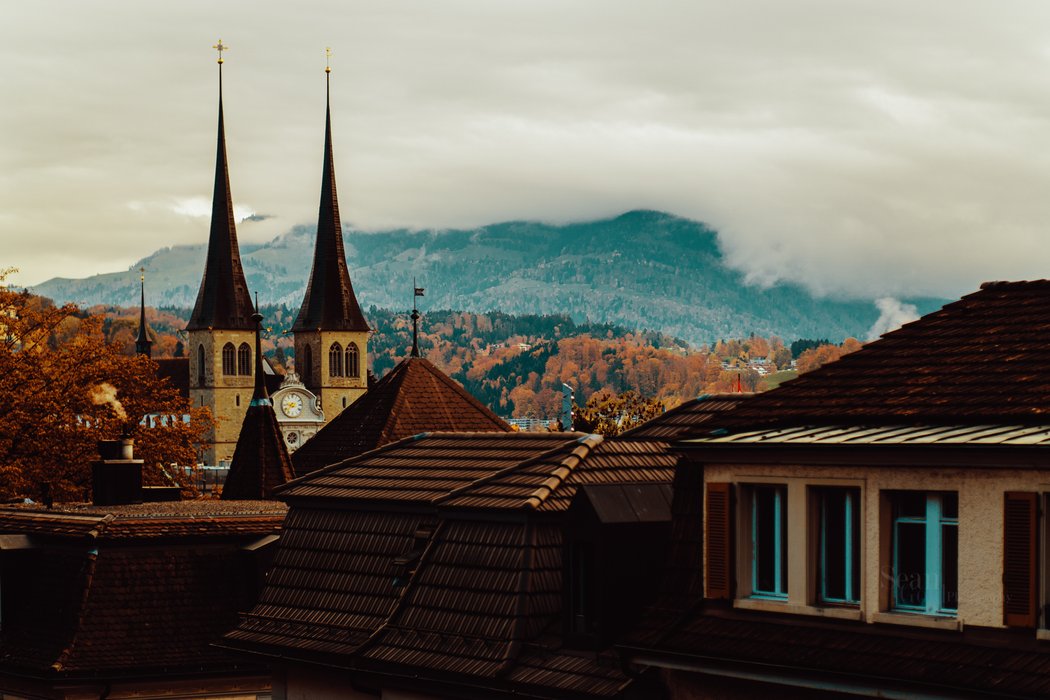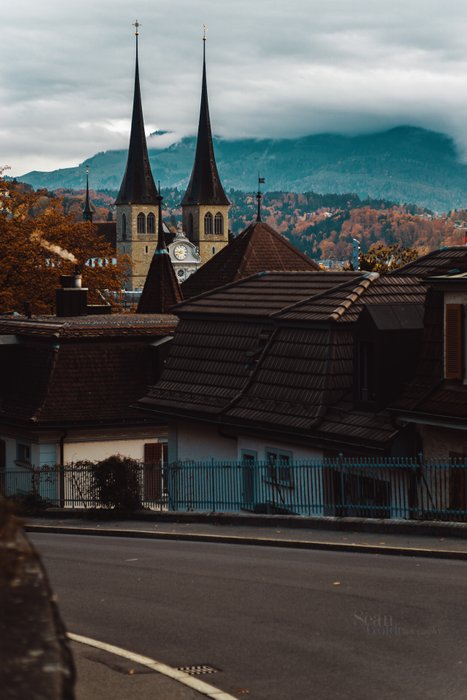 After looking back, I could see the church I was at not long ago poking out from the surrounding buildings and saw the elevation I was gaining.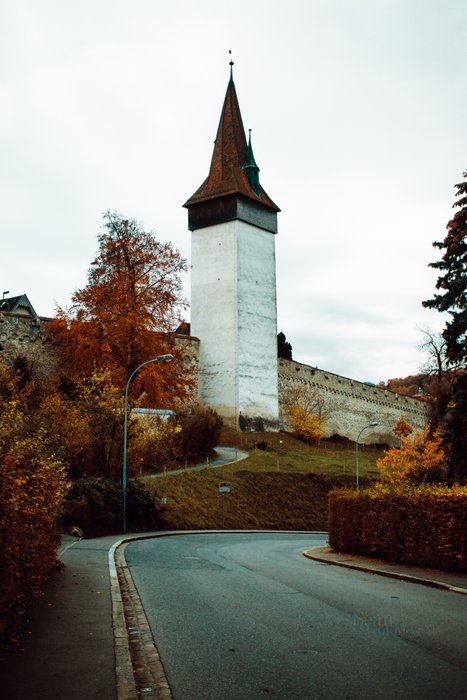 After some more of this uphill ascent, I saw one of the 9 reaming towers of the wall! I knew I was close now!
I made it! After a good hike, I made it to the wall, and it was such a beautiful and quiet place that I decided I'd take a break on a bench and have one of my meal bars. After that, I decided it was time for my first drone flight in Switzerland! Here's some of my favorite images I captured!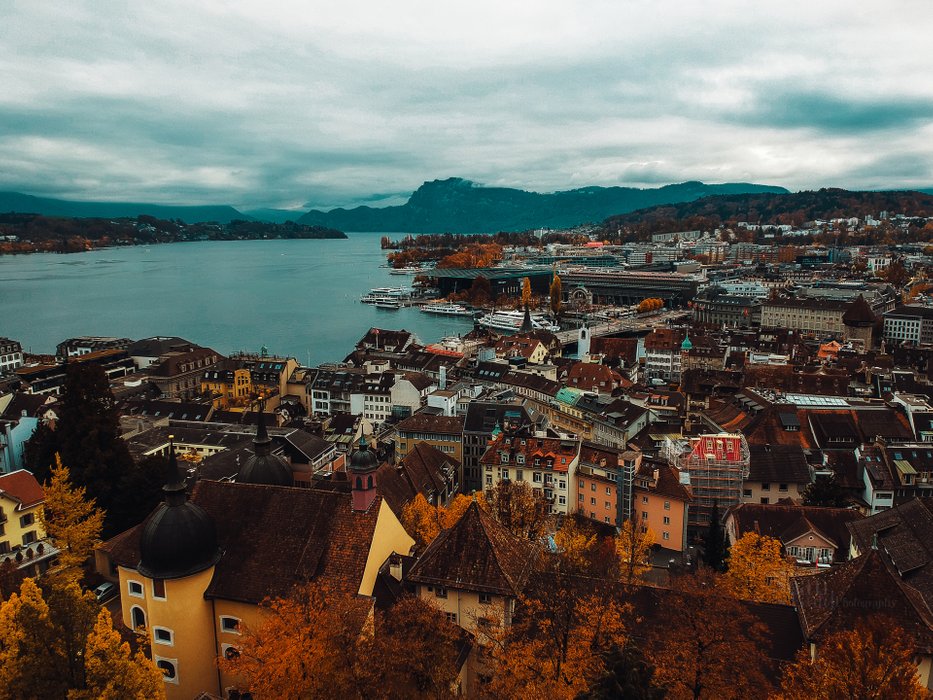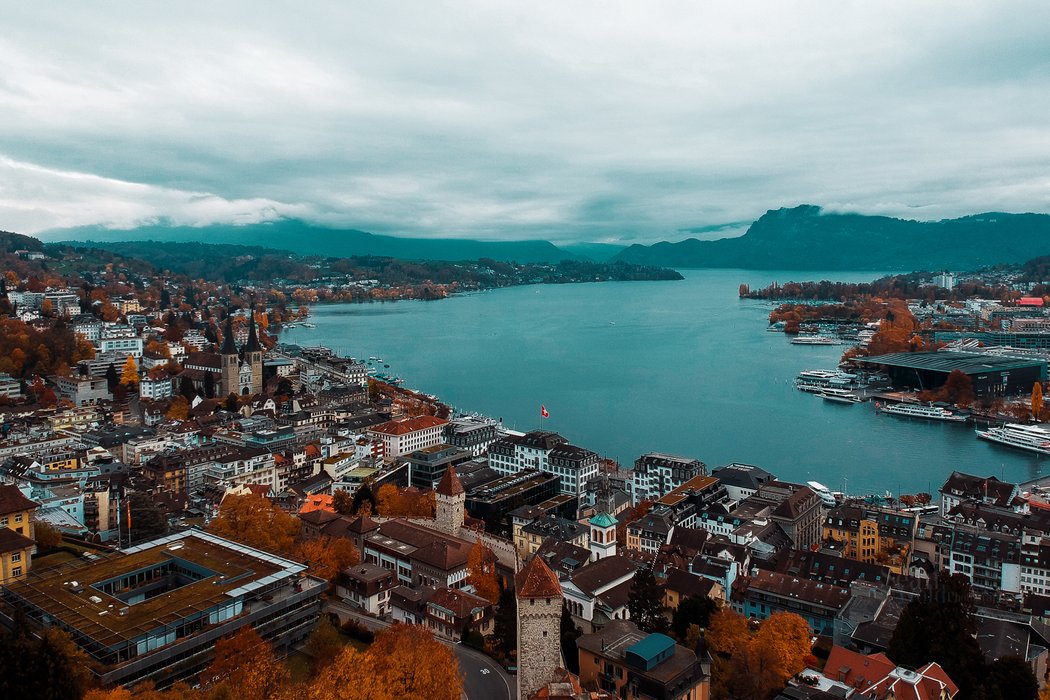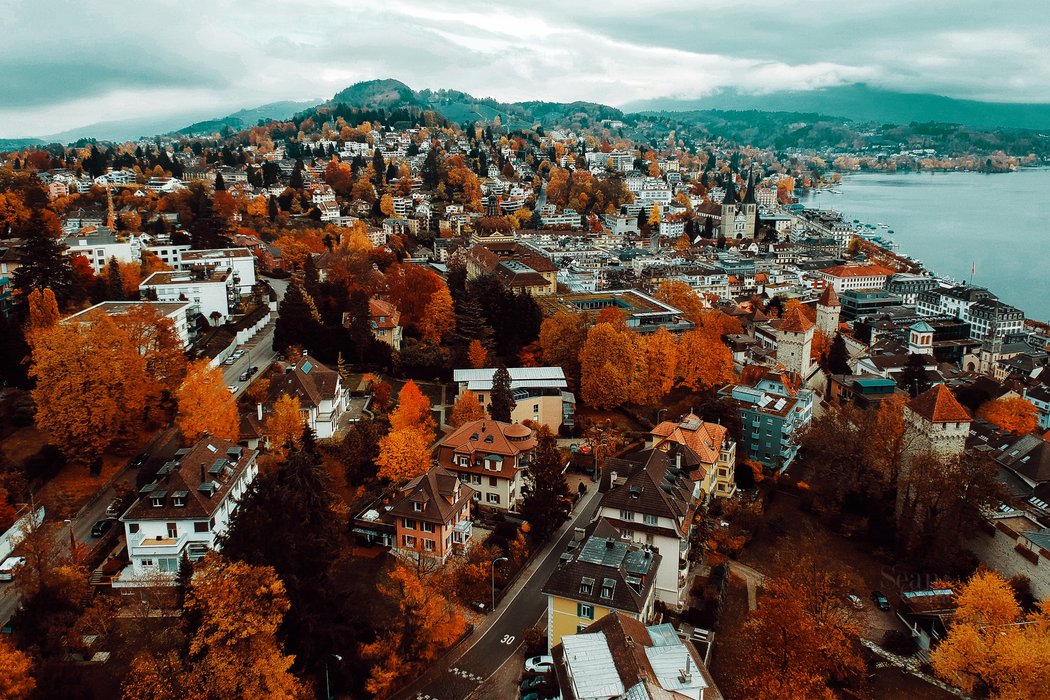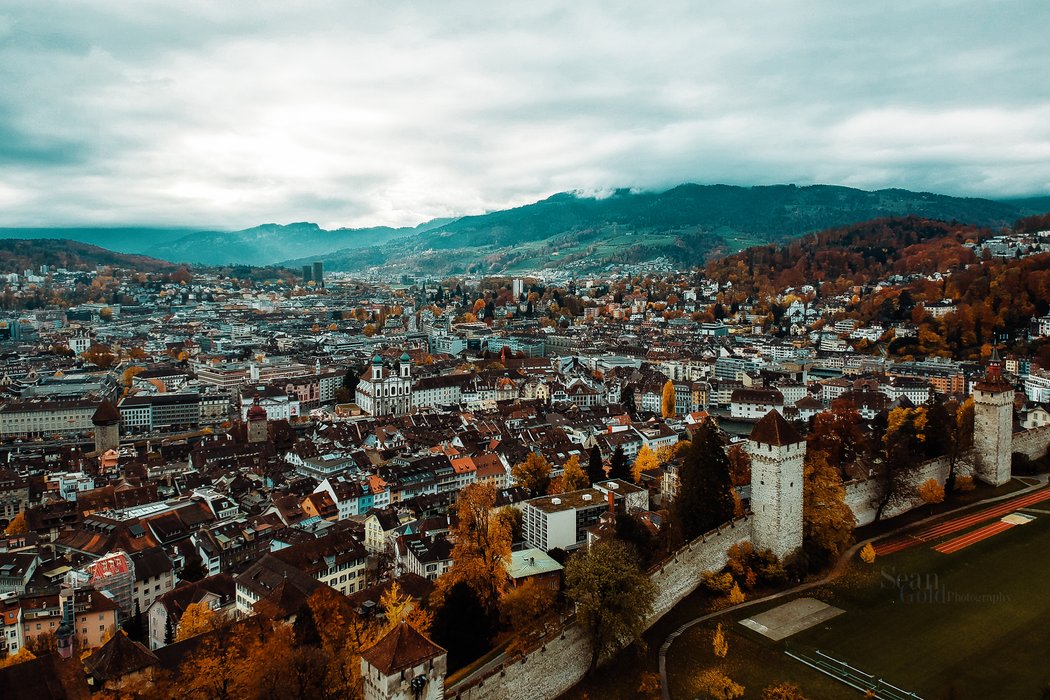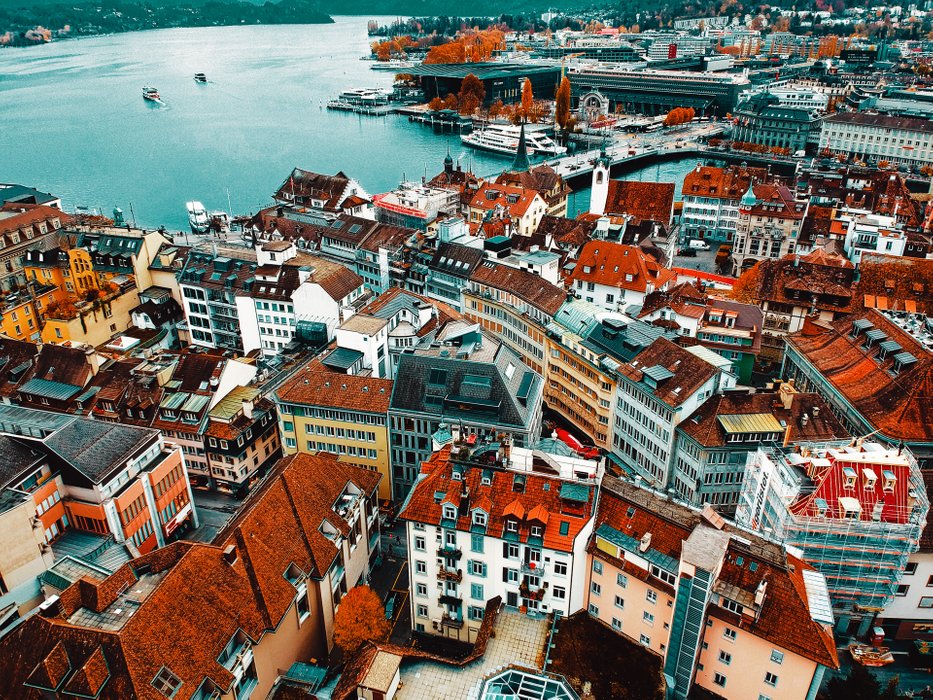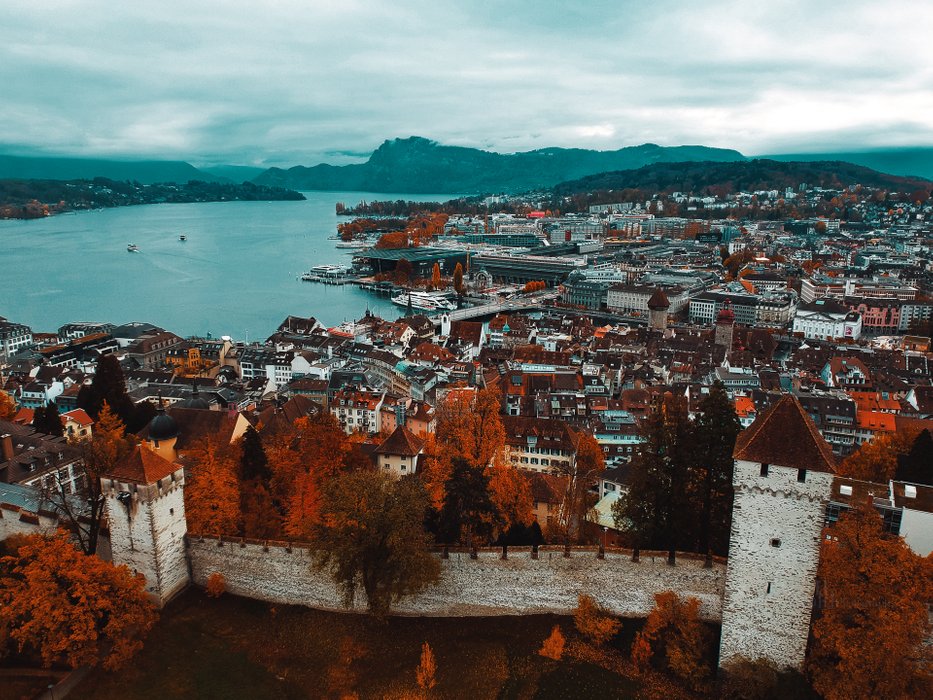 Wow! What a great view from this location! After that, I decided to follow the wall away from the way I came to see what else was around. I was wondering if there was any way on top of the wall, and apparently it's actually open to the public, except in the winter, so I just missed it :/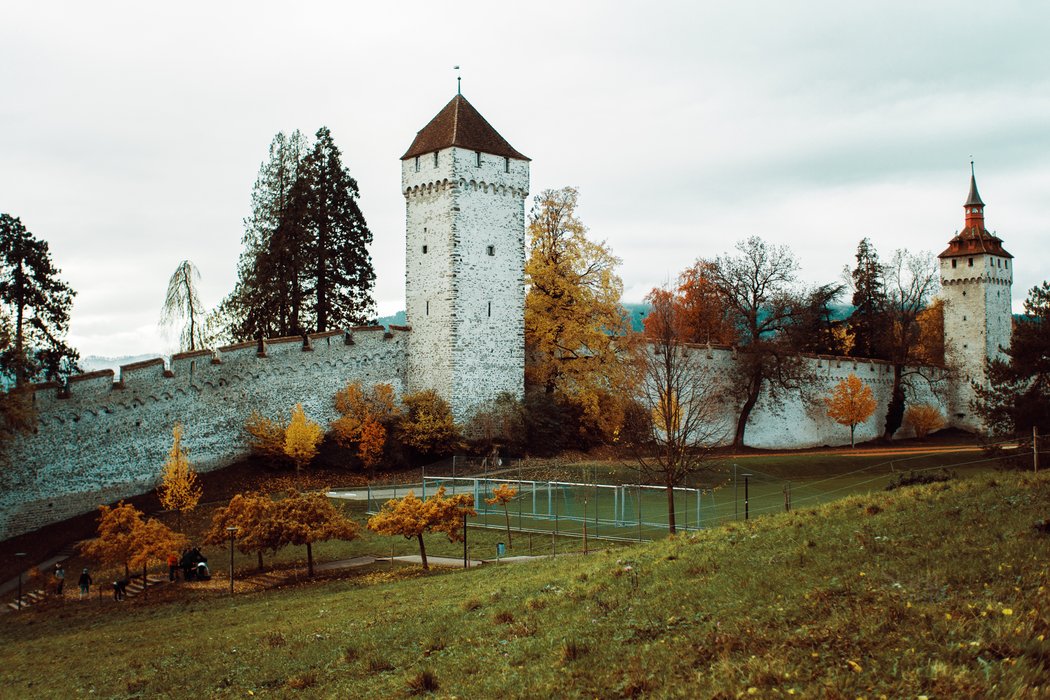 After following it for a bit, I made it to the end, where it began head down hill back towards, the part of town that I hadn't visited yet along the river, opposite the lake side. So I began to hike down along the wall back towards town.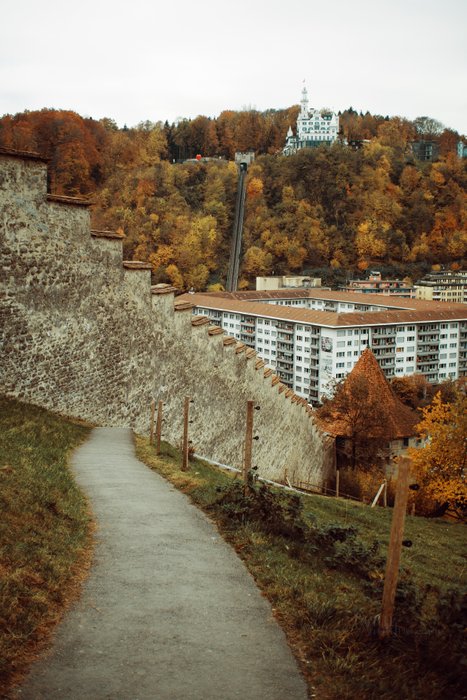 Once at the bottom, I came across this tower with a gate and road and I of course had to check it out.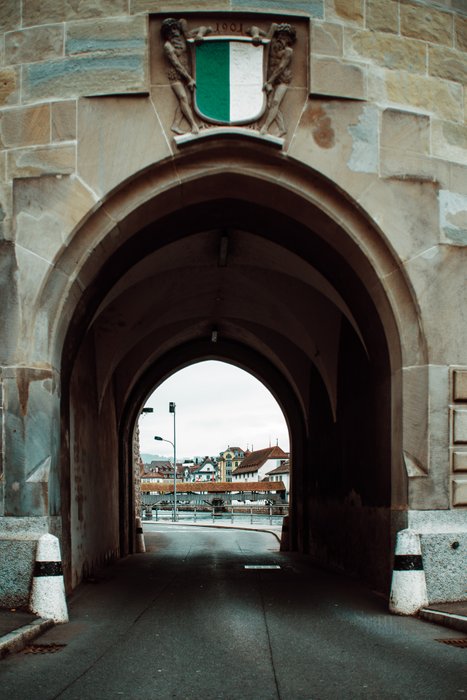 After going through it, I was greeted with another pretty amazing view of the city, river, and an old castle style wall.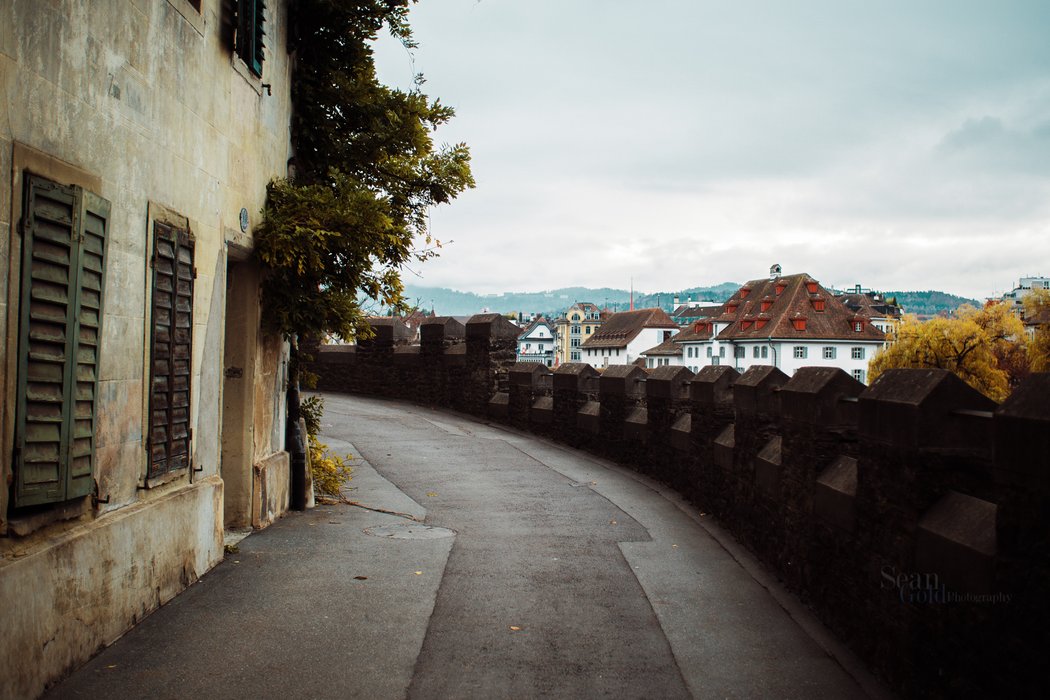 From there, I made it back down to the part of the river I hadn't visited yet, as well as the other covered bridge further down the river.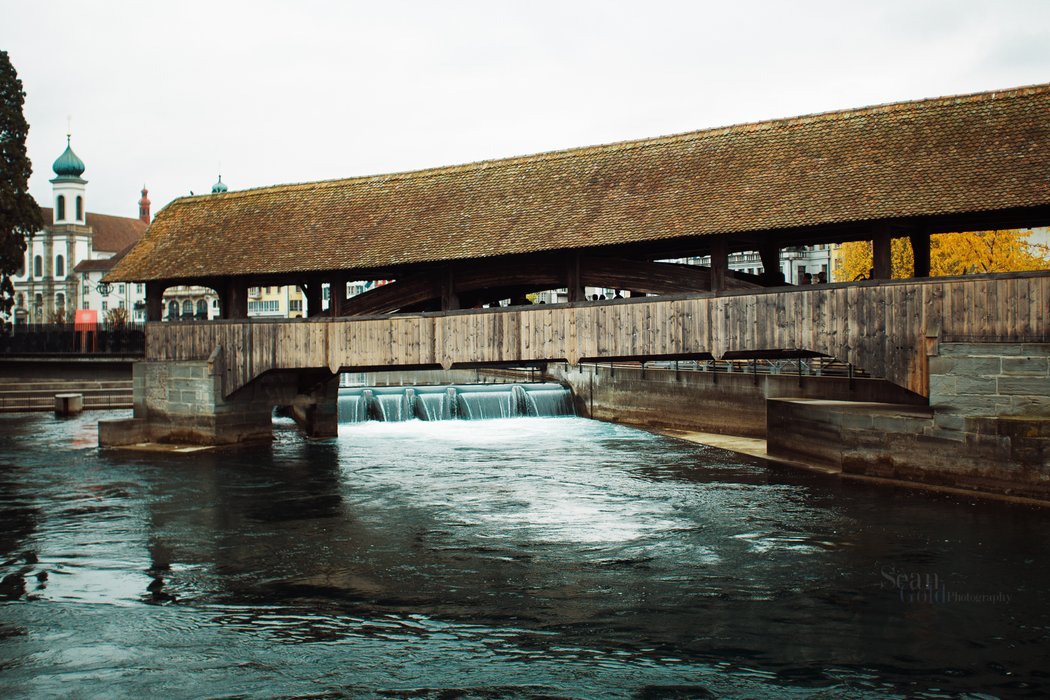 I explored this area for a little bit, and then decided it was time for another rest. I found a beautiful spot by the river with benches and a water fountain. Speaking of which, I don't think I spoke of the fountains yet, have I? So a little spoiler alert, but I hadn't bought one beverage on this entire trip, water or otherwise. Just about everywhere I went had public water fountains all over the place! With fresh, clean, drinking water! So I could fill up my water bottle just about anywhere! How amazing is that? Especially in Switzerland, since there is quite a high tax on singe use bottle from what I understand. I have some photos of the fountains you'll see from another Swiss city later on, but back to the story! Here's the view I had from my resting spot!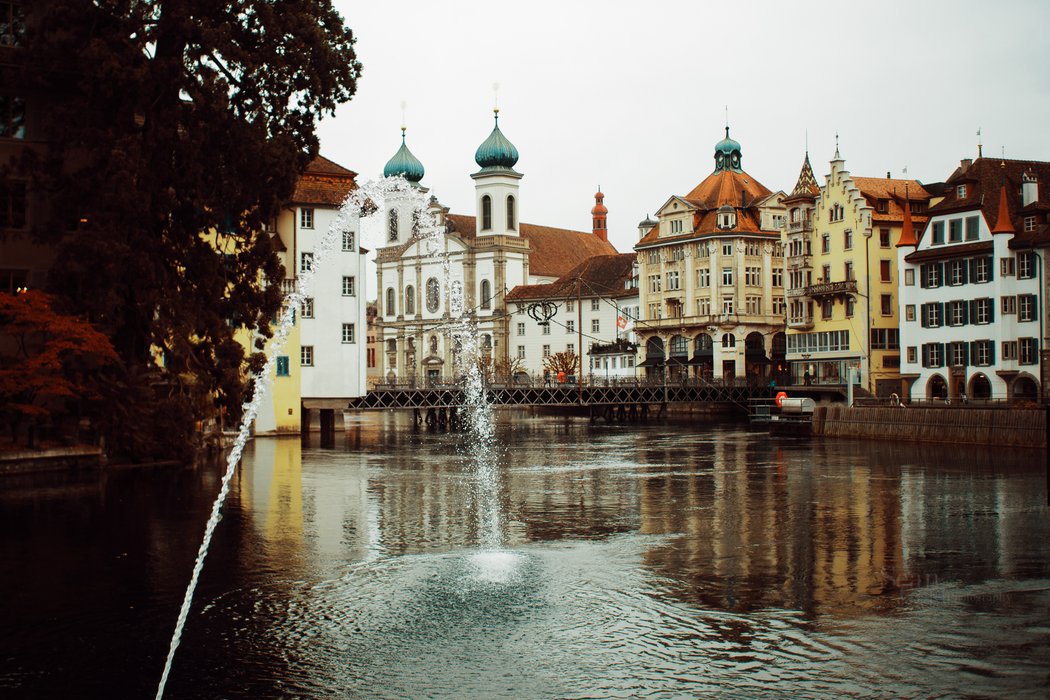 Not too bad, huh? At this point I was a bit tired so I decided to hang here for a bit....plus there was free wifi, so yeah, it was time to get my internet fix for a bit and make some phone calls/video calls.
After that, I continued up the river, back towards downtown. Butttt, first, a selfie!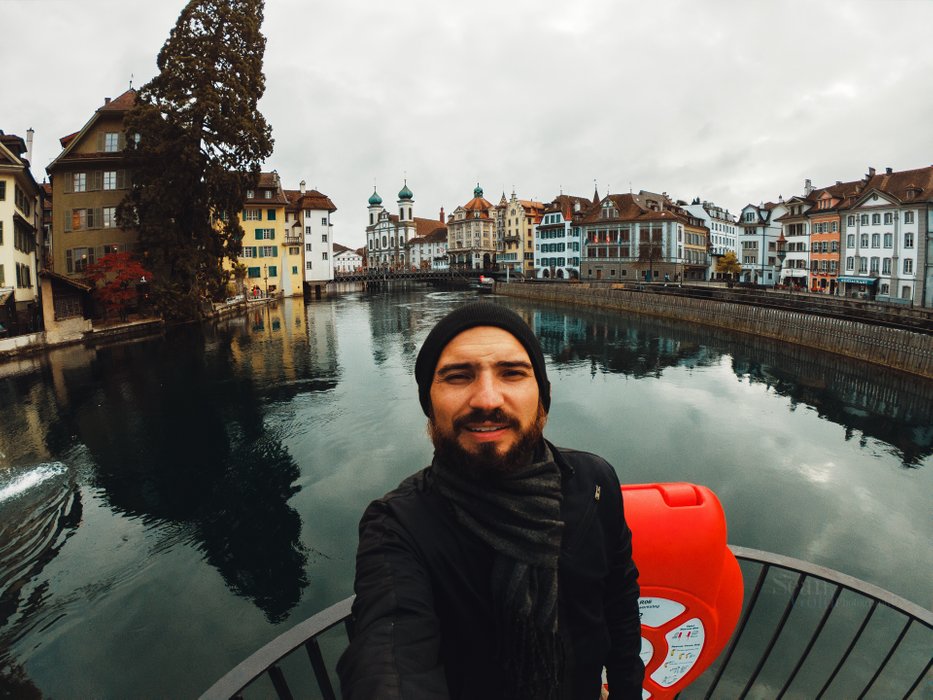 I made my way across the covered bridge and saw some great compositions for some photos, so here's some I took looking around the river from the bridge.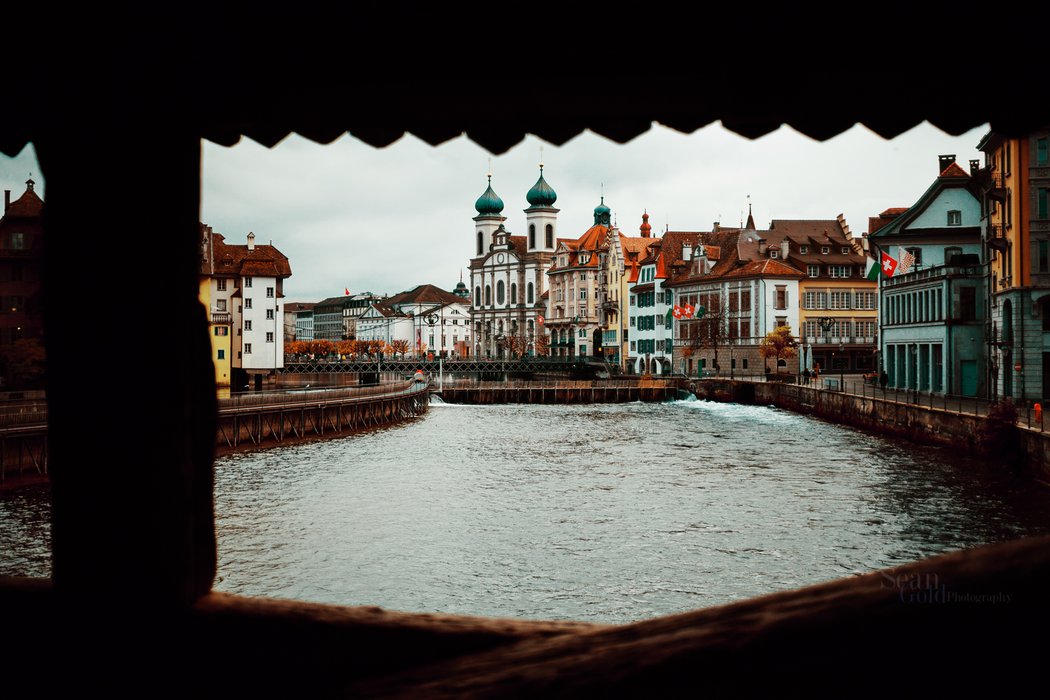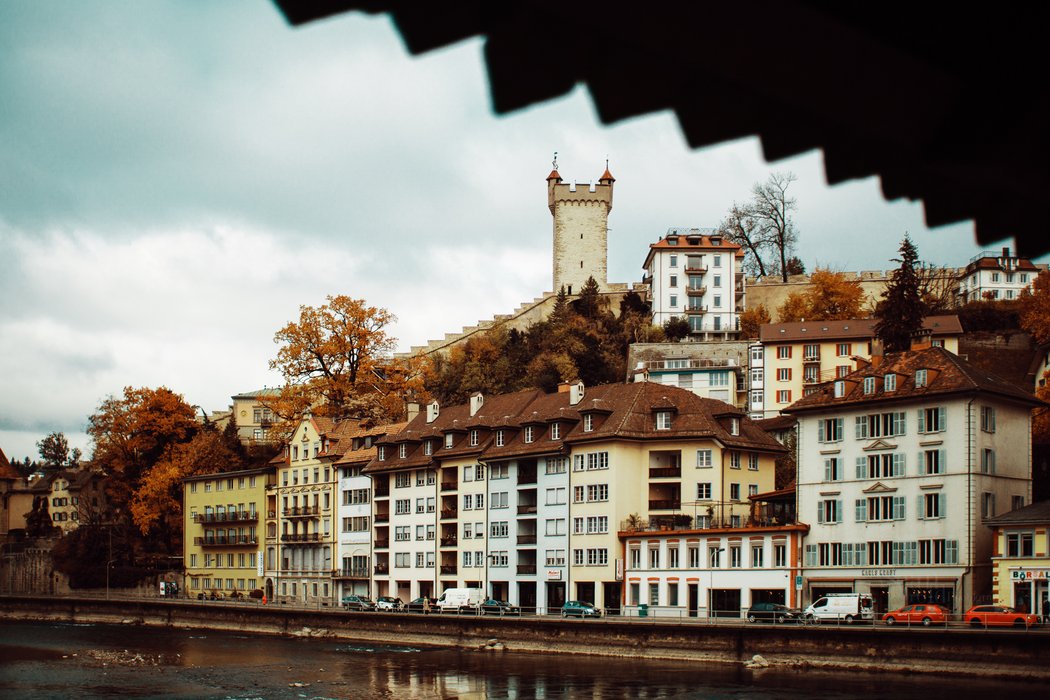 After I crossed, and began heading up river, I looked back and saw another great shot!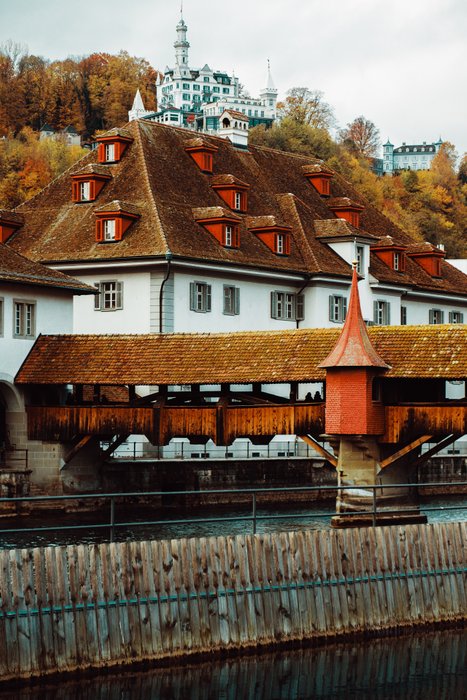 Next, I made it to one of the more traditional bridges, but still very beautiful!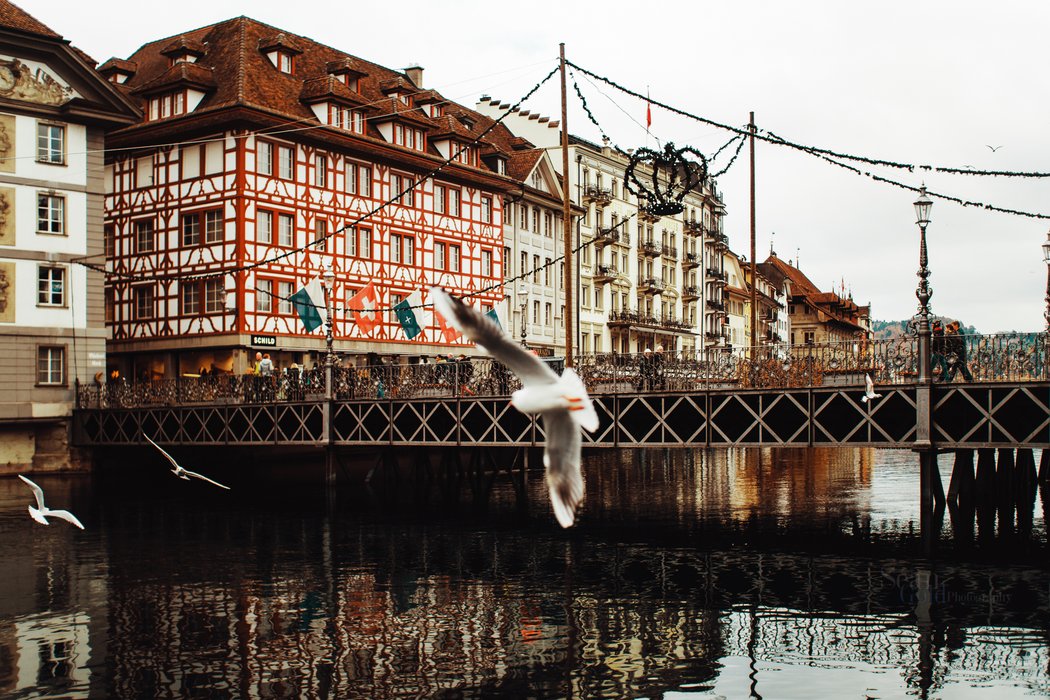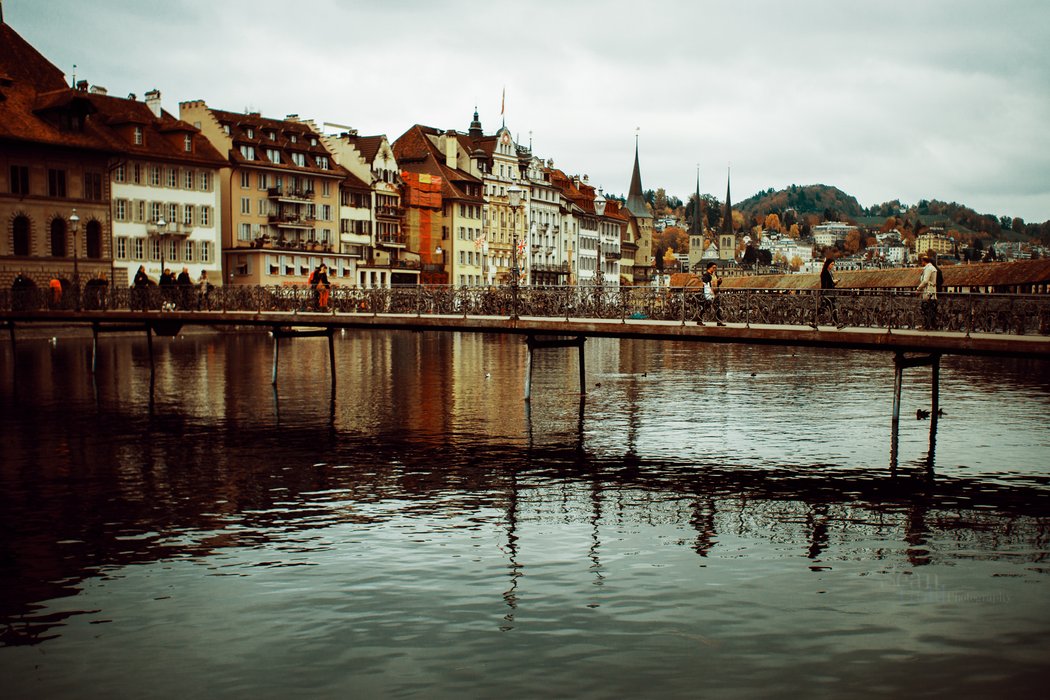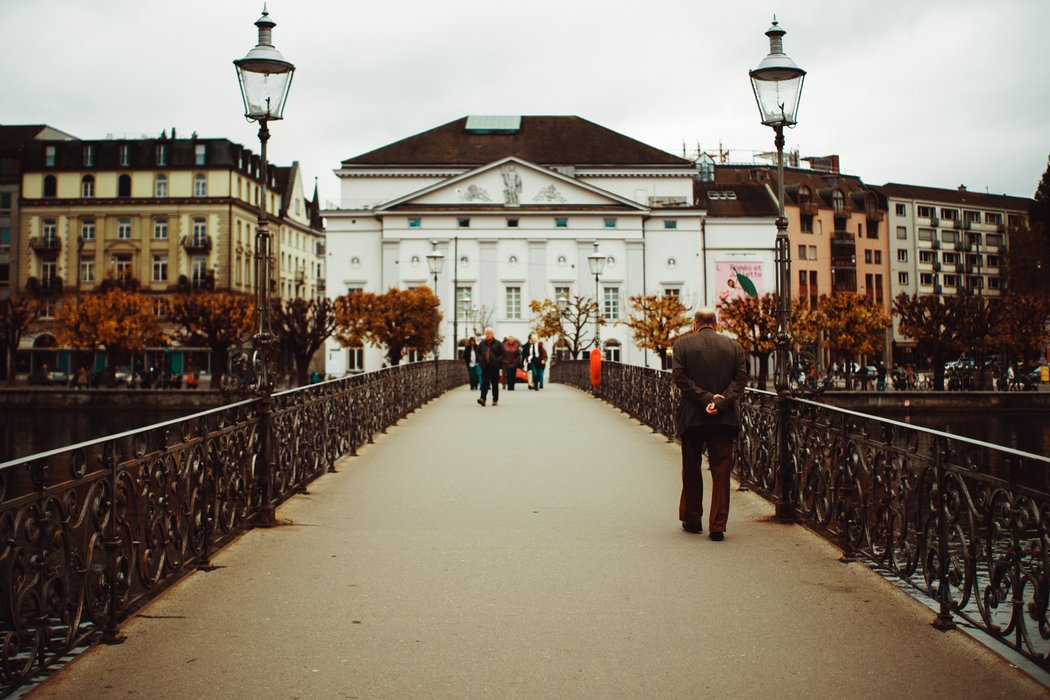 I then crossed that bridge which brought me back towards what I consider the downtown area, which I explored for a bit.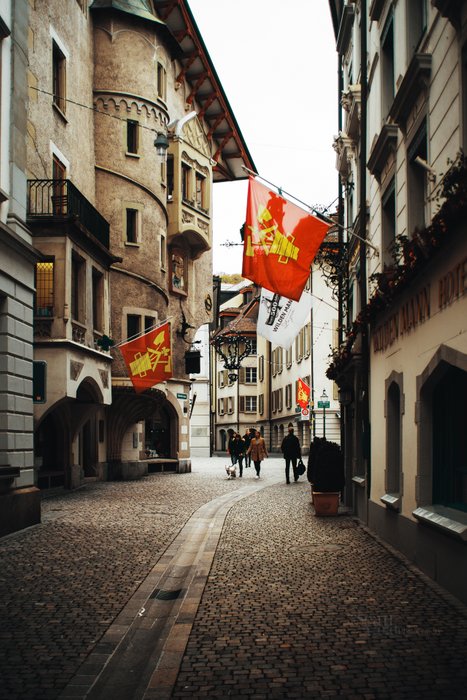 I came across another busy bakery and decide to step in and see what they had, and guess what I got? Yup, another pretzel for $2.
At this point I felt I had seen mostly everything I wanted to see, except for the famous Lion carving, so it was time I headed there!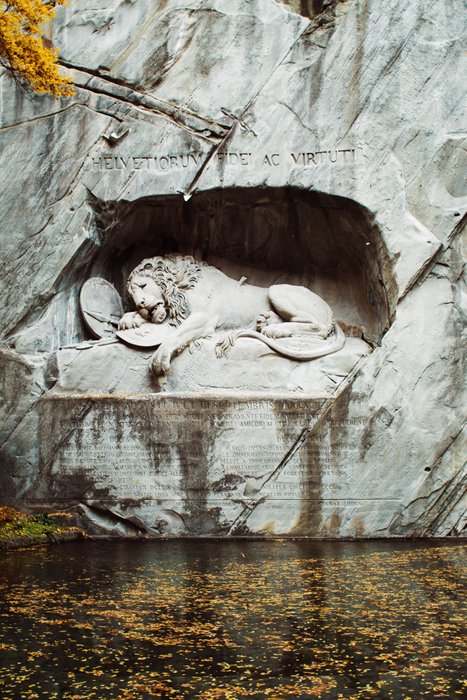 From my understanding, this is to commemorate the Swiss guards that were killed defending the French King during the Revolution. It was quite a master piece to behold, and I figured another great place to rest my legs for a bit. I watched as tour group after tour group swarmed this place. I also contemplated what to do next, as I really wanted to get some night time shots of this city, but still had quite some time to kill before then. So I decided I'd walk to the other side of the lake and see what was happening over there. But, first, a selfie!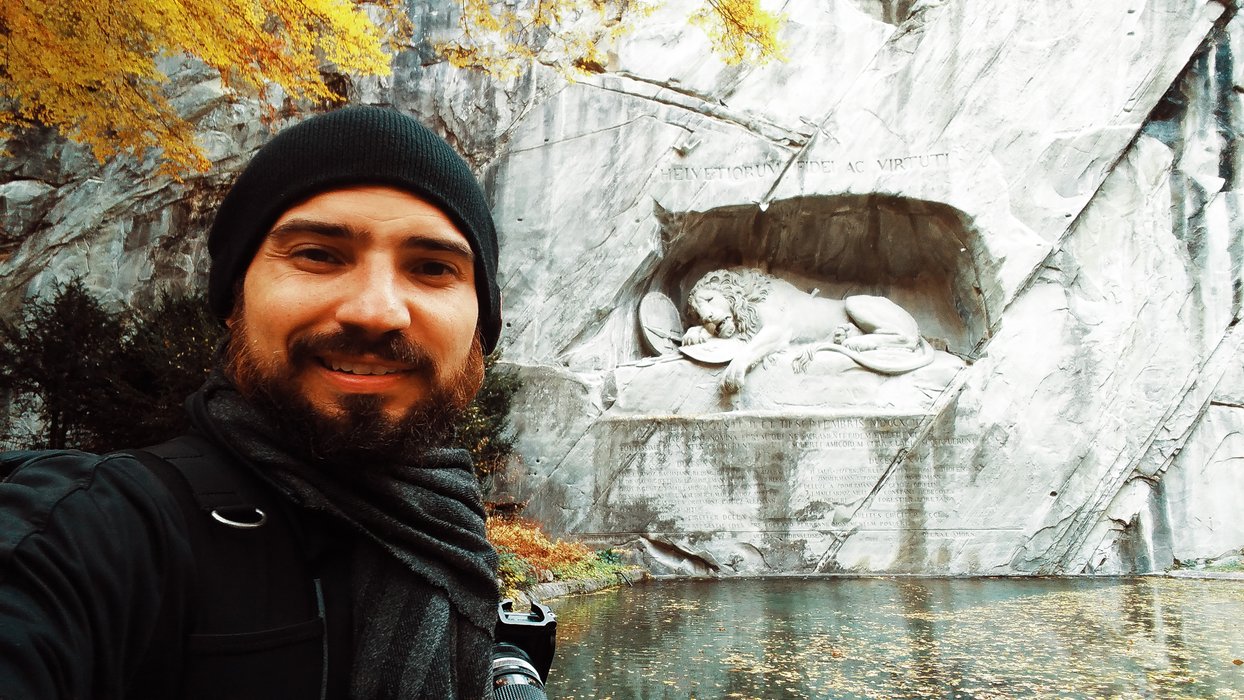 After quite a walk, I made it to the other side and hung out at the beach for a bit and did a little drone flying.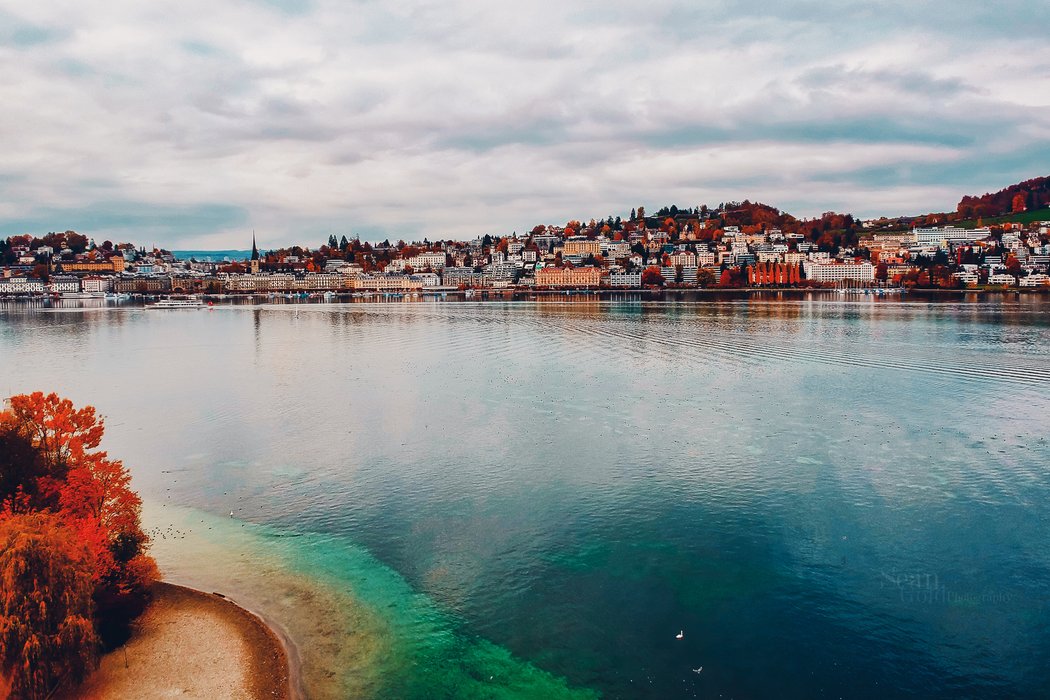 It was an amazing view looking back at the city from the opposite side of the lake!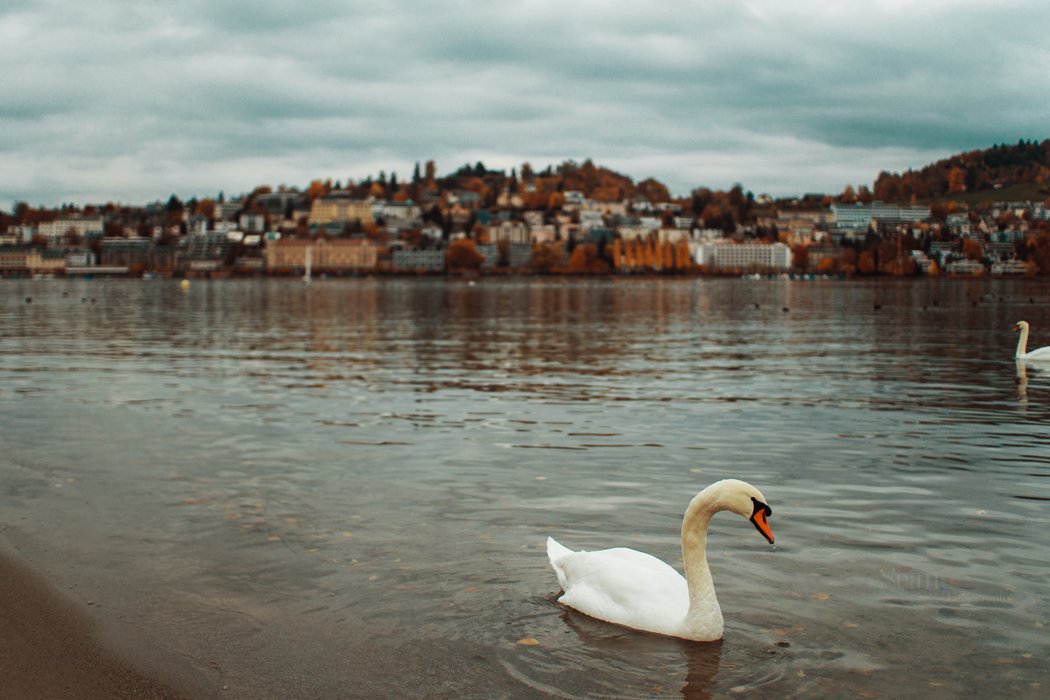 Alright, enough time was killed and it's getting close to sunset, so I began heading back to the covered bridges and the river where I wanted to shoot. This would be my last thing I would do before I hoped back onto another train to take me to where I'd be spending the night. So here's some of the twilight/night shots I got and then we'll wrap this installment up at the other side!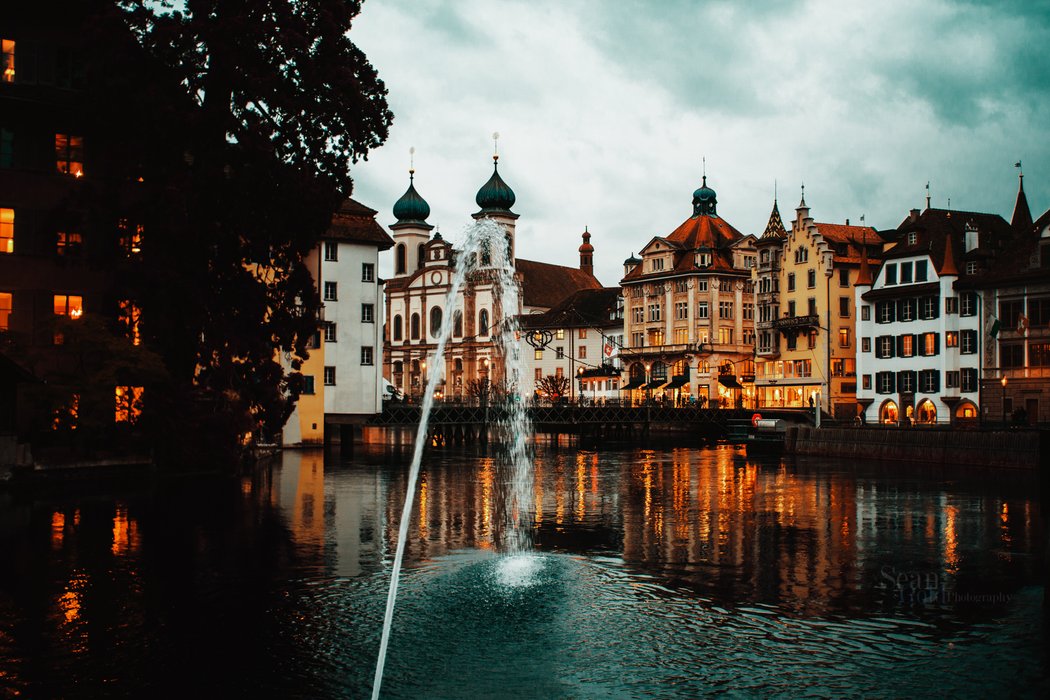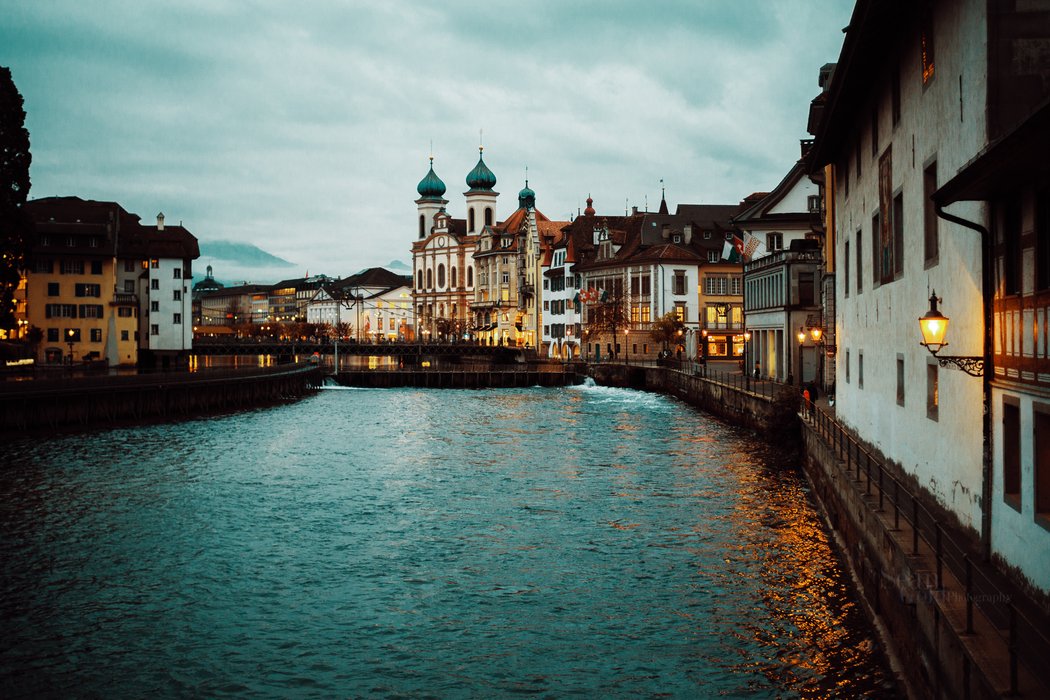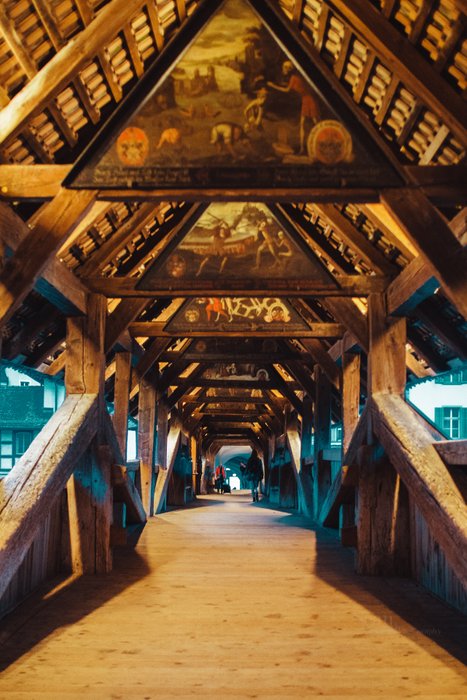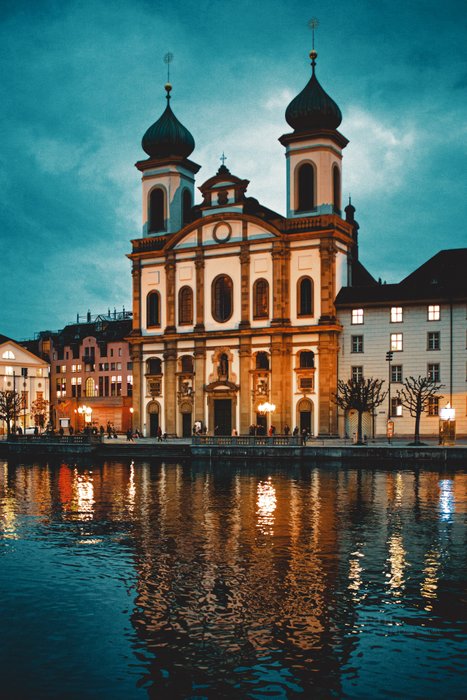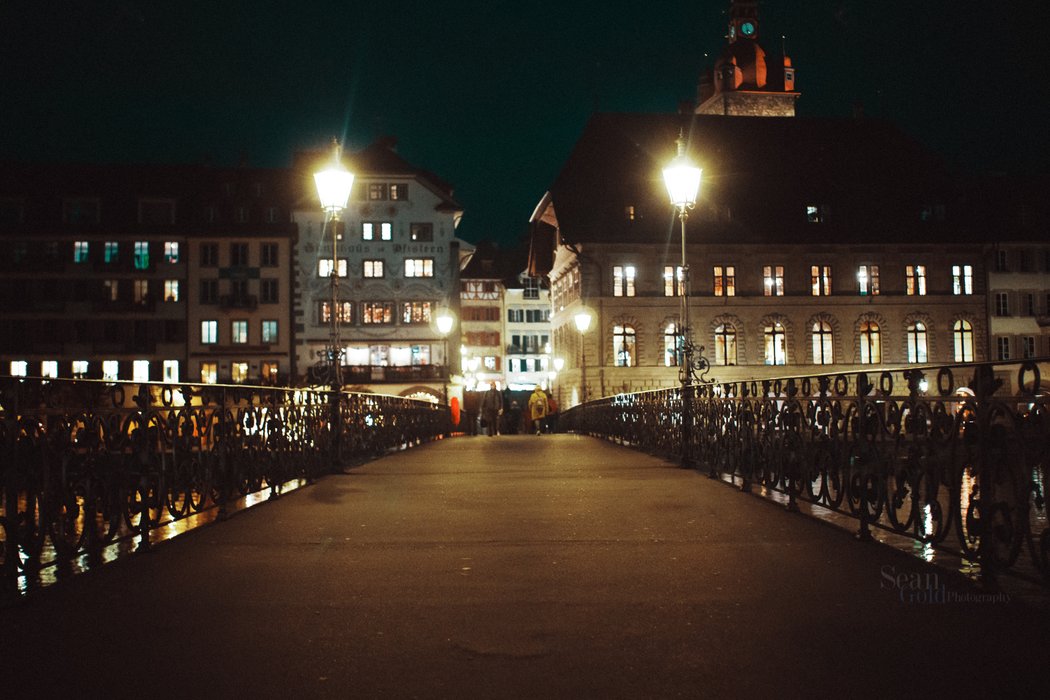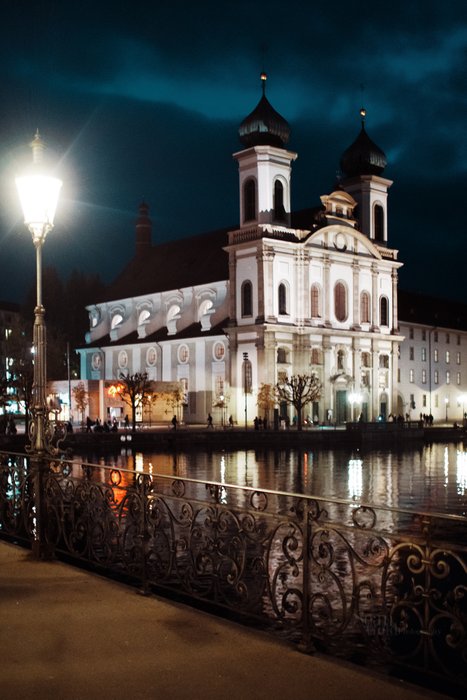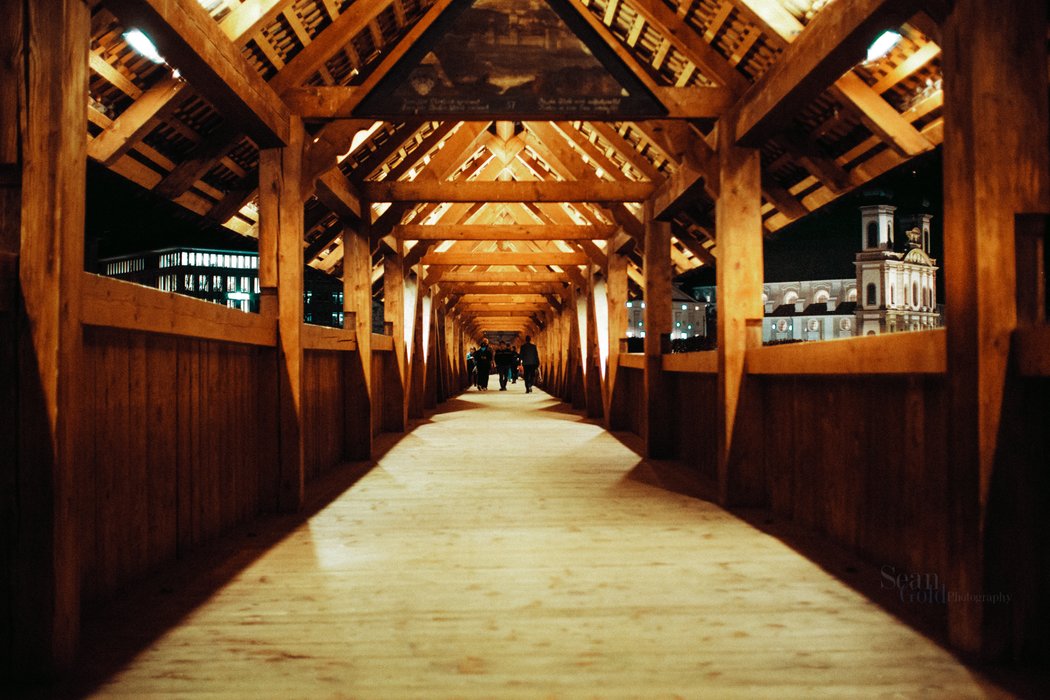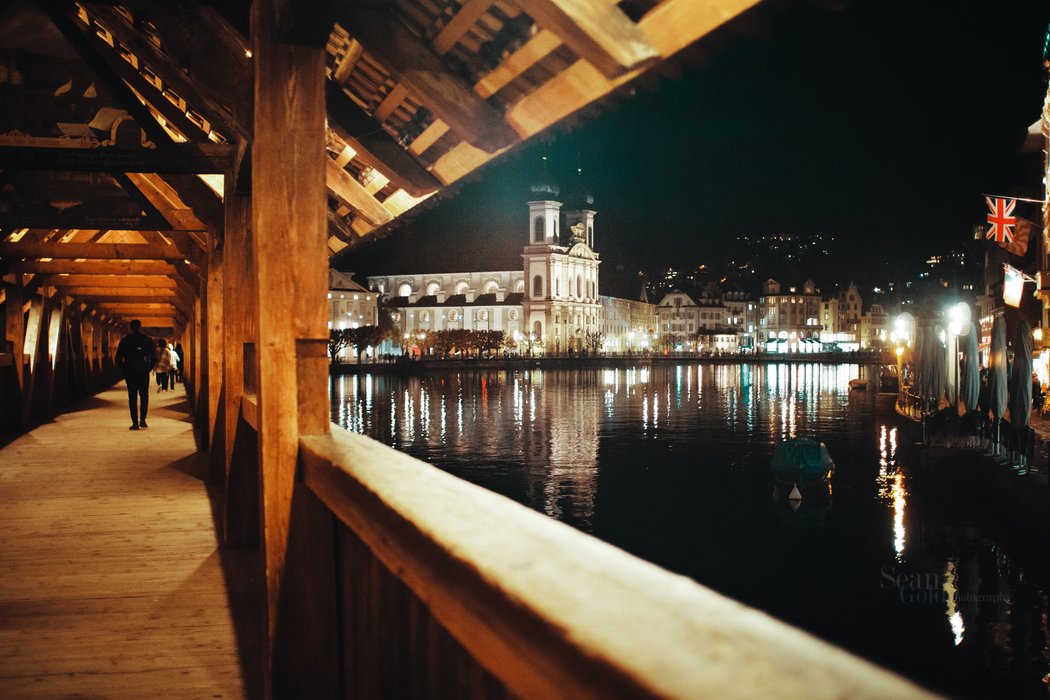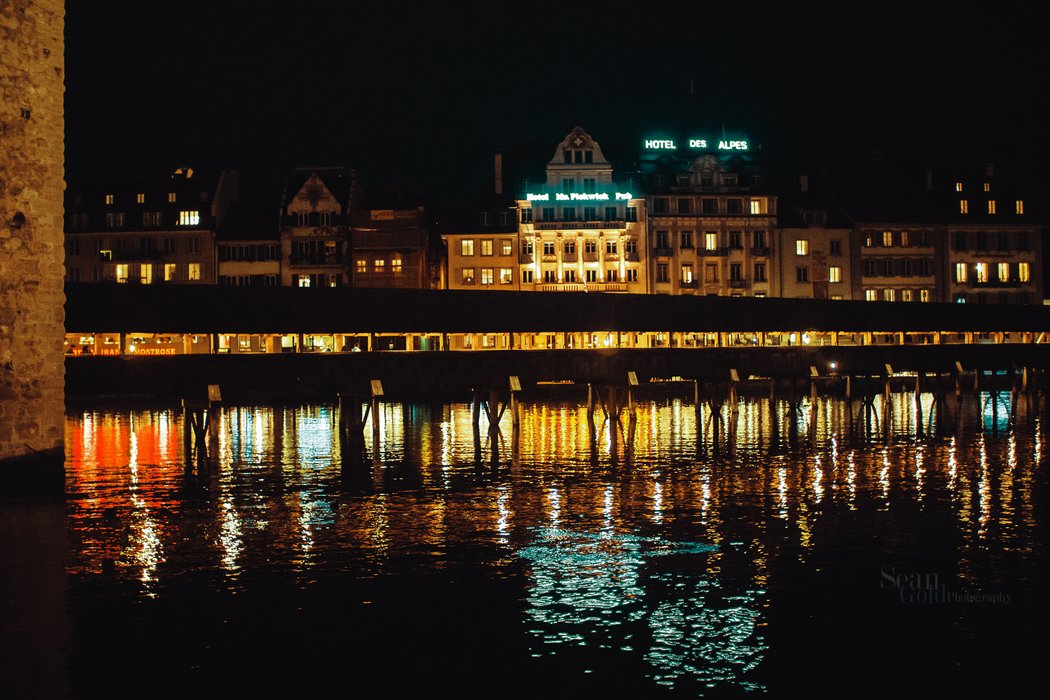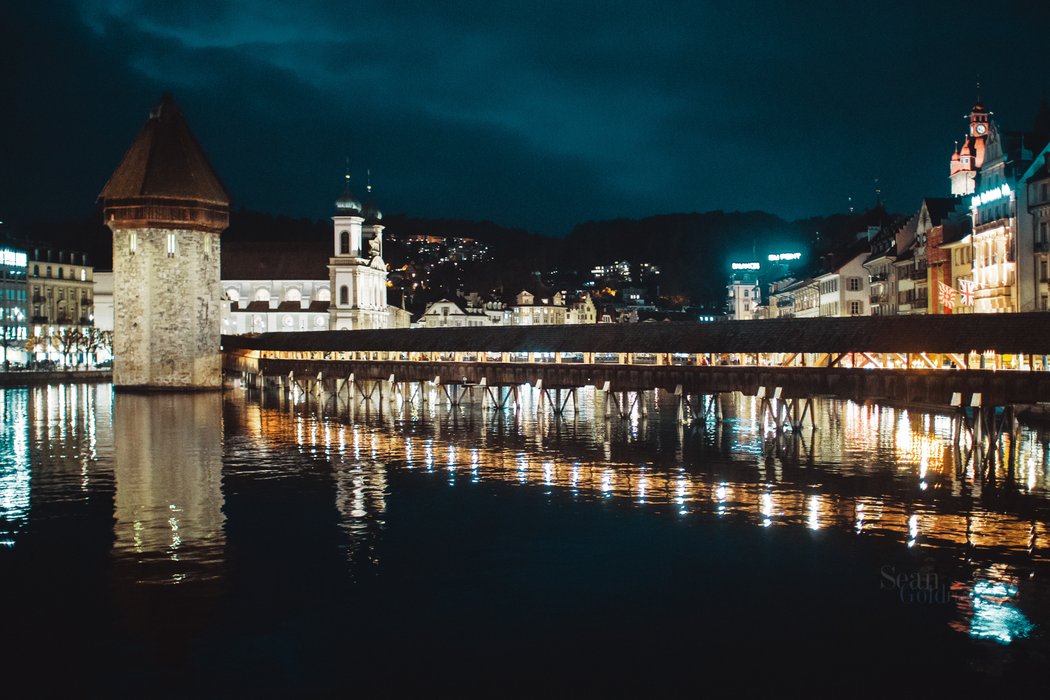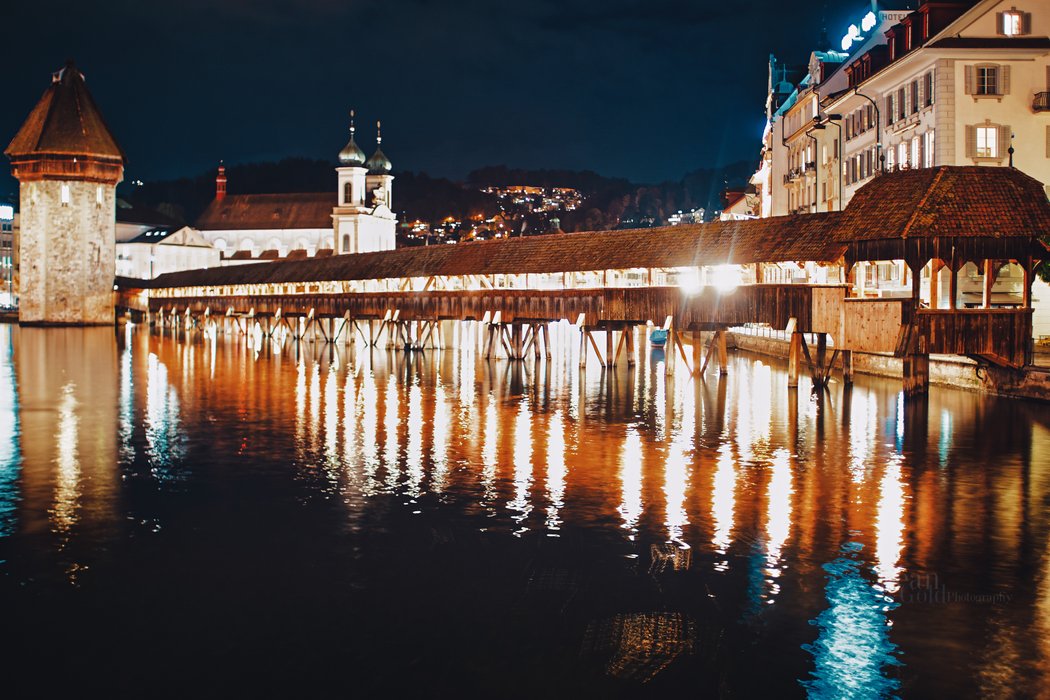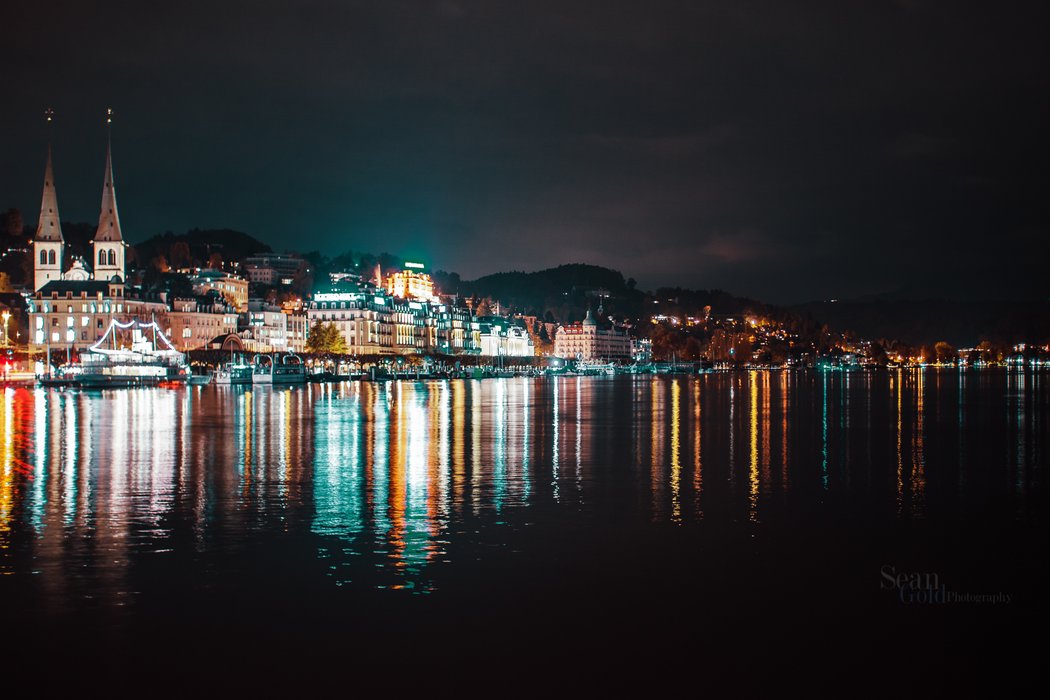 Phew, that was a lot longer than I thought it would be! I guess I forgot about how much I did here! And I still left out a good amount of things I would have liked to included, and more history as well, but maybe I'll try to revisit some of that in a future series or something. So, some quick afterthoughts, I felt I actually scheduled too much time for Luzern, as it's quite a smallish city, granted I didn't see any of the sights, such as the mountains nearby, mainly because time and quite excessive cost as well. All in all, it worked out pretty well though. Anyways, after my last night shot, I head back to the train station across the bridge and began my journey to the Swiss Alps to where I would be spending the night, so that I could wake up in an amazing Swiss village on the edge of the Alps! So be sure to keep an eye out for the next installment!
And in the meantime, don't forget to follow along with me on Instagram! or check out my Website! for more of my work and to purchase prints to support my work! Thanks!
-Sean Gold