Hello Steemians! Welcome back!
Today we will be discovering the INCREDIBLE Swiss village of Lauterbrunnen, tucked in a valley bordering the Swiss Alps! If you missed last weeks installment, or you're a first time reader, be sure to check out the other installments on my blog, or the last installment directly here: https://steemit.com/photography/@seangold/my-european-adventure-part-8-12-hours-in-luzern-switzerland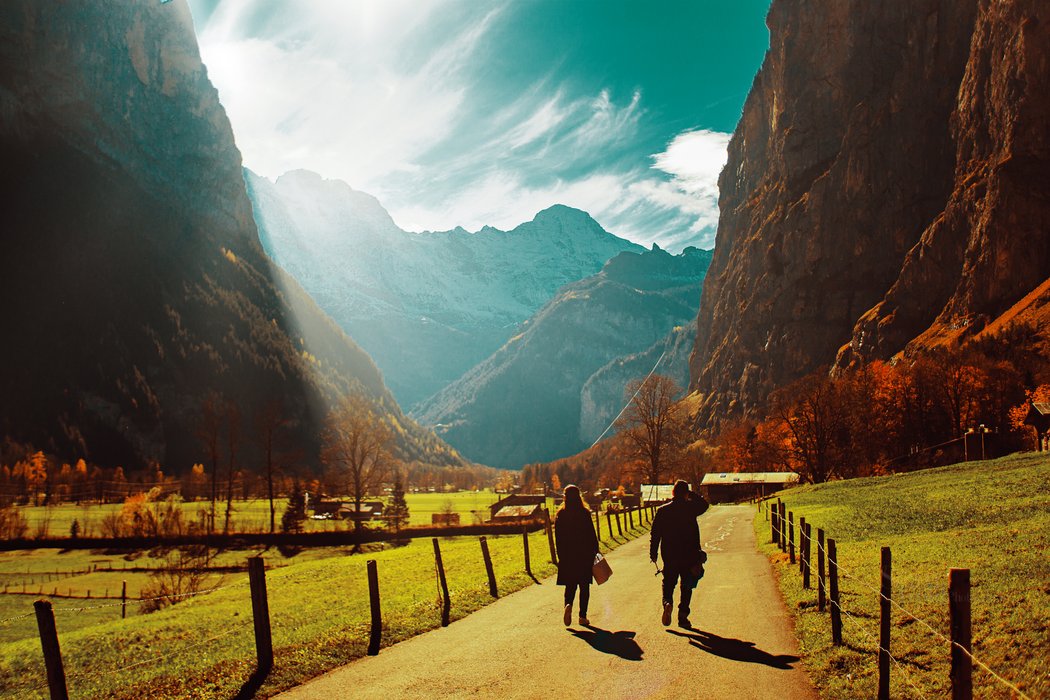 And with that out of the way, let's jump into it!
Last we left off, it was evening in Luzern, I grabbed a few more night time photos, and then hurried back to the Luzern train station to begin my next Euro rail journey.
I get there a little before 8PM, and I'm still a bit uneasy with the train system. I end up chatting with a girl sitting near me and she assures me I'm at the right track, and then shows me the app she uses on her phone to get all the track numbers and such, which was great!
I board my first train, then my 2nd train is out of service due to construction, so I have to take a shuttle bus. I was worried about missing it, but the conductor tells me she holds the bus until everyone from the train gets on, and she even takes me to be sure I get on the right bus. Such amazing people! I take this bus to Interlaken, then get onto my last train that will take me to Lauterbrunnen!
We arrive at 10pm. Almost everyone had gotten off before the final stop, it was just me and a couple and their suitcases. I step off the train, and it's silent. There's not a person about. I begin walking up the main, and only, street towards my hostel. Silence still. The only other people are the couple from the train behind me. I look around me and it's all pitch dark. It was surreal, because I knew I was surrounded by giant thousand foot rock walls on both sides of me, but I couldn't see them, just the dark abyss. I look to my right and see some small moving lights zig zagging upwards, it's a train climbing the valley walls. My excitement is barely containable for the morning to come.
After a maybe 15 minute walk, as well as a water bottle refill at a fountain, I make it to my Hostel, Hotel Hornerpub. It's a rustic feeling wood building with a big wooden door. I enter and head to the counter, I ring the bell and wait. Shortly a man comes in to greet me, the first person I've seen since arriving. I give him my details, hand him my credit card, and then he leads me to my room.
We go upstairs, he shows me where the bathroom is then takes me to my room. It's my first and only private room on this adventure. It's covered in all cedar wood, like a mini log cabin. The room is small, maybe 15 feet long and 7 feet wide, but it's super cozy. There's a sink and mirror, bed, and desk. It's been a long day, so I unpack my bags, set my gear to charge, and head to bed.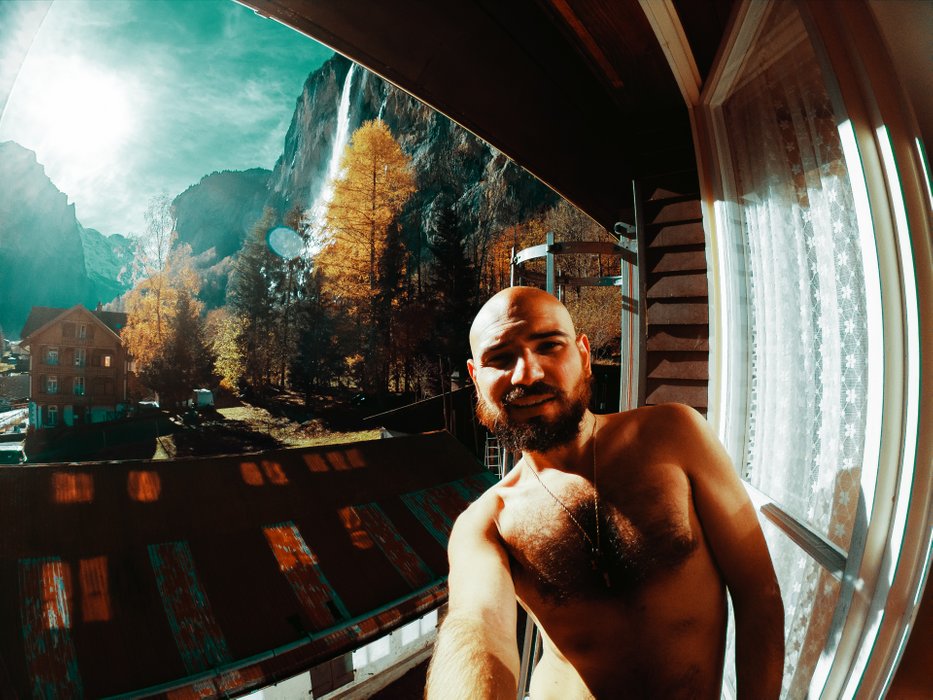 When I awoke, I looked out my window and I couldn't believe my eyes! Oh, my god. It was as if I was transported into some otherworldly magical land! Of course I had to take a selfie, as you had just saw, and there was no time to put a shirt on when there's a 1,000ft waterfall cascading outside your window.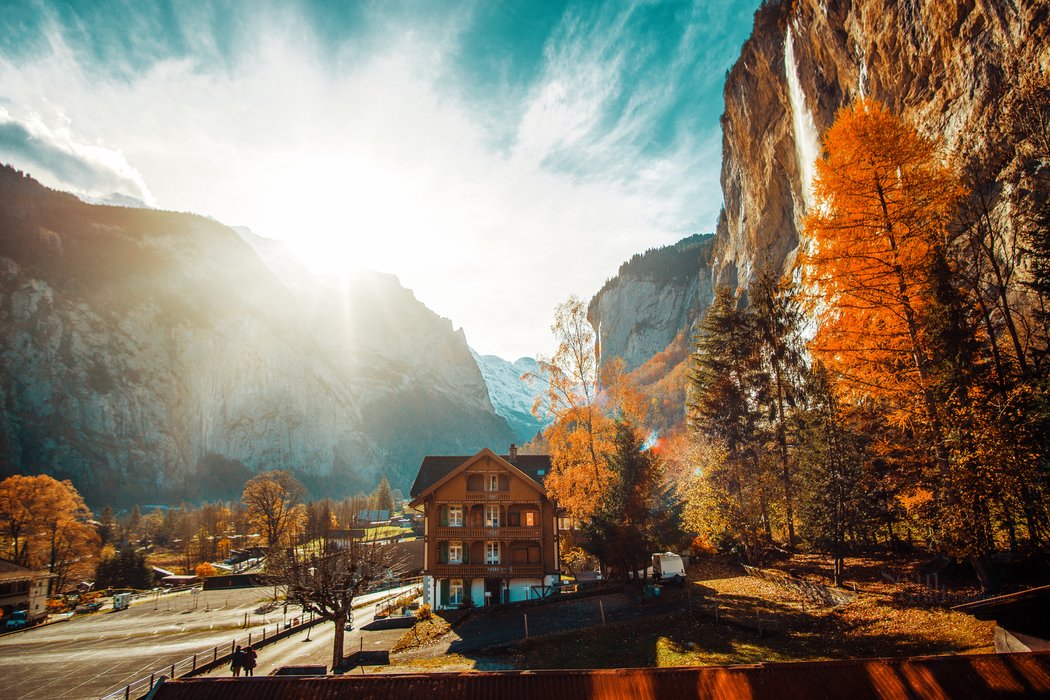 I sit there, and just take it all in for about 10 minutes. I lose myself in this living painting that is my window. But my time here is limited, so I pack my bag and make my way to begin my trek through the valley towards the alps.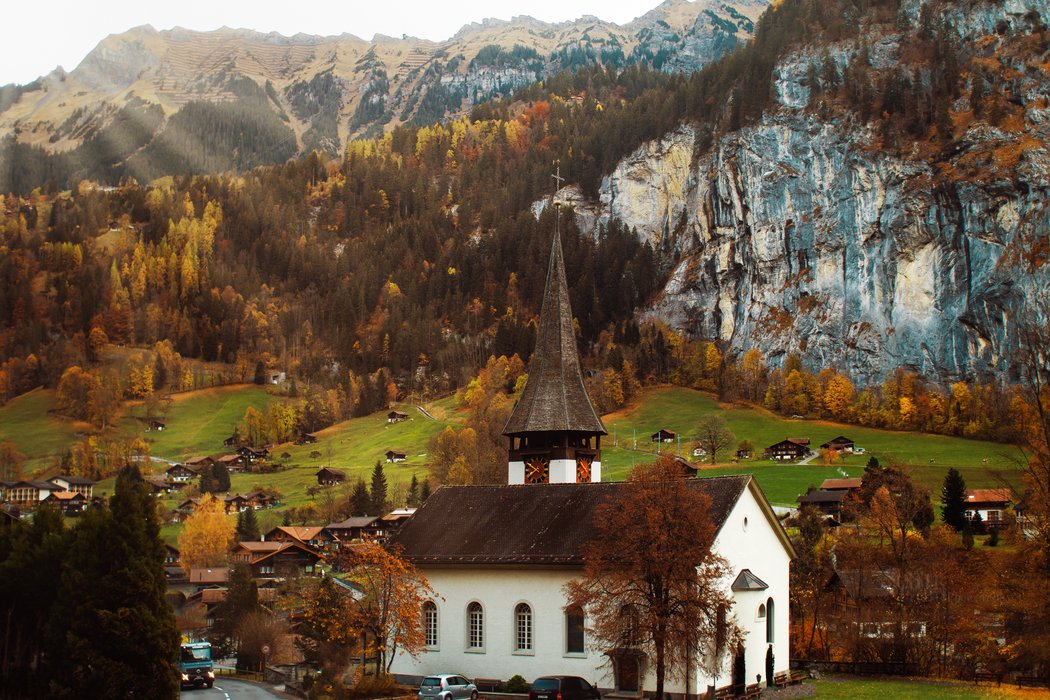 I walk outside and get to have my first look at the village in the daylight, and it's still surreal. I glimpse the town a bit, admire this old church, then head towards the farms, Alps, and waterfalls.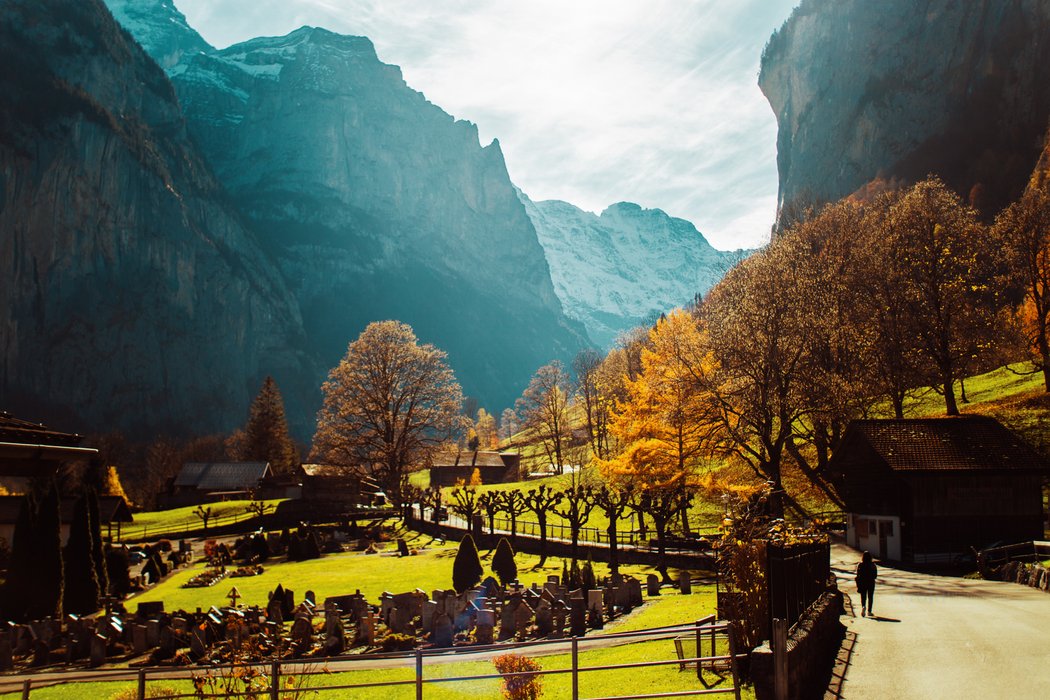 I leave the village behind and come across my first pasture of cows!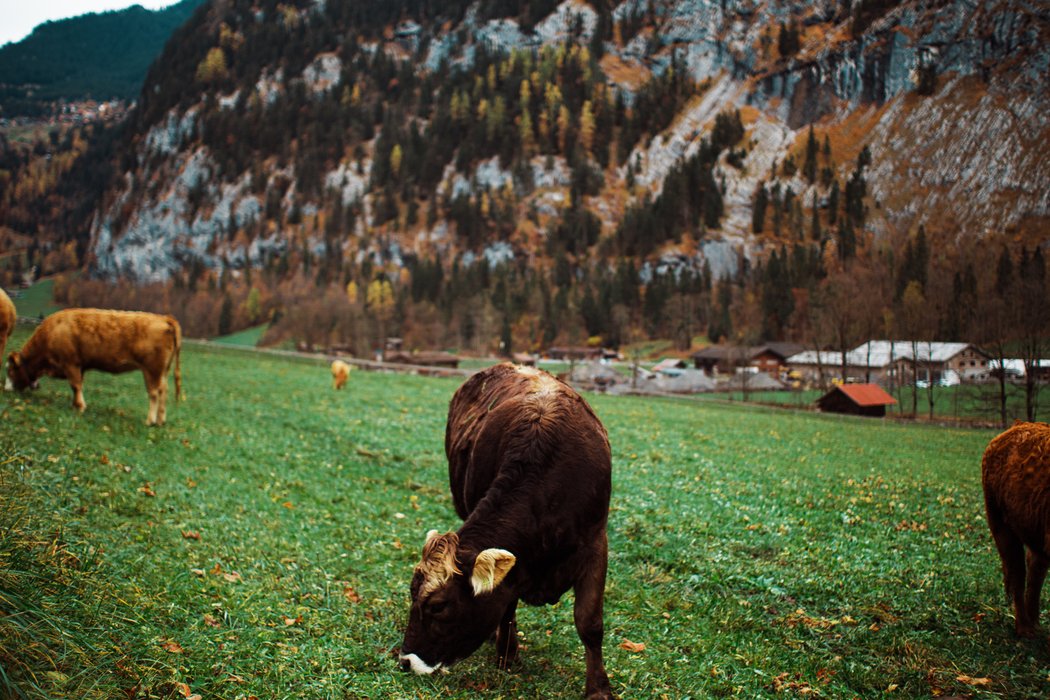 I continue walking deeper down the valley, not really sure what I'd see, besides the mountains in the distance, and the cows around me. Then I glance up to my right and see that a new peak has emerged into view. I take out my camera and a telephoto lens to get some close ups and notice something amazing.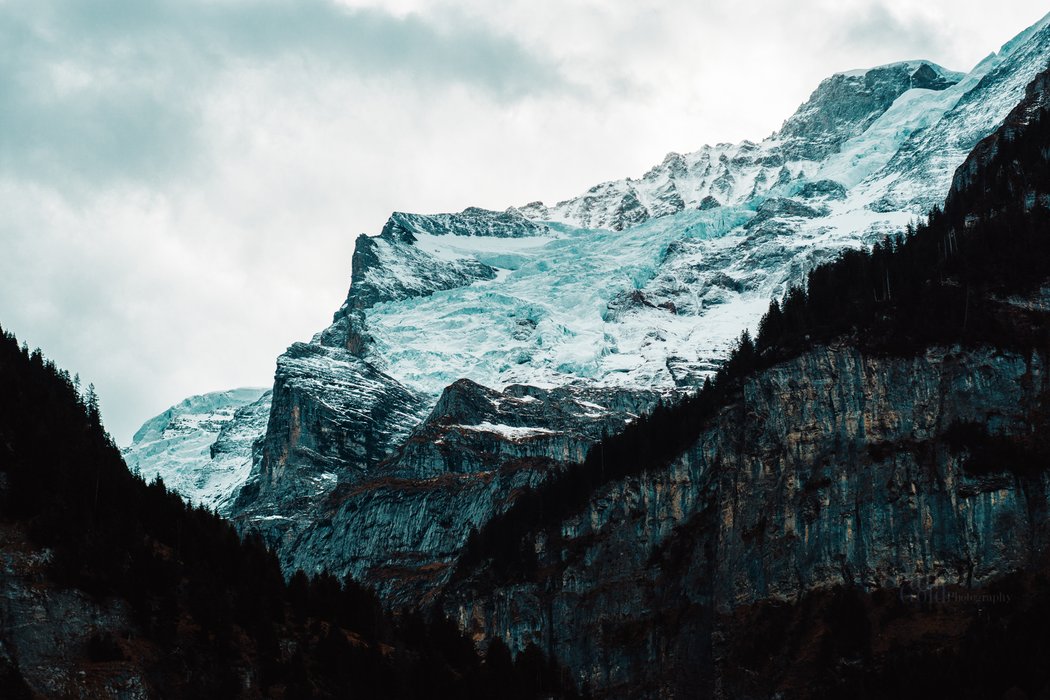 It's practically covered in a glacial flow! Wow! I've never seen anything like this! And then some more peaks had appeared, some covered in dramatic clouds!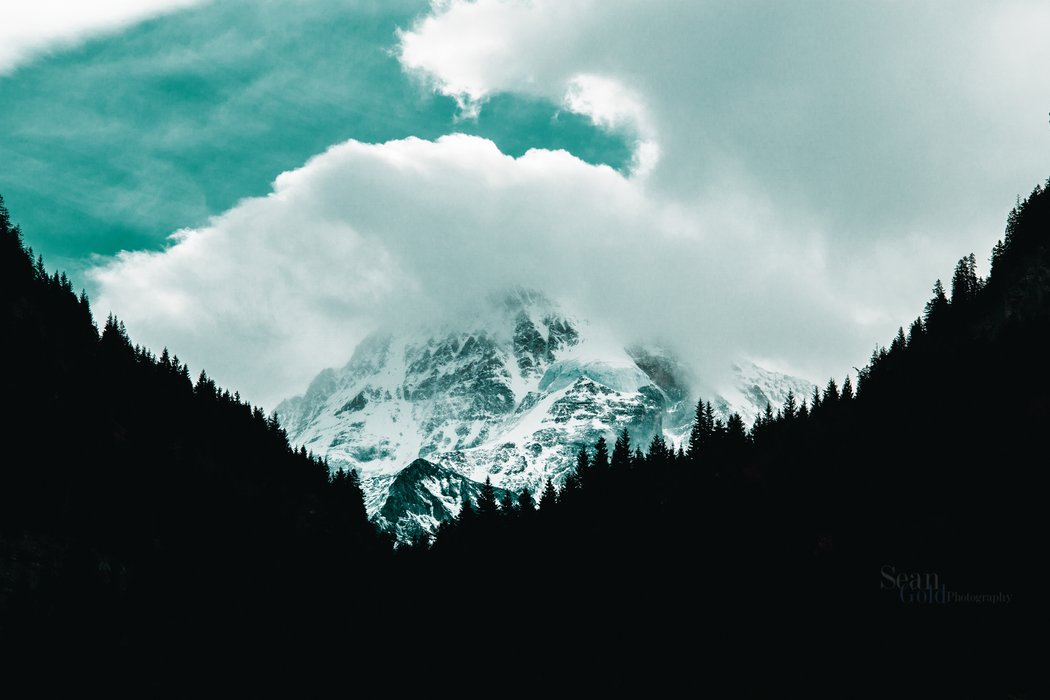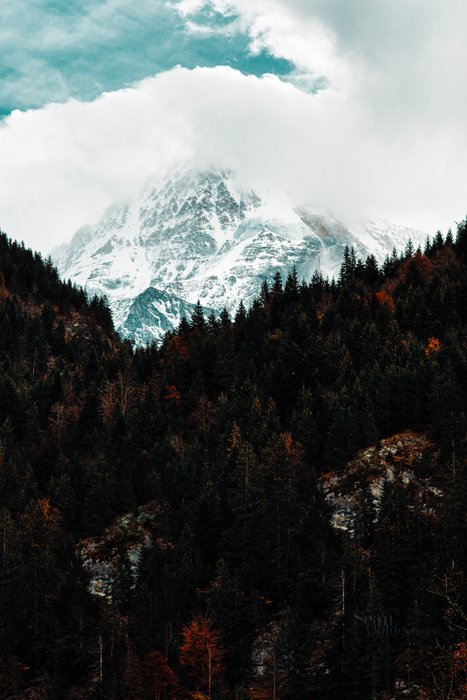 I continue down the dirt road once again.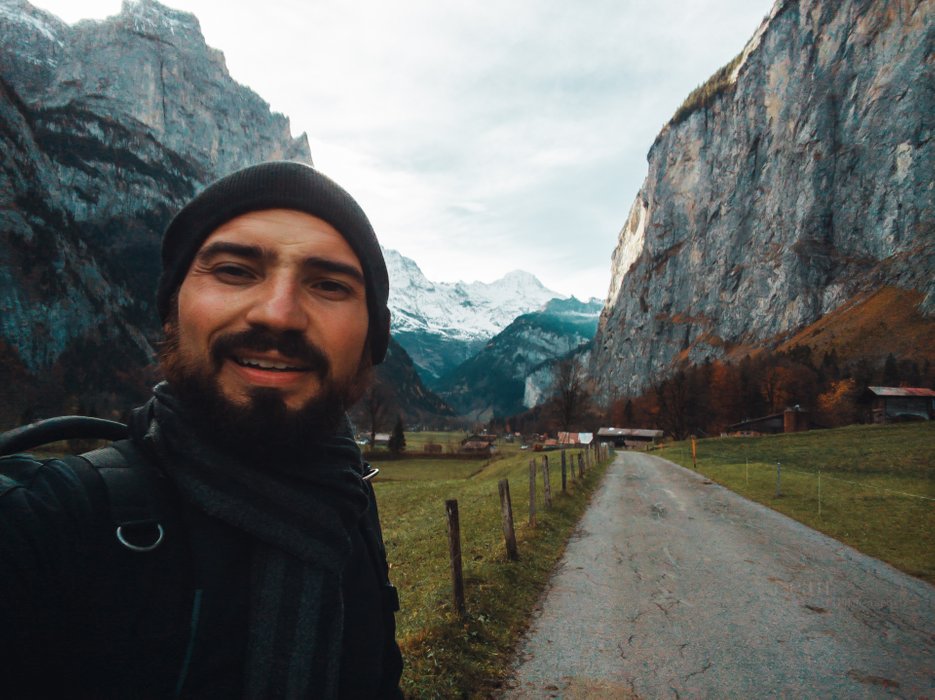 I then come across a path that cuts across, and presents a great opportunity for a shot with one of my new cow friends with the Alps as a background!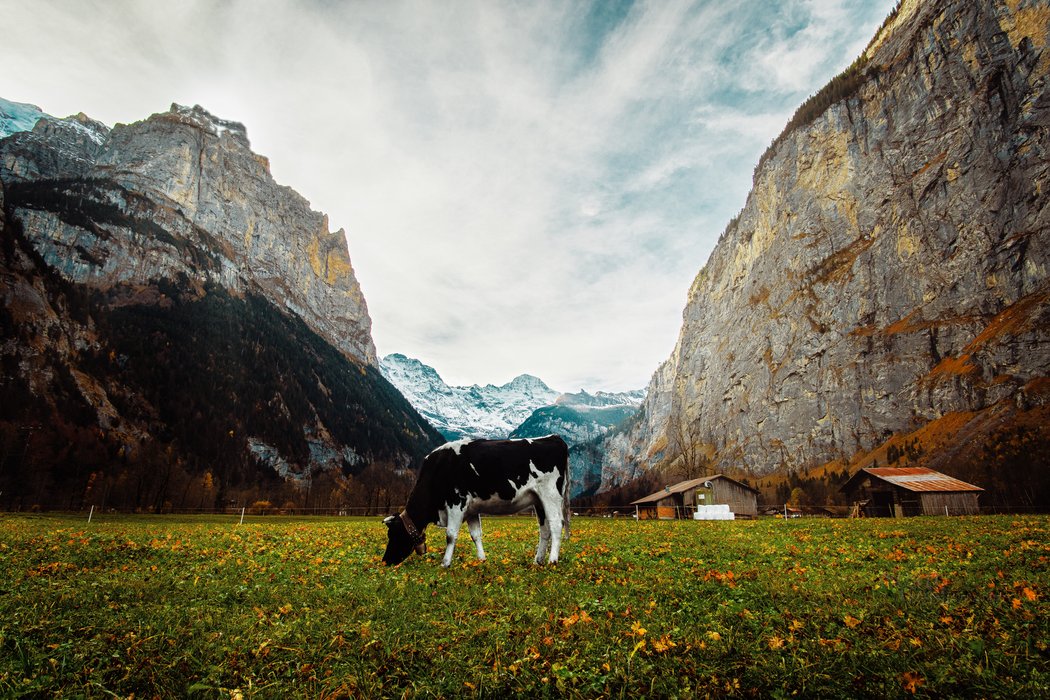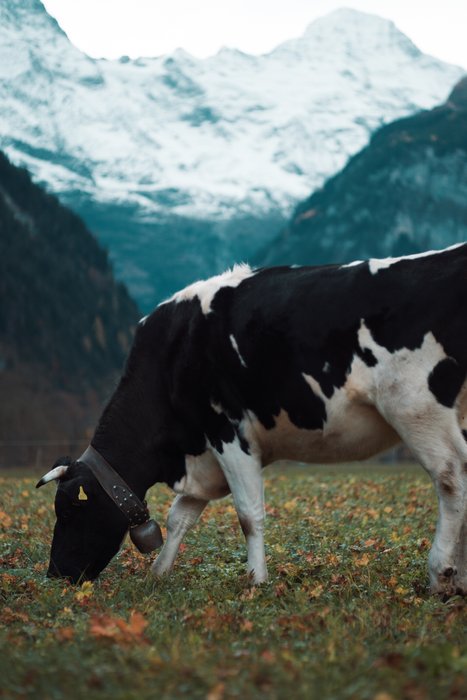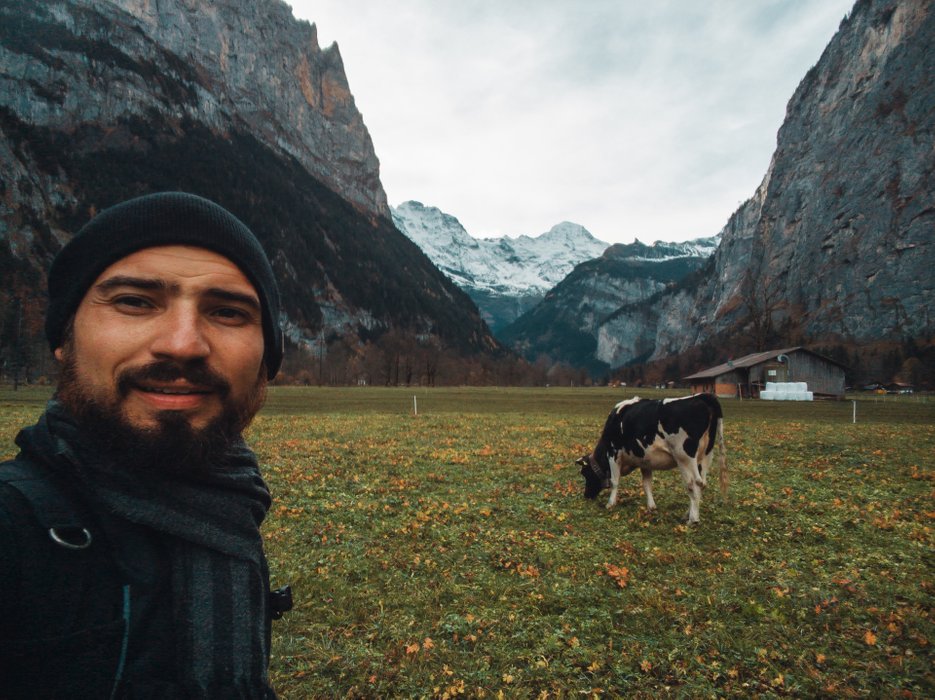 After getting the shots I wanted of the cows, something caught my eye in the distance. Something in the sky. Something moving. I scrambled to get my telephoto lens out.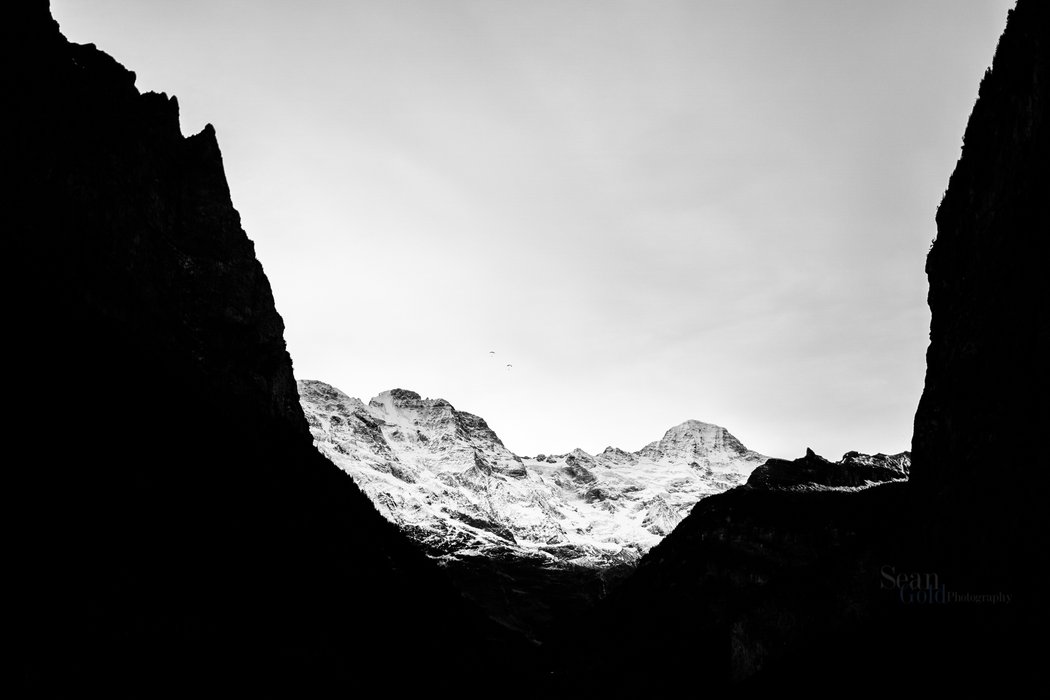 Wow! It was 2 para-gliders soaring over the Alps! Amazing!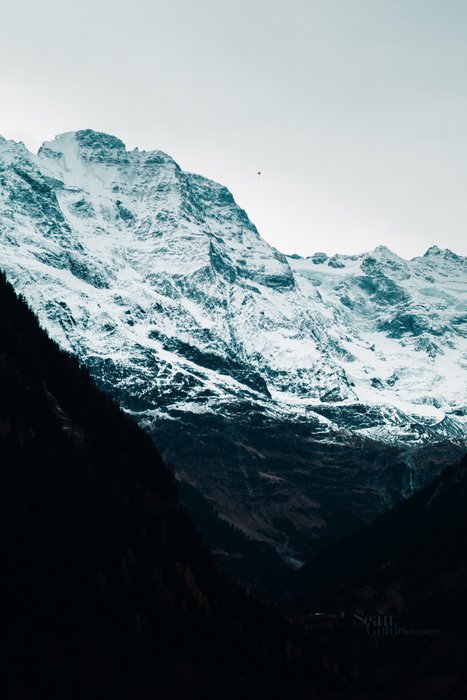 Now the signs in the hallway of my hostel make sense. The signs saying things such as "Hey, please pack your super cool parachute outside and not in the hallway, thanks!" and others such as that. And that's because Lauterbrunnen is pretty much the base jumping capitol of the world! But we'll see more of that later on, for now, back to the farms and the landscapes.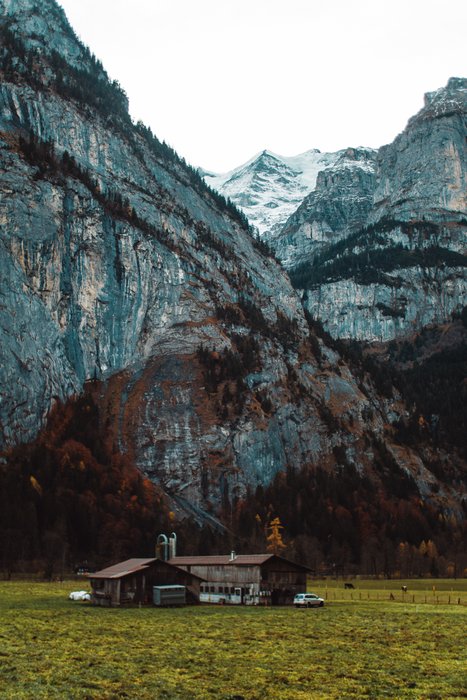 From there, I continued down this cross ways path to the other side of the valley to check out what views I could find from there. On the way over, I had to cross a river bridge, and of course, take a selfie.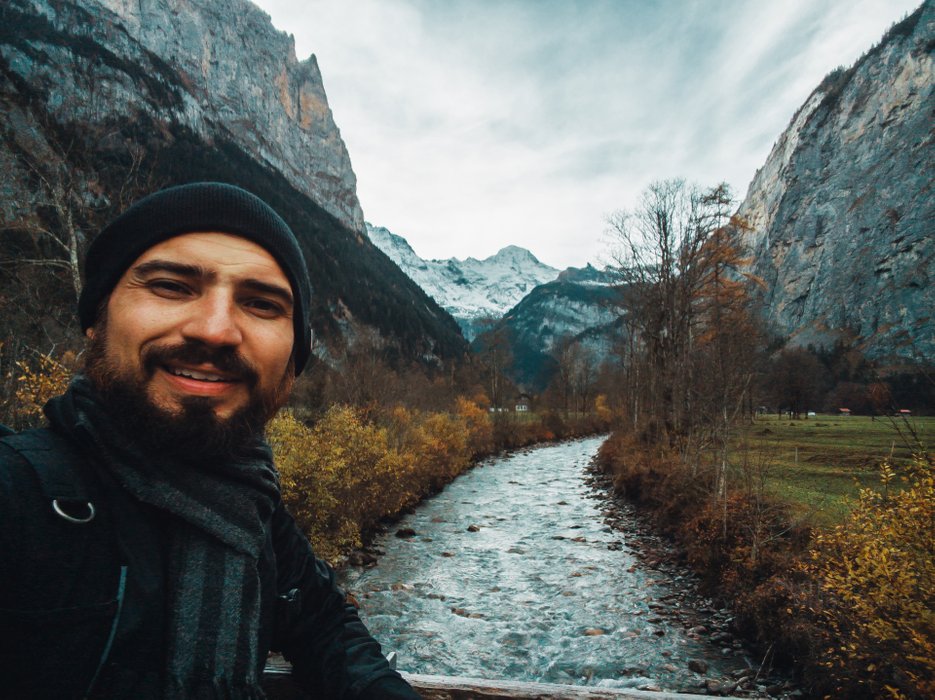 This was also a special spot for me, I kind of broke down in amazement of where I am, where I've been already, and just how amazing and beautiful the world and this life is. It was an amazing moment in which I was fully cognitive of all the blessings and opportunities I have. And then I saw another great view, remembered I need to check out soon, and snapped back to hustling!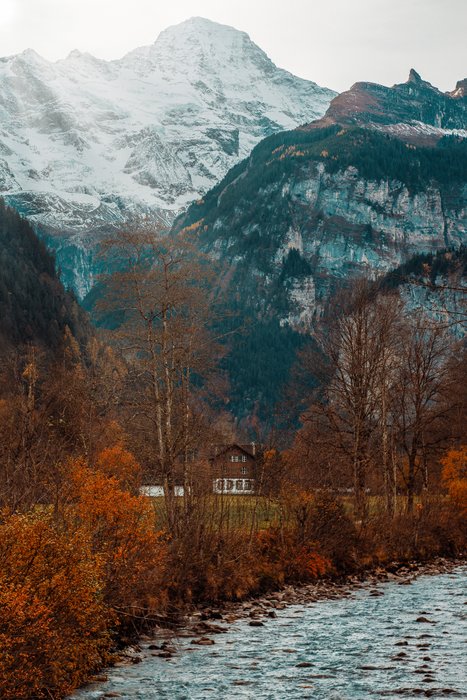 After crossing over, I headed to another famous waterfall that is located in the valley, but unfortunately it was closed off due to lateness of the season, so that was a bummer. I then began to head back towards town a this point, as I looked at my watch to make sure I'd have time to clean up before check out time.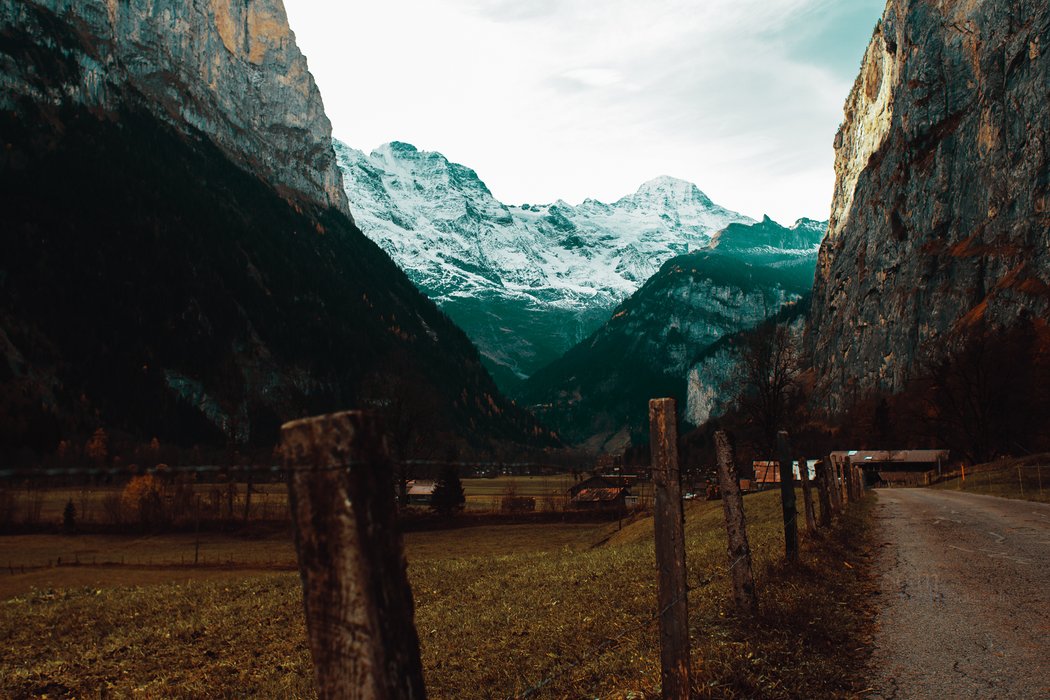 After heading back a good ways already, I looked back and saw the light starting to enter the valley, and it looked amazing! So I figured it was a good time for my first drone flight in Lauterbrunnen! Here's some of my favorite shots!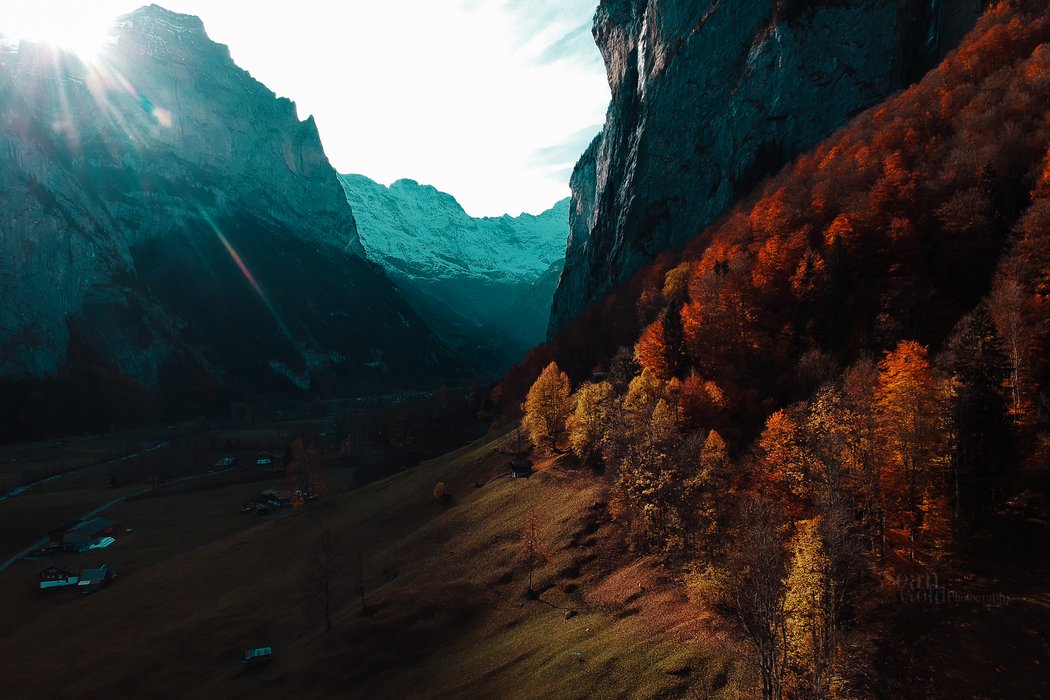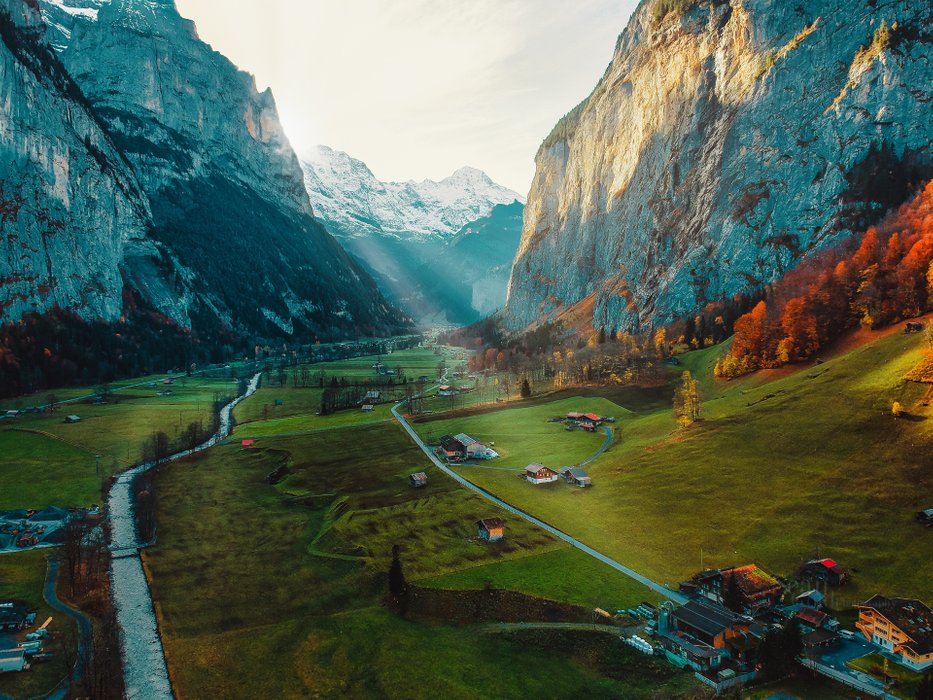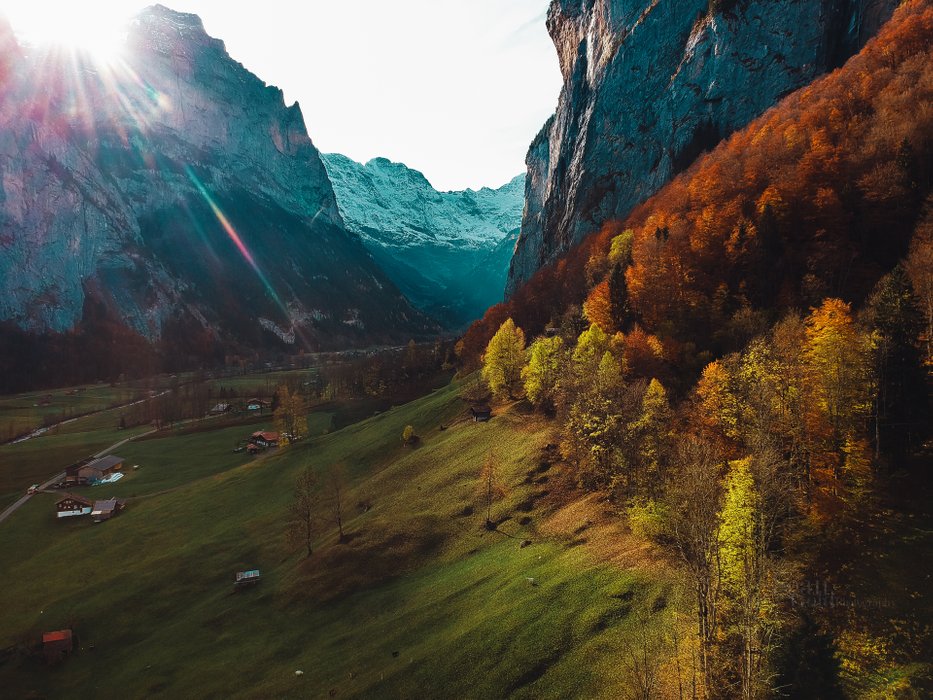 It was a great flight! I got some great video too, which I'll share here eventually! I packed up my drone and began my trek back towards town, though always looking back to check that beautiful light so that I could catch some shots like, well, this one!
And this one!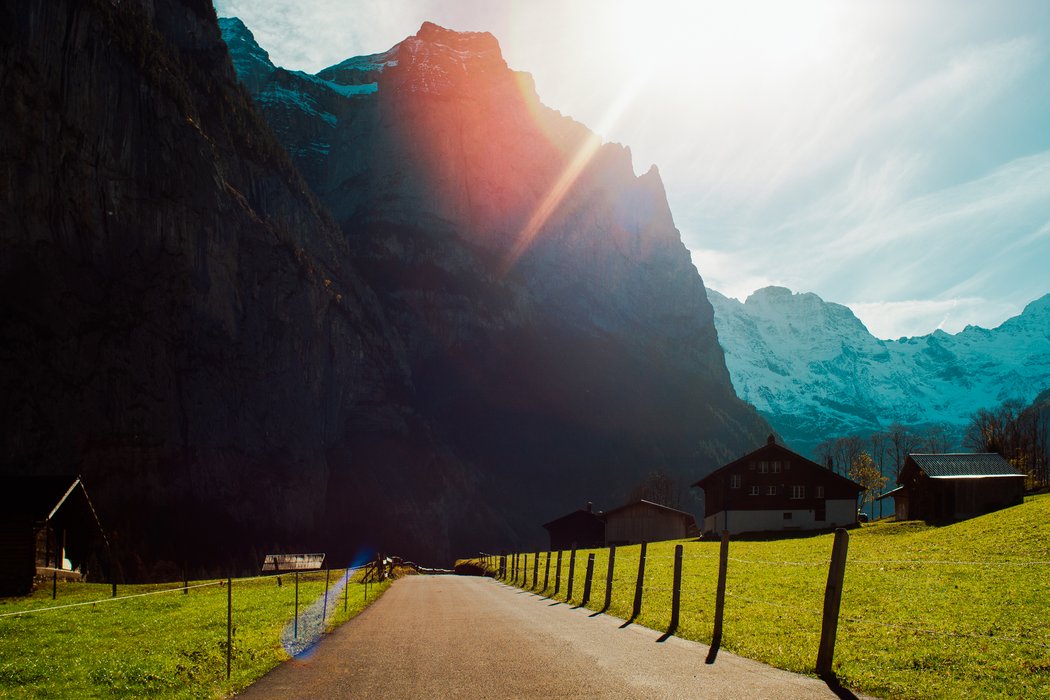 And this one!!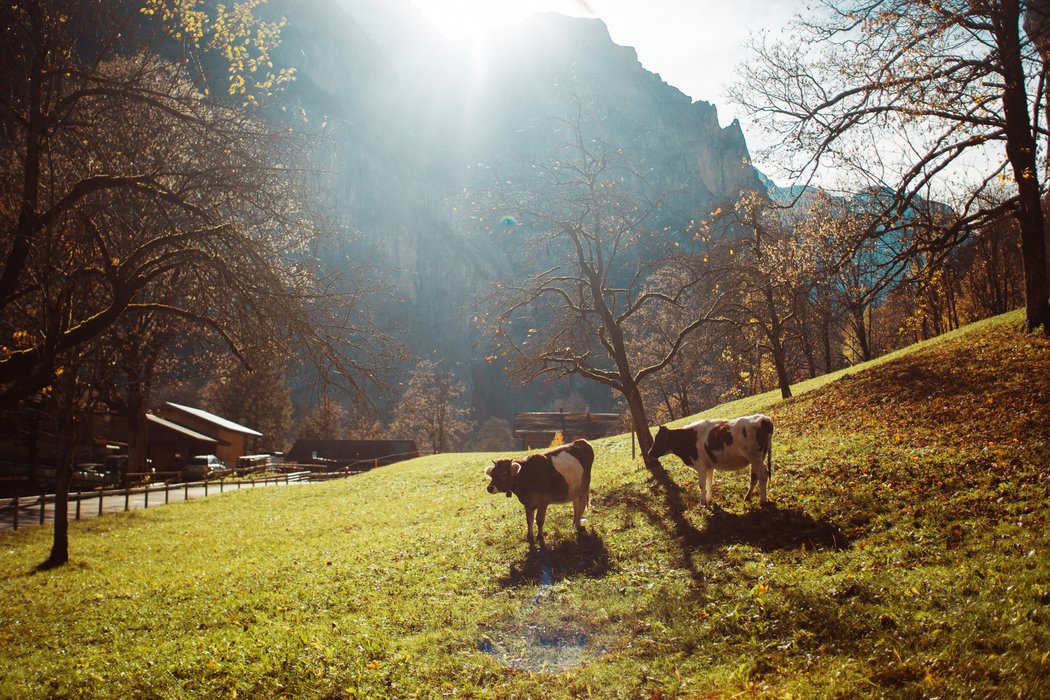 I continued to slowly but surely make my way back towards town, but making sure to whip my neck around around every so often as to not miss anything. As I got closer towards town, I saw a few more people out and about, where as before I had the entire valley to myself it seemed. I then saw a little group of young kids riding their bikes and thought how amazing it must be to grow up here, to walk outside and be greeted with, just, all of this!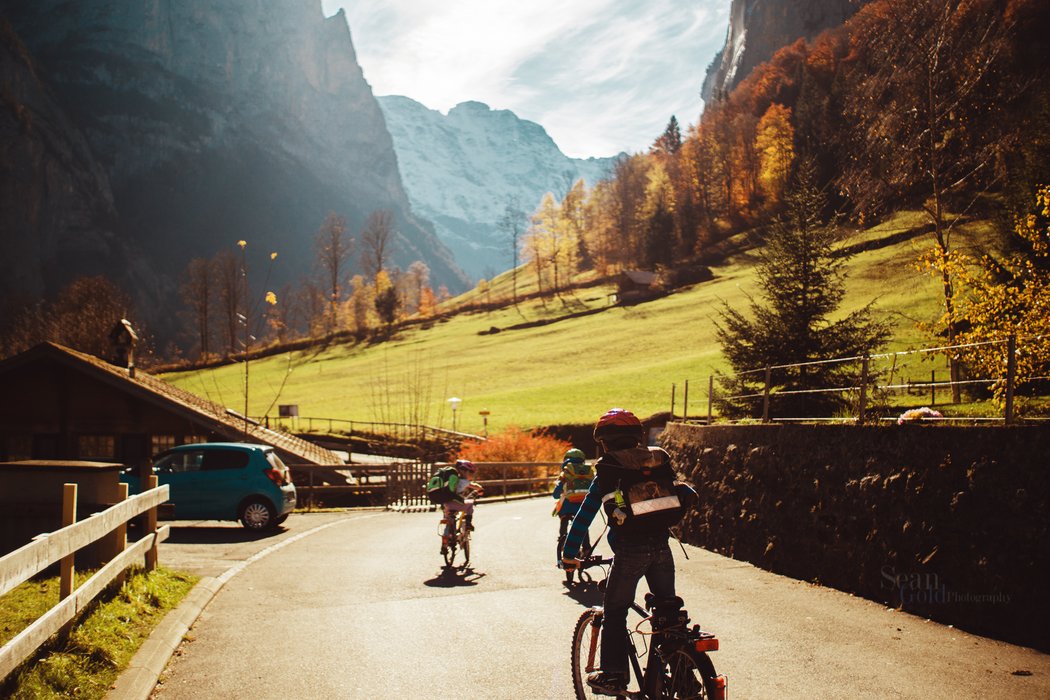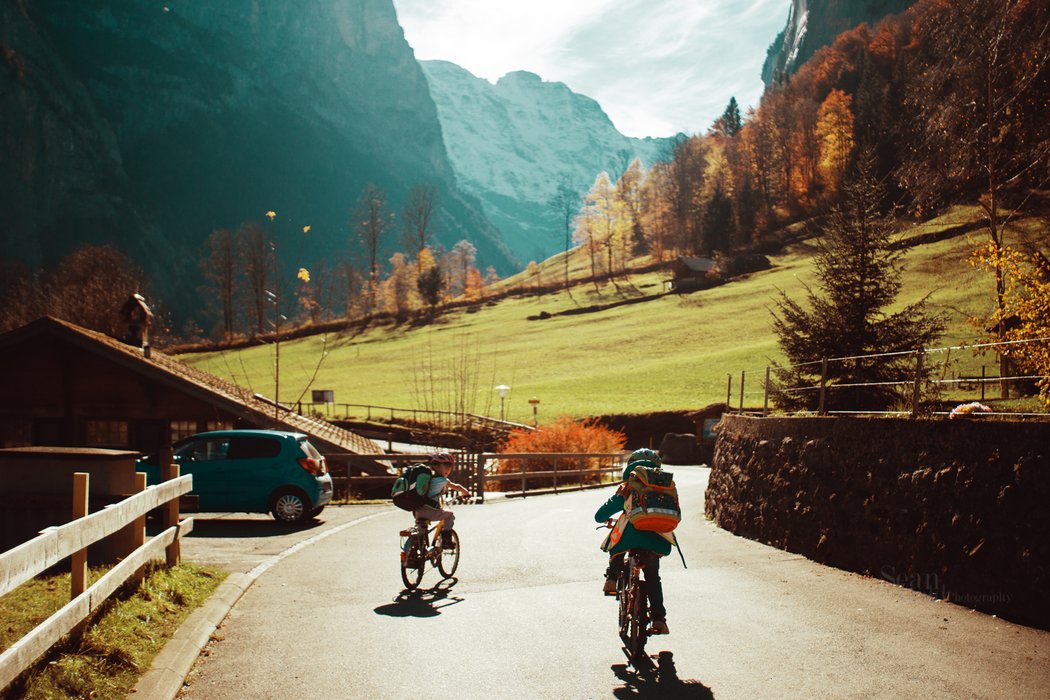 Shortly after this, the town was in sight, but before the town was the incredible Staubbach falls! At nearly 1,000ft high, it is one of the tallest waterfalls in Switzerland! Although it runs weaker in the winter seasons, it was still quite roaring, much more so than I expected!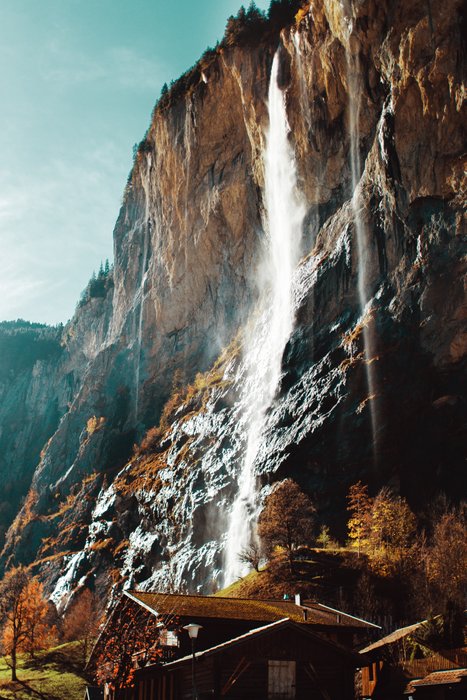 After a brief stop at the falls, I was just about back to my hostel.
I walked up the 2 flights of stairs, unlocked my door and began to organize and charge my gear. Also, since this was my only private room on this trip, I wanted to shave my head too. Plugged in the drone, my watch, cell phone, power bank, GoPro and my extra phone batteries. Packed my clothes and then began to shave my head. And then my next moment of awe hit me. As I went to look at my egg shaped head in the mirror, which also aligned with the window, all I could see behind my head, was a roaring waterfall and frozen mountain peaks in the distance. Just absolutely incredible.
Although, it was shortly lived, as I had my window open to take it all in, a pretty large wasp wandered into my room. So I did the logical thing, panicked and ran out into the hallway and pleaded with it to leave. Mind you, I still have shaving cream all over my head. Luckily, he lingered only for a few minutes and then took off out the window again. Thank god. I hurried back in, closed the window and finished my business.
Freshly shaved, gear packed, I had one last gander at this incredible window view, and left my room to head to my next destination, the mountain top village of Wengen!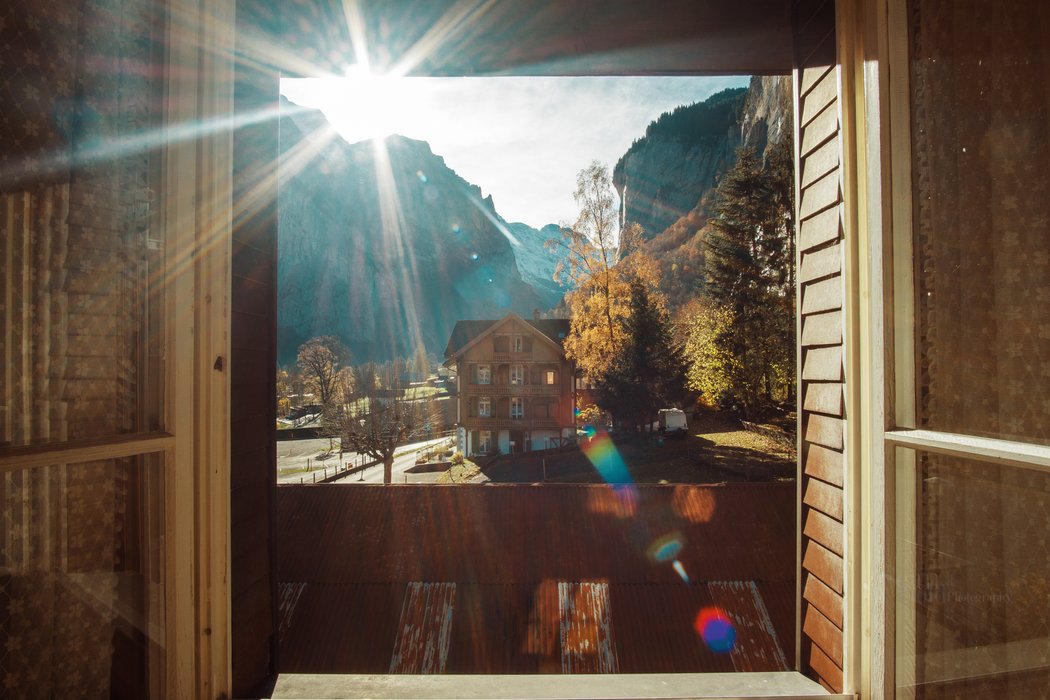 Lauterbrunnen was just incredible, and we'll talk a bit more on it in the next installment as well, since I'll be leaving from here to go to my next destination after Wengen.
And in the meantime, don't forget to follow along with me on Instagram! or check out my Website!! for more of my work and to purchase prints to support my work! Thanks!
-Sean Gold