first of all thanks @worldcapture for arrange this contest. actually this my second joining for your contest today. anyway thanks for selection my post, your previous episode. i feel really happy and blessed.
---
people photography really good and different contest. this journey i also seen and join many kind of contest like flower, walking, shadow and others photography contest but truly speaking your contest concept really different and exceptional.
---
come to the main issue. today i also share real life and livelihood Photography. i also explain previous history about this photo.
---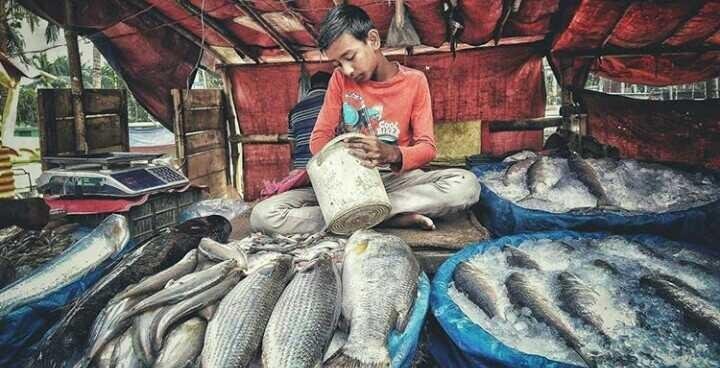 ---
please everybody need your attention for few minutes. look this picture. a boy selling fish. actually this day i also going market buying necessary for my families. firstly i buy vegetables and others then finally i come to fish market for buying. i also visit many kind of fish shop but this are not prefer for me. cause i have limited money. when i movement in market then the time this view caught my eyes this boy age minimum 10 plus. he selling fish. i just stop and go there. i also try to gossip this boy but this boy ignore me. he said me, sir, my father don't like this. please leave. i also siad. if i buy your fish then you gossip with me. finally he accept my request. he siad to me, his father also fish seller. but he cannot manage ownly that's why he helped his father. i also asked, what class do you read in? he just smile and replied me. sir i can't go school for this reason. this answer touch my mind deeply. finally i buy fish and come back home. thank you ❤