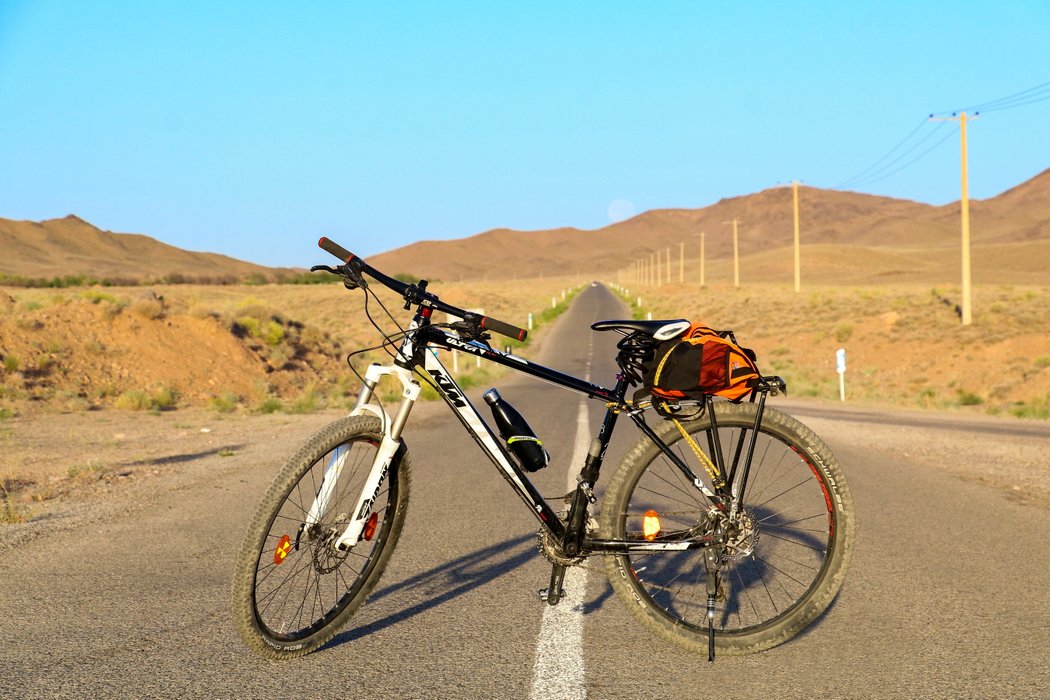 Hello everyone
Lets not delay it any more and get out of the house. The beginning was easy. It was early in the morning, so the weather was not yet hot and there was a easy asphalted road ahead, as you can see in the photo above. So i started with high self confidence; easy task ahead, there will be no problem.
After cycling for about 6KM i reached the gravel road. I have a mountain bike, so again, i entered the road with much hope and energy. As i reduced my speed to enter the gravel road, it was a good time to stop and take few photos.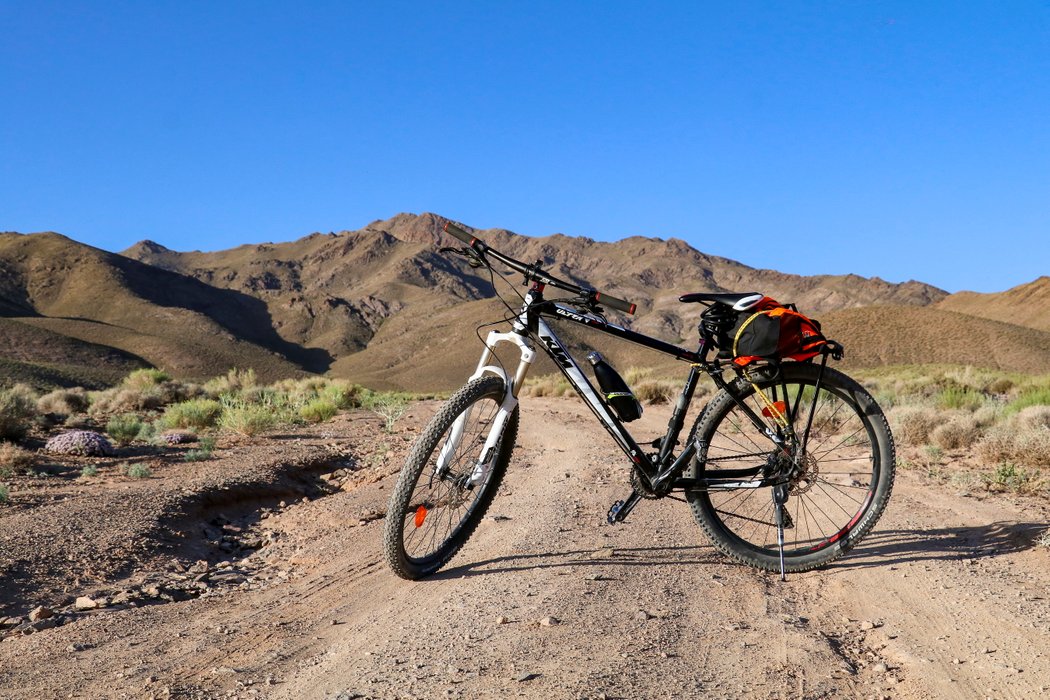 And never forget to take a photo of your self in your adventures to review it when you're feeling down, or spending time with your family, and to show your older self, how it used to be, how you used to be...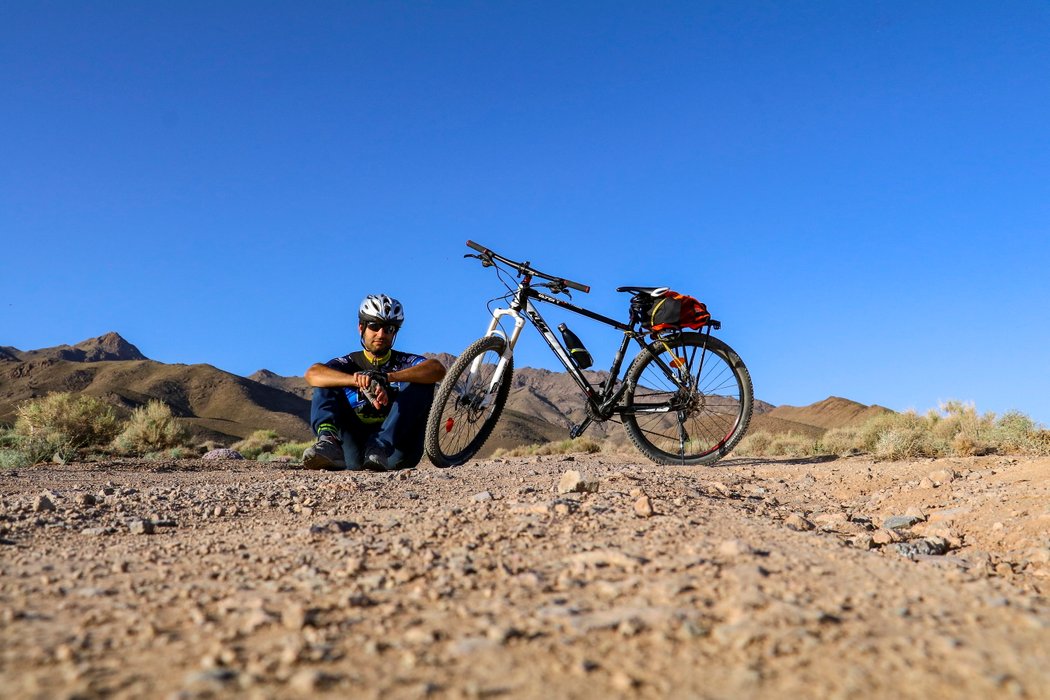 Weather was getting warmer and i had a long way ahead to reach the peak. Though i had completed more than third of the way in about an hour, but the next 2/3 third was so harder and more time consuming. I started cycling again. After few minutes of cycling i reached the river bed which was the end of the gravel road.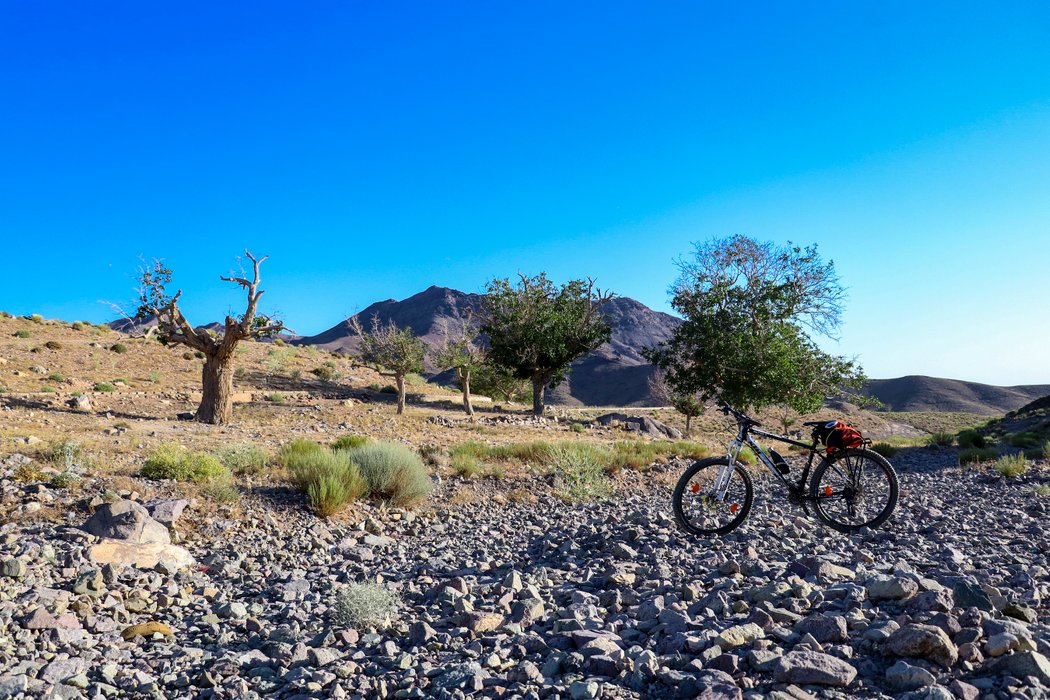 In old times (not sure if 30 years ago or 100 years ago) after heavy rain or when the snow was melting, this rocky river bed used to be on of the paths for water to reach the main river, but their long gone. When i reached here, i knew that i was not on the path i wanted. Based on what i had in mind, i should crossed the hill to reach the right path, the path i knew more about. I don't have a photo of the whole hill, but it starts from behind the bike: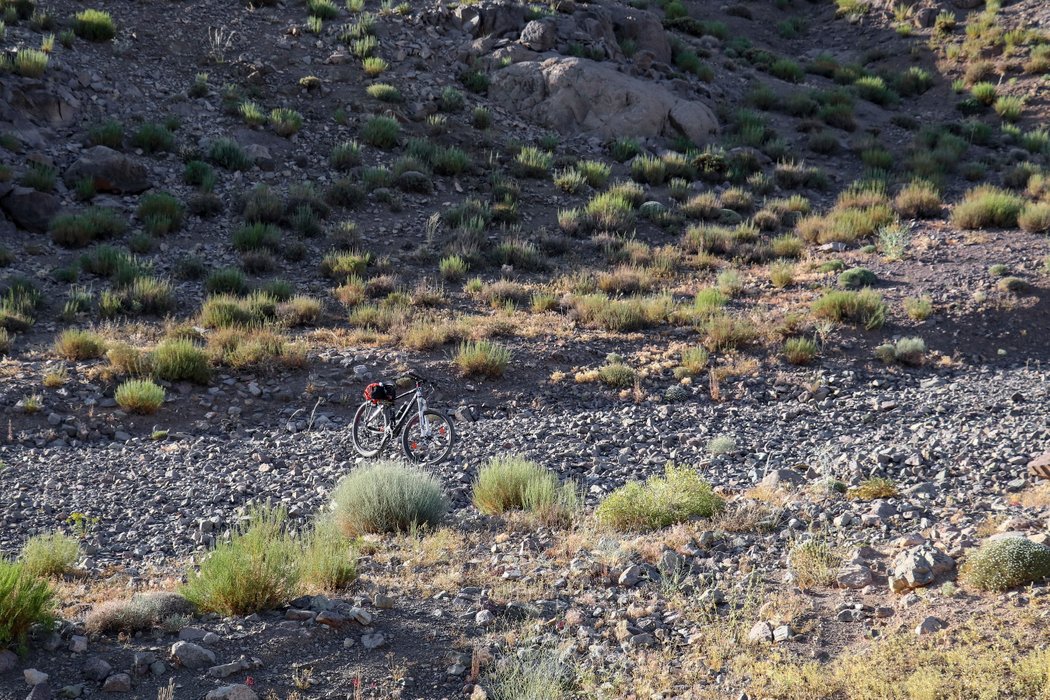 I was not just caring about my bike, this things (plants) were nicely lit by the sun: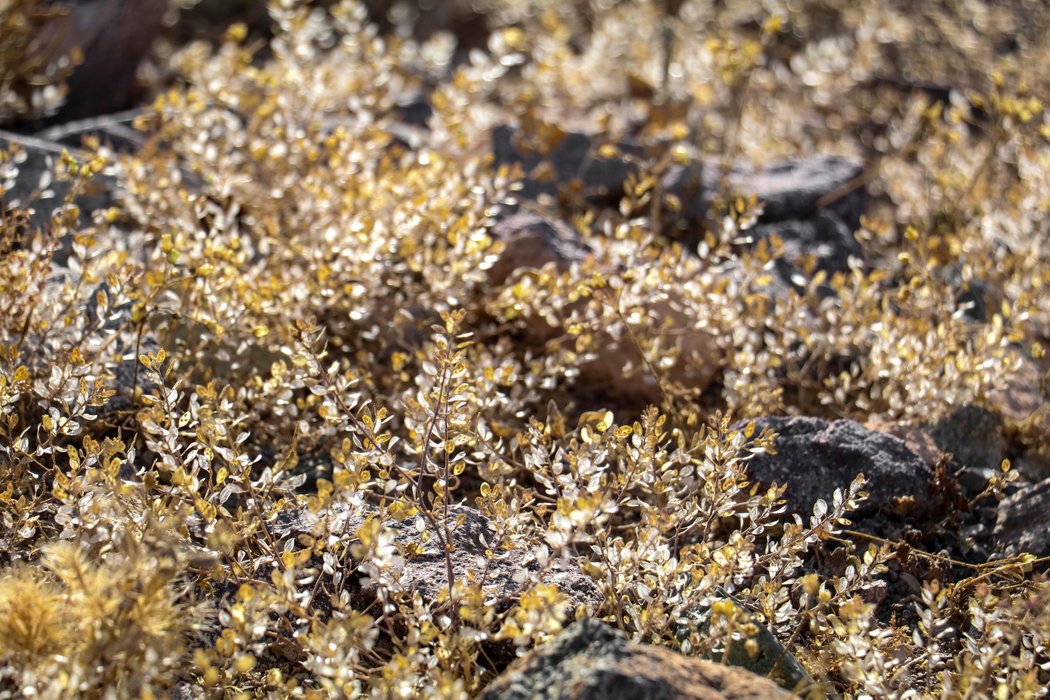 It was still the beginning and i had much energy to stop and take photo of every interesting thing i saw. After dragging the bike to top of the hill it was time for another break and taking photos and as always, it was hard to resist the temptation to put the bike somewhere in the photo: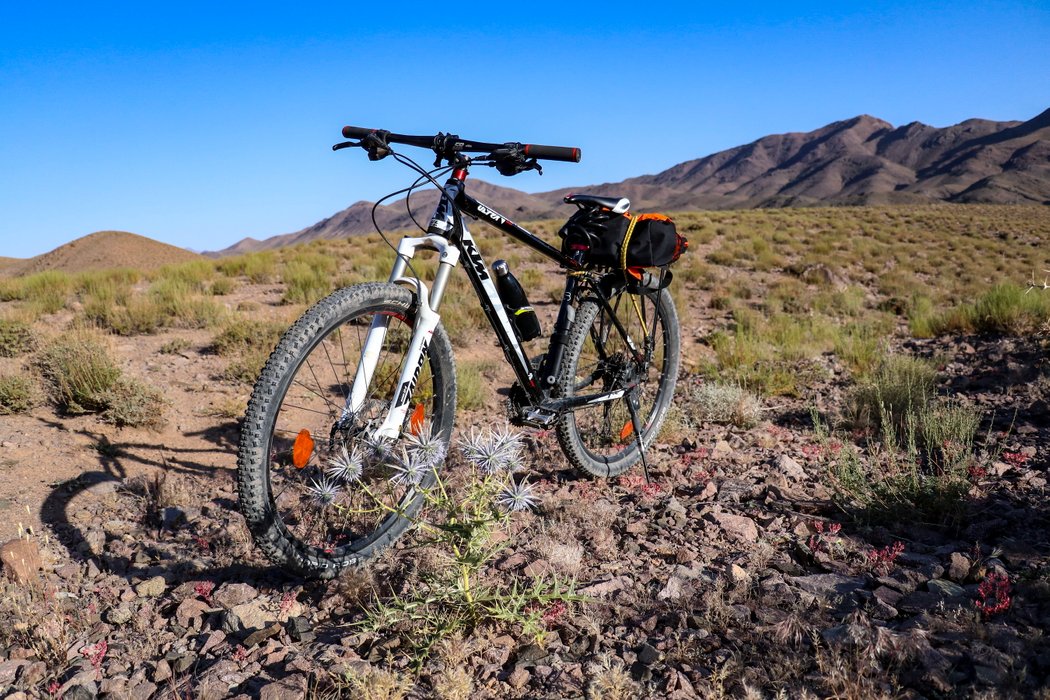 Knowing that there are lots of thorns in the desert, and later seeing them,i knew i'll get a flat, it was just a matter of time.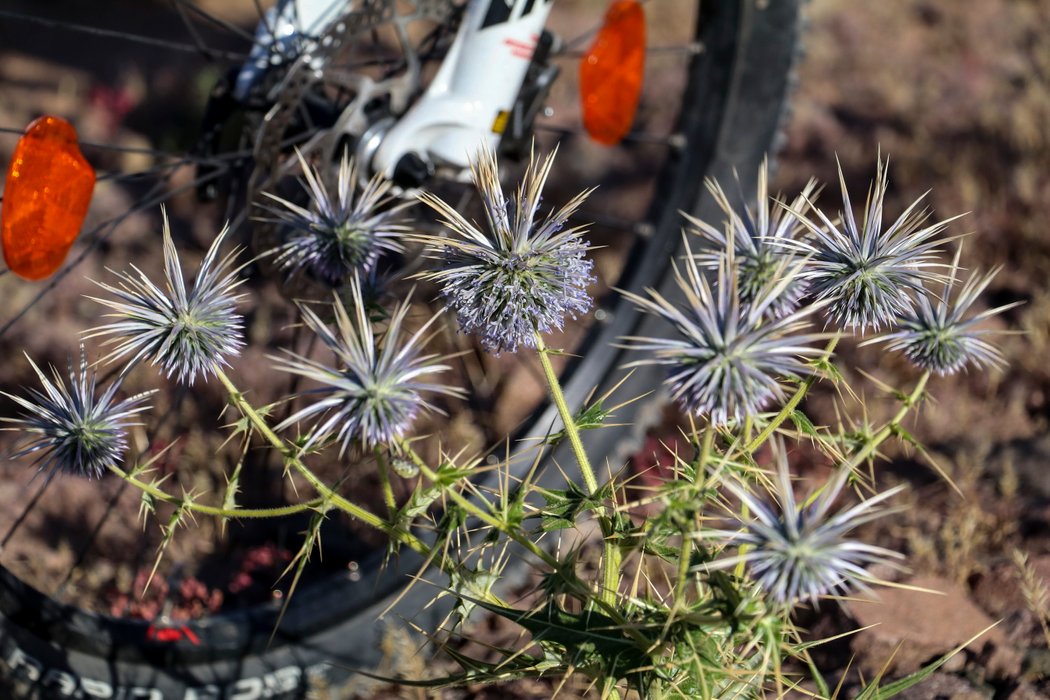 After that i went down the hill to reach the other side of it; the river bed that was the path to the mountain. When going than the hill, i had a chance to use the bike again, but it was just for a short distance.


Sun was higher in the sky and it was already hot. Because the river bed was the lowest point compared to its surroundings, there were some shadows along the way. But not as much as i needed, so i tried to take advantage of every part of the shadow.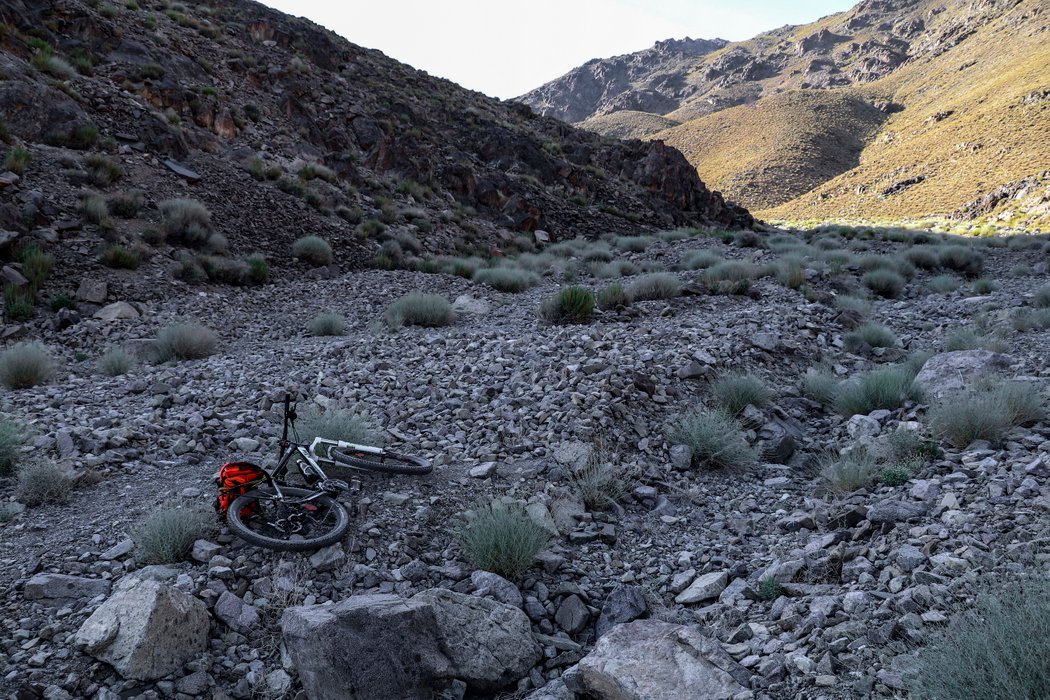 And at some point, i encountered this cute creature (desert mouse?) :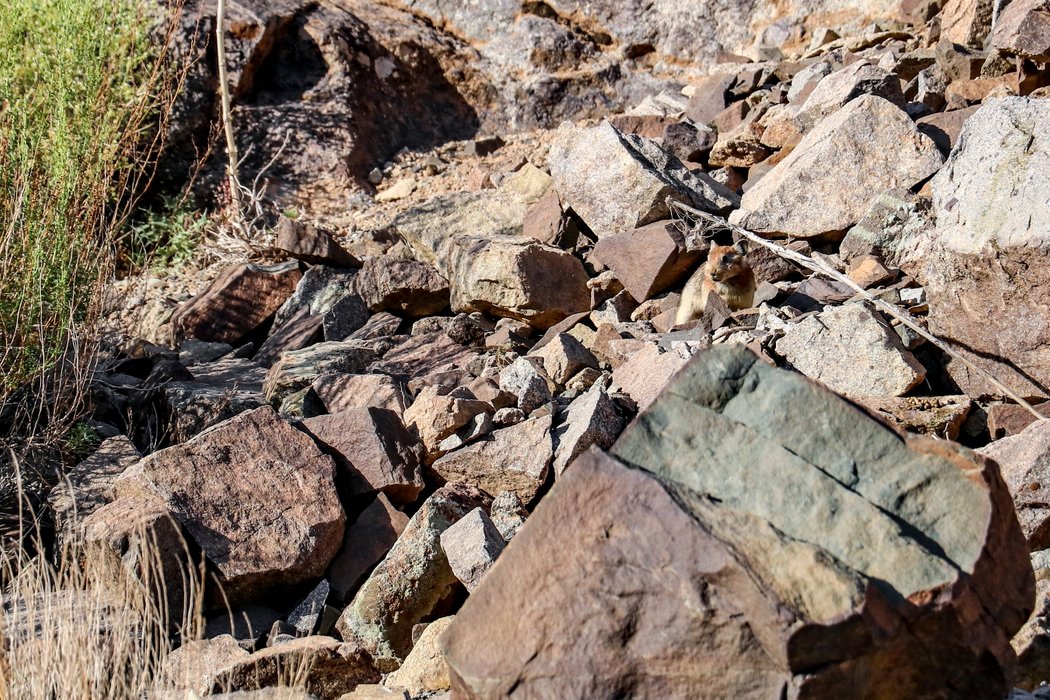 I went along the path. The were very few and short paths along side the river that biking was possible, but they were too short and it was uphill that make biking in those path kind of impossible. Mostly i dragged the bike on the rocky river bed. It was a hard task but based on distance, i had done more than half of the way, so coming back was not an option (in fact it was, and that made it even harder, because i always had the option to turn my back to the mountain peak and head home). after few hours of dragging the bike, i reached the end of the river bed; where the Mil mountain starts. Though i expected to reach somewhere else, but here i was. There is a place with few trees and in early past (say 3 years ago) it had water. This place is usually a camping spot for those who want to reach the mountain, but unfortunately i didn't reached it. Somewhere along the path, i made a mistake and that took me away from it. After about less than an hour searching for that place, i gave up the search and believed that the mountain ahead of me is the one.


The real climbing started and the bike was the worth thing i had with myself, but it started because of the bike. Because of the steep incline and the rough ground, dragging the bike was so hard and sometimes impossible. So i put the bike on my back and carried it.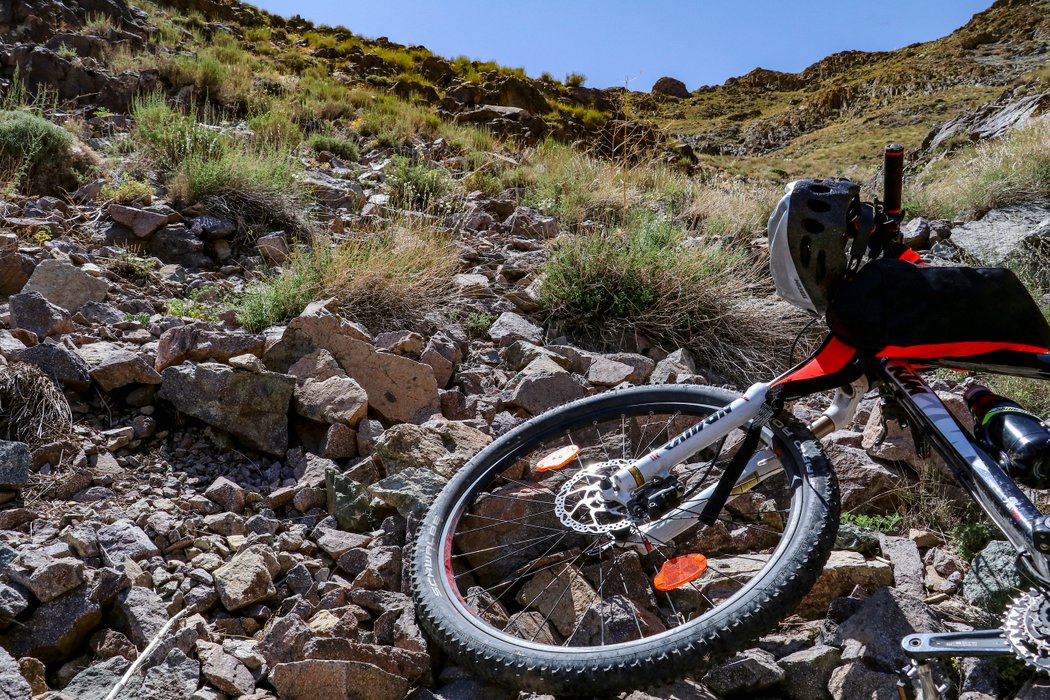 And this was when i started asking my self "what am i doing?" "do i need to do this?"


And suggestions came to my mind: "it's enough!" "you've already done what you haven't done before!" "you don't need to do this!"


But i continued to the peak. With bike on my back and a steep incline ahead, i needed to rest every few steps, but the problem was that putting down the bike and then putting it on my back again was a hard task, hard enough to convince me so many times not to stop and rest.


Every step needed a strong will power to take, i needed to decide for every step, to take them toward the mountain, or head back home or just lie down on the ground. Sun was close to its highest point. The direct sunlight was too harsh and made me realize that next time, i should bring more water. It was less than half a kilometer left to reach the peak, but this half of the kilometer was harder than rest of the way i had completed.
I began to really thing about going back. My mind was trying to make an excuse for it: "There's no time, you spend 7 hours to reach here, you need two more hours to reach the peak and by the time you're there, you just have 4 hours before the sunset. Do you want to end up eaten by a wolf in the dark?" And at the same moment i felt strong in my heart, doing everything to reach my goal. The paradox that face many times in my life, one way or another.


I was so close to the peak. my bike was lying on the ground, and i was next to it, resting. I was so tried, even though there was not much left to the peak, i was thinking about going back. Those birds flying above my head, reminded me of vultures waiting for my death, even though i knew they're not vultures but i couldn't help it.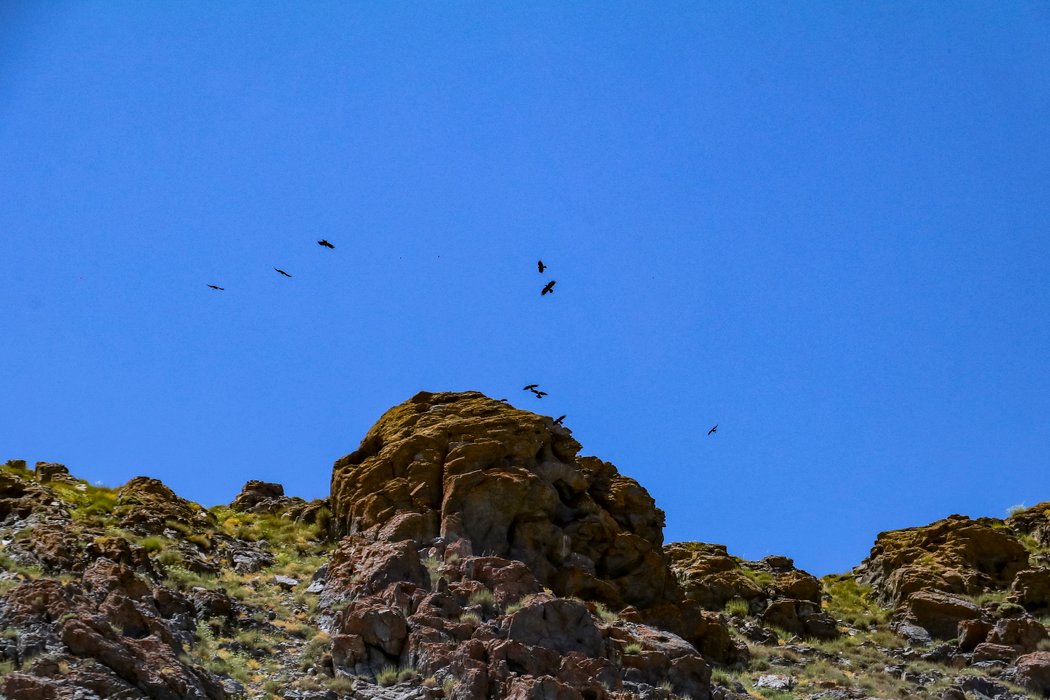 ---
End of part 2
Check
Diaries of an addict #4 - MTBs belong to the mountains not the roads - part 1
to read part one
And read
Diaries of an addict - #1 confession
to know more about Diaries of an addict series
Thanks for reading this, i'll be happy to hear your opinion, critique in the comments.