After conquering the Yorkshire Three Peaks I was a little crestfallen. It does get addictive climbing these fells but the closest ones to me are within the Lake District which is around 60 miles one way.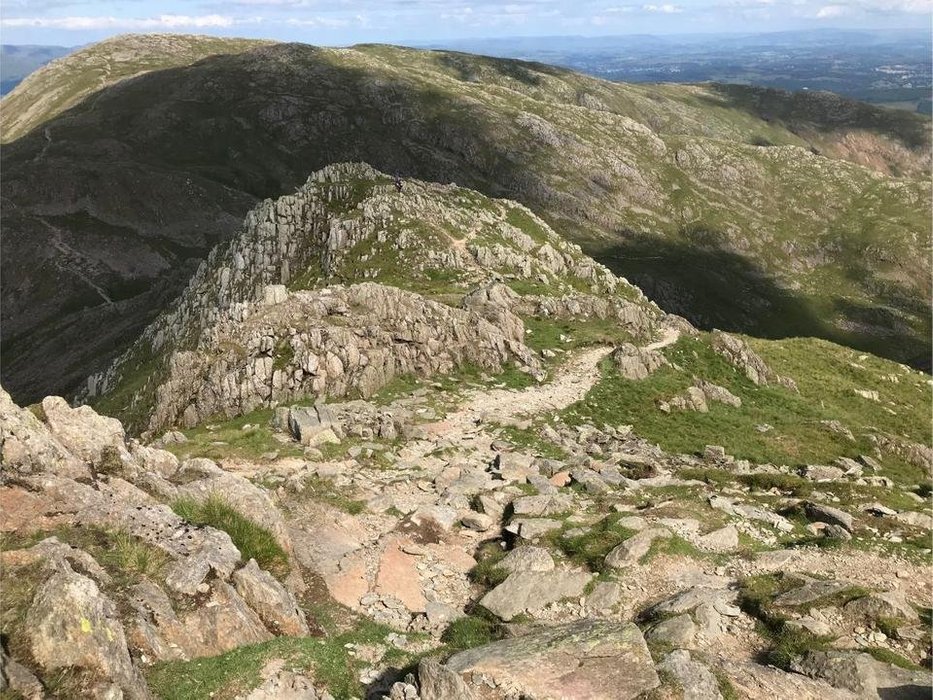 I wanted more, and bigger ones than last time. Driving all this way is not my idea of fun but this is the only way I was going to satisfy the desire to do more.
There are some huge ones in the Lakes including the highest peak in England, Scafell Pike which @bingbabe climbed just a few weeks ago.
I'm not ready for that yet and so looked at something a little less demanding. It was 11 am, a little late for setting out on a 77-mile journey and the weather was scorching.
I picked out 'The Old Man of Coniston' as a mostly random choice. One thing I do is check to see if anyone has fallen and died. There is one count of a bloke slipping, falling 100 metres but he lived.
That was good enough for me. I want to climb and not die… not just yet.
The Old Man was the highest point in the historic county of Lancashire (it is now in Cumbria). This assertion rests upon its being higher than its near northern neighbour, Swirl How. There appears to be some uncertainty in the current literature over whether the height of Swirl How is 802 or 804 m after resurveying. If modern measurement has not added 2 m to its rival, the Old Man of Coniston is the highest point in the Furness Fells, and the twelfth most prominent mountain in England.
At 2634 (803m) feet, it is 300 feet higher than Whernside which was my previous climb and seemingly quite famous. There appeared to be several routes up and we decided to head to Walna Scar for ours as it's free parking and avoids the busy town of Coniston.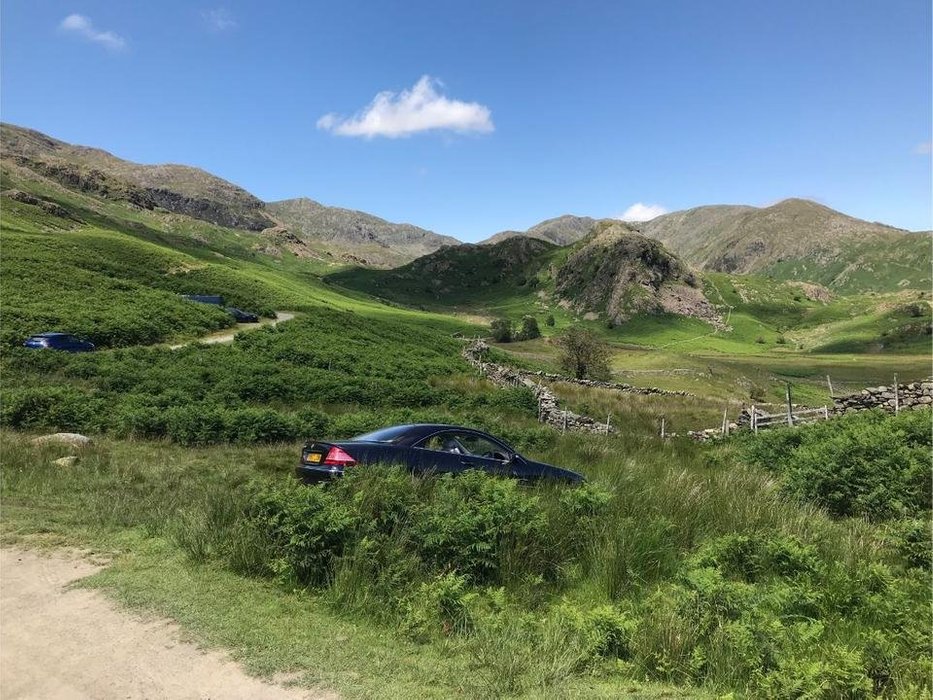 Parking was a little problematic as we were late arriving. You should do these hikes early and not start at 2 pm in the afternoon.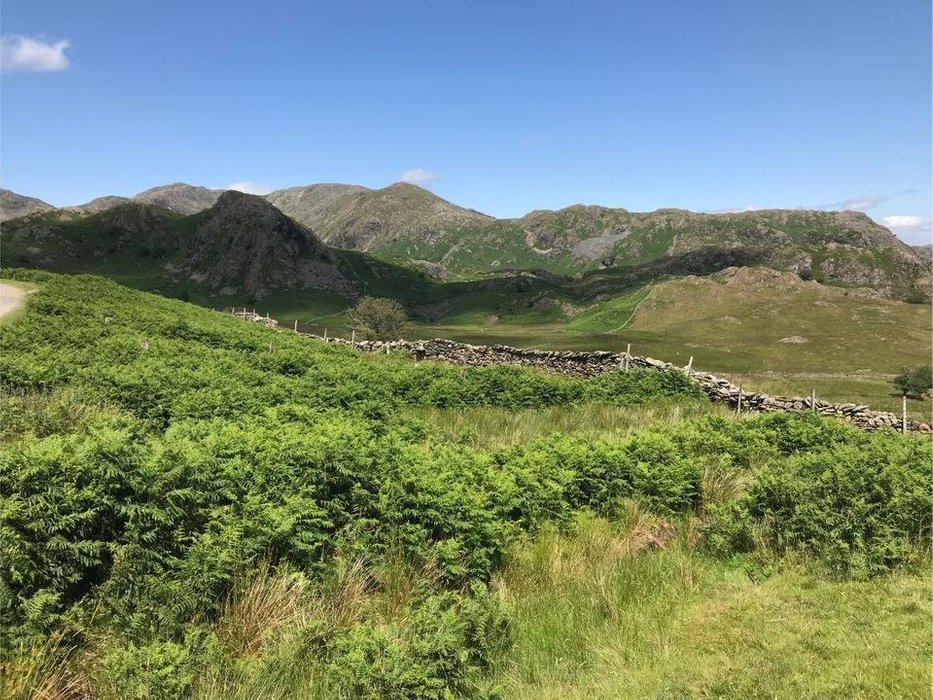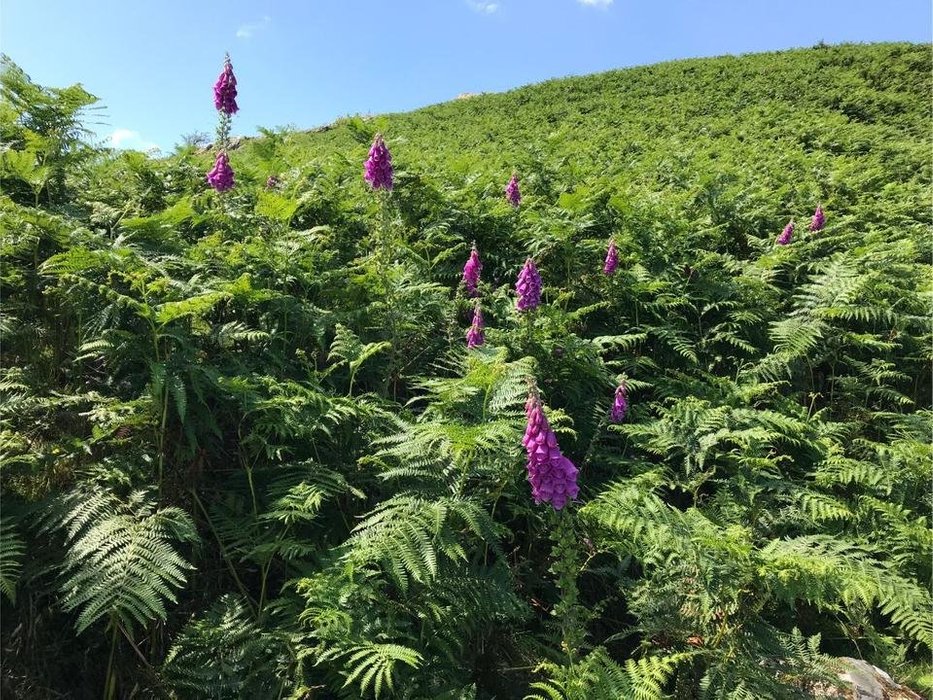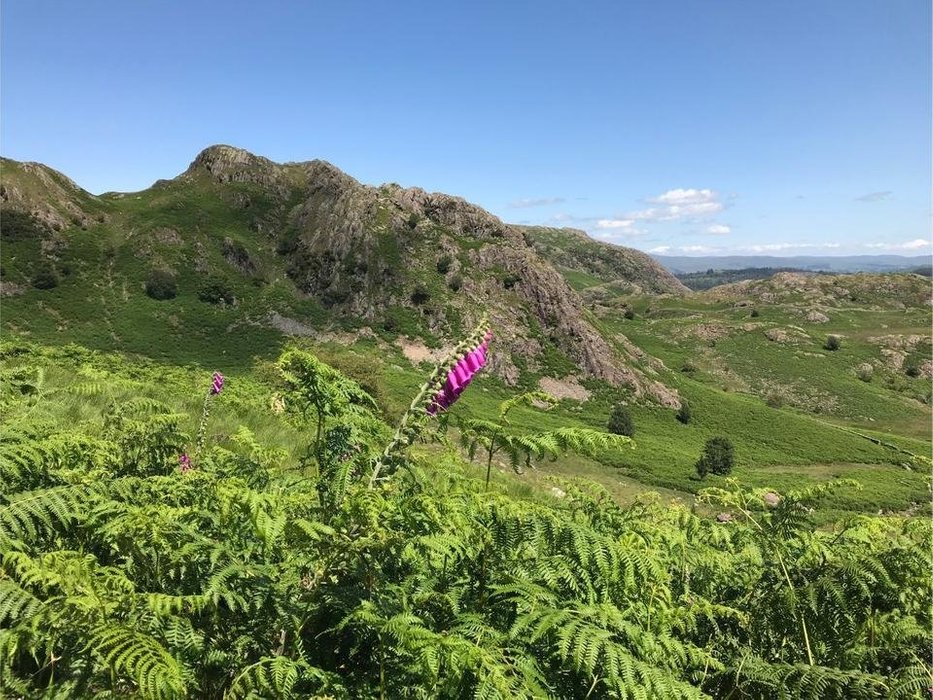 What struck me was the view right from the offset. Lush green ferns were everywhere and it looked more like a scene from South East Asia than North West England.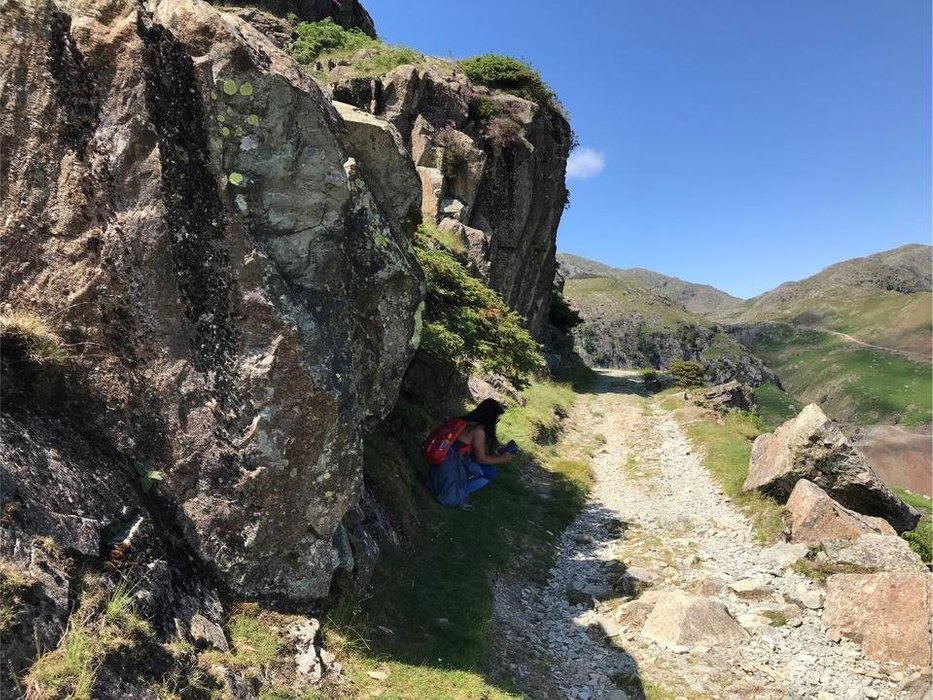 The path climbed steadily and many people passed us, most descending.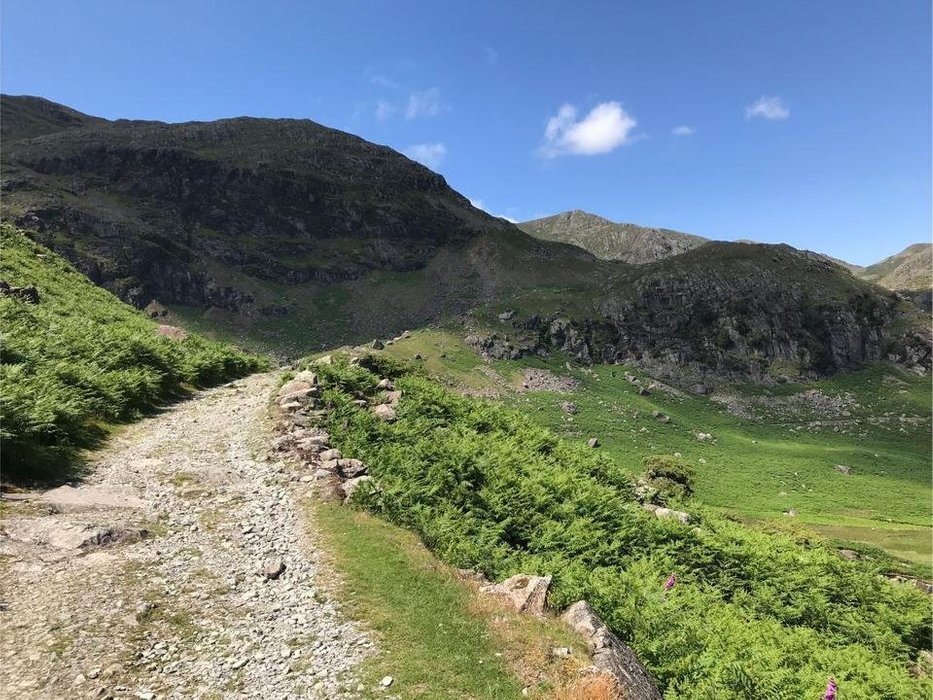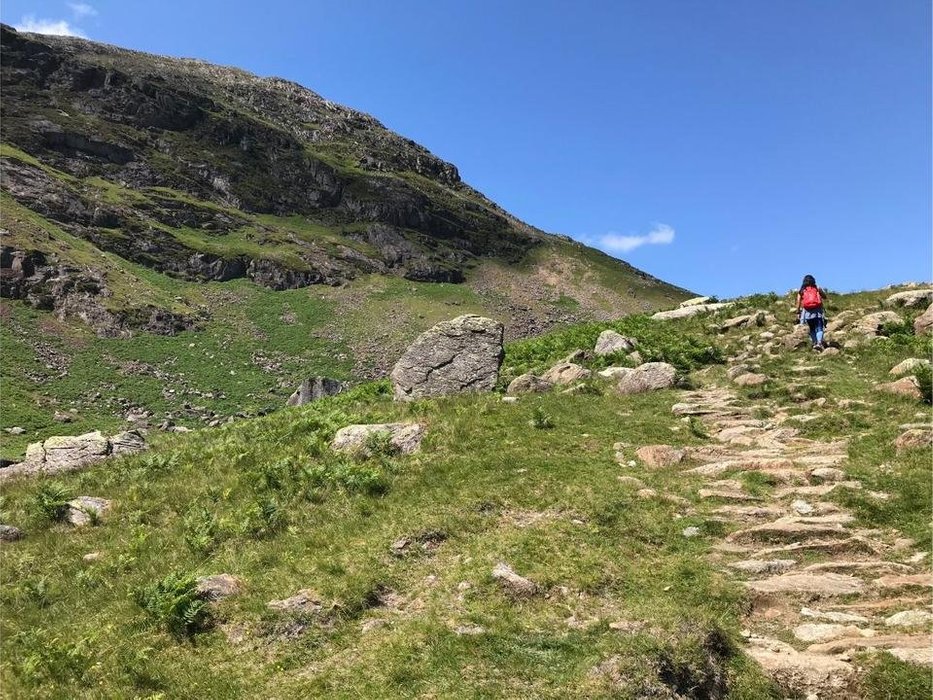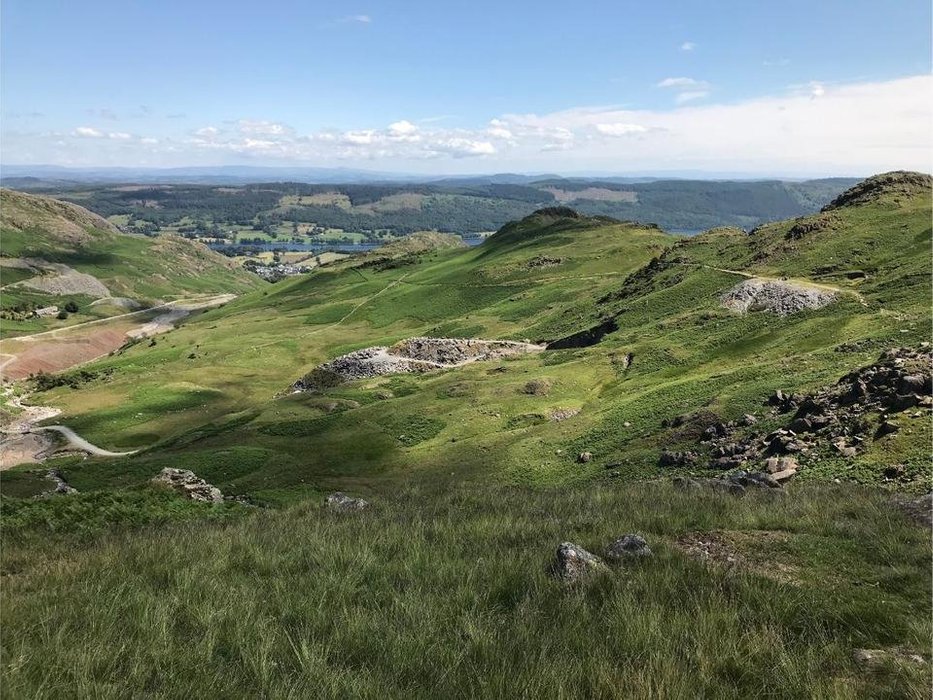 Once again I used the excellent View Ranger application with a predefined route to the peak. What I didn't count on was the sheer length of it. The weather was hot and although we did have some liquid it was not as much as we ought to have.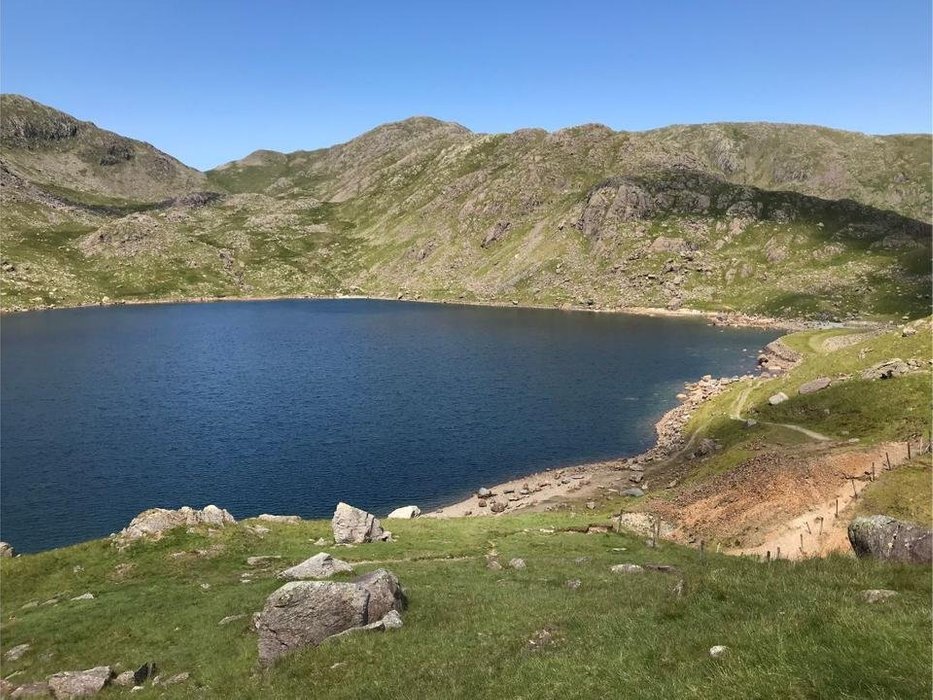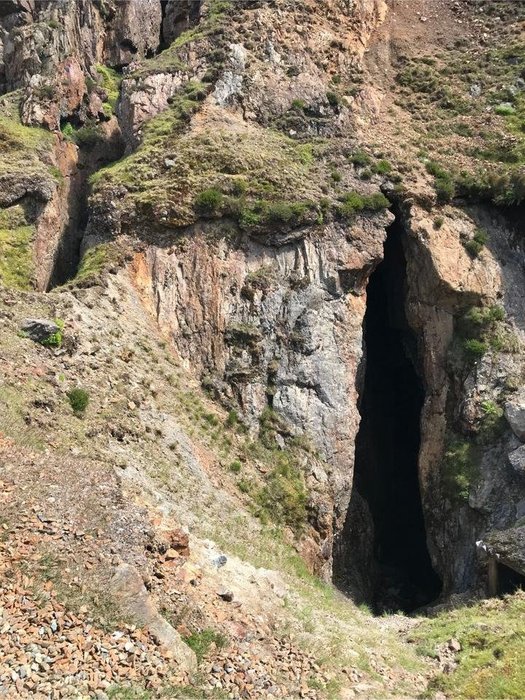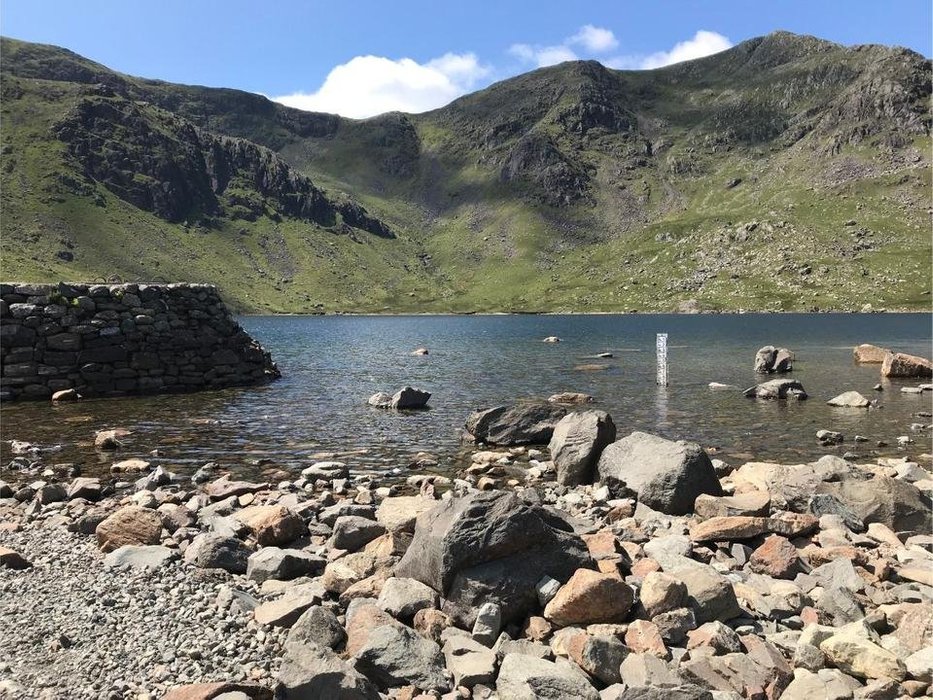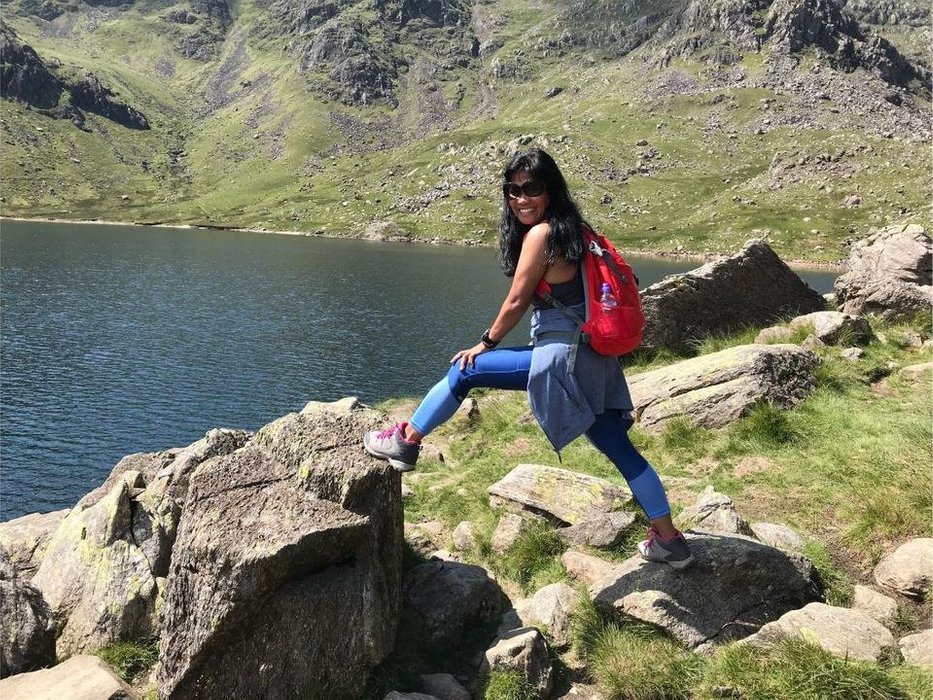 Reaching the lake afforded us a little breather. There were very little signs of life and it was deathly quiet with little or no breeze.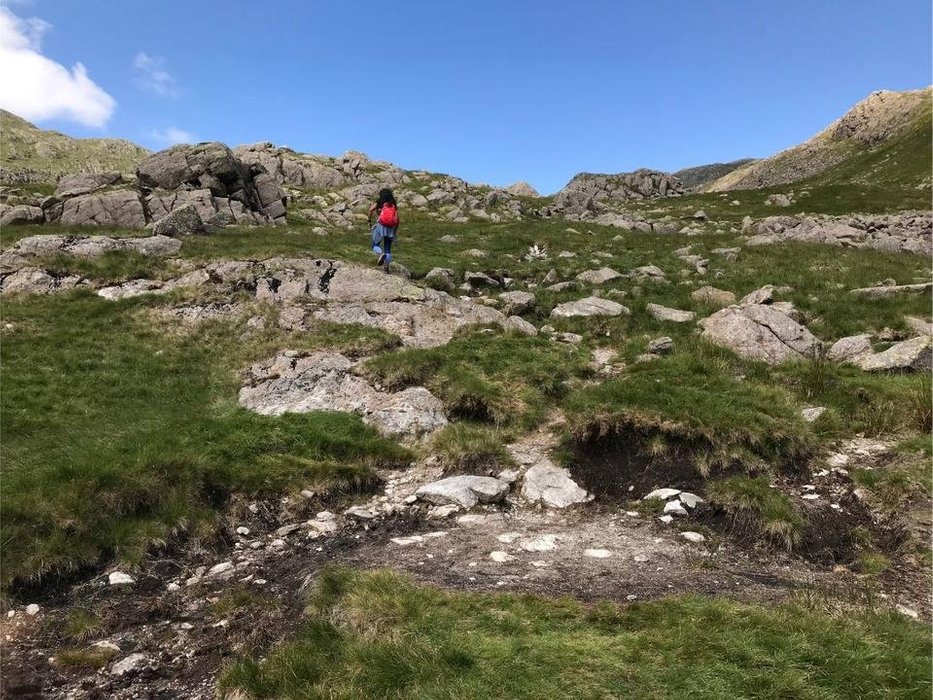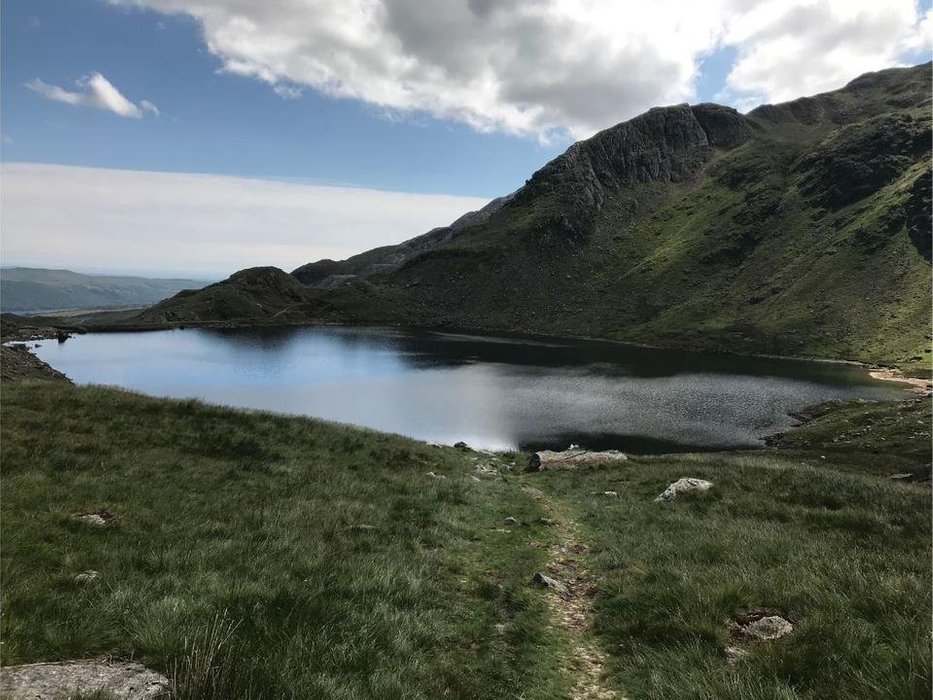 The walking got a little craggy after this and squidgy underfoot. We met an older bloke descending and I asked him how far to the top.
'A long way and there's some scrambling ahead', he replied.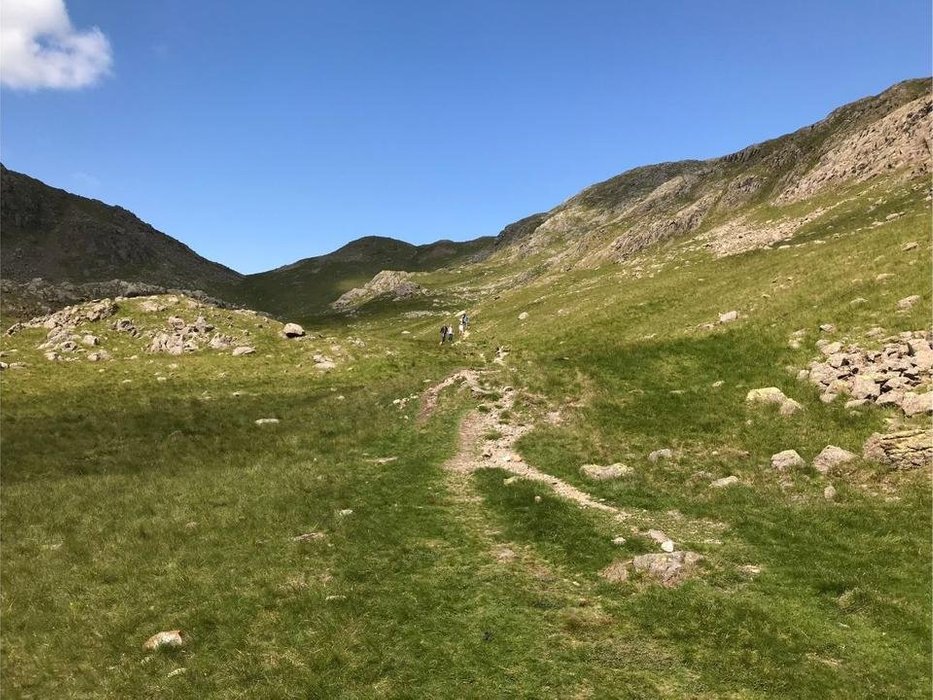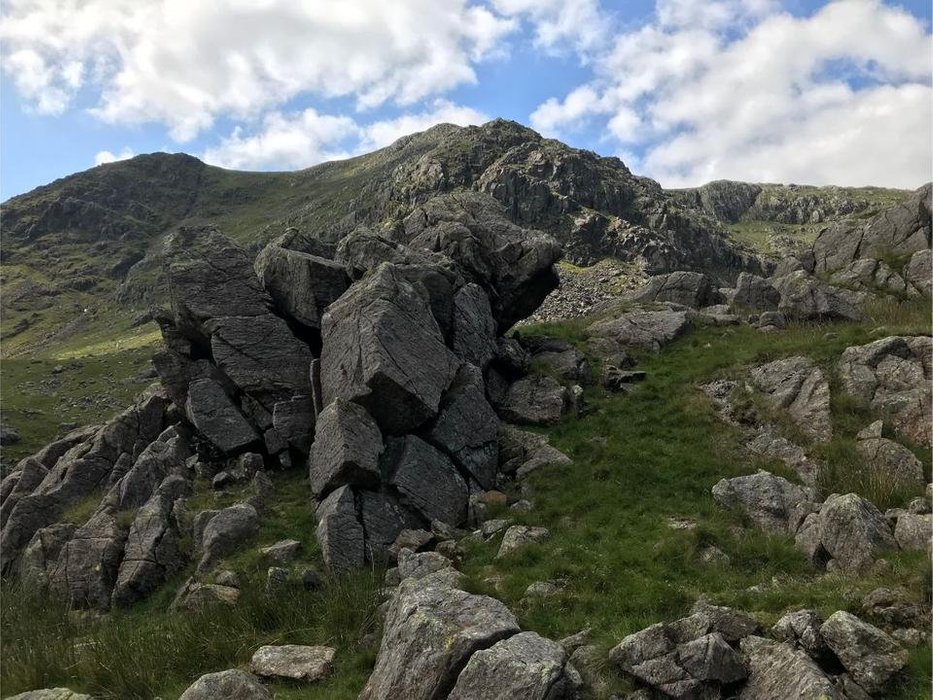 I'm no stranger to scrambling but it does scare me. This curse of vertigo hardly compliments my will to climb.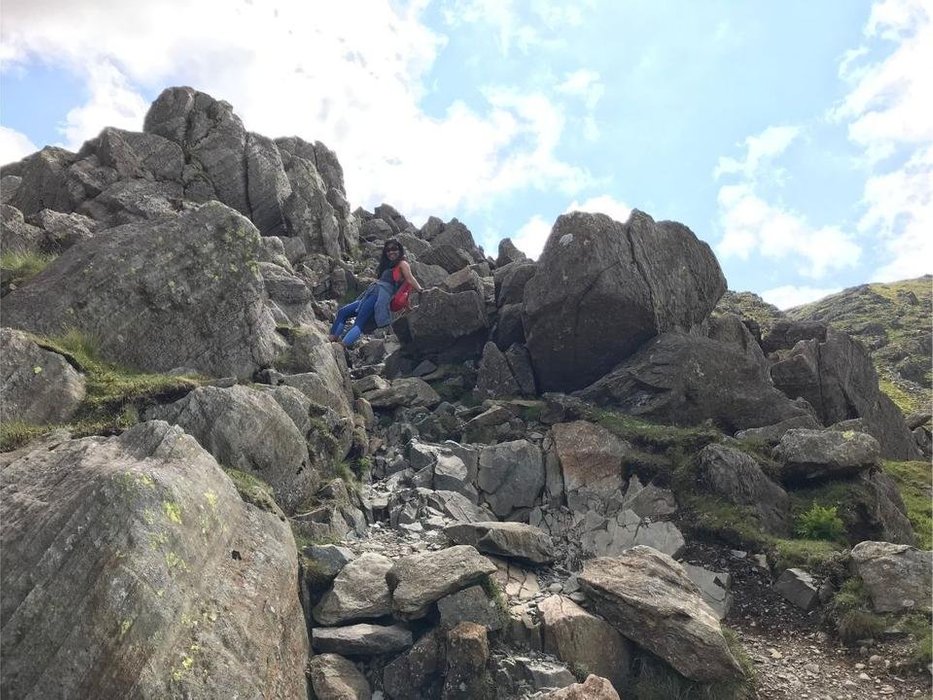 Another mile or so brought us to the start of proper climbing. This was more than Pen-y-ghent threw at us for sure!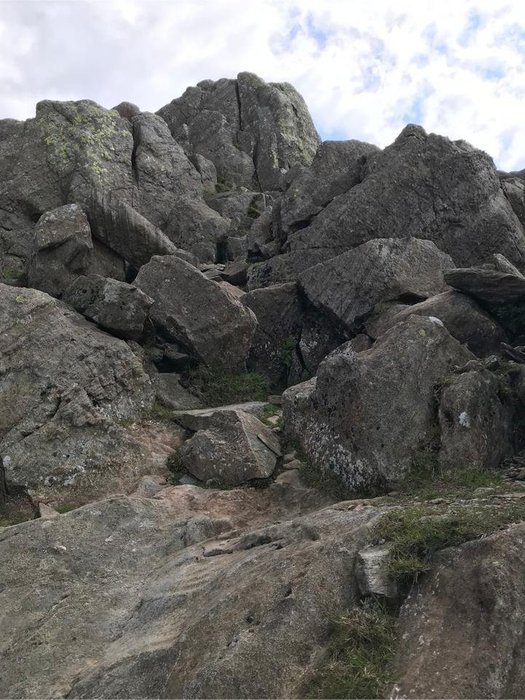 We met a couple coming down and with a black Labrador, off the lead and calmly taking these huge steps as though it was no sweat. Our retriever would be howling and terrified, I'm quite sure of that.
I surprised myself by not shaking, refusing to look down (very often) and managed the steep climbing part quite well. No wind helps a lot, and it would have been a different outcome that would have prevailed if so.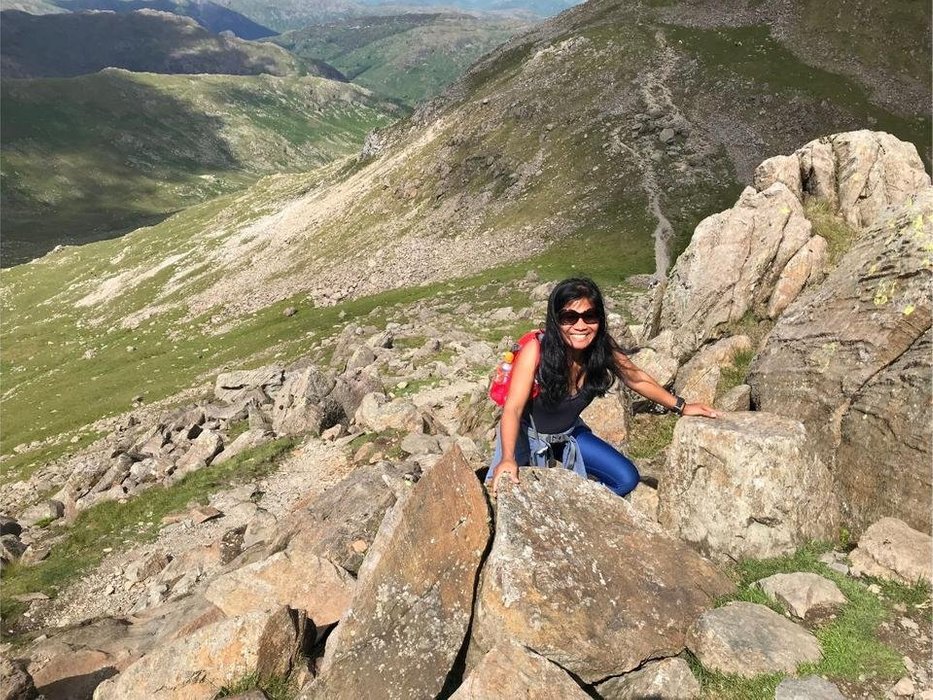 She's grinning but has no issues with heights. Look at the drop behind her.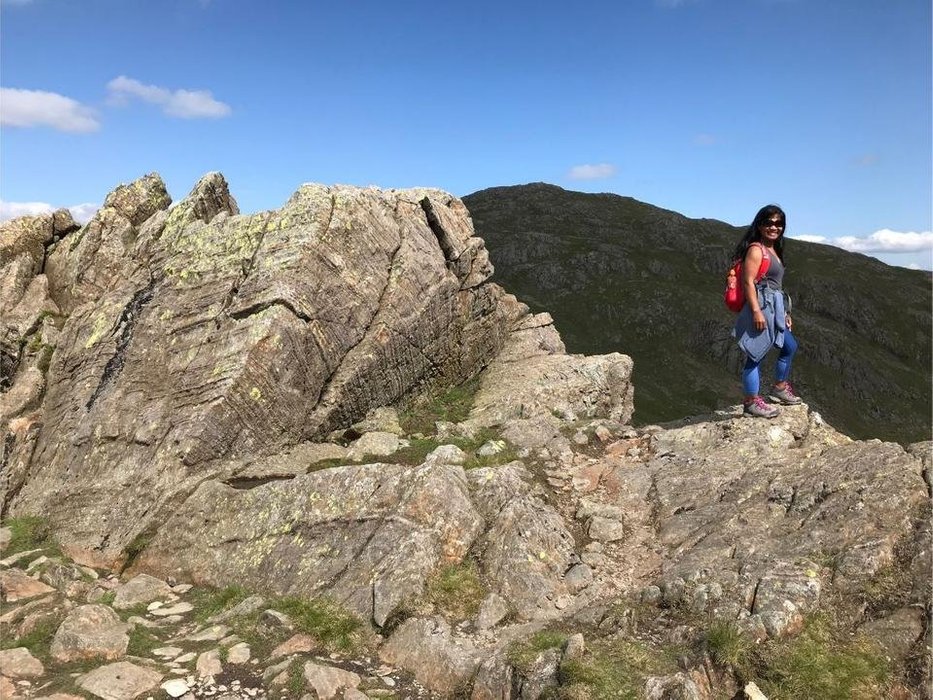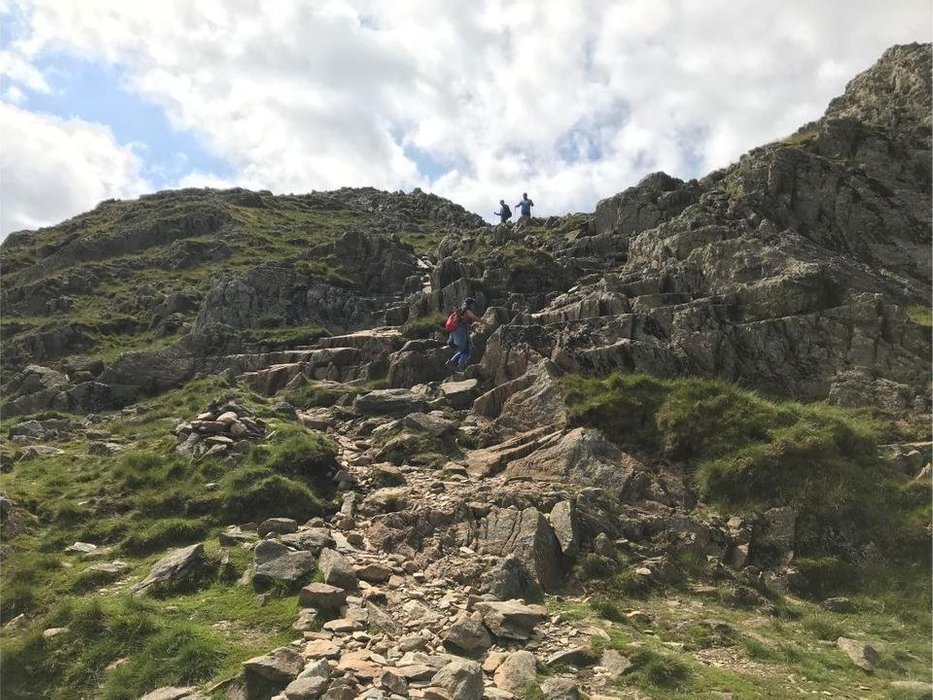 The scramble part didn't last too long and I felt some satisfaction that I managed it without shaking like jelly.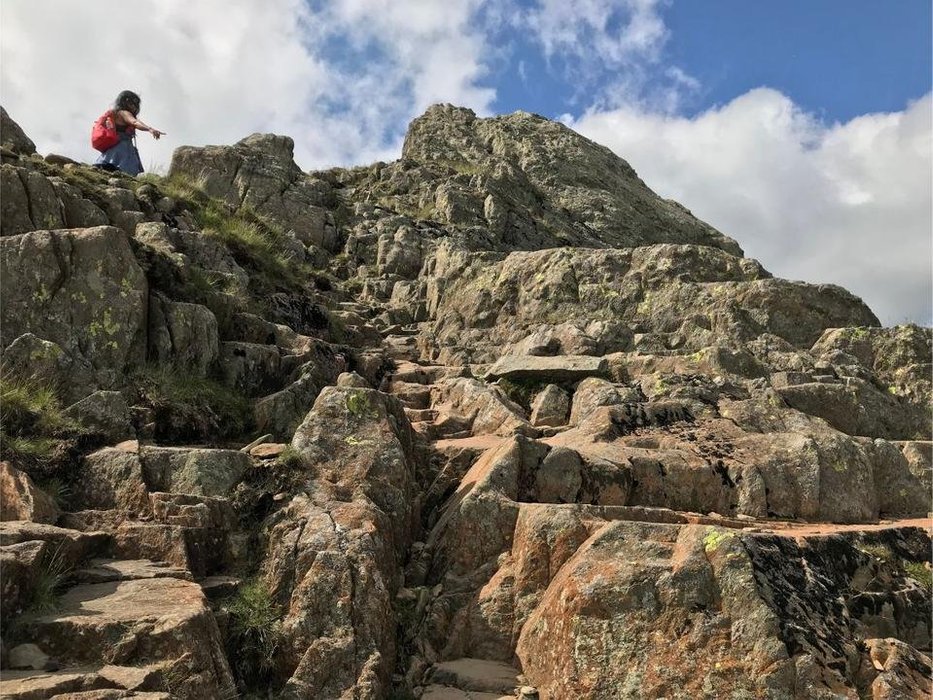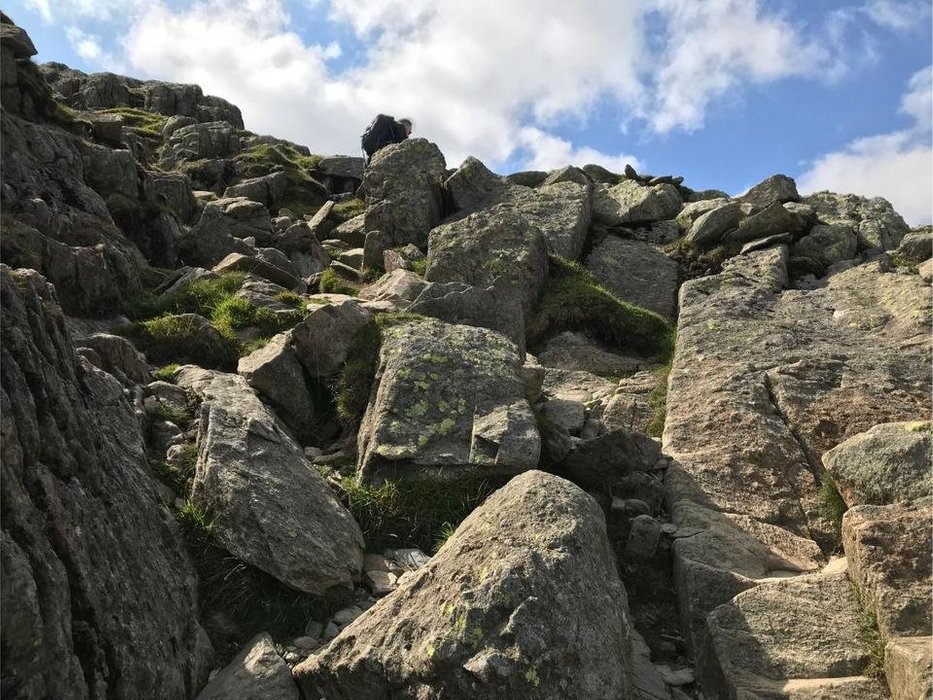 It was not over and the climbing went on and on. Did we choose the longest possibly trek to the top? I think so.
The views were incredible and lady luck was with us regarding the weather.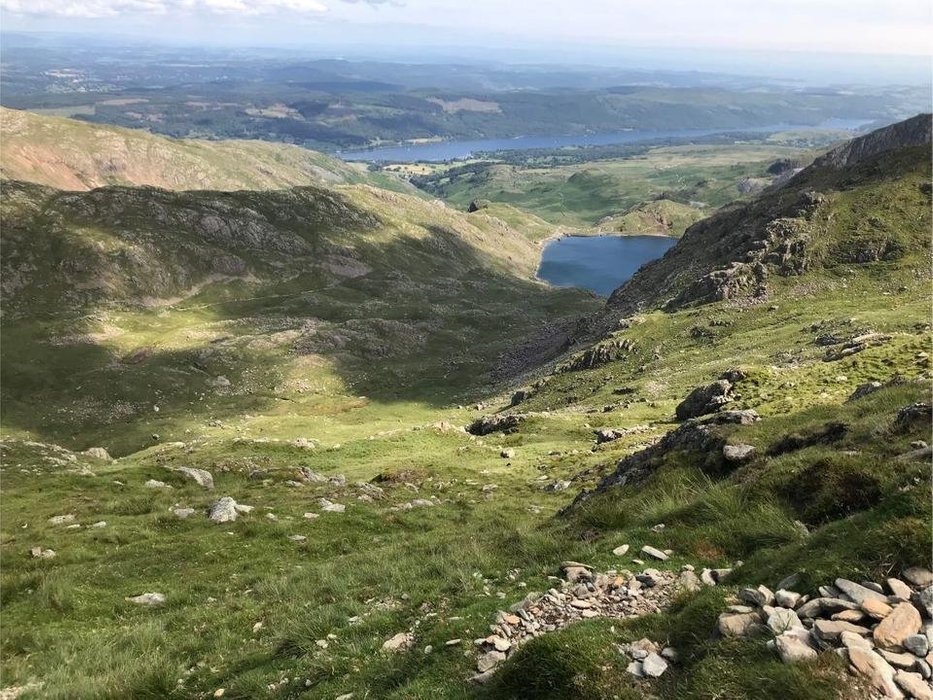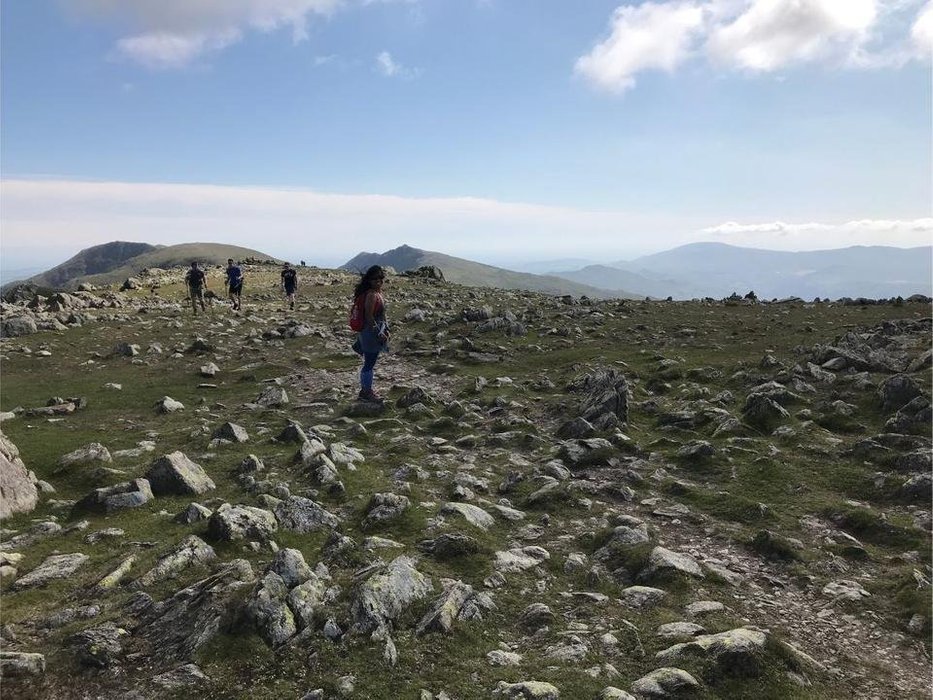 This is the top but not the peak. It was like a Martian landscape up here. More walking was next but now it was more or less level.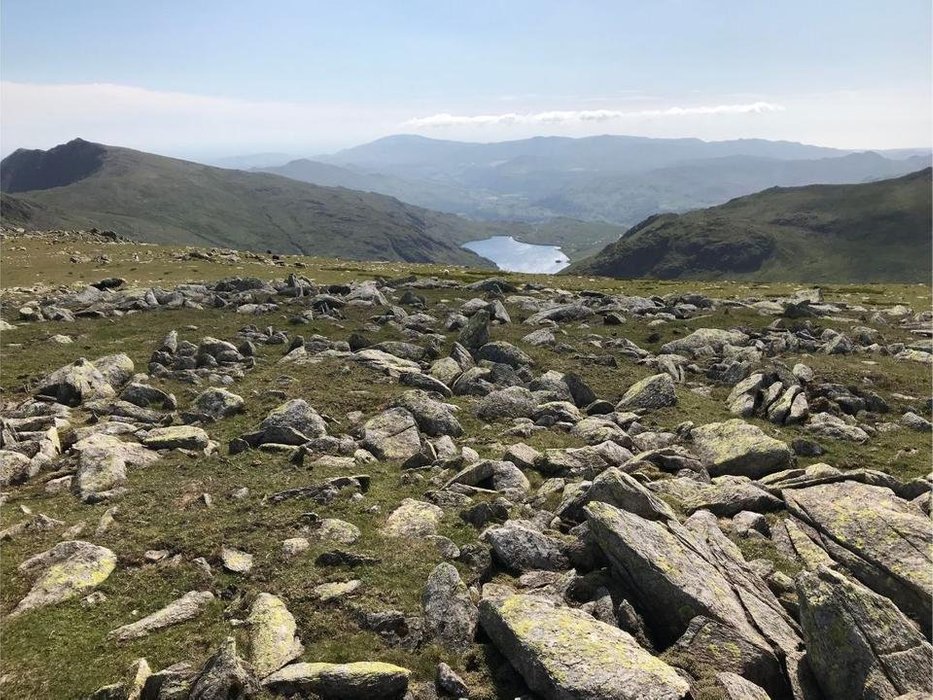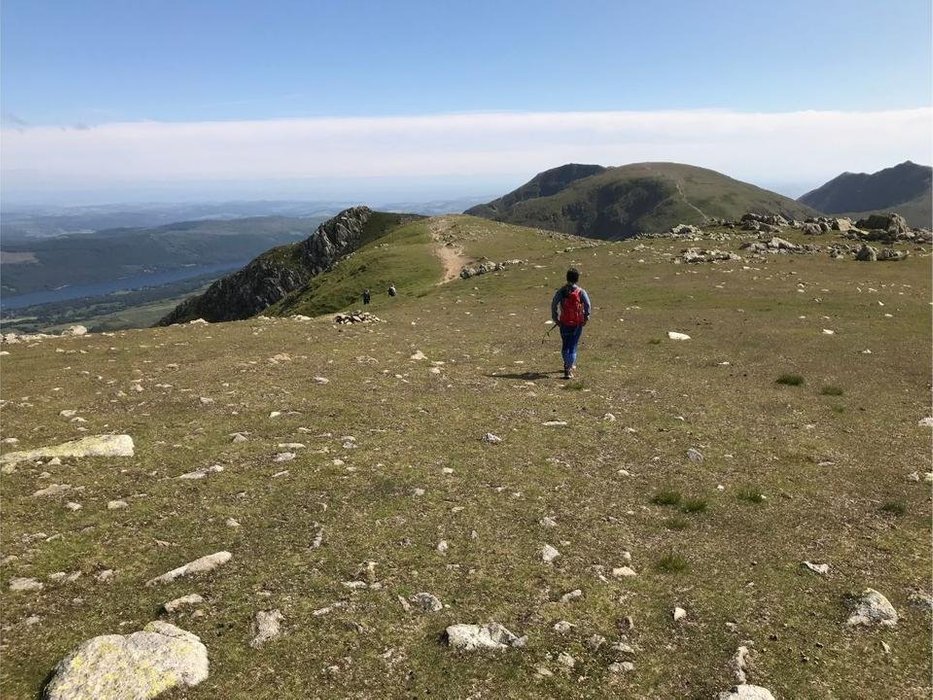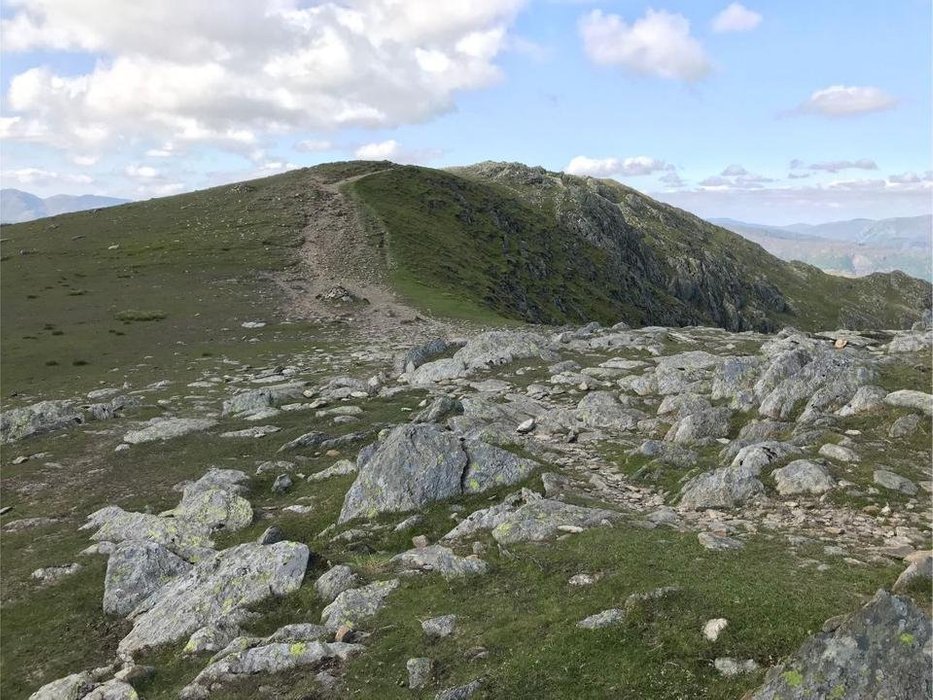 There were some peaks and troughs but the hard part was over.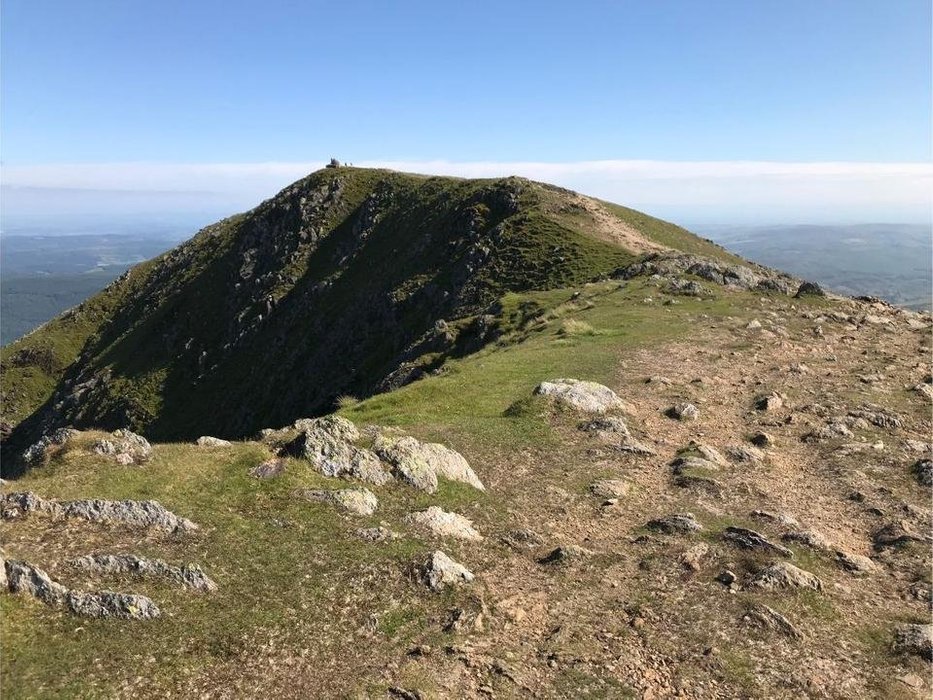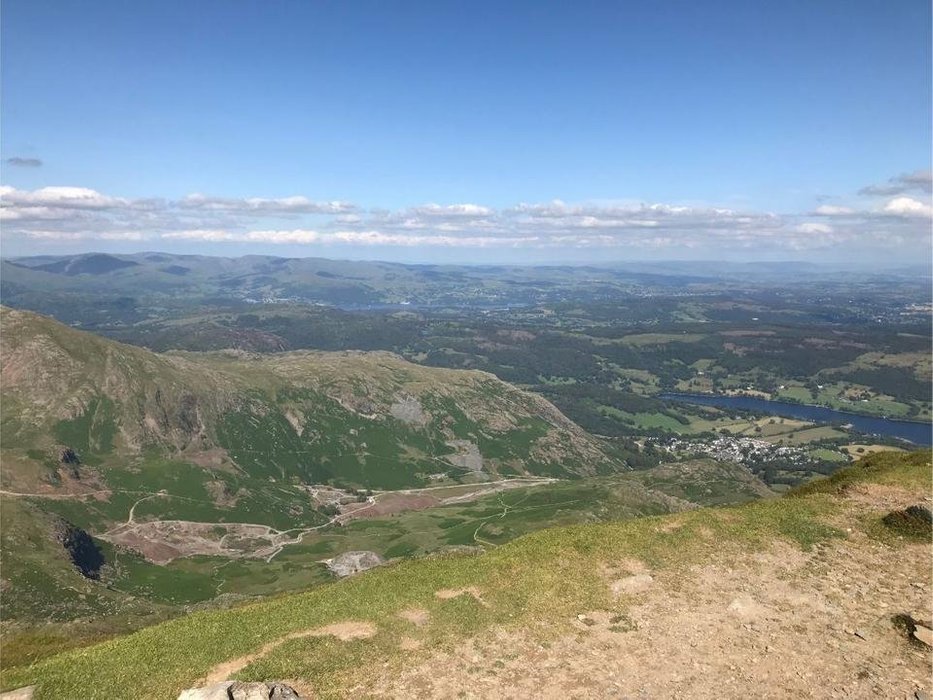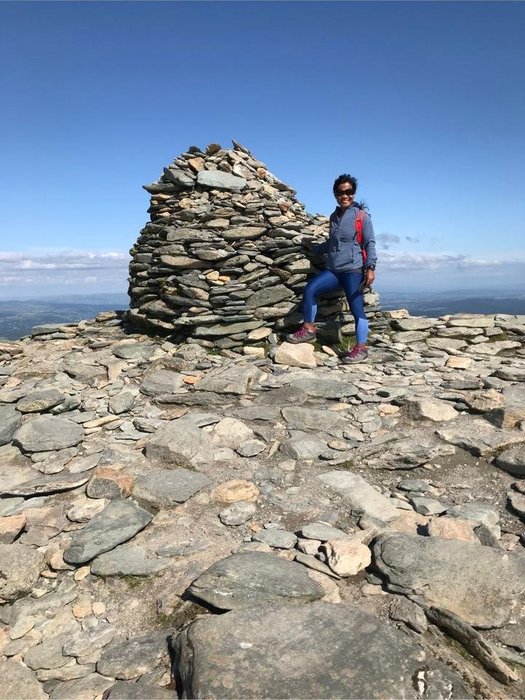 After what seemed forever we reached the peak and marker stone. @bingbabe wanted to climb up it but this was giving me incredible 3rd party vertigo and so I begged her to stop. There was a 500 feet sheer drop just on the other side of it.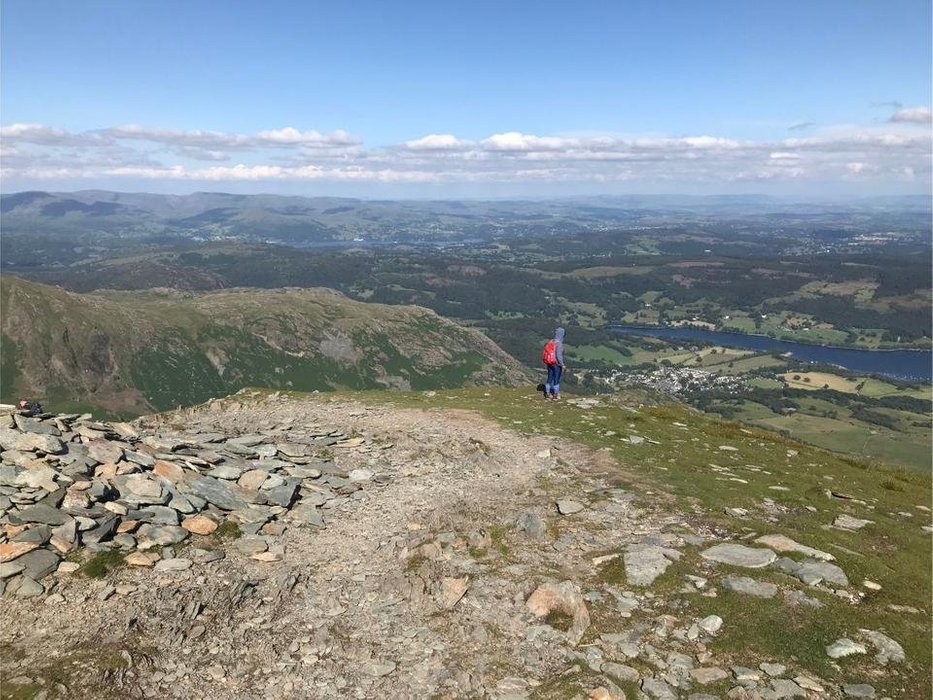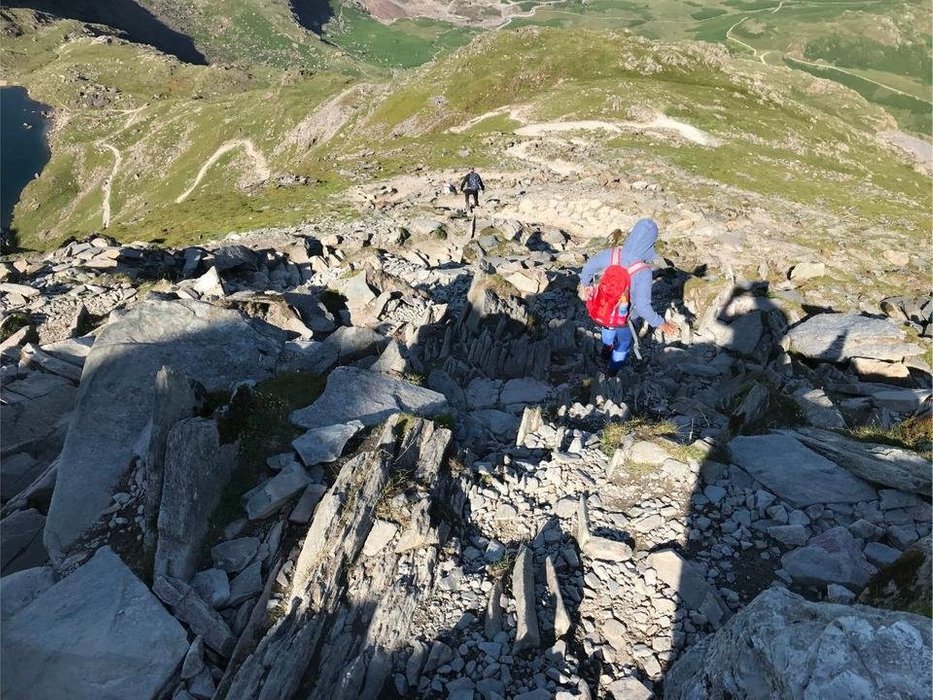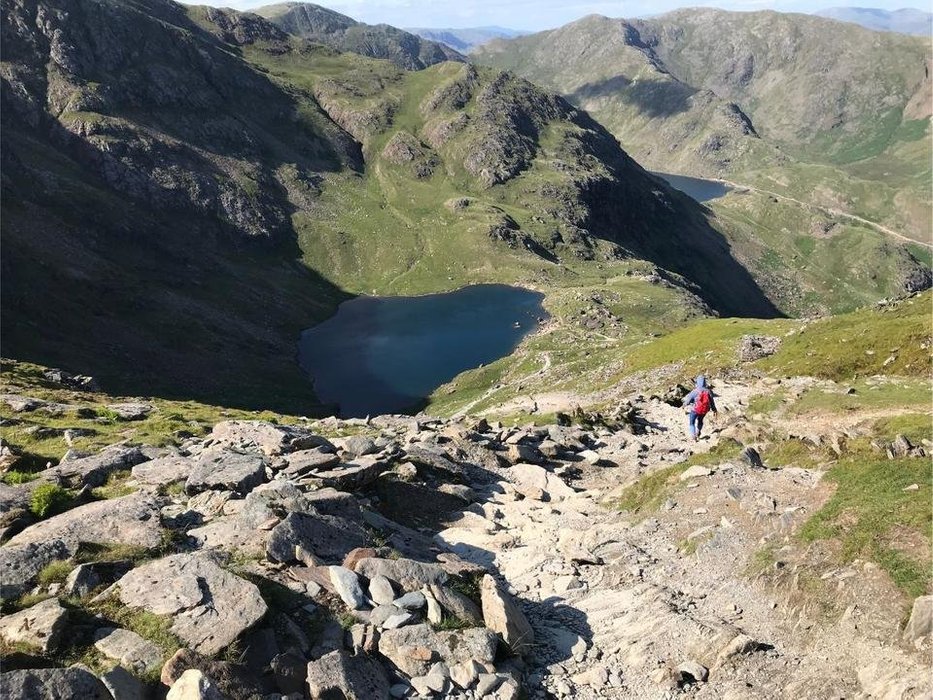 Descending via a more direct route was slippery. This was shale and extremely steep. There were few concessions and one bad move would have resulted in you rolling down this very steep incline.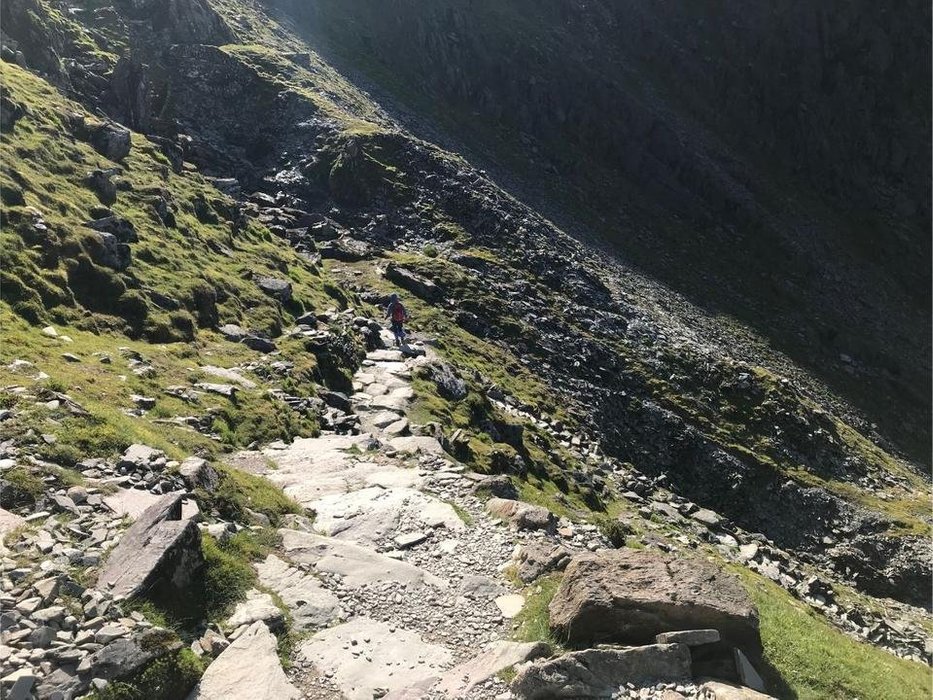 I'm guessing this is where the accident took place.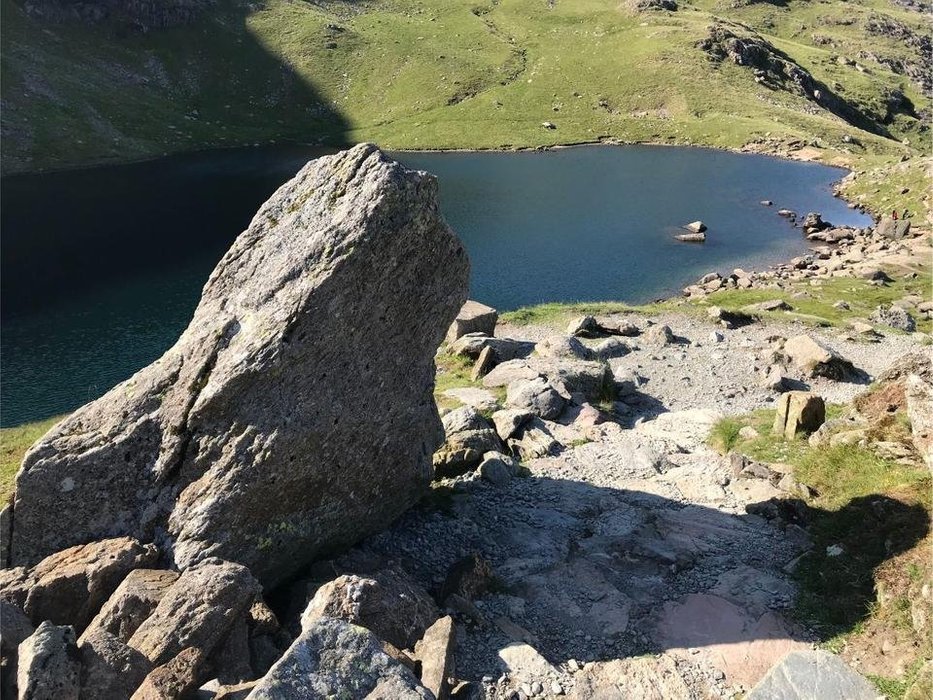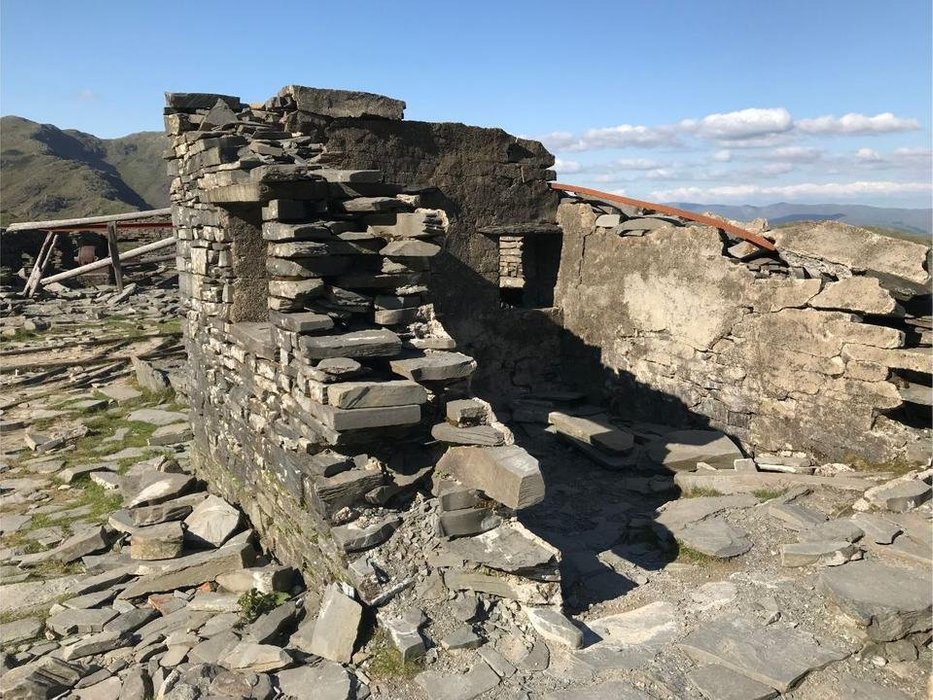 Passing by yet another tranquil lake we entered the copper mine area. Many things have just been abandoned and so I just had to go and have a nosey around.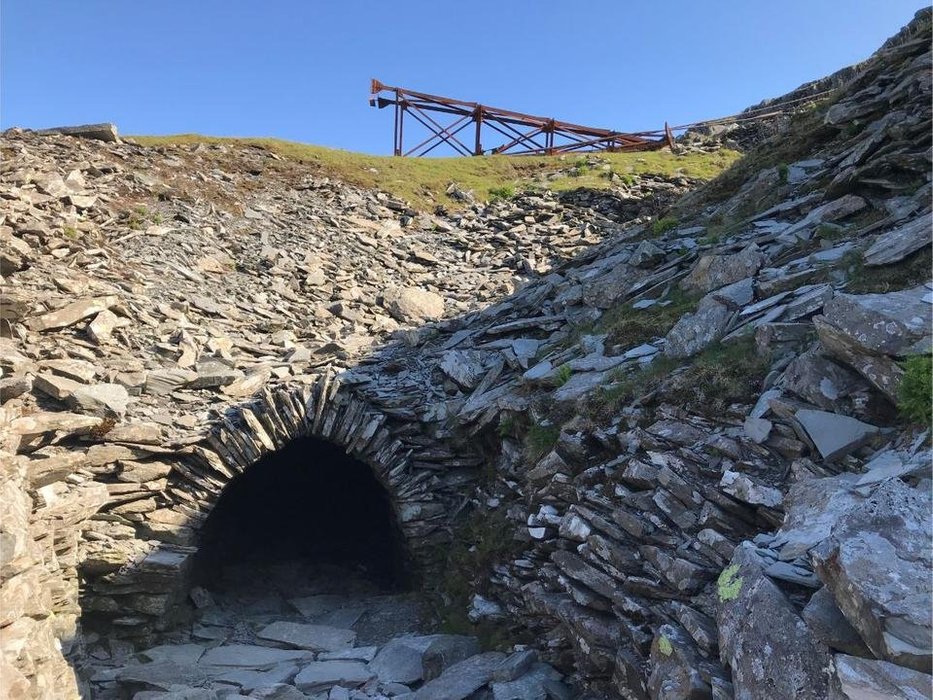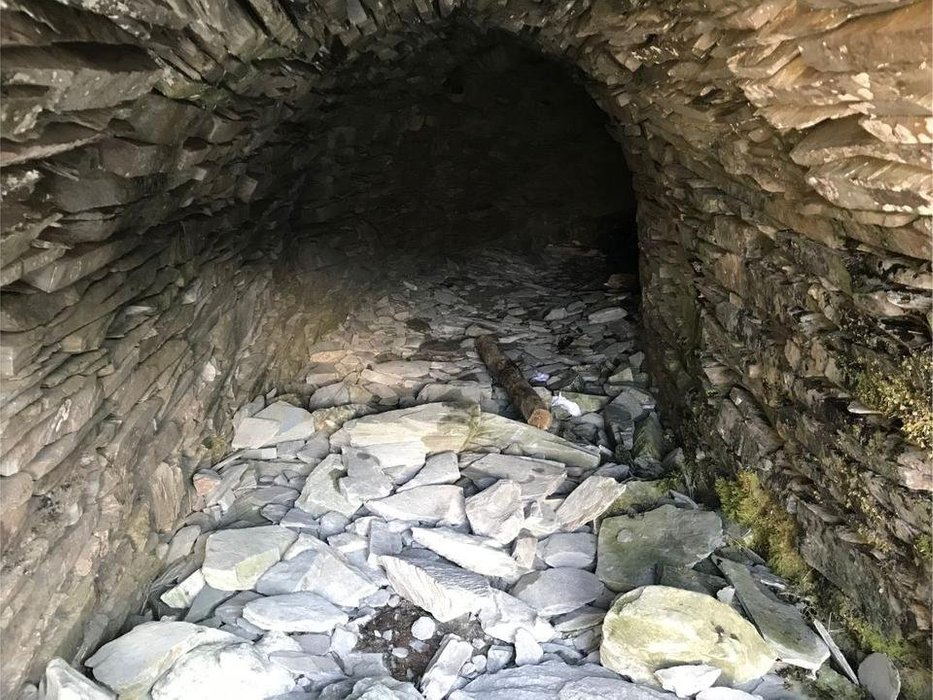 This tunnel bent around to the right but as I had no torch I would need to bend double and so passed exploring it.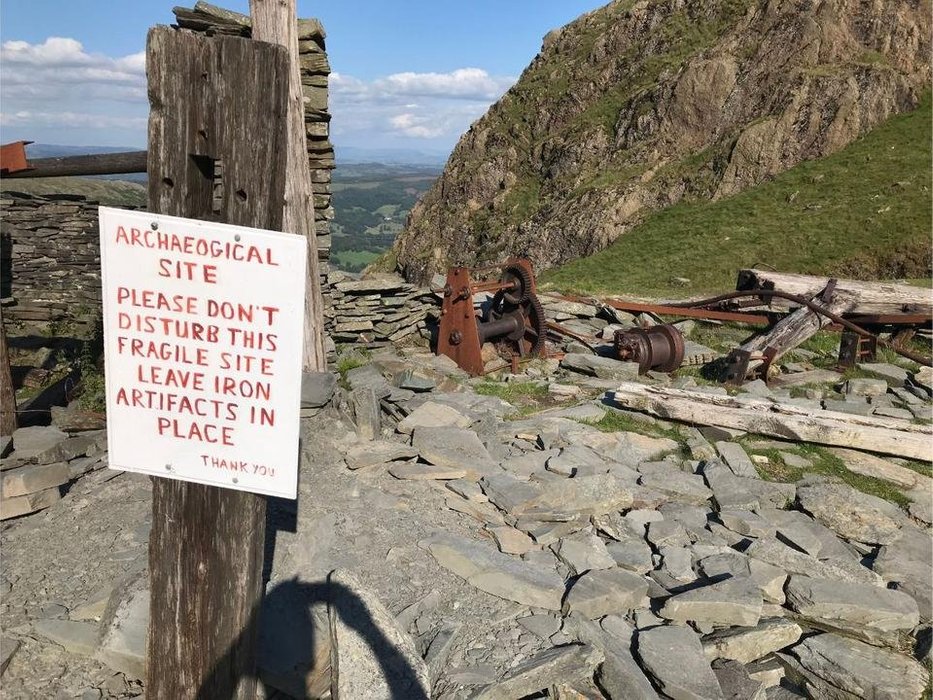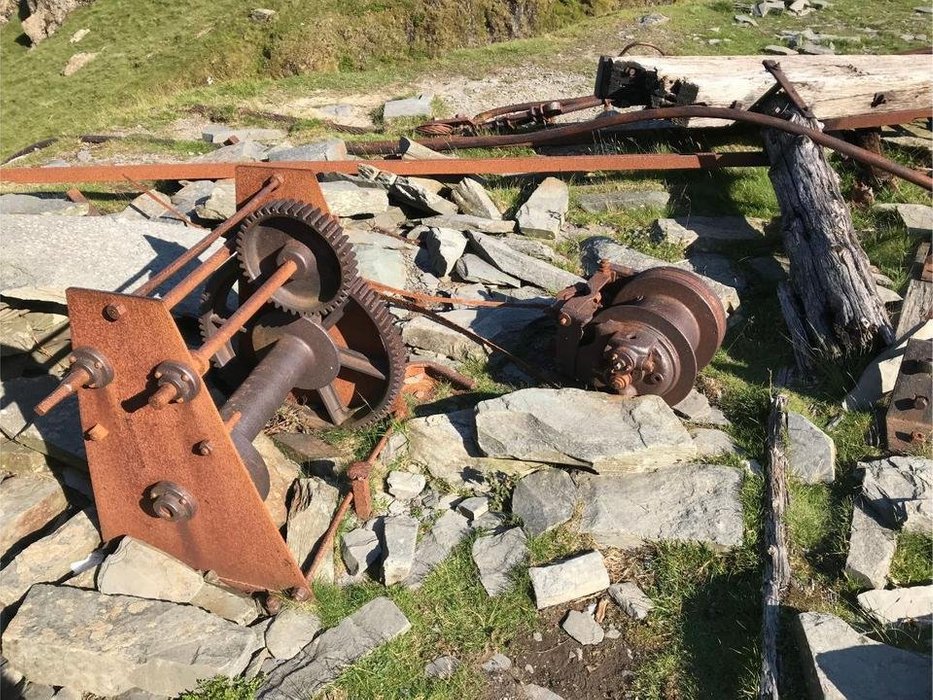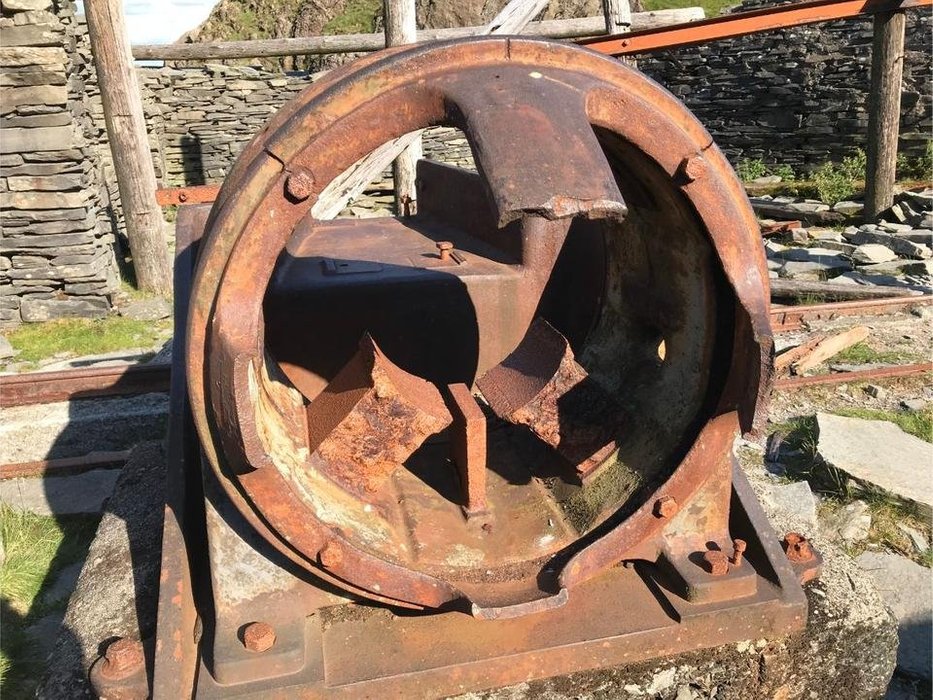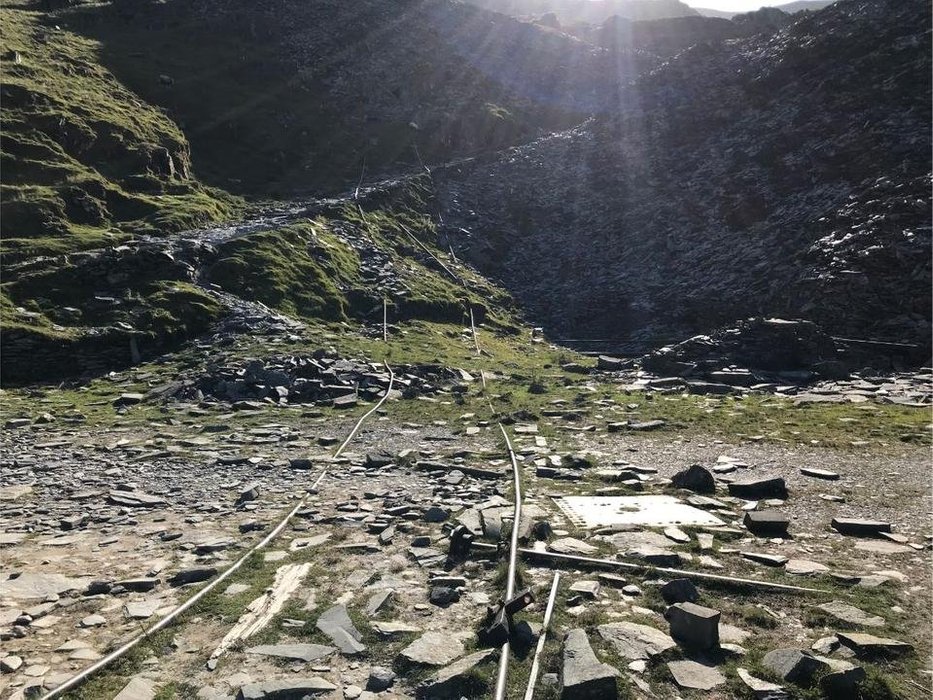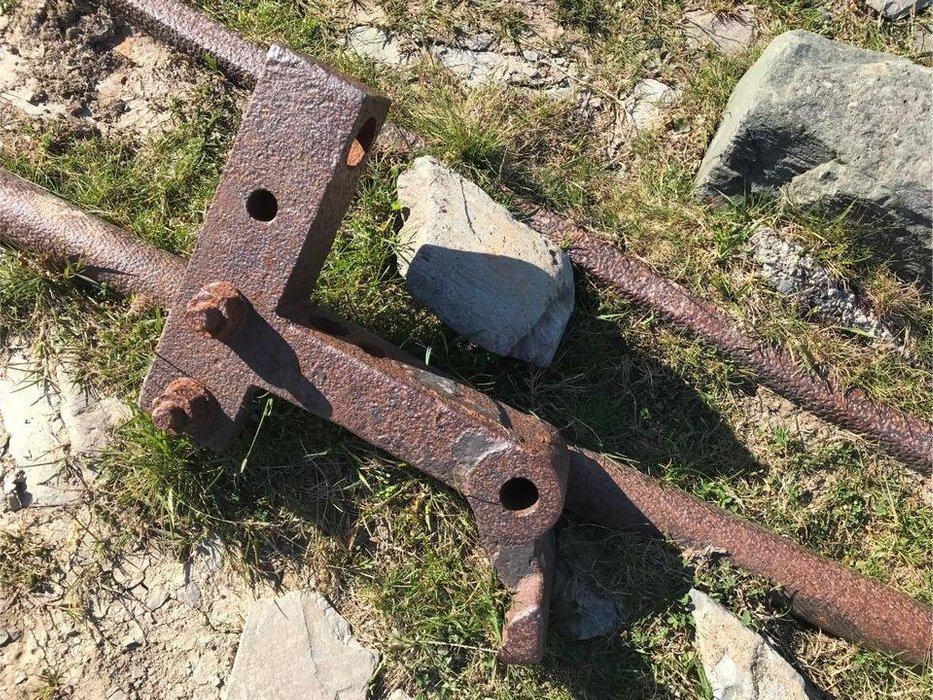 There was plenty of evidence that industry once was active on this mountain. The sign says do not disturb and so I was careful with my exploration of the area.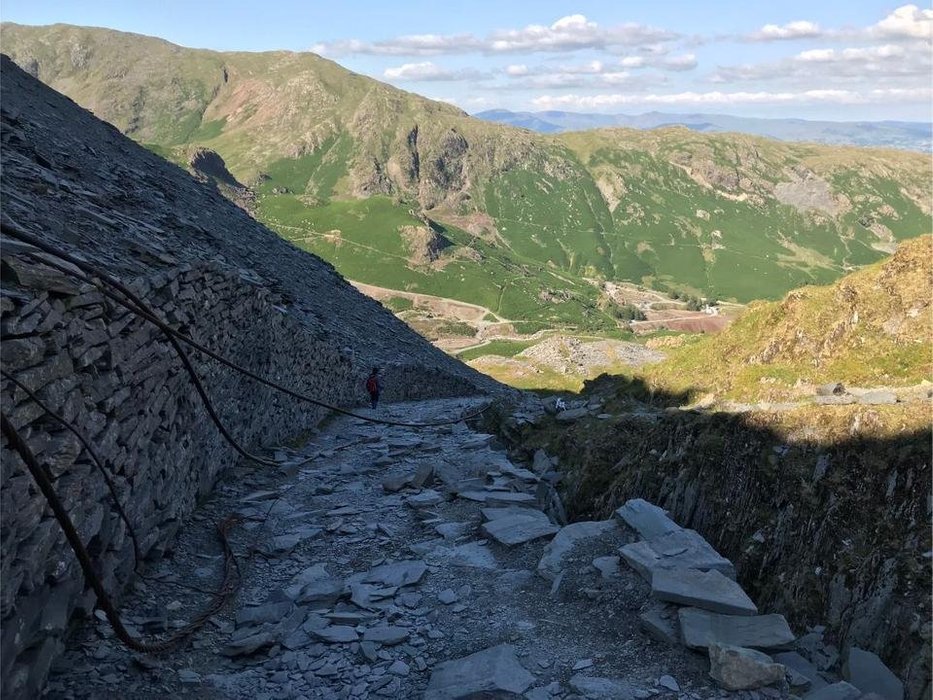 Descending was a relief. We were almost out of water and juice and when the lushness started again I knew we were getting to the bottom again.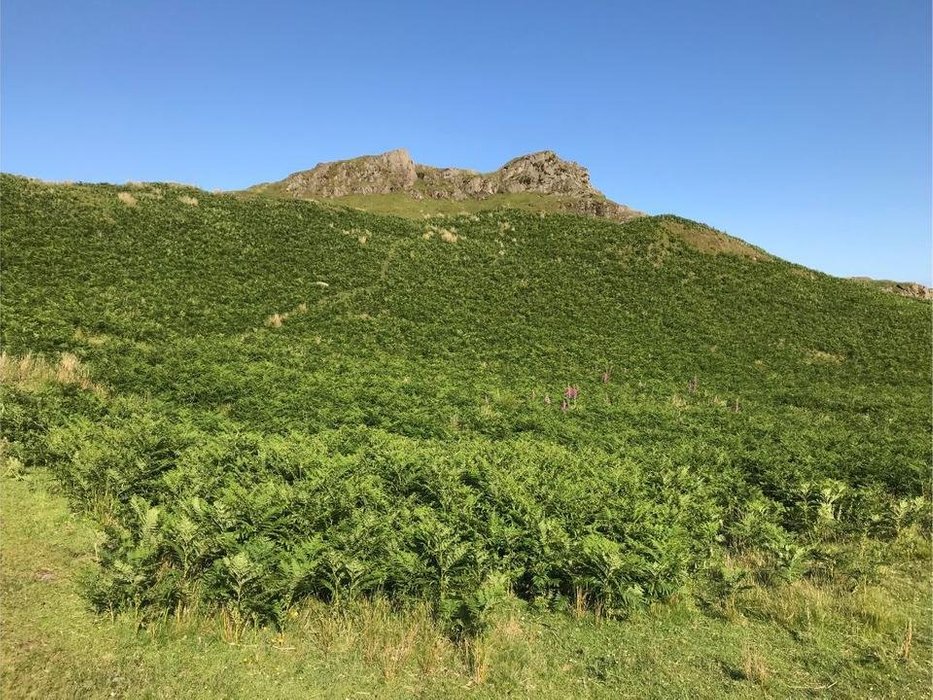 My feet were killing me, and my legs aching like hell. This one had been a real challenge and going downhill takes more out of you than you realise.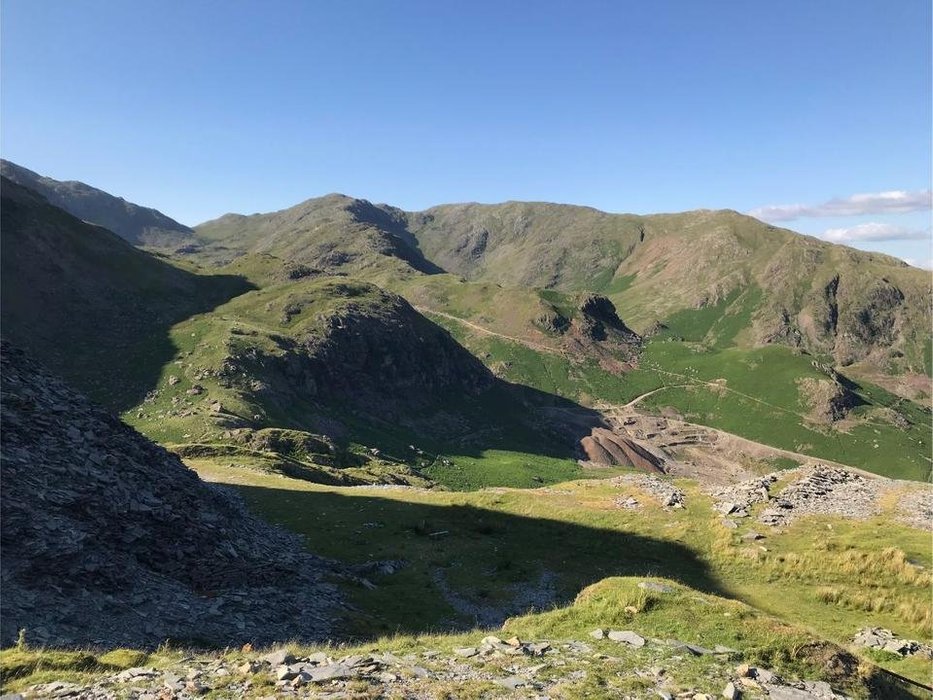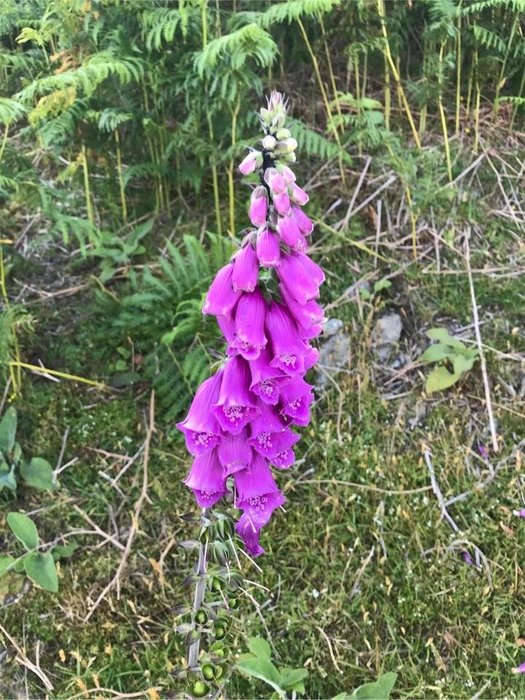 For the next 5 days, I was suffering from huge DOMS on my calves. Hopefully, the next one will be better and my legs more prepared.
All Photography is my Own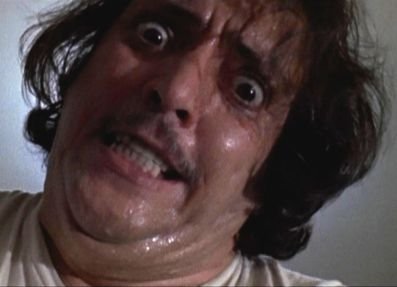 If you found this article so invigorating that you are now a positively googly-eyed, drooling lunatic with dripping saliva or even if you liked it just a bit, then please upvote, comment, resteem, engage me or all of these things.