A couple of weeks ago, @bingbabe dragged me to some Forties street procession in the Yorkshire town of Haworth.
I say dragged because I'm hardly a fan of these kinds of things but I suppose it presents some photograph opportunities.
The turnout was large, and the main street of Haworth that is generally a 'no car' zone, and very steep and narrow was extremely crowded.
Parking in this famous town (due to the Bronte Parsonage) is never free, but on this occasion, the main car park was closed and so we had to pay a fiver to park in some enterprising farmer's field.
This pub's car park however was taking the piss, and was not full at all. Greedy bloody arseholes.
This is in no way related to the Forties, but I loved this motorcycle. It screams of evilness!
I photographed many of these shots in colour but wondered what they would look like in Black & White. Do they look even a little authentic? Perhaps a Sepia filter may work better.
There were plenty of old Army vehicles about but the guys guarding them looked more like Dad's Army than Army.
This is the famous Bronte Parsonage Museum. We visited maybe 3 years ago, before my time on STEEM, else I would have written about it.
Haworth is one of those old-world towns, with a cobbled main street. @bingbabe did claim she was in 1940's garb but I wasn't really convinced.
Still, some made more effort than others. I tried to get some photographs with just forties style dress, and this was one of them. Very bright red hair and clothes!
Every photograph I took, she just had to photobomb… sigh.
Does this look like a forties street? Surely they didn't wear hoodies in those times?
Who are you looking at mate?
Wasn't this supposed to be a 'British' forties weekend? I saw a lot of US Army vehicles, in fact, they dominated everywhere.
I suppose there were a few Union Jacks kicking about.
We didn't stick about too long due to @bingbabe not feeling well.
Yes, it was worth a visit, and we even had some Fish and Chips which I failed to photograph. Eating chips from a box and juggling your iPhone doesn't work too well.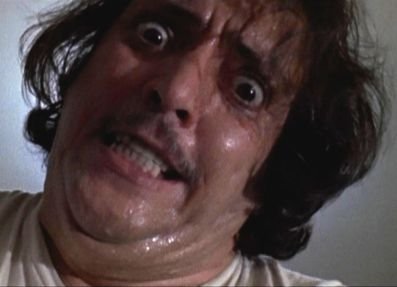 If you found this article so invigorating that you are now a positively googly-eyed, drooling lunatic with dripping saliva or even if you liked it just a bit, then please upvote, comment, resteem, engage me or all of these things.