Some places are off the radar and need to be sought out. Rakewood Lower Mill is an example of this and you won't find it on any of the Urbex UK web sites.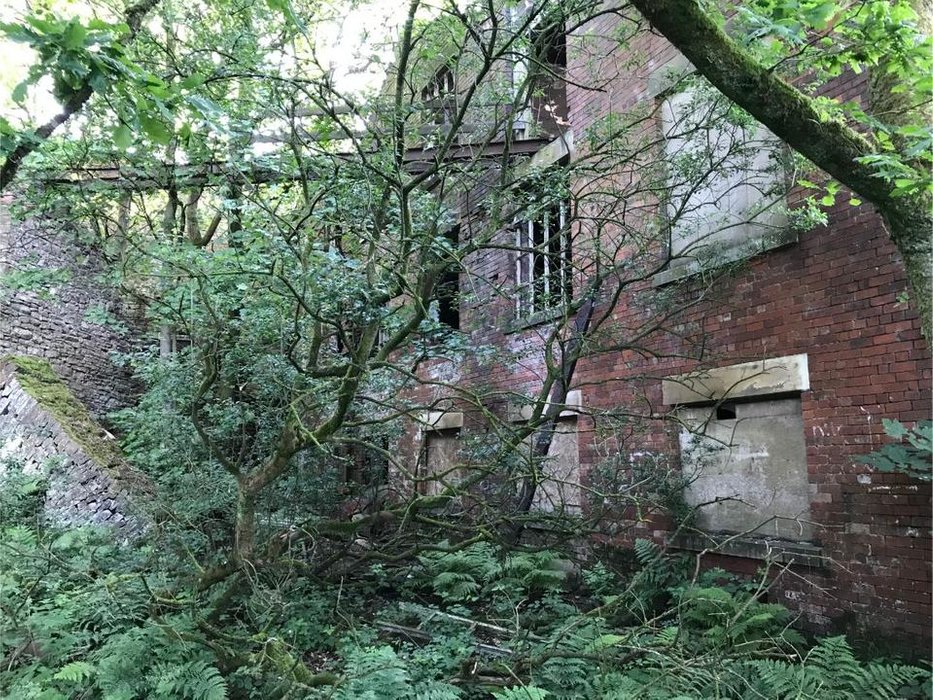 A simple search for certain keywords led me to this mill which has been closed since the 1960s and despite several applications to demolish it, all have failed due to the locals opposing new developments in their area.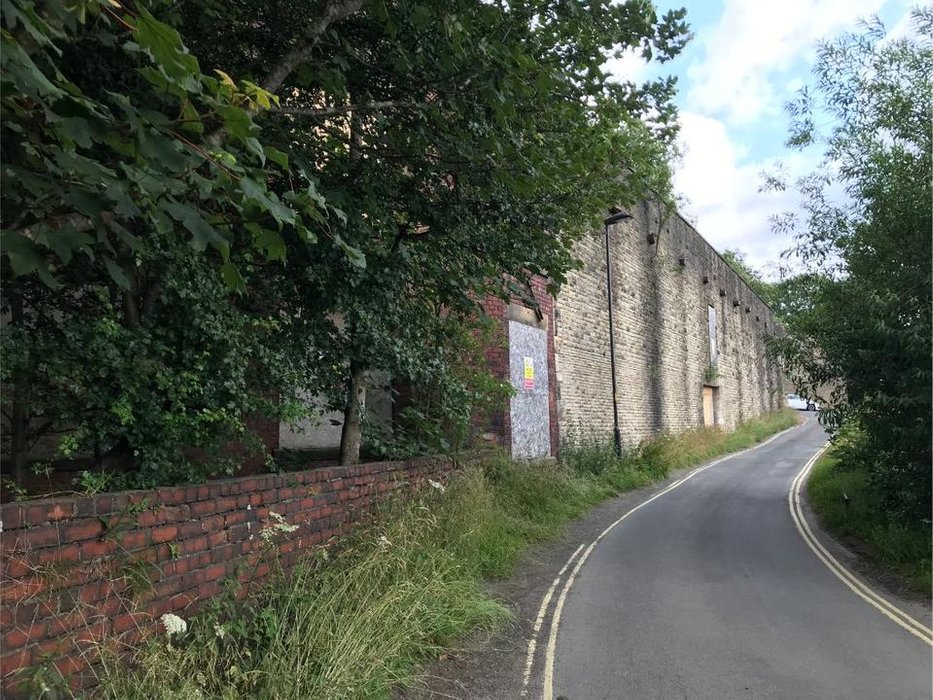 The mill is very close to St Hilda's Church which we visited several weeks before and looked pretty beat up when looking from the overhead view.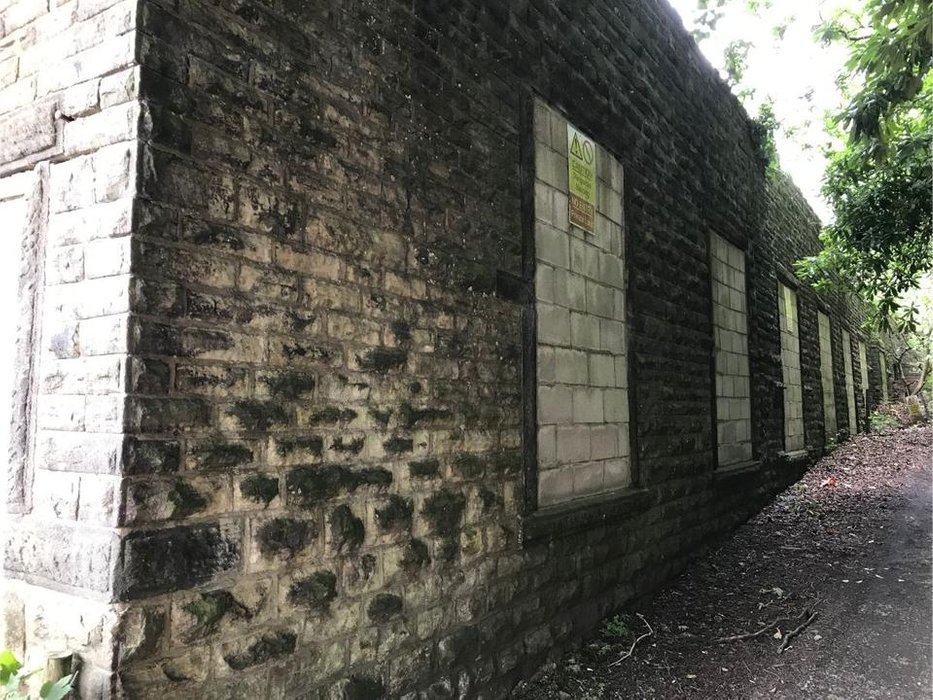 As with all these places, you never know what you're going to get until arrival. We walked around the front to find the place securely boarded up.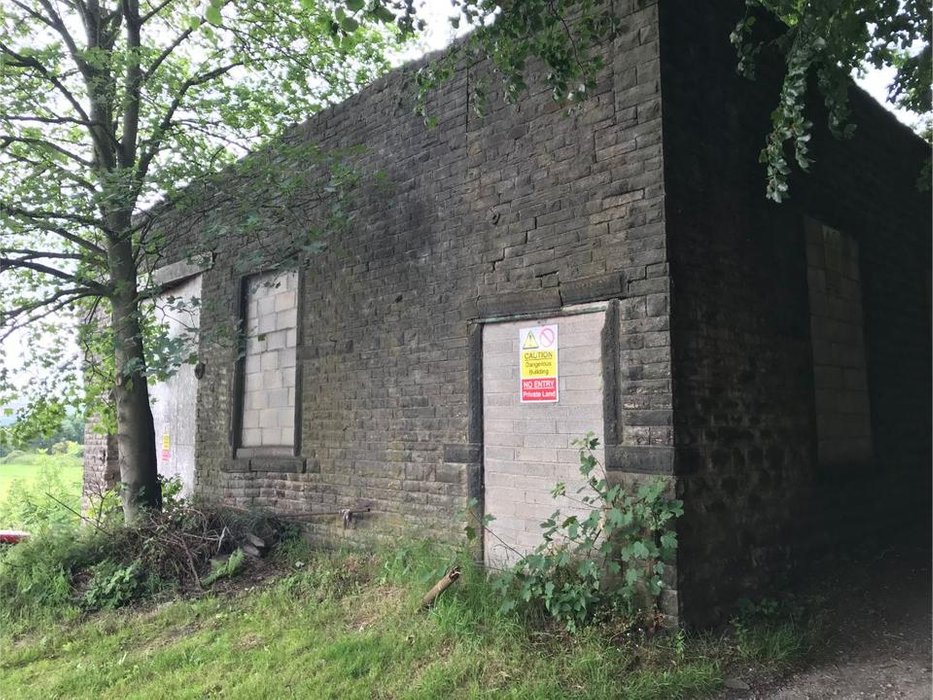 What's more, the boards looked new and fresh and some windows garnished with that concrete that is oh so common. Was this going to be a wasted journey?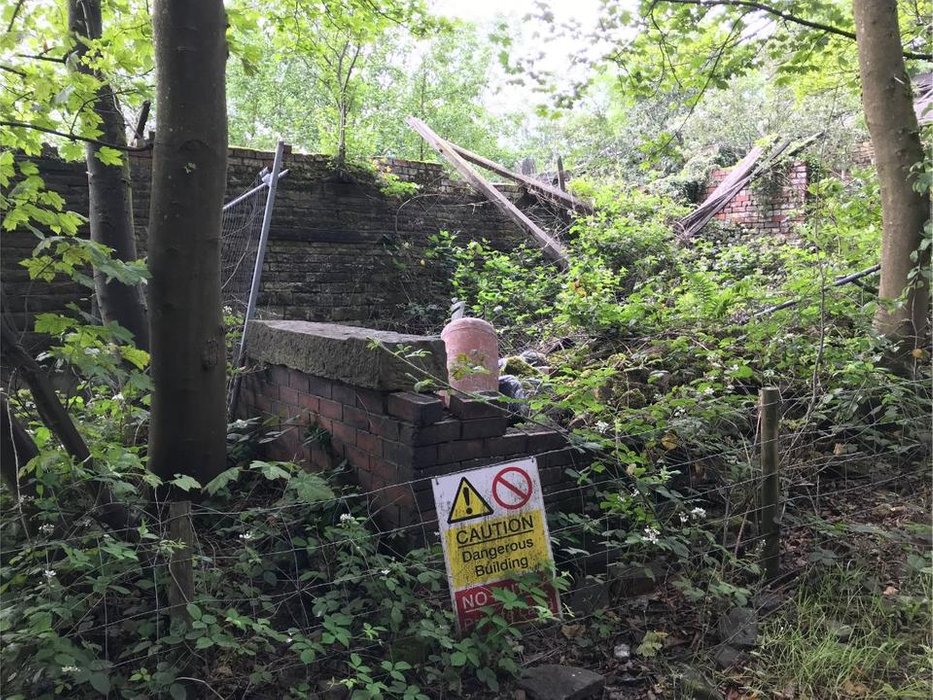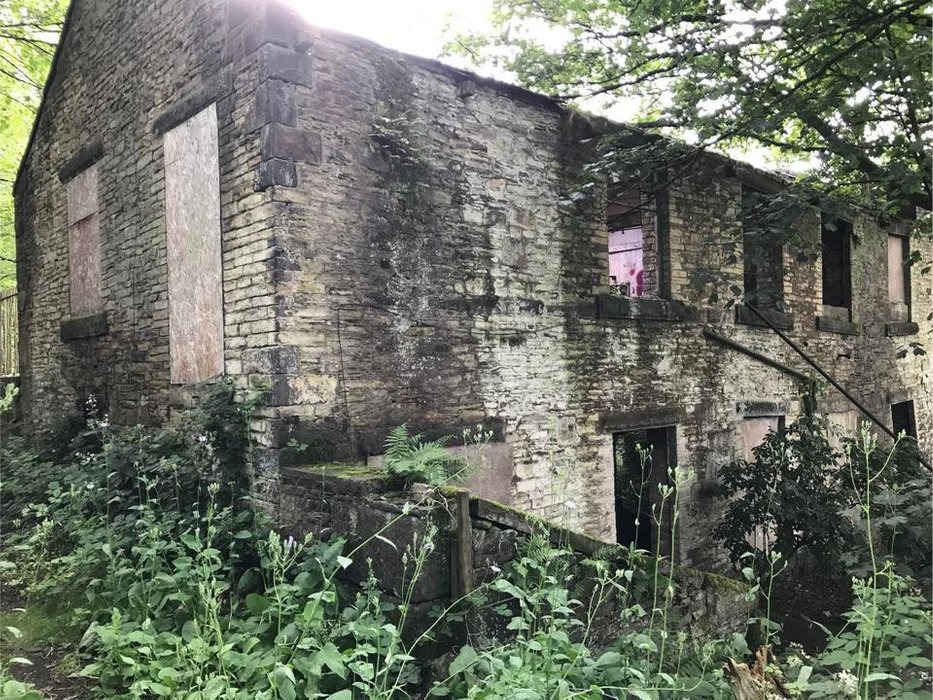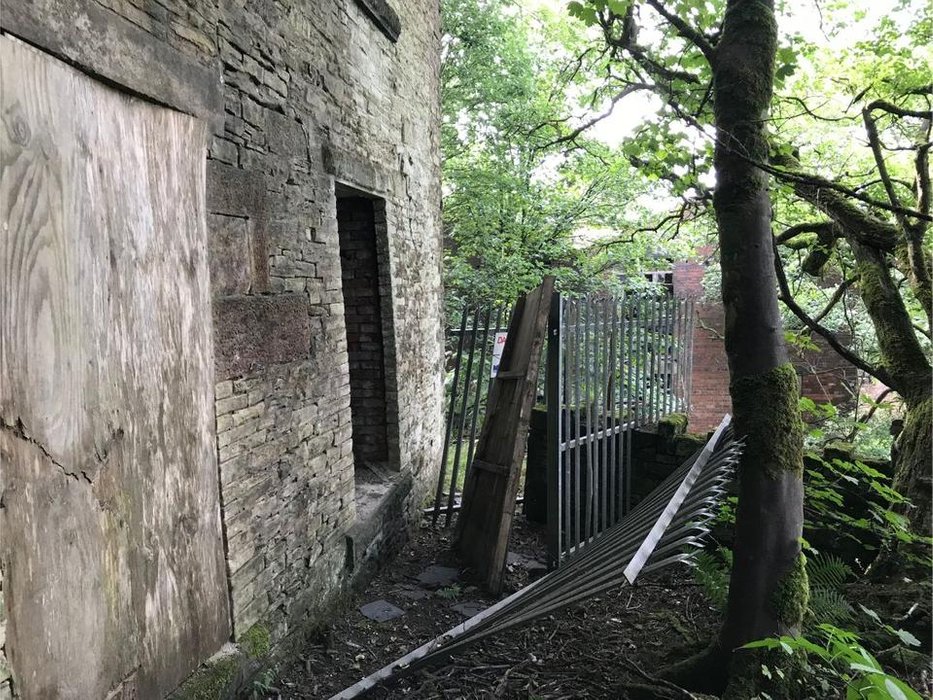 The thing is mills are kind of hard to secure due to their size and walking around back revealed very easy access. I often wonder why the owners spend all this money boarding up the front and leave the back completely open.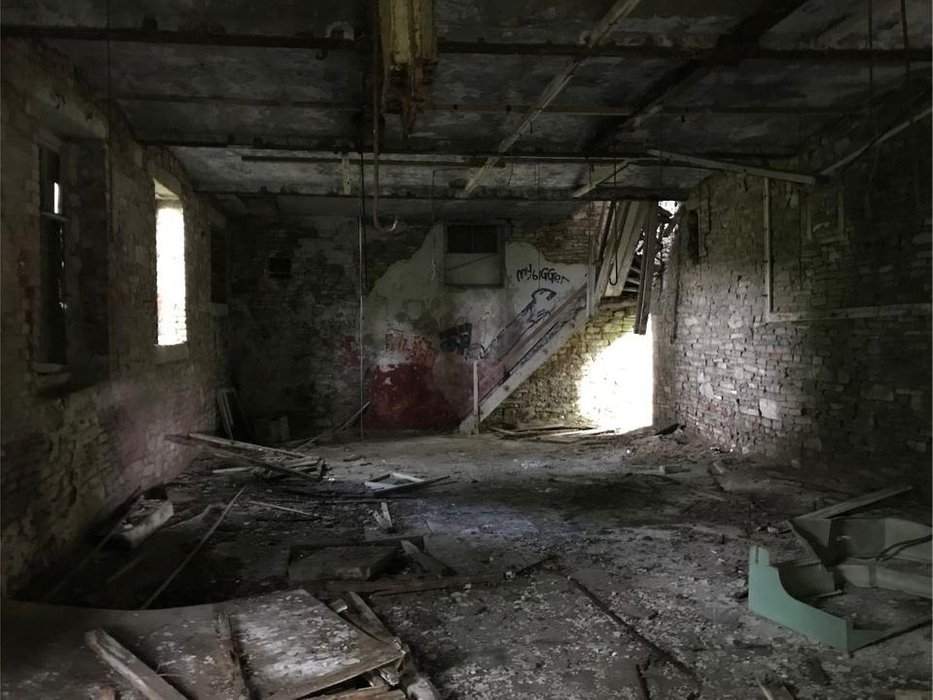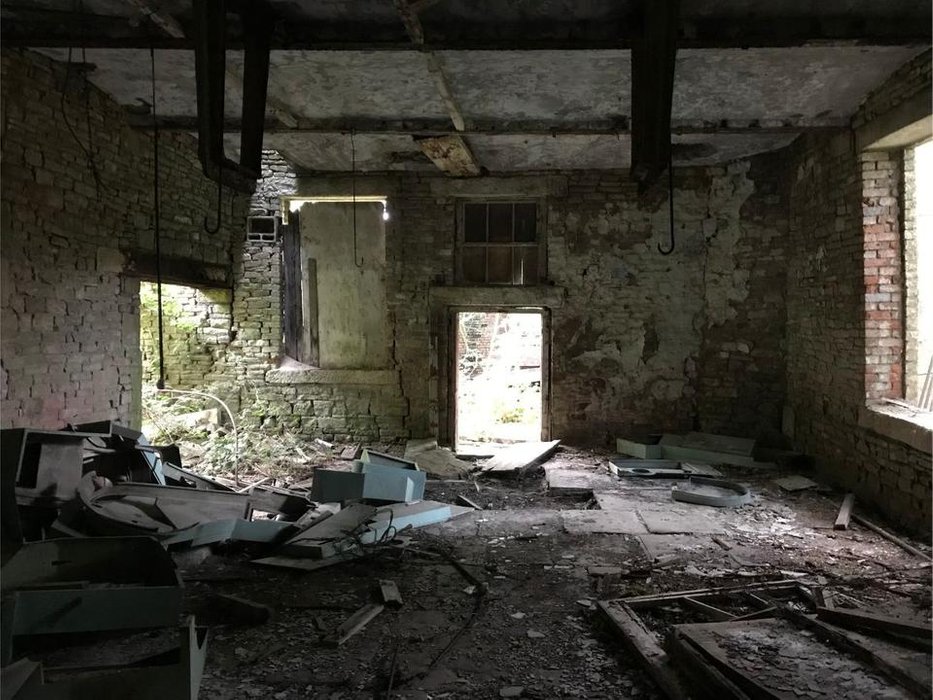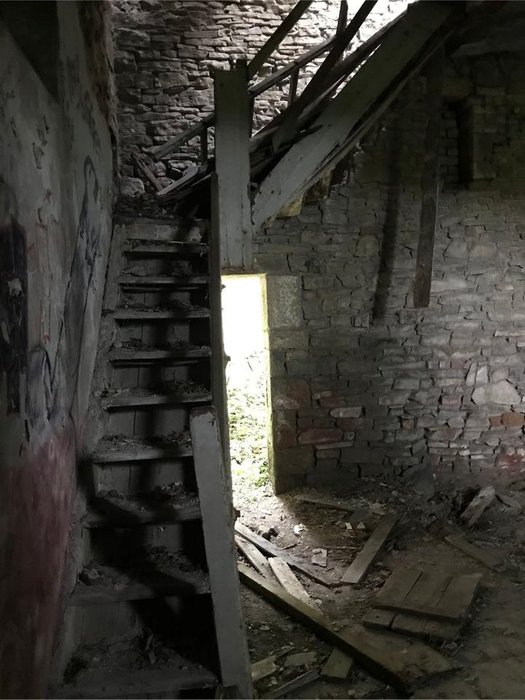 It was a little dark in the first building we entered via a huge glass-less window and there wasn't an awful lot in there too see. The staircase looked interesting though a little dangerous.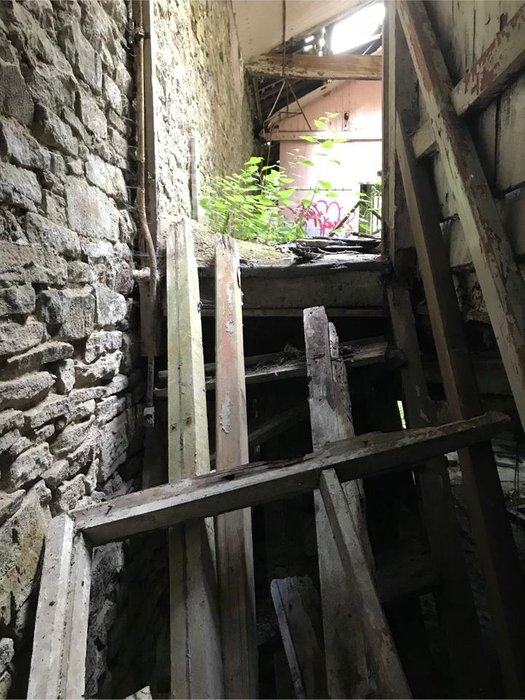 The top half even more so, so did we turn back in defeat? Of course, not, live a little and risk falling through the wood and injury. Someone had graciously placed these wooden planks here for future visitors and so we climbed up them on to the top floor.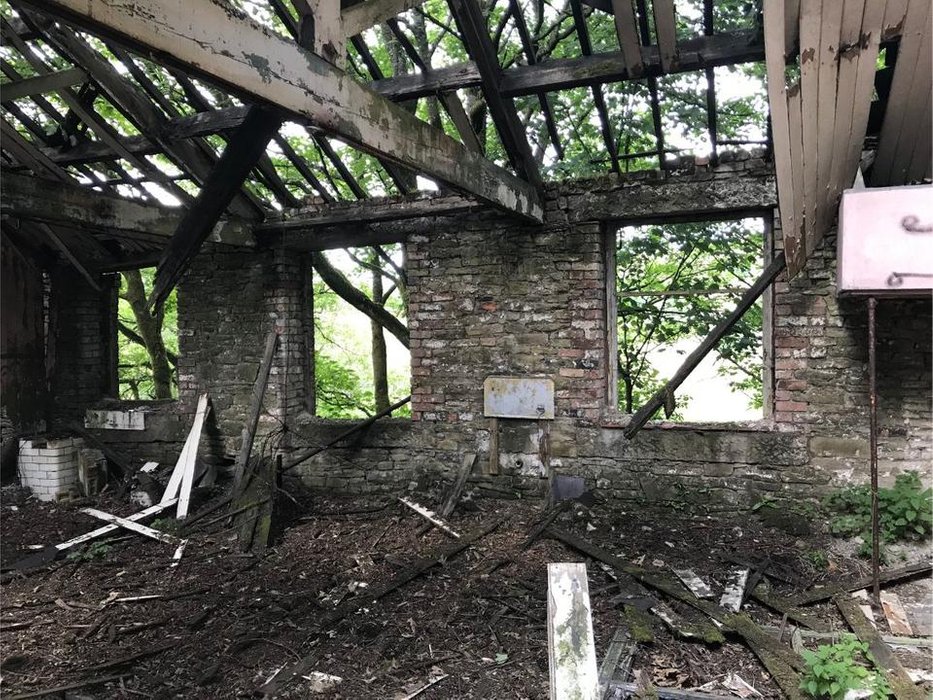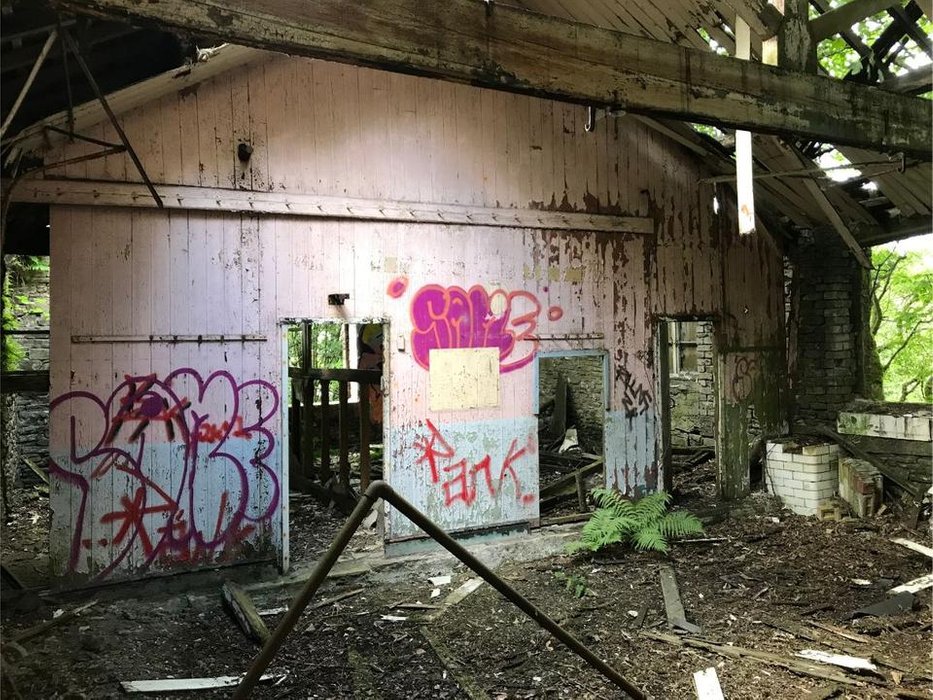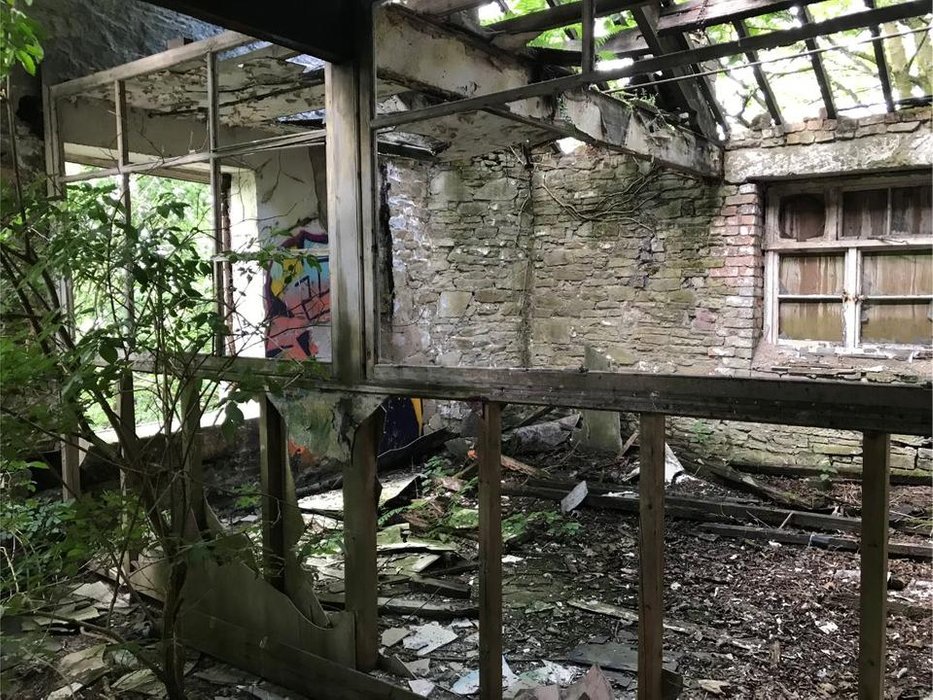 The roof had several holes and the floor a little squashy so I was trying to keep to the edges. Not so @goblinknackers who simply walked to the middle without fear. I swear he's going to come a cropper one day.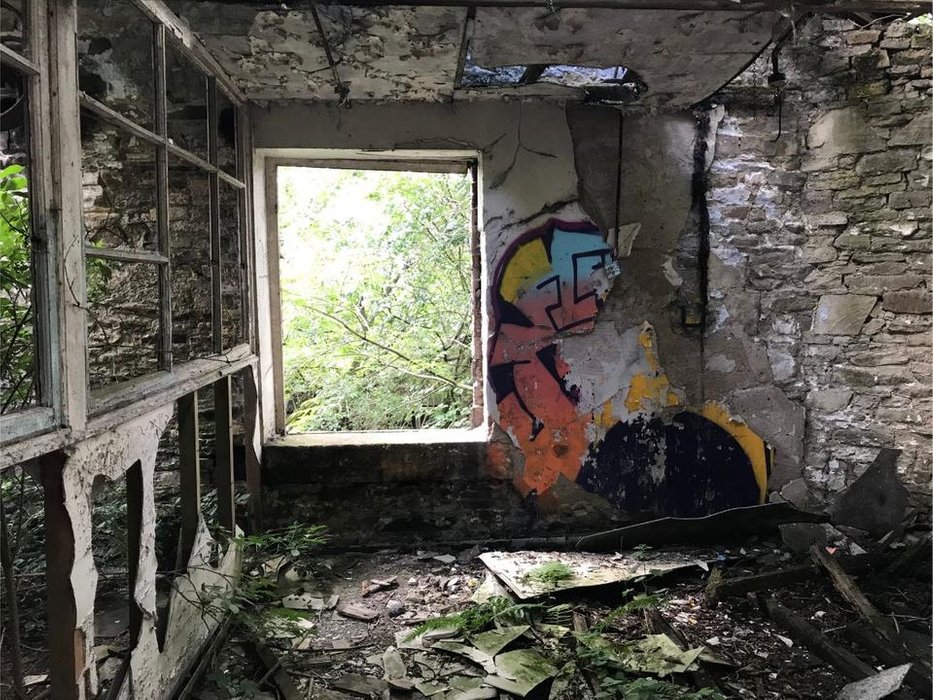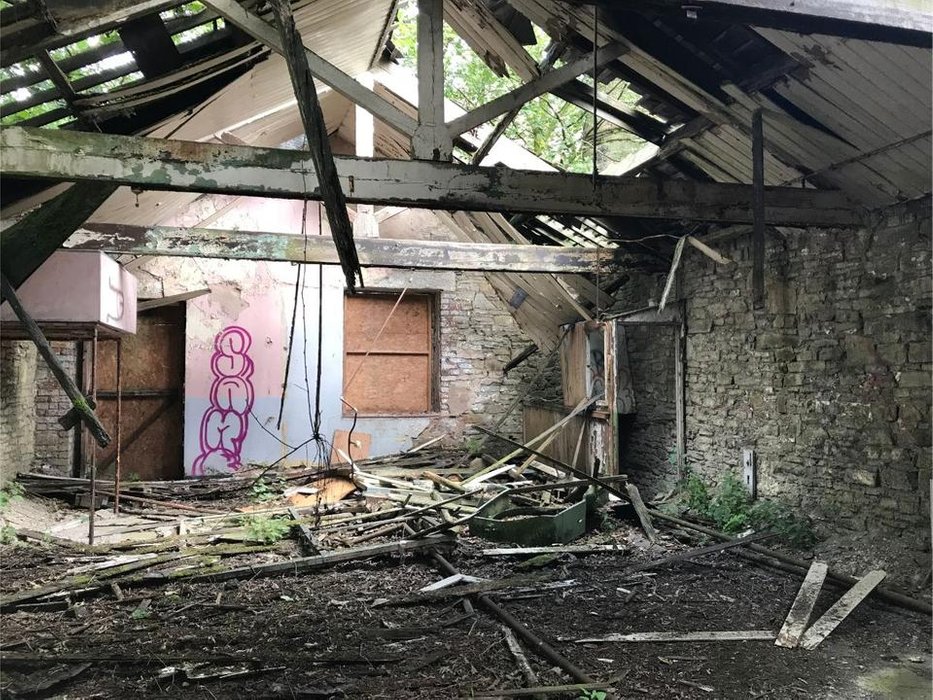 If you don't count the colourful graffiti, there was little to see up there. Here's a view of the wooden steps from the top.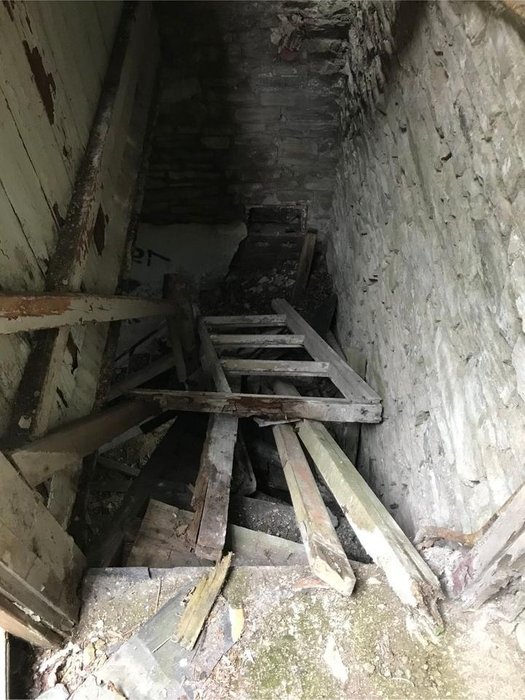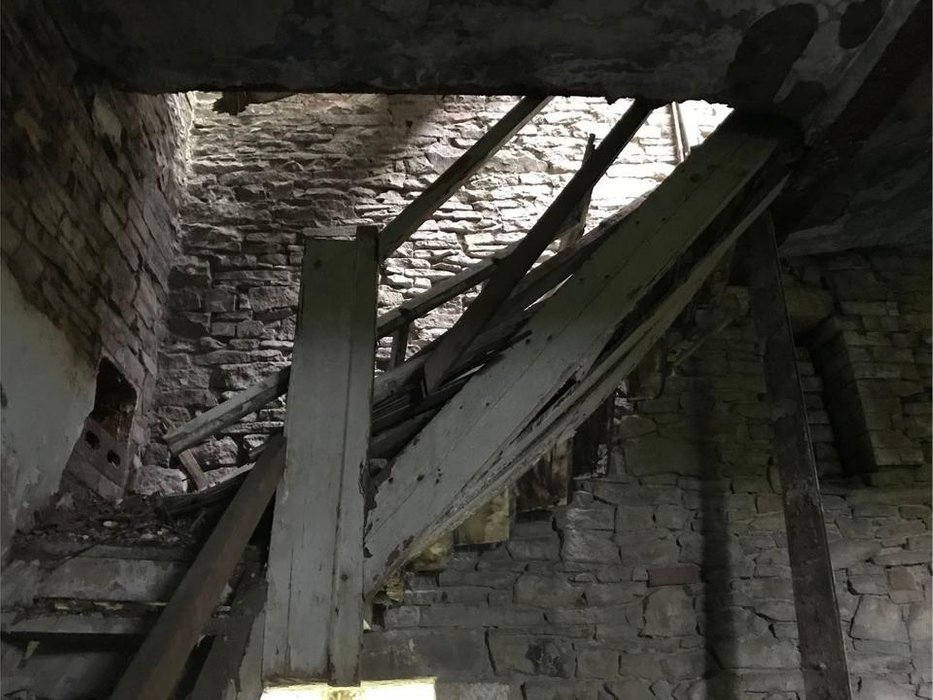 When steps look like they about to collapse we have a go at climbing them anyway. The more I do, the more foolhardy I become it seems.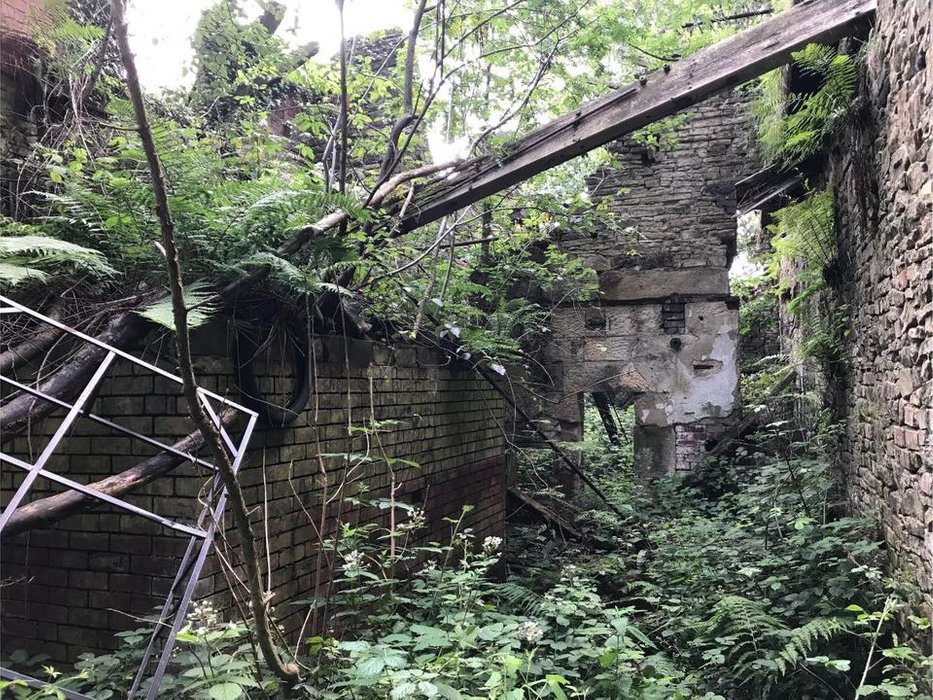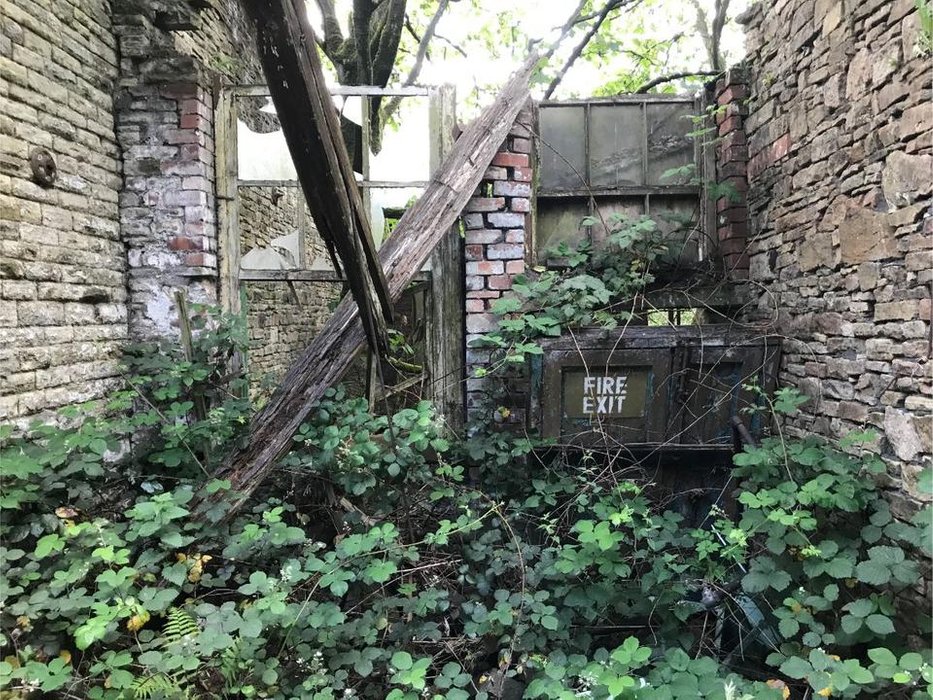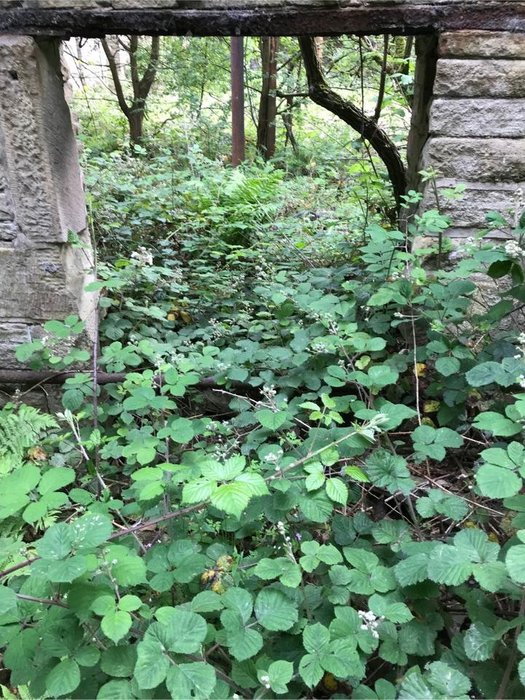 Access to the old part of the mill was blocked with masses of foliage. It wasn't going to stop me however and so armed in my short-sleeved shirt in which nettles gleefully jumped at my arms I proceeded to cut a passage.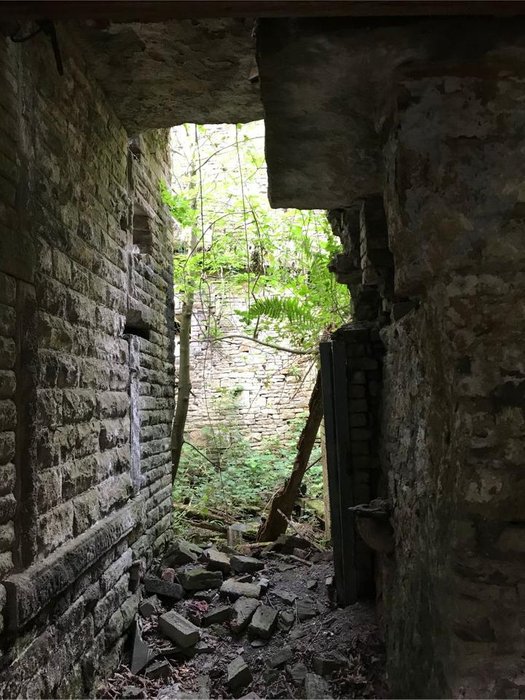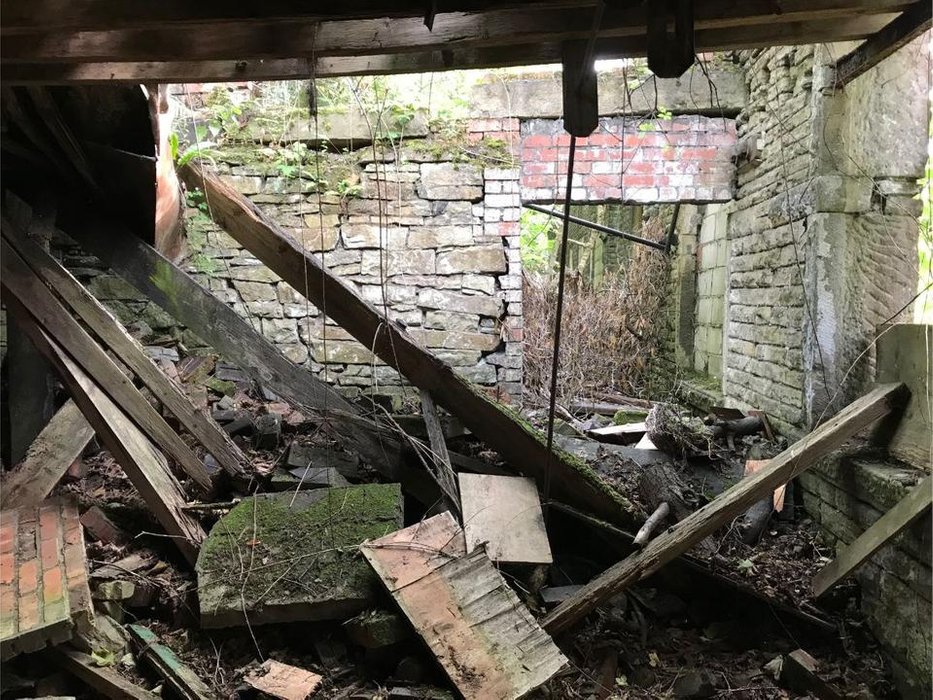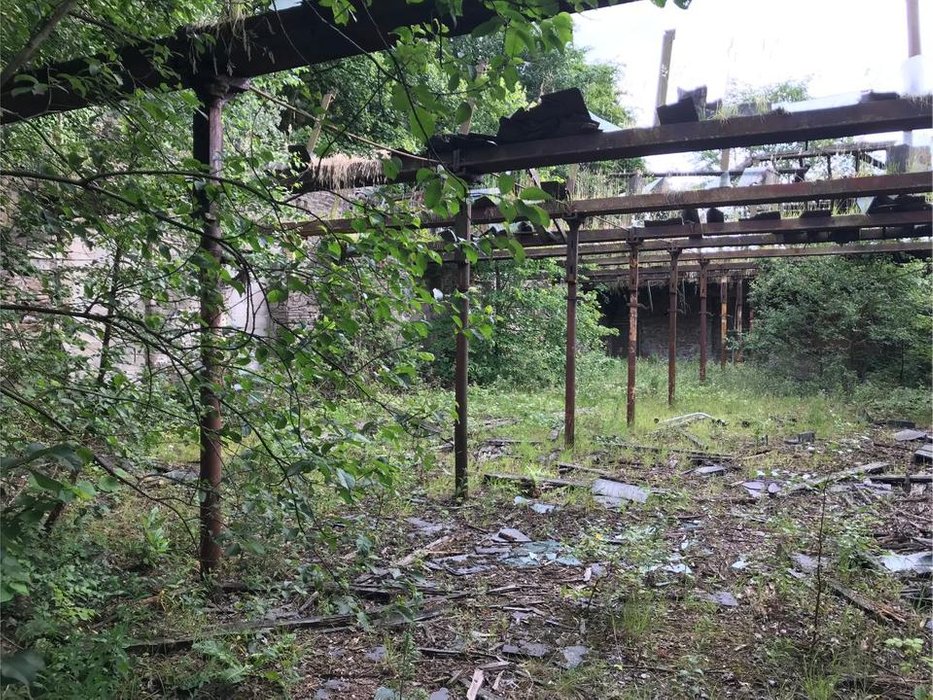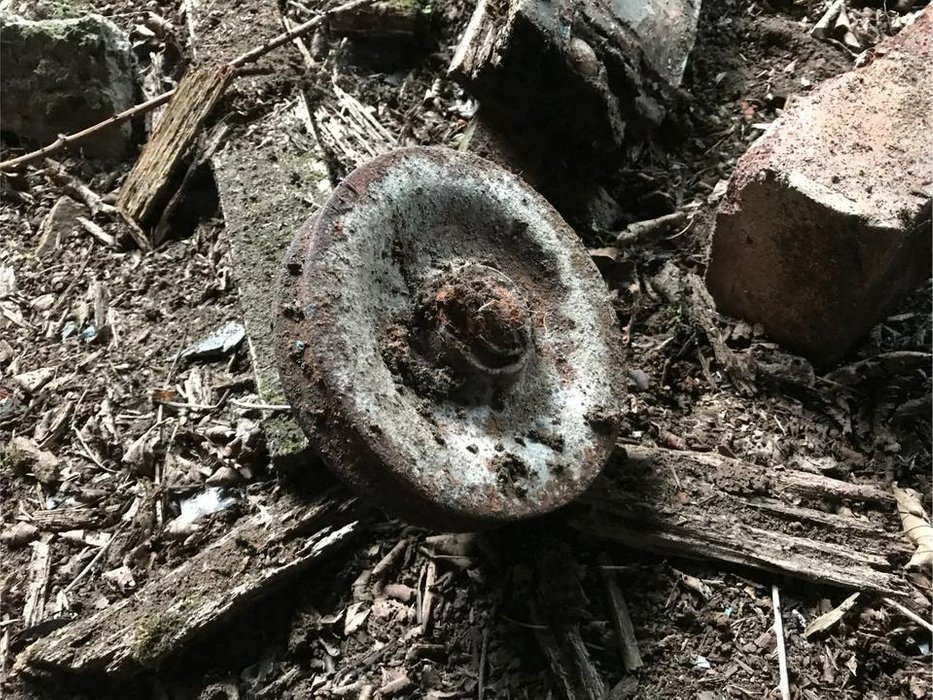 As with most mills, huge posts were holding up the roof or what was left of it!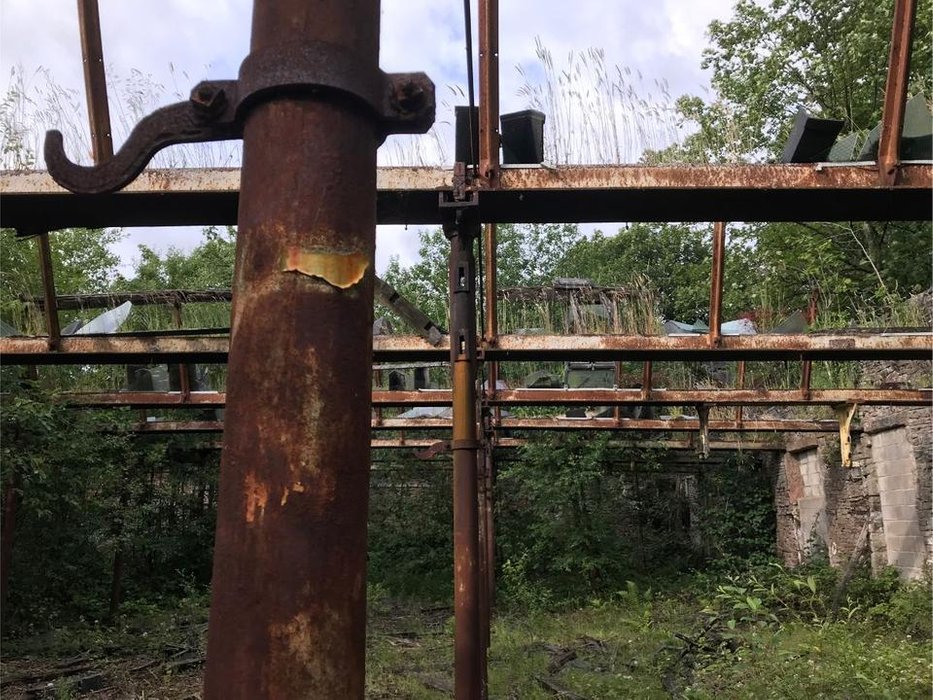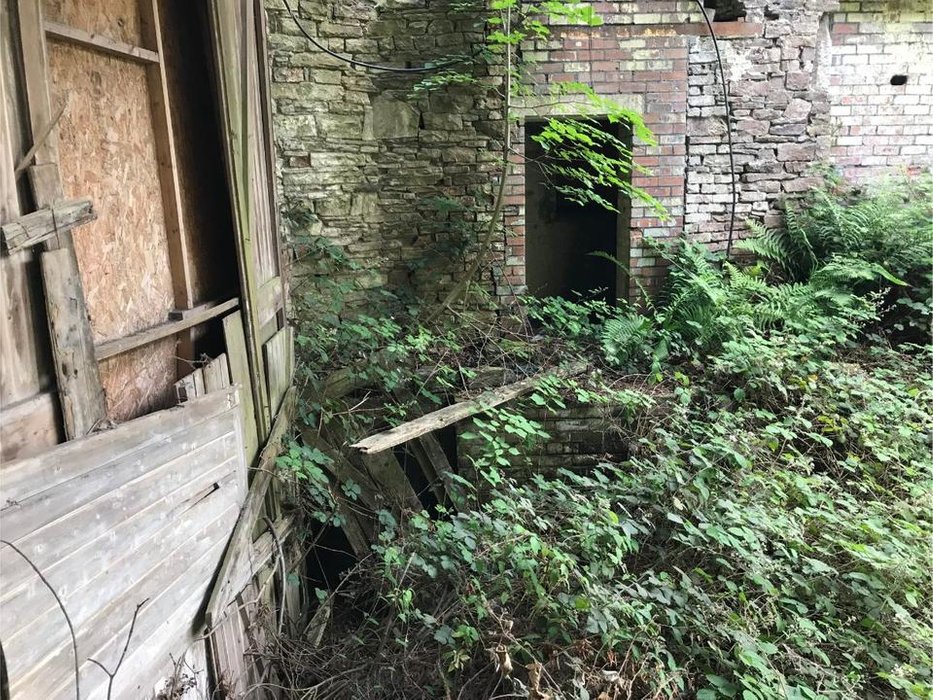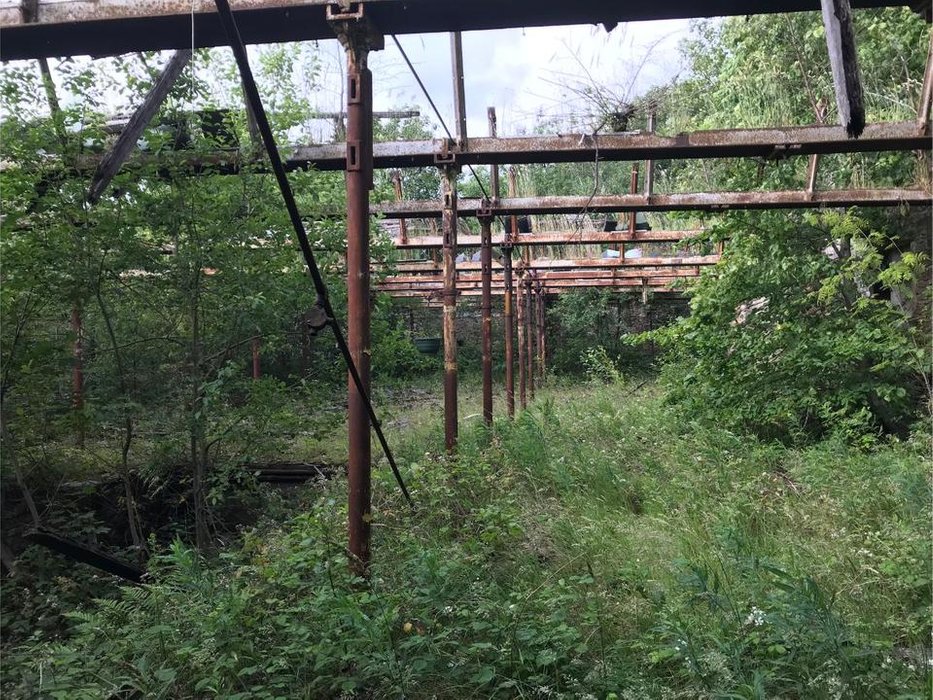 Due to the age of the place and how long it had been empty, we were not really expecting to find much and that was indeed the case.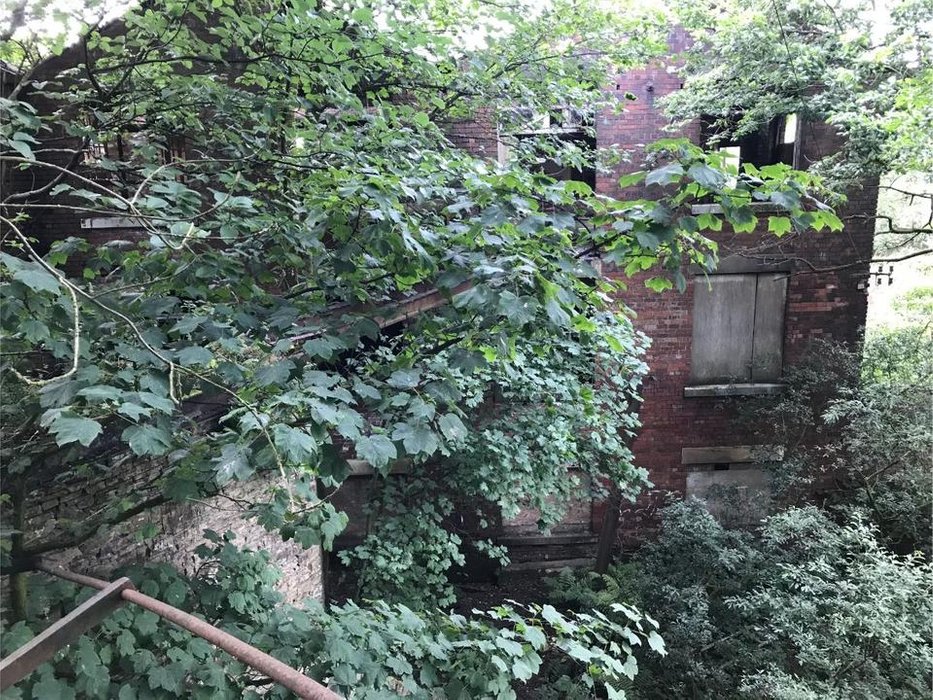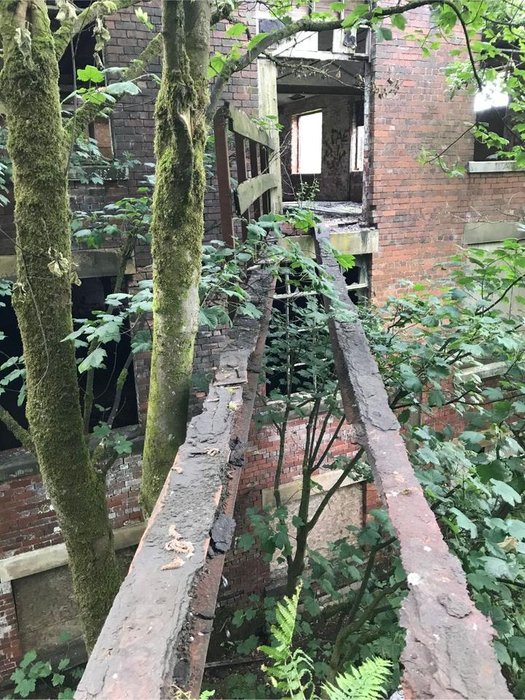 The lower part of the mill which looked in much better condition was linked with this double iron bar which was once a walkway.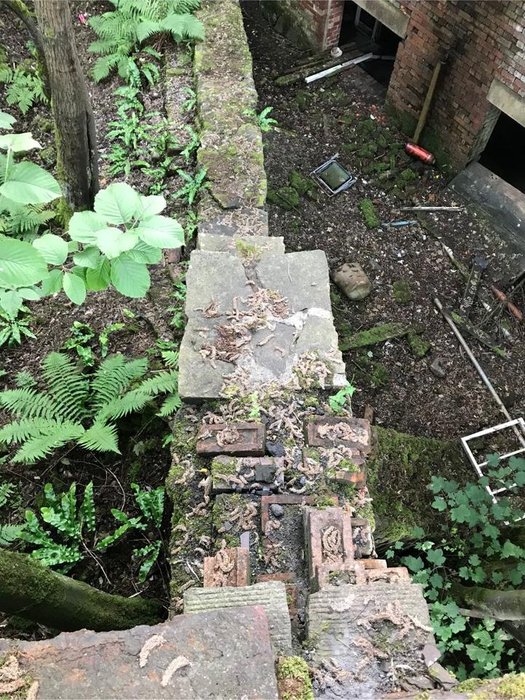 It was a case of walking across this hoping it would not give or climbing down this wall and looking for another way in.
Not keen on the balancing trick I went for the wall. That mountain scrambling practice comes in handy sometimes!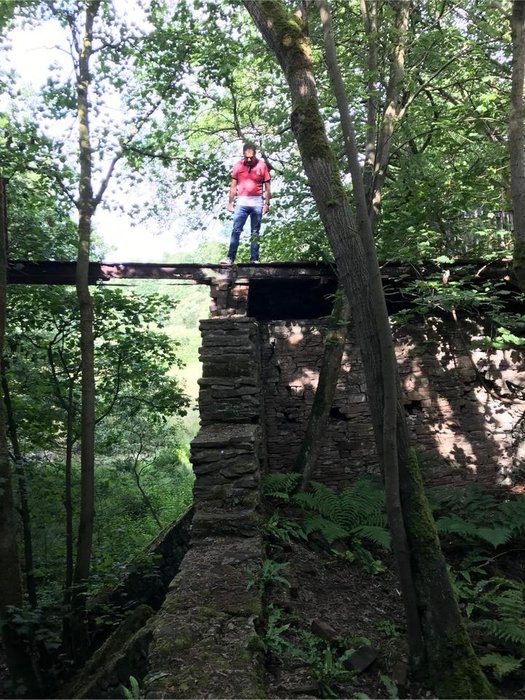 @goblinknackers pondering on the wall. It looks like he's wearing a gimp mask, but that is not the case. He's just looking down.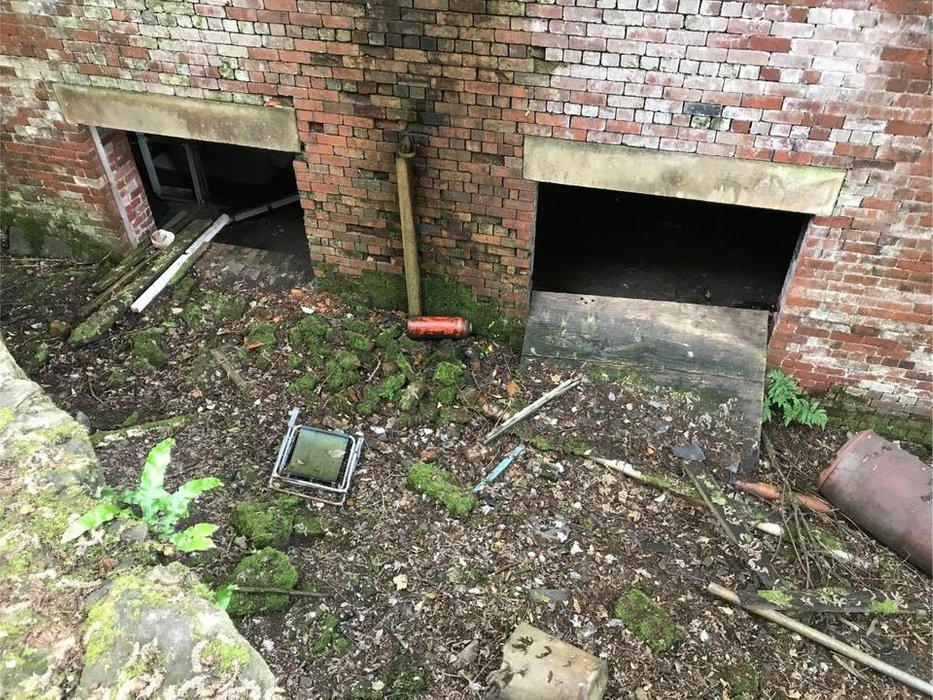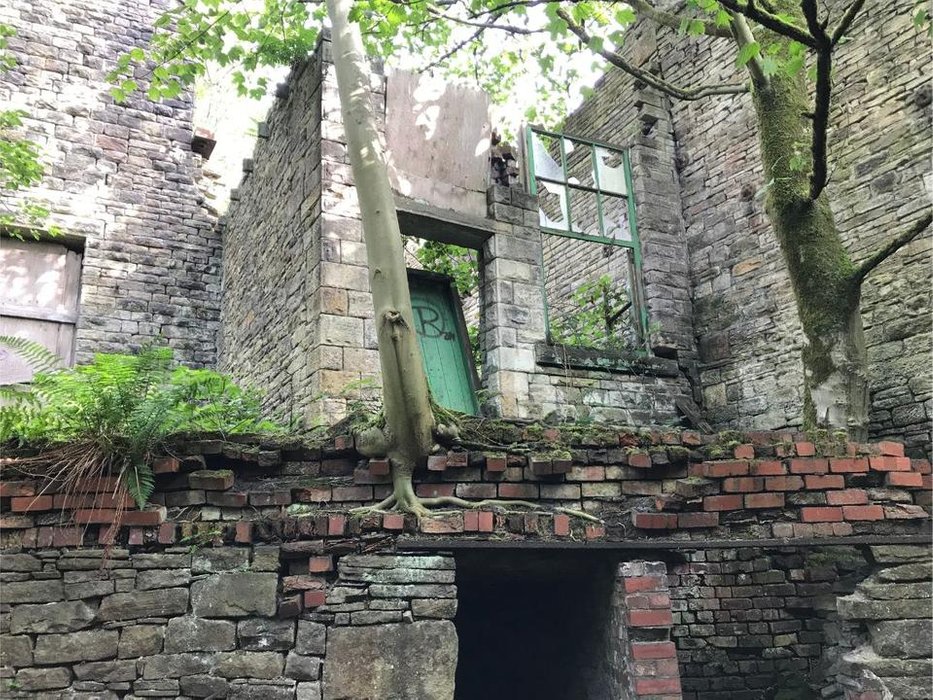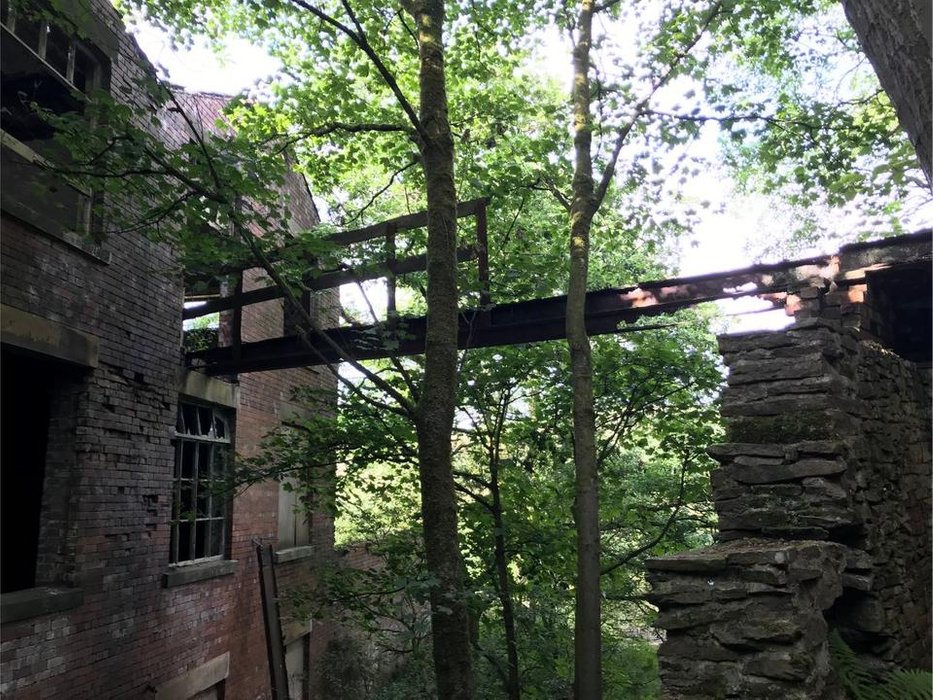 I found another way in but this required the light which I had left in my car. @goblinknackers obliged and went to get it.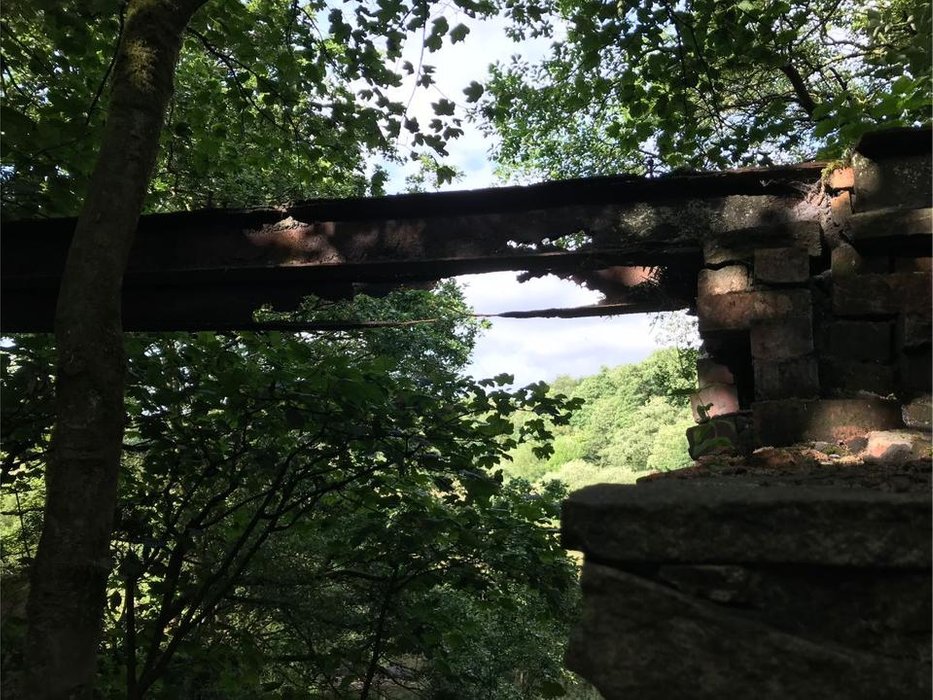 Look at that metal bridge. I'm sure it would have collapsed if we would have tried to cross.
A few minutes later I heard sounds and spotted @goblinknackers coming in from a different direction.
Well, that was useful and easier to get back out once we were done.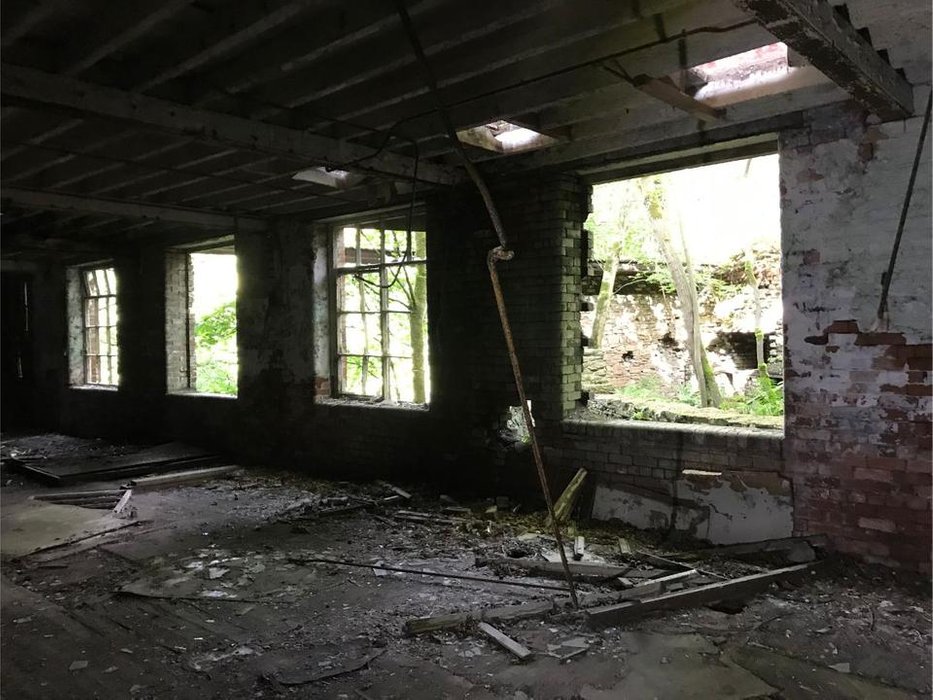 Using my phone light I walked through the pitch-black part of the mill to where I could rendezvous with him.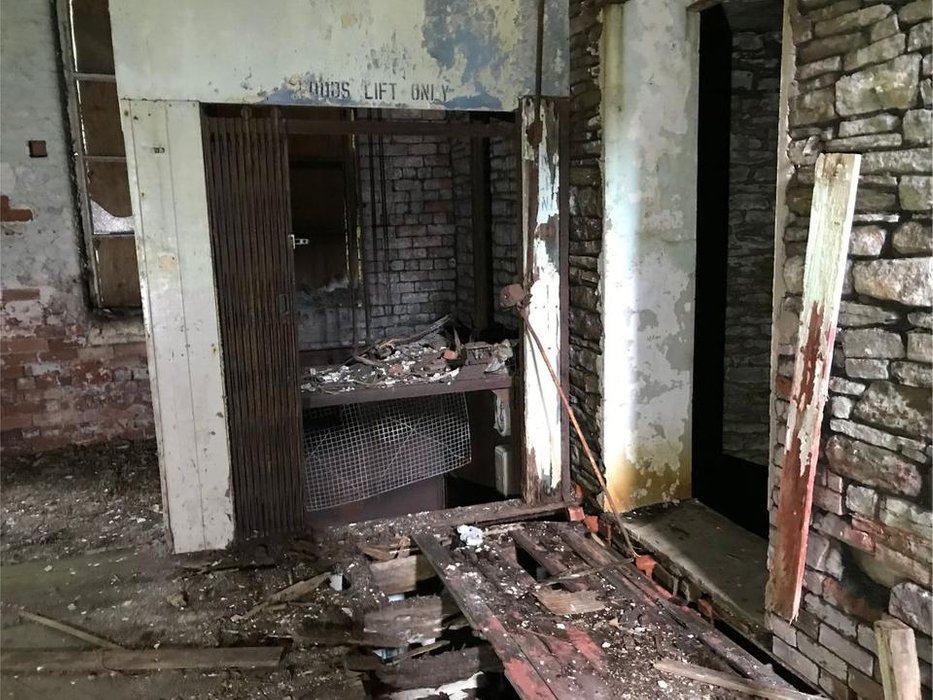 This was the old lift shaft. Sometimes they are simply huge holes. Safety is out of the window in these places.
The stairs were a little better here but still tilted to the left. It was best to step on the right side of this one when climbing up.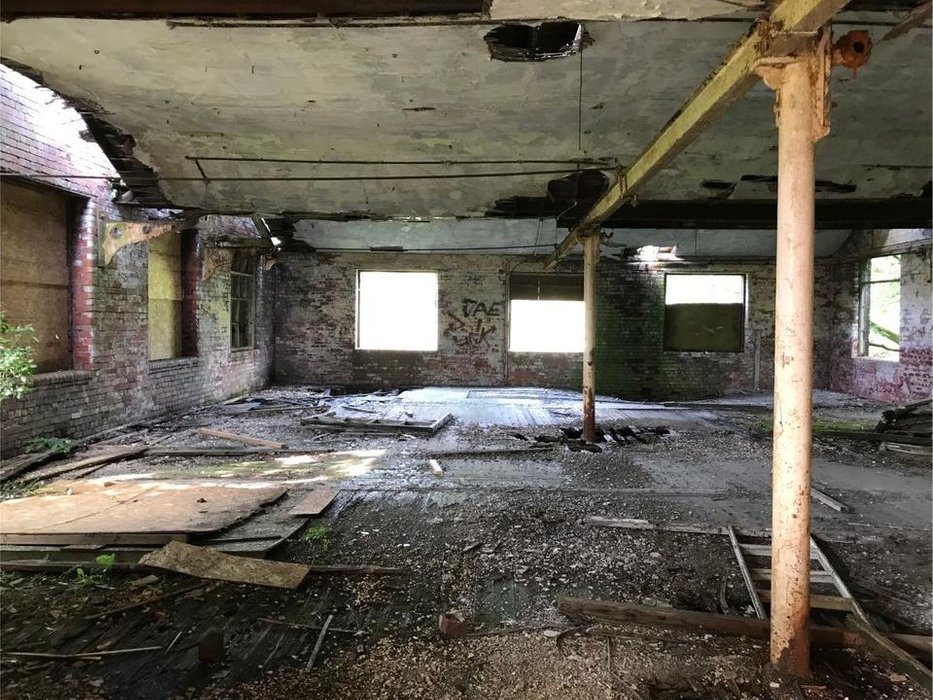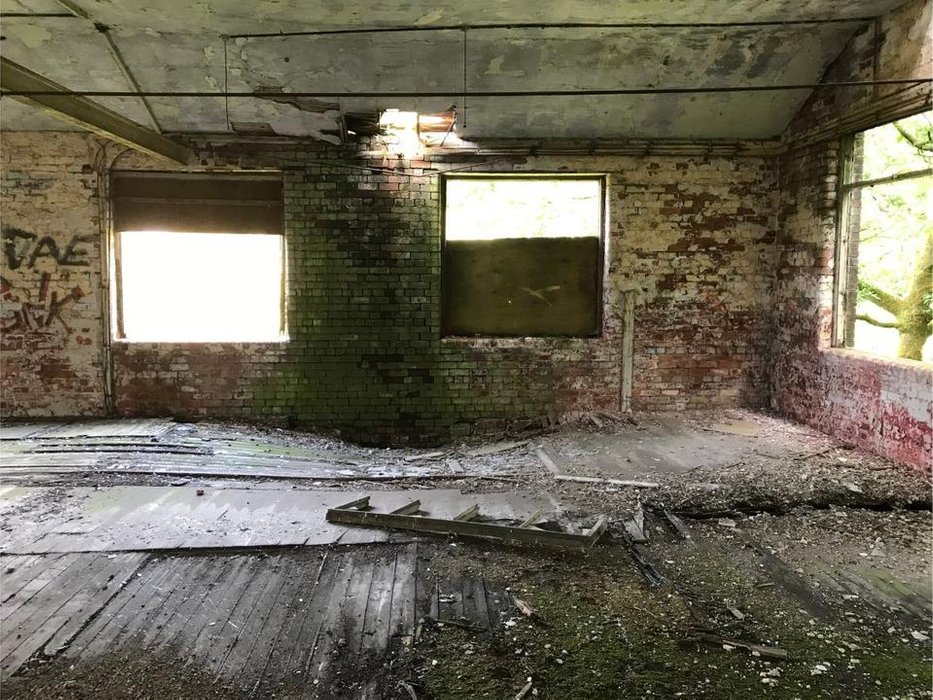 The top floor was extra squishy especially in the middle and I was feeling my way to the other side of this room.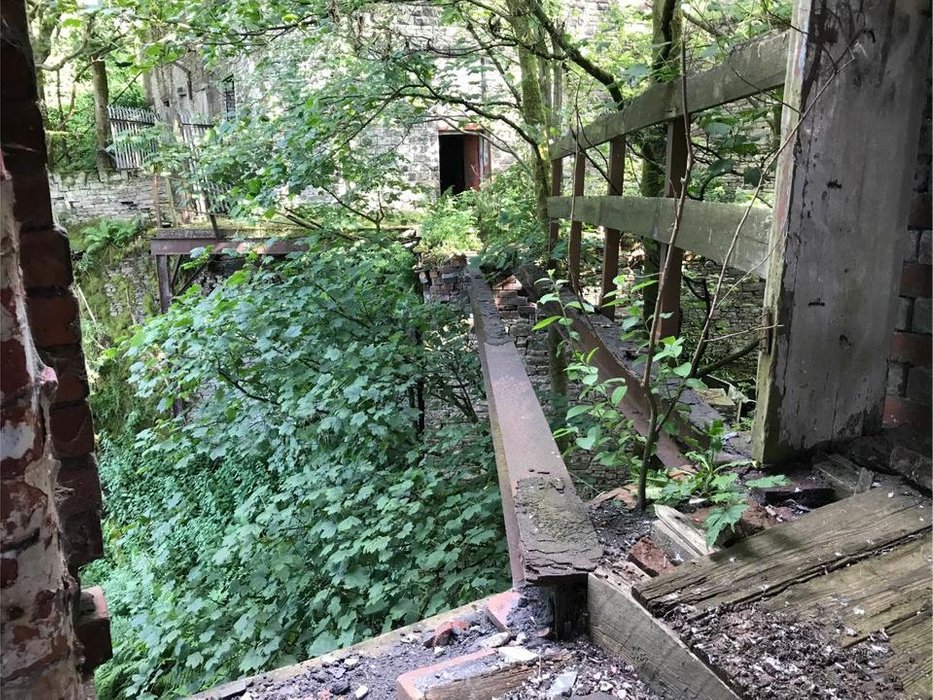 This is the view from the other side of the balancing rails.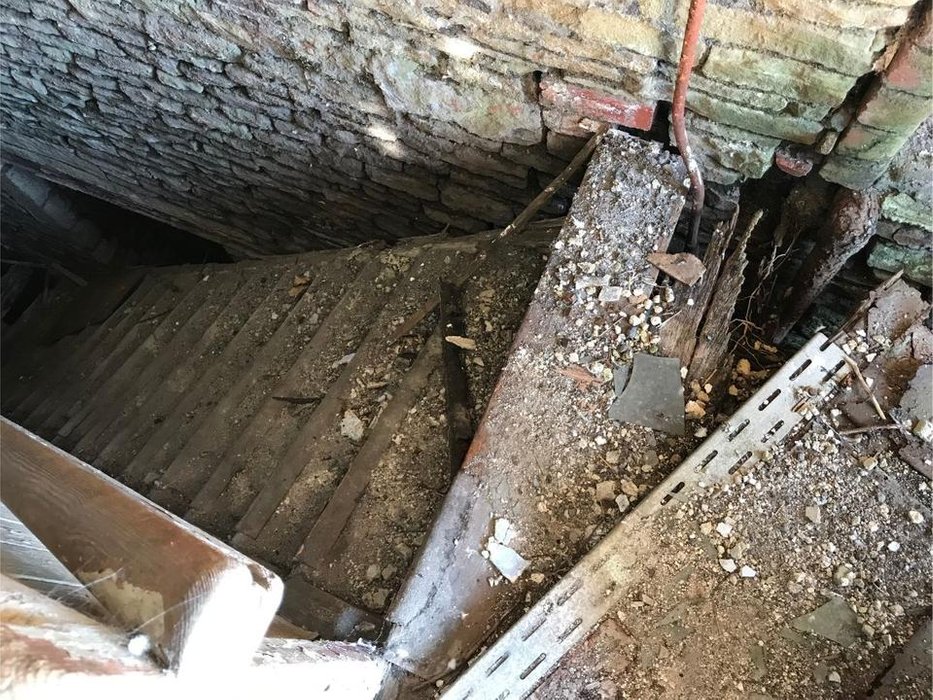 The stairs looked even more ropey from the top but held fast as we descended. Better to not step on the top ones.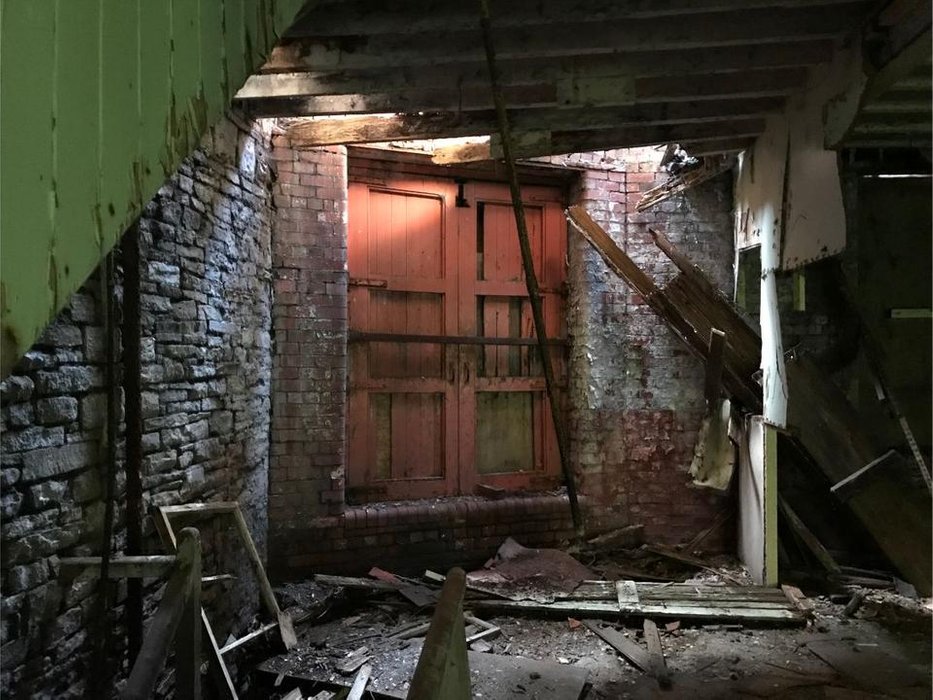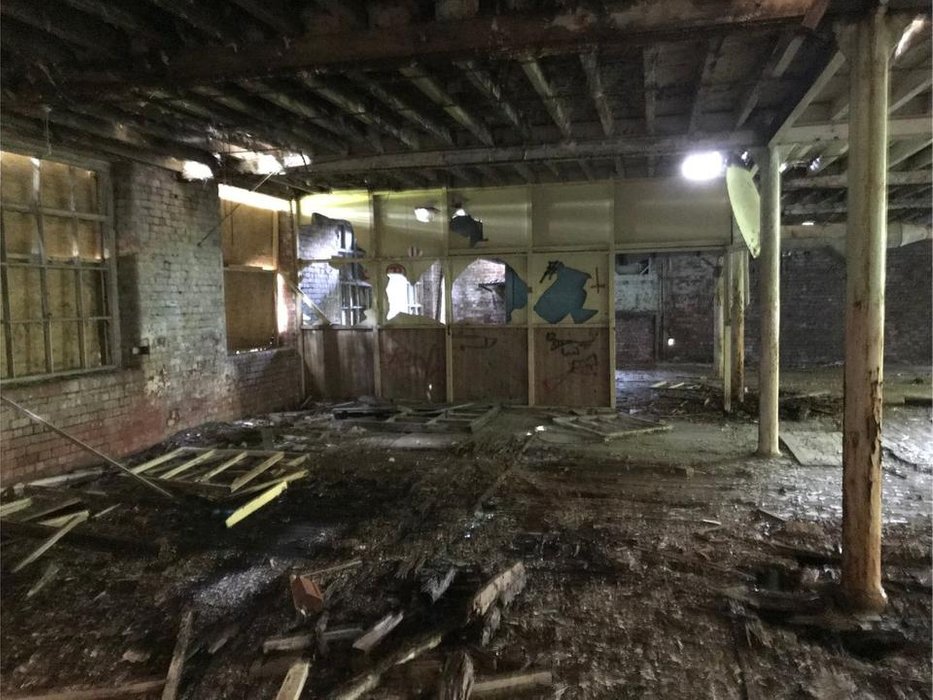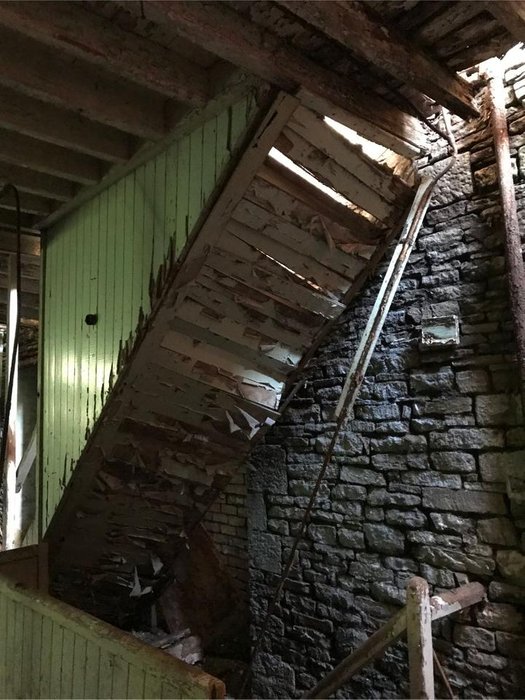 The underside of those stairs. It surprises me how strong these old stairs are despite the holes.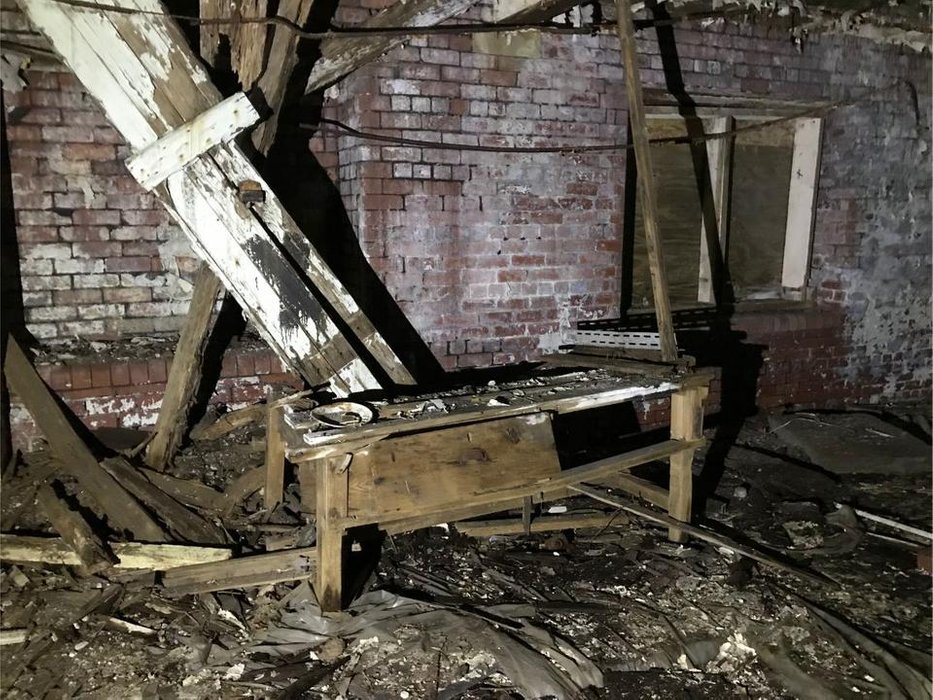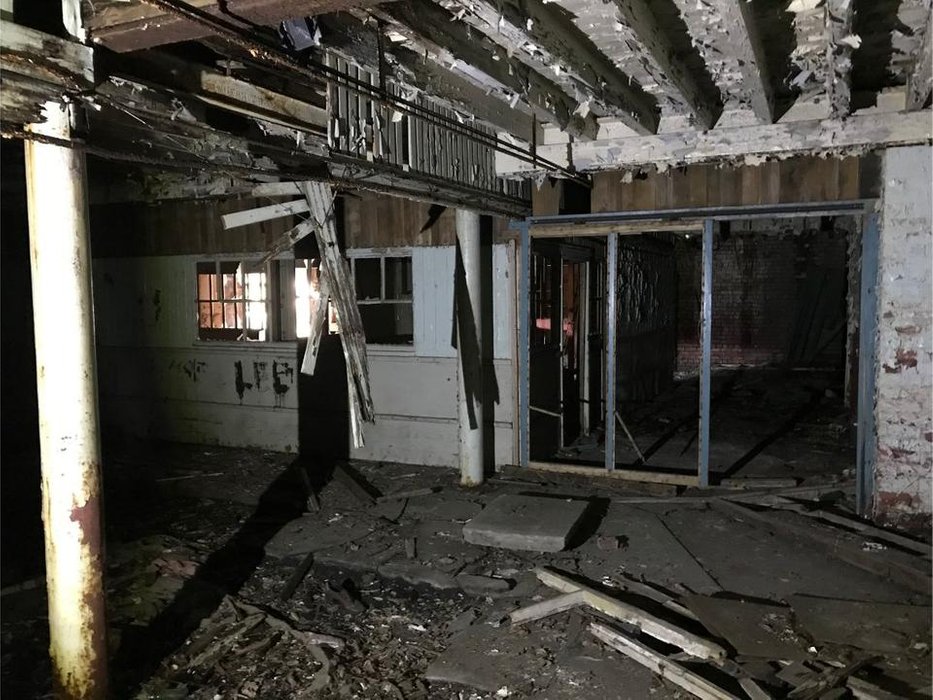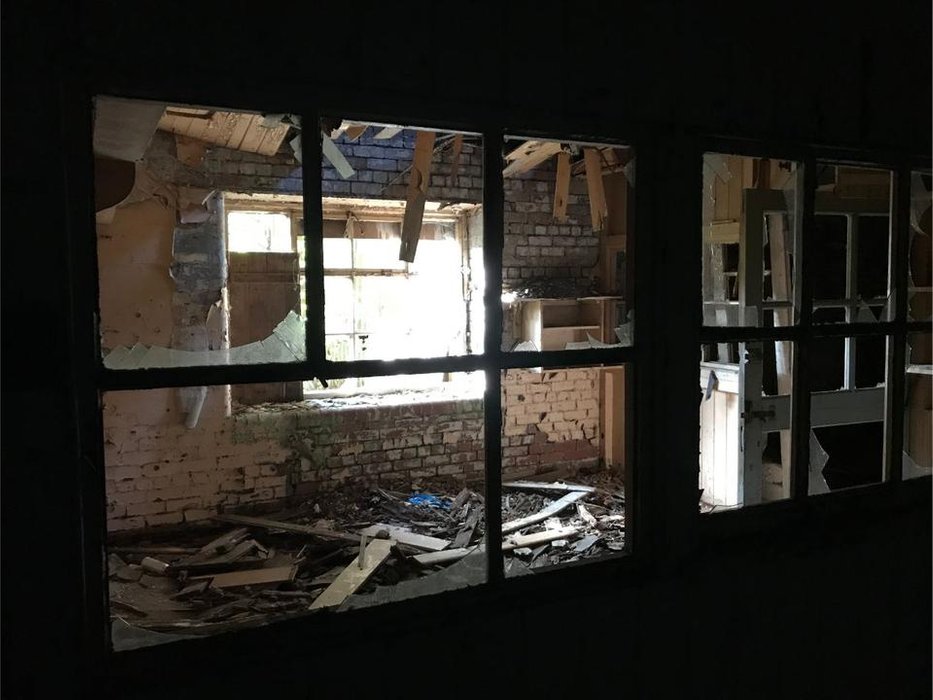 As we started toward the exit area we noticed it was a little more modern with rotting partitions. Was this where the offices used to be housed?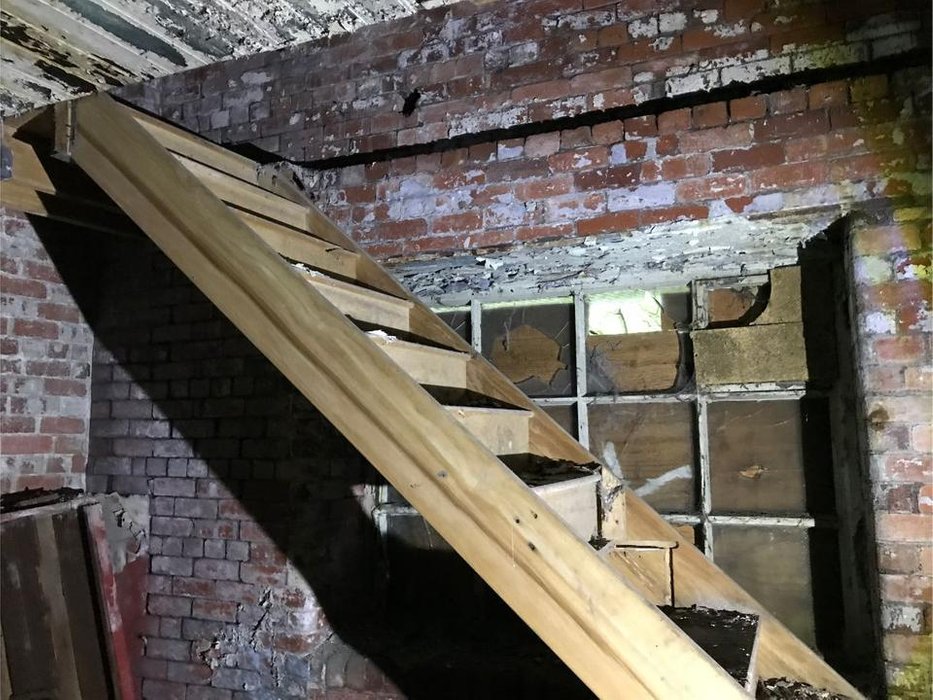 Look at these steps. They can't be so old… rather very new, and yet one of them was missing. If this place has been closed since the '60s, well I don't believe it.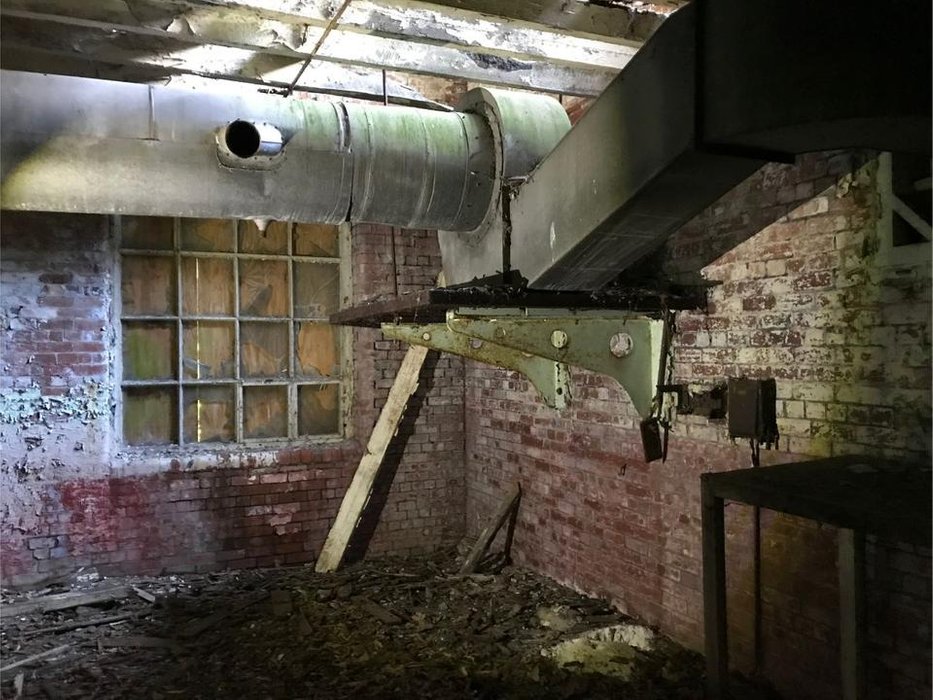 A big pipe. There wasn't much left in Rakewood Lower Mill and this is about as good as it gets.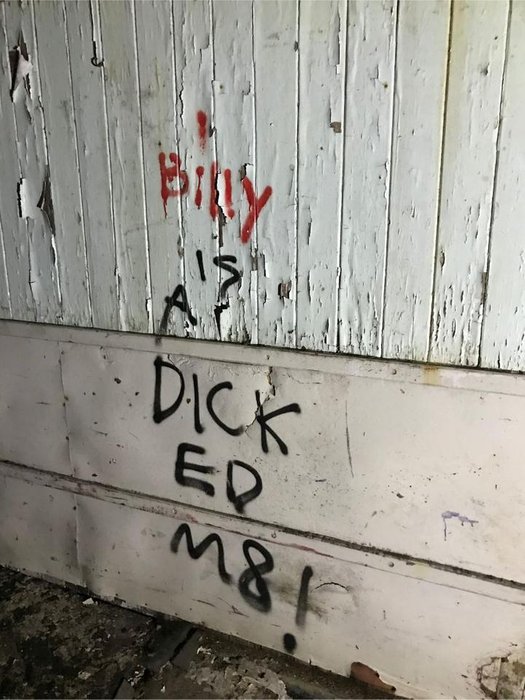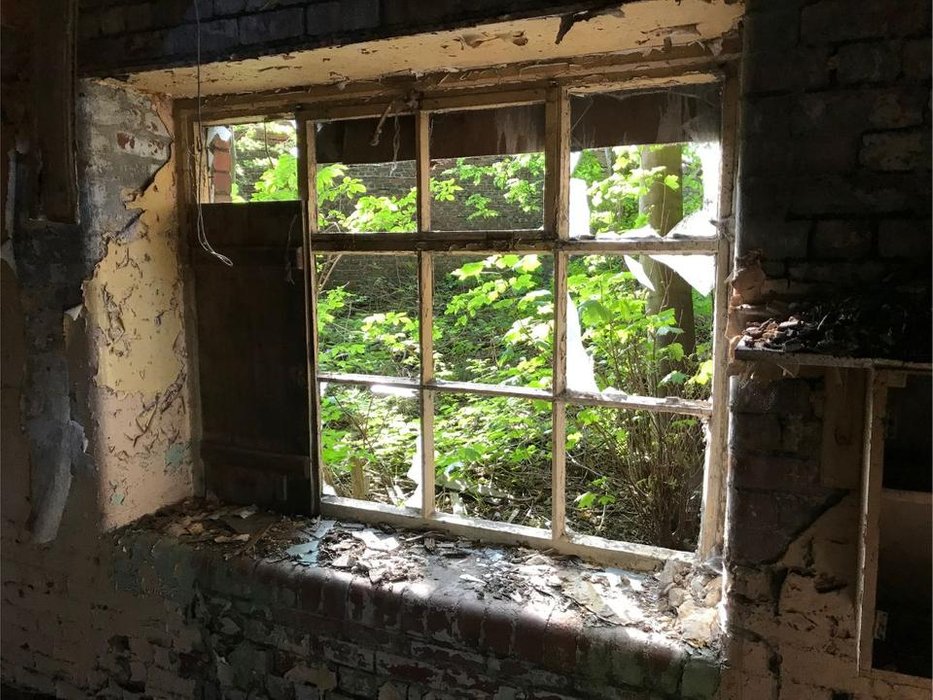 Rural places are always more fun than the ones in cities.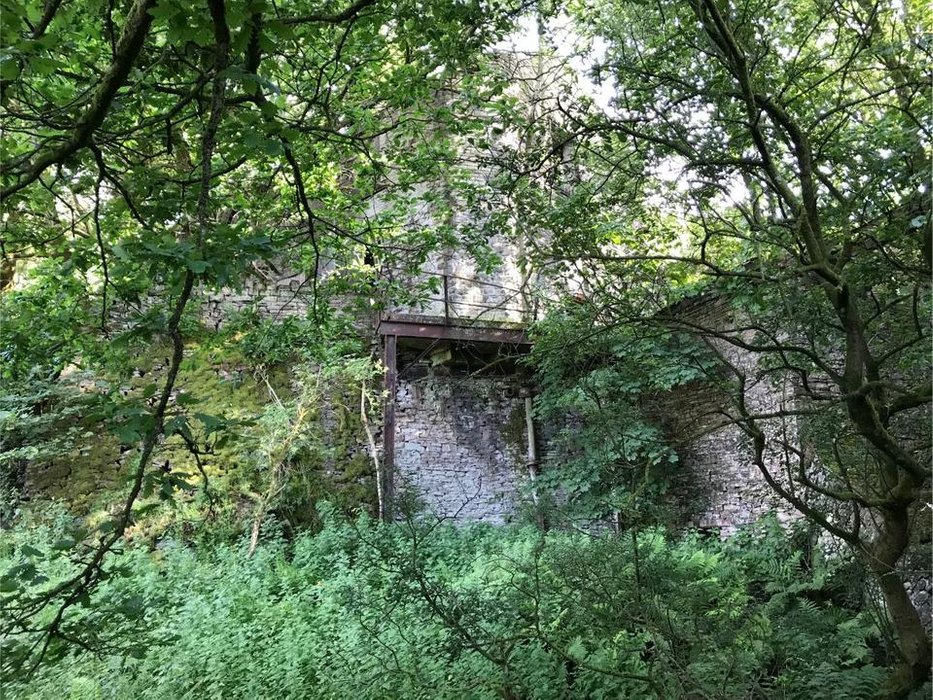 For one they are much easier to access due to lack of prying eyes, and even if they are complete wrecks like this one, there's always something to see and a unique story to tell.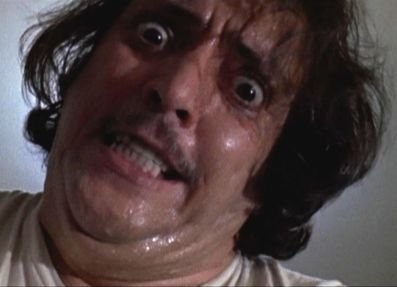 If you found this article so invigorating that you are now a positively googly-eyed, drooling lunatic with dripping saliva or even if you liked it just a bit, then please upvote, comment, resteem, engage me or all of these things.