Shibaozai, literally Stone Treasure Fortress, is a tower built at the end of the Ming Dynasty on a large rock that stands in the middle of the Yangtze River. Legend has it that this rock was one of the treasure stones which the Chinese Goddess Nuwa used to repair the sky when it was broken that was accidentally left on earth.
石宝寨位于长江重庆段,为明末在长江临岸一座大石山上所建的山寨。相传此大石山乃为女娲补天所用的五彩石之一,因而得名。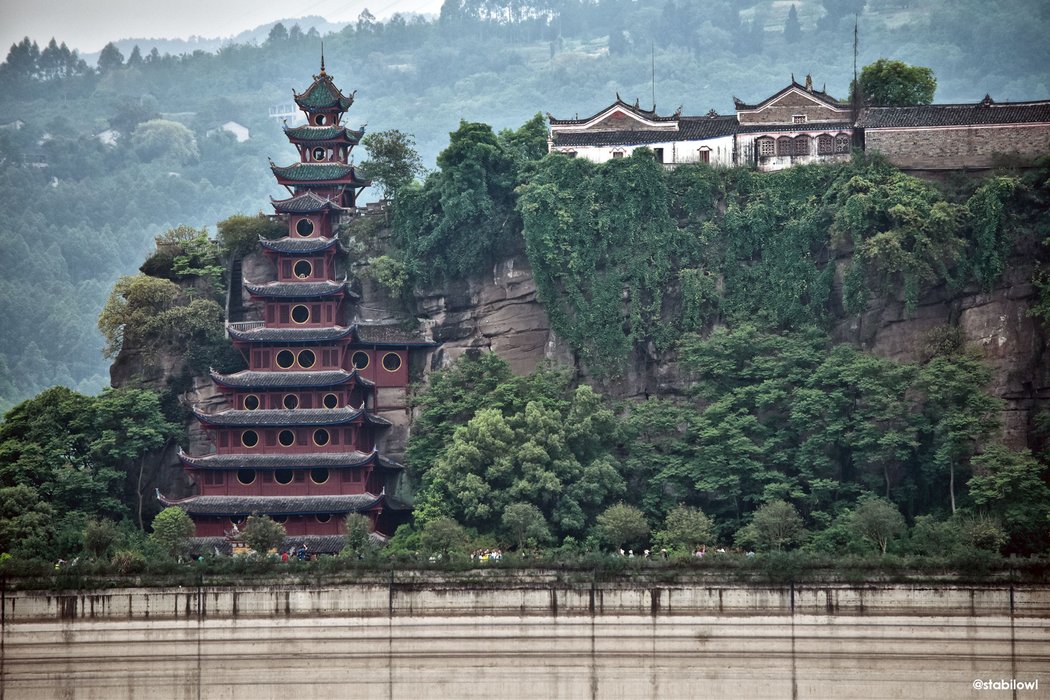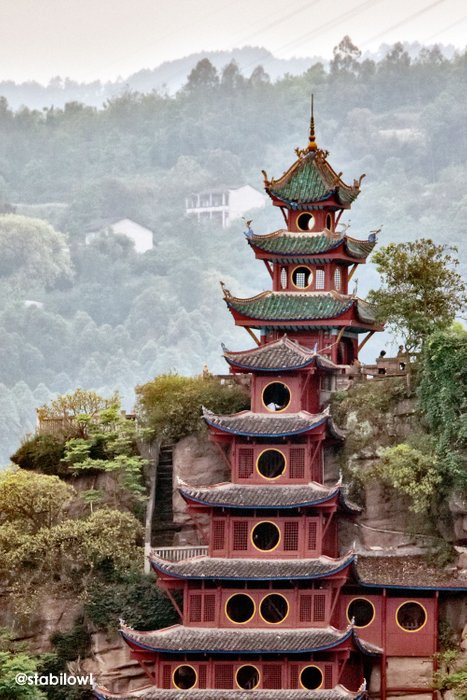 It was built by Tan Hong, who claimed the rock as his base for an uprising against the Ming government. The building was then extended during the Qing Dynasty into a massive pagoda with nine levels, with a shrine at the top of the pagoda The whole tower was built with wood (except for the tile roofs), and was built in a way which hugs the side of the cliff. The engineering feat going into building this pagoda is spectacular.
明末时期,谭宏起义,在这里建寨称王。之后万历,康熙,乾隆年间都有修建,成为现在所见的木塔。塔身九层,依山而建,全以红木所制。塔顶修了个古刹,寓意"九重天"。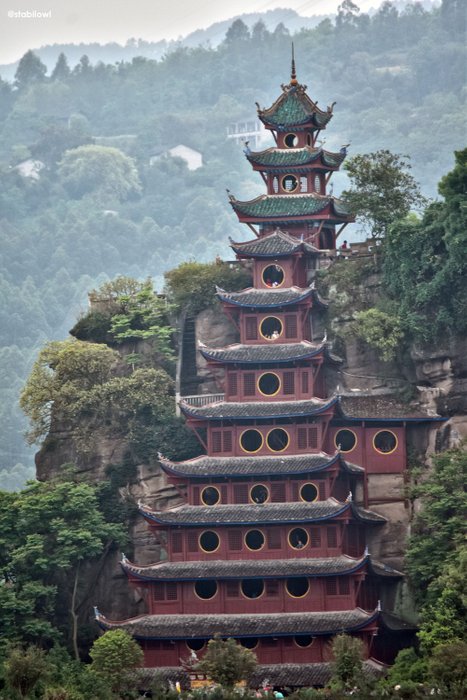 After the Three Gorge Dam was built, most of the Yangtze river above the dam was flooded, causing the water level to rise significantly. This greatly threatened Shibaozai and the rising water could easily erode away to base rock of the pagoda thereby destroying it. In order to save the pagoda, a massive stone barrier is built around the rock to keep the water out as well as provide support for the base rock of the pagoda. Now it is surrounded, from afar it looked like a Bonsai, with rocks, trees and a shiny red pagoda all fitted within a "pot". It has therefore been nicknamed the largest Bonsai in the world. The easiest way to Shibaozai is via one of the many Yangtze River Cruises, where Shibaozai would be one of the many excursions that is available for the cruise passengers.
在三峡大坝建成后,长江水位上升,影响到石宝寨的地基。于是政府围绕着石宝寨建了一栋水泥墙,把石山与水相隔之余巩固了山寨的地基。因为石山和宝塔在水泥围墙里恰似一个盆栽,石宝寨被誉为世界上最大的盆景。石宝寨通常是三峡游轮上自费景点之一,因此乘坐游轮是游览石宝寨最方便的辨法。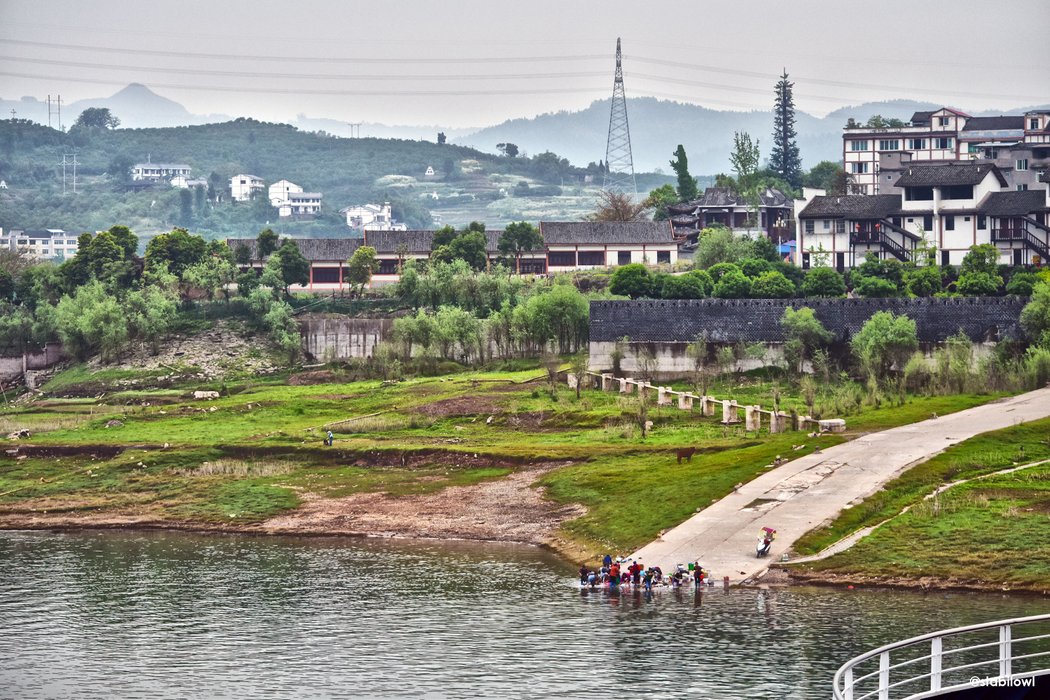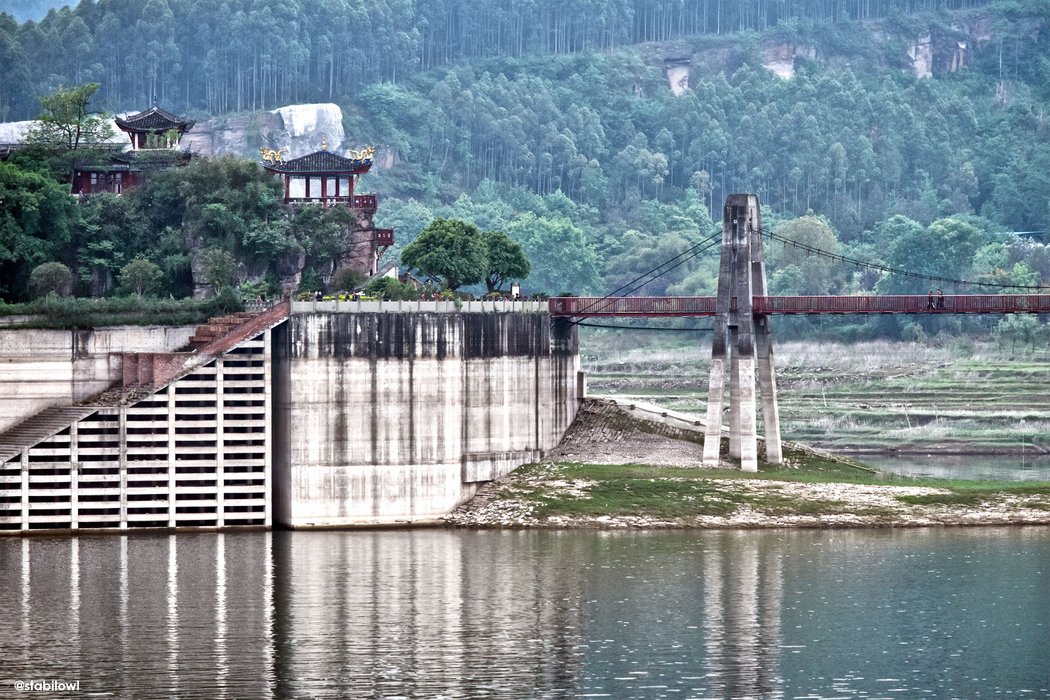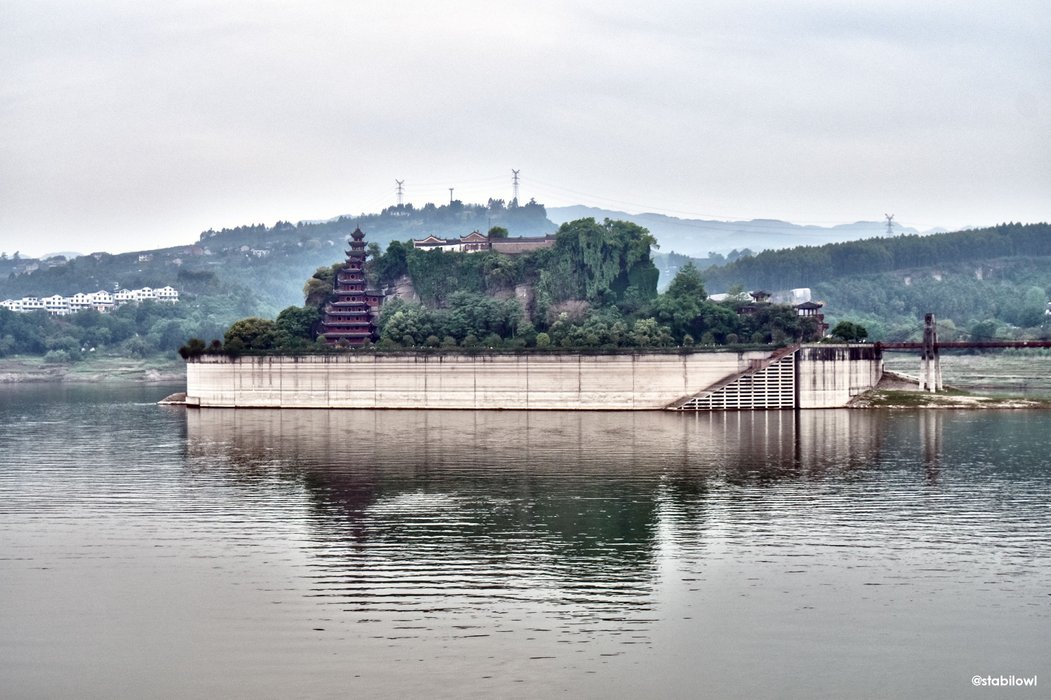 ---
Like this post? Please follow @stabilowl, upvote and resteem!
请关注,点赞,转发! @stabilowl 谢谢大家的支持