One of the seven wonders of Nature. With such a title, expectations automatically rise to new levels. As expected due to this title, Ha Long Bay is the top tourist destination in Vietnam. I've seen quite some beautiful places, but I can tell you that this title is well deserved. Ha Long Bay is definitely in my top 5. This place is seriously stunning!
So let me show you why you should pay a visit as well.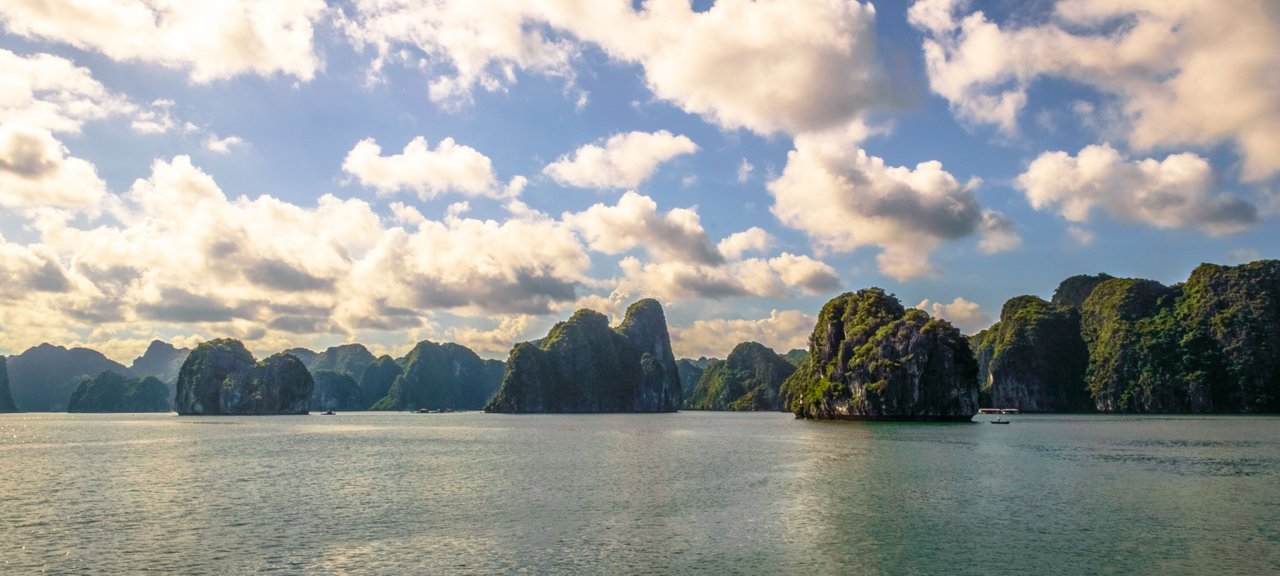 Ha Long Bay and Lan Ha Bay
Approximately 3,500 islands scattered over the Bay of Tonkin, this should already be a reason to visit Ha Long Bay. Some big and some small, some inhabited, and some will never be inhabited because it's just a sheer limestone rock that rises from the water. So of course we wanted to pay a visit to this place. So once we arrived in Hanoi we dumped our luggage and went out in search for a tour operator. We actually already had an address which a friend of us shared with us. It's a tour operator which is being run by a Dutchman and our friend really enjoyed his tour. Booking a tour to Ha Long Bay can be a bit of a fuss. There are many operators that organize day- or multiple day tours and sometimes more expensive is not always better. But too cheap is not always a good alternative we'd experience whilst asking other people how they spend their time in Ha Long Bay. Anyway as I said, we already had an address and the tour looked good enough for us.
We chose the cocktail cruise, mainly because it's a popular choice for 'young' people like us so that we will not be out on the water with the grannies. To confess something, our trip was not actually going to take us to Ha Long Bay. We knew Ha Long Bay can sometimes be a bit overcrowded with tourist boats. Mainly because the operators are only allowed to operate on a small piece of the bay. The rest is National Park and/or floating villages. The tour we just booked would navigate us through Lan Ha Bay and around Cat Ba island!
Lan Ha Bay is a smaller bay, but just as beautiful as its big brother. Once it was part of Ha Long Bay but nowadays it's an independent bay in an attempt by the government to protect the nature before (mass)tourism kicks in.
Our tour, day 1
We had booked a 3 days and 2 nights cruise. A van picked us up at our accommodation in the morning and, after gathering the others, brought us to Hai Phong. From there a ferry took us to our boat. It was a wooden one with no luxury what so ever, but there was enough space to sit down so it was good enough for us.

In the beginning, the view was not at its best yet

Our group was around 20 people big I reckon. But just 7 of them (inclusive us 3) had booked the 3 days tour. The rest booked a 2 days tour and would just spend 1 night on our 'private' island later that day. Whilst we were heading out to Lan Ha Bay, we got treated to a great lunch. After a while, the scenery became better and better and also the water started to turn more blueish. We just chilled in the sun and listened to the music while we enjoyed the views. Later, accompanied by a few buckets of cocktails. We navigated through the bay for a while and the views had improved exponentially by that time. Just let me show you some photos because they will probably tell you more than I can express with words.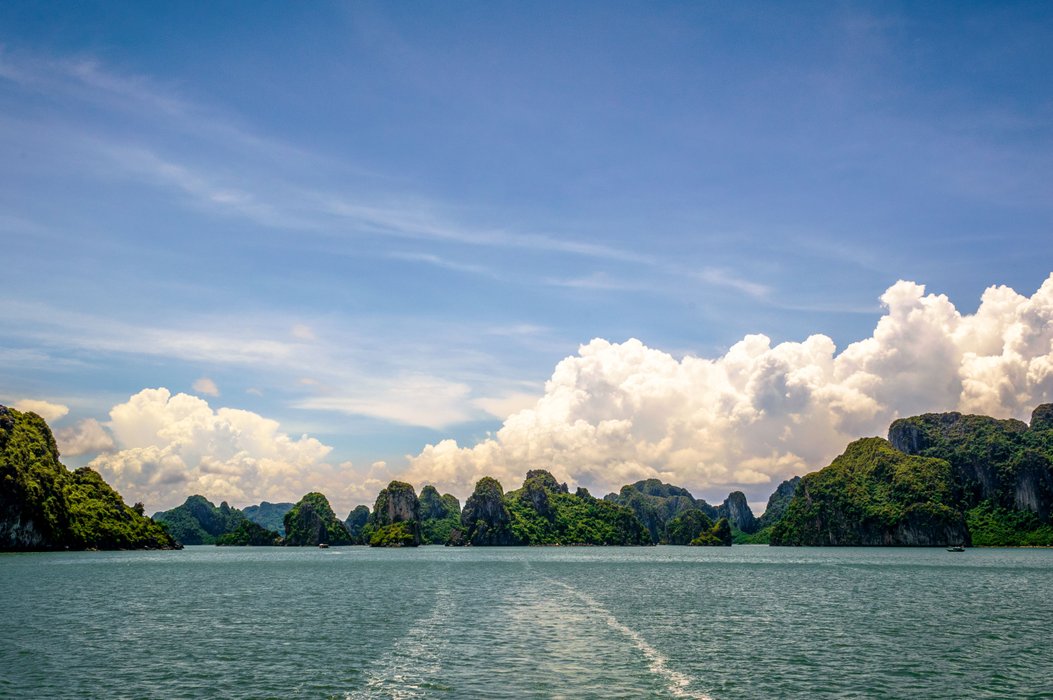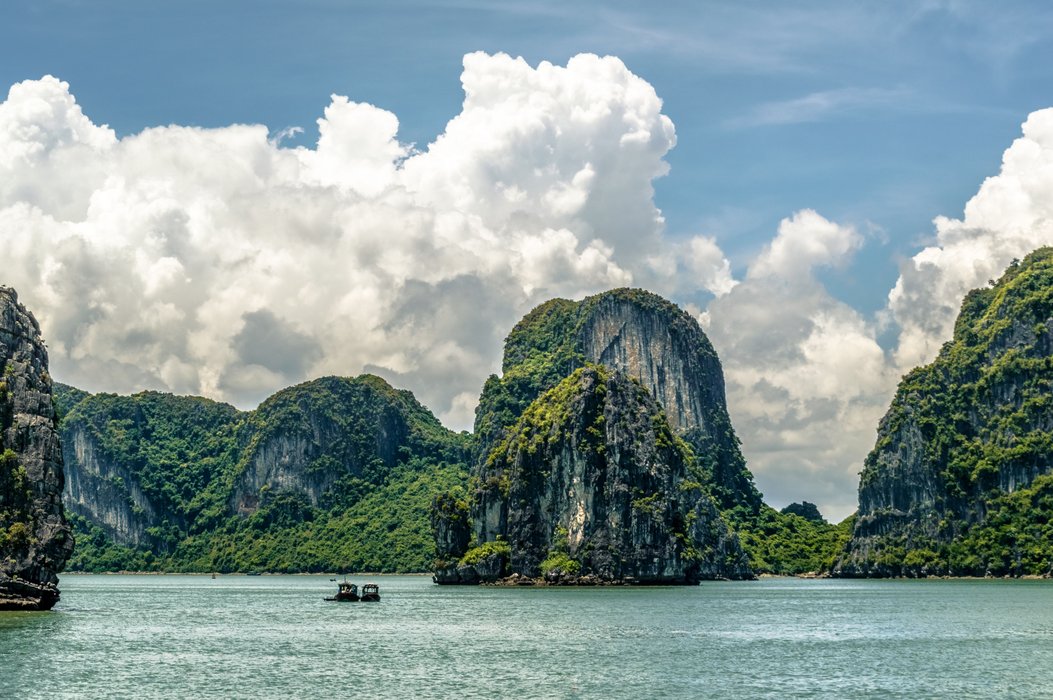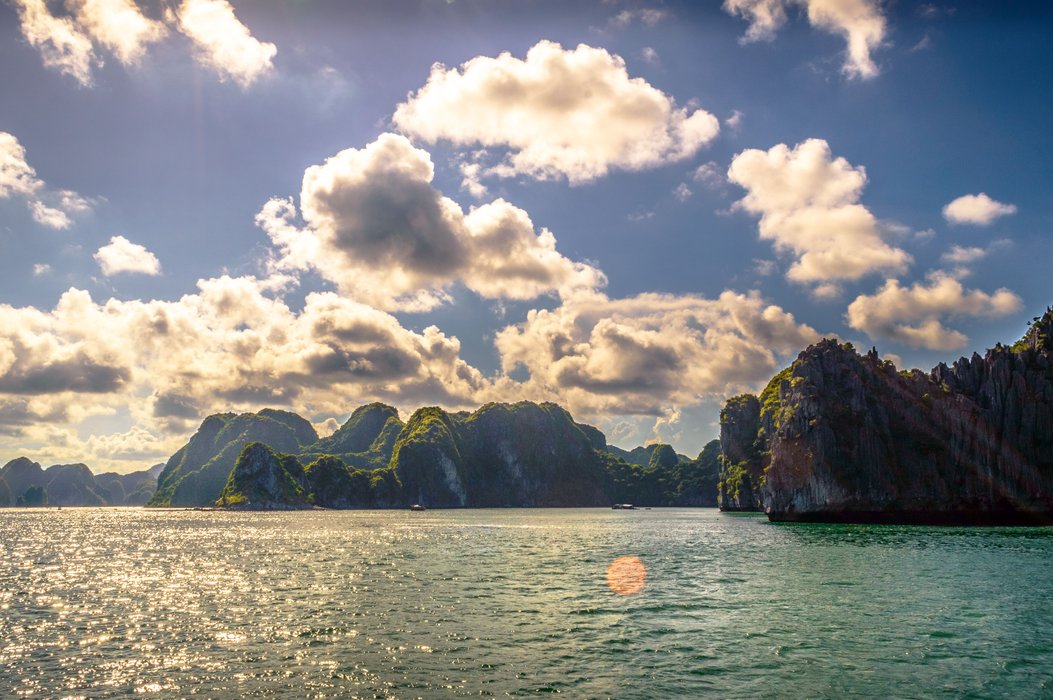 After a while, we stopped to do some canoëing. Not a big success. Our 3-person canoe was already treacherously deep in the water when we boarded. And after a while, one of us need to stop paddling and start bailing out the water already. After a few caves, the inevitable happened and we capsized. Luckily at that point, the water was just waist-deep. Since the canoe was so full of water (mostly in the hull since it was leak, as we discovered later) it was impossible to board it again. The ladies left me on a rock in the cave and went back with the guide who later came back to collect me with a speedboat. He really enjoyed it as well since he's "always out on the water in the slow canoe", he said. With full throttle, we had rejoined the group again in no time.

Canoeing in the watercaves
Back on the boat we cruised some more and saw a lot of floating villages. People have been living in the bay for thousands of years our guide told us. Tucked away in between the karst, sunken mountains that rise from the water. Each village completely self-sufficient with their houses, shops, and schools. Although a lot has changed since the government forced residents to move inland a couple of years back by sending out a directive. But some stayed nevertheless.
After a while, we stopped once more to do some swimming and jumping from the top of the boat. After our guide told us that we had to keep an eye out for big jellyfishes, swimming was over quite soon. At the end of the afternoon, we arrived at a small island just beneath Cat Ba (the largest island of Ha Long Bay), called Cat Ong. This is what our guide called, our 'private island'. There were a few wooden cottages on the beach in which they divided us. We slept in total with 7 people in one cottage, all of them booked the 3 days and 2 nights tour. In the main building, we were invited for dinner which was really good. Then we turned on the music and ordered some beers to start the evening.
The first day was already great. We navigated to the bay for a couple of hours and the scenery was mind-blowing every time. And we'd only seen one other boat during our swimming! How great is that right!?

Some more shots of the first day
Stay tuned for the second day which includes some hiking on Cat Ong.
---
If you enjoy my work, please consider upvoting it and follow me for more travel blogs around the world. Also, check out my Steepshot account for regular photo updates!

---
Similar posts that you may like: