Good evening all! Little later than usual am I writing to you again!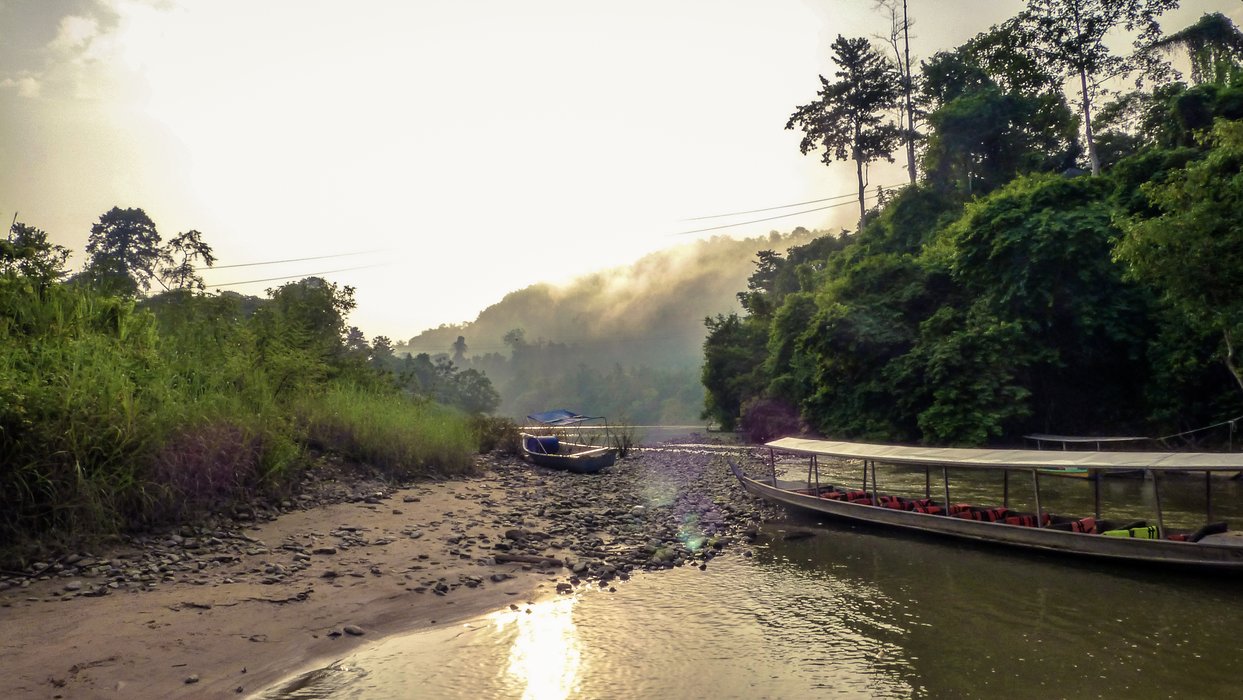 Let me take you to this place!
The weather has just been so good these days that I found it hard to find some time to write my next blog =) Drinking some beers at festivals and sailing are some really good alternatives right (?) But! In my last blogs, we explored some sweet spots in the beautiful Southeast Asian country of Malaysia. So, let me show you another one! This time the Taman Negara rainforest. Known as the world's oldest rainforest. Even older than the Amazon in South America. And, compared to some other rainforests, still a so-called primary forest. This means that all the trees and plants are still original and none have been replanted by humans because of logging activities. You see this a lot in Borneo for instance.
The Taman Negara National Park has a lot of wildlife. But since the park is of enormous size, the chance of spotting something is small. Highest chance is wild boar, monkeys, and birds. Tougher are Tapir, wild cats or elephants. Almost impossible are tigers, rhinos and sun bear who presumably also live in this park. Easier to spot are plants and insects since they are not so shy of humans ;)

View from the entrance of the park at Kuala Tembeling
Before I went on my trip to Malacca and Tioman, I decided to pay a visit to the Taman Negara rainforest first.
From Kuala Lumpur it's a 4-hour bus ride to the entrance of this national park in the village of Kuala Tembeling. Here you'll find some restaurants to grab some lunch and there is some general information about the park. After waiting for a bit, we were called to the docks. From the entrance, it's a 3-hour boat ride in a longtail to the village where we would stay for two nights. It's a cool ride on the river, but as we say in Holland: 'you'll get a wooden ass' from sitting for 3 hours on a very small bench. We spotted some wildlife like buffalo, but sadly nothing fancy.

Boats that we used to go on the river

Some other boats we passed during the 3-hour trip
We arrived at a floating restaurant called Mama Chop in the village of Kuala Tahan. This restaurant was like our operating base. We were shown to our accommodation. I booked a shared fan room and my roommate was a guy from Australia. Although he looked like an average tourist with his pouch around his hips a sunhat and sunglasses with strings, he was a pretty cool guy to share a room with. So I was lucky there.
I had two full days to spend at the Taman Negara National Park, so I went back to Mama Chop to look at some tours. I ended up with a night jungle walk, a canopy walk and a jungle hike with multiple lookout points. Alternatives were: visiting an Orang Asli community (not really a fan of such planned visits), going through some rapids with the boat, exploring some caves and waterfalls etc.
Night jungle walk
This walk was scheduled for our first night at the park. After I had dinner with my Australian roommate we went to Mama Chop and were provided some flashlights. By boat, we went to the other side of the river where the walk began. I must say I was a bit disappointed that the whole walk was on some kind of wooden platform. Probably to avoid stepping on things like plants or animals, but I did not expect it in some way. Anyway, the walk was pretty fun. Although the guide walked really fast and you could not hear anything he said when you were at the back of the group, I saw some pretty cool animal. Nothing big, but a lot of spiders and other crazy insects. We made way too much noise to see something bigger I guess.

Well, good evening sir!
Canopy walk
The next day I did the canopy walk. We went to the other side of the river again and walked a bit uphill. The canopy walk consists out of some rope bridges between trees. Literally, a highlight of your visit to Taman Negara since the highest bridge is around 45 meters above ground. During my visit, a big part of the bridges was being renovated, so I could only do half of them. It was pretty cool to see the jungle from up high. Half-way there is a great viewpoint which offers a view over the river. Around lunch, we were back at Mama Chop and the rest of the day I did some relaxing near the river and explored the village a bit. Most of the people were on the trip to the Orang Asli community upon the river.

Views from the canopy walk

This is what the rope bridges look like
Jungle hike
On my last day, we got up and grabbed some breakfast. Then again we went to the other side of the river. After walking a bit we left the wooden platforms behind and started ascending. Sometimes natural, but mostly by wooden stairs. The jungle humidity started to kick in and in no time everybody was sweating like crazy. The Taman Negara has beautiful and massive trees and lots of ferns.
At the first viewpoint, everybody took a small break to dry up a little from all the sweating. We had a great view of the jungle. But since it had not rain for a few days, the view was a bit hazy. Optional you could walk to another viewpoint. This one was great as well, but offered a view in the same direction. Just a bit wider.

Big roots on our path and the view from the first viewpoint
In the afternoon my trip to Taman Negara was finished and a transfer to the Cameron Highlands was waiting for me. Another 4 till 5 hour trip by minivan. I wrote a blog about this place at the beginning of this year. You can make a nice triangle from Kuala Lumpur by visiting both places.
A visit to Taman Negara was really fun and something I really recommend if you want some genuine jungle experience in Malaysia. If I more time I would have definitely done a multiple day trek. This way you not only walk on the regular paths like most people do but go on a multiple day trek and sleep in tents as well.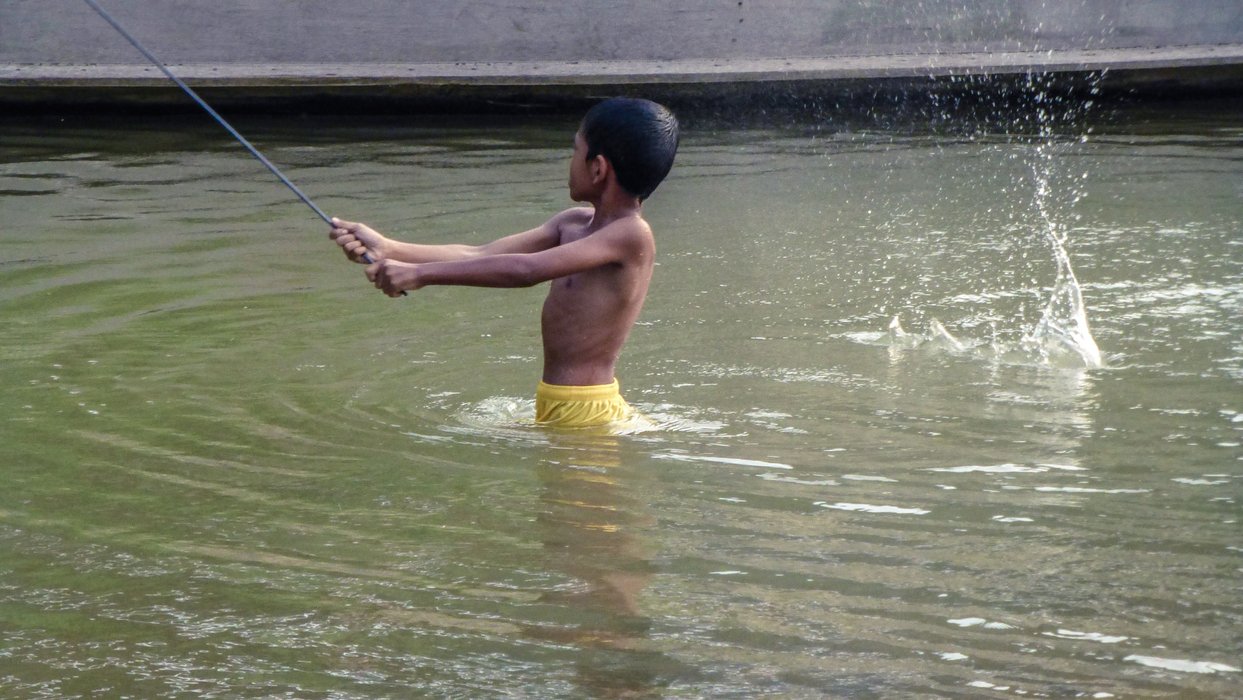 Local kid playing in the river near the restaurants
---
If you enjoy my work, please consider upvoting it and follow me for more travel blogs around the world. Also, check out my Steepshot account for regular photo updates!

---
Similar posts that you may like: