BATU CAVES MALAYSIA
---
Just outside of Kuala Lumpur, the capital of beautiful Malaysia, you will find the Batu Caves. A must see as said by most travelers. You can either take a metro (20 minutes) a bus (45 minutes) or a taxi to the caves.
I took the metro and from the station where you get off, it's just a few minutes walk to the caves. The Batu Caves are a series of limestone caves. The biggest cave is 100 meters high and 400 meters deep and houses a few temples and altars. This cave is called Cathedral Cave.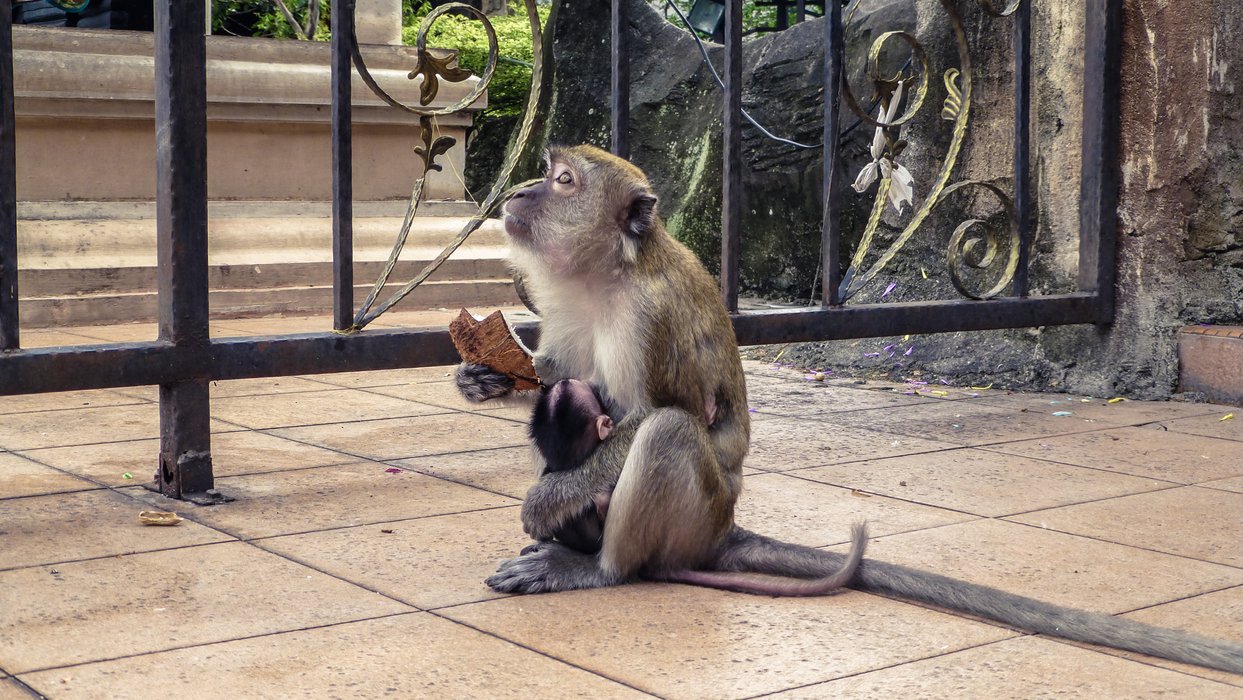 Monkey reading a map...
On your way to the caves, you'll pass some temples and need to dodge some of the monkeys (Crab-eating macaque) that live in the area. They are not the nicest ones, so be careful and make sure you don't hold anything in your hands, like your phone or sunglasses. They're sneaky little bastards. Just next to the staircase there is a small garden with some pools etc. Fun to walk through before going to the caves.

A giant staircase will lead you in 272 steps to the caves. Just in case the staircase wasn't impressive enough, a 42-meter high golden statue of Lord Murugan has been put next to it. The Batu Caves is the biggest Hindu sanctuary outside India and attracts many pilgrims every year.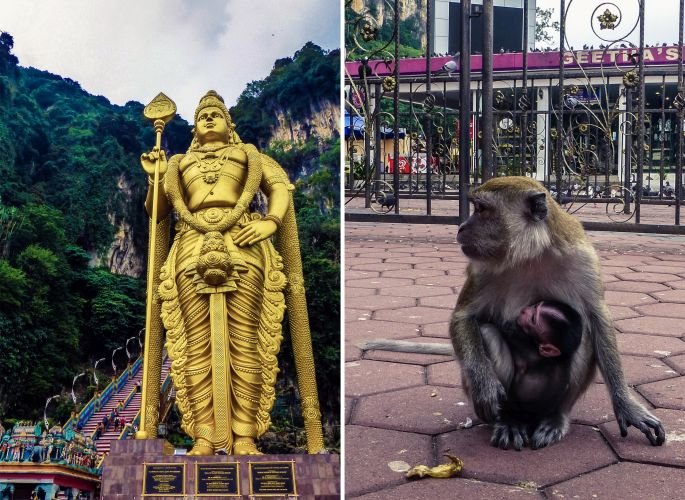 Statue of Lord Murugan and another Crab-eating macaque
After ascending the stairs, turn around and you will be rewarded with a nice view of Kuala Lumpur. After I bought a visit to the caves, I must honestly say that I was not really impressed by them. Cathedral Cave was nice because of the sunlight that comes from above since this cave has no roof in the center. But the temples were not really impressive. Pretty soon I found myself outside again. What then?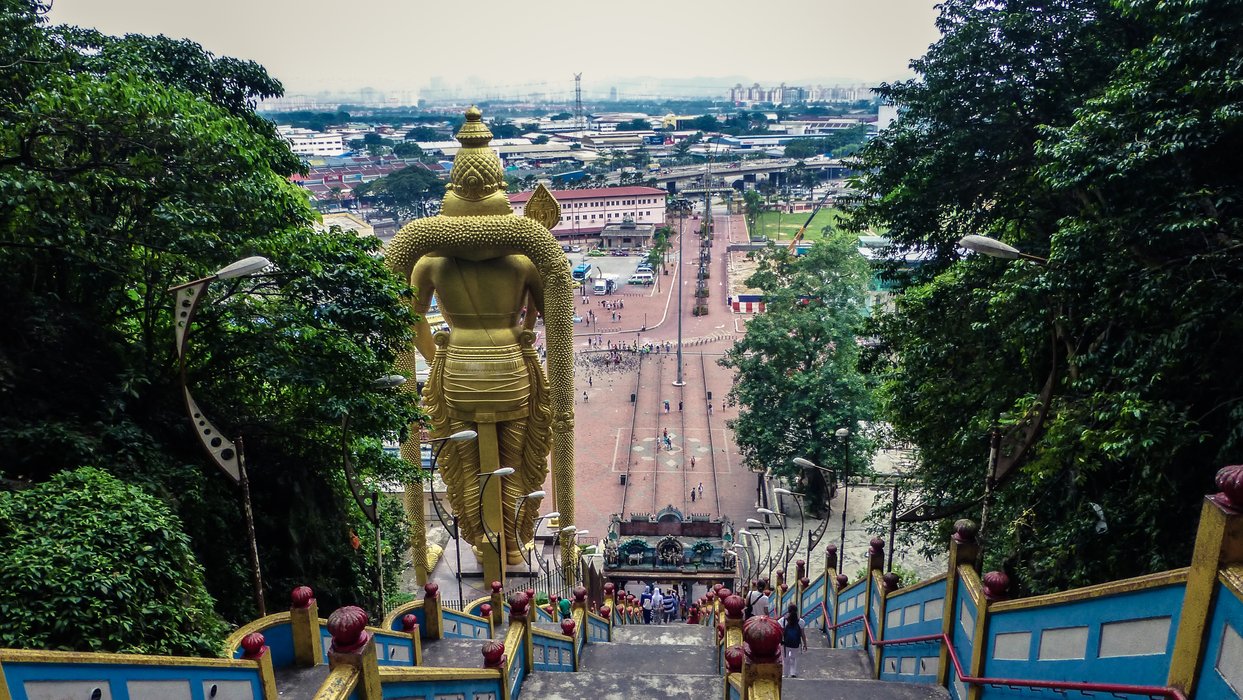 View from the top of the staircase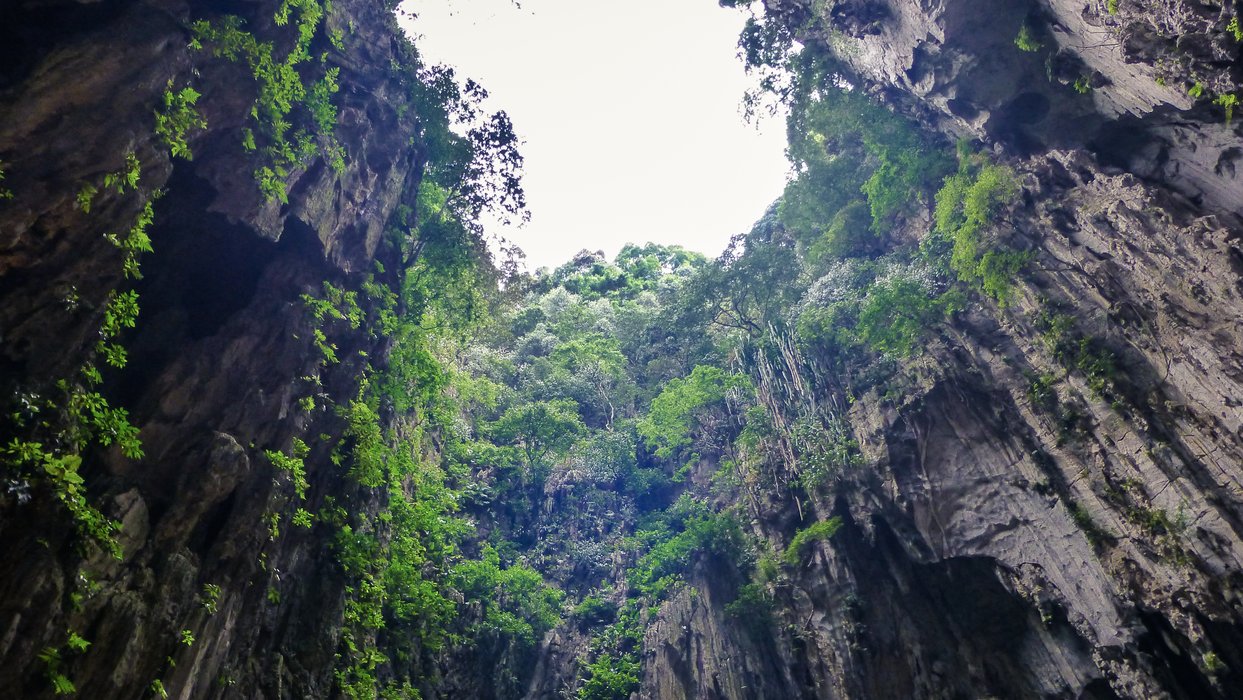 Inside Cathedral Cave
Luckily there is also Dark Cave. This cave is less crowded since it can only be visited via a tour. These caves are of major importance in terms of flora and fauna and have been there for more than a hundred million years. A tour will take you inside with just a weak flashlight. The guide will show you how insanely dark it is in these caves and will identify some animals and insects that live there.
Malaysia surely has better temples, no doubt there. But a visit to the Batu Caves is a great way to spend a half day outside of the city. I personally always enjoy a visit to a cave, and the Batu Caves were no exception. Especially Cathedral Cave because of all the sunlight that shines through the roof. Last tip: If you visit the caves during the week, it will be less crowded!
Thanks for reading and till the next time!
---
If you enjoy my work, please consider upvoting it and follow me for more travel blogs around the world. Also, check out my Steepshot account for regular photo updates!

---
Similar posts that you may like: