It was a perfect day for expedition and we went out for safari at Ranthambore National Park.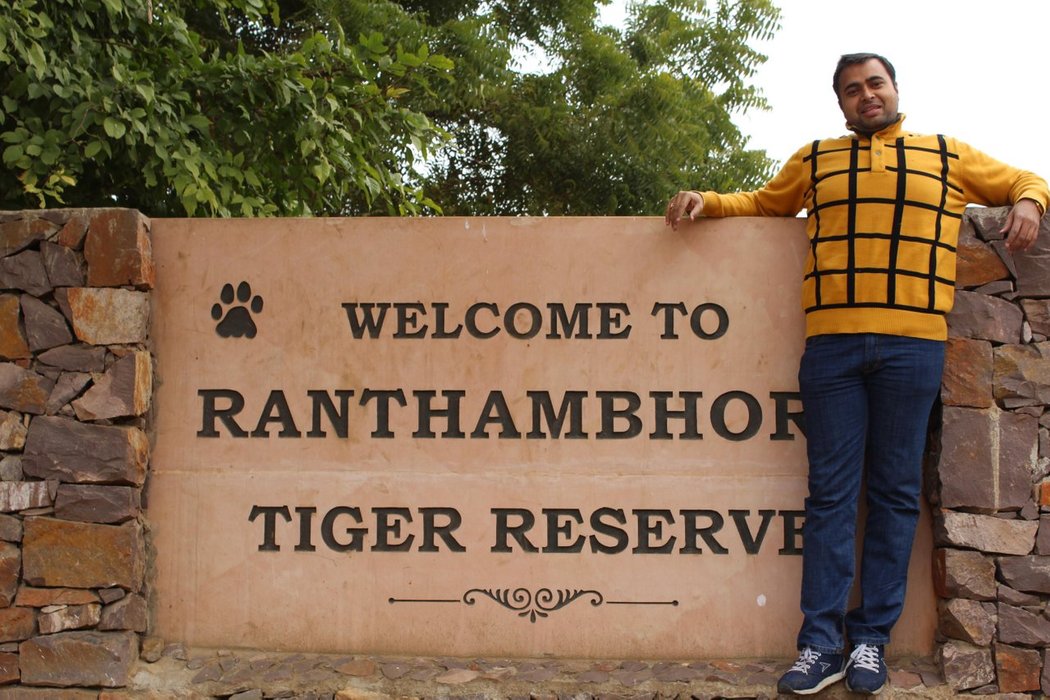 The park is quite famous for tourist to watch big cats Tiger roaming in open in their natural habitats.
The craze to watch big crazy cat is not only among us, but it had pulled many people to watch the Jungle King roaming in open. As we result, we were caught in heavy traffic in middle of the jungle.
Ranthambore National Park is one of the biggest and most renowned national park in Northern India. The park is located in the Sawai Madhopur district of southeastern Rajasthan, which is about 130 km from Jaipur. Being considered as one of the famous and former hunting grounds of the Maharajas of Jaipur.
Now a days, it is no more hunting ground but it becomes a major tourist place. If anyone want to experience the wild habitat, this is the best place to be. With dense forest all around surrounded by hills. Geographically this is the best place for the wild animals, to keep roaming here and there. Entering the place and viewing the hilly ares may sound quite pleasing. And we were going to witness something interesting after long time.
Till that we have seen many animals in Zoological park, inside the enclosure, however now we were in middle among the wild animals.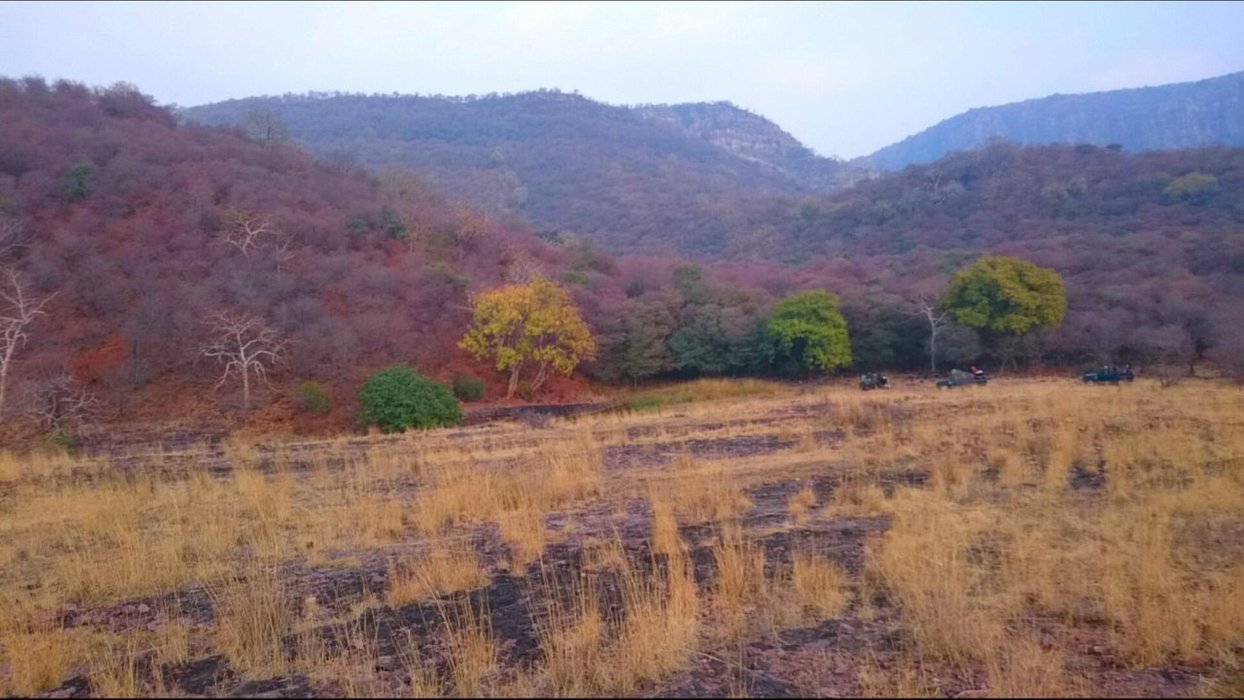 Ranthambore National park is spread over an area of 392 sq km. along with its nearby sanctuaries like - the Mansingh Sanctuary and the Kaila Devi Sanctuary.The park is majorly famous for its tigers and is one of the best locations in India to see the majestic predators in its natural habitat
Few days ago,before we made to that place, one of our friend posted some unbelivable close up pictures of Tiger in middle of the road from same location. Watching those picture make us more excited and we planned after that to see the Big Cats.
The place is quite famous for the tiger and it used to be said that Tigers can be seen during day time. To take on the safari route, we need to collect the safari ticket from the tourism counter which allow us to book a open Jeep for the jungle tour. One after the another around 20 jeep entered h jungle in lookout of the wild cats. Everyone was excite and clicking pictures whatever came across in between.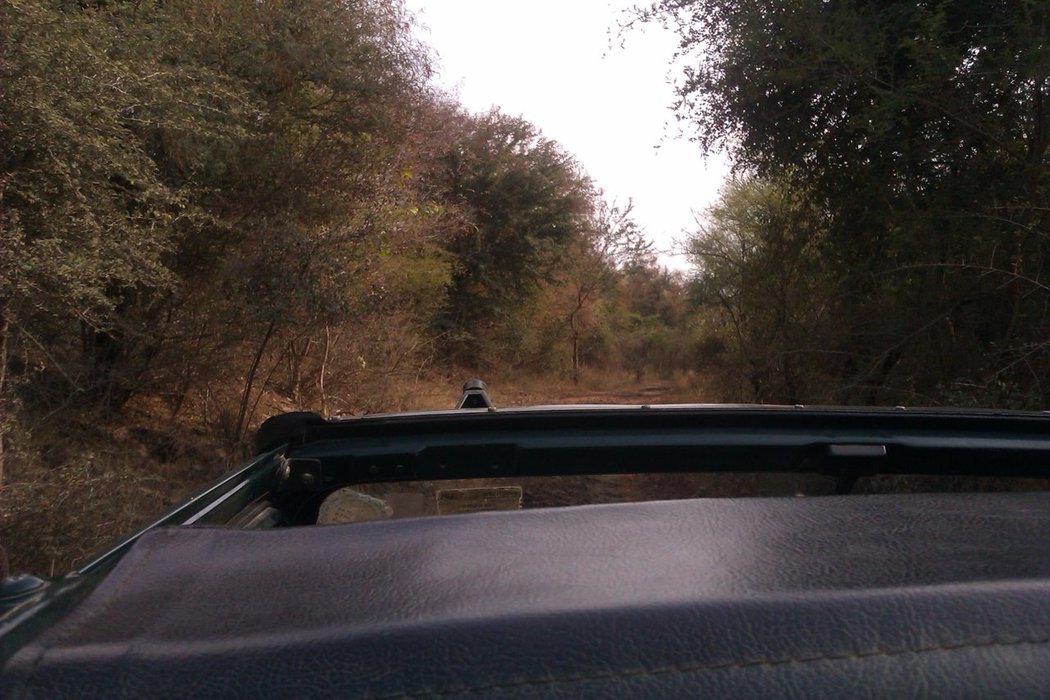 Ranthambore national park was declared a wildlife sanctuary in 1957 and in 1974 it gained the protection of "Project Tiger". It got it's status of a National Park in 1981.
This national park is a paradise for wildlife enthusiast and photographer. The park generally opens for public from November to May, allowing people to get a feel of the wild animal life. And more so to see Tiger in open.
Our caravan went ahead slowly, and in between we came across many small water bodies and the driver who also was a guide keep informing us of different stories. Like the pond is for wild animal, they comes here to drink. Although, the tour inside the jungle started and we were more curious to watch the Tiger.
Tye driver told us that the tiger don't come outside and will be found in interior of jungle. We get friendly with him , and kept asking stories of the place and life of people living around the place.
Soon we paas through hurdle of Dear. Surprisingly, they were not afraid of the passing jeep and keep grazing the grass.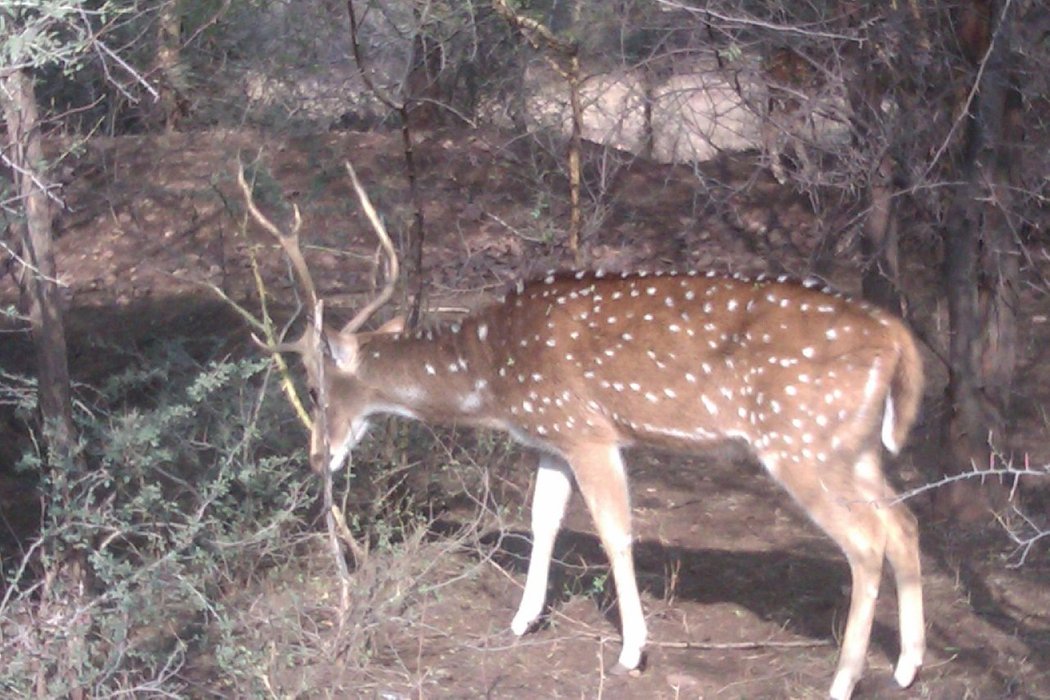 Our jeep stopped and we took pictures. In the meantime other jeep went ahead. Driver told us there are different routes within the jungle and we will assemble later at a common place within the jungle. So we went ahead to shot more picture as it was quite interesting to see Dear from so close.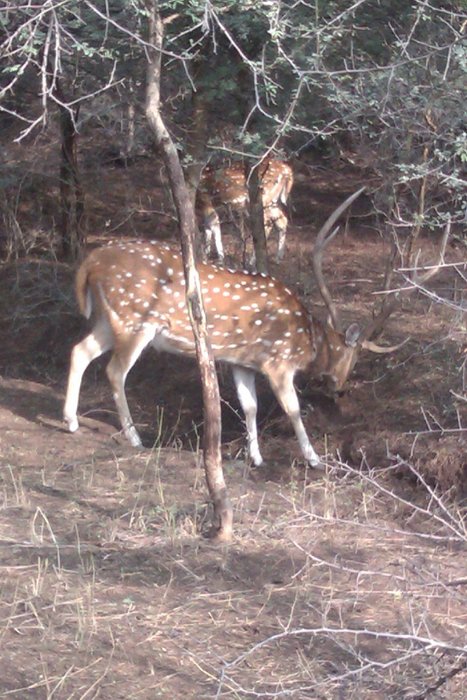 We were already in middle of jungle and getting bit scary and also we were quite excited. The vast open fields in starting started to get far and we were getting closer to the tree shade, which indicates we were in the interior part and anything could happen.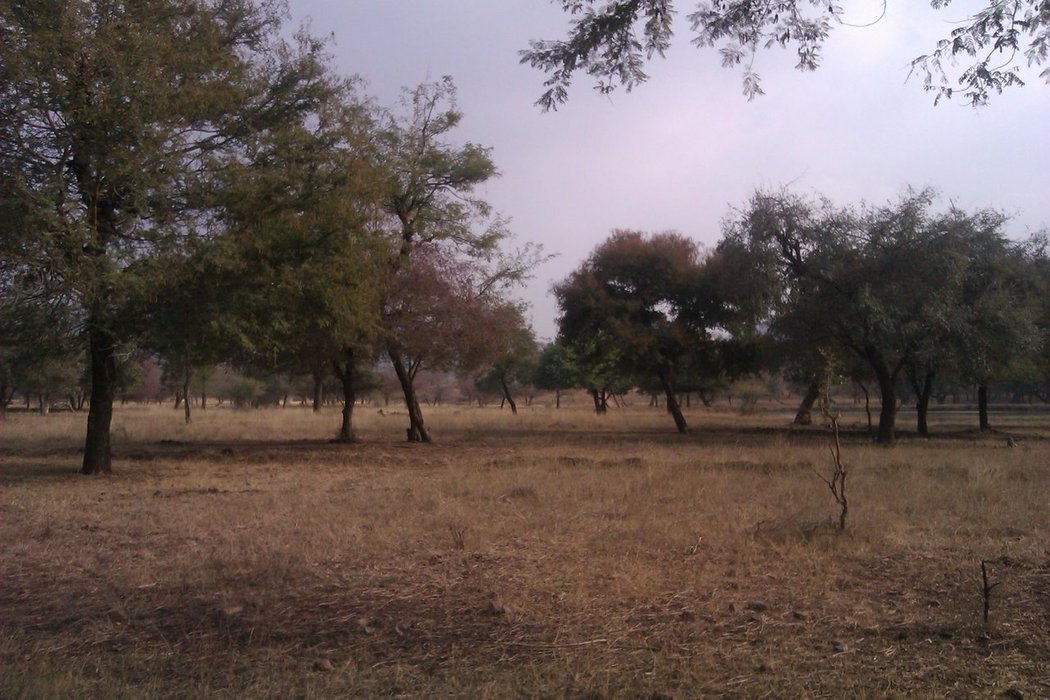 The dots on dear skin looks quite good. We keep moving inside the jungle and kept watching many animal in between. The langoor got very friendlier with us and block our path.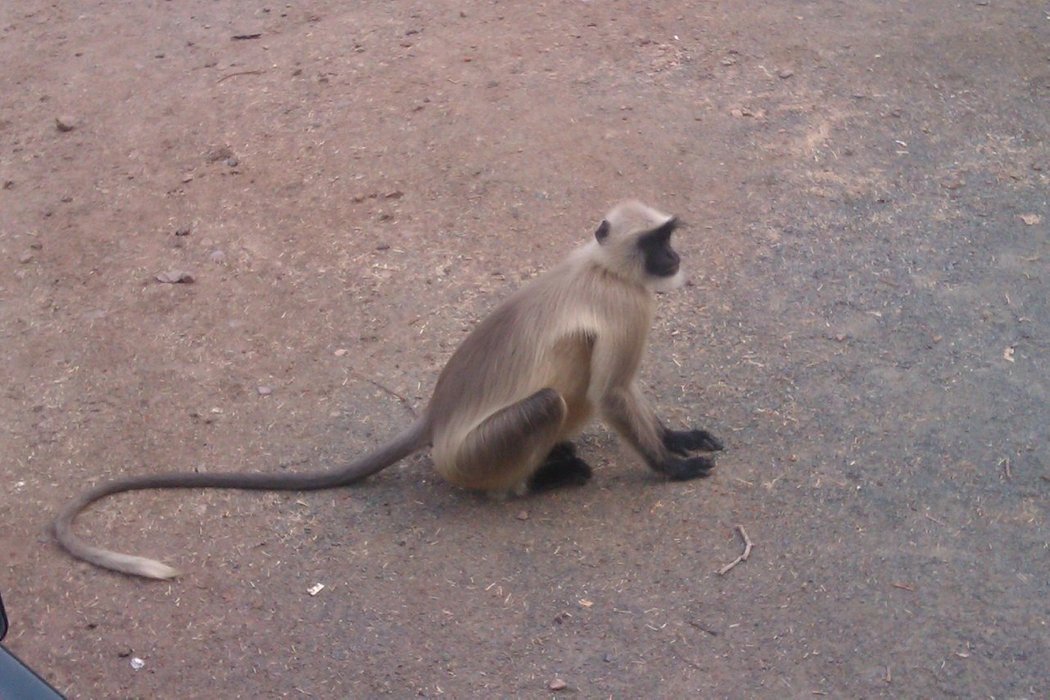 However the driver make sure the langoor won't harm us and make way silently beside the sitting animal. While we were moving slowly, we though we might get strayed away from other people who joins us in starting of the tour. We kept enjoying the place and exploring the unknown jungle world.
Soon we get along a common path and met with other safari jeep. It was a one way road and the driver told us that we were nearing to the Tiger areas where Tiger can be seen more frequently wandering.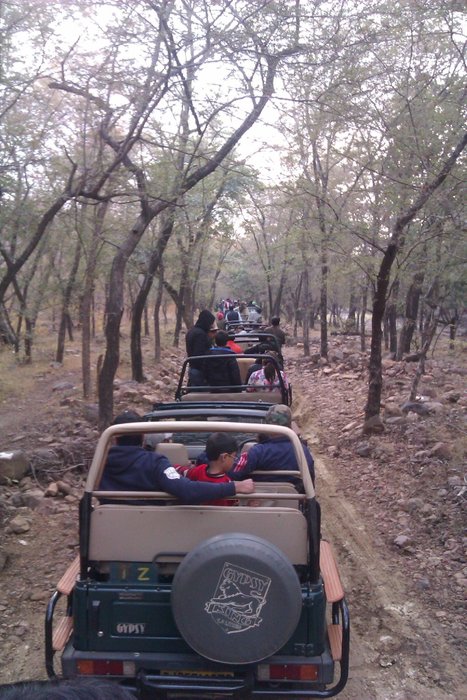 We get excited, one of my friend whispherd " do not make noise" and we all remain silent, and kept looking here and there to get Tiger sighting.
One thing bad happen in between our safari, was while we were enjoying exploring jungle life, we were left standing last along the Jeep line.
Suddenly, a murmur spread among all the vehicle, and they stopped at once. Someone have seen a tiger while passing through the jungle. We get excited and got ourself ready with Mobile and DSLR to shoot the tiger.
Soon we notice it was not only us but everyone were quite excited to get a glimpse of Tiger. All vehicles were stopped on the road.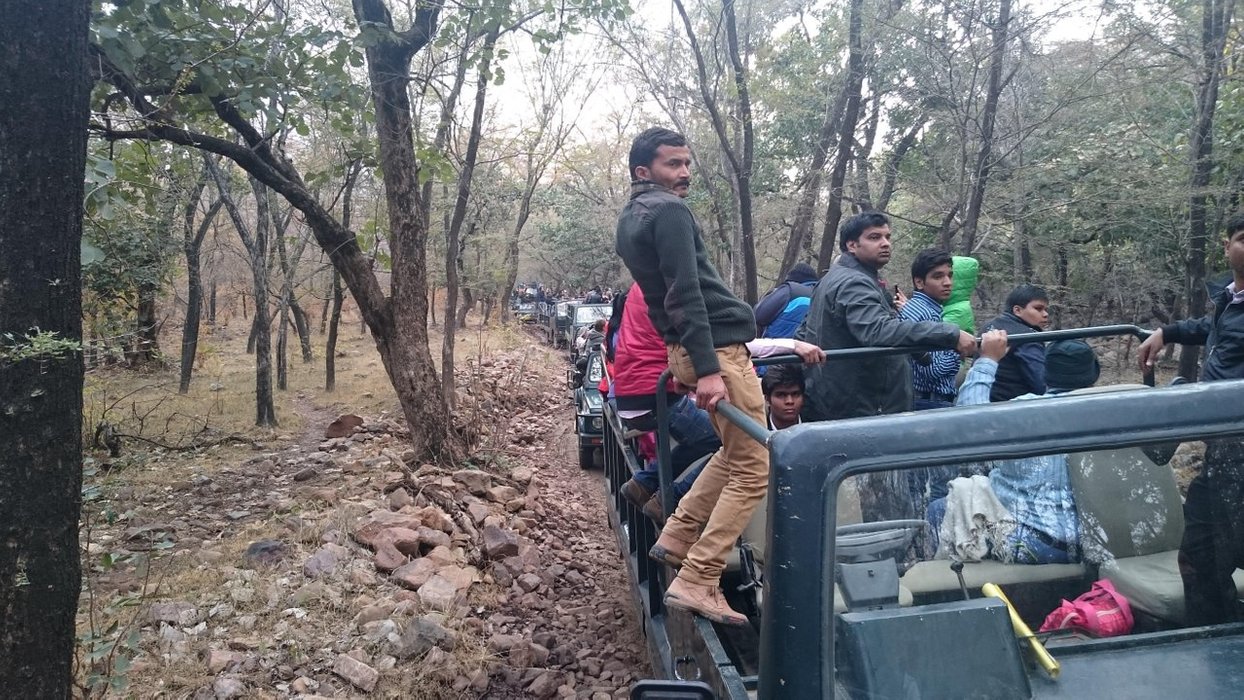 We started to look for tiger. Few men on the Jeep ahead of us were looking at a direction and we too started to search on the same side. The driver too said , there is a tiger taking rest under a tree. We made our camera to look for it, it was quite a distant from us. We zoomed it and found one yellow tiger sitting under a tree. Though my camera could not capture it properly, but looking closely, one can find the yellow tiger right the pic center.
The tiger didn't come near us, but we have seen them sitting and taking rest at far off distance. Everyone was quite excited. After some time there was bit of hustle and bustle, and we notice that there is almost traffic situation in middle of the jungle with Jungle king taking rest alongside.
The driver of the jeeps were quite smart and slowly they manuvere to make their way out from the risky tiger zone and from the traffic too. Though the sightening was not so close but Tye driver who happens to be the local resident told us that the safari got bit late and if we happen to come early then could have watched the tiger more nearer. Might it would be true, as the time we went I side was after noon, and the tiger usualy roams in morning time.
Soon we realised that it started to get dark and sun has made all way to end the day for us. It was silently going down at the other side of jungle.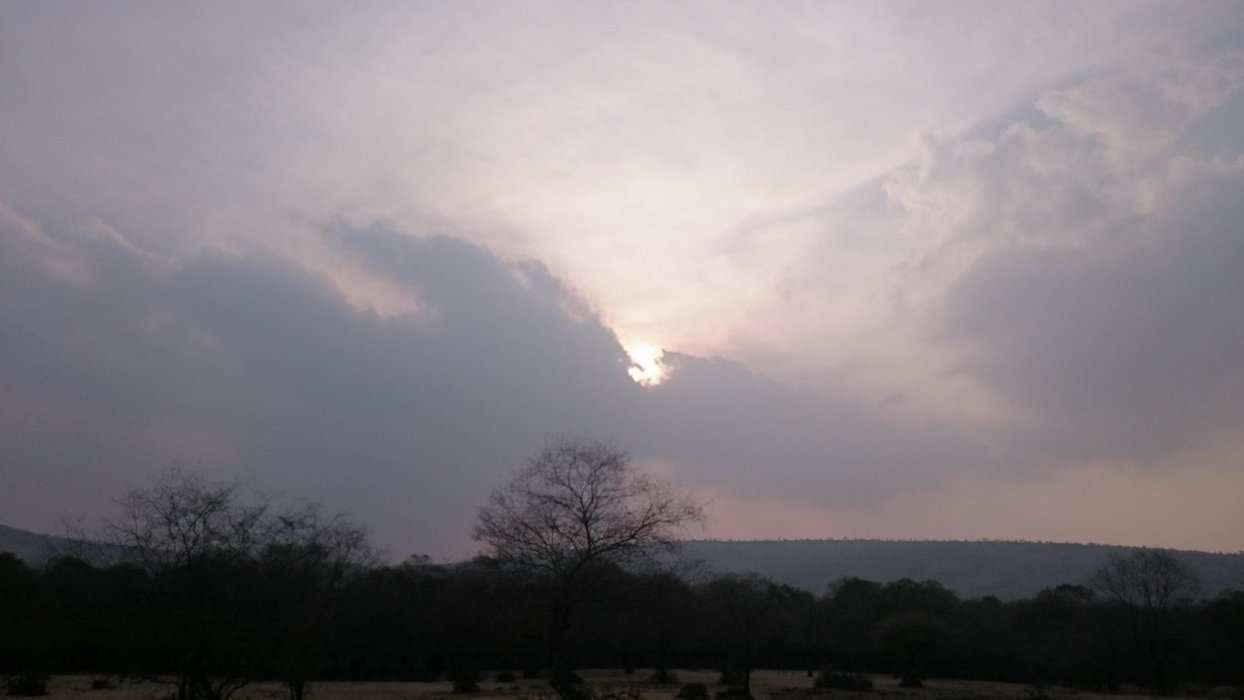 It was a wonderful tour and we manage to gather many useful information especially from the Jeep driver who seems to be quite familiar with the place and have strong knowledge about the jungle and also about the tiger.
It was long day for us, which ended slightly on a bad note as we couldn't manage to achieve what we came for. Still it was an interesting trip with full of fun and enjoyment.
Stay Calm....
Keep Steeming...Steem On !!!