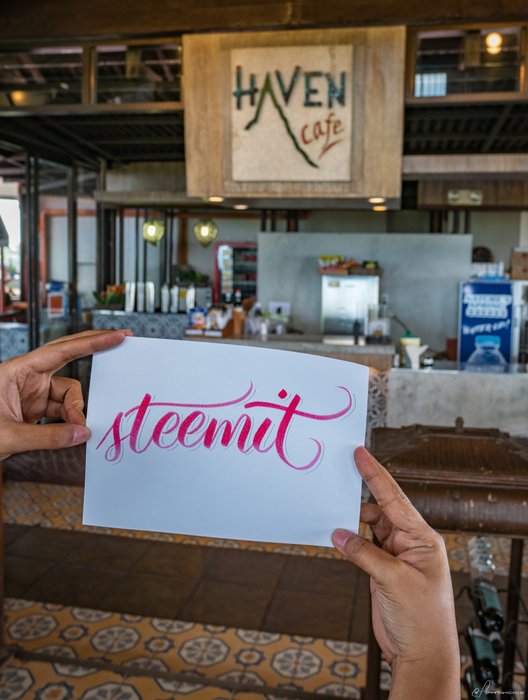 Steeming at Haven Cafe.
Nestled in one of the green mountains of Balamban, Cebu, Haven Cafe takes pride of its cozy ambiance, rustic but modern interiors, and cold weather. It is located at Kilometer 35, Gaas, Balamban, Cebu thus the resort is named West 35.
James (@panoramicview) and I's aim was to only eat here for lunch but we had to enjoy our food and the ambiance. And of course, promote #steemit! I wrote Steemit in my handy Winsor and Newton A5 blank notepad which I received as a freebie during an art fair in Ayala Center Cebu with the Haven Cafe signage at the back, note that that signage is made of tile pieces, it looked really nice upfront.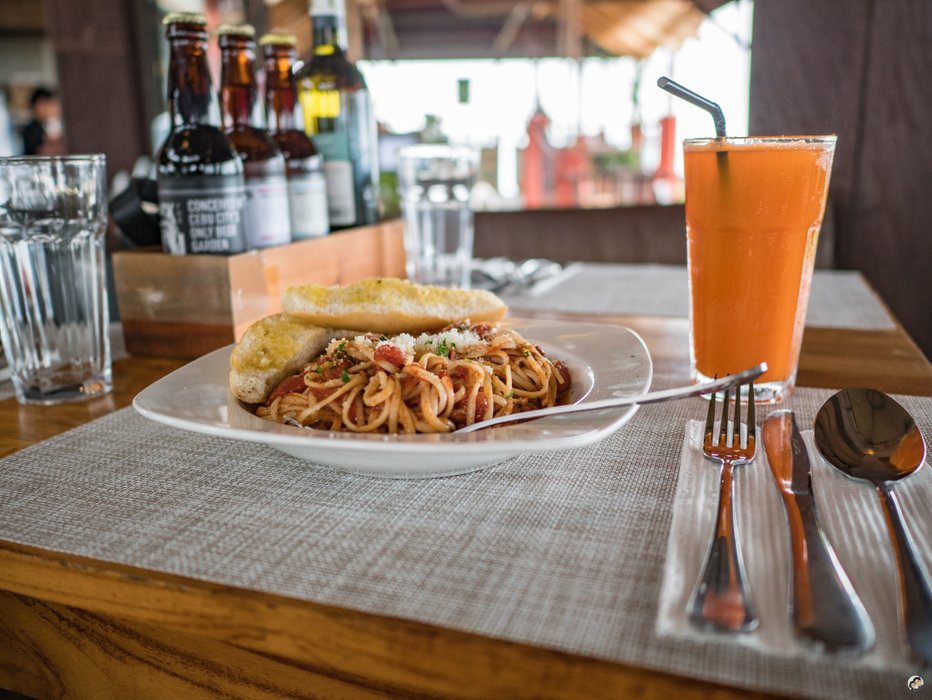 Pasta priced at PHp 198
My plate during our lunch, its Pomodoro Al Fresco made with white wine, fresh tomatoes, olive oil and parmesan cheese and paired with two pieces garlic bread plus a fresh carrot juice! The serving was generous and so I had a hard time finishing it! The fresh carrot juice was really good as well.
Later I found out that West 35 Resort grows their own spices and other vegetables right in the resort's premises! At the cashier, we found some packed fresh tomatoes and green chili peppers for only Php 50! I had to buy a pack of those fresh tomatoes because they were truly pretty shiny and red, it was perfect for my green salad at home!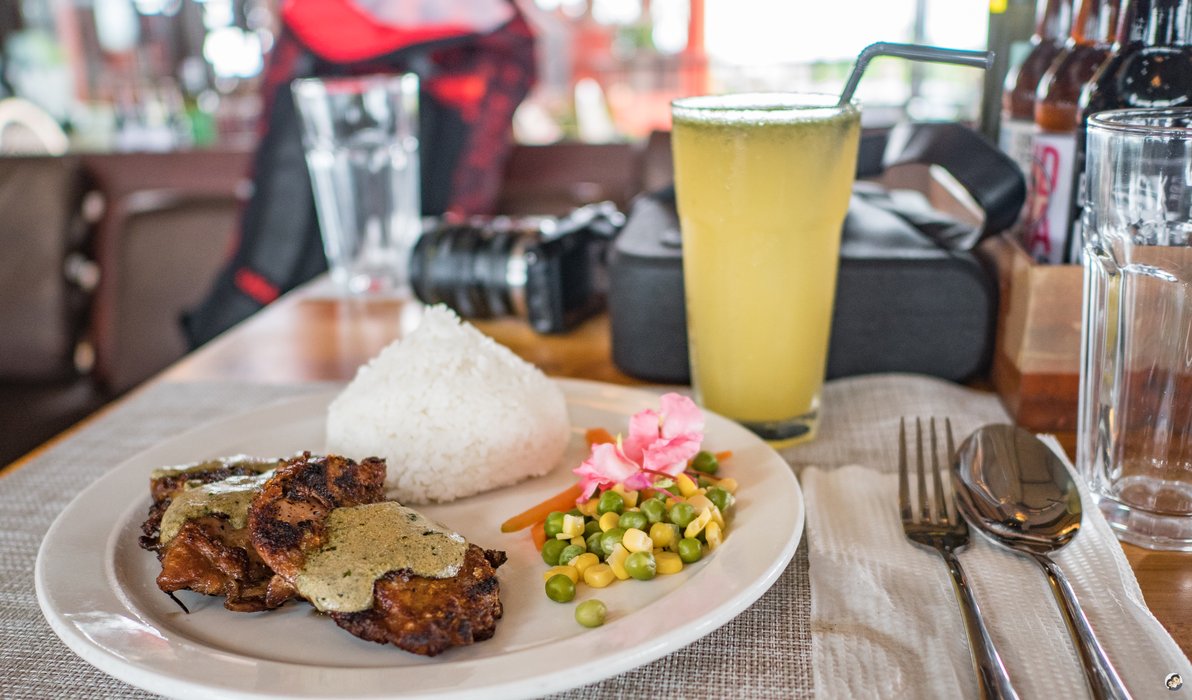 Meal priced at Php 285
James (@panoramicview) ordered Grilled Boneless Chicken with basil cream sauce and paired with a very yummy Westy minty lemonade! I had to have a taste test with that drink since it reminded me of Radisson Blu's Crazy basil!
It definitely looked and tasted like Crazy basil, that drink in which I had like five or six rounds of glasses because it was really really good! James approved of his meal and was also satisfied with it.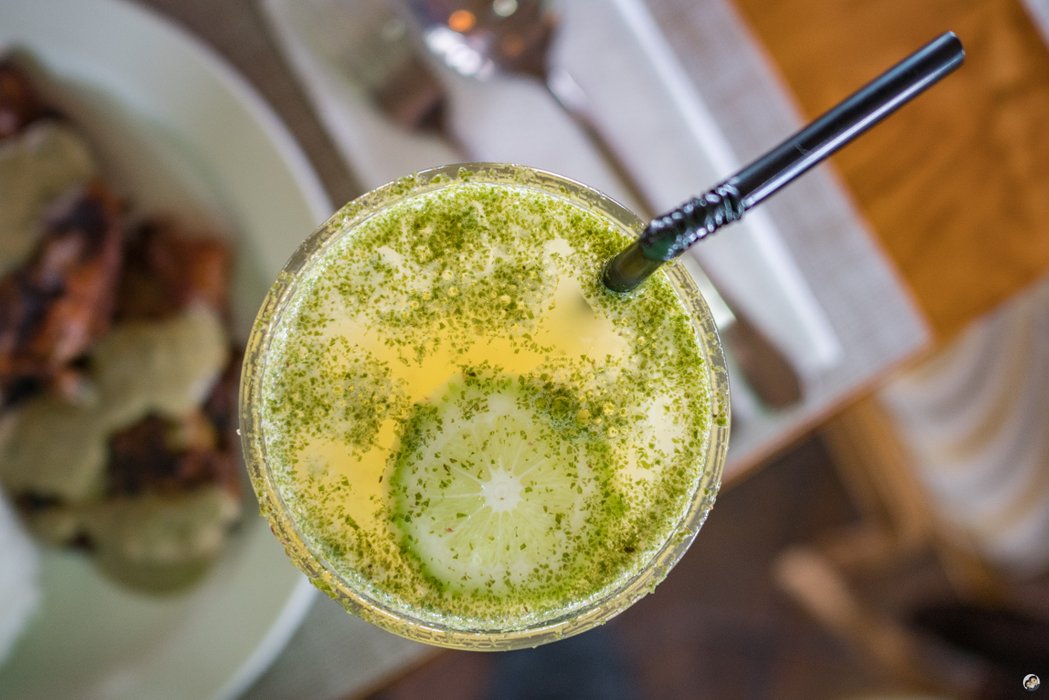 Westy minty lemonade
West 35 has Haven Cafe based in a hill, while its accommodations are in the far down where there are lots of trees and bushes surrounding the rooms. We both wished we had the time and budget at that moment to stay there for a night. It would have been a great experience waking up with all those trees around plus I found the rooms had glass walls! Urgh, I hope to stay here someday!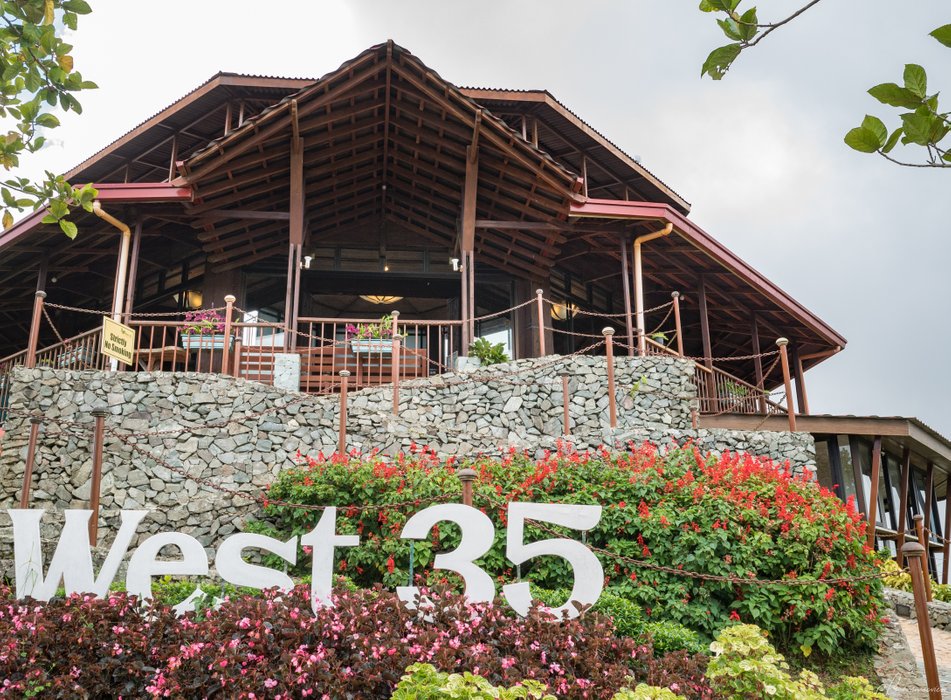 West 35's Haven Cafe from the outside
Haven Cafe has a unique architecture. Guests will have to walk the chicken intestine-like path to the restaurant, the first floor is where the kitchen and the staff house is located. Guests are not allowed to come by this area. But staffs were visible if one has to sit right at the terrace above it.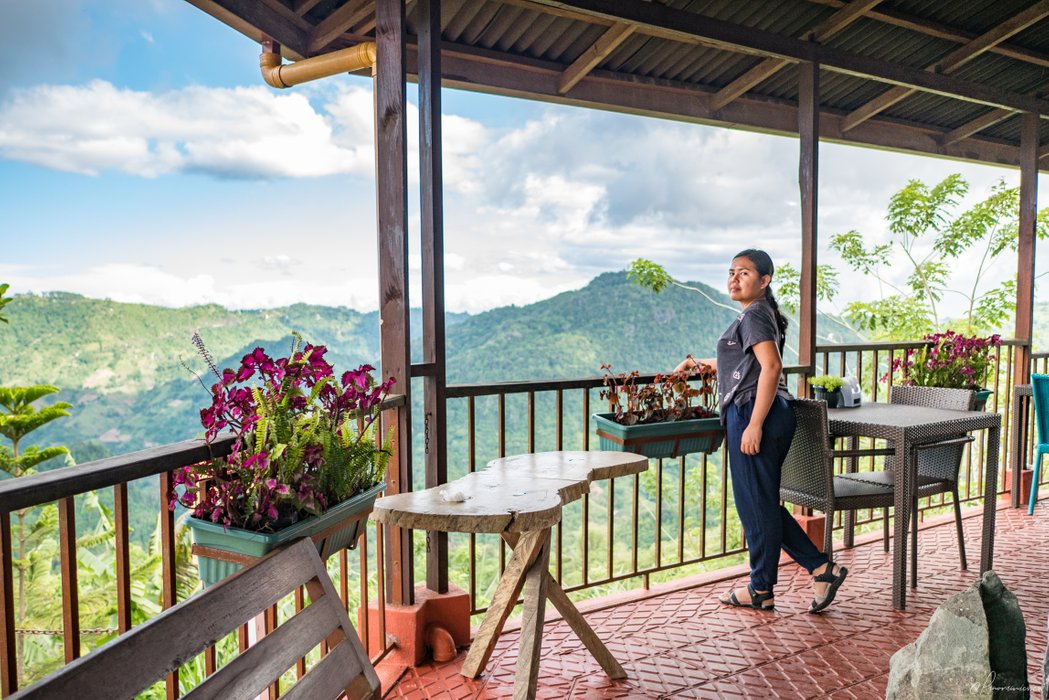 @junebride taking a pose. She believes in the cliche, "take photos of it never happened".
Tables and chairs good for two are distributed along the terraces while there are also others which can accommodate families and bigger groups at the center of this circular structure. At the center, vintage lamp lights were lit up to add beauty to the interior's corner plus the center ceiling. I feel like they are really old lamps. I notice its beautiful thick wood trunks too used as post and roof braces. I wondered how long this building has been here. It looked old but sturdy, perhaps the management is doing a good job of maintaining the structure's quality.
Adjacent to where we were sitting in yet another room, it looked like an annex because it has this wooden floor somehow connecting to the next room.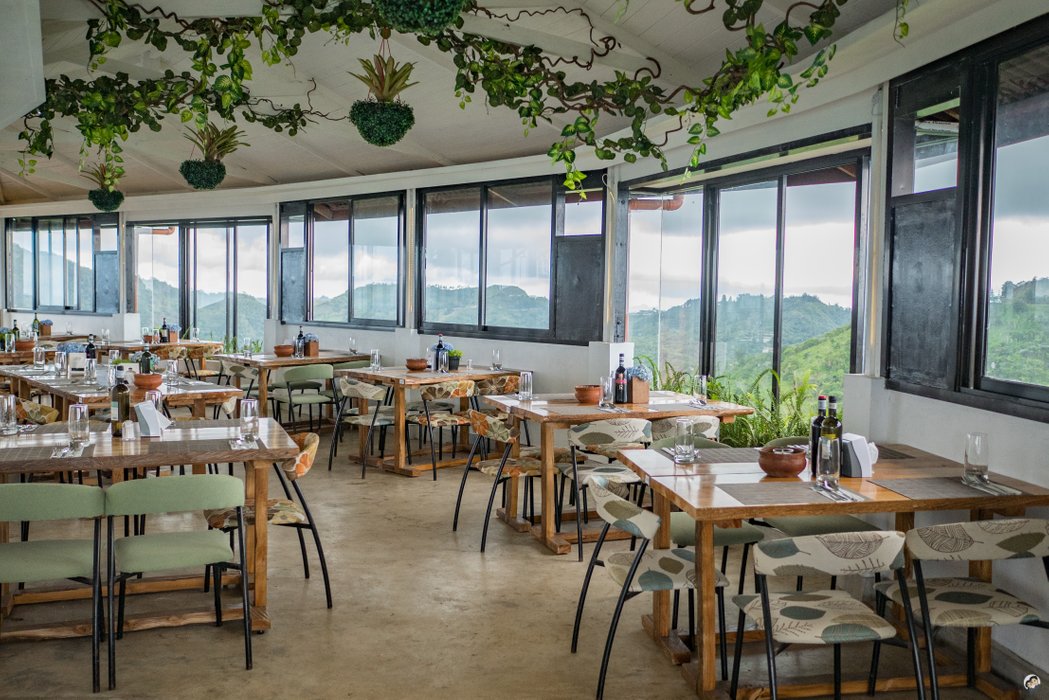 A more modern room for meetings and events.
This room with white walls and wide glass windows can accommodate around 50 people! Each table with nice centerpieces and flowers, a mix of artificial and real ones. I love the wooden tables and its wall decorations, simple but elegant!
At the end of the room is a terrace with a view of the resort's luxurious chambers.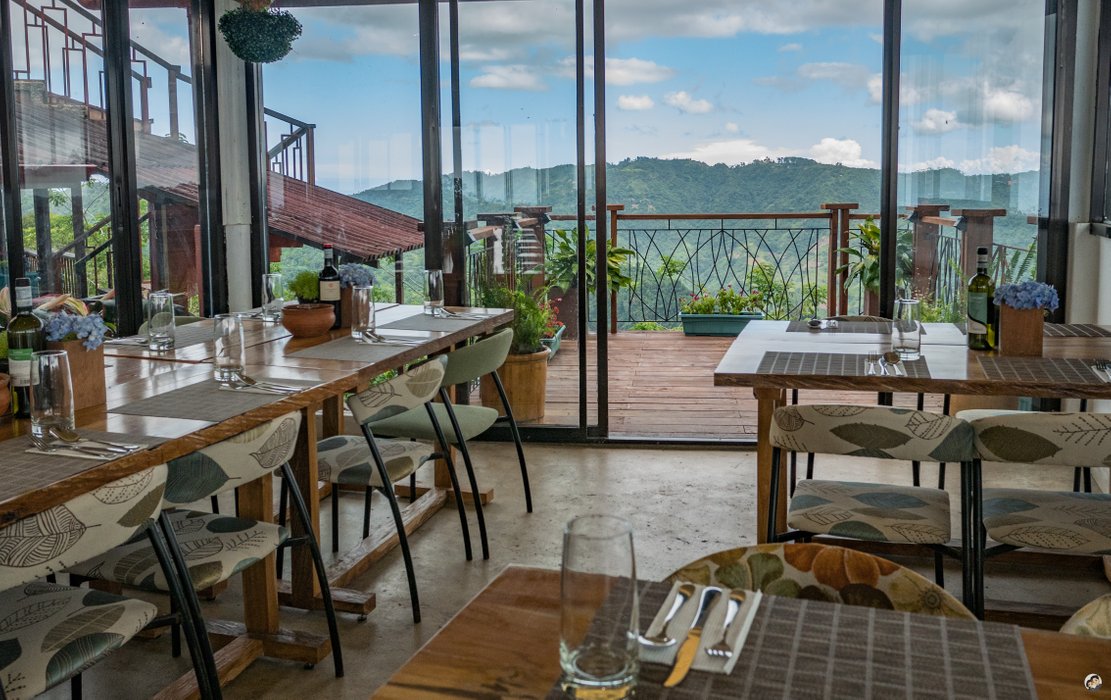 As per one of the staff, the room has been reserved by a group of bank managers so they had it prepared before the guests arrive.
Its second floor can be accessed by a stair right beside the cashier area. It leads to space but there aren't any tables or chairs, it's just there for any purpose the management may have for it. But I used it to take a photo of the cafe through the glass wall, see below.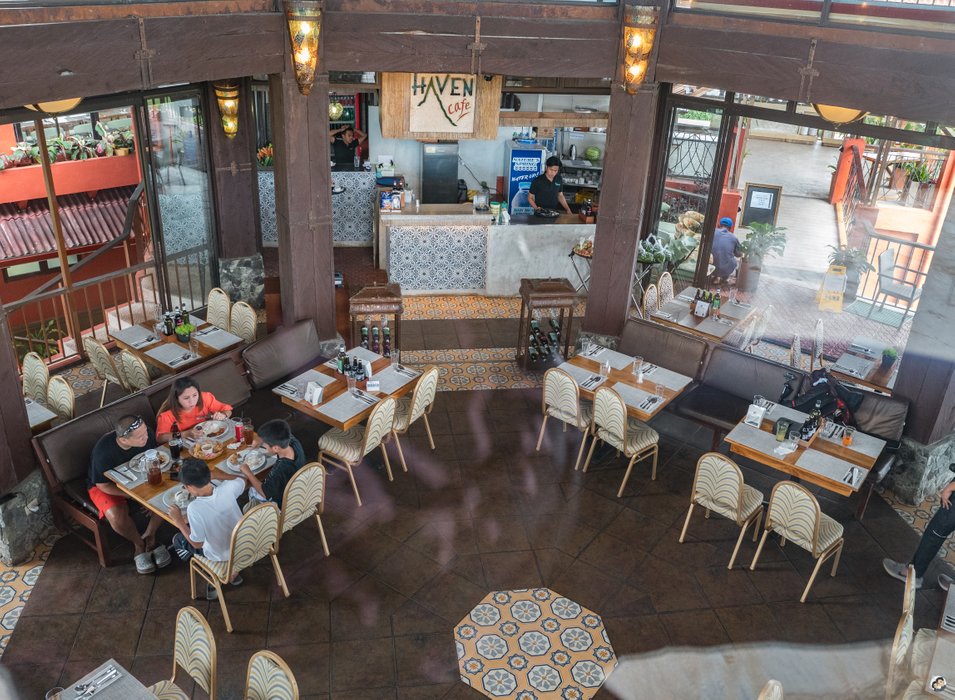 West 35's Haven Cafe through its second floor's glass window.
Yet another floor, making it the third floor of the cafe, it's an open-air rooftop, no furniture except for its railings surrounding the circular rooftop.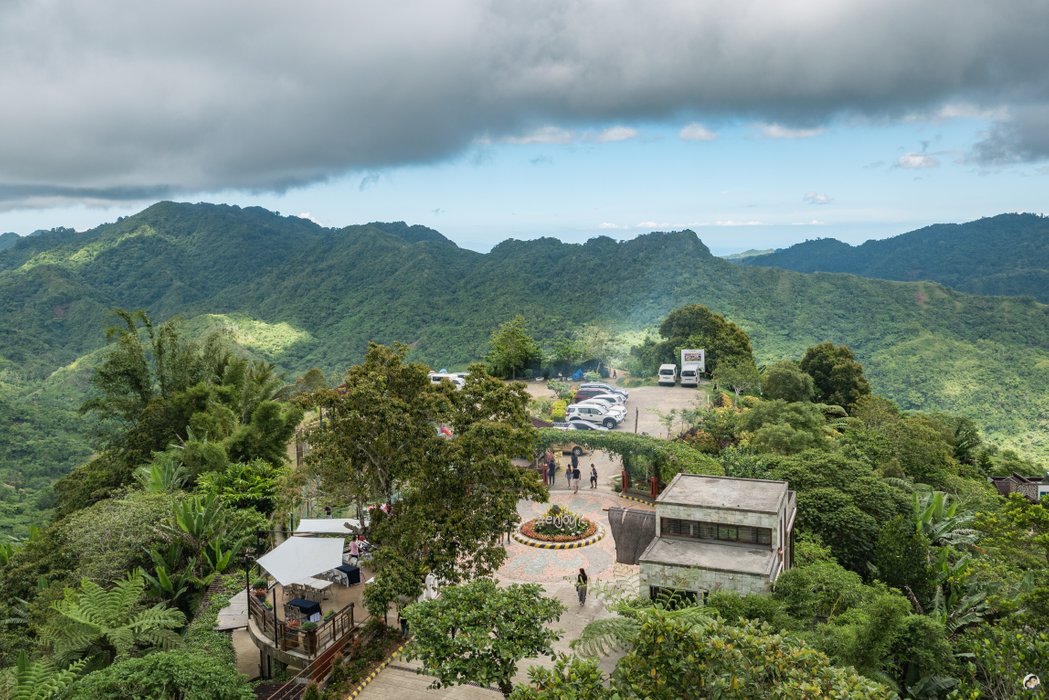 Lots of cars parked next to the playground area.
That's the view of the resort from the rooftop. As you can see, this resort is situated somewhere away from any other establishments or buildings. Its green mountains will bring relaxation and freshness to every single guest or visitor.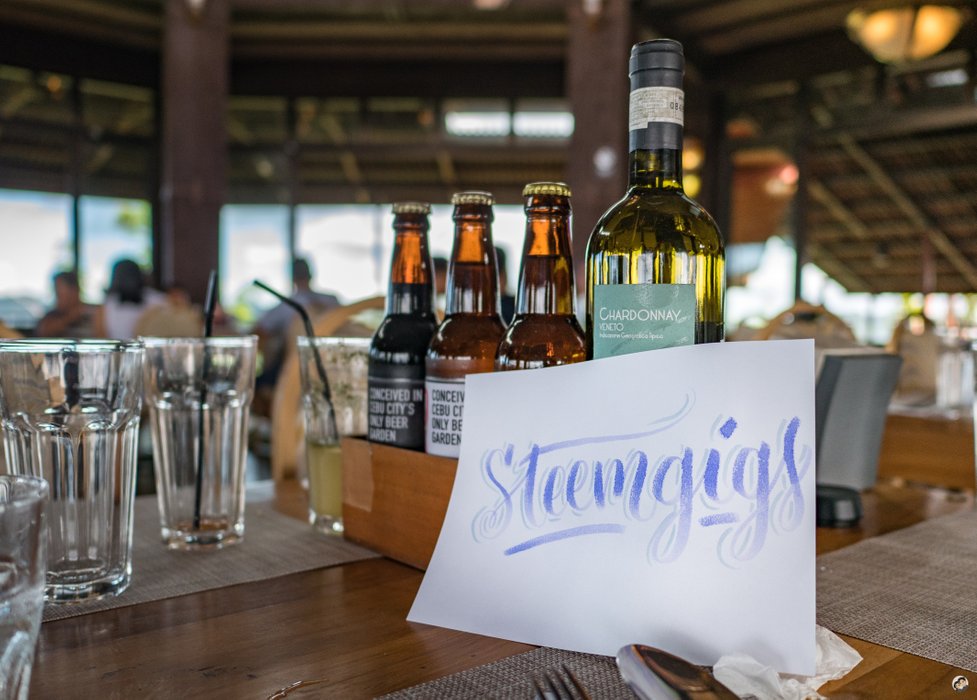 Part of their center table is a set of Cebu made beers. I had to use it as props for my #Steemgigs sign!
And lastly, @panoramicview with a thumbs up sign for #Steemgigs!
With our tummies full and satisfied, we left our table to explore more of the resort's amenities. They got another dining area opposite to their front desk. They got a playground for the kids and those who are kids at heart. James even tried the short kiddie zip line and he had fun!
If you are a little stressed with the hot weather in Cebu City, take a cab or book your Grab driver to bring you to Balamban! It's cold and pollution free, most importantly, its just less than an hour drive from the city!
To our next spot,
Jean & James
@junebride | @panoramicview

---
More Travel Blogs: