Yesterday I posted about some of the places we visited last week. Today I want to write about the really historic sites that inspired us to travel to that area.
In AD 79 the volano Vesuvius erupted, burying several Roman settlements in ash and mud. Pompeii was re-discovered about 400 years ago and excavated over the last 250, This is the forum with Vesuvious in the background. You can get the train there from Naples or Sorrento and the station is just across the road from the site. Once you are in there is not much in the way of refreshments. I'd recommend taking food and drink with you. There are places to refill with water.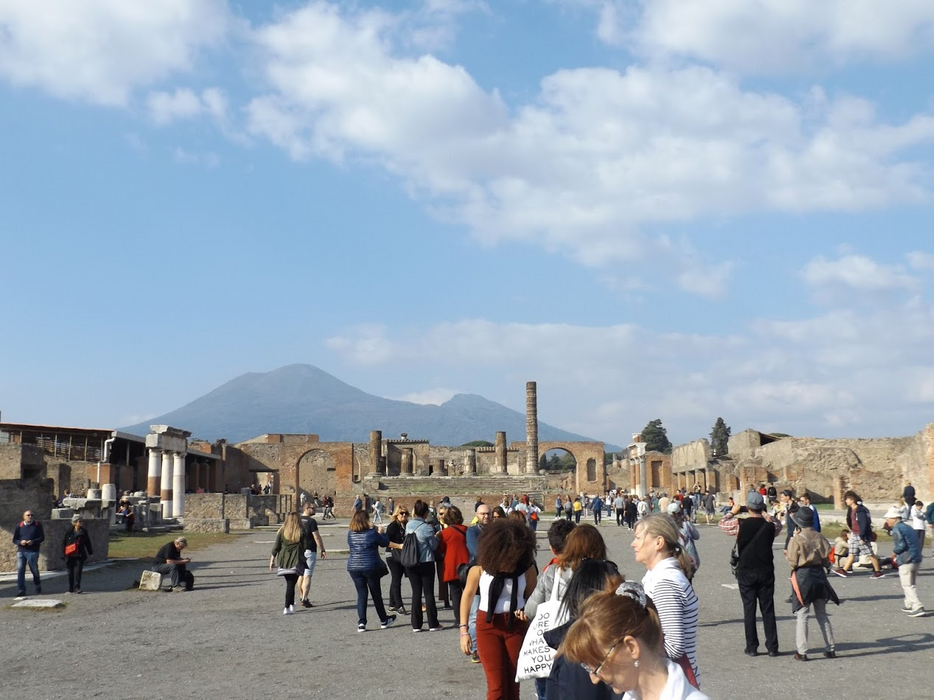 The site is huge as it's basically a whole town that housed several thousand people. Most of it has been dug out of the ash that covered it by several metres. Lots of buildings are well preserved, but there had been an earthquake before the eruption that damaged a lot of them. You can walk along the roads as the Romans would have done. You can see how worn they are from the carts that would have taken goods and people around.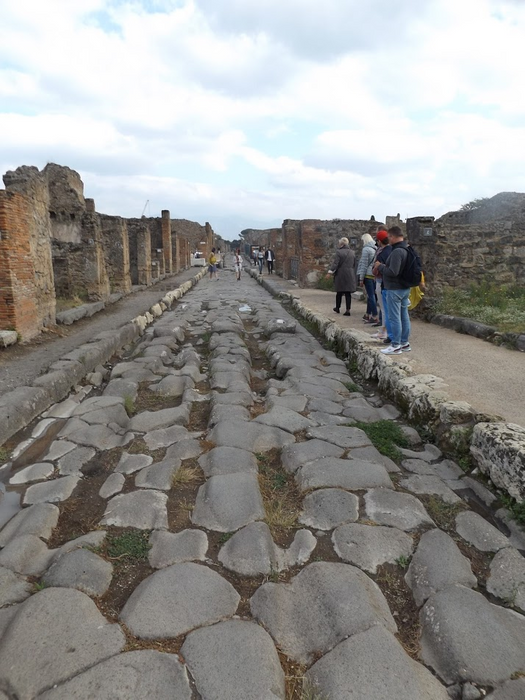 The site was not too busy in October, but must be packed at peak times. The queues for tickets were not massive and it took longer to get the audio guides that were useful. There are not many information boards around the site.
You can imagine it as a bustling town. There are lots of taverns and shops like this one where people would buy food and drink. There were also a lot of brothels and one is well preserved with paintings of what was on offer. I didn't get any pictures in there. There are an amazing amount of original paintings and signs on buildings.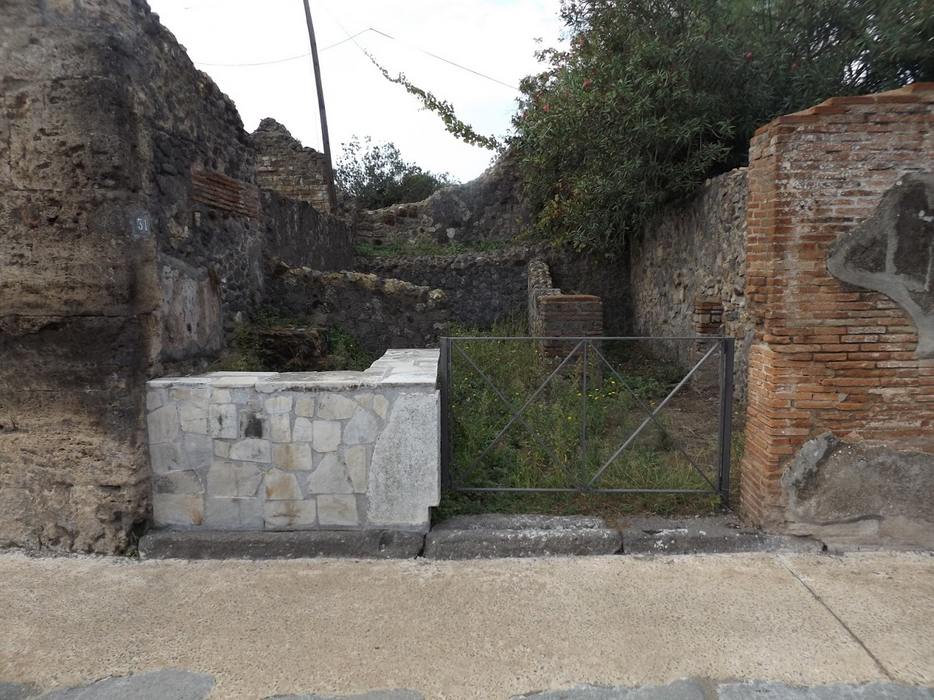 Most big houses had a pool in the lobby and this is a good example. The statue is a replica. Many of the building have been partially reconstructed, partly to make them safe to enter or to protect murals.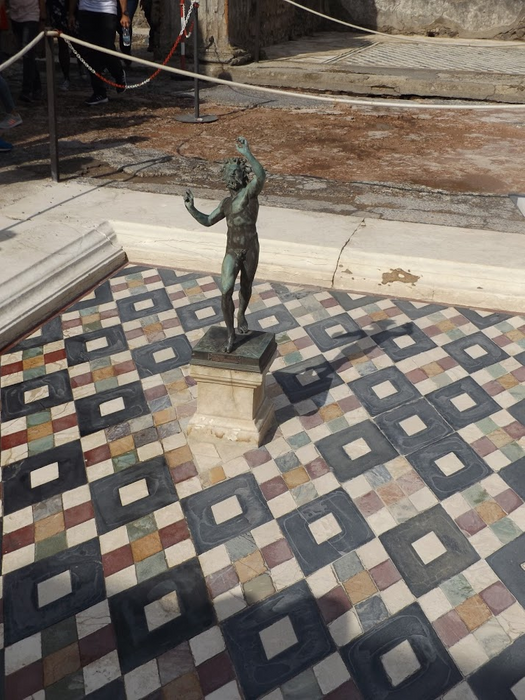 Here's some impressive art.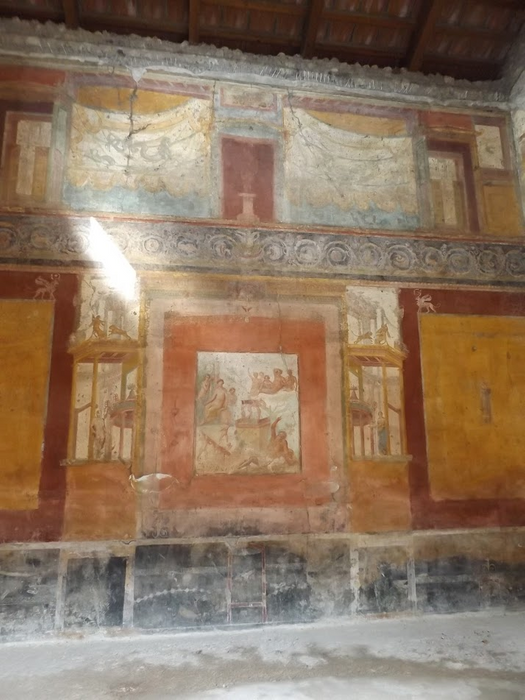 I had to visit the ampitheatre where Pink Floyd recorded their 'live' show without an audience in 1971. It felt smaller than it looked on screen. There was an exhibition of photos of the filming that added to the experience.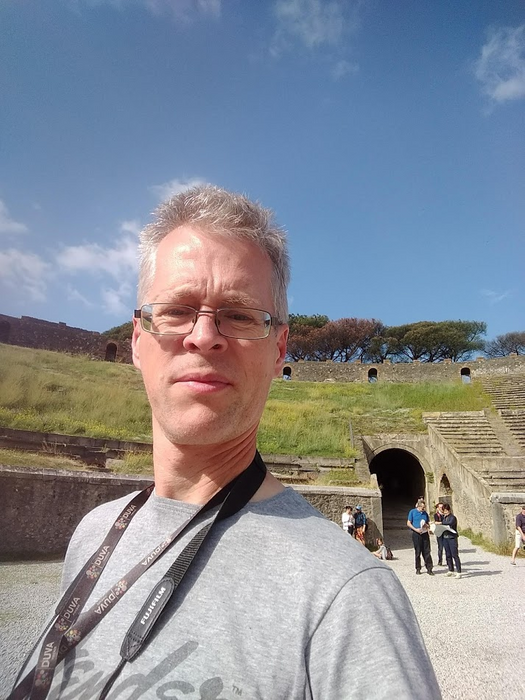 Can you imagine thousands of Romans strolling along here after an afternoon watching people and animals being killed? Those were brutal times. On the left is the sports training area which had a swimming pool.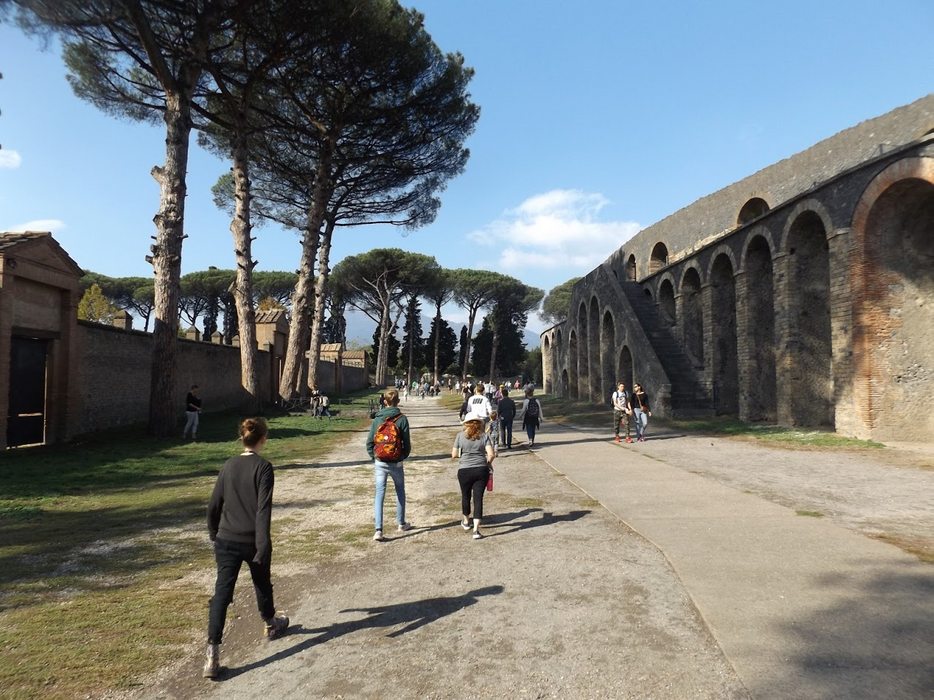 Of course we can still see some of those who lived these as casts were made of the hollows left when their bodies burnt away under the ash. This lets you imagine the horror of the event. There were children amongst them.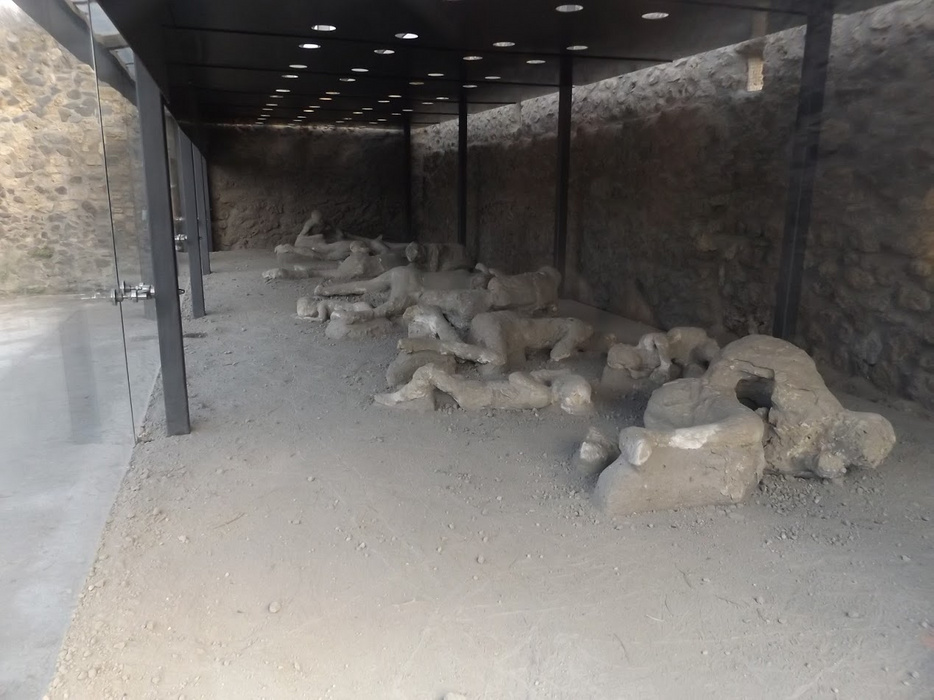 We spent about four hours and there was more to see. Anything less would have been rushed as it's so big. You can take guided tours, but they may be expensive.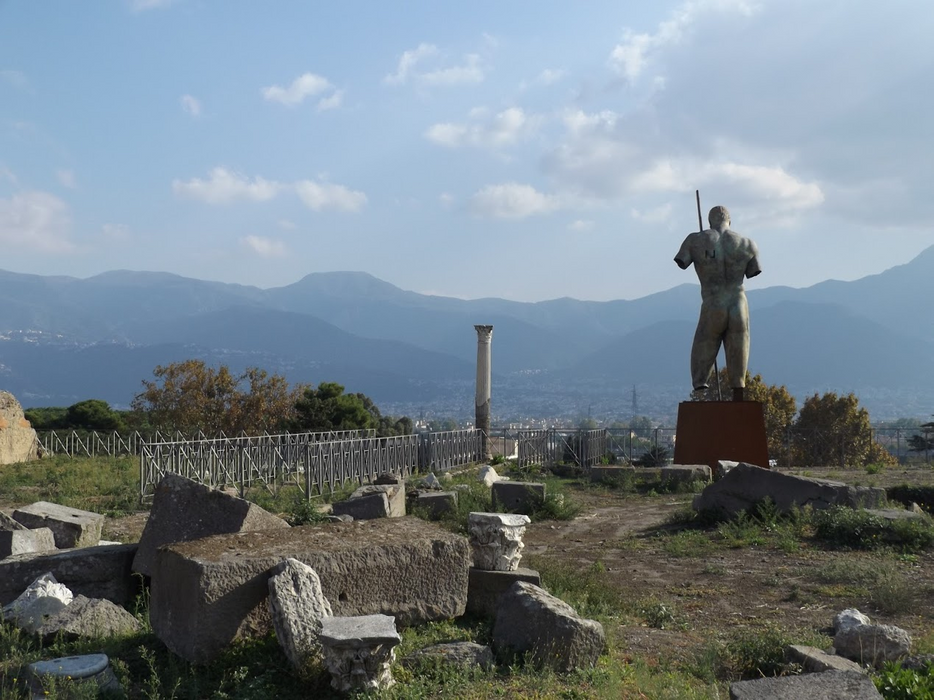 A few days later we went to Herculaneum (Ercalano). This is a much smaller site that lies in a big hole within the modern town. It was under mud that turned to rock and so was much harder to excavate. However it preserved more delicate materials such as wooden beams, cloth and scrolls.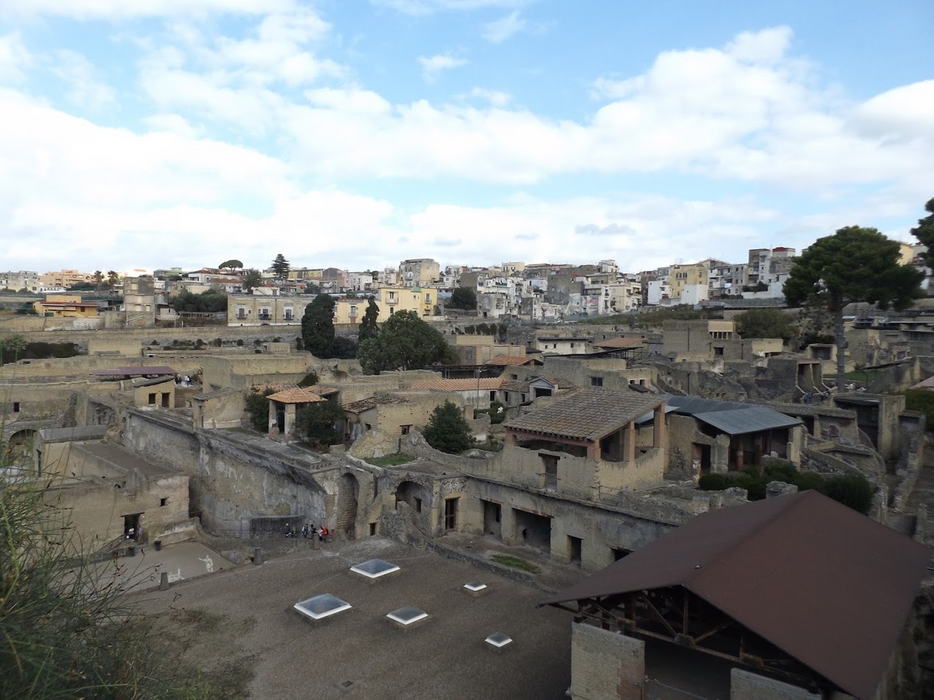 It's a bit of a walk from the station and there's a lack of obvious signs, but just head down the main road towards the sea. It was much quieter than Pompeii and better value too. My teenage son got in for free, but maybe we missed that offer at Pompeii. Again, I would recommend taking refreshments.
This time you can see the skeletons of those who perished. There are dozens in alcoves in the port where they had waited to be rescued. Quite shocking to see.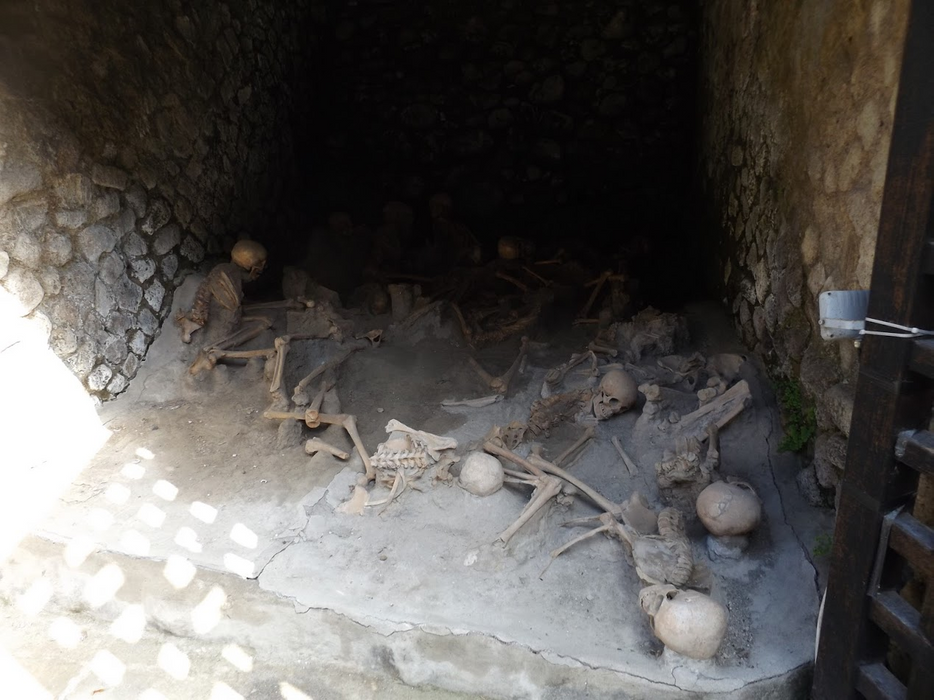 Some of the house gardens have been replanted as they might have been. This one had a statue of Hercules, apparently drunk.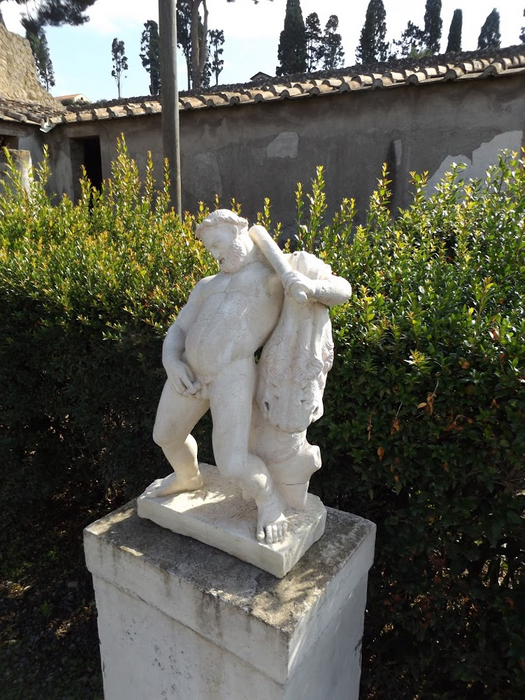 There are even more painted walls than in Pompeii. It was shocking to see some modern carved graffiti in some rooms. Possibly by bored schoolkids.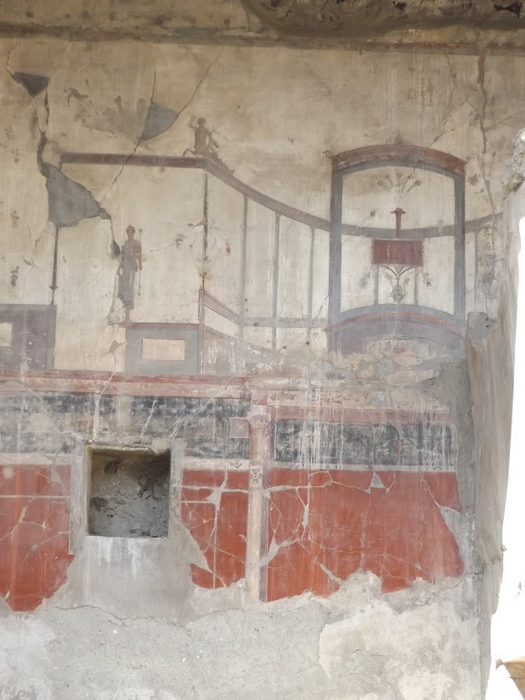 Preserving these building is a never-ending job and they were at work whilst we were there.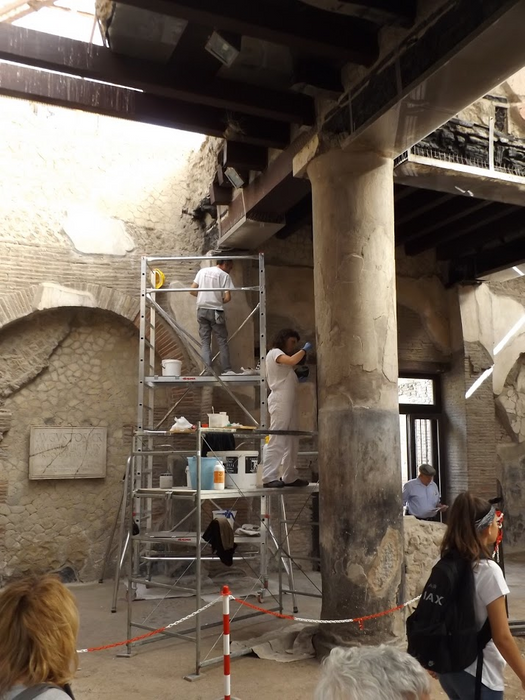 These wooden screen doors have survived.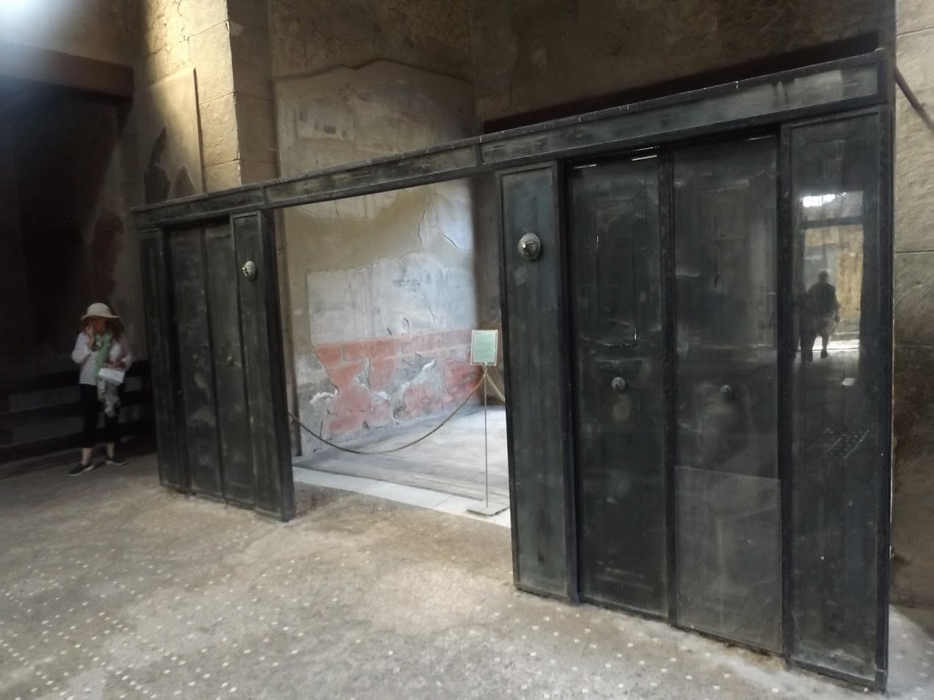 If you are short on time then I would say that Herculaneum is more worthy of your time than Pompeii. There's a lot to see and it's better preserved, but I'm glad we saw both. The UK has a lot of great Roman sites, but nothing like these.
Steem on!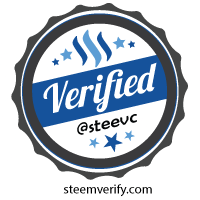 I'm Steve, the geeky guitarist.
Spam comments may be flagged. Beware of the Commentphant!