Hey Steemit Fam! Just wanted to share with you all my day-trip down to the GOLD COAST on the beautiful coast of QUEENSLAND, AUSTRALIA!
---
Monday was a public holiday here in Queensland so my friend and I made a spontaneous trip down to Main Beach on the Gold Coast for the day. We're very lucky to live in Brisbane as we have so many day-trip destinations to choose from. We're only just over 1 hour away from the beautiful beaches on the Gold Coast. Let the pictures of the endless sandy beaches speak for themselves!
Today's Quick Itinerary
Road trip!
Fish & Chips
Beach time & sunshine
Pearl Milk Tea
Back home
---
Road Trip to GOLD COAST!
The sunshine, blue skies and warm-ish weather all made for a great excuse to drive down to the Gold Coast for the day. I hadn't caught up with my friend for a few weeks so today was the perfect excuse to chit chat and catch up on life. As soon as you start entering the heart of the Gold Coast you're surrounded by picturesque views of the water, the boats and the lush palm trees.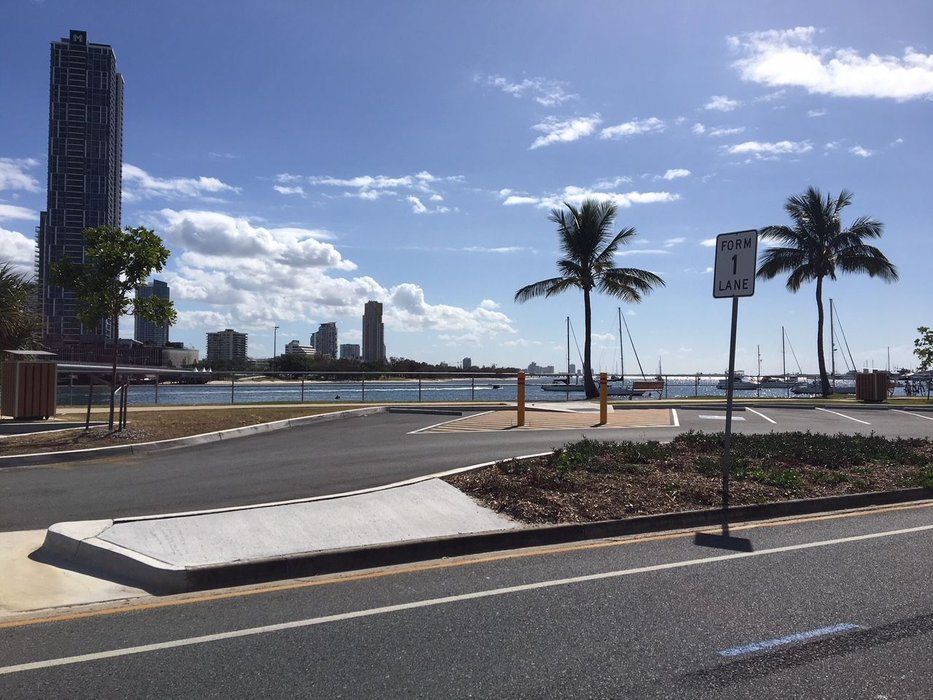 ---
But first, FOOD!
No trip to Main Beach would be complete without first picking up some fresh seafood, fish & chips at the locally famous Peter's Fish Market. The lines can be very long at times and today was no exception. The line went out the door and a staff member was needed at the door to usher people in and out to control the number of people allowed inside at any one time. We probably lined up for at least 20 minutes and then waited for another 15-20 minutes for our food to be cooked.
We hand-picked our fish and opted for a set that included fresh hot chips, crumbed prawns, calamari and a seafood stick. Our favourite fish is Barramundi so we picked 2 fillets of Barra and asked them to batter it for us.
Peter's Fish Market is also renowned for their selection of cooked and ready-to-eat seafood such as prawns and crabs. There's always so much I want to eat when I go here but I only have one stomach unfortunately 😆.
Front sign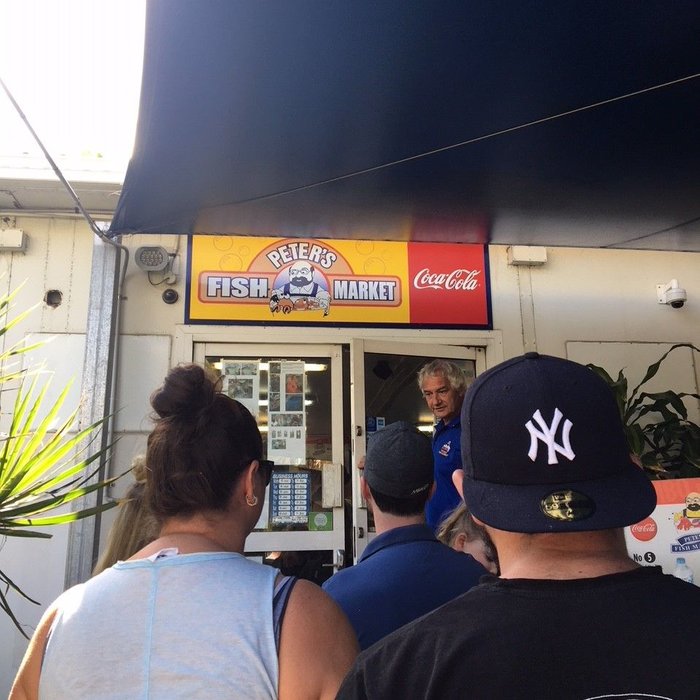 Waiting patiently in line. The line extends inside as well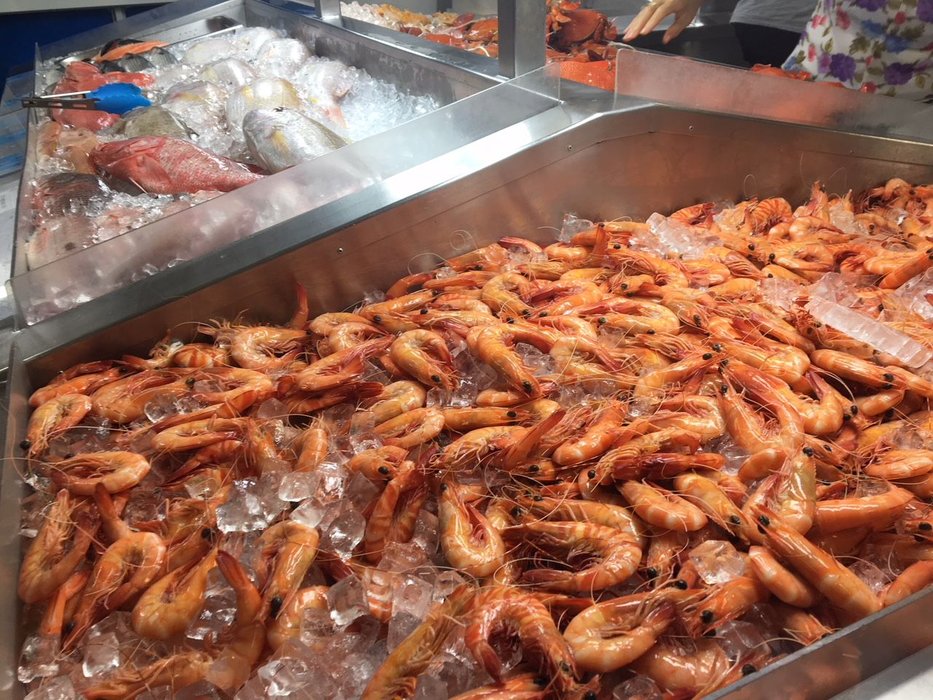 Ready-to-eat prawns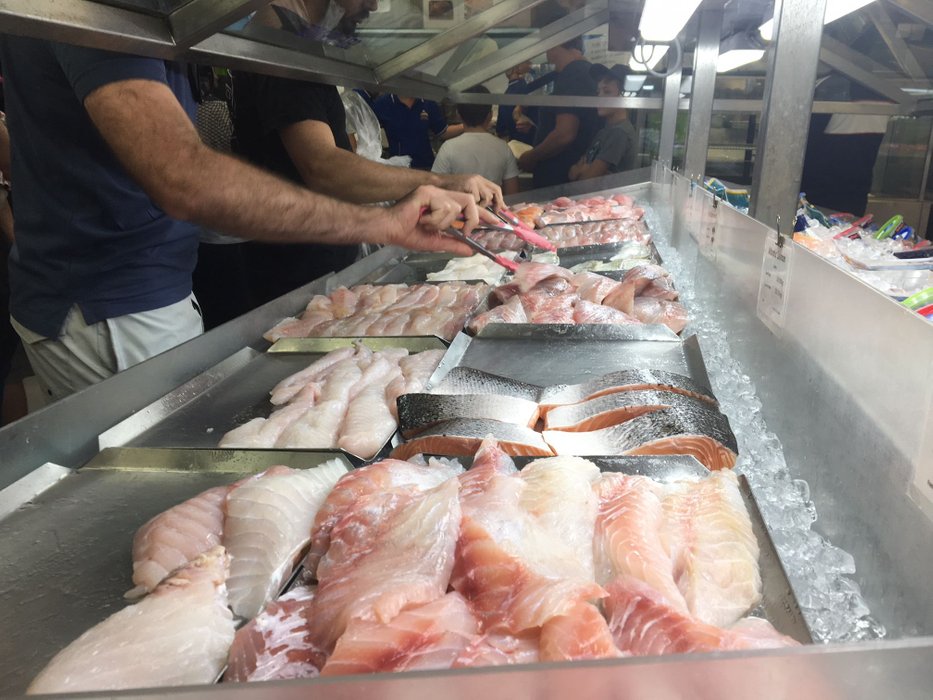 Pick your own type of fish
---
20 minutes later! Time to head over to the beach!
After waiting patiently for our food to be cooked, we made our way to Main Beach, a short 2 or 3-minute drive away. We found a picnic table and settled in to feast on our long-awaited meal. Not the healthiest option but it's sort of a tradition for us to pick up some Fish & Chips before we go to the beach.
It may look like a pile of fried food but it "hit-the-spot" perfectly and was delicious - especially with my favourite tartare sauce.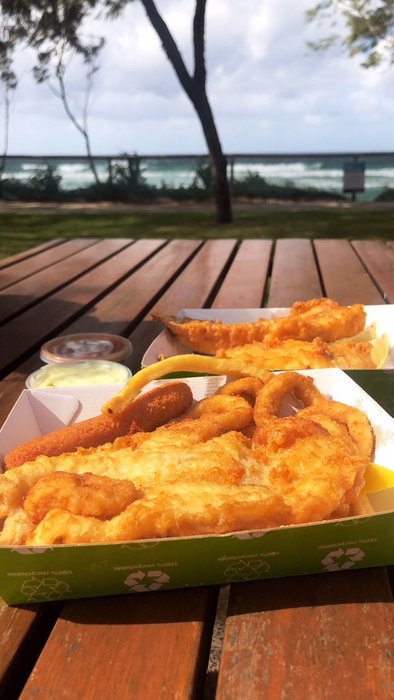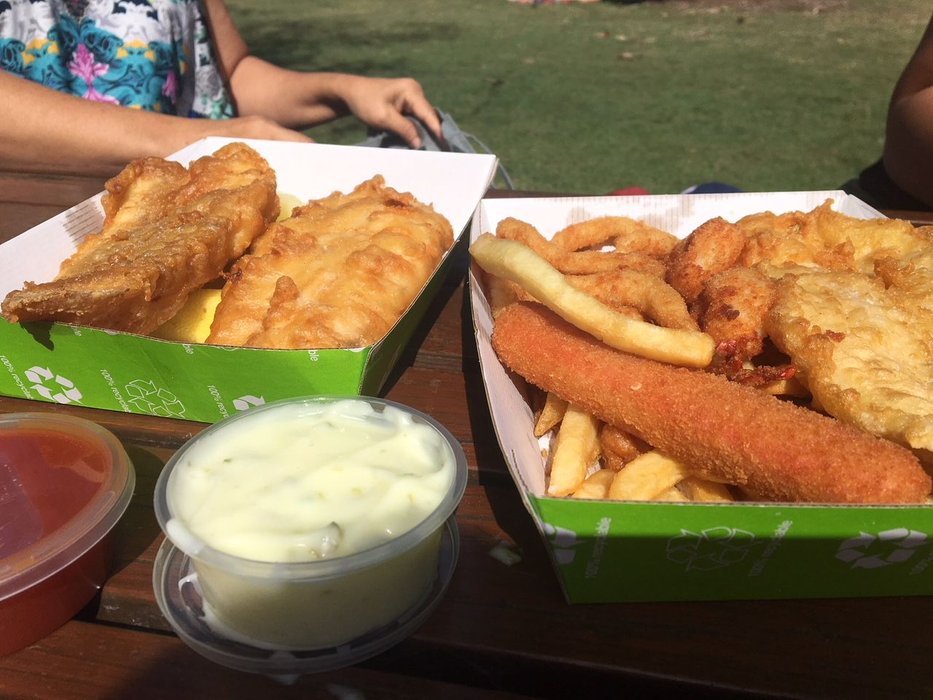 ---
Beach & sand time
Sadly, the wind started to pick up by the time we actually set our feet on the beach but we braved the winds anyway and found a nice spot on the beach. We soaked up the sun's rays while we could and I settled in to read some Angels & Demons (Dan Brown).
After reading for about 10 minutes, as our (bad) luck would have it, the clouds started to darken and it started to rain lightly. So we ended up packing up and calling it a day. A short day at that haha. Oh well, the journey is what counts and I still enjoyed the drive itself and devouring a tasty lunch.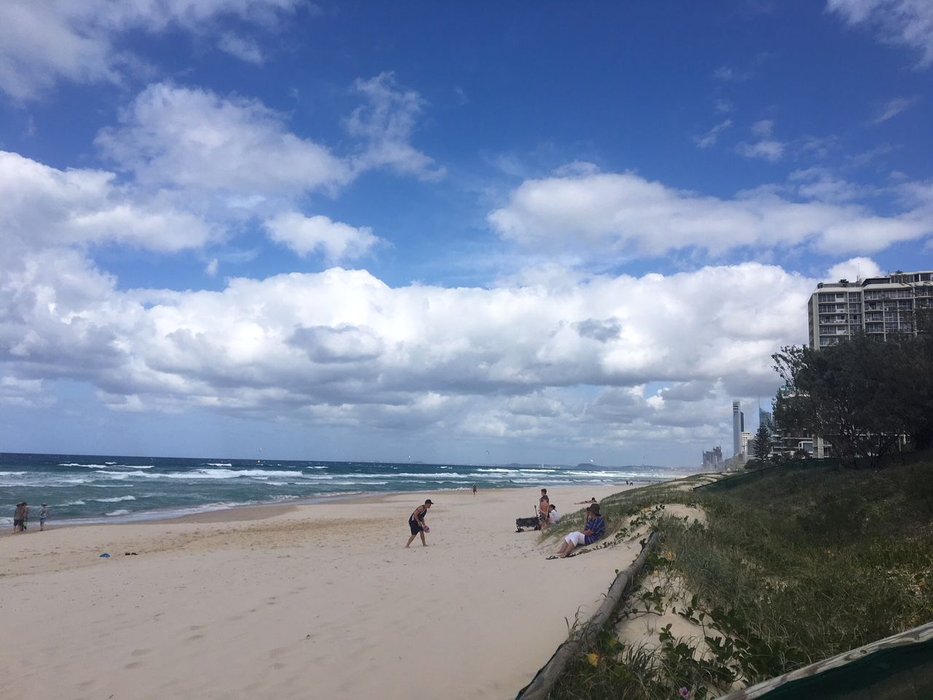 View to the right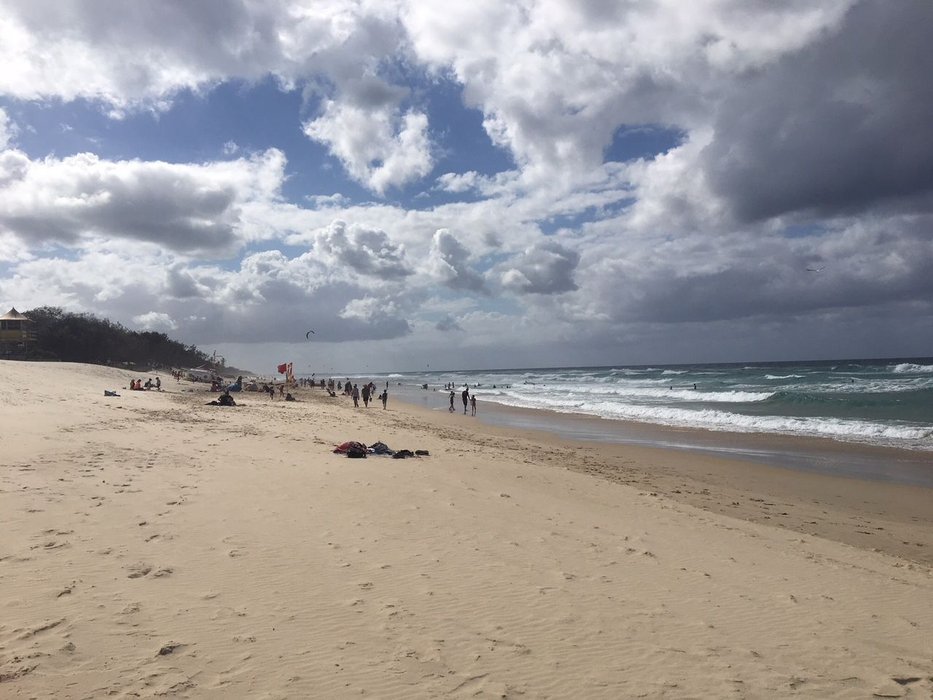 View to the left

Panorama of Main Beach
Reading time
---
Pearl Milk Tea
My friend was craving some Pearl Milk Tea so we took a short drive into Surfers to get some drinks from No. 3 Dami that specialises in Milk Tea being served in a "Lightbulb" cup. For the sake of pretty pictures and sharing on social media, of course I got the Bulb Pearl Milk Tea. The store was cute and operated from a hole in the wall. While the service was slow, the drink that I picked turned out quite nice so I was still happy.
While we were waiting, the nearby Clock Hotel's Clock started singing it's hourly chime at 2 PM with the little Australian animals (kangaroo, emu, wallaby) at the top going round and round in circles.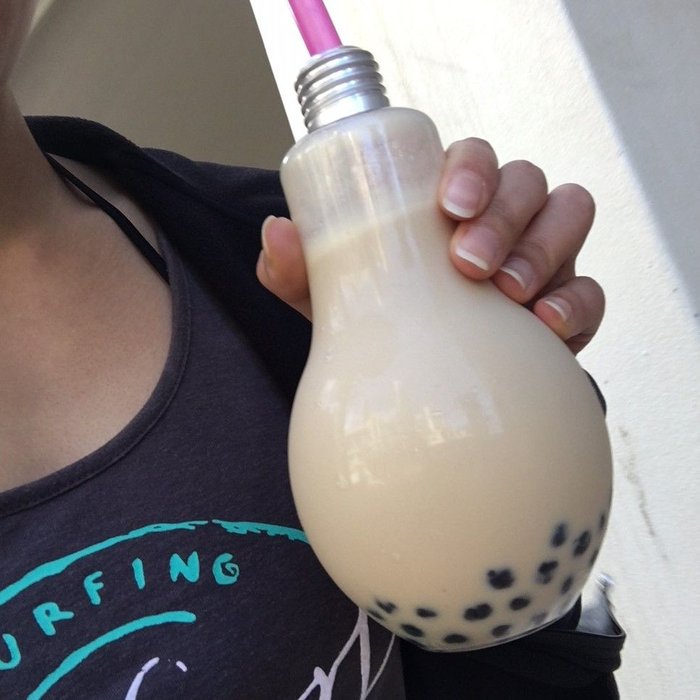 Bulk Pearl Milk Tea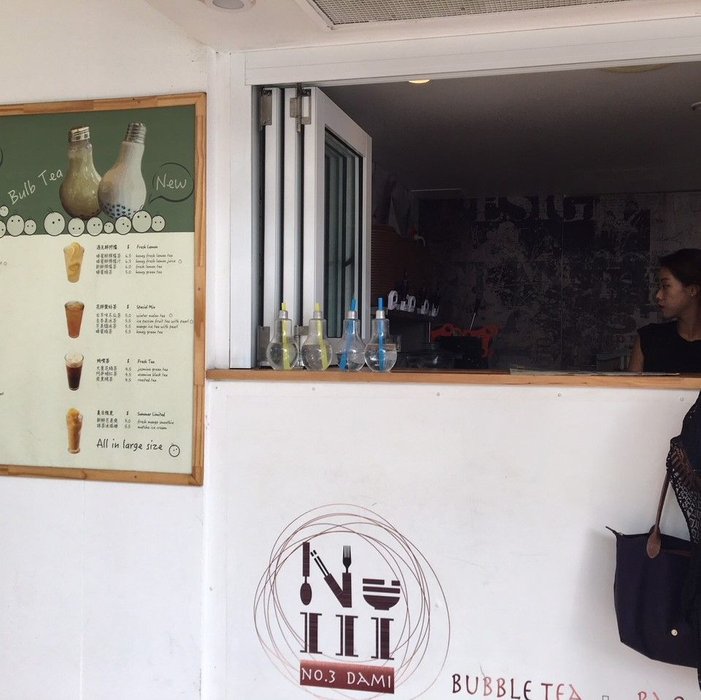 No. 3 Dami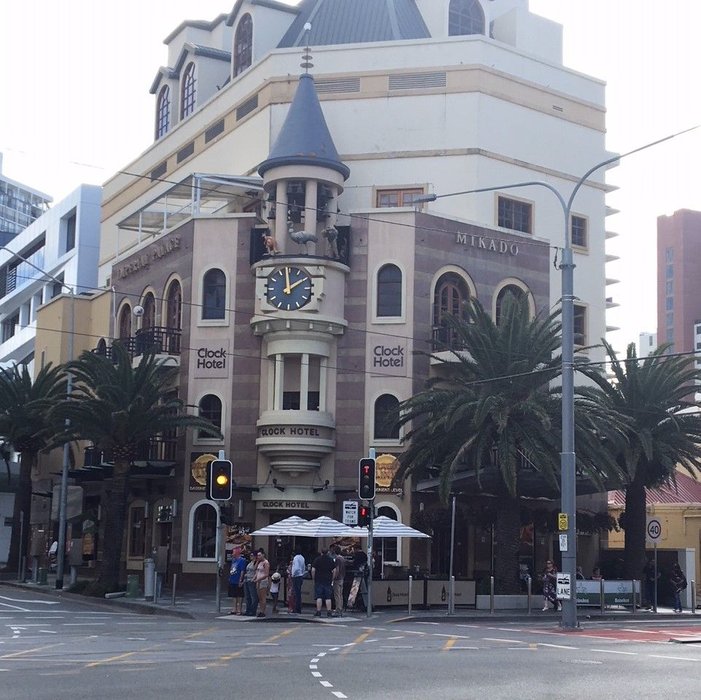 Clock Hotel's Clock Chiming at 2 PM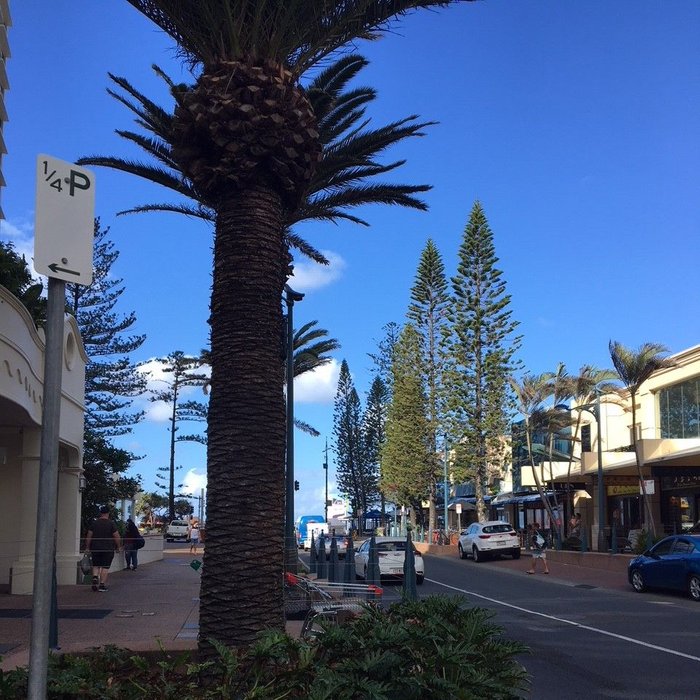 Can almost see the beach from where we parked
---
Home time!
We collected our drinks and started on our way home. It was a short but fun & spontaneous day filled with talking, laughing, great food and great company.
---
Thank you for stopping by and I hope you've got a taste for the beach now and perhaps some delicious Fish & Chips as well!
-Frances aka @supernovastaffy