Welcome to Travel Adventure #8! Today we spent the morning at Surin Beach, shopping and exploring the Phuket Weekend Market & Thalang Road Walking Market!
---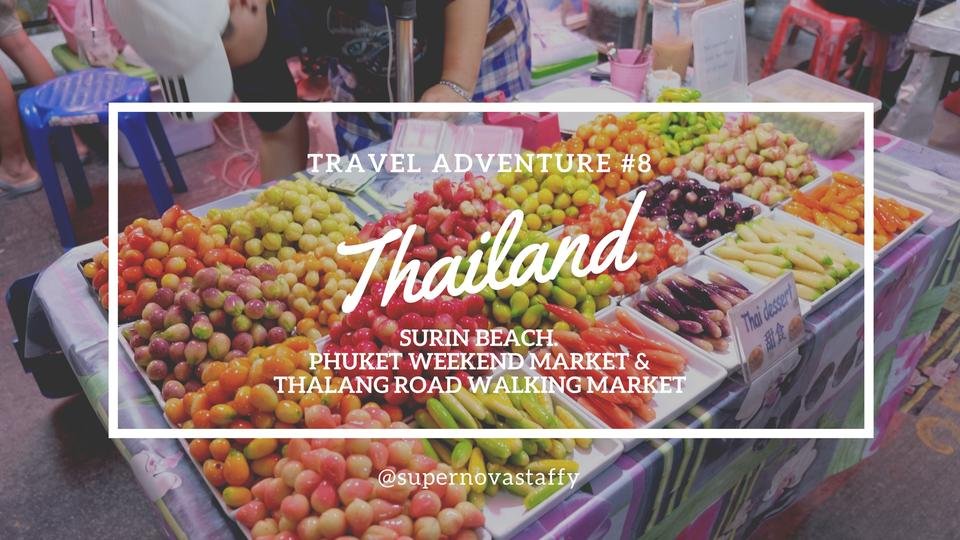 ---
Today's Itinerary
Buffet Breakfast (I'm such a piggy)
Daily Thai Massage & hot tea
Relaxing and swimming at Surin Beach in the morning
Shopping at Central Festival Shopping Mall
Phuket Weekend Market - biggest and most famous in Phuket
Thalang Road Walking Market
---
Mornings spent eating, relaxing and beaching (like a whale after eating so much)
Our morning started in the usual way with eating a delicious breakfast at the resort. We then picked up our towels and swimming gear and walked across the road to Surin Beach to relax (while our bodies digested our breakfast) and jumped into the ocean for a quick swim.
Funny story though - I need to wear prescription glasses and since it was a nice and sunny day I wore my prescription sunglasses to the beach. I always forget that I'm wearing them (since I need them to see normally) so I walked into the ocean water with them on and while we were taking our token tourist photos while standing in the water we were taken out by a wave. When I resurfaced from the water my sunnies were nowhere to be found so I was prescription sunglasses-less for the rest of the trip.
Note to self: remember to remember to take off sunnies before going into the water.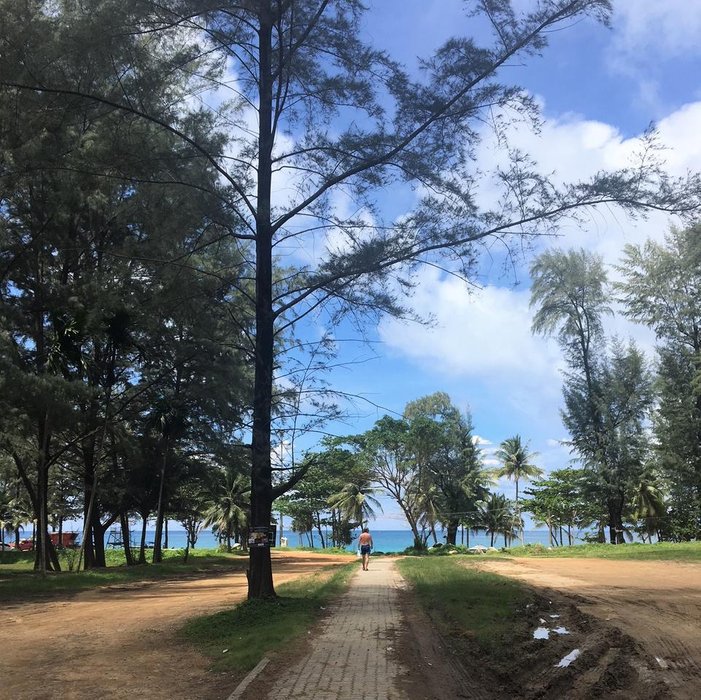 Walking to Surin Beach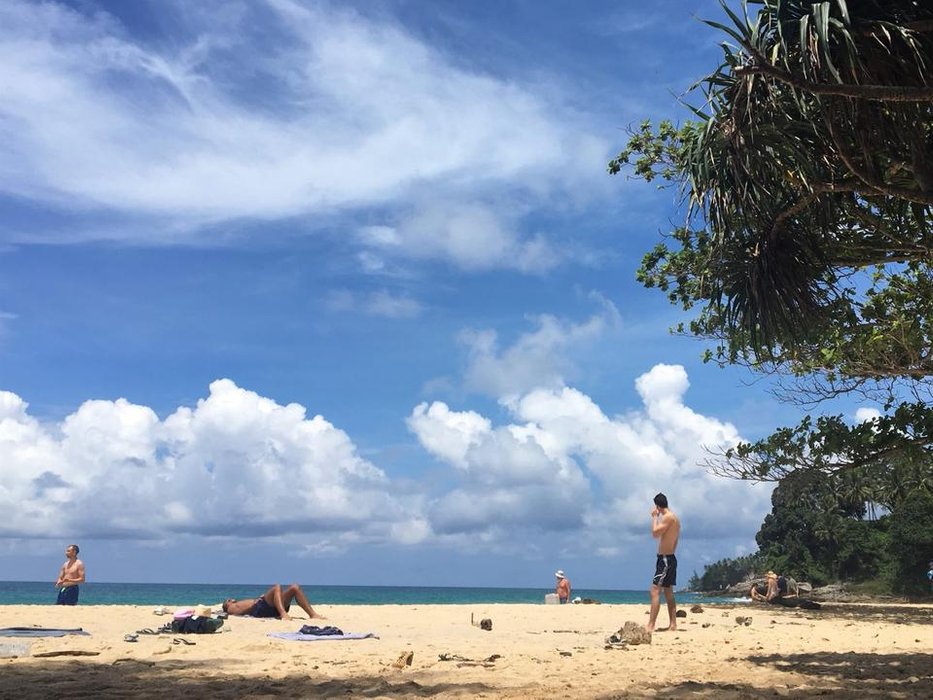 View from our spot on the beach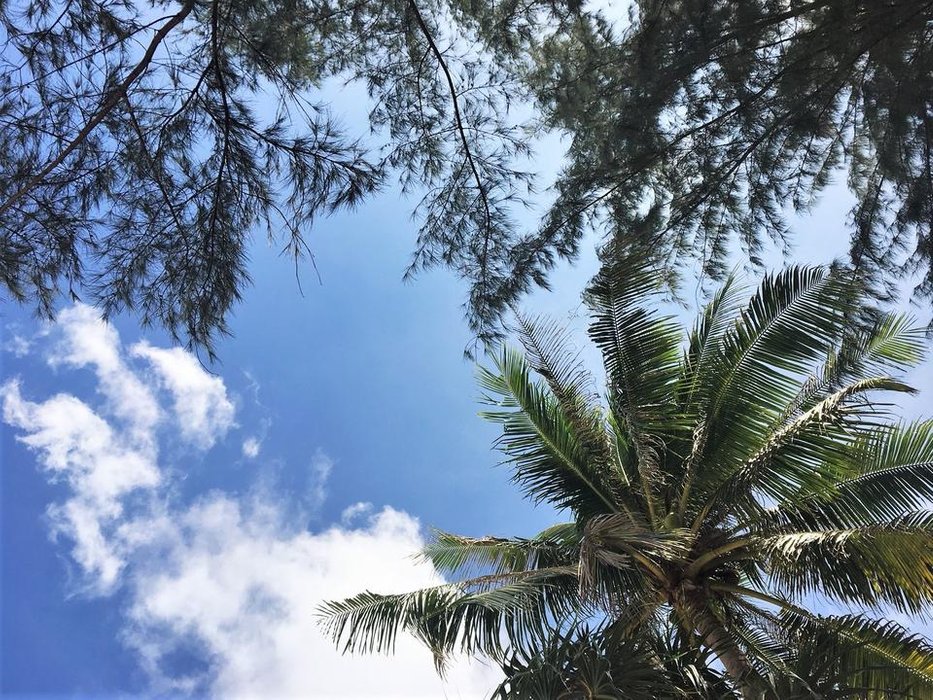 Looking up at the trees
---
Lunch then Shopping at Central Festival - BIG Camera Fuji Battery
After being wiped out at the beach by the waves and losing my glasses, we spent some more time relaxing and taking in the sunshine. We headed back to the resort to clean up and had some lunch before making our way to the shopping centre.
We kept running out of battery for our FUJIFILM so we decided to hop into a GRAB taxi to the Central Festival Shopping Mall. It was a very large and airconditioned shopping centre with a wide range of stores to choose from over a few different floors. We didn't spend much time here as we wanted to head to the markets that were starting soon. So we made a beeline for the camera store to purchase a spare battery.
Once we finished, we could actually see the Phuket Weekend Market in the distance. The traffic was very busy at this point so we decided we would walk there as it didn't look that far (keyword "look"). This was a BIG, BIG mistake as it was so humid and hot and turned out to be further than it looked. We were beating the tuk tuks most of the way to the markets but I would much rather have been sitting in the back of a tuk tuk.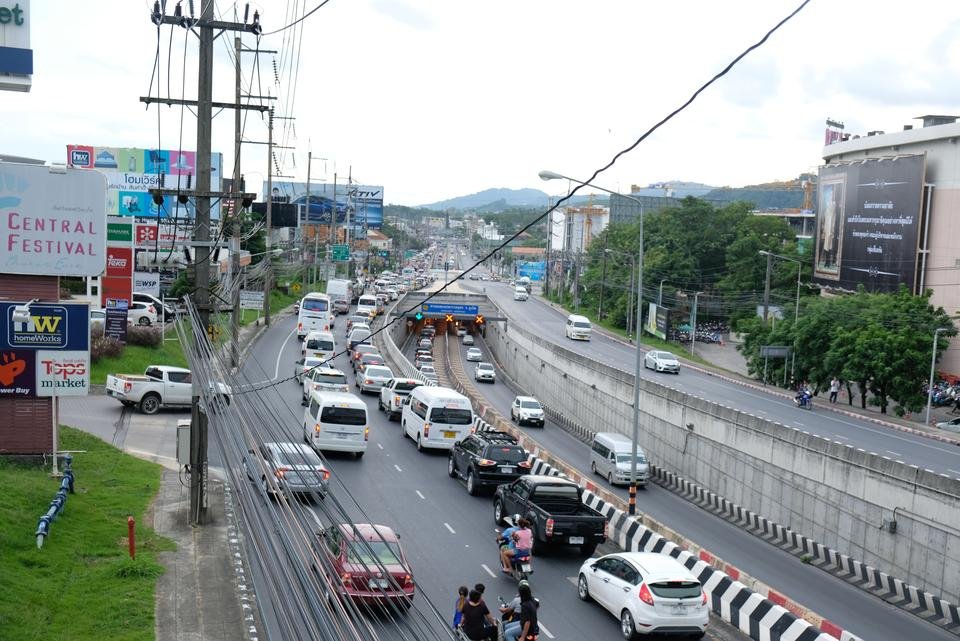 Traffic starting to build up. Weekend markets way off in the distance
---
Phuket Weekend Market & Food Everywhere
We finally arrived after walking for what felt like forever. The weather was warm and humid and we worked up a big sweat walking all the way from the shopping centre but we finally made it to our first market for today. We arrived early afternoon shortly after 4PM so it was relatively quiet at this point in time before the crowds really started to build up later on.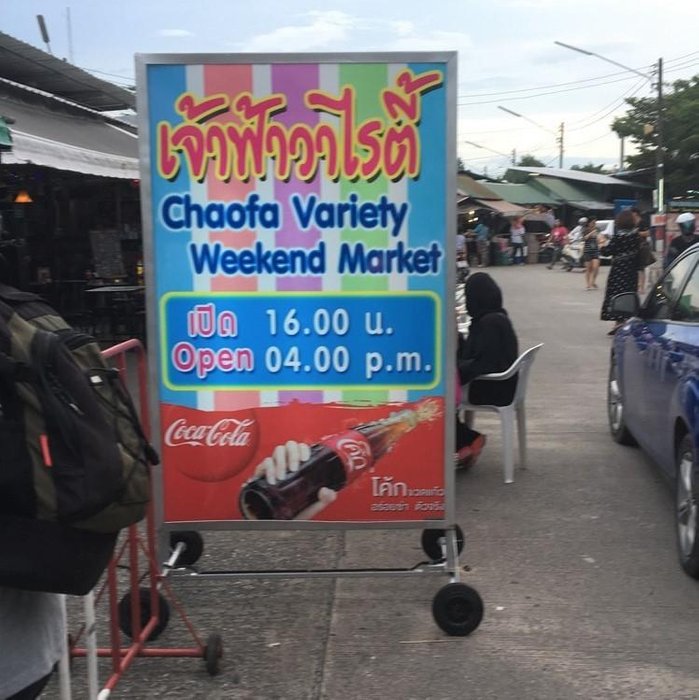 Entry sign to Phuket Weekend Market
We made our way through the markets trying various foods - including various grilled meat skewers, Thai fish cakes (delicious!), mung bean sweets, sweet buns (like doughnuts), fried crickets and some sugarcane juice. We also bought a few souveniers for ourselves and to take back home for family and friends.
Photos as we walked through the Phuket Weekend Markets: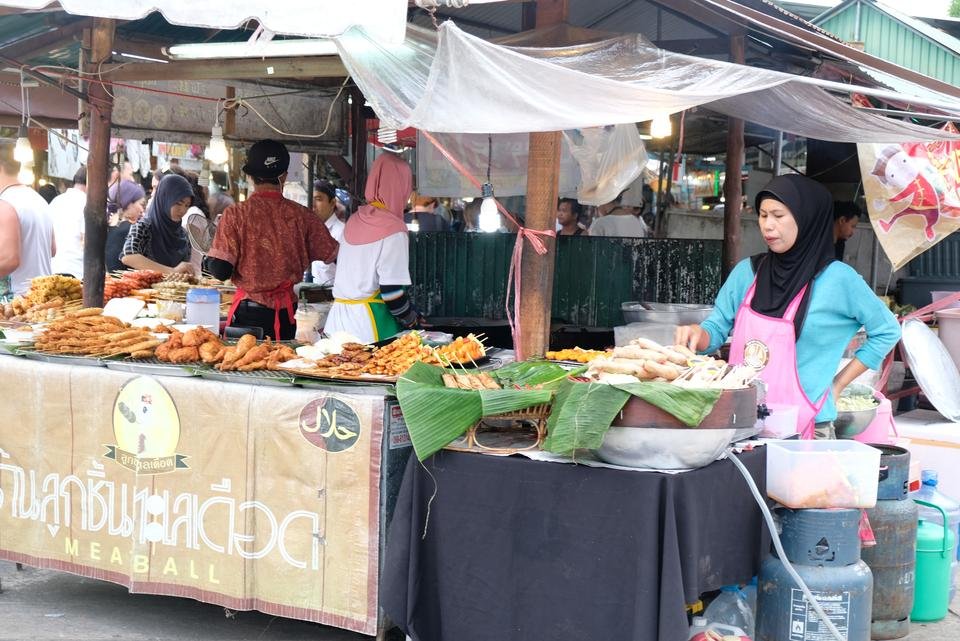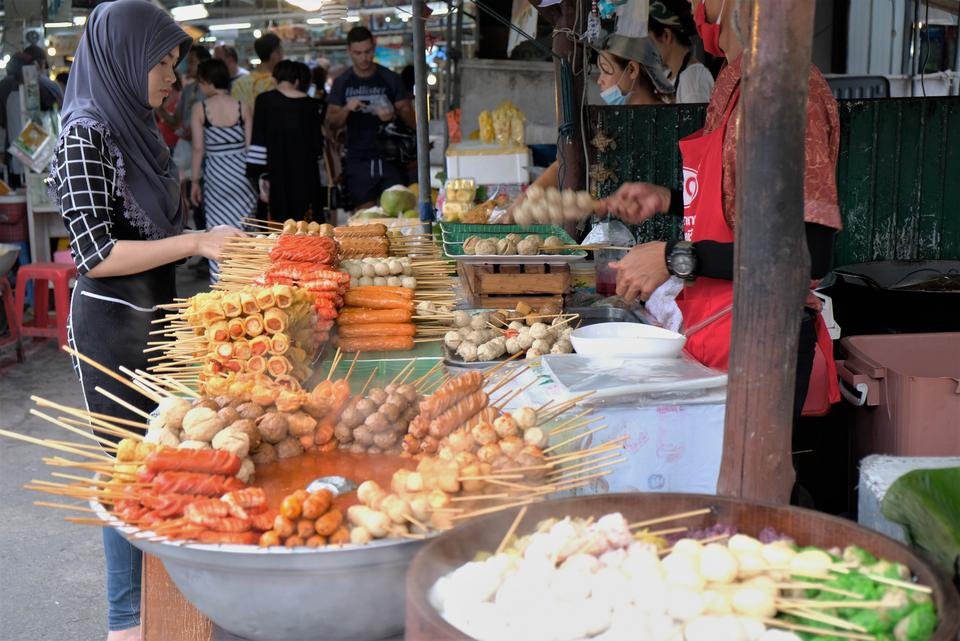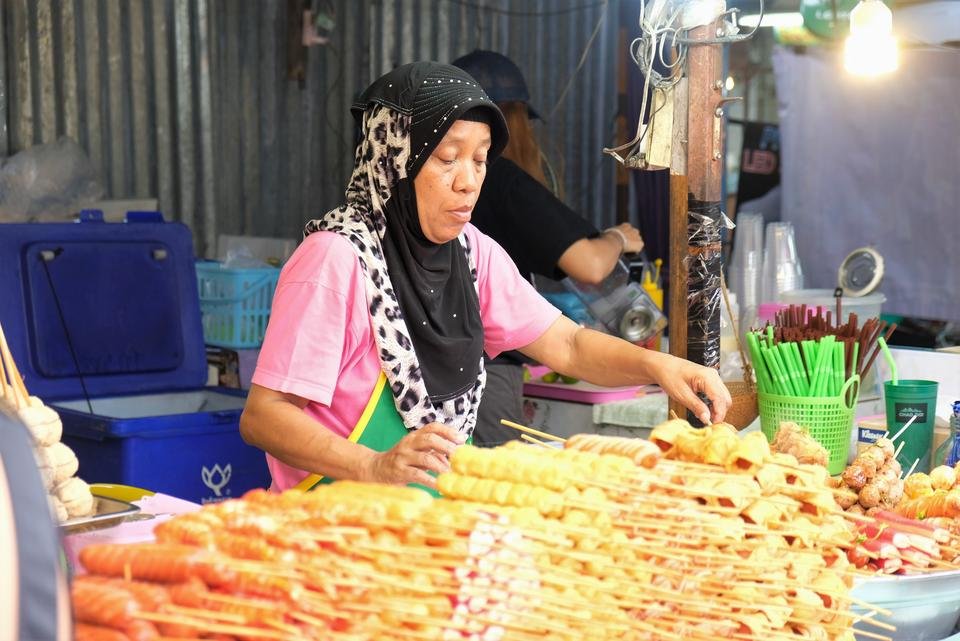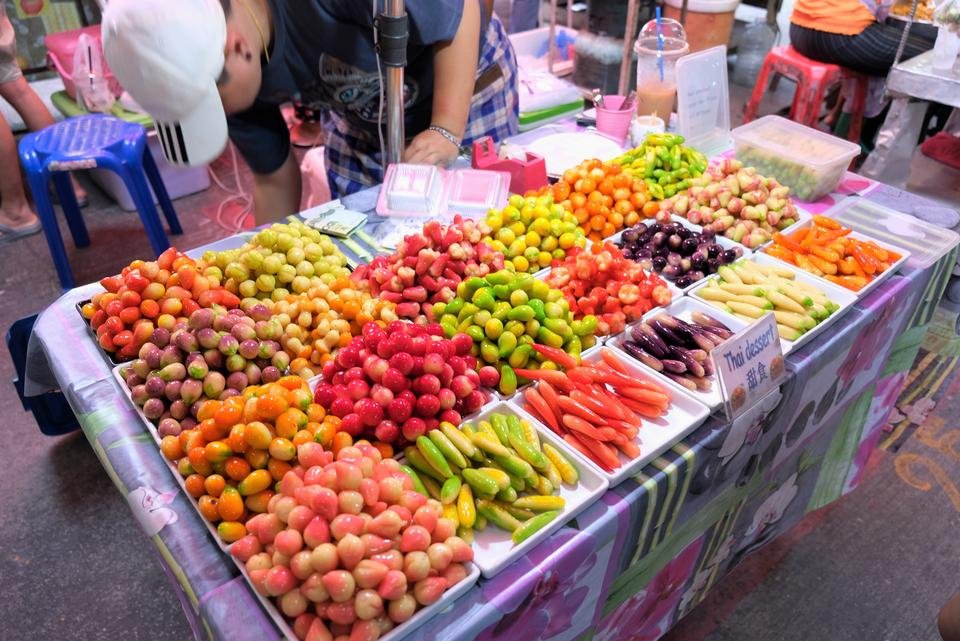 Cute mung bean desserts in the shape of different mini fruits and vegetables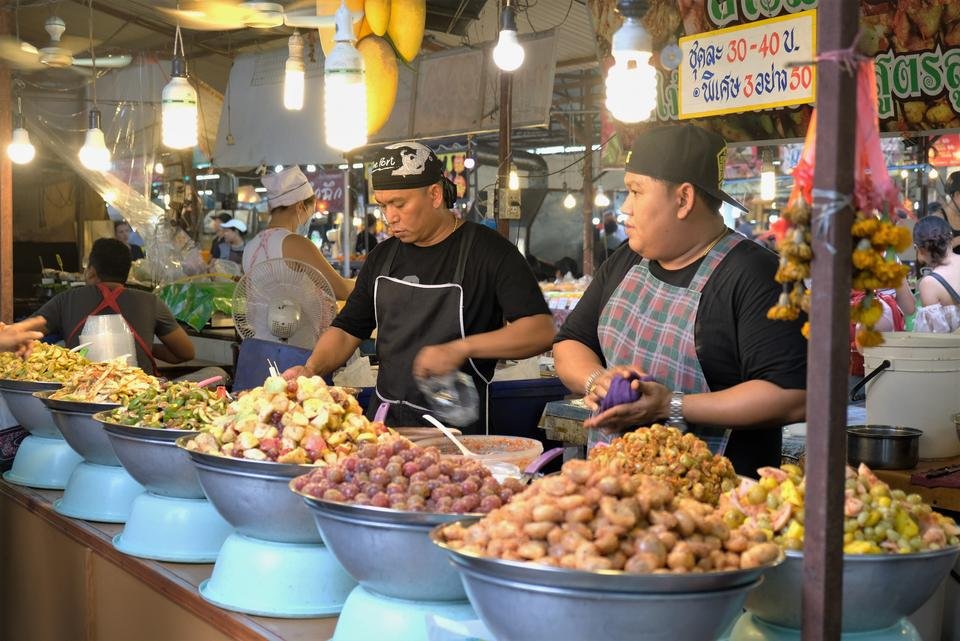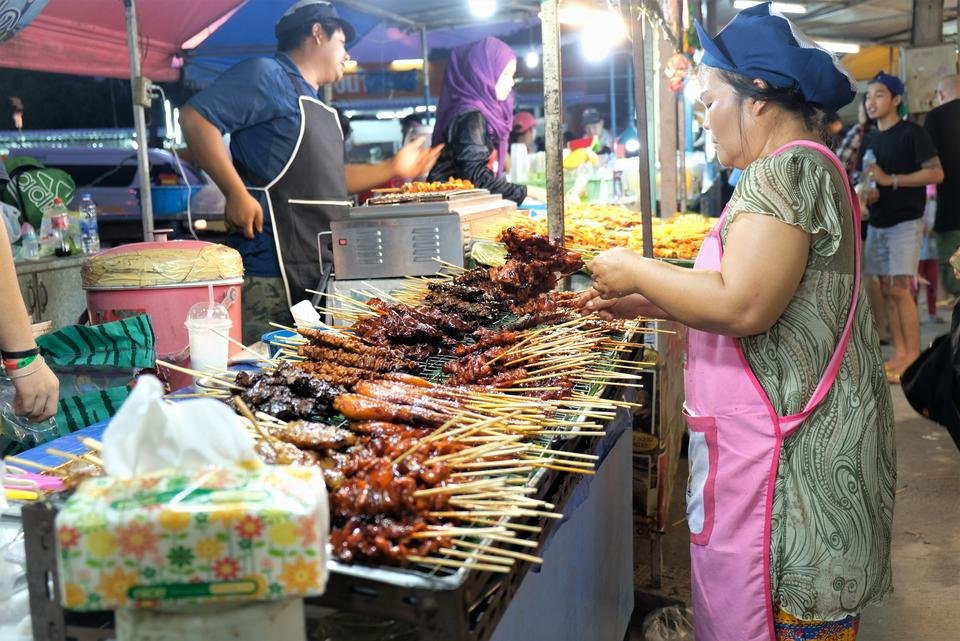 Delicious grilled meat skewers. We came back twice for these.
Jackfruit for sale. I picked the seedless version just because I'm lazy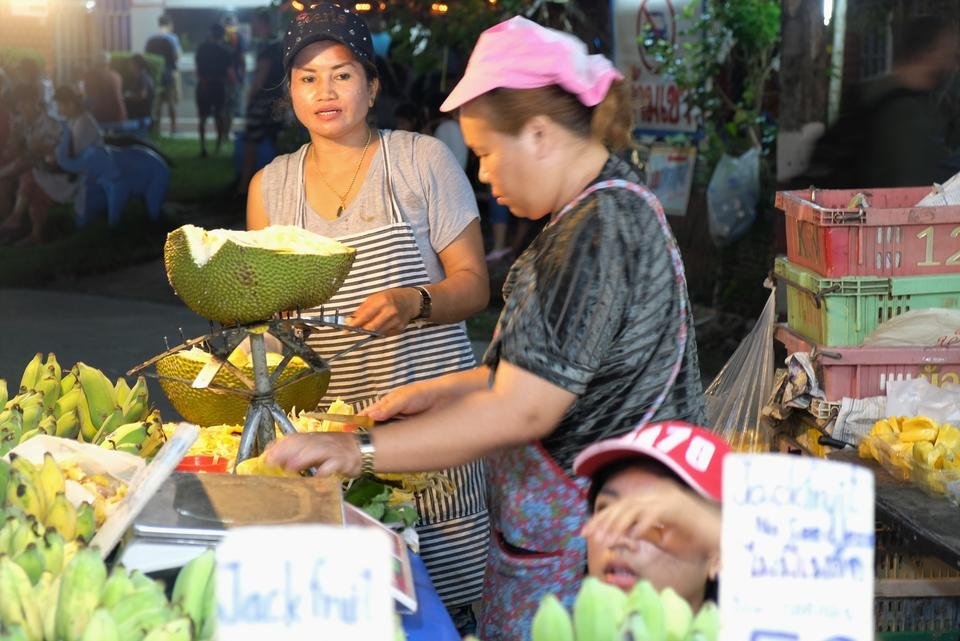 Device used to open up jackfruit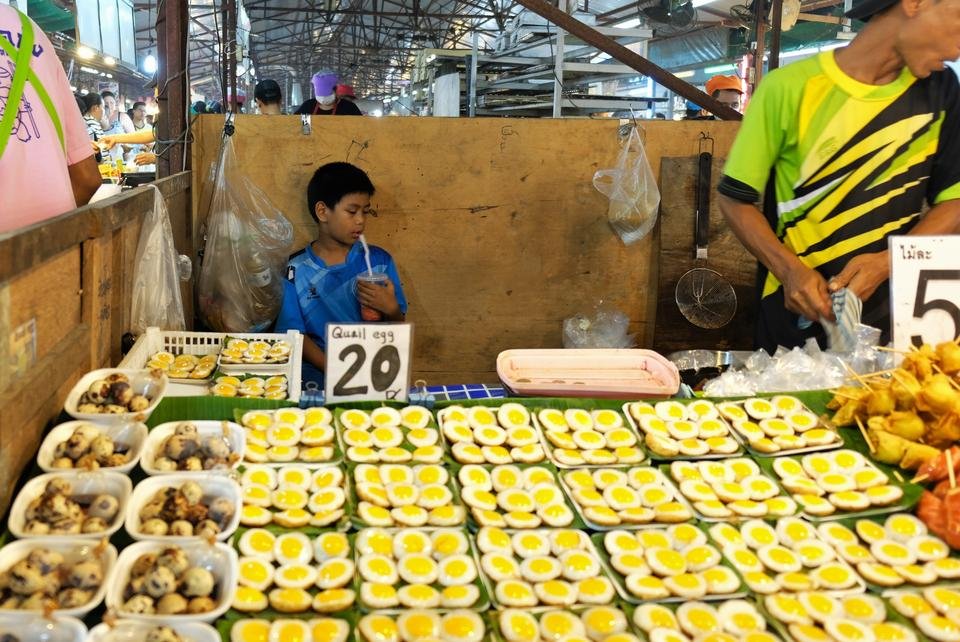 Fried quail eggs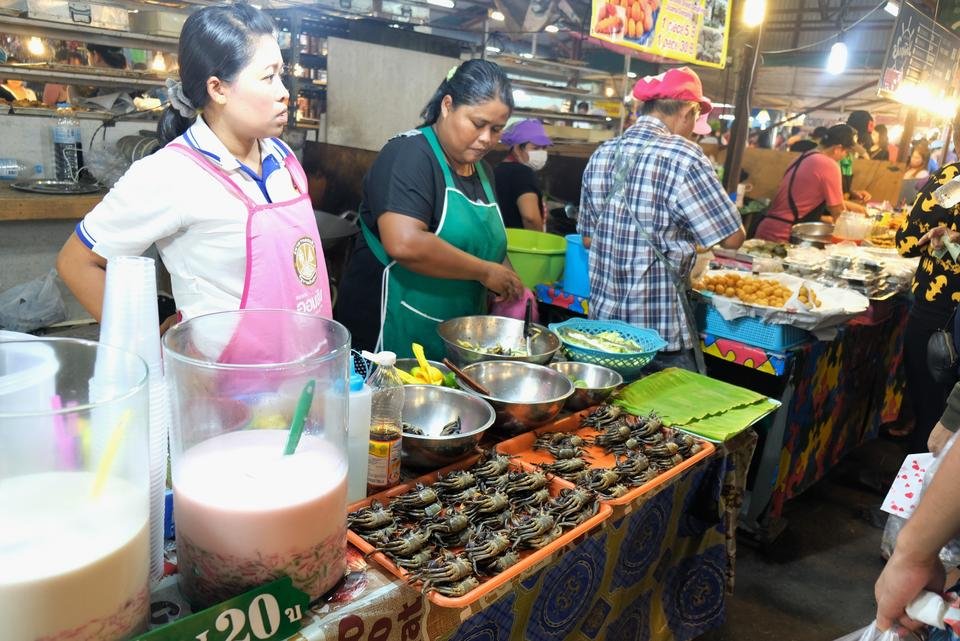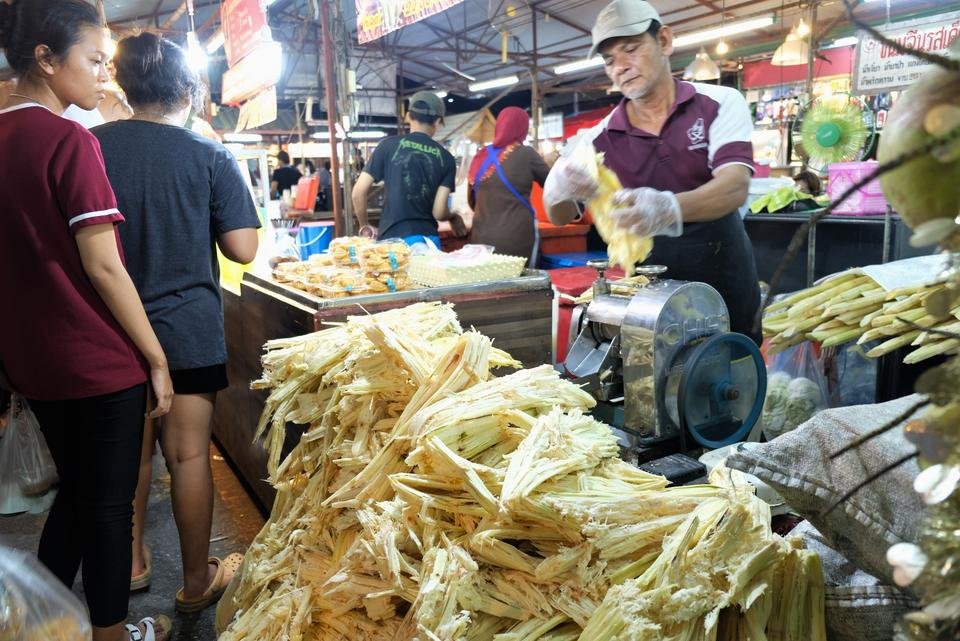 Sugarcane juice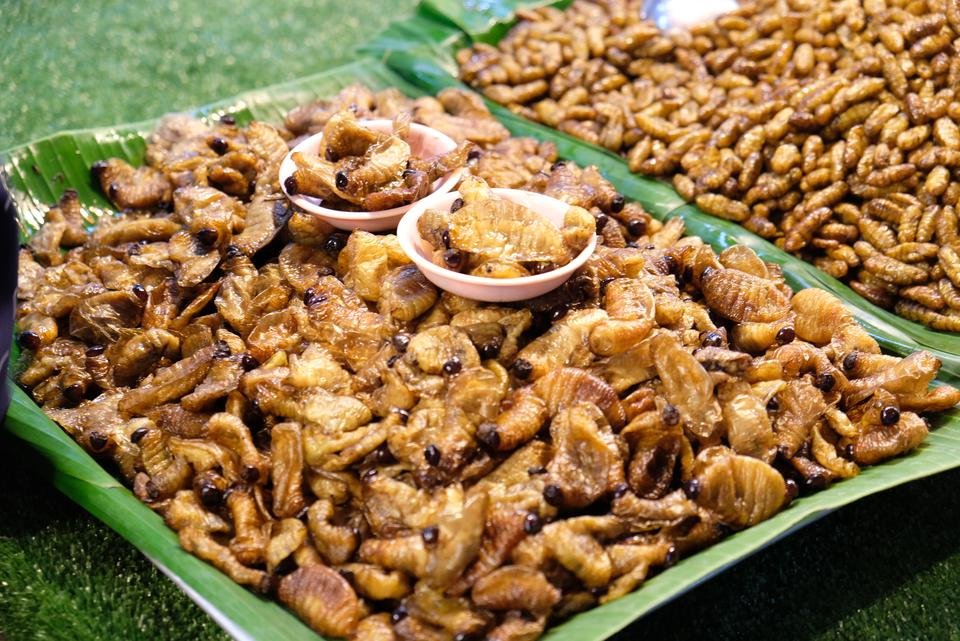 Too scared to try these. Whatever they are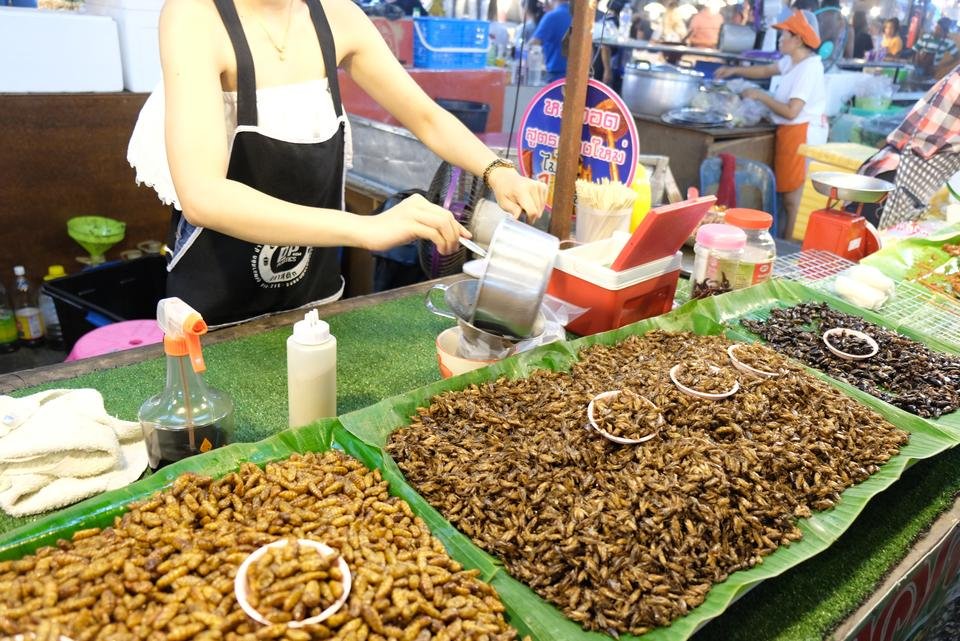 We were only brave enough to try the fried crickets. Just crunchy little protein morsels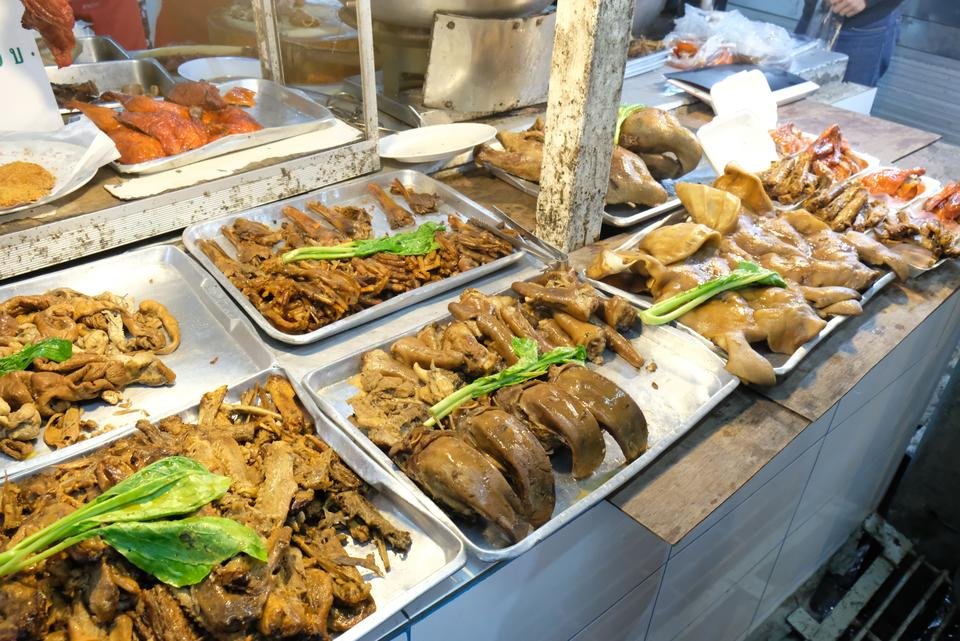 I'd never be game to eat these foods - I recognise intestines, some sort of tongue (from an ox?) and ears
Buying dessert buns (GoPro)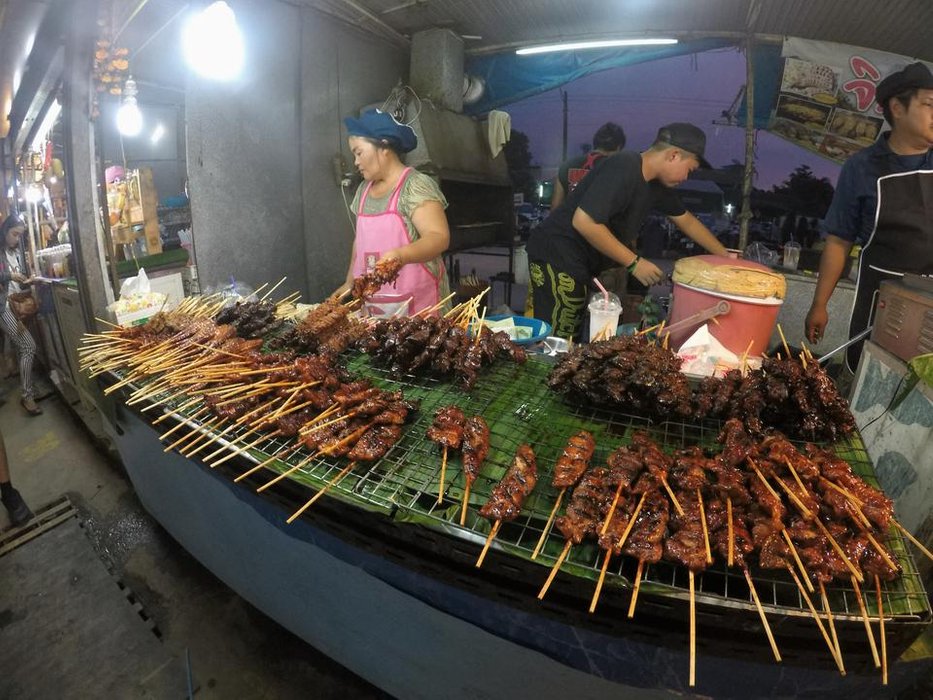 Back for more meat skewers (GoPro)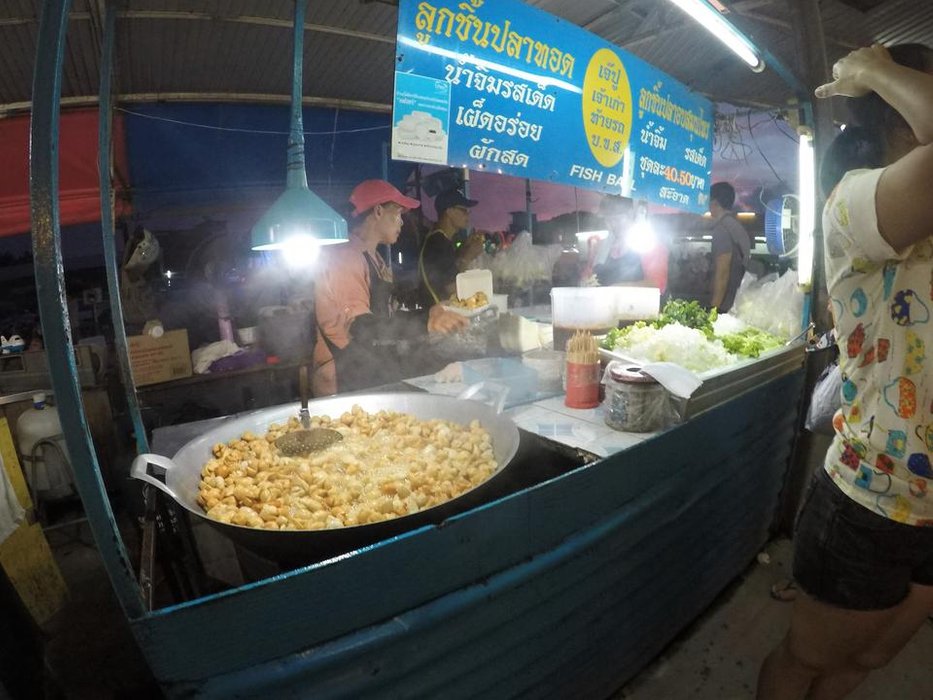 Fried fishballs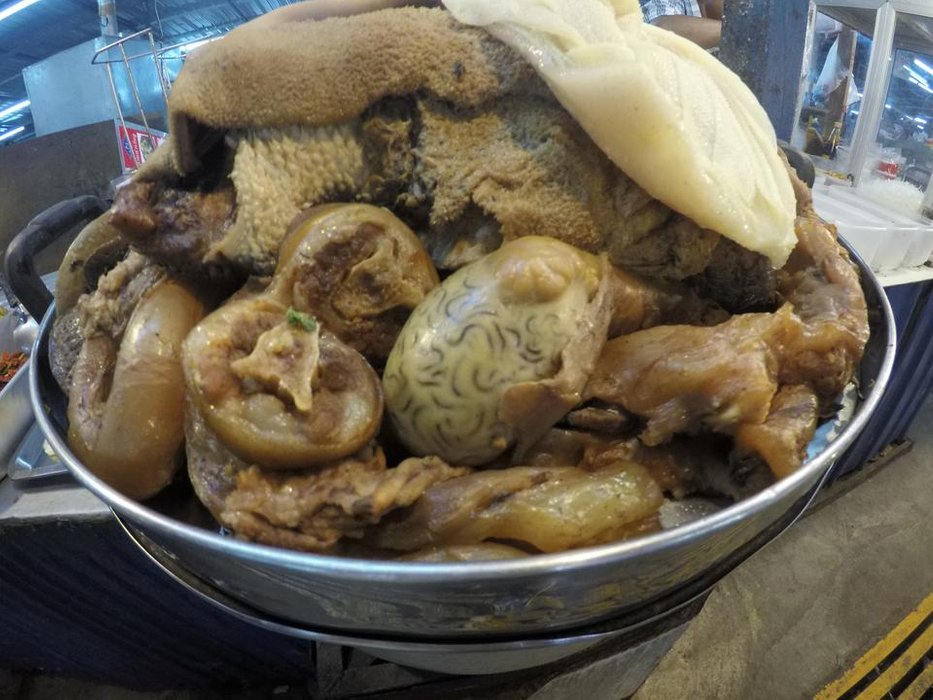 Was surprised by this bucket of off-cuts. Don't even want to know if this goes into a meal to eat haha
---
Thalang Road Walking Market
The Thalang Road Walking Market is located on the main central road in the colourful and charming Old Town of Phuket. The market is held every Sunday night and was very, very full when we arrived after coming from Phuket Weekend Market. The narrow street was brimming with people walking slowly along this beautiful street lined with colourful Sino-Portugese buildings (mix between Chinese & Portugese architechture). This market offered many food options but vendors sold many hand-made trinkets and souveniers and there were many musical performances from the locals to entertain visitors.
Street photography from Walking Markets: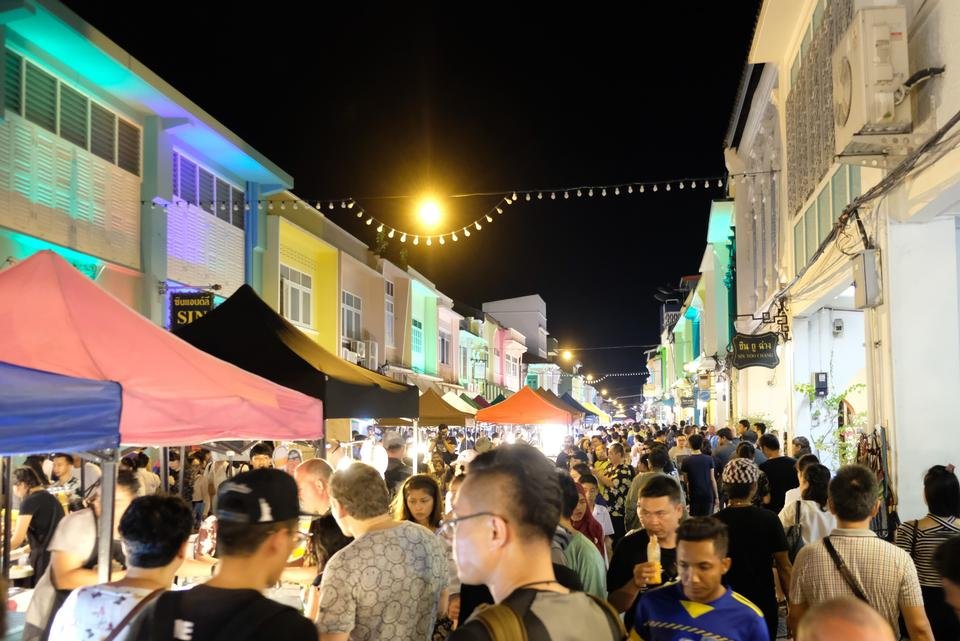 People everywhere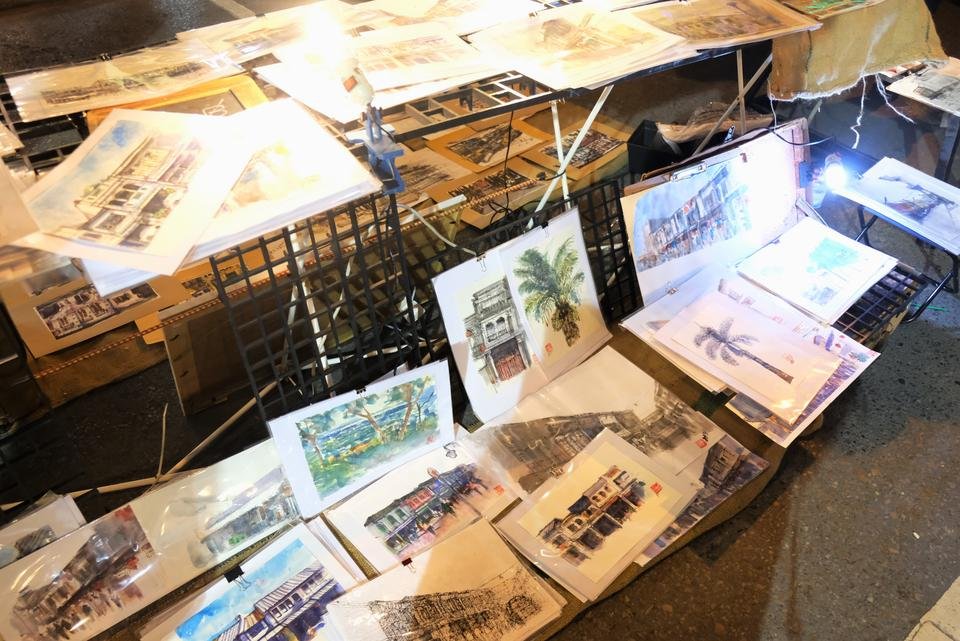 Paintings from a local artist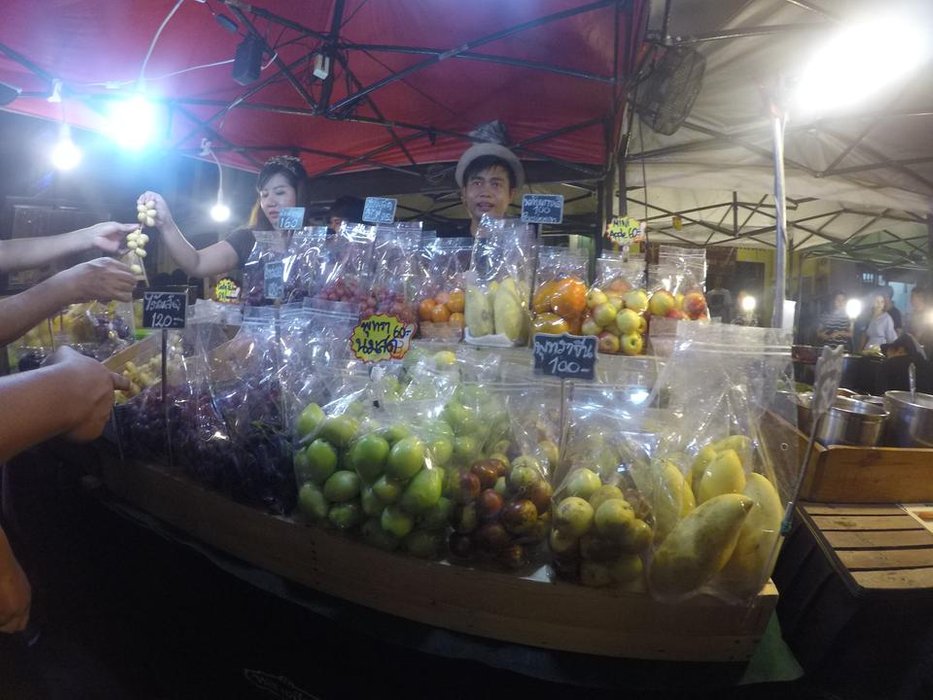 Fruit bags (GoPro)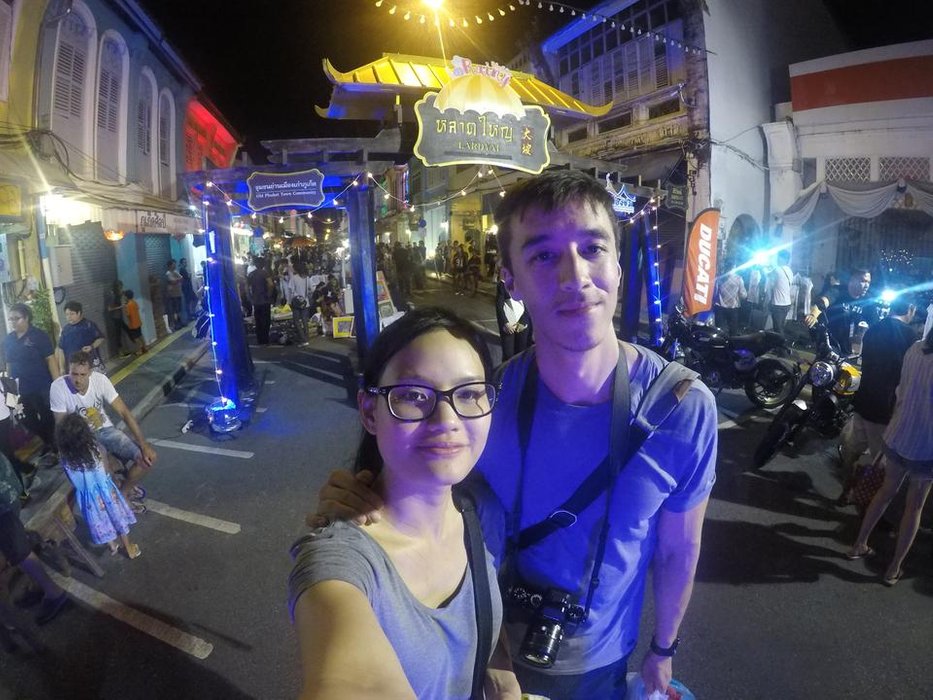 Tired and sweaty tourist selfie at one end of the Walking Markets
---
Thank you so much for joining us on our Travel Adventure . Hope you enjoyed our street photography and thank you so much for reading this post!
-Frances aka @supernovastaffy
---
Quick links to our other Thailand Travel Adventure posts:
Travel Adventure #1 | Sunset over Phang Nga Bay, Thailand
Travel Adventure #2 | Thailand Private Beach Cabana Dinner
Travel Adventure #3 | First Day in Phuket
Travel Adventure #4 | Surin Beach, Chalong Temple & Big Buddha
Travel Adventure #6 | Thailand | Patong, Patong Beach & Phuket Fantasea
Travel Adventure #7 | Thailand | Phang Nga Bay - Sea Canoes, Hidden Caves & Lagoons!