Welcome to Travel Adventure #7!
---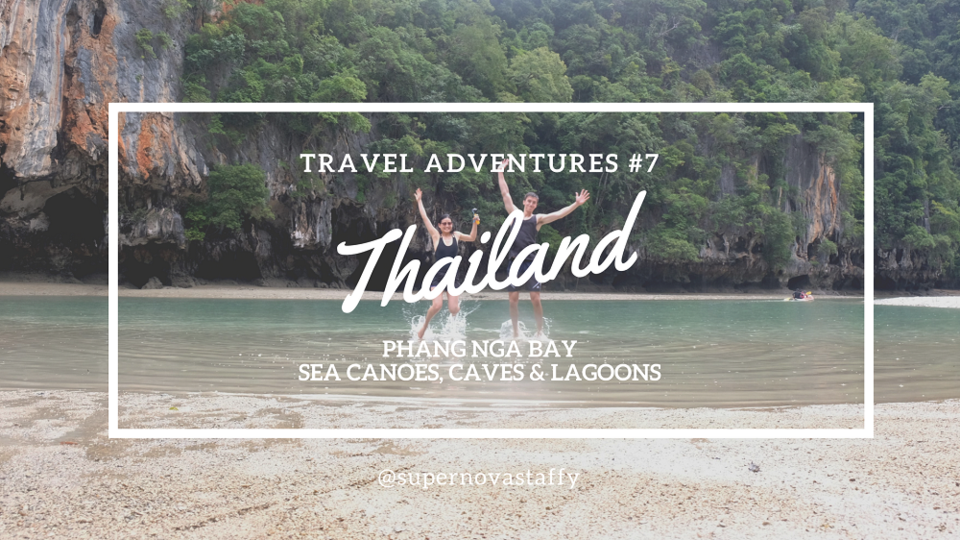 ---
10-Second (or maybe more) Itinerary | John Gray's Sea Canoe Tour - Hong By Starlight
11AM: picked up from resort & transferred to Ao Por Pier
12PM: Lunch on Boat cooked by local chef onboard - delicious!
2PM: Arrived at Panak Island and explored 2 hongs (or caves with hidden lagoons inside)
3PM: Returned to escort boat and moved to second island
3:30PM: Arrived at Hong Island and explored 2 more hongs
4:30PM: Free-time - self-paddle or swimming
5PM: Kratong making - 2 doves & 8 Candles to signify our love (we just got married), good luck and prosperity
6PM: Buffet dinner to feed our hungry tummies while watching sunset
7PM: Canoed out to water again to float our Loi Kratong & saw glowing plankton
8PM: Returned to escort boat and back to Ao Por Pier. Transferred back to resort
10PM: Late night snack and passed out straight away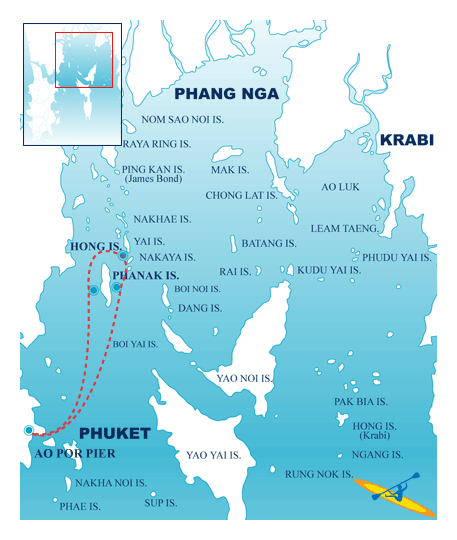 Hong by Starlight Tour - John Gray's Sea Canoe
---
Cost: 3950 THB/person
Overall rating: 10/10 - More expensive than we expected for Thailand but definitely worth the money!
Favourite things: The sunset, food, kratong making, exploring hongs, personal canoe guide for the whole day - so pretty much everything! The only semi-bad thing? The weather was a bit dreary at times during the day, and even started raining slightly while canoeing. But it was still an awesome day and at least the temperature was a bit cooler.
---
Now get ready for the much longer version full of pictures. Most photos are taken with a Fujifilm X-T2, however, some are taken with a GoPro Hero 5 & iPhone.
---
We started our day just as we did every morning - with a delicious buffet breakfast (I really love to eat) and our daily Thai massage while we waited for our pickup from the resort lobby at 11AM. We boarded the escort boat at Ao Poh Pier, where we were joined by the man himself, John Gray, who started this company in 2001.
---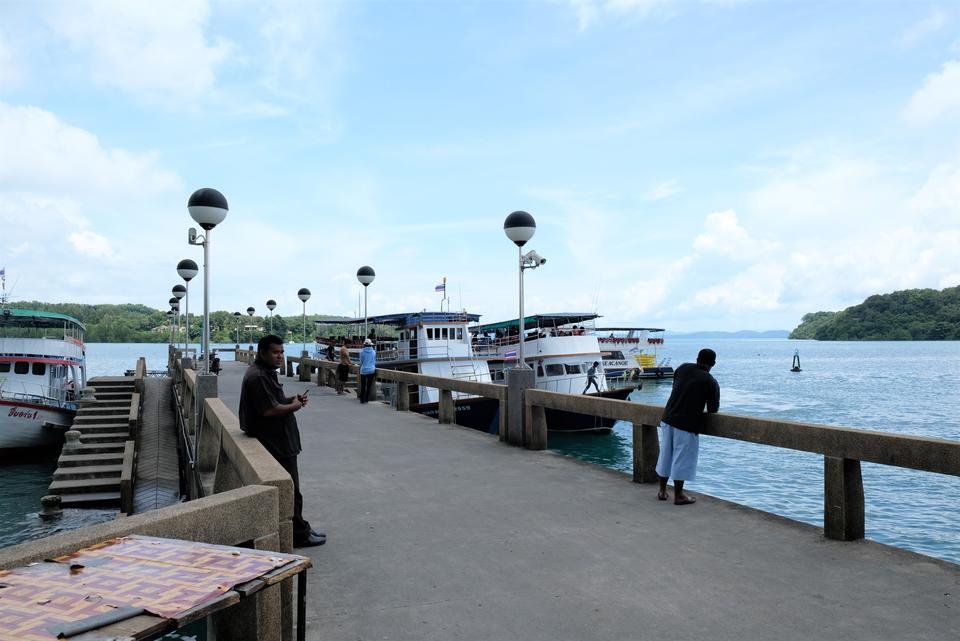 Walking along the pier to our escort boat
---
Lunch time!
We set off from the pier at approximately 12PM and were introduced to our guides and given a quick brief about our trip, before being served a delicious lunch cooked by the onboard chef. There was a huge range of food available - with my favourite being the Tom Kha Gai or Chicken Coconut Soup.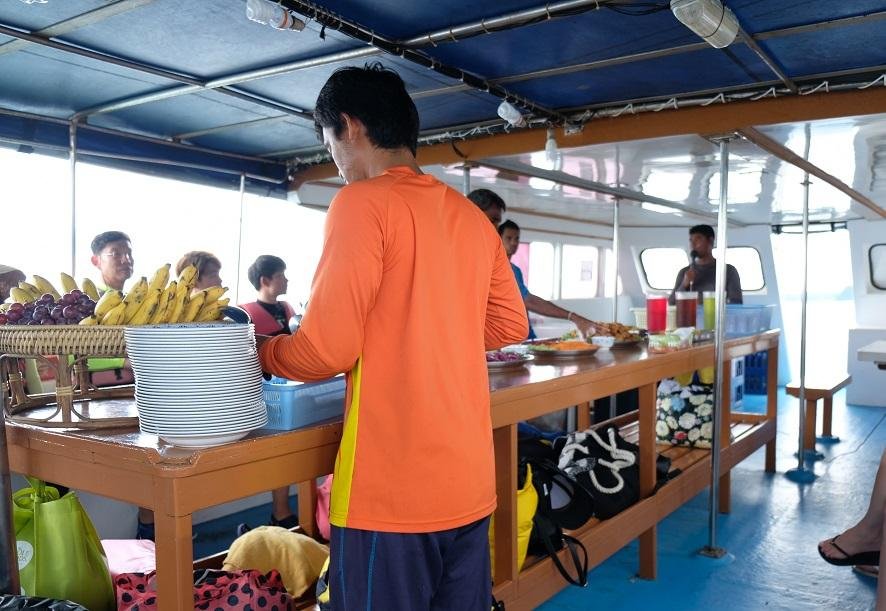 Our guide, Shannon, setting up lunch for us
---
As we travelled further into Phang Nga Bay we started to see more and more limestone islands pop-up in the distance and soon we were sailing past them. It was a relaxing boat-ride to our first stop - with the wind blowing through our hair as we climbed the ladder to explore the boat from the top viewing deck.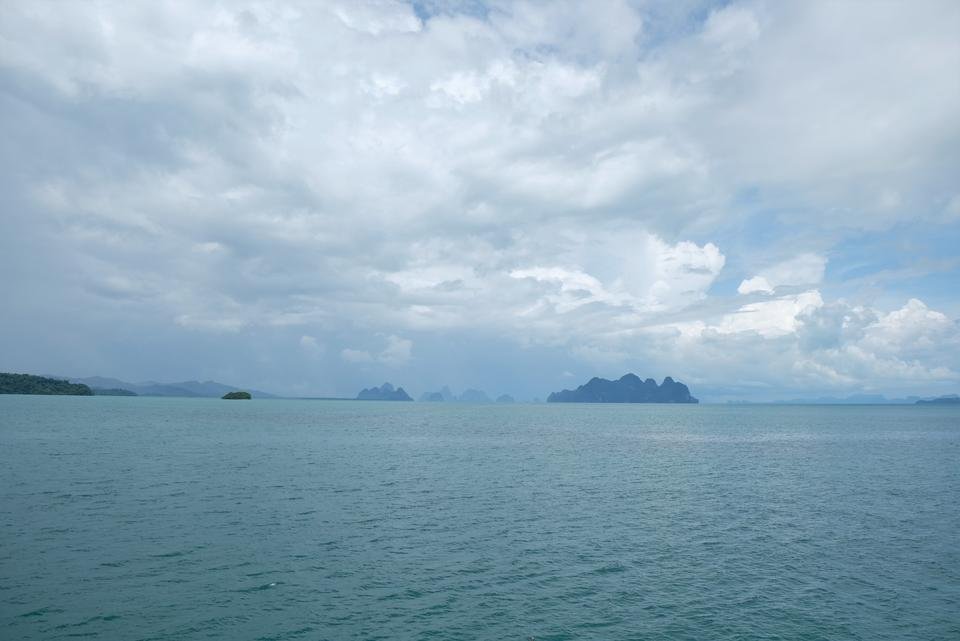 Limestone islands in the distance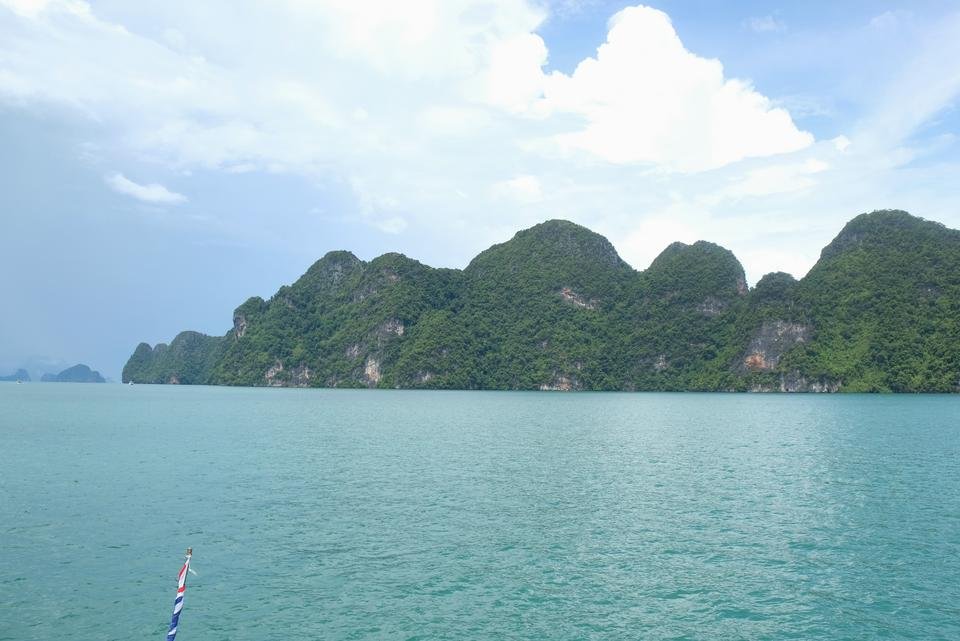 Getting closer to our destination!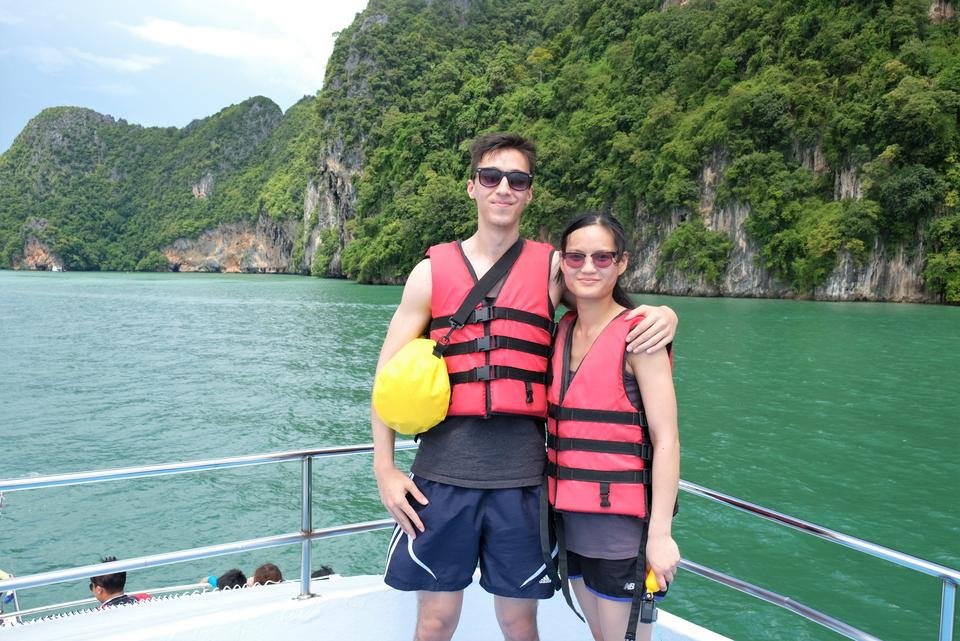 Don't mind our squinty eyes & funny faces in all our photos - it was overcast but still bright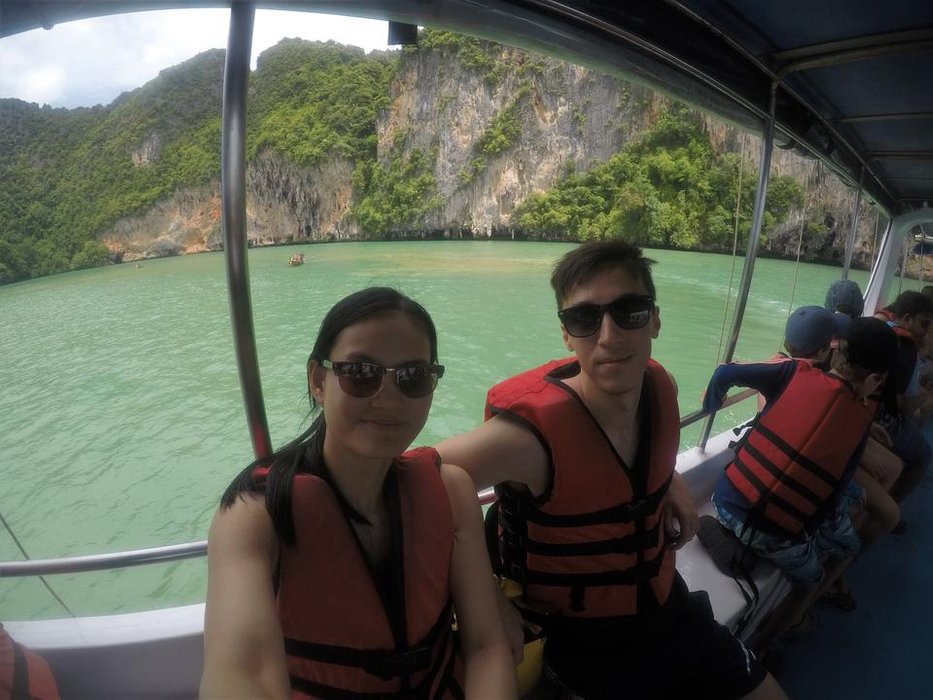 Mandatory tourist selfie
---
First stop - Panak Island
We slowed down as we approached Panak Island and saw two Thai longboats filled with locals in the distance. For some reason, it reminded me of the scene from that movie, Captain Phillips, where the cruise ship is boarded by pirates. These weren't pirates of course, but the local boys from nearby cities and villages that come to work over their holidays to help their families.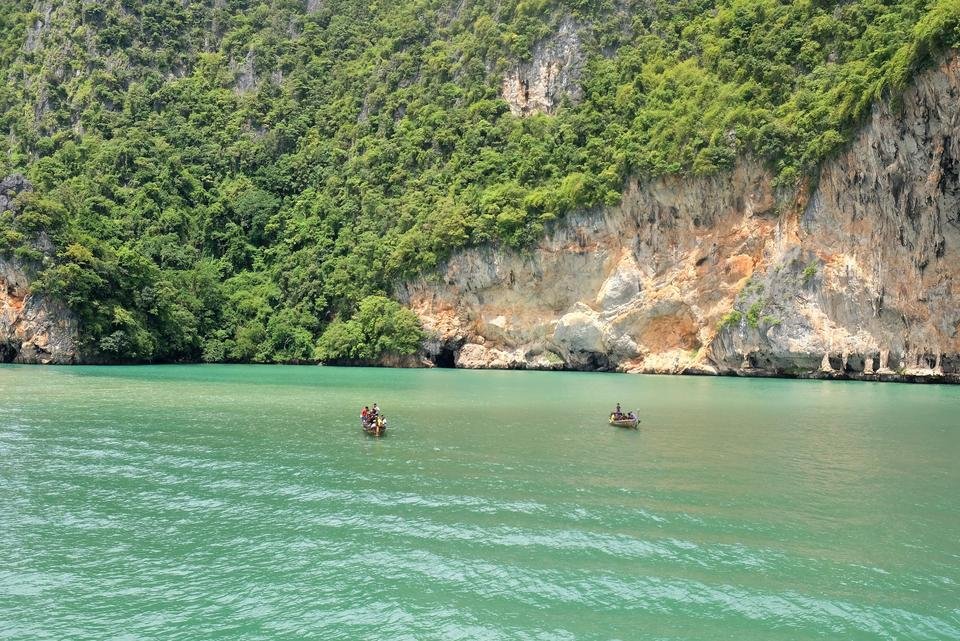 Longboats filled with our local guides
We anchored in a nearby spot and set off in our canoes with our personal guide, Shannon, doing all the hard work for us. Shannon educated us on the history of Phang Nga Bay and how the limestone karst islands that emerge from the seas sometimes open up into hongs - caves that hide secret lagoons and even mini-islands and sandbanks within! He also pointed out all the wildlife that we saw along the way - macaque monkeys, mudskippers, crabs and birds. We also were lucky enough to spot some local fishermen and had a peek at what they had caught that day.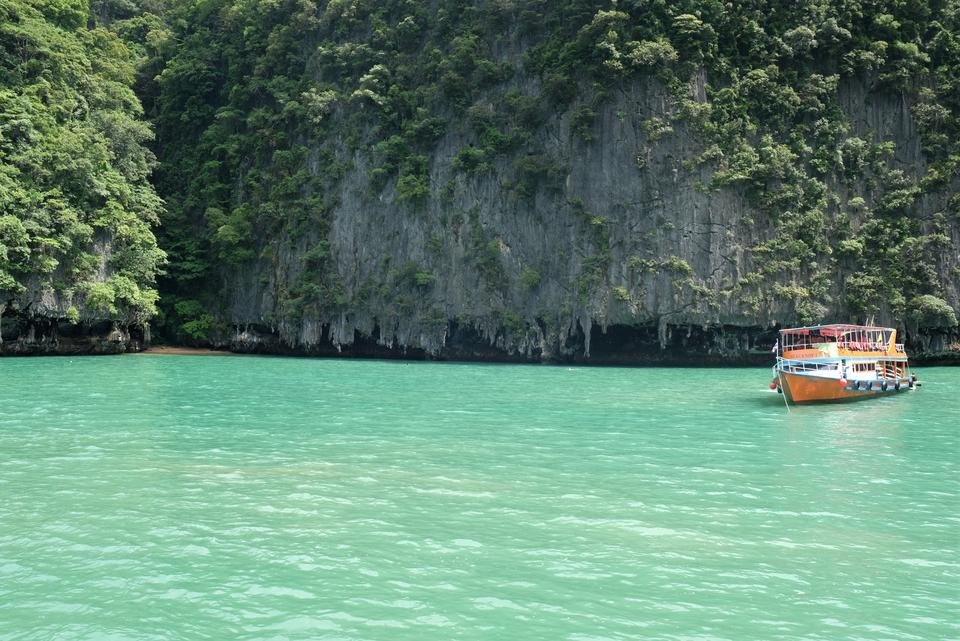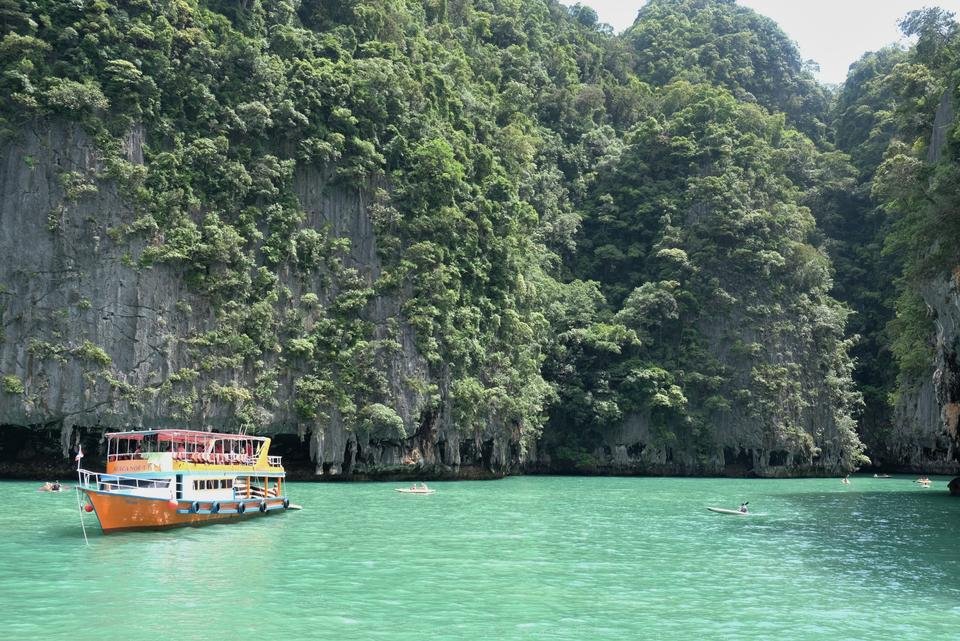 First anchor spot - Panak Island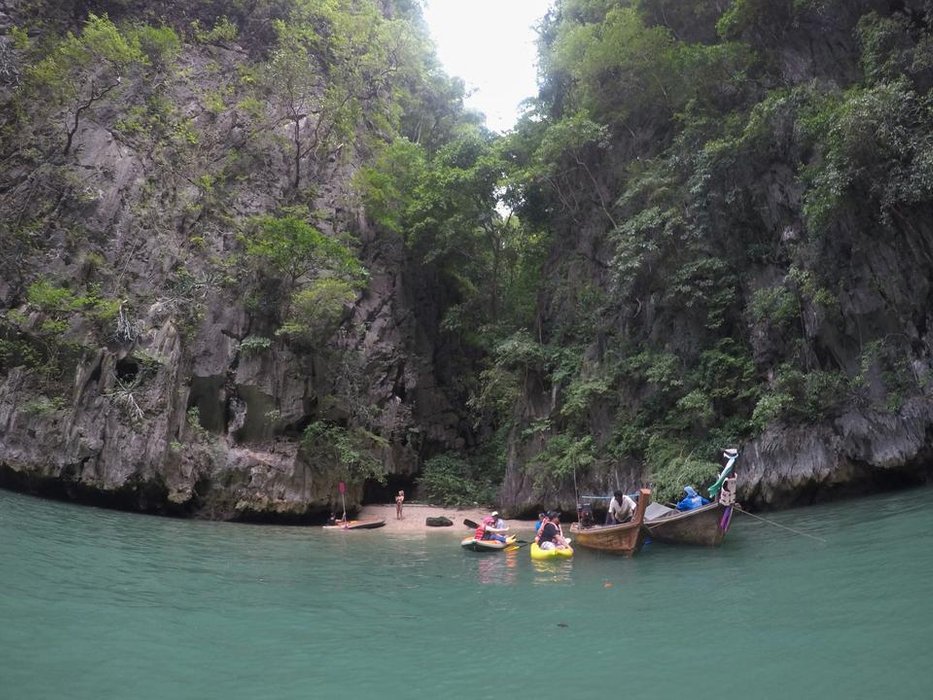 Spotted! Local fishermen!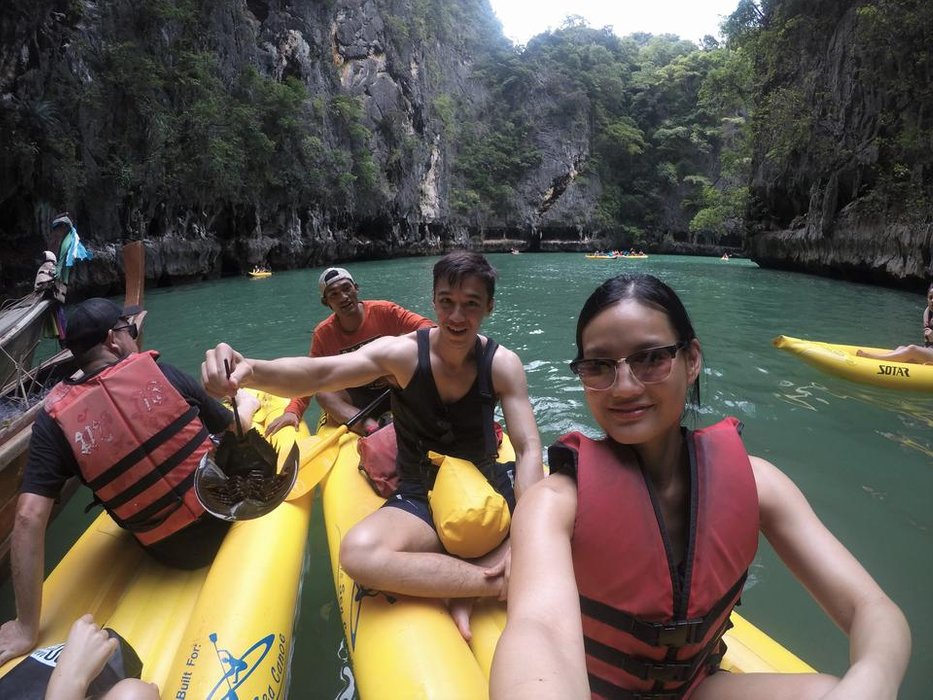 First time seeing and holding a horseshoe crab
---
It's important to pay attention to the tides when entering hongs because if you enter while the tide is rising, the entrance/exit can become blocked before you can make your way back out again. Since Ben and I know absolutely nothing about tidal changes, we put all our faith in Shannon! When passing through some of the caves, we had to lie down as flat as we could, so we wouldn't scratch ourselves on the roof of the cave. At some points we even had to adjust our face, arms, legs and feet to avoid touching the roof. I honestly don't know how the guides managed to get through unscathed, all while directing the canoe so we don't bump into anyone else.
---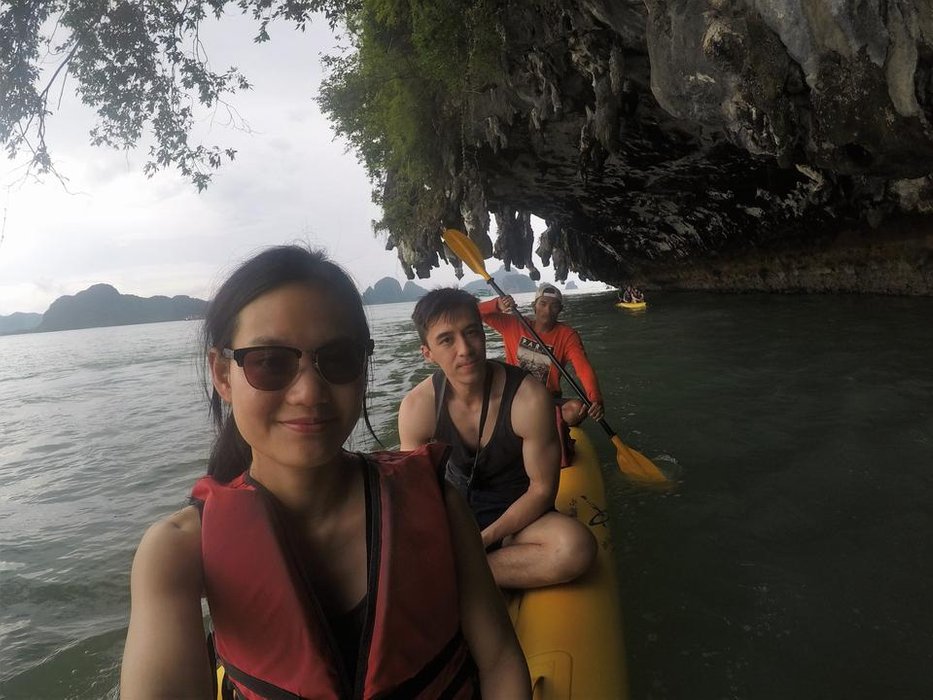 Leaving it all to our expert guide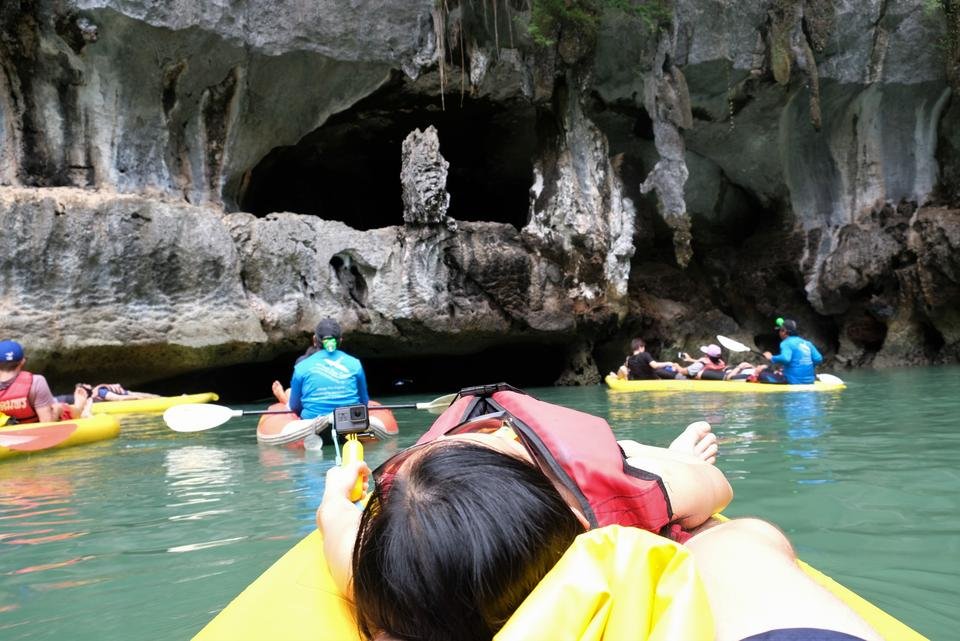 Lying down in preparation for our first hong!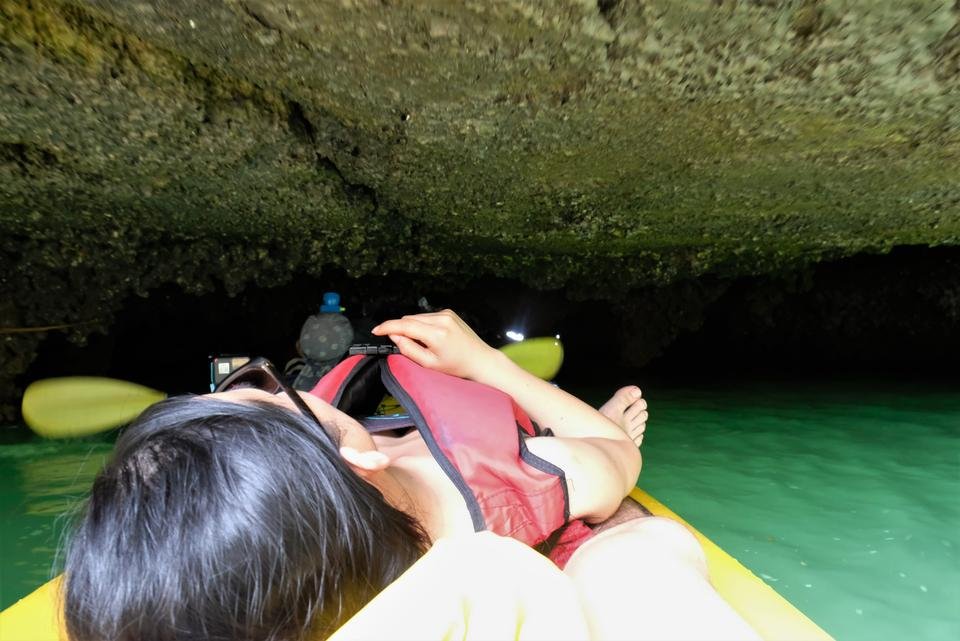 If you suffer from claustrophobia you probably won't like this part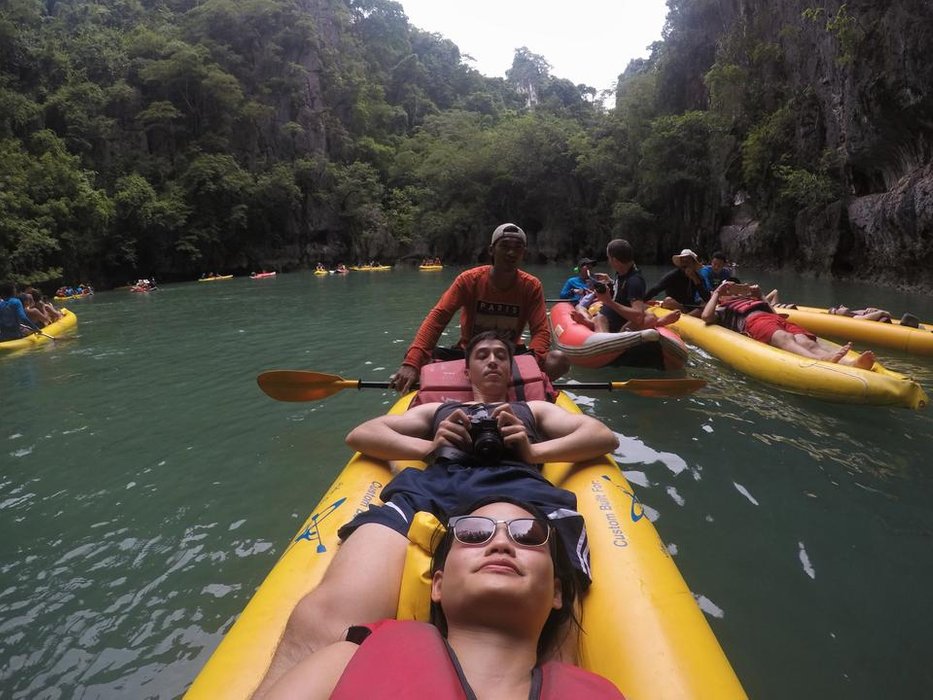 Don't judge me on this terribly unflattering photo - just wanted to show you how we had to try and lie flat while going through some caves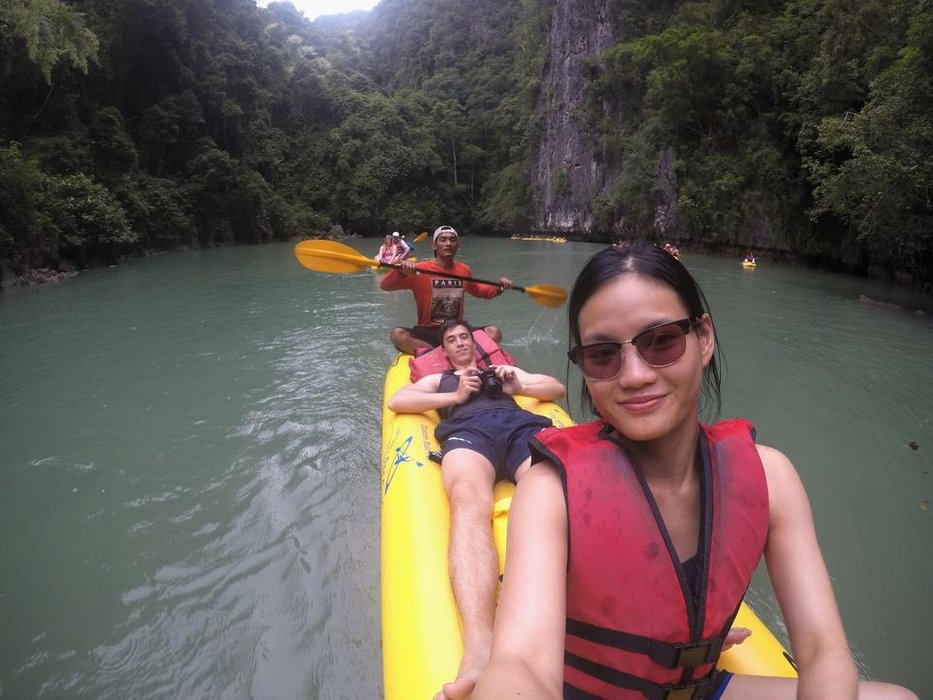 Inside the first hong that we visited
---
Next up, we paddled to Bat Cave, a big, open and dark cave that had (surprise, surprise) bats in it! We didn't see any bats with our torch but we could hear them in the distance.
---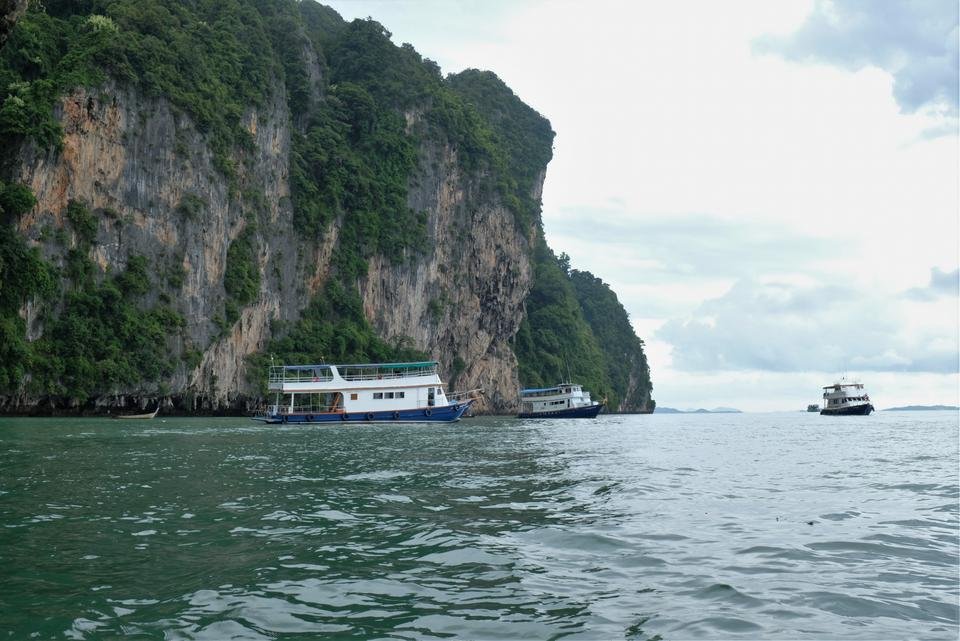 Outside view before entering Bat Cave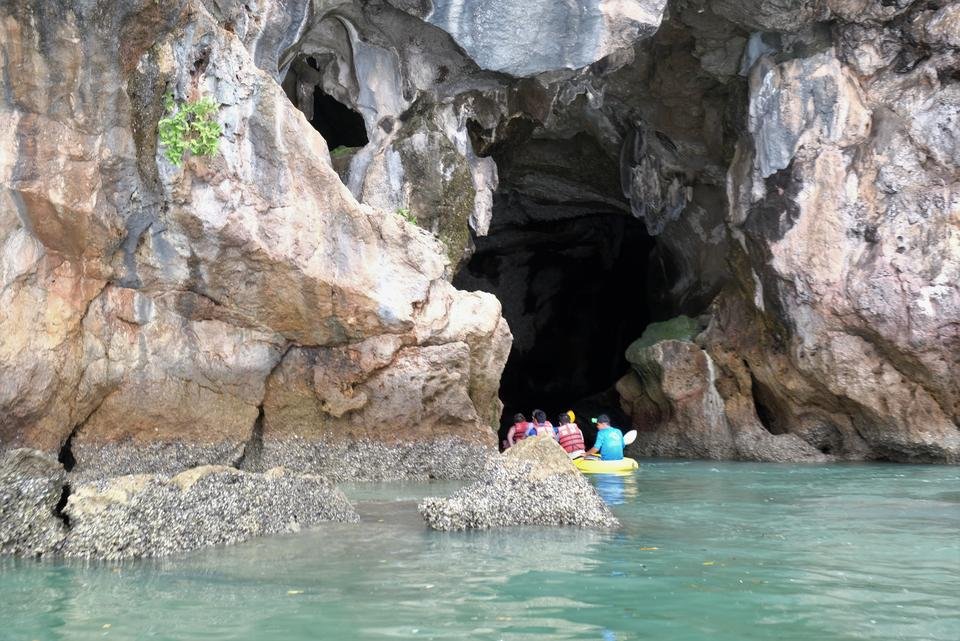 Opening of Bat Cave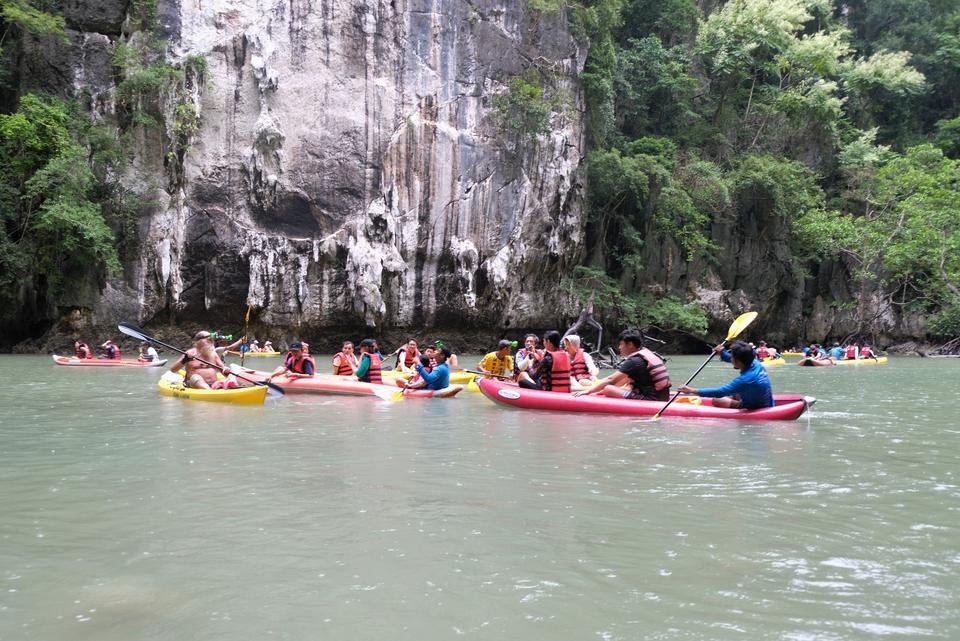 Lagoon view - when it started to rain!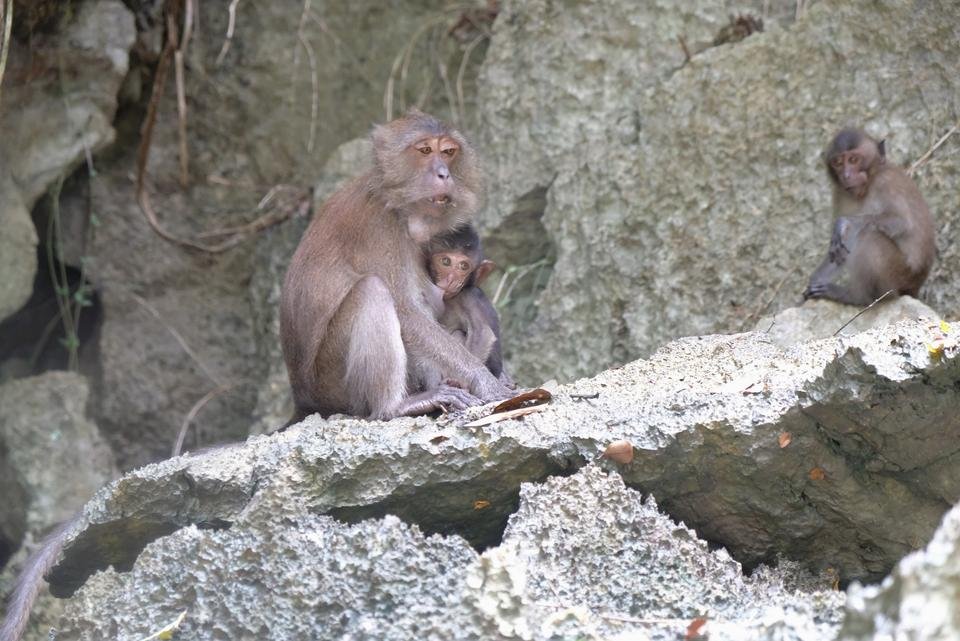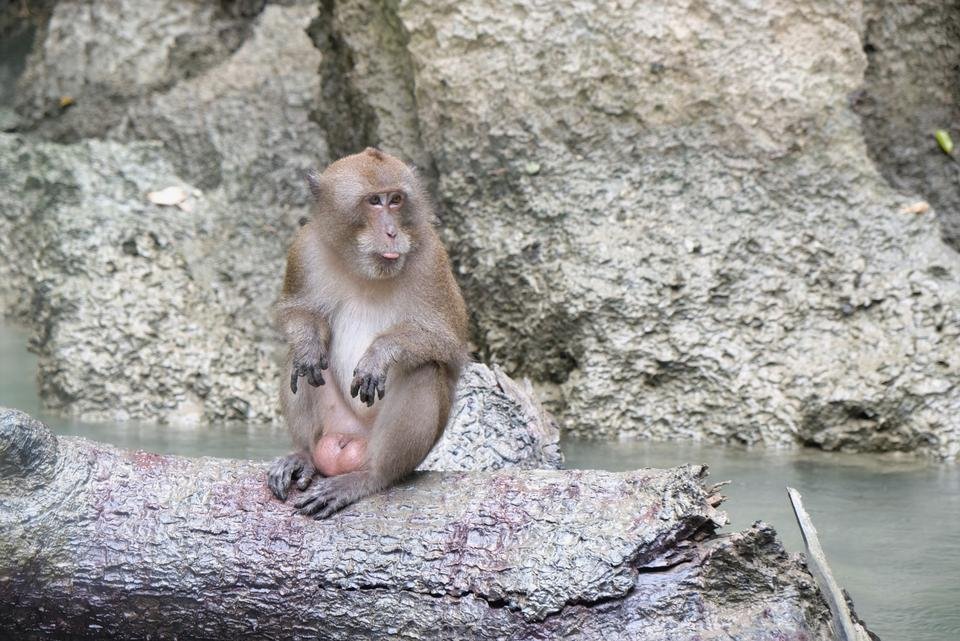 Spotted some wild monkeys. Male on the left. Female on the right feeding her young
---
Sailing to Island #2 - Hong Island
Hong Island was beautiful and scenic, and even had it's own sandbanks (and mud) that we could explore. It started raining again at this point in time but it was great exploring the sandbanks and taking some more photographs.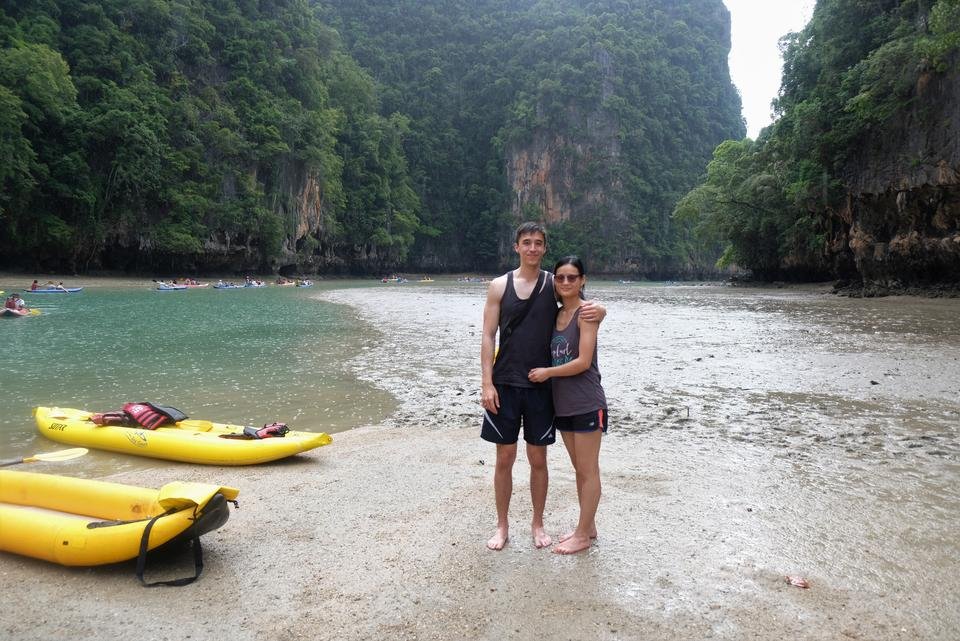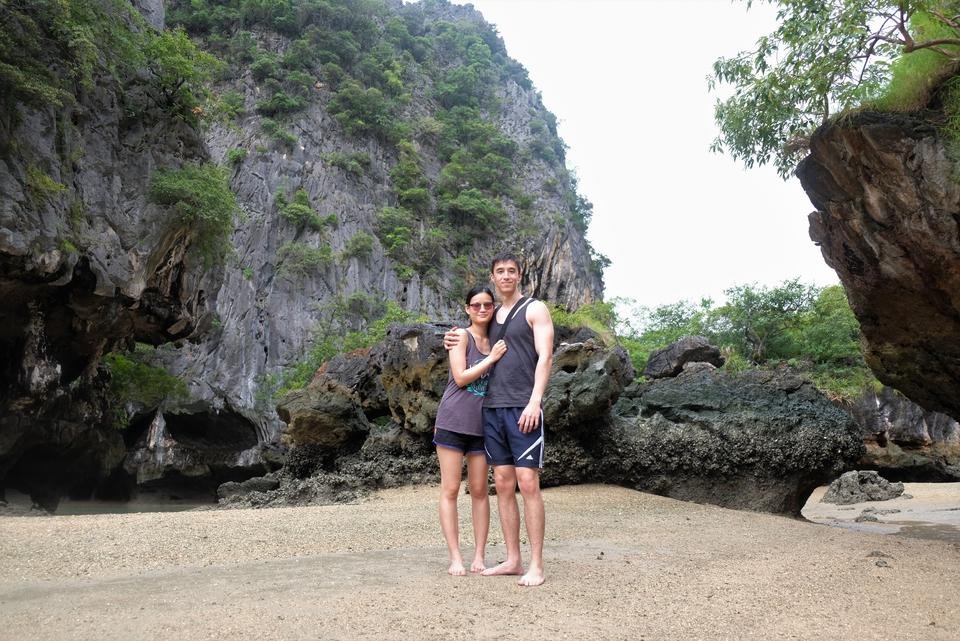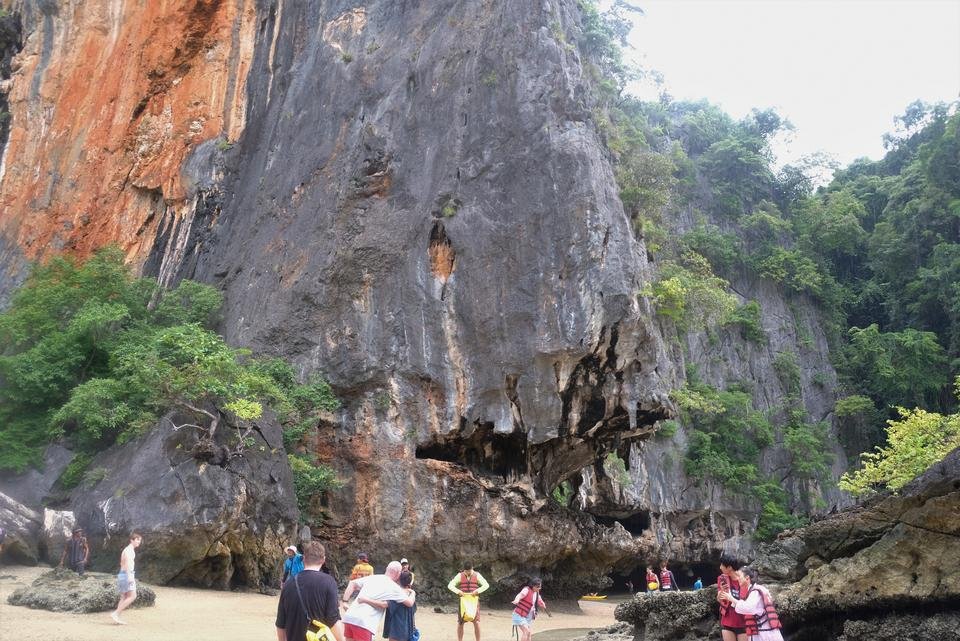 Piranha Rock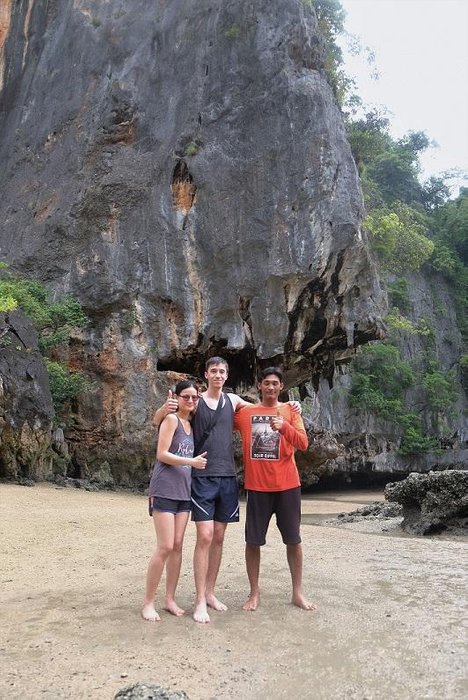 Shannon! Our guide for the day!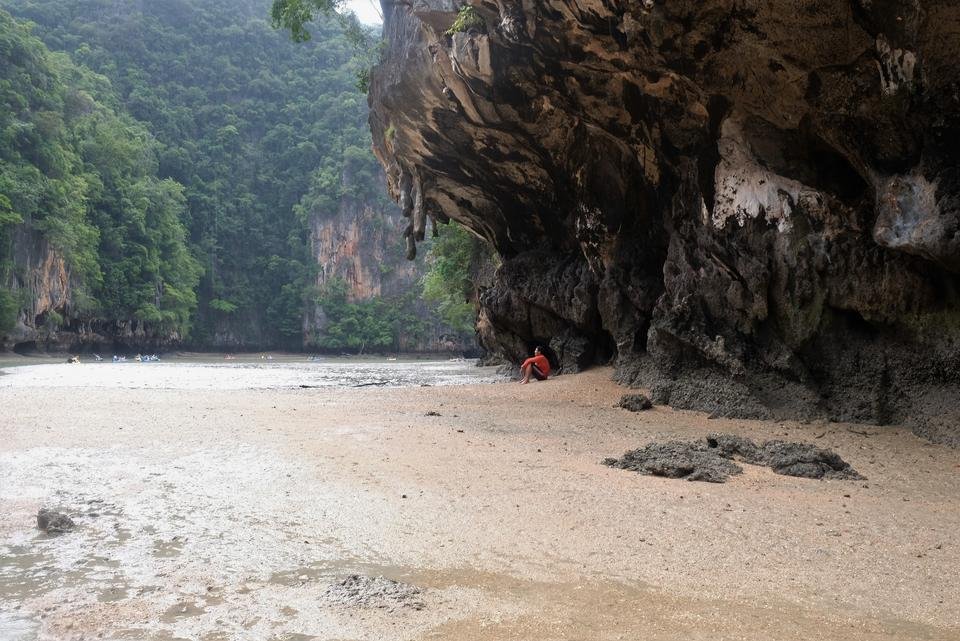 Shannon taking a break while waiting for us to stop taking selfies
---
Soooo. Shannon offered to help us take more photos and told us where to stand. Then kept telling us to move back, move back, move back... UNTIL... Bam, stuck in the mud!!! Definitely unexpected but we got a good laugh out of it as Ben pushed me down further into the mud so he could "unstuck" himself. Then helped pull me out of the mud.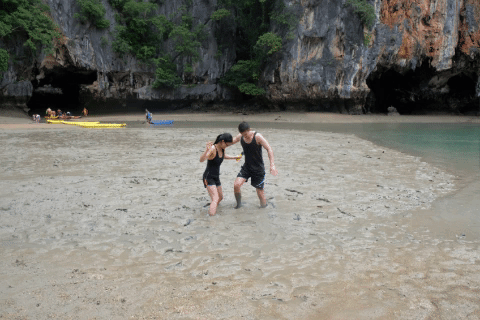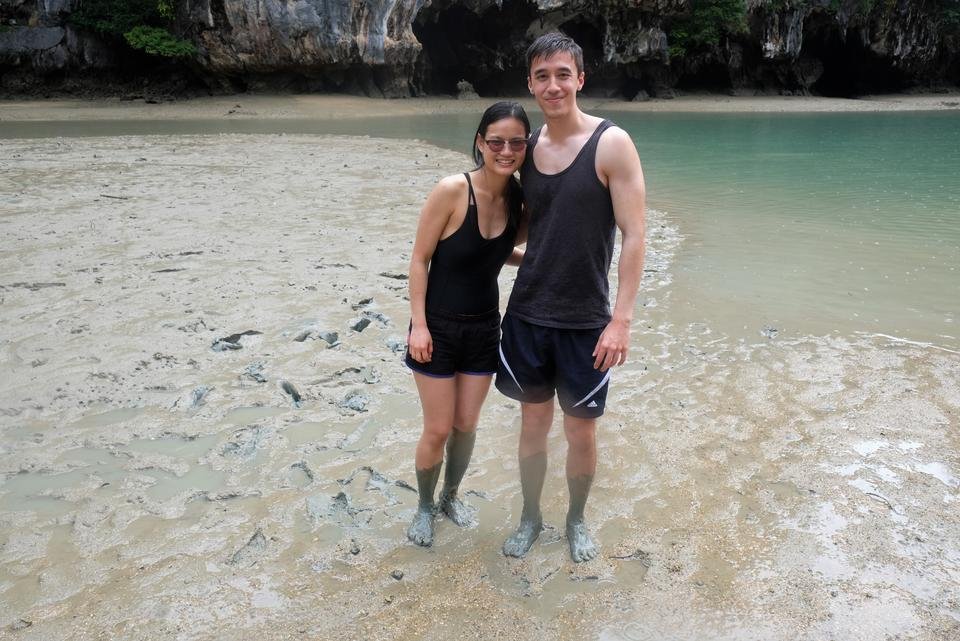 Post stuck-in-the-mud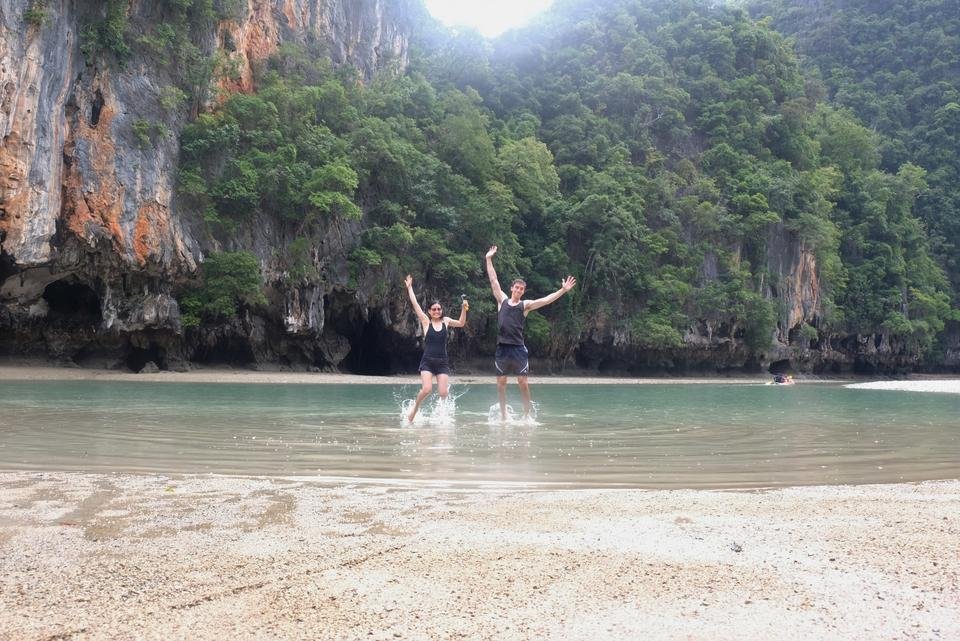 Washed our legs in the lagoon water and jumping for JOY!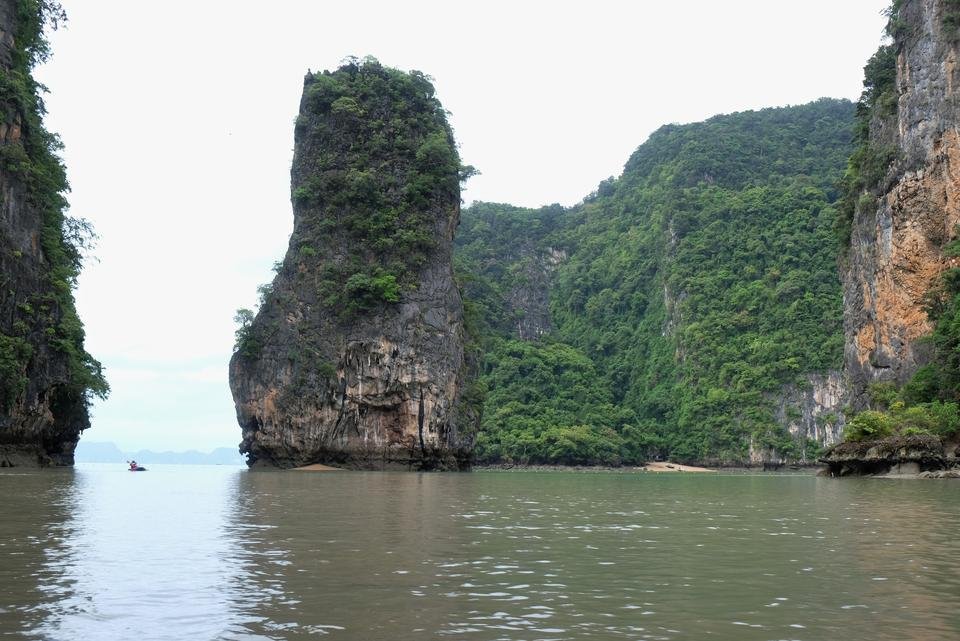 Scenery on the paddle back to our escort boat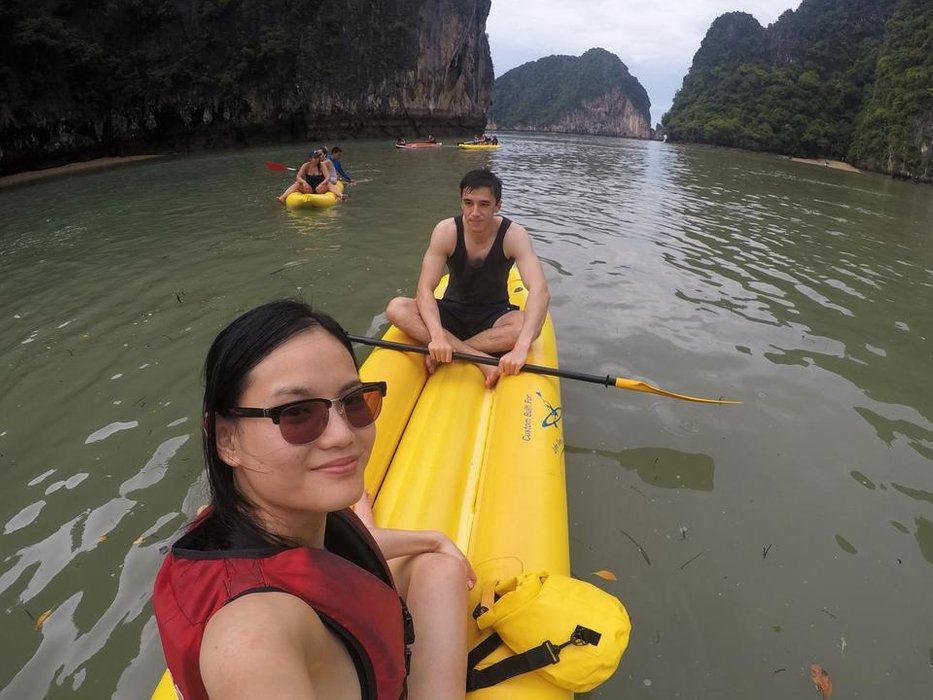 Free time spent canoeing ourselves around in circles
---
It's Loi Kratong-making time!
Loi Kratong are traditionally made for the Loi Kratong Festival held during the full moon in November. They are floating decorated baskets made from a banana tree trunk (as the base) and beautifully decorated with banana leaves, flowers, candles and incense. The candles and incense are lit and then floated down a river as an offering to the Goddess of water, or Buddha, and for well-wishes.
Shannon showed us how to fold the banana leaves and helped us to cut the flowers and decorate our Loi Kratong with two little doves to symbolise our love as we were on our honeymoon. The bright orange Marigold flowers were a symbol of good fortune and happiness. 8 candles for good luck as well! Once we finished our Kratongs, we put them aside for later during the night while we settled down to watch the sunset over Phang Nga Bay while eating dinner.
BEHOLD!!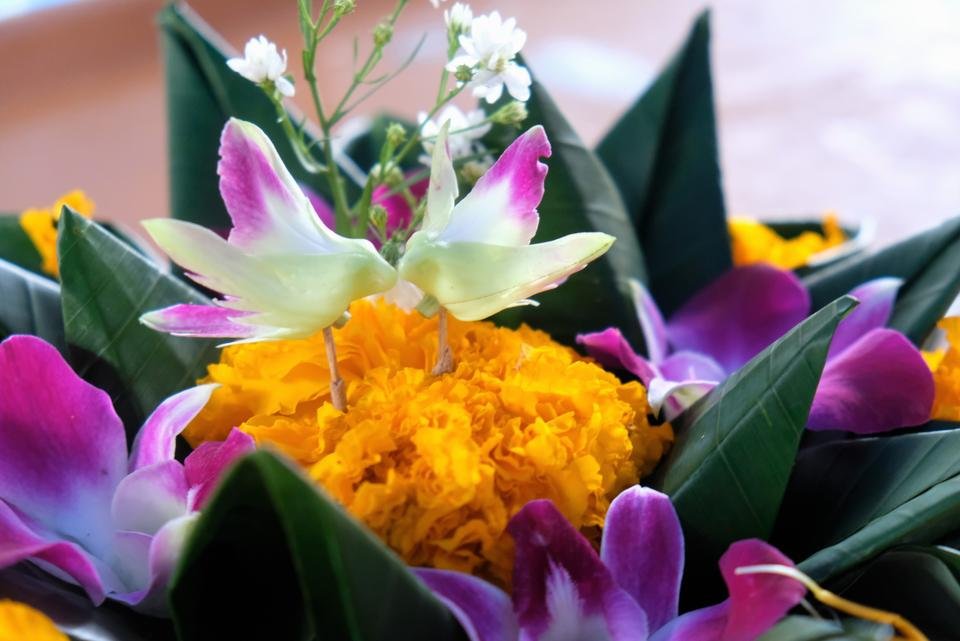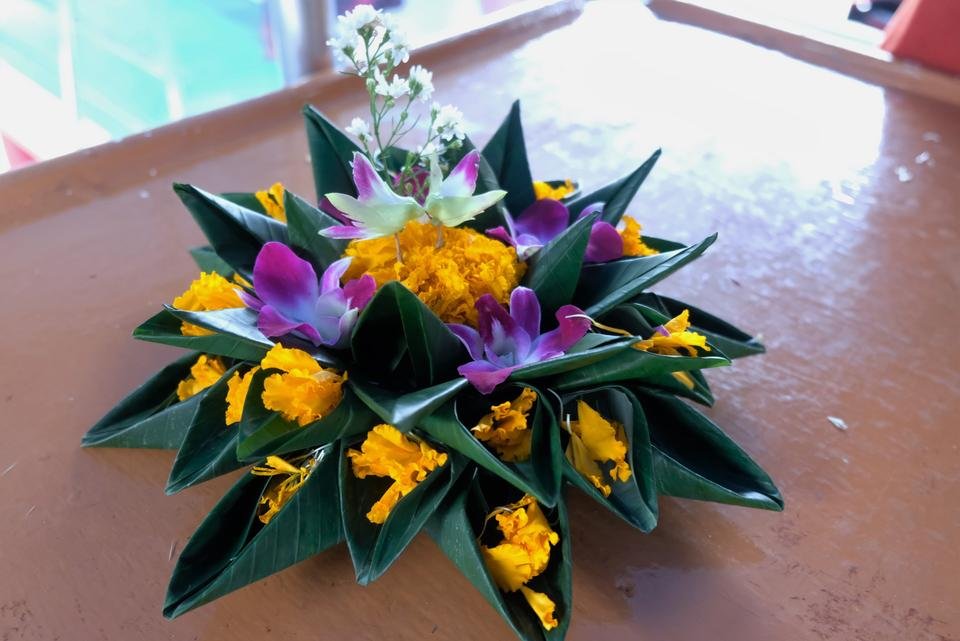 Our finished Loi Kratong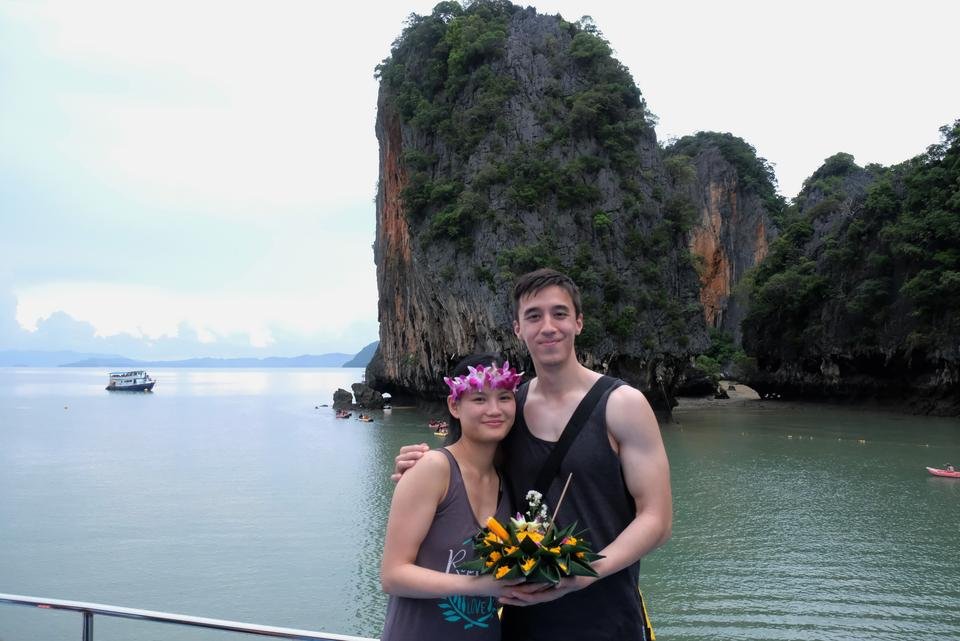 Photo with our Loi Kratong
---
Dinner Time & Sunset
We were starved by this point of the day so we gladly welcomed the arrival of dinner. The boat had since relocated to a different part of Phang Nga Bay to give us beautiful views of the sunset.
This was by far the most beautiful and magical sunset that we have ever had the pleasure of enjoying. Perhaps it was because we were on our honeymoon, and everything just seemed more beautiful and special in general. Either way, it's a sunset that I will not forget and I'm sure we will be able to experience again in the future some day. Enjoy the following photos as the sky changes from blue to a beautiful pink and purple hue.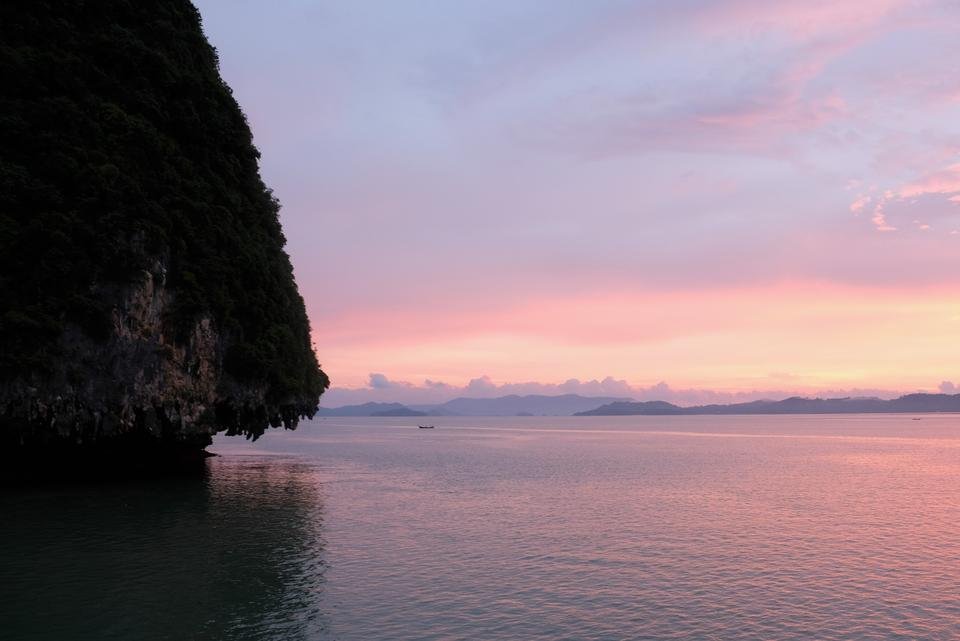 Sky starting to change colour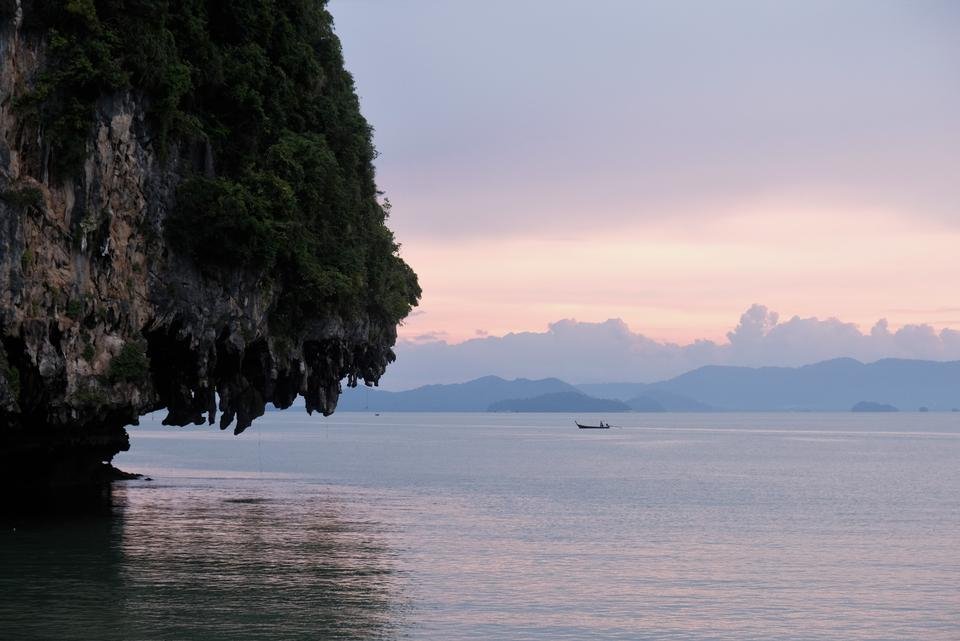 Beginning of the sunset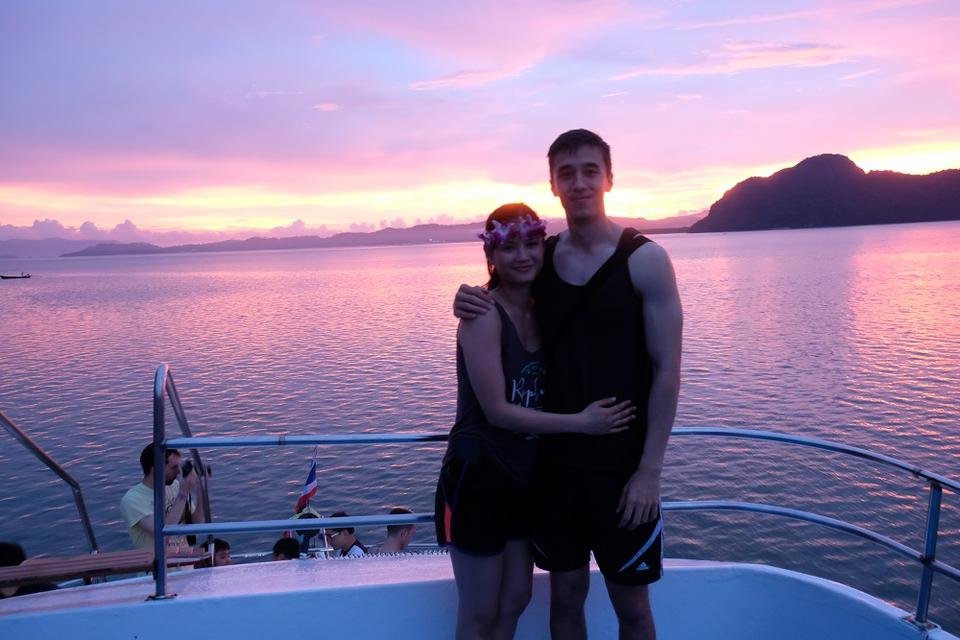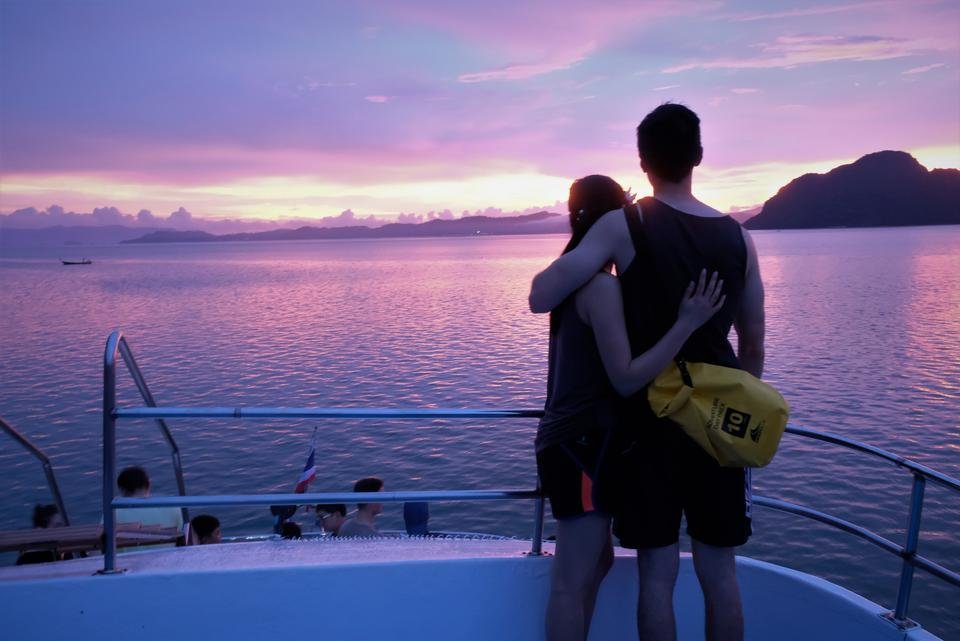 ---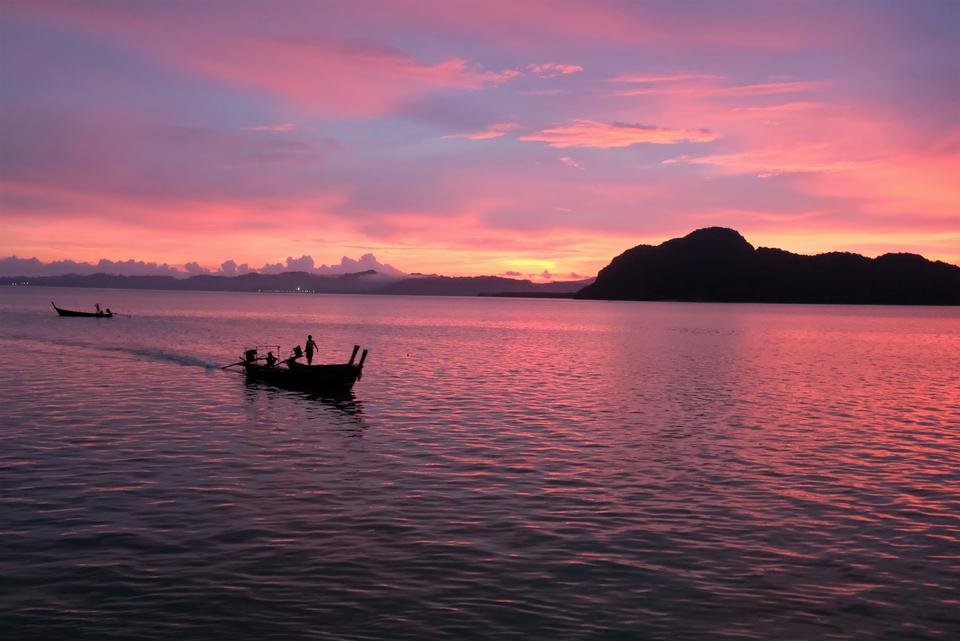 Best sunset over Phang Nga Bay
---
Loi Kratong Ceremony & Bioluminescent Plankton
For the last time we paddled out with our canoes again closer toward one of the limestone krasts and set about lighting the candles and incense on our Loi Kratong. We made our wishes (I wished for love, happiness and health for ourselves and family) then floated our Kratong's on the water until the candles and incense finished burning. We then collected them from the water as we didn't want to pollute the Bay.
We then paddled closer to the cliffs so we could splash the water and see the glowing (or bioluminscent) plankton in the water. I've never seen anything like it but it really was the perfect way to end this amazing day and night.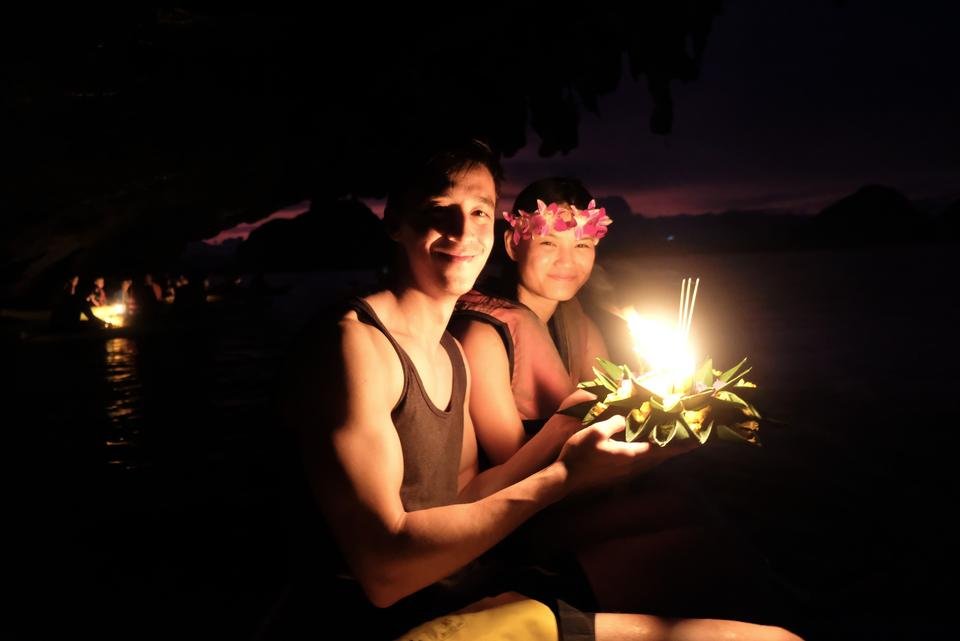 Lighting our Loi Kratong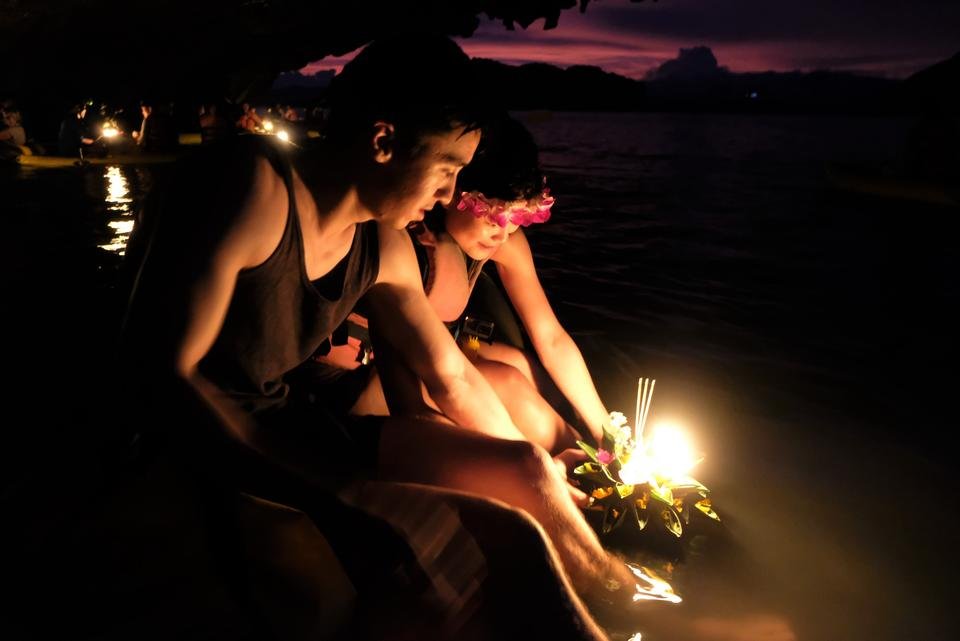 Floating our Loi Kratong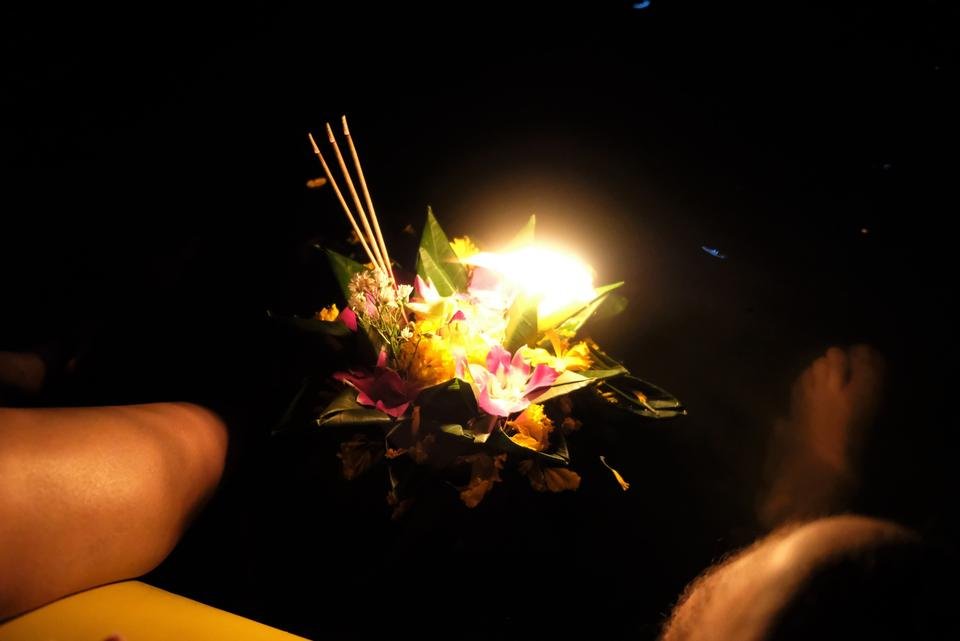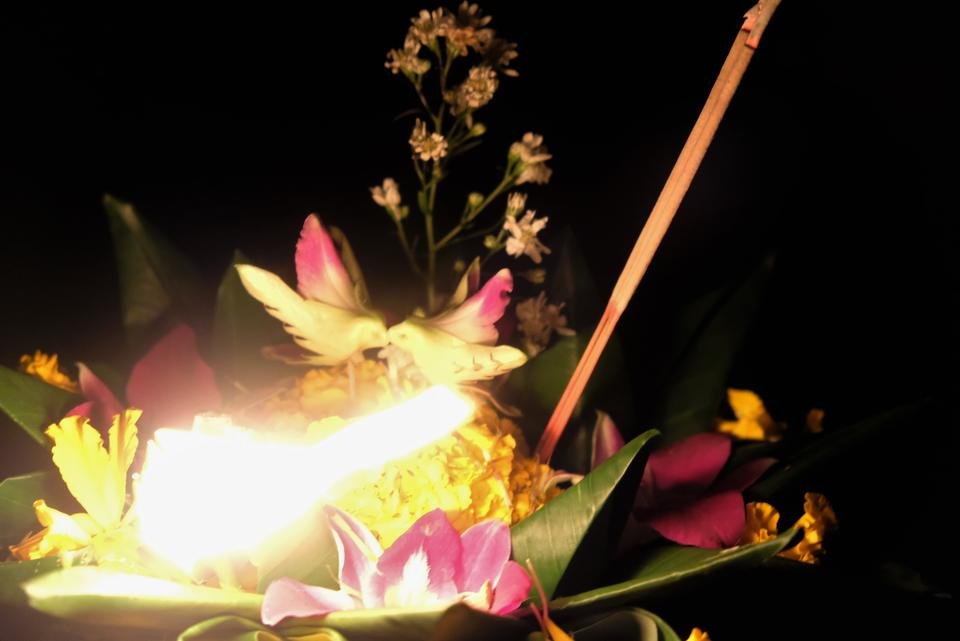 ---
Shannon paddled us back to the escort boat and we called it a night. The ride back to the pier felt much longer as we were really tired by this point of the night. By the time our bus shuttle dropped us back at the resort it was probably close to 10PM. We had a late-night meal from the resort and went straight to bed to recharge for the next day's adventure!
---
Thank you so much for joining us on our Travel Adventure . I know this one was a long one but it was our favourite day so it deserved the extra effort to share with you all! As always, thank you so much for reading this post.
---
Quick links to our other Thailand Travel Adventure posts:
Travel Adventures #1 | Sunset over Phang Nga Bay, Thailand
Travel Adventures #2 | Thailand Private Beach Cabana Dinner
Travel Adventures #3 | First Day in Phuket
Travel Adventures #4 | Surin Beach, Chalong Temple & Big Buddha
Travel Adventures #6 | Thailand | Patong, Patong Beach & Phuket Fantasea