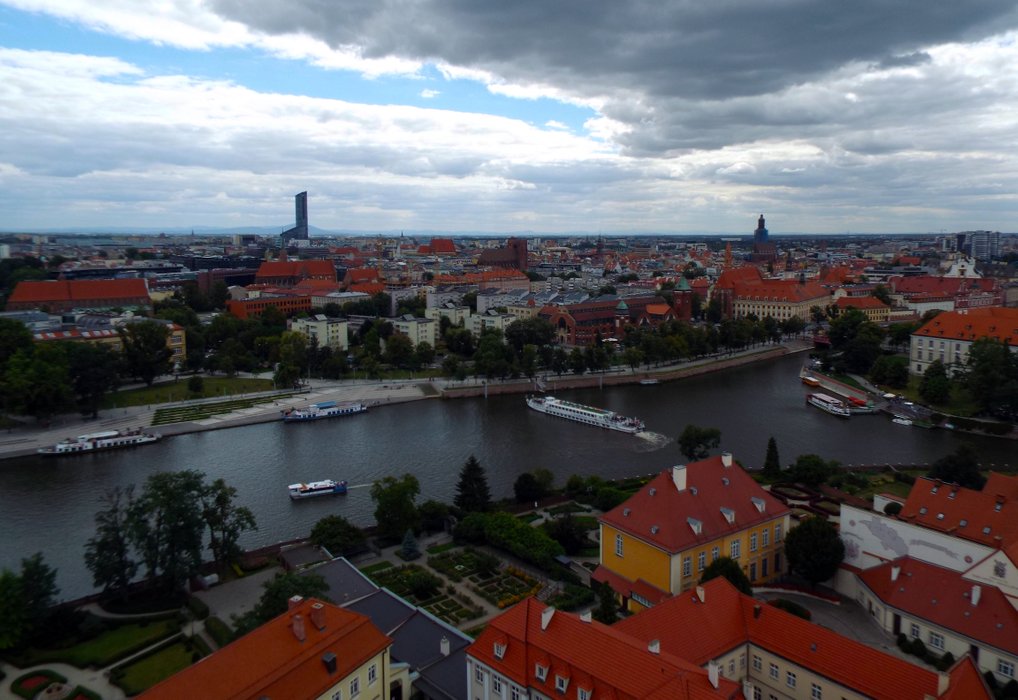 So After almost a day trip I arrived at Wroclaw main station around 22:00, and immidiatelly headed to Corner Hostel. We knew the place was classical wreck and shithole but we needed to sleep two nights and it was pretty cheap - and then we will go to the other part of the city and better hostel, it was a nice plan.
Well, only until I arrived there - first of all I couldn't pay with euroes - and I can't pay tomorrow morning when the exchange offices are open. Most of the exchange offices were closed and I had to navigate through unkown town to find the one that works all night. Well about one and a half hour I got my Zloty(s) and paid few beds - At this time my traveling partner was staying at Warsaw due to delayed flights and some airplane problems.
As soon as I entered into the room I knew we are in troubles, well rooms are pretty same as the booking shows them but to have 4 rooms (about 30 people capacity) organized to use 1 bathroom which is in awful state - and one bathroom for handicapped persons is just brutal. So... if you ever plan to visit Wroclaw, stay away from Corner Hostel.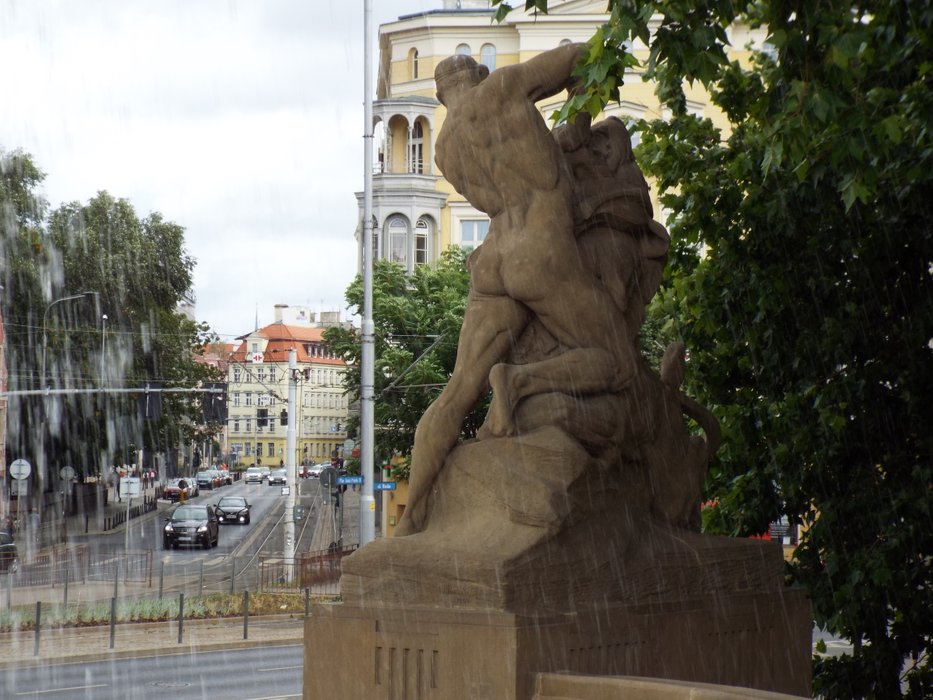 So few things about Wroclaw - it is a flat city which makes it suitable for bike usage (can't compare it to Netherlands tho), in 2005th there was a project to scatter dwarf statues around the city (currently more than 300) and there are organized hunts and tours with guides.
Wroclaw has great architecture and lots of bridges connecting different parts of the city across the Odra river and small canals.
---
It is saturday morning and we went out to see what this is city is about. The great square (Market square) welcomed us with its colorful buildings and wide streets and really interesting and unique fountain. Even with not so sunny weather the colors were really bright and cheerful.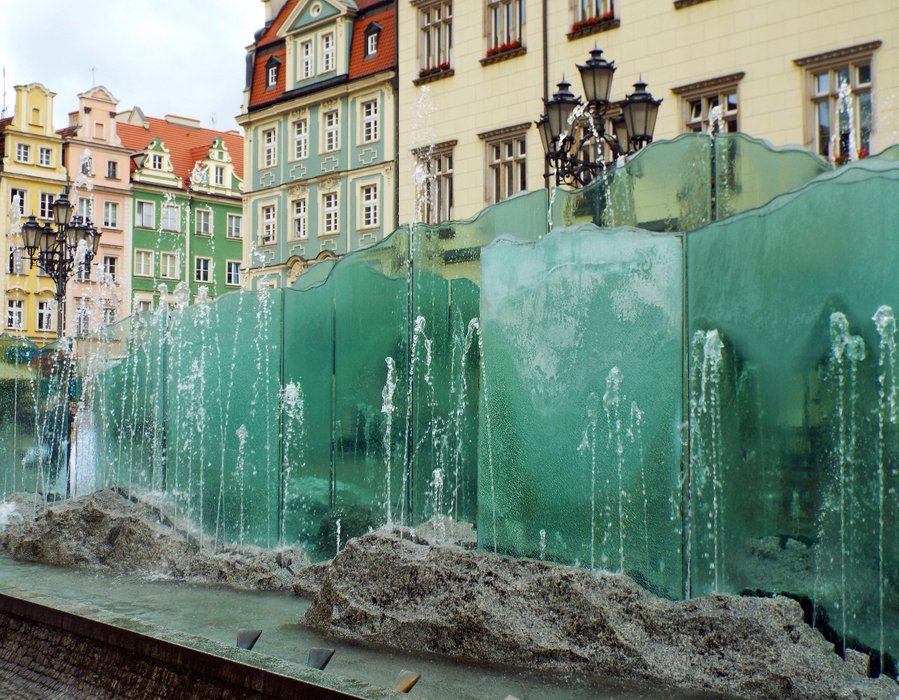 And just behind the fountain there was this girl making lots of soap bubbles and with the little help from wind they were all over the street. Suddenly one song popped in my mind from Green Street Hooligans and West Hem United even tho I am LFC fan :)
I'm forever blowing bubbles - pretty bubbles in the air,
They fly so high, nearly reach the sky,
And like my dreams, they fade and die,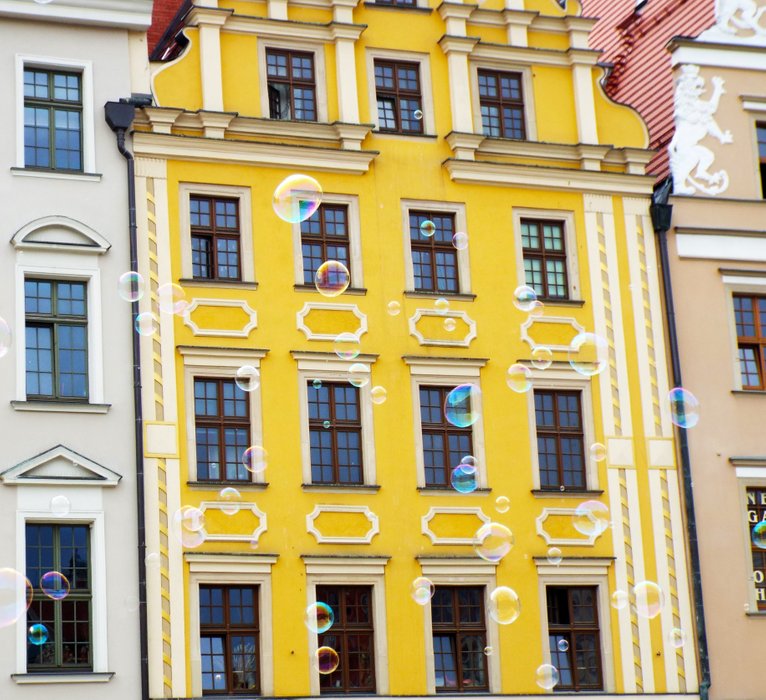 One of the first things I wanted to see in Wroclaw was monument to one of the greatest reformattors in Astronomy and our knowledge of Earth and Universe - Nicolaus Copernicus.
On our way to the square where monument is placed I confirmed my first assumption about this city and the bikes.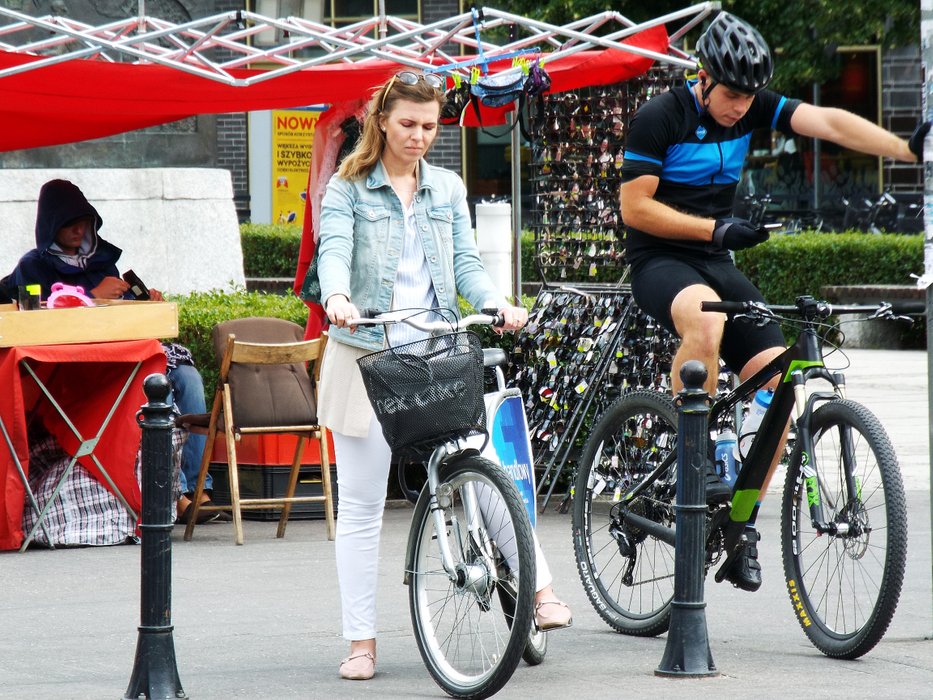 Somehow we reached it from the back and there was no false first sight aweness in our introduction but after closer inspection - I really love this monument - his nose is really standing out just like on every painting, and these marble balls/planets are really cool!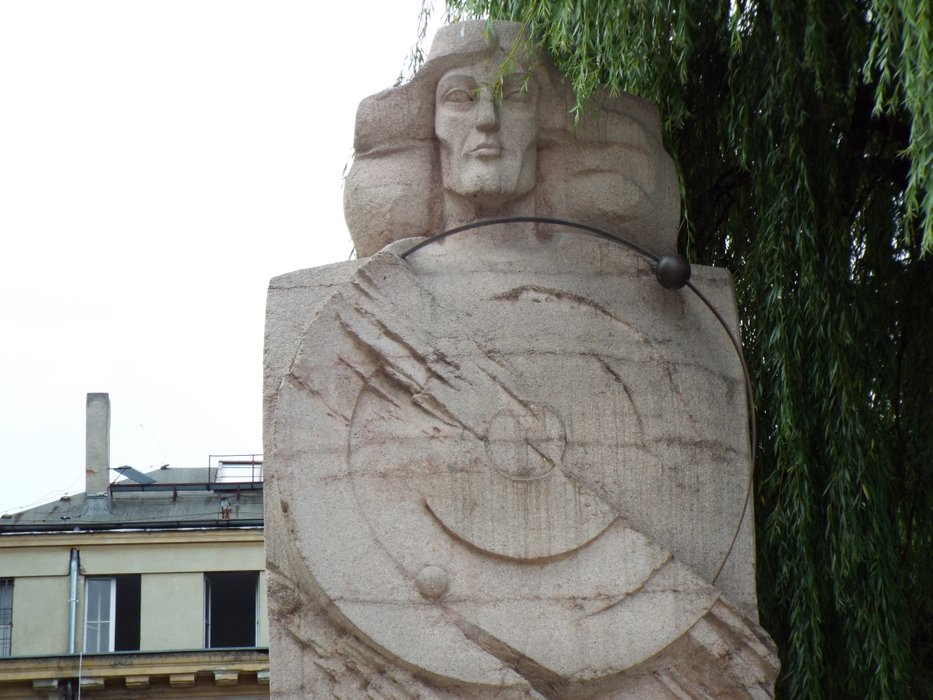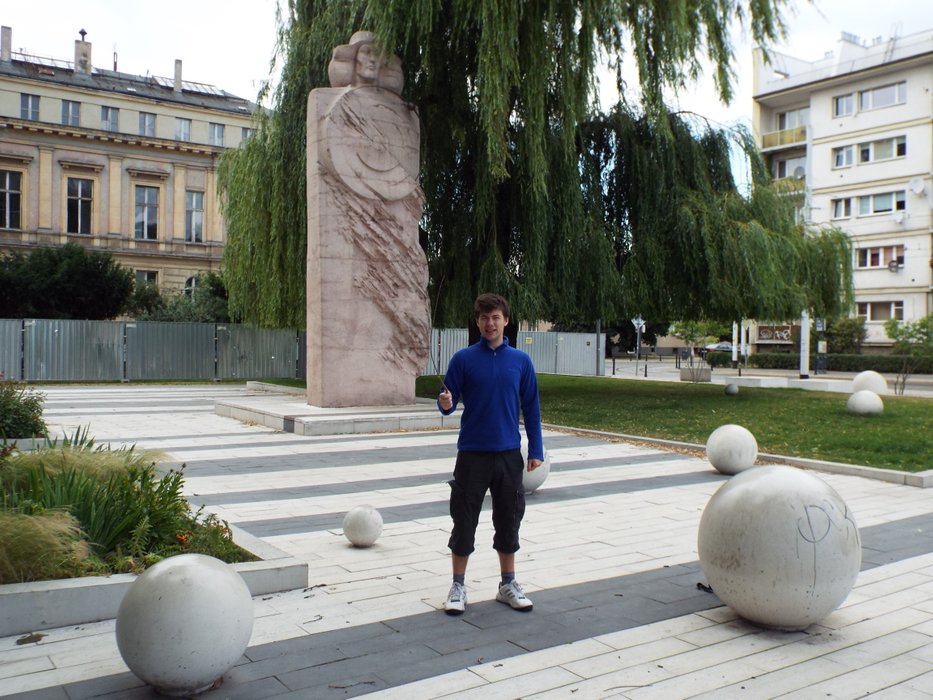 ---
Usually in unkown city I like to zig-zag around and not closely follow the map and rush towards something to see, when everything you see and experience there will be something new and you can take it with you. And with all these dwarfs scattered across the town there is always a great chance to find it somewhere you don't expect it to be. I represent you
Jimmy Hendrix
and
firefighters
- I gave them names to describe how cool they are. I am planing to post few other posts solely for dwarfs and some cool street art and the other part of discovering this comfy town.
---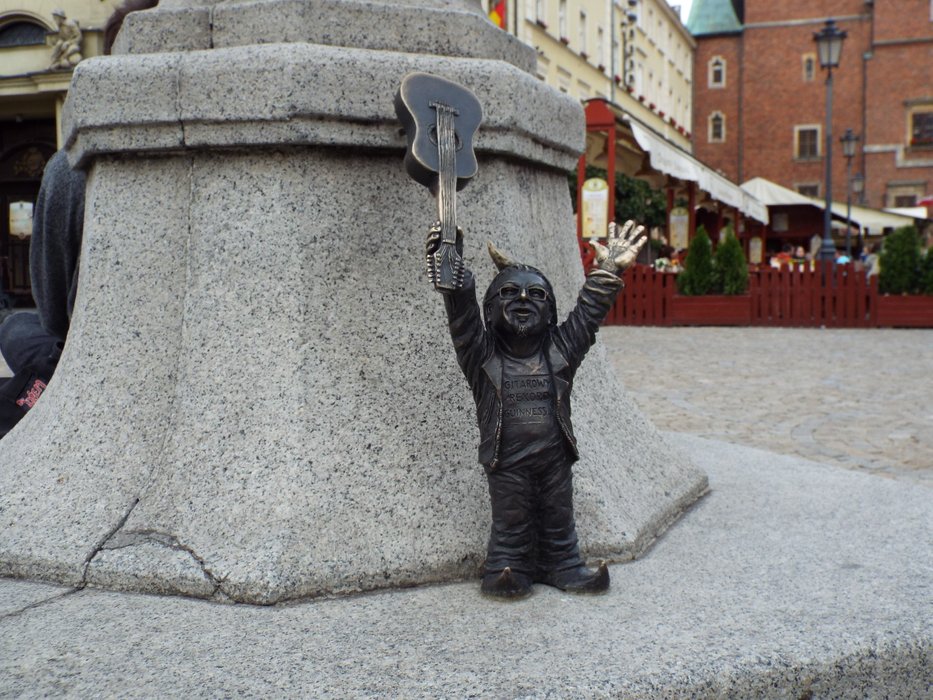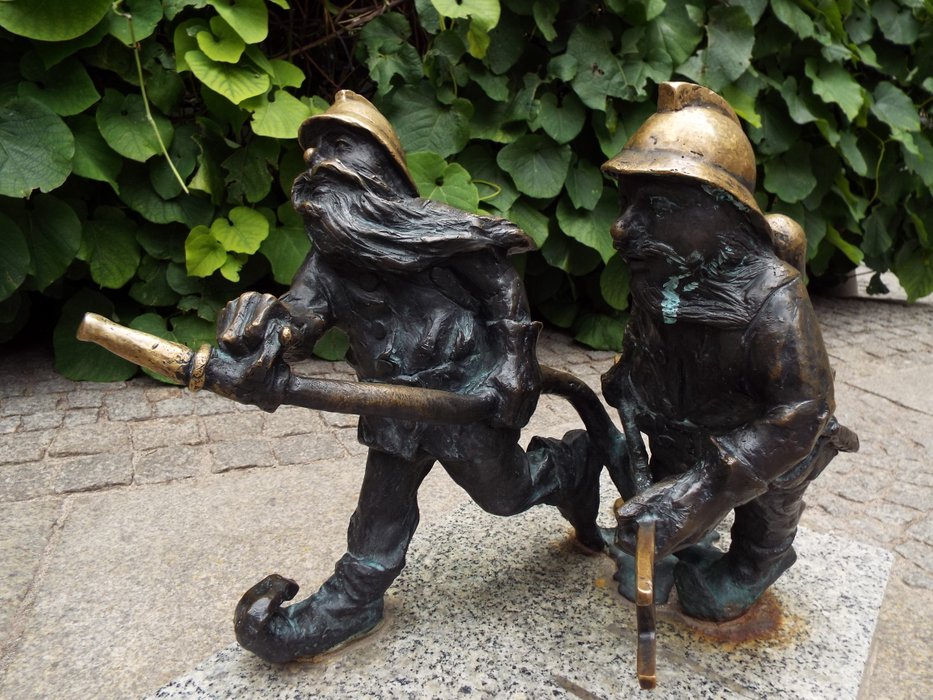 ---
Speaking of street art here is one of the most popular, while googling about Wroclaw it came out - so I will save you time and out it here. The mural is one of a kind - with it in the air you can hardly recognize that it is residential building.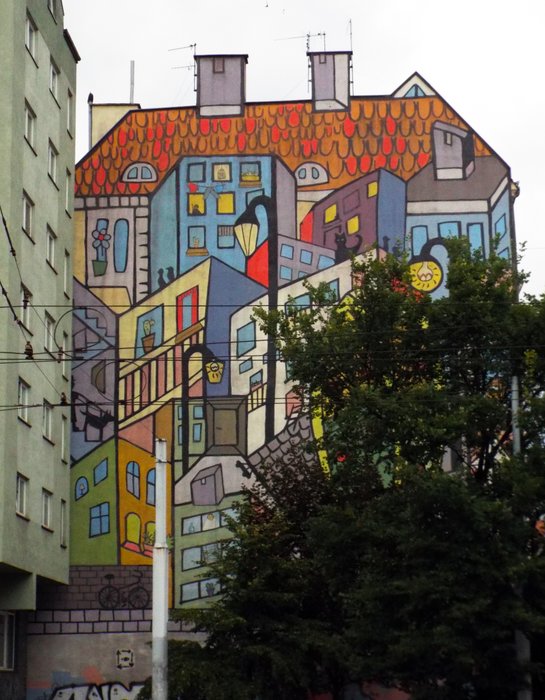 ---
Later we came close to the island part and saw one of the gems of Wrocloaw - beautiful from this distance.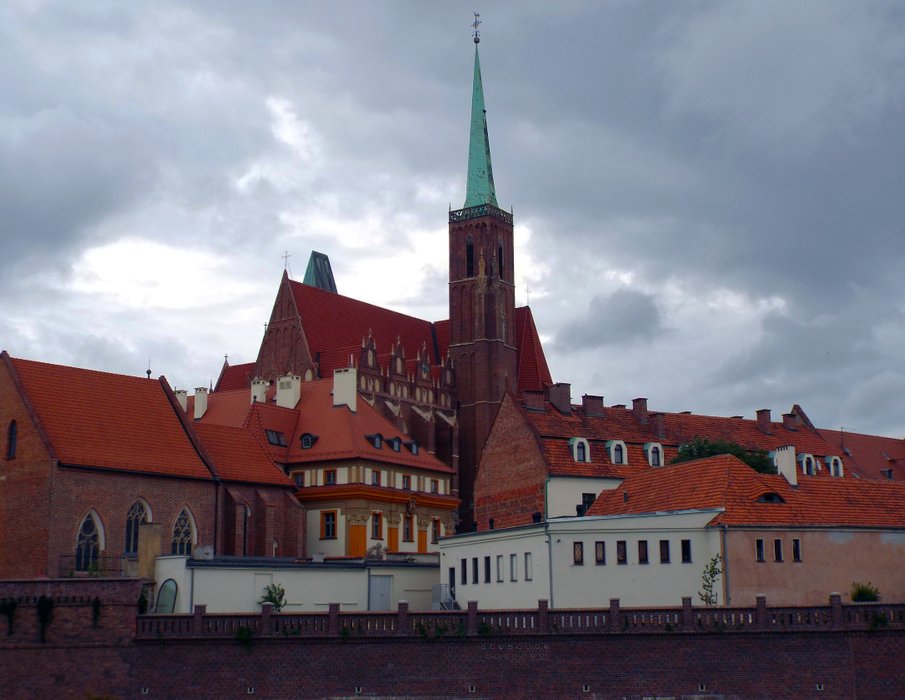 Another pleasant walk to it, and road wasn't bad either.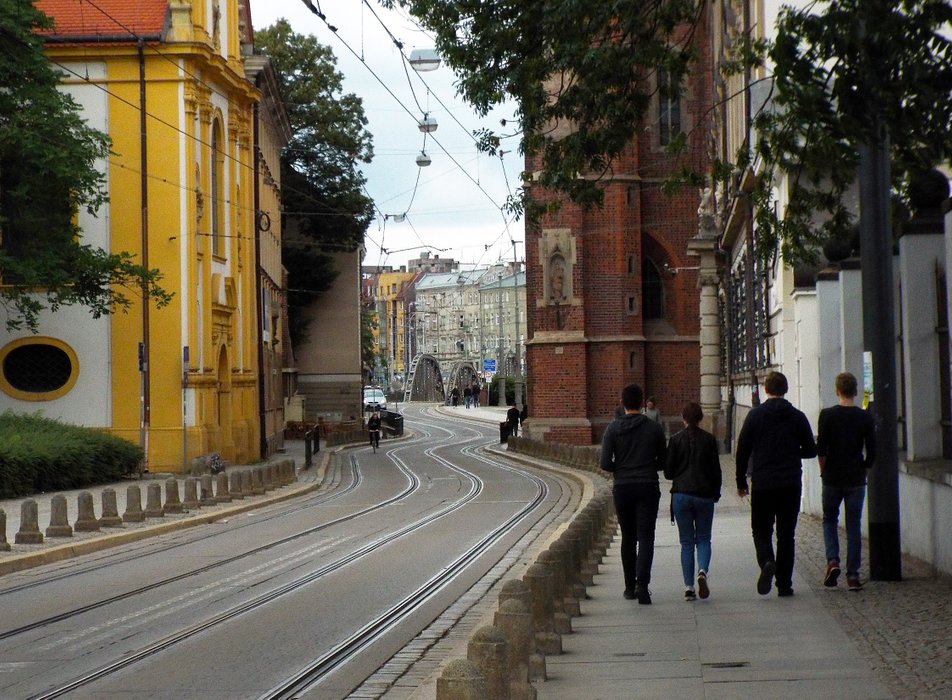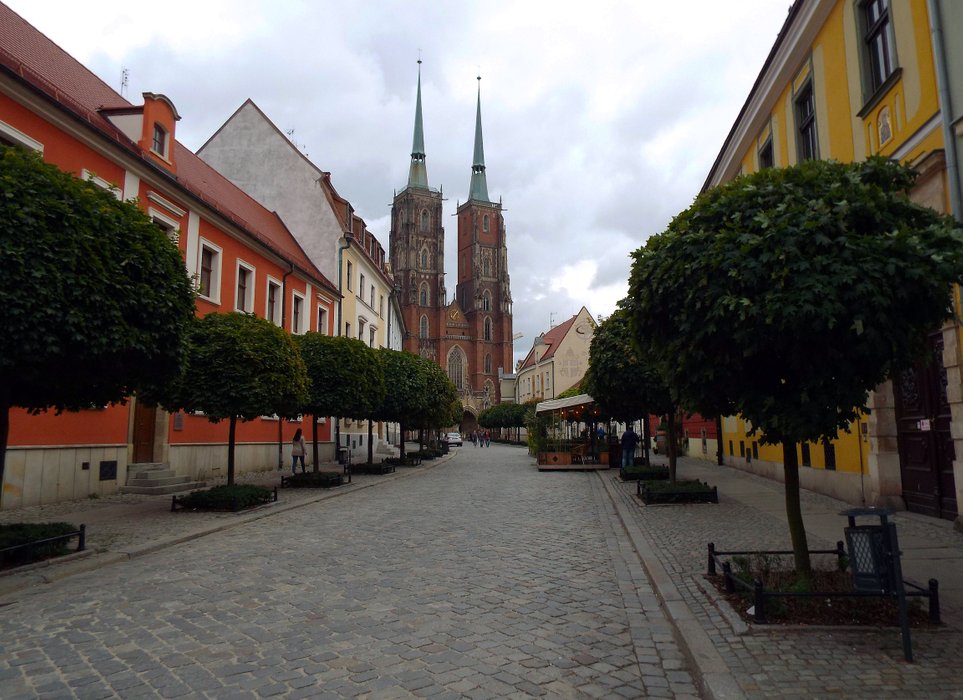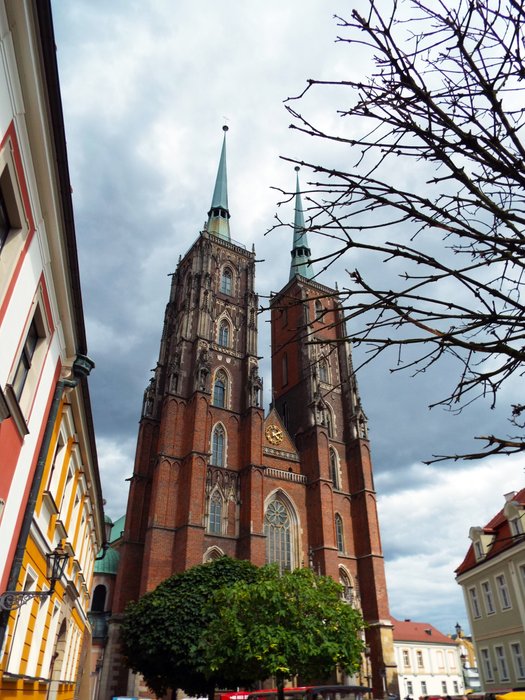 ---
Back to the old town center, it was really alive at this time of day. with an old man really kicking the sax!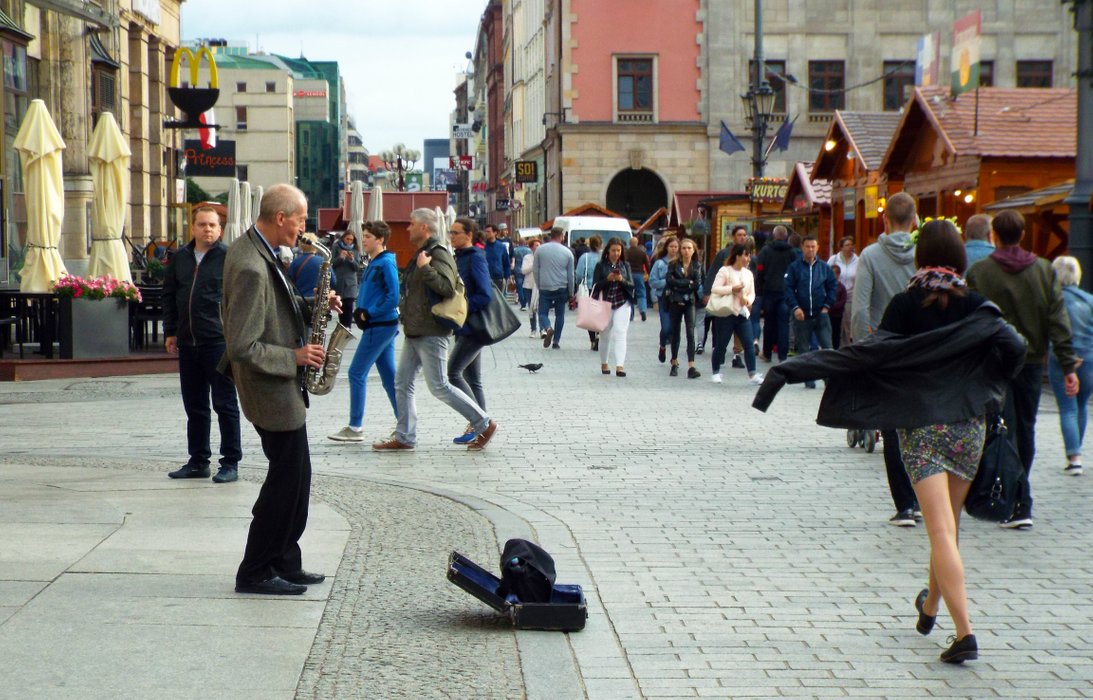 And as we all know when there is some nice music there is always a dance. Well, these cheerful people didn't dance to saxophone but to some beautiful Latin melody.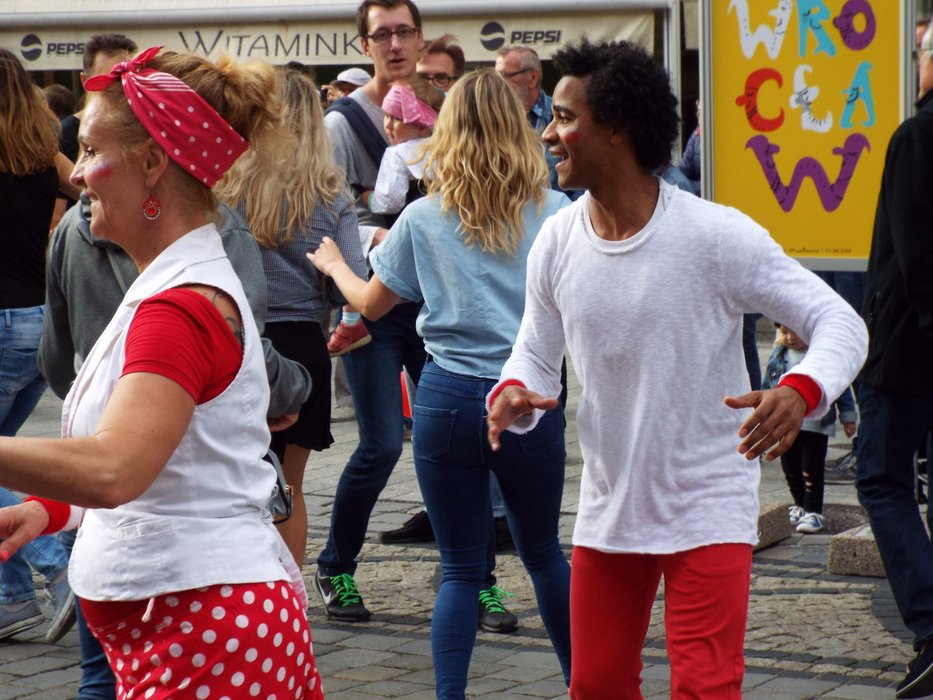 And this guy with the baby was changing his partners really frequently - guess it was part of the dance but it looked hilarious.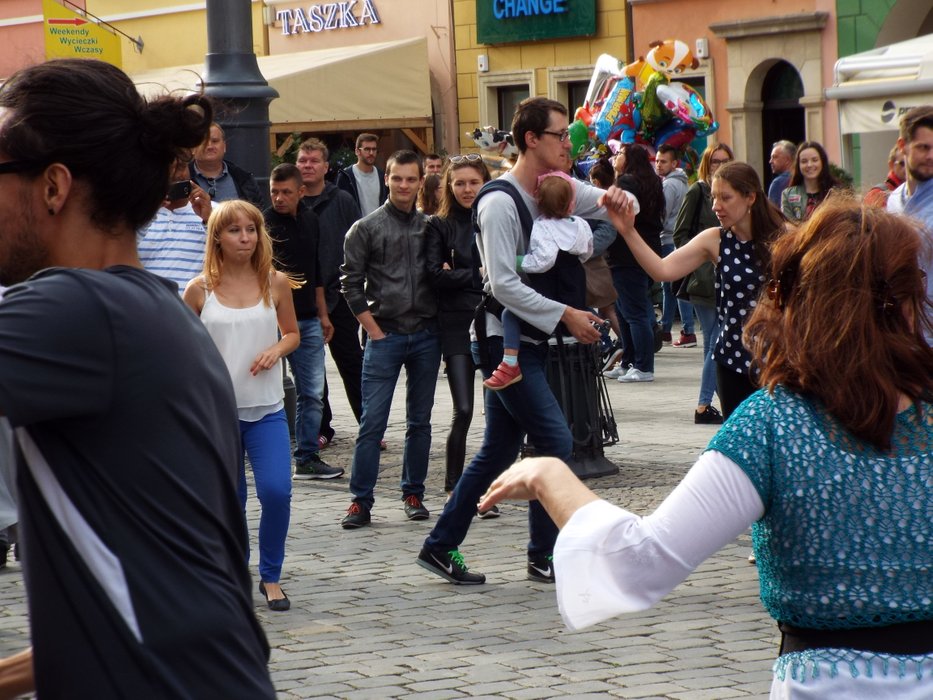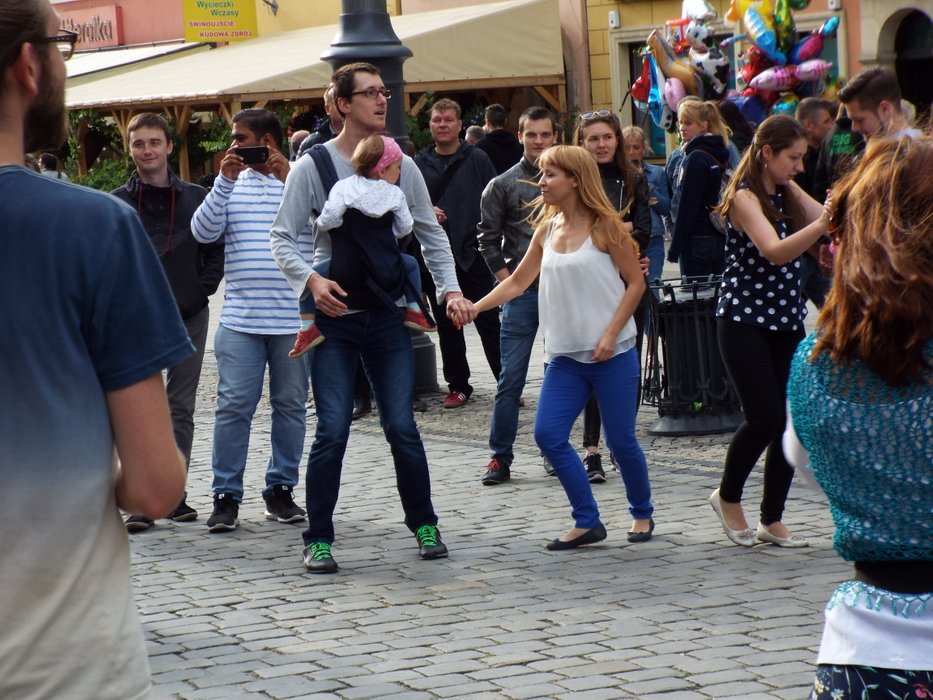 ---
Well for the end of first part of series of posts about Wroclaw here is a final photo of the old town.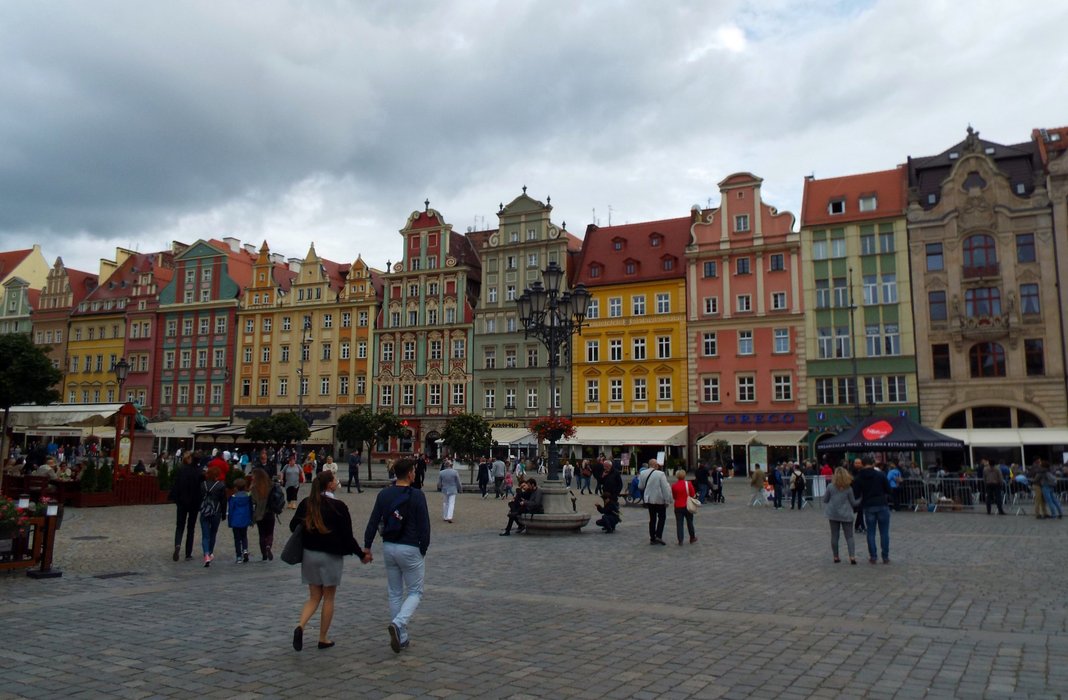 Long days and pleasant nights until next post.
---