Following the story of my trip to Japan in the Osaka and Kyoto region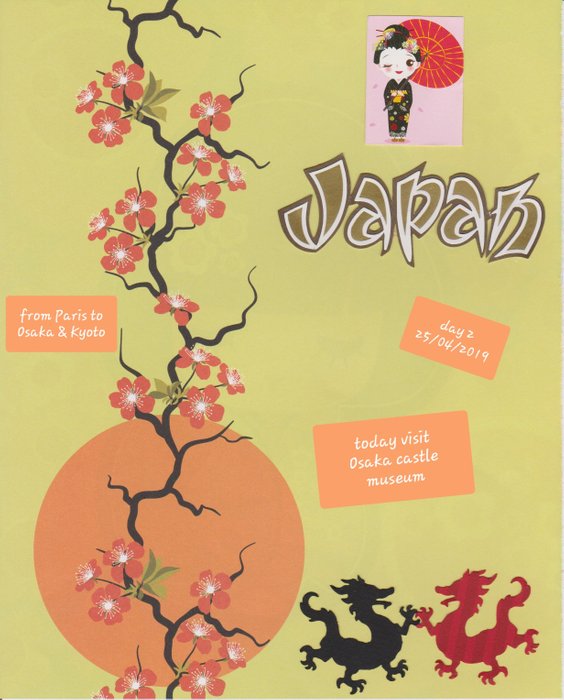 April 25, 2019 at 11am (you will see in the story why I specify the time)
Our program of the day : the visit of Osaka Castle. It is 5 km from our rental in the Namba district. We have the choice between public transport in 35 minutes or walking in 1 hour. We opt for the walk that will allow us to discover the city.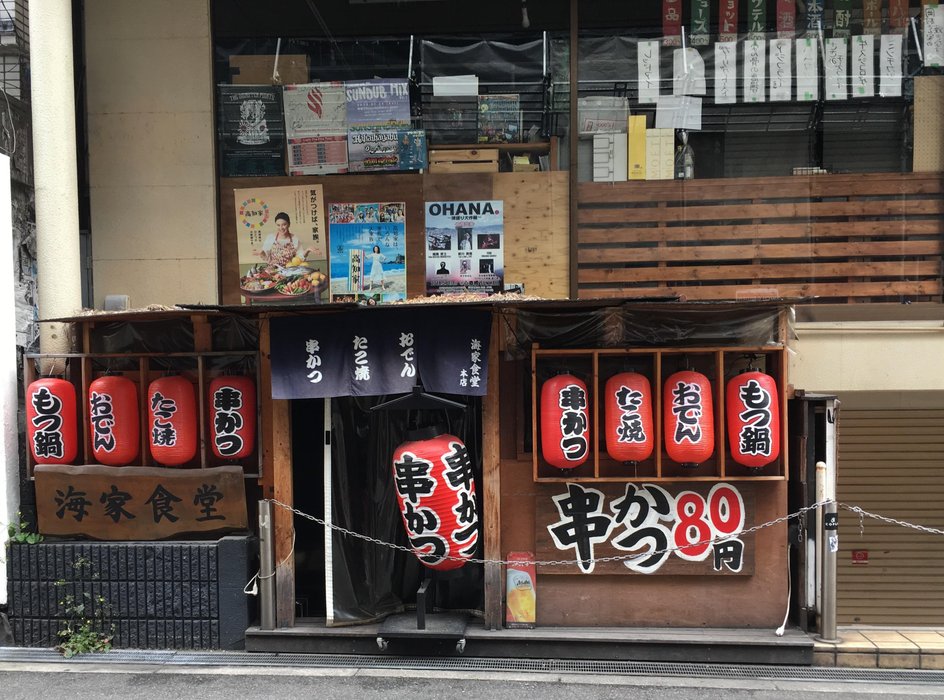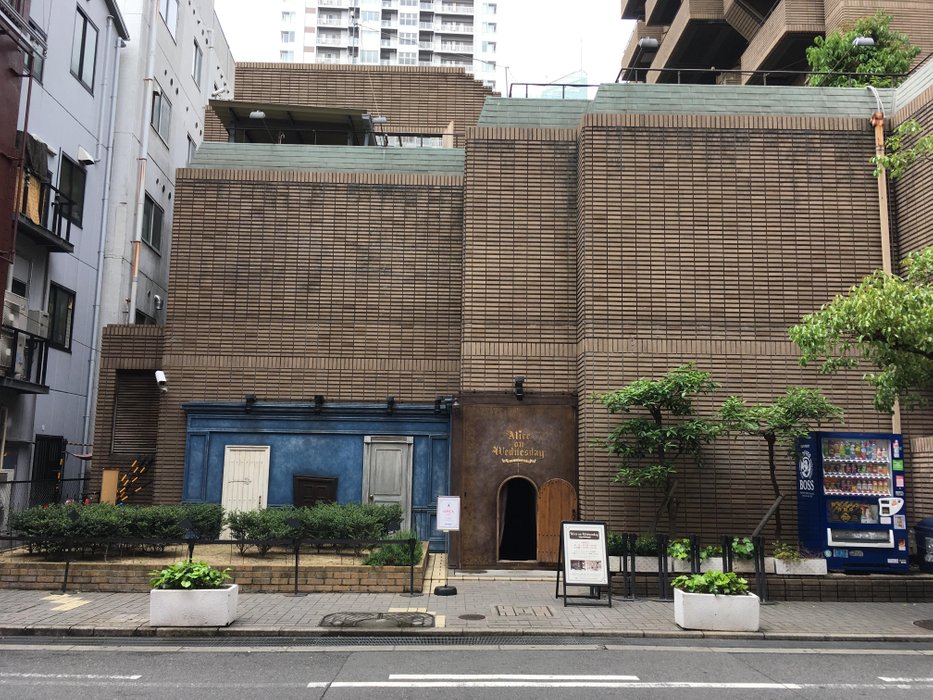 Alice on Wednesday
: On our way, in Shinsaibashi Street, a mischievous wink on the facade of this building, nestled between two small buildings. As in the tale, the front door is very small, but there is no need to drink the potion to get in. All you have to do is keep your head down. Inside, "Alice on Wednesday" is a boutique entirely dedicated to Alice in Wonderland.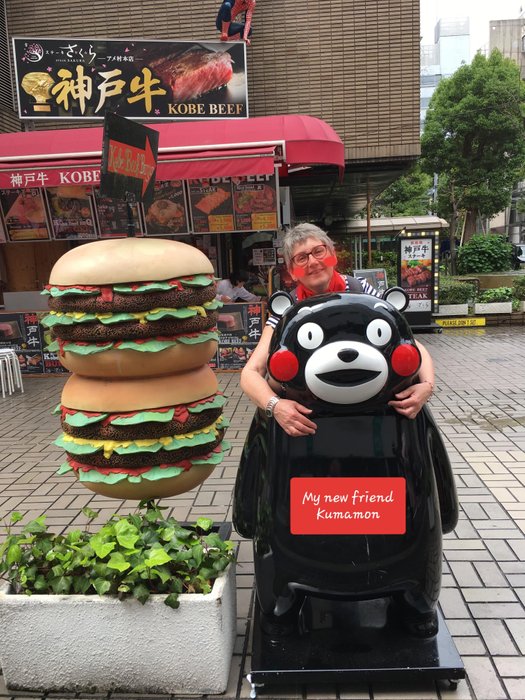 I crossed the road to
Kumamon
, a little mascot bear from Kyushu Island in Japan. To attract Japanese tourists, this year
Kumamon
was invited to Brittany, France.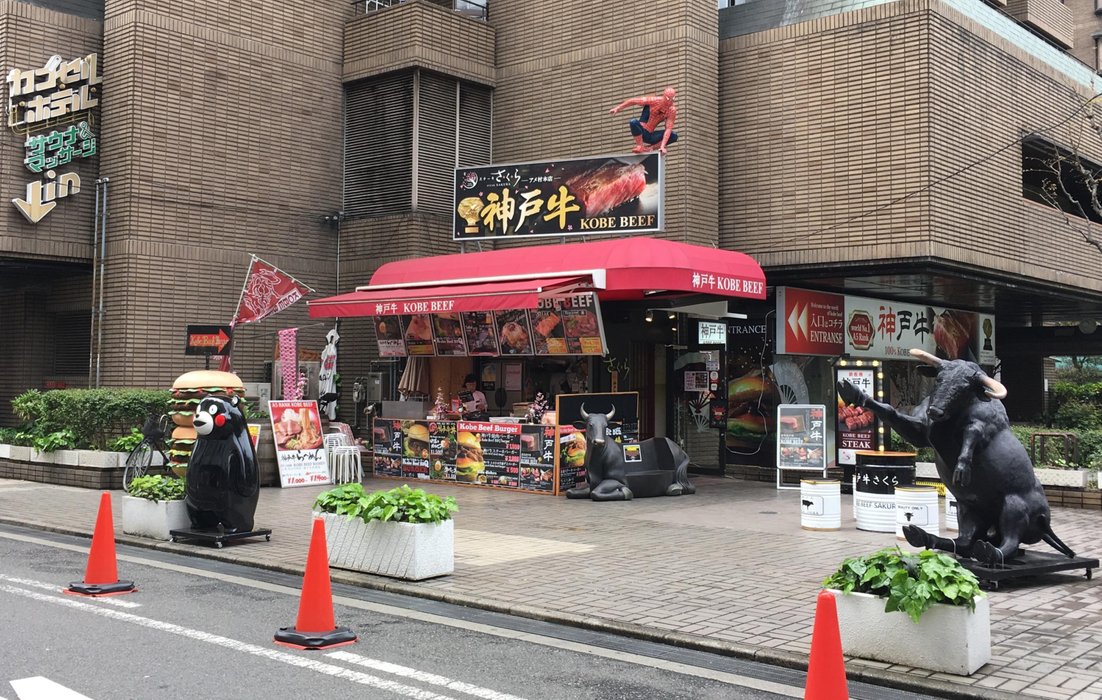 Here, but what's Spiderman doing up there? Would it be to protect my new friend
Kumamon
in case of a beef attack?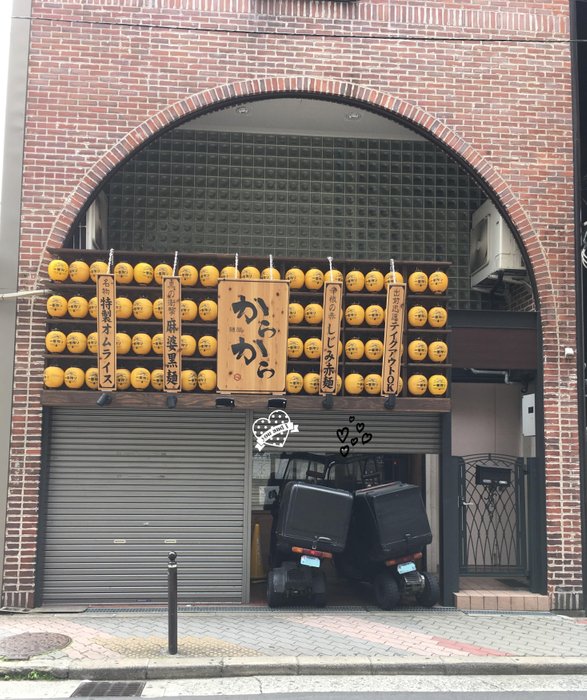 Would they be making a "scooter hug"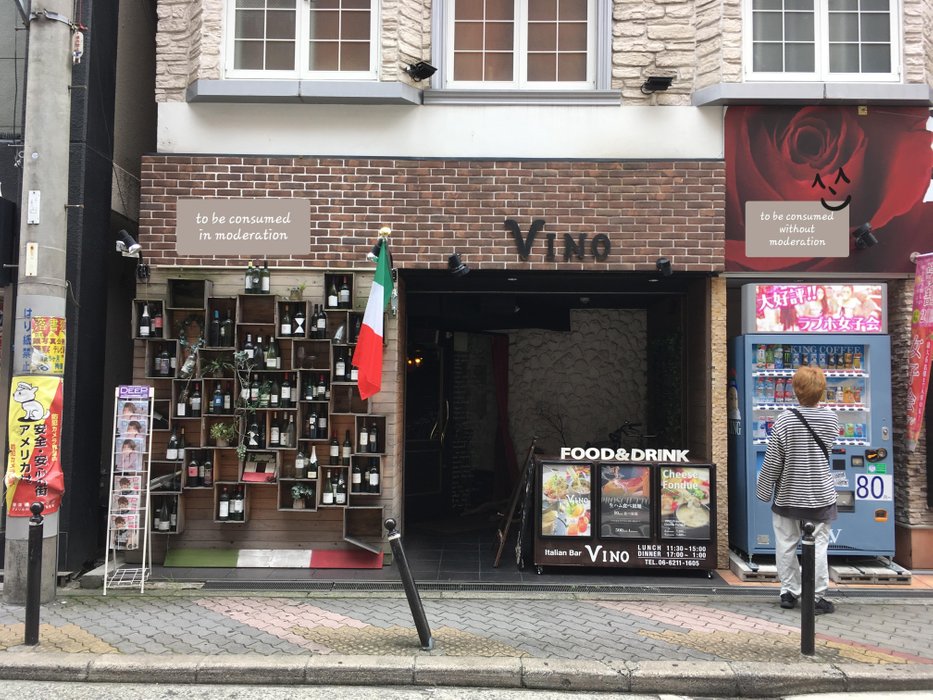 Let's be reasonable, no more than a glass of wine, but let's know how to taste it with pleasure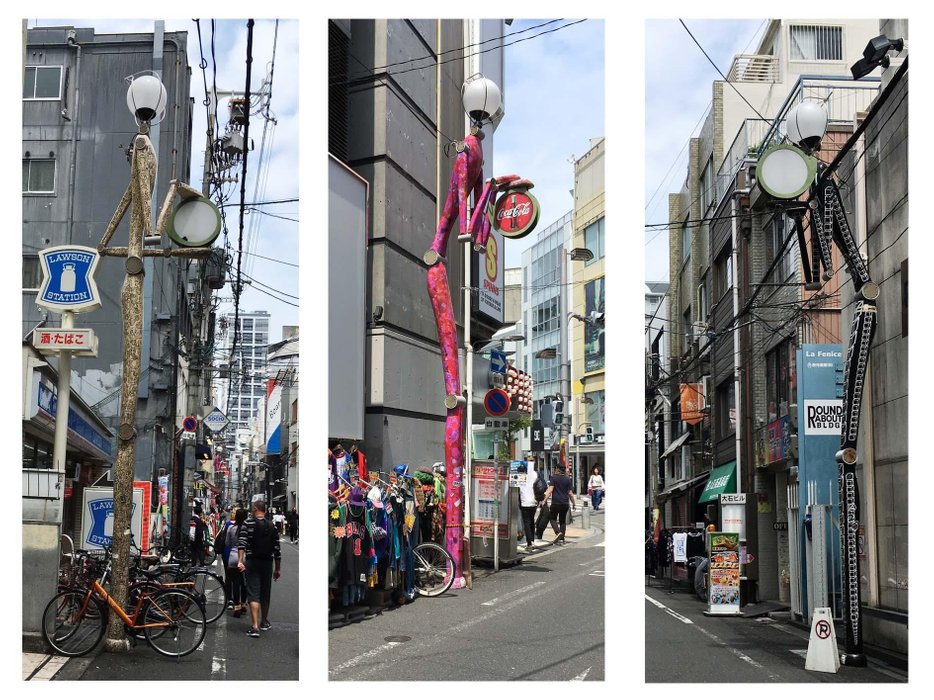 New small collection of streetlights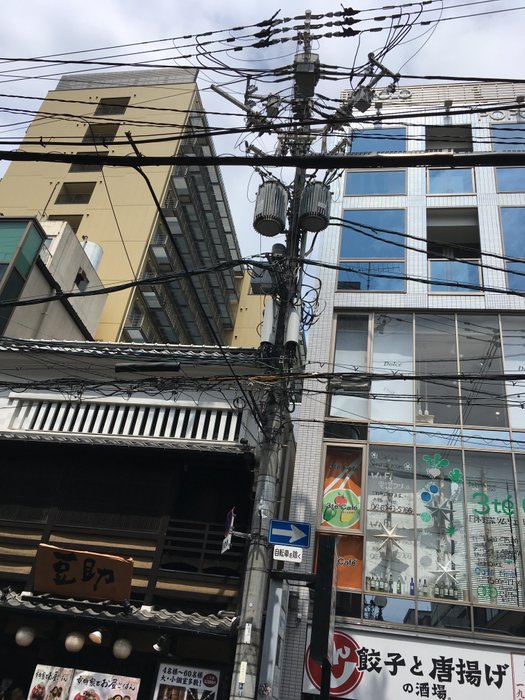 In principle, we avoid photographing power poles, we look for the angle of the photo where we will see them the least. Well, I made the choice not to ignore them. They are very present in Japan, why hide them. Like the streetlights, I photographed this one because I find that with all its wires connected it has an interesting design.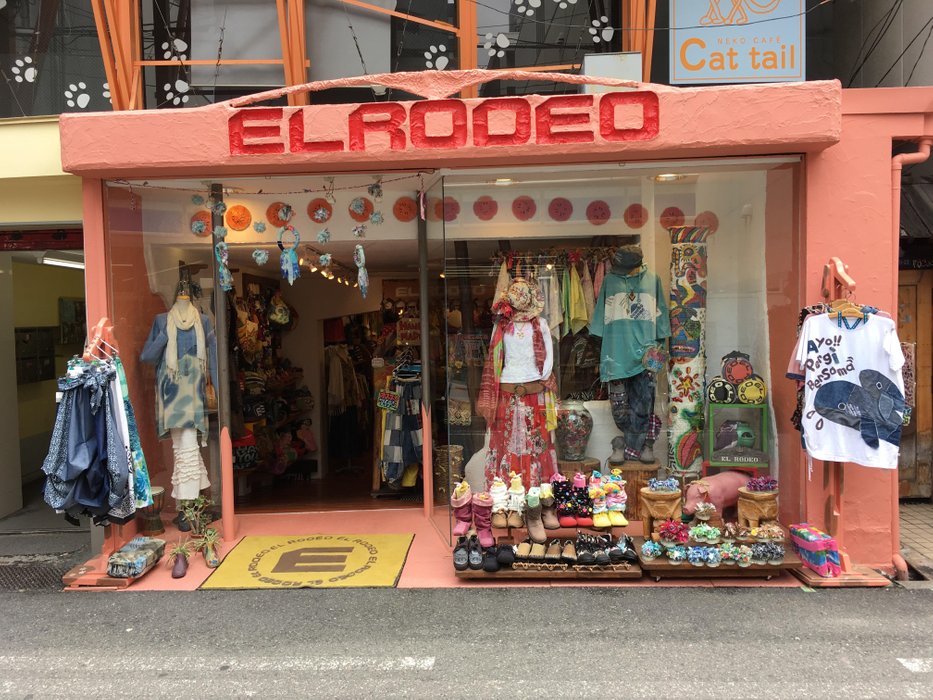 In this shop window, it was the clogs recycled into flowerpots that attracted my objective.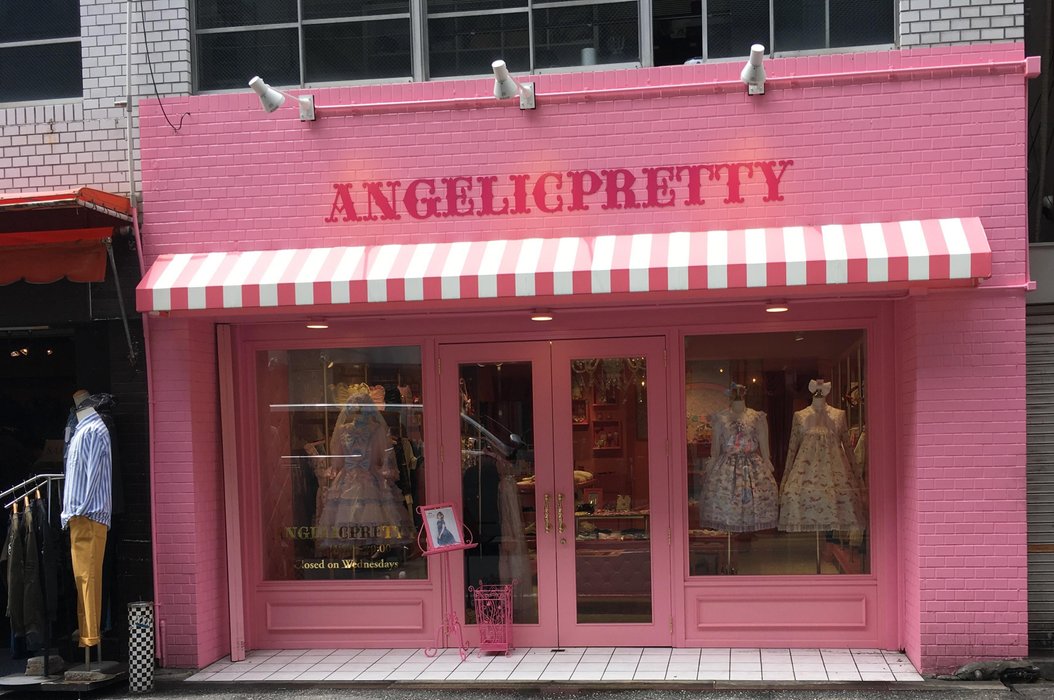 A stop for all fans of Japanese fashion clothing Lolita. This outfit is much more visible in Tokyo than in the streets of Osaka.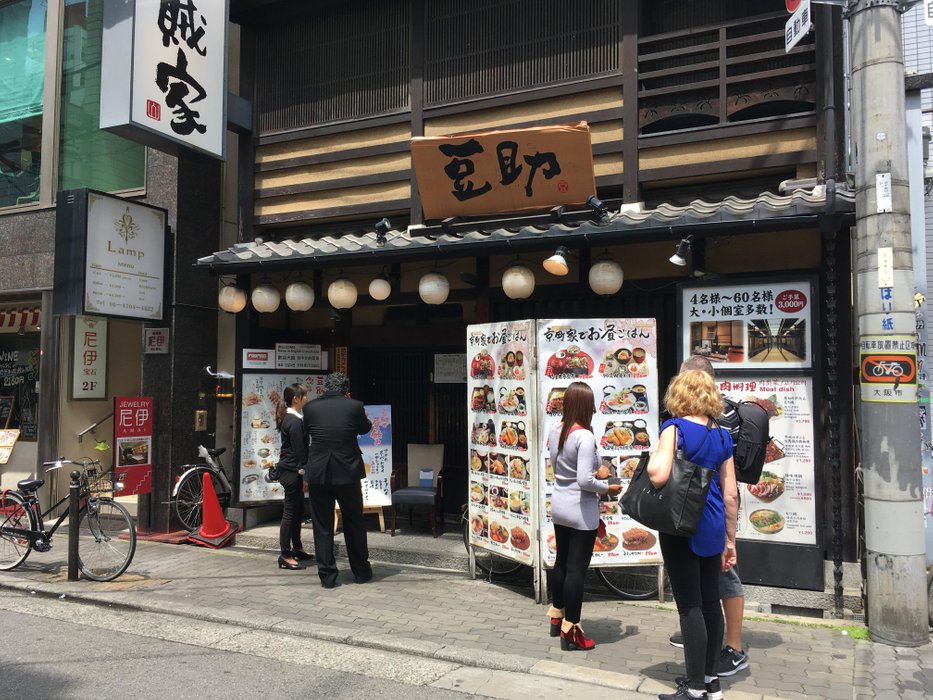 It's time to regain your strength. The pictures of the dishes help us to choose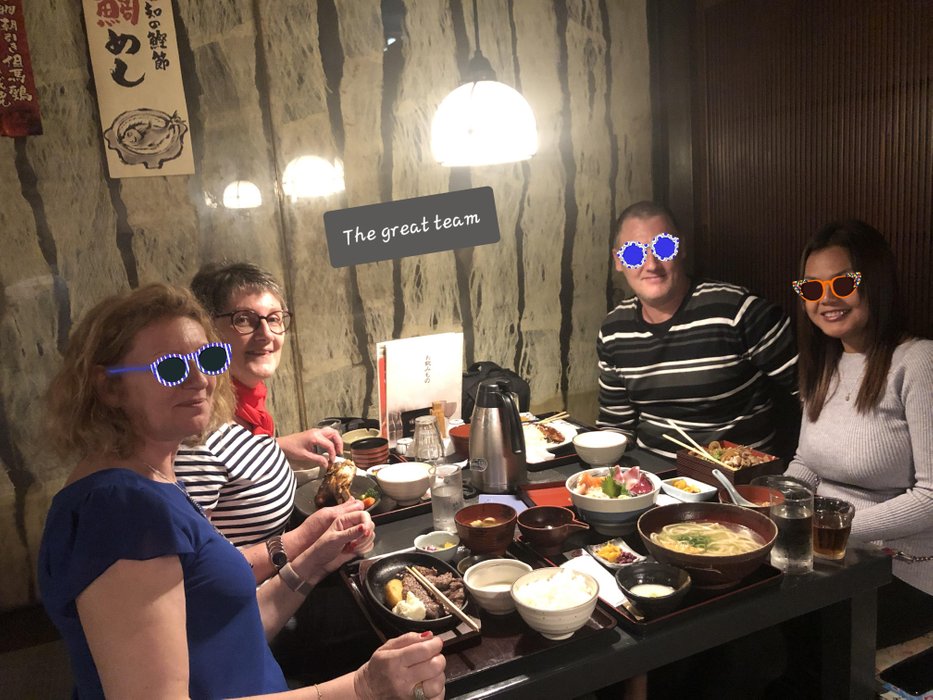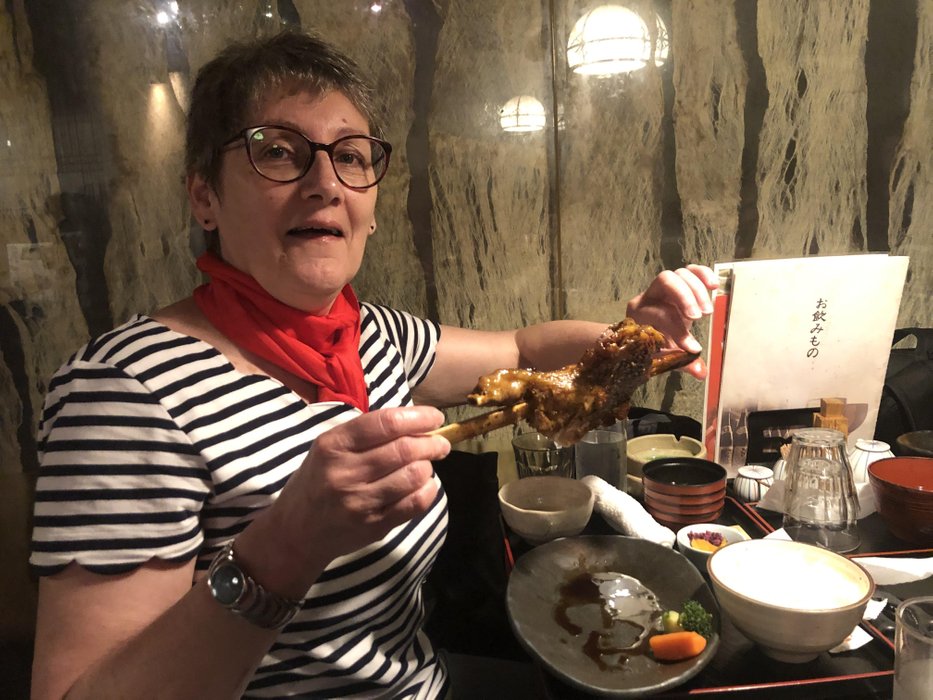 For me, the chopsticks for catching food are inside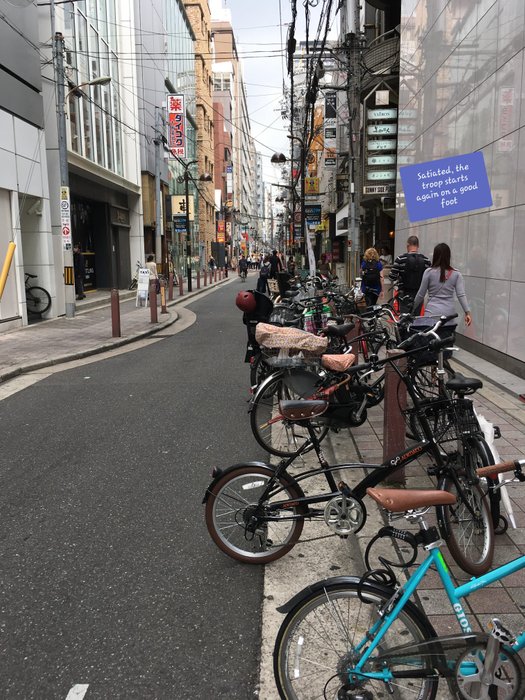 It's time to take the path to the castle again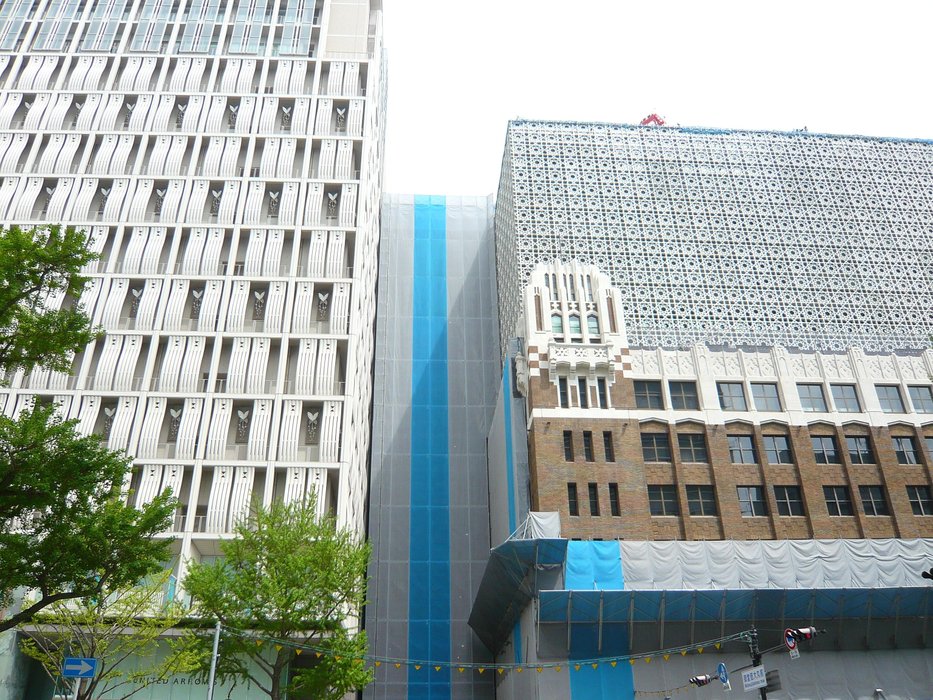 Three architectures in a single photo.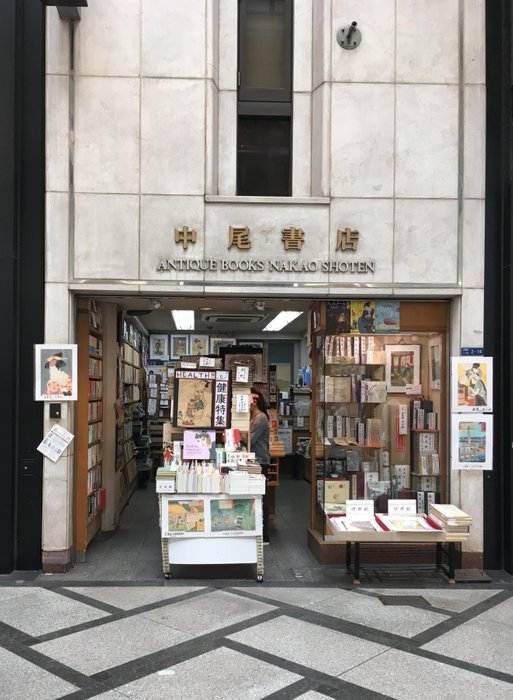 If you are looking for an old and rare Japanese or Chinese book, you will surely find your happiness in this bookstore. It is located in the shopping mall, called Shinsaibashi-suji shopping street.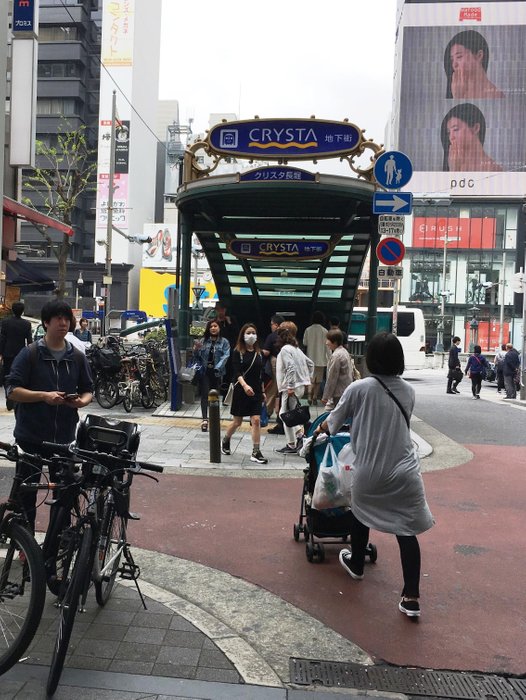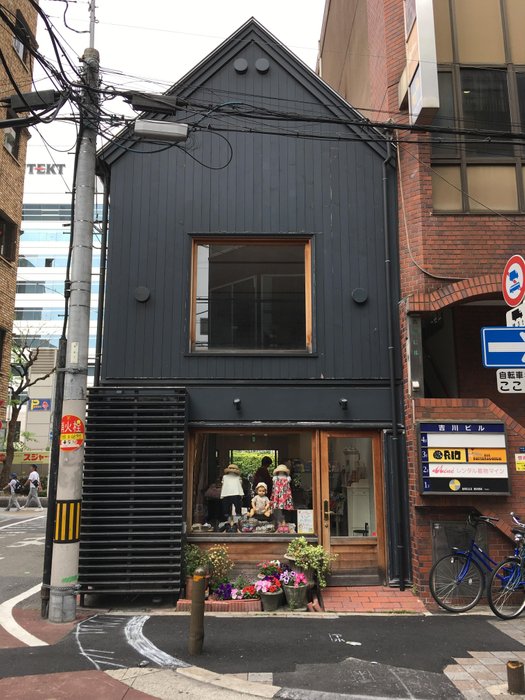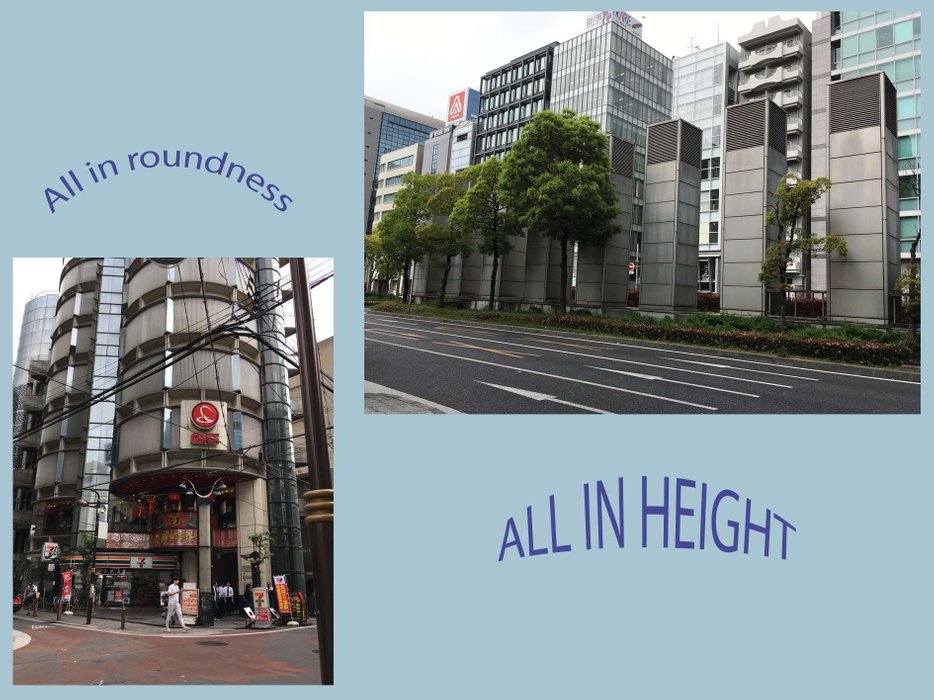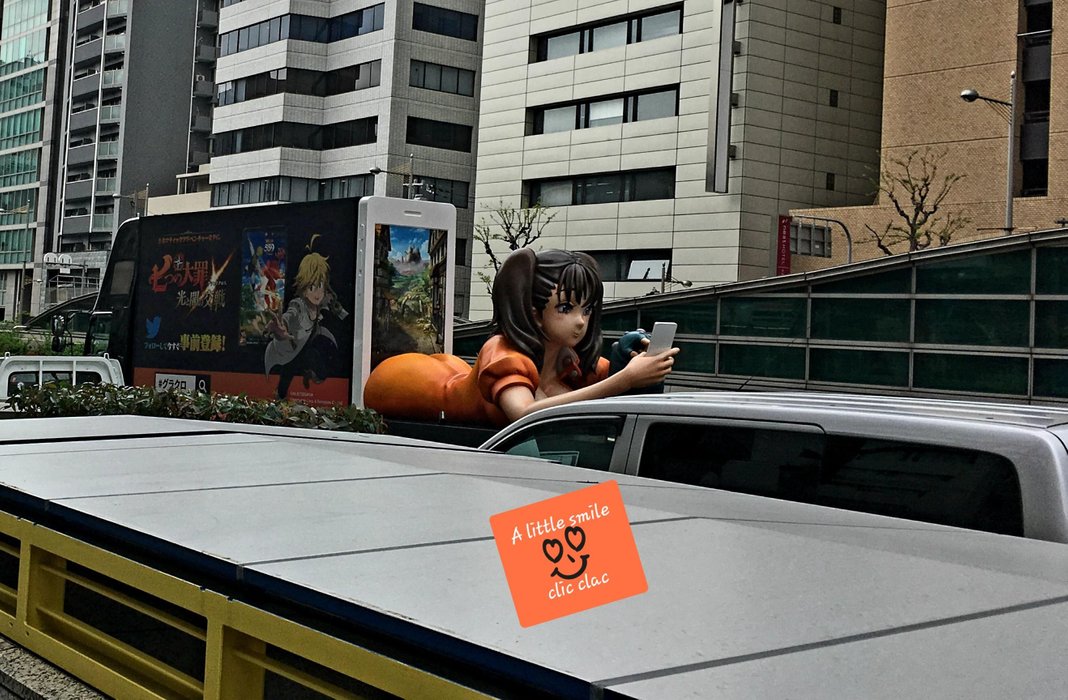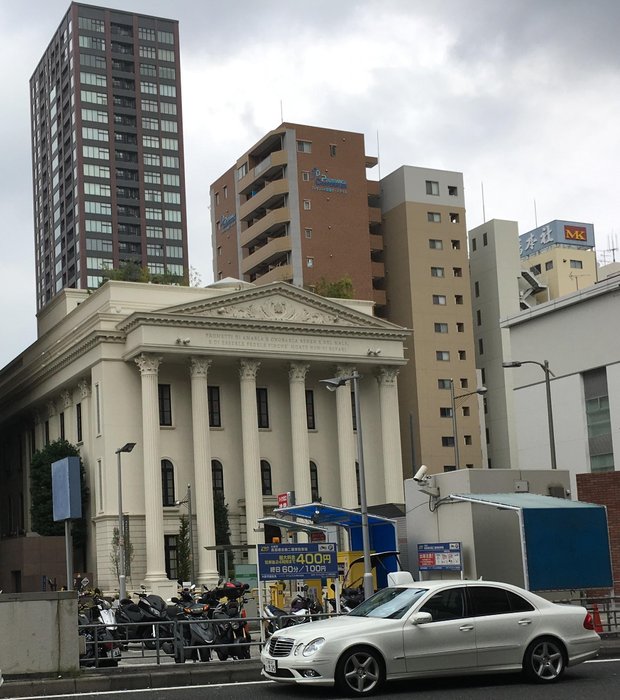 The architecture of this building may look like a courtroom. The inscription on its pediment can remind us of a church "promise to love and honor it good and evil, and to be faithful to it until death". I didn't find out exactly what this building was.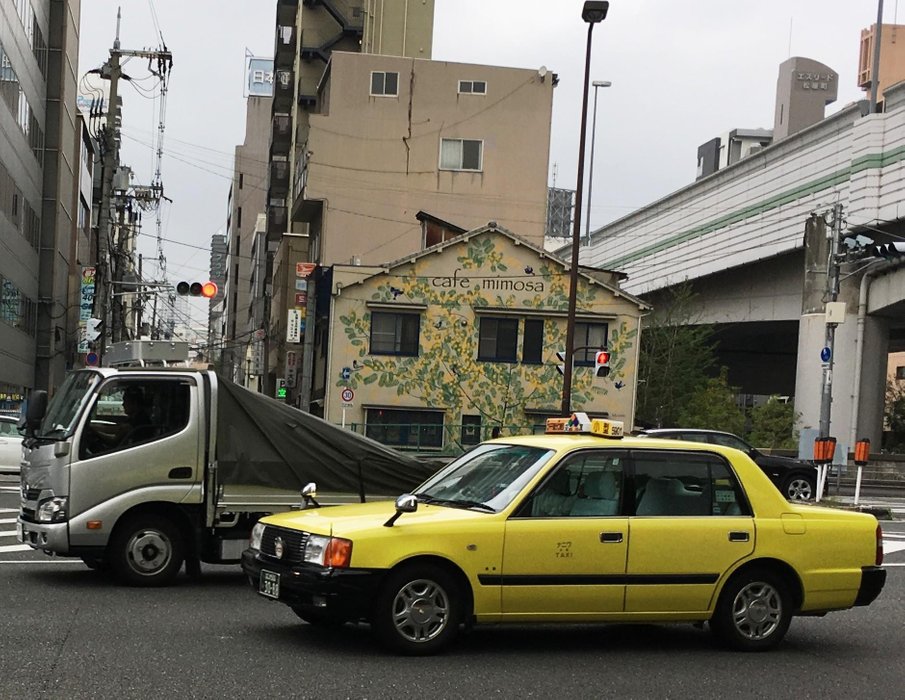 It's a nice coincidence that this yellow taxi that passes right in front of the cafe mimosa, with yellow flowers, as I take the picture.I have just discovered on the Internet that this restaurant "Cafe Mimosa" with its retro interior, warm atmosphere and reputation for delicious homemade cakes would be closed since the end of May 2019.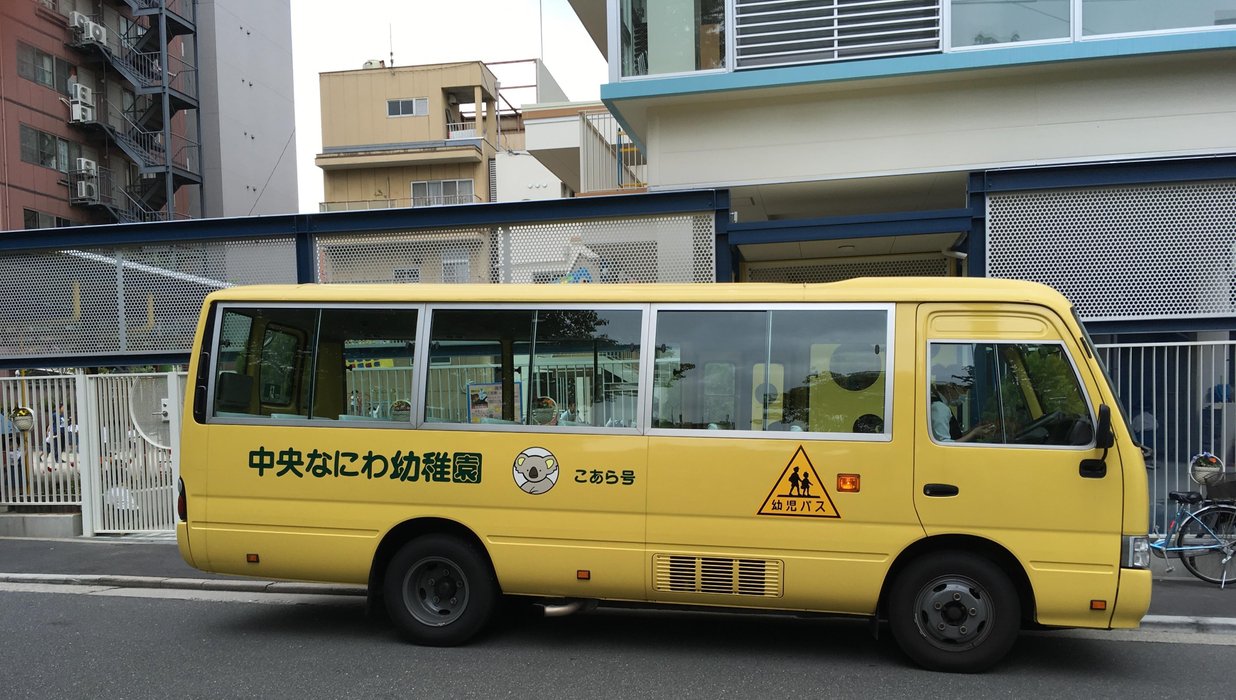 It's a wink to my granddaughter Elia who is a fan of the Canadian yellow school buses.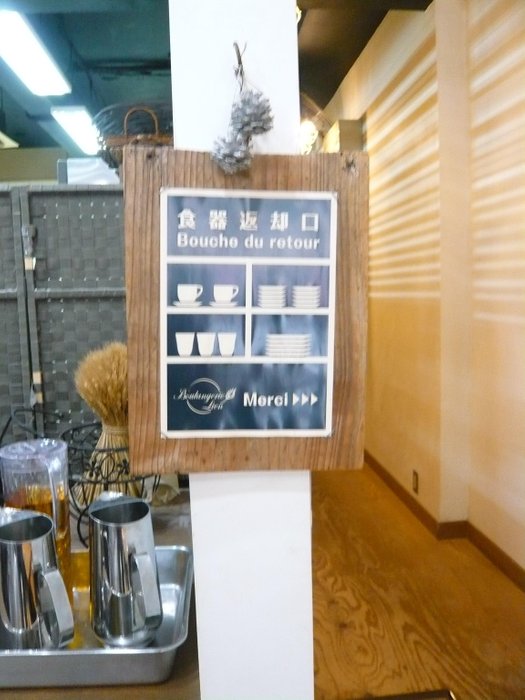 the picture is blurry but I found the expression is funny.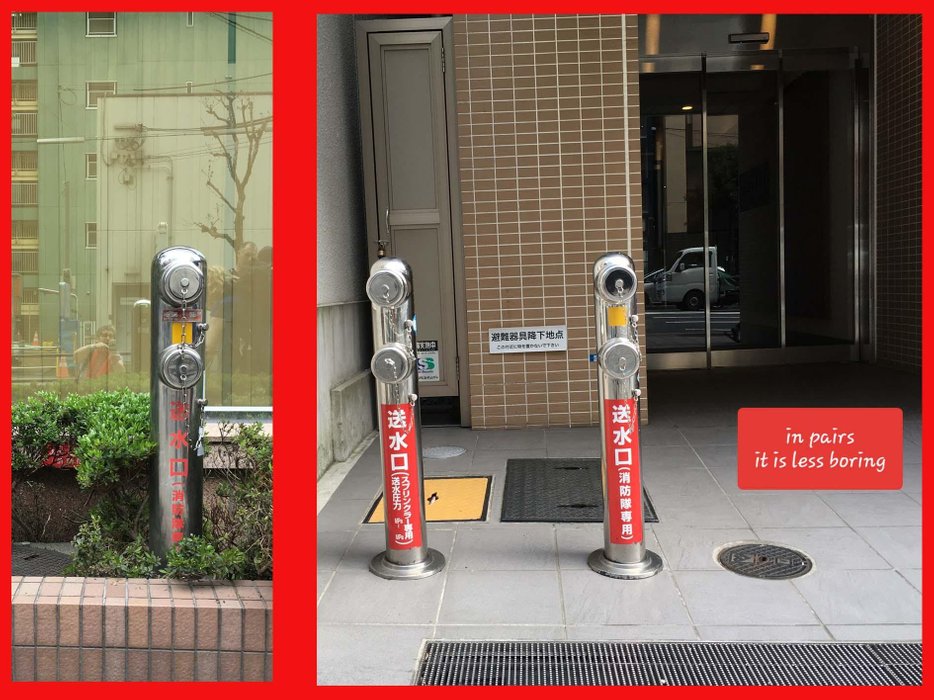 It's a wink to
@ofildutemps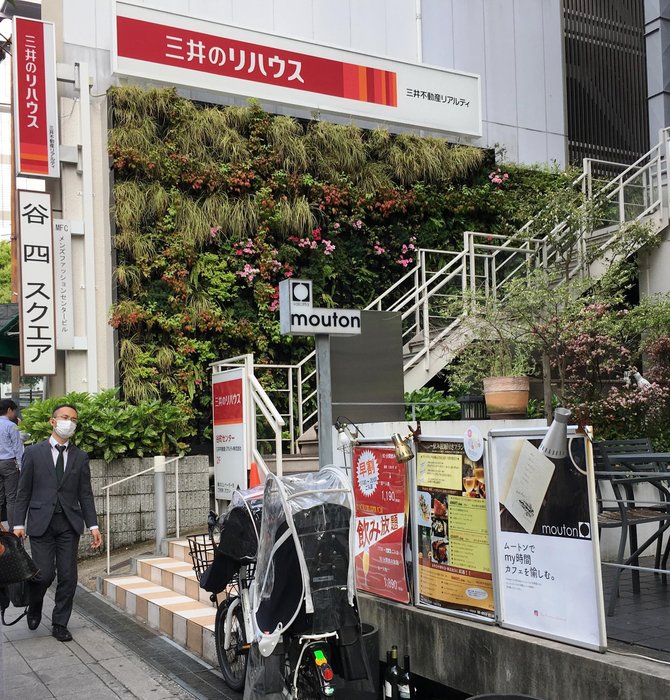 A beautiful plant realization on a small piece of wall.
It is 3pm and here we are finally arrived at Osaka Castle. The journey was supposed to take a "1 hour" walk. We put four of them in! This was without counting all the "photo" stops for which I am somewhat responsible and the lunch break. But at least, I have a lot of pictures to share with you.
Before accessing the castle, there is a nice walk in the park.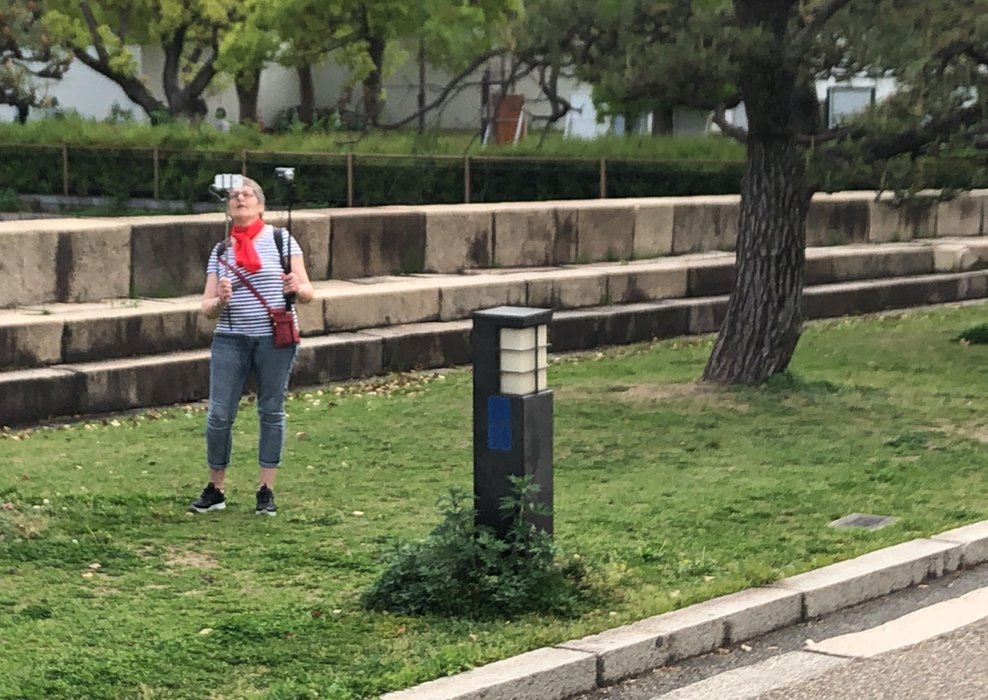 A pole for my Iphone SE, a pole for my Panasonic Lumix camera, and eyes in the middle, I think I'm well equipped.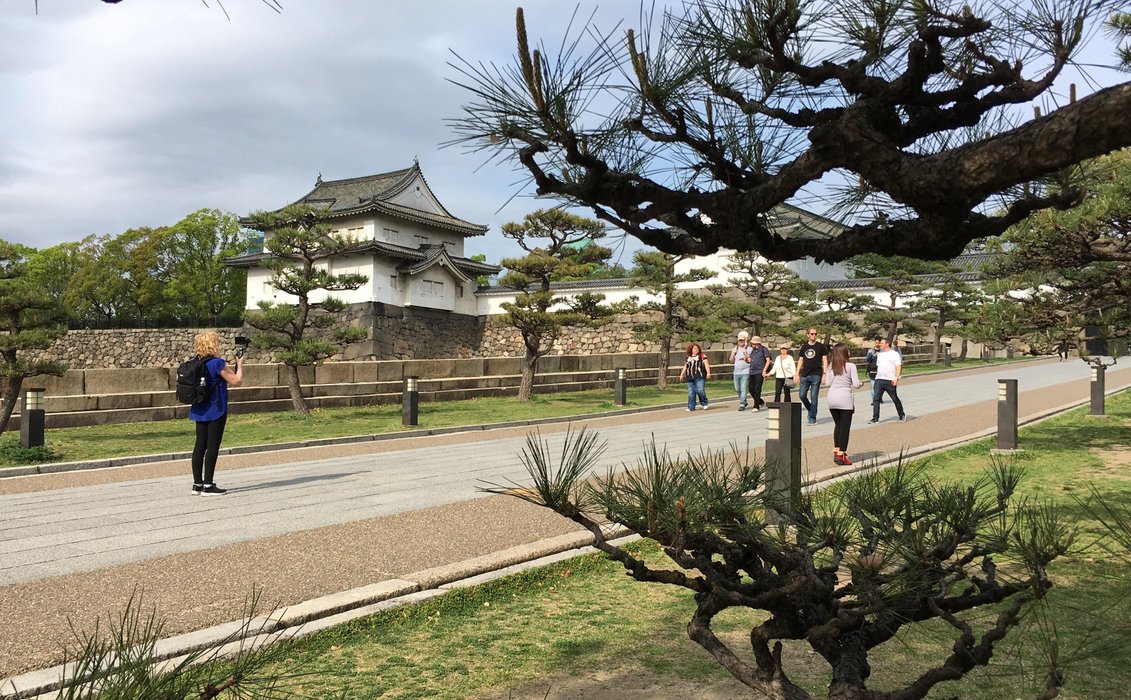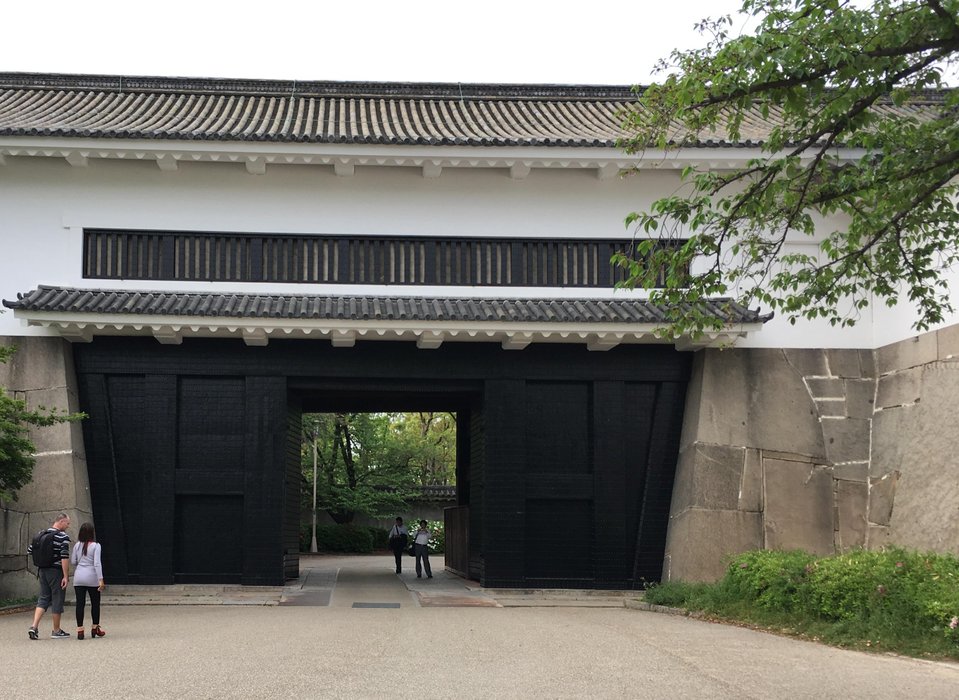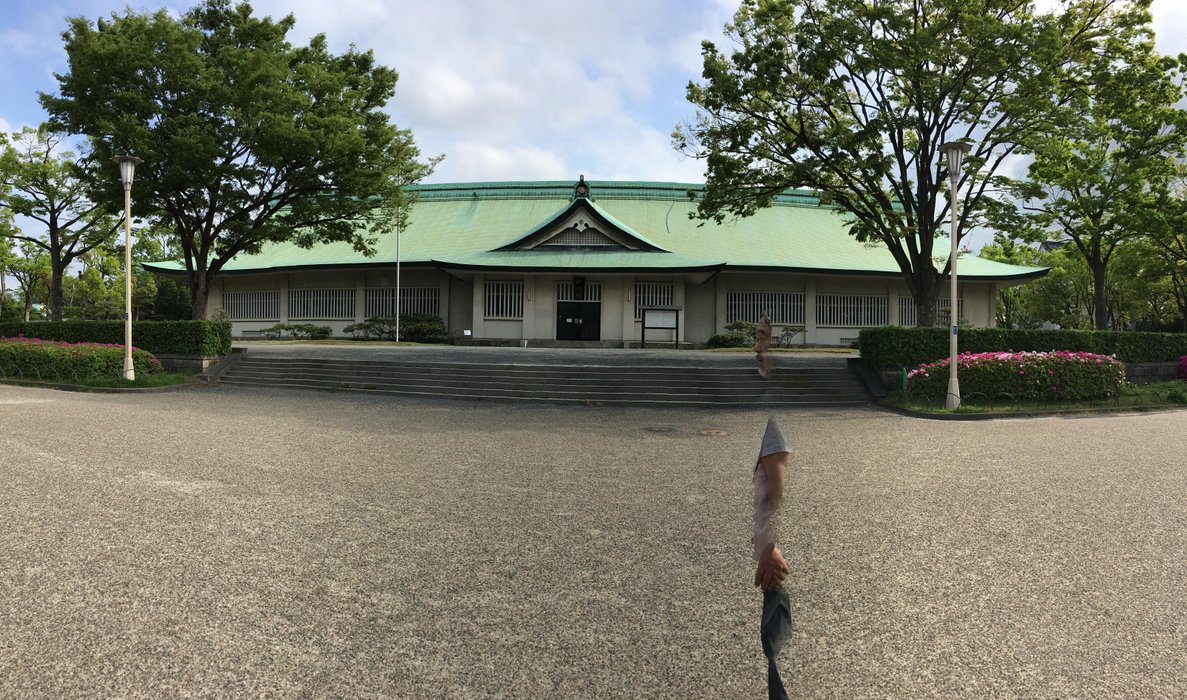 haha, the effects of a panoramic photo with an iPhone when someone passes in front of it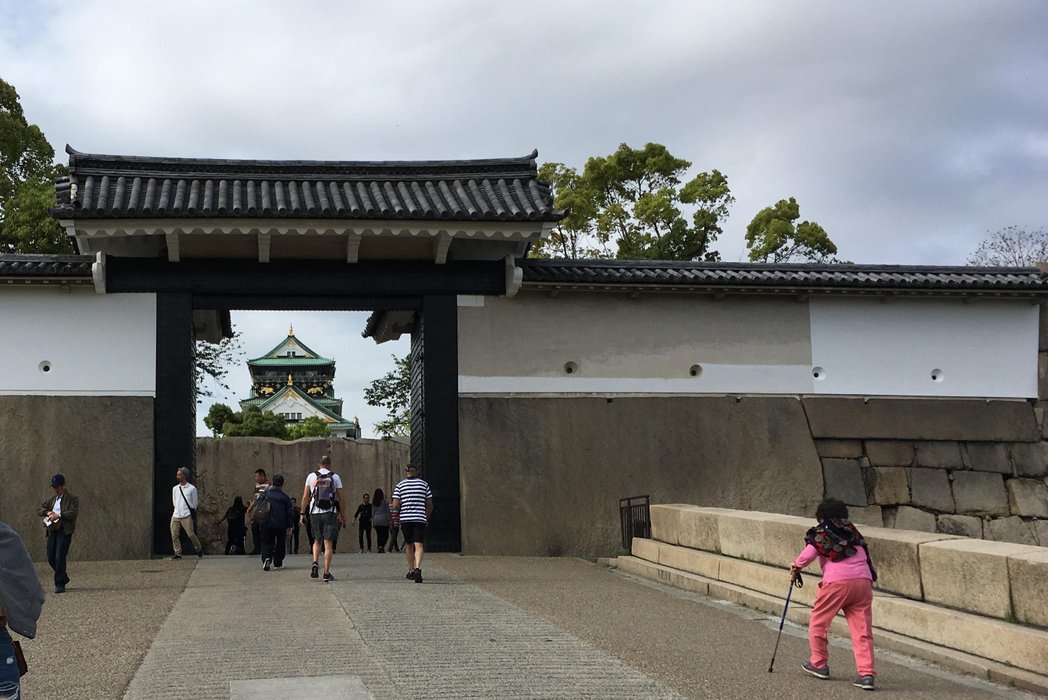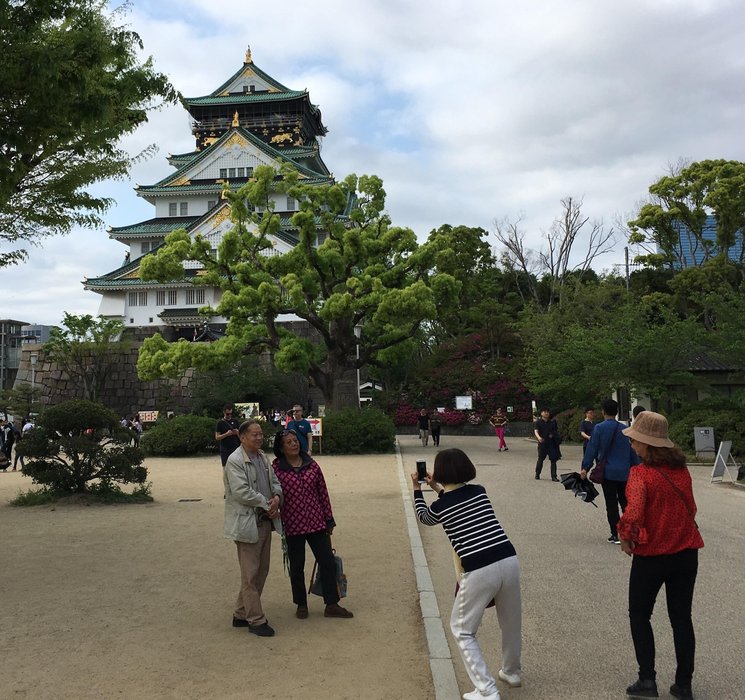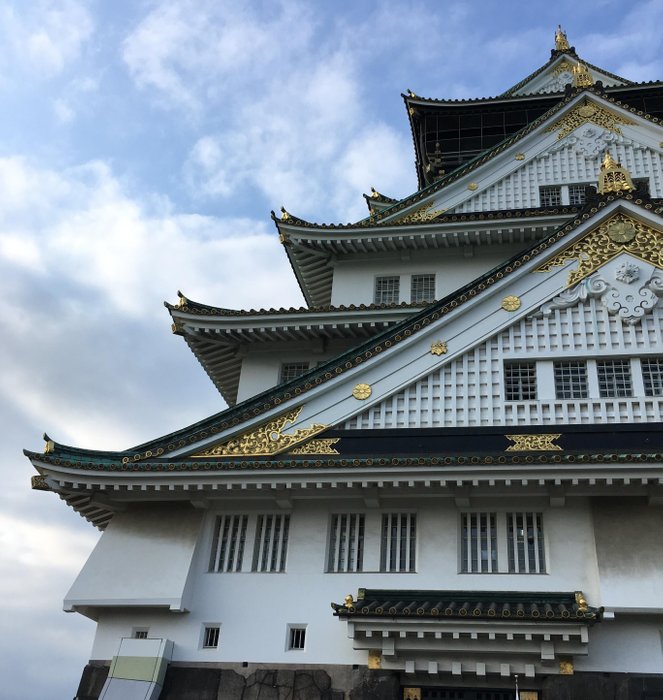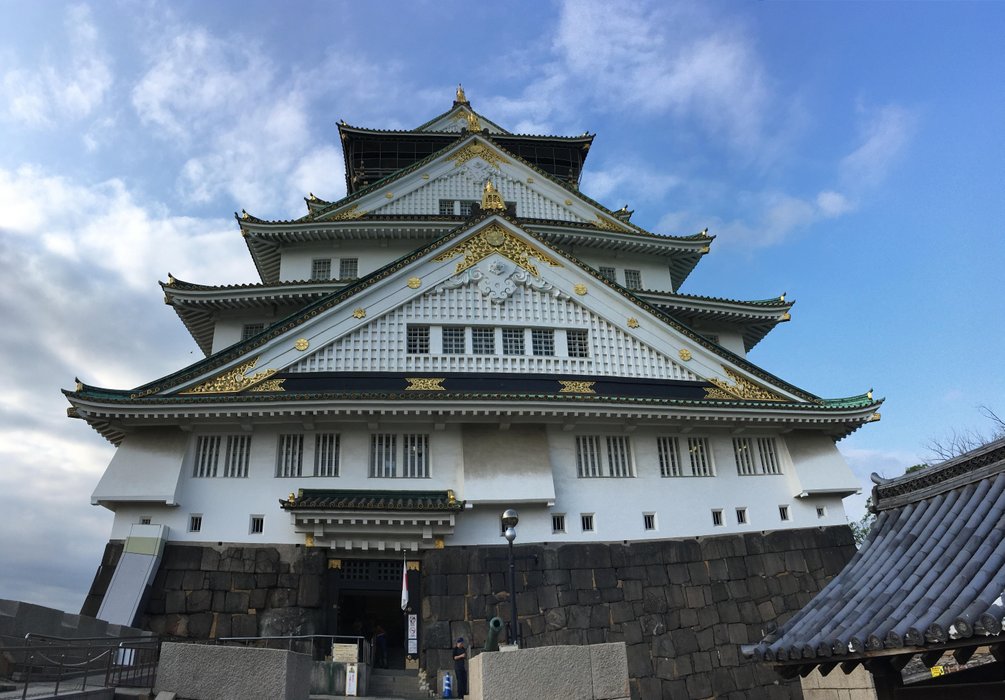 Osaka Fortified Castle is one of the most famous in Japan. It is surrounded by a park and its moats. Inside, a museum traces its history and that of Osaka, including small films made with holograms. It's a fun way to captivate children to the story.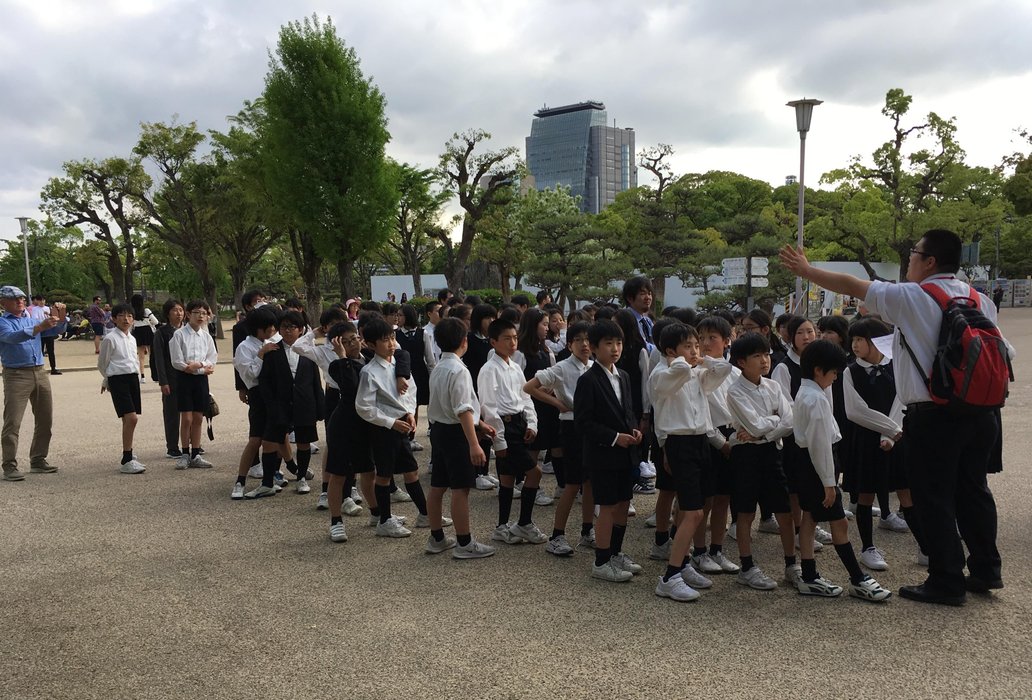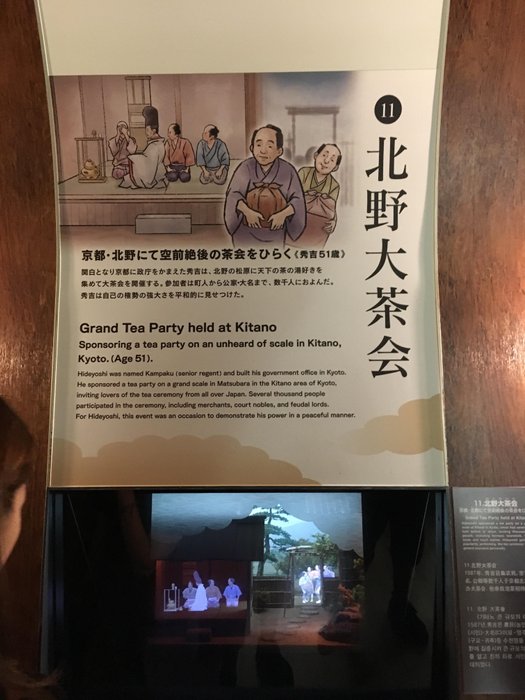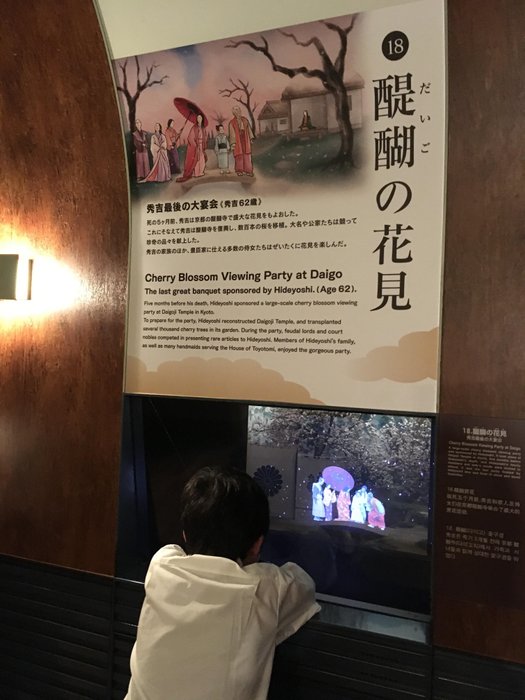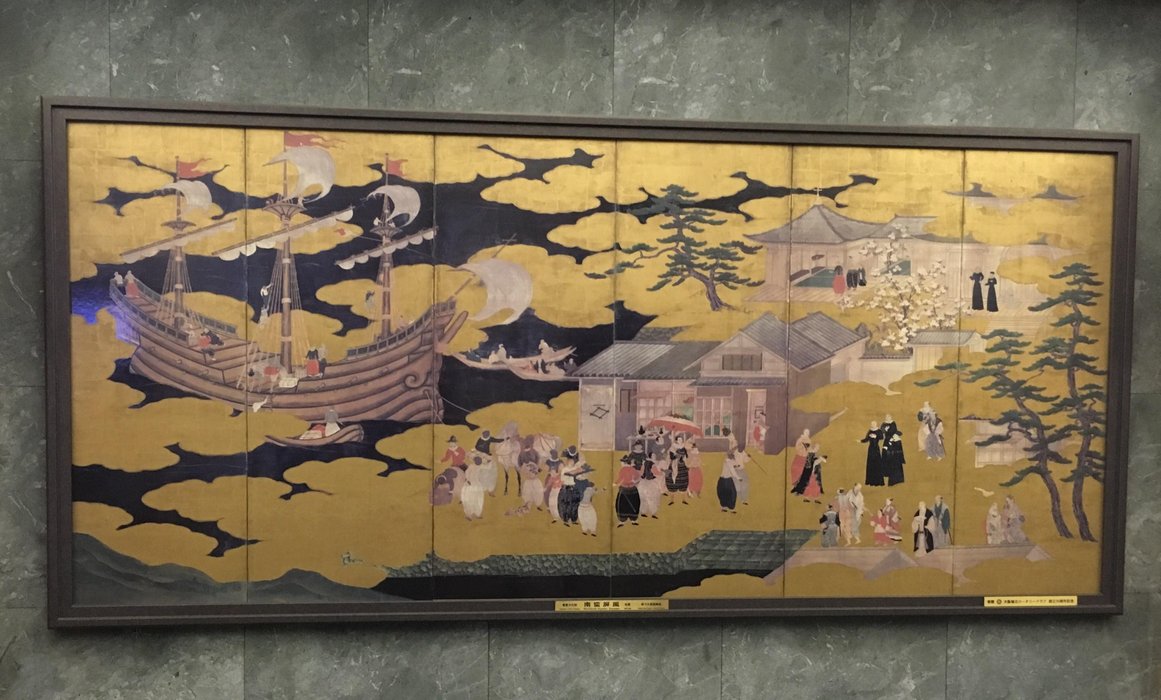 Painting depicting Namban ships (sealing ships from Europe) at anchor ports in Japan and China.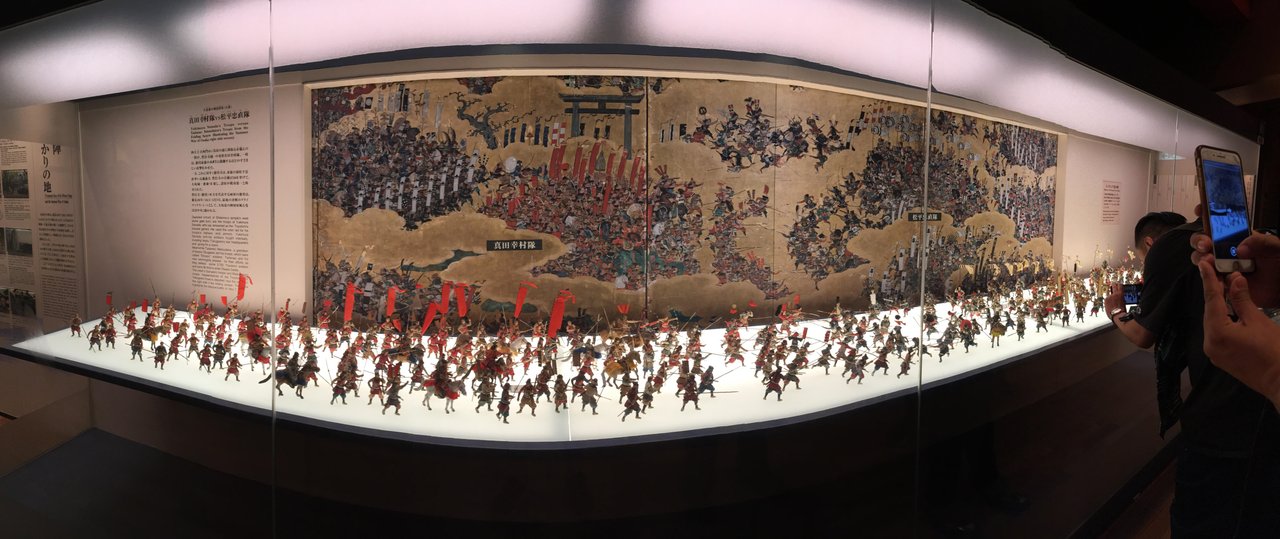 « Yukimura Sanada's troops versus Tadanao Matsudaira's troops from the folding screen illustrating the summer war of Osaka right side screen ».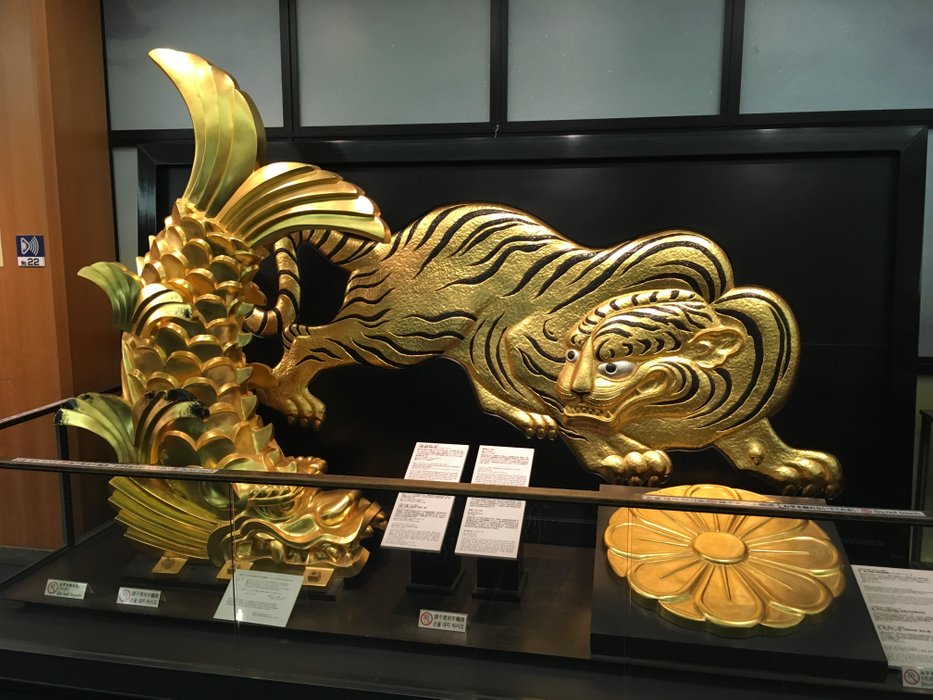 Full scale replicas of the SHACHI (legendary dolphin shaped fish) and FUSETORA (crouching tiger on the lookout)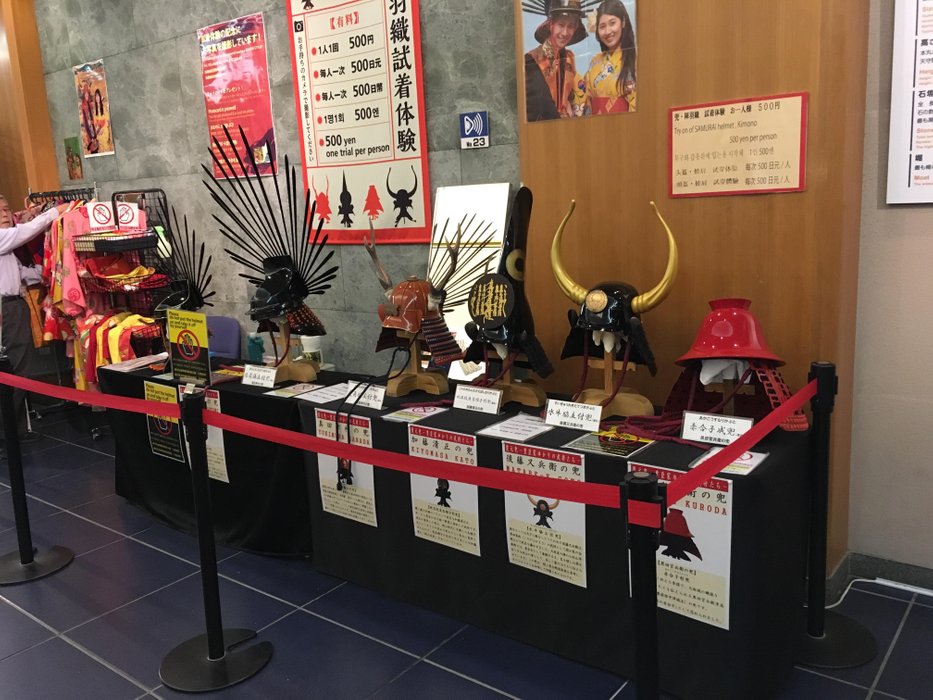 You can try on a restored samourai helmet and battle surcoat of a warlord in the Sengoku era (the age of provincial wars)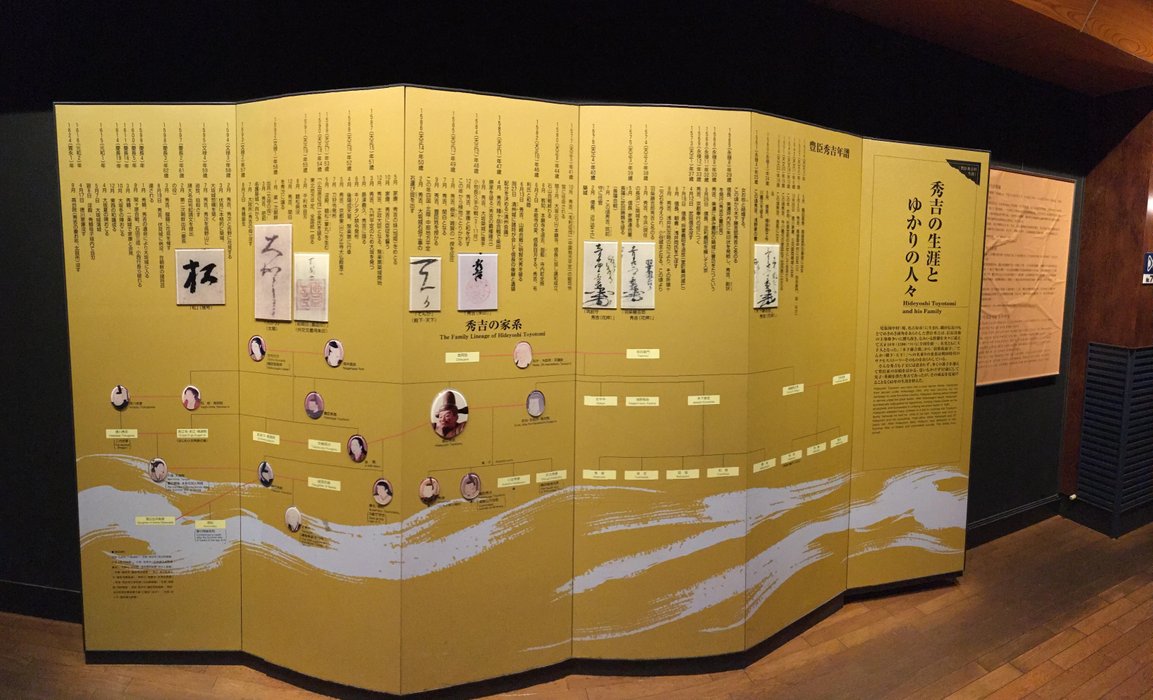 A folding screen from the family tree of Hideyoshi Toyotomi considered a military genius who brought all of Japan together into a single state. He was the second of Japan's three unifiers during the Sengoku period.
On some floors, it is forbidden to take pictures in order to protect documents and other very old original objects. The museum houses magnificent authentic objects in the exhibition rooms. The quality of these could be altered with the flashes.
On the top floor, we discover a 360 degree panorama of all Osaka. But, oops, as I forgot to photograph one side, I only offer you a 270 degree view.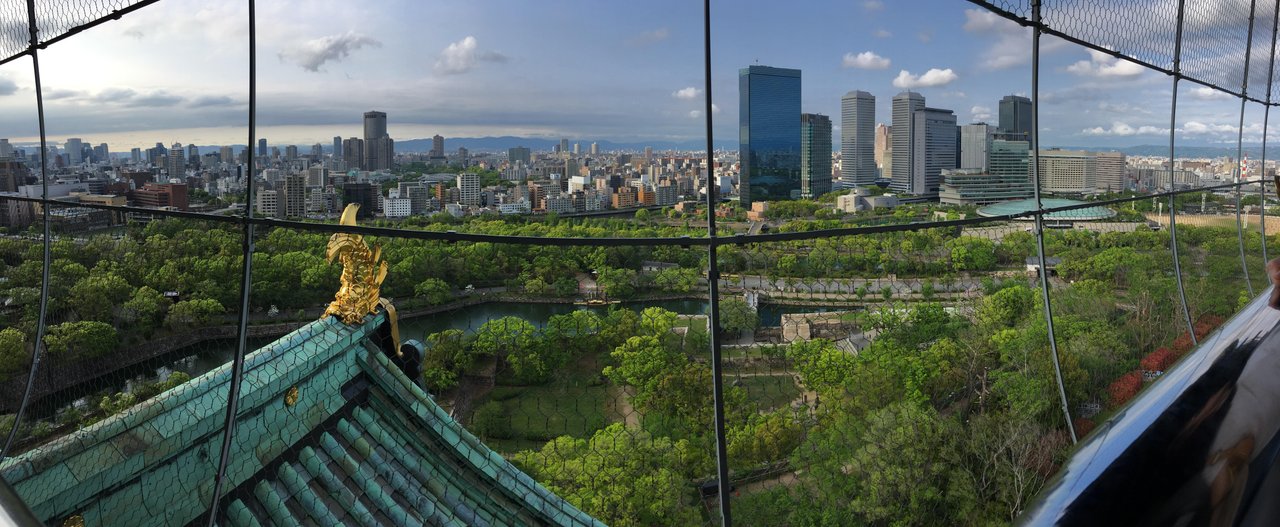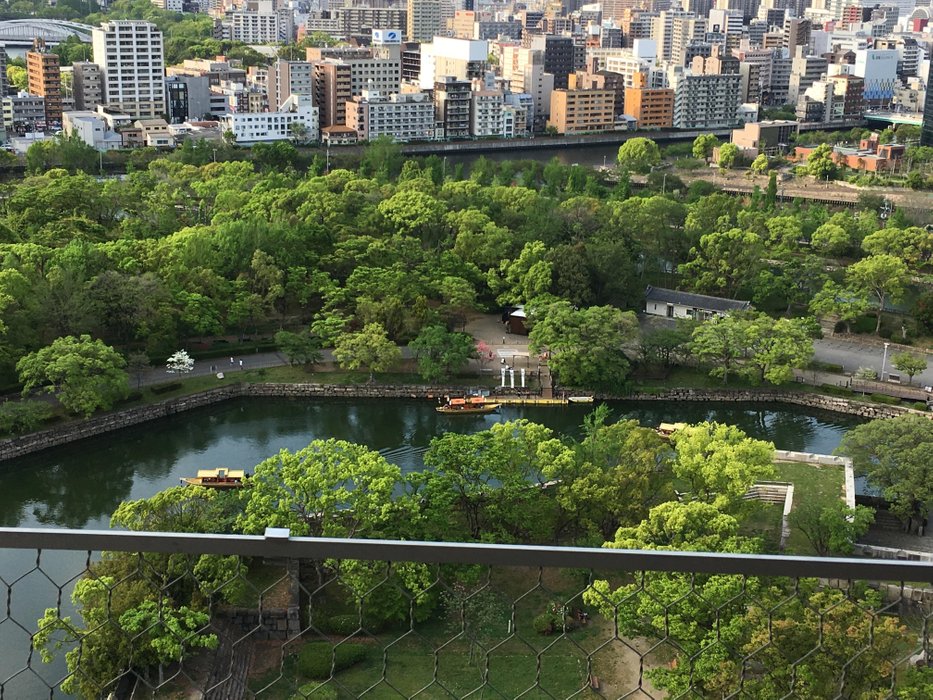 After the 5km to get to the castle, which turned into 8km by taking cross roads, then the visit of it, our feet "shouted" pity.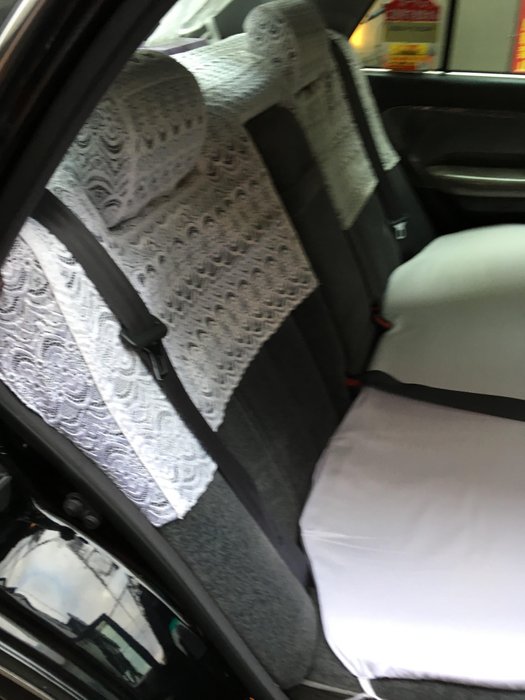 We found a taxi with a charming driver, with white gloves, very smiling. To top it off, the seats were covered with lace and small curtains adorned the rear window. To hear us talking among ourselves, the driver told us "France? "and made the gesture with the hands of the "chatterbox" blablabla, would the French be known for their bagout. Then he told us cathedral "Notre Dame" and made the gesture of crying with his hands over his eyes. It was moving to realize that this disaster could have affected someone on the other side of the world.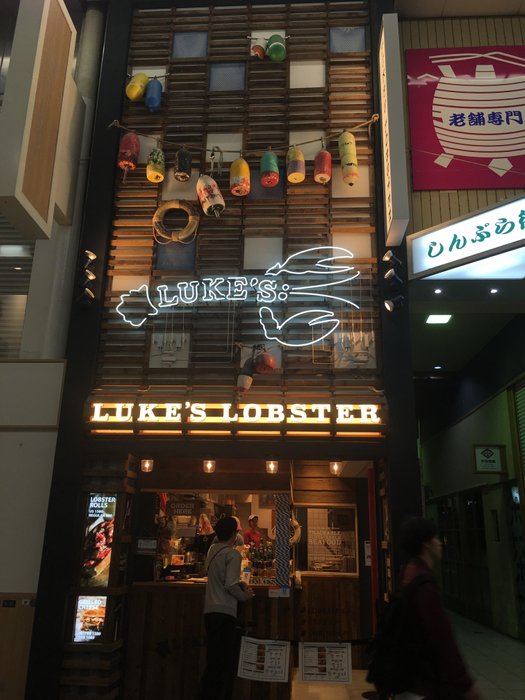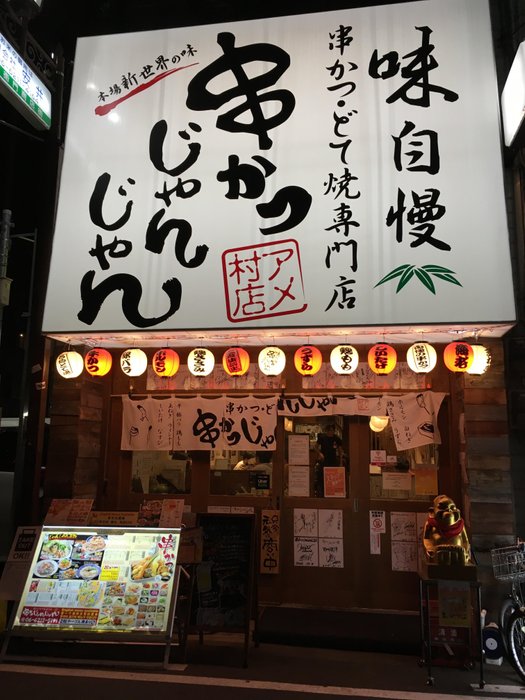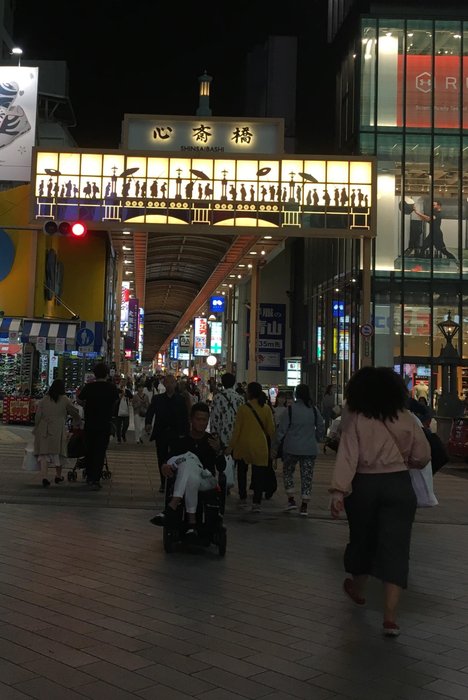 It's time to go home
If the adventure tempts you, put on your Tabi socks, put on your Geta flip flops and on the way.
*************************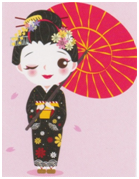 *************************
It is with pleasure that I will share this trip with you if you follow me.
PS : if you have not seen the 1st post of our 1st day here is the link :
https://steemit.com/travelfeed/@syl-lab/trip-to-japan-in-the-osaka-and-kyoto-region