Hey Hive/Steemit!
So if you didn't catch the last couple of posts, we're currently on a journey in Fukuoka that we went on back in May 2017! Neither of us had ever been to that part of Japan before and since there were some cheap flights we decided to go explore a new region together! Here we go!
Last week, we continued onto part 5 of our day-long journey in the Dutch town-inspired theme park called Huis Ten Bosch! We finished exploring the replica of the actual Huis Ten Bosch royal palace and got to watch a lovely garden light and music show!

And we went to check out the retro game museum that was also an arcade!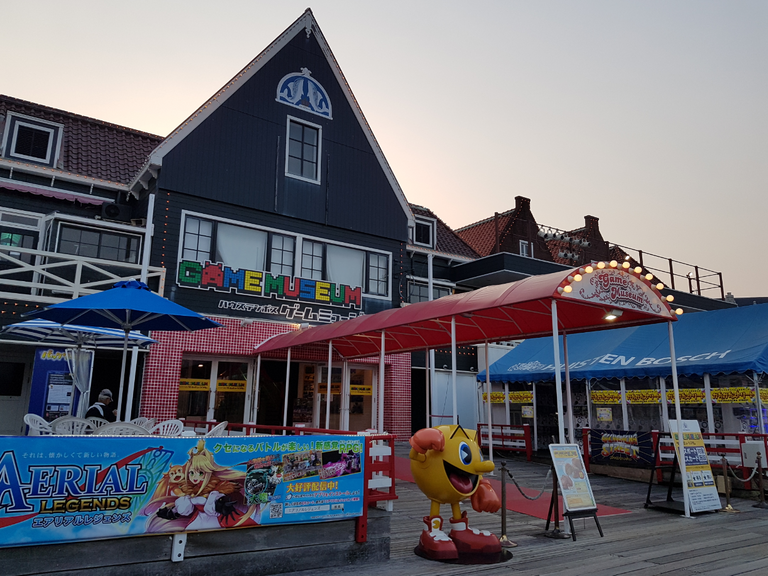 And now it's time for the grand finale - going up the highest tower in Huis Ten Bosch!

27 May 2017. Saturday.
It was nearing the end of the day and the lights had all come on! What a lovely sight it was! I didn't even think about how this place will look at night so I'm glad we stuck around and got to enjoy this amazing view!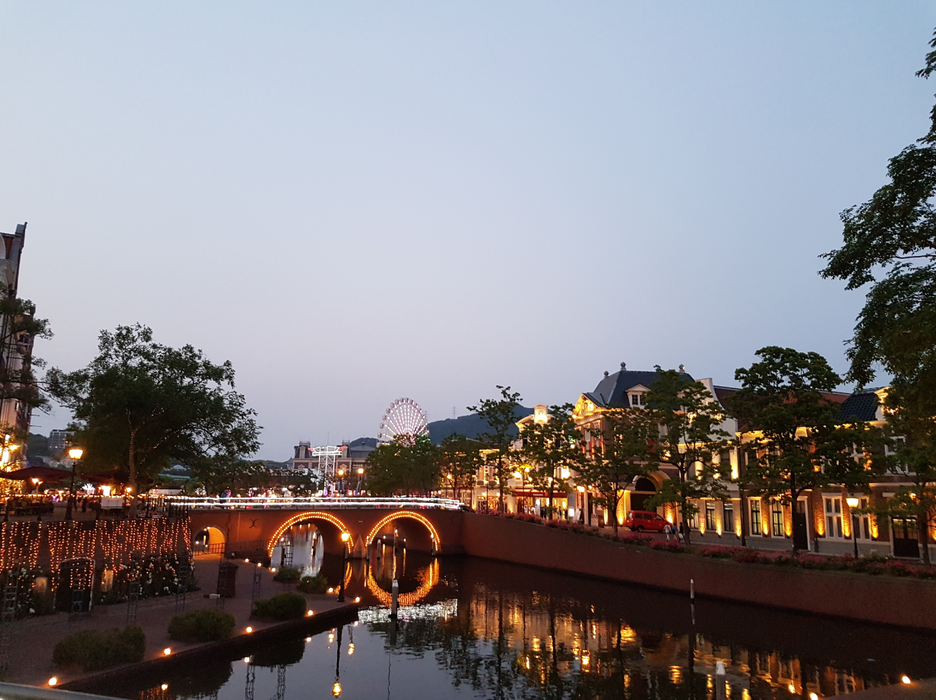 We wanted to go up the tower as the lights came on as usual, but we were a little late as we got distracted in the retro arcade museum. Still, better late than never I guess!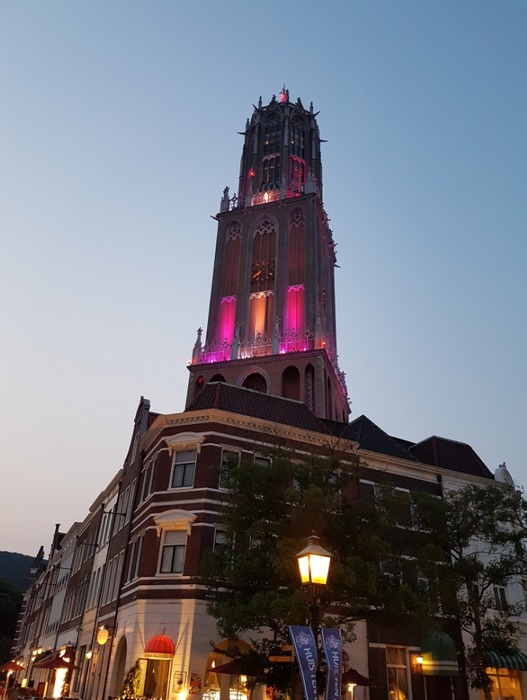 I believe this tower is based off an actual tower just like the palace of Huis Ten Bosch!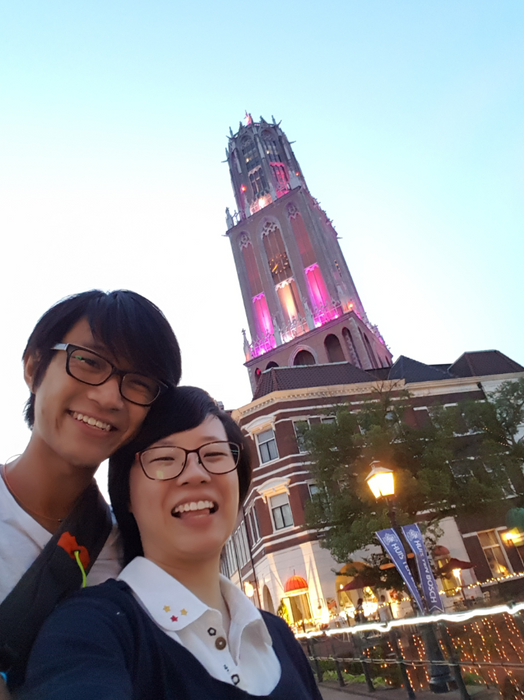 And it turns out I was right! This tower is called Domtoren in Dutch, or the Dom Tower in English! According to Wiki, its full name is the Dom Tower of Utrecht and it is the tallest church tower in the Netherlands, at 112.5 metres (368 feet) in height. It is also considered the symbol of Utrecht!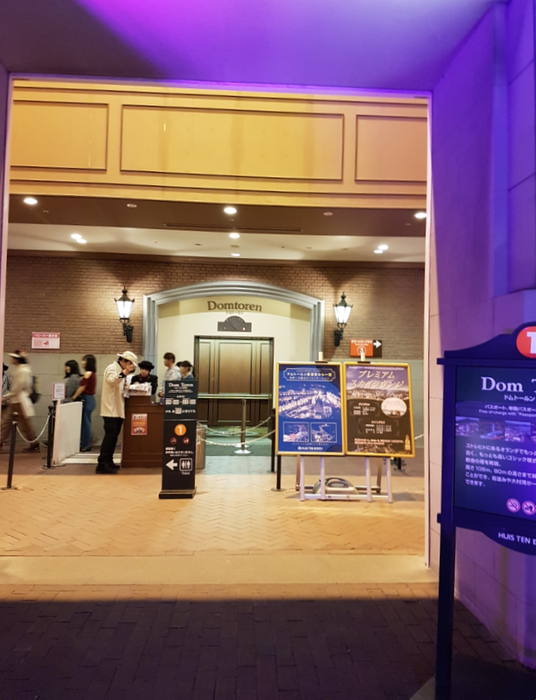 I'm not sure if this one at Huis Ten Bosch was the same size at 112.5 metres but it sure felt like it. But man, what a view it was at the top!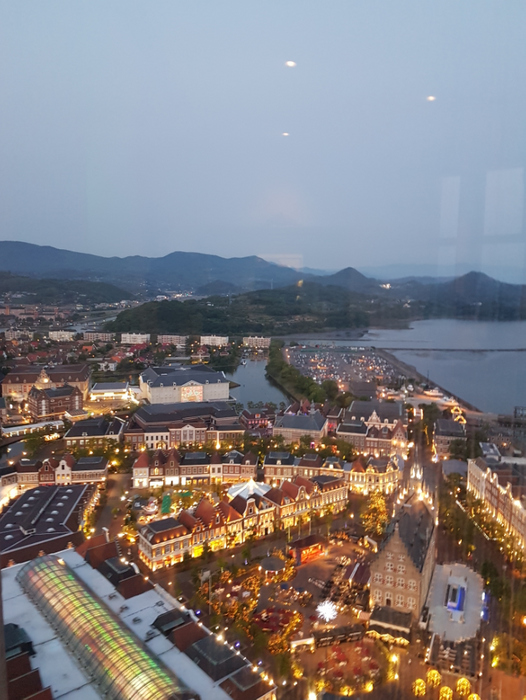 Unfortunately the observatory itself was actually pretty cramped so I couldn't take photos of the observatory itself. I guess everyone had the same idea as us to go up and see the whole Huis Ten Bosch lighted up at night.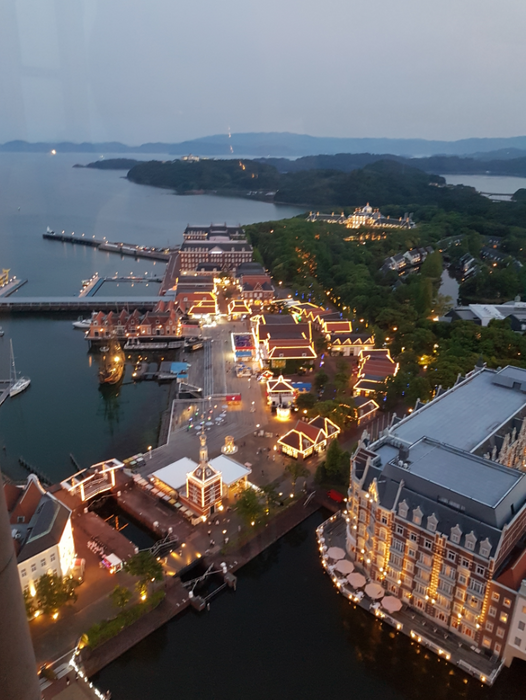 It was definitely a breathtaking sight! The river itself had lights along the bottom too and was constantly changing colours!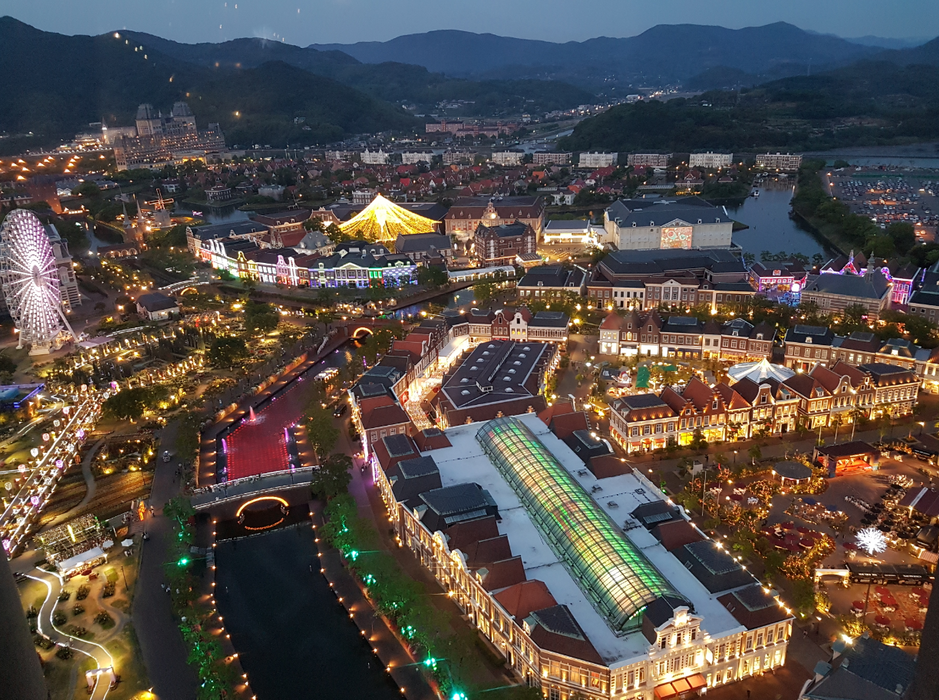 It really did feel like we were in a whole different country! I wish the observatory was more spacious and had a bar table or something like the cafe in the Tokyo Skytree; I feel like I could sit there and watch the lights forever.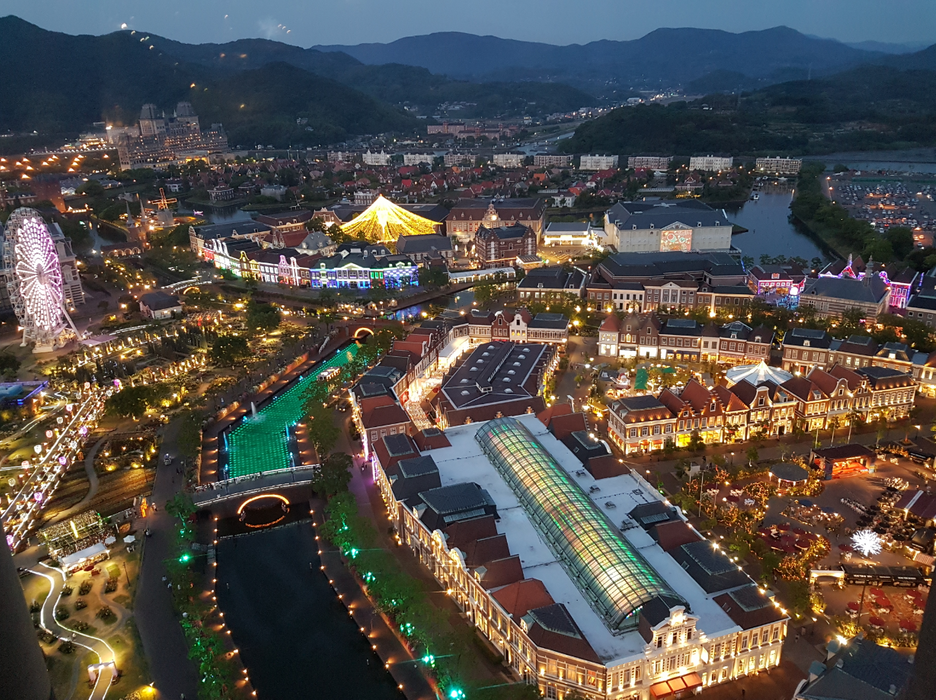 But it was pretty crowded in the observatory, so after taking photos, we promptly left the tower to get away from all the other people. It was also getting pretty warm in there with so many bodies around.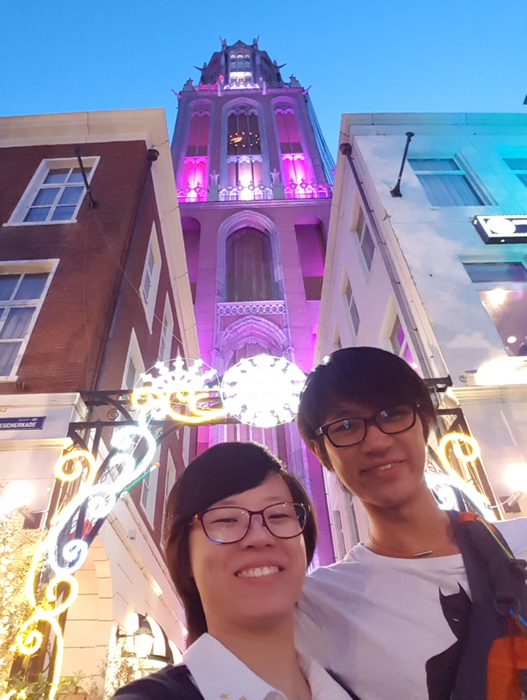 The minute we left the observatory it felt so much cooler. And the evening sky was so clear, devoid of clouds.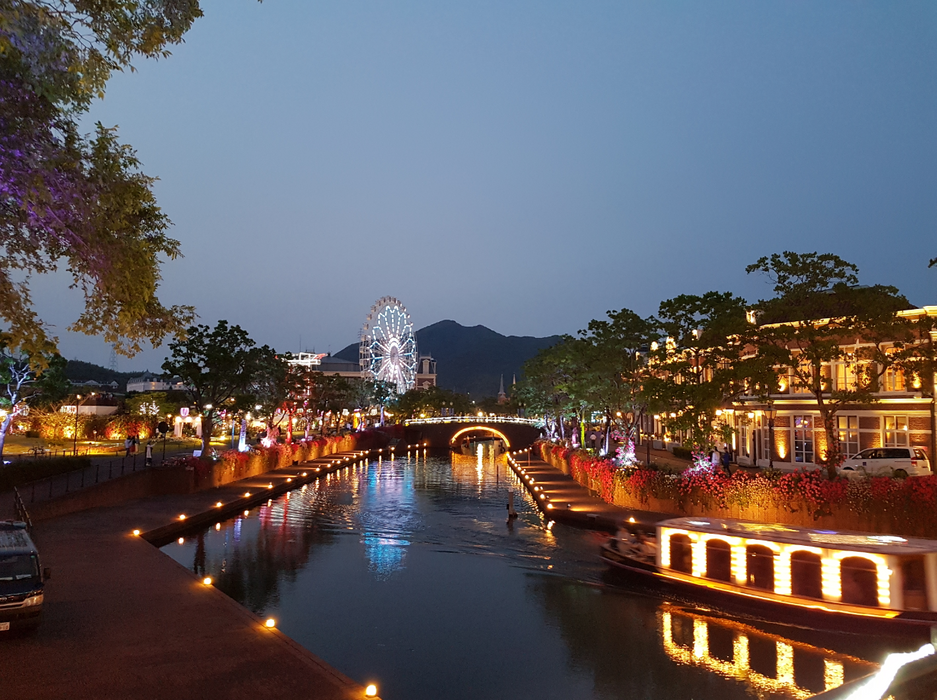 A nice night for a stroll in the village that's for sure.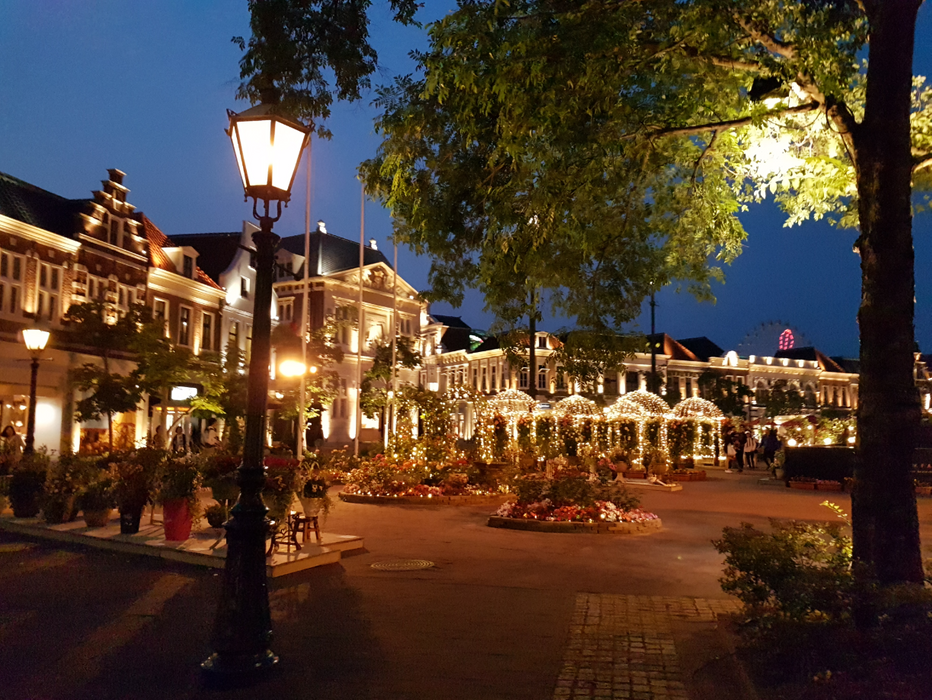 Even the church was lighted up so nicely, with the flower clock in front of it!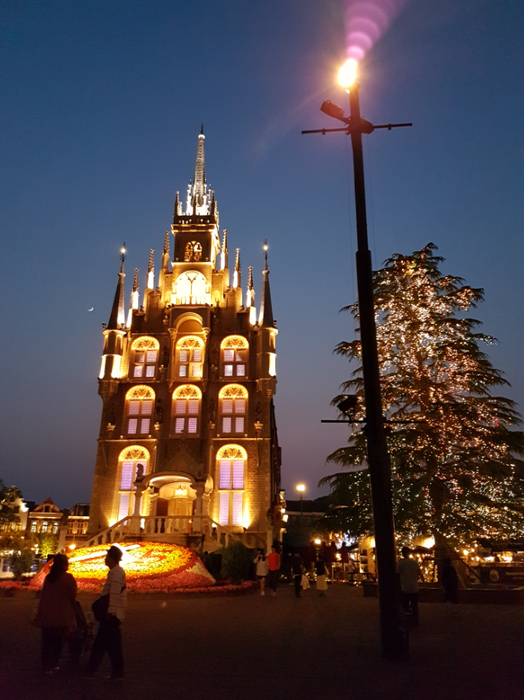 We passed by the carousell and Sean couldn't resist doing a retake of his shot since there wasn't anyone around.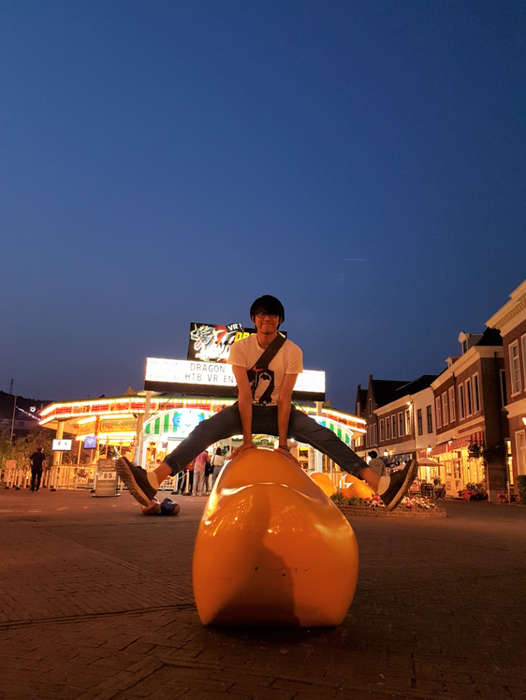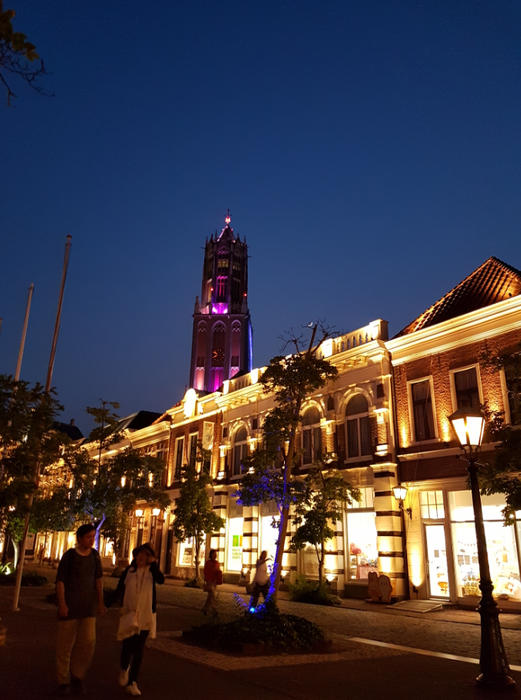 While walking along, we came across this European Village Market Place! I'm not sure if we went in but from the looks of it it did look like those Christmas markets I saw in London, just like Christmasy. We didn't have time to look though since we had to start making our way back to the train station.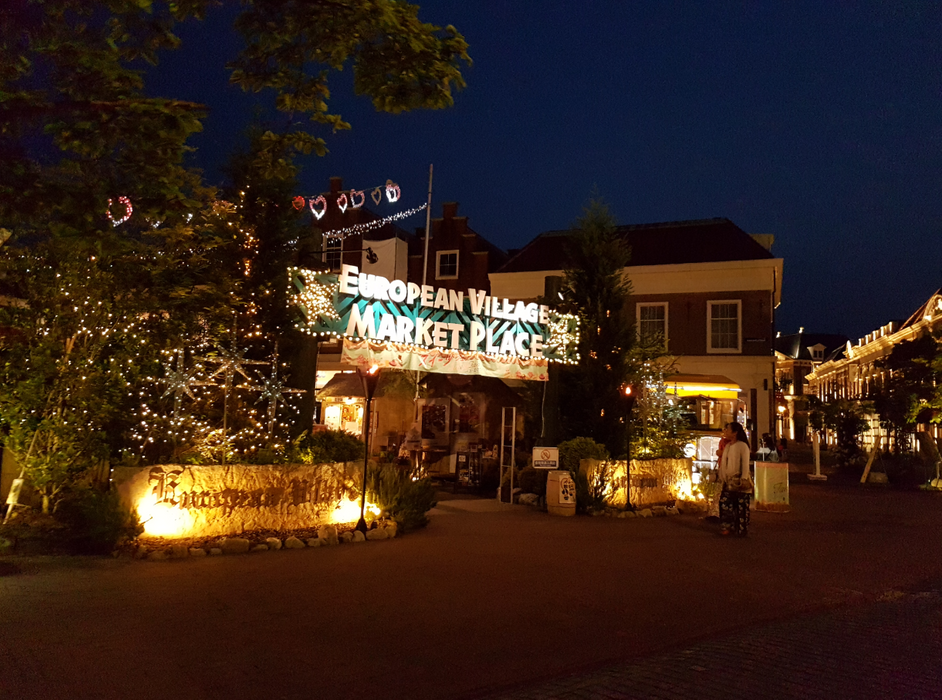 And we caught this amazing sight of the lighted river on the way! Oh man with the boat in the middle and the subtle sunset; it was so beautiful!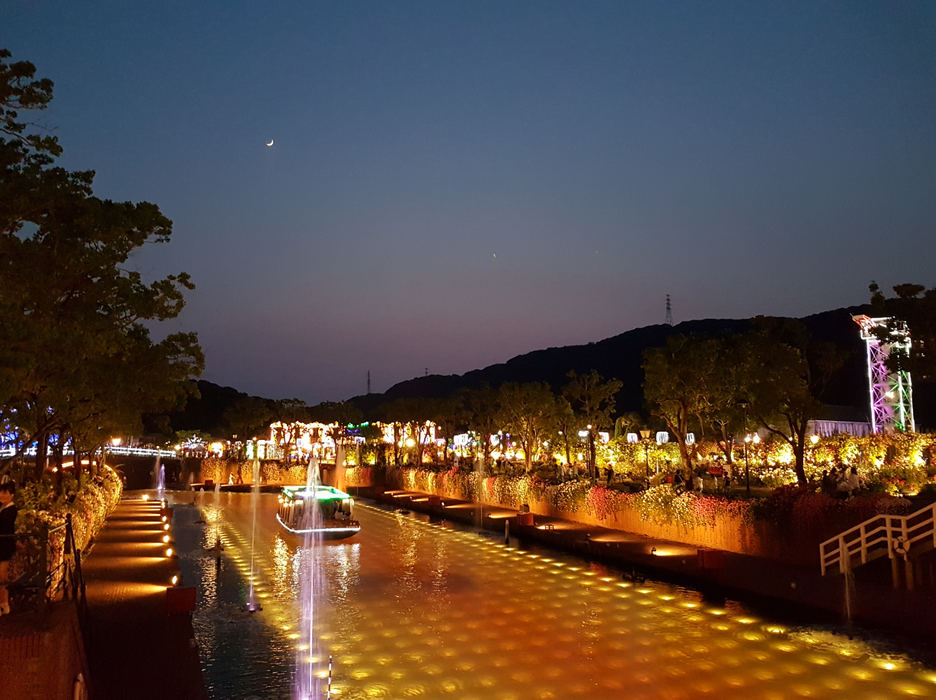 Even that whole row of houses we saw earlier was lighted in rainbow colours! I don't know what it is about coloured lights but it just makes everything so mesmerizing.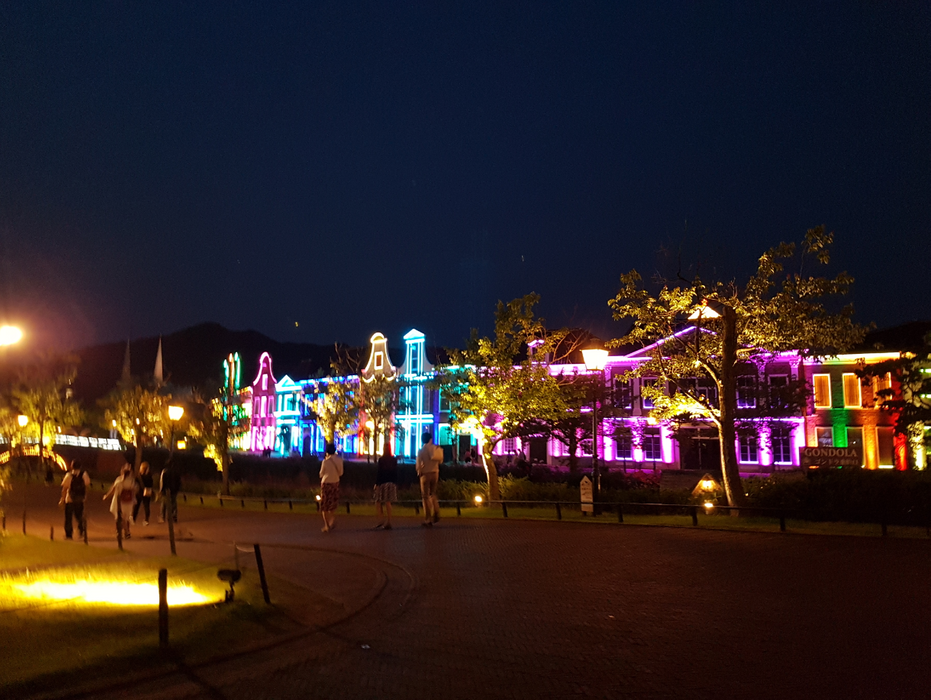 Even this row of houses was constantly changing colours! It was like the entire park transformed with all the lights on!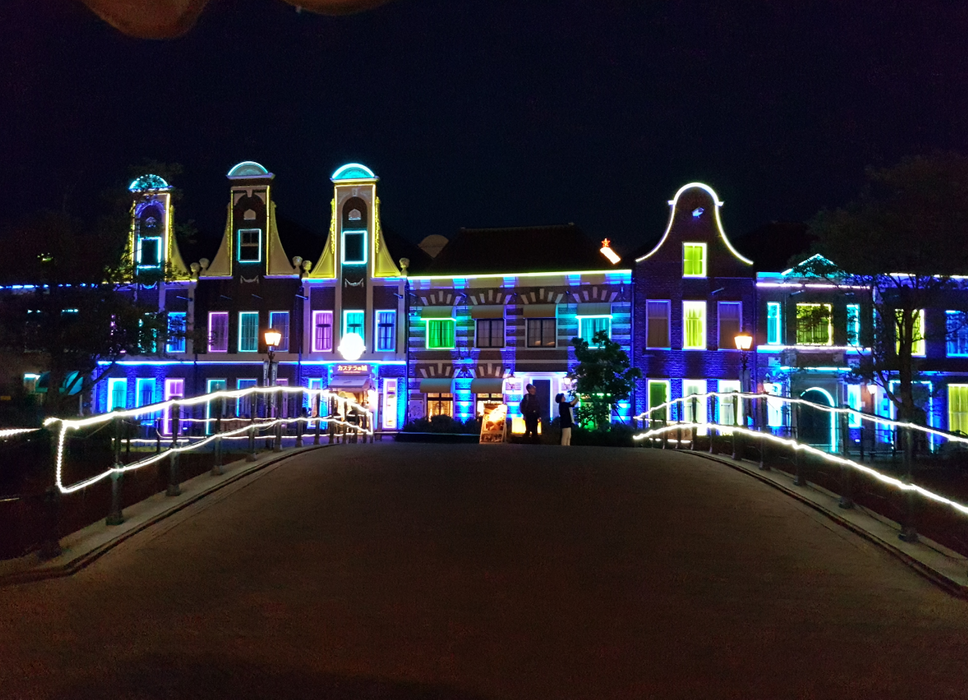 Look at how colourful everything is!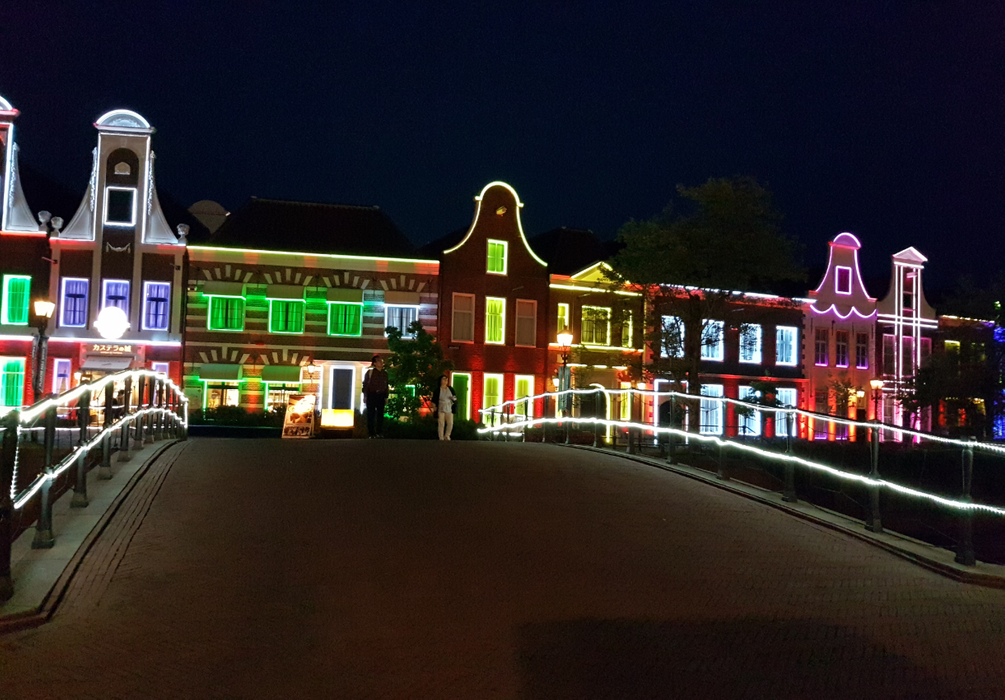 We ended up back in the flower garden but here was pretty much the same. I like the lighted strips on the windmill though. It felt like I was inside a painting or something.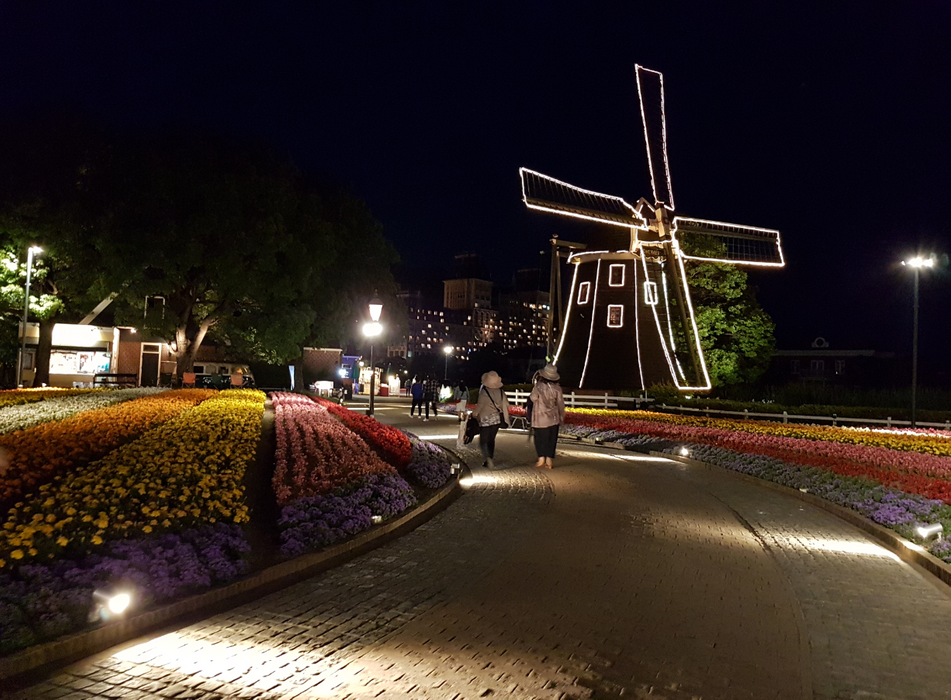 But eventually we ended up in the gift shop, of course. This was probably the brightest place in the park now that it was night time.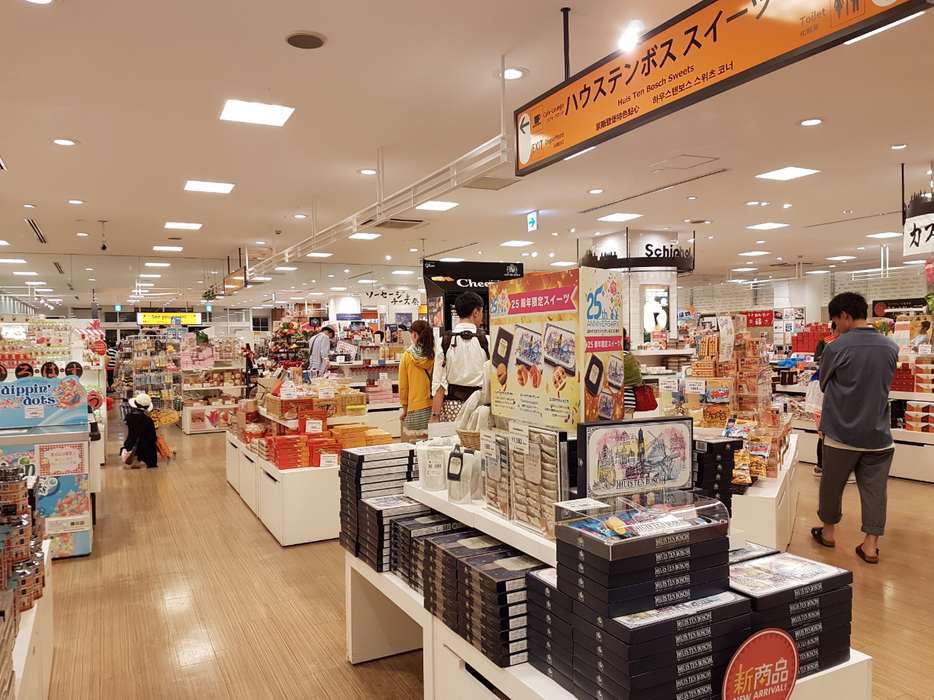 We didn't buy anything as usual since most of the items here are ridiculously overpriced, so we just walked on through back through the entrance and towards the train station!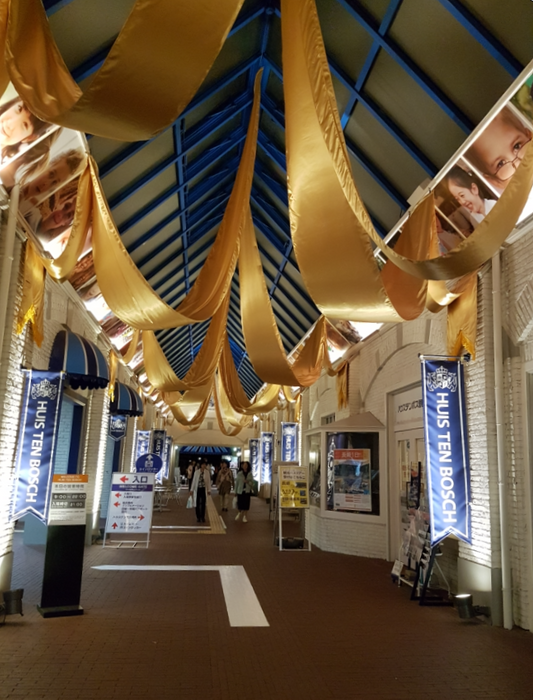 Man what a day! I think we probably fell asleep on the train back after walking around for so long. But what a fun day! It truly was packed with new experiences - seeing such nice flower fields, riding a unique tandem bike through said flower fields, visiting a chocolate "factory" that was more like a museum tbh, freezing in a meat locker, and exploring a palace!

So if you're not too far from the Sasebo, Nagasaki area, definitely visit Huis Ten Bosch! There are some express trains too so coming here shouldn't be too difficult. It's not your typical theme park with rides, but it definitely makes for an interesting trip!
That's all for our day-long journey through Huis Ten Bosch! I hope you enjoyed going on this trip along with me!
Thanks so much for reading!
To find out more about me, check out my intro post here!
---
Check out my previous post in this series!
TacoCat's Travels #107 (Japan 4.0: Fukuoka): Garden Shows and Retro Games! 🕹️