Hey Hive!
If you missed the last couple of posts, we're currently on a new journey through Japan with my family and Sean, starting from Tokyo! Since we've been here before but it's my relatives' first time we had to bring them to all the popular spots we visited previously already, but it's all good.
Last week, we arrived in Osaka after a comfy 3-hr ride on the shinkansen and checked into our new hotel - Dormy Inn Premium Namba! We brought my family around Dotonbori and Shinsaibashi before heading back and trying onsen for the first time in the hotel itself!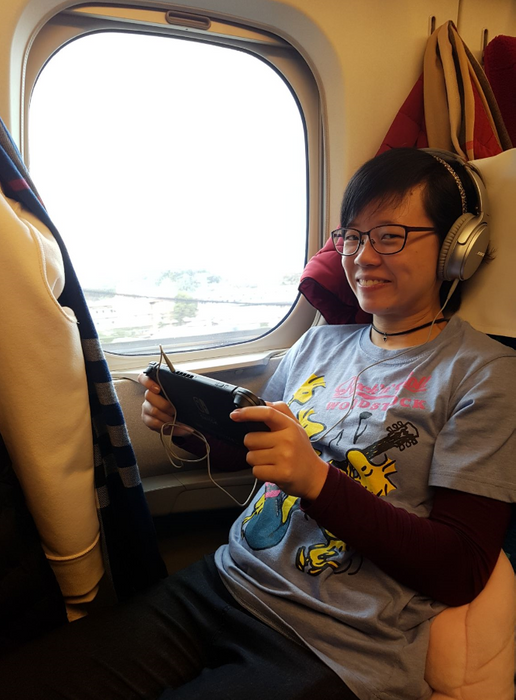 If you read to the end of the post, I teased that we'll be doing something special today, namely, trying out kimonos!

21 December 2017. Thursday.
This hotel was better than the first one we stayed in since it included daily breakfast buffets for guests! And rightfully so, since it is more expensive.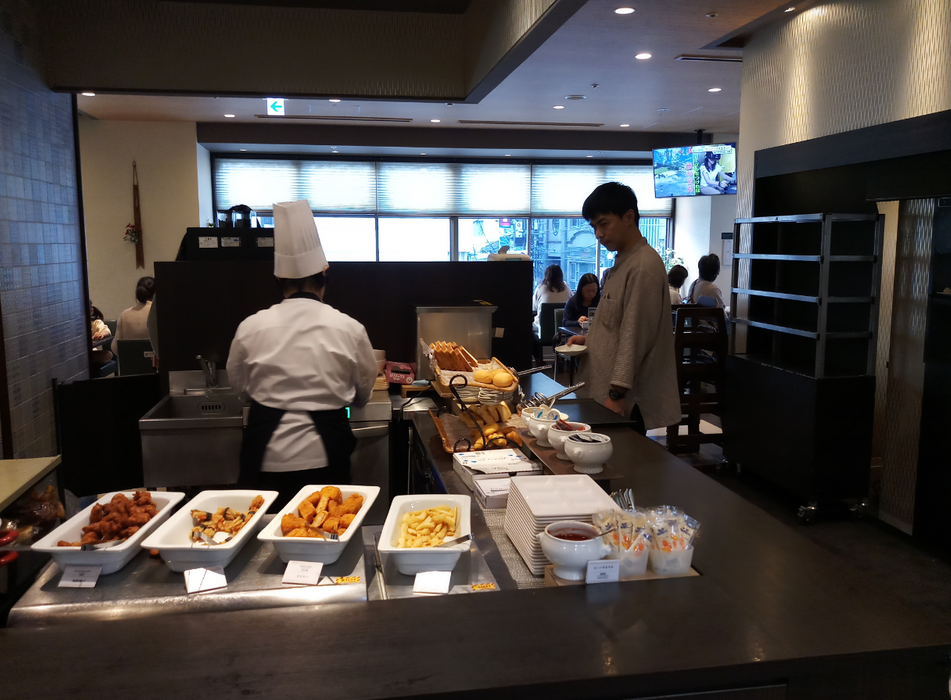 And it did look pretty classy too. With quite a few choices, including a Japanese cold and warm food section, some porridge, fruits, and of course a continental section as well.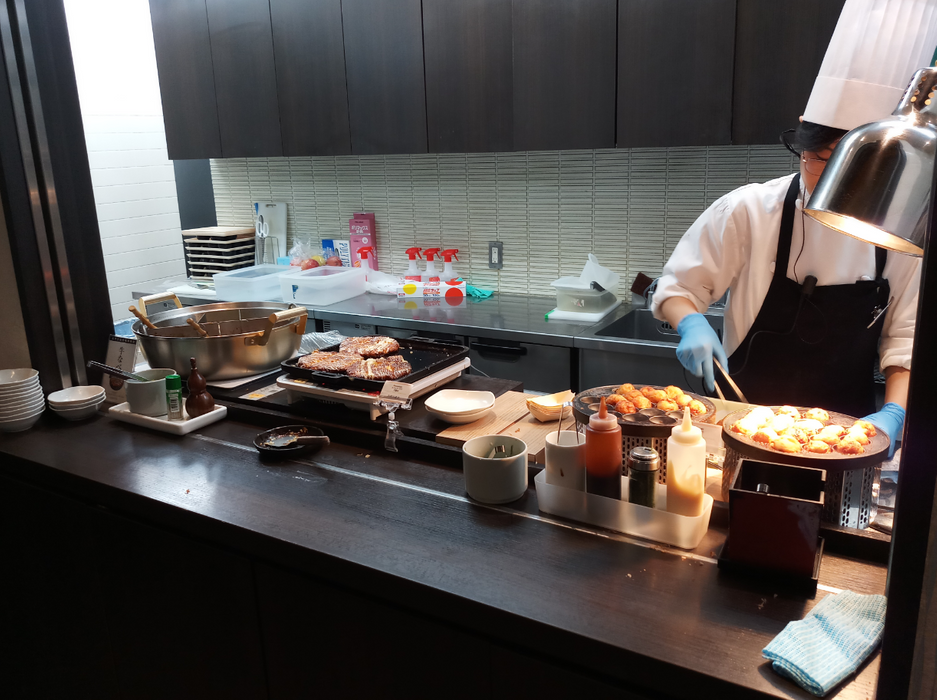 It was tough to take pictures since it was pretty crowded at 9:30am in the morning. I think the breakfast hours ended at 10:30am, so everyone was scrambling to get food.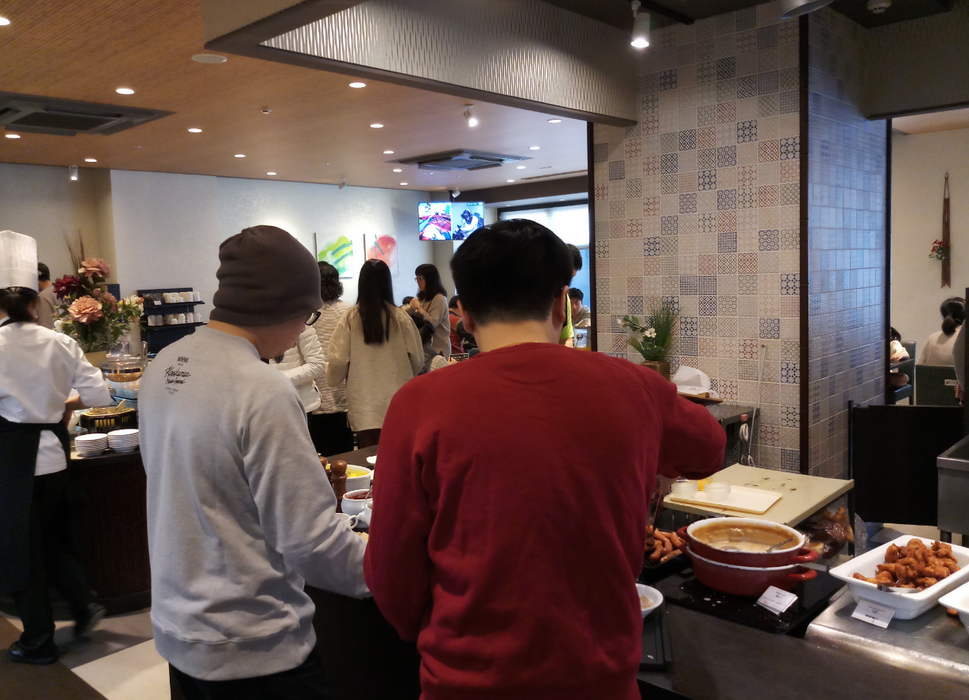 But after we got done with breakfast, we got ready to set off for the day because we were heading to somewhere special - Kyoto!
At the train station, we saw this very unique train that looked so retro and cool!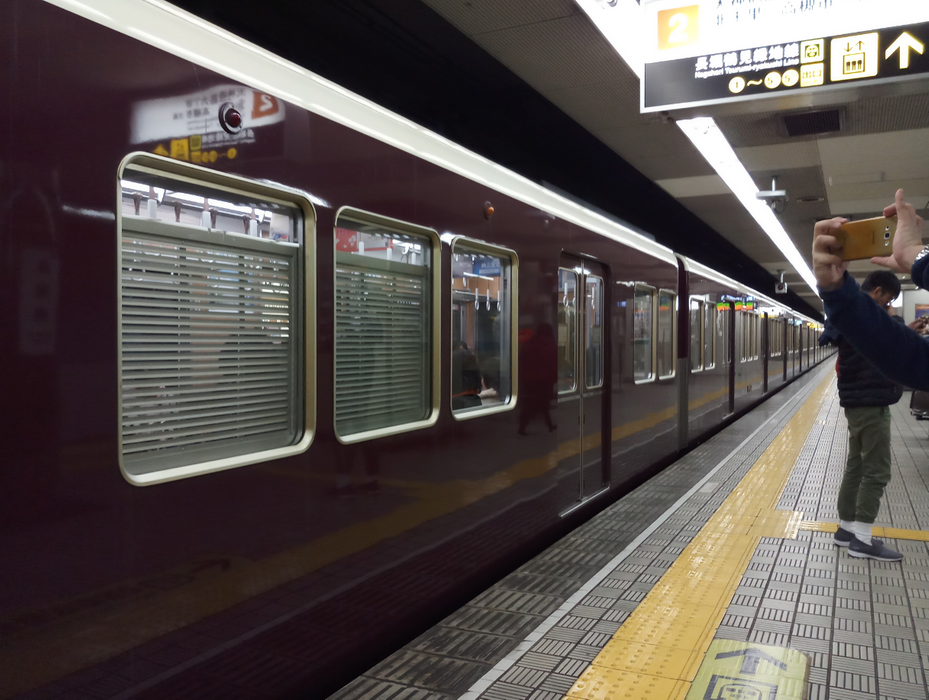 I don't think this was the train we took though, but it just looked cool! Some time later, we took an express train to Kyoto! Sorry for the blurriness btw, but I think my phone at the time couldn't take selfies well.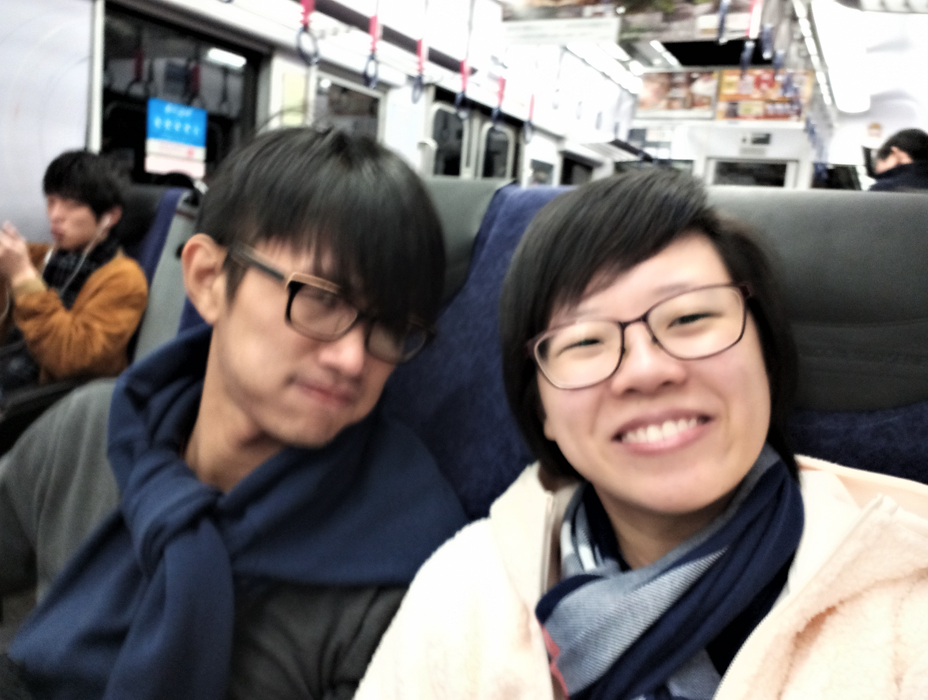 We took a relaxing ride from the city to the countryside!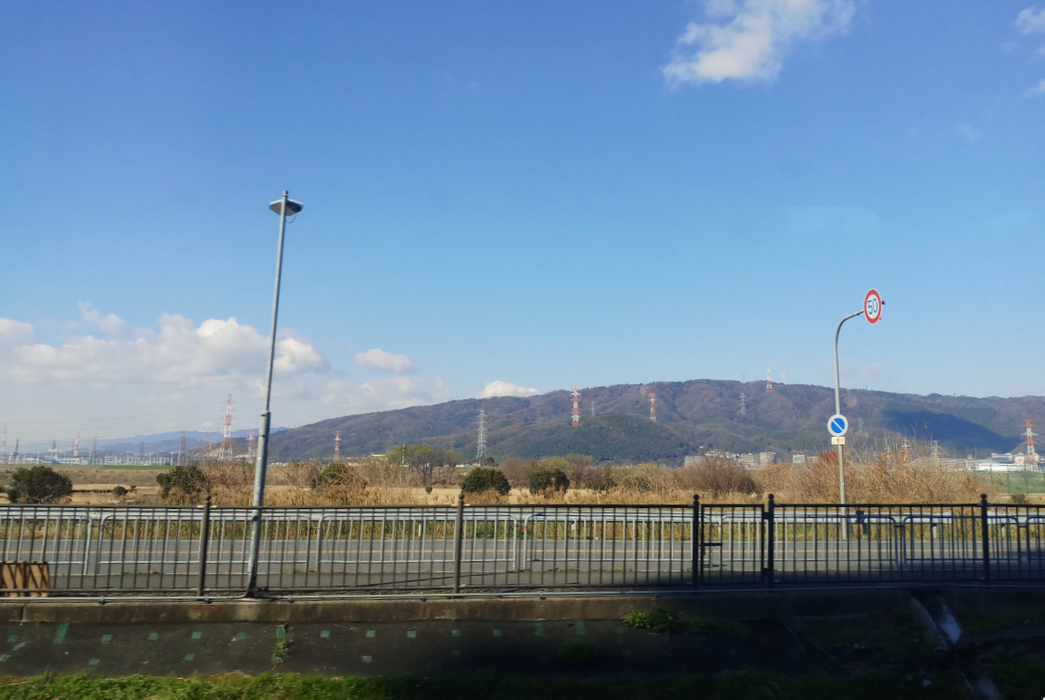 It wasn't too far away and within 40 minutes we arrived at the station!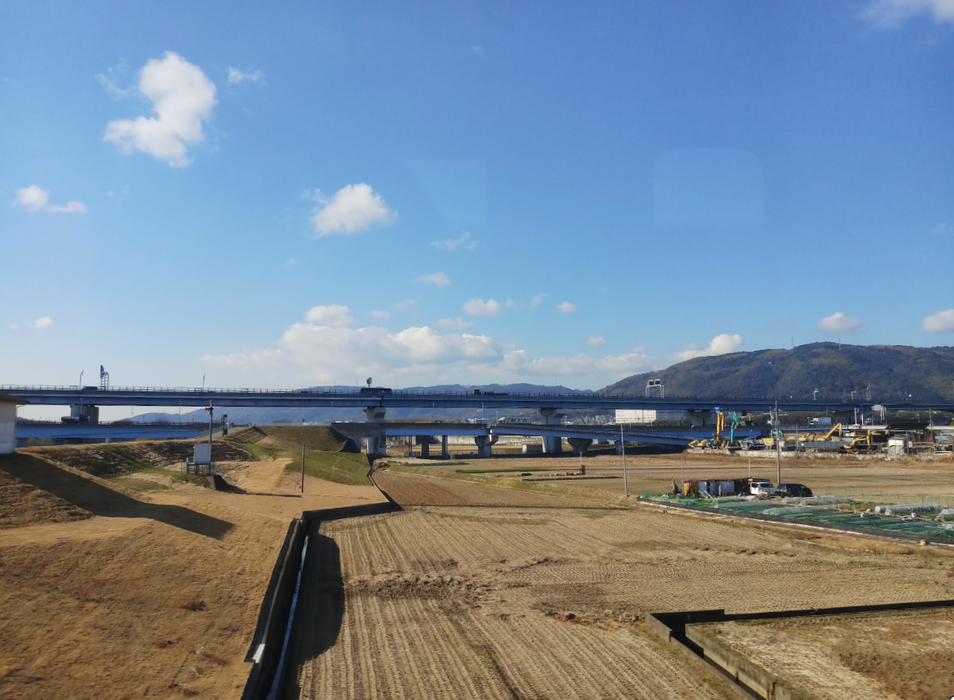 We actually booked an Airbnb experience somewhere in Kyoto (tbh I don't really remember where exactly it is), but it was just a small kimono rental shop so we headed there first.
Prior to our arrival, I actually looked up some tips on wearing kimonos, since a friend of mine who has tried it before told me it gets quite restrictive especially in the chest region. So I was kinda nervous, but still excited nonetheless!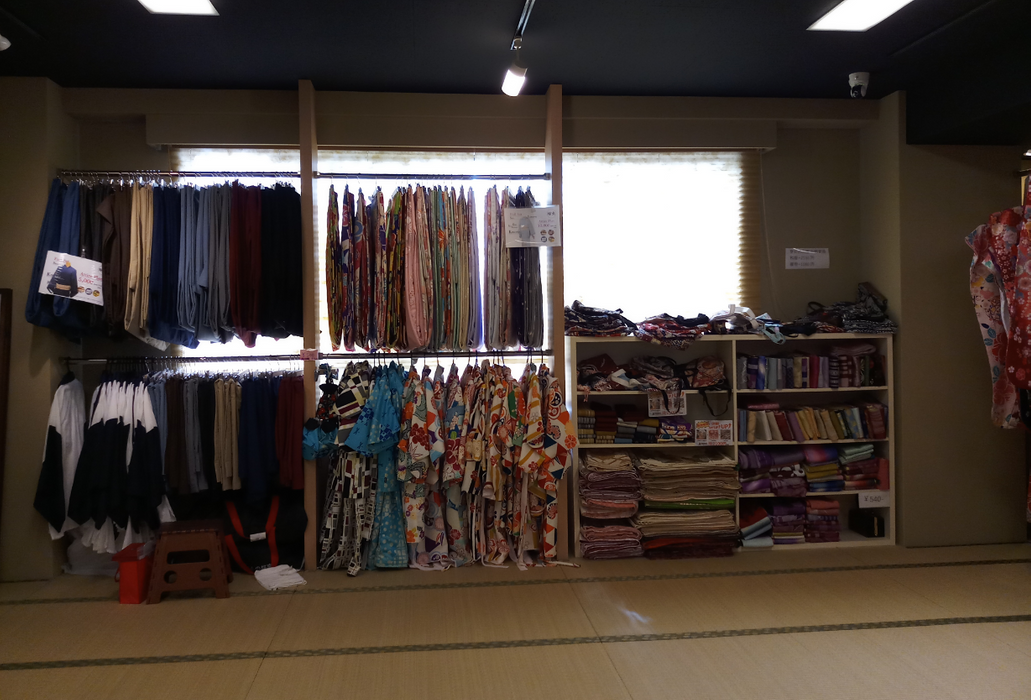 When we arrived the shop was on the second storey of a small shophouse and it looked very traditional, with a tatami mat and all. There were so many different fabric colours and patterns there!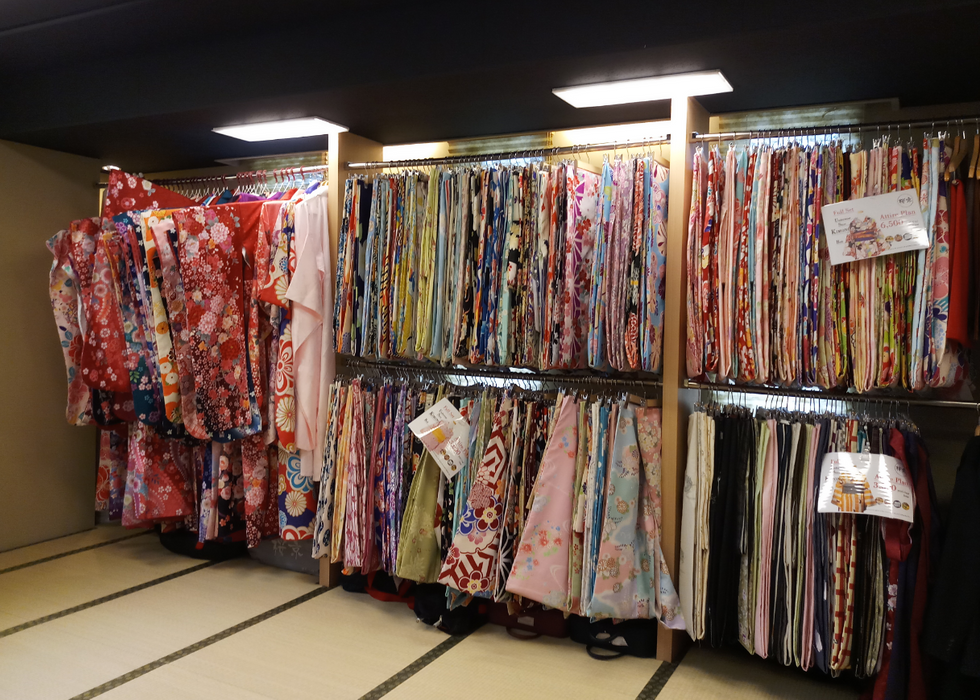 So after we got settled in, the shop keepers asked us to pick out whichever fabrics we wanted. And I was immediately drawn to my favourite colours, of course!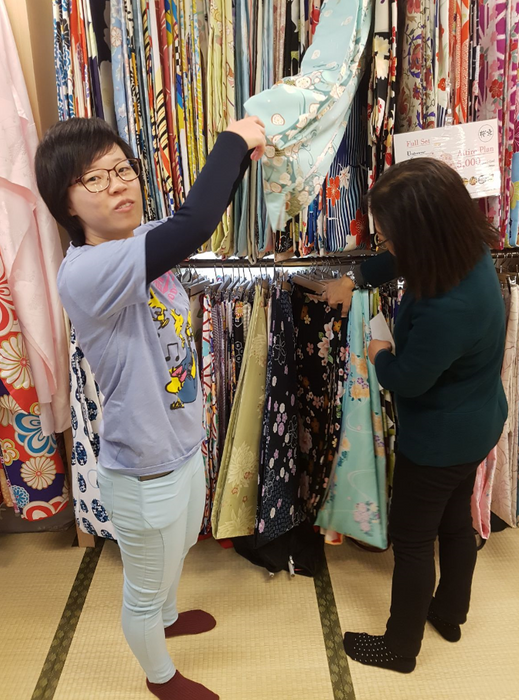 And after picking out the main fabric colour, we had to pick out the sash colour as well, and there were so many options to choose from! I wasn't sure which one would go with my light blue, so I asked for recommendations and the pink looked pretty nice and contrasting so I went with that.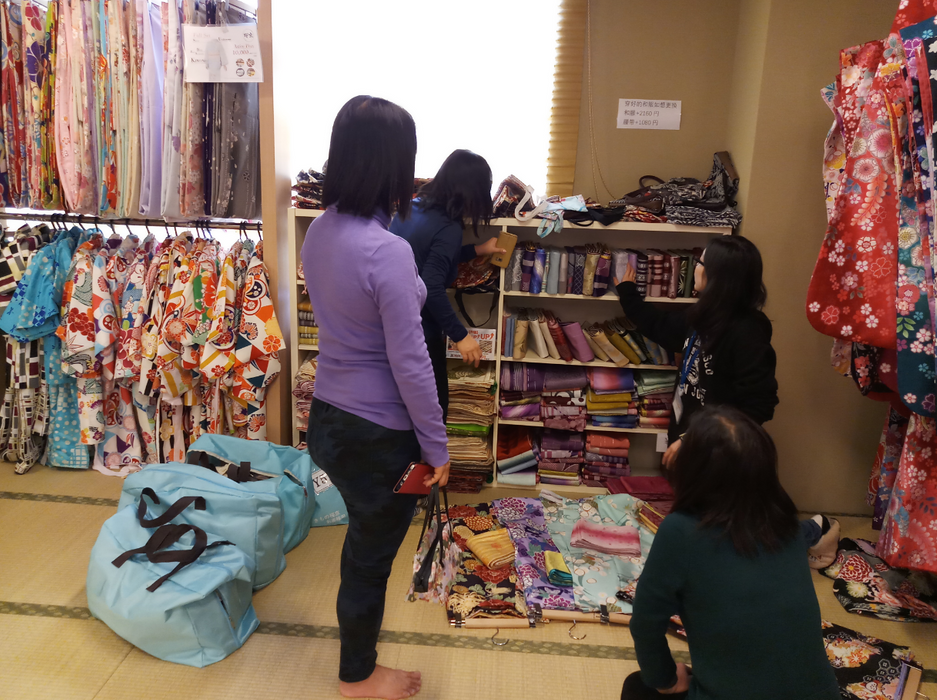 We asked the guys if they wanted to try on the yukatas but they didn't want to so they just ended up sitting by and using their phones. At least Sean was interested tho.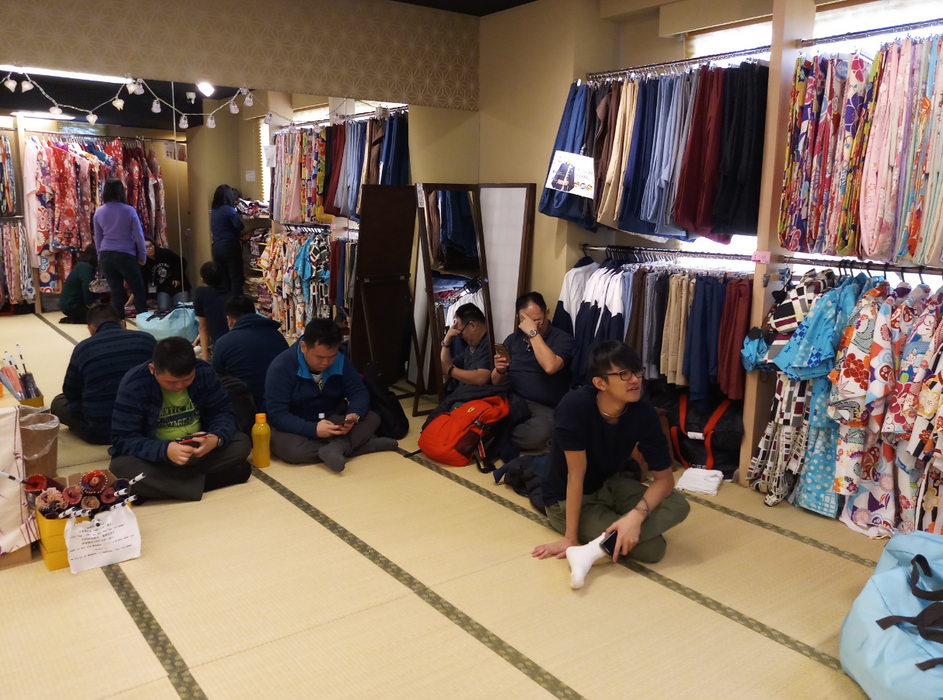 Since we didn't know how to put on the kimono, the shop keepers helped dressed us up in the changing room. The first step to wearing the kimonos is to wear the inner layer, which is just a white version of the kimono.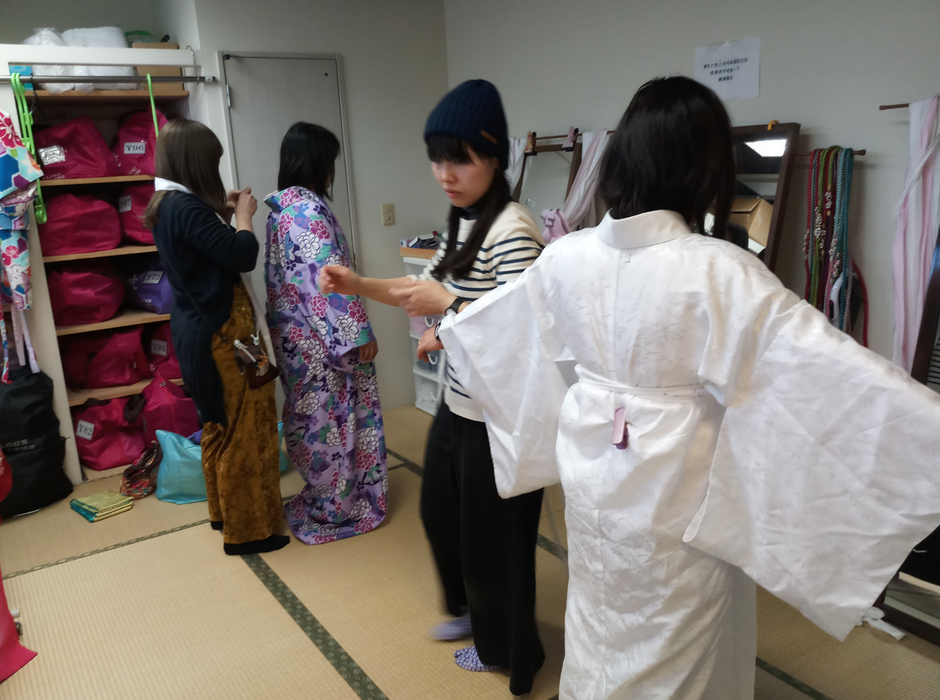 Next was to put on the colourful outer layer!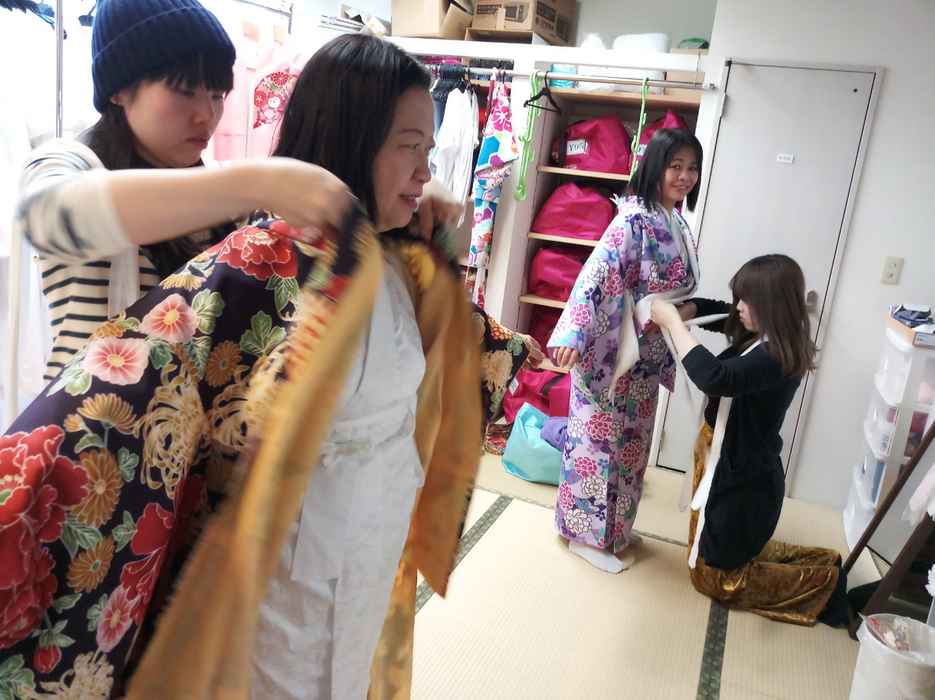 Then they had to tighten the inner layer before tying and tightening the outer layer.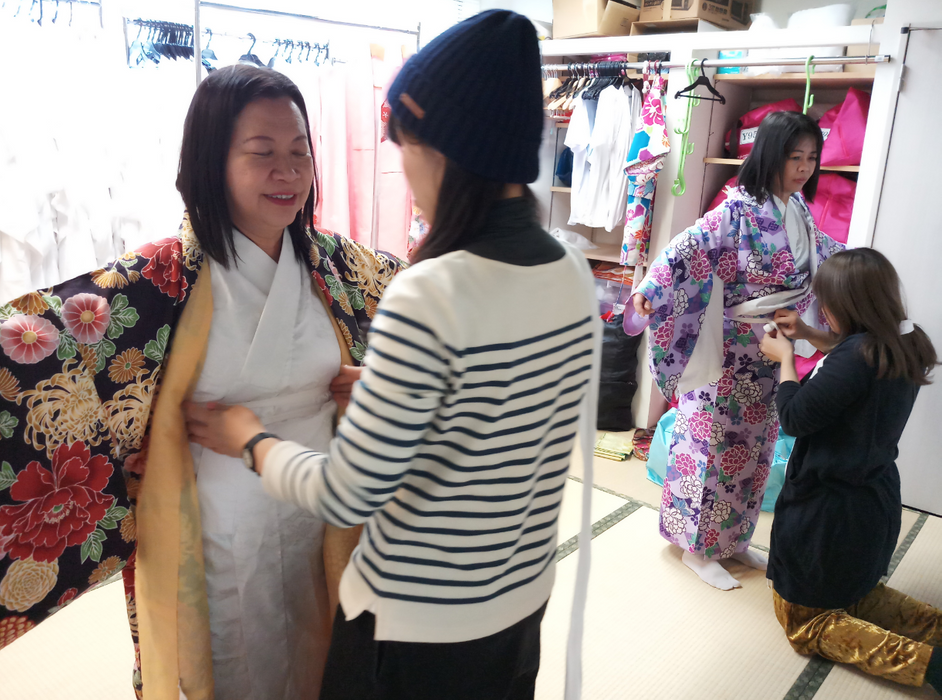 And the last step was the outer sash! It really was quite an intricate process.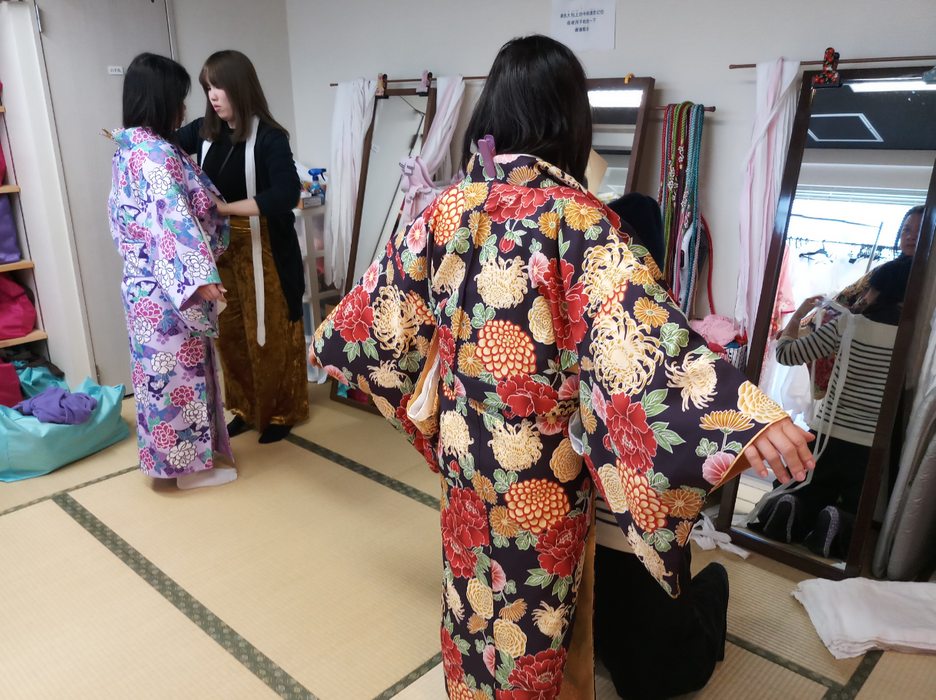 They also had a hair styling service, but since I have short hair they just gave me a fancy clip to put in my hair.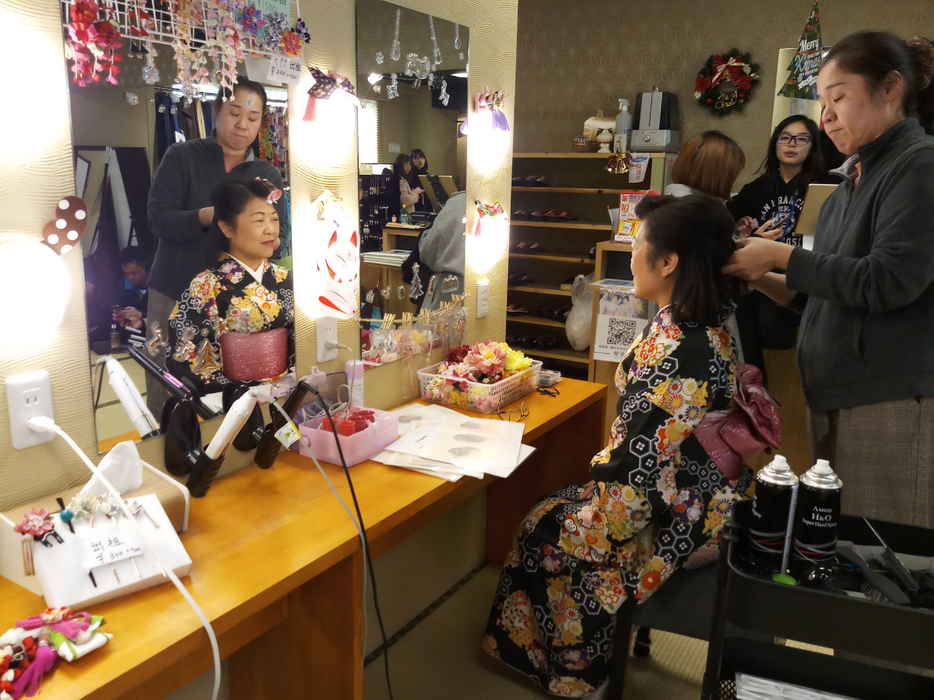 They had quite the dressing table; it felt like a movie production or something, with a whole wardrobe and makeup department!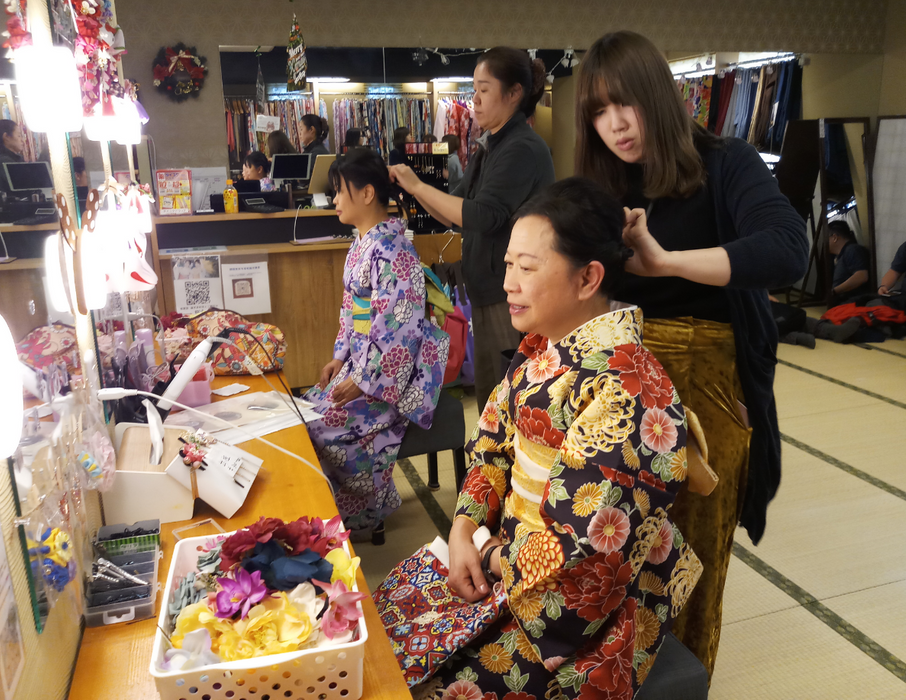 They had different hair styles and a whole range of accessories to choose from as well!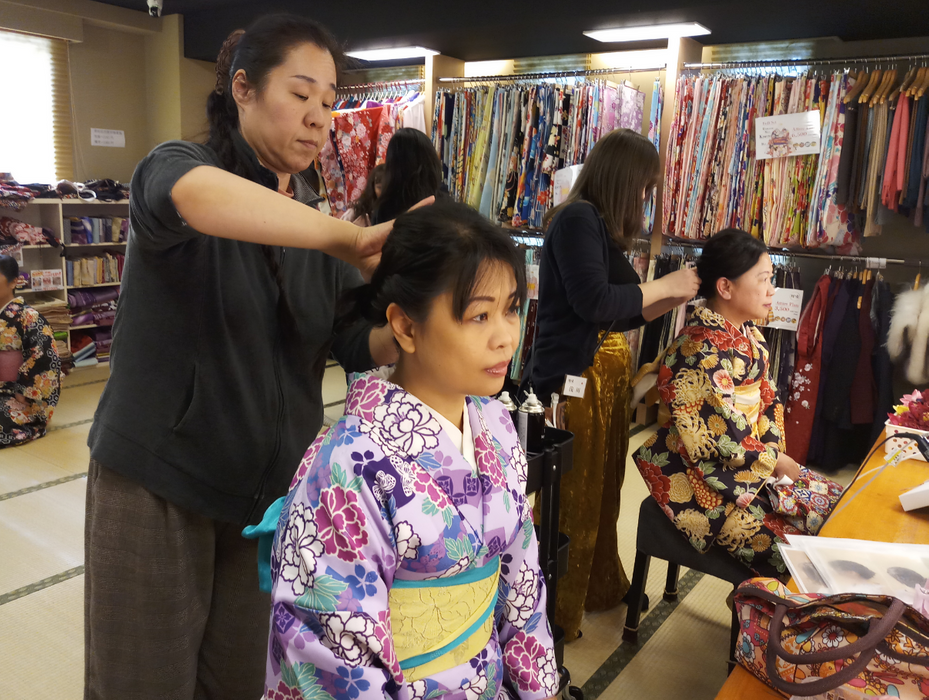 While they were getting made up, I was pretty much done!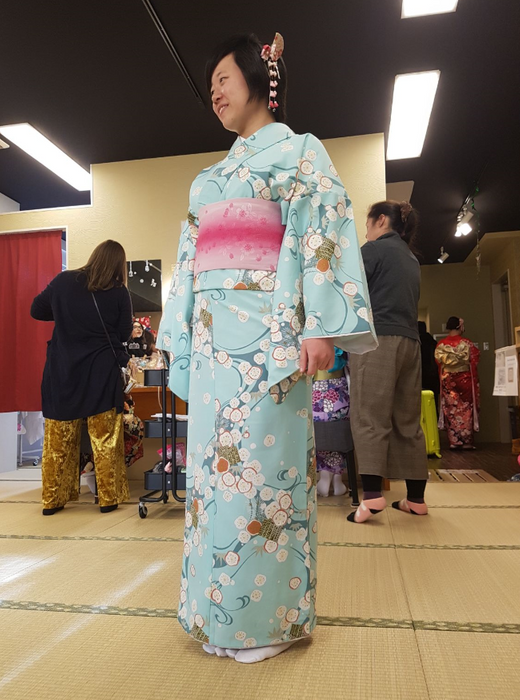 It actually wasn't as tight as I thought it would be. But to be fair, I did puff out my stomach while she was tying it so I would still have some breathing room. The skirt part of the kimono was pretty restrictive though, so I couldn't take huge strides or anything like that.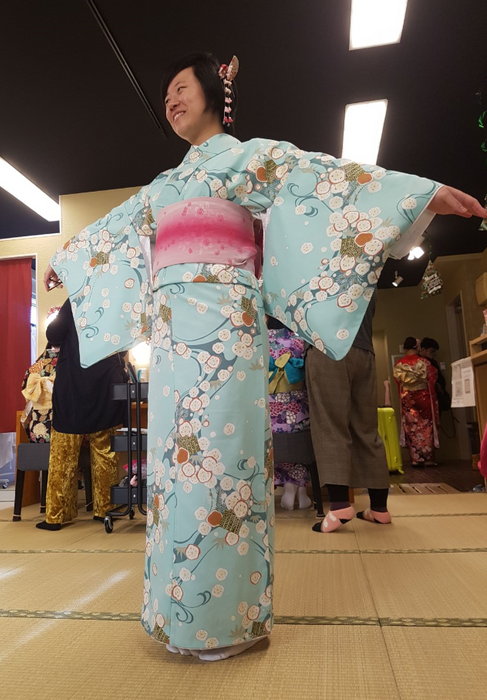 This might sound a little girly, but I felt like a princess! I was probably the most formally dressed I've ever been. I really loved the colours too! That light turquoise and the pink was definitely a good choice.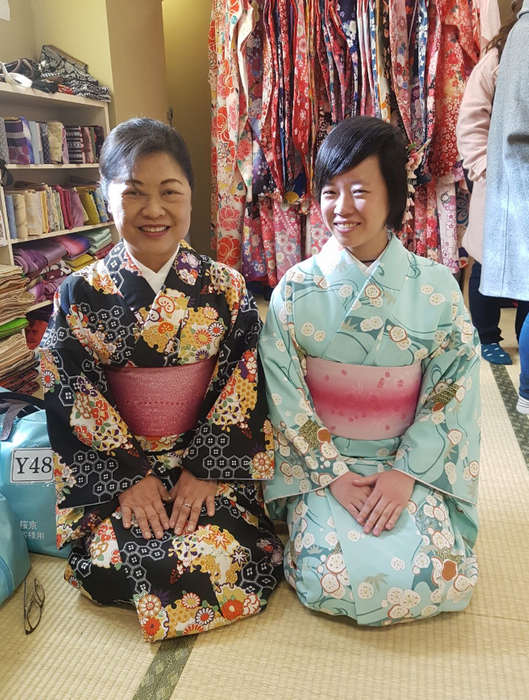 And here's all of us together! We all looked so pretty and colourful! They even gave us patterned bags to carry our stuff in as we walked around outside!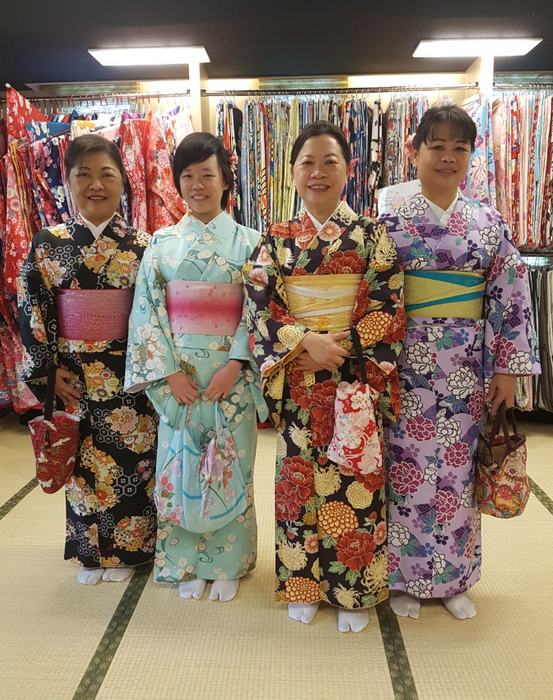 And our backs all had a very nicely tied bow: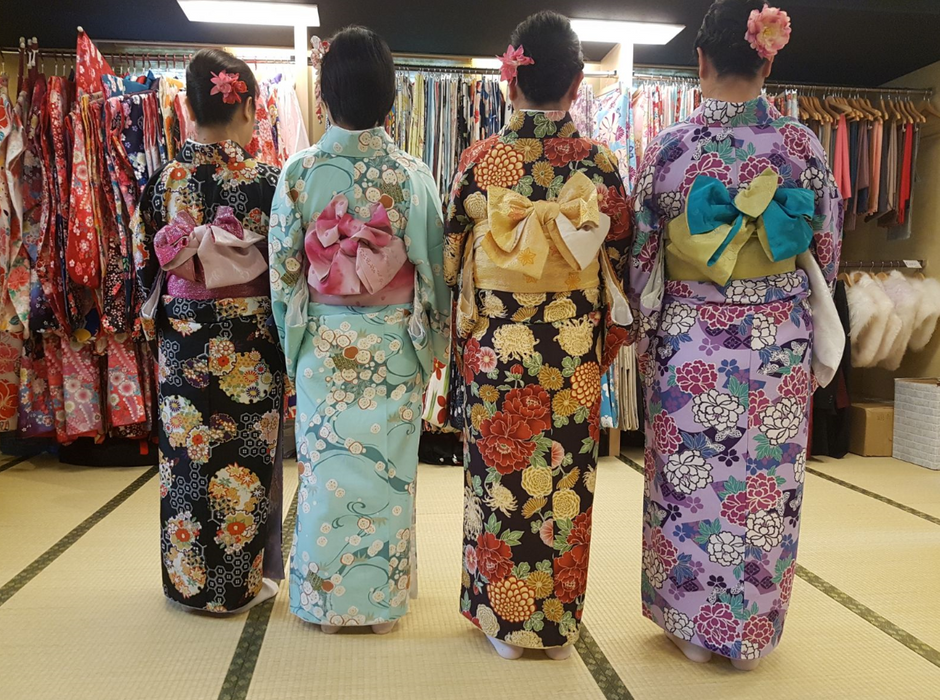 And yes, now we actually got to go out all dressed up and take photos! The rental shop allowed us to leave our stuff there, so we headed out nearby to take some photos.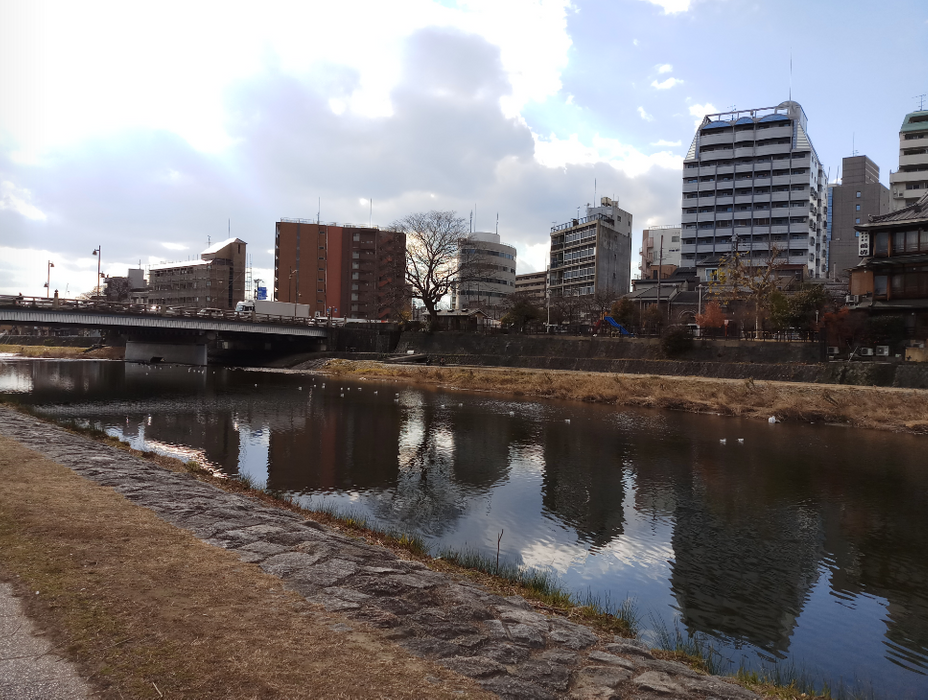 They didn't really want to go too far so we hung around the neighbourhood and took some pictures beside this river/canal.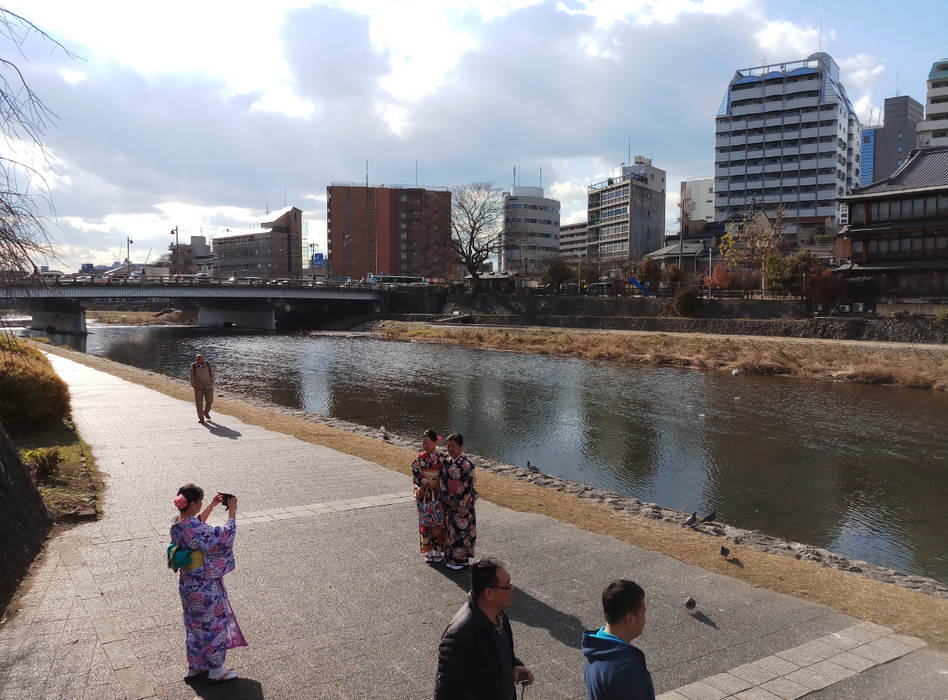 I'm not sure what that building opposite was, but it looked pretty cool!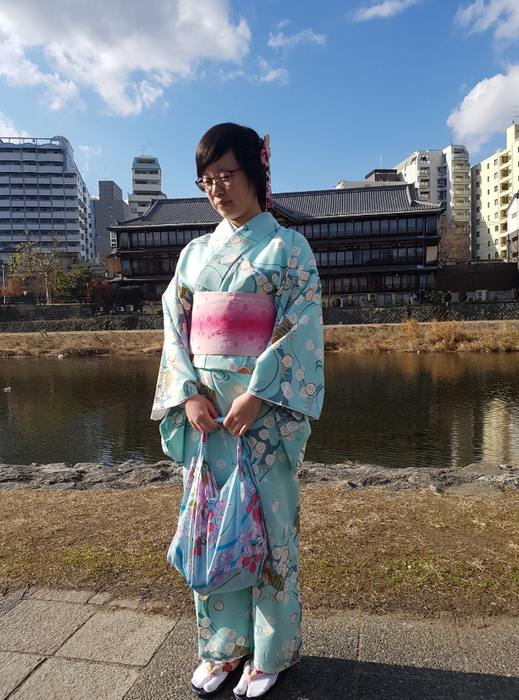 We just ended up taking some random shots here and there: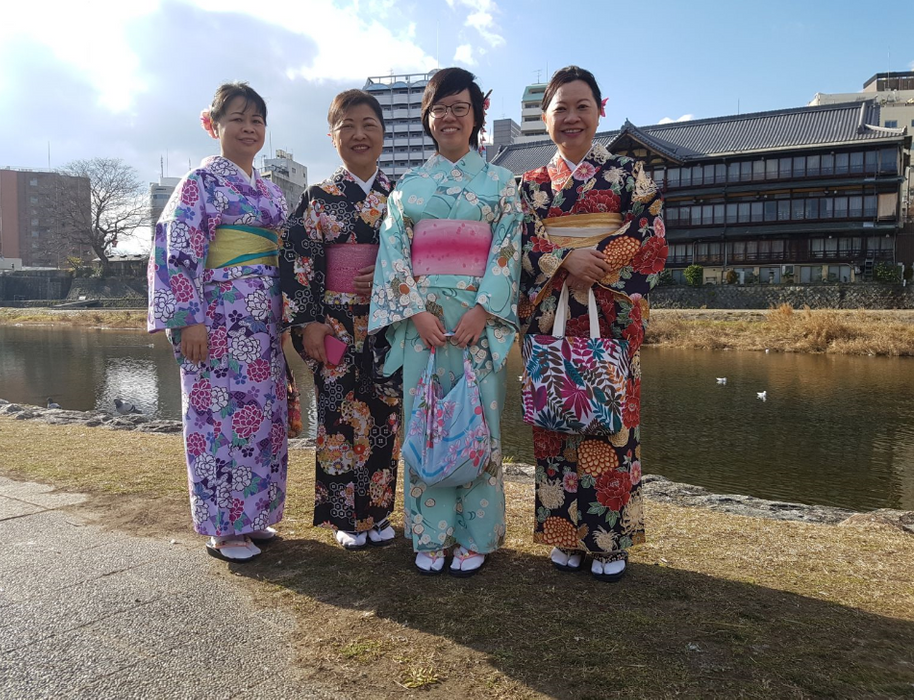 These are some my favourites though: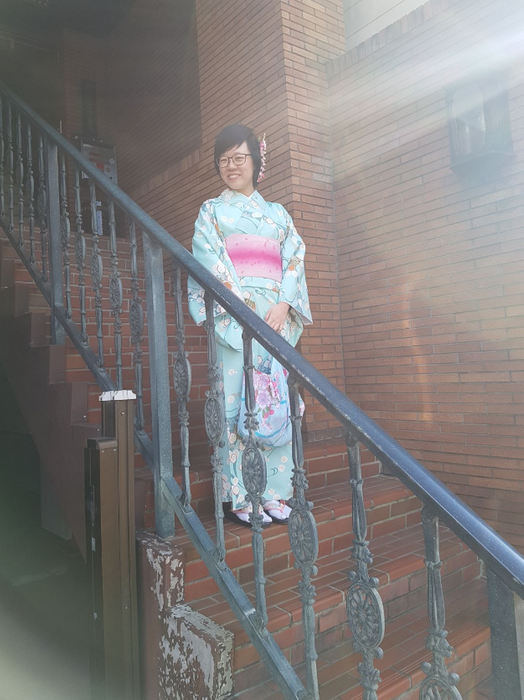 I think these stairs actually lead up to someone's house so we're lucky that no one came down the stairs at the time.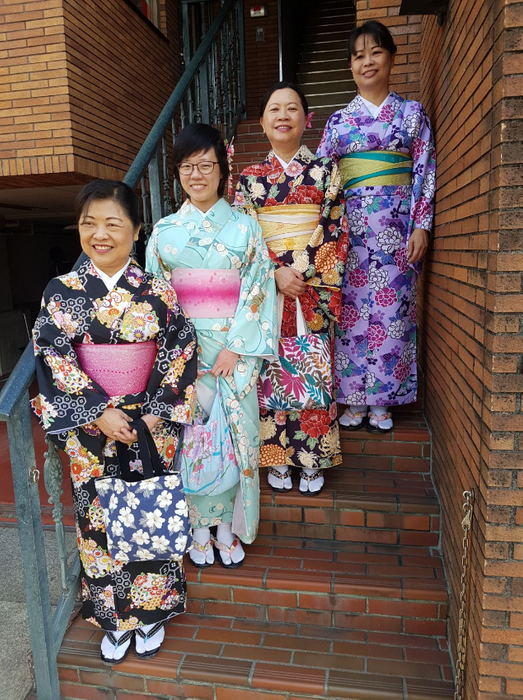 We looked so colourful next to these dead trees in winter.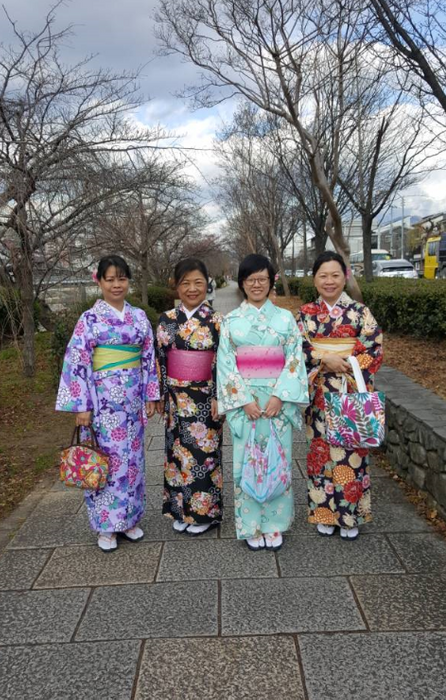 Here's a pretty candid shot: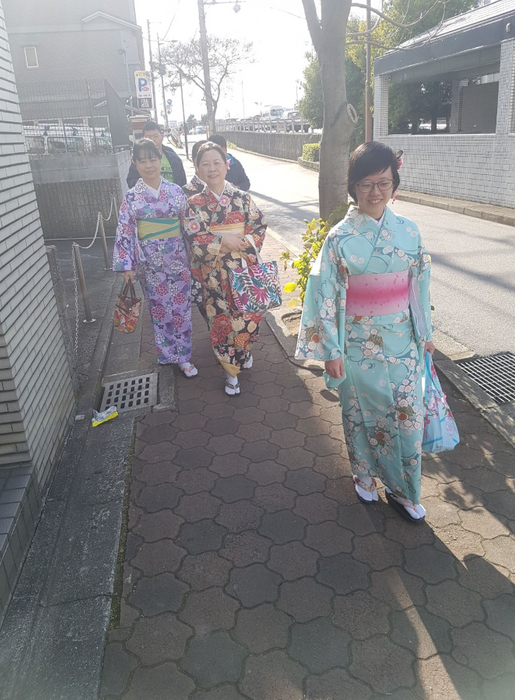 Kudos to the guys for taking photos for us!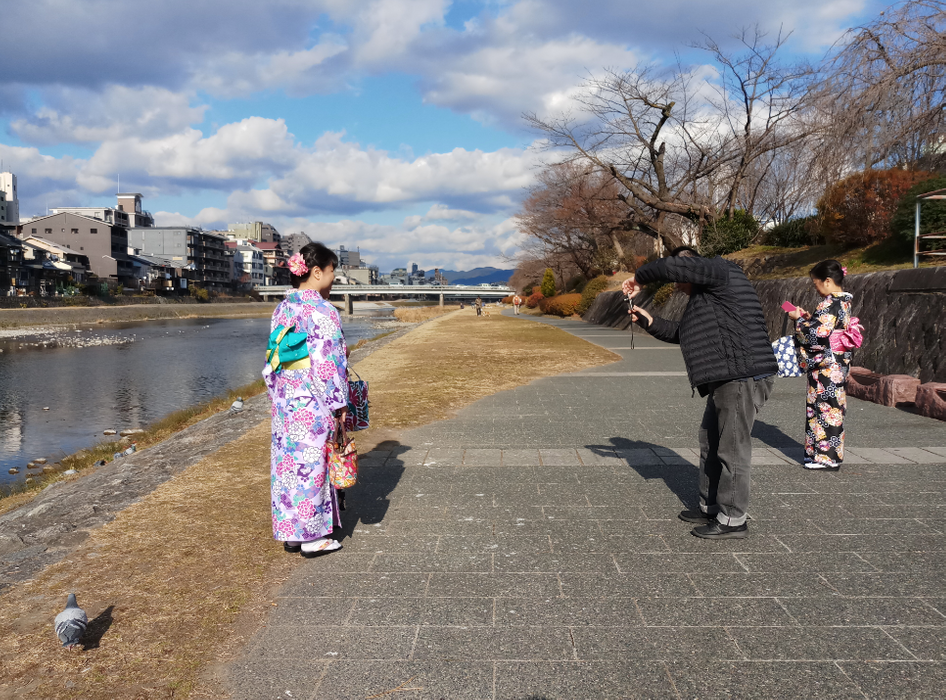 And as if this day couldn't be any better, I saw a corgi!!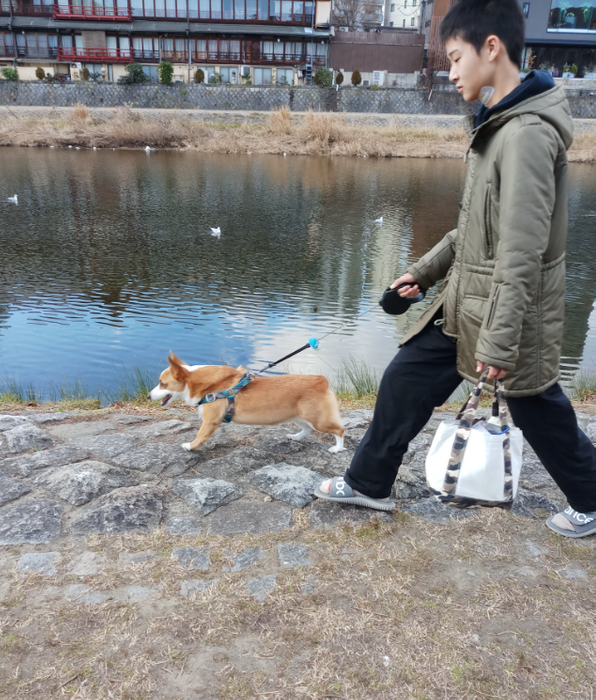 Here's a couple of nice landscape shots too!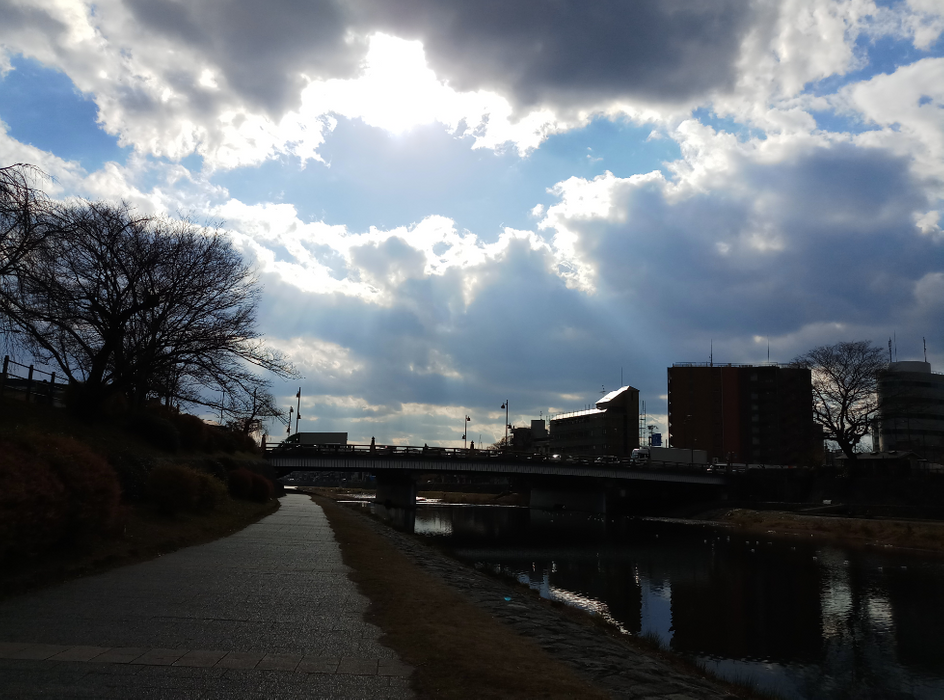 Man how I wish it was still autumn. My kimono would stand out so well against the yellow/orange leaves of fall I think.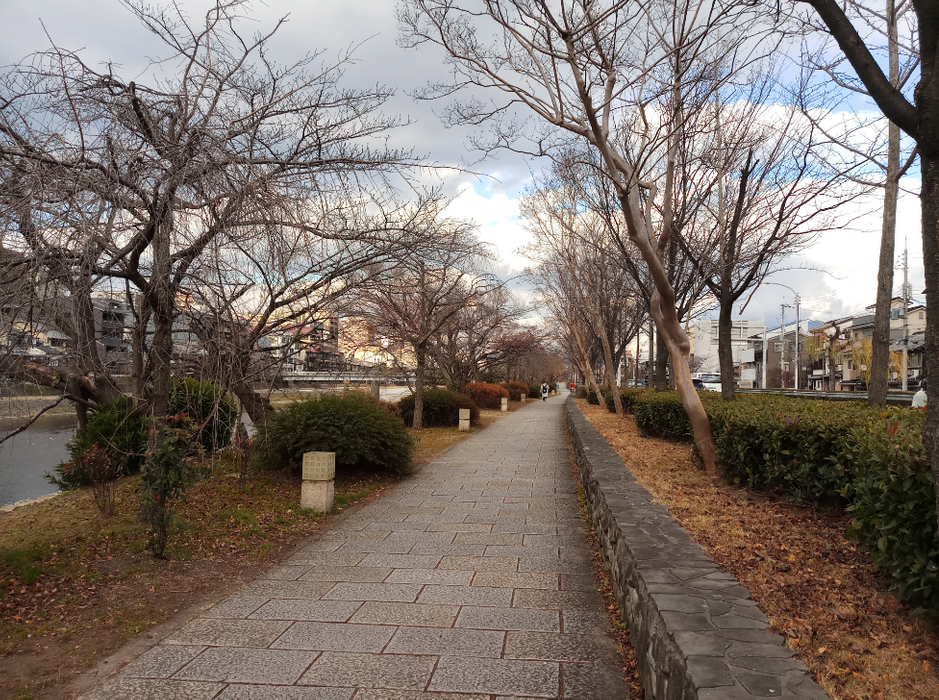 Here's a nice shot my mum took of Sean and I tho.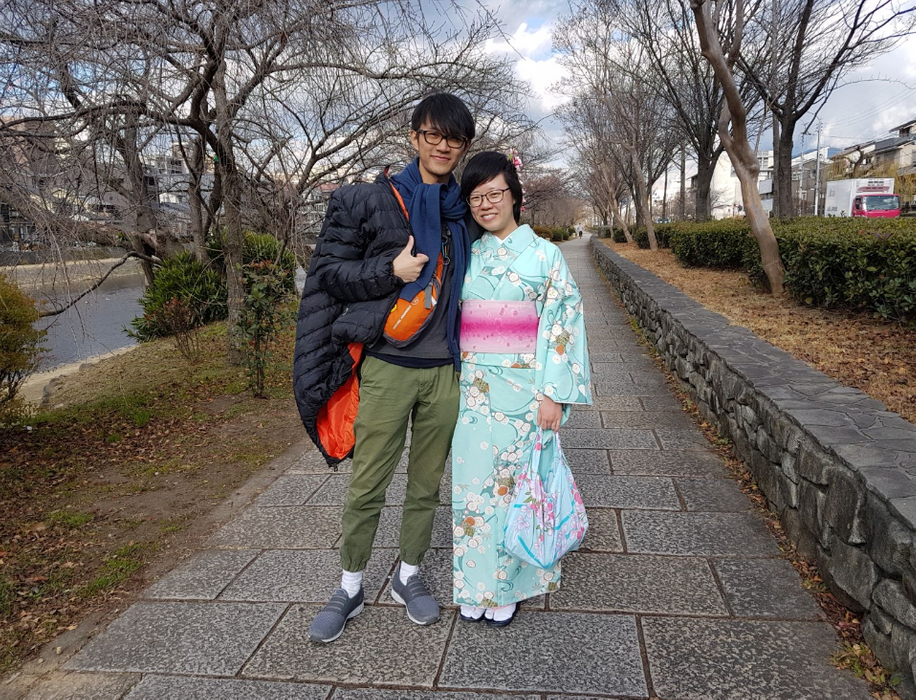 I can't wait for the day when we can go back and dress up together next time! ...for our honeymoon..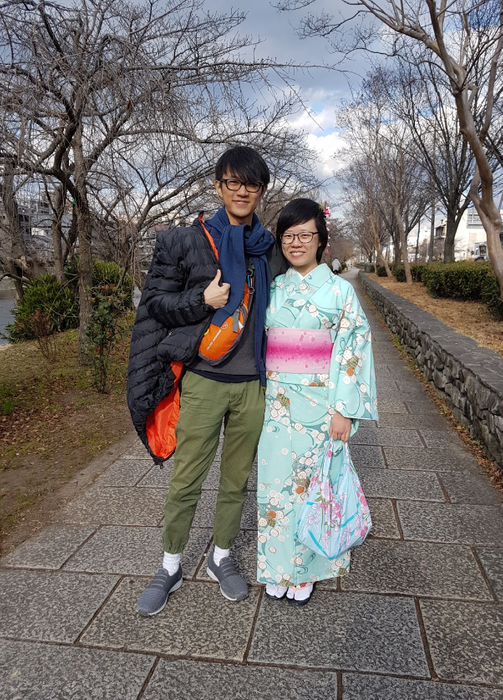 Anyway, after about an hour or so taking at least 100 photos, we started making our way to the rental store.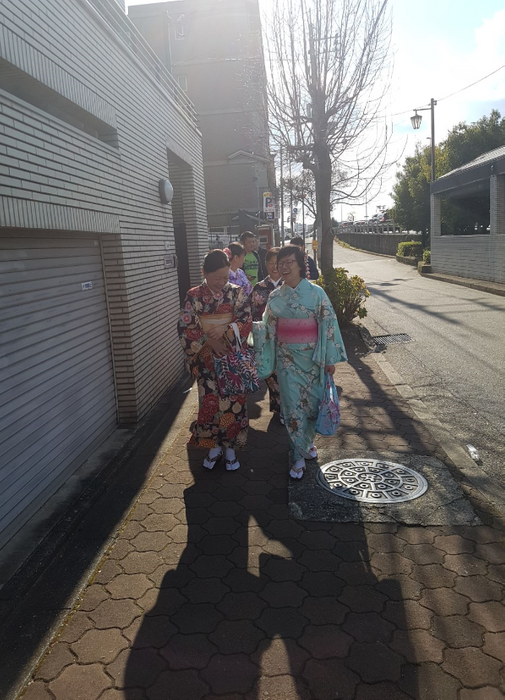 When we went back, they helped us out of our kimonos and it was time to say goodbye to being pretty..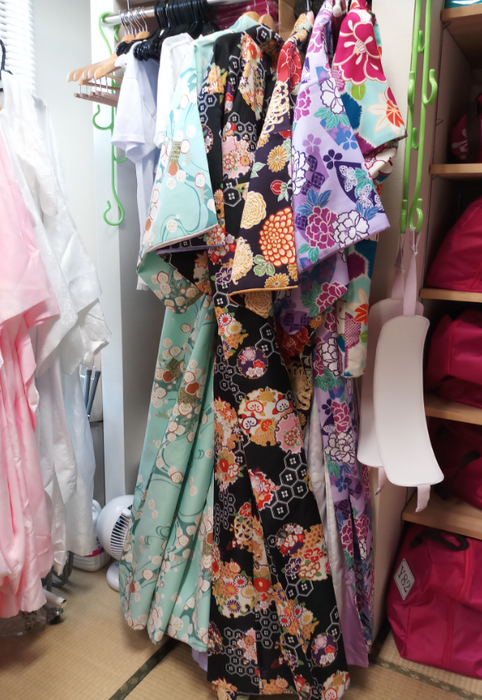 This was the rental store btw! So if you're ever in Kyoto and want to give it a try, definitely check out this shop! The staff are very helpful and patient, and made our experience awesome!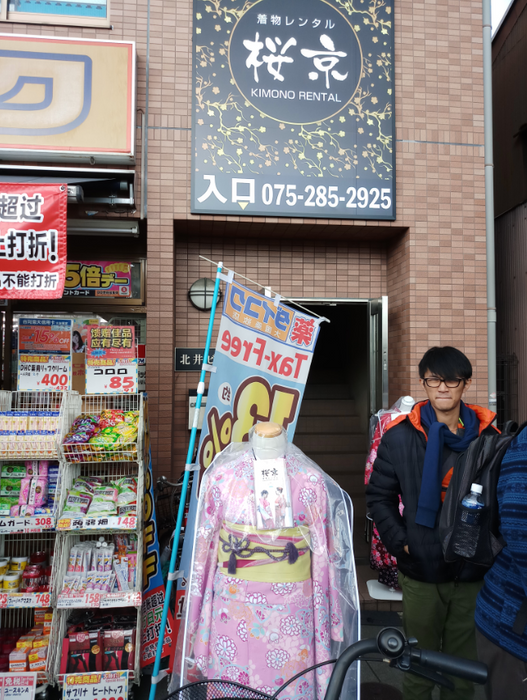 I don't remember where we had lunch exactly; I think it was just a random stall, but the food was pretty average. It was kinda like izakaya food, and was kinda meh.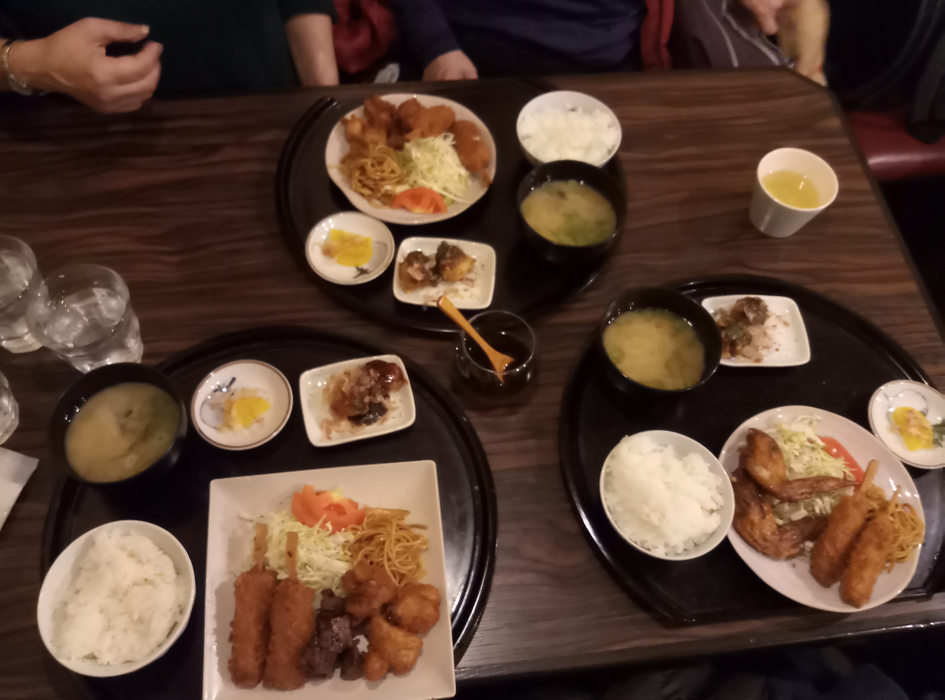 But I think that's gonna be all for today! Sorry the photo spam, but I hope you enjoyed them!
Tune in next week to see where we visit another special place in Kyoto!
Thanks so much for reading!

To find out more about me, check out my intro post here!
---
Check out my previous post in this series!
TacoCat's Travels #118 (Japan 5.0: Osaka): Trying Onsen in Osaka! ♨