Hey Hive!
So if you missed the last couple of posts, we're currently on another journey to Japan after we finished our final semester of college back in January 2019! And it was coincidentally around Valentines' Day too! We initially talked about wanting to visit South Korea but a Delta Airlines deal kinda changed our plans so.. to Tokyo once again!
But this time we were staying somewhat outside Tokyo in an area called Omorimachi and last week, we started our Valentines Day with a thrilling journey through Fuji-Q Highland, which is an amusement park at the foot of Mt. Fuji renowned for their world record breaking roller coasters!
After taking a ride on two of them, Sean was pretty much done so we just walked around and explored the park. And we also came across the infamous Super Scary Labyrinth of Fear! Which was extremely intimidating even at the entrance.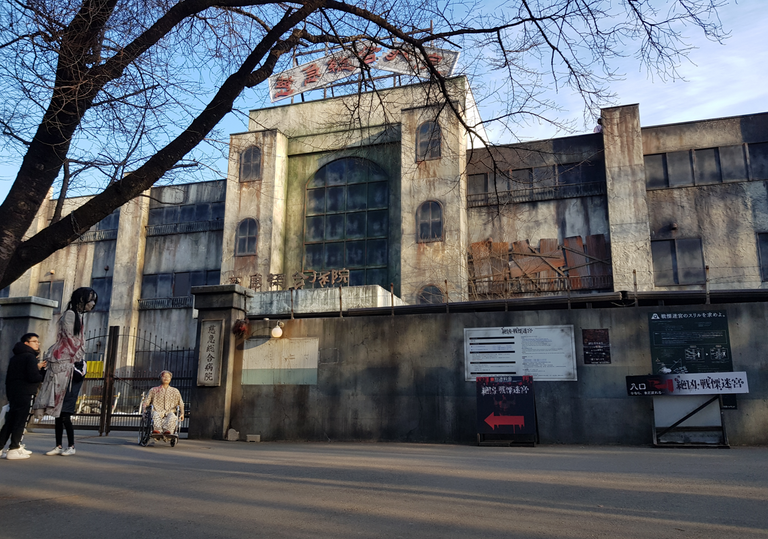 14 February 2019. Thursday.
Anyway, it was getting dark so we didn't want to hang around the haunted house or the even creepier Thomas Land when the sun went down..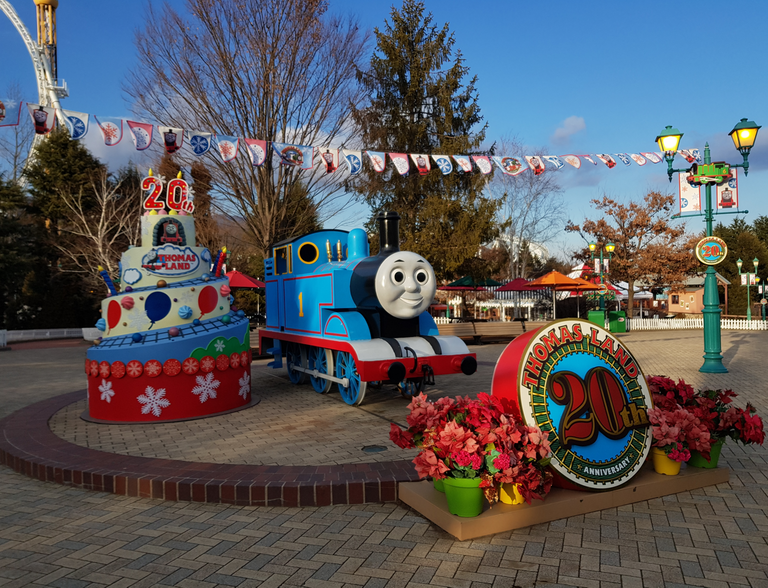 There was still some parts of the park we've yet to explore though, so we took a stroll through another way on the way out.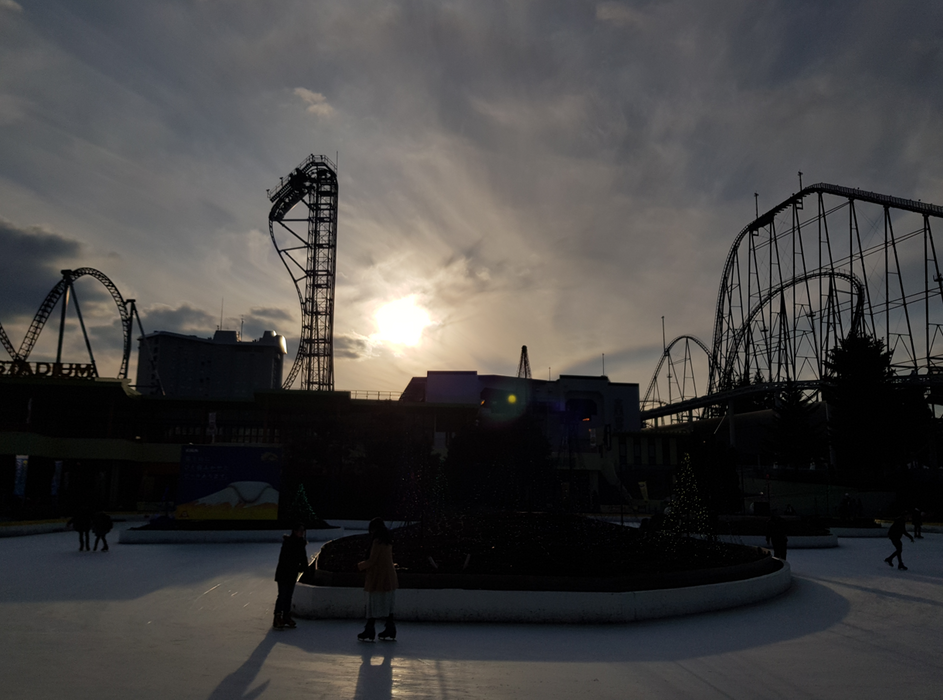 The sun was slowly setting while we found our way back.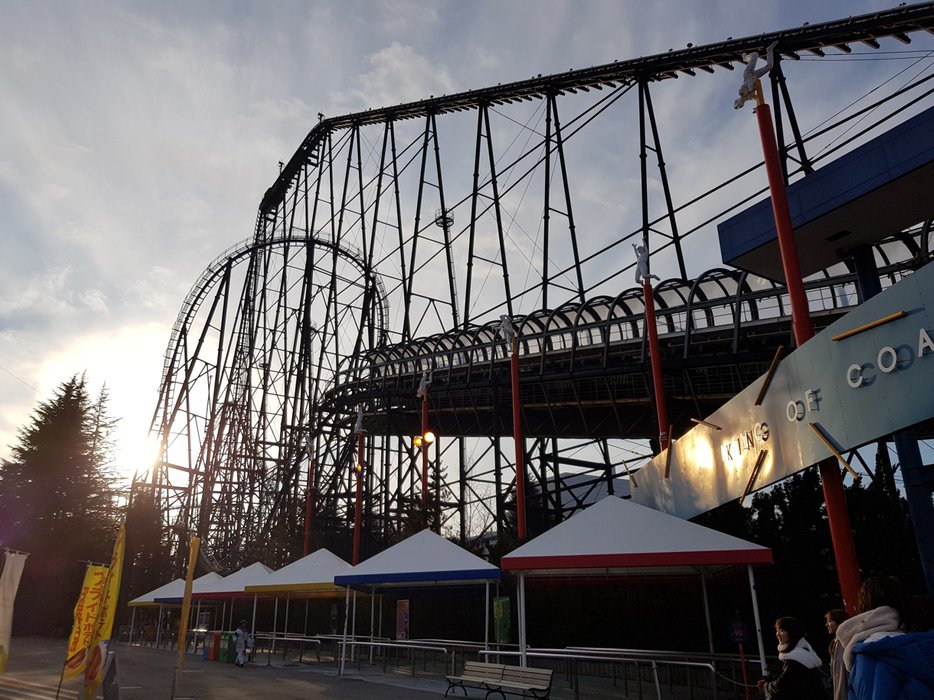 There was a nice photo spot outside of the Fujiyama King of Coasters that we wanted to take a pic with just now but it was too crowded so we finally got a chance!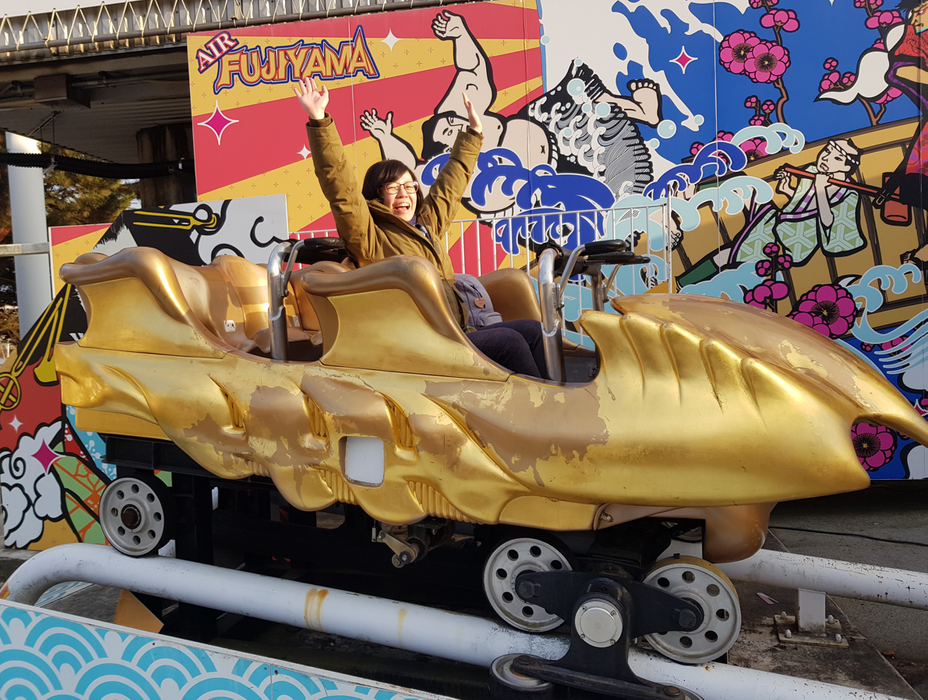 This probably the only time I will ever look so happy on a roller coaster.
There was another way out of the park and we headed through this area that looked like a European village.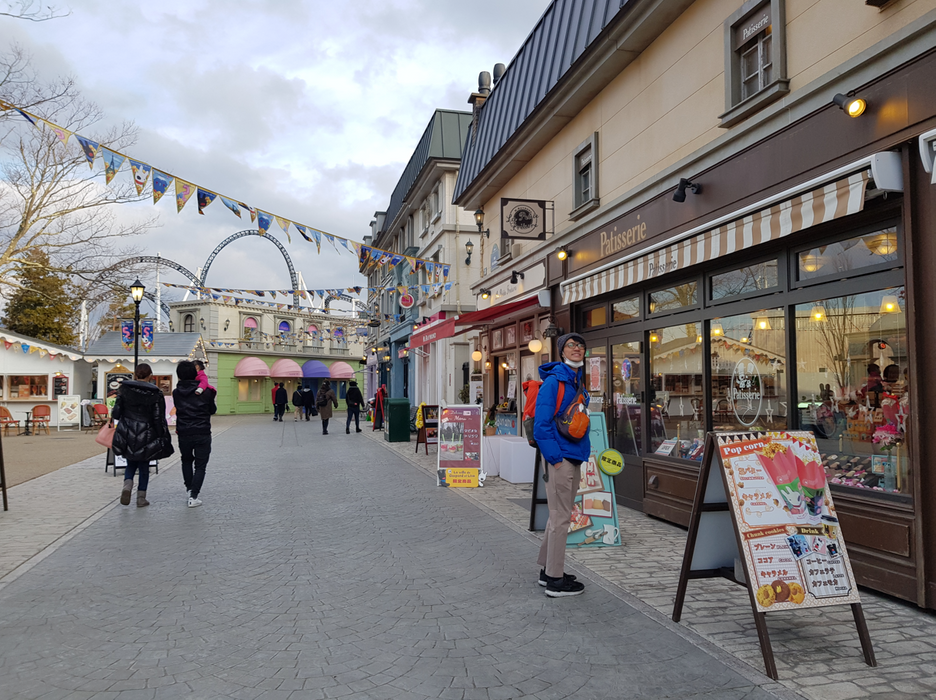 I think this was themed after these characters but I wasn't familiar with them. They did look familiar though.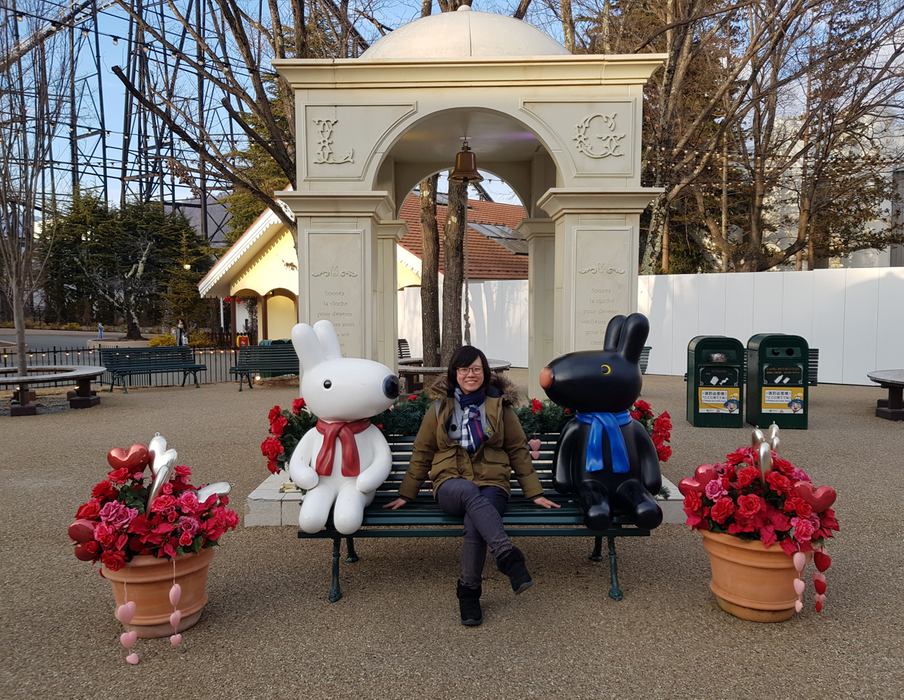 I did like all the colourful stalls though.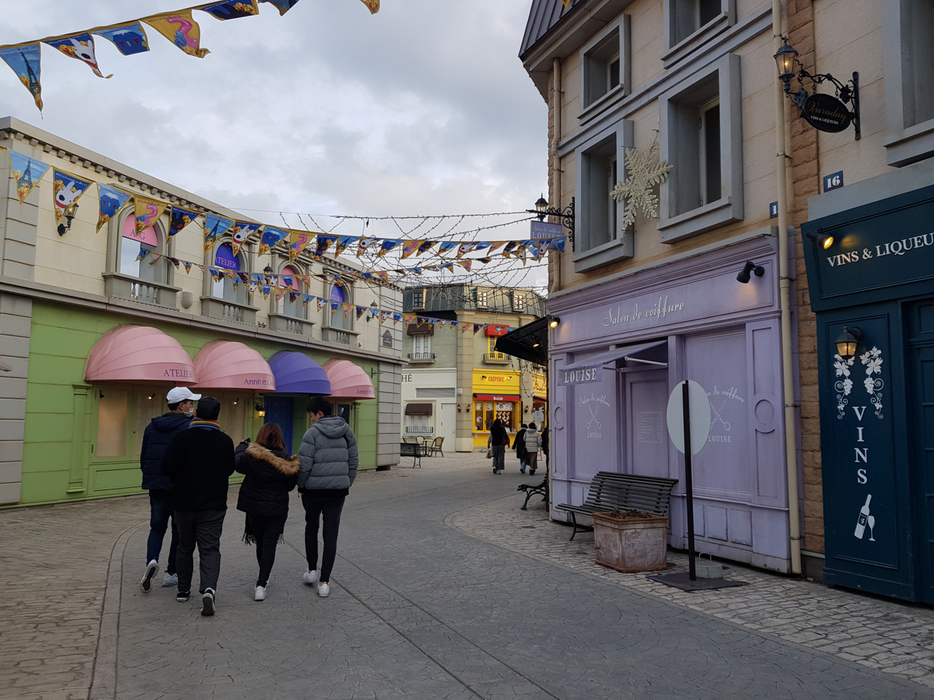 It actually kind of reminded me of Diagon Alley a little bit. Or what I imagined Diagon Alley to be like when I first read Harry Potter.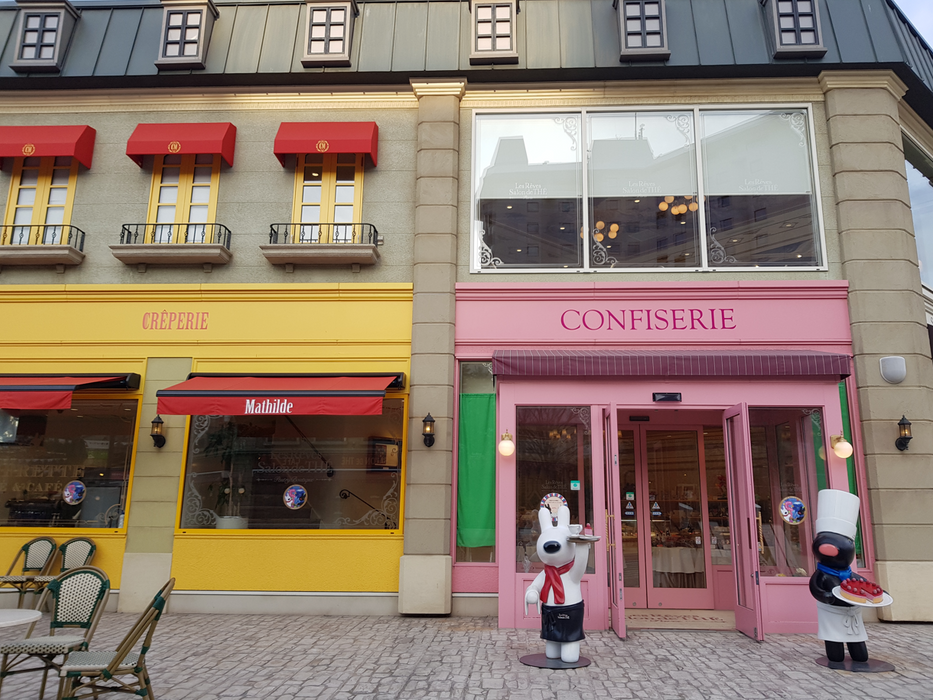 There was another nice photo spot with Christmas decorations and a fake Eiffel tower in the back too! I guess it was modeled after a French village.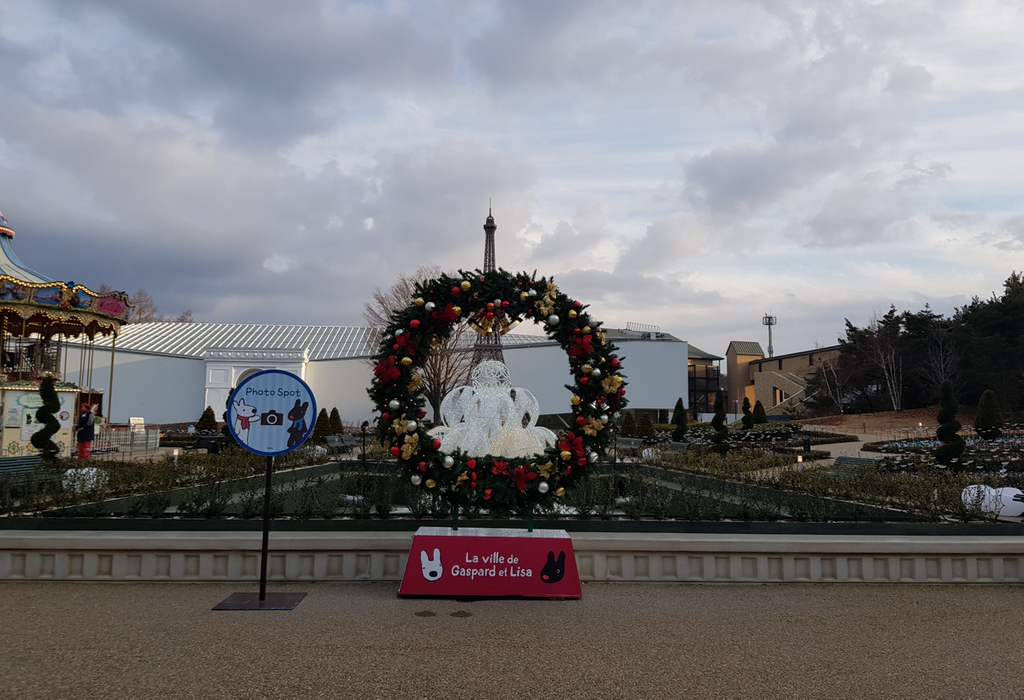 Turns out the characters are called Gaspard and Lisa! And they're characters from a series of children's books a series of children's books created by wife and husband Anne Gutman and Georg Hallensleben. They published the first "Gaspard et Lisa" book in French in 1999. And the characters became hugely popular in Japan following the introduction of Japanese translations of the books in 2001! (Source: Wiki)
It was such a nice photo spot but there wasn't a stand to put the camera. And Seany was just gonna take a photo for me but a kind stranger offered to take a photo for both of us!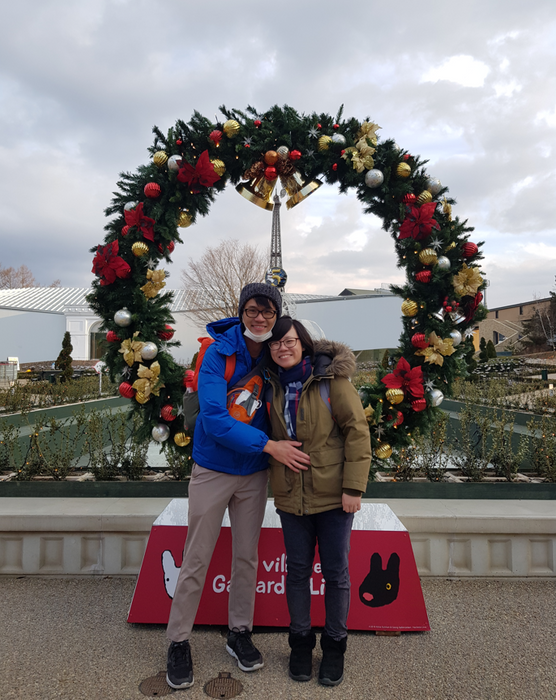 There were so many nice flowers and lights in the bushes here. I bet it would look so lovely at night.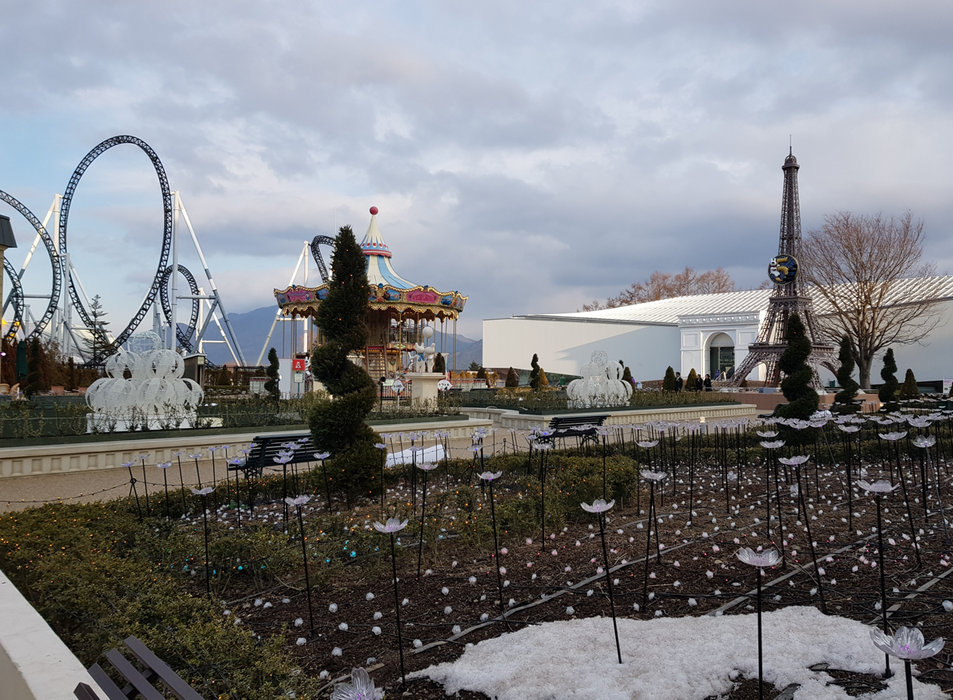 We also took a photo with the Eiffel Tower; reminiscing back to when we took a photo with the real Eiffel Tower in Paris!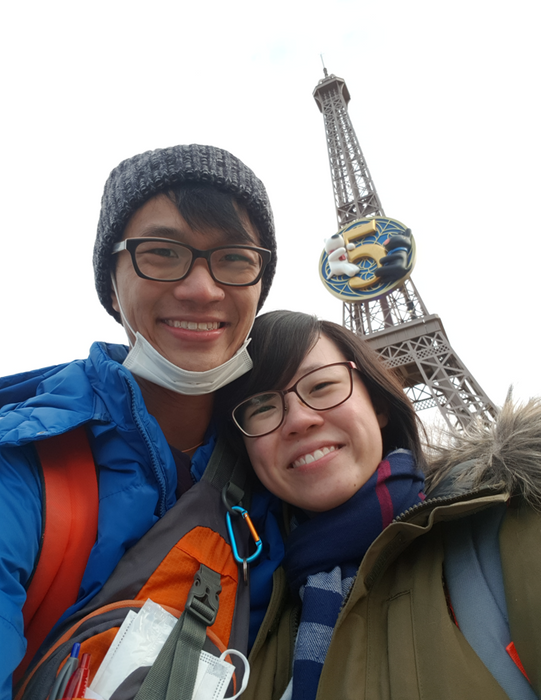 3 years ago, we went to Paris and saw the real Eiffel Tower!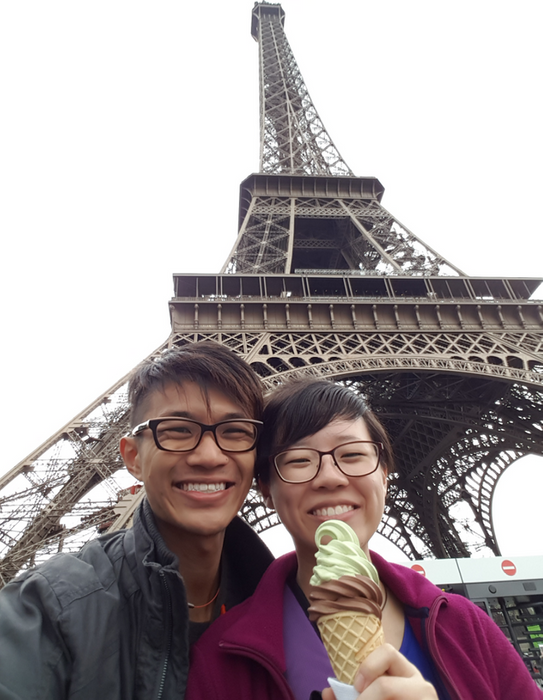 We found ourselves in the gift shop again and there were so many snacks and goodies!
There's also a whole selection of alcohol here too dang.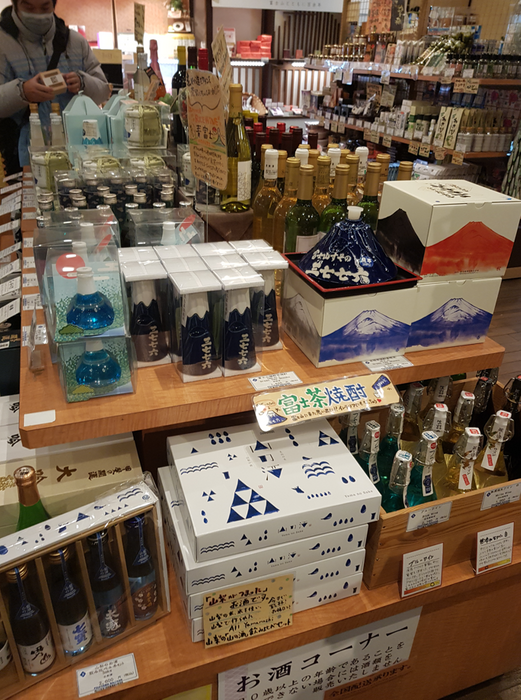 There was also a bottle of Sparkling wine that looked cool since it had the Kanagawa wave on it.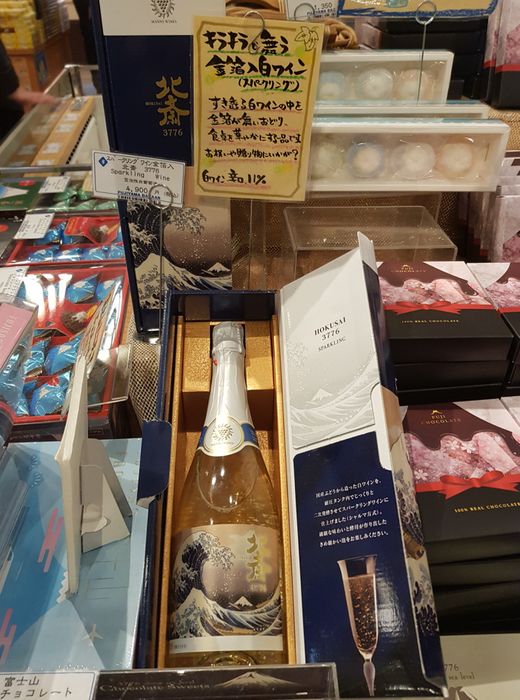 And so many sweets!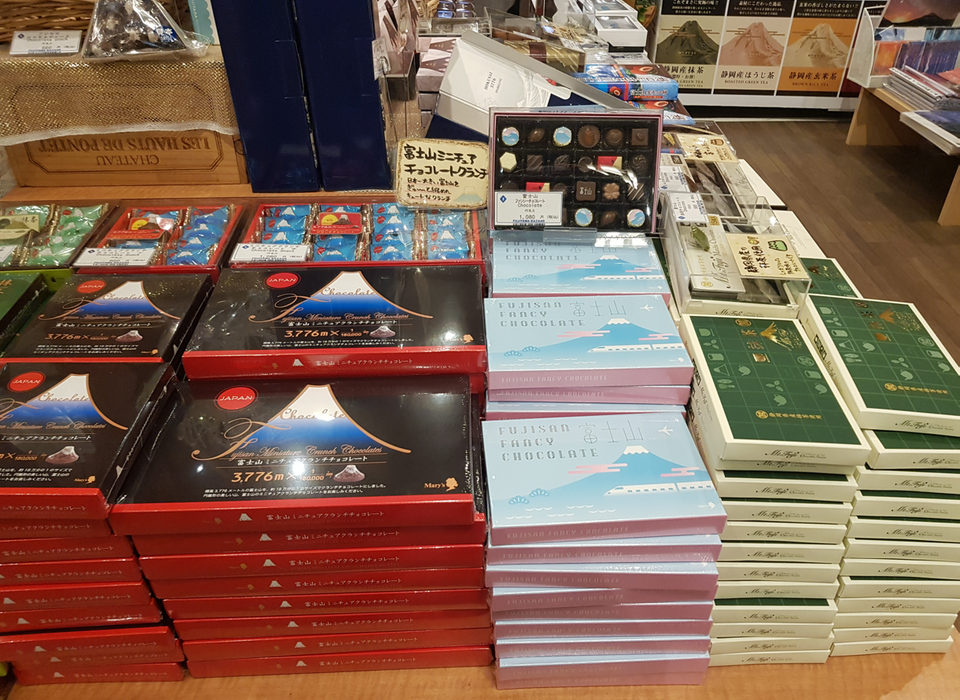 But obviously we didn't buy anything since everything is really expensive. And we were getting tired so it was time to head to our special accommodations!
It would've taken us way too long to get back to our apartment back in Oromimachi so Sean had booked a special room in this fancy hotel called La Vista! It had the view of Mt Fuji too so to make it a truly special Valentines, we'd wake up to the beautiful view of Mt Fuji!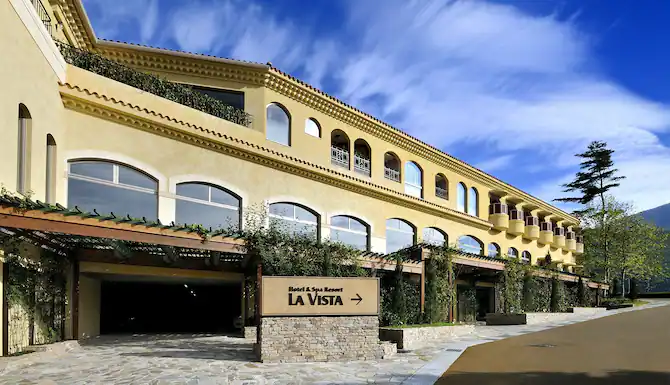 Source: Expedia
It was definitely pricey, but worth it! They even had special onsen facilities in the hotel. But first, this was our room tour:
And here was our room: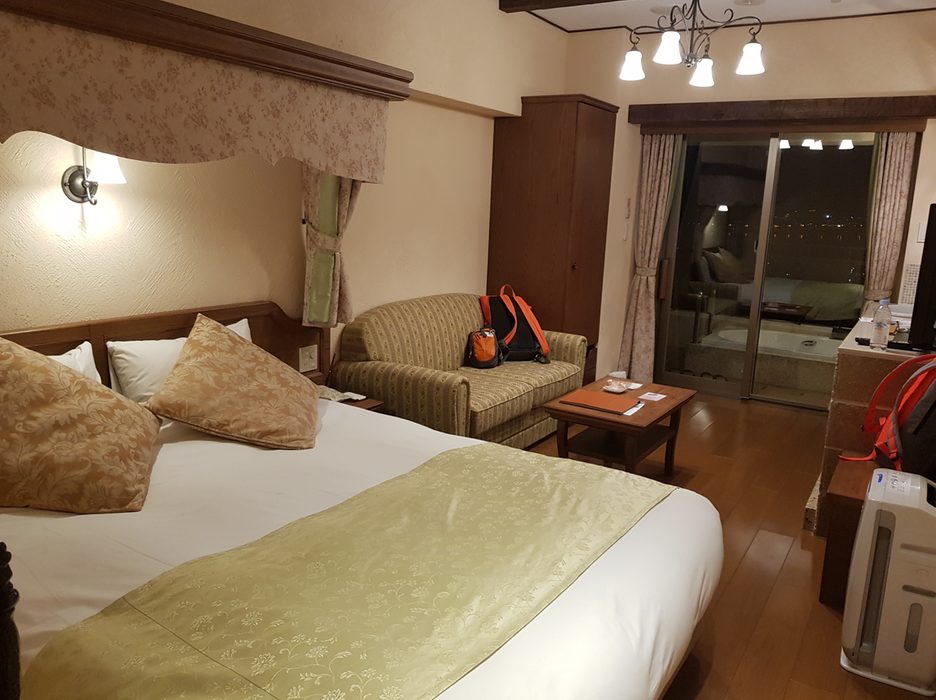 It definitely felt very European, and reminded me of my old house back in Singapore since the estate I was living in had a similar vibe.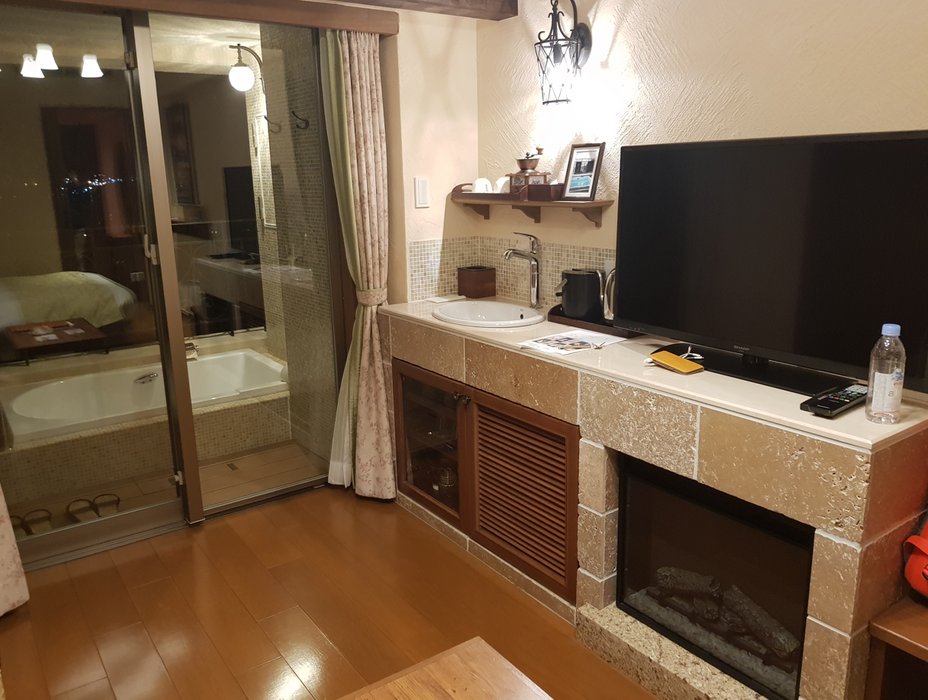 This was the bathroom: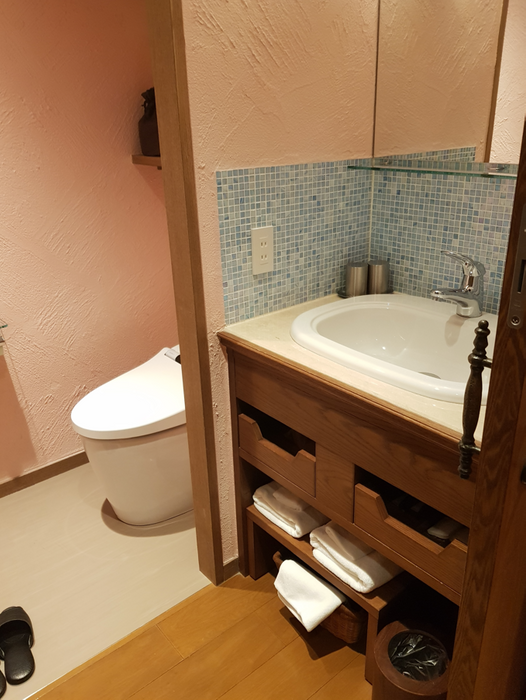 After we settled in, we decided to go try out the onsen facilities! This was different compared to the hotel onsen we went to with my family back in Osaka, since it was private! So Sean and I could go together this time!
But we did see that we had to book the onsen in advance if there were people in, so we just went to check and see if they were occupied.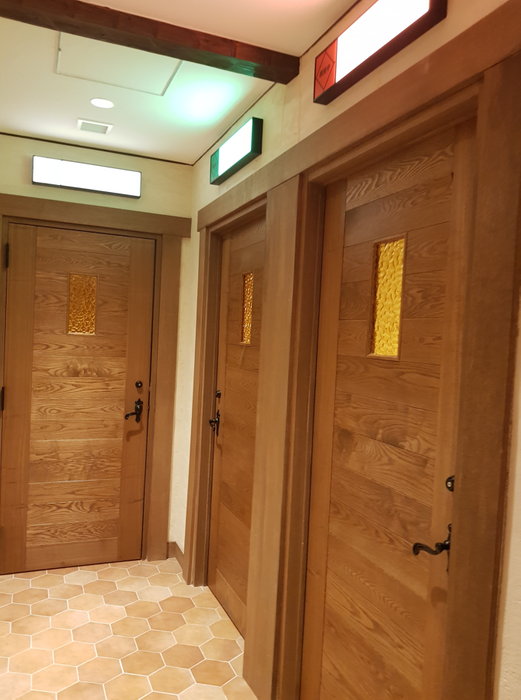 Each of the rooms had a different theme and I think none of them were occupied since it was still pretty early, around 6:30pm. So we had free reign! Sean gave me a choice and I decided to go for the Bamboo Bath!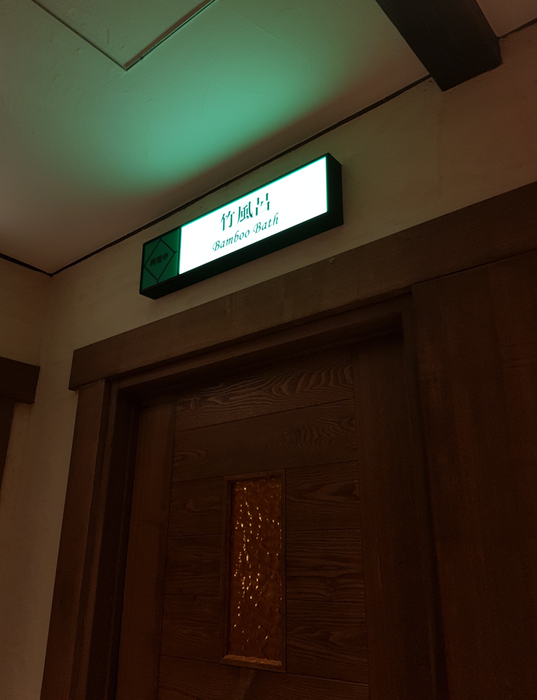 And it was really nice and cosy inside! It was definitely private for sure. There was the vanity table here.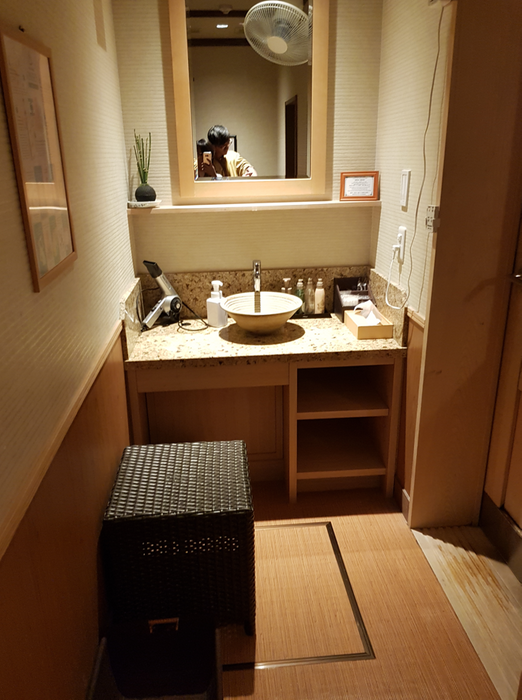 A small shower area: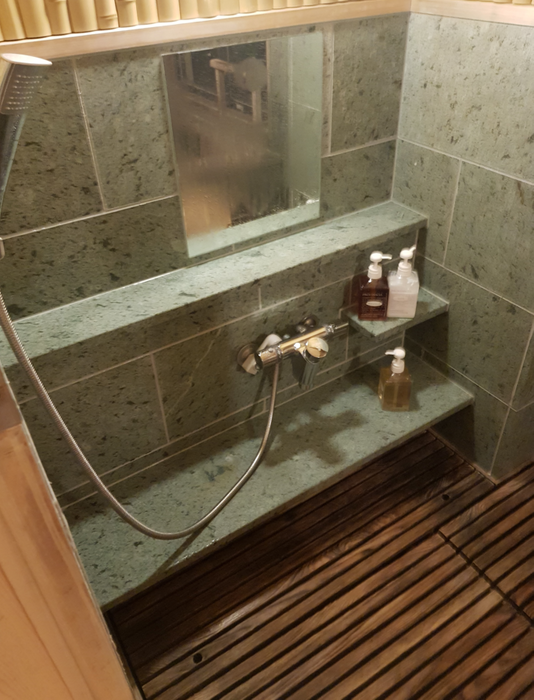 And just beside that is the bath!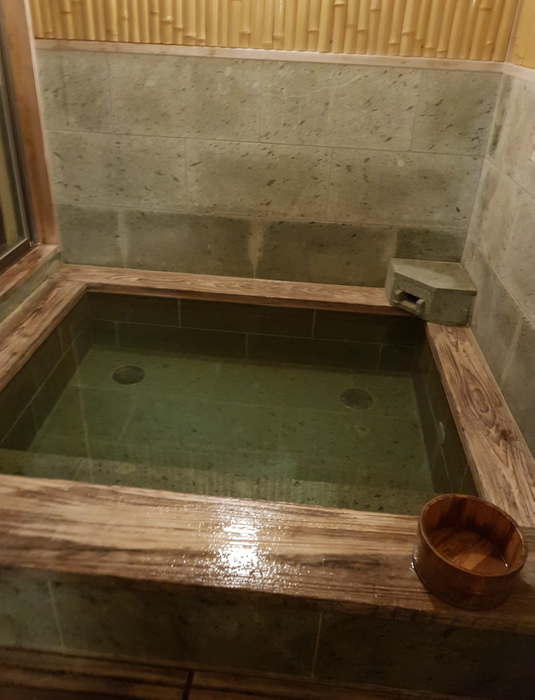 We wore the hotel outfits that were easier to change out of before taking a shower and going into the tub.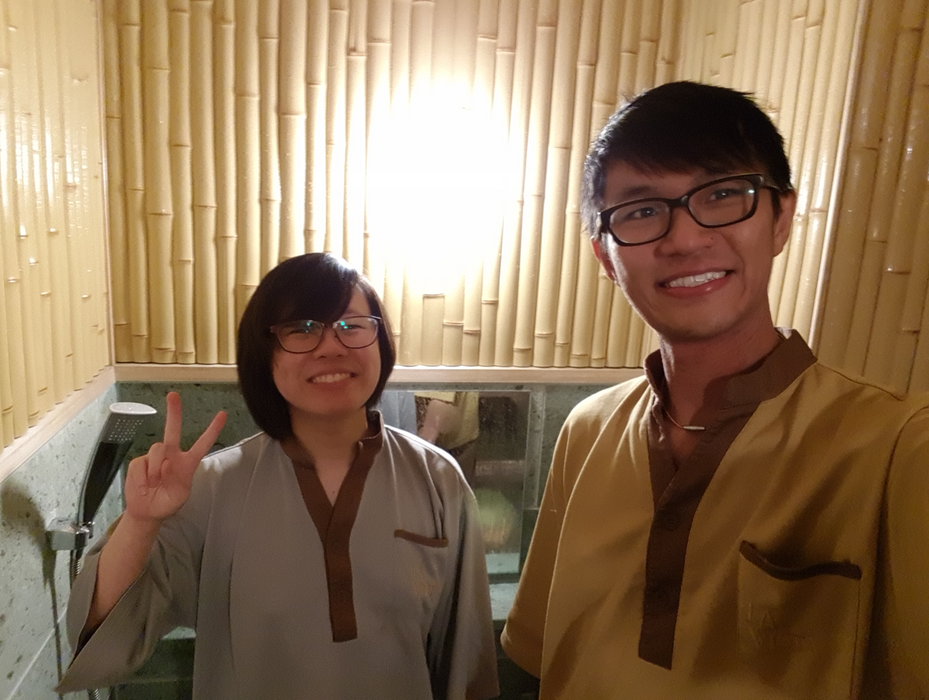 It was really warm but the water felt soo good, especially on our sore feet after walking around Fuji Q the whole day!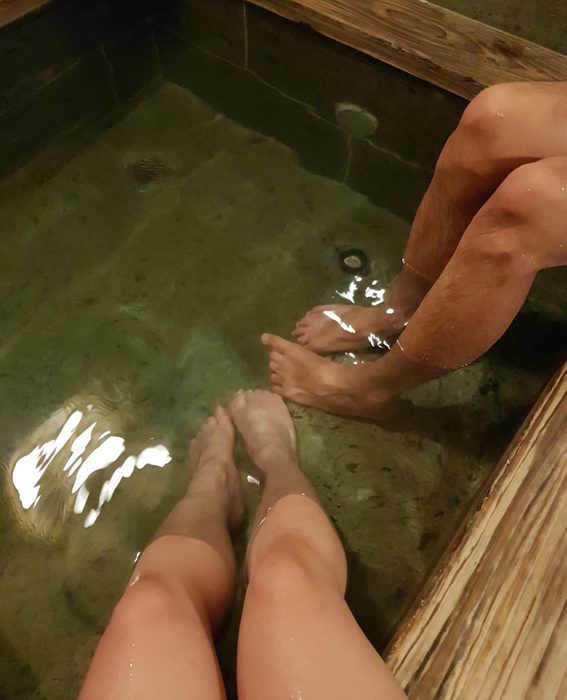 I think I can post this? It was definitely really refreshing.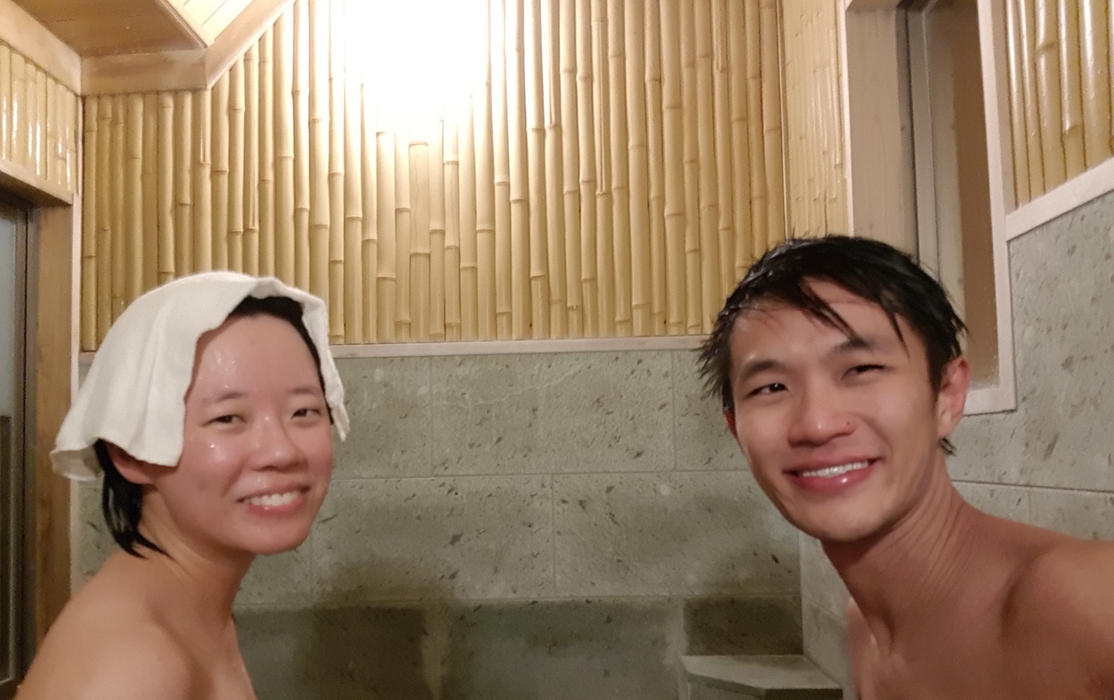 After soaking for a while, we showered and dried our hair. All the amenities were so nice and their soap was really good too!
I felt soo clean after that! And there was even a nice seating area outside the onsen with water and free ice lollies to cool yourself down!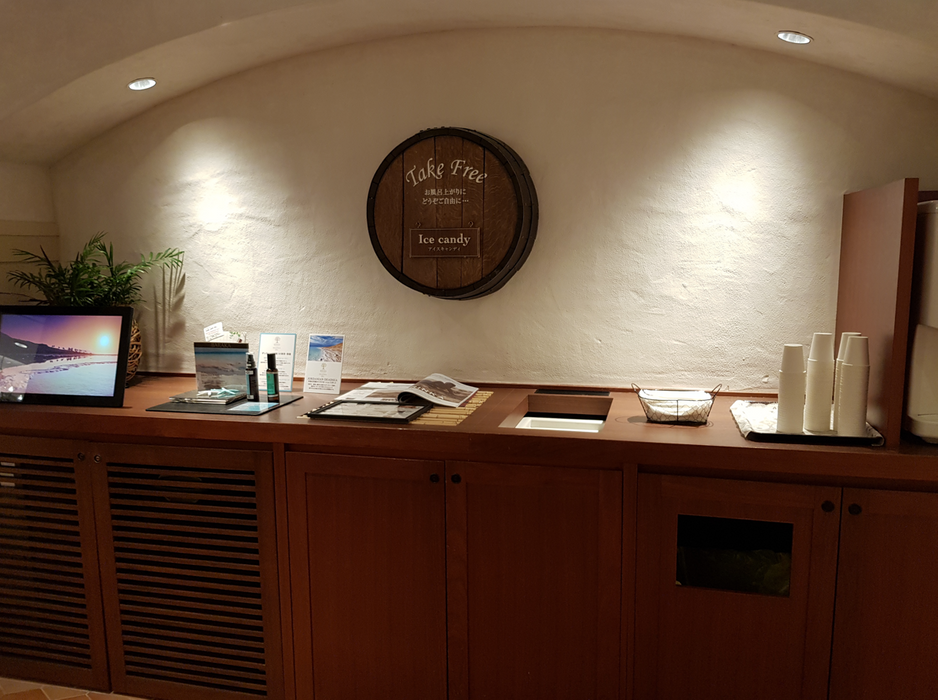 So of course we helped ourselves to one each and it was actually pretty tasty! It was basically a milk popsicle and it was indeed really refreshing!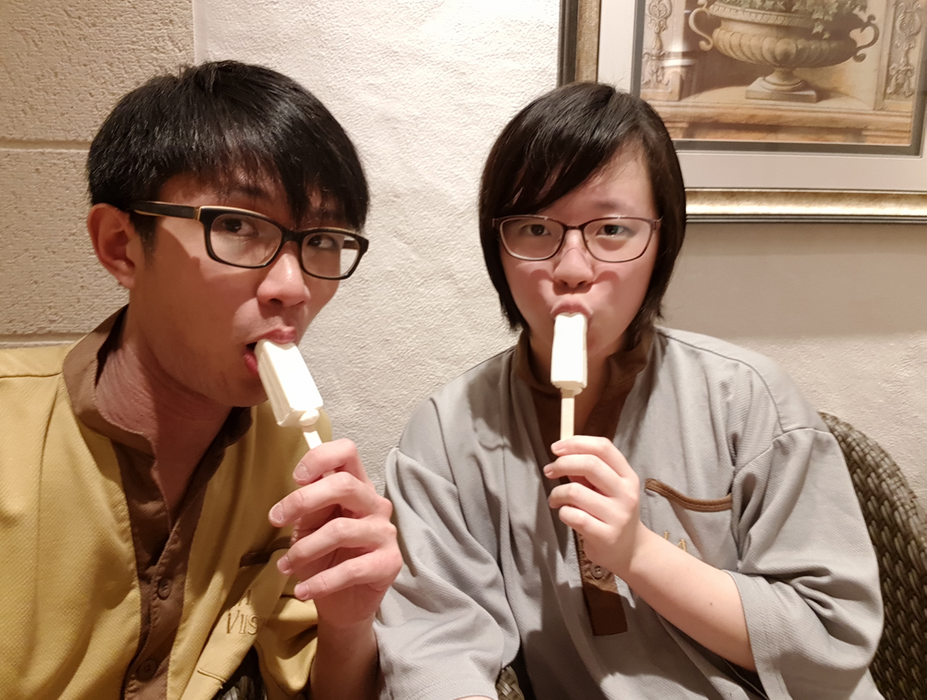 This was what the seating area looked like:
And the hallway looked pretty cool too!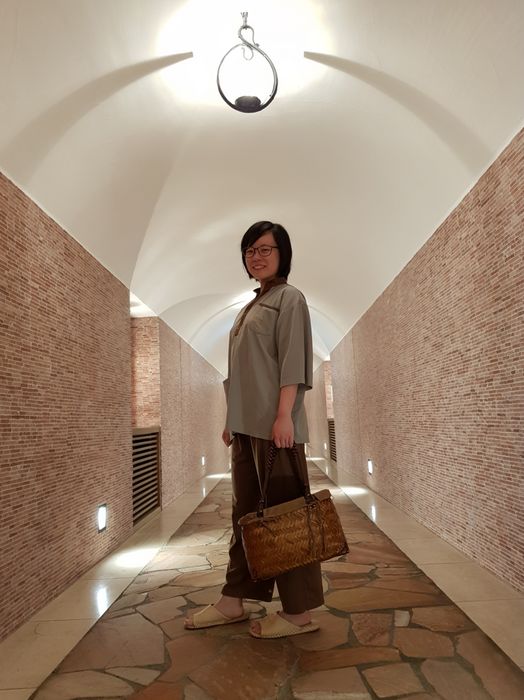 I'd say this onsen experience was miles above the last one I had in Osaka, since this was private and I could enjoy it with Sean!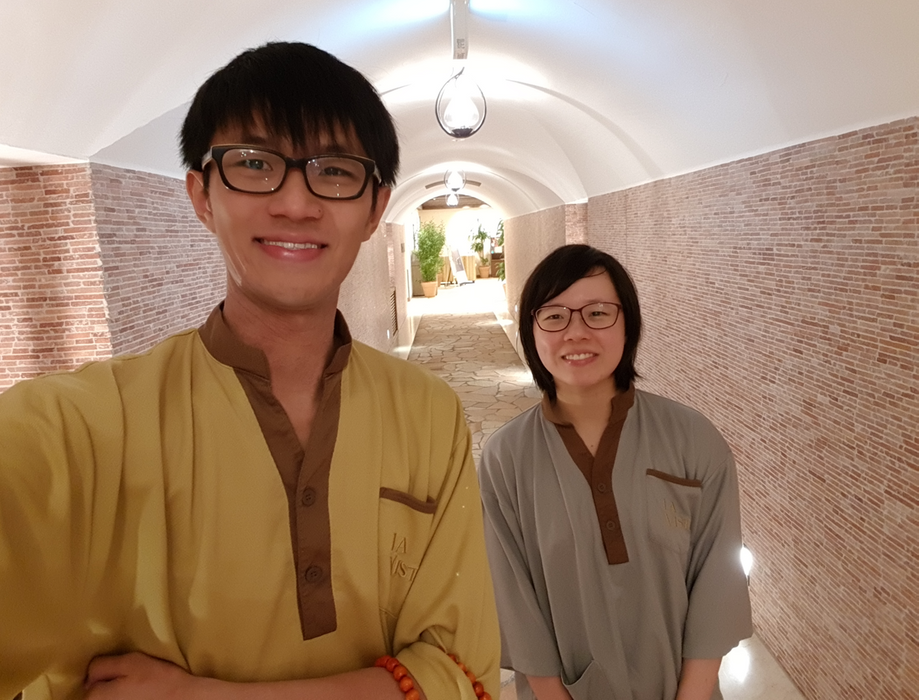 After a while, it was supper time! As with the Namba hotel in Osaka that also had an onsen, La Vista also had a free ramen service every night that guests could enjoy for supper! So after dumping our stuff in our room we headed back to the lobby.

It was at the back of the lobby so we went past the gift shop to the cafeteria.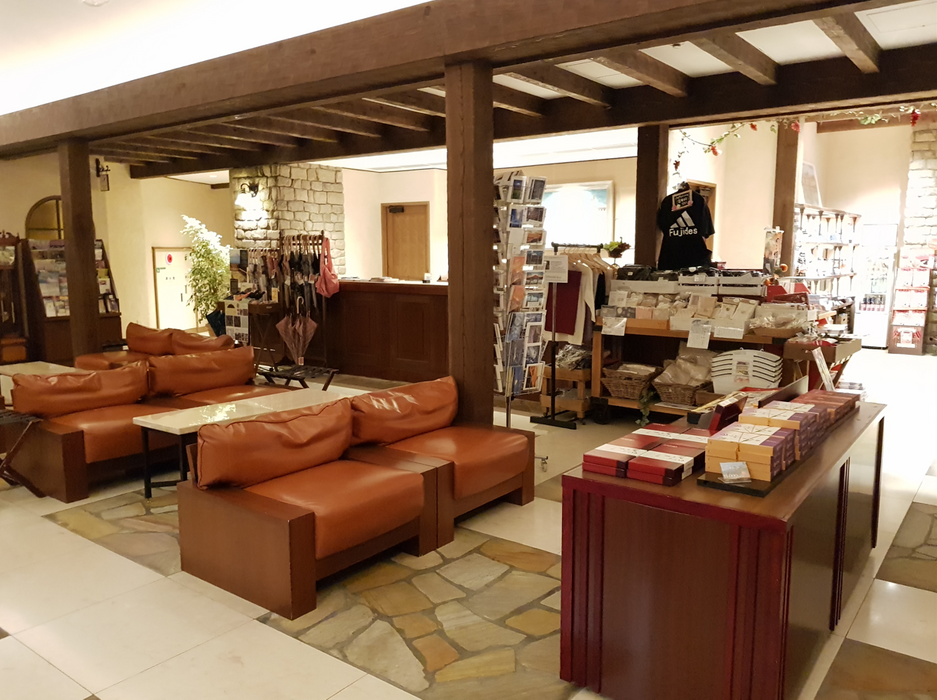 Thankfully there weren't a lot of people around at the time but I waited while Sean went to order. There were only a few flavours to choose from, so I chose the normal one and Sean got the tomato one.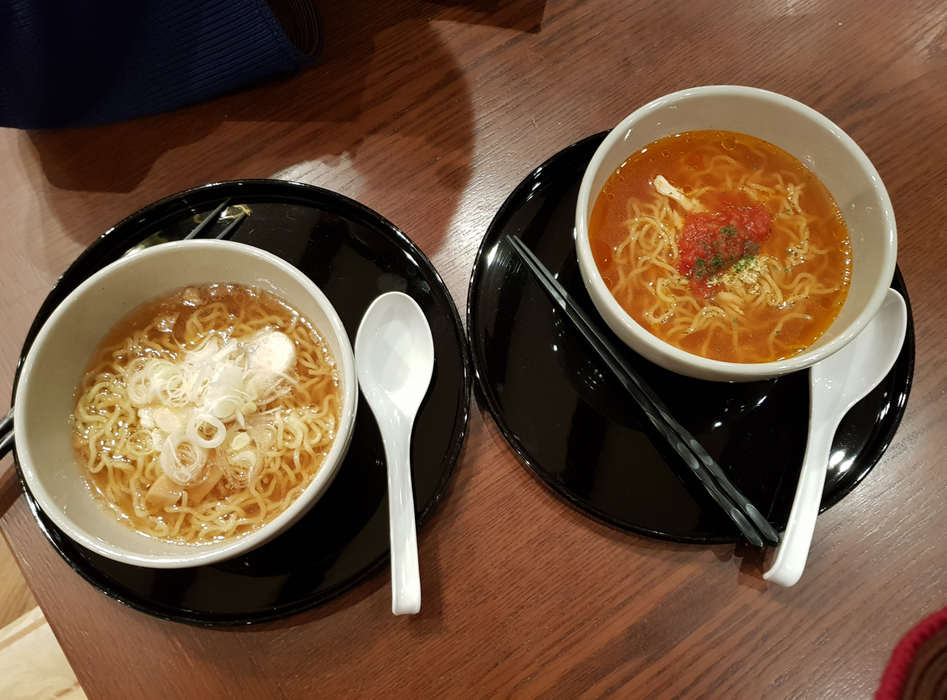 And it was actually pretty good! I mean it can't rival against other ramen we've eaten in restaurants, but it was still not bad! And after all our snacks we bought it satisfied me plenty. I was pretty full after drinking the soup.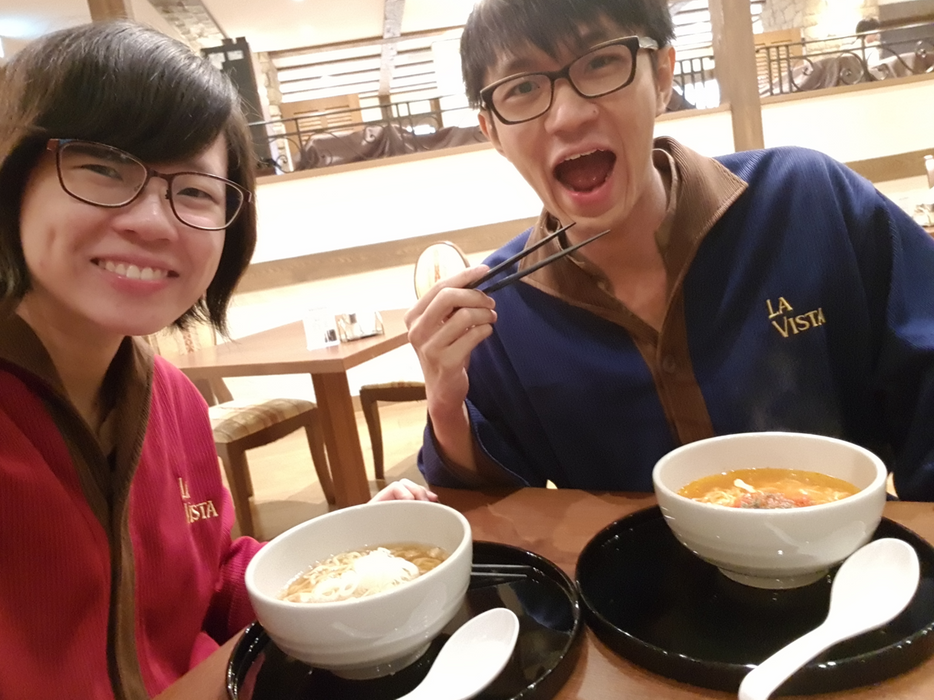 After the onsen and the delicious supper, I was so satisfied and comfortable that I fell asleep immediately after we headed back to our room. The bed was so comfy and just the right amount of softness too. We slept like a couple of logs so we could get up early and see the sunrise view of Mt Fuji! Tune in next week for that!
Thanks so much for reading!

To find out more about me, check out my intro post here!
---
Check out my previous post in this series!
TacoCat's Travels #127 (Japan 6.0): Exploring the True Horror in Fuji-Q! 🌚